Ilkley Harriers news archive 2013
Ilkley Harriers of the Month, December
Ben Sheppard
1st Harrier at Ribble Valley 10k
Other nominations were:
Val Kerr for HOM for organising the Gathering Winter Fools Relay and her race results in December
Dave Wilby - 1st Harrier at Chevin Chase
Hilda Coulsey for 1st FV60 at the Ribble Valley 10K
Tom Adams for 1st places in Stoop fell cace and Peco XC at Golden Acre
Geogia Malir for 2nd place at Brussells Lotto Cross Country Cup - England selection - and other excellent results
Rob Cunningham, good month of race results and achieving second in the Harriers Race League
Helen Horton, Eric and Sue Morley
for organising the fun Club Christmas Relays and Quiz
Other Harriers of the Month ...
Auld Lang Syne, Tue 31 Dec
Photos and results on woodentops.org.uk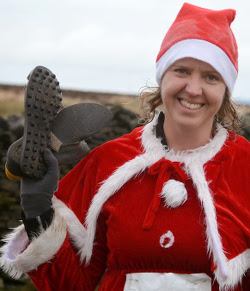 (1  42:09 Tom Addison, Helm Hill)
52  51:48 Alistair Mcinnes
72  53.21 Ian Rowbotham
74  53:26 Sally Morley
125 56:57 Kate Archer
147 58:17 Jann Smith
178 60:25 Steve Weston
198 61:33 Alison Weston
230 64:05 Dan Wilkinson
248 65:24 John Coates
272 67:03 David Ibbotson
299 69:20 Alison Ricci
326 72:06 Adela Reperecki
379 78:53 Emma Payne
382 79:46 Sally Wright
394 82:42 Julie Elmes
421 98:59 Sophie Brown
425 finished

Ribble Valley 10k, Sun 29 Dec
Henry Heavisides reports ... Conditions were very good for today's Ribble Valley 10k at Clitheroe. The quality of the field was really high with runners from all over the country taking part, 5 people managed to get under 30 minutes. As usual Ilkley Harriers were well represented. In a sprint finish Ben Sheppard was just ahead of Rob Cunningham with Justin Phillips not far behind. For the ladies Caz Farrow & Beth Massey both ran really well but somehow missing from the first official results (faulty chips). Amongst the prize winners, Hilda Coulsey was 1st F60, Christine Cox 3rd F55, Henry Heavisides 3rd M55 & Beth 2nd F40. Results ...

(1  29:12 Jonny Mellor, Liverpool)
149 37:11 Ben Sheppard	
153 37:20 Rob Cunningham
156 37:22 Justin Phillips
164 37:44 Henry Heavisides
187 38:21 Will Buckton
235 39:22 David Brown
237 39:37 Caz Farrow  (gun time)
254 39:49 Mark Iley
336 41:58 Beth Massey (gun time)
344 41:45 Andrew Sheldon
381 42:30 Adrian Bastow
424 43:44 Neil Chapman
493 45:31 Alison Weston
560 46:54 Val Kerr
659 48:36 Christine Cox
672 49:24 Hilda Coulsey
1019 1:01:03 Carole Cunningham
1086 finished


This was the final counter in the Ilkley Harriers Race League 2013
Jolly Holly Jog, Sun 29 Dec

(1 33:28 Jack Simpson, Leeds)
98 46:56 Norman Bush
607 finished

Wansfell, Sat 28 Dec
Will Buckton reports ... after being reminded that Saturday morning training wasn't on this week I checked the FRA website and sure enough there was a Lakeland fell race to do instead, Cat A, 3.3km/405m I felt the extra weight of the Christmas food and drink on the climb but I dug in and managed to make up a few places on the steep grassy descent.

(1 19:48 Rob Jebb, Bingley)
24 26:05 Will Buckton
75 finished

Parkruns, Sat 28 Dec

Harrogate Stray
124 26:26 Eric Morley

Guisborough Woods, Fri 27 Dec
Jez Hellewell reports ... had a tough race at Guisborough in 70 mph winds. The moor section, in particular, seemed like one step forward & 2 back. The course, I was told, had been extended by 1 mile to 7 this year. I finished 30th, in 55 mins, out of around 125. The winning time was 43 mins, a full 5 minutes ahead of 2nd place. A great morning out in North Yorkshire.
Chevin Chase, Boxing Day
John Hayes reports ... If the organisers of the Tour de France need any reassurance about the size of cheering crowds in Yorkshire next year, they need only attend this event. Huge crowds line the route giving encouragement and laughing at those in fancy dress. It's a great race - a lovely route and a lively atmosphere especially at the top of the Chevin on the way back. The race is also a good way to burn off all those excess Christmas calories. I had a good run although I still only narrowly beat a man in an inflated clown outfit. In my defence, his costume was SO big he was hard to overtake. But I squeezed past him on the road section and sprinted for home.
Results ...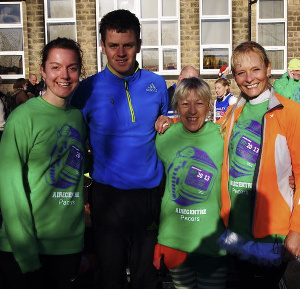 (1    39:01 Jonny Brownlee, Bingley)
16    43:33 Dave Wilby
23    44:33 Alex Sinclair
25    44:39 Martin Archer
36    45:30 Rob Cunningham
48    46:51 Ralph Tench
49    46:50 Adam Bennett
60    47:24 Alistair McInnes
62    47:41 Justin Phillips
73    48:14 Steve Turland
87    48:52 Jonathan Sinclair
90    48:58 Caz Farrow
99    49:24 David Brown
106   49:36 Dick Waddington
118   50:08 Sally Malir
122   50:17 John Hayes
127   50:35 Kate Archer
140   51:06 Steve Weston
150   51:28 Jane Mccarthy
214   53:27 Andrew Merrick
256   55:49 Paul Stephens
286   56:48 Andrew Jackson
349   58:48 Keith Wood
352   58:44 Alison Bennett
364   59:20 David Ibbotson
380   59:36 Helen Horton
381   59:42 Ruth Kitchen
443 1:01:42 Tim Brear
456 1:02:05 Adela Reperecki
489 1:02:33 Sharon Meadows
533 1:04:01 Ros Brown
543 1:04:15 Gaenor Coy
558 1:05:26 Allison Ricci
566 1:05:32 Emily Kerr
567 1:05:33 Val Kerr
578 1:05:40 Will Worboys
605 1:06:41 Martin Wright
614 1:06:56 Chloe Haines
631 1:07:46 Sue Bickerdike
643 1:07:42 David Green
651 1:08:35 Julie Elmes
664 1:08:31 Emma Payne
679 1:09:30 Paul Sugden
707 1:09:59 Sarah Hayes
723 1:11:27 Sally Wright
745 1:12:22 Andrew Kitchen
774 1:13:40 Sophie Brown
782 1:14:05 Peter Lewis
794 1:14:16 Jacqui Weston
831 1:16:19 Michael Picken
892 1:20:15 Fiona Schneider
962 finished

Christmas Day Parkrun, Aireville Park, Skipton

(1  18:44 Jack Smith, Wharfedale)
11  24:21 Lewis Carr (junior, PB)
17  26:01 Sam Wood
27  28:00 Emily Wood
41  32:10 Dylan Carr (junior)
43  33:29 Shirley Wood
50 finished


Well done to Miranda, Run Director
The Stoop, Sun 22 Dec

Steve & Duncan amongst 400 Santa hats at the Stoop race. Tom Adams won in 30:51, beating some quality opposition again and his time from last year, and Ilkley had first ladies team.
From John Hayes ... I've never done The Stoop before. My favourite part of the whole day was arriving to a sign at registration saying "Santa Hats MUST be worn". These are handed out at with a Curly Wurly and race number. By some miracle we persuaded all four of our kids to run the Junior races. These involved a circuit of a kamikaze course of mud and rocks. They all survived and then huddled in the car munching on their goody bags of sweets whilst Sarah and I ran the Senior race. I beat a man in a full length Santa outfit and an elf in a sprint finish. On reflection, this was not in the spirit of the race or Christmas. So I'm a bit worried my stocking may be empty this year...
Results and photos on woodentops.org.uk

1   30:51 Tom Adams
15  35:38 Jack Wood
25  36:21 Martin Archer
27  36:32 Gavin Lamb
41  38:11 Steve Turland
88  41:10 Duncan Cooper
89  41:11 Richard Joel
91  41:17 Steve Coy
93  41:22 Rob Cunningham
95  41:29 Dick Waddington
100 41:45 John Hayes
117 42:29 Alistair Barlow
124 42:44 Neil Smith
155 44:26 Jane McCarthy
169 45:14 Jann Smith
195 46:57 Alison Weston
203 47:16 Di Haggar
204 47:18 Chris Oxlade
246 49:27 Norman Bush
253 49:59 Sarah Edwards
257 50:22 Val Kerr
281 51:49 Andy Jackson
295 52:43 Helen Waddington
300 53:39 Anna Barlow
339 57:37 Eric Morley
343 58:10 Amanda Newham
354 59:12 Sue Morley
356 59:29 Sarah Hayes
363 61:12 Kate Wilkinson
381 65:16 Julie Elmes
383 67:33 Jacqui Weston
402 finished

And 42 Ilkley juniors raced in the Quarry Runs!


This was the final fell counter in the 2013 Ilkley Harriers Race League.
Run Sunday, Sun 22 Dec
Jez Helewell reports ... Jacob put his growing pains behind him today to come 2nd, beating his own J13 record, in 20:37
Lotto Cross Cup, Sat 21 Dec
Georgia Malir reports ... Last Saturday I headed to Brussels to compete in my first ever England cross country vest. Having never raced cross country in Europe before I was unsure what the course would be like after the recent debates following the European championships being held on a firm, flat and almost track like course. However, in Brussels it was muddy and hilly, just like in the UK but with the addition of a few surprise hurdles which took me a while to master! My 4km race took place over 4 1km laps, with a lap counter and a bell to signal the final lap, which did remind me of a track race! I had no idea what the standard of competition would be so it was nice to find myself at the front of the pack with the rest of the England girls after the first lap. As the race went on me and teammate Alex Clay pulled away from the rest of the group. Alex when on the win the race and I finished second. Racing in Europe was a great experience and hopefully I'll get more opportunities to do it again in future! This is the England Athletics report and a picture of me on the podium www.englandathletics.org
A great photo of Georgia on the Lotto Cross Cup website
Parkruns, Sat 21 Dec

Skipton Aireville Park
(1 19:08 Jack Smith, Wharfedale Harriers)
2  19:45 Matt Newell
6  23:17 Steve Newell
18 25:10 Diane Haggar
52 32:09 Dylan Carr (junior)
68 ran

Christmas Relays and Quiz, Tue 17 Dec
A big thank you to Helen Horton who organised the Christmas Fancy Dress relays. A super turnout (60+ people?), lots of fun, and super organisation.
And to Eric and Sue Morley who organised the Christmas Quiz (45+ people there).
As people said 'a great Harriers tradition', and 'it feels like Christmas has started now'.
PECO XC 2, Golden Acre Park, Sun 15 Dec

A very good turnout of junior and senior runners. A special thanks to everyone who helped with the junior races: Dave Westhead, Steve Newell, Gaenor Coy, Sue Williamson, Dale Bramham Butts, Francis Westhead, Sam Wood, Paul Wood, Sally Wright, Kim Anderson, Sam Bramham Butts, Elizabeth Westhead, Sian Dover, Shirley Wood, Kate Lofthouse, Lucy Williamson, and Joanne Williamson.
Woodentops photos
Results ...

Men: 2nd team in Premier Division (2nd overall)
1   26:59 Tom Adams
20  29:43 Matt Newell
36  30:34 Martin Archer
42  31:08 Gavin Lamb
45  31:13 Rob Cunningham
60  31:41 Steve Turland
66  31:54 Steve Coy
75  32:14 Jim Ryder
112 33:30 Henry Heavisides
140 35:00 Steve Newell
169 35:52 Adrian Bastow
237 38:22 Andrew Jackson
300 41:39 Nick Mellor
326 44:16 Eric Morley
329 44:33 Peter Lewis
362 49:10 Andrew Kitchen
371 finished

Ladies: 3rd team in the First Division (2nd overall)
(1  Heather Sellars, Abbey Runners)
48  39:51 Helen Horton
49  39:52 Adela Reperecki
83  42:09 Anna Barlow
84  42:11 Janet Grace
87  42:15 Hilda Coulsey
91  42:33 Gaynor Coy
141 46:05 Julie Elmes
150 46:32 Sue Morley
156 46:50 Sue Williamson
171 47:42 Sally Wright
191 49:54 Kate Lofthouse
227 finished

Really Wild Boar fell race, Sun 15 Dec
Will Buckton reports ... two of us made the trip to Kirkby Stephen for the AS Really Wild Boar fell race. The 8km/427m route climbs the Pennine Bridleway to the shoulder of Boar Fell with a loop to the summit and a steep descent back to the Bridleway. Dave Wilby battled the really wild weather and ran well to finish 16th in his first race since October. Will Buckton ran through the high wind and hailstones to take 43rd, results ...

(1 42:55 Danny Hope, P&B)
16 46:53 Dave Wilby
43 50:10 Will Buckton
132 finished

Run Sunday, Sun 15 Dec
Junior Harrier Tilly Melechi finished 6th, and set a new women's course record of 20:38 (beating Emma Barclay's 20:58) for this 3 mile timed run at Danefield, 45 finished this week. www.runsunday.com
Gathering Winter Fools Relay, Sat 14 Dec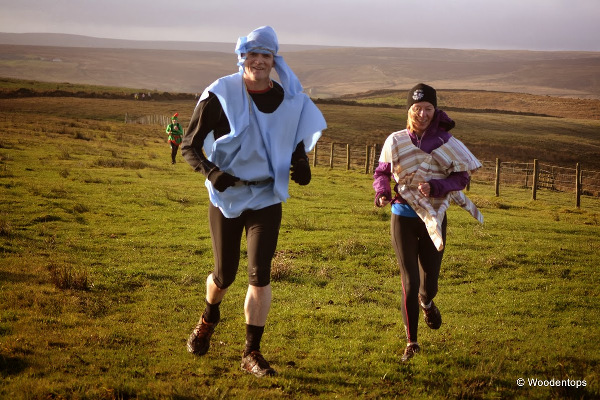 From Val Kerr ... Well done to the two teams that took part in a very enjoyable GWF and thanks to Dan Hill and Martin Wright for standing in at the last minute.
The winning team was Bingley Harriers (male team) who completed the course in 3h23:11.
IH team 2: Leg 1 - Sharon Meadows + Dan Hill; Leg 2 - Christine Cox + Keith Wood; Leg 3 - Amanda Newham + Val Kerr + Cleo (woof); Leg 4 - Jan Carrier + Llyn Donohue - finished 24th team in 5h19:05.
IH team 1 ran as 'the nativity': Leg 1 - Sue Bickerdike + Martin Wright (shepherds); Leg 2 - Jan Smith (fairy) + Stephen Rhodes (Rudolph); Leg 3 - Clare Smith + Elle Bradley (sheep) + Betty (woof - shepherd); Leg 4 - Emma O'Loony (king) + Paul Sugden (reindeer) - finished 30th in 5:33:10.
34 teams took part (more teams each year) Results ...
Parkruns, Sat 14 Dec
Adam Bennett set his 3rd PB in 3 weeks at York, 5s off last week's PB. More Parkrun results ....

Leeds Hyde Park
110 25:37 Harry Stead
177 29:35 Michael Duffield
209 32:48 William Duffield

Skipton Aireville Park
17 25:13 Lewis Carr
43 33:46 Dylan Carr
46 35:05 Elaine Ibbotson

York
6  18:11 Adam Bennett

England Selection
From Sally Malir ... Georgia Malir has been selected to run for England in The Lotto Cross Cup Brussels on the 22nd December from her great run in Liverpool. This is Georgia's first vest for cross-country. Read about it on England Athletics news pages.
Stockport 10, Sun 8 Dec
Pete Shields reports ... this is a well established race on the calendar and attracts a huge field with plenty of big names at the sharp end. Although not a fast course, it has many undulations, winning times are generally under 50 minutes. Ilkley's 3 athletes coped with the course extremely well, Mark Hall, although not feeling at his best, ran a very good race finishing in a time of 57:51 which gave him 13th place overall and 1st V50. Nicky Green and Caz Farrow ran really well considering they were only running a marathon in Nice less than a month ago, Nicky finished in 71st place in a time of 64:04 giving her 1st FV40, Caz finished in 104th place in a time of 66:30 giving her 4th FV35.
Nicky Green beat Sally Malir's Snake Lane 2006 Club F40 record of 65:06
Results ...

(1  49:41 Mohammed Abu Rezeq, Altrincham & District AC)
13  57:51 Mark Hall
71  64:04 Nicky Green
104 66:30 Caz Farrow
938 finished

Mytholmroyd fell race, Sun 8 Dec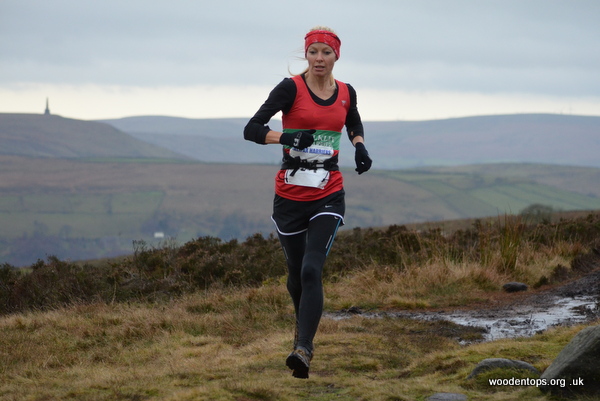 From Will Buckton ... A great race in Calderdale, 11.3km/411m, a good mix of runnable terrain with a couple of tough climbs and steep slippy descents. Good to see Jann back out on the hills taking 2nd lady, beaten only by V50 British Champion Sally Newman.

(1 48:46 Joseph Crossfield, CVFR)
14 54:42 Will Buckton
49 62:58 Jann Smith 2nd lady
108 finished


Leeds Christmas 10k, Sun 8 Dec

(1 35:48 Michael Elgie, Ripon)
8  38:59 Nick Richardson
328 finished

Run Sunday, Sun 8 Dec
Junior Harrier Euan Brennan was 3rd in 18:34, setting a category age record at the event and one of the fastest IH times at this weekly 3 mile timed run at Danefield, 25 finished this week. www.runsunday.com
Frostbite 30, Sat 7 Dec
Ben Sheppard reports ... Thirty scenic miles in Nidderdale starting and finishing at Pateley Bridge, the Frostbite 30 follows the Nidderdale Way for much of the route, passing Gouthwaite, Scar House and Angram resevoirs and then over the moor to Middlesmoor, through How Stean Gorge and cross country back to Ramsgil and along the river home. For my first ultra marathon race I was fortunate and grateful to benefit from Jez's experience as he paced us to our comfortable target time of five hours - the emphasis being on enjoyment rather than endurance. We crossed the line together in 5:00:41. A low key, friendly and well organised local ultra - highly recommended.
Jez Hellewell adds ... A fantastic choice for anybody tempted by the thought of an ultra. At "only" 30 miles this would be the perfect option as it was only £15 (including a quality Berghaus technical top, plenty of post race food & as many 9 bars as you can eat) & was impossible to get lost as it was so well marked out & on very obvious tracks/trails. Ben & I ran "within ourselves" to make sure we got to the 20 mile mark as easily as possible & reach our target of 5 hours. I think it would have been a few minutes extra had Ben not dragged me along, at pace, over the last 5 miles or so, beckoning me to overtake anybody that came in to view. A great day out, in stunning countryside, with great company. What more could you ask for?

(1 3h56:40 John Lloyd)
28 5h00:42 Ben Sheppard (32nd?)
29 5h00:42 Jez Hellewell (33rd?)
65 finished (94 incl. ladies, listed seperately)

Parkruns, Sat 7 Dec
Adam Bennett set his 2nd PB in 2 weeks at York, 18:16 Almost a minute off last week's PB. More Parkrun results ....

Skipton Aireville Park
(1  20:39 Tony Booth, )
13  23:55 Adrian Bastow
15  24:33 Richard Morris
18  24:52 Lewis Carr (Junior)
36  29:28 Dylan Carr (Junior)
46  33:49 Elaine Ibbotson
51 finished

Bradford Lister Park
14  19:07 Steve Turland

Edinburgh
36  19:58 Lucy Haines (Junior)

Harrogate Stray
170 25:41 Julie Elmes
211 27:27 Rebecca Moores

Leeds Hyde Park
10  18:36 Will Buckton

Oxford 
2   18:03 Ben Stevens

York
6   18:16 Adam Bennett PB

WYXC, Sun 1 Dec
From Will Buckton ... Sally Morley had another great run to finish 8th and Sally Malir and Kate Archer finished in the top half of the field to help Ilkley to 6th team on the day and 6th in the final standings. Sally Morley's excellent cross country season means she has taken 1st LV40 in the West Yorkshire League, winning her age category in all three of the races she competed in. In the men's race Jim Ryder was again first Harrier to finish, after a close battle with the improving Steve Coy. Ilkley's men were 13th team on the day and 7th team in the overall league. Results ...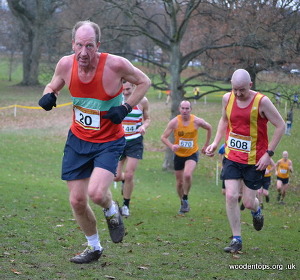 Ladies
(1 19:09 Katie Walshaw, Holmfirth)
8  20:42 Sally Morley
24 22:18 Sally Malir
31 22:48 Kate Archer
59 24:49 Sarah Edwards
75 27:04 Gaenor Coy
82 28:13 Di Kitchen
86 29:41 Emma Payne
91 30:19 Julie Elmes
93 finished
6th team, 6th team

Men
(1  29:07 David McNameee, Skyrac)
72  34:33 Jim Ryder
74  34:41 Steve Coy
95  35:31 Will Buckton
109 36:09 Mark Iley
130 38:09 Nick Pearce
162 42:36 Paul Sowden
172 finished
13th team, 7th team overall


There were 39 juniors racing with excellent results on the day and in the League, report in the junior section.
Run Sunday, Sun 1 Dec
Steve Turland was 3rd in 19:12 at this weekly 3 mile timed run at Danefield, Lynn Donohue was 17tth in 25:44 and 29 finished this week.
---
Ilkley Harriers of the Month, November
Nicky Green
Sub 3 hour marathon at Nice in tough conditions - fastest IH marathon this year
Other nominations were:
Neil Smith - for his performance at the Full Tour of Pendle. PB by over 25 minutes compared to last year a result of his commitment to training over the last month or so.
Dan Wilkinson - Abbey Dash and Tour of Pendle
Sally Morley - Abbey Dash club record, sub 37, 2nd F40 & fastest IH ladies 10k this year. Also a great West Yorkshire Cross Country League, finishing top ten and winning the F40 category in each of her three races, 1st F40 in the League.
Georgia Malir - Liverpool Cross Challenge exceptional performance
Eddie Irving
BMAF XC relay championsips - 1st M55 on 1st leg, 3rd overall
Other Harriers of the Month ...
Parkruns, Sat 30 Nov

Bradford Lister Park
The following club members participated:
1   15:55 Tom Adams
30  20:47 Nick Pearce
212 30:36 Christine Reilly
324 finished

Middlesbrough Albert Park
90 27:39 John Marshall

Skipton Aireville Park
66 31:19 Elaine Ibbotson

York
11 19:09 Adam Bennett PB


From Adam ... I got a new PB on the Parkrun - 19:09. So actually slower that my 10k 5k pace! There was a strong headwind which made the cycling down (to the start) and running tough and I had had two Christmas meals on the days previous so probably slowed me down a bit. Hopefully I'll get sub 19 next week.
Peco XC 1 Temple Newsam, Sun 24 Nov
Henry Heavisides reports ... There was a record turnout of more than 500 (651!) runners for the first Peco race of the winter, with an excellent contingent of Ilkley Harriers. The course was a 'something for everybody' kind of route, with hills for the fell runners, hard gravel paths for the road runners & sufficient mud for those who like that kind of thing. There were some delays at registration & recording runners at the finish...the finish line had to be moved back down the course as the funnel became congested....still it was the first race with the new number system. Matt Newell was first Harrier to finish, reflecting the good work he's been doing in training recently. Results ...

(1  26:27 Tom Bishop, Leeds Triathlon Centre )
22  28:54 Matt Newell
36  29:34 Martin Archer
39  29:44 Gavin Lamb
49  30:12 Steve Coy
54  30:25 Rob Cunningham
60  30:43 Jim Ryder
86  31:45 Jamie Hutchinson
111 32:40 Henry Heavisides
121 33:07 Steve Newell
195 35:39 Adrian Bastow
266 37:38 Andrew Jackson
306 40:14 Nick Mellor
324 41:28 Eric Morley
336 42:09 Peter Lewis
340 42:39 Paul Sugden
387 men finished

Ladies
(1  28:43 Lois Rosindale, Leeds Triathlon Centre)
10  34:17 Eleanor Kitchen
36  36:33 Amanda Fox
42  37:03 Jo Foster
89  40:25 Di Kitchen
94  40:48 Gaenor Coy
98  41:02 Hilda Coulsey
106 41:19 Lynn Donohue
155 44:19 Julie Elmes
156 44:23 Petra Bijsterveld
158 44:26 Emma Payne
167 44:46 Sue Williamson
195 46:13 Sue Morley
223 48:49 Kate Lofthouse
264 women finished


For the seniors, this was the final counter in the XC/Trail section of the Ilkley Harriers Race League.
Some excellent junior results too.
Run Sunday, Sun 24 Nov
Steve Turland was 2nd in 19:24 at this weekly 3 mile timed run at Danefield, 17 finished.
Liverpool Cross Challenge, Sat 23 Nov
From Georgia Malir ... on Saturday I competed in the second of The British Athletics Cross Challenge series. The race also incorporated the European Cross Country Championship trial. The field was stacked including the likes of Emelia Gorecka, who has been pretty much unbeatable throughout the whole of her running career. With only six places available on the GB team the race was bound to be a fight all the way to the line! With such a high standard of competition the plan was to sit in the front group and see how long I could hold on. Before long 4 athletes were out the front, leaving me and 5 other girls chasing them down. As I came into the finishing straight I heard the commentator announce that the fight was on for 5th place and the last automatic qualifying spot on the team! Unfortunately my legs couldn't carry me any faster and I crossed the line closely behind the girls I'd been running with throughout the race in 10th place, not with a GB vest but only a few seconds away! Oh well, I'd given it everything so maybe next year! Unsurprisingly Emelia Gorecka won the race in 14:27 and I was 10th in 15:10. Check out some of the footage from my race.
From Sally Malir ... Georgia Malir has been selected to run for England in The Lotto Cross Cup Brussels on the 22nd December from her great run in Liverpool. This is Georgia's first vest for cross-country. Info ...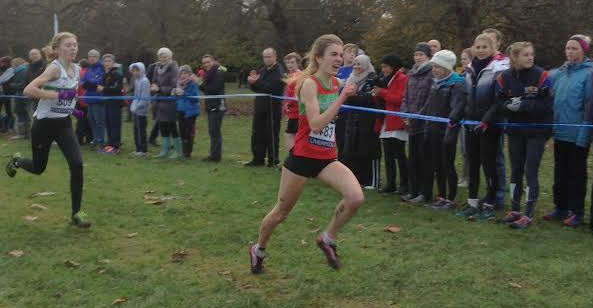 British Masters XC Relay Championships, Sat 23 Nov
From Henry Heavisides ... There were 24 teams from all over the country entered in the M55 category of the British Masters XC championships at Moorways Stadium in Derby. For our age group the race was 4 legs of just over 3k each. Eddie Irving got us off to a fantastic start running the fastest 1st leg in 11:37, giving him the 2nd fastest M55 leg overall....in a very high quality field. Richard Reeve, returning to racing after recent injuries ran well in 13:15 to put us in 4th place after leg 2. Nick Pearce maintained 4th position in 12:41. I was overtaken by a couple of runners to bring us home 6th overall with a time of 12:52 for my leg. The winning team were Oxford City AC. There wasn't much of a gap between the first 7 or 8 teams in our age group. Results
Tour of Pendle Sat 23 Nov
Quite a few Harriers at this tough long fell race, results ...

(1  2h17:22 Matthew Roberts, Eryri)
59  2h47:07 Daniel Wilkinson
78  2h49:05 Will Buckton
79  2h49:27 Ian Rowbotham
118 2h58:03 Paul Calderbank
140 3h02:30 Neil Smith
151 3h05:05 Dick Waddington
157 3h06:49 Kate Archer
234 3h21:42 John Hayes
321 3h42:28 Chantal Busby
331 3h44:30 Steve Weston
350 3h52:40 Val Kerr
356 3h53:45 Adela Reperecki
421 finished, 16 retired


Dan Wilkinson says ... it was freezing, Will Buckton and I played cat and mouse for the entire race, eventually, after he spent the middle half of the race in front I overtook him on the final descent and finished in 2:47, he was 2 mins behind, which was 17 minutes faster than his 2013 time!
From Adela Reperecki ... a really tough one. A good experience tho. It took me around 3.54 and Val Kerr came in before me. Kate Archer came in at around 3.06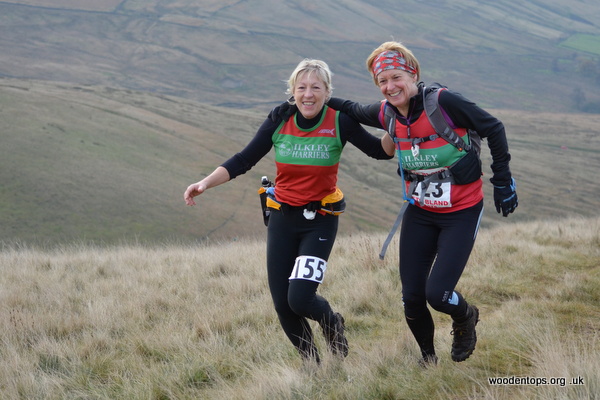 From John Hayes ... When I queued for my number in Barley village hall, the man in front of me took it. It turned out he was called Jonathan Haynes. He was looking doubtfully at the missing "athan" and "n" and was scratching his head why his club was shown as Ilkley Harrierrs. I pointed out that we shared similar names and grabbed my number from him. This near disaster averted I headed to the start line. There I decided to try and keep pace with Kate Archer who had been my unofficial "pacemaker" for much of the Langdale Horseshoe. However, this plan went awry as she skipped away from me up the first hill. In her place I found Neil Smith to run with. I ran alongside him for a while attempting light-hearted chat. But Neil soon tired of my idle ramblings and he too sped off ahead of me. I then gave up trying to latch on to other Harriers and ran/stumbled/crawled around the rest of the course. This race is the roller coaster of fell running - lots of steep ups and downs and it leaves you feeling a bit sick and dizzy at the end of it..... But fun nonetheless which is why we keep going back to it!
Parkruns, Sat 23 Nov

Skipton Aireville Park
38 27:11 Hilda Coulsey

Bradford Lister Park
12 20:15 Arthur Reilly
72 24:47 Will Worboys
73 24:52 Cameron Reilly:

Ben Rhydding Primary School XC, Sat 23 Nov
478 kids were running today! Results on the junior pages.
Abbey Dash 10k, Sun 17 Nov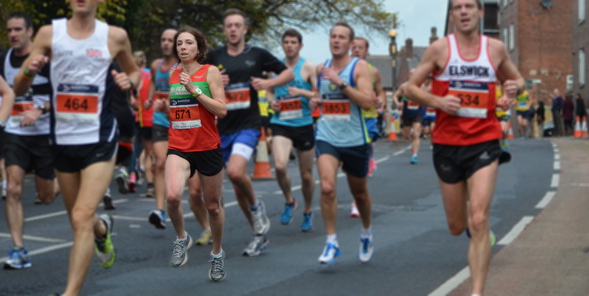 From Henry Heavisides ... Conditions were near perfect for today's Abbey Dash in Leeds: dry, mild & virtually no wind. The start was bit chaotic, being changed from previous years to allow a record 12500 entries, the system of runners being in 'pens' based on anticipated times didn't seem to be particularly effective. There were lots of Ilkley vests throughout the masses of runners. The results seem to miss the name of the club for several Ilkley Harriers, including (I think) our first 3 male finishers: Dan Wilkinson, Rob Cunningham & Ben Sheppard. Sally Morley did a great run in the fastest IH ladies 10k time this year (setting a new Club F40 record, beating Beth Massey's 38:29 from last year's Dash) & finishing 2nd F40 in the race. Also in the prizes were Hilda Coulsey (2nd F60) & Henry Heavisides (2nd M55).
Results...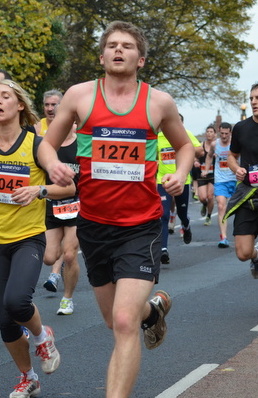 (1   29:23 Matty Hynes, N York Moors)	
356  35:48 Dan Wilkinson
410  36:24 Rob Cunningham
439  36:57 Sally Morley
485  37:05 Ben Sheppard
510  37:36 Henry Heavisides
585  37:56 Steve Turland
621  38:36 David Brown
697  39:04 Andrew Merrick
844  38:17 Adam Bennett    PB
926  40:17 Kate Archer
1105 42:15 Simon Jenkins   PB
1115 42:03 Amanda Sterling
1139 41:48 Adrian Bastow
1546 43:21 Nigel Tapper
1647 44:13 Sean Murphy
1684 44:56 Jane Bryant
1752 45:18 Helen Horton
1837 45:22 Keith Wood
1879 44:51 Eric Hawthorn
2852 48:02 Dave Ibbotson
3099 50:09 Hilda Coulsey
3379 51:24 Allison Ricci
3490 48:34 Will Worboys
3644 51:04 Geoffrey Bowman
3702 52:19 Julie Elmes    PB
3929 53:13 Sue Williamson
4292 54:45 Emma Payne
4516 55:48 Sally Wright   PB
4895 56:34 Jacqui Weston
5432 56:18 Natalie York
5614 56:02 Donna Hattersley
6279 57:56 Elaine ibbotson
6282 56:35 Les Bradshaw
6715 59:14 Catriona Hawthorn
6921 56:57 Sheena O'Connor
7928 58:20 Gillian Booth
9443 finished

WYXC, Sun 17 Nov

Ladies, 10th team
(1 24:52 Katie Walshaw, Holnfirth)
13 28:34 Sally Malir
47 32:18 Sarah Edwards
61 35:14 Di Kitchen
62 35:29 Gaenor Coy
79 finished

Men, 10th team
(1 34:38 James Hall, Wharfedale)
53 40:40 Jim Ryder
57 40:47 Will Buckton
63 41:02 Steve Coy
77 42:04 Mark Iley
91 42:57 Arthur Reilly
134 50:14 Paul Sowden
142 finished


38 juniors raced, with superb individual and team results, more on the junior pages.
Run Sunday, Sun 17 Nov
Weekly 3 mile timed run on Otley Chevin. Results:

(1 18:50 Jon Deegan, Ambleside)
 6 23:37 Alison Weston 
11 finishers

Harriers vs. Cyclists, Sat 16 Nov
For the 4th year in a row Tom Adams beat all runners, in his best time yet of 34:02, but this year he also beat all those on bikes! Dave Wiby was one of those cyclists, his placing affected by a puncture. No Rob Jebb (the 3 Peaks Cyclocross champion) this year, but could Tom beat even him (as Simon Bailey did in 2009?) Have a look at the photos on Woodentops.org.uk and the cracking race video on Youtube.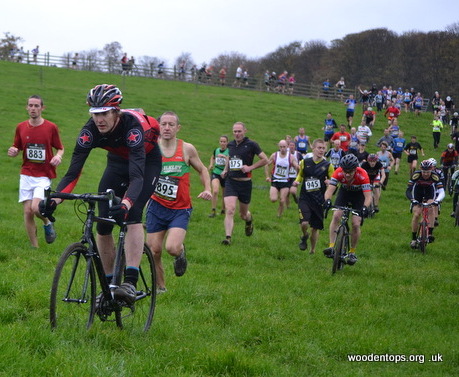 1   33:06 Tom Adams
(the next 6 places were cyclists ...)
47  41:10 Stuart Pitches
56  41:53 Ian Rowbotham
62  42:24 Paul Calderbank
75  43:48 Duncan Cooper
133 49:05 Dave Wilby & bike
149 53:04 Neil Bloor
199 62:17 Amanda Newham
207 finished

Parkruns, Sat 16 Nov

Skipton Aireville Park
(1 18:11 A mystery runner!)
32 26:41 Janet Grace
37 26:54 John Brown
80 37:09 Oscar Stapleton (junior)
83 finished

Bradford Lister Park
199 31:16 Christine Reilly

Harrogate Stray
147 26:55 Petra Bijsterveld

Cote d'Azur Marathon, Sun 10 Nov
From Pete Shields ... Caz Farrow and Nicky Green ran in the Cote d Azur Marathon, a point to point route that took them from Nice to Cannes, west on the coast road. Caz and Nicky have really focused on this race and worked extremely hard over the last year in preparation, one period of their training included 90/100 miles per week. They were well prepared, however, you can be well prepared in this athletics game but there are other considerations that come into play one being the weather! The Riviera seems a safe bet to run a race so late in the year but unfortunately, not this one. We had followed the forecasts over the last week, the weather had been fairly settled other than race day, where high winds were forecast from the west, the race as previously stated was going west into it, its force gauged at 42/48 kph, not gusting just blowing!
They both started the race with the other 13,000 competitors trying to keep as much to their race plans as possible, Nicky went through 10k in 41:51, half in 1:27.47 and 30k in 2:05:06 the wind started to make play at this point slowing her pace down by over a minute per Km, she even thought of running backwards at one point because of the difficulty the wind was having on her breathing, she wasn't joking! Her finishing time considering the conditions was 2:58:31 which got her 3rd female over 40 a PB by 10 secs and 120th place; we are left with what could have been.
Caz went through the first 10 miles in 66 mins, a PB and part of her plan, through the half in 1:28, she then got a niggle in her hip at 26kms but kept pushing on, going through 20 miles in 2:14 another PB; unfortunately, a combination of the hip problem and even bigger problem of the wind ended her race shortly afterwards. This didn't come easy to such a hardy competitor but after some reflection she will be taking her place at the Elite start in London, health allowing. Again what could have been, such are the vagaries of our sport.
Wadsworth Half Trog, Sun 10 Nov

(1 1:08:42 James Logue, CVFR)
22 1:22:19 Jamie Hutchinson
79 1:43:16 John Coates
124 finished

Run Sunday, Sun 10 Nov
Weekly 3 mile timed run on Otley Chevin. Results:

(1 20:25 Simon Edgar, LBT)
8  24:33 Will Worboys
11 27:57 Emma Payne
25 33:20 Petra Bijsterveld (sweeper)
25 finishers

Rhobell Fawr, Sat 9 Nov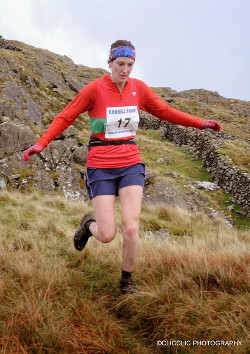 From Sarah Edwards ... I needed another qualifying race for the Three Peaks before 1st January. I don't have the legs for the long races at the moment so I scoured the FRA calendar for AM races. There are a few...in Wales! I drove down to a place called Llanfachreth for a lovely little race called Rhobell Fawr. It's a 6.5 miles/1900ft out and back race on a mixture of public bridleway and open fell. The bottom section was fast good running but the top was rough, slippery and wet. With a hailstorm at the top just before we set off it was cold at the trig and very slippy. A slow trudge up and flying, if a little ungainly, sprint down. All in all a really fun race. Results ...

(1 56:42 Matthew Fortes, Eryri)
26 75:07 Sarah Edwards 3rd lady
43 finished

Burley Moor run, Sat 9 Nov
Quite a few Harriers out in this IH Race League counter, Results ...

(1  48:02 Liam Dunne, Otley)
4   50:56 Will Buckton
5   51:17 Alistair McInnes
7   53:25 Ben Sheppard
8   54:39 Justin Phillips
9   54:56 Rob Cunningham
11  55:01 Richard Joel
12  55:22 Dick Waddington
15  55:27 Duncan Cooper
17  56:05 Kate Archer
19  56:35 Emma Barclay
29  58:58 Steven Weston
30  59:01 Andrew Merrick
45  61:07 Alison Eagle
50  62:03 Alison Weston
57  63:21 Chris Oxlade
63  65:20 Kevin Gooch
64  65:23 Nigel Tapper
68  65:51 Val Kerr
75  67:15 Adela Reperecki
84  70:01 Rachael Gooch
85  70:24 Keith Wood
86  70:31 Helen Horton
90  71:11 Jan Carrier 
95  72:29 Ian Conyers
101 73:19 Peter Lewis
104 73:24 Anna Nolan
108 74:11 Sarah Hayes
111 74:14 Lyn Donohue
120 77:11 Eric Morley
122 77:12 Geoffrey White
123 77:15 Jean Sullivan
131 80:05 Sally Wright
132 82:14 Julie Elmes
133 82:28 Paul Sugden
151 96:05 Laura Dawes
153 finished


Evil Sheriff Duathlon, Sat 9 Nov
Jamie Hutchinson reports ... a great event in Sherwood Pines Forest starting with a 5k run, followed by a two lap bike course covering 20k, before a final 3k run. A real sprint event where you go as hard as you can and hope you can hold on. I did it on a cross bike and finished in 1 hour 18 mins coming in 7th overall, 2nd in my category, out of 307 duathletes. Karl Webster won in 1 hour 16 mins.
Parkruns, Sat 9 Nov

Skipton Aireville Park
(1 19:59 Gary Chapman, KCAC)
21 25:21 Jane Bryant (1st lady)
69 34:14 Elaine Ibbotson
94 finished

Bradford Lister Park
7   19:36 Henry Heavisides
236 31:57 Christine Reilly

St Albans
60 21:59 Joe Reynier (junior)

Guy Fawkes 10, Sat 3 Nov
Results from www.ukresults.net

(1    55:26 Jack Simpson, Leeds)
24  1:04:26 Nick Richardson
79  1:10:25 Andrew Merrick
164 1:16:53 Nigel Tapper
229 1:19:53 Philip Hirst
263 1:22:05 Paul Sowden
304 1:23:41 Adela Reperecki
314 1:24:00 David Ibbotson
321 1:24:17 Helen Horton
426 1:29:16 Stuart Herrington
448 1:30:22 Will Worboys
461 1:30:49 Hilda Coulsey
542 1:34:39 Paul Sugden
568 1:36:16 Petra Bijsterveld
614 1:39:13 Julie Elmes
801 finished


This was a Harriers Race League counter
Run Sunday, Sun 3 Nov
Weekly 3 mile timed run on Otley Chevin. Results:

(1 19:15 Patrick Cotton, U/A)
2  19:31 Steve Turland
28 finishers

Shepherds Skyline, Sat 2 Nov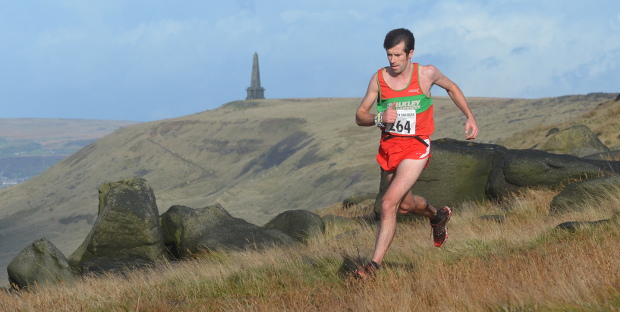 1  41:44 Tom Adams
24 49:23 Dan Wilkinson
88 57:41 Roy Ruddle
277 finished

WYXC 2, Bramley, Sat 2 Nov

Ladies
(1 18:11 Katie Walshaw, Holmfirth)
8  20:02 Sally Morley
29 21:46 Emma Barclay
32 21:55 Sally Malir
34 22:02 Kate Archer
58 24:42 Sarah Edwards
81 28:59 Julie Elmes
90 finished
3rd team

Men
(1  33:17 Joshua Woodcock-Shaw, Spenborough)
62  39:12 Jamie Hutchinson
67  39:31 Mark Iley
72  39:59 Will Buckton
77  40:13 Steve Coy
92  41:06 Nick Pearce
105 42:01 Arthur Reilly
120 43:58 Ben Joynson
136 47:04 Paul Sowden
146 finished
12th team


Many great junior Ilkley results too.
Parkruns, Sat 2 Nov

Skipton Aireville Park
19 24:26 Diane Haggar
78 34:37 Elaine Ibbotson

Bradford Lister Park
14 20:05 Caz Farrow

Harrogate Stray
135 26:15 Eric Morley

Leeds Hyde Park
17 18:57 Henry Heavisides

Newcastle
159 23:18 Andrew Wilson


---
Ilkley Harriers of the Month, October
Nick Pearce
3rd V60 (Bronze) in English & GB FRA Championships and his result at Snowdonia Marathon
Other nominations were:
Norman Bush - 3rd V70 (Bronze) in GB FRA Champs
Val Kerr - Snowdonia Marathon result
Tom Adams - breaking Alistair Brownlee's record at Withins
Georgia Malir - 2nd in U20 Cross Challenge
Pete Shields - for great support to other in their training and racing
Will Buckton - good fell results throughout the month and being part of the fell relay team
Dan Wilkinson – results including Bronte Way and Shepherds Skyline
Jane McCarthy
Bilbao Half Marathon, and Langdale fell race
Other Harriers of the Month ...
Chevin Chiller, Thu 31 Oct
From Jez Hellewell ... A great race on The Chevin last night. 6.66 km of undulating paths. I was beaten by Spider-Man, as was everybody else I think! No shame in that. Quite a sight with 180+ runners flying around The Chevin with head torches on!
Results.

(1  28:54 Andy Bedford, Saltaire Striders)
14  32:08 Jez Hellewell
67  39:38 Adela Reperecki
145 51:09 Emma Payne
182 finished

Cross Challenge, Sun 27 Oct
From Sally Malir ... The British Athletics Cross Challenge Series got underway on Sunday in Bristol. Georgia Malir made the long journey but made sure that it was worth her while! The course was an undulating, grassy 4.5k and the conditions were blustery. Georgia came in 2nd under 20 women behind Alex Clay (Invicta East Kent).
Read the report on British Athletics website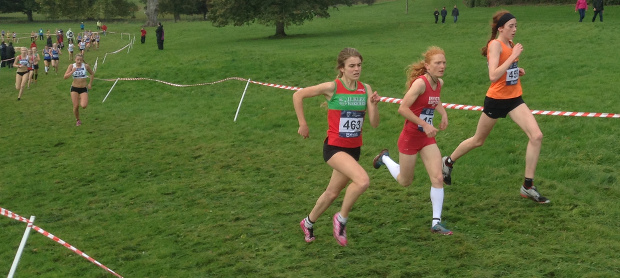 Bronte Way, Sun 27 Oct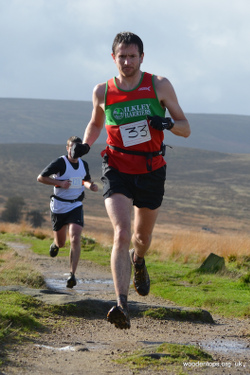 Dan Wilkinson reports ... I ran the Bronte Way and managed 10th in 59:38, starting in heavy rain, then hail, but finishing in beautiful autumn sunshine outside the pub. Tim Ellis CVFR won in 53:11, 180 finished. Results.
Bradford City Runs, Sun 27 Oct
Simon Jenkins reports ... It was a breezy and showery day with a bit of sun. The course was undulating through some of the less salubrious back streets of Bradford. The cold rain certainly made you want to finish as quick as possible!

Half marathon
1  Matt King 1.15.58
28 Simon Jenkins 1.39.59 pb

5k
1 Gerrard Mills Bradford Airedale AC 16.56
6 Karen Lambe 24.09

Guisborough 3 Tops, Sun 27 Oct
From Alison Weston ... took part in a great AM fell race in Guisborough on Sunday. Starting from the rugby club the race took in High Cliff, Roseberry Topping and Hanging Stone before going back up the moor to a 4th trig point beyond High Cliff. So it should be the 4 tops race really! I finished in 1hr 30 but not sure of my position. Lots of good running with a bit of route choice too.
Run Sunday, Sun 27 Oct
Weekly 3 mile timed run on Otley Chevin. Results:

(1 17:45 Scott Harrington, Otley)
6  20:58 Emma Barclay  New record
23 28:37 Emma Payne
28 finishers

Harewood 10, Sun 27 Oct
Ewan Welsh reports ... the Harewood 10 trail race, a bit wet, a bit sunny, a bit slippy, a bit of tarmac, a bit windy ... but all very refreshing and therapeutic as a balance against the wilderness of working life! Results ...

10 mile trail race
(1 63:18 Lee Dalton, Nidd Valley)
30 71:24 Paul Calderbank
32 71:32 Nicky Green  1st female
76 78:38 Ewan Welsh
301 finished

5 Mile Trail Race
(1 34:15 Josh Brown, Rothwell, B11-12)
 3 35:46 Steve Coy
94 finished

And several Harriers juniors well placed in the 2 mile 'Hop'

The OMM, Sat/Sun 26/27 Oct
Results up now from two days of racing on the Brecon Beacons. Andrew Priestley and former Harrier Heather Dawe were 1st ladies on the Elite course. Quite a few other Harriers in it: Jack Wood 8th on B Class, Outi Kamarainen 17th and 3rd Mixed team on B, Emily Wood 60th and 4th ladies team on the C (any more? Let us know your results, please).
Snowdonia Marathon, Sat 26 Oct
From Peter Shields ... went over to Wales to support two of of our athletes today in the Snowdonia Marathon. As marathons go this is one of the toughest in the UK and has to be given a lot of respect. Nick Pearce and Val Kerr dipped their feet into the magic of this event and performed brilliantly. Nick ran 3h21:21 to win the male V60 race and Val ran 3h55:13 to come fourth in the fv50 race.
Following the race as it circuited Snowdon from Llanberis was inspiring, especially with our two athletes to support. The course is a little more than undulating with two very significant climbs of 6.5 and 5+miles plus the odd one in between! Val and Nick looked well throughout and as I said gave inspiring performances, well done to both of them.
From Val ... Awesome - both the race and Nick's performance (I even spotted him at the top of Pen-y-Pass on the S4C TV coverage). 4 hours with no rain, magnificent scenery, a fabulous course (in spite of the hills) and a finish that every fell runner would die for. Thanks to Mark and Pete for their great support around the course.
The winner was Rob Samuel (Eryri Runners) who notched up his third victory in 2:43:50.
This has to be one of the best marathons in the UK and I would definitely recommend it to anyone who doesn't mind a few (big) hills. Entries open on 1st January but it fills up very fast (2000 limit).
Great Whernside fell race, Sat 26 Oct
From Will Buckton ... Six Ilkley Harriers made the much shorter trip to Kettlewell for the Great Whernside fell race. The demanding FRA Category A Short route climbs 475m to the summit in just 3.25km. Martin Archer, Jim Ryder and Will Buckton arrived at the top in close succession and Martin made a flying descent to come home 16th in a strong local field.

(1 31:49 Ian Holmes, Bingley)
16 35:58 Martin Archer
23 37:04 Will Buckton
25 37:27 Jim Ryder
33 39:05 Ian Rowbotham
56 42:40 Bob Hamilton
64 44:01 Chris Oxlade
114 finished

Parkruns, Sat 26 Oct

Skipton Aireville Park
11 23:11 Oscar Stapleton  (junior)
42 28:14 Petra Bijsterveld 

Bradford Lister Park
56  23:13 Joe Reynier  (junior)
296 40:26 Abbie Reynier  (junior)

Harrogate Stray
144 26:25 Geoffrey Howard

Leeds Hyde Park
146 25:16 Harry Stead  (junior)
288 31:02 Christine Reilly

York
38 21:52 Adam Bennett

FRA Relays, Sun 20 Oct
Will Buckton reports ... Ilkley Harriers rounded off the fell season with strong performances at the FRA relays (Aka the UKA British Fell & Hill Relay Championships) in Llanberis, North Wales. Tom Adams brought the men home in second after leg one, less than a minute behind Murray Strain of HBT, leaving Dan Wilkinson and Rob Cunningham with the task of following Tom on leg two. Will Buckton and Nick Pearce navigated their way safely through leg three to pass over to Dave Wilby who was 20th on his leg, bringing the team home in 28th overall out of 99 teams. Ilkley ladies' Kate Archer was 13th lady on the final leg in a strong field of 32 to help the team to 20th ladies overall.
Photos from Graham and Alison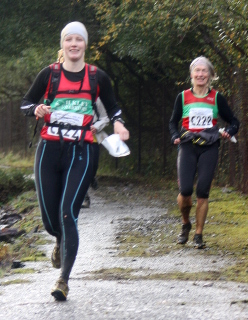 Men
(1 4h02.00 Dark Peak)
28 4h54:17 Ilkley (93 teams)

  34:36 Tom Adams 
1:38:01 Dan Wilkinson & Rob Cunningham
1:51:52 Will Buckton & Nick Pearce
  49:48 Dave Wilby 


Ladies
(1 5h02:26 Hunters Bog Trotters)

20 6:24:50 Ilkley (32 teams)

  52:53 Di Haggar 
2:02:20 Natalie Curtis & Alison Weston
2:28:00 Rachael Gooch & Outi Kamareinen 
1:01:37 Kate Archer 

Bridlington Half, Sun 20 Oct
From Pete Shields ... a shout up for Caz Farrow and Nicky Green who have run at Brid today both winning their age groups, Nicky in 1h26 for the v40, Caz in 1h32 for the v35, this is after several weeks of 90+ miles per week in preparation for the Nice Marathon in November. Results ...

(1 1h09:57 Marius Ionescu, Altrincham & District)
35 1h26:55 Nicky Green
71 1h32:41 Caz Farrow
638 finished

WYXC 1, Wakefield, Sun 20 Oct
From Will Buckton ... The West Yorkshire Cross Country League got underway at Wakefield and Ilkley were well represented in both the male and female races. Sally Morley had an excellent run to finish 7th, less than two minutes behind winner Pauline Munro of Wetherby. Jamie Hutchinson was first Harrier in the men's race, finishing 49th and helping Ilkley to 11th team.
Results ...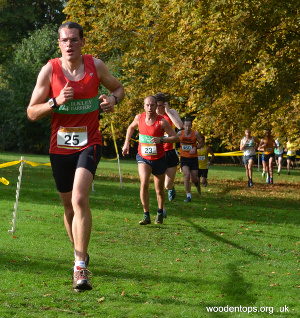 Ladies
(1 20:42 Pauline Munro, Wetherby)
7  22:16 Sally Morley
21 24:12 Sally Malir
23 24:20 Emma Barclay
56 29:25 Gaenor Coy
57 29:41 Di Kitchen
65 31:33 Julie Elmes
70 finished
6th team

Men
(1  32:27 James Walsh, Leeds)
49  39:53 Jamie Hutchinson
62  40:45 Mark Iley
79  42:06 Steve Coy
80  42:13 Arthur Reilly
118 49:46 Paul Sowden
123 51:48 Pete Shields
123 finished
11th team


There were some fabulous results from our juniors, from the very first race of the day which we won (and won the team event in) and throughout the junior classes.
Yorkshire Marathon, Sun 20 Oct
Results ...

(1   2:13:31 Edwin Korir)
1442 4:04:59 Christine Cox
1399 4:06:30 Eric Hawthorn
1866 4:20:18 Andrew Mitchell
2301 4:28:15 Charlotte Smithson
3188 5:05:16 Catriona Hawthorn
3873 finished

Great Birmingham Run, Sun 20 Oct
Results ...

(1  1:02:32 Thomas Ayeko, Uganda)
9069 2:12:07 Sally Wright

Les cretes la hulpoises, Sun 20 Oct
From Henry Heavisides ... this 16.7k race around La Hulpe in Belgium is a mix of forest trails, footpaths & country lanes. It includes 7 climbs up most of the local hills. There were about 1000 runners taking part with a brass band playing us off at the start. Results...

(1 1h02:31 Fabrice Van Espen)	
47 1h14:29 Henry Heavisides
536 finished

Run Sunday, Sun 20 Oct
Weekly 3 mile timed run on Otley Chevin. Results:

(1 20:10 Zander lee, U/A)
8  24:36 Will Worboys
14 28:26 Petra Bijsterveld 
21 finishers

Bilbao Night Half Marathon, Sat 19 Oct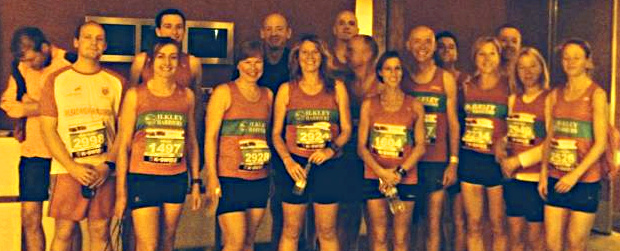 Nigel Tapper tells all ... another great turnout for this year's International road challenge with excellent category positions by some in what turned out to be a very tough event! Most people would rather forget the very congested, narrow out'n'back first 6km, the gloom and the heat/humidity but looking at the results we didn't do so bad in a field full of club runners with few or no fun runners to be seen!
The course started and finished outside Bilbao's Guggenheim Museum to a crescendo of fireworks. The route took in out and back paths and roads both sides of the river with a significant city centre loop. Congestion and on-coming runners over the first 6km were the initial challenges followed by heat and humidity in that order. We reckon most people were probably about 5 mins down on their usual times due to the conditions. Nevertheless it was certainly different and can be ticked off our bucket list even though nobody appears keen to repeat it!
Results...

(1   1:08 Manuel Nuevo)
229  1:29 Andrew Merrick 5th MV50
296  1:31 Jane McCarthy  3rd LV40
788  1:40 Alex Hirst 
821  1:41 Nigel Tapper 
944  1:42 Phillip Hirst 
1186 1:45 Jane Bryant 
1742 1:52 Dougie Scarfe 
1964 1:55 Anna Nolan 
2021 1:55 Helen Horton 
2831 2:10 Judith Scarfe 
2946 2:14 Matthew Rutter 
2976 2:16 Jacqui Weston 
3104 2:29 Suzanne Bickerdike 
3105 2:29 Emma O'Looney 
3134 Finishers 

parkruns, Sat 19 Oct

Skipton Aireville Park
(1 19:49 James Raven, Cardiff)
6  21:48 Oscar Stapleton (junior)
84 finishers

Harrogate Stray
83  23:52 Dave Ibbotson
162 26:26 Petra Bijsterveld
250 30:07 Elaine Ibbotson

Leeds Hyde Park
280 31:01 Christine Reilly

Roundhay Park
16 20:32 Geoff Howard

York
122 27:07 Adam Bennett

Lakeland Classics Trophy final results
Will Buckton reports ... Ilkley were 11th team out of 20 in this series of long races (see summer newsletter page 14 for some background info). Individual results ...

(1 298.4 Ben Abdelnoor Ambleside)
36 212.7 Will Buckton
40 207.9 Steve Turland
67 156.2 Neil Smith
88 77.6 Clare Smith
89 completed the series 

Withins Skyline, Sun 13 Oct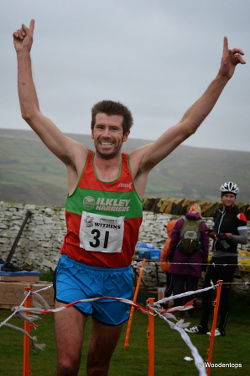 From Race Organiser Dave Woodhead ... "Tom Adams is maturing into one of Britain's best athletes and smashing Alistair Brownlee's 2006 course record time by 2 minutes is only enhancing this fact. Remember Alistair, 18 years old back then, had just returned from competing in the Beijing Olympics and was the World Triathlon & European Duathlon champion."

1   39:26 Tom Adams  Record
14  46:23 Martin Archer
42  50:57 Jim Ryder
46  51:09 Ian Rowbotham
59  52:08 John Houlihan
61  52:12 Richard Joel
88  54:42 Rob Cunningham
91  54:48 Duncan Cooper
106 56:11 Alistair Barlow
122 57:39 Jann Smith
189 65:10 Adela Reperecki
234 73:21 Amanda Newham
251 82:40 Julie Elmes
261 finished

Woodland Challenge, Sun 13 Oct
A Harriers Race League counter, Phil Hirst got some good points as 1st V55, results ...

( 1 36:07 David Watson. Holmfirth)
 80 48:52 Phil Hirst
182 57:30 Paul Sugden
193 58:09 Hilda Coulsey
284 finished

Run Sunday, Sun 13 Oct
Weekly 3 mile timed run on Otley Chevin. Results:

(1 22:19 David Womersley, Hyde Park)
9  28:25 Petra Bijsterveld 
20 finishers

Great Eastern Half Marathon, Sat 12 Oct
Nicky Green beat her own Club F40 record of 83:34 set at the Robin Hood Half on 29th September. Results ...

(1  63:59 Nicholas Kirui, Runfast)
127 82:44 Nicky Green
3845 finished

Langdale Horsehoe, Sat 12 Oct
From Dave Wilby ... Will Buckton set a great new PB, Ben Sheppard wasn't far behind in his first ever Lakes fell race (!!) and Jane McCarthy was a fabulous 5th lady and 2nd V40, behind the winner of the Lakeland Classics series and the joint winners of the English & British Champs...fine company indeed!! Loads of other Harriers out, great to see a good turnout at a proper fell race, perfect day for it.
From Ben Sheppard ... So this is Lakeland fell racing. Steep climbs, boggy traverses, technical descents, splendid views, a couple of hairy moments, a pastie and a pint in the good company of kind and generous clubmates. Some classy and gutsy performances from Harriers not only at the front of the pack (Dave and Jane in the prizes) but throughout the field, some first timers and some seasoned veterans - in Bob's case a mere 31 years after his previous running of this race!
Be inspired by Bob's photo story of the day.

(1  2h07:00 Ben Abdelnoor, Ambleside)
10  2h17:30 Dave Wilby
47  2h33:06 Will Buckton
87  2h45:15 Ben Sheppard
94  2h46:32 Jane McCarthy  5th lady, LV40 prize
135 2h52:52 Dick Waddington
190 3h06:16 Kate Archer
214 3h10:30 John Hayes
250 3h15:45 Neil Smith
344 3h47:49 Clare Smith
345 3h47:49 Eleanor Bradley
351 3h50:25 Bob Hamilton
357 3h54:45 Helen Waddington
363 3h58:28 Steve Weston
381 finished

Ilkley had 3rd ladies team, comprising
Jane McCarthy, Kate Archer, Clare Smith and Eleanor Bradley.

Wasdale, Sat 12 Oct
Will Buckton reports ... Iain Gibbons cemented his position as 13th senior male in the BOFRA Championship with 17th place finish at the Wasdale Show fell race, a dash up and down the 802m summit of Kirk Fell. Results ...

(1 38:03 Sam Watsson, Wharfedale)
17 49:39 Iain Gibbons
55 ran

Coniston 14, Sat 12 Oct
From Jean Sullivan ... A superb location, with fantastic scenery for this 13.895 mile run! Lots of sunshine, great send off and welcome home by a local jazz band and excellent home made cakes available afterwards!
Jonathan Sinclair adds ... Saw Alex's heels for the first 2 mins and sorry I didn't see Jean to say hello (or Ben Shepherd who usually comes to this one and I see has been posting some great results this year) but did reach the finish rather more slowly than last year. Wonderful to be out again after a few months injury.

(1  1h16:03 John Herbert)
18  1h29:51 Alexander Sinclair
40  1h34:53 Jonathan Sinclair 2nd MV50
518 2h05:09 Jean Sullivan

parkruns, Sat 12 Oct

Skipton Aireville Park
(1  18:15 Jack Smith, Wharfedale)
4   19:39 Steve Turland
8   20:44 David Brown
11  21:25 Oscar Stapleton (junior)
25  22:43 Ben Joynson
51  26:24 Janet Grace
64  28:54 Petra Bijsterveld
83  32:22 Elaine Ibbotson
85  32:23 Rosalind Brown
102 35:17 Katie Turland (junior)
111 finished

No other parkrun results this week

Primary Schools XC, Sat 12 Oct
700 (OK, 697!) children ran at Ghyll Royd School's event today, the first in this year's Wharfedale Primary Schools' XC League. Results ...
Ian Hodgson Mountain Relay, Sun 6 Oct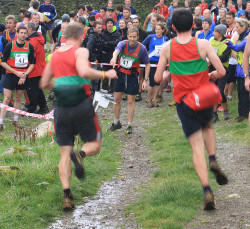 From Will Buckton ... the IHMR is an ultra competitive event as the northern fell running clubs take their strongest runners to the Lake District to take on the 40km/2450m ascent, split into four legs. Visibility on the day was poor and navigational skills were required as well as fitness - eight teams were forced to retire lost. Ilkley's men showed their strength in depth as, despite sustaining some last minute injuries, they were able to take a strong team and made no navigational errors to finish 20th overall in these challenging conditions. Ilkley ladies rounded off their impressive season with fourth in a close competition.

1  3h47:35 Borrowdale

20 4:29:46 Ilkley Open
24   40:58 Iain Gibbons, Rob Cunningham
24 1:22:30 Dan Wilkinson, Steve Turland
28 1:07:26 Will Buckton, Nick Pearce
13 1:18:52 Dave Wilby, Martin Archer

42 5:11:03 Ilkley Ladies
34   44:52 Nicky Jaquiery, Alison Eagle
58 1:41:35 Jann Smith, Rebecca Mon-Williams
34 1:12:09 Alison Weston, Kate Archer
43 1:32:27 Andrea Priestley, Sally Morley

62 teams finished

Chester Marathon, Sun 6 Oct
From Neil Bloor ... took a trip to Chester but limped over the line in 4h16 after a bad cramp attack in the heat at mile 21. However thought it worth mentioning what a great event this was - really well organised, very enthusiastic supporters and refreshment volunteers, the organisers even welcome everyone personally over the line at the end. There were around 4500 entries and both male and female course records were broken this year which made it interesting for spectators.
Open 5, Ilkley, Sun 6 Oct
From Jo Taylor ... Despite not touching the Moor the routes were great quality, with enough challenge on both run and mountain bike sections to make the day enjoyable without being impossible in the heat of an October day in Ilkley! After doing these races for a number of years we were delighted to see it at home. We were 13th mixed pair with 425 points which we were happy with. There were plenty of better results than that amongst Harriers. Well done Sue Booth for taking on the planning. Results
Run Sunday, Sun 6 Oct
Weekly 3 mile timed run on Otley Chevin. Results:

(1 18:50 James Tarran, Valley Striders)
2  19:09 Jamie Hutchinson
30 finishers

WMRA Grand Prix, Slovenia, Sat 5 Oct
Well done to Tom Adams on a top 10 place (9th in 45:49 and 2nd Brit by just 11s) in the sixth race in the World Mountain Running GP, held in Ljubljana. Results ...
Saddleworth Edges, Sat 5 Oct
From Ian Rowbotham ... A challenging step start led onto the moor. Then over 5 miles of stunning edge running with the views to match most of the time. Much of this scenic run is on challenging surfaces including dark peat. It's a well run race with a strict kit check. Thanks to the marshals and those who provided the results by the time you have had a drink of water! Recommended. Ian Rowbotham 11th 1st Vet 50. Results ...

(1 60:50 Coln Bishop, Saddleworth)
11 69:47 Ian Rowbotham  1st V50
140 finished

parkruns, Sat 5 Oct

Skipton Aireville Park
(1 17:57 Jack Smith, Wharfedale)
2  18:06 Matthew Cox
7  20:51 David Brown
13 22:07 Emma Barclay
30 25:29 Kevin Lawson
61 29:31 Joe Ibbotson
83 32:44 Elaine Ibbotson
84 32:48 Christine Reilly
103 finishers

Bradford Lister Park
44  22:16 Phil Hirst
85  24:08 Will Worboys
128 25:49 Peter Lewis

Leeds Hyde Park
284 28:29 Harry Stead (jun)

Preston
16  20:50 Oscar Stapleton (jun)


---
Ilkley Harriers of the Month, September
Jann Smith
Edale fell race, and top 10 in English Fell Championships
Other nominations were: Neil Chapman - for his commitment to club training, now including Monday night circuits
Hilda Coulsey - Club F60 record at Great North Run and other good results
Sharon Meadows and Andrew Merrick - for doing the full Bradford Millenium Way. Andrew because it was his 1st ultra and Sharon for guiding him round and advising him on ultra running
Paul Wood - for his commitment to the Club over the past years
Dave Wilby
For great results at 3 Shires and Grisedale fell races
Earlier Harriers of the Month ...
Edale Skyline, Sun 29 Sep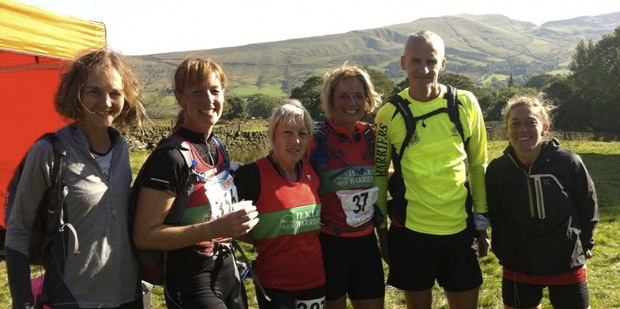 From Will Buckton ... Well done Ilkley in the final English Fell Championship race of 2013, on a beautiful day in the Peak District. Jann, Rebecca and Kate did really well and made the top 30 ladies, let's see some more men taking part in 2014! Results

(1  2h45:50 Simon Bailey, Mercia)
71  3h34:03 Will Buckton
91  3h43:50 Jann Smith
123 3h55:37 Rebecca Mon-Williams
153 4h06:26 Kate Archer
173 4h11:50 Neil Smith
179 4h14:57 Alison Weston
243 4h42:43 Clare Smith
244 4h42:46 Eleanor Bradley
245 4h43:14 Adela Reperecki
269 finished


Clare Smith adds ... Well done to Eleanor Bradley in her first AL fell race!
Nottingham Robin Hood half marathon, Sun 29 Sep

(1   1:06:54 Aaron Scott, Notts AC)
93   1:23:34 Nicky Green
2648 1:55:15 Paul Sugden 
4877 2:14:09 Kathryn Sugden
6585 ran


Nicky Green's time set a new F40 Club Record, beating Sally Malir's 1h25:45 set at York on 22 Jan 2006
Redcar half marathon, Sun 29 Sep

(1   1:07:25 Paul Pollock, Kent AC)
61   1:26:33 Caz Farrow  3rd lady 
1155 ran

Horsforth 10k, Sun 29 Sep

(1  33:18 Phillip Tedd, Woodhouse Grove)
21  37:07 Rob Cunningham
118 43:39 Duncan Cooper
543 finished

Rab Mountain Marathon, 28-29 Sep
A few Harriers in this, including Stu Pitches and partner 10th, Andrea Priestley and former Harrier Heather Dawe 13th and 1st ladies' pair, and others - results.
Run Sunday, Sun 29 Sep
Weekly 3 mile timed run on Otley Chevin. Results:

(1 20:18 Simon Edgar, LBT)
15 26:24 Lynn Donohue
22 31:16 Petra Bijsterveld (tail runner)
22 finished

Thieveley Pike, Sat 28 Sep

(1 32:49 Joe Mercer, Horwich)
26 39:14 Ian Rowbotham
141 finished

parkruns, Sat 28 Sep

Skipton Aireville Park
(1 18:28 Jack Smith, Wharfedale)
4  19:41 Steve Turland
27 24:59 Andrew Wilson
29 25:19 Samuel Turland (junior)
44 28:35 Joe Ibbotson
46 28:39 Petra Bijsterveld
70 32:57 Elaine Ibbotson
95 finished

Bradford Lister Park
74  24:45 Sue Bickerdike
149 28:35 Emma O'Looney

Leeds Hyde Park
25 19:35 Arthur Reilly

Ilkley Harriers AGM 2013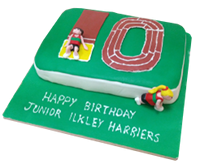 The 2013 Annual General Meeting of Ilkley Harriers Athletic Club was held on Tuesday 24th September at Ilkley Lawn Tennis and Squash Club after the Tuesday night run (as notified in the August newsletter).
A new Committee was elected with Jane Bryant as Chair. Membership Subs remain at the same levels as 2012/2013 and renewal forms are being distributed to members now.
An extra benefit for those attending was the delicious cake made by Gaenor to celebrate Junior Ilkley Harriers' 10th year.
Bradford Millenium Way, Tue 24 Sep
From Val Kerr ... congratulations to Sharon Meadows and Andrew Merrick who successfully completed the whole of the Bradford Millenium Way on Tuesday, starting and finishing in Ilkley (via Bingley, Oxenhope, Stanbury, Laycock, Steeton, Silsden, Addingham and Windgate Nick) (46 miles and lots of climbing; overall time about 12 hours I think). Perfect conditions for long distance running, mostly dry underfoot, no rain and clear views. Well done to both of you.
Kirkstall 7, Sun 22 Sep
A win for Tom! Results

1 35:44 Tom Adams
225 1:13:36 Lyn Eden
241 finished

Beefys Nab, Sun 22 Sep
Results ...

(1 21:44 Mark Sennett)
12 26:00 Tilly Melechi U14 1st lady
37 finished

Embsay, Sun 22 Sep
Results of this BOFRA Championship race ...

(1 18:47 Jack Simpson, Leeds)
13 23:14 Iain Gibbons
36 26:12 Jann Smith 1st LV40
75 finished

Harewood 10k, Sun 22 Sep
Results ...

(1 34:36 Mike Burrett)
5  38:20 Martin Archer
7  39:36 Jamie Hutchinson
72 59:41 Julie Elmes
94 finished

Run Sunday, Sun 22 Sep
Weekly 3 mile timed run on Otley Chevin. Results:

(1 19:29 Scott Harrington, Otley)
4  21:03 Emma Barclay (new ladies record)
15 28:12 Petra Bijsterveld
24 finished

Junior Home International, Sat 21 Sep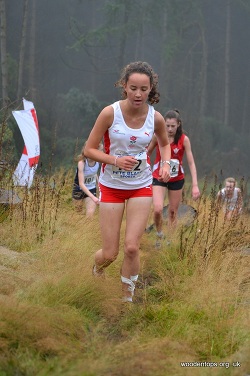 Well done to Lucy Williamson in her first England vest. She finished 5th English counter, and 11th all together in the U17 girls' race.
Report
Woodentops photos
Three Shires fell race, Sat 21 Sep
From Will Buckton ... the penultimate race in the Lakeland Classics Trophy took place at Little Langdale in the Lake District. Dave Wilby had a fantastic run to finish 2nd in a strong field, less than one minute behind winner Ben Abdelnoor. Dave led for much of the race and was first to the final checkpoint at Lingmoor summit. Conditions were wet and slippy and low cloud meant minimal visibility. Steve Turland was the latest navigational victim as he descended Swirl How and had to run an extra mile up Wrynose Pass to get to the checkpoint at Three Shire Stone, although he recovered his run well on a day when many retired lost or were timed out. A great race. Results ....

(1  2h05:11 Ben Abdelnoor, Ambleside)
2   2h05:46 Dave Wilby
32  2h29:09 Will Buckton
93  2h51:00 Steve Turland
197 3h37:51 Neil + Clare Smith
211 finished

Great Langdale Half Marathon, Sat 21 Sep

(1 1:21:37 Johny Lawson, Portobello)
57 1:44:35 Ewan Welsh
297 finished


Read a few words from Ewan ...
A few words from Ewan ... "One more cup of coffee before I go".... I suspect Dylan wasn't contemplating Langdale Half Marathon when he phrased that line, however the sentiment reflected the atmospheric ambiance of Langdale on Saturday morning as I embraced some 'chillaxing' whilst awaiting the start of the Great Langdale Half Marathon (on the road, as in the beautiful tarmac of the lakes, can you get any more 'classic' tarmac than that of the Lakes!)
This year's event was significant as it was the race organiser's, commonly known as 'Rockin' Rod, retirement race after 25 years of running the gig. Both Ron Hill and Joss Naylor appeared to pay homage to this landmark. The race-t-shirt was suitably entitled 'Rockin Rod's Retirement Race', with all competitors listed on the back of the t-shirt! Hopefully the race will continue in the same vein, although I suspect the hand written letter received with your entry may prove to be an artefact of a by-gone era... the race itself played out in the usual fashion over one of the most undulating road races you could possibly do, where if you're not going up you're going down, and if you're not going down, you're going up, perhaps a reflection of life.
Only 9 coiled springs were under the 90 mins, not that it's important but may give some context for anyone who wants to give it a go. In fact you should give it a go, even if it's just once, it's an old-school local road race. You don't have to use Twitter, you don't need to go on Facebook, and the route isn't on YouTube, you just enter and turn up, you even park the car next to the start, simples... I give that a thumbs up !..... Two laps for the marathon (in case that entices you).
From my own perspective, as I approach the mature running years, I took on the role of the defensive midfielder where it's all about consolidation and awareness as you come to terms with that lost yard of pace. I managed to pace it reasonably enough enjoying a shuffle up the steep hills, the wheels remained on until just at the last mile where I had a wee wobble and the standard casual vomit, but kept the faith as you do, it's all about fun and being healthy.
I was tempted to partake in the post-race massage on offer, however my 'Time out of Mind' had to come to an end, I had to return home, all be it with an air of contentment, to metaphorically see a man about a dog ... alas if only every day was like this "Time is like a jet plane, moves too fast"
Results: the winner's time was 1.21.37 (it wasn't me).
Ewan Welsh (that's me) finished in 1.44.35 in a position of relative but satisfying discomfort, actual place (it is place rather than position !) was 57/297. Oh and 11th v45 out of 34, that's poignant if not relevant!
Ilkley Triathlon, Sat 21 Sep
From Mark Iley ... a great day for this year's event, and good to see plenty of Harriers out at this local event, and many well up there at the top end of the finishers.. I took part again as part of a team (Team Miley), with my Daughter, Melissa (member of Ilkley Swimming Club and LBT) doing the swim, a late replacement for Bob Hamilton, in Mike Burdon (from Ilkley Cycling Club) doing a sterling job on the bike leg and myself finishing off the event with the run.
Overall, we were well pleased with the result, and breaking the hour as well for the first time, in 58:52, and finishing as 2nd team and 5th overall in the whole competition, out of nearly 330 competitors.
From Ralph Tench ... Sun shone (yet wind blew) and loads of Harriers and related sporting clubs/associations from the town on display. Many teams of families from the Harriers community. Looking through the results some good examples of the younger generation outperforming their parents, particularly in some of the teams. No names ...
I was first Harrier in the individual triathlon event and 10th overall. One of my slower times but cartilage held out and first local prize reclaimed after missing last year with knee operation. Second in the V45 competition by six seconds. I blame the driver of the VW estate crawling down Curly Hill on lap 3 ...
Results ...

(1  54:24 Florians Luquet, no club)
5   58:53 Team Miley
13  61:43 Ralph Tench
78  70:27 Mark Bourgeois
106 73:03 John Hayes
157 77:24 Michael Duffield
173 78:37 Dave Taylor
211 82:48 Naomi Elliot (junior)
236 85:38 Sarah Hayes
251 87:59 Hilda Coulsey
294 97:34 Kevin Wardale
Numerous other Harriers under other club/team names
327 finished

Folkin Reservoir Ramble, Sat 21 Sep
Results ...

(1 1h46:06 Graham lake, Otley)
13 2h06:04 Ian Rowbotham
14 2h06:44 Chantell Busby 3rd lady
34 finished

Parkruns, Sat 21 Sep
Today's Bradford Lister Park parkrun was a 'road' counter in the Ilkley Harriers Race League and enjoyed a bumper turnout of Harriers in a near-record field, results ...

(1  17:12 Jack Wilson, Kent)
13  19:16 Henry Heavisides
18  20:17 Caz Farrow
43  22:07 Phil Hirst
62  23:33 Dave Ibbotson
69  24:04 Will Worboys
79  24:29 Sue Bickerdike
105 25:20 Paul Sugden
127 26:05 Peter Lewis
133 26:13 Alessandra Ricci (junior)
140 26:42 Allison Ricci
143 26:48 Julie Elmes
144 26:48 John Marshall
185 28:48 Joe Ibbotson
186 28:56 Emma O'Looney
217 31:06 Elaine Ibbotson
364 finished


This left our local Skipton parkrun a little short of Harriers but in only its third week it had a good 109 finishers, let's have lots of Harriers there next week? Results ...

(1  18:59 Paul Crabby Crabtree, Wharfedale)
4   21:02 Arthur Reilly
7   21:40 Oscar Stapleton (junior)
19  23:25 Cameron Reilly (junior)
50  26:59 John Brown
72  30:32 Ian Hargreaves
109 finished


And at Wanstead Flats Sophie Brown was 62nd in 26:08
Another Harrier selection
Well done to Lucy Williamson who has gained her first England vest. Lucy has been selected for the U17 girls team to compete in the Junior Mountain Running Home International in Aberfoyle on the 21st September. Good Luck Lucy - we're all so proud of you.
Read Georgia's report on the World Mountain Running Championships last weekend.
Great North Run, Sun 15 Sep
Kevin Lawson reports ... new PB for me and WELL DONE all Harriers!
(And a little birdie tells us that Julie also scored a PB, by 8 minutes!)
Hilda's time sets a new LV60 Club Record, beating Margot Dale's 1:57:00 from Glasgow 08/09/2002
Results ...

  ( 1 1:00:09 Kenenisa Bekele, Ethiopia)
  194 1:21:13 Dan Wilkinson
  231 1:22:06 Rob Cunningham
 3379 1:39:32 Neil Bloor PB
 4733 1:42:58 Kevin Lawson  PB
 5158 1:43:52 Dougie Scarfe
 5270 1:44:07 David Howe
 6812 1:47:09 Christine Cox
 6832 1:47:11 Chris Cunningham
 7142 1:47:43 Andrew Mitchell
 7478 1:48:18 Adela Reperecki
 8781 1:50:31 Bethany Bloor PB
10520 1:53:22 Hilda Coulsey
11561 1:54:59 Emma Curran
12124 1:55:50 Charlotte Smithson
16102 2:01:26 Sue Williamson
17111 2:03:02 Caroline Morley
17497 2:03:40 Sue Verspyck
18019 2:04:30 Julie Elmes  PB
19223 2:06:35 Alison Bloor
21339 2:10:33 Judith Scarfe
23111 2:14:04 James Bloor
56,000 people finished!?


British Masters track & field championships, Sun 15 Sep
From Henry Heavisides ... It was very wet & windy for today's 5000m race at Alexander Stadium, Birmingham. I finished 4th in the M55 age group in 18:28.15, a few seconds quicker than last year which was run in a heatwave. In yesterday's 1500m I was 6th in 5:01.11, a couple of seconds slower than last year.
Burnsall, Sun 15 Sep
Results of this BOFRA Championship race ...

(1 14:11 Jack Simpson, Leeds)
11 17:25 Iain Gibbons
48 22:17 Jann Smith 1st LV40
72 finished

Run Sunday, Sun 15 Sep
Weekly 3 mile timed run on Otley Chevin. Results:

(1 18:24 Zack Whitehead, Otley)
7  21:43 Tilly Melechi
26 28:46 Emma Payne
31 finished

Peris Horseshoe, Sat 14 Sep
From Nick Pearce ... this was the final race in the 2013 British Fell Championship, and I managed to turn the tables on the two over 60's who have beaten me all season and finished 1st over 60 in 4 hours 23 minutes, in 72nd place overall. So I end 2013 with a British Championship bronze medal in the V60 category. Peris is a testing course from Llanberis run over a 28K course with 2,590m of ascent, visiting six summits including Snowdon. Rob Jebb was first home in 3 hr 12 m. Results ...

(1 3h12:29 Rob Jebb, Bingley)
72 4h22:58 Nick Pearce
171 finished

Rombalds Romp, Sat 14 Sep
Ben Sheppard reports from the fell race ... A real shame that the leading runner (Wharfedale's Mark McGoldrick) went the wrong way with a little over a mile to go. And that the next five runners followed him. A fair few Harriers turned out to race in near perfect conditions, with a choice of fell race or trail race, both around 11k.
Paul Stephens adds ... What Ben hasn't said was that he was in the prizes, along with Ralph Tench and Jane McCarthy. Also running well were Dick Waddington and John Hayes. I struggled. My time was only seconds different from last year, but I can't remember what conditions were like. Anyway what a beautiful morning. I spotted some blackberries while warming up, and picked 3lbs before the light went this evening. Must be getting old. It's what your parents do.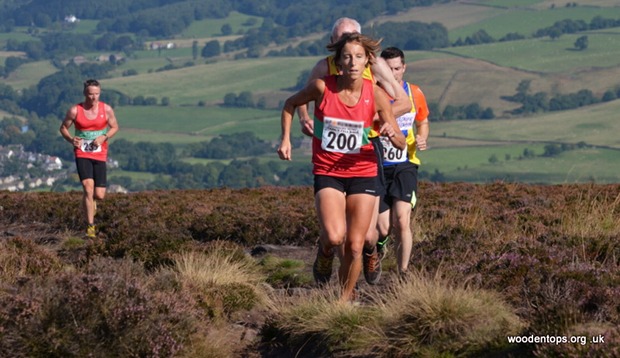 Results (trail and fell races combined) :

(1 44:20 Quentin Lewis, Baildon)
9  48:28 Ralph Tench
12 52:16 Ben Sheppard
23 54:40 Paul Calderbank
28 57:12 Jane McCarthy
33 58:12 John Hayes
36 58:31 Emma Borley?
40 59:36 Chantal Busby?
41 59:53 Dick Waddington
51 62:43 Paul Stephens
58 64:46 Chris Oxlade
68 68:41 Nick Mellor
69 69:13 John Brown
86 83:03 Sue Morley
88 finished

Lothersdale, Sat 14 Sep
Steve Turland reports ... More BOFRA fun at Lothersdale as part of the village show. Only a mile, but seniors and juniors run together so lots of pride at stake! Finished in 2nd place in something around 10 minutes. But some great sporting behaviour from the U14 lad who finished 3rd - called us back as we headed off in completely the wrong direction on the descent.
Buttermere Triathlon, Sat 14 Sep
From Jamie Hutchinson 1500m swim, 44k bike including Honister and Whinlatter and 17k trail run. I had my usual average swim, followed by hard effort on the bike to move into 16th position and a solid run moved me up to 9th overall and a few seconds faster than last year! Alastair Robinson won in 2:53 and 177 raced. Great to race in such a beautiful spot and fantastic weather!
Parkruns, Sat 14 Sep

Skipton Aireville Park
20 23:18 Phil Hirst
54 31:23 Joe Ibbotson
64 33:47 Elaine Ibbotson

Burnley
1 18L31 Steve Turland

Harrogate Stray
74  23:01 Helen Thurston
218 31:17 Andy Brook-Dobson

Leeds Hyde Park
145 25:46 John Marshall
191 28:08 Harry Stead
272 33:19 Linda Marshall

York
22 19:45 Geoffrey Howard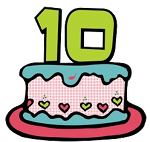 Happy Birthday Junior Ilkley Harriers!
Our super junior section celebrates its 10th anniversary (info) this September!
'From little acorns' ... the junior section now has nearly 300 members, most of them coming to training sessions every week, and nearly 70 people of all ages actively coaching at different levels.
We can only give a flavour of the successes of the juniors on these pages, you need to see the junior pages to get the full picture, there's a lot going on!
So, let's all wish them a ... Happy Birthday!
Evening Training, it's time to 'Go with the Fluo'
Notice: The nights are getting dark earlier and it is important on the evening Club runs to give some consideration to your visibility to car drivers.
A fluorescent top helps you stand out in poor lighting conditions.
Reflective trim on your clothing will show up in car headlights.
A flashing red LED light attached to your clothing can help too (but take care with headlamps as they could dazzle car drivers).
World Mountain Running Championships, Sun 8 Sep
International News ...Georgia Malir was 5th in the junior girls race helping GB to team Gold (with Annabel Mason 4th, Catriona Graves 6th). And Tom Adams finished 51st in the senior men's race, the mens GB team 7th. World Mountain Running Championships in Poland.
Read Georgia's report.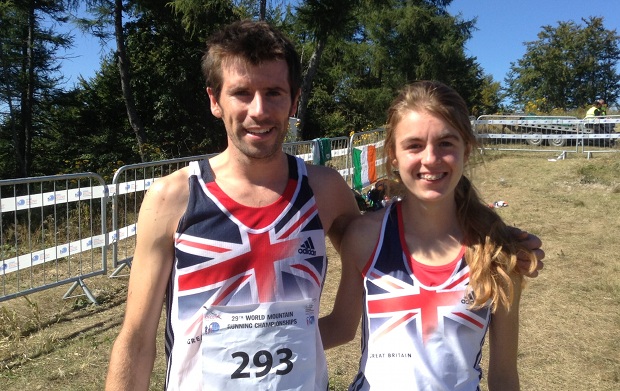 Yorkshireman Off-Road Marathon, and Half, Sun 8 Sep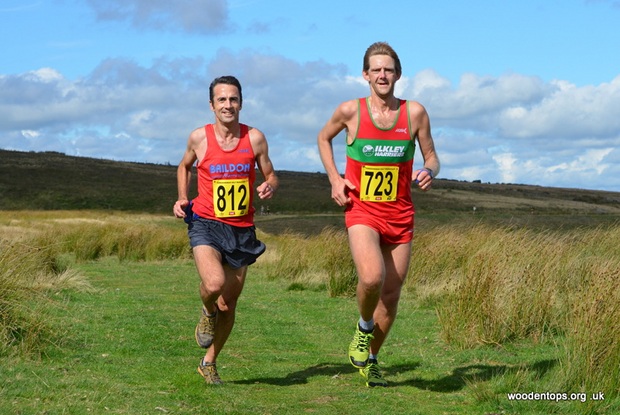 Nick Richardson well to the fore here, also in Woodentops photos Rebecca, Adela, John, and others.
Results

Full Yorkshireman, solos
(1  3h18:29 Ged Callan, Bingley)
39  4h04:20 Alistair McInnes
88  4h42:50 Adela Reperecki
176 7h05:50 Amanda Parnaby
178 finished

Pairs
13  4h48:43 Jon & Richard Dillon
26 pairs

Half
(1  1h41:04 Ben Mounsey, CVFR)
5   1h46:36 Nick Richardson
107 2h28:39 John Coates
173 2h49:00 Rebecca Moores
175 2h49:03 Juliet Hammond
246 finished

Wetherby 10k, Sun 8 Sep
Emma Curran reports ... got a PB, great weather and conditions, great organisation and atmosphere. Results

(1  34:01 James Wardman, Rothwell)
420 52:13 Emma Curran
502 54:52 Julie Elmes
611 59:05 Sally Wright
782 finished

Run Sunday, Sun 8 Sep
Weekly 3 mile timed run on Otley Chevin. Results:

(1 17:31 Paul Tiffany, Bingley)
13 25:41 Lynn Donohue
16 27:54 Petra Bijsterveld
21 28:45 Emma Payne
29 finished

Golden Mile, Leeds Carnegie track, Sat 7 Sep
Henry Heavisides reports ... about 100 runners took part in the Golden Mile races on the Carnegie track. Competitors were split into 9 heats based on each runner's predicted time, so that in theory everyone was running with people of a similar ability. Mark Iley & I ran in heat 7. Mark set the pace for much of the race & finished in 5:21. I followed on behind & managed a quicker finish in 5:19, we were 3rd & 5th in our heat. The overall fastest time was 4:36 set by Ben Pye of Wetherby in heat 9.
Given that my only previous one mile race was the Ilkley Incline on Wednesday, I was pleased to set a PB by 4 minutes 19 seconds (albeit on a slightly faster course!). Results
The Golden Mile is a good opportunity for runners of all standards to test themselves over the classic one mile distance.
Ben Nevis Mountain Race, Sat 7 Sep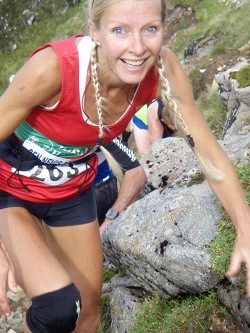 Jann Smith reports ... The highest mountain in Great Britain. It had to be done. The 600 race entries go live in January and fill up within a day. Starting at Fort William it's 4.5 miles near vertical uphill, then 4.5 miles back down (9 miles / 4409ft). The tourist path zig-zags up to the summit but runners take a straight line up. The terrain varies from big, bouldery pathways to scree to loose rock. Tough. I enjoyed the climb up and got to the summit in the top 10 ladies. The descent was difficult but just as I was thinking I'd cracked it I took a nasty fall down some stone steps. My first DNF and so close to the finish. Great fun though!
Grisedale Horseshoe, Sat 7 Sep
From Alison Weston ... Dave Wilby, Steve Turland and myself ran this great route up and around Helvellyn. 1525m climbing in 16km with very steep descents and a shock to be back running in wind, rain and mist! Dave had an amazing race to finish in top ten in 2hrs02, with Steve in 2hrs30 and myself 2hrs44. A tough race but well worth doing.
Skipton parkrun, Sat 7 Sep
A number of Harriers enjoyed the inaugural parkrun at Skipton, the 300th parkrun venue around the world. 194 people finished, including a number of parkrun enthusiasts from all over 'bagging' the venue's first event. A good course with something for everyone, gnarly hilly bits and a long fast downhill on tarmac. Results...

(1  18:12 Julian Hood, Skipton)
19  22:15 Oscar Stapleton (junior)
29  23:16 Phil Hirst
34  23:57 Diane Haggar
55  25:58 Will Worboys
60  26:18 Paul Wood
88  29:05 John Marshall
89  29:10 Petra Bijsterveld
97  29:50 Lizzie Hebbert (misdirected, extra lap!)
114 31:13 Shirley Wood
145 34:07 Elaine Ibbotson
194 finished


Other parkrun results ...

Harrogate Stray
15  19:16 Euan Brennan (junior)
187 28:51 Andy Brook-Dobson (junior)

Leeds Hyde Park
90 23:21 Cameron Reilly (junior)
91 23:27 Arthur Reilly

York
19 19:32 Geoffrey Howard

Ilkley Incline, Wed 4 Sep
A super event organised by Geoff Howard, who reports ... It has been a great year for blackberries and tomatoes and so it was with the number of competitors in the 12th Ilkley Incline. Not even the distractions of Elton John at Leeds Arena or a host of midges more locally could deter the valliant 108 from shattering the previous record of 87 in 2011. In a great race, four runners broke the 8 minute barrier with James Hall of Wharfedale a clear winner in 7m 25s with only ten seconds separating the next three. Second was Emile Cairess of Bingley who took the under 18 prize.Racheal Bamford of Otley made it a hat trick of wins in consecutive years in the Ladies race in 8m 36s (only 8s off her last year's record). Ilkley won both of the team prizes. It was great to see sixteen different clubs represented and several runners having made lengthy journeys. The generous sponsorship from Ilkley Physiotherapy and The Bicycle Shop Skipton helped us to maintain our extensive prize list and is very much appreciated.
results and some photos.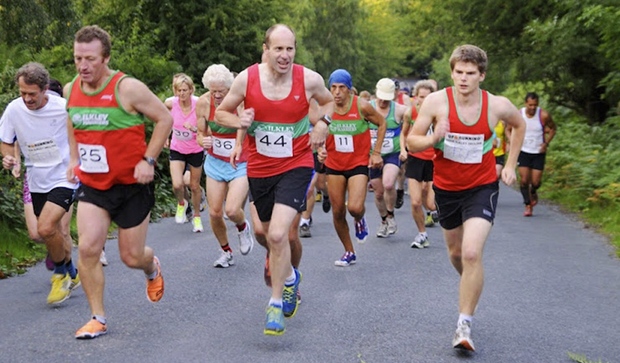 (1   7:25 James Hall, Wharfedale)
4    7:56 Matthew Cox
6    8:04 Rob Cunningham
9    8:20 Bradley Chapman
11   8:24 Mark Hall
12   8:25 Matt Newell
14   8:28 Jack Wood
21   8:47 Eddie Irving
25   9:09 Paul Calderbank
28   9:23 Duncan Cooper
29   9:26 Adam Bennett
32   9:30 Mark Iley
33   9:36 Ewan Welsh
34   9:38 Henry Heavisides
37   9:43 Steve Weston
38   9:43 Malcolm Pickering
43   9:52 Caz Farrow
47  10:07 Paul Stephens
48  10:11 Bob Hamilton
50  10:14 Steve Newell
51  10:16 Nicky Green
55  10:29 Alison Eagle
66  10:48 Nikos Georgiadis
73  11:04 Alison Bennett
77  11:24 Philip Hirst
79  11:32 Will Worboys
90  12:17 Peter Lewis
94  12:41 Nick Mellor
95  12:47 Rachael Gooch
100 13:38 Geoffrey White
101 13:59 Amanda Newham
102 14:09 Don Macrae
103 14:15 John Brown
104 14:21 Steve Jordan
	

This was a counter in the Ilkley Harriers Race League, too.
Before the Incline, 14 junior teams raced round the Junior Sprint Fell Relays, report and photos on the junior pages.
Good Luck!
... to Tom Adams & Georgia Malir who are off to represent GB in the World Mountain Running Championships in Poland this week. And read Caz's report below on Harriers at the veterans event last Saturday.
YVAA Road Relay Championships, Sun 1 Sep
From Henry Heavisides ... We had 4 men's teams & 2 ladies' teams at the YVAA road relays at Saltaire. The outstanding performance came from the M60 team (Malcolm Pickering, Nick Pearce & Geoff Howard) who finished in 1st place in their age category, with Nick also winning the prize for the fastest M60 leg overall. The M50 A team won the award for 3rd place (Eddie Irving, Mark Iley & Henry Heavisides). Our quickest team was the M40 quartet (Mark Mon-Williams, Jez Hellawell, Steve Weston & Ralph Tench) who ran in a very competitive age category.
The title of 'road relay' is a bit misleading as the course is mainly on footpaths around Roberts Park & alongside the river & canal with only a very short section of road.
Full results on YVAA's website
Beth Massey adds ... Two ladies teams took part in the YVAA Road Relays at Robert's Park on Sunday, Run on a flat 2.9m circuit, it is not strictly a 'road' relay as much of the course is run on footpaths. The ladies F45 team had a storming run just missing out on a medal finishing in 4th place with an overall time of 62mins 32 secs. The team was led off by Natalie Curtis (19.55) with Helen Horton on the 2nd leg (20.12) and Lynn Donahue on the final leg (22.25)
The ladies F35 team also had a brilliant run finishing in 9th place with an overall time of 64mins 10secs. The team was Jacqui Weston (25.00), Anna Nolan (21.28) and Beth Massey (17.42).
All in all, a really enjoyable event & a fantastic effort from both teams!
Tholthorpe 10k, Sun 1 Sep
Results from UKResults.net ...

(1  33:35 Guy Bracken, North Shields Poly)
4   35:40 Mark Hall
122 50:22 Hilda Coulsey
269 finished

Bradley fell race, Sun 1 Sep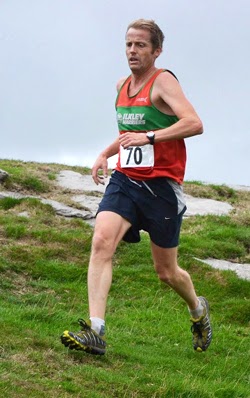 Results of this BOFRA race ...

(1 23:17 Jack Simpson, Leeds)
13 26:59 Steve Turland
47 31:00 Kate Archer
50 31:12 Rebecca Mon-Williams 1st LV40
70 34:16 Di Haggar 1st LV50
84 38:27 Eric Morley
99 finished

Loweswater Show fell race, Sun 1 Sep
Will Buckton reports ... on this AS fell race 4.2km/305m...

(1 21:37 Ricky Lightfoot, Ellenborough AC)
16 25:25 Will Buckton
74 finished

Run Sunday, Sun 1 Sep
Weekly 3 mile timed run on Otley Chevin. Results:

(1 19:29 Jonathan Forey, UA)
10 25:00 Will Worboys
19 28:38 Petra Bijsterveld
28 finished


---
Ilkley Harriers of the Month, August
Caz Farrow
4th W45 and GB team silver at the World Mountain Running Champs
Other nominations were: Will Buckton - for great performances
Rob Cunningham - for doing both races at Burnsall and performing well in both
Bradley Chapman - for his performance at Burnsall
Nick Pearce - for fell race results at Round Hill & in English Champs
Val Kerr - for her Burnsall 10m result
Alison Eagle - for GB team silver at the World Mountain Running Champs
Norman Bush - for GB team silver at the World Mountain Running Champs
Steve Turland
For consistently strong race results every week in August
Earlier Harriers of the Month ...
World Masters' Mountain Running Champs, Sat 31 Aug
From Caz Farrow ... a group of 'Master' (old!) Harriers made the journey to Janske Lazne in the Czech Republic for the 13th World Masters' Mountain Running Championships this weekend. 475 veterans, ranging from 35yrs to over 75yrs, finished the 8.6km course which apparently had nearly 800m of climbing. Whilst we were all full of excuses (and later full of beer!) why none of us won an individual medal, there were some stellar performances on a tough course nonetheless. Three of us also contributed to GB's overall tally of 11 medals by winning team silver. Results below in order of racing and position in category:

M70 Norman Bush (5th) 58:58 & GB team silver
W50 Alison Eagle (6th) 58:51 & GB team silver
M45 Jonathan Whitaker (25th) 54:45
W45 Sally Malir (8th) 56:28
W45 Helene Whitaker (12th)  58:07
W35 Caz Farrow (4th) 52:16 & GB team silver

Blackpool 10k, Sat 31 Aug
Results from UKResults.net ...

(1 31:08 Andrew Douglas, Inverclyde)
7  36:09 Rob Cunningham
87 45:04 Chris Cunningham
335 finished

Parkruns, Sat 31 Aug
Watch out for the new SKIPTON parkrun starting on Saturday 7th September. www.parkrun.org.uk/skipton/

Bradford Lister Park
7   18:58 Steve Turland
80  25:37 Paul Sugsden
102 26:24 John Marshall
217 34:26 Linda Marshall

UTMB, Fri 30 August
From Brian Melia ... The dream began in 2009 when I completed the UTMB in 31hrs 24 mins. I was surrounded by some fabulous athletes. I had entered in a drunken moment at Christmas 2008 after my Bob Graham round, which gives you the required entry qualification. Since that time I have privately wanted to do sub 30 hrs and also as an aside be in the top 100 ultra trail runners in the world. Everything has been thrown at me. In 2010 the event was cancelled after 4 hours due to a little rain. 2011 I finished, but was very slow and frail at the finish for all sorts of reasons. 2012 due to the popularity of the event I could not get a bib, which was just as well due to poor weather forcing the organisers to make a France only race. I decided in Autumn 2012 to start to train for the UTMB 2013 hoping I would get a bib to race. Previously at the 2011 UTMB I made a great friendship with a Japanese runner Chiharu Watanabe. This lead to me entering the Ultra Trail Mount Fuji. I ran this in April 2013 and felt strong finishing well. I had an entry for the UTMB by then so I began to try to put a training program to complete my dream.
This weekend the dream happened....the UTMB set off from the start in Chamonix, France over 168 Km and 9600 metres of climb. The route takes you over the Col du Bon Homme into Italy, through to the almost mid point of Courmayeur. Then over grand col ferret into Switzerland then over Catogne back into France via Vallorcine, a great final stop. Then there is a last blast up over La tete aux vents. This has to be one of the most beautiful sights on any race, even coming close to my Mt Fuji sunrise. The whole of the Mt Blanc massif was illuminated pink and this gave me a huge lift. I was very strong over the last 6 hours moving from 160th to 96th in the end managed to finish in 29 hrs 24 mins 5 secs. There were not many friendly faces at the finish, but some well known runners which made me content with what I had done. I just sat at the finish with an Ilkley friend, Beverley who used to babysit for us which was great. A tidal wave of emotions washed over me as I had finally achieved something of personal satisfaction and I was content. The crowds were unbelievable, Chamonix, at the Ultra Trail Du Mont Blanc is worth a visit for this alone.
What makes the UTMB special....I do not know. It certainly challenges every competitor at all levels. The scenery is stunning. Support at the cols and aid stations is fabulous. The whole race put together is a freak of Mountain sport. What do you need to take part? No idea besides race qualifying points from other Ultra Marathons. And I think a love of the mountains and to be pushed to your limits of mental and physical capabilities. Would I recommend it? Probably not ...it takes it out of you and your family.
I dedicate the race to my Dad who died in November 2012
Mascot Race, Fri 30 Aug
From Dave Wilby ... On Friday night I lined up on the 20 yard line at Leeds Rhinos Headingley stadium, in front of over 15,000 people in the guise of my alter ego, Bertie the Blue Dog. Representing White Cross Vets, I was up against 8 other mascots each with varying degrees of mobility & visibility. A controversial false start prompted by Ronnie the Rhino went unpunished, and as we headed off on the outward leg towards the opposition's 20 yard line, I could see Ronnie reaping the fruits of his deviousness. Reaching the half way point, I dutifully turned at the cheerleader, managed to avoid colliding head-on with the 2 Asda mascots, and gave it everything down the home straight. Through the eye holes (next to useless at the best of times, never mind at speed!) I could see Ronnie breaking the tape closely followed by Tyke the Leeds Carnegie mascot. I managed to consolidate 4th position, and avoid falling over any small children, advertising hoardings, cheerleaders etc. Got the additional bonus of a PB over the rarely run '160 metres with a turn at the cheerleader' distance!
Kilnsey fell race, Tue 27 Aug
Steve Turland reports .. an excellent weekend's racing with 4 races in 4 days - Burnsall, Halton Gill, Hebden Sports and Kilnsey. Camping just outside Grassington, all four races were right on the doorstep, each with a 'show' which meant plenty of activities and races for the kids too. Aside from my victories in the egg and spoon, three legged race and tug of war, the main results were as below ...
Kilnsey: first time at this race for me and what an epic. Starting and finishing in the main arena with large crowds on route, 1 mile in total. It's a lung-bursting sprint up Kilnsey Crag, then an exhilarating descent down into the main arena, with a bit of scree and rope assisted rock scramble thrown in for good measure. At the sharp end, it was another win for Simon Bailey holding off Ted Mason. I was 16th in 10mins 21, and Rob Cunningham 24th in 11 mins13.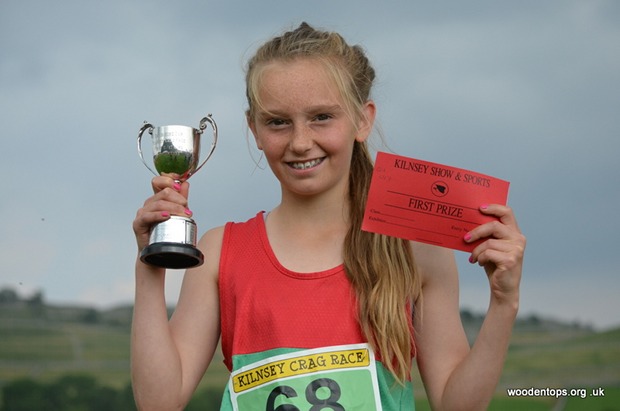 Lucy Haines won the U17 ladies and James was third in the U17 men, picking up yet another cash prize and bringng his total winnings to £37 (and is now comtemplating racing as an alternative to a Saturday job!)
Results of this BOFRA race.

(1  8:05 Simon Bailey, Mercia)
16 10:21 Steve Turland
24 11:13 Rob Cunningham
88 finished

Hedben Sports, Mon 26 Aug
Steve Turland reports ... Another great day out with loads of sports/activities for the kids. This time just over a mile with around 400ft. An easy win for Simon Bailey, 'fresh' from his Burnsall victory and 3rd place in the Grasmere Guides race the day before. I was 4th place in 13 mins 32 and James won the U17s over the same course, getting a big trophy and more money.
Reeth fell race, Mon 26 Aug
Dick Waddington reports ... results of this BOFRA Championship race, 2 miles, 800 ft.

(1 15:25 Ted Mason, Wharfedale Harriers)
12 18:41 Bradley Chapman 
17 20:05 Jamie Hutchinson 
21 20:45 Dick Waddington 
33 22:00 Jann Smith (3rd Lady, 1st LV40)
74 28:24 Helen Waddington 
89 finished

Halton Gill fell race, Sun 25 Aug
From Steve Turland ... Lovely low key BOFRA race with great village show. Race was another straight up and down, 1.5m and 750ft. Hector Haines won by a country mile (literally) in 13:47 with Lucy Haines first lady. However I won the important race finishing in 5th place in 16mins 53, but managing to stay ahead of James, my rapidly improving 14 year son (who won the U17s boys and was pleased with his cash prize).
Burnsall Classic Fell Race, Sat 24 Aug
William Buckton reports the results of this AS race 2.4km/274m ...

(1 14:10 Simon Bailey, Mercia)
17 17:31 Bradley Chapman
20 17:54 Steve Turland
27 18:26 Will Buckton
44 19:39 Simon Everett
89 23:07 Rob Cunningham
133 finished
Ilkley Harriers 5th team/13

Burnsall 10, Sat 24 August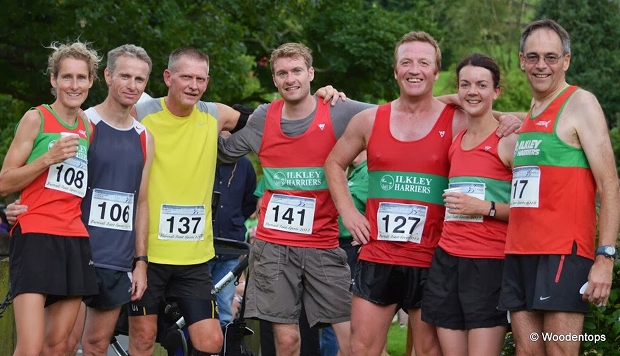 Henry Heavisides reports ... There was a strong contingent of Ilkley Harriers at the Burnsall 10. Great results from the ladies team, 1st team (no prize), with Caz Farrow in 3rd place, Kate Archer 4th & Val Kerr 12th. Rob Cunningham led home the men to 2nd placed team (Rob Cunningham, Steve Morley & Henry Heavisides). Rob managed to complete the course in under an hour, which is a very good achievement on a tough course. Hilda Coulsey was 1st F60. Results

(1 52:09 Alan Buckley, Leeds)
8  59:48 Rob Cunningham
22 64:19 Steve Morley
25 64:50 Henry Heavisides 2nd V50
32 67:57 Caz Farrow 3rd lady
45 71:14 Kate Archer 4th lady
52 72:52 Neil Chapman
53 72:56 Stephen Rhodes
55 73:14 Ewan Welsh
58 74:48 Phil Hirst
68 77:36 Chris Cunningham
74 79:06 Val Kerr 3rd L40
98 87:56 Hilda Coulsey 1st L60
107 91:40 Paul Sugden
122 finished


This was a counter in the Ilkley Harriers Race League ...
Do have a look at the Woodentops photos.
Weasdale Fell Race, Sat 24 Aug
From Jim Ryder .... Part of the local agricultural show it is a lovely, natural route around the northern Howgills. Recommended.

11 1:10:06 Ian Rowbotham
16 1:12:18 Jim Ryder
53 ran

Parkruns, Sat 24 Aug

Bradford Lister Park
50  23:35 Joe Reynier
206 36:25 Abbie Reynier

Harrogate Stray
94  24:12 Helen Thurston
179 30:40 Lyn Towers

Middlesbrough Albert Park
102 25:53 John Marshall
179 33:32 Linda Marshall

Sedbergh Hills, Sun 18 Aug
From Will Buckton ... Steep climbs, tricky contouring, fast descents and even some river crossings in the Howgill Fells on the edge of the Yorkshire Dales. AL 22.5km/1830m

(1 2h11:14 Rob Jebb, Bingley)
24 2h36:24 Steve Turland
28 2h38:31 Will Buckton
63 2h55:32 Dan Wilkinson
186 finished

Trophee des Martinaux, Sun 18 Aug
From Kate Archer ... Martin took time out from holidaying in Switzerland to compete in a local race, Trophee des Martinaux, a 6.6km uphill only run with a tough 1213m climb. Martin was 32nd (of 125) in a time of 1:05:17. Nicholas and Jonathan also joined in - running in the junior races.
Cray Fell Race, Sun 18 Aug
From Jann Smith ... A really nice race which started out on really steep rough ground but then followed a lovely path up to Buckden Pike Trig point and back down. Good junior races too. Results from BOFRA

(1 24:47 Ashley Holt, Rossendale) 
7  30:25 Jack Wood
8  31:36 Jann Smith (1st Lady)
9  31:53 Ian Rowbotham
19 finished

Run Sunday, Sun 18 Aug
Weekly 3 mile timed run on Otley Chevin. Results:

(1 20:08 Joe Webster, Otley AC)
19 31:53 Lyn Eden
26 finished

Gargrave Show, Sat 17 Aug
Results of this BOFRA race below, and enjoy the Woodentops photos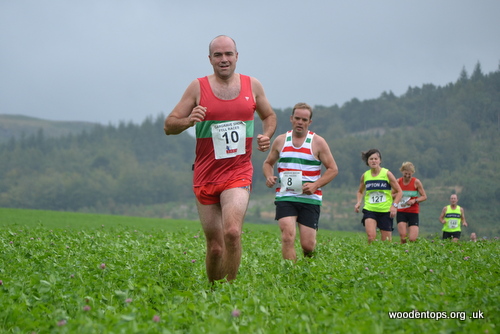 (1 22:23 Jack Simpson, Leeds)
14 25:56 Bradley Chapman
36 29:54 Steve Weston
41 30:12 Emma Barclay
43 30:26 Mike Baldwin
58 33:08 Natalie Curtis
83 finished

Parkrun, Sat 17 Aug
Some cracking Parkrun results this week!

Ally Pally
1 17:01 Tom Adams

Bradford Lister Park
3 19:09 Henry Heavisides

Harrogate Stray
3 18:01 Daniel Wilkinson

Leeds Hyde Park
42 20:13 Geoffrey Howard

Middlesbrough Albert Park 
119 26:49 John Marshall

The Guisborough Grunt, Wed 14 Aug
From Jez Hellewell ... Being up in North Yorkshire for a few days I thought I'd tackle the Guisborough Grunt which I had previously done 3 years back. I remember all too well why they inserted the "grunt" in to the title. The route takes in forest paths & trails that take you to the bottom of the wood before a brutal climb back up through the woods & on to open moorland. You then do a lovely 2 mile loop of the moors before a very fast descent back through the woods to the finish. I haven't raced in a while & it showed. I was very one paced & finished 17th out of 88 in around 47:40. I was 18th in 55:21 in 2010, so I'm reasonably happy. I lost around a minute, & 1 place, waiting for the next runner to show me the correct path at a junction with no race tape, which was frustrating. The winning time was a shade over 40 minutes. Still, good to be racing again ! The Garmin said 6.2 miles.
World Mountain Running Trial, Sun 11 Aug
F A N T A S T I C results from Georgia Malir and Tom Adams at today's selection races in Whinlatter Forest, for the World Championships in September. Georgia WON the junior women's race (ahead of Annabel Mason) and Tom was fourth in his race.
Latest: Tom and Georgia have earned selection for the GB team at the forthcoming World Mountain Running Championships: info.
Run Sunday, Sun 11 Aug
Weekly 3 mile timed run on Otley Chevin. Results:

(1 18:25 Simon Anderson, Otley AC)
24 32:08 Lyn Eden
29 finished

NVAC 10k, Bispham, Sun 11 Aug

(1 32:51 Thomas Corson, Bolton United H)
6  35:21 Mark Hall 1st V50
172 finished

Turner Landscape, Sat 10 Aug
Will Buckton reports ... The penultimate race in the English Fell Championship 2013 took place at the Turner Landscape, a new race on its second running. The terrain was very grassy and runnable and covered Grey Friar, Swirl How, Coniston Old Man, Dow Crag and White Pike. Nick Pearce was 3rd V60.

(1  1h22:52 Simon Bailey, Mercia)
81  1h42:54 Steve Turland
95  1h45:01 Will Buckton
106 1h47:24 Nick Pearce
166 1h59:32 Jann Smith
199 2h06:42 Alison Weston
261 finished

Arncliffe Gala fell race, Sat 10 Aug
BOFRA Championship race ...

(1  10:47 Ted Mason, Wharfedale)
7   12:04 Bradley Chapman
13  12:50 Iain Gibbons
29  14:11 Richard Joel
88 finished

Parkruns, Sat 10 Aug

Harrogate Stray
63 21:43 Geoffrey Howard

Leeds Hyde Park
41 20:11 Sally Malir

Salen Show Hill Race, Thu 8 Aug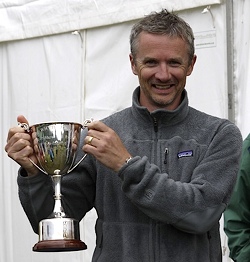 From Dick Waddington ... Salen Show Hill Race, Mull. Ilkley had a good haul of prizes at the Salen Show Hill Race. Salen is a small village on the Isle of Mull and the annual show is the kind where there are more Highland cattle on show than entrants in the Hill Race. The prospects for high placings were good with only 5 entrants for the adults race. The 2 mile loop (with not much of a hill) gave a fast course. Dick Waddington was first home in about 15 minutes, with Helen Waddington first (but only) lady home a couple of minutes later - she said it was the easiest 25 quid she had ever earned. Although the race is low key in nature, the disproportionately large Whyte Cup is awarded and will be engraved with my name! No cup for the ladies, much to Helen's chagrin - the Scots are lagging behind in the gender equality stakes it seems, but in their defence she may well have been the first lady to have a go.
Stetford track, Tue 6 Aug
Sally Malir reports ... this was the last meeting at Stretford for the summer season. Georgia ran another 1500m PB by 6 seconds finishing in a time of 4:34.64
Round Hill fell race, Sun 4 Aug
Val Kerr reports ... There was a good haul of prizes for Ilkley Harriers in this race: Emma Barclay 1st F, Sally Malir 3rd F, Val Kerr 1st LV50, Sue Morley 1st LV55, Nick Pearce 1st MV60, and the team prize (2 males and 2 females) going to Emma, Martin, Nick and Sally. Thanks also to Bob and Emma Payne who provided iced water half way up the track to the shooting hut on Denton Moor, much needed relief from the heat of the day and the first time I have ever been served ice cubes in a fell race! Results ...

(1   56:09 Richard Pattinson, P&B)
10   60:35 Martin Archer
21   66:35 Nick Pearce
28   68:21 Emma Barclay
32   68:45 Mark Iley
36   69:02 Sally Malir
45   71:31 Will Buckton
50   72:50 Paul Stephens
63   75:54 Richard Morris
80   81:00 Val Kerr
99   91:36 Peter Lewis
113 101:03 Sue Morley
114 103:09 Paul Sugden
121 125:09 Amanda Parnaby
122 finished


This was a counter in the Ilkley Harriers Race League ...
Farleton Knott, Sun 4 Aug
BOFRA Championship race ...

(1  35:59 Shaun Godsman, Calder Valley)
17  41:43 Steve Turland 
51  50:31 Jann Smith  4th Lady
129 finished

Saltaire Shaker (15k trail), Sun 4 Aug
A good turnout at the inaugural race, Results ...

(1    56:22 Mike Jefferies, U/A)
43  1:10:25 Simon Jenkins
70  1:16:46 Andrew Webster
97  1:22:13 Sue Bickerdike
103 1:24:15 Will Worboys
107 1:25:40 Harriet Middlebrough
147 1:34:39 Janet Smith
184 finished

York 10k, Sun 4 Aug

(1   31:14 Wondiye Fikre Indelbu)
1863 57:23 Sally Wright
4602 finished

Borrowdale fell race, Sat 3 Aug
From Will Buckton results from the 40th anniversary Borrowdale fell race from www.borrowdalefellrunners.co.uk ...

(1  2h51:24 Ricky Lightfoot, Ellenborough AC)
85  3h55:25 Duncan Cooper
92  3h56:22 Will Buckton
99  3h59:52 Daniel Wilkinson
143 4h15:58 Brian Melia
158 4h22:01 Heather Dawe, 7th Lady
176 4h25:46 Alison Weston, 9th Lady
319 finished

Hellifield Gala, Sat 3 Aug
A grand day out for the 18th Yorkshire Junior Championships, with a few senior results too ... and a first for Ilkley in the egg and spoon race!!

(1 23:34 James Hall, Wharfedale)
16 30:08 Malcolm Pickering  1st V60
56 42:33 Eric Morley
63 finished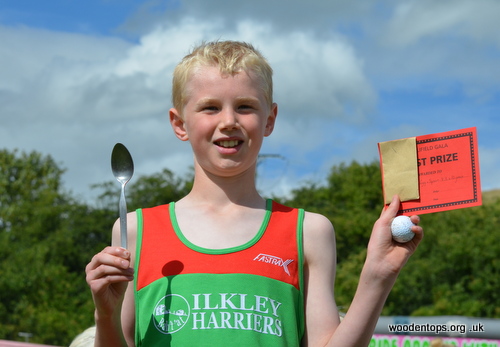 Parkruns, Sat 3 Aug

Abingdon
1 15:42 Tom Adams

Bradford Lister Park
64  24:15 Joe REYNIER
258 39:17 Karen Lambe

Greenpoint
6  20:16 Dave Wilby
80 32:54 Kelly Harrison

Harrogate Stray
148 25:36 Julie Elmes


---
Ilkley Harriers of the Month, July
Kate Archer
For continuing good race results on the fells
Other nominations were: Sharon Meadows - for her Lakeland 100/50 race
Neil Smith - for training hard & completing the Lakeland 100/50 and continuing good results in long races
Neil & Clare Smith - for their performances in the Lakeland 100/50
Rob Cunningham - for numerous good race results
David Westhead
For his sub 36min 10k at the Jane Tomlinson Leeds 10k
Earlier Harriers of the Month ...
St Ives beach 10K Cornwall, Tue 30 July
From Dave Iibbotson... this new race starts on the beach at low tide on the west end of Hayle beach, St Ives, Cornwall. The course takes you along the length of the beach before turning into the sand dunes at Hayle Towans. Beautiful scenery surrounds you as you follow well trodden paths and you are eventually faced with the 'Big Dune' – a very steep intimidating dune of soft loose sand. Once over this, you descend back to the beach for a long last mile slog to the finish. I did 51 minutes 54th out of 115 entrants. Winner Ben Price Cheltenham 35:39
Training, Tuesday 30th July
Please note there is no training at ILTSC this week as there is a major tennis tournament on. There is an Away Run as described in the Forums.
See also the Google Calendar and training page for details of any training sessions taking a "summer break".
Blisco Dash, Sat 27 July
From Clare Smith... Provisional results for this English Championships Short counter:

Men
102 51:44 Nick Pearce (1st M60)
138 55:26 Will Buckton
147 55:50 Bradley Chapman

Ladies
22  56:01 Kate Archer
34  58:21 Alison Weston (3rd LV45)
39  58:51 Jann Smith
65  67:13 Sue Booth

UTLD 50/100 mile, 26/27 July
From Clare Smith... Neil Smith finished 51st out of 274 starters (174 finishers) in the Lakeland 100 event in a time of 32:25:13. Clare Smith finished 201st out of 583 starters (482 finishers) in the Lakeland 50 in a time of 13:28:50.
Read Sharons's adventures! ...
From Sharon ... Was lovely to see Neil at the start of the Lakeland, but that was all I saw of him as he zoomed off into the distance. Well done to both you and Clare. My race went well until mile 82 when in the pitch black and torrential rain I got lost. All I could see was the rain illuminated in front of my face. Myself and another runner (Elaine) could see the lights from the checkpoint but after an hour and a half of trying every route we could think of we still could not get to it. My GPS screen was so blurry that was no use either. I tried to ring the race emergency number as by now we were getting very cold but of course there was no reception. There were a few houses near the checkpoint but no lights on. All I could think of to do to keep safe was knock on a door. Poor man! Bless him he answered the door in his pants and T shirt, I apologised as much as I could and explained what had happened. I thought he might make a call from his land line but no he got dressed and said he would walk us round as it was only 5 minutes away! When we got there the marshalls said they could see us wondering around but could not get to us either. Unfortunately that meant we only had an hour and a half to get to the checkpoint and it would take at least 3, so we were not allowed to continue. I was really annoyed as still felt good and I was determined to finish. It was not to be, but they did make us some cheese on toast which was lovely. After a lift back to the start just to add to the misery, I was locked out of the B&B. Now of course I am going to have to do it again!!
Lancaster 5km, Sat 27 July
From Beth Massey ... Unable to resist another opportunity to race over 5km I headed off into Lancashire for the 3rd of the Lancaster Summer 5km series. Not going to be caught out again by a 5km race being marked out in miles I'd worked out my pace beforehand! Unfortunately, I forgot to tell my legs and I was off the pace from the start going though the first 2 miles well off target and on course for a 20min+ time. My legs finally got the message and did the final mile at my target pace! I crossed the line in 19mins 44secs finishing 3rd lady (1st F40) a bit slower than I'd hoped for but a good effort! This is genuinely a PB course as it is run on a flat, traffic free circuit, although it would benefit from a bigger field as it can be a bit of time trial. Having said that, the first 9 men and 1st lady were all under 17mins with James Reed of Altrincham & District winning in the very swift time of 15mins 14secs.
If you're on form and running well it's certainly worth making the effort to travel to Lancaster to take part in this friendly series.
Parkruns, Sat 27 July
Bradford Lister Park
54 23:37 Joe Reynier

Harrogate Stray
147 25:35 Emily Elmes
152 25:44 Julie Elmes

Leeds Hyde Park
84 22:54 Cameron Reilly
85 22:54 Arthur Reilly

Wimbledon Common
5   17:45 Dave Wilby
274 29:41 Kelly Harrison

Cracoe fell race, Sun 21 July
BOFRA Championship race ...

(1  20:54 James Hall, Wharfedale)
15  24:07 Bradley Chapman
19  24:39 Steve Turland
21  24:53 Iain Gibbons
49  29:21 Jann Smith
95 finished

Harrogate Town Centre 10k, Sun 21 July
From Henry Heavisides ... The course for the Harrogate Town Centre 10k is 2 laps of a residential area. It is undulating with lots of twists & turns. The weather was overcast & not as hot in recent days which made it quite pleasant for running a 10k. Rob Cunningham continued his fine run of recent form with a time of 36:13 for 13th place. 11 runners from Ilkley Harriers took part in the race. Results ...

(1   32:18 David Turnbull, Homfirth)
13   36:13 Rob Cunningham
40   39:29 Henry Heavisides
120  44:20 Michael Duffield
137  45:23 Neil Bloor
138  45:29 Philip Hirst
157  46:27 Chris Cunningham
243  50:38 Karen Lambe
286  52:56 Allison Ricci
346  56:01 Julie Elmes
351  56:27 Emma Payne
360  57:01 Sally Wright
378  59:05 Carole Cunningham
440 finished


This was a counter in the Ilkley Harriers Race League ...
Pudsey Multi-terrain 10k, Sun 21 July
From Paul Stephens... I like this race. It's a varied course, half off-road with some steep hills. Staring from the Cenotaph in Pudsey it plunges down into the Fulneck Valley, climbs out on the Bradford side, loops round and descends again with a steep ascent back up to Pudsey and a 3km finish along the roads, the last 800m uphill and into the park. There was a great crowd all the way around and plenty of marshals. I was the only Harrier, and was reasonably happy with my time of 47.10 and 76 place out of 351. It was a minute or two slower than in 2010, and a few places down, but a good friendly race. Results ...

(1 36:14 Christian Holmes, Wharfedale)
76 47:10 Paul Stephens
351 finished

Cheshire half marathon, Sun 21 July
From David Green ... this was my first half marathon and I can thoroughly recommend it as a course for the half marathon novice. The race starts and finishes at Arley Hall and is flat, well marshalled and takes in the best of rural Cheshire. The flat course and cooler conditions helped towards a sub-2 hour finishing time. A second Cheshire half marathon is held is in November at Capesthorn Hall.

(1  1:09:07 Tarus Elly, Salford Harriers)
213 1:53:07 David Green
379 finished

Run Sunday, Sun 21 July
Weekly 3 mile timed run on Otley Chevin. Results:

(1 19:38 Simon Anderson, Otley AC)
4  21:48 Tilly Melechi
23 finished

Kentmere Horseshoe, Sun 21 July
More from Will Buckton ... I followed Ingleborough by completing my 25th FRA fell race of 2013 on Sunday at the Kentmere Horseshoe (AM 19.8km/1006m). A classic race taking in the summits of Ill Bell, High Street and Kentmere Pike with some excellent grassy ridge running and fast descents. Although my legs were pretty tired in the first couple of miles, I soon got going and had a reasonable run to finish 38th out of a field of 214 in 1h53. Met a new Ilkley Harrier called Dan who I chased round and he finished strongly just ahead in 1h52.

(1 1h32:33 Rob Jebb, Bingley)
38 1h53:58 Will Buckton
212 finished

Ingleborough Mountain Race, Sat 20 July
From Will Buckton ... There was a great turnout of Harriers on Saturday at the Ingleborough Mountain Race (AM 11km/600m). It's a huge climb from Ingleton and a flying descent. Good to see Martin Archer back on the fells and first Harrier home. Ilkley cleared up four prizes with Jane McCarthy taking 1st Lady and LV40, Ian Rowbotham 1st V50 and Nick Pearce 1st V60. I needed a sprint finish to sneak under an hour in 59:58 according to my watch! Results ...

(1  50:08 Benjamin Riddell, Salford Harriers)
15  58:09 Martin Archer
23  59:58 Will Buckton
26  60:38 Ian Rowbotham 1st V50
28  61:40 Nick Pearce 1st V60
38  63:16 Jane McCarthy 1st Lady and LV40
39  63:28 Dick Waddington
80  70:52 Geoff Howard
87  72:26 Outi Kamarainen
138 91:59 Sue Morley
140 finished

Snowdon International Mountain Race, Sat 20 July
See Pete Shields in this video
Caz Farrow ran in the new Snowdon Super Cup (uphill only race to tie in with the full Snowdon Race), 24th in a quality field.
Results ...

(1 68:50 Andi Jones)
440 2:06:10 Pete Shields
529 finished

Snowdon Super Cup
(1 40:53 Wegene Tefese)
24 60:02 Caz Farrow
28 finished

Parkruns, Sat 20 July

Bradford Lister Parkrun
43  23:13 Joe Reynier
222 37:08 Abbie Reynier

Walsall Arboretum
84  27:15 Emma O'Looney

Eshton Moor fell race, Thu 18 July
Jeff Green reports... the race used to be called Gargrave Cross Country and according to my calculations, it wouldn't count as a category "C" under FRA rules. But who cares?! This was a BOFRA race and a very friendly, low key one on a beautiful summer evening. There wasn't a huge turnout and it would have helped to have had a few more runners who knew the route, especially near the front. I think the eventual winner ran the furthest as well as the fastest. There was some enthusiastic junior racing too with an excellent 3rd place for Max Bradley in the Boys U12s race. Results ...

(1 36:06 Craig Shearer, KCAC)
3  37:19 Jeff Green
30 finished	

Golden Acre Relays, Wed 17 July
Lynn Donohue reports ... A beautiful summers' evening at Golden Acre, lots of teams - 113 in total and three Harriers teams: Junior girls, ladies team and a mixed team. Teams of three each running about 2.75 miles each, largely based on the PECO cross country course, a mixture of parkland, woods and fields. Won by a junior boys team from City of York in a new course record 44:22, in fact City of York had a brilliant evening wining the Junior girls and Ladies teams. Our junior girls of Tilly Melechi, Iso Hirst and Joanne Williamson had a good run finishing 50th in 59:18. It was very last minute making up the mixed team with only 2 runners until 5 minutes beforehand but we managed to borrow a young man from Abbey Runners and Keith was very pleased as he managed to finish in a faster time than the youngster! Results ...

(1  44:22 City of Yorks boys, new course record)
50  59:18 Team Robbie (Ilkley Junior girls)
          Tilly Melechi, Iso Hirst, Joanne Williamson
82  67:10 Ilkley old 'uns and a young 'un (Mixed)
          Keith Wood, Lynn Donohue, Edward Thirkell
101 73:15 Young & Old (Ilkley Ladies  Vets)
          Sue Williamson, Kate Lofthouse, Sarah Hayes
113 teams finished

Stretford track, Tue 16 July
Georgia Malir ran another 3000m PB l, her time was 9:44.02 placing her now 10th U20 in the UK.
Holme Moss fell race, Sun 14 July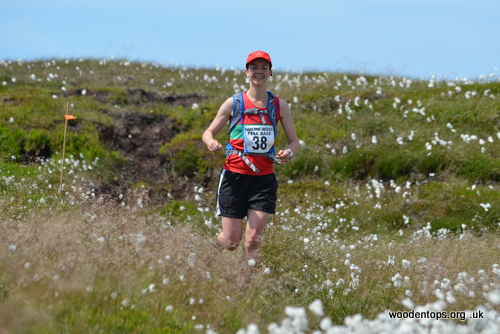 Kate Archer, leading lady at Holme Moss. Results ...

(1 2h23:19 Karl Gray)
29 3h47:51 Kate Archer
66 finished


Jane Tomlinson Leeds 10k, Sun 14 July
Dave Westhead reports ... a sweltering 10k round a new course. Results ...

(1   30:41 Tesfaye Debele, Bradford Airedale)
26   35:53 David Westhead (1st V45)
131  40:51 Sally Malir    (1st F45)
878  47:55 Kevin Lawson 
839  49:04 Andrew Mitchell
1646 53:38 Charlotte Smithson
2225 54:05 John Marshall
2480 55:09 Emma Curran
3283 58:25 Sally Wright
5072 67:43 Andrea Westhead
7028 finished
(finish order, chip time)

Addingham Gala fell race, Sat 13 July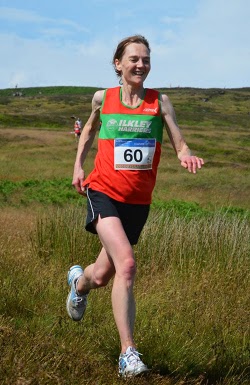 Ilkley Harriers regained the Mob Match trophy, narrowly defeating Bingley Harriers 1381 points to 1355, every runner counting as both clubs fielded 16 runners. Super results all round, especially considering it was the hottest day of the year so far! A big thank you to all those who marshalled and helped out. This race is going from strength to strength, with a record field of 81 runners even on a day when it would've been nice to just sit in the beer garden!
Results
Woodentops photos

(1 43:44 Gareth Hird, Wharfedale)	
4  46:01 Rob Cunningham
8  47:46 Ben Sheppard
10 48:19 Alistair McInnes
13 48:29 Ian Rowbotham
18 50:54 Mark Mon-Williams
24 52:28 Geoffrey Howard
26 52:43 Rebecca Mon-Williams 1st lady
27 53:02 Ali Wood
36 56:17 John Hayes
42 58:18 Steve Weston
48 59:14 Paul Stephens
51 60:44 Philip Hirst
70 68:03 Lynn Donohue
76 76:17 Peter Lewis
77 77:52 Paul Sugden
59 63:42 David Ibbotson
79 finished


This was a counter in the Ilkley Harriers Race League ...
Wasdale fell race, Sat 13 July
Dave Wilby reports on this English Championships counter, 21 miles with 9000' of climb... the toughest fell race in the calendar certainly wasn't made any easier by a late morning start on the hottest day of the year so far, but a good number of Harriers put in some fantastic performances to conquer the course in fine style. Steve Turland showed an excellent return to form to lead home the travelling contingent, and was followed home by the ice cool Will Buckton who knocked over an hour off his time of last year, despite conditions meaning times in general were slower by at least 10-15 minutes. Nick Pearce took on Wasdale for the first time, and despite doing the 120 mile White Rose cycle ride last weekend still had the legs to come home 3rd in his age group. Alison Weston ran brilliantly to lead home our ladies and maintain her consistent run of times, despite the conditions. Also completing in very fine style were Jann Smith, Neil Smith, Duncan Cooper & Clare Smith. Despite pre-race fears of missing the tough time limits, Clare raced through the final cut-off at Great Gable in good time, and kicked on to finish well inside 7hrs.
from Alison W... thanks to all who ran in such hot conditions. We got both men and ladies teams round this really gruelling race. And a very BIG thanks to all the supporters too especially Helen Waddington who carried bottles and bottles of water up to Styhead Tarn which was most appreciated and to Dave who helped Joss Naylor give out water at the road crossing, amidst lots of requests from runners for photos with Joss!
Results ....

(1  3:55:19 Ben Abdelnoor, Keswick)
53  5:07:06 Steve Turland
76  5:22:17 Will Buckton 
99  5:38:17 Nick Pearce  3rd MV60
108 5:50:42 Alison Weston 2nd LV45
113 5:52:29 Jann Smith
139 6:07:16 Neil Smith
146 6:12:44 Duncan Cooper
188 6:53:49 Clare Smith
192 finished
4th ladies team, and 3rd LV40 team


Alva fell race, Sat 6 July
BOFRA Championship race ...

(1  21:26 Alastair Dunn, Helm Hill)
19  27:25 Iain Gibbons
67 finished

Parkrun results, Sat 13 July

Bradford Lister Park
35 22:04 Oscar Stapleton

Washburn Valley Relays, Fri 12 July
Ben Sheppard reports ... Good Ilkley performances across the board on a lovely night for picnicking. Which, incidentally, is what Malcolm was doing when he should have been at the prize giving as part of the winning men's team. All were spared the spectacle of us celebrating like we'd taken gold in the Olympic 4x100 by the fact we were oblivious to our momentous victory until the organisers pointed out the team home before us were a mixed team. We were further denied the opportunity to over-celebrate with trophy waving by the fact the organisers had 'temporarily mis-placed' (lost) the 'trophy' (shiny plastic egg cup with handles). Meanwhile the ladies' excellent run was edged out only by another team of talented youngsters, running in Yorkshire vests. Despite another good performance the mixed team could not match Baildon's mixed team, which finished first overall. Thanks to Neil for organising us.
Results from organising club Otley AC ...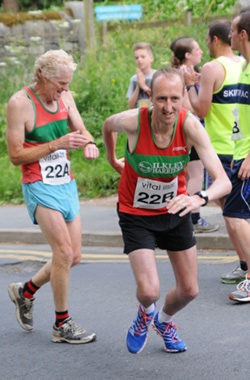 (1 64:31 Baildon (mixed))

2  64:43
   20:57 Malcolm Pickering
   24:21 Ben Sheppard
   19:25 Rob Cunningham (fastest on leg 3)

8  67:52 Harrogate (1st ladies)

10 69:00 
   20:40 Beth Massey
   27:11 Caz Farrow
   21:09 Sally Morley
   
36 86:38
   26:52 Allison Ricci
   37:45 Julie Elmes
   22:01 Alistair Wood
   
39 86:55
   30:19 Sally Wright
   29:10 Rachel Carter
   27:26 Lynn Donohue
   
49 teams finished


Loads of junior teams out too, and Ilkley brought home the trophy for first junior team!
Next local relay is the Golden Acre Relay next Wednesday 17th July.
Norman Smith Handicap race (HDSRL), Wed 10 July
The finale of the 2013 Harrogate District Summer Race League was staged this year at Thirsk. Both Don and Petra beat scratch runner Ian Fisher in the handicap race, Don was just 1 second away from a trophy for 3rd place! And another race with free beer, plus an excellent supper and the presentations of the League trophies and medals (alas no silver-ware for Ilkley this year!)

Handicap positions, race times
4   50:07 Don Macrae
110 51:38 Petra Bijsterveld
133 31:31 Ian Fisher, Otley AC, fastest time)
162 finished

Stirton fell race, Wed 10 July
From Paul stephens ... A lovely little race, a beautiful evening, a little cooler than Tuesday, and a bottle of beer for all finishers. I thought I'd done the race before - back in the 1990s. But I was mistaken. I had raced in the area before - in 1993 and 1995. But it was called Airdale Pikes in those days and organised I believe by 264 (Skipton) Air Training Corps or possibly Clayton-Le-Moors Harriers. Judging from the times it was probably a similar distance but I'm sure the course was different.

(1 37:04 Stephen Chew, Barlick Fell Runners)
15 42:06 Bradley Chapman
23 44:17 Will Buckton
33 45:39 Richard Joel
45 47:31 Paul Stephens
96 63:05 Sue Morley
98 finished

Hyde Park Harriers Summer Mile, Wed 10 July
From Sally Malir ... Georgia and Sally Malir ran this well organised 2 lap mile race last Wednesday. Georgia was 3rd woman over all in 5:05.8 (actually breaking last year's record) and Sally was 13th (think first old woman) in 6:00.8. After the race walking event there were 10 waves of runners organised on predicted times which meant that you could spectate as well as participate! There was also supper (chilli and cakes) included in the race entry of £5. We had a great time and recommend this race to anyone.
Stoodley Pike fell race, Tue 9 July
From Will Buckton... Enjoyed a nice run (BS 5km/213m) up and down Stoodley Pike on a beautiful Tuesday evening in Calderdale.

(1 18:59 Rob Hope,  Pudsey & Bramley)
56 25:45 Will Buckton
186 finished

Verbier St Bernard Boucle 110 km Ultra Trail Race, 6/7 July
From Brian Melia ... a beautiful ultra trail race set in and around Verbier, Switzerland, with constant views of the magnificent Grand Combins. The event covered some very high cols which were covered in deep snow making racing very difficult in extreme heat. I finished 26th in 19hrs 38 mins and was pleased to have run so well. Not sure I will attempt it again as the final climb from Loutier to La Chaux is one of the most difficult climbs I have encountered. www.trailvsb.ch
Lakeland Trails marathon, Sun 7 July
From Ben Sheppard ... A breathtakingly picturesque circuit of Coniston Water on footpaths and bridleways taking in Tarn Hows and the Beacon Tarn, with views of the lake and the surrounding peaks of the Old Man, Swirl How, Wetherlam and Dow Crags. One other harrier, Ewan Welsh, was up for it too after a spell on the sidelines of late.
Fully marked, well supported, well organised and friendly (the race, not me), highly recommended for trail runners who like to be pampered, road marathoners who fancy a change, and even hard-as-nails fell runners who fancy a soft option.
The heatwave took its toll, the last 7 miles a real slog on an undulating course, but held it together for a PB (it being my first marathon) of 3 hours 43.
Read Ewan Welsh's bit ...
From Ewan Welsh ... As Ben has mentioned I did indeed return to duty after a year on the sidelines (knee op), doing a trail marathon in July after a year off seemed like a good idea 5 months ago! Ben's description of the race is spot on although I could elaborate on how the heat took its toll! As it was the first race back and a long one to boot I decided to take it even more steady than the normal steady approach, however at about 30k I realised I had lost that much fluid that the end was inevitable, plus the intake of more fluid just seemed to result in me bringing said fluid back up, some casual passer-by did ask if I had already gone for a swim in the lake ... hey, funny guy out walking with your laminated map, not that I'm bitter!
I recognised the tell tale sign of failure in the heat from previous disasters in the heat, so I stopped at the 32K water station and chilled out for a bit in the shade, and also helped a fellow runner with cramp (there for the grace of god). I walked over the next 'undulating' 7k and managed to shuffle over the last 3k, I would like to say I finished like a trans-euro trendy trail runner honed over the hours of mountain pass running, however I felt more like a combusting teletubby, so as I finished (in just under 5 hours, PBs don't factor into it these days !) I walked straight into Lake Coniston and sat submerged for a good half hour, an action which I had been obsessing about for the previous 60 minutes, I have to say that was one of the most blissful experiences of my life and one that made the day worthwhile.
The race itself is a wonderful route, there's always the chance it'll be hot, but that's all part of the gig, very friendly atmosphere, they put on two marathons on the day incidentally, the first one is open to walkers and runners, the 2nd one is the race as such, apparently a few changed from the race to the earlier event to avoid the heat (one starts at 7am the other at 9am), perhaps that should have been my ploy, however then I wouldn't have enjoyed the swim in the lake so much.
...also, I have to say, I enjoyed just being back out and happy that I finished in a mechanically sound state.
Results

(1  2h54:21 Marcuss Scotney, Howgill Harriers)
21  3h43:24 Ben Sheppard
188 5h07:16 Ewan Welsh
259 finished

Eccup 10, Sun 7 July
From Beth Massey ... The Eccup 10m took place on what must have been the hottest day of the year so far! Not the easiest of courses at the best of times, the undulating route and excessive heat certainly took its toll! The race incorporated the Yorkshire Open and Yorkshire Veterans AA Championships so attracted a good quality field and a record number of entries. It was great to see eight Harriers representing the club in the race and the ladies in particular were well placed in the YVAA Championships. I was first Harrier home in 67mins 40secs finishing 2nd FV40 in the Yorkshire Champs. Caz Farrow also ran well taking 1st FV35 in 69mins 50secs, and Emma Barclay taking 1st FV45 in 70mins 44secs. Martin Archer finished in 69mins 32secs, Anthony Swanepoel 85mins 59secs, David Green 94mins 15secs, Petra Bijsterveld 104mins and Donna Hattersley 104mins 41secs, all really good efforts in tough conditions.
Results c/o David Green...

(1    55:07 Matthew John, Otley AC)
70  1h07:40 Beth Massey
88  1h09:32 Martin Archer
90  1h09:50 Catherine Farrow
106 1h10:44 Emma Barclay
376 1h25:59 Anthony Swanepoel
502 1h34:15 David Green
628 1h44:00 Petra Bijsterveld 
637 1h44:41 Donna Hattersley
751 finished

English Junior Fell Champs - Langdale, Sun 7 July
From George Elmes... 8 juniors made the trip across to the lakes to compete in the final round of the championship in the stunning setting of the Langdale Valley. In scorching weather all performed fantastically well to ensure Ilkley finished 6th in the 2013 club championship out of over 70 clubs competing. The future is looking bright!
A fantastic effort by all that have put on an Ikley vest and competed at the highest level in the championship this year.
Full report and results soon.
Run Sunday, Sun 7 July
Weekly 3 mile timed run on Otley Chevin. Results:

(1 19:34 James Tarran, Valley Striders)
4  21:25 Toni Melechi
6  21:58 Tilly Melechi
16 finished

SLMM, 6-7 July
From Paul Stephens ... An unexplored part of the Lake District with superb views out to sea, and across the Duddon Sands, Corney Fell was the location for this years Saunders. And we escaped the worst of the heat both days, although Sunday was a little more humid. This was the 10th SLMM my brother and I had competed in. I guess we were slightly disappointed with our result - 53rd out of 130 finishers in the Carrock Fell category - 20km and 805m on the Saturday and 17km and 840m on the Sunday. Our excuse was that the weather was too good, and the checkpoints too easy to find. But it was still a great weekend, and no injuries or stiffness afterwards. We obviously didn't try hard enough. Other Harriers included John and Sarah Hayes, and Gavin Burgess in the Harter Fell, Rachael and Kevin Gooch in the Kirkfell, and Outi Kamarainen in the Scafell.
Read John Hayes' report ..,From John Hayes ...For some reason, we've never done the Saunders Mountain Marathon before. Well, in fact, there is a reason. It is always held on the first weekend in July and therefore clashes with Sarah's birthday. I've never managed to persuade Sarah that there could be nothing more romantic than running round the Lake District, drinking from streams, running over never-ending tussocks, climbing unfeasibly steep hills, squashing into a small tent and queueing with hundreds of other smelly fell-runners for a woefully inadequate number of portaloos. But this year, we decided to enter. It is a great event. I particularly like the old-fashioned approach of dishing out a map and making you mark on your own route with a red pen. This adds to the excitement of the whole thing (with the added tension that you might mark the control in the wrong place). If only they adopted the same old-fashioned attitude to the toilets (in the good old days, there was never a queue for the communal trench...) Another novelty is the provision of milk, soft drinks, beer and cider at the half way camp. After picking up our modest one can of cider (to share) I watched in awe as the woman behind me loaded up with 8 cans. The supply of drinks was particularly welcome as we enjoyed a glorious weekend of blue sky and sunshine. In fact, it was so hot that (in a curious reversal of how I normally feel on these events) I poked my head out of the tent on day 2 hoping to be greeted with thick mist. But it was not to be. This made navigation relatively easy as you could spot the orienteering controls from miles away (when in misty conditions you might run within a few feet of the same flag, not see it and head off 200 yards downstream looking for an hour in the wrong place). I suspect this made people's times a bit faster than usual. This was no bad thing as, after finishing and scoffing down the sausages, mash and mushy peas and drinking gallons of tea, we hopped in the car and got back home in time to watch the latter half of Andy Murray winning Wimbledon. What a weekend of sporting glory ... although I suspect that our result will not quite secure a nomination for BBC Sports Personality of the Year.
 
Carrock Fell Class:
(1 6h04 Keith Masson & Alistair Masson
53 8h17 Paul Stephens & Graham Stephens
130 finished
 
Harter Fell Class
(1 6h32 Thomas Pomfrett & Mark Pniewski)
43 8h33 Gavin Burgess & Alex Miller
45 8h40 John Hayes & Sarah Hayes
129 finished

International 10k success for Tom, Sat 6 July
Tom Adams finished 4th in 35:16 first Englishman behind 3 Welsh lads winner being Andrew Davies in 33:16, in the 10k race to accompany the IAU Trail World Champs event. Top result!
Georgia 3rd Brit at Euro Mountain Running Champs, Sat 6 July
Georgia Malir was 3rd Brit in 29:06 in the Junior Women's race at the 12th European Mountain Running Championships in Bulgaria, read her full report.
Harris half marathon, Sat 6 July
From Henry Heavisides ... The Isle of Harris half marathon was a new experience for me in many respects. Firstly it was a point to point race, starting by the beach on the west coast of Harris with waves crashing in off the Atlantic & finishing in the village of Tarbert 13.1 miles away over several hills (including one big one). Secondly I've never run a half marathon in a howling gale with horizontal rain (fortunately the wind was behind us most of the way). The temperature was only about 12 degrees, yes I know that it's been more than double that at home, so it felt more like mid winter than mid summer. The main hill resembled running up to Langbar, only much bleaker. Apparently there was a record entry for the race today, not sure how many ran, but normally it's about 100. I managed to finish in 1:27:02 which is difficult to judge given the terrain, the weather & the following gale. I ran the second half more than two minutes faster than the first half, reflecting most of the uphill sections being before halfway.
If you're ever in the Western Isles in the summer(?) look out for half marathons organised by Stornoway AC, they promote a series of 5 races on different islands from May to July. This race was very well organised with lots of food for runners at the finish.
Results

(1 1:11:23 Keith Hood, Corstophine AAC?)
19 1:27:03 Henry Heavisides
109 finished

Oakworth Haul, Sat 6 July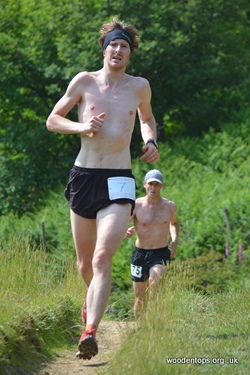 From Dave Wilby ... A nice low key, fairly local race (5m/650ft) as part of the Oakworth village gala. The terrain takes in plenty of tracks, trails & fields with a few undulations thrown in for good measure on a 'lollipop' style course. I started off well enough and led until just over half way but then detonated in the unrelenting heat (I'd spent the hour before the race praying for snow!) and wobbled home a shabby wreck in 2nd place. Sue Morley faired much better in the heat and had an excellent run to claim 1st place in her age group. A good turnout of approximately 40 runners despite there being loads of higher profile events on across the weekend.
Results later
Kirkby Gala fell race, Sat 6 July
Jann Smith reports on ... this BOFRA Championship race ...

(1  30:31 Simon Bailey, Mercia)
31  42:48 Jann Smith  2nd Lady
62  70:18 Julie Elmes
62 finished

Parkrun results, Sat 6 July

Bradford Lister Park
11  20:12 Steve Turland
280 39:11 Abbie Reynier

Leeds Hyde Park
15  19:29 Arthur Reilly
67  23:12 Cameron Reilly
125 25:53 John Marshall

Danefield Relays, Wed 3 July
Our team of Will Buckton, Bradley Chapman, and Rob Cunningham, was 6th in 63:22 (winning team 58:22, 41 teams completing). Results
Rochdale 10k, Tue 2 July
From Rob Cunningham ... Results (with a family theme!) from a bumper field ...

(1  32:16 Ian McBride, Royton Road Runners)
13  36:39 Rob Cunningham   
162 47:20 Chris Cunningham 
306 58:51 Carole Cunningham
340 finished


---
Ilkley Harriers of the Month, June
Rob Cunningham
For his PB at Otley 10m and 1st Harrier, also his good run at the Beamsley Beacon
Other nominations were: Val Kerr - for arranging the Billy Bland Challenge;
Val Kerr, Alison Weston & Clare Smith - for helping organise the Billy Bland Challenge;
The whole Billy Bland Challenge Team - for cheerfully & willingly turning out in awful weather and putting IH on the map finishing in 23hours and 6mins
Beth Massey - for winning BMAF 5k Championship (FV40)
Sue Morley - for her fell racing in June
Matt Newell - for his performances at HDSRL, terrific debut results
Rebecca Mon-Williams
For her good performances at Wharfedale & Hawksworth and for organsing the Aquathon
The Committee also decided that Special Achievement Awards be given to Georgia Malir and Tom Adams for their England selection and fantastic performances in their races representing England. Also to Beth Massey for winning FV40 gold at BMAF 5km Championships.
Earlier Harriers of the Month ...
More selection news ...
We hear that Tom Adams will get his 3rd England vest of the year, running at Conwy next weekend in a 10k race to accompany the IAU Trail World Champs event. Congratulations from all at Harriers, Tom!
Hawkswick fell race, Sun 30 June
For the juniors, a counter in the English Fell Championships (congratulations to our talented juniors, we are now 6th club in the country!), and a 5 mile senior fell race.
Full report from George Elmes
Photos from the Woodentops, and Graham Weston.
Provisional results from www.wharfedaleharriers.co.uk

5 mile race
(1  28:54 Tom Addison, Helm Hill)
25  33:41 Ruaridh Mon-Williams U16
65  38:32 Rebecca Mon-Williams 1st LV45
78  41:02 Lucy Williamson U16
79  41:13 Alison Weston
109 51:48 Joanne Williamson U16
114 finished

Run Sunday, Sun 30 June
Weekly 3 mile timed run on Otley Chevin. Results:

(1 16:58 Scott Harrington, Otley)
7  21:14 Will Buckton
10 24:21 Will Worboys
19 28L25 Emma Payne
30 finished

Lancaster Marathon, Sun 30 June
Andrew's report is a good read! ...

(1  2:42:22 Gethin Butler)
12  3:22:53 Andrew Merrick  (1st V50)
115 finished

Ilkley Aquathon, Sat 29 June
A super event jointly organised by Ilkley Harriers and Ilkley Swimming Club. 113 finishers, mostly young athletes and about 40 of them junior Harriers!, enjoyed this friendly and well-organised event. Thanks to all those who volunteered as marshals and helpers. Results and some photos.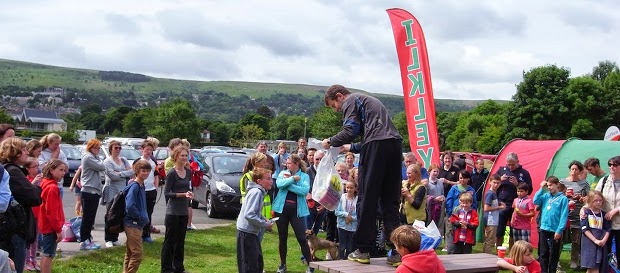 Darren Holloway Memorial Buttermere Horseshoe, Sat 29 June
Will Buckton reports ... Ilkley was represented by three runners in the resurrected Buttermere Horseshoe, (AL 34km/2800m) a classic Lakeland fell race of which Helene was once the ladies record holder. The race returned after many years out of the calendar for 2013, to remember Pennine Fell Runner Darren Holloway, who sadly passed away during a Lake District fell relay last year. The route takes in Whiteside, Hopegill Head, Grasmoor, Whiteless Pike, Dale Head, Haystacks, High Crag, High Stile and Mellbreak. The event was really well organised, a once in a lifetime race, low key 'real fell running' with no established route and the best food I've ever enjoyed at the end of a race. Managed to find some sneaky lines around Robinson and Haystacks only to ruin all the good work by taking the tourist route down the right of Scale Beck! Neil continued his Lakeland 100 training, with a week of cycling followed by a long day on the hills.

(1 4h02:27 Simon Booth, Borrowdale)
45 5h40:53 Will Buckton
49 5h42:41 Helene Whitaker
65 6h07:06 Neil Smith
107 started, 97 finished

Eldwick Gala Fell, Sat 29 June
From George Elmes ... 11 Harriers made the short trip to compete in the Eldwick Gala fell race today on a very warm and eventually sunny day. 5 ladies and 4 junior girls took to their respective start lines supplemented by a single male senior, Tom Adams. Tom made up for the lack of male numbers with a quality run to easily win the race by a considerable distance.
Notable results were Lucy Williamson with a great 2nd overall lady and in the Juniors Poppy Anderson 3rd GU10 & Emily Elmes 4th GU12.
George's photo below, more photos on woodentops.org.uk
Results

1  16:25 Tom Adams
34 22:51 Lucy Williamson 2nd lady
60 24:55 Sue Booth
62 25:32 Joanne Williamson
83 27:50 Allison Ricci
92 30:43 Sue Williamson
93 30:54 Sue Morley
96 31:48 Julie Elmes
100 finished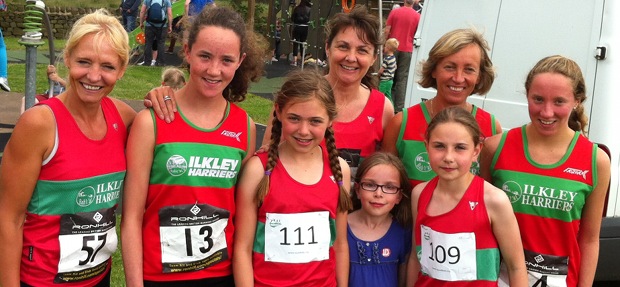 Parkrun results, Sat 29 June

Harrogate Stray
216 28:51 Andy Brook-Dobson

HRL4, Sicklinghall, Wed 26 June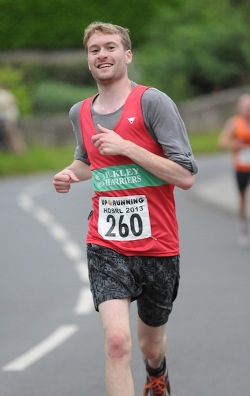 The final counter in the main HRL series, results and photos on www.harrogate-league.org.uk ...

(1  25:45 Ian Fisher, Otley)
29  29:11 Bradley Chapman
87  32:25 Stephen Rhodes
90  32:41 Neil Chapman
111 33:58 Paul Stephens
133 35:20 Alison Weston
151 36:19 Kevin Lawson
179 38:00 Adela Reperecki
185 38:11 Jonathan Kenshole
208 39:42 Nick Mellor
209 39:45 Paul Sugden
223 40:29 Allison Ricci
231 41:54 Julie Elmes
235 42:29 Sue Williamson
248 43:22 Petra Bijsterveld
250 43:41 Sally Wright
253 43:52 Sue Verspyck
254 43:54 Don  Macrae
283 52:18 Sue Bickerdike
284 52:19 Emma O'Looney
289 finished


Those who have completed two races or more are invited to the League Handicap Race on Wednesday 10th July, this year at Thirsk, details on www.harrogate-league.org.uk.
Gateshead 10k, Sun 23 June
From Hilda Coulsey ... more undulating than expected but exciting to finish with the final 400m on the track in the stadium.

(1  30:56 Weynay Ghebresilasie, Sunderland Harriers)
924 50:39 Hilda Coulsey  1st FV60

Run Sunday, Sun 23 June
This weekly 3 mile timed run celebrated it's 1st Anniversary by running the course backwards (the course, not running backwards :-) ). Results:

(1 18:12 Peter Branney, Leeds)
10 24:42 Will Worboys
19 26:50 Petra Bijsterveld
26 finished

Chris Leggatt Memorial 5k, Sun 23 June
Roy Ruddle was 5th in 20:07
Billy Bland Challenge, Sat 22 June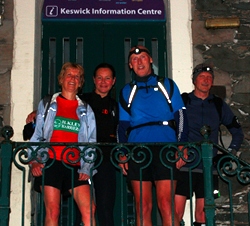 Val Kerr reports ... The Billy Bland 24 hour relay challenge covers the 5 legs of the Bob Graham round in the Lake District, starting and finishing at the Moot Hall in Keswick. Despite the awful weather forecast, 20 dedicated Harriers, 1 guest runner and 3 dogs made their way to the Lakes on Friday / Saturday to take part in what we hope will become a regular (annual?) club 'social' event. Leg 1 runners (see below) set off from the Moot Hall at 1am on Saturday morning with Leg 5 runners finally returing at 00:06 am on Sunday morning (overall time 23:06h), to much heckling from the rather underdressed Saturday evening revellers on Keswick High Street. This was a fantastic achievement by all involved given the heavy rain, high winds, mist and cold, not to forget several unforeseen problems along the way including cramp and disappearing maps.
Road support for Legs 1 and 2 was provided by Val, and Alison did a wonderful job providing road support, shelter from the elements, tea and cakes in the van for the later legs (3, 4 and 5).
Well done to all those who took part: LEG 1: Keswick to Threlkeld via Skiddaw, Great Calva and Blencathra (Dan Hill, Nicki Jacquiry, Kevin and Rachael Gooch) - (4:47) ; LEG 2: Threlkeld to Dunmail via the Dodds, Helvellyn, Fairfield and Seat Sandal (Alison Weston, Kate Archer, Outi Kamarinen) (4:03) ; LEG 3: Dunmail to Wasdale via Steel fell, High Raise, Harrison Stickle, Bowfell, Great End, Scafell Pike, Scafell (Neil Smith, Will Buckton, Alistair Barlow, Brian Melia, John (guest)) (6:32); LEG 4: Wasdale to Honister via Yewbarrow, Steeple, Pillar, Great Gable, Green Gable, Grey Knotts (Clare Smith, Sue Booth, Rebecca Mon-Williams, Nick Pearce, Dave Wilby + 3 dogs) (5:02); LEG 5: Honister to Keswick via Dale Head, Hindscarth and Robinson (Sharon Meadows, John Coates, Neil Chapman, Val Kerr) (2:42)
Northern Athletics senior & under 20 track and field championships, Sat 22 June
Sally Malir reports ... Georgia Malir came 2nd in the 1500m on a very windy day getting a new PB of 4.40.47 and winning a silver medal.
Reservoir Bogs, Sat 22 June

(1 1h12:35 Joseph Crossfield, Halifax)
57 1h34:27 Peter Haines
66 1h47:39 Sarah Haines
77 2h01:57 Chloe Haines
91 finished

Dales Way (part 1 of 2) - not-a-race report
From Ben Sheppard and Jez Hellewell ... On paper, forty or so miles from Bowness-on-Windermere to Ribblehead along the Dales Way should have been a grand day's running getting us to the pub for tea time. In practice, it was a grand day out but much slower going than anticipated (even with a walk the uphills policy), in part down to our reliance on a route guide and the occasional mistake where the route is not as well marked as you would expect.
After a total of 44.65 miles on road, fell, meadows, woodland trails, moorland, countless energy bars and endless stiles and gates, the last 15 miles of which in driving rain (in which Ben learned that his waterproof jacket was not as waterproof as he would have liked), at 9.05 pm - eleven and a half hours after setting off! - we were grateful to step cold and wet into the warmth of the Station Inn at Ribblehead. Steak pie and chips never tasted so good (we've never run 45 miles for it before) and a few good ales were appreciated too.
With Sunday's weather forecast as worse than Saturday's, and our legs telling us they would rather not try that again so soon, the decision was made to re-schedule the Ribblehead to Ilkley leg for another (hopefully a dry and bright) day when it will be enjoyed rather than merely endured for pride's sake. We're looking forward to it already!
Parkruns, Sat 22 June

Bradford Lister Park
282 39:08 Abbie Reynier

Harrogate Stray
127 24:01 Emily Elmes
186 26:28 Julie Elmes
260 30:13 Andy Brook-Dobson

Newcastle
180 25:18 John Marshall
315 34:50 Linda Marshall

Beamsley Beacon fell race, Thu 20 June
Jeff Green reports ... Twelve Harriers ran the race in 2012, but none returned for the 2013 race! Instead 13 different Harriers enjoyed an interesting mix of terrain: flat road, steep road, fields, rocky paths near the top and the infamous 'ginnel' (a 3ft deep, 1ft wide trough for the uninitiated) on the way down. A particular challenge for the runner in the sumo costume I imagine, but not for James Hall of Wharfedale Harriers who set a new course record. Will any of this year's field be back in 2014? Results:

(1  34:30  James Hall, Wharfedale)
8   38:51  Dave Wilby   
12  40:32  Jeff Green     1st MV45
15  41:09  Rob Cunningham      
28  43:26  Duncan Cooper        
29  43:37  Nick Pearce    1st MV60
39  44:40  Emma Barclay 1st LV45 & 3rd Lady
70  50:05  Jonathan Kenshole
80  51:31  Sarah Edwards
81  52:35  David Ibbotson
98  59:52  Sue Morley    1st LV55
101 61:57  Steve Turland
102 62:10  Lynn Donohue
106 66:39  Kate Wilkinson
109 finished


Spot t'Harriers in the Woodentops photos.
Big cheque from the Trail Race
Pastor Ivan from the orphanage in Uganda came along to Pete's Thursday night session and, before an impromptu race against one of older juniors, took receipt of the "big cheque" symbolising the £1400+ raised for the charity at our Trail Race.

England Athletics U20 Championships and European Trials, Sun 16 June
Sally Malir reports ... Georgia Malir made the long trip to Bedford to compete in England Athletics under 23 and under 20 Championships and European Trials. She ran the 3000m race (the distance in which only a couple of weeks ago she smashed 50 seconds off her PB) she knocked another 6 seconds off her PB and came in fourth in a time of 9:48.69
BMAF 5km Championships, Sun 16 June
Beth Massey reports ... Two Harriers represented the club at the British Masters 5km Championships in Horwich. Despite the northern location the race attracts a good mix of athletes from the northern, midland, southern, scottish and welsh area veteran clubs offering a rare chance to compete against athletes from all over the country, one medal winner having travelled all the way from the Isle of Wight!!
This is a reasonably tough course run over 3 laps around Horwich town centre, with a nice uphill section at the end of each lap and into the finish! The absence of any sort of km/mile marker made pacing a bit difficult so it was a case of trying to pass as many runners as possible especially if they were female with a number 40 pinned to their back (very helpful!). I was very pleased to finish 9th lady overall and, thanks to a fast last lap, also won the F40 title in 19min 36secs.
Mark Iley, carrying a bit of an hamstring injury but deciding to still do the race anyway, finished in a steady 18mins 58secs.
The race was won by Mark Johnson (M40) of Midland Masters in 15mins 16secs.
Hawkswick Dash fell race, Sun 16 June
Results of this 1.2m/600' BOFRA Championship race ...

(1 11:01 Sam Watson, Wharfedale)
14 13:07 Iain Gibbons
16 13:24 Steve Turland
39 15:14 Peter Haines
45 15:31 Jann Smith
90 finished


Some great junior results too.
Sutton Pinnacles fell race, Sun 16 June
Will Buckton reports ... I took part in the Sutton Pinnacles fell race near Keighley on Sunday. Part of the Sutton village gala the route climbs steeply up the Aire Valley and becomes runnable thereafter. A very well marked and marshalled 6 mile course as I was running on my own for the second half of the race! Finished 5th out of a small field of around 50 in about 45 minutes. Photos on the Woodentops website. Results.

(1 39:29 Shaun Chew, Barlick Fell Runners)
5  45:36 Will Buckton
55 finished

Freckleton Half Marathon, Sun 16 June
Mark Hall reports ... I travelled into Lancashire to compete in the oldest half in the UK [apparently!] I had for some reason thought this was going to be a fast circuit, I was disappointed! The circuit is very undulating and even though there are no steep hills it seems to climb all the time. I set off with a plan and a time I wanted to achieve, at 5m I was on target getting there in 28:30. However, at 9m I 'exploded' in a very big way in fact the bang was so big it must surely have been heard in Yorkshire! I passed 10m in a slow 58:33 and crossed the line in a pedestrian 78:52 my slowest time at half for many years and a very poor run. I finished in 11th place and 1st vet 50. There were 621 finishers.
Bradford Millenium Way Relay, Sun 16 June
A team organised by Sue Bickerdike as her 'Birthday Bash' was 34th out of 45 teams in a time of 8h01:51: the race was won by Bingley in 5h37:25
Results ...
On leg 1, Sue Booth and Natalie Curtis were 32nd in 1h42:58
Dan Hill and Andrew Merrick stormed leg 2 in 1h19:22 11th fastest bringing the team up to 20th place
Sue Bickerdike and Abi Bailey were 34th on leg 3 in 1h20:06;
Helen Horton and Keith Wood were 31st in 1h35:07 on leg 4;
and Emma O'Looney and Paul Sugden were 40th in 2h04:18 on leg 5
Buckden Pike fell race, Sat 15 June
A great report and full results on this Championship fell race on the Barlick Fell Runners web site. Photos on the Woodentops website and some photos from Alison W.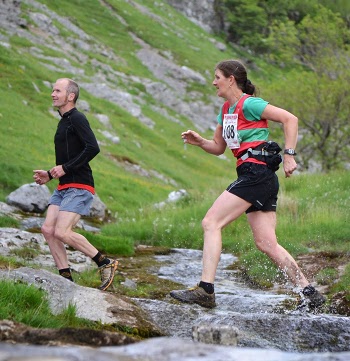 Ladies
(1 37:25 Vic Wilkinson)
32 45:45 Kate Archer
38 46:19 Jann Smith
42 47:04 Alison Weston
62 52:05 Clare Smith
68 52:49 Val Kerr
72 53:33 Eleanor Bradley
81 57:08 Amanda Newham
86 61:22 Lynn Donohue
87 62:37 Sue Morley
88 finished

Men
(1  31:07 Simon Bailey)
60  36:46 Dave Wilby
95  39:07 Steve Turland
99  39:32 Bradley Chapman
135 41:39 Nick Pearce
136 41:40 Will Buckton
165 43:50 Rob Cunningham
168 43:57 Jamie Hutchinson
189 45:28 Norman Bush
199 46:12 Neil Smith
258 53:05 Henry Heavisides
263 55:23 Phil Hirst
273 57:49 Peter Lewis
285 finished


This was a counter in the Ilkley Harriers Race League ...
Parkruns, Sat 15 June

Bradford Lister Park
17 20:45 Oscar Stapleton

Harrogate Stray
200 27:35 Alison Bloor

Leeds Hyde Park
97  23:36 William Worboys
140 24:59 Harry Stead

Middlesbrough Albert Park
115 25:21 John Marshall
244 34:48 Linda Marshall

Otley 10, Wed 12 June
From Henry Heavisides ... The course for the Otley 10 was changed this year due to policing restrictions, so the first 3 miles were run on single file footpaths, this was quite a challenge with about 350 runners. The middle section of the race has always been tough with steep uphill & downhill sections, but this year a new challenge was added with a stretch of cobbled path with steps towards the end, followed by a busy car park which was hosting a cyclo-cross event. I overheard one of the marshals describe it as the Otley 10 mile obstacle course! Most of us ran slower times than previous years, but remarkably Rob Cunningham not only improved his time from last year's Otley 10 but also set a new PB. Sally Malir was first F4, and Hilda Coulsey who was 1st FV60 set a Club Record.
Results ....

(1  0:55:58 Mike Jefferies, U/A)
21  1:03:36 Robert Cunningham  PB
63  1:08:49 Henry Heavisides
72  1:09:33 Andrew Merrick
83  1:10:17 Sally Malir
125 1:13:26 Stephen Rhodes
182 1:18:39 Neil Bloor
188 1:19:16 Simon Jenkins  PB
204 1:21:09 Val Kerr
221 1:23:15 Helen Horton
222 1:23:16 Kevin Lawson
265 1:26:51 Hilda Coulsey 1st FV60
289 1:29:50 Sue Bickerdike
290 1:29:51 Paul Sugden
331 1:37:25 Bernadette Gibbons
342 1:38:55 Emma Payne
384 finished


This was a counter in the Ilkley Harriers Race League ...
The Great Karrimor Trail Race, Sun 9 June
From Sally Malir ... Tom Adams and Georgia Malir both ran for England in The Great Karrimor Trail Race Elite event. The Ilkley Harriers pair carried on their recent fine form over a rugged course round Latrigg near Keswick in the Lake District. Adams finished 4th with GB international Steve Vernon leading the England team home in 1st place in the men's event. In the women's under 20 event Georgia Malir surged ahead on the run into the finish to secure first place and a fine victory for England over the other Home Nations. With England also winning the men's event and the junior men's team, the overall victory went to England.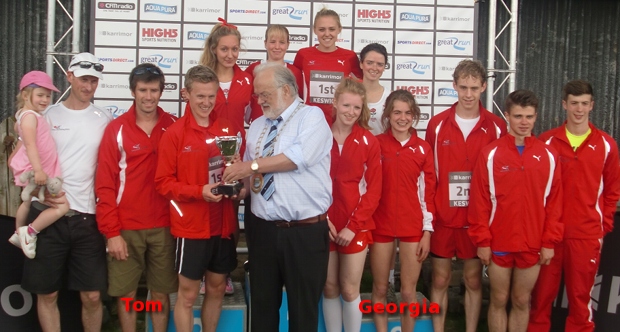 Kettlewell fell race, Sun 9 June
Results of this 1.5m/600' BOFRA Championship race ...

(1 11:42 Ted Mason, Wharfedale)
16 13:25 Iain Gibbons
20 13:48 Bradley Chapman
23 14:11 Steve Turland
26 14:34 Mark Mon-Williams
57 17:08 Peter Haines
58 17:09 Norman Bush
67 17:31 Jann Smith
73 18:05 Martin Archer


Good results for junior Harriers too.
Marsden 10, Sun 9 June
From Rob Cunningham ... A mixed-terrain course, the first 6 miles involve approx 1200ft of climbing, both on and off road, with the reward for this effort being 4 miles of fast downhill trail to the finish. The Colne Valley Lions do a brilliant job in putting on this well organised and friendly event, which I'd definitely recommend. Results ...

(1 63:09 Andy May)
15 70:28 Rob Cunningham
206 finished

Ennerdale Horseshoe fell race, Sat 8 June
From Will Buckton ... the second race in the Lakeland Classics Trophy 2013 saw Clare, Neil, Brian, Helene and myself take on this toughie, 22.9 hard miles with 7513 feet of ascent, including scree gulleys and rocky climbs with a nice grassy run down to the final mountain. Despite me, Neil and Clare running on the back of Duddon last weekend we all got PBs, Brian and Helene finished with smiles on their faces! Despite Helene just going for a trot round she still won a prize! Summits gained: Great Borne, Red Pike, Green Gable, Kirk Fell, Pillar, Haycock, Iron Crag, Crag Fell
Results:

(1  3h46:39 Oli Johnson, Dark Peak)
60  5h18:33 Will Buckton
80  5h43:27 Neil Smith
81  5h43:28 Helene Whitaker 2nd LV45
82  5h43:30 Brian Melia
123 6h55:09 Clare Smith
129 finished

Weets fell race, Sat 8 June
From Eric Morley ... Sue and I went to Barnoldswick for the Weets Fell Race, 5.5 miles + 1,800 ft and on a hot day in a small field of 70 runners, a hard course with the major climb on the way back and a bit of a tester for us to say the least.
Results ...

(1   37:14 Tom Cornthwaite, Northumberland)
69 1h09:58 Sue Morley
70 1h18:28 Eric Morley

Zwolle Half Marathon, Sat 8 June
From Petra Bijsterveld...I can say with reasonable certainty that I will have been the only Harrier in the Zwolle Half Marathon (Netherlands) tonight. In fact, apart from the elite I think I was the only one wearing a foreign club shirt! This 3 lap course is a complete fiesta with bands and music everywhere and a great crowd cheering along every part of the route. The best moment for me was being lapped at about the 3 mile point by the elite Kenyans with the motorcycle outriders ahead of them, such an amazing sight seeing them run past and somehow being in the same event. Sort of!
My aim was to achieve sub 2 hours but I failed by a very annoying 13 seconds. Still a 4 minute improvement on my previous time.

(1    1h01:17 Edwin Kiptoo)
2521  2h00:13 Petra Bijsterveld 
3326 finished

FRA Junior Uphill Championships, Sat 8 June
Awaiting results, but some good runs from Junior Harriers we hear, some photos on the Woodentops website
Parkruns, Sat 8 June

Burnley
12 19:11 Steve Turland

Leeds Hyde Park
153 25:06 John Marshall

HRL 3, Richmond, Thu 6 June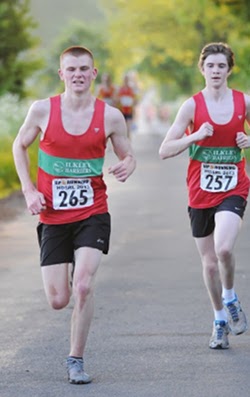 A gallant crew made it to the third race in the Harrogate Race League at far-away Richmond ... with young guns Bradley and Matt pushing each other to the best Harriers performances in the League this year.

(1  31:00 Nick Zissler, RZH)	
18  35:24 Bradley Chapman
19  35:24 Matt Newell
39  37:42 Ben Joynson
47  38:53 Caz Farrow
52  39:23 Steve Newell
67  40:45 Paul Stephens
72  40:57 Stephen Rhodes
75  41:14 Neil Chapman
104 43:45 Val Kerr
131 45:15 Adela Reperecki
144 46:08 Dave Ibbotson
162 47:20 Hilda Coulsey
204 51:40 Julie Elmes
205 51:41 Sue Williamson
217 53:57 Sally Wright
222 54:32 Don Macrae
246 finished


This was a counter in the Ilkley Harriers Race League ... Martin has updated the calculations and young Bradley is still topping the League after 10 races. But there are 24 races in this year's League so plenty of chance for others to make their mark! The next race is the Buckden Pike fell race, a tough English Championships counter, but there are a range of road, fell, and trail races on the Ilkley Harriers Race League calendar.
Hebden Bridge Fell Race, Thu 6 June
Jeff Green reports ... Two Harriers made it out to Hebden Bridge for a beautiful evening's race up to Stoodley Pike. Good variety of terrain with one particularly steep path-free section reducing most to progressing on all fours, some tricky descents down narrow twisting paths with tree roots below and low branches above and some strength-sapping tussocky bog thrown in for good measure. Drinks provided at the Pike were very welcome and the route seemed well marked and marshalled. Very pleased with my position in only my second ever fell race - I think Nikos's Wednesday sessions are working! Photo, Results

(1  45:23 Ian Holmes, Bingley)
13  50:09 Jeff Green
76  64:12 John Coates
(108 finished)

Full Bronte, Thu 6 June
From Mark Hall ... two Ilkley Harriers took part in the Bronte 5m. I estimate there were a few hundred starters, I was 7th, 1st V50 and YVAA Champion. Emma Barclay was 2nd woman and WV45 YVAA Champion. The race is 2 laps of a hilly circuit around Penistone Hill, Haworth. This is certainly not a PB course!
Some photos on the Woodentops website.
Results....

(1  25:56 James Walsh, Leeds)
7   29:08 Mark Hall
41  34:46 Emma Barclay
127 finished


Henry has spotted that Emma's 34:46 is a new F45 Club Record, beating Judith Smarts' 37:22 at Roundhay in 2001.
Abbey Anniversary fell race, Thu 6 June
Results ...

(1 26:34 Adam Peers, Liverpool)
13 44:28 Justin Phillips
23 50:01 Peter Hall
45 finished

Otley Chevin fell race, Wed 5 June
Some photos from the Woodentops.
Results ....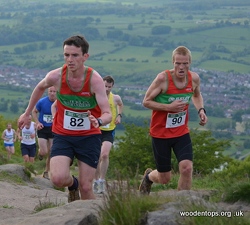 (1  17:44 Adam Osborne, Leeds)
5   19:04 Matt Cox
8   19:53 Bradley Chapman
21  20:51 Rob Cunningham
24  21:11 Stuart Pitches
26  21:20 Will Buckton
33  21:48 Duncan Cooper
68  23:51 Kelly Harrison
73  25:10 Alison Weston
79  25:59 Norman Bush
83  26:41 Serena Blackburn
104 29:23 Lynn Donohue
110 30:06 Sue Morley
122 finished


Bingley St Ives Trail, Tue 4 June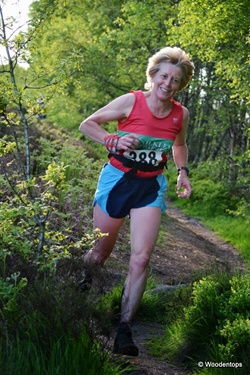 Val Kerr reports ... despite being an IH league counter, only six Harriers made the trip over to Bingley to run in this friendly trail race, with all proceeds going to the local Riding for the Disabled group. Bingley Harriers were out in force and it felt a bit like gate-crashing their club night. The evening was very warm and the route was mainly dry except for a huge patch of liquid mud by the entrance to the first field which became a bit like a lucky dip with several juniors learning the hard way that it pays to make sure that their shoes are fastened on properly.
Ian Holmes led the way finishing in 33:44. Stephen Rhodes (looking very stylish in his swimming shorts) was thrilled to be first IH home, finishing in 11th place overall. Tilly Melechi had a good race, once again competing and running the full course with the seniors.
Some photos from the Woodentops

(1 33:44 Ian Holmes, Bingley)  
11 43:44 Stephen Rhodes          
16 44:44 Tony Melechi               
25 47:29 Val Kerr
27 47:59 Tilly Melechi                
51 55:43 Paul Sugden                 
53 55:58 Amanda Newham       
68 finishers


This was a counter in the Ilkley Harriers Race League ...
More Selection News
From Sally Malir ... Georgia Malir and Tom Adams have been selected from their great performances at the Intercounties to run for England in the Great Karrimor Trail Race (www.englandathletics.org).
And, from last weekend's result at Skiddaw, Georgia has been selected to run for GB at The European Mountain Running Championships in Bulgaria (www.britishathletics.org.uk).
Yetholm, Sun 2 June
From Nick Pearce in the 2nd race in the British Fell Champs.... I was third V60 in this race. Ben Grant had a flyer and was first V60, in something like 45th place overall - fantastic. Jackie Winn was second. I just might have beaten Jackie, having pulled away from him on the final climb, but twisted my ankle and wrenched my back just before the long final descent. He is quicker than me on the descents and would probably have probably reeled me in anyway. More than happy with bronze position in a British Champs event. Results

(1 1h00:19 Morgan Donnelly, Borrowdale)
77 1h21:22 Nick Pearce 
231 finished

Wharfedale Half Marathon, Sat 1 June
From Hilda Coulsey ... It was a superb race, lovely weather and good atmosphere. Results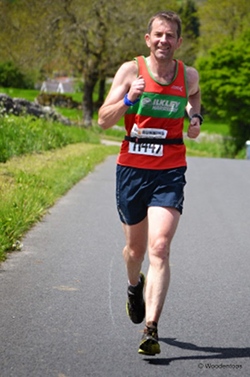 Half Marathon
(1  1:30:08 Quentin Lewis, Baildon)
6   1:39:54 Mark Mon-Williams
11  1:46:40 Martin Archer
16  1:49:49 Bradley Chapman
17  1:49:56 Jonathan Sinclair
28  1:52:21 Rebecca Mon-Williams 1st F45
108 2:11:42 Adela Reperecki
100 2:10:01 Andy Jackson
111 2:12:06 Eric Hawthorne
112 2:12:17 John Coates
113 2:12:34 Val Kerr
118 2:13:05 Kevin Lawson
141 2:20:34 Stuart Herrington
142 2:20:41 Hilda Coulsey  1st FV60
145 2:21:18 Dave Ibbotson
148 2:21:51 Susan Short
149 2:22:02 Tim Ratcliffe
153 2:23:31 Christine Cox
187 2:36:00 Paul Sugden
188 2:36:01 Sue Bickerdike
190 2:36:05 Emma O'Looney
215 finished

Full Marathon
(1 2:33:07 Ricky Lightfoot, Ellenborough)
34 3:29:47 Jann Smith
117 finished


Some photos from the Woodentops and Andrew Thrippleton.
The Half Marathon was a counter in the Ilkley Harriers Race League ...
Duddon Valley fell race, Sat 1 June
From Clare Smith ... The Long Duddon is a classic fell race covering 18 miles around the head of the Duddon Valley with 6000ft of climb over Harter, Hardknott, Little Stand, Swirl How, Dow Crag, White Pike and Caw. The hardest part? Possibly the ridiculously steep Little Stand, or the slog up Swirl How after seeing people picnicking by the stream at Three Shires, or maybe the sight of Caw looming when cramp is setting in and the car park is in the other direction.
Despite these hurdles, Steve Turland, Will Buckton, Neil and I had a smashing day with splendid views of the surrounding mountains to enjoy during the torture!

(1  2h55:32 Simon Booth, Borrowdale)
27  3h39:26 Steve Turland
52  3h50:21 Will Buckton
79  4h02:33 Neil Smith
117 5h03:03 Clare Smith
131 finished

Welsh 1000m Peaks race, Sat 1 June
From Dave Wilby... A hard earned finishers medal yesterday, 20 miles, 8000ft of ascent including a summit finish on top of Snowdon, amazing race, some great battles along the way and dead chuffed with a 5th place finish in this classic race. Results.

(1 4h04:32 Colin Donelly, Lochaber AC)
5  4h19:10 Dave Wilby
99 finished

Pen y Ghent, Sat 1 June
Harriers racing here too, results.

(1  47:25 Mark Addison, Helm Hill)
27  56:11 Jim Ryder
73  64:27 Alison Weston
78  64:57 Alison Eagle
93  68:03 Norman Bush
134 82:22 Amanda Newham
139 85:51 Sue Morley
144 finished

Kirkby Malzeard 10k, Sat 1 June
From Mark Hall ... very hilly and definitely not a PB course. I finished 3rd from a field of around 250 runners in my slowest 10k time for a long time of 35:15 [my watch] and was 1st V50. Race winner was Briant from Leeds City 34:40 [I think!] Results tbc
Abersoch 10K, Sat 1 June
From Mike Picken .. It was a lovely day and a nice setting for this race with the first section of the race going through the centre of Abersoch. The first mile goes up through the High Street up to Sarn Bach then a section of narrow lanes heading towards the far end of the beach and a short section of road running round the bay, then onto the main hill for 1/2 mile (where all us Harriers climbed together) before 2 miles of undulating roads and after joining the beach for a mile (including some groynes) and running round the Sea King search and rescue helicopter that had landed on the beach to see us all finish just below the Yacht Club. Apparently the Harriers vests were spotted by a friend of Jez Hellewell showing how small a world it is!! Results ...

(1  32:41 Alun Vaughan, Eryri)
446 59:54 Alison Lansbury
462 62:07 Michael Picken
467 61:19 Rebecca Picken
560 finished

City to Summit triathlon, Sat 1 June
From Janet Grace ... This new ironman-distance triathlon started with a swim between the road and rail bridges in the Firth of Forth; followed by a 110-mile bike ride up to Rannoch Moor and Glencoe; and then a 27-mile off-road run which took in the summit of Ben Nevis before finishing near Fort William.
Thankfully the swim was shortened to 1200m because the water temperature was a chilly 9 degrees. The bike ride was hilly (2,500m of ascent) but spectacular. And then came the "run" - now I'm not a fell-runner, so the undulating stretch of the West Highland Way was almost enough for me before I even started to climb Ben Nevis!
However I finished in 70th (3rd lady) in 15:58 (swim 00:21, bike 07:08, run 8:02 ... plus an inordinate amount of time in transition!). This was a fabulous event which I thoroughly enjoyed - I'd definitely recommend it to anyone who fancies a challenge. info
Parkruns, Sat 1 June

Bradford Lister Park
1  15:49 Tom Adams
88 24:48 Joe Reynier

Harrogate Stray
136 25:45 Julie Elmes

Preston
31 21:17 Oscar Stapleton

Tees Barrage
34 26:15 John MArshall

---
Ilkley Harriers of the Month, May
Hilda Coulsey
For performances at John Carr 5km series setting new F60 club record, Yorkshire F60 champion and 1st F60 in the series
Other nominations were: Georgia Malir - for brilliant 3rd place in Mountain Running Championships and being selected to run for England and GB;
Eddie Winslow - for his LDWA 100 performance;
Clare Smith - for organising a great Calderdale Way Relay and social;
Bradley Chapman - for consistently good race results;
Val Kerr - for great results at Lothersdale, Jack Bloor, Calderdale Way and 1st F50 at Ilkley Trail race;
Tom Adams - 3rd at Inter Counties Championships & part of team winning Yorkshire Gold, his performance at Mountain Running Champs and being selected for England;
Emma O'Looney - for continued improvement in Bradford Park Runs; Paul Sugden - for setting a new marathon PB at Edinburgh.
Sally Morley
For winning the John Carr 5km series outright
Well done to Hilda and Sally this month's winners.
Earlier Harriers of the Month ...
Ilkley Harriers Trail Race, Mon 27 May
Results, report and photos on the Trail Race page, a super day by all accounts with a bumper field of 90 juniors; 270 entries in the senior race and a good sum raised for the race charity, and everything running smoothly.
For Ilkley, Tom Adams won the senior race for the 5th time and just 10s outside his record, the men and ladies teams both took the team prizes, and Ilkley won plenty of other category prizes as below!
Junior races report from Rachel Websdale ... we had 90 keen runners enjoying the morning sunshine and the colourful bluebells. A huge thank-you to all the marshalls, helpers and sweepers.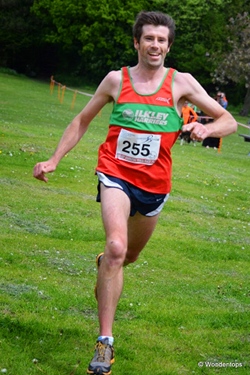 1   39:41 Tom Adams
11  46:11 Alex Sinclair  1st U23
13  47:07 Ben Sheppard
17  48:01 Rob Cunningham
21  48:20 Bradley Chapman
25  49:16 Steve Coy
27  49:23 Jonathan Sinclair 1st V50
32  50:00 Nick Pearce  1st V60
34  50:19 Will Buckton
39  51:08 Emma Barclay 3rd lady
42  51:47 Duncan Cooper
45  51:57 Sally Malir  1st F40
46  52:12 Henry Heavisides
55  52:43 Beth Massey
57  52:48 Ben Joynson
65  53:26 Caz Farrow
69  53:48 Jack Cummings
78  55:34 Stephen Rhodes
86  56:07 Jonathan Kenshole
92  56:27 John Hayes
133 60:15 Val Kerr  1st F50
137 60:40 Philip Hirst
157 62:48 Keith Wood
165 63:55 Alison Newell
166 63:56 Steve Newell
169 64:17 Will Worboys
170 64:26 Nick Mellor
173 64:46 Karen Lambe
182 65:43 Hilda Coulsey
188 66:23 Jane Guillard
191 67:03 Alison Ricci
205 69:32 Kate Wilkinson
207 69:43 Bernie Gibbons
208 69:51 Judith Scarfe
215 72:26 Sally Wright
217 72:50 Don McRae
220 73:53 Julie Elmes
222 74:59 Emma O'Looney
223 75:01 Sue Bickerdike
228 76:40 Kate Lofthouse
230 78:24 Mark Kerr
243 finished


This was a counter in the Ilkley Harriers Race League ...
Edinburgh Marathon, Sun 26 May
Paul Sugden finished in 3402nd place in 4h08:16, a PB by 1m55s
Levisham Limping, Sun 26 May
A cautionary tale rom Jez Hellewell ... Went up to North Yorkshire for The Levisham Limping this weekend. It starts off a mile away from the race registration in Lockton, on top of a hill, with beautiful views stretching out across the valley. We were then told by the race starter that walkers had been removing the race tape & to be careful where you're going! Not knowing the route this did not bode well. Started off pretty good & by mile 5 of the 7, after a killer climb, I was in 6th place, sandwiched between 2 North Yorkshire Moors runners. It soon became apparent, bombing down a road for way too long, that these "locals" knew the route as well as me! Anyway, we ended up doing 1.8 miles extra but chatted to a very nice lady with a map, who pointed us in the right direction. I particularly liked her observation that "the other runners are on the other side of the valley"! Some cyclists proved most helpful too in directing us to the bridge in order to get to "the other side of the valley". A beautiful day out, in glorious sunshine, in stunning countryside, chatting to 2 fellow runners on the pleasures of our sport. Getting lost isn't all bad. (Finished somewhere at the back out of around 50).
As many a runner will tell you, don't assume the person in front knows the way!
Yorkshire Track & Field Championships, Sun 26 May
Well done to Harry Maslen who is now the Yorkshire U17 High Jump Champion (1m85cm); Silver Medallist in the 100m hurdles (13.83) and 6th in the 200m (23.87). Rosie Shouler Harris was 10th in the U17 discus (19.09)
BUPA Great Manchester 10K, Sun 26 May
From Andrew Mitchell... I was fortunate enough to win a place in this race in a competition on Facebook!
I took my place on the start line with 40,000 others for the largest 10K road race in the UK. The warm and sunny conditions seemed to put everyone in a good mood and there was a great atmosphere with plenty of spectators lining the route. The course was a fairly flat route starting out from Manchester City Centre and going out to Old Trafford and back with a loop around Salford Quays. The route offered a PB opportunity but I rather blew that by getting caught up in the atmosphere of the event and starting out far too quickly. That caught up with me in the last 4K but I was still pleased to dip under the 50 minute mark, coming home in 49:38.
The race was covered by BBC TV and on watching the recording I even managed to spot myself just before the start!
LDWA 100 miler, Sat 25 May
Eddie Winslow reoports ... I completed the LDWA Camel Teign 100 miler over the weekend in a time of 26h 42m. A dry, cool weekend in Cornwall and Devon made for excellent conditions and a cold clear night crossing Dartmoor meant that we were able to clearly see a few shooting stars.
European Mountain Running Trials, Skiddaw, Sat 25 May
From Sally Malir ... on Friday the weather had been like Winter but on Saturday the sun came out making the climb up Skiddaw very hot and dusty. The junior women's race was the first race of the day 3.7k and 510m of ascent. Georgia Malir had a fantastic run coming 3rd in 27:48 after also having a hard week of 6 exams!
The other Ilkley Harrier running was Tom Adams who also had a great run against a stacked field coming in in 16th place.
Lancaster 5km, Sat 25 May
From Beth Massey ... Not deterred by the fact that this would be our 4th 5km race in 3 weeks, Mark Iley and I travelled to Lancaster for the first race of the Lancaster 5km Summer Race series, a series of 6 evening races taking place on the last Saturday of each month. The race is run on a flat out and back traffic free course and there is definitely the potential for fast times given the right conditions. Having tried them out last year we were both keen to improve on our recent times set at the John Carr series. Unusually for a 5km race, the course is marked out in miles which played havoc with my pacing (maths not being my strong point!!) and a brisk headwind in the second mile didn't help matters either!! I was pleased (and somewhat surprised!) to win the race in 19mins 32secs and Mark finished well up in the field in 18mins 02secs neither of us as fast as at Esholt but pleased to be consistent. Official results are not out yet so I'm not sure who won the race. All in all, this is a really good series of races, fairly low key and always a friendly atmosphere, it's well worth making the trip over to Lancaster.
Hutton Roof fell race, Sat 25 May

(1  49:12 Rob Jebb, Bingley)
13  55:51 Dave Wilby
137 71:55 Kelly Wilby
256 finished

Parkruns, Sat 25 May

Bradford Lister park
96  25:44 Sue Bickerdike
137 27:31 Emma O'Looney

Harrogate Stray
20  20:32 Geoff Howard
165 26:59 Julie Elmes

Middlesbrough Albert Park
140 26:05 John Marshall

Apperley Bridge Canter, Thu 23 May
Dave Wilby reports ... My first time at this popular local race, with almost 400 runners turning up to take on the mostly flat 10km route along quiet road, tracks, woodland & canal with a final 1km around the school playing field. The only downside was the presence of Km markers which after recent experiences have started to bring me out in a nervous rash!
Results from Horsforth Harriers

(1  33:06 Phillip Tedd. Woodhouse Grove School)
6   36:16 Dave Wilby
124 44:56 Neil Bloor
398 finished

Badger Stone Relays, Wed 22 May
Thanks to the many helpers tonight, 42 teams enjoyed a fantastic sunny evening's racing on Ilkley Moor with a great mix of juniors, family teams, and runners from far and wide. Results and more photos on the Badger Stone Relays page.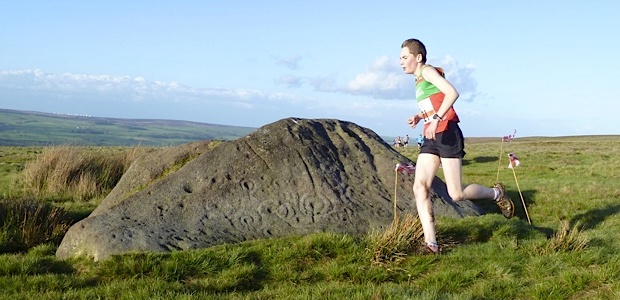 John Carr 3, Wed 22 May
From Heavisides Henry, road captain ... Ilkley Harriers won a fantastic haul of prizes at the John Carr series. There were trophies across the whole age range from 1st Boy Youth & 1st Girl Youth to 1st M60 & 1st F60 as well as 1st Lady overall. Not sure that I can remember all of the winners (apologies to anyone that I've missed): Sally Morley was 1st F overall (& would have been 1st F35 but could only win one series prize), Tillly Melechi was was 1st F Youth and Catherine Westhead 2nd (corrected, Paul), Gaenor Coy was 1st F35, Beth Massey was 2nd F40, Sally Malir was 1st F45, Hilda Coulsey was 1st F60, Francis Westhead was 1st M Youth, Bradley Chapman was 1st M Junior, Dave Westhead was 3rd M45, Mark Iley was 3rd M50, Henry Heavisides was 1st M55 & Nick Pearce was 1st M60.
For race 3 itself, Mark Hall made his first appearance in the series, finishing 1st M50 in 16:34. Most runners were a bit slower than previous weeks due to a strong wind for the last 1.5k (& fatigue?).
The John Carr series is a very popular 5k race series & is well attended by all local clubs so it's great to see us having so much success, well done to all who took part in any of the 3 races.
From Beth Massey, ladies road captain ... it was great to see such a fantastic turn out of Harriers at the John Carr series and especially the ladies, who turned out in force in all 3 races, leading to a great haul of prizes across the age groups (see Henry's report), numerous PBs being recorded and Hilda Coulsey setting a new F60 club record for the distance. Well done to everyone who competed!
Results

(1  15:49 Willy Smith, KCAC)
15  16:34 Mark Hall
21  16:53 David Westhead
42  17:38 Steve Coy      PB
49  17:57 Mark Iley
51  17:58 Bradley Chapman
54  18:00 Rob Cunningham
58  18:10 Sally Morley
65  18:17 Henry Heavisides
69  18:25 Francis Westhead
88  19:14 Richard Hinsley
90  19:16 Nick Pearce
94  19:27 Beth Massey
96  19:28 Lucy Williamson
102 19:42 Sally Malir
125 20:46 Andrew Jackson
129 20:50 Tilly Melechi
132 20:58 Sam Craske
162 22:16 Catherine Westhead
180 23:03 Gaenor Coy     PB
183 23:09 Peter Shields
190 23:32 Elizabeth Westhead
191 23:37 Alessandra Ricci
196 23:44 Hilda Coulsey
209 24:17 Allison Ricci
226 25:31 Ella Shouler-Harris
239 26:28 Harriet Jackson
247 27:11 Sally Wright
250 27:30 Bridget Taylor
251 27:31 Dave Taylor
252 27:40 Joanna Taylor
268 finished

HDSRL 2, Tue 21 May
Harrogate's Beckwithshaw race was the second in this year's Harrogate District Summer Race League. Matt Newell was again first Harrier, having an even better run than in HRL1, and Caz again led in our ladies in style.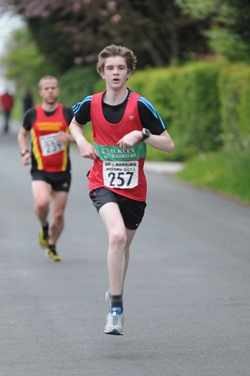 (1  32:16 Ian Fisher, Otley AC)
45  39:02 Matt Newell
65  40:18 Caz Farrow
71  41:00 Ben Joynson
75  41:17 Steve Newell
103 43:01 Will Buckton
104 43:06 Neil Chapman
105 43:11 Paul Stephens
117 43:39 Stephen Rhodes
122 43:59 Jonathan Kenshole
172 47:21 Adela Reperecki
186 48:22 Phil Hirst
222 50:19 Karen Lambe
228 50:45 Jane Guillard
244 51:42 Nick Mellor
247 51:58 Andy Wolfenden
265 53:51 Sue Williamson
266 54:01 Petra Bijsterveld
269 54:09 Vince Gibbons
272 54:28 Julie Elmes
274 54:37 Abigail Bailey
279 55:11 Bernie Gibbons
290 56:24 Don Macrae
294 56:54 Paul Sugden
297 56:57 Emma O'Looney
305 58:02 Sue Verspyck
322 finished

Calderdale Way Relay, Sun 19 May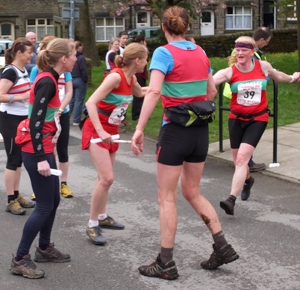 Well done to our mixed team in what is described as the UK's biggest club-run off-road race (1,000 runners and helpers). And a big thank you to Clare for rallying all the runners - always a logistical challenge with 12 runners per team. We finished 36th team out of 79 teams finishing, 7th mixed team out of 18 - results.
Inter-regional Fell Championships, Settle Hills, Sun 19 May
We hear that Lucy Williamson helped Yorkshire to team silver for the U16 girls, Georgia Malir was second only to Annabel Mason in the U18 race and with her took Yorkshire to team gold, and Tom Adams was 3rd in the senior men's race leading Yorkshire to team gold. (Just for completeness, Yorkshire took the senior ladies' team gold with Ilkley Moor fell race winner Emma Clayton leading in a 1-2-3 of Yorkshire ladies.) Results.
Photos of our runners in their Yorkshire vests: Lucy on the right, Georgia centre, Tom second from right
Ripon 10, Sun 19 May
From Caz Farrow ... I think there were 3 of us at Ripon 10 today. I had the tail end of a chest infection so not feeling great on the numerous hills! Came 3rd lady but told the organisers I would put in a good word with the club for this race-scenic, mix of trails/country roads, mostly on National Trust Property namely Studley Park & Fountans Abbey, good goodie bag, friendly...and for the 'speedsters' amongst you, the first 3 men were in 58-59 minutes.
Results.

(1 58:09 Mike Jefferies)
1:11:34 Caz Farrow
1:24:40 Christine Cox
1:35:23 Petra Bjisterveid

Positions later, still being verified
Capability's Overview, Sun 19 May
Amanda Parnaby reports on this ... 23 miles around Sledmere and the the Wolds. Lovely weather after the recent rain. Finished in 5 hours 20 minutes.
Old County Tops, Sat 18 May
Brian Melia reports ... Outi Kamarainen and I completed the race in 11 hours 3 mins. It was wet and poor visibility, but nonetheless enjoyable due to the superb organisation and the course which is stunning.
Sedbergh Gala, Sat 18 May
Results of this BOFRA race ...

(1 19:38 Rob Jebb, Bingley)
15 23:40 Bradley Chapman
16 24:11 Iain Gibbons
33 27:28 Jann Smith  3rd lady
68 finished

Parkruns, Sat 18 May

Bradford Lister Kark
76  26:00 Sue Bickerdike
103 28:07 Emma O'Looney

Leeds Hyde Park
156 26:15 John Marshall

Kildwick fell race, Wed 15 May
Ben Joynson reports ... 2 Harriers at the Kildwick fell race on a nice evening. My first race back after a while resting a injury and Kate Archer looking in good form in the ladies race. Kate was 2nd Lady :). Well done Kate and thanks for the company. A good course with challenging climbs and descents but not too technical.

(1 27:22 Stephen Brock, Wharfedale)
21 31:49 Ben Joynson
27 33:02 Kate Archer
70 finished

John Carr 2, Wed 15 May
Henry Heavisides reports ... There were some exceptional performances again at the 2nd John Carr 5k race. Dave Westhead was 1st Ilkley Harrier home. The younger runners were very much on form with Ruaridh Mon-Williams, Bradley Chapman, Francis Westhead, Edward Bickerdike & Jack Cummings all running well under 20 minutes. Mark Iley was pleased to get under 18 minutes for the first time in several years & Beth Massey set another PB, both getting rewards for much hard work on the track over the winter. Hilda Coulsey did another great run to be 1st F60, beating her time from last week. I was pleased to be back running on tarmac after the mud & hills of the Jack Bloor fell race.
Hilda's time establishes a F60 Club record.
From Dave Westhead ... Another fantastic Harriers turnout. Pleasant sunshine and good running conditions made for an enjoyable race (if running 5k flat out can ever be described that way). Particularly notable performances were Ruaridh Mon-Williams (I suspect 17:27 below is a PB and he ran the first 1500 at sub 17 minute pace), Andrea Westhead (2 minute improvement on last week) and Pete Shields back after a long layoff (I'm not sure this if this is the first race this year Pete?). Several others made significant improvements from the previous race as well.

(1  15:24 Adam Peers, Leeds City)
17  16:55 Dave Westhead 
29  17:27 Ruaridh Mon-Williams
38  17:41 Bradley Chapman
42  17:51 Mark Iley
47  18:02 Steve Coy 
54  18:17 Sally Morley
58  18:19 Rob Cunningham
65  18:30 Henry Heavisides
69  18:36 Francis Westhead
84  19:08 Beth Massey
89  19:17 Nick Pearce
90  19:19 Ed Bickerdike
93  19:27 Richard Hinsley
94  19:29 Jack Cummings
102 19:45 Sally Malir
115 20:09 Rebecca Mon-Williams
120 20:14 Andy Wiggans
122 20:16 Jacob Hellewell
133 20:51 Tilly Melechi
144 21:11 Andrew Jackson
169 22:18 Catherine Westhead
175 22:32 Joanne Williamson
184 22:54 Sam Craske
187 22:58 Elizabeth Westhead
194 23:23 Alessandra Ricci
196 23:26 Pete Shields
200 23:31 Hilda Coulsey
204 23:45 Gaenor Coy
212 24:11 Emily Elmes
217 24:27 Allison Ricci
218 24:30 Ella Shouler-Harris
232 25:24 Harriet Jackson
235 25:34 Petra Bijsterveld
237 25:37 Sue Williamson
241 25:58 Julie Elmes
259 27:35 Bridget Taylor
261 27:37 Dave Taylor
272 29:15 Andrea Westhead
281 finished

Askern 10k, Wed 15 May
From Mark Hall ... a windy evening and undulating course. I finished with a time of 34:39 to finish in 10th place and first V50. There were no other Ilkley runners. The winner was Jason Ward, Clowne Road Runners 30:59. There were 517 starters
Jack Bloor Races, Tue 14 May
The 28th Jack Bloor Races attracted a good contingent of Harriers, young and old. Paul's photos of the senior race and junior race photos, and Junior race photos from Graham Weston. Tom Adams was 2nd and Ilkley won the men's and women's team prizes (and 3rd ladies team!).

(1  38:40 Chris Smithard, DEE)
2   38:53 Tom Adams
6   42:29 James Mountain 1st U23
8   43:02 Martin Archer
9   43:07 Matthew Cox
12  43:40 Dave Wilby
23  45:15 Bradley Chapman
25  46:31 Ben Sheppard
35  47:41 Ralph Tench
47  49:20 Nick Pearce
50  49:25 Jonathan Sinclair
52  50:25 Will Buckton
65  52:22 Alistair Barlow
66  52:26 Emma Barclay
68  52:28 Alistair Wood
75  53:35 Paddy Hagan
79  54:00 Mike Baldwin
81  54:10 Rob Cunningham
86  55:19 Alison Weston
87  55:33 Chris Oxlade
97  56:07 Ian Marshall
104 58:24 Paul Stephens
105 58:39 Henry Heavisides
110 59:24 Sarah Haines
120 60:43 Dave Taylor
121 60:48 Joyce Marshall
124 61:03 John Hayes
135 62:21 Val Kerr
137 62:32 Alison Bennett
140 63:27 Neil Bloor
141 63:29 Tony Thornley
143 63:43 Adela Reperecki
157 65:55 Gavin Burgess
159 66:29 Will Worboys
165 67:03 Rachel Hagan
169 70:54 Amanda Newham
171 71:32 Sarah Hayes
173 76:02 Peter Lewis
175 76:27 Sue Morley
179 78:01 Kate Wilkinson
181 78:51 Gemma Carpenter
182 84:07 Miranda Foster
183 84:08 Juliet Hammond
186 84:36 Rachel Websdale
187 finished


This was a counter in the IH Race League, Bradley still holds the lead!
Mearley Clough fell race, Tue 14 May

(1 31:45 Darren Kay, P&B)
10 37:07 Steve Turland
105 finished


Photos on Woodentops
Stretford track, Tue 14 May
Sally Malir reports ... Georgia ran on a cold rainy evening in Stretford and smashed her 3000m PB by almost 50 seconds. Her time was 9:54.13
Leeds Half Marathon, Sun 12 May
Results ...

(1   1:13:08 Ben Marriott, Bingley Harriers)
313  1:35:40 Michael Duffield
449  1:37:59 David Howe
878  1:44:06 Dan Ibbotson
1060 1:48:12 Andrew Mitchell
2067 1:59:19 Daniel Judkowski
2142 1:58:39 Sue Williamson   PB 6 mins
2398 2:02:44 Charlotte Smithson
2832 2:04:03 Donna Hattersley
3094 2:12:08 Margot Dale
3759 2:21:56 Joanna Taylor
4097 2:27:21 Emma Payne
4517 finished


Margot's time establishes a new F70 Club Record.
Fairfield Horseshoe, Sat 11 May
Clare Smith reports ... Conditions were a little tricky (mud/bog/busy) compared to my previous experience of this course but the weather was slightly more favourable than had been forecast (and better than that in Ilkley I hear!) with views as far as Great Gable at times. I obviously didn't take it seriously enough if I was admiring the scenery. Perhaps that's why I fell over so many times too! Some good performances from our Ilkley team in this first English Champs counter of 2013.
Dave Wilby set a 3min PB, and got English Championship points from his top-100 placing. Results ...

(1  1:19:18 Rob Hope, P&B)
51  1:30:44 Dave Wilby
146 1:43:25 Lee Morley
165 1:45:10 Will Buckton
185 1:47:30 Duncan Cooper
222 1:53:08 Dick Waddington
234 1:54:23 Kate Archer
253 1:56:32 Neil Smith
265 1:59:29 Jann Smith
270 2:00:26 Alison Weston
322 2:08:45 Steve Weston
329 2:10:45 Norman Bush 2nd V70
352 2:17:02 Clare Smith
408 finished

Junior English Fell Championships, Sat 11 May
From George Elmes ... Another good turnout of 12 Juniors made their way across to Lancashire to compete in the 3rd round of the English Junior Fell champs at Cowpe. Again some strong results on yet another challenging course across all the age categories.
Standout performances from Lucy Haines 1st GU14, Ruaridh Mon-Wiiliams 4th BU16 & Lucy Williamson GU16 4th.
Full report on the junior pages
Some Woodentops photos
Parkruns, Sat 11 May

Bradford Lister Park
69  24:47 Paul Sugden
71  24:55 Sue Bickerdike
161 28:32 Emma O'Looney

Middlesbrough Albert Park
127 25:51 John Marshall

Yorkshire Selection
Congratulations to Tom Adams, Georgia Malir, and Lucy Williamson selected to run in Yorkshire colours at the fell Inter-Regional Championships on 19 May at Settle Hills.
HDSRL, Wed 8 May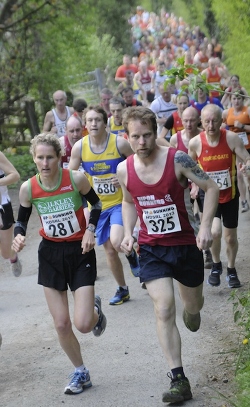 Well done those those who ran at the Otley race, the first in this year's Harrogate District Summer Race League. Although there were some good individual results on the 5.9 mile course, and some people racing for the Club for the first time, the unfortunate race clash means we have 'a lot to play for', as they say, in the team competitions. Next race is at Harrogate on 21 May.

(1  32:27 Ian Fisher, Otley AC)
42  37:41 Matt Newell
68  39:58 Steve Newell
71  40:07 Caz Farrow
79  40:54 Stephen Rhodes
97  42:11 Paul Stephens
152 46:05 Val Kerr
213 49:34 Karen Lambe
234 52:09 Paul Sugden
236 52:30 Petra Bijsterveld
238 52:59 Julie Elmes
245 54:06 Emma Payne
254 54:55 Bernie Gibbons
255 54:55 Vince Gibbons
258 55:12 Sally Wright
260 55:19 Don Macrae
265 56:34 Emma O'Looney
266 56:35 Sally Lynch
274 58:20 Sue Verspyck
289 finished

John Carr 1, Wed 8 May
Report from Henry Heavisides ... There was a very impressive turnout of Ilkley Harriers at this year's first John Carr 5k race. Dave Wilby & Dave Westhead were our first runners to finish, both just outside 17 minutes. Bradley Chapman continued his tremendous progress with a new PB of 17:43, getting a prize for 1st Youth (not sure what age group that is). The race was also the Yorkshire Vets championships & many of us ended up in the prizes, apologies if there are any errors: Sally Morley (2nd F35), Gaenor Coy (3rd F35), Beth Massey (3rd F40), Emma Barclay (1st F45), Sally Malir (2nd F45), Hilda Coulsey (1st F60), Henry Heavisides (2nd M55), Nick Pearce (2nd M60).
Results ...
Nick Pearce beat Geoff Howard's V60 Club record (BMAF Champs, Horwich, by just 1 second.)

(1  15:30 Mike Burrett, Leeds City)
25  17:01 Dave Wilby
27  17:06 David Westhead
48  17:43 Bradley Chapman
71  18:16 Mark Iley
74  18:18 Sally Morley
81  18:29 Henry Heavisides
90  18:49 Francis Westhead
93  18:52 Arthur Reilly
99  19:11 Nick Pearce
107 19:17 Beth Massey
110 19:20 Emma Barclay
115 19:32 Sally Malir
142 20:14 Jacob Hellewell
143 20:14 Edward Bickerdike
153 20:29 Tilly Melechi
190 21:41 Andrew Jackson
223 22:57 Catherine Westhead
235 23:28 Alessandra Ricci
251 23:53 Hilda Coulsey
253 24:02 Sue Bickerdike
255 24:04 Gaenor Coy
261 24:18 Elizabeth Westhead
268 24:40 Cathy Brown
274 25:07 Allison Ricci
286 25:32 Ella Shouler-Harris
312 27:11 Bridget Taylor
313 27:12 Dave Taylor
317 28:11 Harriet Jackson
323 28:37 Joanna Taylor
336 31:26 Andrea Westhead
341 finished

Coiners, Mon 6 May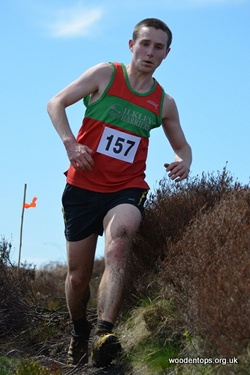 From Will Buckton ... After meeting former Harrier Ian Rowbotham I set off well only to be passed with ease by Ian on the climb to Stoodley Pike. A great route which should be popular with Harriers as it is very runnable.

(1 54:38 Christian Holmes, Wharfedale)
27 1h03:09 Will Buckton
88 finished

Keswick Half Marathon, Sun 5 May
From Catherine Farrow ... Billed as one of the most scenic halfs, it may well have been had there been anything to see other than cloud and drizzle. Throw in a stiff wind and about 2000ft of climbing and you don't get a pb course. However it was friendly, well-marshalled and supported with ample drinks stations. I came about 38th, in about 1hr 31mins but was definetly 2nd woman! What's more, spiderman and 2 wonderwomen were there.
Bluebell Trail 10 mile Sun 5 May
From Adela Reperecki... I took part in the Bluebell Trail 10 mile which is organised by Stainland Lions, Halifax. This is a 10.3 mile multi-terrain race through woodland, canal towpaths, tracks, trails, cobbled streets, incorporating the steep climb of Trooper Lane, and through beautiful bluebell woods. At the end of the run is a river crossing which is great. I was the only Harrier there and came in at 1.40.22 and managed to knock 1 minute off my time from last year. Would like to see more Harriers there next year.
Grand Ridge Trail Run, nr Seattle, Sat 4 May
From Dick Waddington ... In an attempt to be first Ilkley Harrier in a race, I took the drastic step of flying to Seattle to limit the competition (and do a bit of work). I entered the Grand Ridge Trail Run (13 miles, 2000 ft of ascent) in Issaquah near Seattle, USA.
There was a field of about 150 with the event having a very friendly atmosphere. It was run by a small company that organises trail races every few weeks in the hills around Seattle.
Having looked at the results for the previous year and seeing that after the first half mile the trails were narrow, I thought I would start near the front. The other runners were reluctant to start at the front, so I ended up next to a very fit looking guy in a North Dakota vest. At the start he bounded along the first section and literally disappeared at the start of the first hill. After that there was a lot of to and fro as some of the runners were quick up the hills, some quick down the hills and some quick on the flat. The course was an out and back route and it seems to be obligatory to say "good job" to anyone you pass, which gets pretty tiring after a while, but it seems like a friendly thing to do.
With some good speed up and down and some mediocre speed on the flat, I managed to come in 5th (2nd V40) in 1:55. The North Dakota runner broke the course record by 10 minutes in 1:30, which was 21 minutes ahead of the second placed runner! And I was first Ilkley Harrier home. Good job.
Coniston, Sat 4 May
From Will Buckton ... a very tough Lakeland fell race over steep and technical terrain. Steve Turland got the better of me again with a strong run in 1:29. I came home in 1:36 after following an Ambleside vest down a terrifying scree slope descent from Coniston Old Man.

(1 1h11:32 Darren Kay, Pudsey and Bramley)
44 1h29:58 Steve Turland
78 1h36:35 Will Buckton
247 finished

Parkruns, Sat 4 May

Bradford
29  21:11 Ed Bickerdike
101 25:05 Paul Sugden
118 25:32 Sue Bickerdike
126 25:46 Harry Stead
212 28:42 Emma O'Looney

Harrogate
141 26:21 Julie Elmes

Stewart
57  25:25 John Marshall
128 35:34 Linda Marshall

Lothersdale fell race, Wed 1 May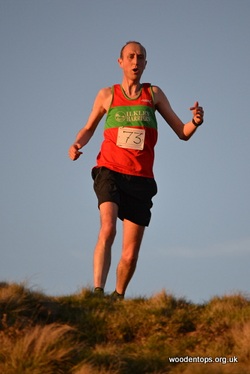 From Ben Sheppard ... Lothersdale fell race is short and it is sharp: 3.6 miles of shortness and 591ft of sharpness. It being an out-and-back course, there's no point kidding yourself you are not far behind those ahead of you, but you can kid yourself that you must almost be at the summit as James Hall (Wharfedale) whooshes past you in the opposite direction like an exocet missile aimed on Lothersdale village hall. Harriers with burning lungs included Bradley Chapman, Jeff Green (near the front in his first fell race as a Harrier), Val Kerr, the outstanding Tilly Melechi - more than holding her own in the seniors race - and her Competitive Dad Toni.

(1 22:50 James Hall, Wharfedale)
16 26:39 Bradley Chapman
18 26:56 Jeff Green
20 26:58 Iain Gibbons
22 27:25 Ben Sheppard
33 28:45 Richard Smith
64 32:44 Toni Melechi
65 32:52 Tilly Melechi
80 35:22 Val Kerr
104 finished

West Yorkshire Track & Field League, Wakefield, Wed 1 May
Dave Wilby reports ... I travelled across to Thornes Park in Wakefield last night for a 1500m track league race. With no reliable way of knowing what time I was likely to start, I eventually got on to the track at 10pm having already warmed up 3 times, and with legs still trashed from Sunday's half marathon I just wanted to set a benchmark for future races. I was pleased enough and managed to achieve my aim of not finishing last by coming 11th from 13 in a steady 4:54:37. The race was won by Brad Traviss in a swift 4:09:43, and I'm pretty sure there's scope for taking 15 to 20 seconds off my time over the next couple of races.
Reminder, Harriers have signed up to this League this year, see forum post for this and other chances to get on track!
---
Ilkley Harriers of the Month, April
Nick Pearce
Sub 3h08 V60 Club Record at Manchester marathon
Other nominations were: Brian Melia - 100 mile Mt Fuji Ultra; Kate Archer - fantastic runs at her first 3 Peaks and the Baildon Boundary Way; Will Buckton's - result at the 3 Peaks; Rebecca Moores - improving her London Marathon time by over 20 minutes; Mike Baldwin - completing his 21st Three Peaks Fell Race; Andrew Merrick - dogged determination to run and not only complete but run competitively at the Boston marathon in 3h22 despite suffering a serious foot injury only 4 weeks beforehand; Jann Smith - awesome 3 Peaks time (PB) also despite have a knee injury leading up to the race; Neil and Clare Smith for succesfully completing the Fellsman (61M) in under 20h
Adela Reperecki
Under 5 hrs in the 3 Peaks (and a broken tooth!); improved each time in her 3 Bunny runs; Lady Vet prize at Over the Oda; Baildon Boundary Way
Well done to Nick and Adela, this month's winners.
The Committee made an 'Outstanding Achievement' award to Mike Baldwin for completing his 21st 3 Peaks race.
Earlier Harriers of the Month ...
Bradford 10k, Sun 28 April
Report from Dave Westhead ... the Bradford 10k is a reasonably flat, out-and-back route, from the Town Hall out along Canal Rd towards Shipley. It has just enough short sharp hills and bendy sections at the start and in the middle to mean it's not quite a PB course. Sunday was bright and sunny with the odd sharp shower and a brisk wind that lifted race HQ off the ground and almost blew it away just after I finished. As for the other Dave W below in Lincolnshire, the breeze did make fast times quite difficult with a few sections of Canal Road straight into a head wind. Two people did manage to impress - the winner, because the time below is a new course record, and Dave Green because his PB below was his first sub 50. Well done to them both - I'm sure there is more to come on faster courses and in better conditions.
Results from David Green ...

(1  31:02 Tesfaye Debele, Bradford Airedale AC)
9   35:52 Dave Westhead
205 47:49 Tim Ratcliffe
271 49:36 Will Worboys
284 49:49 David Green (PB)
673 62:19 Alison Landsbury
808 finished

Manchester Marathon, Sun 28 April
From Nick Pearce ... I rather surprised myself with a time of 3h07:41, 294th from 4956 finishers and 2nd V60 in the Manchester Marathon yesterday, my first road marathon for at least 15 years. Conditions were ideal with a cool breeze, a flat course (billed as the flattest in the UK with only 55 m of ascent), and a good atmosphere and support all the way round, with regular refreshment points. Didn't see any other Ilkley Harriers - the other red and green vests turned out to be a Welsh club. Legs rather stiff this morning... results.
Well done Nick, this breaks Geoff Howard's 2005 Club record of 4h10:34 in New York!
Harewood House 10K, Sun 28 April
From Andrew Mitchell ... the race was postponed from 24 March 2013 due to the snow. A breezy day plus a killer hill at 8K didn't make conditions easy.

(1  37:31 Michel Hunt)
213 51:05 Andrew Mitchell
418 55:20 Cathy Brown
506 56:06 Jean Sullivan
610 57:57 Peter Lewis
686 60:13 Catriona Hawthorn
711 60:47 Martyn Pearson
763 62:06 Debbie Pearson
1208 finished

North Lincs Half Marathon, Sun 28 April
From Dave Wilby ... I headed down to Scunthorpe to make my half marathon debut on Sunday. The event was really well organised with closed roads, chip timing and apart from 2 bumps to cross the motorway was probably about as flat as it gets. Being fairly rural it did mean that was little shelter from a wind which was persistent but not overly strong. I got into a group early on which was going at roughly my target pace but towards 9 miles or so I slipped off the back and never recovered. I eventually finished 14th in 1:18:58, bitterly disappointed with my time, particularly as I'd hated almost every step and was hoping not to have to do another one. I'll have to do one now to try and rectify the time but only once my legs recover, they've felt far better in the past after thrashing them up and down the long lakeland fell races!! I should say that the oraniser had done a great job, and you roadies should check it out. I even got a free post-race massage!!
(Race won in 1h10:10 by Tim Hartley of Notts AC, 863 finishers, www.northlincshalf.co.uk)
Sunderland City 10K, Sun 28 April
From Alex Hall ... I competed in the Sunderland City 10K yesterday as a method of training for the regatta season for my rowing squad at Durham University. I started at the back of a 1580 person pack due to arriving late to the start line but managed to finish 78th with a time of 43:15 on a fairly flat course (many thanks to the speed sessions on thursday nights).
Three Peaks, Sat 27 April
Ben Sheppard adds ... Where was my responsible adult when I sneaked online and entered this excruciating race? The field was stacked with fell running talent of the highest order, and that's just the Harriers. Joe Symonds proved his class with a second consecutive win, (taking him closer to his father (Hugh)'s record of three titles (1984, 1985 and 1987)), and just two weeks after a 2:20 road marathon. Meanwhile Harriers also performed out of their skins too, spurred on by the tremendous support all round the course. Fell running star of the future Will Buckton delivered on some of his great promise, taking an incredible 45 minutes off his 2012 time to comfortably beat 4hrs, while in other news Mike Baldwin completed his 21st (twenty first!!) consecutive 3 Peaks race and took the prize for biggest pathological glutton for punishment. It doesn't feel like it right now, but a great day was had by all.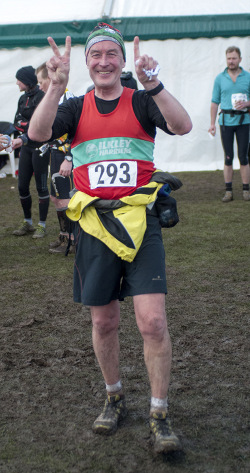 (1 2h54:39 Joe Symonds, Salomon Int'l)
130 3h54:31 Will Buckton
180 4h03:47 Jez Hellewell
181 4h03:49 Stuart Pitches
188 4h04:45 Jann Smith
195 4h05:24 Ben Sheppard
198 4h05:44 Dan Hill
272 4h17:30 Duncan Cooper
289 4h20:11 Dick Waddington
316 4h25:28 Rebecca Mon-Williams
360 4h31:34 Kate Archer
365 4h32:17 Alison Weston
449 4h44:22 Mike Baldwin
483 4h49:14 Outi Kamarainen
542 4h57:27 Natalie Curtis
551 4h59:18 Adela Reperecki
635 5h21:02 Sharon Meadows
652 5h26:36 Paul Sowden
661 5h30:46 Helen Waddington
671 5h46:22 Steve Weston
675 finished


Some photos from the Woodentops.
More on 3 Peaks from Alison .... What great results from the Harriers. I found it hard from start to finish but looking at Graham's photos of the race many of you make it look like a walk in the park! Will must be delighted with his massive PB and Adela was over the moon on the finishing line to clock under 5 hours despite chipping her tooth on the way off Whernside. We must have been the best represented club on the ladies side with 9 ladies finishing and Jann, Rebecca and Kate winning third ladies prize. Mike was a absolute star finishing his 21st Three Peaks race with a big grin on his face! Well done to everyone.
See Graham's photos
Fellsman, Sat 27 April
Clare Smith reports ... Clare and Neil Smith completed the Fellsman Hike (61 miles, 11,000 ft of climb) from Ingleton to Threshfield. I was 170th out of 402 starters, joint 16th lady in a time of 19hrs 48 mins. We were in a great grouping overnight. The conditions were tough - very boggy over Fleet Moss in particular, cold and breezy but not as severe as last year. Very pleased to have completed it. Results
Some photos from the Woodentops.
Junior fell championships, Sat 27 April
Some super results from the 7 juniors who made the 300 mile round trip to Shropshire this weekend to compete in round 2 of the Junior English Champ Championship Fell race hosted for the first time by Mercia Fell Runners. Full report from George Elmes on the junior pages.
Hawkshead Trail Race 17km, Sat 27 April
Emma Barclay reports she was ... 4th lady, 1st LV40 in 1:19:15
Parkruns, Sat 27 April

Bradford Lister Park
80  25:09 Paul Sugden
130 27:40 Sue Bickerdike
162 29:40 Emma O'Looney
224 33:56 Milly Websdale

Harrogate Stray
38 22:04 Geoffrey Howard

Leeds Hyde Park
24 19:10 Arthur Reilly

Stewart
61 25:16 John Marshall

UTMF, Fri 26 April
From Brian Melia ... Just returned back to Tokyo to recover from the Mount Fuji Ultra-Trail with my good friend Chiharu Watanabe. We both had fabulous races in one of the most beautiful places I have ever been to. The race is 100 miles over a very technical course and very exciting.
I finished 53rd in 27 hrs 36 mins, Chiharu was 22nd in 24 hrs1 mins
The race was won by Hara from Japan in 19 hrs 29 mins
Dick Hudsons race, Thu 25 April
Woohoo, the BOFRA season is underway!

(1  42:21 Neil Crampton, Toro, bike
4   48:40 Gareth Hird, Wharfedale, 1st runner)
6   49:37 Martin Archer
14  53:48 Iain Gibbons
15  54:07 Steve Turland
32  64:09 Chris Oxlade
35  66:31 John Hayes
37  67:16 Phil Hirst
52  75:48 David Green
56 finished


London Marathon, Sun 21 April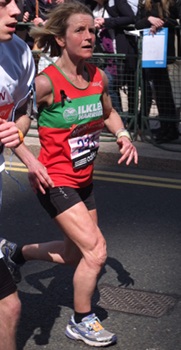 Report from Sally Malir ... After 30 seconds of silence to remember the victims of the awful events less than a week previously in Boston the marathon community in London set off wearing their black ribbons to show their support.The weather was perfect and the crowd was the best ever! I really enjoyed my run relaxing into a steady pace, which I nearly managed to keep perfectly even all through the race. This really motivated me as I passed more and more people as the miles went on. The sights were amazing, and often brought goosebumps to my skin although I was boiling hot. At around 25 miles a guy stumbled and fell in front of me, a fellow runner picked him up and steadied him making sure he was alright before finishing his own marathon, this summed up the support everybody showed for each other. I saw many familiar faces and heard many friendly shouts, it's amazing among all those thousands how you can pick out your supporters. In the end I was 137th Women, 9th in my age group, and happy. I don't think it will be my last marathon.
Sally has beaten her own LV45 Club Record of 3:10:40 set at Manchester in 2012, and Hilda Coulsey beat Chris Porritt's LV60 record of 4:16:00 from Leeds 2002.
Some photos from the Bennetts
... and
Results
...

2166  3h09:46 Sally Malir
2574  3h13:46 Rob Cunningham
5016  3h31:55 Alison Bennett
7983  3h48:03 David Howe
10153 3h57:12 Andy Webster
11968 4h03:26 Hilda Coulsey
14247 4h15:27 Dave Ibbotson
17491 4h29:00 Rebecca Moores


Georgia Malir was selected to run in the Under 17 women's Mini Marathon which is the last 3 miles or so of the main marathon. She was 14th overall helping the Yorkshire And Humberside Under 17 Women's team take 1st position. Her time was 17:33
Over The Odda 10k, Sat 20 April
Jez Hellewell reports ... a beautiful day for the inaugural running of the Over The Odda race which brought out a couple of the local "big guns". Tom Adams winning by some margin at the finish (Quentin Lewis 3rd), followed by a jog back home over the moors for a cool down. Quite a few Harriers vests on show I'm glad to report. Nice to meet Petra Bijsterveld at the start & Adela Reperecki, despite start line reservations, had a great run to pick a Lady Vets prize (I say "pick up", but unfortunately she'd already left!). A good few minutes behind Tom came myself (6th), Ben (top 10, we think) & Justin (just outside the top 10). "Winner gets the beers in" was the shout beforehand. I'm therefore very suspicious as to why Ben & Justin were just behind me at the finish.
Results from ukresults.net...

1  37:39 Tom Adams
6  45:13 Jez Hellewell  1st V40
10 46:54 Ben Sheppard
11 47:21 Justin Phillips
15 48:39 Emma Barclay
55 59:45 Adela Reperecki
76 65:20 Alison Ricci
96 72:44 Petra Bijsterveld
157 finished

Meanwood Valley Trail, Sat 20 April
Always a favourite with Harriers, provisional senior results from Valley Striders site. Lots of photos on woodentops.org.uk.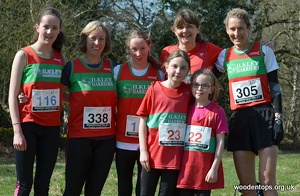 (1  43:49 Richard Pattinson, P&B)
28  50:24 Steve Morley
45  53:34 Nick Pearce 1st V60
53  54:47 Caz Farrow  3rd F35
101 60:32 Phil Hirst
220 75:03 Sue Williamson
232 77:10 Julie Elmes
258 finished


Great to see lots of juniors out too with some fab results!
Anniversary Waltz, Sat 20 April
Report from Alistair Barlow ... a magnificent day in the Lakes doing the Anniversary Waltz (AM 11.5 miles, 3600ft) in the beautiful Newlands valley. From the start there's a long run on tracks and road up the valley before the action really starts will a long and steep climb up to the summit of Robinson. From there it's good running terrain over the fells at the head of the dale before swinging north towards Catbells and home. The descent looked good fun when viewed at the start but was pretty painful after 11 miles and I hobbled home in about 2:20. All quickly forgotten with the help of free soup and beer in the village hall. All in all a great day out and thoroughly recommended.
Steve Turland (and Helene, Ed) had done the longer and much tougher Teenager with Altitude ...next year ... maybe!
Results from www.anniversarywaltz.co.uk ...

AW
(1  1h34:43 Carl Bell, Keswick AC)
117 2h17:21 Alistair Barlow
269 finished

TWA
(1  2h49:25 Rhys Findlay-Robinson, Dark Peak)
41  3h43:25 Steve Turland
48  3h46:54 Helene Whitaker 2nd lady
101 finished

Parkruns, Sat 20 April

Bradford Lister Park
19  21:07 Oscar Stapleton
208 33:50 Milly Websdale

Leeds Hyde Park
159  25:29 Harry Stead

Middlesbrough Albert Park
99  25:35 John Marshall

Roundhay Park
13 21:24 Geoff Howard

Bunny 3, Tue 16 April

Tom Adams out on his own at Bunny 3, on his way to another race win. Results and more photos on woodentops.org.uk

1   15:38 Tom Adams
17  17:21 Jack Wood
32  18:05 Ruaridh Mon Williams
45  18:33 Bradley Chapman
68  19:11 Steve Turland
121 21:04 Lucy Williamson
130 21:13 Sam Wood
133 21:19 Jack Cummings
137 21:24 Tilly Melechi
142 21:31 Malcolm Pickering
153 21:48 Sarah Pickering
174 22:53 James Pickering
177 22:58 Andrew Jackson
184 23:09 Alison Weston
187 23:11 Adela Reperecki
203 23:39 Joanne Williamson
227 24:31 Iso Hirst
259 25:56 Nea Weston
279 28:08 Sue Williamson
285 28:41 Harriet Jackson
292 29:20 Sally Wright
296 29:37 Emma Payne
303 30:53 Joanna Taylor
315 finished

Boston Marathon
Our three club members at Boston are safe, as reported on Facebook, and Andrew M has emailed.
Boulsworth fell race, Sun 14 April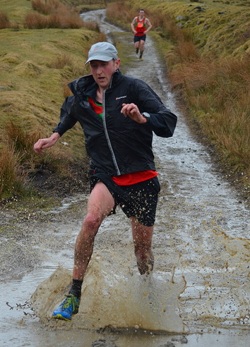 From Ben Sheppard ... A short journey from the sunshine of Ilkley to the sideways rain of Wycoller Country Park nr Colne for a low key and enjoyable BM race over 8.2m with 425m / 1394ft climb. Desperately trying to keep in touch with Will as he ploughed strongly up the seemingly never ending climb to the top of Boulsworth Hill (also known as Law Lad I believe) and managing to catch him by the top only to be left trailing in the wake of his fast and fearless descent. The late Bill Smith came to mind as I went thigh deep in a bog, before hauling myself out for a long run in punctuated by deeper-than-expected puddles strategically placed to make the fair-weather trail runners among us look like John Inman (see photo). A local race that should be popular with Ilkley Harriers if repeated in future years.
Photos on woodentops.org.uk
Results from Wharfedale Harriers

(1   57:02 Mark Addison, Helm Hill)
20 1:08:41 Ben Sheppard
21 1:09:08 Will Buckton
71 finished

Wakefield 10k, Sun 14 April
Results from ukresults.net ...

(1  32:13 Ian McBride, Royton RR)
450 50:24 Karen Lambe
1148 finished

RunSunday, Sun 14 April
Well done to junior Euan Brennan who won the Run Sunday 3-mile timed run at Otley Chevin. (We don't routinely list Run Sunday results, but this is pretty special!)
Woldsman 50, Sat 13 April
From Eddie Winslow ... I made another trip over to Driffield for the Woldsman 50. I couldn't repeat my win of last year but came home 6th in 9h42m, 8 minutes slower than a year ago.
Parkruns, Sat 13 April

Abingdon
1 16:02 Tom Adams

Bradford Lister Park
11 20:20 Richard Hinsley
32 21:59 Oscar Stapleton
73 24:42 William Worboys

Burnley
22 21:25 Diane Haggar

Harrogate Stray
132 26:58 Julie Elmes

Northern Vets Track League, Wed 10 April
From Henry Heavisides ... Three of us travelled to Spenborough track as an alternative to the regular Wednesday Carnegie track session. Best performance came from Mark Iley in the 1500m running 4:54.3 for 4th place. Beth Massey ran 5:47 (I think) in the same race. The 800m was split into two races I was first to finish in the over 50s race in 2:36.5. The 3000m followed soon after the 800m, so I struggled to finish 10th out of 17 runners in 11:21.1, Beth was 11th in 11:29.4.
Bunny 2, Tue 9 April
Big improvements by Bradley, Rob, Diane, Lucy, and Adela on last week's Bunny Run times! Results and photos on woodentops.org.uk.

(1  15:52 James Hall, Wharfedale)
31  18:16 Bradley Chapman
83  20:15 Rob Cunningham
84  20:17 Toni Melechi
109 21:21 Jack Cummings
111 21:23 Rik Hinsley
113 21:26 Diane Haggar
115 21:31 Tilly Melechi
118 21:46 Edward Bickerdike
122 21:58 Lucy Jacques
172 23:56 Adela Reperecki
199 25:18 Jacob Helliwell
200 25:22 Alison Ricci
236 27:46 Sophie Brown
252 29:29 Harriet Jackson
256 29:56 Sally Wright
267 31:17 Emma Payne
296 finished

Blackpool Marathon, Sun 7 April
Well done to Linda Wilson, who was 461st in 4h28:37. Results on ukresults.net.
Baildon Boundary Way, Sun 7 April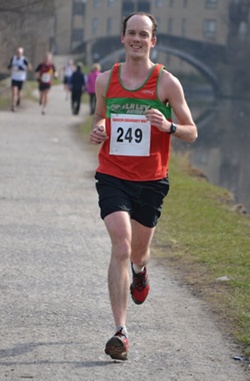 Ben Sheppard reports ... A smattering of Harriers did justice to the superb conditions, with the sand-bagging Justin Philips first Harrier in a strong 1:31 and maybe rediscovering his running mojo in the process. Kate Archer and Andrew Merrick were well up the field with impressive times, just 8 days before Boston Marathon in Andrew's case. I paid the price for foolishly sticking with Justin for the first few miles haring along at nearer 10k pace, which came back to bite me in the latter stages as a made my way backwards through the field to finish with room for improvement in 1:34
Photos on woodentops.org.uk, results from Baildon Runners ...

(1  1:20:58 Richard Pattinson, P&B)
23  1:31:37 Justin Philips
31  1:34:18 Ben Sheppard
54  1:38:40 Andrew Merrick
56  1:39:02 Kate Archer
91  1:45:38 Dick Waddington
131 1:50:00 Sharon Williams
164 1:55:48 Andrew Jackson
172 1:57:26 Dougie Scarfe
177 1:58:15 Eric Hawthorn
192 2:00:56 Adela Reperecki
206 2:02:44 Helen Horton
248 2:11:24 Hilda Coulsey
289 2:17:56 Judith Scarfe
350 finished

Blubberhouses 25, Sun 7 April
From Eddie Winslow ... I got round in 3h51m, a few minutes down on my previous attempt but the residual snow and muddy melt slowed things a bit. Mike Baldwin was not far behind and Amanda Parnaby was there as well.
Results should be on Nidderdale LDWA's pages sometime.
Pinchinthorpe Plod, Sun 7 April
Report from Alison Weston ... Another brilliant day for running. Whilst up with my parents I found a great 6.2 mile race near Roseberry Topping. A mixture of very runnable forest trail paths and fell. Lots of runners from Thirsk and Ripon ran this race as one of a whole winter series of races in the N.Yorkshire moors. My time ~ 53mins.
Pendle fell race, Sat 6 April
Senior results from www.ukresults.net (junior results and photos on our junior pages). Photos on woodentops.org.uk ...

(1  32:13 Rob Hope, P&B)
143 46:59 Neil Smith
166 48:51 Diane Haggar
172 49:10 Alison Weston
340 finished

Coledale Horseshoe, Sat 6 April
From Will Buckton ... Steve Turland and I competed in the Coledale Horseshoe (AM 12.25km/1036m) on Saturday at Braithwaite in the Lake District. Conditions were excellent with minimal snow and ice on the summits, with great views of the Horseshoe and Skiddaw on the way back. Although the route was shortened from 13.7km due to snow on Eel Crag there was over 100m extra ascent to make up for it!

(1 1h04:58 Carl Bell, Keswick)
42 1h25:06 Steve Turland
49 1h26:30 Will Buckton
201 finished

Parkruns, Sat 6 April

Bradford Lister Park
63  23:50 Joe Reynier

Inverness
6  19:00 Steve Coy
49 26:53 Gaenor Coy

Pollensa Half Marathon, Wed 3 April
From Mark Hall... Having spent most of the past 6 weeks in Majorca working I had been looking for a race to do and the above race was taking place down the road from my base. The race was the Baleric islands championships so attracted a good field of 600 runners. The course was flat with the last 5km undulating. The weather was good and around 20 degrees. Having only been ticking over with training I would have been happy with a steady 6 minute mile pace. However, when the gun went so did I! I managed to get in a small group with Vanessa Veiga, who ran for Spain at the London Olympics at the marathon. We past 5km in 16.55 10kms 34.31 and both suffered in the final 5kms and lost time, she eventually beat me by 5 seconds mainly due to my loss of concentration in the final run in when I lost a few metres on a twisty last kilometre. I finished 8th, 1st vet 50 (by 5 minutes) in a time of 1.15.36. I was for once pleased with the result especially after my poor preparation. Winner was (I think) former spanish international Rey in 70 minutes.
Henry has spotted this is a new Club Record, beating Mark's own time at Worksop in October by 3s
Bunny 1, Tue 2 April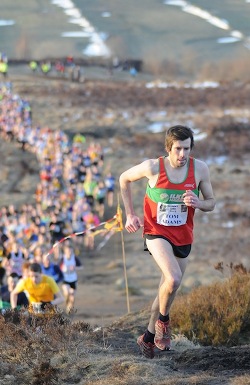 Tom Adams again pulled off the double-yolker of winning the sprint egg stage and the race. Some good runs by other Harriers too, with the juniors mixing it with the seniors, on a lovely evening - dry, sunny, and just enough snow to make it pretty! Results and photos on woodentops.org.uk.

1   15:45 Tom Adams
28  18:50 Bradley Chapman
63  20:08 Euan Brennan
90  21:32 Rob Cunningham
97  21:39 Neil Smith
99  21:44 Jack Cummings
109 22:06 Diane Haggar
114 22:21 Sam Wood
115 22:28 Richard Hinsley
122 22:55 Lucy Jacques
153 24:16 Andrew Jackson
176 25:22 Adela Reperecki
196 26:19 Allison Ricci
218 27:40 Sophie Brown
229 28:25 Alessandra Ricci
240 30:12 Harriet Jackson
247 30:57 Sally Wright
268 finished


There's another Bunny next week, come and join in the fun!
---
Ilkley Harriers of the Month, March
Tom Adams
Guiseley Gallop and Lightwater 10 wins
Other nominations were: Christine Cox - 1st FV55 Dentdale; Rebecca Mon-Williams - High Peak Marathon (2nd ladies team, 10 hours) Bradley Chapman - setting an excellent example for the younger runners through his training, racing and in particular his leading training sessions.
Henry Heavisides
Great track results, GB Vet selection and a good Peco result
Well done to Tom and Henry, this month's winners.
Earlier Harriers of the Month ...
Guiseley Gallop, Sun 31 March
Results from ukresults.net

1   34:34 Tom Adams
30  41:24 Bradley Chapman
82  47:03 Michael Duffield
111 49:30 Phil Hirst
132 51:43 John Woodward
136 52:02 Chris Cunningham
144 52:43 Dougie Scarfe
159 53:42 Adela Reperecki  1st F50
172 54:33 Sharon Meadows
203 56:23 Allison Ricci
215 57:16 Eric Morley
252 59:11 Sue Morley
268 60:31 Sue Williamson
274 61:00 Vince Gibbons
280 61:21 Bernie Gibbons
297 62:37 Petra Bijsterveld
298 62:46 Judith Scarfe
386 finished


This was an IH League counter, calcs after 5 races.
Helmsley 10k, Sun 31 March
From Jez Hellewell who is... up in North Yorkshire for Easter, so I thought Jacob & I should check this one out.
The senior race is 10k, the first 4 of which is uphill & on the road. It then turns off to take in farm tracks & fields for the last 6k. I ran merely ok to come home in 40:39 (Garmin, not an official time). A steward at the finish said I was 29th, my wife said 30th. For obvious reasons, I'll go with my wife's judgement!
Jacob ran in the 11-15 race. This set off on the same route as the seniors, but veered off after half a mile to complete a 1.5 mile loop. He ran far better than me & finished strongly to take 3rd place.
Rivington Pike, Sat 30 March
George Elmes reports that seven junior Harriers made the trip across the Pennines to compete at Rivington Pike, a Junior Fell Championships counter - no results as yet apart from Robyn Anderson 3rd GU8. Others included Poppy Anderson, Molly Pearson, Emily Elmes, Robbie Matthews, Tilly Melechi, and Lucy Williamson. (See George's longer report on the junior pages.) In the senior race, Diane Haggar was 3rd in her class.

(1  18:04 Tom Vornthwaite, Northumberland FR)
149 25:52 Diane Haggar
312 finished

Chase the Bride, Sat 30 March
Dave and Kelly shared their wedding day celebrations with 40-50 Harriers and friends, young and old (the picture shows those in fancy dress), with a dash up to the cairn at Burnsall and tea and cakes after, before the 'main event'. Best wishes from all your friends in Harriers!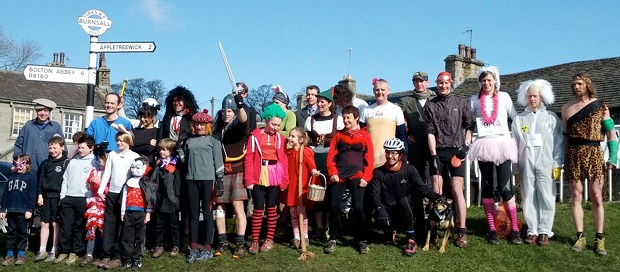 Parkruns, Sat 30 March

Durham
82  26:05 John Marshall

Harrogate Stray
51 21:47 Geoff Howard
56 22:01 Norman Bush

Salford 10km, Fri 29 March
Beth Massey reports ... Once again, I made the trip over to Lancashire to take part in the Salford 10k, a fast and flat 2 lap course promising equally fast times. With a quality field of over 500 runners from all over the North of England I was hopeful of recording a good time. Conditions were a big improvement on recent days, although the cold wind that seems to be accompanying me to every race so far this year was not ideal!
With such a large and quality field it was a fast start and my pre-race plan of 4min/km pace went straight out of the window! I went through 5km in well under 20mins and knew I would struggle to keep such a pace going! Despite my best efforts to do so, I eventually crossed the line in a somewhat frustrating time of 40mins and 3secs! This placed me 2nd FV40 but only 18th lady!!
The race was won by Adrian Holliday of Tipton Harriers in 30mins 43secs.
European Vets XC Championships - Lasarte, Spain, Sun 24 March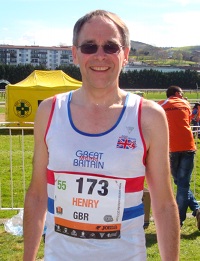 From Henry Heavisides ... Snow wasn't a problem here today, at 22 degrees & sunny, it was very hot for cross country. The course was flat around a horse racing track with no mud in sight. I finished 17th out of 75 competitors in the M55 race & narrowly missed a medal as GB finished 4th behind Spain, Russia & Finland. My time was 20:01 for the approx 5.5k course, I was 1st runner for the GB team. The winner was Torre Axelsson of Sweden in 17:59.
Home Countries International XC, Sun 24 March
From Sally Malir ... Georgia Malir was selected to run for the North Of England for the first time in the Home Countries International, Dinefwr, South Wales. She maybe had her best run of the season coming in 11th despite being an under 17 in the U20 women's race. She was also the first counter for the North of England. The distance was a step up for Georgia but she coped well with the undulating course which was surprisingly dry and snowless, although there was a freezing, relentless wind. The winner was Rhona Aukland 19:10 (Edingburgh university) Georgia ran the 5400m course in 20:38. She had a great time and really enjoyed the experience!
Dales Way Relay, Sat 23rd March
From Alison B Friday morning ... "Looking at the current weather and forecast for tomorrow (heavy snow at Ribblehead/Kettlewell at handover time) it would be safer to cancel the relay for tomorrow. There are too many unknown factors: transport to the handover points; communication with people mobile as reception is patchy; the legs will be run slower as the paths won't be visible and freezing temperatures means they could be icy so more legs will be delayed and running in the dark as we finish later etc
If people could email me (Alison) to let me know they have seen this message that will be great and then I will ring round the remaining people tonight."
European vets indoor championships, San Sebastian, Tue 19 March
Henry Heavisides reports ... I finished 20th overall in the M55 3000m out of 46 runners. The competition was split into 3 seeded finals as 46 people can't run on the track at the same time & it's too long a race to have heats & semis. I was 7th in the B final in 10:46.69, which was slower than I ran recently at the British Masters. Overall I was 2nd fastest GB runner (out of 5). The Spanish team included 3 former Olympic runners.
Lightwater 10k, Sun 17 March
Tom Adams won this in a speedy 32:47, leading in a field of 261 finishers.
Lytham St Annes 10m, Sun 17 March
Beth Massey reports ... Three Harriers made the trip into Lancashire to compete in the Lytham St Annes 10m road race, which also incorporates the Northern Veterans Championships. The race is an out and back route mainly along the promenade and so is a good, flat course. Conditions were favourable, although there was a fairly strong sea breeze, which managed to be a bit of an headwind in parts both on the way out and on the way back!
Mark Iley was first Harrier home in a time of 62mins and 25secs, followed by Rob Cunningham in 64mins and 1sec. I finished in 65mins 44secs which was good enough for 3rd lady overall and also 1st LV overall in the Northern Vets Champs. So a good effort from all 3 of us, packing quite close and putting Ilkley Harriers up there in the results!
The race was won by Graeme Taylor of Tyne & Wear Fire Service in 53mins 52 secs. Worth a mention also is the winner of the ladies race - Fiona Matheson of Falkirk Victoria Harriers who won in a fantastic time of 59mins 37secs and is a LV50!! There is hope for us all yet!

(1 53:52 Graeme Taylor, Tyne & Wear Fire Service)
29 62:25 Mark Iley
35 64:01 Rob Cunningham
45 65:44 Beth Massey
255 finished

Trimpell 20, Sun 17 March
See Andrew Bennett's photos, results fom ukroadraces.info ...

(1  1:52:52 Tom Charles, Trafford)
102 2:34:10 Alison Bennett
287 3:05:02 Dave Ibbotson
299 3:07:38 Paul Sugden
326 3:18:55 Linda Wilson
386 finished

Heptonstall fell race, Sun 17 March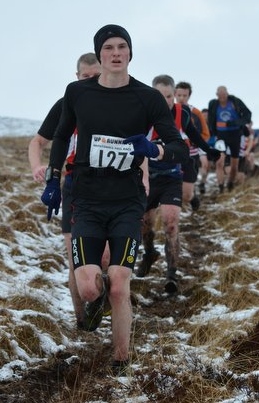 Neil Chapman reports ... 4 Harriers out for this tough 15.4 mile race with every type of fell terrain imaginable including bogs, a river crossing and 100 steps towards the end of the race, which has over 3100 feet of ascent. The race was won by Adam Osborne from Leeds AC in 1hr 58, and first Harrier back was Dave Wilby finishing 8th in a superb 2hr 09 given that he had been working incredibly hard on the Saturday morning speed session only 24hr earlier. Bradley Chapman was 2nd Harrier, completing his first fell race over 7 miles, finishing 27th in 2hr 21, followed in by Will Buckton 51st in 2hr 31, over 10 mins quicker than last year. Our only Lady was Dela Reperecki, finishing 3hr 09; whilst not sure of her overall placing she was well placed in her age category.
See the Woodentops photos
Results ...

(1  1h58:20 Adam Osborne, Leeds City)
8   2h09:38 Dave Wilby
27  2h21:57 Bradley Chapman
51  2h31:41 Will Buckton
181 3h09:14 Adela Reperecki
225 finished


This was the 4th counter in the Ilkley Harriers Race League, and Bradley (photo) is now in the lead!
South Yorkshire half marathon, Sun 17 March
This was an undulting, two lap, friendly race. Sally Malir ran a time of 88:59 and was 3rd woman (1st vet 45).
English Schools XC, Sat 16 March
From Sally Malir ... some fantastic results were achieved from the three Ilkley Harriers girls selected to run for West Yorkshire at The English Schools Cross Country in Derbyshire. Sarah Pickering was 76th in the Junior Girls; race, Lucy Williamson (running in her West Yorkshire vest for the first time) was 140th in the Intermediate Girls' race, and Georgia Malir was 8th in the Senior Girls' race (improving from 135th last year!) The course was the muddiest yet but the atmosphere was fantastic!
Parkruns, Sat 16 March

Bradford Lister Park
82  26:01 Samuel Craske (jun)
100 26:51 Milly Websdale (jun)

Leeds Hyde Park
132 25:46 John Marshall

British Masters Indoor Championships - Lea Valley, Sun 10 March
Henry Heavisides reports ... I was 4th in th M55 3000m in 10:26.70 & 5th in the 1500m in 5:03.04. I was pleased with my run in the 3000 which was a pb by 15 seconds. My 1500 was slightly quicker than last year. The standard of the championships is very high in the M60 1500m David Oxland of Notts AC set a new world M60 record. The second placed runner also beat the old world record & the 3rd placed runner beat the old British record as well. The closest finish was in the M80 3000m race walk which ended in a sprint for the line with the decision determined by the photo finish. There were more than 600 competitors taking part in races from 60m to 3000m & field events.

Ian Roberts Race, Sun 10 March
Steve Turland reports ... a cracking 6m fell race from Marsden village in the snow. Was a real battle on Marsden moor (sorry) with snowy tussocks and a strong headwind. Finished in 6th position from around 100 starters.
Spen 20, Sun 10 March
Andy Webster reports ... I had a bash at the Spen 20 yesterday in the build up to the London Marathon, 143rd in 2h45:36 I met Rob Cunningham (for the first time) at the race who was 61st in 2h25:32 257 people finished the race alogether.
BigK 10k, Sun 10 March
Over 1100 entries this year, sure to include a few Harriers, awaiting results ... but spotted Chris Cunnigham and Karen Lambe and second-claim Harrier James Mountain (in the lead?) in the Woodentops photos.
Coach Education
It's been a great weekend for Coaching at the Club! Jane Bryant is the first Ilkley Harrier to take on the 'Coach in Running Fitness' course, this weekend, and as she says "only 2 more days and a diary and session plans and athlete evaluation and ...."
And on Saturday six of the coaches in the junior section (Sally Judkowski, Bernie Gibbons, Mael Matthews, Sue Williamson, Kate Lofthouse, and Amanda Oddie) achieved their Coach Award assessment, like CiRF a 2nd rung up on the coaching ladder.
Intercounties XC, Sat 9 March
From Georgia Malir ... I had qualified for the Yorkshire team after finishing 2nd in the Yorkshire XC Championship at Lightwater Valley. Today I finished 17th in a time of 20:35, out of a field of 233 county athletes in the under 17 women's race (winner Amy Griffiths of Leicestershire in 19.13). I was 2nd Yorkshire finisher in the team who won Bronze medals overall. The weather condition were ideal but thick mud underfoot made it a challenging and tiring race. It was a very exciting day with many of the UK's best athletes battling it out for a GB vest to go to the World XC Championships in Poland in a fortnight.
Dentdale 14.3m, Sat 9 March
From Hilda Coulsey ... it was a tough bitterly cold wet and snowy day in Dentdale. We had great training in "undulations" but fantastic scenery. The Harriers I saw were well bunched:

1st 1:24:42 Breton Holdsworth Clayton le Moors
195 2:02:08 Christine Cox 1st FV55
206 2:03:53 Stuart Herrington 
219 2:05:03 David Ibbotson 
226 2:05:39 Hilda Coulsey 3rd FV55
341 finished

Haworth Hobble, Sat 9 March
Results ...

(1  4h22:14 Duncan harris, Chester Tri)
139 6h13:03 Paul Sowden
278 8h12:18 Amanda Parnaby
315 finished

Stan Bradshaw Pendle Round, Sat 9 March
Richard Joel was 62nd in 1h29:24 in this BM 10-miler won by Rob Hope in 1h-6:10 with 196 finishers. Results.
Windmill Whizz, Sat 9 March
From Paul Stephens ... Alan Greenwood has been organising races for over 20 years, and surprised a few people when he announced this was to be the last, which is a real shame.
The Ovenden Fell Race on Feb 16th was one of Alan's, and the Windmill Whizz covers some of the same ground. But Ovenden is longer and a little tougher.
Conditions were also very different today. Instead of the blue skies and sunshine of 3 weeks ago, the clag was down and it was snowing lightly. Over much of the course visibility was only 100m or so, but at least there wasn't any wind.
Just 2 Harriers amongst the field of 69 runners. Jack Wood was 4th (the same position as last year) and I had a good run and really enjoyed it (which means I probably wasn't trying hard enough. I came in 26th in just under 52 minutes.

(1 37:23 Adam Osborne, Leeds City)
4  40:26 Jack Wood
26 50:48 Paul Stephens
69 finished

Parkruns, Sat 9th March

Bradford Lister Park
12 20:35 Thomas Kerr
23 21:53 Oscar Stapleton

Harrogate Stray
98 26:27 Julie Elmes

Middlesbrough Albert Park
121 25:42 John Marshall

Wharfedale Primary Schools XC, Nell Bank, Sat 9 March
A record 78 teams in this event, organised by the junior club, and the finale of the League. Results and photo links on the junior site.
PECO XC 5, Sun 3 March
The final event in the PECO XC series. Results ...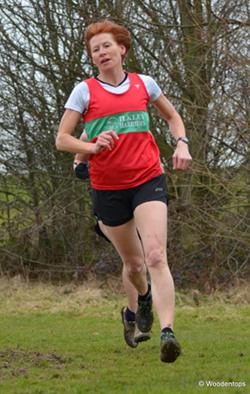 40  Steve Coy
44  Mark Iley
48  Bradley Chapman
56  Henry Heavisides
60  Arthur Reilly
75  Malcolm Pickering
131 Andy Jackson
140 Phil Hirst
150 Neil Chapman
194 Eric Morley
209 Don MacRae
212 Vince Gibbons
229 finished
1st team in the 'First Division',
7th team, 3rd vets

Women
9  Di Haggar
10 Sally Malir
81 Bernie Gibbons
87 Sally Pickering
90 Julie Elmes
130 finished
3rd team in the 'First Division',
11th team, 3rd vets


Overall in the League, the men won the First Division and the ladies were 4th. Bradley Chapman was our best placed man 28th, Steve Coy 30th, and Henry Heavisides 34th and 1st Vet55. Diane Haggar was top lady 72nd, Julie Elmes 96th, and Alison Ricci 109th
adidas Silverstone Half Marathon, Sun 3 March
Andrew Mitchell reports ... Not quite as fast as Ferrari or McLaren but I was pleased with it! Results

(1   1h05:41 Scott Overall)
1564 1h48:23 Andrew Mitchell
6189 finished

Black Combe fell race, Sat 2 March

(1  68:26 Ricky Lightfoot, Ellenborough)
10  78:00 Jack Wood
160 finished

Lakeland Derwentwater Amble, Sat 2 March
From Clare Smith ...Nicky Jacquiery, Alison Eagle, Neil Smith, Betty and I did this pleasant 22 mile LDWA event together today. After starting at Braithwaite, the first climb was Cat Bells which afforded an excellent view over the very still, part-frozen waters below. The anti-clockwise route around Derwentwater headed south to Rosthwaite where some welcome refreshments were served in the village hall. Then followed a very steep ascent to Dock Tarn, a rocky route to Ashness Bridge then a further climb to Walla Crag for another splendid panorama. A hot meal awaited us at the finish after 5 hours 20 mins. There was no mass start: people seemed to just set off when they were ready, so it's hard to know how we fared, though we passed many others on our way and all of us apart from Neil felt pretty shattered at the end!
Trollers Trot, Sat 2 March
Quite a few Harriers out in this, spot 'em in the Woodentops photos. Results from Runalong...

(1  2h50 Richard Pattinson, P&B)
15  3h29 Jez Hellewell
16  3h30 Dan Hill
25  3h39 Duncan Cooper
35  3h49 Kate Archer
63  4h03 Mike Baldwin
82  4h12 Adela Reperecki
105 4h34 Sharon Meadows
109 4h37 Gavin Burgess
131 4h51 Nick Mellor
227 finished

High Peak Marathon, Sat 2 March
Rebecca Mon-Williams was in the 11th team, and 2nd ladies team in 10h11:49, in this 42-mile night race, read her account. Results are up now on the HPM web site
Parkruns, Sat 2 March

Bradford Lister Park
9  19:33 Thomas Kerr (junior)
77 25:05 Hilda Coulsey

Huddersfield
50 21:26 Helen Ilsley

Leeds Hyde Park
185 26:21 John Marshall

All Saints Promary Schools XC, Sat 2 March
Well done to Rachel and her team, 500+ children running, the results on the junior pages along with the final positions in the Wharfedale Primary Schools XC League.
---
Ilkley Harriers of the Month, February
Georgia Malir
13th at the National XC in the U17 Women's race
Other nominations were: Will Buckton - weekly Gazette newsletter article; Adela Reperecki - training hard all last year and into this, race times improvement, good Rombalds time; Beth Massey - PB at Snake Lane 10; Mark Hall for record breaking run/setting new club records at Wombwell 5 and also for results Snake Lane 10 mile 56:22 1st M50, UK top ranking; Dave Wilby for impressive PB and 2nd place at Rombalds and great result in Ilkley Fell race; Tom Adams Ilkley Moor fell race win!; Martin Archer Ilkley Moor fell race; and Vince Gibbons improvement
Sally Malir
Club F45 record at the Snake Lane 10
Well done to Georgia and Sally, this month's winners.
Earlier Harriers of the Month ...
Ilkley Moor fell race, Sun 24 Feb
Thanks to the many helpers and marshals today, the 24th Ilkley Moor fell race was another super Ilkley Harriers event. Some very good performances from Harriers young and old, and really pleased to see our men win the team prize, led in by Tom. Full results and some photos on the race page.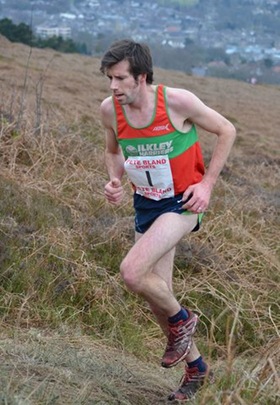 1   35:54 Tom Adams 
7   40:36 Martin Archer 
8   40:40 Dave Wilby 
13  42:46 Lee Morley 
27  45:36 Bradley Chapman
33  46:26 Ben Sheppard 
37  46:51 Jim Ryder
52  48:33 Will Buckton 
54  48:41 Richard Joel
62  49:26 Dick Waddington
63  49:32 Emma Barclay
68  49:56 Alistair Barlow
69  50:00 Peter Haines
95  52:48 Kate Archer
98  52:51 Richard Reeve
100 53:00 Steve Weston
108 54:00 Mike Baldwin
113 54:32 Alison Weston
114 54:35 Chris Oxlade
116 55:03 Arthur Reilly 
121 55:40 Geoffrey Howard 
126 56:15 Paul Sowden
131 56:36 Sarah Haines
132 56:37 Michael Duffield
164 59:24 Jo Foster
197 65:11 Nick Mellor
198 65:24 Peter Lewis
206 68:33 Sophie Brown
211 69:51 Amanda Newham
221 finished


What a great weekend! Read coach Pete Shields' take on the weekend
Snake Lane 10, Sun 24 Feb
Henry Heavisides reports ... Sally set a new F45 club record (beating Alison Bennett's 71:17 at the 2008 Guy Fawkes') & Beth and mark were only a few seconds off the F40 and M50 records.

(1  51:59 Carl Ryde, Doncaster AC)
13  56:22 Mark Hall  1st M50, UK top ranking
97  64:03 Henry Heavisides 4th M55
120 65:21 Beth Massey 2nd F40 PB
155 67:43 Sally Malir 2nd F45
737 ran


Mark Hall adds ... Henry Heavyside suffered from a stitch from 2nd mile and never recovered.
Sally Malir was 2nd FV45 and is looking good for a fast time in London.
Beth Massey set a PB for 10 mile in 65:21 and 2nd FV40. She is benefitting from the speed training sessions with Pete Shields on Wednesday nights at Carnegie track (be good if more of you could get along to the track sessions on Wednesdays, they really work!)
Mark Hall, 56.21, 1st MV50. This time heads the UK rankings at MV50 10 miles by 90 secs as well as topping the UK MV50 5 mile rankings by 20 seconds.
Great NW Half Marathon, Blackpool, Sun 24 Feb
Well done to Derek Oliver who was 70th in 1h25:12: the race was won by Otley's Matthew John in h08:53, with 1140 finishing.
Ilkley Harriers Race League 2013
Martin has updated the League calculations with the PECO results: positions after 3 races. Henry scored some stellar points there, can Young Gun Bradley close the gap? Great to see Diane H scoring MEGA points at PECO XC - let's see some more ladies working their way up the rankings at the next races, Heptonstall fell and Guiseley Gallop. There's a full League calendar on the League web page.
National XC, Sat 23 Feb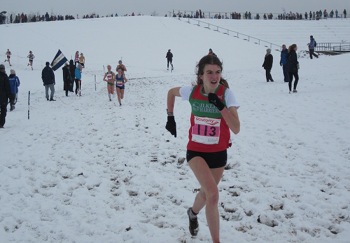 Well done to Georgia Malir, Sally Morley, Diane Kitchen, Julie Elmes, Dave Westhead, and a host of juniors (in fact, a coach-load!) competing in snowy Sunderland. See Shirley's photos (more on Facebook), the junior report, some video, and the official results ...

U17 women
13 19:14 Georgia Malir
150 finished

Women
80  36:13 Sally Morley
348 47:53 Diane Kitchen
387 51:34 Julie Elmes
427 finished

Men
371 53:01 David Westhead
over 1000 finished

Flower Scar fell race, Sat 23 Feb
From Steve Weston ... a brief trip to Hebden Bridge provided an opportunity to run the Flower Scar fell race. This is a new race that has replaced the Noonstone which was cancelled because of access problems. Race starts at Todd CC then climbs to the Flower Scar then there's a tussocky bit before it descends through a wood before going back up a track and going over a cliff before climbing a track through Robinwood. I was 122nd out of 242 in 67:56, CVFR's Karl Gray was the winner in 45:59. 1 & 2 were ahead of the pack by 4 minutes! Full results on Tod Harriers' site. 10.4km/700m AM fell race.
Parkruns, Sat 23 Feb

Leeds Hyde Park
27  19:26 Will Buckton
82  23:04 Samuel Craske
186 27:08 Harry Stead (junior)

PECO XC 4, Sun 17 Feb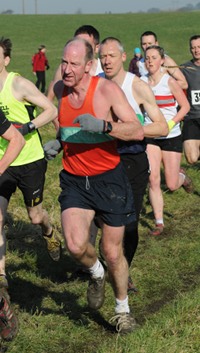 A glorious day for a PECO XC, and a counter in the Ilkley Harriers Race League.

(1  32:26 Peter Branny, Kirkstall)
22  35:05 Mark Iley
35  35:58 Steve Coy
37  36:11 Henry Heavisides
44  36:44 Bradley Chapman
52  37:22 Rob Cunningham
10L 39:22 Diane Haggar
107 41:48 Neil Chapman
123 42:55 Andy Jackson
131 43:51 Phil Hirst
146 45:39 Will Worboys
58L 48:11 Alison Ricci
167 48:57 Eric Morley
181 51:35 Don Macrae
81L 51:51 Julie Elmes
182 52:00 Paul Sugden
184 52:57 Vince Gibbons
94L 53:20 Sue Williamson
98L 53:40 Bernie Gibbons
117L 57:01 Kate Lofthouse


Photos: Junior 1 mile race; Junior 2 mile race;
Seniors; Seniors, George's photos
Wombwell 5, Sun 17 Feb
Mark Hall reports ... looking for a 5 mile race (not too many on the race calendar) I ventured south of Barnsley for the Wombwell 5. I was not sure what to expect having not raced for 2 months and within the first half mile or so I realised lack of race form meant I was going to struggle. I did this race in 2007 and ran a minute faster but hey ho old age and all that meant that I could only muster 27:37 for 9th place and first old person (V50) disappointed not to be able to average 5:30 miles and also go under 27 mins. No excuses, the day was perfect. The circuit had a steep climb and drag in the first 2 miles but after that flat. Winner was J Gray Sheffied 25:58. 275 starters.
Mark's time beats Henry Heavisides' V50 29:42 Club Record at Long Eton in 2010; and also Nick Pearce's 28:55 V45 and V40 records ar Roundhay Park in 2001!
Commondale Clart, Sun 17 Feb
From Jez Hellewell ... a beautiful morning on the North Yorkshire Moors for the 5.5m Commondale Clart. Came 13th out of around 125 in 40.00. As locals were saying: "very clarty"! (Won in 40:00 by Joe Blackett of Dark Peak, 128 finished.)
Beacon Bash
From Clare Smith ... a superb day for this LDWA jaunt through the undulating countryside around Parbold in Lancashire, though there was so much mud that it felt like a 21 mile cross country event! Excellent support stations, pie & peas at the end and a friendly atmosphere. No official results but Neil, Betty and I finished in 4hrs 10 mins. Betty received a certificate for being first dog back.
Ovenden fell race, Sat 16 Feb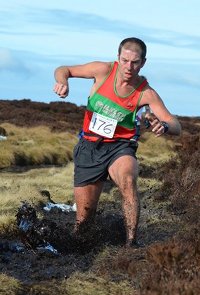 From Paul Stephens ... a superb morning for this tough little 8 mile race from Ogden Water. It was still and clear, but boggy underfoot and rough going where you had to run by the side of some of the paths which were still full of snow. A couple of steep climbs amongst the overall 1200ft of ascent. Photos on the Woodentops site.

(1  56:33 Carl Bell, Keswick)
9   62:58 Martin Archer
28  66:21 Jamie Hutchinson
74  77:27 Brian Melia
81  78:23 Will Buckton
92  80:28 Paul Stephens
148 96:26 Val Kerr
181 finished

Carnethy 5, Sat 16 Feb
From Nick Pearce ... I was the sole Harrier at the Carnethy 5 fell race in the Pentland Hills, Edinburgh, on Saturday; the 44th running of this classic event. A tough roller-coaster over six miles and 2,500 feet climbing with five steep ascents and decents across open fellside and difficult running through heather and peat. The popularity of this race means it is always oversubscribed, and the 530 runners on the day made for considerable congestion over the first mile. The race was won by Finlay Wild in 49.46 and I managed 66.34 for 151st. I was over one minute behind the first 60 year old veteran, so a bit of work to do to get competitive for the upcoming fell racing season.
Parkruns, Sat 16 Feb

Bradford Lister Park
18  20:34 Thomas Kerr
168 28:24 Harry Stead

Harrogate Stray
54  22:27 Philip Hirst

Leeds Hyde Park
2   17:11 Jack Wood
27  19:34 Andrew Sheldon

Predictor Run, Tue 12 Feb
Some very accurate running in tonight's Predictor Run. (And some less than accurate pacing, oh dear.) In time-honoured fashion Richard Gray will present James (the person who ran the time closest to their predicted time) with a bottle of fine wine next Tuesday night. Results:

                                Pred    Act     Diff
1	James Mountain		36:00	35:56	00:04
2	Miranda Foster		65:00	64:55	00:05
3	Alison Bennett		45:00	45:08	00:08
4	Vince Gibbons		56:00	56:12	00:12
5	Richard Reeve		42:00	41:44	00:16
5=	Bradley Chapman		38:00	38:16	00:16
5=	Alison Weston		46:03	46:19	00:16
8	Paul Stephens		44:03	44:37	00:34
9	Michelle Snow		58:00	57:17	00:43
10	David Green		56:30	57:17	00:47
11	Ben Joynson		40:00	40:50	00:50
12	Paul Sugden		54:50	55:51	01:01
13	Neil Bloor		50:00	51:18	01:18
13=	Robert King		51:20	50:02	01:18
15	Sheena Pickersgill	54:30	55:51	01:21
15=	Lynne Donohue		54:30	55:51	01:21
17	Jacqui Weston		58:50	60:16	01:26
18	Kate Archer		46:25	44:52	01:33
19	William Worboys		51:51	50:15	01:36
20	Arthur Riley		44:00	42:21	01:39
21	Val Kerr		50:01	48:21	01:40
22	Jane McCarthy		50:00	48:16	01:44
23	Jules Carter		43:30	41:44	01:46
24	Ben Sheppard		40:15	38:27	01:48
25	Dave Wilby		39:13	37:22	01:51
26	Linda English		68:00	70:06	02:06
27	Chris Cunningham	50:30	47:54	02:36
28	Jane Guillard		53:00	55:41	02:41
29	Simon Jenkins		48:00	45:11	02:49
30	Jack Cummings		48:00	50:55	02:55
31	Henry Heavisides	42:00	38:46	03:14
32	Rob Cunningham		41:40	38:16	03:24
33	Elaine Cossins		60:00	54:42	05:18
34	Liz Price		54:34	60:17	05:43
35	Will Buckton		44:30	50:40	06:10
36	Andrew Mitchell		54:00	60:43	06:43
37	Sally Wright		58:00	64:55	06:55
38	Karen Lambe		52:55	60:17	07:22
39	Alison Bloor		60:00	70:06	10:06
40	Andy Wilson		45:00	55:41	10:41
41	Claire Hurst		60:00	71:30	11:30
41=	Robbie Grech-Cini	60:00   71:30   11:30	
43	Dave Millson		60:00   72:55	12:55
44	Antonio Cardinale	55:00	72:57	17:57
	Steve Coy		   	40:37

Liversedge half marathon, Sun 10 Feb
Results from ukresults.net....

(1  1:13:32 Matthew Pieson, Holmfirth Harriers)
223 1:47:17 Andrew Webster PB
455 finished

Wadsworth Trog, Sat 9 Feb
BL fell race 20 miles, 4000'. Preliminary results from CVFR ...

(1 2h49:11 Karl Gray, Calder Valley)
52 3h50:20 Jann Smith  3rd lady
78 4h10:34 Brian Melia
147 finished


Wharfedale Primary Schools XC, Ben Rhydding, Sat 9 Feb
Over 500 children ran today, results on the junior pages.
Parkruns, Sat 9 Feb

Bradford Lister Park
12 20:21 Richard Hinsley
28 22:08 Oscar Stapleton
34 22:43 Thomas Kerr
73 24:44 Andrew Mitchell

Huddersfield
51 21:17 Helen Ilsley

Ilkley Harriers Race League 2013
A big thank-you to Martin who has taken over the League calculations: positions after 2 races. There's some great competition already with Super Vet Henry being chased by Young Gun Bradley. Some of the ladies have good points too and should do well if they do enough races (best 10 from 24). Next race: PECO XC on 17 Feb. Full calendar on the League page.
Dewsbury 10k, Sun 3 Feb
From Henry Heavisides ,... it was cold & breezy for the Dewsbury 10k. The strong wind seemed to be blowing in all directions & was particularly tough for the last 2k making it difficult to record fast times. Despite the conditions, Bradley Chapman did another PB. I was 1st M55.
Results on TDL
This was the second counter in this years's Ilkley Harriers Race League.

(1  30:27 Dan Garbutt, Durham City Harriers)
87  37:23 Henry Heavisides
92  37:35 Mark Iley
98  37:47 Bradley Chapman
159 40:11 Beth Massey
178 40:56 Andrew Sheldon
211 41:58 Adrian Bastow
234 42:27 Neil Chapman
275 43:25 Michael Duffield
283 43:57 Sally Malir
412 47:07 Will Worboys
491 49:26 Andrew Mitchell
534 50:43 Paul Sugden
612 53:22 Judith Scarfe
806 finished

YVAA GP 1, Horsforth, Sun 3 Feb
Eric Morley reports ... on an excellent day for running and an excellent course of about 4½ miles, which was about 90% off road and plenty of mud, four Harriers turned out and the Ladies outshone the men a little with the following results in the first YVAA Grand Prix race of the season ...

Men
(1  28:52 David Watson, Holmfirth)
86  42:32 Philip Hirst 
114 46:49 Eric Morley 

Ladies
(1  34:49 Karen Pickles, Pudsey Pacers
8   39:45 Alison Eagle  2nd Lady F50
29  46:57 Sue Morley

Rombalds Stride, Sat 2 Feb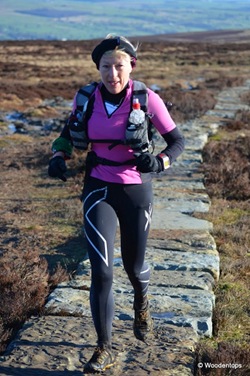 From Dave Wilby ... I surprised myself and finished 2nd in a 6min PB of 2:46, Richard Pattinson won in 2:43. 1st lady was Jo Waites in 3:09
From Will ... A glorious day on the hills saw many Ilkley Harriers take on one of the toughest local challenges. A cold, sunny day meant beautiful views for miles around. Although many were using this as a build up to other events there were some great results throughout the field, especially Dave and Ben (3h24?), made even more incredible considering the course was longer than last year. The Pipers Gate checkpoint had moved into the next field meaning many runners had to run back adding at least half a mile.
From Ben ... the general consensus seemed to be that the times this year were slower than last, probably due to it being muddier and not helped by one of the checkpoints (pipers something I think) being in the wrong place - necessitating an extra out and back. Indeed my time was slower although I'm sure I ran better and placed higher. Conditions were good - mercifully frozen for much of the route - and bright blue skies made for an enjoyable run. Massive thanks to volunteers at checkpoints and refreshment stops. Cake of the day: the macaroons at Burley Woodhead.
Spot t'Harriers in Dave's photos and Paul Sugden's photos.

(1  2h43:04 Richard Pattinson)
2   2h46:00 Dave Wilby   PB 6 mins
20  3h25:17 Ben Sheppard
37  3h37:49 Dan Hill
40  3h39:31 Will Buckton  PB 4 mins
42  3h41:41 Neil Smith
47  3h43:50 Alison Weston
48  3h45:54 Kate Archer
50  3h46:47 Rebecca Mon-Williams
77  3h55:50 Steve Weston
83  4h02:38 Richard Reeve
88  4h07:33 Adela Reperecki
96  4h10:57 Paul Stephens
100 4h14:29 Natalie Curtis
104 4h18:25 Chros Oxlade
115 4h22:28 Joyce Marshal
118 4h23:24 Jane McCarthy
119 4h23:24 Helen Waddington 
123 4h25:40 Gavin Burgess
127 4h28:37 Val Kerr
138 4h34:56 Andy Jackson
154 4h40:21 Dave Ladell
164 4h43:18 Sharon Meadows
165 4h43:18 Nick Mellor
167 4h44:57 Rachel Hagan
168 4h44:57 Helena Deeney
172 4h49:40 Stephen Rhodes
175 4h51:33 Dave Ibbotson
200 5h10:29 Lynn Donohue
210 5h18:44 Brenda Ogden
211 5h18:44 Juliet Muirhead
236 5h50:39 Jo Taylor


Parkrun, Sat 2 Feb

Bradford Lister Park
3   19:12 Robert Cunningham
130 28:34 Milly Websdale

Harrogate Stray
59  23:26 Phil Hirst

Leeds Hyde Park
131 25:26 John Marshall

---
Ilkley Harriers of the Month, January
Jack Wood
for his runs in the PECO and Yorkshire Cross Country Championships and also his 5th place at the Stanbury Splash.
There were no other nominations.
Outi Kamarainen
for her Kinder Trail result
Well done to Jack and Outi, this month's winners.
Earlier Harriers of the Month ...
Northern XC, Liverpool, Sat 26 Jan
From Dave Westhead ... For those Harriers (Jim and I) who did manage the drive across the Pennines a real treat was in store. Twelve kilometres of cross country on what would have been an excellent flat course had it not been for the snow. As it was, every step, and I mean EVERY step, left you well above ankle deep in soft slushy snow and mud. It was bit like running in a World War One trench.
Our juniors certainly showed us seniors the way to do it today, with a great turnout of 16 or more runners, teams in U13 and U15 girls, and a WIN from Georgia Malir in the GU17 class. Results on NoEAA.

Male seniors
(1  40:01 Steve Vernon, Stockport)
171 51:50 Dave Westhead
201 52:59 Jim Ryder
583 finished

Kinder Trial, Sat 26 Jan

(1 1:34:15 Tom Brunt, Dark Peak)
18 2:02:41 Dave Wilby
38 2:18:54 Outi Kamarainen 2nd lady
124 finished

Parkrun, Sat 26 Jan
Quite a few Parkruns were cancelled, but Harrogate went ahead in the snow ...

51  25:57 William Worboys
67  27:25 Emily Elmes (junior)
77  29:17 Julie Elmes

Stanbury Splash, Sun 20 Jan
From Steve Weston ... Great turnout of Harriers for the first IH League counter of the year. Ice on the Splash route meant that the route was changed to the 2009 ALS route. Bronte moor looked fantastic with a covering of snow. The snow made going tough in places but the usual bog patches were semi frozen giving the impression of running over very soggy tissue paper, certainly easier than the usual squelchy moor. Tom Adams was 2nd by a second!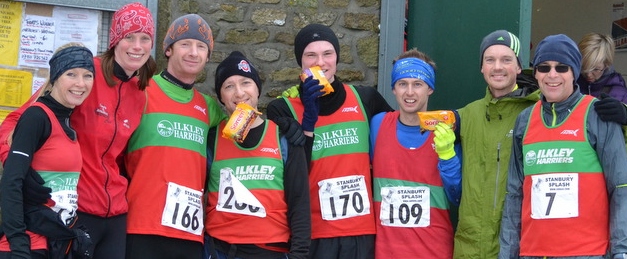 Ilkley won the men's team prize: Tom, Jack & Lee. Our Tom led most of the way, breaking the snow! Results and photos on woodentops.org.uk...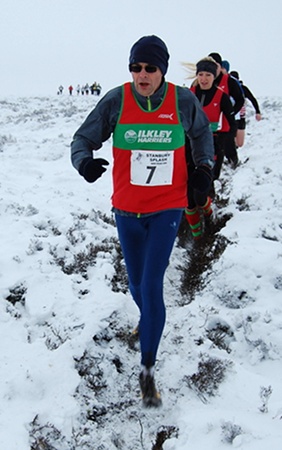 (1  39:01 Tom Addison, Helm Hill)
2   39:02 Tom Adams
5   41:45 Jack Wood
12  42:56 Lee Morley
16  43:19 Dave Wilby
18  43:27 Martin Archer
47  46:51 Bradley Chapman
78  49:02 Ben Joynson
97  50:28 Steve Weston
105 50:55 Justin Phillips
110 51:05 Dan Hill
126 51:50 Duncan Cooper
129 51:56 Henry Heavisides
135 52:13 Jann Smith
139 52:26 Alistair Barlow
149 53:13 Kelly Harrison
158 54:19 Richard Reeve
165 54:52 Alison Weston
185 56:41 Andrew Sheldon
205 57:54 Michael Duffield
240 60:09 Anna Barlow
241 60:19 Phil Hirst
247 60:42 Rachael Gooch
259 61:30 Mike Bryant
269 62:08 Clare Smith
310 65:47 Sophie Brown
311 66:04 Amanda Newham
313 66:48 Sue Morley
330 75:32 Julie Elmes
336 finished


This was the first counter in the 2013 Ilkley Harriers Race League.
Run Sunday, Sun 20 Jan
A weekly 3 mile timed run at Danefield ... www.runsunday.com..

4  21:59 Jacob Hellewell (junior)
10 25:47 Will Worboys
17 finished

Parkruns, Sat 19 Jan
Weekly 5k free timed runs at lots of different venues www.parkrun.org.uk

Harrogate Stray (1st Anniversary)
46  24:24 Phil Hirst
113 28:31 Julie Elmes
178 finished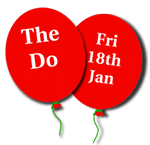 Ilkley Harriers Presentation Evening, Fri 18 Jan
The Presentation Evening, aka The Do was a super evening with a great mix of people, plenty of time to catch up and chat, the presentation of the Annual Awards, the presentation of the 2012 Ilkley Harriers Race League winners, a raffle with really fab prizes (thanks Clare and Ben), and a great band Five Dollar Shoes.
Ilkley Harriers Awards for 2012
| | | |
| --- | --- | --- |
| Best Runner | Tom Adams | Jann Smith |
| Most Improved Runner | Will Buckton | Rebecca Mon-Williams |
| Best Endurance Runner | Dave Wilby | Helene Whitaker |
| Best Runner, Under 23 | Bradley Chapman | Georgia Malir |
| Contribution to the Club | Richard Reeve | Shirley Wood |
| Captains' Award | Lee Morley | Jane Bryant |
Read all about it in the newsletter, out soon! And see the previous holders in the roll of honour here.
Ilkley Harriers Running League 2012, Champions
| | |
| --- | --- |
| Overall: | Henry Heavisides |
| Road: | Henry Heavisides |
| Fell: | Tom Adams |
| Trail/XC: | Henry Heavisides |
The final results of the 2012 League are here: Excel
The dates for the 2013 League are available on the League page.
Peco XC - Bramley Fall Woods, Sun 13 Jan
From Henry Heavisides ... ideal conditions for running cross country this morning, a bright sunny but cold day with not too much mud. The course is a mixture of fields & woods with just a few short hills, covering 3 laps. I don't know how many people were running, but it was quite congested on the narrow paths on the first lap, then again when quicker runners were overtaking lapped runners on the 2nd & 3rd laps. Matt Cox did a fine run to finish in 11th place, with Jack Wood just behind. Our men's team placings were completed by Bradley Chapman, Henry Heavisides, Ben Joynson, Malcolm Pickering (running his first race for over a year after injury), Peter Haines & Neil Chapman. Results from www.pecoxc.co.uk, we are now leading in the men's team First Division.

11  Matthew Cox
12  Jack Wood
44  Bradley Chapman
61  Henry Heavisides
65  Ben Joynson
98  Malcolm Pickering
139 Peter Haines
153 Neil Chapman
168 Andy Jackson
240 Don McRae
248 Vince Gibbons
254 finished
2nd team

Ladies
24  Kelly Harrison
30  Alison Bennett
76  Alison Ricci
102 Bernie Gibbons
111 Julie Elmes
139 Sally Pickering
164 finished
3rd team

Run Sunday, Sun 13 Jan
A weekly 3 mile timed run at Danefield ... www.runsunday.com..

10 28:41 Emma Payne
12 finished

Parkruns, Sat 12 Jan
Weekly 5k free timed runs at lots of different venues www.parkrun.org.uk

Bradford Lister Park
20  21:18 Lucy Haines (junior)
35  22:46 Oscar Stapleton
60  24:00 Sarah Haines
80  24:45 Andrew Mitchell
92  25:28 Hilda Coulsey
172 29:36 Harry Stead (junior)
311 finished

Harrogate Stray
140 26:33 Julie Elmes
274 finished

Huddersfield
59 22:10 Helen Ilsley
337 finished

Full Speed into 2013!
All senior training sessions are as normal this week, starting with Circuit Training on Monday 7th.
Tickets for The Do will be available on Monday at CT, Tuesday before the run, and at other training sessions this week - bring £12 and get yours!
Before Tuesday's committee meeting are there any more nominations for December Harriers of the Month and of course the Annual Awards, please?
PECO XC Handicap Race, Sun 6 Januaru
Well done to Andy Jackson who finished 2nd in this handicap race, with 67 runners.
Run Sunday, Sun 6 Jan
The weekly 3 mile timed run at Danefield has resumed... www.runsunday.com..

4  23:37 William Worboys
13 31:27 Lyn Eden
16 finished

Yorkshire XC Championships, Sat 5 Jan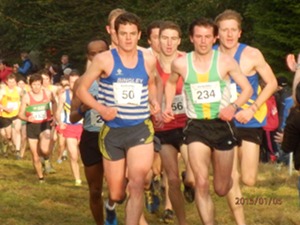 From Diane Haggar ... Lightwater Valley offered an amazingly mud free course, and unusually balmy weather conditions greeted us. It was a strange experience running alongside The Ultimate rollercoaster but the organisers did an excellent job with the course and parking, loos etc. On the ladies side we fielded 5 runners and were led in by Beth Massey in 50th, followed by myself and Kate Archer in 57th & 59th, Sally Malir completed the scoring team and Chloe Haines also ran. Ilkley were 13th ladies team out of 19.
The outstanding female result of the day came from Georgia Malir who was 2nd U17 girl and gained Yorkshire team selection. I look forward to Georgia joining the ladies as a Junior lady next year. Superb.
Some excellent junior results too, up on the junior pages soon ...
Results from Northern Athletics ...

Ladies
(1  21:22 Susan Partridge, Leeds)
50  26:04 Beth Massey
57  26:33 Diane Haggar
59  26:47 Kate Archer
76  28:50 Sally Malir
109 32:39 Chloe Haines
125 finished
13th out of 19 teams

Men
(1  33:09 Meles Okbazghi, Sheffield)
14  35:23 Tom Adams
71  39:34 Jack Wood
82  39:53 Lee Morley
116 41:31 Dave Westhead
138 42:59 Mark Iley
154 43:59 Nick Pearce
157 44:22 Arthur Reilly
240 finished
13th out of 26 teams


Some good photos on woodentops.org.uk
Parkruns, Sat 5 Jan

Bradford Lister Park
48 23:25 William Worboys
76 24:51 Andrew Mitchell

Harrogate Stray
105 26:15 Julie Elmes

Leeds Hyde Park
123 27:37 Harry Stead
142 24:39 John Marshall

Training, holiday dates
Happy New Year everyone! Please note that a few training dates have been affected but it's pretty much back to normal now (3 Jan): the Google Calendar on the right should be up to date but to summarise ...
Mondays: no Circuit Training 24 or 31 Dec
Tuesdays: no Club night 25th Dec or 1 Jan
Wednesdays: no track 26th Dec
Thursdays: no Jane's session 27 Dec or 3 Jan (oh yes there is! update 2 Jan) but the 7pm session on the grass continues
Saturdays: no breaks in the early morning or family sessions
And a big thank-you to all the coaches and run leaders who lead these sessions, could you help in 2013?
Nine Standards fell race, Tue 1 Jan
William Buckton reports ... I kicked off 2013 with this 8 mile toughie up Nine Standards Rigg from Kirkby Stephen. This was the 25th anniversary event and a record field of 166 took part. Carl Bell of Howgill won the race and broke the 1993 record.

(1 51:44 Carl Bell, Howgill Harriers)
51 67:21 Will Buckton
166 finished

Giants Tooth, Tue 1 Jan
From Jez Hellewell ... a cracking little 3 mile blast today to get 2013 off to a flying start. Came 16th out of around 120 with the legs feeling fine after yesterdays Auld Lang Syne. Tilly Melechi was 2nd lady in 46th place (I think), so a great race from her. Jacob, unfortunately, suffered his recurring knee problems & limped home in 99th, a brave effort ! Results from FRA Forums ...

(1  17:18 Ben Crowther, Halifax)
16  20:16 Jez Hellwwell
45  23:10 Tilly Melechi
99  28:29 Jacob Hellewell
118 finished


29th Silsden New Years Day Fun Run, Tue 1 Jan
Results from BOFRA ...

(1 18:12 Lucas Lee, K&C)
49 46:14 Jan Carrier
97 ran, most in their jamies!


---