Ilkley Harriers Race League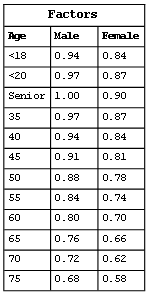 The Ilkley Harriers Race League is an annual competition, first run in 1995 to stimulate friendly competition between Club members, and is based on results in races agreed by the Club Committee and announced in the newsletter and fixtures list.
Your time relative to the winner's time is scaled by an age/gender factor as in the table (right) to calculate race points.
Up to 4 races count in the category competitions (trail and xc, road, and fell).The overall League results will include 3 races from each category plus a wild card race.
2021 League
In lieu of our usual Harriers Race League, for 2021 we are organising a shortened summer league of races, running from now until September. This will combine organised races in the local area with virtual / self-timed events.

If you're not comfortable with attending events for the time being, there are individual prizes for both categories, so you can focus on the self timed events.

Submit your results for the self-timed events to Dan McKeown via via Google Form here.
Rules
The races are divided into self-timed / virtual (yellow) and actual organised races (green).
There are six of each - your best four age-weighted times will count in each category for that category's prize.
There will also be an overall prize determined by your best three runs in each category.
For organised events, I've gone for ones where interested members would still have a chance of getting a place. Some, like the Wharfedale Half and Yorkshireman are already sold out, alas.
For self-timed events, runners must notify Dan McKeown by end of month via Google Form here
Some of these are off-road and may involve navigational elements - please be suitably careful and feel free to run in (socially distanced) company.
Just to belabour the last point somewhat: all self-timed events are at your own risk. Please exercise your judgement re clothing, footwear and equipment. Always follow government Covid safety guidelines and public rights of way. And it never hurts to take a phone, a friend and / or bus fare with you, just in case.
A list of events can be found in the table below, with more details further down the page:
Self-timer / virtual
Organised race event
May
Jack Bloor Maprun
June

Dick Hudson route
Ilkley Trail route

Eccup 10
July

Old Bridge 5
Hermit pub-Whetstone Gate

Otley Chevin Fell Race
August
Beamsley Beacon fell race route
John Carr 5k (Saltaire)
September

Vale of York Half Marathon
Ilkley Incline
May
ALL MONTH: Jack Bloor Maprun challenge
https://www.jackbloor.co.uk/wp-content/uploads/JBR-2021-MR-Instructions.pdf Must be completed on MapRun per instructions, notify Dan McKeown of result
June
ALL MONTH: Dick Hudson Route (self-timed)
Start and finish at track gate by White Wells Car Park (SE115469), run across Moor to Otley Rd Gate by Dick Hudson pub (SE125421) - you don't have to go through gate onto road, just visit gatepost, turn around and return to start point. Runners are free to choose their own route across Moor, but please follow guidance re ground-nesting birds.
ALL MONTH: Ilkley Trail Route (self-timed)
Start and finish at bottom of Curly Hill (SE117486) visit following checkpoints in order. Checkpoints: Entrance to Middleton Woods (SE121488); cattle grid by Myddleton Lodge (SE111491); Concrete Square (SE115506); Foldshaw Ridge (SE116516); Hardings Lane (SE101511); Lumber Pile (SE108506); return to Concrete Square; return to start
27/06/2021: Eccup 10
https://racebest.com/races/c4363 200+ PLACES REMAINING
July
14/07/2021: Otley Chevin Fell Race
https://fellrunner.org.uk/races.php?id=7370
ALL MONTH: Old Bridge 5mi
https://www.strava.com/routes/2827168877377662618
Run route anti-clockwise: start Old Bridge (wooden gate on north end of bridge), head to Nesfield, Addingham suspension bridge, Low Mill Village, and back to Ilkley. Finish point is Dales Way start post by Old Bridge. You can return from Addingham along the main road or via Dales Way. PLEASE NOTE: If you choose off-road, you will get a 45-second time bonus, plus it's slightly shorter.
ALL MONTH: Hermit Pub-Whetstone Gate
Start at Hermit Pub (SE154448) run via any permitted route to Whetstone Gate (SE101453)
August
ALL MONTH: Beamsley Beacon fell route
Start at West Hall triangle junction (SE086503, accessible from Addingham suspension bridge), run to Beamsley Beacon trig point (SE099524) and return to start via any permitted route.
18/08/2021: John Carr 5k
https://racebest.com/races/y8rga (c. 200 PLACES REMAINING)
September
(TBC) Ilkley Incline either race as usual, or same time trial format as last year
12/09/2021 Vale of York Half
https://racebest.com/races/97x65 (c. 1900 PLACES REMAINING)
ALL MONTH: ROUTE TBC
Please feel free to contact daniel.mckeown@gmail.com with any ideas or recommendations.
2020 League Races

2020 results tables as at 24 Feb
Notes
Only first-claim senior Ilkley Harriers (i.e. running in the event as "Ilkley Harriers") will count in the League automatically. A second-claim senior member may have their result included and counted in the League as long as they contact the League administrator within two weeks of the race.
Only 'official', published results are counted.
Where available 'chip' times are used.
Wild card
From 2014 the League overall standings will include your best 3 scores from each category plus an additional 'wildcard' race. The wildcard allows runners to pick a race that isn't one of the listed League races. So, if you have a particular favourite race or just had a really good run then you can count that toward your League score. We hope that people will be sensible about this and keep to the spirit of the League but here a few rules:
It can be any recognised race (road race, FRA, BOFRA, cross country etc.) that is not already in the League.
It must be open to all Ilkley Harriers (so not restricted to Vets only, juniors only, men only, women only etc.).
From 2019, parkruns may not be used for wild card submissions.
Results for the race must be posted on the Ilkley Harriers webpage and must be verifiable online.
To record your wildcard race you must email the league statistician using the email wildcard@ilkleyharriers.co.uk within one week of the race.
Once a wildcard has been recorded it cannot be changed.
Statisticians
2016 -

Jane McCarthy

2013 - 2015

Martin Wright

2002-2012

Paul Wood

1997? - 2001

Andy Sarah
Archive
Before 2014, the overall standings were based on 10 races, at least 3 from each category. In 2014 the new 'wild card' was introduced.
The League record of 1032 points was set in 2007 by Geoff Howard.
2019 | 2018 | 2017 | 2016 | 2015 | 2014 | 2013 | 2012 | 2011 2011 | 2010 2010 | 2009 | 2008 | 2007 | 2006 | 2005 | 2004 | 2003 | 2002 | 2001 * | 2000 | 1999 | 1998 missing? | 1997 | 1996 | 1995 | Launch notes
Previous Winners
| | |
| --- | --- |
| 2018 | Colin Williams |
| 2017 | Jane McCarthy |
| 2016 | Lucy Williamson |
| 2015 | Michael Duffield |
| 2014 | Jane McCarthy |
| 2013 | Henry Heavisides |
| 2012 | Henry Heavisides |
| 2011 | Mark Mon-Williams |
| 2010 | Nick Pearce |
| 2009 | Kevin Gooch |
| 2008 | Kevin Gooch |
| 2007 | Geoff Howard |
| 2006 | Jamie Hutchinson |
| 2005 | Mark Iley |
| 2004 | Geoff Howard |
| 2003 | Nick Pearce |
| 2002 | Nick Pearce |
| 2001 | (* There was an interruption to racing because of Foot & Mouth affecting access and travel) |
| 2000 | Andrew Wade |
| 1999 | Mark Iley |
| 1998 | Nick Pearce |
| 1997 | Nick Pearce |
| 1996 | Malcolm Pickering |
| 1995 | Nick Pearce |