Ilkley Harriers news archive 2013
Ilkley Harriers of the Month, January
Jack Wood
for his runs in the PECO and Yorkshire Cross Country Championships and also his 5th place at the Stanbury Splash.
There were no other nominations.
Outi Kamarainen
for her Kinder Trail result
Well done to Jack and Outi, this month's winners.
Earlier Harriers of the Month ...
Northern XC, Liverpool, Sat 26 Jan
From Dave Westhead ... For those Harriers (Jim and I) who did manage the drive across the Pennines a real treat was in store. Twelve kilometres of cross country on what would have been an excellent flat course had it not been for the snow. As it was, every step, and I mean EVERY step, left you well above ankle deep in soft slushy snow and mud. It was bit like running in a World War One trench.
Our juniors certainly showed us seniors the way to do it today, with a great turnout of 16 or more runners, teams in U13 and U15 girls, and a WIN from Georgia Malir in the GU17 class. Results on NoEAA.

Male seniors
(1  40:01 Steve Vernon, Stockport)
171 51:50 Dave Westhead
201 52:59 Jim Ryder
583 finished

Kinder Trial, Sat 26 Jan

(1 1:34:15 Tom Brunt, Dark Peak)
18 2:02:41 Dave Wilby
38 2:18:54 Outi Kamarainen 2nd lady
124 finished

Parkrun, Sat 26 Jan
Quite a few Parkruns were cancelled, but Harrogate went ahead in the snow ...

51  25:57 William Worboys
67  27:25 Emily Elmes (junior)
77  29:17 Julie Elmes

Stanbury Splash, Sun 20 Jan
From Steve Weston ... Great turnout of Harriers for the first IH League counter of the year. Ice on the Splash route meant that the route was changed to the 2009 ALS route. Bronte moor looked fantastic with a covering of snow. The snow made going tough in places but the usual bog patches were semi frozen giving the impression of running over very soggy tissue paper, certainly easier than the usual squelchy moor. Tom Adams was 2nd by a second!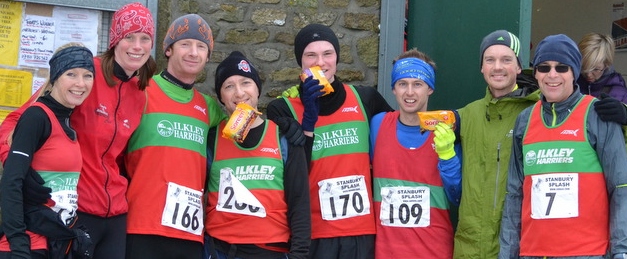 Ilkley won the men's team prize: Tom, Jack & Lee. Our Tom led most of the way, breaking the snow! Results and photos on woodentops.org.uk...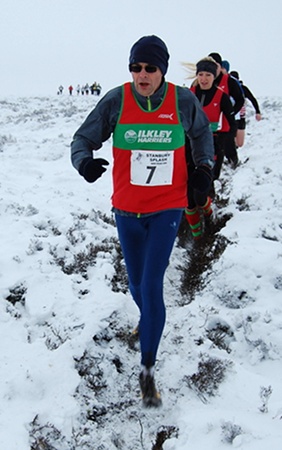 (1  39:01 Tom Addison, Helm Hill)
2   39:02 Tom Adams
5   41:45 Jack Wood
12  42:56 Lee Morley
16  43:19 Dave Wilby
18  43:27 Martin Archer
47  46:51 Bradley Chapman
78  49:02 Ben Joynson
97  50:28 Steve Weston
105 50:55 Justin Phillips
110 51:05 Dan Hill
126 51:50 Duncan Cooper
129 51:56 Henry Heavisides
135 52:13 Jann Smith
139 52:26 Alistair Barlow
149 53:13 Kelly Harrison
158 54:19 Richard Reeve
165 54:52 Alison Weston
185 56:41 Andrew Sheldon
205 57:54 Michael Duffield
240 60:09 Anna Barlow
241 60:19 Phil Hirst
247 60:42 Rachael Gooch
259 61:30 Mike Bryant
269 62:08 Clare Smith
310 65:47 Sophie Brown
311 66:04 Amanda Newham
313 66:48 Sue Morley
330 75:32 Julie Elmes
336 finished


This was the first counter in the 2013 Ilkley Harriers Race League.
Run Sunday, Sun 20 Jan
A weekly 3 mile timed run at Danefield ... www.runsunday.com..

4  21:59 Jacob Hellewell (junior)
10 25:47 Will Worboys
17 finished

Parkruns, Sat 19 Jan
Weekly 5k free timed runs at lots of different venues www.parkrun.org.uk

Harrogate Stray (1st Anniversary)
46  24:24 Phil Hirst
113 28:31 Julie Elmes
178 finished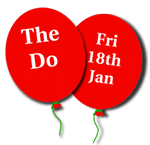 Ilkley Harriers Presentation Evening, Fri 18 Jan
The Presentation Evening, aka The Do was a super evening with a great mix of people, plenty of time to catch up and chat, the presentation of the Annual Awards, the presentation of the 2012 Ilkley Harriers Race League winners, a raffle with really fab prizes (thanks Clare and Ben), and a great band Five Dollar Shoes.
Ilkley Harriers Awards for 2012
| | | |
| --- | --- | --- |
| Best Runner | Tom Adams | Jann Smith |
| Most Improved Runner | Will Buckton | Rebecca Mon-Williams |
| Best Endurance Runner | Dave Wilby | Helene Whitaker |
| Best Runner, Under 23 | Bradley Chapman | Georgia Malir |
| Contribution to the Club | Richard Reeve | Shirley Wood |
| Captains' Award | Lee Morley | Jane Bryant |
Read all about it in the newsletter, out soon! And see the previous holders in the roll of honour here.
Ilkley Harriers Running League 2012, Champions
| | |
| --- | --- |
| Overall: | Henry Heavisides |
| Road: | Henry Heavisides |
| Fell: | Tom Adams |
| Trail/XC: | Henry Heavisides |
The final results of the 2012 League are here: Excel
The dates for the 2013 League are available on the League page.
Peco XC - Bramley Fall Woods, Sun 13 Jan
From Henry Heavisides ... ideal conditions for running cross country this morning, a bright sunny but cold day with not too much mud. The course is a mixture of fields & woods with just a few short hills, covering 3 laps. I don't know how many people were running, but it was quite congested on the narrow paths on the first lap, then again when quicker runners were overtaking lapped runners on the 2nd & 3rd laps. Matt Cox did a fine run to finish in 11th place, with Jack Wood just behind. Our men's team placings were completed by Bradley Chapman, Henry Heavisides, Ben Joynson, Malcolm Pickering (running his first race for over a year after injury), Peter Haines & Neil Chapman. Results from www.pecoxc.co.uk, we are now leading in the men's team First Division.

11  Matthew Cox
12  Jack Wood
44  Bradley Chapman
61  Henry Heavisides
65  Ben Joynson
98  Malcolm Pickering
139 Peter Haines
153 Neil Chapman
168 Andy Jackson
240 Don McRae
248 Vince Gibbons
254 finished
2nd team

Ladies
24  Kelly Harrison
30  Alison Bennett
76  Alison Ricci
102 Bernie Gibbons
111 Julie Elmes
139 Sally Pickering
164 finished
3rd team

Run Sunday, Sun 13 Jan
A weekly 3 mile timed run at Danefield ... www.runsunday.com..

10 28:41 Emma Payne
12 finished

Parkruns, Sat 12 Jan
Weekly 5k free timed runs at lots of different venues www.parkrun.org.uk

Bradford Lister Park
20  21:18 Lucy Haines (junior)
35  22:46 Oscar Stapleton
60  24:00 Sarah Haines
80  24:45 Andrew Mitchell
92  25:28 Hilda Coulsey
172 29:36 Harry Stead (junior)
311 finished

Harrogate Stray
140 26:33 Julie Elmes
274 finished

Huddersfield
59 22:10 Helen Ilsley
337 finished

Full Speed into 2013!
All senior training sessions are as normal this week, starting with Circuit Training on Monday 7th.
Tickets for The Do will be available on Monday at CT, Tuesday before the run, and at other training sessions this week - bring £12 and get yours!
Before Tuesday's committee meeting are there any more nominations for December Harriers of the Month and of course the Annual Awards, please?
PECO XC Handicap Race, Sun 6 Januaru
Well done to Andy Jackson who finished 2nd in this handicap race, with 67 runners.
Run Sunday, Sun 6 Jan
The weekly 3 mile timed run at Danefield has resumed... www.runsunday.com..

4  23:37 William Worboys
13 31:27 Lyn Eden
16 finished

Yorkshire XC Championships, Sat 5 Jan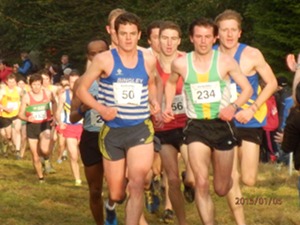 From Diane Haggar ... Lightwater Valley offered an amazingly mud free course, and unusually balmy weather conditions greeted us. It was a strange experience running alongside The Ultimate rollercoaster but the organisers did an excellent job with the course and parking, loos etc. On the ladies side we fielded 5 runners and were led in by Beth Massey in 50th, followed by myself and Kate Archer in 57th & 59th, Sally Malir completed the scoring team and Chloe Haines also ran. Ilkley were 13th ladies team out of 19.
The outstanding female result of the day came from Georgia Malir who was 2nd U17 girl and gained Yorkshire team selection. I look forward to Georgia joining the ladies as a Junior lady next year. Superb.
Some excellent junior results too, up on the junior pages soon ...
Results from Northern Athletics ...

Ladies
(1  21:22 Susan Partridge, Leeds)
50  26:04 Beth Massey
57  26:33 Diane Haggar
59  26:47 Kate Archer
76  28:50 Sally Malir
109 32:39 Chloe Haines
125 finished
13th out of 19 teams

Men
(1  33:09 Meles Okbazghi, Sheffield)
14  35:23 Tom Adams
71  39:34 Jack Wood
82  39:53 Lee Morley
116 41:31 Dave Westhead
138 42:59 Mark Iley
154 43:59 Nick Pearce
157 44:22 Arthur Reilly
240 finished
13th out of 26 teams


Some good photos on woodentops.org.uk
Parkruns, Sat 5 Jan

Bradford Lister Park
48 23:25 William Worboys
76 24:51 Andrew Mitchell

Harrogate Stray
105 26:15 Julie Elmes

Leeds Hyde Park
123 27:37 Harry Stead
142 24:39 John Marshall

Training, holiday dates
Happy New Year everyone! Please note that a few training dates have been affected but it's pretty much back to normal now (3 Jan): the Google Calendar on the right should be up to date but to summarise ...
Mondays: no Circuit Training 24 or 31 Dec
Tuesdays: no Club night 25th Dec or 1 Jan
Wednesdays: no track 26th Dec
Thursdays: no Jane's session 27 Dec or 3 Jan (oh yes there is! update 2 Jan) but the 7pm session on the grass continues
Saturdays: no breaks in the early morning or family sessions
And a big thank-you to all the coaches and run leaders who lead these sessions, could you help in 2013?
Nine Standards fell race, Tue 1 Jan
William Buckton reports ... I kicked off 2013 with this 8 mile toughie up Nine Standards Rigg from Kirkby Stephen. This was the 25th anniversary event and a record field of 166 took part. Carl Bell of Howgill won the race and broke the 1993 record.

(1 51:44 Carl Bell, Howgill Harriers)
51 67:21 Will Buckton
166 finished

Giants Tooth, Tue 1 Jan
From Jez Hellewell ... a cracking little 3 mile blast today to get 2013 off to a flying start. Came 16th out of around 120 with the legs feeling fine after yesterdays Auld Lang Syne. Tilly Melechi was 2nd lady in 46th place (I think), so a great race from her. Jacob, unfortunately, suffered his recurring knee problems & limped home in 99th, a brave effort ! Results from FRA Forums ...

(1  17:18 Ben Crowther, Halifax)
16  20:16 Jez Hellwwell
45  23:10 Tilly Melechi
99  28:29 Jacob Hellewell
118 finished


29th Silsden New Years Day Fun Run, Tue 1 Jan
Results from BOFRA ...

(1 18:12 Lucas Lee, K&C)
49 46:14 Jan Carrier
97 ran, most in their jamies!


---