Ilkley Harriers news archive 2013
Ilkley Harriers of the Month, June
Rob Cunningham
For his PB at Otley 10m and 1st Harrier, also his good run at the Beamsley Beacon
Other nominations were: Val Kerr - for arranging the Billy Bland Challenge;
Val Kerr, Alison Weston & Clare Smith - for helping organise the Billy Bland Challenge;
The whole Billy Bland Challenge Team - for cheerfully & willingly turning out in awful weather and putting IH on the map finishing in 23hours and 6mins
Beth Massey - for winning BMAF 5k Championship (FV40)
Sue Morley - for her fell racing in June
Matt Newell - for his performances at HDSRL, terrific debut results
Rebecca Mon-Williams
For her good performances at Wharfedale & Hawksworth and for organsing the Aquathon
The Committee also decided that Special Achievement Awards be given to Georgia Malir and Tom Adams for their England selection and fantastic performances in their races representing England. Also to Beth Massey for winning FV40 gold at BMAF 5km Championships.
Earlier Harriers of the Month ...
More selection news ...
We hear that Tom Adams will get his 3rd England vest of the year, running at Conwy next weekend in a 10k race to accompany the IAU Trail World Champs event. Congratulations from all at Harriers, Tom!
Hawkswick fell race, Sun 30 June
For the juniors, a counter in the English Fell Championships (congratulations to our talented juniors, we are now 6th club in the country!), and a 5 mile senior fell race.
Full report from George Elmes
Photos from the Woodentops, and Graham Weston.
Provisional results from www.wharfedaleharriers.co.uk

5 mile race
(1  28:54 Tom Addison, Helm Hill)
25  33:41 Ruaridh Mon-Williams U16
65  38:32 Rebecca Mon-Williams 1st LV45
78  41:02 Lucy Williamson U16
79  41:13 Alison Weston
109 51:48 Joanne Williamson U16
114 finished

Run Sunday, Sun 30 June
Weekly 3 mile timed run on Otley Chevin. Results:

(1 16:58 Scott Harrington, Otley)
7  21:14 Will Buckton
10 24:21 Will Worboys
19 28L25 Emma Payne
30 finished

Lancaster Marathon, Sun 30 June
Andrew's report is a good read! ...

(1  2:42:22 Gethin Butler)
12  3:22:53 Andrew Merrick  (1st V50)
115 finished

Ilkley Aquathon, Sat 29 June
A super event jointly organised by Ilkley Harriers and Ilkley Swimming Club. 113 finishers, mostly young athletes and about 40 of them junior Harriers!, enjoyed this friendly and well-organised event. Thanks to all those who volunteered as marshals and helpers. Results and some photos.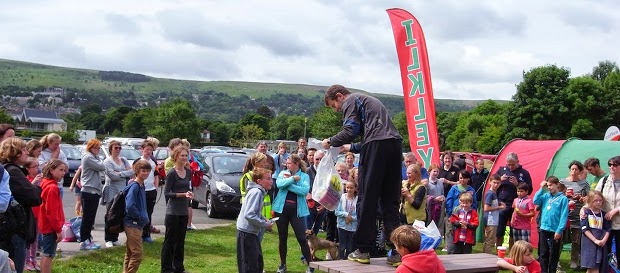 Darren Holloway Memorial Buttermere Horseshoe, Sat 29 June
Will Buckton reports ... Ilkley was represented by three runners in the resurrected Buttermere Horseshoe, (AL 34km/2800m) a classic Lakeland fell race of which Helene was once the ladies record holder. The race returned after many years out of the calendar for 2013, to remember Pennine Fell Runner Darren Holloway, who sadly passed away during a Lake District fell relay last year. The route takes in Whiteside, Hopegill Head, Grasmoor, Whiteless Pike, Dale Head, Haystacks, High Crag, High Stile and Mellbreak. The event was really well organised, a once in a lifetime race, low key 'real fell running' with no established route and the best food I've ever enjoyed at the end of a race. Managed to find some sneaky lines around Robinson and Haystacks only to ruin all the good work by taking the tourist route down the right of Scale Beck! Neil continued his Lakeland 100 training, with a week of cycling followed by a long day on the hills.

(1 4h02:27 Simon Booth, Borrowdale)
45 5h40:53 Will Buckton
49 5h42:41 Helene Whitaker
65 6h07:06 Neil Smith
107 started, 97 finished

Eldwick Gala Fell, Sat 29 June
From George Elmes ... 11 Harriers made the short trip to compete in the Eldwick Gala fell race today on a very warm and eventually sunny day. 5 ladies and 4 junior girls took to their respective start lines supplemented by a single male senior, Tom Adams. Tom made up for the lack of male numbers with a quality run to easily win the race by a considerable distance.
Notable results were Lucy Williamson with a great 2nd overall lady and in the Juniors Poppy Anderson 3rd GU10 & Emily Elmes 4th GU12.
George's photo below, more photos on woodentops.org.uk
Results

1  16:25 Tom Adams
34 22:51 Lucy Williamson 2nd lady
60 24:55 Sue Booth
62 25:32 Joanne Williamson
83 27:50 Allison Ricci
92 30:43 Sue Williamson
93 30:54 Sue Morley
96 31:48 Julie Elmes
100 finished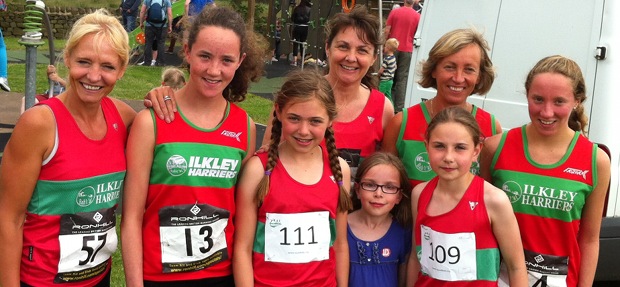 Parkrun results, Sat 29 June

Harrogate Stray
216 28:51 Andy Brook-Dobson

HRL4, Sicklinghall, Wed 26 June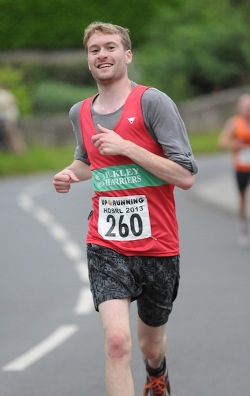 The final counter in the main HRL series, results and photos on www.harrogate-league.org.uk ...

(1  25:45 Ian Fisher, Otley)
29  29:11 Bradley Chapman
87  32:25 Stephen Rhodes
90  32:41 Neil Chapman
111 33:58 Paul Stephens
133 35:20 Alison Weston
151 36:19 Kevin Lawson
179 38:00 Adela Reperecki
185 38:11 Jonathan Kenshole
208 39:42 Nick Mellor
209 39:45 Paul Sugden
223 40:29 Allison Ricci
231 41:54 Julie Elmes
235 42:29 Sue Williamson
248 43:22 Petra Bijsterveld
250 43:41 Sally Wright
253 43:52 Sue Verspyck
254 43:54 Don  Macrae
283 52:18 Sue Bickerdike
284 52:19 Emma O'Looney
289 finished


Those who have completed two races or more are invited to the League Handicap Race on Wednesday 10th July, this year at Thirsk, details on www.harrogate-league.org.uk.
Gateshead 10k, Sun 23 June
From Hilda Coulsey ... more undulating than expected but exciting to finish with the final 400m on the track in the stadium.

(1  30:56 Weynay Ghebresilasie, Sunderland Harriers)
924 50:39 Hilda Coulsey  1st FV60

Run Sunday, Sun 23 June
This weekly 3 mile timed run celebrated it's 1st Anniversary by running the course backwards (the course, not running backwards :-) ). Results:

(1 18:12 Peter Branney, Leeds)
10 24:42 Will Worboys
19 26:50 Petra Bijsterveld
26 finished

Chris Leggatt Memorial 5k, Sun 23 June
Roy Ruddle was 5th in 20:07
Billy Bland Challenge, Sat 22 June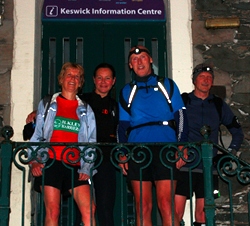 Val Kerr reports ... The Billy Bland 24 hour relay challenge covers the 5 legs of the Bob Graham round in the Lake District, starting and finishing at the Moot Hall in Keswick. Despite the awful weather forecast, 20 dedicated Harriers, 1 guest runner and 3 dogs made their way to the Lakes on Friday / Saturday to take part in what we hope will become a regular (annual?) club 'social' event. Leg 1 runners (see below) set off from the Moot Hall at 1am on Saturday morning with Leg 5 runners finally returing at 00:06 am on Sunday morning (overall time 23:06h), to much heckling from the rather underdressed Saturday evening revellers on Keswick High Street. This was a fantastic achievement by all involved given the heavy rain, high winds, mist and cold, not to forget several unforeseen problems along the way including cramp and disappearing maps.
Road support for Legs 1 and 2 was provided by Val, and Alison did a wonderful job providing road support, shelter from the elements, tea and cakes in the van for the later legs (3, 4 and 5).
Well done to all those who took part: LEG 1: Keswick to Threlkeld via Skiddaw, Great Calva and Blencathra (Dan Hill, Nicki Jacquiry, Kevin and Rachael Gooch) - (4:47) ; LEG 2: Threlkeld to Dunmail via the Dodds, Helvellyn, Fairfield and Seat Sandal (Alison Weston, Kate Archer, Outi Kamarinen) (4:03) ; LEG 3: Dunmail to Wasdale via Steel fell, High Raise, Harrison Stickle, Bowfell, Great End, Scafell Pike, Scafell (Neil Smith, Will Buckton, Alistair Barlow, Brian Melia, John (guest)) (6:32); LEG 4: Wasdale to Honister via Yewbarrow, Steeple, Pillar, Great Gable, Green Gable, Grey Knotts (Clare Smith, Sue Booth, Rebecca Mon-Williams, Nick Pearce, Dave Wilby + 3 dogs) (5:02); LEG 5: Honister to Keswick via Dale Head, Hindscarth and Robinson (Sharon Meadows, John Coates, Neil Chapman, Val Kerr) (2:42)
Northern Athletics senior & under 20 track and field championships, Sat 22 June
Sally Malir reports ... Georgia Malir came 2nd in the 1500m on a very windy day getting a new PB of 4.40.47 and winning a silver medal.
Reservoir Bogs, Sat 22 June

(1 1h12:35 Joseph Crossfield, Halifax)
57 1h34:27 Peter Haines
66 1h47:39 Sarah Haines
77 2h01:57 Chloe Haines
91 finished

Dales Way (part 1 of 2) - not-a-race report
From Ben Sheppard and Jez Hellewell ... On paper, forty or so miles from Bowness-on-Windermere to Ribblehead along the Dales Way should have been a grand day's running getting us to the pub for tea time. In practice, it was a grand day out but much slower going than anticipated (even with a walk the uphills policy), in part down to our reliance on a route guide and the occasional mistake where the route is not as well marked as you would expect.
After a total of 44.65 miles on road, fell, meadows, woodland trails, moorland, countless energy bars and endless stiles and gates, the last 15 miles of which in driving rain (in which Ben learned that his waterproof jacket was not as waterproof as he would have liked), at 9.05 pm - eleven and a half hours after setting off! - we were grateful to step cold and wet into the warmth of the Station Inn at Ribblehead. Steak pie and chips never tasted so good (we've never run 45 miles for it before) and a few good ales were appreciated too.
With Sunday's weather forecast as worse than Saturday's, and our legs telling us they would rather not try that again so soon, the decision was made to re-schedule the Ribblehead to Ilkley leg for another (hopefully a dry and bright) day when it will be enjoyed rather than merely endured for pride's sake. We're looking forward to it already!
Parkruns, Sat 22 June

Bradford Lister Park
282 39:08 Abbie Reynier

Harrogate Stray
127 24:01 Emily Elmes
186 26:28 Julie Elmes
260 30:13 Andy Brook-Dobson

Newcastle
180 25:18 John Marshall
315 34:50 Linda Marshall

Beamsley Beacon fell race, Thu 20 June
Jeff Green reports ... Twelve Harriers ran the race in 2012, but none returned for the 2013 race! Instead 13 different Harriers enjoyed an interesting mix of terrain: flat road, steep road, fields, rocky paths near the top and the infamous 'ginnel' (a 3ft deep, 1ft wide trough for the uninitiated) on the way down. A particular challenge for the runner in the sumo costume I imagine, but not for James Hall of Wharfedale Harriers who set a new course record. Will any of this year's field be back in 2014? Results:

(1  34:30  James Hall, Wharfedale)
8   38:51  Dave Wilby   
12  40:32  Jeff Green     1st MV45
15  41:09  Rob Cunningham      
28  43:26  Duncan Cooper        
29  43:37  Nick Pearce    1st MV60
39  44:40  Emma Barclay 1st LV45 & 3rd Lady
70  50:05  Jonathan Kenshole
80  51:31  Sarah Edwards
81  52:35  David Ibbotson
98  59:52  Sue Morley    1st LV55
101 61:57  Steve Turland
102 62:10  Lynn Donohue
106 66:39  Kate Wilkinson
109 finished


Spot t'Harriers in the Woodentops photos.
Big cheque from the Trail Race
Pastor Ivan from the orphanage in Uganda came along to Pete's Thursday night session and, before an impromptu race against one of older juniors, took receipt of the "big cheque" symbolising the £1400+ raised for the charity at our Trail Race.

England Athletics U20 Championships and European Trials, Sun 16 June
Sally Malir reports ... Georgia Malir made the long trip to Bedford to compete in England Athletics under 23 and under 20 Championships and European Trials. She ran the 3000m race (the distance in which only a couple of weeks ago she smashed 50 seconds off her PB) she knocked another 6 seconds off her PB and came in fourth in a time of 9:48.69
BMAF 5km Championships, Sun 16 June
Beth Massey reports ... Two Harriers represented the club at the British Masters 5km Championships in Horwich. Despite the northern location the race attracts a good mix of athletes from the northern, midland, southern, scottish and welsh area veteran clubs offering a rare chance to compete against athletes from all over the country, one medal winner having travelled all the way from the Isle of Wight!!
This is a reasonably tough course run over 3 laps around Horwich town centre, with a nice uphill section at the end of each lap and into the finish! The absence of any sort of km/mile marker made pacing a bit difficult so it was a case of trying to pass as many runners as possible especially if they were female with a number 40 pinned to their back (very helpful!). I was very pleased to finish 9th lady overall and, thanks to a fast last lap, also won the F40 title in 19min 36secs.
Mark Iley, carrying a bit of an hamstring injury but deciding to still do the race anyway, finished in a steady 18mins 58secs.
The race was won by Mark Johnson (M40) of Midland Masters in 15mins 16secs.
Hawkswick Dash fell race, Sun 16 June
Results of this 1.2m/600' BOFRA Championship race ...

(1 11:01 Sam Watson, Wharfedale)
14 13:07 Iain Gibbons
16 13:24 Steve Turland
39 15:14 Peter Haines
45 15:31 Jann Smith
90 finished


Some great junior results too.
Sutton Pinnacles fell race, Sun 16 June
Will Buckton reports ... I took part in the Sutton Pinnacles fell race near Keighley on Sunday. Part of the Sutton village gala the route climbs steeply up the Aire Valley and becomes runnable thereafter. A very well marked and marshalled 6 mile course as I was running on my own for the second half of the race! Finished 5th out of a small field of around 50 in about 45 minutes. Photos on the Woodentops website. Results.

(1 39:29 Shaun Chew, Barlick Fell Runners)
5  45:36 Will Buckton
55 finished

Freckleton Half Marathon, Sun 16 June
Mark Hall reports ... I travelled into Lancashire to compete in the oldest half in the UK [apparently!] I had for some reason thought this was going to be a fast circuit, I was disappointed! The circuit is very undulating and even though there are no steep hills it seems to climb all the time. I set off with a plan and a time I wanted to achieve, at 5m I was on target getting there in 28:30. However, at 9m I 'exploded' in a very big way in fact the bang was so big it must surely have been heard in Yorkshire! I passed 10m in a slow 58:33 and crossed the line in a pedestrian 78:52 my slowest time at half for many years and a very poor run. I finished in 11th place and 1st vet 50. There were 621 finishers.
Bradford Millenium Way Relay, Sun 16 June
A team organised by Sue Bickerdike as her 'Birthday Bash' was 34th out of 45 teams in a time of 8h01:51: the race was won by Bingley in 5h37:25
Results ...
On leg 1, Sue Booth and Natalie Curtis were 32nd in 1h42:58
Dan Hill and Andrew Merrick stormed leg 2 in 1h19:22 11th fastest bringing the team up to 20th place
Sue Bickerdike and Abi Bailey were 34th on leg 3 in 1h20:06;
Helen Horton and Keith Wood were 31st in 1h35:07 on leg 4;
and Emma O'Looney and Paul Sugden were 40th in 2h04:18 on leg 5
Buckden Pike fell race, Sat 15 June
A great report and full results on this Championship fell race on the Barlick Fell Runners web site. Photos on the Woodentops website and some photos from Alison W.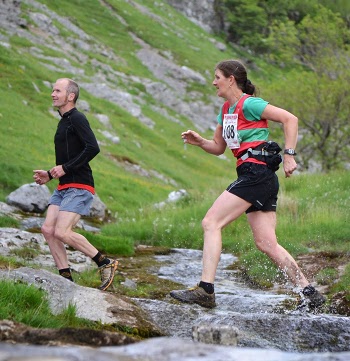 Ladies
(1 37:25 Vic Wilkinson)
32 45:45 Kate Archer
38 46:19 Jann Smith
42 47:04 Alison Weston
62 52:05 Clare Smith
68 52:49 Val Kerr
72 53:33 Eleanor Bradley
81 57:08 Amanda Newham
86 61:22 Lynn Donohue
87 62:37 Sue Morley
88 finished

Men
(1  31:07 Simon Bailey)
60  36:46 Dave Wilby
95  39:07 Steve Turland
99  39:32 Bradley Chapman
135 41:39 Nick Pearce
136 41:40 Will Buckton
165 43:50 Rob Cunningham
168 43:57 Jamie Hutchinson
189 45:28 Norman Bush
199 46:12 Neil Smith
258 53:05 Henry Heavisides
263 55:23 Phil Hirst
273 57:49 Peter Lewis
285 finished


This was a counter in the Ilkley Harriers Race League ...
Parkruns, Sat 15 June

Bradford Lister Park
17 20:45 Oscar Stapleton

Harrogate Stray
200 27:35 Alison Bloor

Leeds Hyde Park
97  23:36 William Worboys
140 24:59 Harry Stead

Middlesbrough Albert Park
115 25:21 John Marshall
244 34:48 Linda Marshall

Otley 10, Wed 12 June
From Henry Heavisides ... The course for the Otley 10 was changed this year due to policing restrictions, so the first 3 miles were run on single file footpaths, this was quite a challenge with about 350 runners. The middle section of the race has always been tough with steep uphill & downhill sections, but this year a new challenge was added with a stretch of cobbled path with steps towards the end, followed by a busy car park which was hosting a cyclo-cross event. I overheard one of the marshals describe it as the Otley 10 mile obstacle course! Most of us ran slower times than previous years, but remarkably Rob Cunningham not only improved his time from last year's Otley 10 but also set a new PB. Sally Malir was first F4, and Hilda Coulsey who was 1st FV60 set a Club Record.
Results ....

(1  0:55:58 Mike Jefferies, U/A)
21  1:03:36 Robert Cunningham  PB
63  1:08:49 Henry Heavisides
72  1:09:33 Andrew Merrick
83  1:10:17 Sally Malir
125 1:13:26 Stephen Rhodes
182 1:18:39 Neil Bloor
188 1:19:16 Simon Jenkins  PB
204 1:21:09 Val Kerr
221 1:23:15 Helen Horton
222 1:23:16 Kevin Lawson
265 1:26:51 Hilda Coulsey 1st FV60
289 1:29:50 Sue Bickerdike
290 1:29:51 Paul Sugden
331 1:37:25 Bernadette Gibbons
342 1:38:55 Emma Payne
384 finished


This was a counter in the Ilkley Harriers Race League ...
The Great Karrimor Trail Race, Sun 9 June
From Sally Malir ... Tom Adams and Georgia Malir both ran for England in The Great Karrimor Trail Race Elite event. The Ilkley Harriers pair carried on their recent fine form over a rugged course round Latrigg near Keswick in the Lake District. Adams finished 4th with GB international Steve Vernon leading the England team home in 1st place in the men's event. In the women's under 20 event Georgia Malir surged ahead on the run into the finish to secure first place and a fine victory for England over the other Home Nations. With England also winning the men's event and the junior men's team, the overall victory went to England.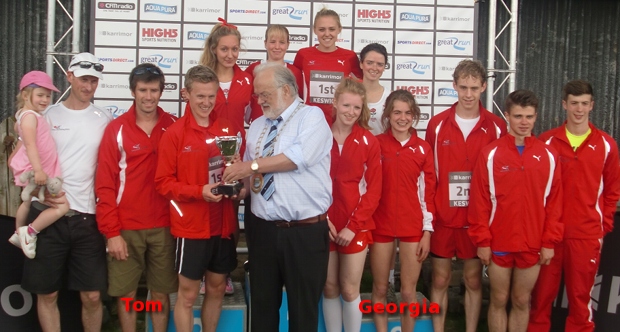 Kettlewell fell race, Sun 9 June
Results of this 1.5m/600' BOFRA Championship race ...

(1 11:42 Ted Mason, Wharfedale)
16 13:25 Iain Gibbons
20 13:48 Bradley Chapman
23 14:11 Steve Turland
26 14:34 Mark Mon-Williams
57 17:08 Peter Haines
58 17:09 Norman Bush
67 17:31 Jann Smith
73 18:05 Martin Archer


Good results for junior Harriers too.
Marsden 10, Sun 9 June
From Rob Cunningham ... A mixed-terrain course, the first 6 miles involve approx 1200ft of climbing, both on and off road, with the reward for this effort being 4 miles of fast downhill trail to the finish. The Colne Valley Lions do a brilliant job in putting on this well organised and friendly event, which I'd definitely recommend. Results ...

(1 63:09 Andy May)
15 70:28 Rob Cunningham
206 finished

Ennerdale Horseshoe fell race, Sat 8 June
From Will Buckton ... the second race in the Lakeland Classics Trophy 2013 saw Clare, Neil, Brian, Helene and myself take on this toughie, 22.9 hard miles with 7513 feet of ascent, including scree gulleys and rocky climbs with a nice grassy run down to the final mountain. Despite me, Neil and Clare running on the back of Duddon last weekend we all got PBs, Brian and Helene finished with smiles on their faces! Despite Helene just going for a trot round she still won a prize! Summits gained: Great Borne, Red Pike, Green Gable, Kirk Fell, Pillar, Haycock, Iron Crag, Crag Fell
Results:

(1  3h46:39 Oli Johnson, Dark Peak)
60  5h18:33 Will Buckton
80  5h43:27 Neil Smith
81  5h43:28 Helene Whitaker 2nd LV45
82  5h43:30 Brian Melia
123 6h55:09 Clare Smith
129 finished

Weets fell race, Sat 8 June
From Eric Morley ... Sue and I went to Barnoldswick for the Weets Fell Race, 5.5 miles + 1,800 ft and on a hot day in a small field of 70 runners, a hard course with the major climb on the way back and a bit of a tester for us to say the least.
Results ...

(1   37:14 Tom Cornthwaite, Northumberland)
69 1h09:58 Sue Morley
70 1h18:28 Eric Morley

Zwolle Half Marathon, Sat 8 June
From Petra Bijsterveld...I can say with reasonable certainty that I will have been the only Harrier in the Zwolle Half Marathon (Netherlands) tonight. In fact, apart from the elite I think I was the only one wearing a foreign club shirt! This 3 lap course is a complete fiesta with bands and music everywhere and a great crowd cheering along every part of the route. The best moment for me was being lapped at about the 3 mile point by the elite Kenyans with the motorcycle outriders ahead of them, such an amazing sight seeing them run past and somehow being in the same event. Sort of!
My aim was to achieve sub 2 hours but I failed by a very annoying 13 seconds. Still a 4 minute improvement on my previous time.

(1    1h01:17 Edwin Kiptoo)
2521  2h00:13 Petra Bijsterveld 
3326 finished

FRA Junior Uphill Championships, Sat 8 June
Awaiting results, but some good runs from Junior Harriers we hear, some photos on the Woodentops website
Parkruns, Sat 8 June

Burnley
12 19:11 Steve Turland

Leeds Hyde Park
153 25:06 John Marshall

HRL 3, Richmond, Thu 6 June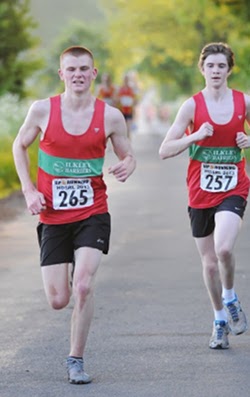 A gallant crew made it to the third race in the Harrogate Race League at far-away Richmond ... with young guns Bradley and Matt pushing each other to the best Harriers performances in the League this year.

(1  31:00 Nick Zissler, RZH)	
18  35:24 Bradley Chapman
19  35:24 Matt Newell
39  37:42 Ben Joynson
47  38:53 Caz Farrow
52  39:23 Steve Newell
67  40:45 Paul Stephens
72  40:57 Stephen Rhodes
75  41:14 Neil Chapman
104 43:45 Val Kerr
131 45:15 Adela Reperecki
144 46:08 Dave Ibbotson
162 47:20 Hilda Coulsey
204 51:40 Julie Elmes
205 51:41 Sue Williamson
217 53:57 Sally Wright
222 54:32 Don Macrae
246 finished


This was a counter in the Ilkley Harriers Race League ... Martin has updated the calculations and young Bradley is still topping the League after 10 races. But there are 24 races in this year's League so plenty of chance for others to make their mark! The next race is the Buckden Pike fell race, a tough English Championships counter, but there are a range of road, fell, and trail races on the Ilkley Harriers Race League calendar.
Hebden Bridge Fell Race, Thu 6 June
Jeff Green reports ... Two Harriers made it out to Hebden Bridge for a beautiful evening's race up to Stoodley Pike. Good variety of terrain with one particularly steep path-free section reducing most to progressing on all fours, some tricky descents down narrow twisting paths with tree roots below and low branches above and some strength-sapping tussocky bog thrown in for good measure. Drinks provided at the Pike were very welcome and the route seemed well marked and marshalled. Very pleased with my position in only my second ever fell race - I think Nikos's Wednesday sessions are working! Photo, Results

(1  45:23 Ian Holmes, Bingley)
13  50:09 Jeff Green
76  64:12 John Coates
(108 finished)

Full Bronte, Thu 6 June
From Mark Hall ... two Ilkley Harriers took part in the Bronte 5m. I estimate there were a few hundred starters, I was 7th, 1st V50 and YVAA Champion. Emma Barclay was 2nd woman and WV45 YVAA Champion. The race is 2 laps of a hilly circuit around Penistone Hill, Haworth. This is certainly not a PB course!
Some photos on the Woodentops website.
Results....

(1  25:56 James Walsh, Leeds)
7   29:08 Mark Hall
41  34:46 Emma Barclay
127 finished


Henry has spotted that Emma's 34:46 is a new F45 Club Record, beating Judith Smarts' 37:22 at Roundhay in 2001.
Abbey Anniversary fell race, Thu 6 June
Results ...

(1 26:34 Adam Peers, Liverpool)
13 44:28 Justin Phillips
23 50:01 Peter Hall
45 finished

Otley Chevin fell race, Wed 5 June
Some photos from the Woodentops.
Results ....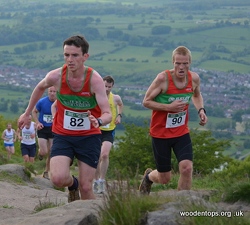 (1  17:44 Adam Osborne, Leeds)
5   19:04 Matt Cox
8   19:53 Bradley Chapman
21  20:51 Rob Cunningham
24  21:11 Stuart Pitches
26  21:20 Will Buckton
33  21:48 Duncan Cooper
68  23:51 Kelly Harrison
73  25:10 Alison Weston
79  25:59 Norman Bush
83  26:41 Serena Blackburn
104 29:23 Lynn Donohue
110 30:06 Sue Morley
122 finished


Bingley St Ives Trail, Tue 4 June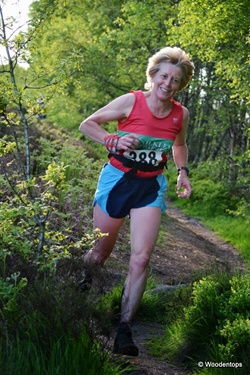 Val Kerr reports ... despite being an IH league counter, only six Harriers made the trip over to Bingley to run in this friendly trail race, with all proceeds going to the local Riding for the Disabled group. Bingley Harriers were out in force and it felt a bit like gate-crashing their club night. The evening was very warm and the route was mainly dry except for a huge patch of liquid mud by the entrance to the first field which became a bit like a lucky dip with several juniors learning the hard way that it pays to make sure that their shoes are fastened on properly.
Ian Holmes led the way finishing in 33:44. Stephen Rhodes (looking very stylish in his swimming shorts) was thrilled to be first IH home, finishing in 11th place overall. Tilly Melechi had a good race, once again competing and running the full course with the seniors.
Some photos from the Woodentops

(1 33:44 Ian Holmes, Bingley)  
11 43:44 Stephen Rhodes          
16 44:44 Tony Melechi               
25 47:29 Val Kerr
27 47:59 Tilly Melechi                
51 55:43 Paul Sugden                 
53 55:58 Amanda Newham       
68 finishers


This was a counter in the Ilkley Harriers Race League ...
More Selection News
From Sally Malir ... Georgia Malir and Tom Adams have been selected from their great performances at the Intercounties to run for England in the Great Karrimor Trail Race (www.englandathletics.org).
And, from last weekend's result at Skiddaw, Georgia has been selected to run for GB at The European Mountain Running Championships in Bulgaria (www.britishathletics.org.uk).
Yetholm, Sun 2 June
From Nick Pearce in the 2nd race in the British Fell Champs.... I was third V60 in this race. Ben Grant had a flyer and was first V60, in something like 45th place overall - fantastic. Jackie Winn was second. I just might have beaten Jackie, having pulled away from him on the final climb, but twisted my ankle and wrenched my back just before the long final descent. He is quicker than me on the descents and would probably have probably reeled me in anyway. More than happy with bronze position in a British Champs event. Results

(1 1h00:19 Morgan Donnelly, Borrowdale)
77 1h21:22 Nick Pearce 
231 finished

Wharfedale Half Marathon, Sat 1 June
From Hilda Coulsey ... It was a superb race, lovely weather and good atmosphere. Results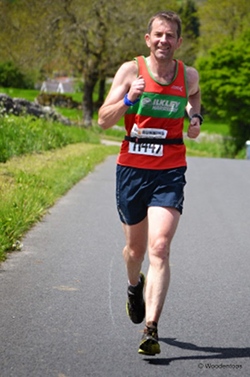 Half Marathon
(1  1:30:08 Quentin Lewis, Baildon)
6   1:39:54 Mark Mon-Williams
11  1:46:40 Martin Archer
16  1:49:49 Bradley Chapman
17  1:49:56 Jonathan Sinclair
28  1:52:21 Rebecca Mon-Williams 1st F45
108 2:11:42 Adela Reperecki
100 2:10:01 Andy Jackson
111 2:12:06 Eric Hawthorne
112 2:12:17 John Coates
113 2:12:34 Val Kerr
118 2:13:05 Kevin Lawson
141 2:20:34 Stuart Herrington
142 2:20:41 Hilda Coulsey  1st FV60
145 2:21:18 Dave Ibbotson
148 2:21:51 Susan Short
149 2:22:02 Tim Ratcliffe
153 2:23:31 Christine Cox
187 2:36:00 Paul Sugden
188 2:36:01 Sue Bickerdike
190 2:36:05 Emma O'Looney
215 finished

Full Marathon
(1 2:33:07 Ricky Lightfoot, Ellenborough)
34 3:29:47 Jann Smith
117 finished


Some photos from the Woodentops and Andrew Thrippleton.
The Half Marathon was a counter in the Ilkley Harriers Race League ...
Duddon Valley fell race, Sat 1 June
From Clare Smith ... The Long Duddon is a classic fell race covering 18 miles around the head of the Duddon Valley with 6000ft of climb over Harter, Hardknott, Little Stand, Swirl How, Dow Crag, White Pike and Caw. The hardest part? Possibly the ridiculously steep Little Stand, or the slog up Swirl How after seeing people picnicking by the stream at Three Shires, or maybe the sight of Caw looming when cramp is setting in and the car park is in the other direction.
Despite these hurdles, Steve Turland, Will Buckton, Neil and I had a smashing day with splendid views of the surrounding mountains to enjoy during the torture!

(1  2h55:32 Simon Booth, Borrowdale)
27  3h39:26 Steve Turland
52  3h50:21 Will Buckton
79  4h02:33 Neil Smith
117 5h03:03 Clare Smith
131 finished

Welsh 1000m Peaks race, Sat 1 June
From Dave Wilby... A hard earned finishers medal yesterday, 20 miles, 8000ft of ascent including a summit finish on top of Snowdon, amazing race, some great battles along the way and dead chuffed with a 5th place finish in this classic race. Results.

(1 4h04:32 Colin Donelly, Lochaber AC)
5  4h19:10 Dave Wilby
99 finished

Pen y Ghent, Sat 1 June
Harriers racing here too, results.

(1  47:25 Mark Addison, Helm Hill)
27  56:11 Jim Ryder
73  64:27 Alison Weston
78  64:57 Alison Eagle
93  68:03 Norman Bush
134 82:22 Amanda Newham
139 85:51 Sue Morley
144 finished

Kirkby Malzeard 10k, Sat 1 June
From Mark Hall ... very hilly and definitely not a PB course. I finished 3rd from a field of around 250 runners in my slowest 10k time for a long time of 35:15 [my watch] and was 1st V50. Race winner was Briant from Leeds City 34:40 [I think!] Results tbc
Abersoch 10K, Sat 1 June
From Mike Picken .. It was a lovely day and a nice setting for this race with the first section of the race going through the centre of Abersoch. The first mile goes up through the High Street up to Sarn Bach then a section of narrow lanes heading towards the far end of the beach and a short section of road running round the bay, then onto the main hill for 1/2 mile (where all us Harriers climbed together) before 2 miles of undulating roads and after joining the beach for a mile (including some groynes) and running round the Sea King search and rescue helicopter that had landed on the beach to see us all finish just below the Yacht Club. Apparently the Harriers vests were spotted by a friend of Jez Hellewell showing how small a world it is!! Results ...

(1  32:41 Alun Vaughan, Eryri)
446 59:54 Alison Lansbury
462 62:07 Michael Picken
467 61:19 Rebecca Picken
560 finished

City to Summit triathlon, Sat 1 June
From Janet Grace ... This new ironman-distance triathlon started with a swim between the road and rail bridges in the Firth of Forth; followed by a 110-mile bike ride up to Rannoch Moor and Glencoe; and then a 27-mile off-road run which took in the summit of Ben Nevis before finishing near Fort William.
Thankfully the swim was shortened to 1200m because the water temperature was a chilly 9 degrees. The bike ride was hilly (2,500m of ascent) but spectacular. And then came the "run" - now I'm not a fell-runner, so the undulating stretch of the West Highland Way was almost enough for me before I even started to climb Ben Nevis!
However I finished in 70th (3rd lady) in 15:58 (swim 00:21, bike 07:08, run 8:02 ... plus an inordinate amount of time in transition!). This was a fabulous event which I thoroughly enjoyed - I'd definitely recommend it to anyone who fancies a challenge. info
Parkruns, Sat 1 June

Bradford Lister Park
1  15:49 Tom Adams
88 24:48 Joe Reynier

Harrogate Stray
136 25:45 Julie Elmes

Preston
31 21:17 Oscar Stapleton

Tees Barrage
34 26:15 John MArshall

---