Ilkley Harriers news archive 2013
Ilkley Harriers of the Month, March
Tom Adams
Guiseley Gallop and Lightwater 10 wins
Other nominations were: Christine Cox - 1st FV55 Dentdale; Rebecca Mon-Williams - High Peak Marathon (2nd ladies team, 10 hours) Bradley Chapman - setting an excellent example for the younger runners through his training, racing and in particular his leading training sessions.
Henry Heavisides
Great track results, GB Vet selection and a good Peco result
Well done to Tom and Henry, this month's winners.
Earlier Harriers of the Month ...
Guiseley Gallop, Sun 31 March
Results from ukresults.net

1   34:34 Tom Adams
30  41:24 Bradley Chapman
82  47:03 Michael Duffield
111 49:30 Phil Hirst
132 51:43 John Woodward
136 52:02 Chris Cunningham
144 52:43 Dougie Scarfe
159 53:42 Adela Reperecki  1st F50
172 54:33 Sharon Meadows
203 56:23 Allison Ricci
215 57:16 Eric Morley
252 59:11 Sue Morley
268 60:31 Sue Williamson
274 61:00 Vince Gibbons
280 61:21 Bernie Gibbons
297 62:37 Petra Bijsterveld
298 62:46 Judith Scarfe
386 finished


This was an IH League counter, calcs after 5 races.
Helmsley 10k, Sun 31 March
From Jez Hellewell who is... up in North Yorkshire for Easter, so I thought Jacob & I should check this one out.
The senior race is 10k, the first 4 of which is uphill & on the road. It then turns off to take in farm tracks & fields for the last 6k. I ran merely ok to come home in 40:39 (Garmin, not an official time). A steward at the finish said I was 29th, my wife said 30th. For obvious reasons, I'll go with my wife's judgement!
Jacob ran in the 11-15 race. This set off on the same route as the seniors, but veered off after half a mile to complete a 1.5 mile loop. He ran far better than me & finished strongly to take 3rd place.
Rivington Pike, Sat 30 March
George Elmes reports that seven junior Harriers made the trip across the Pennines to compete at Rivington Pike, a Junior Fell Championships counter - no results as yet apart from Robyn Anderson 3rd GU8. Others included Poppy Anderson, Molly Pearson, Emily Elmes, Robbie Matthews, Tilly Melechi, and Lucy Williamson. (See George's longer report on the junior pages.) In the senior race, Diane Haggar was 3rd in her class.

(1  18:04 Tom Vornthwaite, Northumberland FR)
149 25:52 Diane Haggar
312 finished

Chase the Bride, Sat 30 March
Dave and Kelly shared their wedding day celebrations with 40-50 Harriers and friends, young and old (the picture shows those in fancy dress), with a dash up to the cairn at Burnsall and tea and cakes after, before the 'main event'. Best wishes from all your friends in Harriers!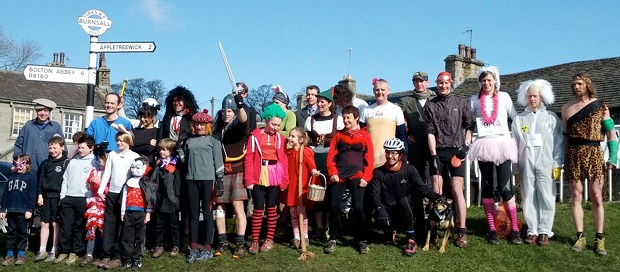 Parkruns, Sat 30 March

Durham
82  26:05 John Marshall

Harrogate Stray
51 21:47 Geoff Howard
56 22:01 Norman Bush

Salford 10km, Fri 29 March
Beth Massey reports ... Once again, I made the trip over to Lancashire to take part in the Salford 10k, a fast and flat 2 lap course promising equally fast times. With a quality field of over 500 runners from all over the North of England I was hopeful of recording a good time. Conditions were a big improvement on recent days, although the cold wind that seems to be accompanying me to every race so far this year was not ideal!
With such a large and quality field it was a fast start and my pre-race plan of 4min/km pace went straight out of the window! I went through 5km in well under 20mins and knew I would struggle to keep such a pace going! Despite my best efforts to do so, I eventually crossed the line in a somewhat frustrating time of 40mins and 3secs! This placed me 2nd FV40 but only 18th lady!!
The race was won by Adrian Holliday of Tipton Harriers in 30mins 43secs.
European Vets XC Championships - Lasarte, Spain, Sun 24 March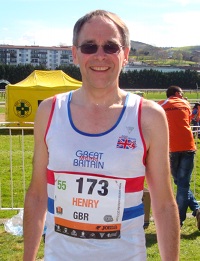 From Henry Heavisides ... Snow wasn't a problem here today, at 22 degrees & sunny, it was very hot for cross country. The course was flat around a horse racing track with no mud in sight. I finished 17th out of 75 competitors in the M55 race & narrowly missed a medal as GB finished 4th behind Spain, Russia & Finland. My time was 20:01 for the approx 5.5k course, I was 1st runner for the GB team. The winner was Torre Axelsson of Sweden in 17:59.
Home Countries International XC, Sun 24 March
From Sally Malir ... Georgia Malir was selected to run for the North Of England for the first time in the Home Countries International, Dinefwr, South Wales. She maybe had her best run of the season coming in 11th despite being an under 17 in the U20 women's race. She was also the first counter for the North of England. The distance was a step up for Georgia but she coped well with the undulating course which was surprisingly dry and snowless, although there was a freezing, relentless wind. The winner was Rhona Aukland 19:10 (Edingburgh university) Georgia ran the 5400m course in 20:38. She had a great time and really enjoyed the experience!
Dales Way Relay, Sat 23rd March
From Alison B Friday morning ... "Looking at the current weather and forecast for tomorrow (heavy snow at Ribblehead/Kettlewell at handover time) it would be safer to cancel the relay for tomorrow. There are too many unknown factors: transport to the handover points; communication with people mobile as reception is patchy; the legs will be run slower as the paths won't be visible and freezing temperatures means they could be icy so more legs will be delayed and running in the dark as we finish later etc
If people could email me (Alison) to let me know they have seen this message that will be great and then I will ring round the remaining people tonight."
European vets indoor championships, San Sebastian, Tue 19 March
Henry Heavisides reports ... I finished 20th overall in the M55 3000m out of 46 runners. The competition was split into 3 seeded finals as 46 people can't run on the track at the same time & it's too long a race to have heats & semis. I was 7th in the B final in 10:46.69, which was slower than I ran recently at the British Masters. Overall I was 2nd fastest GB runner (out of 5). The Spanish team included 3 former Olympic runners.
Lightwater 10k, Sun 17 March
Tom Adams won this in a speedy 32:47, leading in a field of 261 finishers.
Lytham St Annes 10m, Sun 17 March
Beth Massey reports ... Three Harriers made the trip into Lancashire to compete in the Lytham St Annes 10m road race, which also incorporates the Northern Veterans Championships. The race is an out and back route mainly along the promenade and so is a good, flat course. Conditions were favourable, although there was a fairly strong sea breeze, which managed to be a bit of an headwind in parts both on the way out and on the way back!
Mark Iley was first Harrier home in a time of 62mins and 25secs, followed by Rob Cunningham in 64mins and 1sec. I finished in 65mins 44secs which was good enough for 3rd lady overall and also 1st LV overall in the Northern Vets Champs. So a good effort from all 3 of us, packing quite close and putting Ilkley Harriers up there in the results!
The race was won by Graeme Taylor of Tyne & Wear Fire Service in 53mins 52 secs. Worth a mention also is the winner of the ladies race - Fiona Matheson of Falkirk Victoria Harriers who won in a fantastic time of 59mins 37secs and is a LV50!! There is hope for us all yet!

(1 53:52 Graeme Taylor, Tyne & Wear Fire Service)
29 62:25 Mark Iley
35 64:01 Rob Cunningham
45 65:44 Beth Massey
255 finished

Trimpell 20, Sun 17 March
See Andrew Bennett's photos, results fom ukroadraces.info ...

(1  1:52:52 Tom Charles, Trafford)
102 2:34:10 Alison Bennett
287 3:05:02 Dave Ibbotson
299 3:07:38 Paul Sugden
326 3:18:55 Linda Wilson
386 finished

Heptonstall fell race, Sun 17 March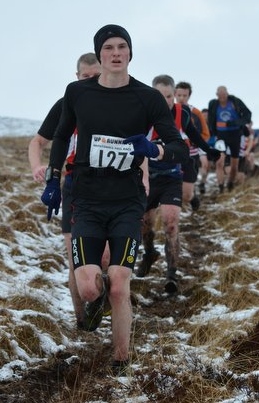 Neil Chapman reports ... 4 Harriers out for this tough 15.4 mile race with every type of fell terrain imaginable including bogs, a river crossing and 100 steps towards the end of the race, which has over 3100 feet of ascent. The race was won by Adam Osborne from Leeds AC in 1hr 58, and first Harrier back was Dave Wilby finishing 8th in a superb 2hr 09 given that he had been working incredibly hard on the Saturday morning speed session only 24hr earlier. Bradley Chapman was 2nd Harrier, completing his first fell race over 7 miles, finishing 27th in 2hr 21, followed in by Will Buckton 51st in 2hr 31, over 10 mins quicker than last year. Our only Lady was Dela Reperecki, finishing 3hr 09; whilst not sure of her overall placing she was well placed in her age category.
See the Woodentops photos
Results ...

(1  1h58:20 Adam Osborne, Leeds City)
8   2h09:38 Dave Wilby
27  2h21:57 Bradley Chapman
51  2h31:41 Will Buckton
181 3h09:14 Adela Reperecki
225 finished


This was the 4th counter in the Ilkley Harriers Race League, and Bradley (photo) is now in the lead!
South Yorkshire half marathon, Sun 17 March
This was an undulting, two lap, friendly race. Sally Malir ran a time of 88:59 and was 3rd woman (1st vet 45).
English Schools XC, Sat 16 March
From Sally Malir ... some fantastic results were achieved from the three Ilkley Harriers girls selected to run for West Yorkshire at The English Schools Cross Country in Derbyshire. Sarah Pickering was 76th in the Junior Girls; race, Lucy Williamson (running in her West Yorkshire vest for the first time) was 140th in the Intermediate Girls' race, and Georgia Malir was 8th in the Senior Girls' race (improving from 135th last year!) The course was the muddiest yet but the atmosphere was fantastic!
Parkruns, Sat 16 March

Bradford Lister Park
82  26:01 Samuel Craske (jun)
100 26:51 Milly Websdale (jun)

Leeds Hyde Park
132 25:46 John Marshall

British Masters Indoor Championships - Lea Valley, Sun 10 March
Henry Heavisides reports ... I was 4th in th M55 3000m in 10:26.70 & 5th in the 1500m in 5:03.04. I was pleased with my run in the 3000 which was a pb by 15 seconds. My 1500 was slightly quicker than last year. The standard of the championships is very high in the M60 1500m David Oxland of Notts AC set a new world M60 record. The second placed runner also beat the old world record & the 3rd placed runner beat the old British record as well. The closest finish was in the M80 3000m race walk which ended in a sprint for the line with the decision determined by the photo finish. There were more than 600 competitors taking part in races from 60m to 3000m & field events.

Ian Roberts Race, Sun 10 March
Steve Turland reports ... a cracking 6m fell race from Marsden village in the snow. Was a real battle on Marsden moor (sorry) with snowy tussocks and a strong headwind. Finished in 6th position from around 100 starters.
Spen 20, Sun 10 March
Andy Webster reports ... I had a bash at the Spen 20 yesterday in the build up to the London Marathon, 143rd in 2h45:36 I met Rob Cunningham (for the first time) at the race who was 61st in 2h25:32 257 people finished the race alogether.
BigK 10k, Sun 10 March
Over 1100 entries this year, sure to include a few Harriers, awaiting results ... but spotted Chris Cunnigham and Karen Lambe and second-claim Harrier James Mountain (in the lead?) in the Woodentops photos.
Coach Education
It's been a great weekend for Coaching at the Club! Jane Bryant is the first Ilkley Harrier to take on the 'Coach in Running Fitness' course, this weekend, and as she says "only 2 more days and a diary and session plans and athlete evaluation and ...."
And on Saturday six of the coaches in the junior section (Sally Judkowski, Bernie Gibbons, Mael Matthews, Sue Williamson, Kate Lofthouse, and Amanda Oddie) achieved their Coach Award assessment, like CiRF a 2nd rung up on the coaching ladder.
Intercounties XC, Sat 9 March
From Georgia Malir ... I had qualified for the Yorkshire team after finishing 2nd in the Yorkshire XC Championship at Lightwater Valley. Today I finished 17th in a time of 20:35, out of a field of 233 county athletes in the under 17 women's race (winner Amy Griffiths of Leicestershire in 19.13). I was 2nd Yorkshire finisher in the team who won Bronze medals overall. The weather condition were ideal but thick mud underfoot made it a challenging and tiring race. It was a very exciting day with many of the UK's best athletes battling it out for a GB vest to go to the World XC Championships in Poland in a fortnight.
Dentdale 14.3m, Sat 9 March
From Hilda Coulsey ... it was a tough bitterly cold wet and snowy day in Dentdale. We had great training in "undulations" but fantastic scenery. The Harriers I saw were well bunched:

1st 1:24:42 Breton Holdsworth Clayton le Moors
195 2:02:08 Christine Cox 1st FV55
206 2:03:53 Stuart Herrington 
219 2:05:03 David Ibbotson 
226 2:05:39 Hilda Coulsey 3rd FV55
341 finished

Haworth Hobble, Sat 9 March
Results ...

(1  4h22:14 Duncan harris, Chester Tri)
139 6h13:03 Paul Sowden
278 8h12:18 Amanda Parnaby
315 finished

Stan Bradshaw Pendle Round, Sat 9 March
Richard Joel was 62nd in 1h29:24 in this BM 10-miler won by Rob Hope in 1h-6:10 with 196 finishers. Results.
Windmill Whizz, Sat 9 March
From Paul Stephens ... Alan Greenwood has been organising races for over 20 years, and surprised a few people when he announced this was to be the last, which is a real shame.
The Ovenden Fell Race on Feb 16th was one of Alan's, and the Windmill Whizz covers some of the same ground. But Ovenden is longer and a little tougher.
Conditions were also very different today. Instead of the blue skies and sunshine of 3 weeks ago, the clag was down and it was snowing lightly. Over much of the course visibility was only 100m or so, but at least there wasn't any wind.
Just 2 Harriers amongst the field of 69 runners. Jack Wood was 4th (the same position as last year) and I had a good run and really enjoyed it (which means I probably wasn't trying hard enough. I came in 26th in just under 52 minutes.

(1 37:23 Adam Osborne, Leeds City)
4  40:26 Jack Wood
26 50:48 Paul Stephens
69 finished

Parkruns, Sat 9th March

Bradford Lister Park
12 20:35 Thomas Kerr
23 21:53 Oscar Stapleton

Harrogate Stray
98 26:27 Julie Elmes

Middlesbrough Albert Park
121 25:42 John Marshall

Wharfedale Primary Schools XC, Nell Bank, Sat 9 March
A record 78 teams in this event, organised by the junior club, and the finale of the League. Results and photo links on the junior site.
PECO XC 5, Sun 3 March
The final event in the PECO XC series. Results ...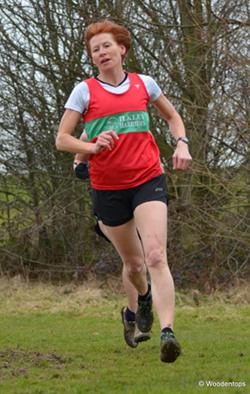 40  Steve Coy
44  Mark Iley
48  Bradley Chapman
56  Henry Heavisides
60  Arthur Reilly
75  Malcolm Pickering
131 Andy Jackson
140 Phil Hirst
150 Neil Chapman
194 Eric Morley
209 Don MacRae
212 Vince Gibbons
229 finished
1st team in the 'First Division',
7th team, 3rd vets

Women
9  Di Haggar
10 Sally Malir
81 Bernie Gibbons
87 Sally Pickering
90 Julie Elmes
130 finished
3rd team in the 'First Division',
11th team, 3rd vets


Overall in the League, the men won the First Division and the ladies were 4th. Bradley Chapman was our best placed man 28th, Steve Coy 30th, and Henry Heavisides 34th and 1st Vet55. Diane Haggar was top lady 72nd, Julie Elmes 96th, and Alison Ricci 109th
adidas Silverstone Half Marathon, Sun 3 March
Andrew Mitchell reports ... Not quite as fast as Ferrari or McLaren but I was pleased with it! Results

(1   1h05:41 Scott Overall)
1564 1h48:23 Andrew Mitchell
6189 finished

Black Combe fell race, Sat 2 March

(1  68:26 Ricky Lightfoot, Ellenborough)
10  78:00 Jack Wood
160 finished

Lakeland Derwentwater Amble, Sat 2 March
From Clare Smith ...Nicky Jacquiery, Alison Eagle, Neil Smith, Betty and I did this pleasant 22 mile LDWA event together today. After starting at Braithwaite, the first climb was Cat Bells which afforded an excellent view over the very still, part-frozen waters below. The anti-clockwise route around Derwentwater headed south to Rosthwaite where some welcome refreshments were served in the village hall. Then followed a very steep ascent to Dock Tarn, a rocky route to Ashness Bridge then a further climb to Walla Crag for another splendid panorama. A hot meal awaited us at the finish after 5 hours 20 mins. There was no mass start: people seemed to just set off when they were ready, so it's hard to know how we fared, though we passed many others on our way and all of us apart from Neil felt pretty shattered at the end!
Trollers Trot, Sat 2 March
Quite a few Harriers out in this, spot 'em in the Woodentops photos. Results from Runalong...

(1  2h50 Richard Pattinson, P&B)
15  3h29 Jez Hellewell
16  3h30 Dan Hill
25  3h39 Duncan Cooper
35  3h49 Kate Archer
63  4h03 Mike Baldwin
82  4h12 Adela Reperecki
105 4h34 Sharon Meadows
109 4h37 Gavin Burgess
131 4h51 Nick Mellor
227 finished

High Peak Marathon, Sat 2 March
Rebecca Mon-Williams was in the 11th team, and 2nd ladies team in 10h11:49, in this 42-mile night race, read her account. Results are up now on the HPM web site
Parkruns, Sat 2 March

Bradford Lister Park
9  19:33 Thomas Kerr (junior)
77 25:05 Hilda Coulsey

Huddersfield
50 21:26 Helen Ilsley

Leeds Hyde Park
185 26:21 John Marshall

All Saints Promary Schools XC, Sat 2 March
Well done to Rachel and her team, 500+ children running, the results on the junior pages along with the final positions in the Wharfedale Primary Schools XC League.
---