Ilkley Harriers news archive 2013
Ilkley Harriers of the Month, September
Jann Smith
Edale fell race, and top 10 in English Fell Championships
Other nominations were: Neil Chapman - for his commitment to club training, now including Monday night circuits
Hilda Coulsey - Club F60 record at Great North Run and other good results
Sharon Meadows and Andrew Merrick - for doing the full Bradford Millenium Way. Andrew because it was his 1st ultra and Sharon for guiding him round and advising him on ultra running
Paul Wood - for his commitment to the Club over the past years
Dave Wilby
For great results at 3 Shires and Grisedale fell races
Earlier Harriers of the Month ...
Edale Skyline, Sun 29 Sep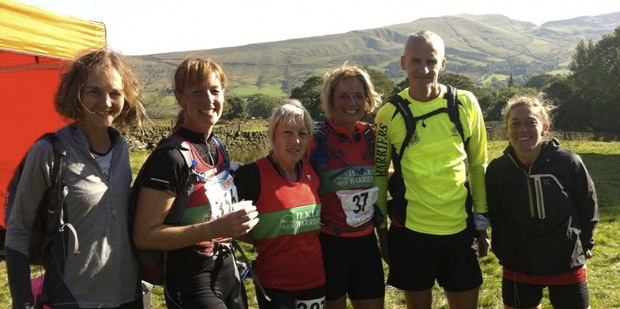 From Will Buckton ... Well done Ilkley in the final English Fell Championship race of 2013, on a beautiful day in the Peak District. Jann, Rebecca and Kate did really well and made the top 30 ladies, let's see some more men taking part in 2014! Results

(1  2h45:50 Simon Bailey, Mercia)
71  3h34:03 Will Buckton
91  3h43:50 Jann Smith
123 3h55:37 Rebecca Mon-Williams
153 4h06:26 Kate Archer
173 4h11:50 Neil Smith
179 4h14:57 Alison Weston
243 4h42:43 Clare Smith
244 4h42:46 Eleanor Bradley
245 4h43:14 Adela Reperecki
269 finished


Clare Smith adds ... Well done to Eleanor Bradley in her first AL fell race!
Nottingham Robin Hood half marathon, Sun 29 Sep

(1   1:06:54 Aaron Scott, Notts AC)
93   1:23:34 Nicky Green
2648 1:55:15 Paul Sugden 
4877 2:14:09 Kathryn Sugden
6585 ran


Nicky Green's time set a new F40 Club Record, beating Sally Malir's 1h25:45 set at York on 22 Jan 2006
Redcar half marathon, Sun 29 Sep

(1   1:07:25 Paul Pollock, Kent AC)
61   1:26:33 Caz Farrow  3rd lady 
1155 ran

Horsforth 10k, Sun 29 Sep

(1  33:18 Phillip Tedd, Woodhouse Grove)
21  37:07 Rob Cunningham
118 43:39 Duncan Cooper
543 finished

Rab Mountain Marathon, 28-29 Sep
A few Harriers in this, including Stu Pitches and partner 10th, Andrea Priestley and former Harrier Heather Dawe 13th and 1st ladies' pair, and others - results.
Run Sunday, Sun 29 Sep
Weekly 3 mile timed run on Otley Chevin. Results:

(1 20:18 Simon Edgar, LBT)
15 26:24 Lynn Donohue
22 31:16 Petra Bijsterveld (tail runner)
22 finished

Thieveley Pike, Sat 28 Sep

(1 32:49 Joe Mercer, Horwich)
26 39:14 Ian Rowbotham
141 finished

parkruns, Sat 28 Sep

Skipton Aireville Park
(1 18:28 Jack Smith, Wharfedale)
4  19:41 Steve Turland
27 24:59 Andrew Wilson
29 25:19 Samuel Turland (junior)
44 28:35 Joe Ibbotson
46 28:39 Petra Bijsterveld
70 32:57 Elaine Ibbotson
95 finished

Bradford Lister Park
74  24:45 Sue Bickerdike
149 28:35 Emma O'Looney

Leeds Hyde Park
25 19:35 Arthur Reilly

Ilkley Harriers AGM 2013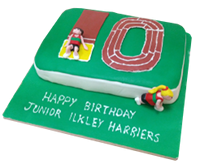 The 2013 Annual General Meeting of Ilkley Harriers Athletic Club was held on Tuesday 24th September at Ilkley Lawn Tennis and Squash Club after the Tuesday night run (as notified in the August newsletter).
A new Committee was elected with Jane Bryant as Chair. Membership Subs remain at the same levels as 2012/2013 and renewal forms are being distributed to members now.
An extra benefit for those attending was the delicious cake made by Gaenor to celebrate Junior Ilkley Harriers' 10th year.
Bradford Millenium Way, Tue 24 Sep
From Val Kerr ... congratulations to Sharon Meadows and Andrew Merrick who successfully completed the whole of the Bradford Millenium Way on Tuesday, starting and finishing in Ilkley (via Bingley, Oxenhope, Stanbury, Laycock, Steeton, Silsden, Addingham and Windgate Nick) (46 miles and lots of climbing; overall time about 12 hours I think). Perfect conditions for long distance running, mostly dry underfoot, no rain and clear views. Well done to both of you.
Kirkstall 7, Sun 22 Sep
A win for Tom! Results

1 35:44 Tom Adams
225 1:13:36 Lyn Eden
241 finished

Beefys Nab, Sun 22 Sep
Results ...

(1 21:44 Mark Sennett)
12 26:00 Tilly Melechi U14 1st lady
37 finished

Embsay, Sun 22 Sep
Results of this BOFRA Championship race ...

(1 18:47 Jack Simpson, Leeds)
13 23:14 Iain Gibbons
36 26:12 Jann Smith 1st LV40
75 finished

Harewood 10k, Sun 22 Sep
Results ...

(1 34:36 Mike Burrett)
5  38:20 Martin Archer
7  39:36 Jamie Hutchinson
72 59:41 Julie Elmes
94 finished

Run Sunday, Sun 22 Sep
Weekly 3 mile timed run on Otley Chevin. Results:

(1 19:29 Scott Harrington, Otley)
4  21:03 Emma Barclay (new ladies record)
15 28:12 Petra Bijsterveld
24 finished

Junior Home International, Sat 21 Sep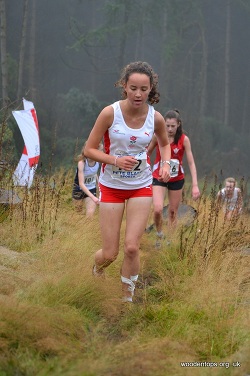 Well done to Lucy Williamson in her first England vest. She finished 5th English counter, and 11th all together in the U17 girls' race.
Report
Woodentops photos
Three Shires fell race, Sat 21 Sep
From Will Buckton ... the penultimate race in the Lakeland Classics Trophy took place at Little Langdale in the Lake District. Dave Wilby had a fantastic run to finish 2nd in a strong field, less than one minute behind winner Ben Abdelnoor. Dave led for much of the race and was first to the final checkpoint at Lingmoor summit. Conditions were wet and slippy and low cloud meant minimal visibility. Steve Turland was the latest navigational victim as he descended Swirl How and had to run an extra mile up Wrynose Pass to get to the checkpoint at Three Shire Stone, although he recovered his run well on a day when many retired lost or were timed out. A great race. Results ....

(1  2h05:11 Ben Abdelnoor, Ambleside)
2   2h05:46 Dave Wilby
32  2h29:09 Will Buckton
93  2h51:00 Steve Turland
197 3h37:51 Neil + Clare Smith
211 finished

Great Langdale Half Marathon, Sat 21 Sep

(1 1:21:37 Johny Lawson, Portobello)
57 1:44:35 Ewan Welsh
297 finished


Read a few words from Ewan ...
A few words from Ewan ... "One more cup of coffee before I go".... I suspect Dylan wasn't contemplating Langdale Half Marathon when he phrased that line, however the sentiment reflected the atmospheric ambiance of Langdale on Saturday morning as I embraced some 'chillaxing' whilst awaiting the start of the Great Langdale Half Marathon (on the road, as in the beautiful tarmac of the lakes, can you get any more 'classic' tarmac than that of the Lakes!)
This year's event was significant as it was the race organiser's, commonly known as 'Rockin' Rod, retirement race after 25 years of running the gig. Both Ron Hill and Joss Naylor appeared to pay homage to this landmark. The race-t-shirt was suitably entitled 'Rockin Rod's Retirement Race', with all competitors listed on the back of the t-shirt! Hopefully the race will continue in the same vein, although I suspect the hand written letter received with your entry may prove to be an artefact of a by-gone era... the race itself played out in the usual fashion over one of the most undulating road races you could possibly do, where if you're not going up you're going down, and if you're not going down, you're going up, perhaps a reflection of life.
Only 9 coiled springs were under the 90 mins, not that it's important but may give some context for anyone who wants to give it a go. In fact you should give it a go, even if it's just once, it's an old-school local road race. You don't have to use Twitter, you don't need to go on Facebook, and the route isn't on YouTube, you just enter and turn up, you even park the car next to the start, simples... I give that a thumbs up !..... Two laps for the marathon (in case that entices you).
From my own perspective, as I approach the mature running years, I took on the role of the defensive midfielder where it's all about consolidation and awareness as you come to terms with that lost yard of pace. I managed to pace it reasonably enough enjoying a shuffle up the steep hills, the wheels remained on until just at the last mile where I had a wee wobble and the standard casual vomit, but kept the faith as you do, it's all about fun and being healthy.
I was tempted to partake in the post-race massage on offer, however my 'Time out of Mind' had to come to an end, I had to return home, all be it with an air of contentment, to metaphorically see a man about a dog ... alas if only every day was like this "Time is like a jet plane, moves too fast"
Results: the winner's time was 1.21.37 (it wasn't me).
Ewan Welsh (that's me) finished in 1.44.35 in a position of relative but satisfying discomfort, actual place (it is place rather than position !) was 57/297. Oh and 11th v45 out of 34, that's poignant if not relevant!
Ilkley Triathlon, Sat 21 Sep
From Mark Iley ... a great day for this year's event, and good to see plenty of Harriers out at this local event, and many well up there at the top end of the finishers.. I took part again as part of a team (Team Miley), with my Daughter, Melissa (member of Ilkley Swimming Club and LBT) doing the swim, a late replacement for Bob Hamilton, in Mike Burdon (from Ilkley Cycling Club) doing a sterling job on the bike leg and myself finishing off the event with the run.
Overall, we were well pleased with the result, and breaking the hour as well for the first time, in 58:52, and finishing as 2nd team and 5th overall in the whole competition, out of nearly 330 competitors.
From Ralph Tench ... Sun shone (yet wind blew) and loads of Harriers and related sporting clubs/associations from the town on display. Many teams of families from the Harriers community. Looking through the results some good examples of the younger generation outperforming their parents, particularly in some of the teams. No names ...
I was first Harrier in the individual triathlon event and 10th overall. One of my slower times but cartilage held out and first local prize reclaimed after missing last year with knee operation. Second in the V45 competition by six seconds. I blame the driver of the VW estate crawling down Curly Hill on lap 3 ...
Results ...

(1  54:24 Florians Luquet, no club)
5   58:53 Team Miley
13  61:43 Ralph Tench
78  70:27 Mark Bourgeois
106 73:03 John Hayes
157 77:24 Michael Duffield
173 78:37 Dave Taylor
211 82:48 Naomi Elliot (junior)
236 85:38 Sarah Hayes
251 87:59 Hilda Coulsey
294 97:34 Kevin Wardale
Numerous other Harriers under other club/team names
327 finished

Folkin Reservoir Ramble, Sat 21 Sep
Results ...

(1 1h46:06 Graham lake, Otley)
13 2h06:04 Ian Rowbotham
14 2h06:44 Chantell Busby 3rd lady
34 finished

Parkruns, Sat 21 Sep
Today's Bradford Lister Park parkrun was a 'road' counter in the Ilkley Harriers Race League and enjoyed a bumper turnout of Harriers in a near-record field, results ...

(1  17:12 Jack Wilson, Kent)
13  19:16 Henry Heavisides
18  20:17 Caz Farrow
43  22:07 Phil Hirst
62  23:33 Dave Ibbotson
69  24:04 Will Worboys
79  24:29 Sue Bickerdike
105 25:20 Paul Sugden
127 26:05 Peter Lewis
133 26:13 Alessandra Ricci (junior)
140 26:42 Allison Ricci
143 26:48 Julie Elmes
144 26:48 John Marshall
185 28:48 Joe Ibbotson
186 28:56 Emma O'Looney
217 31:06 Elaine Ibbotson
364 finished


This left our local Skipton parkrun a little short of Harriers but in only its third week it had a good 109 finishers, let's have lots of Harriers there next week? Results ...

(1  18:59 Paul Crabby Crabtree, Wharfedale)
4   21:02 Arthur Reilly
7   21:40 Oscar Stapleton (junior)
19  23:25 Cameron Reilly (junior)
50  26:59 John Brown
72  30:32 Ian Hargreaves
109 finished


And at Wanstead Flats Sophie Brown was 62nd in 26:08
Another Harrier selection
Well done to Lucy Williamson who has gained her first England vest. Lucy has been selected for the U17 girls team to compete in the Junior Mountain Running Home International in Aberfoyle on the 21st September. Good Luck Lucy - we're all so proud of you.
Read Georgia's report on the World Mountain Running Championships last weekend.
Great North Run, Sun 15 Sep
Kevin Lawson reports ... new PB for me and WELL DONE all Harriers!
(And a little birdie tells us that Julie also scored a PB, by 8 minutes!)
Hilda's time sets a new LV60 Club Record, beating Margot Dale's 1:57:00 from Glasgow 08/09/2002
Results ...

  ( 1 1:00:09 Kenenisa Bekele, Ethiopia)
  194 1:21:13 Dan Wilkinson
  231 1:22:06 Rob Cunningham
 3379 1:39:32 Neil Bloor PB
 4733 1:42:58 Kevin Lawson  PB
 5158 1:43:52 Dougie Scarfe
 5270 1:44:07 David Howe
 6812 1:47:09 Christine Cox
 6832 1:47:11 Chris Cunningham
 7142 1:47:43 Andrew Mitchell
 7478 1:48:18 Adela Reperecki
 8781 1:50:31 Bethany Bloor PB
10520 1:53:22 Hilda Coulsey
11561 1:54:59 Emma Curran
12124 1:55:50 Charlotte Smithson
16102 2:01:26 Sue Williamson
17111 2:03:02 Caroline Morley
17497 2:03:40 Sue Verspyck
18019 2:04:30 Julie Elmes  PB
19223 2:06:35 Alison Bloor
21339 2:10:33 Judith Scarfe
23111 2:14:04 James Bloor
56,000 people finished!?


British Masters track & field championships, Sun 15 Sep
From Henry Heavisides ... It was very wet & windy for today's 5000m race at Alexander Stadium, Birmingham. I finished 4th in the M55 age group in 18:28.15, a few seconds quicker than last year which was run in a heatwave. In yesterday's 1500m I was 6th in 5:01.11, a couple of seconds slower than last year.
Burnsall, Sun 15 Sep
Results of this BOFRA Championship race ...

(1 14:11 Jack Simpson, Leeds)
11 17:25 Iain Gibbons
48 22:17 Jann Smith 1st LV40
72 finished

Run Sunday, Sun 15 Sep
Weekly 3 mile timed run on Otley Chevin. Results:

(1 18:24 Zack Whitehead, Otley)
7  21:43 Tilly Melechi
26 28:46 Emma Payne
31 finished

Peris Horseshoe, Sat 14 Sep
From Nick Pearce ... this was the final race in the 2013 British Fell Championship, and I managed to turn the tables on the two over 60's who have beaten me all season and finished 1st over 60 in 4 hours 23 minutes, in 72nd place overall. So I end 2013 with a British Championship bronze medal in the V60 category. Peris is a testing course from Llanberis run over a 28K course with 2,590m of ascent, visiting six summits including Snowdon. Rob Jebb was first home in 3 hr 12 m. Results ...

(1 3h12:29 Rob Jebb, Bingley)
72 4h22:58 Nick Pearce
171 finished

Rombalds Romp, Sat 14 Sep
Ben Sheppard reports from the fell race ... A real shame that the leading runner (Wharfedale's Mark McGoldrick) went the wrong way with a little over a mile to go. And that the next five runners followed him. A fair few Harriers turned out to race in near perfect conditions, with a choice of fell race or trail race, both around 11k.
Paul Stephens adds ... What Ben hasn't said was that he was in the prizes, along with Ralph Tench and Jane McCarthy. Also running well were Dick Waddington and John Hayes. I struggled. My time was only seconds different from last year, but I can't remember what conditions were like. Anyway what a beautiful morning. I spotted some blackberries while warming up, and picked 3lbs before the light went this evening. Must be getting old. It's what your parents do.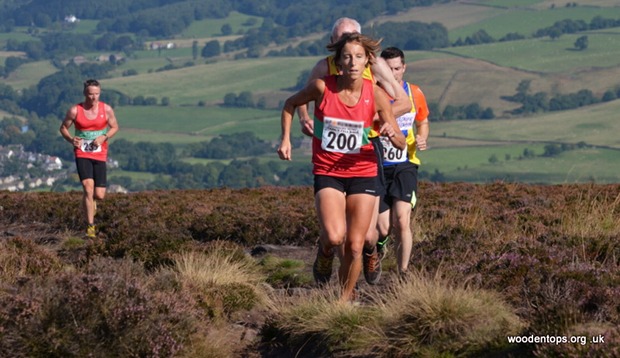 Results (trail and fell races combined) :

(1 44:20 Quentin Lewis, Baildon)
9  48:28 Ralph Tench
12 52:16 Ben Sheppard
23 54:40 Paul Calderbank
28 57:12 Jane McCarthy
33 58:12 John Hayes
36 58:31 Emma Borley?
40 59:36 Chantal Busby?
41 59:53 Dick Waddington
51 62:43 Paul Stephens
58 64:46 Chris Oxlade
68 68:41 Nick Mellor
69 69:13 John Brown
86 83:03 Sue Morley
88 finished

Lothersdale, Sat 14 Sep
Steve Turland reports ... More BOFRA fun at Lothersdale as part of the village show. Only a mile, but seniors and juniors run together so lots of pride at stake! Finished in 2nd place in something around 10 minutes. But some great sporting behaviour from the U14 lad who finished 3rd - called us back as we headed off in completely the wrong direction on the descent.
Buttermere Triathlon, Sat 14 Sep
From Jamie Hutchinson 1500m swim, 44k bike including Honister and Whinlatter and 17k trail run. I had my usual average swim, followed by hard effort on the bike to move into 16th position and a solid run moved me up to 9th overall and a few seconds faster than last year! Alastair Robinson won in 2:53 and 177 raced. Great to race in such a beautiful spot and fantastic weather!
Parkruns, Sat 14 Sep

Skipton Aireville Park
20 23:18 Phil Hirst
54 31:23 Joe Ibbotson
64 33:47 Elaine Ibbotson

Burnley
1 18L31 Steve Turland

Harrogate Stray
74  23:01 Helen Thurston
218 31:17 Andy Brook-Dobson

Leeds Hyde Park
145 25:46 John Marshall
191 28:08 Harry Stead
272 33:19 Linda Marshall

York
22 19:45 Geoffrey Howard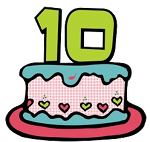 Happy Birthday Junior Ilkley Harriers!
Our super junior section celebrates its 10th anniversary (info) this September!
'From little acorns' ... the junior section now has nearly 300 members, most of them coming to training sessions every week, and nearly 70 people of all ages actively coaching at different levels.
We can only give a flavour of the successes of the juniors on these pages, you need to see the junior pages to get the full picture, there's a lot going on!
So, let's all wish them a ... Happy Birthday!
Evening Training, it's time to 'Go with the Fluo'
Notice: The nights are getting dark earlier and it is important on the evening Club runs to give some consideration to your visibility to car drivers.
A fluorescent top helps you stand out in poor lighting conditions.
Reflective trim on your clothing will show up in car headlights.
A flashing red LED light attached to your clothing can help too (but take care with headlamps as they could dazzle car drivers).
World Mountain Running Championships, Sun 8 Sep
International News ...Georgia Malir was 5th in the junior girls race helping GB to team Gold (with Annabel Mason 4th, Catriona Graves 6th). And Tom Adams finished 51st in the senior men's race, the mens GB team 7th. World Mountain Running Championships in Poland.
Read Georgia's report.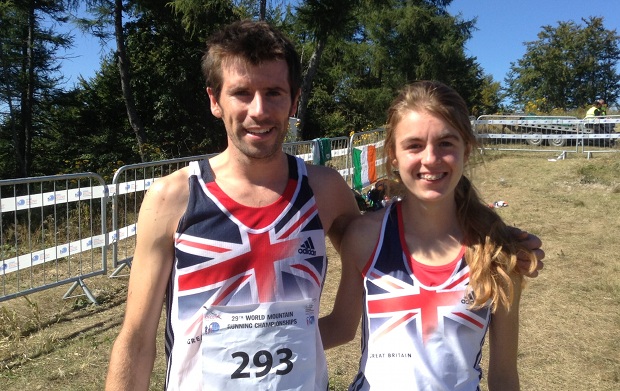 Yorkshireman Off-Road Marathon, and Half, Sun 8 Sep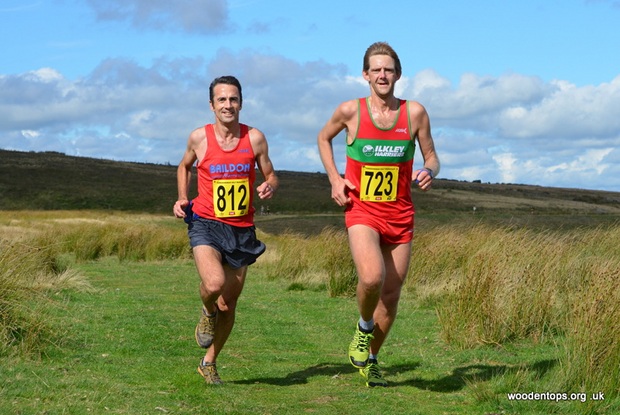 Nick Richardson well to the fore here, also in Woodentops photos Rebecca, Adela, John, and others.
Results

Full Yorkshireman, solos
(1  3h18:29 Ged Callan, Bingley)
39  4h04:20 Alistair McInnes
88  4h42:50 Adela Reperecki
176 7h05:50 Amanda Parnaby
178 finished

Pairs
13  4h48:43 Jon & Richard Dillon
26 pairs

Half
(1  1h41:04 Ben Mounsey, CVFR)
5   1h46:36 Nick Richardson
107 2h28:39 John Coates
173 2h49:00 Rebecca Moores
175 2h49:03 Juliet Hammond
246 finished

Wetherby 10k, Sun 8 Sep
Emma Curran reports ... got a PB, great weather and conditions, great organisation and atmosphere. Results

(1  34:01 James Wardman, Rothwell)
420 52:13 Emma Curran
502 54:52 Julie Elmes
611 59:05 Sally Wright
782 finished

Run Sunday, Sun 8 Sep
Weekly 3 mile timed run on Otley Chevin. Results:

(1 17:31 Paul Tiffany, Bingley)
13 25:41 Lynn Donohue
16 27:54 Petra Bijsterveld
21 28:45 Emma Payne
29 finished

Golden Mile, Leeds Carnegie track, Sat 7 Sep
Henry Heavisides reports ... about 100 runners took part in the Golden Mile races on the Carnegie track. Competitors were split into 9 heats based on each runner's predicted time, so that in theory everyone was running with people of a similar ability. Mark Iley & I ran in heat 7. Mark set the pace for much of the race & finished in 5:21. I followed on behind & managed a quicker finish in 5:19, we were 3rd & 5th in our heat. The overall fastest time was 4:36 set by Ben Pye of Wetherby in heat 9.
Given that my only previous one mile race was the Ilkley Incline on Wednesday, I was pleased to set a PB by 4 minutes 19 seconds (albeit on a slightly faster course!). Results
The Golden Mile is a good opportunity for runners of all standards to test themselves over the classic one mile distance.
Ben Nevis Mountain Race, Sat 7 Sep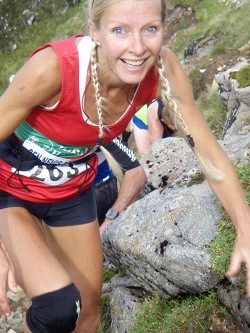 Jann Smith reports ... The highest mountain in Great Britain. It had to be done. The 600 race entries go live in January and fill up within a day. Starting at Fort William it's 4.5 miles near vertical uphill, then 4.5 miles back down (9 miles / 4409ft). The tourist path zig-zags up to the summit but runners take a straight line up. The terrain varies from big, bouldery pathways to scree to loose rock. Tough. I enjoyed the climb up and got to the summit in the top 10 ladies. The descent was difficult but just as I was thinking I'd cracked it I took a nasty fall down some stone steps. My first DNF and so close to the finish. Great fun though!
Grisedale Horseshoe, Sat 7 Sep
From Alison Weston ... Dave Wilby, Steve Turland and myself ran this great route up and around Helvellyn. 1525m climbing in 16km with very steep descents and a shock to be back running in wind, rain and mist! Dave had an amazing race to finish in top ten in 2hrs02, with Steve in 2hrs30 and myself 2hrs44. A tough race but well worth doing.
Skipton parkrun, Sat 7 Sep
A number of Harriers enjoyed the inaugural parkrun at Skipton, the 300th parkrun venue around the world. 194 people finished, including a number of parkrun enthusiasts from all over 'bagging' the venue's first event. A good course with something for everyone, gnarly hilly bits and a long fast downhill on tarmac. Results...

(1  18:12 Julian Hood, Skipton)
19  22:15 Oscar Stapleton (junior)
29  23:16 Phil Hirst
34  23:57 Diane Haggar
55  25:58 Will Worboys
60  26:18 Paul Wood
88  29:05 John Marshall
89  29:10 Petra Bijsterveld
97  29:50 Lizzie Hebbert (misdirected, extra lap!)
114 31:13 Shirley Wood
145 34:07 Elaine Ibbotson
194 finished


Other parkrun results ...

Harrogate Stray
15  19:16 Euan Brennan (junior)
187 28:51 Andy Brook-Dobson (junior)

Leeds Hyde Park
90 23:21 Cameron Reilly (junior)
91 23:27 Arthur Reilly

York
19 19:32 Geoffrey Howard

Ilkley Incline, Wed 4 Sep
A super event organised by Geoff Howard, who reports ... It has been a great year for blackberries and tomatoes and so it was with the number of competitors in the 12th Ilkley Incline. Not even the distractions of Elton John at Leeds Arena or a host of midges more locally could deter the valliant 108 from shattering the previous record of 87 in 2011. In a great race, four runners broke the 8 minute barrier with James Hall of Wharfedale a clear winner in 7m 25s with only ten seconds separating the next three. Second was Emile Cairess of Bingley who took the under 18 prize.Racheal Bamford of Otley made it a hat trick of wins in consecutive years in the Ladies race in 8m 36s (only 8s off her last year's record). Ilkley won both of the team prizes. It was great to see sixteen different clubs represented and several runners having made lengthy journeys. The generous sponsorship from Ilkley Physiotherapy and The Bicycle Shop Skipton helped us to maintain our extensive prize list and is very much appreciated.
results and some photos.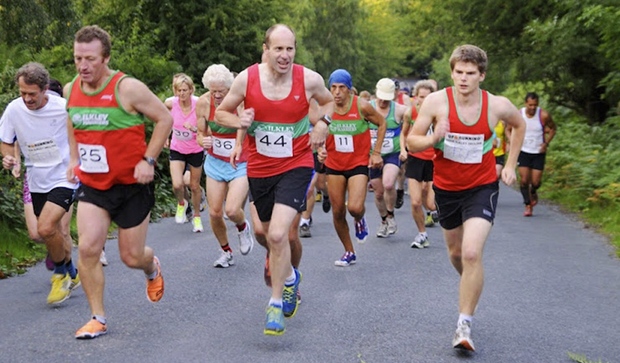 (1   7:25 James Hall, Wharfedale)
4    7:56 Matthew Cox
6    8:04 Rob Cunningham
9    8:20 Bradley Chapman
11   8:24 Mark Hall
12   8:25 Matt Newell
14   8:28 Jack Wood
21   8:47 Eddie Irving
25   9:09 Paul Calderbank
28   9:23 Duncan Cooper
29   9:26 Adam Bennett
32   9:30 Mark Iley
33   9:36 Ewan Welsh
34   9:38 Henry Heavisides
37   9:43 Steve Weston
38   9:43 Malcolm Pickering
43   9:52 Caz Farrow
47  10:07 Paul Stephens
48  10:11 Bob Hamilton
50  10:14 Steve Newell
51  10:16 Nicky Green
55  10:29 Alison Eagle
66  10:48 Nikos Georgiadis
73  11:04 Alison Bennett
77  11:24 Philip Hirst
79  11:32 Will Worboys
90  12:17 Peter Lewis
94  12:41 Nick Mellor
95  12:47 Rachael Gooch
100 13:38 Geoffrey White
101 13:59 Amanda Newham
102 14:09 Don Macrae
103 14:15 John Brown
104 14:21 Steve Jordan
	

This was a counter in the Ilkley Harriers Race League, too.
Before the Incline, 14 junior teams raced round the Junior Sprint Fell Relays, report and photos on the junior pages.
Good Luck!
... to Tom Adams & Georgia Malir who are off to represent GB in the World Mountain Running Championships in Poland this week. And read Caz's report below on Harriers at the veterans event last Saturday.
YVAA Road Relay Championships, Sun 1 Sep
From Henry Heavisides ... We had 4 men's teams & 2 ladies' teams at the YVAA road relays at Saltaire. The outstanding performance came from the M60 team (Malcolm Pickering, Nick Pearce & Geoff Howard) who finished in 1st place in their age category, with Nick also winning the prize for the fastest M60 leg overall. The M50 A team won the award for 3rd place (Eddie Irving, Mark Iley & Henry Heavisides). Our quickest team was the M40 quartet (Mark Mon-Williams, Jez Hellawell, Steve Weston & Ralph Tench) who ran in a very competitive age category.
The title of 'road relay' is a bit misleading as the course is mainly on footpaths around Roberts Park & alongside the river & canal with only a very short section of road.
Full results on YVAA's website
Beth Massey adds ... Two ladies teams took part in the YVAA Road Relays at Robert's Park on Sunday, Run on a flat 2.9m circuit, it is not strictly a 'road' relay as much of the course is run on footpaths. The ladies F45 team had a storming run just missing out on a medal finishing in 4th place with an overall time of 62mins 32 secs. The team was led off by Natalie Curtis (19.55) with Helen Horton on the 2nd leg (20.12) and Lynn Donahue on the final leg (22.25)
The ladies F35 team also had a brilliant run finishing in 9th place with an overall time of 64mins 10secs. The team was Jacqui Weston (25.00), Anna Nolan (21.28) and Beth Massey (17.42).
All in all, a really enjoyable event & a fantastic effort from both teams!
Tholthorpe 10k, Sun 1 Sep
Results from UKResults.net ...

(1  33:35 Guy Bracken, North Shields Poly)
4   35:40 Mark Hall
122 50:22 Hilda Coulsey
269 finished

Bradley fell race, Sun 1 Sep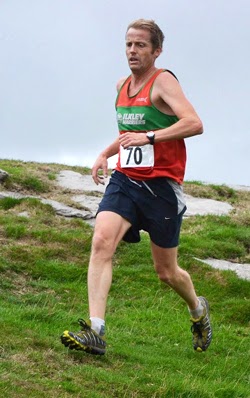 Results of this BOFRA race ...

(1 23:17 Jack Simpson, Leeds)
13 26:59 Steve Turland
47 31:00 Kate Archer
50 31:12 Rebecca Mon-Williams 1st LV40
70 34:16 Di Haggar 1st LV50
84 38:27 Eric Morley
99 finished

Loweswater Show fell race, Sun 1 Sep
Will Buckton reports ... on this AS fell race 4.2km/305m...

(1 21:37 Ricky Lightfoot, Ellenborough AC)
16 25:25 Will Buckton
74 finished

Run Sunday, Sun 1 Sep
Weekly 3 mile timed run on Otley Chevin. Results:

(1 19:29 Jonathan Forey, UA)
10 25:00 Will Worboys
19 28:38 Petra Bijsterveld
28 finished


---