Ilkley Harriers news archive 2013
Ilkley Harriers of the Month, October
Nick Pearce
3rd V60 (Bronze) in English & GB FRA Championships and his result at Snowdonia Marathon
Other nominations were:
Norman Bush - 3rd V70 (Bronze) in GB FRA Champs
Val Kerr - Snowdonia Marathon result
Tom Adams - breaking Alistair Brownlee's record at Withins
Georgia Malir - 2nd in U20 Cross Challenge
Pete Shields - for great support to other in their training and racing
Will Buckton - good fell results throughout the month and being part of the fell relay team
Dan Wilkinson Ð results including Bronte Way and Shepherds Skyline
Jane McCarthy
Bilbao Half Marathon, and Langdale fell race
Other Harriers of the Month ...
Chevin Chiller, Thu 31 Oct
From Jez Hellewell ... A great race on The Chevin last night. 6.66 km of undulating paths. I was beaten by Spider-Man, as was everybody else I think! No shame in that. Quite a sight with 180+ runners flying around The Chevin with head torches on!
Results.

(1  28:54 Andy Bedford, Saltaire Striders)
14  32:08 Jez Hellewell
67  39:38 Adela Reperecki
145 51:09 Emma Payne
182 finished

Cross Challenge, Sun 27 Oct
From Sally Malir ... The British Athletics Cross Challenge Series got underway on Sunday in Bristol. Georgia Malir made the long journey but made sure that it was worth her while! The course was an undulating, grassy 4.5k and the conditions were blustery. Georgia came in 2nd under 20 women behind Alex Clay (Invicta East Kent).
Read the report on British Athletics website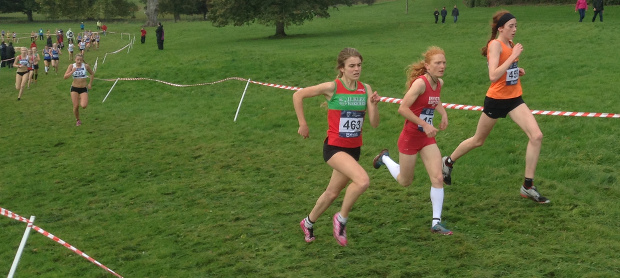 Bronte Way, Sun 27 Oct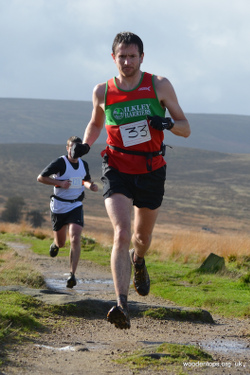 Dan Wilkinson reports ... I ran the Bronte Way and managed 10th in 59:38, starting in heavy rain, then hail, but finishing in beautiful autumn sunshine outside the pub. Tim Ellis CVFR won in 53:11, 180 finished. Results.
Bradford City Runs, Sun 27 Oct
Simon Jenkins reports ... It was a breezy and showery day with a bit of sun. The course was undulating through some of the less salubrious back streets of Bradford. The cold rain certainly made you want to finish as quick as possible!

Half marathon
1  Matt King 1.15.58
28 Simon Jenkins 1.39.59 pb

5k
1 Gerrard Mills Bradford Airedale AC 16.56
6 Karen Lambe 24.09

Guisborough 3 Tops, Sun 27 Oct
From Alison Weston ... took part in a great AM fell race in Guisborough on Sunday. Starting from the rugby club the race took in High Cliff, Roseberry Topping and Hanging Stone before going back up the moor to a 4th trig point beyond High Cliff. So it should be the 4 tops race really! I finished in 1hr 30 but not sure of my position. Lots of good running with a bit of route choice too.
Run Sunday, Sun 27 Oct
Weekly 3 mile timed run on Otley Chevin. Results:

(1 17:45 Scott Harrington, Otley)
6  20:58 Emma Barclay  New record
23 28:37 Emma Payne
28 finishers

Harewood 10, Sun 27 Oct
Ewan Welsh reports ... the Harewood 10 trail race, a bit wet, a bit sunny, a bit slippy, a bit of tarmac, a bit windy ... but all very refreshing and therapeutic as a balance against the wilderness of working life! Results ...

10 mile trail race
(1 63:18 Lee Dalton, Nidd Valley)
30 71:24 Paul Calderbank
32 71:32 Nicky Green  1st female
76 78:38 Ewan Welsh
301 finished

5 Mile Trail Race
(1 34:15 Josh Brown, Rothwell, B11-12)
 3 35:46 Steve Coy
94 finished

And several Harriers juniors well placed in the 2 mile 'Hop'

The OMM, Sat/Sun 26/27 Oct
Results up now from two days of racing on the Brecon Beacons. Andrew Priestley and former Harrier Heather Dawe were 1st ladies on the Elite course. Quite a few other Harriers in it: Jack Wood 8th on B Class, Outi Kamarainen 17th and 3rd Mixed team on B, Emily Wood 60th and 4th ladies team on the C (any more? Let us know your results, please).
Snowdonia Marathon, Sat 26 Oct
From Peter Shields ... went over to Wales to support two of of our athletes today in the Snowdonia Marathon. As marathons go this is one of the toughest in the UK and has to be given a lot of respect. Nick Pearce and Val Kerr dipped their feet into the magic of this event and performed brilliantly. Nick ran 3h21:21 to win the male V60 race and Val ran 3h55:13 to come fourth in the fv50 race.
Following the race as it circuited Snowdon from Llanberis was inspiring, especially with our two athletes to support. The course is a little more than undulating with two very significant climbs of 6.5 and 5+miles plus the odd one in between! Val and Nick looked well throughout and as I said gave inspiring performances, well done to both of them.
From Val ... Awesome - both the race and Nick's performance (I even spotted him at the top of Pen-y-Pass on the S4C TV coverage). 4 hours with no rain, magnificent scenery, a fabulous course (in spite of the hills) and a finish that every fell runner would die for. Thanks to Mark and Pete for their great support around the course.
The winner was Rob Samuel (Eryri Runners) who notched up his third victory in 2:43:50.
This has to be one of the best marathons in the UK and I would definitely recommend it to anyone who doesn't mind a few (big) hills. Entries open on 1st January but it fills up very fast (2000 limit).
Great Whernside fell race, Sat 26 Oct
From Will Buckton ... Six Ilkley Harriers made the much shorter trip to Kettlewell for the Great Whernside fell race. The demanding FRA Category A Short route climbs 475m to the summit in just 3.25km. Martin Archer, Jim Ryder and Will Buckton arrived at the top in close succession and Martin made a flying descent to come home 16th in a strong local field.

(1 31:49 Ian Holmes, Bingley)
16 35:58 Martin Archer
23 37:04 Will Buckton
25 37:27 Jim Ryder
33 39:05 Ian Rowbotham
56 42:40 Bob Hamilton
64 44:01 Chris Oxlade
114 finished

Parkruns, Sat 26 Oct

Skipton Aireville Park
11 23:11 Oscar Stapleton  (junior)
42 28:14 Petra Bijsterveld 

Bradford Lister Park
56  23:13 Joe Reynier  (junior)
296 40:26 Abbie Reynier  (junior)

Harrogate Stray
144 26:25 Geoffrey Howard

Leeds Hyde Park
146 25:16 Harry Stead  (junior)
288 31:02 Christine Reilly

York
38 21:52 Adam Bennett

FRA Relays, Sun 20 Oct
Will Buckton reports ... Ilkley Harriers rounded off the fell season with strong performances at the FRA relays (Aka the UKA British Fell & Hill Relay Championships) in Llanberis, North Wales. Tom Adams brought the men home in second after leg one, less than a minute behind Murray Strain of HBT, leaving Dan Wilkinson and Rob Cunningham with the task of following Tom on leg two. Will Buckton and Nick Pearce navigated their way safely through leg three to pass over to Dave Wilby who was 20th on his leg, bringing the team home in 28th overall out of 99 teams. Ilkley ladies' Kate Archer was 13th lady on the final leg in a strong field of 32 to help the team to 20th ladies overall.
Photos from Graham and Alison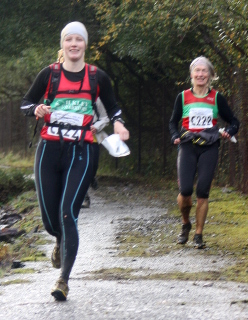 Men
(1 4h02.00 Dark Peak)
28 4h54:17 Ilkley (93 teams)

  34:36 Tom Adams 
1:38:01 Dan Wilkinson & Rob Cunningham
1:51:52 Will Buckton & Nick Pearce
  49:48 Dave Wilby 


Ladies
(1 5h02:26 Hunters Bog Trotters)

20 6:24:50 Ilkley (32 teams)

  52:53 Di Haggar 
2:02:20 Natalie Curtis & Alison Weston
2:28:00 Rachael Gooch & Outi Kamareinen 
1:01:37 Kate Archer 

Bridlington Half, Sun 20 Oct
From Pete Shields ... a shout up for Caz Farrow and Nicky Green who have run at Brid today both winning their age groups, Nicky in 1h26 for the v40, Caz in 1h32 for the v35, this is after several weeks of 90+ miles per week in preparation for the Nice Marathon in November. Results ...

(1 1h09:57 Marius Ionescu, Altrincham & District)
35 1h26:55 Nicky Green
71 1h32:41 Caz Farrow
638 finished

WYXC 1, Wakefield, Sun 20 Oct
From Will Buckton ... The West Yorkshire Cross Country League got underway at Wakefield and Ilkley were well represented in both the male and female races. Sally Morley had an excellent run to finish 7th, less than two minutes behind winner Pauline Munro of Wetherby. Jamie Hutchinson was first Harrier in the men's race, finishing 49th and helping Ilkley to 11th team.
Results ...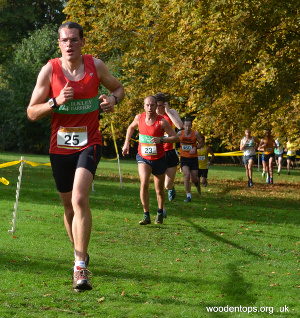 Ladies
(1 20:42 Pauline Munro, Wetherby)
7  22:16 Sally Morley
21 24:12 Sally Malir
23 24:20 Emma Barclay
56 29:25 Gaenor Coy
57 29:41 Di Kitchen
65 31:33 Julie Elmes
70 finished
6th team

Men
(1  32:27 James Walsh, Leeds)
49  39:53 Jamie Hutchinson
62  40:45 Mark Iley
79  42:06 Steve Coy
80  42:13 Arthur Reilly
118 49:46 Paul Sowden
123 51:48 Pete Shields
123 finished
11th team


There were some fabulous results from our juniors, from the very first race of the day which we won (and won the team event in) and throughout the junior classes.
Yorkshire Marathon, Sun 20 Oct
Results ...

(1   2:13:31 Edwin Korir)
1442 4:04:59 Christine Cox
1399 4:06:30 Eric Hawthorn
1866 4:20:18 Andrew Mitchell
2301 4:28:15 Charlotte Smithson
3188 5:05:16 Catriona Hawthorn
3873 finished

Great Birmingham Run, Sun 20 Oct
Results ...

(1  1:02:32 Thomas Ayeko, Uganda)
9069 2:12:07 Sally Wright

Les cretes la hulpoises, Sun 20 Oct
From Henry Heavisides ... this 16.7k race around La Hulpe in Belgium is a mix of forest trails, footpaths & country lanes. It includes 7 climbs up most of the local hills. There were about 1000 runners taking part with a brass band playing us off at the start. Results...

(1 1h02:31 Fabrice Van Espen)	
47 1h14:29 Henry Heavisides
536 finished

Run Sunday, Sun 20 Oct
Weekly 3 mile timed run on Otley Chevin. Results:

(1 20:10 Zander lee, U/A)
8  24:36 Will Worboys
14 28:26 Petra Bijsterveld 
21 finishers

Bilbao Night Half Marathon, Sat 19 Oct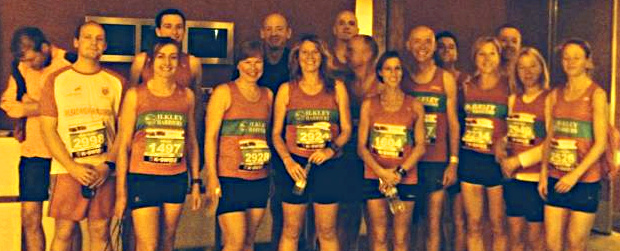 Nigel Tapper tells all ... another great turnout for this year's International road challenge with excellent category positions by some in what turned out to be a very tough event! Most people would rather forget the very congested, narrow out'n'back first 6km, the gloom and the heat/humidity but looking at the results we didn't do so bad in a field full of club runners with few or no fun runners to be seen!
The course started and finished outside Bilbao's Guggenheim Museum to a crescendo of fireworks. The route took in out and back paths and roads both sides of the river with a significant city centre loop. Congestion and on-coming runners over the first 6km were the initial challenges followed by heat and humidity in that order. We reckon most people were probably about 5 mins down on their usual times due to the conditions. Nevertheless it was certainly different and can be ticked off our bucket list even though nobody appears keen to repeat it!
Results...

(1   1:08 Manuel Nuevo)
229  1:29 Andrew Merrick 5th MV50
296  1:31 Jane McCarthy  3rd LV40
788  1:40 Alex Hirst 
821  1:41 Nigel Tapper 
944  1:42 Phillip Hirst 
1186 1:45 Jane Bryant 
1742 1:52 Dougie Scarfe 
1964 1:55 Anna Nolan 
2021 1:55 Helen Horton 
2831 2:10 Judith Scarfe 
2946 2:14 Matthew Rutter 
2976 2:16 Jacqui Weston 
3104 2:29 Suzanne Bickerdike 
3105 2:29 Emma O'Looney 
3134 Finishers 

parkruns, Sat 19 Oct

Skipton Aireville Park
(1 19:49 James Raven, Cardiff)
6  21:48 Oscar Stapleton (junior)
84 finishers

Harrogate Stray
83  23:52 Dave Ibbotson
162 26:26 Petra Bijsterveld
250 30:07 Elaine Ibbotson

Leeds Hyde Park
280 31:01 Christine Reilly

Roundhay Park
16 20:32 Geoff Howard

York
122 27:07 Adam Bennett

Lakeland Classics Trophy final results
Will Buckton reports ... Ilkley were 11th team out of 20 in this series of long races (see summer newsletter page 14 for some background info). Individual results ...

(1 298.4 Ben Abdelnoor Ambleside)
36 212.7 Will Buckton
40 207.9 Steve Turland
67 156.2 Neil Smith
88 77.6 Clare Smith
89 completed the series 

Withins Skyline, Sun 13 Oct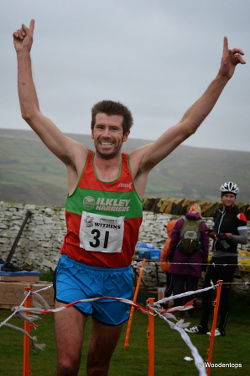 From Race Organiser Dave Woodhead ... "Tom Adams is maturing into one of Britain's best athletes and smashing Alistair Brownlee's 2006 course record time by 2 minutes is only enhancing this fact. Remember Alistair, 18 years old back then, had just returned from competing in the Beijing Olympics and was the World Triathlon & European Duathlon champion."

1   39:26 Tom Adams  Record
14  46:23 Martin Archer
42  50:57 Jim Ryder
46  51:09 Ian Rowbotham
59  52:08 John Houlihan
61  52:12 Richard Joel
88  54:42 Rob Cunningham
91  54:48 Duncan Cooper
106 56:11 Alistair Barlow
122 57:39 Jann Smith
189 65:10 Adela Reperecki
234 73:21 Amanda Newham
251 82:40 Julie Elmes
261 finished

Woodland Challenge, Sun 13 Oct
A Harriers Race League counter, Phil Hirst got some good points as 1st V55, results ...

( 1 36:07 David Watson. Holmfirth)
 80 48:52 Phil Hirst
182 57:30 Paul Sugden
193 58:09 Hilda Coulsey
284 finished

Run Sunday, Sun 13 Oct
Weekly 3 mile timed run on Otley Chevin. Results:

(1 22:19 David Womersley, Hyde Park)
9  28:25 Petra Bijsterveld 
20 finishers

Great Eastern Half Marathon, Sat 12 Oct
Nicky Green beat her own Club F40 record of 83:34 set at the Robin Hood Half on 29th September. Results ...

(1  63:59 Nicholas Kirui, Runfast)
127 82:44 Nicky Green
3845 finished

Langdale Horsehoe, Sat 12 Oct
From Dave Wilby ... Will Buckton set a great new PB, Ben Sheppard wasn't far behind in his first ever Lakes fell race (!!) and Jane McCarthy was a fabulous 5th lady and 2nd V40, behind the winner of the Lakeland Classics series and the joint winners of the English & British Champs...fine company indeed!! Loads of other Harriers out, great to see a good turnout at a proper fell race, perfect day for it.
From Ben Sheppard ... So this is Lakeland fell racing. Steep climbs, boggy traverses, technical descents, splendid views, a couple of hairy moments, a pastie and a pint in the good company of kind and generous clubmates. Some classy and gutsy performances from Harriers not only at the front of the pack (Dave and Jane in the prizes) but throughout the field, some first timers and some seasoned veterans - in Bob's case a mere 31 years after his previous running of this race!
Be inspired by Bob's photo story of the day.

(1  2h07:00 Ben Abdelnoor, Ambleside)
10  2h17:30 Dave Wilby
47  2h33:06 Will Buckton
87  2h45:15 Ben Sheppard
94  2h46:32 Jane McCarthy  5th lady, LV40 prize
135 2h52:52 Dick Waddington
190 3h06:16 Kate Archer
214 3h10:30 John Hayes
250 3h15:45 Neil Smith
344 3h47:49 Clare Smith
345 3h47:49 Eleanor Bradley
351 3h50:25 Bob Hamilton
357 3h54:45 Helen Waddington
363 3h58:28 Steve Weston
381 finished

Ilkley had 3rd ladies team, comprising
Jane McCarthy, Kate Archer, Clare Smith and Eleanor Bradley.

Wasdale, Sat 12 Oct
Will Buckton reports ... Iain Gibbons cemented his position as 13th senior male in the BOFRA Championship with 17th place finish at the Wasdale Show fell race, a dash up and down the 802m summit of Kirk Fell. Results ...

(1 38:03 Sam Watsson, Wharfedale)
17 49:39 Iain Gibbons
55 ran

Coniston 14, Sat 12 Oct
From Jean Sullivan ... A superb location, with fantastic scenery for this 13.895 mile run! Lots of sunshine, great send off and welcome home by a local jazz band and excellent home made cakes available afterwards!
Jonathan Sinclair adds ... Saw Alex's heels for the first 2 mins and sorry I didn't see Jean to say hello (or Ben Shepherd who usually comes to this one and I see has been posting some great results this year) but did reach the finish rather more slowly than last year. Wonderful to be out again after a few months injury.

(1  1h16:03 John Herbert)
18  1h29:51 Alexander Sinclair
40  1h34:53 Jonathan Sinclair 2nd MV50
518 2h05:09 Jean Sullivan

parkruns, Sat 12 Oct

Skipton Aireville Park
(1  18:15 Jack Smith, Wharfedale)
4   19:39 Steve Turland
8   20:44 David Brown
11  21:25 Oscar Stapleton (junior)
25  22:43 Ben Joynson
51  26:24 Janet Grace
64  28:54 Petra Bijsterveld
83  32:22 Elaine Ibbotson
85  32:23 Rosalind Brown
102 35:17 Katie Turland (junior)
111 finished

No other parkrun results this week

Primary Schools XC, Sat 12 Oct
700 (OK, 697!) children ran at Ghyll Royd School's event today, the first in this year's Wharfedale Primary Schools' XC League. Results ...
Ian Hodgson Mountain Relay, Sun 6 Oct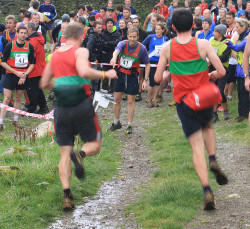 From Will Buckton ... the IHMR is an ultra competitive event as the northern fell running clubs take their strongest runners to the Lake District to take on the 40km/2450m ascent, split into four legs. Visibility on the day was poor and navigational skills were required as well as fitness - eight teams were forced to retire lost. Ilkley's men showed their strength in depth as, despite sustaining some last minute injuries, they were able to take a strong team and made no navigational errors to finish 20th overall in these challenging conditions. Ilkley ladies rounded off their impressive season with fourth in a close competition.

1  3h47:35 Borrowdale

20 4:29:46 Ilkley Open
24   40:58 Iain Gibbons, Rob Cunningham
24 1:22:30 Dan Wilkinson, Steve Turland
28 1:07:26 Will Buckton, Nick Pearce
13 1:18:52 Dave Wilby, Martin Archer

42 5:11:03 Ilkley Ladies
34   44:52 Nicky Jaquiery, Alison Eagle
58 1:41:35 Jann Smith, Rebecca Mon-Williams
34 1:12:09 Alison Weston, Kate Archer
43 1:32:27 Andrea Priestley, Sally Morley

62 teams finished

Chester Marathon, Sun 6 Oct
From Neil Bloor ... took a trip to Chester but limped over the line in 4h16 after a bad cramp attack in the heat at mile 21. However thought it worth mentioning what a great event this was - really well organised, very enthusiastic supporters and refreshment volunteers, the organisers even welcome everyone personally over the line at the end. There were around 4500 entries and both male and female course records were broken this year which made it interesting for spectators.
Open 5, Ilkley, Sun 6 Oct
From Jo Taylor ... Despite not touching the Moor the routes were great quality, with enough challenge on both run and mountain bike sections to make the day enjoyable without being impossible in the heat of an October day in Ilkley! After doing these races for a number of years we were delighted to see it at home. We were 13th mixed pair with 425 points which we were happy with. There were plenty of better results than that amongst Harriers. Well done Sue Booth for taking on the planning. Results
Run Sunday, Sun 6 Oct
Weekly 3 mile timed run on Otley Chevin. Results:

(1 18:50 James Tarran, Valley Striders)
2  19:09 Jamie Hutchinson
30 finishers

WMRA Grand Prix, Slovenia, Sat 5 Oct
Well done to Tom Adams on a top 10 place (9th in 45:49 and 2nd Brit by just 11s) in the sixth race in the World Mountain Running GP, held in Ljubljana. Results ...
Saddleworth Edges, Sat 5 Oct
From Ian Rowbotham ... A challenging step start led onto the moor. Then over 5 miles of stunning edge running with the views to match most of the time. Much of this scenic run is on challenging surfaces including dark peat. It's a well run race with a strict kit check. Thanks to the marshals and those who provided the results by the time you have had a drink of water! Recommended. Ian Rowbotham 11th 1st Vet 50. Results ...

(1 60:50 Coln Bishop, Saddleworth)
11 69:47 Ian Rowbotham  1st V50
140 finished

parkruns, Sat 5 Oct

Skipton Aireville Park
(1 17:57 Jack Smith, Wharfedale)
2  18:06 Matthew Cox
7  20:51 David Brown
13 22:07 Emma Barclay
30 25:29 Kevin Lawson
61 29:31 Joe Ibbotson
83 32:44 Elaine Ibbotson
84 32:48 Christine Reilly
103 finishers

Bradford Lister Park
44  22:16 Phil Hirst
85  24:08 Will Worboys
128 25:49 Peter Lewis

Leeds Hyde Park
284 28:29 Harry Stead (jun)

Preston
16  20:50 Oscar Stapleton (jun)


---