Ilkley Harriers news archive 2013
Ilkley Harriers of the Month, July
Kate Archer
For continuing good race results on the fells
Other nominations were: Sharon Meadows - for her Lakeland 100/50 race
Neil Smith - for training hard & completing the Lakeland 100/50 and continuing good results in long races
Neil & Clare Smith - for their performances in the Lakeland 100/50
Rob Cunningham - for numerous good race results
David Westhead
For his sub 36min 10k at the Jane Tomlinson Leeds 10k
Earlier Harriers of the Month ...
St Ives beach 10K Cornwall, Tue 30 July
From Dave Iibbotson... this new race starts on the beach at low tide on the west end of Hayle beach, St Ives, Cornwall. The course takes you along the length of the beach before turning into the sand dunes at Hayle Towans. Beautiful scenery surrounds you as you follow well trodden paths and you are eventually faced with the 'Big Dune' – a very steep intimidating dune of soft loose sand. Once over this, you descend back to the beach for a long last mile slog to the finish. I did 51 minutes 54th out of 115 entrants. Winner Ben Price Cheltenham 35:39
Training, Tuesday 30th July
Please note there is no training at ILTSC this week as there is a major tennis tournament on. There is an Away Run as described in the Forums.
See also the Google Calendar and training page for details of any training sessions taking a "summer break".
Blisco Dash, Sat 27 July
From Clare Smith... Provisional results for this English Championships Short counter:

Men
102 51:44 Nick Pearce (1st M60)
138 55:26 Will Buckton
147 55:50 Bradley Chapman

Ladies
22  56:01 Kate Archer
34  58:21 Alison Weston (3rd LV45)
39  58:51 Jann Smith
65  67:13 Sue Booth

UTLD 50/100 mile, 26/27 July
From Clare Smith... Neil Smith finished 51st out of 274 starters (174 finishers) in the Lakeland 100 event in a time of 32:25:13. Clare Smith finished 201st out of 583 starters (482 finishers) in the Lakeland 50 in a time of 13:28:50.
Read Sharons's adventures! ...
From Sharon ... Was lovely to see Neil at the start of the Lakeland, but that was all I saw of him as he zoomed off into the distance. Well done to both you and Clare. My race went well until mile 82 when in the pitch black and torrential rain I got lost. All I could see was the rain illuminated in front of my face. Myself and another runner (Elaine) could see the lights from the checkpoint but after an hour and a half of trying every route we could think of we still could not get to it. My GPS screen was so blurry that was no use either. I tried to ring the race emergency number as by now we were getting very cold but of course there was no reception. There were a few houses near the checkpoint but no lights on. All I could think of to do to keep safe was knock on a door. Poor man! Bless him he answered the door in his pants and T shirt, I apologised as much as I could and explained what had happened. I thought he might make a call from his land line but no he got dressed and said he would walk us round as it was only 5 minutes away! When we got there the marshalls said they could see us wondering around but could not get to us either. Unfortunately that meant we only had an hour and a half to get to the checkpoint and it would take at least 3, so we were not allowed to continue. I was really annoyed as still felt good and I was determined to finish. It was not to be, but they did make us some cheese on toast which was lovely. After a lift back to the start just to add to the misery, I was locked out of the B&B. Now of course I am going to have to do it again!!
Lancaster 5km, Sat 27 July
From Beth Massey ... Unable to resist another opportunity to race over 5km I headed off into Lancashire for the 3rd of the Lancaster Summer 5km series. Not going to be caught out again by a 5km race being marked out in miles I'd worked out my pace beforehand! Unfortunately, I forgot to tell my legs and I was off the pace from the start going though the first 2 miles well off target and on course for a 20min+ time. My legs finally got the message and did the final mile at my target pace! I crossed the line in 19mins 44secs finishing 3rd lady (1st F40) a bit slower than I'd hoped for but a good effort! This is genuinely a PB course as it is run on a flat, traffic free circuit, although it would benefit from a bigger field as it can be a bit of time trial. Having said that, the first 9 men and 1st lady were all under 17mins with James Reed of Altrincham & District winning in the very swift time of 15mins 14secs.
If you're on form and running well it's certainly worth making the effort to travel to Lancaster to take part in this friendly series.
Parkruns, Sat 27 July
Bradford Lister Park
54 23:37 Joe Reynier

Harrogate Stray
147 25:35 Emily Elmes
152 25:44 Julie Elmes

Leeds Hyde Park
84 22:54 Cameron Reilly
85 22:54 Arthur Reilly

Wimbledon Common
5   17:45 Dave Wilby
274 29:41 Kelly Harrison

Cracoe fell race, Sun 21 July
BOFRA Championship race ...

(1  20:54 James Hall, Wharfedale)
15  24:07 Bradley Chapman
19  24:39 Steve Turland
21  24:53 Iain Gibbons
49  29:21 Jann Smith
95 finished

Harrogate Town Centre 10k, Sun 21 July
From Henry Heavisides ... The course for the Harrogate Town Centre 10k is 2 laps of a residential area. It is undulating with lots of twists & turns. The weather was overcast & not as hot in recent days which made it quite pleasant for running a 10k. Rob Cunningham continued his fine run of recent form with a time of 36:13 for 13th place. 11 runners from Ilkley Harriers took part in the race. Results ...

(1   32:18 David Turnbull, Homfirth)
13   36:13 Rob Cunningham
40   39:29 Henry Heavisides
120  44:20 Michael Duffield
137  45:23 Neil Bloor
138  45:29 Philip Hirst
157  46:27 Chris Cunningham
243  50:38 Karen Lambe
286  52:56 Allison Ricci
346  56:01 Julie Elmes
351  56:27 Emma Payne
360  57:01 Sally Wright
378  59:05 Carole Cunningham
440 finished


This was a counter in the Ilkley Harriers Race League ...
Pudsey Multi-terrain 10k, Sun 21 July
From Paul Stephens... I like this race. It's a varied course, half off-road with some steep hills. Staring from the Cenotaph in Pudsey it plunges down into the Fulneck Valley, climbs out on the Bradford side, loops round and descends again with a steep ascent back up to Pudsey and a 3km finish along the roads, the last 800m uphill and into the park. There was a great crowd all the way around and plenty of marshals. I was the only Harrier, and was reasonably happy with my time of 47.10 and 76 place out of 351. It was a minute or two slower than in 2010, and a few places down, but a good friendly race. Results ...

(1 36:14 Christian Holmes, Wharfedale)
76 47:10 Paul Stephens
351 finished

Cheshire half marathon, Sun 21 July
From David Green ... this was my first half marathon and I can thoroughly recommend it as a course for the half marathon novice. The race starts and finishes at Arley Hall and is flat, well marshalled and takes in the best of rural Cheshire. The flat course and cooler conditions helped towards a sub-2 hour finishing time. A second Cheshire half marathon is held is in November at Capesthorn Hall.

(1  1:09:07 Tarus Elly, Salford Harriers)
213 1:53:07 David Green
379 finished

Run Sunday, Sun 21 July
Weekly 3 mile timed run on Otley Chevin. Results:

(1 19:38 Simon Anderson, Otley AC)
4  21:48 Tilly Melechi
23 finished

Kentmere Horseshoe, Sun 21 July
More from Will Buckton ... I followed Ingleborough by completing my 25th FRA fell race of 2013 on Sunday at the Kentmere Horseshoe (AM 19.8km/1006m). A classic race taking in the summits of Ill Bell, High Street and Kentmere Pike with some excellent grassy ridge running and fast descents. Although my legs were pretty tired in the first couple of miles, I soon got going and had a reasonable run to finish 38th out of a field of 214 in 1h53. Met a new Ilkley Harrier called Dan who I chased round and he finished strongly just ahead in 1h52.

(1 1h32:33 Rob Jebb, Bingley)
38 1h53:58 Will Buckton
212 finished

Ingleborough Mountain Race, Sat 20 July
From Will Buckton ... There was a great turnout of Harriers on Saturday at the Ingleborough Mountain Race (AM 11km/600m). It's a huge climb from Ingleton and a flying descent. Good to see Martin Archer back on the fells and first Harrier home. Ilkley cleared up four prizes with Jane McCarthy taking 1st Lady and LV40, Ian Rowbotham 1st V50 and Nick Pearce 1st V60. I needed a sprint finish to sneak under an hour in 59:58 according to my watch! Results ...

(1  50:08 Benjamin Riddell, Salford Harriers)
15  58:09 Martin Archer
23  59:58 Will Buckton
26  60:38 Ian Rowbotham 1st V50
28  61:40 Nick Pearce 1st V60
38  63:16 Jane McCarthy 1st Lady and LV40
39  63:28 Dick Waddington
80  70:52 Geoff Howard
87  72:26 Outi Kamarainen
138 91:59 Sue Morley
140 finished

Snowdon International Mountain Race, Sat 20 July
See Pete Shields in this video
Caz Farrow ran in the new Snowdon Super Cup (uphill only race to tie in with the full Snowdon Race), 24th in a quality field.
Results ...

(1 68:50 Andi Jones)
440 2:06:10 Pete Shields
529 finished

Snowdon Super Cup
(1 40:53 Wegene Tefese)
24 60:02 Caz Farrow
28 finished

Parkruns, Sat 20 July

Bradford Lister Parkrun
43  23:13 Joe Reynier
222 37:08 Abbie Reynier

Walsall Arboretum
84  27:15 Emma O'Looney

Eshton Moor fell race, Thu 18 July
Jeff Green reports... the race used to be called Gargrave Cross Country and according to my calculations, it wouldn't count as a category "C" under FRA rules. But who cares?! This was a BOFRA race and a very friendly, low key one on a beautiful summer evening. There wasn't a huge turnout and it would have helped to have had a few more runners who knew the route, especially near the front. I think the eventual winner ran the furthest as well as the fastest. There was some enthusiastic junior racing too with an excellent 3rd place for Max Bradley in the Boys U12s race. Results ...

(1 36:06 Craig Shearer, KCAC)
3  37:19 Jeff Green
30 finished	

Golden Acre Relays, Wed 17 July
Lynn Donohue reports ... A beautiful summers' evening at Golden Acre, lots of teams - 113 in total and three Harriers teams: Junior girls, ladies team and a mixed team. Teams of three each running about 2.75 miles each, largely based on the PECO cross country course, a mixture of parkland, woods and fields. Won by a junior boys team from City of York in a new course record 44:22, in fact City of York had a brilliant evening wining the Junior girls and Ladies teams. Our junior girls of Tilly Melechi, Iso Hirst and Joanne Williamson had a good run finishing 50th in 59:18. It was very last minute making up the mixed team with only 2 runners until 5 minutes beforehand but we managed to borrow a young man from Abbey Runners and Keith was very pleased as he managed to finish in a faster time than the youngster! Results ...

(1  44:22 City of Yorks boys, new course record)
50  59:18 Team Robbie (Ilkley Junior girls)
          Tilly Melechi, Iso Hirst, Joanne Williamson
82  67:10 Ilkley old 'uns and a young 'un (Mixed)
          Keith Wood, Lynn Donohue, Edward Thirkell
101 73:15 Young & Old (Ilkley Ladies  Vets)
          Sue Williamson, Kate Lofthouse, Sarah Hayes
113 teams finished

Stretford track, Tue 16 July
Georgia Malir ran another 3000m PB l, her time was 9:44.02 placing her now 10th U20 in the UK.
Holme Moss fell race, Sun 14 July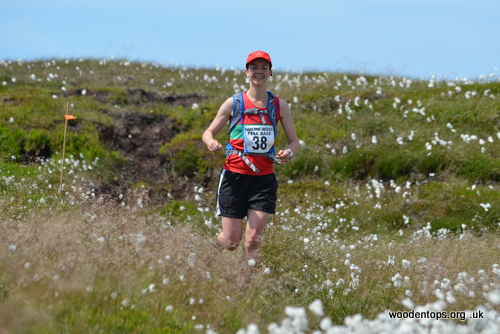 Kate Archer, leading lady at Holme Moss. Results ...

(1 2h23:19 Karl Gray)
29 3h47:51 Kate Archer
66 finished


Jane Tomlinson Leeds 10k, Sun 14 July
Dave Westhead reports ... a sweltering 10k round a new course. Results ...

(1   30:41 Tesfaye Debele, Bradford Airedale)
26   35:53 David Westhead (1st V45)
131  40:51 Sally Malir    (1st F45)
878  47:55 Kevin Lawson 
839  49:04 Andrew Mitchell
1646 53:38 Charlotte Smithson
2225 54:05 John Marshall
2480 55:09 Emma Curran
3283 58:25 Sally Wright
5072 67:43 Andrea Westhead
7028 finished
(finish order, chip time)

Addingham Gala fell race, Sat 13 July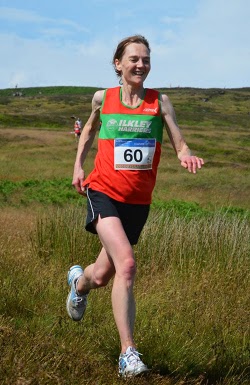 Ilkley Harriers regained the Mob Match trophy, narrowly defeating Bingley Harriers 1381 points to 1355, every runner counting as both clubs fielded 16 runners. Super results all round, especially considering it was the hottest day of the year so far! A big thank you to all those who marshalled and helped out. This race is going from strength to strength, with a record field of 81 runners even on a day when it would've been nice to just sit in the beer garden!
Results
Woodentops photos

(1 43:44 Gareth Hird, Wharfedale)	
4  46:01 Rob Cunningham
8  47:46 Ben Sheppard
10 48:19 Alistair McInnes
13 48:29 Ian Rowbotham
18 50:54 Mark Mon-Williams
24 52:28 Geoffrey Howard
26 52:43 Rebecca Mon-Williams 1st lady
27 53:02 Ali Wood
36 56:17 John Hayes
42 58:18 Steve Weston
48 59:14 Paul Stephens
51 60:44 Philip Hirst
70 68:03 Lynn Donohue
76 76:17 Peter Lewis
77 77:52 Paul Sugden
59 63:42 David Ibbotson
79 finished


This was a counter in the Ilkley Harriers Race League ...
Wasdale fell race, Sat 13 July
Dave Wilby reports on this English Championships counter, 21 miles with 9000' of climb... the toughest fell race in the calendar certainly wasn't made any easier by a late morning start on the hottest day of the year so far, but a good number of Harriers put in some fantastic performances to conquer the course in fine style. Steve Turland showed an excellent return to form to lead home the travelling contingent, and was followed home by the ice cool Will Buckton who knocked over an hour off his time of last year, despite conditions meaning times in general were slower by at least 10-15 minutes. Nick Pearce took on Wasdale for the first time, and despite doing the 120 mile White Rose cycle ride last weekend still had the legs to come home 3rd in his age group. Alison Weston ran brilliantly to lead home our ladies and maintain her consistent run of times, despite the conditions. Also completing in very fine style were Jann Smith, Neil Smith, Duncan Cooper & Clare Smith. Despite pre-race fears of missing the tough time limits, Clare raced through the final cut-off at Great Gable in good time, and kicked on to finish well inside 7hrs.
from Alison W... thanks to all who ran in such hot conditions. We got both men and ladies teams round this really gruelling race. And a very BIG thanks to all the supporters too especially Helen Waddington who carried bottles and bottles of water up to Styhead Tarn which was most appreciated and to Dave who helped Joss Naylor give out water at the road crossing, amidst lots of requests from runners for photos with Joss!
Results ....

(1  3:55:19 Ben Abdelnoor, Keswick)
53  5:07:06 Steve Turland
76  5:22:17 Will Buckton 
99  5:38:17 Nick Pearce  3rd MV60
108 5:50:42 Alison Weston 2nd LV45
113 5:52:29 Jann Smith
139 6:07:16 Neil Smith
146 6:12:44 Duncan Cooper
188 6:53:49 Clare Smith
192 finished
4th ladies team, and 3rd LV40 team


Alva fell race, Sat 6 July
BOFRA Championship race ...

(1  21:26 Alastair Dunn, Helm Hill)
19  27:25 Iain Gibbons
67 finished

Parkrun results, Sat 13 July

Bradford Lister Park
35 22:04 Oscar Stapleton

Washburn Valley Relays, Fri 12 July
Ben Sheppard reports ... Good Ilkley performances across the board on a lovely night for picnicking. Which, incidentally, is what Malcolm was doing when he should have been at the prize giving as part of the winning men's team. All were spared the spectacle of us celebrating like we'd taken gold in the Olympic 4x100 by the fact we were oblivious to our momentous victory until the organisers pointed out the team home before us were a mixed team. We were further denied the opportunity to over-celebrate with trophy waving by the fact the organisers had 'temporarily mis-placed' (lost) the 'trophy' (shiny plastic egg cup with handles). Meanwhile the ladies' excellent run was edged out only by another team of talented youngsters, running in Yorkshire vests. Despite another good performance the mixed team could not match Baildon's mixed team, which finished first overall. Thanks to Neil for organising us.
Results from organising club Otley AC ...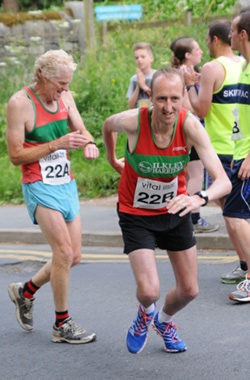 (1 64:31 Baildon (mixed))

2  64:43
   20:57 Malcolm Pickering
   24:21 Ben Sheppard
   19:25 Rob Cunningham (fastest on leg 3)

8  67:52 Harrogate (1st ladies)

10 69:00 
   20:40 Beth Massey
   27:11 Caz Farrow
   21:09 Sally Morley
   
36 86:38
   26:52 Allison Ricci
   37:45 Julie Elmes
   22:01 Alistair Wood
   
39 86:55
   30:19 Sally Wright
   29:10 Rachel Carter
   27:26 Lynn Donohue
   
49 teams finished


Loads of junior teams out too, and Ilkley brought home the trophy for first junior team!
Next local relay is the Golden Acre Relay next Wednesday 17th July.
Norman Smith Handicap race (HDSRL), Wed 10 July
The finale of the 2013 Harrogate District Summer Race League was staged this year at Thirsk. Both Don and Petra beat scratch runner Ian Fisher in the handicap race, Don was just 1 second away from a trophy for 3rd place! And another race with free beer, plus an excellent supper and the presentations of the League trophies and medals (alas no silver-ware for Ilkley this year!)

Handicap positions, race times
4   50:07 Don Macrae
110 51:38 Petra Bijsterveld
133 31:31 Ian Fisher, Otley AC, fastest time)
162 finished

Stirton fell race, Wed 10 July
From Paul stephens ... A lovely little race, a beautiful evening, a little cooler than Tuesday, and a bottle of beer for all finishers. I thought I'd done the race before - back in the 1990s. But I was mistaken. I had raced in the area before - in 1993 and 1995. But it was called Airdale Pikes in those days and organised I believe by 264 (Skipton) Air Training Corps or possibly Clayton-Le-Moors Harriers. Judging from the times it was probably a similar distance but I'm sure the course was different.

(1 37:04 Stephen Chew, Barlick Fell Runners)
15 42:06 Bradley Chapman
23 44:17 Will Buckton
33 45:39 Richard Joel
45 47:31 Paul Stephens
96 63:05 Sue Morley
98 finished

Hyde Park Harriers Summer Mile, Wed 10 July
From Sally Malir ... Georgia and Sally Malir ran this well organised 2 lap mile race last Wednesday. Georgia was 3rd woman over all in 5:05.8 (actually breaking last year's record) and Sally was 13th (think first old woman) in 6:00.8. After the race walking event there were 10 waves of runners organised on predicted times which meant that you could spectate as well as participate! There was also supper (chilli and cakes) included in the race entry of £5. We had a great time and recommend this race to anyone.
Stoodley Pike fell race, Tue 9 July
From Will Buckton... Enjoyed a nice run (BS 5km/213m) up and down Stoodley Pike on a beautiful Tuesday evening in Calderdale.

(1 18:59 Rob Hope,  Pudsey & Bramley)
56 25:45 Will Buckton
186 finished

Verbier St Bernard Boucle 110 km Ultra Trail Race, 6/7 July
From Brian Melia ... a beautiful ultra trail race set in and around Verbier, Switzerland, with constant views of the magnificent Grand Combins. The event covered some very high cols which were covered in deep snow making racing very difficult in extreme heat. I finished 26th in 19hrs 38 mins and was pleased to have run so well. Not sure I will attempt it again as the final climb from Loutier to La Chaux is one of the most difficult climbs I have encountered. www.trailvsb.ch
Lakeland Trails marathon, Sun 7 July
From Ben Sheppard ... A breathtakingly picturesque circuit of Coniston Water on footpaths and bridleways taking in Tarn Hows and the Beacon Tarn, with views of the lake and the surrounding peaks of the Old Man, Swirl How, Wetherlam and Dow Crags. One other harrier, Ewan Welsh, was up for it too after a spell on the sidelines of late.
Fully marked, well supported, well organised and friendly (the race, not me), highly recommended for trail runners who like to be pampered, road marathoners who fancy a change, and even hard-as-nails fell runners who fancy a soft option.
The heatwave took its toll, the last 7 miles a real slog on an undulating course, but held it together for a PB (it being my first marathon) of 3 hours 43.
Read Ewan Welsh's bit ...
From Ewan Welsh ... As Ben has mentioned I did indeed return to duty after a year on the sidelines (knee op), doing a trail marathon in July after a year off seemed like a good idea 5 months ago! Ben's description of the race is spot on although I could elaborate on how the heat took its toll! As it was the first race back and a long one to boot I decided to take it even more steady than the normal steady approach, however at about 30k I realised I had lost that much fluid that the end was inevitable, plus the intake of more fluid just seemed to result in me bringing said fluid back up, some casual passer-by did ask if I had already gone for a swim in the lake ... hey, funny guy out walking with your laminated map, not that I'm bitter!
I recognised the tell tale sign of failure in the heat from previous disasters in the heat, so I stopped at the 32K water station and chilled out for a bit in the shade, and also helped a fellow runner with cramp (there for the grace of god). I walked over the next 'undulating' 7k and managed to shuffle over the last 3k, I would like to say I finished like a trans-euro trendy trail runner honed over the hours of mountain pass running, however I felt more like a combusting teletubby, so as I finished (in just under 5 hours, PBs don't factor into it these days !) I walked straight into Lake Coniston and sat submerged for a good half hour, an action which I had been obsessing about for the previous 60 minutes, I have to say that was one of the most blissful experiences of my life and one that made the day worthwhile.
The race itself is a wonderful route, there's always the chance it'll be hot, but that's all part of the gig, very friendly atmosphere, they put on two marathons on the day incidentally, the first one is open to walkers and runners, the 2nd one is the race as such, apparently a few changed from the race to the earlier event to avoid the heat (one starts at 7am the other at 9am), perhaps that should have been my ploy, however then I wouldn't have enjoyed the swim in the lake so much.
...also, I have to say, I enjoyed just being back out and happy that I finished in a mechanically sound state.
Results

(1  2h54:21 Marcuss Scotney, Howgill Harriers)
21  3h43:24 Ben Sheppard
188 5h07:16 Ewan Welsh
259 finished

Eccup 10, Sun 7 July
From Beth Massey ... The Eccup 10m took place on what must have been the hottest day of the year so far! Not the easiest of courses at the best of times, the undulating route and excessive heat certainly took its toll! The race incorporated the Yorkshire Open and Yorkshire Veterans AA Championships so attracted a good quality field and a record number of entries. It was great to see eight Harriers representing the club in the race and the ladies in particular were well placed in the YVAA Championships. I was first Harrier home in 67mins 40secs finishing 2nd FV40 in the Yorkshire Champs. Caz Farrow also ran well taking 1st FV35 in 69mins 50secs, and Emma Barclay taking 1st FV45 in 70mins 44secs. Martin Archer finished in 69mins 32secs, Anthony Swanepoel 85mins 59secs, David Green 94mins 15secs, Petra Bijsterveld 104mins and Donna Hattersley 104mins 41secs, all really good efforts in tough conditions.
Results c/o David Green...

(1    55:07 Matthew John, Otley AC)
70  1h07:40 Beth Massey
88  1h09:32 Martin Archer
90  1h09:50 Catherine Farrow
106 1h10:44 Emma Barclay
376 1h25:59 Anthony Swanepoel
502 1h34:15 David Green
628 1h44:00 Petra Bijsterveld 
637 1h44:41 Donna Hattersley
751 finished

English Junior Fell Champs - Langdale, Sun 7 July
From George Elmes... 8 juniors made the trip across to the lakes to compete in the final round of the championship in the stunning setting of the Langdale Valley. In scorching weather all performed fantastically well to ensure Ilkley finished 6th in the 2013 club championship out of over 70 clubs competing. The future is looking bright!
A fantastic effort by all that have put on an Ikley vest and competed at the highest level in the championship this year.
Full report and results soon.
Run Sunday, Sun 7 July
Weekly 3 mile timed run on Otley Chevin. Results:

(1 19:34 James Tarran, Valley Striders)
4  21:25 Toni Melechi
6  21:58 Tilly Melechi
16 finished

SLMM, 6-7 July
From Paul Stephens ... An unexplored part of the Lake District with superb views out to sea, and across the Duddon Sands, Corney Fell was the location for this years Saunders. And we escaped the worst of the heat both days, although Sunday was a little more humid. This was the 10th SLMM my brother and I had competed in. I guess we were slightly disappointed with our result - 53rd out of 130 finishers in the Carrock Fell category - 20km and 805m on the Saturday and 17km and 840m on the Sunday. Our excuse was that the weather was too good, and the checkpoints too easy to find. But it was still a great weekend, and no injuries or stiffness afterwards. We obviously didn't try hard enough. Other Harriers included John and Sarah Hayes, and Gavin Burgess in the Harter Fell, Rachael and Kevin Gooch in the Kirkfell, and Outi Kamarainen in the Scafell.
Read John Hayes' report ..,From John Hayes ...For some reason, we've never done the Saunders Mountain Marathon before. Well, in fact, there is a reason. It is always held on the first weekend in July and therefore clashes with Sarah's birthday. I've never managed to persuade Sarah that there could be nothing more romantic than running round the Lake District, drinking from streams, running over never-ending tussocks, climbing unfeasibly steep hills, squashing into a small tent and queueing with hundreds of other smelly fell-runners for a woefully inadequate number of portaloos. But this year, we decided to enter. It is a great event. I particularly like the old-fashioned approach of dishing out a map and making you mark on your own route with a red pen. This adds to the excitement of the whole thing (with the added tension that you might mark the control in the wrong place). If only they adopted the same old-fashioned attitude to the toilets (in the good old days, there was never a queue for the communal trench...) Another novelty is the provision of milk, soft drinks, beer and cider at the half way camp. After picking up our modest one can of cider (to share) I watched in awe as the woman behind me loaded up with 8 cans. The supply of drinks was particularly welcome as we enjoyed a glorious weekend of blue sky and sunshine. In fact, it was so hot that (in a curious reversal of how I normally feel on these events) I poked my head out of the tent on day 2 hoping to be greeted with thick mist. But it was not to be. This made navigation relatively easy as you could spot the orienteering controls from miles away (when in misty conditions you might run within a few feet of the same flag, not see it and head off 200 yards downstream looking for an hour in the wrong place). I suspect this made people's times a bit faster than usual. This was no bad thing as, after finishing and scoffing down the sausages, mash and mushy peas and drinking gallons of tea, we hopped in the car and got back home in time to watch the latter half of Andy Murray winning Wimbledon. What a weekend of sporting glory ... although I suspect that our result will not quite secure a nomination for BBC Sports Personality of the Year.
 
Carrock Fell Class:
(1 6h04 Keith Masson & Alistair Masson
53 8h17 Paul Stephens & Graham Stephens
130 finished
 
Harter Fell Class
(1 6h32 Thomas Pomfrett & Mark Pniewski)
43 8h33 Gavin Burgess & Alex Miller
45 8h40 John Hayes & Sarah Hayes
129 finished

International 10k success for Tom, Sat 6 July
Tom Adams finished 4th in 35:16 first Englishman behind 3 Welsh lads winner being Andrew Davies in 33:16, in the 10k race to accompany the IAU Trail World Champs event. Top result!
Georgia 3rd Brit at Euro Mountain Running Champs, Sat 6 July
Georgia Malir was 3rd Brit in 29:06 in the Junior Women's race at the 12th European Mountain Running Championships in Bulgaria, read her full report.
Harris half marathon, Sat 6 July
From Henry Heavisides ... The Isle of Harris half marathon was a new experience for me in many respects. Firstly it was a point to point race, starting by the beach on the west coast of Harris with waves crashing in off the Atlantic & finishing in the village of Tarbert 13.1 miles away over several hills (including one big one). Secondly I've never run a half marathon in a howling gale with horizontal rain (fortunately the wind was behind us most of the way). The temperature was only about 12 degrees, yes I know that it's been more than double that at home, so it felt more like mid winter than mid summer. The main hill resembled running up to Langbar, only much bleaker. Apparently there was a record entry for the race today, not sure how many ran, but normally it's about 100. I managed to finish in 1:27:02 which is difficult to judge given the terrain, the weather & the following gale. I ran the second half more than two minutes faster than the first half, reflecting most of the uphill sections being before halfway.
If you're ever in the Western Isles in the summer(?) look out for half marathons organised by Stornoway AC, they promote a series of 5 races on different islands from May to July. This race was very well organised with lots of food for runners at the finish.
Results

(1 1:11:23 Keith Hood, Corstophine AAC?)
19 1:27:03 Henry Heavisides
109 finished

Oakworth Haul, Sat 6 July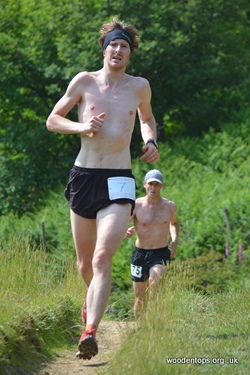 From Dave Wilby ... A nice low key, fairly local race (5m/650ft) as part of the Oakworth village gala. The terrain takes in plenty of tracks, trails & fields with a few undulations thrown in for good measure on a 'lollipop' style course. I started off well enough and led until just over half way but then detonated in the unrelenting heat (I'd spent the hour before the race praying for snow!) and wobbled home a shabby wreck in 2nd place. Sue Morley faired much better in the heat and had an excellent run to claim 1st place in her age group. A good turnout of approximately 40 runners despite there being loads of higher profile events on across the weekend.
Results later
Kirkby Gala fell race, Sat 6 July
Jann Smith reports on ... this BOFRA Championship race ...

(1  30:31 Simon Bailey, Mercia)
31  42:48 Jann Smith  2nd Lady
62  70:18 Julie Elmes
62 finished

Parkrun results, Sat 6 July

Bradford Lister Park
11  20:12 Steve Turland
280 39:11 Abbie Reynier

Leeds Hyde Park
15  19:29 Arthur Reilly
67  23:12 Cameron Reilly
125 25:53 John Marshall

Danefield Relays, Wed 3 July
Our team of Will Buckton, Bradley Chapman, and Rob Cunningham, was 6th in 63:22 (winning team 58:22, 41 teams completing). Results
Rochdale 10k, Tue 2 July
From Rob Cunningham ... Results (with a family theme!) from a bumper field ...

(1  32:16 Ian McBride, Royton Road Runners)
13  36:39 Rob Cunningham   
162 47:20 Chris Cunningham 
306 58:51 Carole Cunningham
340 finished


---