Ilkley Sportshall Athletics was set up in September 2002 by a number of volunteer coaches who were all runners with Ilkley Harriers. It was obvious from the start that Sportshall Athletics alone was not enough. Their talent, enthusiasm and motivation was crying out for a local Junior Athletics club that could cater for their demands so......
Junior Ilkley Harriers (JIH) was established on 1st September 2003 as a multi-disciplined club catering for children between the ages of 8 - 16 years from those who take part for fun & fitness to those who are incredibly competitive and wish to race. As from September 2014 any 16 - 18 year old can continue to train at junior led sessions as well as senior sessions (or mix and match) but must join the senior section of the club. The senior club based is at the Ilkley Lawn Tennis & Squash Club.
Over the last decade we have had boys and girls competing in Fell races at both local and Championship level; the highly competitive West Yorkshire Cross-Country series, PECO Cross-Country Challenge series, Yorkshire, Northern and National X-C Championships, children attending U11, U13 and U15 West Yorkshire Sportshall Athletics trials and in 2008 we made our first appearance in Track & Field Athletics.
At JIH we follow the theory of Long-Term Athlete Development (LTAD) and we will endeavour to allow each individual child to reach their potential in athletics. The LTAD model was designed to help those athletes with aspirations to succeed at an elite level, but is equally valid for those who want a lifelong, healthy participation in sport. It takes ten years or ten thousand hours of practice to become an expert performer in any sport and at Ilkley Harriers we see ourselves as a part of that process. We will not encourage over-competition at an early age where it is more important to learn the skills of sport and movement. And we will only enter our athletes into competitions appropriate to their level of development. We also believe that every athlete should enjoy their participation in athletics. If it's not fun it's not worth doing.
Due to our numbers and large waiting lists we can only except juniors who are First Claim with Junior Ilkley Harriers. Children who join can take part in all the training and coaching that we offer (subject to availability of places for sessions) and will be able to compete in the distinctive red and green running vest of Ilkley (from Dobson & Robinson on the Grove in Ilkley and the Complete Runner, Leeds Road, Ilkley) and under the club name at races, as well as enjoying the benefits like structured training. Both juniors and their parents should read and be familiar with the junior policies and codes of conduct which they will be asked to sign up to on the junior membership form.
Junior Ilkley Harriers who compete regularly are presented with colours at the end of the Spring term - these are embroidered cloth badges (certificates are presented for half colours). Details of our Presentation Evening.
All our coaches and helpers are volunteers who give up their time to run the sessions. We have gained recognised qualifications in athletics coaching, Emergency Aid and Child Protection and the necessary DBS checks. Our three junior welfare officers are Mrs Elizabeth Raven, Mrs Kate Lofthouse and Mrs Katrina Kennedy who should be contacted first if you have any concerns about anything.
We encourage parents and older juniors (Year 9 upwards) to help at sessions and we fund individuals to gain an athletics coaching qualification or Leadership Award from Year 10. More on our coaches and helpers
If you wish to find out more about JIH or check for availability of places contact Shirley Wood (Shirley@ilkleyharriers.org.uk). And if you'd like to join JIH you can download a membership form and return it at any session to the coach in charge. Membership is free to all those who pay session fees and junior volunteers. For the small number who do not pay session fees the JIH annual membership is £17 to cover EA registration.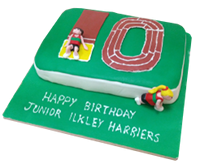 2012/13 Junior AGM report. The AGM celebrated 10 years of Junior Ilkley Harriers with this super cake baked by Gaenor.