Will Ramsbotham Badger Stone fell relays
The Badger Stone Relays have been run annually on Ilkley Moor since 1992. In 1994 they were renamed the Will Ramsbotham Badger Stone Relays after the young athlete Will Ramsbotham (see the October 1993 Fellrunner article). In 2010, Ilkley Harriers took on the organisation of the Relays. As the venue moved up to White Wells, the legs were shortened slightly to 2 miles and a 1 mile leg was introduced for younger runners.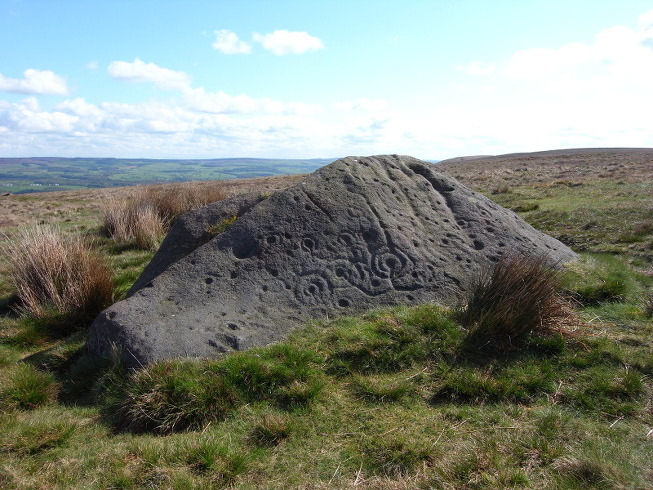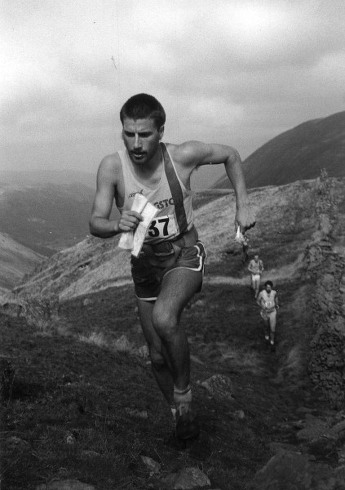 ---
2018
Sorry, no race in 2018, hopefully will return in 2019
---
2017
Details
Wednesday 31st May 2017
7.30pm mass start, registration opens 6.30pm at White Wells
Venue: White Wells (Spa Cottage), Ilkley Moor (info)
Parking: on Wells Rd or in the Car Park on the NW (downhill) side of Wells Rd. 5 minutes walk uphill to White Wells.
£2.50/runner seniors, £1.50/runner juniors, entry on the night only using the official Badger Stone entry form (printed copies available on the night)
Open Relay: 3 legs of 2 miles/400' (3.2km/120m), U15 and above
Junior Relay: 3 legs of 1 mile (1.6km) for U13, U15 and U17
Family Relays: 3 legs of 1 mile (1.6km) for U13/U15/U15 siblings and/or parent combinations
Route maps: 2 mile leg, 1 mile leg
Fully flagged and marshalled, run clockwise starting and finishing just above White Wells. The course includes narrow and very rough paths, and steep ascents and descents.
Teams may contain runners from more than one club. All teams must have 3 different runners (it's a relay!). Runners may compete in more than one team (on different legs).
Prizes: 1st team, 1st ladies team, 1st junior team (boys, girls, mixed), 1st family team, fastest 2m leg (male, female), fastest 1m leg (boy, girl), and more (incl. by popular demand one or more prizes for best fancy dress)
Fabulous carved trophies made by Shane Green with Full Badger Stone Relay history to 1st team and fastest runner, male and female
Prizes to include champagne for fastest seniors, beer, sweets, etc.
Limited public toilets near White Wells
Junior age categories are defined as per FRA Guidelines. Note the organisers have decided to make the age requirements for the 1 mile leg stricter than the FRA Guidelines and you will have to be over 10 on the day to do this leg.
Safety kit and experience. The race is run under FRA Rules and these make special stipulations for relays, here, section 14. 14. If the forecast is favourable the organiser will be waiving the mandatory full kit requirements in Section 9 but if the weather is very poor you may be required to carry the FRA stipulated kit - if the weather is bad then please bring with you in case.
From 2013 we have had to obtain SSSI consent from Natural England for the event to proceed: one of the conditions set by them is that a no smoking policy is introduced for spectators, event organisers and participants.
The 2 mile leg visits the Badger Stone, more info on this interesting site here.
---
2016
---
2015
Lots of photos on Woodentops.org.uk
---
2014
2014 Results
2014 Photos
---
2013
2012
Wednesday 23rd May 2012
2012 Results, a record 65 teams
2012 Photos: Dave Woodhead's, Neil Smith's, Paul Sugden's, and Graham Weston's
Also on Ilkley Moor, the following evening Thursday 24th May, a short orienteering event. Mark Mon-Williams reports ... the data have now been collated and the statistical analyses completed for the double race winner - the search for the best performance over Wednesday's Will Ramsbotham Badgerstone Relay and Thursday's Cow and Calf orienteering sprint race.
The winner of the men's competition was Jack Wood who just snuck victory from Alun Powell with Steve Watkins in hot pursuit. Al had a great run at Thursday's orienteering (finishing second with Jack in fourth and Steve in third) but had left just too much work after running 17 min on Wednesday to Jack's outstanding 14:37 min run. It was great to see Al Powell at these events as he was Will's partner on mountain marathons.
The winner of the women's competition was Annie Brown who had a brilliant run on her first orange orienteering course and finished in second place giving her an excellent victory in the double competition.
It was great to see fell running and orienteering combining to give a great week of sport in Wharfedale. The double race was particularly fitting as Will Ramsbotham was a keen fell runner and orienteer and loved to encourage participation in these sports.
There were lots of serendipitous reminders of the close relationship between fell running and orienteering over the races. The orienteering courses were planned by Ruaridh Mon-Williams who loves fell running and orienteering. The prizes at the Badgerstone Relays were presented by a sporting legend Jack Maitland who was an international orienteer and fell runner. Jack Wood and Annie Brown are both members of Ilkley Harriers and Airienteers.
Fantastic to see so many Ilkley Harriers and Airienteers at the two events. Let's hope these links between two fantastic sports grow even stronger over the forthcoming years!
2011
2011 results We had 44 teams this year, including 16 junior and family teams. Tom Adams shattered the record for the 2 mile (3.2km) leg in 13:07, and received the newly carved Fastest Leg trophy. A class team from Leeds City set a new course record of 41:19. Wharfedale retained the Ladies team trophy. Thanks to everyone who helped and Anne Buckley, our 'celebrity starter'. There was a great atmosphere once again - see you next year!
2010
2010 results. We had 51 teams incl. 14 junior and family teams. First team was Pudsey & Bramley, first ladies team Wharfedale Harriers. The weather was cold and wet at times, so thanks to everyone for coming and to especially to the many Harriers helping with marshalling and official duties. The celebrity race starter was Karen Darke who knew Will Ramsbotham.
Past results
Help! We would like to show all results on the previous course 1992-2009 here. Can you help fill the gaps below? PDF or other files, or a printed copy that we can scan - anything would be appreciated. Contact us.