Ilkley Harriers news archive 2013
Ilkley Harriers of the Month, April
Nick Pearce
Sub 3h08 V60 Club Record at Manchester marathon
Other nominations were: Brian Melia - 100 mile Mt Fuji Ultra; Kate Archer - fantastic runs at her first 3 Peaks and the Baildon Boundary Way; Will Buckton's - result at the 3 Peaks; Rebecca Moores - improving her London Marathon time by over 20 minutes; Mike Baldwin - completing his 21st Three Peaks Fell Race; Andrew Merrick - dogged determination to run and not only complete but run competitively at the Boston marathon in 3h22 despite suffering a serious foot injury only 4 weeks beforehand; Jann Smith - awesome 3 Peaks time (PB) also despite have a knee injury leading up to the race; Neil and Clare Smith for succesfully completing the Fellsman (61M) in under 20h
Adela Reperecki
Under 5 hrs in the 3 Peaks (and a broken tooth!); improved each time in her 3 Bunny runs; Lady Vet prize at Over the Oda; Baildon Boundary Way
Well done to Nick and Adela, this month's winners.
The Committee made an 'Outstanding Achievement' award to Mike Baldwin for completing his 21st 3 Peaks race.
Earlier Harriers of the Month ...
Bradford 10k, Sun 28 April
Report from Dave Westhead ... the Bradford 10k is a reasonably flat, out-and-back route, from the Town Hall out along Canal Rd towards Shipley. It has just enough short sharp hills and bendy sections at the start and in the middle to mean it's not quite a PB course. Sunday was bright and sunny with the odd sharp shower and a brisk wind that lifted race HQ off the ground and almost blew it away just after I finished. As for the other Dave W below in Lincolnshire, the breeze did make fast times quite difficult with a few sections of Canal Road straight into a head wind. Two people did manage to impress - the winner, because the time below is a new course record, and Dave Green because his PB below was his first sub 50. Well done to them both - I'm sure there is more to come on faster courses and in better conditions.
Results from David Green ...

(1  31:02 Tesfaye Debele, Bradford Airedale AC)
9   35:52 Dave Westhead
205 47:49 Tim Ratcliffe
271 49:36 Will Worboys
284 49:49 David Green (PB)
673 62:19 Alison Landsbury
808 finished

Manchester Marathon, Sun 28 April
From Nick Pearce ... I rather surprised myself with a time of 3h07:41, 294th from 4956 finishers and 2nd V60 in the Manchester Marathon yesterday, my first road marathon for at least 15 years. Conditions were ideal with a cool breeze, a flat course (billed as the flattest in the UK with only 55 m of ascent), and a good atmosphere and support all the way round, with regular refreshment points. Didn't see any other Ilkley Harriers - the other red and green vests turned out to be a Welsh club. Legs rather stiff this morning... results.
Well done Nick, this breaks Geoff Howard's 2005 Club record of 4h10:34 in New York!
Harewood House 10K, Sun 28 April
From Andrew Mitchell ... the race was postponed from 24 March 2013 due to the snow. A breezy day plus a killer hill at 8K didn't make conditions easy.

(1  37:31 Michel Hunt)
213 51:05 Andrew Mitchell
418 55:20 Cathy Brown
506 56:06 Jean Sullivan
610 57:57 Peter Lewis
686 60:13 Catriona Hawthorn
711 60:47 Martyn Pearson
763 62:06 Debbie Pearson
1208 finished

North Lincs Half Marathon, Sun 28 April
From Dave Wilby ... I headed down to Scunthorpe to make my half marathon debut on Sunday. The event was really well organised with closed roads, chip timing and apart from 2 bumps to cross the motorway was probably about as flat as it gets. Being fairly rural it did mean that was little shelter from a wind which was persistent but not overly strong. I got into a group early on which was going at roughly my target pace but towards 9 miles or so I slipped off the back and never recovered. I eventually finished 14th in 1:18:58, bitterly disappointed with my time, particularly as I'd hated almost every step and was hoping not to have to do another one. I'll have to do one now to try and rectify the time but only once my legs recover, they've felt far better in the past after thrashing them up and down the long lakeland fell races!! I should say that the oraniser had done a great job, and you roadies should check it out. I even got a free post-race massage!!
(Race won in 1h10:10 by Tim Hartley of Notts AC, 863 finishers, www.northlincshalf.co.uk)
Sunderland City 10K, Sun 28 April
From Alex Hall ... I competed in the Sunderland City 10K yesterday as a method of training for the regatta season for my rowing squad at Durham University. I started at the back of a 1580 person pack due to arriving late to the start line but managed to finish 78th with a time of 43:15 on a fairly flat course (many thanks to the speed sessions on thursday nights).
Three Peaks, Sat 27 April
Ben Sheppard adds ... Where was my responsible adult when I sneaked online and entered this excruciating race? The field was stacked with fell running talent of the highest order, and that's just the Harriers. Joe Symonds proved his class with a second consecutive win, (taking him closer to his father (Hugh)'s record of three titles (1984, 1985 and 1987)), and just two weeks after a 2:20 road marathon. Meanwhile Harriers also performed out of their skins too, spurred on by the tremendous support all round the course. Fell running star of the future Will Buckton delivered on some of his great promise, taking an incredible 45 minutes off his 2012 time to comfortably beat 4hrs, while in other news Mike Baldwin completed his 21st (twenty first!!) consecutive 3 Peaks race and took the prize for biggest pathological glutton for punishment. It doesn't feel like it right now, but a great day was had by all.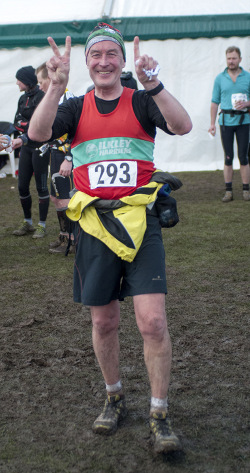 (1 2h54:39 Joe Symonds, Salomon Int'l)
130 3h54:31 Will Buckton
180 4h03:47 Jez Hellewell
181 4h03:49 Stuart Pitches
188 4h04:45 Jann Smith
195 4h05:24 Ben Sheppard
198 4h05:44 Dan Hill
272 4h17:30 Duncan Cooper
289 4h20:11 Dick Waddington
316 4h25:28 Rebecca Mon-Williams
360 4h31:34 Kate Archer
365 4h32:17 Alison Weston
449 4h44:22 Mike Baldwin
483 4h49:14 Outi Kamarainen
542 4h57:27 Natalie Curtis
551 4h59:18 Adela Reperecki
635 5h21:02 Sharon Meadows
652 5h26:36 Paul Sowden
661 5h30:46 Helen Waddington
671 5h46:22 Steve Weston
675 finished


Some photos from the Woodentops.
More on 3 Peaks from Alison .... What great results from the Harriers. I found it hard from start to finish but looking at Graham's photos of the race many of you make it look like a walk in the park! Will must be delighted with his massive PB and Adela was over the moon on the finishing line to clock under 5 hours despite chipping her tooth on the way off Whernside. We must have been the best represented club on the ladies side with 9 ladies finishing and Jann, Rebecca and Kate winning third ladies prize. Mike was a absolute star finishing his 21st Three Peaks race with a big grin on his face! Well done to everyone.
See Graham's photos
Fellsman, Sat 27 April
Clare Smith reports ... Clare and Neil Smith completed the Fellsman Hike (61 miles, 11,000 ft of climb) from Ingleton to Threshfield. I was 170th out of 402 starters, joint 16th lady in a time of 19hrs 48 mins. We were in a great grouping overnight. The conditions were tough - very boggy over Fleet Moss in particular, cold and breezy but not as severe as last year. Very pleased to have completed it. Results
Some photos from the Woodentops.
Junior fell championships, Sat 27 April
Some super results from the 7 juniors who made the 300 mile round trip to Shropshire this weekend to compete in round 2 of the Junior English Champ Championship Fell race hosted for the first time by Mercia Fell Runners. Full report from George Elmes on the junior pages.
Hawkshead Trail Race 17km, Sat 27 April
Emma Barclay reports she was ... 4th lady, 1st LV40 in 1:19:15
Parkruns, Sat 27 April

Bradford Lister Park
80  25:09 Paul Sugden
130 27:40 Sue Bickerdike
162 29:40 Emma O'Looney
224 33:56 Milly Websdale

Harrogate Stray
38 22:04 Geoffrey Howard

Leeds Hyde Park
24 19:10 Arthur Reilly

Stewart
61 25:16 John Marshall

UTMF, Fri 26 April
From Brian Melia ... Just returned back to Tokyo to recover from the Mount Fuji Ultra-Trail with my good friend Chiharu Watanabe. We both had fabulous races in one of the most beautiful places I have ever been to. The race is 100 miles over a very technical course and very exciting.
I finished 53rd in 27 hrs 36 mins, Chiharu was 22nd in 24 hrs1 mins
The race was won by Hara from Japan in 19 hrs 29 mins
Dick Hudsons race, Thu 25 April
Woohoo, the BOFRA season is underway!

(1  42:21 Neil Crampton, Toro, bike
4   48:40 Gareth Hird, Wharfedale, 1st runner)
6   49:37 Martin Archer
14  53:48 Iain Gibbons
15  54:07 Steve Turland
32  64:09 Chris Oxlade
35  66:31 John Hayes
37  67:16 Phil Hirst
52  75:48 David Green
56 finished


London Marathon, Sun 21 April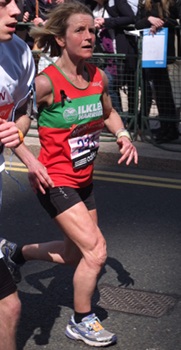 Report from Sally Malir ... After 30 seconds of silence to remember the victims of the awful events less than a week previously in Boston the marathon community in London set off wearing their black ribbons to show their support.The weather was perfect and the crowd was the best ever! I really enjoyed my run relaxing into a steady pace, which I nearly managed to keep perfectly even all through the race. This really motivated me as I passed more and more people as the miles went on. The sights were amazing, and often brought goosebumps to my skin although I was boiling hot. At around 25 miles a guy stumbled and fell in front of me, a fellow runner picked him up and steadied him making sure he was alright before finishing his own marathon, this summed up the support everybody showed for each other. I saw many familiar faces and heard many friendly shouts, it's amazing among all those thousands how you can pick out your supporters. In the end I was 137th Women, 9th in my age group, and happy. I don't think it will be my last marathon.
Sally has beaten her own LV45 Club Record of 3:10:40 set at Manchester in 2012, and Hilda Coulsey beat Chris Porritt's LV60 record of 4:16:00 from Leeds 2002.
Some photos from the Bennetts
... and
Results
...

2166  3h09:46 Sally Malir
2574  3h13:46 Rob Cunningham
5016  3h31:55 Alison Bennett
7983  3h48:03 David Howe
10153 3h57:12 Andy Webster
11968 4h03:26 Hilda Coulsey
14247 4h15:27 Dave Ibbotson
17491 4h29:00 Rebecca Moores


Georgia Malir was selected to run in the Under 17 women's Mini Marathon which is the last 3 miles or so of the main marathon. She was 14th overall helping the Yorkshire And Humberside Under 17 Women's team take 1st position. Her time was 17:33
Over The Odda 10k, Sat 20 April
Jez Hellewell reports ... a beautiful day for the inaugural running of the Over The Odda race which brought out a couple of the local "big guns". Tom Adams winning by some margin at the finish (Quentin Lewis 3rd), followed by a jog back home over the moors for a cool down. Quite a few Harriers vests on show I'm glad to report. Nice to meet Petra Bijsterveld at the start & Adela Reperecki, despite start line reservations, had a great run to pick a Lady Vets prize (I say "pick up", but unfortunately she'd already left!). A good few minutes behind Tom came myself (6th), Ben (top 10, we think) & Justin (just outside the top 10). "Winner gets the beers in" was the shout beforehand. I'm therefore very suspicious as to why Ben & Justin were just behind me at the finish.
Results from ukresults.net...

1  37:39 Tom Adams
6  45:13 Jez Hellewell  1st V40
10 46:54 Ben Sheppard
11 47:21 Justin Phillips
15 48:39 Emma Barclay
55 59:45 Adela Reperecki
76 65:20 Alison Ricci
96 72:44 Petra Bijsterveld
157 finished

Meanwood Valley Trail, Sat 20 April
Always a favourite with Harriers, provisional senior results from Valley Striders site. Lots of photos on woodentops.org.uk.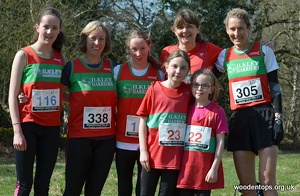 (1  43:49 Richard Pattinson, P&B)
28  50:24 Steve Morley
45  53:34 Nick Pearce 1st V60
53  54:47 Caz Farrow  3rd F35
101 60:32 Phil Hirst
220 75:03 Sue Williamson
232 77:10 Julie Elmes
258 finished


Great to see lots of juniors out too with some fab results!
Anniversary Waltz, Sat 20 April
Report from Alistair Barlow ... a magnificent day in the Lakes doing the Anniversary Waltz (AM 11.5 miles, 3600ft) in the beautiful Newlands valley. From the start there's a long run on tracks and road up the valley before the action really starts will a long and steep climb up to the summit of Robinson. From there it's good running terrain over the fells at the head of the dale before swinging north towards Catbells and home. The descent looked good fun when viewed at the start but was pretty painful after 11 miles and I hobbled home in about 2:20. All quickly forgotten with the help of free soup and beer in the village hall. All in all a great day out and thoroughly recommended.
Steve Turland (and Helene, Ed) had done the longer and much tougher Teenager with Altitude ...next year ... maybe!
Results from www.anniversarywaltz.co.uk ...

AW
(1  1h34:43 Carl Bell, Keswick AC)
117 2h17:21 Alistair Barlow
269 finished

TWA
(1  2h49:25 Rhys Findlay-Robinson, Dark Peak)
41  3h43:25 Steve Turland
48  3h46:54 Helene Whitaker 2nd lady
101 finished

Parkruns, Sat 20 April

Bradford Lister Park
19  21:07 Oscar Stapleton
208 33:50 Milly Websdale

Leeds Hyde Park
159  25:29 Harry Stead

Middlesbrough Albert Park
99  25:35 John Marshall

Roundhay Park
13 21:24 Geoff Howard

Bunny 3, Tue 16 April

Tom Adams out on his own at Bunny 3, on his way to another race win. Results and more photos on woodentops.org.uk

1   15:38 Tom Adams
17  17:21 Jack Wood
32  18:05 Ruaridh Mon Williams
45  18:33 Bradley Chapman
68  19:11 Steve Turland
121 21:04 Lucy Williamson
130 21:13 Sam Wood
133 21:19 Jack Cummings
137 21:24 Tilly Melechi
142 21:31 Malcolm Pickering
153 21:48 Sarah Pickering
174 22:53 James Pickering
177 22:58 Andrew Jackson
184 23:09 Alison Weston
187 23:11 Adela Reperecki
203 23:39 Joanne Williamson
227 24:31 Iso Hirst
259 25:56 Nea Weston
279 28:08 Sue Williamson
285 28:41 Harriet Jackson
292 29:20 Sally Wright
296 29:37 Emma Payne
303 30:53 Joanna Taylor
315 finished

Boston Marathon
Our three club members at Boston are safe, as reported on Facebook, and Andrew M has emailed.
Boulsworth fell race, Sun 14 April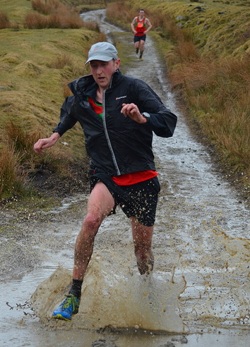 From Ben Sheppard ... A short journey from the sunshine of Ilkley to the sideways rain of Wycoller Country Park nr Colne for a low key and enjoyable BM race over 8.2m with 425m / 1394ft climb. Desperately trying to keep in touch with Will as he ploughed strongly up the seemingly never ending climb to the top of Boulsworth Hill (also known as Law Lad I believe) and managing to catch him by the top only to be left trailing in the wake of his fast and fearless descent. The late Bill Smith came to mind as I went thigh deep in a bog, before hauling myself out for a long run in punctuated by deeper-than-expected puddles strategically placed to make the fair-weather trail runners among us look like John Inman (see photo). A local race that should be popular with Ilkley Harriers if repeated in future years.
Photos on woodentops.org.uk
Results from Wharfedale Harriers

(1   57:02 Mark Addison, Helm Hill)
20 1:08:41 Ben Sheppard
21 1:09:08 Will Buckton
71 finished

Wakefield 10k, Sun 14 April
Results from ukresults.net ...

(1  32:13 Ian McBride, Royton RR)
450 50:24 Karen Lambe
1148 finished

RunSunday, Sun 14 April
Well done to junior Euan Brennan who won the Run Sunday 3-mile timed run at Otley Chevin. (We don't routinely list Run Sunday results, but this is pretty special!)
Woldsman 50, Sat 13 April
From Eddie Winslow ... I made another trip over to Driffield for the Woldsman 50. I couldnŐt repeat my win of last year but came home 6th in 9h42m, 8 minutes slower than a year ago.
Parkruns, Sat 13 April

Abingdon
1 16:02 Tom Adams

Bradford Lister Park
11 20:20 Richard Hinsley
32 21:59 Oscar Stapleton
73 24:42 William Worboys

Burnley
22 21:25 Diane Haggar

Harrogate Stray
132 26:58 Julie Elmes

Northern Vets Track League, Wed 10 April
From Henry Heavisides ... Three of us travelled to Spenborough track as an alternative to the regular Wednesday Carnegie track session. Best performance came from Mark Iley in the 1500m running 4:54.3 for 4th place. Beth Massey ran 5:47 (I think) in the same race. The 800m was split into two races I was first to finish in the over 50s race in 2:36.5. The 3000m followed soon after the 800m, so I struggled to finish 10th out of 17 runners in 11:21.1, Beth was 11th in 11:29.4.
Bunny 2, Tue 9 April
Big improvements by Bradley, Rob, Diane, Lucy, and Adela on last week's Bunny Run times! Results and photos on woodentops.org.uk.

(1  15:52 James Hall, Wharfedale)
31  18:16 Bradley Chapman
83  20:15 Rob Cunningham
84  20:17 Toni Melechi
109 21:21 Jack Cummings
111 21:23 Rik Hinsley
113 21:26 Diane Haggar
115 21:31 Tilly Melechi
118 21:46 Edward Bickerdike
122 21:58 Lucy Jacques
172 23:56 Adela Reperecki
199 25:18 Jacob Helliwell
200 25:22 Alison Ricci
236 27:46 Sophie Brown
252 29:29 Harriet Jackson
256 29:56 Sally Wright
267 31:17 Emma Payne
296 finished

Blackpool Marathon, Sun 7 April
Well done to Linda Wilson, who was 461st in 4h28:37. Results on ukresults.net.
Baildon Boundary Way, Sun 7 April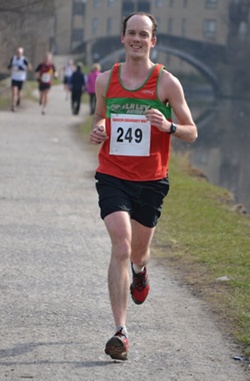 Ben Sheppard reports ... A smattering of Harriers did justice to the superb conditions, with the sand-bagging Justin Philips first Harrier in a strong 1:31 and maybe rediscovering his running mojo in the process. Kate Archer and Andrew Merrick were well up the field with impressive times, just 8 days before Boston Marathon in Andrew's case. I paid the price for foolishly sticking with Justin for the first few miles haring along at nearer 10k pace, which came back to bite me in the latter stages as a made my way backwards through the field to finish with room for improvement in 1:34
Photos on woodentops.org.uk, results from Baildon Runners ...

(1  1:20:58 Richard Pattinson, P&B)
23  1:31:37 Justin Philips
31  1:34:18 Ben Sheppard
54  1:38:40 Andrew Merrick
56  1:39:02 Kate Archer
91  1:45:38 Dick Waddington
131 1:50:00 Sharon Williams
164 1:55:48 Andrew Jackson
172 1:57:26 Dougie Scarfe
177 1:58:15 Eric Hawthorn
192 2:00:56 Adela Reperecki
206 2:02:44 Helen Horton
248 2:11:24 Hilda Coulsey
289 2:17:56 Judith Scarfe
350 finished

Blubberhouses 25, Sun 7 April
From Eddie Winslow ... I got round in 3h51m, a few minutes down on my previous attempt but the residual snow and muddy melt slowed things a bit. Mike Baldwin was not far behind and Amanda Parnaby was there as well.
Results should be on Nidderdale LDWA's pages sometime.
Pinchinthorpe Plod, Sun 7 April
Report from Alison Weston ... Another brilliant day for running. Whilst up with my parents I found a great 6.2 mile race near Roseberry Topping. A mixture of very runnable forest trail paths and fell. Lots of runners from Thirsk and Ripon ran this race as one of a whole winter series of races in the N.Yorkshire moors. My time ~ 53mins.
Pendle fell race, Sat 6 April
Senior results from www.ukresults.net (junior results and photos on our junior pages). Photos on woodentops.org.uk ...

(1  32:13 Rob Hope, P&B)
143 46:59 Neil Smith
166 48:51 Diane Haggar
172 49:10 Alison Weston
340 finished

Coledale Horseshoe, Sat 6 April
From Will Buckton ... Steve Turland and I competed in the Coledale Horseshoe (AM 12.25km/1036m) on Saturday at Braithwaite in the Lake District. Conditions were excellent with minimal snow and ice on the summits, with great views of the Horseshoe and Skiddaw on the way back. Although the route was shortened from 13.7km due to snow on Eel Crag there was over 100m extra ascent to make up for it!

(1 1h04:58 Carl Bell, Keswick)
42 1h25:06 Steve Turland
49 1h26:30 Will Buckton
201 finished

Parkruns, Sat 6 April

Bradford Lister Park
63  23:50 Joe Reynier

Inverness
6  19:00 Steve Coy
49 26:53 Gaenor Coy

Pollensa Half Marathon, Wed 3 April
From Mark Hall... Having spent most of the past 6 weeks in Majorca working I had been looking for a race to do and the above race was taking place down the road from my base. The race was the Baleric islands championships so attracted a good field of 600 runners. The course was flat with the last 5km undulating. The weather was good and around 20 degrees. Having only been ticking over with training I would have been happy with a steady 6 minute mile pace. However, when the gun went so did I! I managed to get in a small group with Vanessa Veiga, who ran for Spain at the London Olympics at the marathon. We past 5km in 16.55 10kms 34.31 and both suffered in the final 5kms and lost time, she eventually beat me by 5 seconds mainly due to my loss of concentration in the final run in when I lost a few metres on a twisty last kilometre. I finished 8th, 1st vet 50 (by 5 minutes) in a time of 1.15.36. I was for once pleased with the result especially after my poor preparation. Winner was (I think) former spanish international Rey in 70 minutes.
Henry has spotted this is a new Club Record, beating Mark's own time at Worksop in October by 3s
Bunny 1, Tue 2 April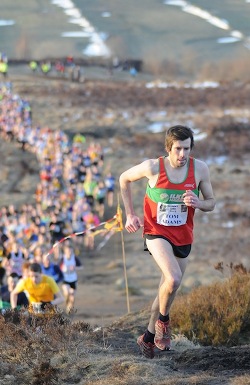 Tom Adams again pulled off the double-yolker of winning the sprint egg stage and the race. Some good runs by other Harriers too, with the juniors mixing it with the seniors, on a lovely evening - dry, sunny, and just enough snow to make it pretty! Results and photos on woodentops.org.uk.

1   15:45 Tom Adams
28  18:50 Bradley Chapman
63  20:08 Euan Brennan
90  21:32 Rob Cunningham
97  21:39 Neil Smith
99  21:44 Jack Cummings
109 22:06 Diane Haggar
114 22:21 Sam Wood
115 22:28 Richard Hinsley
122 22:55 Lucy Jacques
153 24:16 Andrew Jackson
176 25:22 Adela Reperecki
196 26:19 Allison Ricci
218 27:40 Sophie Brown
229 28:25 Alessandra Ricci
240 30:12 Harriet Jackson
247 30:57 Sally Wright
268 finished


There's another Bunny next week, come and join in the fun!
---