Ilkley Harriers news archive 2013
Ilkley Harriers of the Month, August
Caz Farrow
4th W45 and GB team silver at the World Mountain Running Champs
Other nominations were: Will Buckton - for great performances
Rob Cunningham - for doing both races at Burnsall and performing well in both
Bradley Chapman - for his performance at Burnsall
Nick Pearce - for fell race results at Round Hill & in English Champs
Val Kerr - for her Burnsall 10m result
Alison Eagle - for GB team silver at the World Mountain Running Champs
Norman Bush - for GB team silver at the World Mountain Running Champs
Steve Turland
For consistently strong race results every week in August
Earlier Harriers of the Month ...
World Masters' Mountain Running Champs, Sat 31 Aug
From Caz Farrow ... a group of 'Master' (old!) Harriers made the journey to Janske Lazne in the Czech Republic for the 13th World Masters' Mountain Running Championships this weekend. 475 veterans, ranging from 35yrs to over 75yrs, finished the 8.6km course which apparently had nearly 800m of climbing. Whilst we were all full of excuses (and later full of beer!) why none of us won an individual medal, there were some stellar performances on a tough course nonetheless. Three of us also contributed to GB's overall tally of 11 medals by winning team silver. Results below in order of racing and position in category:

M70 Norman Bush (5th) 58:58 & GB team silver
W50 Alison Eagle (6th) 58:51 & GB team silver
M45 Jonathan Whitaker (25th) 54:45
W45 Sally Malir (8th) 56:28
W45 Helene Whitaker (12th)  58:07
W35 Caz Farrow (4th) 52:16 & GB team silver

Blackpool 10k, Sat 31 Aug
Results from UKResults.net ...

(1 31:08 Andrew Douglas, Inverclyde)
7  36:09 Rob Cunningham
87 45:04 Chris Cunningham
335 finished

Parkruns, Sat 31 Aug
Watch out for the new SKIPTON parkrun starting on Saturday 7th September. www.parkrun.org.uk/skipton/

Bradford Lister Park
7   18:58 Steve Turland
80  25:37 Paul Sugsden
102 26:24 John Marshall
217 34:26 Linda Marshall

UTMB, Fri 30 August
From Brian Melia ... The dream began in 2009 when I completed the UTMB in 31hrs 24 mins. I was surrounded by some fabulous athletes. I had entered in a drunken moment at Christmas 2008 after my Bob Graham round, which gives you the required entry qualification. Since that time I have privately wanted to do sub 30 hrs and also as an aside be in the top 100 ultra trail runners in the world. Everything has been thrown at me. In 2010 the event was cancelled after 4 hours due to a little rain. 2011 I finished, but was very slow and frail at the finish for all sorts of reasons. 2012 due to the popularity of the event I could not get a bib, which was just as well due to poor weather forcing the organisers to make a France only race. I decided in Autumn 2012 to start to train for the UTMB 2013 hoping I would get a bib to race. Previously at the 2011 UTMB I made a great friendship with a Japanese runner Chiharu Watanabe. This lead to me entering the Ultra Trail Mount Fuji. I ran this in April 2013 and felt strong finishing well. I had an entry for the UTMB by then so I began to try to put a training program to complete my dream.
This weekend the dream happened....the UTMB set off from the start in Chamonix, France over 168 Km and 9600 metres of climb. The route takes you over the Col du Bon Homme into Italy, through to the almost mid point of Courmayeur. Then over grand col ferret into Switzerland then over Catogne back into France via Vallorcine, a great final stop. Then there is a last blast up over La tete aux vents. This has to be one of the most beautiful sights on any race, even coming close to my Mt Fuji sunrise. The whole of the Mt Blanc massif was illuminated pink and this gave me a huge lift. I was very strong over the last 6 hours moving from 160th to 96th in the end managed to finish in 29 hrs 24 mins 5 secs. There were not many friendly faces at the finish, but some well known runners which made me content with what I had done. I just sat at the finish with an Ilkley friend, Beverley who used to babysit for us which was great. A tidal wave of emotions washed over me as I had finally achieved something of personal satisfaction and I was content. The crowds were unbelievable, Chamonix, at the Ultra Trail Du Mont Blanc is worth a visit for this alone.
What makes the UTMB special....I do not know. It certainly challenges every competitor at all levels. The scenery is stunning. Support at the cols and aid stations is fabulous. The whole race put together is a freak of Mountain sport. What do you need to take part? No idea besides race qualifying points from other Ultra Marathons. And I think a love of the mountains and to be pushed to your limits of mental and physical capabilities. Would I recommend it? Probably not ...it takes it out of you and your family.
I dedicate the race to my Dad who died in November 2012
Mascot Race, Fri 30 Aug
From Dave Wilby ... On Friday night I lined up on the 20 yard line at Leeds Rhinos Headingley stadium, in front of over 15,000 people in the guise of my alter ego, Bertie the Blue Dog. Representing White Cross Vets, I was up against 8 other mascots each with varying degrees of mobility & visibility. A controversial false start prompted by Ronnie the Rhino went unpunished, and as we headed off on the outward leg towards the opposition's 20 yard line, I could see Ronnie reaping the fruits of his deviousness. Reaching the half way point, I dutifully turned at the cheerleader, managed to avoid colliding head-on with the 2 Asda mascots, and gave it everything down the home straight. Through the eye holes (next to useless at the best of times, never mind at speed!) I could see Ronnie breaking the tape closely followed by Tyke the Leeds Carnegie mascot. I managed to consolidate 4th position, and avoid falling over any small children, advertising hoardings, cheerleaders etc. Got the additional bonus of a PB over the rarely run '160 metres with a turn at the cheerleader' distance!
Kilnsey fell race, Tue 27 Aug
Steve Turland reports .. an excellent weekend's racing with 4 races in 4 days - Burnsall, Halton Gill, Hebden Sports and Kilnsey. Camping just outside Grassington, all four races were right on the doorstep, each with a 'show' which meant plenty of activities and races for the kids too. Aside from my victories in the egg and spoon, three legged race and tug of war, the main results were as below ...
Kilnsey: first time at this race for me and what an epic. Starting and finishing in the main arena with large crowds on route, 1 mile in total. It's a lung-bursting sprint up Kilnsey Crag, then an exhilarating descent down into the main arena, with a bit of scree and rope assisted rock scramble thrown in for good measure. At the sharp end, it was another win for Simon Bailey holding off Ted Mason. I was 16th in 10mins 21, and Rob Cunningham 24th in 11 mins13.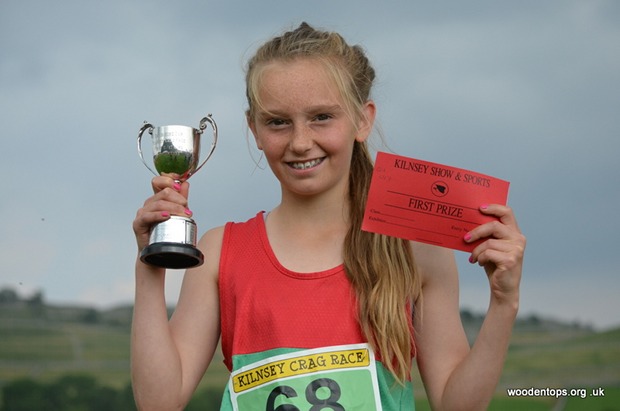 Lucy Haines won the U17 ladies and James was third in the U17 men, picking up yet another cash prize and bringng his total winnings to £37 (and is now comtemplating racing as an alternative to a Saturday job!)
Results of this BOFRA race.

(1  8:05 Simon Bailey, Mercia)
16 10:21 Steve Turland
24 11:13 Rob Cunningham
88 finished

Hedben Sports, Mon 26 Aug
Steve Turland reports ... Another great day out with loads of sports/activities for the kids. This time just over a mile with around 400ft. An easy win for Simon Bailey, 'fresh' from his Burnsall victory and 3rd place in the Grasmere Guides race the day before. I was 4th place in 13 mins 32 and James won the U17s over the same course, getting a big trophy and more money.
Reeth fell race, Mon 26 Aug
Dick Waddington reports ... results of this BOFRA Championship race, 2 miles, 800 ft.

(1 15:25 Ted Mason, Wharfedale Harriers)
12 18:41 Bradley Chapman 
17 20:05 Jamie Hutchinson 
21 20:45 Dick Waddington 
33 22:00 Jann Smith (3rd Lady, 1st LV40)
74 28:24 Helen Waddington 
89 finished

Halton Gill fell race, Sun 25 Aug
From Steve Turland ... Lovely low key BOFRA race with great village show. Race was another straight up and down, 1.5m and 750ft. Hector Haines won by a country mile (literally) in 13:47 with Lucy Haines first lady. However I won the important race finishing in 5th place in 16mins 53, but managing to stay ahead of James, my rapidly improving 14 year son (who won the U17s boys and was pleased with his cash prize).
Burnsall Classic Fell Race, Sat 24 Aug
William Buckton reports the results of this AS race 2.4km/274m ...

(1 14:10 Simon Bailey, Mercia)
17 17:31 Bradley Chapman
20 17:54 Steve Turland
27 18:26 Will Buckton
44 19:39 Simon Everett
89 23:07 Rob Cunningham
133 finished
Ilkley Harriers 5th team/13

Burnsall 10, Sat 24 August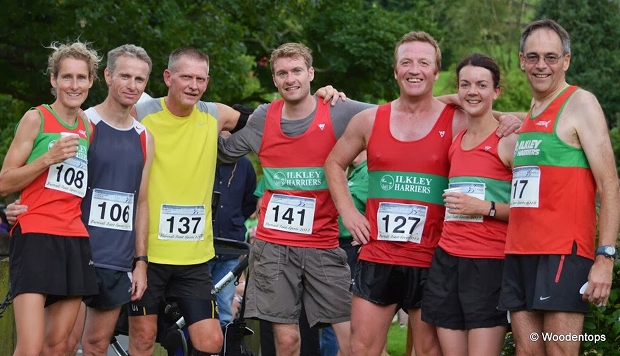 Henry Heavisides reports ... There was a strong contingent of Ilkley Harriers at the Burnsall 10. Great results from the ladies team, 1st team (no prize), with Caz Farrow in 3rd place, Kate Archer 4th & Val Kerr 12th. Rob Cunningham led home the men to 2nd placed team (Rob Cunningham, Steve Morley & Henry Heavisides). Rob managed to complete the course in under an hour, which is a very good achievement on a tough course. Hilda Coulsey was 1st F60. Results

(1 52:09 Alan Buckley, Leeds)
8  59:48 Rob Cunningham
22 64:19 Steve Morley
25 64:50 Henry Heavisides 2nd V50
32 67:57 Caz Farrow 3rd lady
45 71:14 Kate Archer 4th lady
52 72:52 Neil Chapman
53 72:56 Stephen Rhodes
55 73:14 Ewan Welsh
58 74:48 Phil Hirst
68 77:36 Chris Cunningham
74 79:06 Val Kerr 3rd L40
98 87:56 Hilda Coulsey 1st L60
107 91:40 Paul Sugden
122 finished


This was a counter in the Ilkley Harriers Race League ...
Do have a look at the Woodentops photos.
Weasdale Fell Race, Sat 24 Aug
From Jim Ryder .... Part of the local agricultural show it is a lovely, natural route around the northern Howgills. Recommended.

11 1:10:06 Ian Rowbotham
16 1:12:18 Jim Ryder
53 ran

Parkruns, Sat 24 Aug

Bradford Lister Park
50  23:35 Joe Reynier
206 36:25 Abbie Reynier

Harrogate Stray
94  24:12 Helen Thurston
179 30:40 Lyn Towers

Middlesbrough Albert Park
102 25:53 John Marshall
179 33:32 Linda Marshall

Sedbergh Hills, Sun 18 Aug
From Will Buckton ... Steep climbs, tricky contouring, fast descents and even some river crossings in the Howgill Fells on the edge of the Yorkshire Dales. AL 22.5km/1830m

(1 2h11:14 Rob Jebb, Bingley)
24 2h36:24 Steve Turland
28 2h38:31 Will Buckton
63 2h55:32 Dan Wilkinson
186 finished

Trophee des Martinaux, Sun 18 Aug
From Kate Archer ... Martin took time out from holidaying in Switzerland to compete in a local race, Trophee des Martinaux, a 6.6km uphill only run with a tough 1213m climb. Martin was 32nd (of 125) in a time of 1:05:17. Nicholas and Jonathan also joined in - running in the junior races.
Cray Fell Race, Sun 18 Aug
From Jann Smith ... A really nice race which started out on really steep rough ground but then followed a lovely path up to Buckden Pike Trig point and back down. Good junior races too. Results from BOFRA

(1 24:47 Ashley Holt, Rossendale) 
7  30:25 Jack Wood
8  31:36 Jann Smith (1st Lady)
9  31:53 Ian Rowbotham
19 finished

Run Sunday, Sun 18 Aug
Weekly 3 mile timed run on Otley Chevin. Results:

(1 20:08 Joe Webster, Otley AC)
19 31:53 Lyn Eden
26 finished

Gargrave Show, Sat 17 Aug
Results of this BOFRA race below, and enjoy the Woodentops photos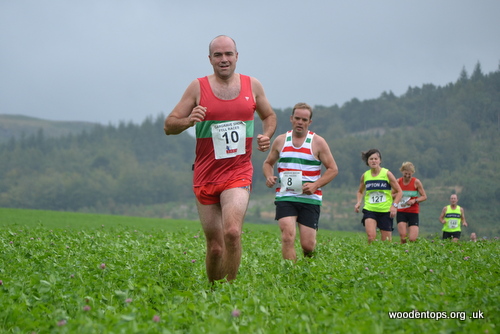 (1 22:23 Jack Simpson, Leeds)
14 25:56 Bradley Chapman
36 29:54 Steve Weston
41 30:12 Emma Barclay
43 30:26 Mike Baldwin
58 33:08 Natalie Curtis
83 finished

Parkrun, Sat 17 Aug
Some cracking Parkrun results this week!

Ally Pally
1 17:01 Tom Adams

Bradford Lister Park
3 19:09 Henry Heavisides

Harrogate Stray
3 18:01 Daniel Wilkinson

Leeds Hyde Park
42 20:13 Geoffrey Howard

Middlesbrough Albert Park 
119 26:49 John Marshall

The Guisborough Grunt, Wed 14 Aug
From Jez Hellewell ... Being up in North Yorkshire for a few days I thought I'd tackle the Guisborough Grunt which I had previously done 3 years back. I remember all too well why they inserted the "grunt" in to the title. The route takes in forest paths & trails that take you to the bottom of the wood before a brutal climb back up through the woods & on to open moorland. You then do a lovely 2 mile loop of the moors before a very fast descent back through the woods to the finish. I haven't raced in a while & it showed. I was very one paced & finished 17th out of 88 in around 47:40. I was 18th in 55:21 in 2010, so I'm reasonably happy. I lost around a minute, & 1 place, waiting for the next runner to show me the correct path at a junction with no race tape, which was frustrating. The winning time was a shade over 40 minutes. Still, good to be racing again ! The Garmin said 6.2 miles.
World Mountain Running Trial, Sun 11 Aug
F A N T A S T I C results from Georgia Malir and Tom Adams at today's selection races in Whinlatter Forest, for the World Championships in September. Georgia WON the junior women's race (ahead of Annabel Mason) and Tom was fourth in his race.
Latest: Tom and Georgia have earned selection for the GB team at the forthcoming World Mountain Running Championships: info.
Run Sunday, Sun 11 Aug
Weekly 3 mile timed run on Otley Chevin. Results:

(1 18:25 Simon Anderson, Otley AC)
24 32:08 Lyn Eden
29 finished

NVAC 10k, Bispham, Sun 11 Aug

(1 32:51 Thomas Corson, Bolton United H)
6  35:21 Mark Hall 1st V50
172 finished

Turner Landscape, Sat 10 Aug
Will Buckton reports ... The penultimate race in the English Fell Championship 2013 took place at the Turner Landscape, a new race on its second running. The terrain was very grassy and runnable and covered Grey Friar, Swirl How, Coniston Old Man, Dow Crag and White Pike. Nick Pearce was 3rd V60.

(1  1h22:52 Simon Bailey, Mercia)
81  1h42:54 Steve Turland
95  1h45:01 Will Buckton
106 1h47:24 Nick Pearce
166 1h59:32 Jann Smith
199 2h06:42 Alison Weston
261 finished

Arncliffe Gala fell race, Sat 10 Aug
BOFRA Championship race ...

(1  10:47 Ted Mason, Wharfedale)
7   12:04 Bradley Chapman
13  12:50 Iain Gibbons
29  14:11 Richard Joel
88 finished

Parkruns, Sat 10 Aug

Harrogate Stray
63 21:43 Geoffrey Howard

Leeds Hyde Park
41 20:11 Sally Malir

Salen Show Hill Race, Thu 8 Aug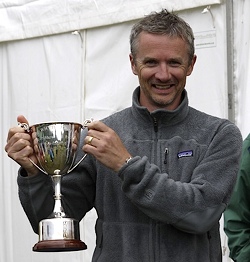 From Dick Waddington ... Salen Show Hill Race, Mull. Ilkley had a good haul of prizes at the Salen Show Hill Race. Salen is a small village on the Isle of Mull and the annual show is the kind where there are more Highland cattle on show than entrants in the Hill Race. The prospects for high placings were good with only 5 entrants for the adults race. The 2 mile loop (with not much of a hill) gave a fast course. Dick Waddington was first home in about 15 minutes, with Helen Waddington first (but only) lady home a couple of minutes later - she said it was the easiest 25 quid she had ever earned. Although the race is low key in nature, the disproportionately large Whyte Cup is awarded and will be engraved with my name! No cup for the ladies, much to Helen's chagrin - the Scots are lagging behind in the gender equality stakes it seems, but in their defence she may well have been the first lady to have a go.
Stetford track, Tue 6 Aug
Sally Malir reports ... this was the last meeting at Stretford for the summer season. Georgia ran another 1500m PB by 6 seconds finishing in a time of 4:34.64
Round Hill fell race, Sun 4 Aug
Val Kerr reports ... There was a good haul of prizes for Ilkley Harriers in this race: Emma Barclay 1st F, Sally Malir 3rd F, Val Kerr 1st LV50, Sue Morley 1st LV55, Nick Pearce 1st MV60, and the team prize (2 males and 2 females) going to Emma, Martin, Nick and Sally. Thanks also to Bob and Emma Payne who provided iced water half way up the track to the shooting hut on Denton Moor, much needed relief from the heat of the day and the first time I have ever been served ice cubes in a fell race! Results ...

(1   56:09 Richard Pattinson, P&B)
10   60:35 Martin Archer
21   66:35 Nick Pearce
28   68:21 Emma Barclay
32   68:45 Mark Iley
36   69:02 Sally Malir
45   71:31 Will Buckton
50   72:50 Paul Stephens
63   75:54 Richard Morris
80   81:00 Val Kerr
99   91:36 Peter Lewis
113 101:03 Sue Morley
114 103:09 Paul Sugden
121 125:09 Amanda Parnaby
122 finished


This was a counter in the Ilkley Harriers Race League ...
Farleton Knott, Sun 4 Aug
BOFRA Championship race ...

(1  35:59 Shaun Godsman, Calder Valley)
17  41:43 Steve Turland 
51  50:31 Jann Smith  4th Lady
129 finished

Saltaire Shaker (15k trail), Sun 4 Aug
A good turnout at the inaugural race, Results ...

(1    56:22 Mike Jefferies, U/A)
43  1:10:25 Simon Jenkins
70  1:16:46 Andrew Webster
97  1:22:13 Sue Bickerdike
103 1:24:15 Will Worboys
107 1:25:40 Harriet Middlebrough
147 1:34:39 Janet Smith
184 finished

York 10k, Sun 4 Aug

(1   31:14 Wondiye Fikre Indelbu)
1863 57:23 Sally Wright
4602 finished

Borrowdale fell race, Sat 3 Aug
From Will Buckton results from the 40th anniversary Borrowdale fell race from www.borrowdalefellrunners.co.uk ...

(1  2h51:24 Ricky Lightfoot, Ellenborough AC)
85  3h55:25 Duncan Cooper
92  3h56:22 Will Buckton
99  3h59:52 Daniel Wilkinson
143 4h15:58 Brian Melia
158 4h22:01 Heather Dawe, 7th Lady
176 4h25:46 Alison Weston, 9th Lady
319 finished

Hellifield Gala, Sat 3 Aug
A grand day out for the 18th Yorkshire Junior Championships, with a few senior results too ... and a first for Ilkley in the egg and spoon race!!

(1 23:34 James Hall, Wharfedale)
16 30:08 Malcolm Pickering  1st V60
56 42:33 Eric Morley
63 finished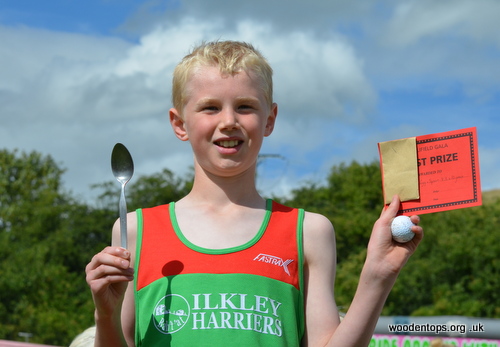 Parkruns, Sat 3 Aug

Abingdon
1 15:42 Tom Adams

Bradford Lister Park
64  24:15 Joe REYNIER
258 39:17 Karen Lambe

Greenpoint
6  20:16 Dave Wilby
80 32:54 Kelly Harrison

Harrogate Stray
148 25:36 Julie Elmes


---