Ilkley Harriers news archive 2013
Ilkley Harriers of the Month, May
Hilda Coulsey
For performances at John Carr 5km series setting new F60 club record, Yorkshire F60 champion and 1st F60 in the series
Other nominations were: Georgia Malir - for brilliant 3rd place in Mountain Running Championships and being selected to run for England and GB;
Eddie Winslow - for his LDWA 100 performance;
Clare Smith - for organising a great Calderdale Way Relay and social;
Bradley Chapman - for consistently good race results;
Val Kerr - for great results at Lothersdale, Jack Bloor, Calderdale Way and 1st F50 at Ilkley Trail race;
Tom Adams - 3rd at Inter Counties Championships & part of team winning Yorkshire Gold, his performance at Mountain Running Champs and being selected for England;
Emma O'Looney - for continued improvement in Bradford Park Runs; Paul Sugden - for setting a new marathon PB at Edinburgh.
Sally Morley
For winning the John Carr 5km series outright
Well done to Hilda and Sally this month's winners.
Earlier Harriers of the Month ...
Ilkley Harriers Trail Race, Mon 27 May
Results, report and photos on the Trail Race page, a super day by all accounts with a bumper field of 90 juniors; 270 entries in the senior race and a good sum raised for the race charity, and everything running smoothly.
For Ilkley, Tom Adams won the senior race for the 5th time and just 10s outside his record, the men and ladies teams both took the team prizes, and Ilkley won plenty of other category prizes as below!
Junior races report from Rachel Websdale ... we had 90 keen runners enjoying the morning sunshine and the colourful bluebells. A huge thank-you to all the marshalls, helpers and sweepers.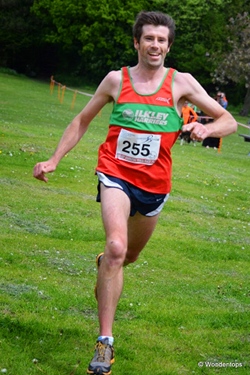 1   39:41 Tom Adams
11  46:11 Alex Sinclair  1st U23
13  47:07 Ben Sheppard
17  48:01 Rob Cunningham
21  48:20 Bradley Chapman
25  49:16 Steve Coy
27  49:23 Jonathan Sinclair 1st V50
32  50:00 Nick Pearce  1st V60
34  50:19 Will Buckton
39  51:08 Emma Barclay 3rd lady
42  51:47 Duncan Cooper
45  51:57 Sally Malir  1st F40
46  52:12 Henry Heavisides
55  52:43 Beth Massey
57  52:48 Ben Joynson
65  53:26 Caz Farrow
69  53:48 Jack Cummings
78  55:34 Stephen Rhodes
86  56:07 Jonathan Kenshole
92  56:27 John Hayes
133 60:15 Val Kerr  1st F50
137 60:40 Philip Hirst
157 62:48 Keith Wood
165 63:55 Alison Newell
166 63:56 Steve Newell
169 64:17 Will Worboys
170 64:26 Nick Mellor
173 64:46 Karen Lambe
182 65:43 Hilda Coulsey
188 66:23 Jane Guillard
191 67:03 Alison Ricci
205 69:32 Kate Wilkinson
207 69:43 Bernie Gibbons
208 69:51 Judith Scarfe
215 72:26 Sally Wright
217 72:50 Don McRae
220 73:53 Julie Elmes
222 74:59 Emma O'Looney
223 75:01 Sue Bickerdike
228 76:40 Kate Lofthouse
230 78:24 Mark Kerr
243 finished


This was a counter in the Ilkley Harriers Race League ...
Edinburgh Marathon, Sun 26 May
Paul Sugden finished in 3402nd place in 4h08:16, a PB by 1m55s
Levisham Limping, Sun 26 May
A cautionary tale rom Jez Hellewell ... Went up to North Yorkshire for The Levisham Limping this weekend. It starts off a mile away from the race registration in Lockton, on top of a hill, with beautiful views stretching out across the valley. We were then told by the race starter that walkers had been removing the race tape & to be careful where you're going! Not knowing the route this did not bode well. Started off pretty good & by mile 5 of the 7, after a killer climb, I was in 6th place, sandwiched between 2 North Yorkshire Moors runners. It soon became apparent, bombing down a road for way too long, that these "locals" knew the route as well as me! Anyway, we ended up doing 1.8 miles extra but chatted to a very nice lady with a map, who pointed us in the right direction. I particularly liked her observation that "the other runners are on the other side of the valley"! Some cyclists proved most helpful too in directing us to the bridge in order to get to "the other side of the valley". A beautiful day out, in glorious sunshine, in stunning countryside, chatting to 2 fellow runners on the pleasures of our sport. Getting lost isn't all bad. (Finished somewhere at the back out of around 50).
As many a runner will tell you, don't assume the person in front knows the way!
Yorkshire Track & Field Championships, Sun 26 May
Well done to Harry Maslen who is now the Yorkshire U17 High Jump Champion (1m85cm); Silver Medallist in the 100m hurdles (13.83) and 6th in the 200m (23.87). Rosie Shouler Harris was 10th in the U17 discus (19.09)
BUPA Great Manchester 10K, Sun 26 May
From Andrew Mitchell... I was fortunate enough to win a place in this race in a competition on Facebook!
I took my place on the start line with 40,000 others for the largest 10K road race in the UK. The warm and sunny conditions seemed to put everyone in a good mood and there was a great atmosphere with plenty of spectators lining the route. The course was a fairly flat route starting out from Manchester City Centre and going out to Old Trafford and back with a loop around Salford Quays. The route offered a PB opportunity but I rather blew that by getting caught up in the atmosphere of the event and starting out far too quickly. That caught up with me in the last 4K but I was still pleased to dip under the 50 minute mark, coming home in 49:38.
The race was covered by BBC TV and on watching the recording I even managed to spot myself just before the start!
LDWA 100 miler, Sat 25 May
Eddie Winslow reoports ... I completed the LDWA Camel Teign 100 miler over the weekend in a time of 26h 42m. A dry, cool weekend in Cornwall and Devon made for excellent conditions and a cold clear night crossing Dartmoor meant that we were able to clearly see a few shooting stars.
European Mountain Running Trials, Skiddaw, Sat 25 May
From Sally Malir ... on Friday the weather had been like Winter but on Saturday the sun came out making the climb up Skiddaw very hot and dusty. The junior women's race was the first race of the day 3.7k and 510m of ascent. Georgia Malir had a fantastic run coming 3rd in 27:48 after also having a hard week of 6 exams!
The other Ilkley Harrier running was Tom Adams who also had a great run against a stacked field coming in in 16th place.
Lancaster 5km, Sat 25 May
From Beth Massey ... Not deterred by the fact that this would be our 4th 5km race in 3 weeks, Mark Iley and I travelled to Lancaster for the first race of the Lancaster 5km Summer Race series, a series of 6 evening races taking place on the last Saturday of each month. The race is run on a flat out and back traffic free course and there is definitely the potential for fast times given the right conditions. Having tried them out last year we were both keen to improve on our recent times set at the John Carr series. Unusually for a 5km race, the course is marked out in miles which played havoc with my pacing (maths not being my strong point!!) and a brisk headwind in the second mile didn't help matters either!! I was pleased (and somewhat surprised!) to win the race in 19mins 32secs and Mark finished well up in the field in 18mins 02secs neither of us as fast as at Esholt but pleased to be consistent. Official results are not out yet so I'm not sure who won the race. All in all, this is a really good series of races, fairly low key and always a friendly atmosphere, it's well worth making the trip over to Lancaster.
Hutton Roof fell race, Sat 25 May

(1  49:12 Rob Jebb, Bingley)
13  55:51 Dave Wilby
137 71:55 Kelly Wilby
256 finished

Parkruns, Sat 25 May

Bradford Lister park
96  25:44 Sue Bickerdike
137 27:31 Emma O'Looney

Harrogate Stray
20  20:32 Geoff Howard
165 26:59 Julie Elmes

Middlesbrough Albert Park
140 26:05 John Marshall

Apperley Bridge Canter, Thu 23 May
Dave Wilby reports ... My first time at this popular local race, with almost 400 runners turning up to take on the mostly flat 10km route along quiet road, tracks, woodland & canal with a final 1km around the school playing field. The only downside was the presence of Km markers which after recent experiences have started to bring me out in a nervous rash!
Results from Horsforth Harriers

(1  33:06 Phillip Tedd. Woodhouse Grove School)
6   36:16 Dave Wilby
124 44:56 Neil Bloor
398 finished

Badger Stone Relays, Wed 22 May
Thanks to the many helpers tonight, 42 teams enjoyed a fantastic sunny evening's racing on Ilkley Moor with a great mix of juniors, family teams, and runners from far and wide. Results and more photos on the Badger Stone Relays page.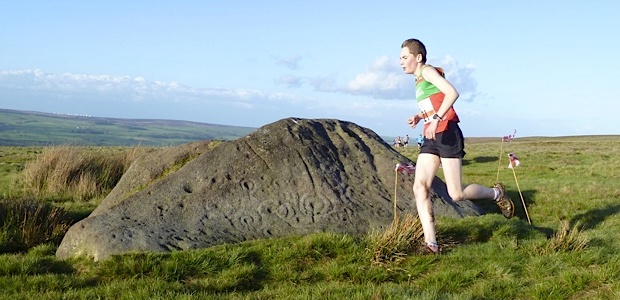 John Carr 3, Wed 22 May
From Heavisides Henry, road captain ... Ilkley Harriers won a fantastic haul of prizes at the John Carr series. There were trophies across the whole age range from 1st Boy Youth & 1st Girl Youth to 1st M60 & 1st F60 as well as 1st Lady overall. Not sure that I can remember all of the winners (apologies to anyone that I've missed): Sally Morley was 1st F overall (& would have been 1st F35 but could only win one series prize), Tillly Melechi was was 1st F Youth and Catherine Westhead 2nd (corrected, Paul), Gaenor Coy was 1st F35, Beth Massey was 2nd F40, Sally Malir was 1st F45, Hilda Coulsey was 1st F60, Francis Westhead was 1st M Youth, Bradley Chapman was 1st M Junior, Dave Westhead was 3rd M45, Mark Iley was 3rd M50, Henry Heavisides was 1st M55 & Nick Pearce was 1st M60.
For race 3 itself, Mark Hall made his first appearance in the series, finishing 1st M50 in 16:34. Most runners were a bit slower than previous weeks due to a strong wind for the last 1.5k (& fatigue?).
The John Carr series is a very popular 5k race series & is well attended by all local clubs so it's great to see us having so much success, well done to all who took part in any of the 3 races.
From Beth Massey, ladies road captain ... it was great to see such a fantastic turn out of Harriers at the John Carr series and especially the ladies, who turned out in force in all 3 races, leading to a great haul of prizes across the age groups (see Henry's report), numerous PBs being recorded and Hilda Coulsey setting a new F60 club record for the distance. Well done to everyone who competed!
Results

(1  15:49 Willy Smith, KCAC)
15  16:34 Mark Hall
21  16:53 David Westhead
42  17:38 Steve Coy      PB
49  17:57 Mark Iley
51  17:58 Bradley Chapman
54  18:00 Rob Cunningham
58  18:10 Sally Morley
65  18:17 Henry Heavisides
69  18:25 Francis Westhead
88  19:14 Richard Hinsley
90  19:16 Nick Pearce
94  19:27 Beth Massey
96  19:28 Lucy Williamson
102 19:42 Sally Malir
125 20:46 Andrew Jackson
129 20:50 Tilly Melechi
132 20:58 Sam Craske
162 22:16 Catherine Westhead
180 23:03 Gaenor Coy     PB
183 23:09 Peter Shields
190 23:32 Elizabeth Westhead
191 23:37 Alessandra Ricci
196 23:44 Hilda Coulsey
209 24:17 Allison Ricci
226 25:31 Ella Shouler-Harris
239 26:28 Harriet Jackson
247 27:11 Sally Wright
250 27:30 Bridget Taylor
251 27:31 Dave Taylor
252 27:40 Joanna Taylor
268 finished

HDSRL 2, Tue 21 May
Harrogate's Beckwithshaw race was the second in this year's Harrogate District Summer Race League. Matt Newell was again first Harrier, having an even better run than in HRL1, and Caz again led in our ladies in style.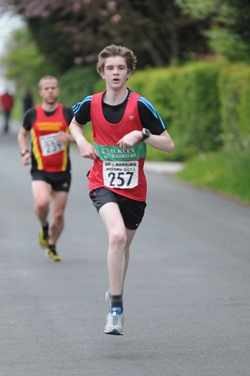 (1  32:16 Ian Fisher, Otley AC)
45  39:02 Matt Newell
65  40:18 Caz Farrow
71  41:00 Ben Joynson
75  41:17 Steve Newell
103 43:01 Will Buckton
104 43:06 Neil Chapman
105 43:11 Paul Stephens
117 43:39 Stephen Rhodes
122 43:59 Jonathan Kenshole
172 47:21 Adela Reperecki
186 48:22 Phil Hirst
222 50:19 Karen Lambe
228 50:45 Jane Guillard
244 51:42 Nick Mellor
247 51:58 Andy Wolfenden
265 53:51 Sue Williamson
266 54:01 Petra Bijsterveld
269 54:09 Vince Gibbons
272 54:28 Julie Elmes
274 54:37 Abigail Bailey
279 55:11 Bernie Gibbons
290 56:24 Don Macrae
294 56:54 Paul Sugden
297 56:57 Emma O'Looney
305 58:02 Sue Verspyck
322 finished

Calderdale Way Relay, Sun 19 May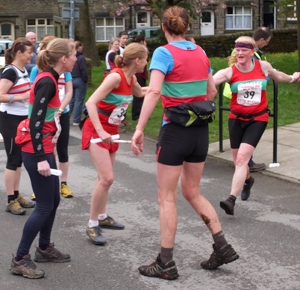 Well done to our mixed team in what is described as the UK's biggest club-run off-road race (1,000 runners and helpers). And a big thank you to Clare for rallying all the runners - always a logistical challenge with 12 runners per team. We finished 36th team out of 79 teams finishing, 7th mixed team out of 18 - results.
Inter-regional Fell Championships, Settle Hills, Sun 19 May
We hear that Lucy Williamson helped Yorkshire to team silver for the U16 girls, Georgia Malir was second only to Annabel Mason in the U18 race and with her took Yorkshire to team gold, and Tom Adams was 3rd in the senior men's race leading Yorkshire to team gold. (Just for completeness, Yorkshire took the senior ladies' team gold with Ilkley Moor fell race winner Emma Clayton leading in a 1-2-3 of Yorkshire ladies.) Results.
Photos of our runners in their Yorkshire vests: Lucy on the right, Georgia centre, Tom second from right
Ripon 10, Sun 19 May
From Caz Farrow ... I think there were 3 of us at Ripon 10 today. I had the tail end of a chest infection so not feeling great on the numerous hills! Came 3rd lady but told the organisers I would put in a good word with the club for this race-scenic, mix of trails/country roads, mostly on National Trust Property namely Studley Park & Fountans Abbey, good goodie bag, friendly...and for the 'speedsters' amongst you, the first 3 men were in 58-59 minutes.
Results.

(1 58:09 Mike Jefferies)
1:11:34 Caz Farrow
1:24:40 Christine Cox
1:35:23 Petra Bjisterveid

Positions later, still being verified
Capability's Overview, Sun 19 May
Amanda Parnaby reports on this ... 23 miles around Sledmere and the the Wolds. Lovely weather after the recent rain. Finished in 5 hours 20 minutes.
Old County Tops, Sat 18 May
Brian Melia reports ... Outi Kamarainen and I completed the race in 11 hours 3 mins. It was wet and poor visibility, but nonetheless enjoyable due to the superb organisation and the course which is stunning.
Sedbergh Gala, Sat 18 May
Results of this BOFRA race ...

(1 19:38 Rob Jebb, Bingley)
15 23:40 Bradley Chapman
16 24:11 Iain Gibbons
33 27:28 Jann Smith  3rd lady
68 finished

Parkruns, Sat 18 May

Bradford Lister Kark
76  26:00 Sue Bickerdike
103 28:07 Emma O'Looney

Leeds Hyde Park
156 26:15 John Marshall

Kildwick fell race, Wed 15 May
Ben Joynson reports ... 2 Harriers at the Kildwick fell race on a nice evening. My first race back after a while resting a injury and Kate Archer looking in good form in the ladies race. Kate was 2nd Lady :). Well done Kate and thanks for the company. A good course with challenging climbs and descents but not too technical.

(1 27:22 Stephen Brock, Wharfedale)
21 31:49 Ben Joynson
27 33:02 Kate Archer
70 finished

John Carr 2, Wed 15 May
Henry Heavisides reports ... There were some exceptional performances again at the 2nd John Carr 5k race. Dave Westhead was 1st Ilkley Harrier home. The younger runners were very much on form with Ruaridh Mon-Williams, Bradley Chapman, Francis Westhead, Edward Bickerdike & Jack Cummings all running well under 20 minutes. Mark Iley was pleased to get under 18 minutes for the first time in several years & Beth Massey set another PB, both getting rewards for much hard work on the track over the winter. Hilda Coulsey did another great run to be 1st F60, beating her time from last week. I was pleased to be back running on tarmac after the mud & hills of the Jack Bloor fell race.
Hilda's time establishes a F60 Club record.
From Dave Westhead ... Another fantastic Harriers turnout. Pleasant sunshine and good running conditions made for an enjoyable race (if running 5k flat out can ever be described that way). Particularly notable performances were Ruaridh Mon-Williams (I suspect 17:27 below is a PB and he ran the first 1500 at sub 17 minute pace), Andrea Westhead (2 minute improvement on last week) and Pete Shields back after a long layoff (I'm not sure this if this is the first race this year Pete?). Several others made significant improvements from the previous race as well.

(1  15:24 Adam Peers, Leeds City)
17  16:55 Dave Westhead 
29  17:27 Ruaridh Mon-Williams
38  17:41 Bradley Chapman
42  17:51 Mark Iley
47  18:02 Steve Coy 
54  18:17 Sally Morley
58  18:19 Rob Cunningham
65  18:30 Henry Heavisides
69  18:36 Francis Westhead
84  19:08 Beth Massey
89  19:17 Nick Pearce
90  19:19 Ed Bickerdike
93  19:27 Richard Hinsley
94  19:29 Jack Cummings
102 19:45 Sally Malir
115 20:09 Rebecca Mon-Williams
120 20:14 Andy Wiggans
122 20:16 Jacob Hellewell
133 20:51 Tilly Melechi
144 21:11 Andrew Jackson
169 22:18 Catherine Westhead
175 22:32 Joanne Williamson
184 22:54 Sam Craske
187 22:58 Elizabeth Westhead
194 23:23 Alessandra Ricci
196 23:26 Pete Shields
200 23:31 Hilda Coulsey
204 23:45 Gaenor Coy
212 24:11 Emily Elmes
217 24:27 Allison Ricci
218 24:30 Ella Shouler-Harris
232 25:24 Harriet Jackson
235 25:34 Petra Bijsterveld
237 25:37 Sue Williamson
241 25:58 Julie Elmes
259 27:35 Bridget Taylor
261 27:37 Dave Taylor
272 29:15 Andrea Westhead
281 finished

Askern 10k, Wed 15 May
From Mark Hall ... a windy evening and undulating course. I finished with a time of 34:39 to finish in 10th place and first V50. There were no other Ilkley runners. The winner was Jason Ward, Clowne Road Runners 30:59. There were 517 starters
Jack Bloor Races, Tue 14 May
The 28th Jack Bloor Races attracted a good contingent of Harriers, young and old. Paul's photos of the senior race and junior race photos, and Junior race photos from Graham Weston. Tom Adams was 2nd and Ilkley won the men's and women's team prizes (and 3rd ladies team!).

(1  38:40 Chris Smithard, DEE)
2   38:53 Tom Adams
6   42:29 James Mountain 1st U23
8   43:02 Martin Archer
9   43:07 Matthew Cox
12  43:40 Dave Wilby
23  45:15 Bradley Chapman
25  46:31 Ben Sheppard
35  47:41 Ralph Tench
47  49:20 Nick Pearce
50  49:25 Jonathan Sinclair
52  50:25 Will Buckton
65  52:22 Alistair Barlow
66  52:26 Emma Barclay
68  52:28 Alistair Wood
75  53:35 Paddy Hagan
79  54:00 Mike Baldwin
81  54:10 Rob Cunningham
86  55:19 Alison Weston
87  55:33 Chris Oxlade
97  56:07 Ian Marshall
104 58:24 Paul Stephens
105 58:39 Henry Heavisides
110 59:24 Sarah Haines
120 60:43 Dave Taylor
121 60:48 Joyce Marshall
124 61:03 John Hayes
135 62:21 Val Kerr
137 62:32 Alison Bennett
140 63:27 Neil Bloor
141 63:29 Tony Thornley
143 63:43 Adela Reperecki
157 65:55 Gavin Burgess
159 66:29 Will Worboys
165 67:03 Rachel Hagan
169 70:54 Amanda Newham
171 71:32 Sarah Hayes
173 76:02 Peter Lewis
175 76:27 Sue Morley
179 78:01 Kate Wilkinson
181 78:51 Gemma Carpenter
182 84:07 Miranda Foster
183 84:08 Juliet Hammond
186 84:36 Rachel Websdale
187 finished


This was a counter in the IH Race League, Bradley still holds the lead!
Mearley Clough fell race, Tue 14 May

(1 31:45 Darren Kay, P&B)
10 37:07 Steve Turland
105 finished


Photos on Woodentops
Stretford track, Tue 14 May
Sally Malir reports ... Georgia ran on a cold rainy evening in Stretford and smashed her 3000m PB by almost 50 seconds. Her time was 9:54.13
Leeds Half Marathon, Sun 12 May
Results ...

(1   1:13:08 Ben Marriott, Bingley Harriers)
313  1:35:40 Michael Duffield
449  1:37:59 David Howe
878  1:44:06 Dan Ibbotson
1060 1:48:12 Andrew Mitchell
2067 1:59:19 Daniel Judkowski
2142 1:58:39 Sue Williamson   PB 6 mins
2398 2:02:44 Charlotte Smithson
2832 2:04:03 Donna Hattersley
3094 2:12:08 Margot Dale
3759 2:21:56 Joanna Taylor
4097 2:27:21 Emma Payne
4517 finished


Margot's time establishes a new F70 Club Record.
Fairfield Horseshoe, Sat 11 May
Clare Smith reports ... Conditions were a little tricky (mud/bog/busy) compared to my previous experience of this course but the weather was slightly more favourable than had been forecast (and better than that in Ilkley I hear!) with views as far as Great Gable at times. I obviously didn't take it seriously enough if I was admiring the scenery. Perhaps that's why I fell over so many times too! Some good performances from our Ilkley team in this first English Champs counter of 2013.
Dave Wilby set a 3min PB, and got English Championship points from his top-100 placing. Results ...

(1  1:19:18 Rob Hope, P&B)
51  1:30:44 Dave Wilby
146 1:43:25 Lee Morley
165 1:45:10 Will Buckton
185 1:47:30 Duncan Cooper
222 1:53:08 Dick Waddington
234 1:54:23 Kate Archer
253 1:56:32 Neil Smith
265 1:59:29 Jann Smith
270 2:00:26 Alison Weston
322 2:08:45 Steve Weston
329 2:10:45 Norman Bush 2nd V70
352 2:17:02 Clare Smith
408 finished

Junior English Fell Championships, Sat 11 May
From George Elmes ... Another good turnout of 12 Juniors made their way across to Lancashire to compete in the 3rd round of the English Junior Fell champs at Cowpe. Again some strong results on yet another challenging course across all the age categories.
Standout performances from Lucy Haines 1st GU14, Ruaridh Mon-Wiiliams 4th BU16 & Lucy Williamson GU16 4th.
Full report on the junior pages
Some Woodentops photos
Parkruns, Sat 11 May

Bradford Lister Park
69  24:47 Paul Sugden
71  24:55 Sue Bickerdike
161 28:32 Emma O'Looney

Middlesbrough Albert Park
127 25:51 John Marshall

Yorkshire Selection
Congratulations to Tom Adams, Georgia Malir, and Lucy Williamson selected to run in Yorkshire colours at the fell Inter-Regional Championships on 19 May at Settle Hills.
HDSRL, Wed 8 May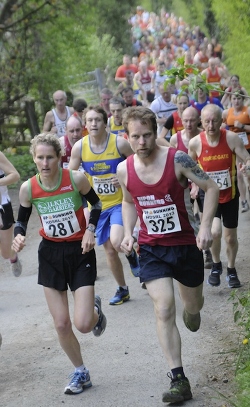 Well done those those who ran at the Otley race, the first in this year's Harrogate District Summer Race League. Although there were some good individual results on the 5.9 mile course, and some people racing for the Club for the first time, the unfortunate race clash means we have 'a lot to play for', as they say, in the team competitions. Next race is at Harrogate on 21 May.

(1  32:27 Ian Fisher, Otley AC)
42  37:41 Matt Newell
68  39:58 Steve Newell
71  40:07 Caz Farrow
79  40:54 Stephen Rhodes
97  42:11 Paul Stephens
152 46:05 Val Kerr
213 49:34 Karen Lambe
234 52:09 Paul Sugden
236 52:30 Petra Bijsterveld
238 52:59 Julie Elmes
245 54:06 Emma Payne
254 54:55 Bernie Gibbons
255 54:55 Vince Gibbons
258 55:12 Sally Wright
260 55:19 Don Macrae
265 56:34 Emma O'Looney
266 56:35 Sally Lynch
274 58:20 Sue Verspyck
289 finished

John Carr 1, Wed 8 May
Report from Henry Heavisides ... There was a very impressive turnout of Ilkley Harriers at this year's first John Carr 5k race. Dave Wilby & Dave Westhead were our first runners to finish, both just outside 17 minutes. Bradley Chapman continued his tremendous progress with a new PB of 17:43, getting a prize for 1st Youth (not sure what age group that is). The race was also the Yorkshire Vets championships & many of us ended up in the prizes, apologies if there are any errors: Sally Morley (2nd F35), Gaenor Coy (3rd F35), Beth Massey (3rd F40), Emma Barclay (1st F45), Sally Malir (2nd F45), Hilda Coulsey (1st F60), Henry Heavisides (2nd M55), Nick Pearce (2nd M60).
Results ...
Nick Pearce beat Geoff Howard's V60 Club record (BMAF Champs, Horwich, by just 1 second.)

(1  15:30 Mike Burrett, Leeds City)
25  17:01 Dave Wilby
27  17:06 David Westhead
48  17:43 Bradley Chapman
71  18:16 Mark Iley
74  18:18 Sally Morley
81  18:29 Henry Heavisides
90  18:49 Francis Westhead
93  18:52 Arthur Reilly
99  19:11 Nick Pearce
107 19:17 Beth Massey
110 19:20 Emma Barclay
115 19:32 Sally Malir
142 20:14 Jacob Hellewell
143 20:14 Edward Bickerdike
153 20:29 Tilly Melechi
190 21:41 Andrew Jackson
223 22:57 Catherine Westhead
235 23:28 Alessandra Ricci
251 23:53 Hilda Coulsey
253 24:02 Sue Bickerdike
255 24:04 Gaenor Coy
261 24:18 Elizabeth Westhead
268 24:40 Cathy Brown
274 25:07 Allison Ricci
286 25:32 Ella Shouler-Harris
312 27:11 Bridget Taylor
313 27:12 Dave Taylor
317 28:11 Harriet Jackson
323 28:37 Joanna Taylor
336 31:26 Andrea Westhead
341 finished

Coiners, Mon 6 May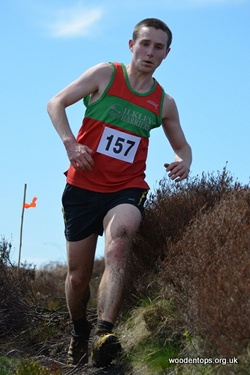 From Will Buckton ... After meeting former Harrier Ian Rowbotham I set off well only to be passed with ease by Ian on the climb to Stoodley Pike. A great route which should be popular with Harriers as it is very runnable.

(1 54:38 Christian Holmes, Wharfedale)
27 1h03:09 Will Buckton
88 finished

Keswick Half Marathon, Sun 5 May
From Catherine Farrow ... Billed as one of the most scenic halfs, it may well have been had there been anything to see other than cloud and drizzle. Throw in a stiff wind and about 2000ft of climbing and you don't get a pb course. However it was friendly, well-marshalled and supported with ample drinks stations. I came about 38th, in about 1hr 31mins but was definetly 2nd woman! What's more, spiderman and 2 wonderwomen were there.
Bluebell Trail 10 mile Sun 5 May
From Adela Reperecki... I took part in the Bluebell Trail 10 mile which is organised by Stainland Lions, Halifax. This is a 10.3 mile multi-terrain race through woodland, canal towpaths, tracks, trails, cobbled streets, incorporating the steep climb of Trooper Lane, and through beautiful bluebell woods. At the end of the run is a river crossing which is great. I was the only Harrier there and came in at 1.40.22 and managed to knock 1 minute off my time from last year. Would like to see more Harriers there next year.
Grand Ridge Trail Run, nr Seattle, Sat 4 May
From Dick Waddington ... In an attempt to be first Ilkley Harrier in a race, I took the drastic step of flying to Seattle to limit the competition (and do a bit of work). I entered the Grand Ridge Trail Run (13 miles, 2000 ft of ascent) in Issaquah near Seattle, USA.
There was a field of about 150 with the event having a very friendly atmosphere. It was run by a small company that organises trail races every few weeks in the hills around Seattle.
Having looked at the results for the previous year and seeing that after the first half mile the trails were narrow, I thought I would start near the front. The other runners were reluctant to start at the front, so I ended up next to a very fit looking guy in a North Dakota vest. At the start he bounded along the first section and literally disappeared at the start of the first hill. After that there was a lot of to and fro as some of the runners were quick up the hills, some quick down the hills and some quick on the flat. The course was an out and back route and it seems to be obligatory to say "good job" to anyone you pass, which gets pretty tiring after a while, but it seems like a friendly thing to do.
With some good speed up and down and some mediocre speed on the flat, I managed to come in 5th (2nd V40) in 1:55. The North Dakota runner broke the course record by 10 minutes in 1:30, which was 21 minutes ahead of the second placed runner! And I was first Ilkley Harrier home. Good job.
Coniston, Sat 4 May
From Will Buckton ... a very tough Lakeland fell race over steep and technical terrain. Steve Turland got the better of me again with a strong run in 1:29. I came home in 1:36 after following an Ambleside vest down a terrifying scree slope descent from Coniston Old Man.

(1 1h11:32 Darren Kay, Pudsey and Bramley)
44 1h29:58 Steve Turland
78 1h36:35 Will Buckton
247 finished

Parkruns, Sat 4 May

Bradford
29  21:11 Ed Bickerdike
101 25:05 Paul Sugden
118 25:32 Sue Bickerdike
126 25:46 Harry Stead
212 28:42 Emma O'Looney

Harrogate
141 26:21 Julie Elmes

Stewart
57  25:25 John Marshall
128 35:34 Linda Marshall

Lothersdale fell race, Wed 1 May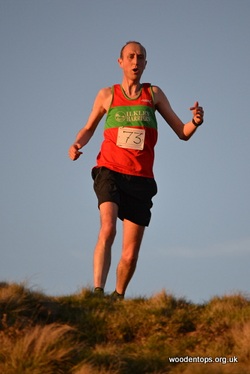 From Ben Sheppard ... Lothersdale fell race is short and it is sharp: 3.6 miles of shortness and 591ft of sharpness. It being an out-and-back course, there's no point kidding yourself you are not far behind those ahead of you, but you can kid yourself that you must almost be at the summit as James Hall (Wharfedale) whooshes past you in the opposite direction like an exocet missile aimed on Lothersdale village hall. Harriers with burning lungs included Bradley Chapman, Jeff Green (near the front in his first fell race as a Harrier), Val Kerr, the outstanding Tilly Melechi - more than holding her own in the seniors race - and her Competitive Dad Toni.

(1 22:50 James Hall, Wharfedale)
16 26:39 Bradley Chapman
18 26:56 Jeff Green
20 26:58 Iain Gibbons
22 27:25 Ben Sheppard
33 28:45 Richard Smith
64 32:44 Toni Melechi
65 32:52 Tilly Melechi
80 35:22 Val Kerr
104 finished

West Yorkshire Track & Field League, Wakefield, Wed 1 May
Dave Wilby reports ... I travelled across to Thornes Park in Wakefield last night for a 1500m track league race. With no reliable way of knowing what time I was likely to start, I eventually got on to the track at 10pm having already warmed up 3 times, and with legs still trashed from Sunday's half marathon I just wanted to set a benchmark for future races. I was pleased enough and managed to achieve my aim of not finishing last by coming 11th from 13 in a steady 4:54:37. The race was won by Brad Traviss in a swift 4:09:43, and I'm pretty sure there's scope for taking 15 to 20 seconds off my time over the next couple of races.
Reminder, Harriers have signed up to this League this year, see forum post for this and other chances to get on track!
---