Ilkley Harriers news archive 2018
Outstanding Achievements, December
From the Committee ...
Jack Wood for the WYXC overall win, winning Chevin Chase and the Stoop
Helen Thurston for her pb parkrun result and winning Chevin Chase
Euan Brennan for his Telford 10km result
Pauline Munro was 4th in the PECO x country and 1st LV50 at Chevin Chase
Diane Kitchen had great x country times and positions and also for Skegness 10km
Hilda Coulsey, FV65 prize at Ribble Valley
Dan McKeown won the V40 WYXC overall prize
Malcolm Pickering won the V65 WYXC overall prize
Alison Weston for suggesting and organising the Abraham's Tearoom Round relay
Michael Lomas for organising Gathering Winter Fools relay
all those involved in making the Christmas relays, the mince pies and mulled wine and the quiz night such a success
Auld Lang Syne fell race, Mon 31 Dec

(1  41:06 Chris Holdsworth, Ribble Valley)
2   41:55 Jack Wood
9   44:01 Nathan Edmondson
54  51:51 Pauline Munro
60  52:29 Kate Archer
65  52:59 Helen Wood
71  54:17 Peter Shelley
124 59:01 Alistair Barlow
185 65:23 Adela Reperecki
312 87:19 Sally Wright
327 finished
Ilkley ladies won the team prize

Ribble Valley 10k, Sun 30 Dec
From Hilda Coulsey ... Ribble Valley, incorporating the North of England road race championship, did not disappoint this year for many runners and spectators. Both men's and women's records were shattered with former English Junior Fell Running Champion Marc Scott of Richmond & Zetland AC under 29 mins at 28.58 and Beth Potter, Camberslang, at 32:07. I waited for the prize giving - times for age winners were outstanding.
Harriers were led home by Dominic Coy in his first serious 10k and age category winners were Beth Massey v45, Sally Malir v50 and Hilda Coulsey v65.
Weather was conducive to good times, mild and drizzly. With the race full at 1500 three weeks ago enter early next year for a great end to our league road races.
Results ...

(1  28:58 Marc Scott, Richmond and Zetland Harriers)
64  33:33 Dominic Coy 	
165 36:46 Stephen Coy
283 40:09 Colin Williams 
309 40:59 Dick Waddington
316 41:11 Beth Massey - 1st FV45
395 42:48 Sally Malir - 1st FV50
613 48:23 Abigail Swales
706 50:15 Alison Weston 
826 52:51 Hilda Coulsey - 1st FV65
859 53:46 Fiona Schneider
868 54:00 Andrew McCallion
959 57:30 John Marshall
1307 finished

Oliebollenloop Hasselt, Sat 29 Dec
From Petra Bijsterveld... Oliebollen are what the Dutch eat on New Year's Eve. They are a bit like doughnuts but are ball-shaped, contain raisins and are deep-fried and then covered in icing sugar. Believe me, they taste better than it may sound!
I joined a friend and entered this low-key local race just outside my former home town of Zwolle. There was a choice between 4 or 8 'English Miles' as they call them here, with the promise of hot chocolate and an 'oliebol' at the finish line. I opted for the 4 miler which was one lap of paths and small roads through the polder, as flat as flat can be. Due to a sat-nav mishap which is best forgotten about we arrived 5 minutes before the start! My warm up consisted of bolting from the car to the clubhouse to collect my number, whilst trying to avoid pushing over numerous small children (who had just finished the junior races). I elbowed my way to the desk, grabbed my number, pinned it on and attached the chip to my shoelaces and we were off! The race was uneventful, my pace sluggish due to stiff legs and a strong headwind typical of the Dutch polders, but I enjoyed looking at the landscape and finished in 34:14 whilst the winner took just 21:59.
I relished my hot chocolate and oliebol whilst waiting for my friend who had opted for the 8 mile version. We all received a lovely wooden medal. A nice morning out!
Results ...
parkruns, Sat 29 Dec
From Jonathan Turner ... Lots of Harriers enjoyed a post-Christmas parkrun on Saturday, including a great family effort from the Pickerings at Penrhyn, with Sarah leading them home in 13th place. She was the first lady.
Results ...

Armley 
(1  19:30 Matthew Sutton, U/A)
10  22:13 Harry Stead
107 ran

Bradford 
(1   15:56 James Habergham, Halifax Harriers & AC)
44   22:41 James Lee
85   25:20 Oscar Street
158 28:12 Paula Reynier
347 ran

Cliffe Castle 
(1  18:57 Jack Muir, Wharfedale Harriers)
59  29:03 Fiona Schneider
139 ran

Fountains Abbey 
(1    17:23 Unknown, U/A)
133  24:48 Helen Waddington
544 ran

Harrogate 
(1    17:25 Unknown, U/A)
268  29:30 Geoffrey Howard
383 ran

Myrtle
(1    18:46 Liam Griffiths, Aberdare Valley AAC)
100  30:35 Janet Smith
144 ran

Penrhyn 
(1  17:34 Raif Serif, Crewe & Nantwich AC)
13  20:49 Sarah Pickering - 1st lady
27  22:10 Malcolm Pickering
77  26:55 Anna Pickering
87  27:41 Sally Pickering
212 ran

Skipton 
(1   17:04 Michael Hargreaves, East Hull Harriers & AC)
8    20:24 Mike Abrams-Cohen
16  21:31 Tim Ashelford
230 ran

Woodhouse Moor 
(1  17:29 Gregan Clarkson, Kingston upon Hull AC)
4   18:01 Steven Gott
312 ran

Chevin Chase, Wed 26 Dec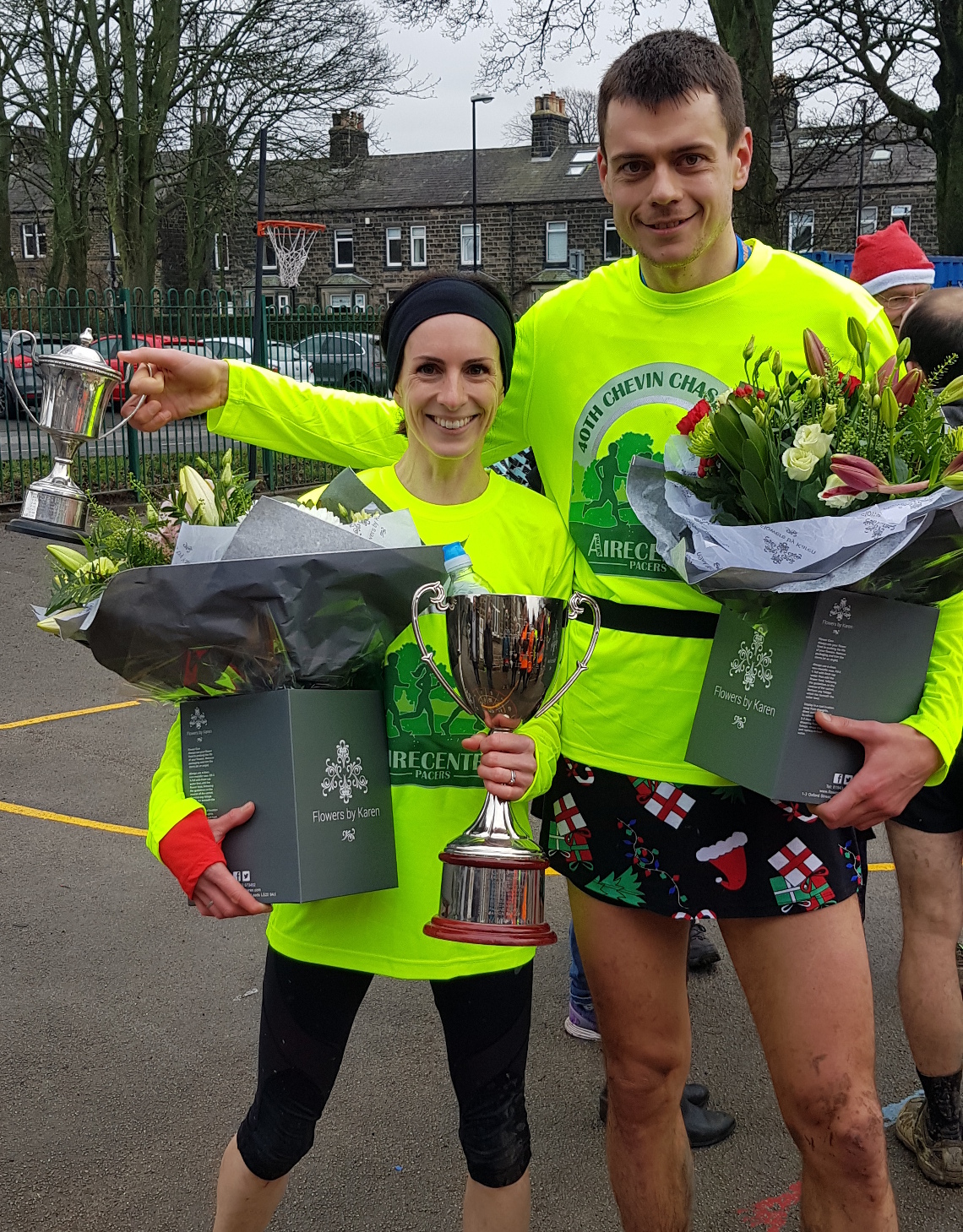 Jack Wood and Helen Thurston, winners of the 40th Chevin Chase.
Results ...

1   38:50 Jack Wood
4   39:46 Jack Cummings
5   40:15 Will Simmons
6   40:20 Nathan Edmondson
22  44:15 Steven Gott
24  44:50 Ben Stevens
29  45:13 Michael Lomas
42  46:04 Helen Thurston
43  46:07 Tim Ashelford
63  47:30 Pauline Munro
65  47:34 Stephen Coy
79  48:08 Rob Cunningham
87  48:34 Kate Archer
105 49:37 Helen Wood
114 49:59 Gavin Lamb
119 50:08 Steve Murray
123 50:28 David Foyston
151 51:51 Daniel Lane
181 52:55 Derek Oliver
306 57:28 Tom Lally
322 57:59 Robert Budding
424 60:16 Amy Jones
509 62:12 Adela Reperecki
518 62:53 Tom Worboys
529 63:21 Peter Shields
535 62:56 Geoffrey White
560 64:19 Nicola Budding
602 65:22 Diane Kitchen
621 66:06 Anna Nolan
687 68:07 Clare Boyle
712 68:45 David Ibbotson
831 72:18 Sheena Pickersgill
864 73:35 Dave Reynier
865 73:36 Paula Reynier
893 74:38 Fiona Schneider
915 75:00 Hilda Coulsey
927 75:37 William Worboys
954 76:46 Jacqui Weston
1001 79:31 Michael Picken
1072 85:08 Sally Wright
1086 85:05 Andrew Kitchen
1163 finished

parkruns, Christmas Day Tue 25 Dec

Bradford parkrun
1  17:33 Cameron Reilly
52 24:00 Arthur Reilly
288 runners

Harrogate parkrun
1  16:40 Unknown
13 19:15 Paul Carman
85 22:24 Jann Smith
524 runners

Skipton parkrun
1   17:22 Ruaridh Mon-Williams
5   20:16 Mark Mon-Williams
10  21:01 Robert Budding
25  22:03 Archie Budding
33  22:47 Ben Joynson
49  24:20 Daniel Fazackerley
54  24:29 Nicola Budding
73  25:26 Dylan Shinn
118 28:15 Bernadette Gibbons
138 29:34 Oscar Shinn
178 35:13 Neve Tennant
187 37:07 Anna Fazackerley
198 41:22 Karen Shinn
205 runners

parkruns, Sat 22 Dec
From Jonathan Turner ... Some notable parkrun performances to report, with the standout display Helen Thurston's at Fountains Abbey. She was the first lady home, stopping the clock in a superb 18:27 - the fastest 5K by a female Harrier this year and the quickest since May 2015. There were also top-five age-graded runs at Skipton from Tim Ashelford, Colin Williams and Malcolm Pickering as well as a new PB for Bernie Gibbons.
Results ...

Bradford 
(1 17:50  Simon Shaw, Ealing, Southall & Middlesex AC)
20 20:45  Poppy E Anderson
82 23:52  Oscar Street
151 27:03 Paula Reynier
152 27:03 Dave Reynier
378 ran

Cliffe Castle
(1  18:34 Alexander Thompson, Wharfedale Harriers)
59  29:34 Fiona Schneider
136 ran

Fountains Abbey
(1  16:18 Reece Dalton, Ripon Runners)
7   18:27 Helen Thurston
250 29:39 Janet Smith
418 ran

Myrtle
(1  18:43 Tom Keighley, Chapel Allerton Runners)
20  23:57 Richard Hinsley
118 ran

Skipton
(1  16:17 Joe Hudson, Keighley & Craven AC)
4   19:16 Tim Ashelford
8   20:07 Colin Williams
9   20:33 Max Ashelford
18  21:52 Adrian Bastow
23  22:13 Malcolm Pickering
81  27:40 Anna Pickering
102 28:27 Bernie Gibbons
188 ran

League update
From Jane McCarthy ... Looking for a New Year's Resolution? How about the 2019 Harriers League? There are some great races in next year's League. The handicap system adjusts results for gender and age (always good!). You need to complete at least 3 races in each category, plus a Wildcard for the overall League, or max. 4 races to compete in the individual categories, road, trail or fell. All details on the League page along with results of this year's League - ONE RACE TO GO!!!! - updated after The Stoop. Well Done to all that raced!
Stoop fell race, Sun 16 Dec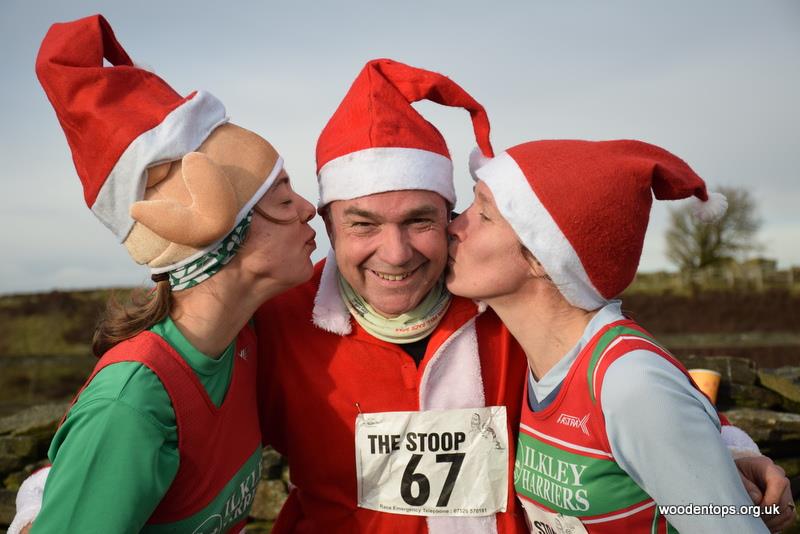 From Michael Lomas ... Jack, Jack and myself got male team prize and beat Wharfedale by 1 point!
Results ...

1   30:27 Jack Wood
5   31:55 Jack Cummings
14  35:34 Michael Lomas
25  37:26 Daniel Hayes
44  39:21 Helen Wood
64  41:31 Rachel Carter 3rd V40
108 46:28 Paul Calderbank
121 47:51 Chantal Busby
143 51:00 Steve Weston
168 56:34 Jean Sullivan
190 62:16 Amanda Newham
191 62:59 Fiona Schneider
206 finished

PECO XC, Sun 16 Dec

Men
(1  29:02 Nathan Marsh, Tonbridge AC)
39  33:28 Steven Gott
165 37:57 Peter Shelley
202 39:14 Michael Duffield
224 40:11 Malcolm Pickering
473 finished

Ladies
(1  33:33 Helen Cross, York Tri)
4   35:34 Pauline Munro
31  39:05 Sarah Pickering
34  39:33 Ellie Kitchen
128 46:04 Diane Kitchen
231 51:54 Anna Pickering
259 53:10 Sally Pickering
293 55:12 Kate Lofthouse
375 finished

Gathering Winter Fools relay, Sat 15 Dec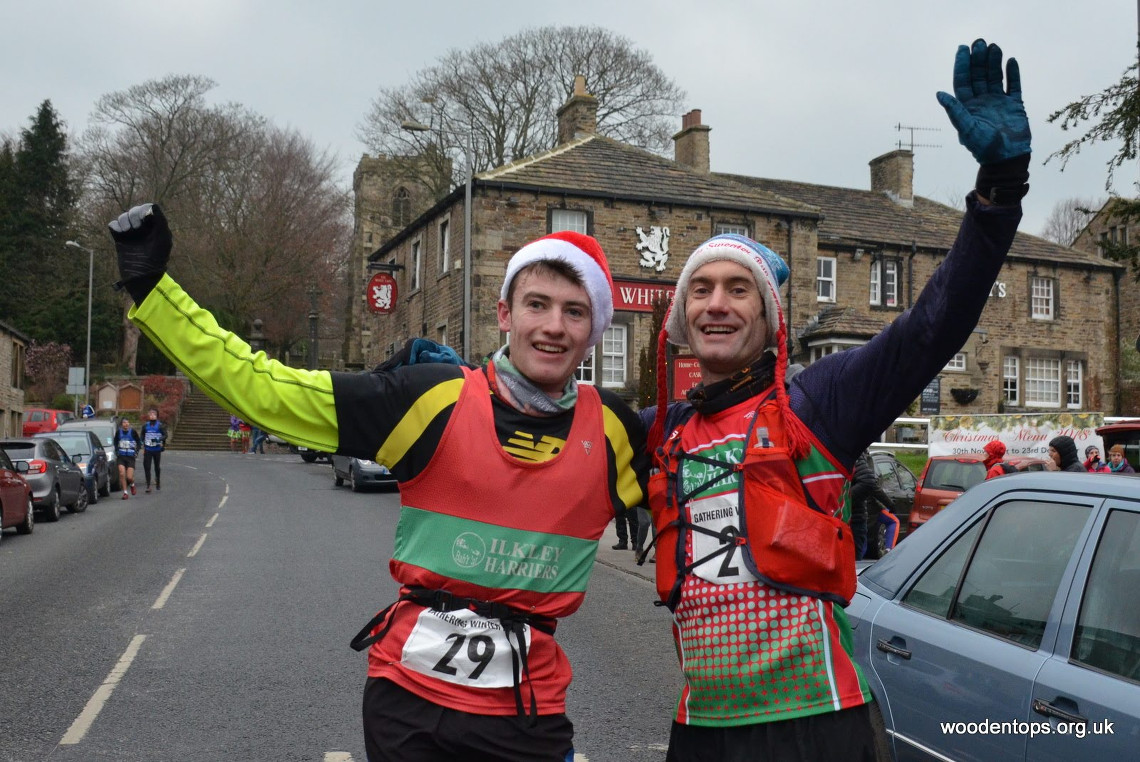 From Caroline Howe ... The words 'social' and 'pub' in the race description were what attracted me to do this festive relay... four legs of differing lengths starting and finishing at various pubs around Keighley, Bingley, Silsden and the surrounding areas. On the day itself we came to realise the significance of the word 'fools' - as surely only fools would brave these wintery weather conditions in the middle of December in all manner of fancy dress!!
It was fantastic to see two Ilkley teams out in this race, with a strong men's team - "Ilkley Two Hats" - and a mixed team - "Ilkley Tinsel Toes". The men stormed to an impressive victory, winning the race by 11 minutes! Istvan Jacso and Jack Cummings were fastest on leg 1 (9 miles) in 1:01. Jack Wood and Will Simmons were quickest on leg 2 (9.5 miles; 1:02), with Paul Carman and Ian Gibbons 2nd on leg 3 (6 miles; 41 mins), and Michael Lomas and Dan McKeown 2nd on leg 4 (7 miles; 47 mins) and taking the team home to victory on its first attempt in a total time of 3:32 - a great result!
Ilkley Tinsel Toes consisted of Helen Thurston and Peter Shelley who got us off to a fantastic start, finishing leg 1 in 9th place, in 1:10. Steph Fox and James Brooks had found themselves switched from the relatively easy leg 3 to leg 2 due to injuries... agreeing to it before realising it included the Silsden 'murder mile'! But they took this extremely tough leg in their stride and finished in 1:48, giving David Howe and I a minute head start on the mass start for leg 3, which was much appreciated! David had been drafted in as something as a default sub when Sally Armitage came down with the winter lurgy and, despite having to rely on me knowing the route, we made it round in 54 minutes. By that time Petra and Jacqui had set off with the mass start... and it soon became clear they had the toughest task of all of us as the weather took a turn and the freezing rain fell. Described by Petra as the 'worst run of her life', the conditions were so treacherous runners were having to crawl across roads on their hands and knees due to the ice. Massive kudos to them for finishing - no mean feat, and apparently not all teams did!! They brought team Tinsel Toes home in a respectable 5:24.
Special mention must be made for the fancy dress efforts of all team members... full-on elf costumes and santa suits, with the Ilkley Harriers colours certainly lending themselves to festive attire coordination! There were some very impressive efforts by all teams with snowmen, nuns, superheroes and many more outfits on display (and a team from Trawden carrying as their baton an actual 5 ft Christmas tree!) The cosy pubs at the start and finish of each leg made this a very enjoyable and sociable occasion - which we continued into the evening as both teams met up to compare experiences over mulled wine in the Ilkley Teepees.
I'm sure we'll all be back next year... hopefully with more Ilkley teams in the mix, of what is a great team event!!
Results ...

1  3h32:25 Ilkley - Two Hats
43 5h24:42 Ilkley - Tinsel Toes
45 teams completed

parkruns, Sat 15 Dec
From Petra Bijsterveld ... Results ...

Cardiff
(1  15:28 Paul Graham, Pontypridd AC)
29  19:09 Alex Hirst
325 ran

York
(1  16:29 Robbie Brown, City of York AC)
11  18:55 Jonathan Turner
14  19:12 Steve Murray
20  19:29 Rhys Jones
331 ran

Bradford
(1  18:33 Martin Fillingham, Saltaire Striders)
15  21:19 Beth Massey (1st F)
35  23:29 Oscar Street
128  28:46 Paula Reynier
247 ran

Skipton
(1  20:06 David Smith, U/A)
64  29:07 Bernie Gibbons
123 ran

Castle Park
(1  16:44 Robert Eveson, St Mary's Richmond AC)
4   18:44 Tim Ashelford
238 ran

Clapham Common
(1  16:21 Frederick Slemeck, Hercules Wimbledon AC)
20  19:31 Rob Cunningham
308 ran

Myrtle
(1  18:43 Matthew Warters, KCAC)
22  23:45 Geoff Howard
111 ran

Mytholmroyd fell race, Sun 9 Dec
From Michael Lomas .... The course was a bit different to when it was last run in January as there was no snow in sight this time, plenty of mud though. The race starts with an incredibly steep climp followed a traverse of Midgely Moor dropping down the other side, along the a road then back over the Moor taking in some of what must have been the wettest moorland around following recent rains. The damp conditions underfoot meant that the final 3km of muddy descent were a bit slippy to say the least, whilst I was being fairly cautious following a Calder Valley lad I heard someone behind coming down the hill on a charge, only to realise it was Paul showing everyone his fine ability to stay on his feet whilst going twice as fast as everyone else down the hill. Paul's skilled bagged him tenth and after he passed me I tried to emulate him and managed to pick off 3 other places finishing right behind in 11th. Brilliant low key fully flagged race with a can of beer for all finishers, happy days. Had there been one other Ilkley Harrier in the top 14 we would have had team prize. Sadly this will probably be my last time running this one as I'm moving down to South Wales in the not too distant future.
Results ...

(1 47:19 Josh Boyle, Ribble Valley)
10 54:14 Paul Carman
11 54:19 Michael Lomas
166 finished

Telford 10K, Sun 9 Dec
From Steve Brennan... Euan ran his first 10K today at Telford, crossing the line in 31:11.
Results ...

(1 29:31 Callan Moody, Serpentine RC) 
60 31:11 Euan Brennan 
1242 ran

Leeds Canal Christmas Cracker 10K, Sun 9 Dec

(1 36:38 Steve Collins, Lonely Goat RC)
4 41:56 Jonathan Turner
125 ran

WYXC 4, Keighley, Sat 8 Dec

Ladies 3rd team
(1  19:39 Jennifer Walsh, Leeds City)
9   20:52 Pauline Munro
20  22:05 Kate Archer
24  22:22 Sarah Pickering
45  24:25 Sally Malir
54  25:26 Beth Massey
65  26:39 Jane Bryant
66  26:44 Diane Kitchen
87  29:48 Petra Bijsterveld
90  31:18 Anna Picketing
97 finished

Men 5th team
1   25:37 Jack Wood
26  28:28 DAniel McKeown
35  29:36 Istvan Jacso
53  30:52 Tim Ashelford
65  31:31 Stephen Coy
87  32:53 Steven Gott
88  33:02 David Westhead
110 35:02 Robert Budding
118 36:16 Mark Iley
126 37:51 Malcolm Pickering
127 37:51 Michael Duffield
150 finished

parkruns, Sat 8 Dec
From Petra Bijsterveld ... Results ...

Bradford
(1  18:24 Jack Griggs, U/A)
27  22:35 Dave Reynier
42  23:39 Oscar Street
91  27:53 Paula Reynier
239 ran

Skipton
(1  18:19 Lee Athersmith, RAF AC)
20  24:10 Neil Pomfret
63  29:51 Bernie Gibbons
124 ran

Cliffe Castle
(1 19:36 Rob Byers, U/A)
9  25:39 Alison Weston 2nd F
64 ran

Harriers League update
From Jane McCarthy ... Two more League Races run, and cracking Wildcards from Colin Williams and Jean Sullivan declared. Colin takes a firm lead at the top of the table. Can anyone catch him now? Two more races - The Stoop on December 16th and Ribble Valley 10K on 30th December - and Wildcards still to declare for those that haven't yet. Any race (including park runs until 31 December!) counts and will boost your points total. Just email janemccarthy@me.com within two weeks of the race. Check out the League page for 2018 results tables and for the 2019 League Races NOW!
Oulton Park Marathon, Sun 2 Dec

(1 2:57:01 Andrew Humphries, AireCentre Pacers)
39 3:56:24 Daryl King
107 ran

Skegness 10k, Sun 2 Dec

(1  29:35 Thomas North, Lincoln Wellington)
201 49:47 Diane Kitchen
752 finished

Abraham's Tea Room Winter Round, Sat 1 Dec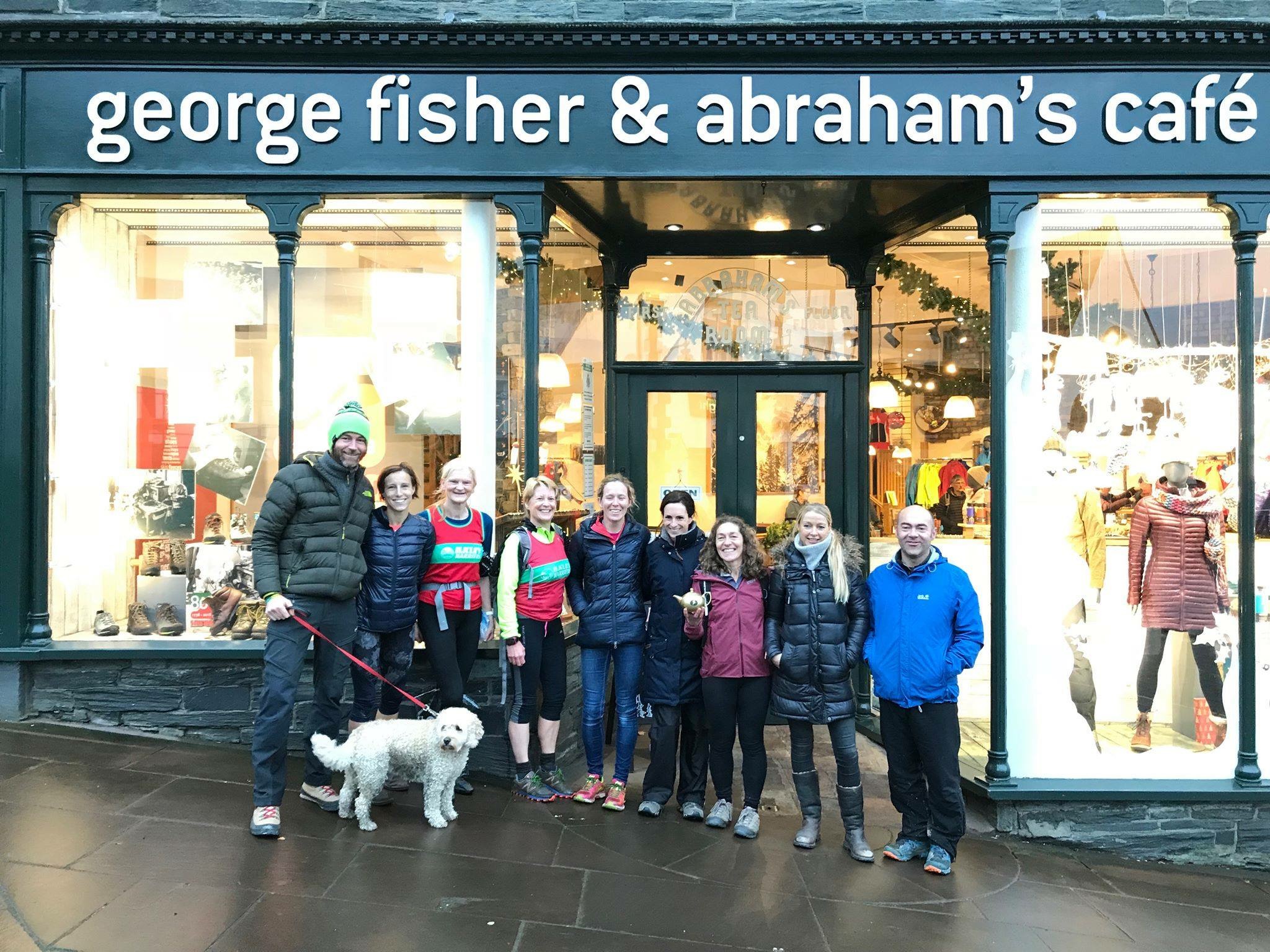 From Alison Weston ... The Ilkley Harriers team were successful in completing the Abraham's tea shop round starting and finishing at George Fishers in Keswick - 30 miles and 12,000+ ft of ascent over Catbells, Robinson, High Stile, Red Pike, Grisedale Pike, Hopehead Gill, Eel Crag, Sail, Causey Pike, Rowling End and Barrow in 8 hrs 17mins.

Leg 1  Mike Duffield, Alison Weston and Joyce Marshall (starting in the dark) 
Leg 2 Jann Smith and Paul Carman (and Heidi the dog)
Leg 3 Jann Smith, Paul Carman and Alison Weston (and Heidi the dog)
Leg 4 Jane McCarthy, Helen Thurston and Rachel Carter
Leg 5 Joyce Marshall and Val Kerr

We were greeted at the end with a team gold tea pot, and tea and cakes in the tea room at Fishers. See Ilkley Harriers Facebook for photos.
Podium 5k B race, Sat 1 Dec
From Sally Armitage... results ...

(1 16:56 Tobey Middleton, Horwich MRI runners) 
34 19:53 Sally Armitage 
41 20:40 Mark Iley 
56 ran

parkruns, Sat 1 Dec
From Jonathan Turner ... Results ...

Woodhouse Moor 
(1   16:42 Josh Sambrook, Unattached)
49   21:28 Tom Worboys
385 ran

York
(1  16:53 Chris Poulton,York Acorn RC)
142 24:26 Will Worboys    
421 ran

Cambridge
(1  17:09 Chris Darling, Cambridge and Coleridge AC)
108 25:04 Alison Bennett  
317 ran

Bradford
(1  18:21 Martin Fillingham, Saltaire Striders)
48  22:34 Adrian Bastow   
67  23:47 Oscar Street    
133 26:52 Stephanie Fox   
144 27:25 Peter Lewis 
156 28:05 Paula Reynier 
311 ran

Harrogate
(1  18:45 Alex Armstrong, Unattached)
92  24:33 Jean Sullivan 
313 ran

Skipton
(1  17:14 Ted Mason, Wharfedale Harriers)
5   19:55 Tim Ashelford 
6   19:57 Kate Archer - 1st lady
10  20:50 Jonathan Archer 
63  26:51 Fiona Schneider 
161 ran

Sale Water
(1  17:45 Paul Cornock, Keswick AC)
6   19:20 Mike Abrams-Cohen 
150 ran

Clapham Common 
(1  16:46 Harry Lane, Unattached)
19  20:10 Rob Cunningham 
190 ran

---
Outstanding Achievements, November
From the Committee ...
Jack Cummings for leading the field and course record at Burley Moor
Nathan Edmondson for Shepherds skyline first, consistent great results and contribution to 'Super Saturday'
Helen Thurston at Burley Moor
Jack Wood for first at Guy Fawkes 10 mile, second at Pendleton
Peter Shields for Guy Fawkes
Istvan Jasco for WY cross countries
Jane McCarthy for managing the league this year and setting next year's challenges.
Fell and Trail Running weekend, Fri 30 Nov
From Peter Shelley ... Braving the wettest weather the Dales could throw at us, 20 runners gathered on Friday night for a weekend of fell and trail running, fitness tips and coaching, good food and good company. Organised by Mel Steventon at Due North, the weekend was open to anyone interested in getting into, or improving, their off road running. Runners came from various parts of the country individually or in small groups. Base was the YHA in Kettlewell.
Guided runs took us around 20 miles and over 1000 metres of ascent through Wharfedale and surrounding moorland, all beautiful even on a damp day. For me the big draw was the time spent with Nicky Spinks and Ben Mounsey covering practical and structured approaches to ultra and fell running. Nicky gave us insights into mental as well as physical stamina based on her incredible endurance achievements including the Double Bob Graham record. Anyone who hasn't seen Ben Mounsey climbing at speed is in for a treat. He uses all fours on the really steep stuff, transforming into a kind of man-ape. I intended to video him descending but by the time I had the camera going he was a speck at the bottom of the fell.
Warm up sessions, theory and practice for strength and conditioning were provided by personal trainer John Withinshaw. An emphasis on core strength and stability to improve your running and prevent injury came across from all three experts, with some great ideas and exercises to implement. The YHA did a top job keeping us fed and the social aspect was excellent, with time to unwind and bond over a shared interest in running. I thoroughly recommend the weekend to fellow Harriers. This group was 50/50 male female. Due North offer ladies-only weekends as well as races, talks and navigation skills.
www.duenorthevents.com
The weather wasn't conducive to photography, but I noticed John has posted some pics on Due North's FB page.
Evensplits 5k, Brownlee Centre Leeds, Wed 28 Nov
From Hilda Coulsey... This was the last in the 2018 series with the lowish turn out reflecting the wet, windy weather added to the thirst (or not) for finial positions, the rules being you had to race in 6 of the 10 races to get a medal and to qualify for a prize for your age category (the signs were that if you weren't going to do that the weather helped the decision making to run or not!). I struggled in that I was trying to get under 25 mins so that all my races would be in the 24 mins however I see I also beat the first F 60 and F 55, so the weather is a good excuse!
Results ...

(1  16:23 Scott Harrington, Otley) 
50  20:36 Rhys Jones 
52  20:42 Harry Stead 
53  20:42 Robert Budding 
68  21:28 Archie Budding 
111 24:08 Nicola Budding 
123 25:16 Hilda Coulsey

Highlights from the series are Nathan Edmondson's two second places at 15:56 and 15:39 were the best times for the Harriers, Robert Budding ran 9/10 races and along with Nicola and Archie got the medals, Nicola taking a minute off her PB through the series, whilst I took the F 65 first prize.
Look out for the dates of the 2019 series, it is a good course to test yourself over the year or from time to time.
PECO XC #1, Middleton Park, Sun 25 Nov
From Michael Duffield ...
Results ...

Ladies
(1  31:45 Alice Rogers, Abbey Runners)
50  38:41 Caroline Howe
114 41:24 Alison Weston
145 42:41 Diane Kitchen
159 43:08 Adela Reperecki
164 43:35 Ros Brown
196 45:03 Alison Bennett
271 47:46 Petra Bijsterveld
290 48:25 Anna Pickering
419 57:22 Sally Wright
48 finished

Men
(1  Callum Elson, Roundhet Runners))
3   27:43 Nathan Edmondson
50  31:01 Steven Gott
138 33:40 Mike Abrams-Cohen
139 33:41 Steve Murray
191 35:03 Peter Shelley
197 35:18 Michael Duffield
249 36:49 Robert Budding
288 37:54 Malcolm Pickering 2nd M65
403 41:50 David Howe
531 59:11 Donald Macrae
537 finished

Barnsley 10k, Sun 25 Nov
From Sally Armitage... results ...

(1 33:18 Scott Hinchcliffe, Penistone FPR)
65 42:08 Beth Massey (2nd F45)
87 43:30 Sally Armitage (3rd F40)
498 ran

Liverpool Cross Challenge, Sat 24 Nov
From Steve Brennan.... Euan Brennan ran today in the Liverpool Cross Challenge which incorporated the trial for the U20 European Cross Country Championships. He finished in a superb 7th place but just missed out on automatic selection for the GB Team.
parkruns, Sat 24 Nov
From Petra Bijsterveld ... Results ...

Bradford
(1  18:06 Martin Fillingham, Saltaire Striders)
37  22:29 Adrian Bastow
332 ran

Harrogate
(1  16:34 Andrew Lawrence, Morpeth Harriers)
43  21:43 Caroline Howe, 2nd F
383 ran

Roundhay
(1  18:17 Daryl Hibberd, Valley Striders)
32  22:04 Bob Hamilton
303 ran

Skipton
(1  17:30 Chris Ovenden U/A)
19  23:06 Geoff Howard
29  24:46 Rachel Carter
35  25:18 Will Worboys
147 ran

Penrhyn
(1  18:10 John Parkinson, Eryri Harriers)
6   19:03 Lucy Williamson 1st F
212 ran

Northallerton
(1  19:07 Steve Middleton, Richmond and Zetland)
17  25:10 Alison Weston 2nd F
76 ran

Cliffe Castle
1   16:44 Jack Wood
43  28:34 Fiona Schneider
136 ran

Ilkley Harrier League races announced for 2019
Frm Jane McCarthy ... The 2018 League competition is very much still ON, but we are announcing the League Races for 2019 - entries for the Baildon Boundary Way open on 24th November at 8am. This is a League Race for 2019 and can fill up quickly. Races also already open for entry and included in the 2019 League are Meltham 10K (January 27th), Harewood Trail Half Marathon (February 17th) and Bradford 10K (March 17th).
****PLEASE NOTE*****: THERE IS A CHANGE TO THE WILDCARD RULE for 2019. Parkruns will no longer be valid WILDCARD entries as they are not classified as 'races'. Any recognised race (road race, FRA, BOFRA, cross country etc.) that is not already in the League will count as a Wildcard entry as long as it is open to all Ilkley Harriers (so not restricted to Vets only, juniors only, men only, women only etc.).
See the 2019 events on the League page.
Harriers vs. Cyclists, Sun 18 Nov
From Peter Shelley ... This event provides a novel opportunity for runners and cyclists to mix it up a bit and see who's quickest. The route, gradient and mix of terrain are cleverly planned by Bingley Harriers to even up competition, with cyclists having to carry their bikes at various points on the outward climb to Baildon Moor before catching back up with the runners on the fast return leg. Cyclo-cross is the bike of choice, and as I don't subscribe to that particular brand of lunacy and didn't fancy carrying a full susser up 650ft, I went for the 'safe' option of running. Seeing some of the cyclists practising their descents before the race, sliding sideways through cow pats in the lower field at speed, confirmed that decision.
Decent conditions probably favoured the cyclists slightly this year, and despite my decision to run I couldn't help feeling I'd forgotten something while lining up empty-handed among cyclists at the start. The ascent got a bit congested in the narrow paths through the woods in Shipley Glen. Bikes were being carried at various heights and angles, and attention was required to avoid getting any of your anatomy caught in someone's derailleur.
I spent most of my energy on the climb, but managed to hang on in the descent other than a couple of cyclists who came by at speed and with serious agility. A few cyclists overtook their own bikes in the ruts of Baildon Moor, but good communication between runners and riders helped prevent anything more serious. Outright victory has alternated between runners and riders over the years. This is a well established event with good organisation and support - a memorable experience and great race to participate in either discipline.
Results ...

(1  33:53 Rob Jebb, Hope Factory Racing, cyclist)
(2  34:40 Harry Hiolmes, P&B)
3   35:35 Nathan Edmondson (2nd runner)
68  44:36 Gavin Lamb
89  46:16 Peter Shelley
115 48:52 Duncan Cooper
234 took part

Litton Birks Fell Race, Sun 18 Nov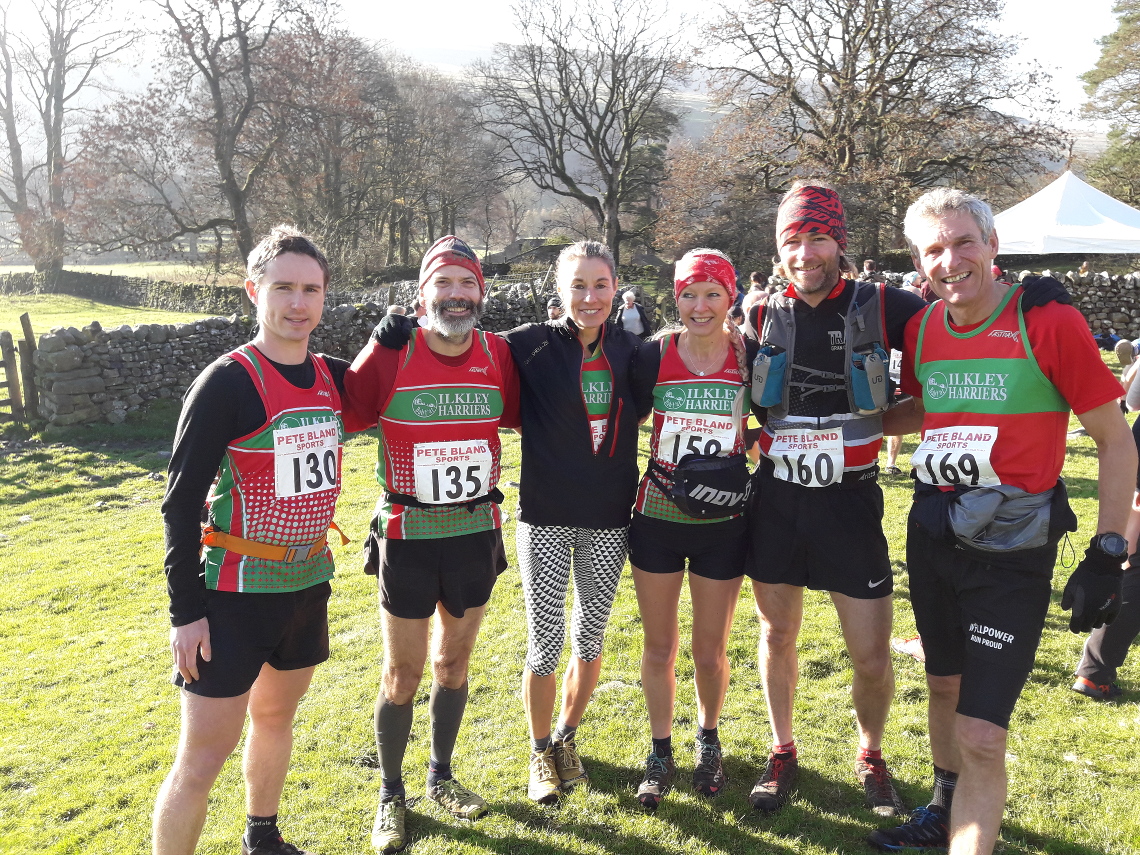 From Jann Smith ... 5 miles/1200ft Brand new race ... great route with a big climb up to Birks Fell from The Queens Head pub in Litton. Free bottle of beer and chip butties at the pub after and tea and homemade cakes.
Results ...
(1 36:44 Ted Mason, Wharfedale) 8 42:25 Paul Carman 19 46:03 Will Buckton 20 46:40 Colin Williams 27 48:30 Paul Calderbank 36 52:25 Jann Smith 45 54:54 Chantal Busby 70 ran
West Yorkshire XC, Wakefield, Sun 18 Nov

Men, 5th team
(1  31:22 Adrian Holliday, Leeds)
6   32:51 Jack Wood
33  35:20 Daniel McKeown
37  35:34 Istvan Jacso
41  35:54 Matthew Cox
49  36:34 Steven Gott
62  37:26 Stephen Coy
77  37:51 Tim Ashelford
79  37:54 Jeffrey Green
99  39:41 Andrew Overend
109 40:42 Michael Abrams-Cohen
136 43:07 Michael Duffield
144 44:05 Robert Budding
149 45:18 Malcolm Pickering
174 finished

Ladies, 8th team
(1  20:34 Ruby Sykes, Holmfirth)
20  23:04 Rachel Carter
21  23:18 Kate Archer
49  25:34 Sally Malir
58  26:08 Caroline Howe
63  26:58 Jane Bryant
80  27:54 Diane Kitchen
90  28:56 Nicola Budding
95  30:51 Petra Bijsterveld
98  31:16 Gaenor Coy
104 32:14 Anna Pickering
107 34:32 Jacqui Weston
108 finished

Tour of Pendle, Sat 17 Nov
From Jonathan Turner... Plenty of great Ilkley performances at this gruelling event - Jack Wood taking second place, Michael Lomas beating three hours for the first time in some style (2:50:08), Helen Wood the sixth lady home and Adela Reperecki winning the F55 category. I didn't know what I was letting myself in for, though the 'AL' category should have been a clue - 27km to cover and nearly 1,500m of elevation gain. The first climb up from Barley was fine and conditions were good but it got harder and harder towards the finish, with the final three seriously-steep ascents stacked close together and tough even at walking pace. Some crazy descents redressed the balance, with spectators gathering at the base of the 'Geronimo' to watch the field head down what my Strava showed as a 49% gradient! All in all a classic 'old school' fell race, well organised and marshalled, and amazingly good value at less than £10 (including a T-shirt to mark the fact it was the 35th running).
Results ...

(1  2:15:08 Chris Holdsworth, Ribble Valley)
2   2:17:54 Jack Wood
43  2:50:08 Michael Lomas
126 3:07:17 Will Buckton
130 3:08:13 Helen Wood
192 3:21:28 Jonathan Turner
272 3:35:03 Paul Castle
289 3:37:38 Robin Nicholson
350 3:51:30 Dave Reynier
357 3:53:49 Paul Calderbank
357 3:53:49 Chantal Busby
365 3:55:28 Adela Reperecki - 1st F55
461 ran

Kendal Trail, Sat 17 Nov
From Jim Ryder... Beautiful day for the Kendal Mountain Festival Trail Run - 6.8miles. The first 3 miles is a 530ft climb on to Scout Scar so it felt more like a fast fell race. Just missed 1st V50 by 10 seconds. Start/finish in the town centre so plenty of atmosphere around the Mountain Festival with Jonny Brownlee as starter.

(1 39:01 Dan Nash)
44 47:41 Jim Ryder
562 ran

Hell of a Hill update, Sat 17 Nov
From Colin Williams... Day Four of the Hell of a hill marathon series saw the records fall, Matthew Smith N/A, recorded a time of 3hr 42 mins 7 seconds taking another 9 mins 45 seconds off the male course and Katherine Brougham N/A, completed the race in 4 hrs 1 minute and 53 seconds, smashing the female record by over 16 minutes. Kevin Dempsey, Vegan Runners, won the best combined time for all 5 marathons in a time of 22 hrs 8 mins and 48 seconds. My finish time was the third fasted time of the series.
parkruns, Sat 17 Nov
From Petra Bijsterveld ... Results ...

Bradford
(1  18:50 Martin Fillingham, Saltaire Striders)
18  21:03 Tom Worboys
53  23:53 Oscar Street
155 27:53 Stephanie Fox
327 37:46 Paula Reynier
372 ran

Portrush
(1  15:59 Neil Johnston, Springwell RC)
69 25:57 Hilda Coulsey
177 ran

Temple Newsam
(1  18:37 Jonathan Young, Kirkstall Harriers)
34  24:33 Alison Weston 2nd F
152 ran

Skipton
(1  17:39 Julian Hood, Skipton AC)
26  23:12 Neil Pomfret
32  23:42 Geoff Howard
87  28:52 Bernie Gibbons
181 ran

Fountains Abbey
(1  17:42 Craig Connor, Tattenhall Runners)
9   19:04 Helen Thurston 1st F
364 ran

Cliffe Castle
(1  20:33 Ian Sanderson, Valley Striders)
45  28:53 Fiona Schneider
137 ran

Day 3 Hell of a Hill Marathon, Fri 16 Nov
From Colin Williams ... Today I took part in my ninth, (and probably the last) marathon of the year. "The Hell of the Hill", a serious of five marathons laps described as one of the toughest marathons routes, with over 4,000 feet elevation gain and 26.2 miles (my Garmin recorded 26.6 miles), of tough stone and muddy trails, running 5 laps over Rivington Pike near Chorley.
I ran on the Friday last year, but wasn't put off and went back again this year. Like always I went off fast, but this time a runner named Gareth Tomlinson came with me, we ran the next 3 laps together, Gareth faster on the up hill getting ahead by 50m or so, then I would regain the lead on the downhill, in the fourth lap Gareth pulled away and eventually not only won the race but also took the race record.
Results ...

(1 3:51:52 Gareth  Tomlinson)
2  4:00:13 Colin Williams 
42 ran

London marathon club places
The ballot has now been drawn and the winners are Michael Picken, Steph Fox and Jacqui Weston, with David Ibbotson and Paula Reynier as reserves.
Run Bolton Abbey, Sun 11 Nov
From Istvan Jacso ... the Run Bolton Abbey took place today with 4 distances, a fun run, 10k, 10 mile and half marathon. This is more a charity event rather than a competitive race, hence finishing 1st in the 10 mile can't be compared to the other brilliant wins this weekend by the two Jack's and Nathan, not to mention Euan's 3rd place on the very high quality British Athletics Cross Challenge in Milton Keynes.
With a staggered start, the early congestion was successfully avoided, however due to a large part of the course being shared, there were a bit of slaloming around the slower runners in the later parts. The course was a proper off road course with proper mud and hills so the event was really enjoyable on this beautiful estate!
Results ...

10k
(1    43:31 Scott Manninhg, Framlingham Flyers)
166 1:10:53 Lesley Bloomer
299 1:22:22 Murna Downs
380 1:33:46 Pauline Bartliff
443 finished

10 mile
1 1:07:15 Istvan Jacso
9 1:25:53 Derek Oliver
60 1:45:39 Jill Ezzard
66 1:46:58 Jemma Basham
79 finished

Half Marathon
(1  1:33:23 Roger Comilas)
98  2:36:34 Robert Budding
99  2:36:35 Nicola Budding
112 2:47:19 Jayne Norman
146 finished

Betws-y-Coed trail race, Sun 11 Nov
From Jane Bryant ... 4 of us headed over to beautiful Betws-y-Coed for the 10k trail race. It starts from the church on the main road and heads up, up and up a bit more, for approximately 2k! It was very steep forest paths but we were then rewarded with fabulous views over the lake. We ran around the lake up taking in boards, rocks and mud! Then the rather fun fast forest track descent for approx 3 miles back into the village centre for a lovely beanie and water bottle! A fabulous scenic, low key race with a canicross afterwards, can you beat the dogs!!

(1  36:46 Danny Hallam, Wreake and Soar Valley)
90  56:19 Jane Bryant
103 57:03 Anna Nolan (3rd FV 45)
139 60:14 Helen Horton (ex Harrier) (1st FV 55)
238 68:48 Jacqui Weston
355 finished

Burley Moor fell race, Sat 10 Nov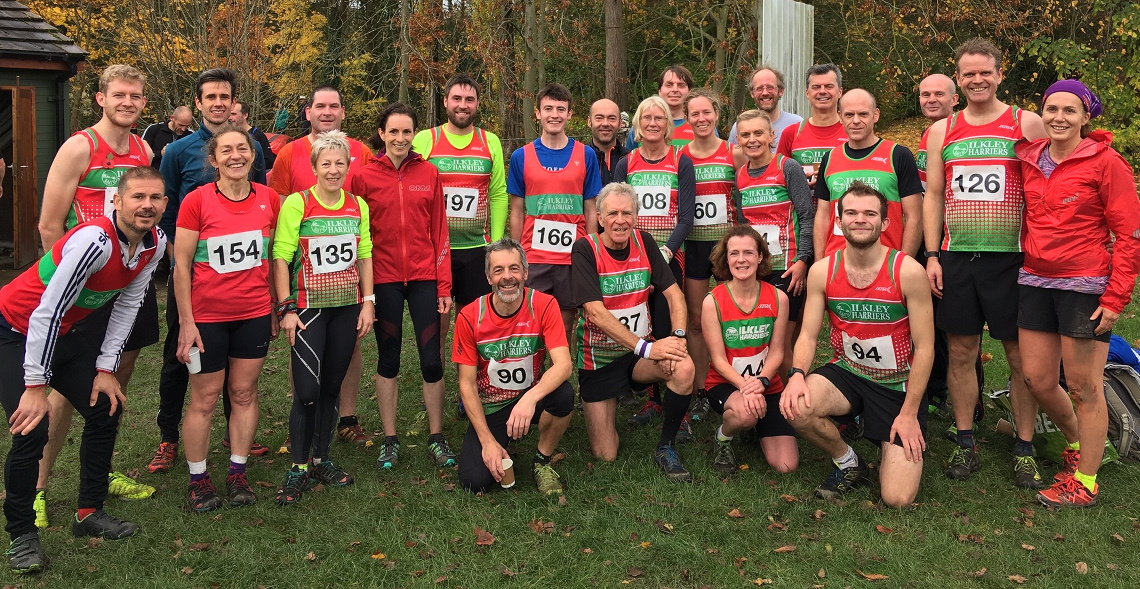 From Jonathan Turner ... There was a fantastic Harriers turnout at the Burley Moor Run - and performances to match. Jack Cummings led an Ilkley 1-2-3 with a sensational display, winning the 11km fell race with a time of 43 minutes and 25 seconds. No fewer than seven Harriers were in the top 11 and Helen Thurston was the second lady thanks to another superb run. A sociable event right on our doorstep, it was great to see so many Harriers taking part and enjoying the sunny conditions. And apologies to anyone who missed out on the photo above - it was tricky getting everyone together at the same time!
Results ...

1   43:25 Jack Cummings
2   45:06 Will Simmons
3   46:46 Oscar Stapleton
6   48:08 Ben Sheppard
7   48:16 Martin Archer
10  49:14 Michael Lomas
11  49:20 Steven Gott
19  51:10 Jim Ryder
21  51:31 Helen Thurston (2nd lady)
25  52:35 Dave Foyston
29  52:52 Will Buckton
32  53:21 Jonathan Turner
34  54:29 Helen Wood
35  54:46 Steve Murray
39  55:10 Mike Abrams-Cohen
40  55:17 Rachel Carter
43  55:47 Peter Shelley
45  56:12 Colin Williams
47  56:27 John Hayes
57  58:19 Michhael Duffield
78  62:59 Sally Armitage
86  64:15 Caroline Howe
88  64:19 Martyn Stocker
92  64:47 Alison Weston
105 66:02 Geoffrey White
117 67:41 Adela Reperecki
125 68:06 Catherine Eversfield
129 69:02 James Brooks	
136 69:47 Jean Sullivan
139 70:29 Paul Atkinson
148 73:54 Hilda Coulsey
151 74:35 Peter Lewis
153 75:11 Clair Boyle
155 76:07 Sarah Hayes
166 80:37 Fiona Schneider
171 84:00 Paula Reynier
184 finished

Wild Boar on Tour fell race, Ilkley Moor, Sat 10 Nov
More results later ...

1 Jack Wood

Shepherd's Skyline fell race, Sat 10 Nov

1 43:02 Nathan Edmundson
168 finished

British Cross Challenge, Milton Keynes, Sat 10 Nov
From Steve Brennan... Great results for the two Ilkley Harriers that made the long trek to Milton Keynes yesterday. Euan Brennan finished 3rd in the U20 Men's race and Bethan Morley 11th in the U17 Women's race.
parkruns, Sat 10 Nov
From Petra Bijsterveld ... Results ...

Woodhouse Moor
(1  17:46 Matthew Akpan, U/A)
7   18:34 Tim Ashelford
523 ran

Burnley
(1  17:52 Luke Turner, Clayton-le-Moors Harriers)
70  24:39 Will Worboys
332 ran

Victoria, Glasgow
(1  16:51 unknown)
47  22:01 Craig Berry
332 ran

Day two, Grim Four by Four, Fri 9 Nov
From Colin Williams... Today I took part in the Grim Four by Four 2018, a new 'It's Grim up North Running' event, four days of marathon running around Fewston and Swinsty reservoir. When I signed up to run, the races were planned for March, but the "Beast from the East" put a stop to them as the access was cut off by snow. Well today I lined up with a small field of around 25 runners about half of which were on their second day. I went out fast but for once no one came with me, and to my surprise I lead the whole way winning my first ever race. I would recommend the race to anyone who is looking from a good local trail marathon, the route is on good paths and with enough undulation to keep it interesting. I think there are still some places available for Sunday if you would like to stretch your legs.
Results ...

1 3:26:41 Colin Williams
25 finished

Day 3 Sat 10 Nov
(1 3:27:29 Paul Brown)
7  3:50:04 Tom Worboys
36 finished

Harriers Race League update
From Jane McCarthy...It is getting VERY CLOSE at the top of the RACE LEAGUE!!!
Updated for September's Great Wherneside and this weekend's Bradford parkrun - Hilda Coulsey tops the overall League. But less than a point splits Road league leader Colin Williams in second place from Trail league leader Jonathan Turner in 3rd place - both of whom have yet to declare their Wildcard points for the 2018 League. It is going to go right to the wire - with 4 races left to run. Next one - Burley Moor Fell Race on Saturday 10th November. Good Luck Everyone!
2018 League update 4 Nov
Guy Fawkes 10, Sun 4 Nov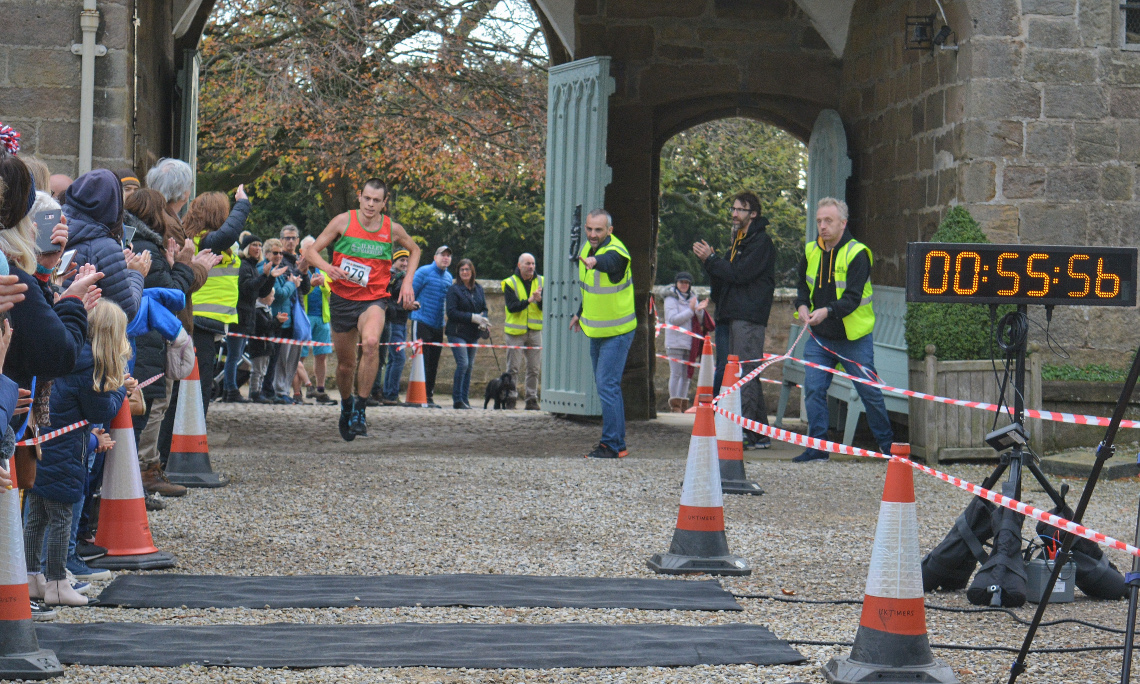 Photo: Sheila Shields
From Jonathan Turner ... Jack Wood smashed the course record when winning the Guy Fawkes 10-miler at Ripley Castle. Jack led from the start and produced a sensational 26:28 for the second five miles on a hilly course to win by nearly five minutes. He finished in 55:58 and was the only runner under an hour.
Pete Shields also had four-plus minutes to spare over his nearest rival in the M70+ category, coming home 283rd out of 798 finishers.
Seven Harriers took part in what was a superbly organised event in a lovely setting - featuring a rhyming Guy Fawkes-themed speech from the race organiser at the start, lots of friendly marshalls, great support in the villages around the course, excellent goody bags (with plenty of chocolate) and a stunning finish location. Highly recommended.
Results ...

1     55:58 Jack Wood
36  1:08:23 Jonathan Turner
55  1:10:16 Steve Murray
283 1:25:41 Peter Shields (1st V70)
308 1:26:55 Adela Reperecki
51  1:36:59 Sarah Hayes
586 1:41:45 Jayne Norman
798 finished

Leeds Abbey Dash 10k, Sun 4 Nov

(1   29:08 Adam Craig)
111  32:40 Nathan Edmondson
157  33:31 Cameron Reilly
279  35:21 Ian Fothergill
442  37:56 Jemima Elgood
748  40:48 Mike Helme
1064 43:22 Sally Armitage (PB)
1376 45:27 Caroline Howe  (PB)
2690 52:33 Charlotte Smithson
3494 55:15 Sheena Pickersgill
4037 53:08 Peter Tapper
4990 59:10 Sue Williamson
5769 64:23 Emma Cole
6171 61:41 Ruth Jones
6377 63:17 Sue Harris
7055 67:03 Diane Ollier
8157 finished

West Yorkshire XC, Nunroyd Park, Sun 4 Nov

Men
(1 30:15 Joe BAxter, P&B)
26 33:17 Dan Mckeown
27 33:22 Matthew Cox
28 33:23 Istvan Jacso
39 34:01 Steven Gott
45 34:25 Tim Ashelford
47 34:33 Stephen Coy
81 36:35 Andrew IOverend
84 36:41 Jim Ryder
103 38:05 Michael Zbrams-Cohen
125 40:22 Michael Duffield
129 40:50 Mark Iley
130 40:55 Robert Budding
161 finished
5th team

Ladies
(1 18:59 Bromwen Owen, Leeds)
8  20:50 Pauline Munro
22 22:06 Kate Archer
24 22:11 Rachel Carter
37 23:59 Beth Massey
53 23:54 Sally Malir
75 25:08 Tracey Watson
87 26:09 Jane Bryant
88 26:13 Diane Kitcjen
103 28:02 Nicola Budding
104 28:36 Alison Bennett
106 29:24 Gaenor Coy
112 finished
3rd team

A Short Circuit, Sat 3 Nov
From Ben Sheppard... A Short Circuit is one of a series of ultra-marathons organised by Otley-based Punk Panther. At 33 miles with 4,000 ft ascent, mainly on trails and partly across moors (and some tarmac when necessary), it's low-key, friendly and local. Starting in Otley the route goes up the Chevin, over to Bramhope then Cookridge, around the Airport runway, to Yeadon Tarn, Guiseley Woods, up to Hawksworth, Menston, across the moor from Burley Woodhead to the Cow and Calf Rocks, through Ben Rhydding and up to Timble, across to Norwood, along Lindley Wood Reservoir and through Leathley to the finish at Pool-in-Wharfedale. I was surprised how fast the early leaders started and I just about managed to ease back enough to avoid over-cooking it. Having paced it OK, I came through Burley Woodhead in about 10th and pushed on to 5th by Timble. There followed the obligatory route-finding error with 6 miles to go, costing me a couple of places and nearly 10 minutes, but resolving to make amends I hauled myself back to finish 4th, within 6 minutes of second and 11 minutes behind the winner. All in all a fun day at the races and I plan to do more Punk Panther events next year. Recommended for anyone new to ultra-marathons, but pay more attention to the route description or GPX file on your watch than I did.
Results ...

(1 4:45:42 Alastair Murray)
4  4:56:27 Ben Sheppard
92 finished

parkruns, Sat 3 Nov
From Petra Bijsterveld ... Good Harrier turnout at Bradford for this week's parkrun which was a counter in our League, with 5 coming home in the first 15. In Harrogate meanwhile there appears to have a bit of a finish token meltdown with several 'unknown athletes' at the sharp end, but Jack Wood ran a fantastic 15:58. Oscar Stapleton was the first runner over the line at Skipton.
Results ...

Cardiff
(1  15:24 unknown)
11  17:31 Alex Hirst
793 ran

St Albans
(1  17:36 George Hawthorne, Cheltenham and County Harriers)
65  22:06 Dave Reynier
498 ran

Bradford
(1  17:45 Andy Burn, Jarrow and Hebburn AC)
4   19:05 Michael Lomas
5   19:17 Jonathan Turner
8   19:42 Michael Abrams-Cohen
11  20:04 Steve Murray
14  20:29 Colin Williams
38  22:48 Martyn Stocker
65  24:53 Alison Weston
78  25:36 Will Worboys
90  26:20 Hilda Coulsey
99  26:44 Fiona Schneider
119 27:36 Dawn Turner
158 29:04 Peter Lewis
342 ran

Harrogate
(1  14:54 unknown)
4   15:58 Jack Wood
338 31:12 Geoff Howard
419 ran

Skipton
1   17:34 Oscar Stapleton
37  24:25 Neil Pomfret
42  24:37 Rachel Carter
185 ran

Crissy Field
(1  16:27 Greg Krathwohl, U/A)
14  19:41 Mark Mon-Williams
35  23:01 Rebecca Mon-Williams
115 ran

Clapham Common
(1  16:37 David Taylor, Southend on Sea AC)
35  19:13 Rob Cunningham
640 ran

---
Outstanding Achievements, October
From the Committee ...
Dick Waddington for Adventure into Wonderland ultra
Colin Williams for Keilder and Langdale marathons
Helen Thurston for first lady Harrogate park run and general great times
Lucy Williamson for Snowdon marathon
Jack Wood for his batch of first, seconds and third this month.
Jack Wood and Jann Smith for organising the teams for the Hodgson Brothers Mountain Relays and at the British Fell and Hill Relay Championships, where the ladies and mens teams had brilliant performances coming in 10th and 11th respectively.
Bradford City Runs 10k, Sun 28 Oct
From Steve Murray ... With the clocks going back it felt like a late start Sunday morning for the Bradford City Runs series. A beautiful cold & sunny morning which was great for a 2 lap 10k course with a few hills, twists & turns. Normally a good wild card points scorer for the league but foiled this year by some very fast runners but did help drag me round for PB..
Results ...

(1 33:17 Joe Sagar, Spen)
5  37:41 Steve Gott
11 40:45 Steve Murray
76 51:47 Will Worboys
235 finished

Bronte Way, Sun 28 Oct
From Jo Foster... A cold and sunny day for a race from Wycoller to Haworth. Great atmosphere and great value at £8 for a bus transfer, fell race, soup & roll and free pint of beer.
Results ...

(1    51:58 Alasdair McLeod)
21  1:02:55 Jim Ryder 
89  1:18:48 Jo Foster 
107 1:22:58 Caroline Howe 
175 ran

Snowdonia Marathon, Sat 27 Oct
From Sue Williamson... An incredible day for Lucy to take part in the Snowdonia Marathon starting and finishing in Llanberris. Sunny skies, snow on the mountains and only a short burst of hail stones during the race. The course is a real toughie with stunning scenery. She had an amazing run up to mile 23 at the top of the third climb. It was then a steep descent back to Llanberris where unfortunately "jelly legs" got the better of her. The encouragement from the crowd got her to the finish in a great time. A great experience which she is happy to repeat. The only Ilkley Harrier in the race as unfortunately Petra is still injured. Maybe they will both be on the start line next year!

First place:  2:38:21
First female: 3:05:33
285 3:43:55  Lucy Williamson (27th female)
2205 finished

parkruns, Sat 27 Oct
From Petra Bijsterveld ... Some excellent 'away-parkrun' results this weekend with Oscar Stapleton as 1st finisher in Lancaster, Rebecca Mon-Williams 2nd F in Crissy Fields in San Francisco, and Kate Archer 3rd F in Oxford. Closer to home, whilst Michael Lomas came 4th in Bradford, if you sort the Bradford results by age-grade you will see Hilda Coulsey and Geoff Howard in 2nd and 3rd place respectively!
On that note, please be reminded that next week's parkrun at Bradford is a counter for the Harriers League.
Results ...

Oxford
(1  16:38 James Eve, Headington RRC)
20  20:28 Kate Archer 3rd F
385 ran

Bradford
(1  17:26 Pavit Singh Kullar, Windsor, Slough, Eton and Hounslow AC)
4   18:57 Michael Lomas
30  22:03 Dave Reynier
65  23:41 Geoff Howard
93  24:56 Philip Hirst
105 25:21 Oscar Street
120 25:56 Hilda Coulsey
365 ran

Harrogate
(1  18:04 Josh Fuller, Harrogate Harriers AC)
216 28:01 Karen Lambe
385 ran

Skipton
(1  18:15 Roger Comellas, U/A)
7   20:03 Jonathan Schneider
21  22:39 Adrian Bastow
57  25:15 Bess Sturman
91  28:07 Neil Pomfret
111 29:51 Sue Verspyck
201 45:58 Fiona Schneider
204 ran

Crissy Field
(1  16:26 Greg Krathwohl, U/A)
31  22:44 Rebecca Mon-Williams 2nd F
120 ran

Lancaster
1   17:57 Oscar Stapleton
318 ran

Clapham Common
(1  16:55 David Taylor, Southend on Sea AC)
15  18:55 Rob Cunningham
462 ran

Cliffe Castle
(1  18:56 Matthew Warters, U/A)
15  21:32 Colin Williams
263 ran

Even splits series, Leeds, Wed 24 Oct
From Hilda Coulsey... A faster time than last month for Nathan Edmonton and another second place. Not so many Harriers running, and a fairly low turn out in total, on this chilly, breezy autumn evening. Just one more race in the series this year on 28th November and it can be entered individually.
Results ...

(1  15:30 Jonathan Johnson, Rotherham)
2   15:39 Nathan Edmondson
59  20:38 Archie Budding
61  20:47 Robert Budding
104 23:25 Nicola Budding
123 24:45 Hilda Coulsey
138 26:40 Fiona Schneider
153 finished

West Yorkshire XC, Spenborough, Sun 21 Oct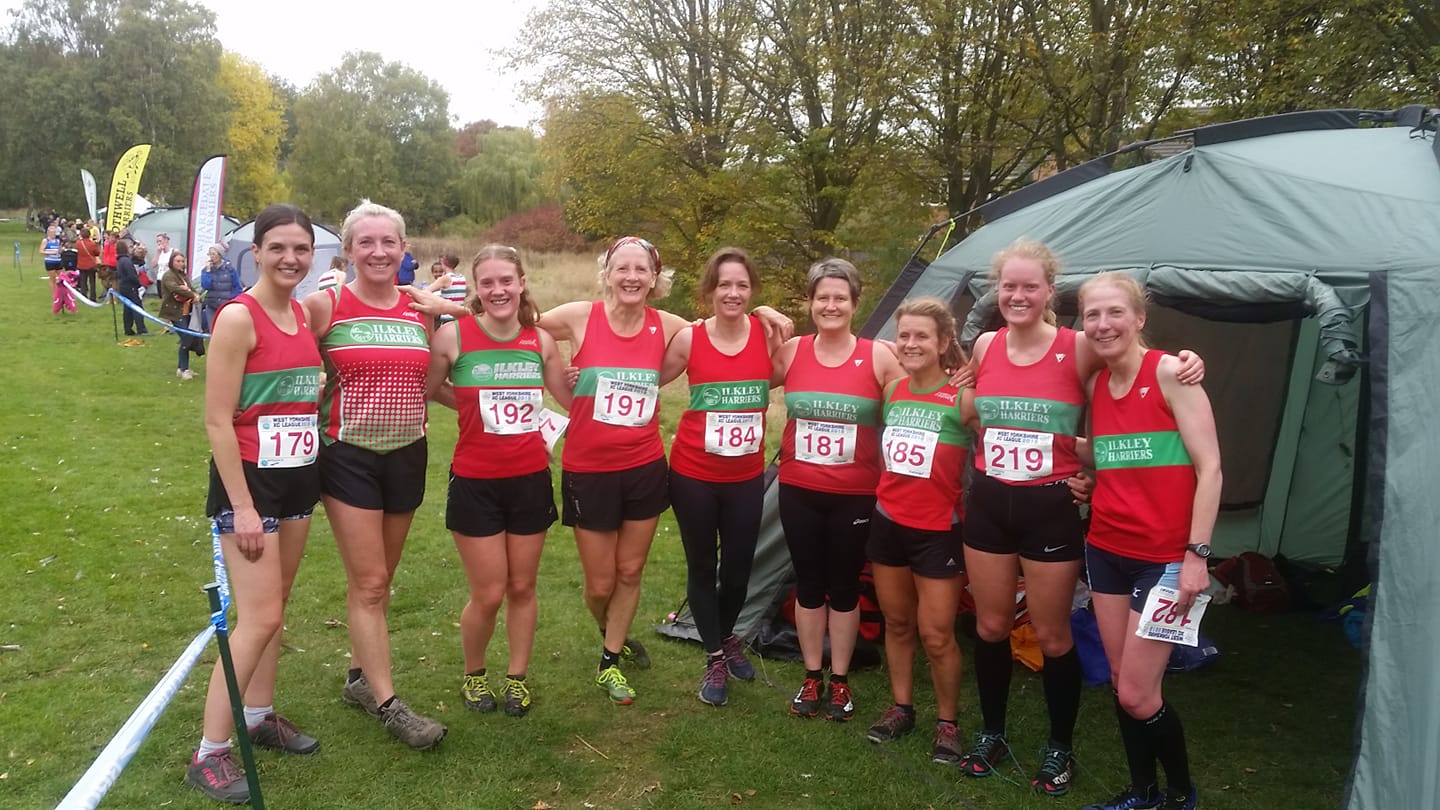 Senior men, 3rd team!
(1  29:10 Graham Rush, Leeds City)
2   29:47 Jack Wood
3   29:59 Euan Brennam
38  33:17 Ustvan Jacso
40  33:26 Daniel McKeown
52  34:15 Steven Gott
62  34:44 Stephen Coy
65  34:58 Tim Ashelford
93  37:27 Andrew Overend
112 39:13 Michael Abrams-Cohen
131 40:18 Michael Duffield
134 40:48 Derek Oliver
143 41:20 Mark Iley
146 41:48 Malcolm Pickering
177 finished

Senior ladies, 6th team
(1 19:50 Jennifer Walsh, Leeds City)
32 23:49 Sarah Pickering
39 24:31 Beth Massey
46 24:50 Dally Malir
56 25:11 Caroline Howe
82 27:26 Jane Bryant
85 27:44 Diane Kitchen
86 27:49 Nicola Budding
96 30:04 Gaenor Coy
99 30:31 Anna Pickering
111 finished

British Fell And Hill Relay Champs, Sat 20 Oct
From Jann Smith ...
One of the strongest performances from Ilkley men and ladies for a long time. In a field of 250 teams Ilkley men came 11th overall and Ilkley Ladies were 10th Ladies team. Conditions were wet and misty which made the event focusing on the mountains near near Grasmere challenging. The relay consisted of four different legs, the first solo, the second paired and longer, the third paired long and navigational (maps with checkpoints on were given to runners after they had started running) and the fourth leg was solo.
Results ...

(1  3:43:13 Pudsey & Bramley)
11  4:04:27 Ilkley Men
101 5:15:40 Ilkley Ladies (10th ladies team)
239 teams finished

Ilkley Men
Leg 1 Nathan Edmondson
Leg 2 Matt Cox and Istvan Jasco
Leg 3 Jack Wood and Will Simmons (6th on leg)
Leg 4 Jack Cummings

Ilkley Ladies
Leg 1 Jane McCarthy
Leg 2 Helen Wood and Kate Archer
Leg 3 Jann Smith and Alison Weston
Leg 4 Helen Thurston

Northern Athletics XC Relays, Sat 20 Oct
From Dave Woodhead ... Ilkley Harriers WU17 7th at the Northern Athletics XC Relays at Graves Park Sheffield,
Results ...
Langdale Marathon, Sat 20 Oct
From Colin Williams ... advertised as "the toughest road marathon in the UK" with 3,400 ft of climb with some assents as steep as 1:3, I can confirm that for a road marathon it is very hard going.
The 170 marathon runners line up with the 500 half marathon competitors, and Rod Berry, "Rocket Rod" the founder of the Langdale Road race said a few word at it's the 30th anniversary of the race, then we were off.
This year was the first with the race being run by Brathay Running, the course is unchanged, 13.1 miles on country road, some of which covered in autumn leave were more like a trail race than a road race, the rain that accompanied us made some of the roads slippery adding to the feeling of being on a trail, I was glad that I had opted for my trail shoes rather than road. The marathon runners complete two laps of the course, I can recommend it for those looking for a bit of a challenge!
The race was won by Michael Sprot of Hallamshire Harriers in a time of 3:07:22, I finished in 18th place in a time of 3:42:02 the second V55 for which I won a trophy.
parkruns, Sat 20 Oct
From Petra Bijsterveld ... Results ...

Richmond
(1  16:11 Michael Waddington, Ware Joggers)
11  18:57 Rob Cunningham
181 26:23 Chris Cunningham
406 ran

Bradford
(1  17:20 Quentin Lewis, Baildon Runners)
6   19:25 Jonathan Turner
9   19:37 Steve Murray
65  23:24 Oscar Street
80  24:06 Tom Lally
104 25:03 Will Worboys
160 27:19 Paula Reynier
162 27:26 Dawn Turner
360 36:57 Dave Reynier
412 ran

Wanstead Flats
(1   17:00 Daniel Steel, Woodford Green AC)
185  31:57 Sophie Brown
235 ran

Cliffe Castle
(1  18:28 unknown)
36  24:04 Geoff Howard
111 29:38 Fiona Schneider
232 ran

Yorkshire Marathon and 10 Mile, Sun 14 Oct
From Helen Waddington ... Congratulations to all who took part, but particularly to the Harriers who opted for the marathon distance - it really was exceptionally wet and I'm sure those of us doing the 10 Mile felt humbled to think of you all battling it out! I suspect support on the course was depleted as a consequence of the predicted rain and the mental battle for all will have been that much harder. Some first time marathoners (Harry and Clare I know of) so a huge High Five to them, a baptism of, well, WATER I guess! Another impressive time from Derek Oliver, who was 5th in his age category. I did spot at least one other IH vest (lady) but couldn't find their name on the results, so apologies if I have left anyone out! Please send your result in.

10 Mile
(1     51:38 Joshua Rowe, Leeds Uni AC/CCC)
694  1:24:43 Helen Waddington 
985  1:28:42 Stephanie Fox
1048 1:29:37 Andrew McCallion
1082 1:30:21 Sheena Pickersgill
2155 1;44:43 Rachel Corrigan
3037 finished

Marathon
(1    2:15:12 Chris Nash_
343   3:16:31 Derek Oliver (5th V55)
1398  3:52:17 Simon Jenkins   
1783  4:04:04 Harry Sime
2322  4:22:59 Clare Boyle
4232 finished

Rombalds Romp, Sun 14 Oct

(1 50:39 Alasdair McLeod, Leeds City)
2  50:40 Jack Wood
6  59:04 Ben Sheppard
9  59:56 Jeff Green
31 68:50 Colin Williams
53 76:04 Duncan Cooper
95 finished

Langdale Horseshoe fell race, Sat 13 Oct
From Will Buckton... This was a classic fell race in the Langdale valley with heavy rain, strong wind and poor visibility making the going tough over Thunacar Knott, Bowfell, Crinkle Crags and Pike of Blisco. The RO said at the start that less than half of the 520 who had entered turned up and by the finish 62 had retired or missed checkpoints. Ambleside AC did a great job to put on the full route in extreme weather conditions.

(1  2h25:23 Rhys Findlay-Robinson, Dark Peak)
3   2h31:39 Jack Wood
53  3h05:38 Steve Turland
92  3h27:12 Roy Ruddle
125 3h49:28 Will Buckton
180 finished

Wasdale Show fell race, Sat 13 Oct

(1 18:11 Simon Bailey, Mercia)
2  20:03 Jack Cummings
7  21:49 Iain Gibbons
40 finished

Adventures into Wonderland Ultra, Sat 13 Oct
From Dick Waddington...Adventures into Wonderland is a new series of trail races (a half marathon, marathon and a 64km ultra) in Perthshire, just north of Edinburgh. I was on the hunt for some more points for a UTMB-series race in the Alps next year and the ultra fitted the bill nicely. The climbing of 2000m was a bit less than I am used to, which was good given a current lack of fitness. Watching the forecast the week before was a bit dispiriting - they were adamant is would rain A LOT on Saturday. It started raining at about 6:45, just before the start, so I put my waterproofs on. The variety of terrain was amazing though, starting off on woodland trails and then climbing onto sketchy moorland trods, dropping through forestry land and down into an RSPB reserve (with a mandated walking section for a few hundred metres - a first for me). The 20,000 pink-footed geese that spend the winter there were very vocal! More moors and woodland and some lovely low angled descents on very runnable tracks were satisfying. A housing estate at the far end of the course made for a pleasant change. Farm land with impressive castle and very butch sheep led back to the RSPB reserve and the finish - still raining, still in full waterproofs. The marshals were all very enthusiastic and helpful, the race organisers dressed as the mad hatter and there was even a white rabbit marshal out on the course. The finishers medal is a Queen of Hearts playing card - what else?

(1 6h36:34 James Crozier)
13 8h23:47 Dick Waddington
34 finished

Lakes in a Day ...... of firsts, Sat 13 Oct
From Andrew Merrick ... Having enjoyed the experience in 2016, I went back for another attempt this year. The logistics of this well organised North to South run are best handled by staying in Cartmel on the Friday night and catching the early coach to Caldbeck for the run South, an 8am start. It is the first time I have hired a camper van for that purpose, which I would definitely do again. It was also a first for me that I have done a long race during which it has rained the entire time, necessitating a rope guide line for the river crossing before the climb up Blencathra, and making Halls Fell Ridge (even) less pleasant than usual. I wasn't expecting to describe the descent off Blencathra as the highlight of my day..... And the final first ... I bailed at the second check point, almost 11 hours and as many falls into the race. 11 hours in which I had completed 29 miles..... My first DNF, but it was the right call, despite having done all the hard work, the route becoming somewhat flatter after Ambleside.
From below Blencathra, the route takes you up Clough Head for a run across the tops before descending to check point 2 in Ambleside. Whilst the incessant rain was manageable, the wind from Clough Head onwards was really challenging, the particular low light being the battle up Fairfield, before a slippery run down to sanctuary. As I search for the positives from yesterday, the camper van was a definite success, dampened only by having to wade through a flooded camp site to get back to it yesterday evening.... ... And only one of my cuts required a dressing, applied by a member of the very helpful support team, who also very kindly found me a mug, mine having succumbed in another fall... A race that I would still recommend, despite this experience!
parkruns, Sat 13 Oct
From Petra Bijsterveld ... Results ...

Bradford
(1  17:52 Quentin Lewis, Baildon Runners)
3   18:41 Steven Gott
4   19:23 Michael Lomas
11  20:43 Steve Murray
52  24:02 Martyn Stocker
313 ran

Harrogate
(1  17:46 Andrew Dobby, Harrogate Harriers)
8   19:20 Helen Thurston 1st F
369 ran

Portrush
(1  17:15 Jamie McKee, U/A)
71  29:02 Hilda Coulsey
132 ran

Krakow
(1  15:37 Daniel Mikielski, U/A)
73  23:42 Tom Worboys
169 ran

Skipton
(1  18:12 Luke Moses, Telford AC)
11  20:59 Jonathan Schneider
15  21:23 Martin Archer
139 ran

Fulham Palace
(1  17:12 Vincent Riviere, U/A)
17  19:30 Rob Cunningham
459 ran

Llanerchaeron
(1  22:52 Lorne Kerr, Kilmarnock Harriers)
5   27:33 Mike Baldwin
22 ran

Cliffe Castle
(1  18:53 Christian Holmes, Wharfedale Harriers)
45  26:44 Oscar Street
76  29:54 Paula Reynier
139 41:20 Dave Reynier
161 ran

Kielder Half Marathon, Sun 7 Oct
From Caroline Howe ... Petra has been telling us for years what a fantastic race this is, and I can now corroborate that claim!! This was such a beautiful course that I found myself regretting halfway round that I hadn't entered the full marathon... I truly didn't want the race to end! Undulating, but in the good sort of way where you feel the benefit of the downhills more than the struggle of the uphills. Mainly nice spongy forest trails, with some gravelly bits and a tiny bit of road. Incredible views across Kielder Water while winding through the trees, in serene forest surroundings. A freezing cold start warmed up a little to make for good running conditions. I set out steady - it was quite congested for the first few miles - and then found some rhythm. After a hilly mid-section I was pleased to finish strongly. But in all honesty, this was a race to simply enjoy, and not one in which to chase down a pb. I snuck in just under 1:45 and just outside the top 10 females. It was great to see the only other Harrier, Petra, at the start but sadly her calf injury got the better of her and she had to retire. David didn't even get that far unfortunately... an illness over the past few weeks meant he didn't make it to the start line of the marathon, but I think we will both return to this beautiful part of the world for the race next year and I encourage all Harriers to consider this one... as well as the half and full marathons, there's also a 10k and run-bike-run on the Saturday, so something for everyone!!
Results ...

(1  1:15:57 Luke Adams, South Shields)
116 1:44:38 Caroline Howe
894 finished

Kielder Marathon, Sun 7 Oct
From Colin Williams ... as Caroline said about the Kielder Half Marathon, the Kielder Marathon is a fantastic race with a route around Kielder Water with lots of ups and downs on good forest tracks, I too would recommend it to other Harriers. A great event and very well organised. I ran the Marathon in a time of 3hr 33 min 20 second earning 49th position. It was won by Russell Maddams of Keswick AC for a second year running in a time of 2hr 46 min 24 seconds (6 seconds slower than last year)... 648 ran.
Withins Skyline, Sun 7 Oct

(1  41:51 Callum Davidson, Ribble Valley)
2   42:22 Nathan Edmondson
134 60:51 Darryl Stead
158 63:26 Robert Budding
246 finished

Hodgson Brothers Mountain Relay, Sat 6 Oct

(1 3:30:23 Keswick AC)
29 4:47:39 Ilkley men
60 5:28:08 Ilkley ladies
70 teams completed

parkruns, Sat 6 Oct
From Petra Bijsterveld ... Results ...

Richmond
(1  16:53 Martin Shore, Thames Hare and Hounds)
6   19:17 Rob Cunningham
429 ran

Bradford
(1  17:47 Michael Malyon, Baildon Runners)
12  20:17 Rhys Jones
401 ran

Skipton
(1  17:56 Samuel William, U/A)
16  21:50 Malcolm Pickering
18  22:04 Jonathan Schneider
72  26:37 Anna Pickering
165 ran

Keswick
(1  17:54 Steve Halsall, Westerlands XC Club)
37  23:10 Geoff Howard
204 ran

Bramley
(1  17:16 Patrick Vis, Southport Waterloo)
3   18:38 Steven Gott
129 ran

Cliffe Castle
(1  18:17 Andrew Humphries, Airecentre Pacers)
40  24:58 Oscar Street
56  26:08 Will Worboys
92  29:10 Paula Reynier
234 ran

From Malcolm Pickering ... Anna Pickering ran a PB.
---
Outstanding Achievements, September
From the Committee ...
Helen Waddington and team for the Incline race organisation
Caroline Howe for organising teams for Leeds County Way relays
Jack Wood 6 first places this month
Alison Weston FV50 FRA Fell Champion
Steve Turland 3rd ROC Mountain Marathon
Peter Haines 1st Lakeland District Mountain Trial
Nathan Edmonton 1st Stainland Trail, 2nd Evensplits 5k
Dave Raynier Cumbrian Way ultra gaining enough points for UTMB third year in a row
Oscar Street parkruns and training performances
Groovy Kinder Love fell race, Sun 30 Sep

1 2:22:24 Jack Wood
77 finished

Kelda 10k @ Swinsty Reservoir, Sun 30 Sep
From Caroline Howe... This run is organised by Yorkshire Water and raises money for Water Aid. This was the 6th running of it but first time at Swinsty Reservoir. The fact that I finished 3rd lady gives an indication of the size of the field... just 119 finishers. It was twice round Swinsty rather than one lap round both - probably to halve the number of marshalls needed! A very pleasant affair supporting a good cause!
results ...

(1 36:39 Alex Robinson)
17 47:43 Caroline Howe
119 finished

Preston 10k, Sun 30 Sep
From Sally Armitage ... results ...

(1  33:38 Chris Livesey, Salford Harriers) 
121 44:36 Sally Armitage
1428 ran

Littleborough 10k, Sun 30 Sep
From Peter Shields ... very well organised at not an extortionate entry fee! I had a good tussle with a fellow V70, who eventually got the better of me in the last km. Interestingly I have been running against this chap for 50+ years over various distances and never got within 2 mins of him, today I thought was going to be my day, but still some consolation I got 31secs nearer to him, must try harder!! There was a field of 343 runners of which 152 were females and 191 were males.

(1  33:04 Mathew Hill, Wakefield and District AC)
130 49:20 Peter Shields

ROC Mountain Marathon, 29/30 Sep
From Steve Turland ... I did the long score ROC mountain marathon at the weekend based in the north Lakes. After 7 hours on the first day I was in 6th position overnight, but managed to pick up 3 places on day 2, finishing 3rd overall and 1st vet. Really well planned course over some difficult terrain.
Endurancelife Coastal Trail Series North York Moors 'Marathon', Sat 29 Sep
From Adrian Hall ... A well-organised set of races beginning and ending in Ravenscar and taking in sections of the Cleveland Way and Robin Hood's Bay. Despite a cold start the blue skies, sun and predominantly dry course made for a very enjoyable race of c 26.8 miles / 3600 ft. The '10 k' (7.1 miles), 'half marathon' (15.1 miles) and ultra (33.6 miles) courses are run over the same area and timed for a mass finish making for a great event.
Marathon results ...

(1 3:29:40 David Boulton)
5  3:56:54 Adrian Hall
66 Finished

parkruns, Sat 29 Sep
From Petra Bijsterveld ... Results ...

Bradford
(1  17:44 Andrew Humphries, Airecentre Pacers)
7   20:00 Steve Murray
396 ran

Krakow
(1  17:34 Pawel Strekowski ITMBW Krakow)
30  21:25 Sally Malir
164 ran

Skipton
(1  17:15 Andrew Cairns, Skipton AC)
5   19:23 Will Buckton
8   20:00 Colin Williams
15  20:38 Kate Archer 1st F
22  21:31 Malcolm Pickering
65  25:16 Rachel Carter
102 27:16 Anna Pickering
198 ran

Lancaster
(1  17:50 Sam Harrison,Bowland Fell Runners)
145 28:44 Karen Lambe
288 ran

Middleton Woods
(1  17:21 Jonathan Walton, Leeds City AC)
17  22:59 Geoff Howard
90 ran

Cliffe Castle
(1  18:19 Matthew Warters, U/A)
61  26:26 Will Worboys
266 ran

Evensplits 5k Leeds, Wed 26 Sep
From Hilda Coulsey... There were fewer runners, it seemed, this month, race 8 in this 5k series at the Brownlee Centre. An exciting finish ended the A race with Nathan Edmondson coming in second in a fantastic time of 15:55 losing by a second to John Hobbs, Valley Striders, and beating Joe Sagar, Spenborough, into third by 3 seconds! Congratulations to Harry Stead finishing under 20 mins for the first time.
Results...

(1  15:54 John Hobbs, Valley Striders)
2   15:55 Nathan Edmondson
52  19:51 Harry Stead
59  20:23 Catherine Westhead
66  20:39 Robert Budding
108 23:37 Nicola Budding	
121 24:49 Hilda Coulsey

Falls and Castle trail race, Bolton Castle, Sun 23 Sep
From Gavin Lamb ... Inaugural race which may not have quite advertised itself quite enough (based on my finishing position!) 18 mile trail race
Results...

(1  2:03:45 Ben Hamilton)
2  2:23:49 Gavin Lamb
42 finished

Ilkley Duathlon, Sun 23 Sep
From John Hayes ... There was a good turnout from the Harriers at the Ilkley Duathlon. When we entered back in May (in a mad online scramble for places) it was called the Ilkley Triathlon. But ongoing repairs to the roof of Ilkley indoor pool meant they had to replace the swim leg with another run. I did ask one of the marshals if the organisers had pondered using the lido. Apparently they did, but this would have meant compulsory wetsuits which some entrants would not have had. I can understand this, although as an avid fan of the lido (without a wetsuit) I was rather sad to miss that opportunity, not least as it may have given me an advantage! For those who have never entered the event, it is great fun. Brilliantly organised and catering for all abilities, it is one of my favourite events on the race calendar. I hope to be back next year, by which time I assume that the indoor pool roof will have been fixed.
Results
Bristol Half Marathon, Sun 23 Sep
From Jonathan Sinclair... Perhaps not surprisingly so far from home I think I was the only Harrier (running with my daughter Zoe who lives in Bristol). Rained all the way through the race turning blue and sunny immediately afterwards. The course goes up the gorge and back then takes a labyrinthine route through the city centre for the second half. No proper hills but a bit of undulation. About the same entry as the Leeds Half. 241st and 3rd in my age category in 1:26:42.
Great Whernside, Sat 22 Sep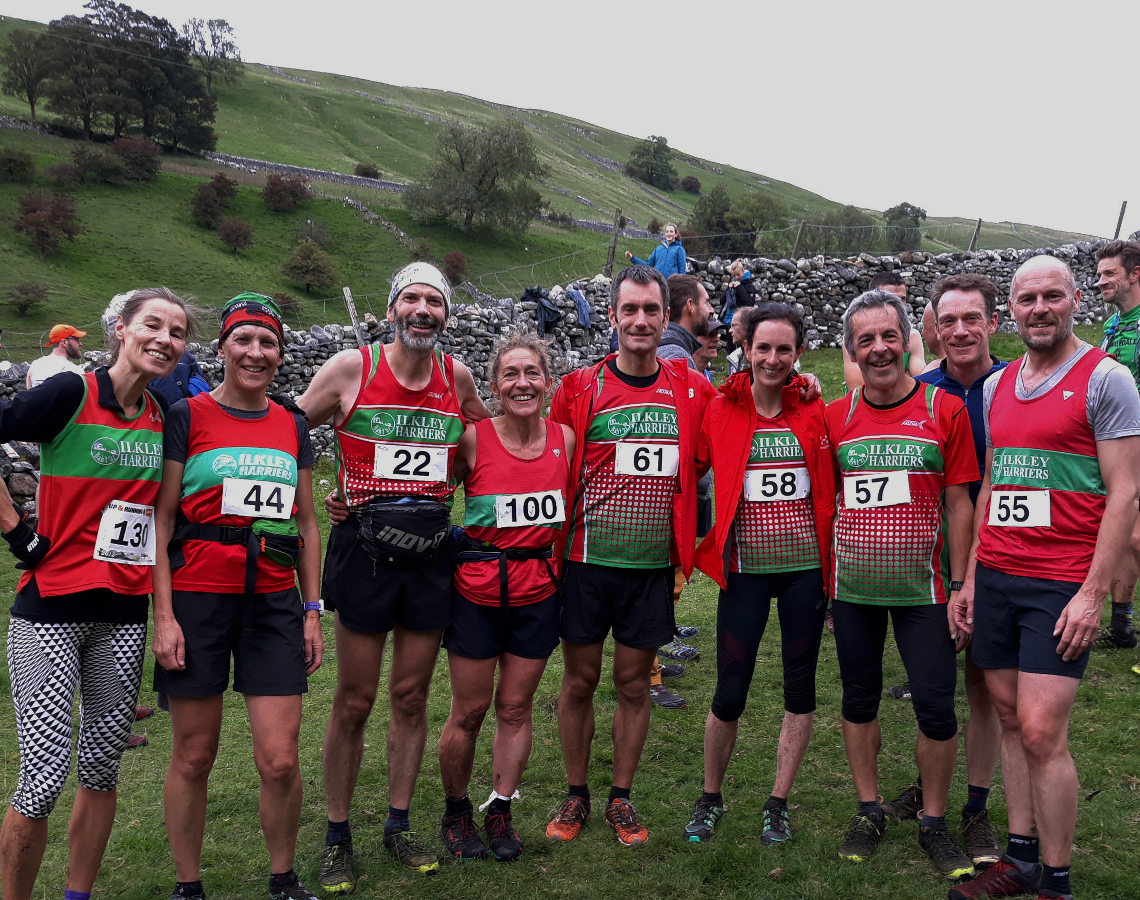 From Will Buckton ... Fairly dry for this year's run up and down Great Whernside from Kettlewell. AS 6.5km 475m Good turnout from Harriers for the league.

(1 29:40 Joe Baxter Pudsey & Bramley)
14 35:55 Istvan Jacso
28 38:39 Jim Ryder
42 40:18 Will Buckton
44 40:31 Colin Williams
45 40:37 Peter Shelley
48 41:01 Helen Thurston
56 42:23 Alistair Barlow
77 45:17 Chantal Busby
78 46:15 Alison Weston
87 48:01 Jo Foster
126 finished

Champion!
From Hilda Coulsey ... It has been confirmed that Alison Weston is the 2018 FV50 Fell champion (FRA)
Circuits start tonight, Mon 17 Sep
Neil Chapman's circuit training starts tonight, 7pm at IGS gym. £2. Details on the training page.
World Championships, Sun 16 Sep
From Steve Brennan ... Euan Brennan ran for GBR this weekend in the World Mountain Running Championships in Andorra. This year's event was uphill only. Euan finished in 29th position with the team of Junior Men winning the Silver medal.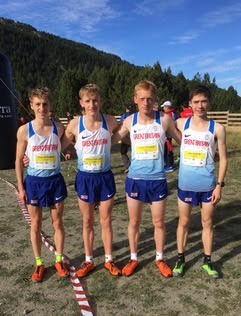 Embsay fell race, Sun 16 Sep

1  17:29 Jack Wood
5  18:54 Jack Cummings
20 20:50 Jeff Green
26 21:31 Iain Gibbons
48 23:25 Paul Calderbank
141 finished

Stainland Trail 10k, Sun 16 Sep

1  41:07 Nathan Edmondson
148 finished

Spent Greenway 10k, Cleckheaton, Sun 16 Sep
From Peter Shields ... Spent Greenway 10k including the Northern Masters 10k Champs. Sally Malir 44th, 1st VW50 and VW50 Northern Champ-44:01; Peter Shields 71st, 1st V70, 50:10; 140 ran.
The Stanage Struggle, Sun 16 Sep
From Alison Weston...A great run up from Hathersage village along Stanage Edge and back through fields organised by the Fat Boys running club. Won by Thomas Bond from Dark Park in 40.37 mins Alison Weston 140th in 58.26
3 Shires fell race, Sat 15 Sep
From Simon Jenkins... 3 Harriers set off to tackle the epic and iconic 3 Shires rammed into a small Toyota. It looked to be a nice sunny day but as soon as the runners started to ascend a thick mist cut visibility down to just a few meters.
Jack Wood set off at an incredible pace with only the 5 times winner Ricky Lightfoot able to stay with him. They ran together battling for the lead and were still neck and neck with 150 meters to go. Jack found the inner strength to just push harder and out sprinted Ricky for an incredible win.
Helen Wood put in another brilliant performance. Having never ran anywhere near this distance or been in a fell race, she ran fantastically to be the 2nd lady.
I had several navigational errors but managed to get round the course which was an achievement for me. But I reckon my fmotivational banter in the car helped Jack and Helen to their great performances.

1   1:54:30 Jack Wood 
92  2:48:55 Helen Wood  2nd Lady
196 3:41:23 Simon Jenkins 
233 Ran

Leeds Golden Mile, Sat 15 Sep
From Geoff Howard... For the second year running (and second in fifty four years) I ran a mile on a track at Leeds Beckett Carnegie campus on Saturday. A hundred and eighteen others did likewise distributed over thirteen 'heats' in sequence from anticipated slowest to fastest. Called the Leeds Golden Mile, the event was organised by EvenSplits who provided times to the nearest 1/10th of a second seemingly from two guys with stopwatches stood on the same stepladder (Roger Bannister at Iffley Road 1954 style) which seemed odd given that their website extols the virtues of all the super duper latest electronic equipment they can supply for customers' events. Still it was a very well organised, friendly and enjoyable occasion - maybe I'm just a little miffed at being timed 0.5 of a second slower than last year. By the time the creme de la creme ran I was well away on the bus back to Ilkley which, in retrospect, was a pity because of the stellar top end performances (six runners under five minutes, 45 year old Martin Fillingham of Saltaire Striders blowing everyone else away with his 85.92% age graded performance in fifth place & Ilkley Harrier's Steven Gott in twelfth place).

(1 4:41.4 Peter Surennen, ADD
12 5:06.6 Steven Gott
84 6:30.2 Geoff Howard
119 ran

Portrush parkrun, Sat 15 Sep
From Hilda Coulsey... The thing about a parkrun totally on the beach is that times depend significantly on conditions so that there are only 5 men under 17 mins and 11 women under 20 mins in its 320 event history. I thought that beating the FV 65 record of 27:00 set in 2014 was surely doable! This is my 4th attempt this year, reasons to visit entirely independent from tide and weather, and with tide half way back in, a "moderate" wind and squally drizzle I did it. Stunning scenery on the north coast of Northern Ireland.
Results
Keighley (Cliff Castle) parkrun, Sat 15 Sep
From Steve Murray ... Six Harriers headed over the hills to Keighley for the inaugural parkrun at Cliff Castle on Sat 15th Sept, to make up the 453 runners! It was a great atmosphere, with organisers, volunteers and runners excited to get underway on the 3 and a bit lap course. A picturesque start in front of the museum with a nice fast downhill, followed by a long flat section should have given away what was coming. A sharp left and into a steep hill on a narrow path, followed by another sharp left and another uneven hill section, before a flat and twisty downhill back to the start. Three laps later and a hard left after the downhill section for an uphill sprint to the finish. A tough and challenging 5k addition to the parkrun series, not for the PB hunters but one to feel you've earned the coffee! Great performance by Lucy Williamson who was 16th overall and 1st lady.
Results
Salomon Ben Nevis Ultra, Fri 14 Sep
From Roy Ruddle ... Unfortunately conditions meant that this first running of the Ben Nevis Ultra took place on the bad weather route (51 km 1700m ascent), which featured about 40 km of trail/valley running and only 15 km on the mountains. The proper route included the Carn Mor Dearg arete and parts of the Ring of Steall, and would have been much more enjoyable. That said, the race organisation and en-route support was fantastic, particularly from Brian Melia who was manning check point 2!

(1  3:48:02 Jonathan Albon, UK)
211 6:35:30 Roy Ruddle
287 7:18:48 Jamie Hutchinson
368 ran

Harrier League Standings after 18 Races
From Jane McCarthy... Six more great races in the Harriers League since June, and with some clever Wildcard scores the standings are as follows: Hilda Coulsey leads the overall League with 911 points from a maximum of 10 scoring races after a superb 109 points from Skipton Park Run as her Wildcard entry. With only 6 more races remaining in the 2018 League Hilda will be difficult to beat, but hot on her heels are Trail League leader Jonathan Turner (814 points from 9 races) and Road League leader Colin Williams (726 points from 8 races) - both of whom can still declare a Wildcard. All runners can still improve their average points in the final races as the League takes the best scores over a maximum of 3 races in each discipline (or 4 races for the individual Leagues).
In fourth place overall is Alison Weston (613 points), fifth placed is Jean Sullivan (561 points) and sixth placed is Fiona Schneider (538 points) - all from 7 races. Fell League leader Jack Cummings is in seventh place overall, scoring in 5 races, but leads the Fell standings with an almighty 396 points from 4 races - a maximum 100 points earned in his win at Addingham Gala. The remaining races are Great Wherneside (Fell) on 24th September, Bradford Park Run (Road) on 3rd November, Burley Moor (Fell) on 10th November, PECO (Trail) end Nov. TBC, The Stoop (Fell) on 16th December and finally Ribble Valley 10K - a great PB course finishing the year on 29th December. Happy Racing!!!!
As always, any mistakes, please contact Jane McCarthy at janemccarthy@me.com
Results and remaining events on the League page.
Vale of York Half Marathon, Sun 9 Sep
From Steve Murray ... A small group of 4 Harriers ran the Vale of York half marathon on Sunday morning. A very flat course looked like a great choice for my first half marathon race when I finally signed up on Thursday. On a warm and cloudy day the first 8 miles went according to plan but then the tailwind no one realised we had became a headwind for most of the race back and things got a bit tougher. The planned speedy finish never materialised but was pleased with the time and to get the first one under the belt. Excellent performance by Will Simmons who came home 23rd.
Results ...

(1  1:11:48 Kev Jeffress,Sunderland Harriers & AC)
23  1:18:28 Will Simmons
107 1:26:21 David Westhead
227 1:33:47 Steve Murray
388 1:40:31 Michael Abrams-Cohen
1542 finished

Bradley Show Fell Race, Sun 9 Sep
From Caroline Howe... A rare fell race for me, but a doable and enjoyable one! Jann Smith and Steve Gott were the other Harriers who took part.
Results ...

(1 24:44 Luke Maude, Barlick)
4  26:36 Steven Gott
33 35:28 Jann Smith
47 37:42 Caroline Howe
70 finished

The Yorkshireman, Sun 9 Sep
From Ben Sheppard... There was a good turnout of Harriers for the Yorkshireman off-road marathon (26.2 miles and 3,200 ft) and half marathon (14.6 miles and 1,800 ft). A nice mixed terrain race with some remote moorland and not too much tarmac. Great runs on the Half included Istvan Jacso coming 3rd, Martin Archer and Gavin Lamb getting under 2 hours and Paul Castle close behind. Adela Reperecki completed the marathon, as did Colin Williams in around 4 hours - an improvement of around 30 minutes on last year. Not knowing the way, I worked hard in the middle of the race to go with the leading pack who were pulling away. It worked for me until the last few miles when I was dropped by the front three and had to get the map out and fumble my way home on an empty tank.
Results ...

Marathon
(1 3:23:03 Andrew Dobby, Harrogate)
4  3:36:35 Ben Sheppard
18 4:01:31 Colin Williams
80 5:04:52 Adela Reperecki
146 finished

Half
(1  1:40:08 Robi Howie, Wharfedale)
3   1:47:14 Istvan Jacso
22  1:56:49 Martin Archer
25  1:59:48 Gavin Lamb
40  2:03:07 Paul Castle
50  2:07:03 Pauline Munro
61  2:08:22 Lucy Williamson
105 2:24:23 Simon Jenkins
172 2:46:33 Elizabeth Price
252 finished

Lake District Mountain Trial, Sun 9 Sep
From Jack Wood... Me and Will Buckton drove to Grasmere this morning for the 64th Lake District Mountain Trial. This event tests your speed, stamina and ability to navigate through the mountains. The 'Classic' course has been won numerous times by fell running legends Joss Naylor and Billy Bland. Today the route covered over 20 miles and 2000m climb with 11 checkpoints to find. After a slow start I was happy to stretch my legs on the more runnable section from Steel Fell towards the Langdale Pikes. However as running time passed 4 hours I started to get tired and was overtaken on Silver Howe by eventual winner Nic Barber who had started 4 minutes behind me (the race is run in time trial format). Will did well to find the first few 5 checkpoints considering he's still learning how to map read but nobly retired at Dunmail Raise when he realised he didn't pack his headtorch. He is keen to return for another attempt next year. Pete Haines of Ilkley ran well to win the short course.
Results ...

Classic
(1 4:21:02 Nicholas Barber, Pennine)
2  4:33:07 Jack Wood
67 finished

Short
1 3:34:06 Peter Haines
68 finished

Great North Run, Sun 9 Sep

6444  1:55:42 Charlotte Smithson
11543 2:06:48 Chris Cunningham
18939 2:19:32 Jo Pattinson
19769 2:20:52 Alec StanleyHyde

Lothersdale fell race, Sat 8 Sep

1 10:39 Jack Wood
33 finished

parkruns, Sat 8 Sep
From Petra Bijsterveld ... Results ...

Bradford
(1  17:28 Jack Kelly, U/A)
99  25:47 Will Worboys
112 26:15 Oscar Street
127 26:56 Paula Reynier
391 ran

Harrogate
(1  17:36 Matthew Wilkinson, Nidd Valley RR)
110 24:11 Alison Weston
432 ran

Skipton
1   16:48 Jack Wood
12  21:11 Jonathan Schneider
78  26:58 Fiona Schneider
108 29:25 Bernie Gibbons
182 ran

Clapham Common
(1  15:32 unknown)
12  18:59 Rob Cunningham
513 ran

Ilkley Incline, Wed 5 Sep
From Helen Waddington... Another successful Ilkley Incline due, as always, to the tremendous effort from all the helpers, Marshalls and runners who took park. The atmosphere is always great for this event with lots of Harriers taking part (28 - many of whom won their age category and 1st Male and 2nd Female going to the Wood family!).. It was another high quality field - 14 runners making it under 9 minutes and 18 going under the magic 10! But all runners who tackle this course are to be congratulated - I have never done it and dread the day I have to give it a go! We have an amazing team of people who each year give their time to make it all work like clockwork. We would like to thank Neil Chapman for timing and setting up, Jann Smith, Paul Carman and Sarah Hayes helping man the registration which is crucial, Julie Melechi who always controls the traffic for us on the road, Sarah for sweeping, Rob King and Andrew McCarthy who get the results down in double quick time on their MTBs, John Hayes and Toni Melechi who helped Dick and Neil out at the finish funnel and also packing up. We had Graham Weston who was taking photos - can't wait to see them, and Jane McCarthy in her usual vital role of finalising the results and prizes. I would also like to thank Caroline Howe for being a general helper and assistant. It is truly a team effort and makes our lives so much easier on the night so THANK YOU!!!
More photos on Facebook.
Muker show fell race, Sat 8 Sep

(1 12:00 Ted Mason, Wharfedale
12 14:20 Iain Gibbons
47 18:34 Jann Smith
68 finished

Wetherby 10k, Sun 2 Sep
From Sally Armitage... I'd been looking forward to this race for months and, having been injured on and off for much off the year, was super excited to be able to run on Sunday. However, the hot weather made it challenging and after setting off too fast I really struggled. It's a lovely course though and the atmosphere is fantastic, already excited for next year!

(1  33:35 Callum Elson, Roundhay Runners) 
138 47:08 Sally Armitage 
312 54:12 Charlotte Smithson 
318 54:23 Chris Cunningham 
427 58:22 Sheena Pickersgill 
436 58:41 Jonathan Turner 
438 58:42 Dawn Turner 
462 59:22 Alex Stanley-Hyde 
581 64:02 Emma Curren 
873 ran

Burnsall fell race, Sun 2 Sep

(1 13:42 Simon Bailey, Mercia)
10 16:40 Iain Gibbons
13 16:49 Steven Gott
25 19:13 Roy Ruddle
66 finished

Leeds Country Way Relay, Sat 1 Sep
From Caroline Howe ... The Leeds Country Way relay, organised by Kippax Harriers since 1990, starts and finishes in Garforth, circumnavigating Leeds in six 10-12 mile legs via Wakefield, Morley, Thornbury, Golden Acre Park and Thorner.
Jonathan Turner and Steve Murray got the team off to a solid start on leg 1, finishing the 11.75 miles in 1:26, in 19th position (out of 58 teams). Steve deserves a special mention for willingly taking on this leg, which meant a 5.45am alarm call, having just returned from a 2 week holiday late the previous evening - that is commitment! Huge kudos to Jonathan too who subsequently ran the Wetherby 10k in the afternoon!
Leg 2, 11 miles from Stanley to Morley, was run by Mike Abrams Cohen and Will Buckton who discovered new levels of usefulness of a Garmin, following the .gpx trail of this very tough and tricksy route in South Leeds. Mike and Will were 19th fastest in 1:32, and managed to gain a couple of places to hand over the baton in 17th.
A superb performance by Michael Lomas and Andrew Overend on the 9.8 mile hilly leg 3 saw them post the 8th fastest time of 1:13, gaining the team another four places in the process, to hand over to Jack Wood and Istvan Jacso at Thornbury in 13th position.
Jack and Istvan's route was an 11.5 mile convoluted course from Thornbury to Golden Acre Park - considered by many the toughest leg - and the pair gave a storming performance of 1:20, which was the second fastest time, and saw them overtake five teams before handing over the baton in 8th place.
Jean and I were soon on our way out of Golden Acre. However, the downside to a 1:30pm start soon became apparent, as the sun beat down hard on us. The scenic route was largely over open fields, exposed to the heat with very little shade, and by the time we got to halfway, we were flagging. It soon became about just getting round. Despite having diligently reccied the course (most of it twice) in our exhaustion we almost went the wrong way near the end - but mercifully a kind dog walker kept us right. It's no exaggeration to say these were the hottest conditions I have run in, and our finishing time was 1:38. However, we were pleased to discover that we were the 6th fastest ladies pair out of 24 (31st place overall on the leg). On finishing, we had dropped several places, handing over in 14th position.
With Jean and I collapsed in a heap in Thorner, Malcolm Pickering and David Howe set off on the 10 miles to the finish, and managed a solid leg of 1:24, only dropping one further place, to carry the team over the line in 15th position out of 58 (24th fastest on the leg), and a total time of 8 hours and 35 minutes.
This was a fantastic event to be a part of, and the feedback from the team has been universally positive, and enthusiastic about returning next year. Running in an event like this is a different experience with different challenges to a normal race (running as a pair, navigating the unmarked route, the logistics of dropping off cars!) but the reward is great - you get a real buzz from being part of a team, eagerly awaiting the text updates from the other runners, and the excitement of awaiting the baton at the crossover point where there is a great atmosphere. This and similar relays like BMW are suitable for all runners at the club, and are as a competitive or as fun as you want to make them, so please do consider taking part next year when the call comes - it would be great to get more teams out there in 2019!
Grand Tour of Skiddaw, Sat 1 Sep
From Jann Smith ... Paul Carman completed another ultra event which starts North of Skiddaw above Caldbeck running along the Cumbria Way to Latrigg , then up Skiddaw and back to the start. 45.9 miles / 7000 feet. He came 11th in 8 hours and 40 minutes.
Ben Nevis race, Sat 1 Sep

(1  1:27:35 Finlay Wild, Lochaber)
165 2:04:52 Steve Turland
349 2:30:03 Alison Weston
488 finished

Bullock Smithy Walk, Sat 1 Sep
From Colin Williams... At 12:00 on Saturday I set off with 220 other runners and walkers to try my luck at the 43 Bullock Smithy Race. Run by 3rd Hazel Grove scout group, the circular route covers a distance of 56 miles and around 8,100 feet of climb, competitors need to visit 14 checkpoints in turn, the route between them is up to you, the route finding is a little complicated in places so reviewing the route before the day would have been useful. The weather forecast for Saturday was overcast, but on the day the sun shone all afternoon making the running very hard going. This is a great event with some fantastic support at each of the checkpoints and when you finish you get served a full breakfast. The full results aren't available yet, but I finished in equal 10th place in a time of 13 hour 16 minutes, the race was won by Rory Harris in a time of 8 hours 52 minutes.
At the event presentation I was awarded the Axe Edge trophy, for the fastest time by a adult member of the scout association.
parkruns, Sat 1 Sep
From Petra Bijsterveld ... Results ...

Cardiff
(1  16:25 Daniel Hamilton, Abingdon AC)
4   17:09 Alex Hirst
576 ran

Halifax
(1  17:42 Harry Johnson, Halifax Harriers)
64  27:26 Tim Buckingham
126 ran

Bradford
(1  17:00 Martin Soszka, Saltaire Striders)
68  23:41 Oscar Street
125 26:35 Paula Reynier
427 ran

Harrogate
(1  16:01 Andy Grant, Leeds City AC)
10  19:12 Pauline Munro 1st F
457 ran

Clumber Park
(1  19:11 Jake Wilson, U/A)
83  25:44 Stephanie Fox
320 ran

Skipton
1   17:38 Jack Wood
10  20:08 Mark Mon-Williams
30  22:52 Rebecca Mon-Williams
206 ran

Clapham Common
(1  16:48 Nic Errol, U/A)
19  19:00 Rob Cunningham
491 ran

Dishley, Loughborough
(1  16:29 Mark Powell, Leicester Coritanian AC)
3   18:04 Stephen Coy
100 25:24 Gaenor Coy
347 ran

---
Outstanding Achievements, August
From the Committee ...
Euan Brennan for GB selection for U20 (at 17) and very impressive results
Rachel Carter 1st FV40 Round Hill fell race, 3rd lady at Hellifield gala, 1st lady in the Dutch 5k Jemima Elgood 1st at King's Challenge
Will Simmons 2nd at Round Hill, 4th at Burnsall 10 mile
Helen Waddington for UTMB OCC finishing in top third for her category ad impressive commitment to training
Paul Wood for maintaining the website, including the Forums
UTMB OCC, Thu 30 Aug
From Helen Waddington... I was lucky enough to get a place on this, the shortest and (probably for this reason!) the most over-subscribed of the UTMB races. Heavy rain, storms and snow on the days either side of my race but I was blessed with warm sunshine in the valleys and some light cloud and mist on the summits. Just short of 1600 runners set off on the route which takes in the last 57 km of the full UTMB course. Three main climbs with a total 11,500 feet of ascent it is a challenging event but the amazing support from the UTMB organisation, friendly locals and awesome views kept me going. I was pleased to get round with no mishaps and not a drop of rain finishing in 11 hours and 18th v50. The icing on the cake was running into Chamonix where the reception was incredibly warm and enthusiastic and it felt like every runner was a winner regardless of finishing time. Special mention to Andrew Merrick who supported me for the last third of the race and kept me going with gentle encouragement and distracting chat when I needed it most!
Ennerdale Show fell race, Wed 29 Aug

(1 11:25 Jack Wood
59 finished

Kilnsey Show fell race, Tue 28 Aug

(1  8:00 Nick Swinburn, Northumberland)
16 10:13 Steven Gott
39 11:27 Jeff Green
102 finished

Reeth Show fell race, Mon 27 Aug

(1 15:06 Simon Bailey, Mercia)
2  15:15 Jack Wood
12 18:30 Iain Gibbons
80 finished

Hebden Sports fell race, Mon 27 Aug
From Alison Weston ...

Senior race
17:00 Alison Weston 
	
U17 race
15:00 Bernadette Raven
15:18 Harry Stead

Podium 5K Barrowford, Mon 27 Aug
From Sally Armitage ... These are the results from the Podium 5K at Barrowford this morning. ...
A race, B race

A Race
(1 14:46 Nick McCormack, Morpeth Harriers & AC)
6  15:16 Euan Brennan 
65 finished

B Race 
(1 17:16 Ashley Crawford, unattached)
24 20:14 Sally Armitage 
43 finished

5k race results, Sun 26 Aug
From Rachel Carter... I took the opportunity to participate in a well organised yet friendly 5km run with the Zoetermeer Road Runners whilst on holiday in South Holland. Finished 1st lady and 9th overall out of 62 in a time of 20:02. Would have been under 20 but stopped to help a runner with a stitch.
Burnsall Feast Sports, Sat 25 Aug
From Hilda Coulsey...The best weather of the weekend on Saturday helped to ensure another great afternoon of races at Burnsall. It's always lovely to see the various juniors racing on the field and on the fells and well done to Bernadette Raven a very close 2nd in her group.
10 miles road race
Not so many Ilkley Harriers competed this year but, with all the men runners being in the top 20, what a performance. Will Smith, Rossendale, won with ilkley Harriers Jack Wood 2nd, Will Simmons 4th, Ben Sheppard 5th, Martin Archer 9th and Jonathan Turner 17th.
There were only 21 ladies running in total. Jean Sullivan led the Harriers back, Sheena Pickersgill picked up 1st FV50 and I made up our 'team', less said the better re my performance I have a number of excuses but it would take too long to go through them!
Only 72 ran in total, compared to last years 120, which is a shame for the organisers. It felt like there was a lot of traffic on the narrow country roads, bank holiday weekend the reason perhaps and for the small turnout. I'm sure they'll be back again next year for a tough race but super atmosphere.
Results ...

(1 54:49 Will Smith, Halifax)
2  56:22 Jack Wood
4  57:52 Will Simmons
5  61:36 Ben Sheppard
9  64:05 Martin Archer
17 68:00 Jonathan Turner
55 85:39 Juan Sullivan
63 91:54 Sheena Pickersgill
67 97:34 Hilda Coulsey
72 finished

localhos
The Classic Fell race
A highlight here was Victoria Wilkinson, Bingley Harriers, who came in 9th overall with a new course record time of 15:58, a record held by Carol Greenwood since 1983. The course was dry and there were a similar number of runners as last year, although fewer Harriers. Nevertheless fast times were achieved by all our runners.
Results ...

(1 14:04 Sam Tosh, Rossendale)
14 17:03 Steven Gott 
37 20:42 Richard Joel 
55 22:15 Robert Hamilton 
65 23:01 Michael Duffield 
76 23:51 Abigail Swales 
120 finished

No Harrier took on the challenge of both races, but well done to Antonio Cardinale (second claim Ilkley) who did.
Malham Show Fell Race, Sat 25 Aug
From Val Kerr ... My first race in a while. Short (~3.5 miles) with 900+ ft of ascent. Whilst waiting at the start line the commentator informed us of Jack Wood's awe inspiring finishing time at last year's race - just over 17 min, up and down !! Not sure what my time was but it was a lot longer than that. A great race anyway and good to be back on the fells again.
Results ...

(1 17:35 Duncan Birtwhistle, Telford)
48 32:34 Val Kerr
52 finished

parkruns, Sat 25 Aug
From Petra Bijsterveld ... Results ...

Cardiff
(1  16:02 Mukthaar Farhan, U/A)
9   17:11 Alex Hirst
713 ran

Bradford
(1  17:12 Martin Soszka, Saltaire Striders)
28  21:41 Sally Malir
129 26:06 Philip Hirst
406 ran

Harrogate
(1  16:30 unknown)
100 24:27 Oscar Street
169 26:24 Paula Reynier
373 37:57 Dave Reynier 
401 ran

Skipton
(1  18:01 Jake Ridding, U/A)
23  22:46 Jonathan Schneider
216 ran

Rising Sun
(1  17:31 Mark Snowball, Morpeth Harriers & AC)
48  22:00 Caroline Howe
460 ran

Tooting Common
(1  16:05 Danny Russell, Highgate Harriers)
24  19:04 Rob Cunningham
502 ran

Selby
(1  19:43 Jamie Wilson, Tyne Bridge Harriers)
13  22:19 Geoff Howard
104 ran

Forums closed
From Paul, website editor ... The Ilkley Harriers forums, first set up in 2008, have now been closed. This is with a slightly heavy heart, but it's too much work maintaining them and protecting them from internet pests. If you have something to tell club members you can send it to me for the news page, or post it the Facebook group, or send it to Val for the email newsletter.
Sedbergh Hills Fell Race, Sun 19 Aug
From Will Buckton ... Steve and I ran the Sedbergh Hills in poor visibility. Steve had a great run to finish 1st V50. I set off well but took some detours and was pleased to finish as there were 18 DNFs!
Results ...

(1 2h20:22 Rob Jebb, Helm Hill)
19 2h55:29 Steve Turland
78 3h59:07 Will Buckton
98 finished

parkruns, Sat 18 Aug
From Helen Thurston ... I did Whinlatter Forest Parkrun this morning and thought it was worth a mention as it's relatively new and a bit different. As well as the wonderful community spirit of Parkrun, the course boasts beautiful views of Derwentwater (just visible through the rain today, on a clear day it would be lovely) as it winds its way up through forest tracks and paths. Certainly not a good run for chasing a PB as it's mostly uphill (600+ ft of height gain), but it's an enjoyable course and once you've walked back down the hill from the finish there is a great cafe!
From Petra Bijsterveld ... Results ...

Bradford
(1  16:53 Will Kerr, Saltaire Striders)
127 27:01 Will Worboys
340 ran

Harrogate
(1  17:17 unknown)
60  21:54 Dave Reynier
62  21:58 Geoff Howard
182 26:03 Paula Reynier
404 37:47 Tim Buckingham
432 ran

Skipton
(1  18:05 Laura Gent, Aldershot, Farnham & District AC)
6   20:17 Mark Mon-Willams
10  20:49 Jonathan Schneider
158 ran

Whinlatter Forest
(1  21:23 Jim Haworth, Keswick AC)
7   23:43 Helen Thurston
101 ran

Clapham Common
(1  16:28 Finn Johnson, Hercules Wimbledon AC)
21  19:02 Rob Cunningham
445 ran

Evensplits Brownlee Centre Leeds 5km Race 7, Wed 15 August
From Fiona Schneider... Results ...

(1  16:16 Joe Sagar, Spenborough)
20  18:17 David Westhead  
72  20:47 Sally Armitage  
74  20:55 Catherine Westhead (junior) 
75  21:00 Archie Budding (junior)  
90  21:32 Robert Budding     
134 23:49 Nicola Budding     
154 26:09 Fiona Schneider (PB) 
172 ran

Triple Treat, Sat 11 Aug
From Fiona Schneider... Saturday lent itself to three small races and so Jonathan Schneider and I gave ourselves a challenge to complete them. First, we headed to Skipton parkrun where we both improved our times from last week albeit in my case, by the slimmest of margins. And then to Arncliffe Gala for a Dales day in the sun in beautiful Littondale. The road race is just a lovely 4 miles, or thereabouts, valley race to Hawkswick, across the river, and back to cheers from the folks at the Gala. An occasional short climb with some undulation. As that race starts quite early we enjoyed our recovery time with tea and cake in the village hall. And then to the fell race. It was very dry, and a fast downhill for those with the necessary technique IH was represented way up front, but not by me! Just had time for a glance at the view down the valley and over Arncliffe. Lots of junior races and some Ilkley Harriers there, too. A great village Gala day with great racing.

Road race
(1 21:01 Will Smith, Halifax) 
30 27:29 Derek Oliver  
43 29:37 Jonathan Schneider  
80 35:43 Fiona Schneider  
98 ran

Fell race
(1 10:39 Ted Mason, Wharfedale)
2  11:25 Jack Cummings
9  12:35 Iain Gibbons
67 17:34 Jonathan Schneider
92 23:18 Fiona Schneider
100 finished

parkruns, Sat 11 Aug
From Petra Bijsterveld ... Well done to Dom Coy (still just in the juniors but who will be joining the senior club on October 1st) on a first finish at Drumchapel in Scotland. A small event where the Coy family contributed about 10% of the participants! Richard Joel and Jean Sullivan were flying the Yorkshire flag in Limerick this week.
Results ...

Bradford
(1  17:32 Jack Kelly, U/A)
4   18:45 Michael Lomas
17  20:26 Rhys Jones
109 25:37 Will Worboys
146 27:00 Paula Reynier
419 ran

Skipton
(1  17:30 Andrew Cairns, Skipton AC)
22  21:56 Jonathan Schneider
84  26:56 Fiona Schneider
191 ran

Fountains Abbey
(1  16:53 Robert Wood, Basingstoke and Mid Hants AC)
26  19:57 Mark Mon-Williams
42  21:11 Geoff Howard
61  22:09 Rebecca Mon-Williams
407 ran

Limerick
(1  18:40 Brian Halpin, U/A)
6   20:06 Richard Joel
28  24:31 Jean Sullivan
114 ran

Drumchapel
1   17:42 Dominic Coy
29  28:08 Stephen Coy
43 ran 

Kings Challenge fell race, Thu 9 Aug
Provisional results ...

(1 43:09 Robin Howie, Wharfedale)
9  46:22 Ben Sheppard
10 46:23 Steve Gott
11 46:25 Michael Lomas
32 52:09 Jemima Elgood 1st lady
76 finished

World Championships selection
From Steve Brennan ... Euan Brennan has been selected to run for GB U20 team in the World Mountain Running Championships in Andorra on the 15th September. The race this year is uphill only. British Athletics announcement
Round Hill fell race, Sun 5 Aug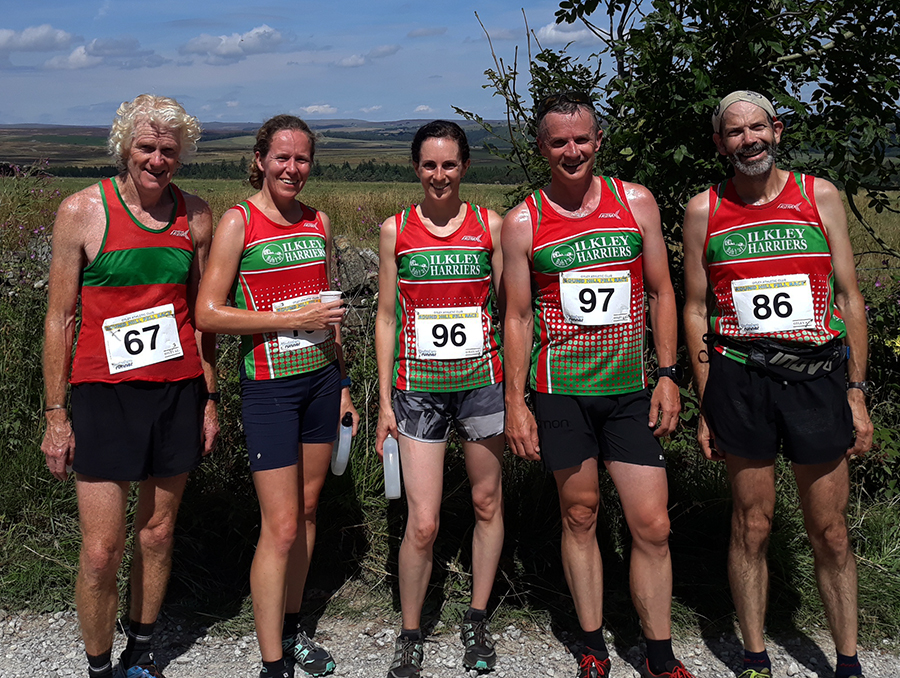 (1   53:07 Tim Stratton, York)
2    53:36 Will Simmons
5    56:47 Nathan Edmondson
8    58:41 Istvan Jacso
19 1:05:45 Will Buckton
28 1:08:46 Colin Williams
30 1:09:28 Helen Thurston 3rd lady
45 1:14:30 Rachel Carter 1st F40
58 1;16:35 Dick Waddington
63 1:19:20 Malcolm Pickering
79 1:22:23 Chantal Busby
90 1:25:33 Sarah Haines
131 finished

Farleton Knott fell race, Sun 5 Aug

(1  34:27 Simon Bailey, Mercia)
19  43:22 Iain Gibbons
102 finished

Hellifield Gala fell race, Sat 4 Aug
From Rachel Carter ... On Saturday our family went to Hellifield for their annual gala which was a thoroughly enjoyable afternoon out. The junior fell races were followed by traditional sports with money to be won (egg and spoon, 3-legged race, egg throwing). The senior race was organised by Barlick Fell runners (5.6Km over tufted grass, 260m ascent) which was won by a local runner Harry Coates who is a former world triathlon champion and, on the day, he destroyed the opposition, coming home over two minutes ahead of the rest of the field. Bernadette Raven ran a fantastic race and was 2nd lady whilst I finished 3rd lady and 1st Vet 40. I hadn't planned to do 2 races over the weekend but decided to do a very hot and dry Round Hill on Sunday, and was surprised to finish first FV40.
Results ...

(1 23:55 Harry Coates, Wharfedale)
15 30:24 Bernaddette Raven (U17)  1st lady
23 32:58 Rachel Carter 1stF40
52 finished

Another Bob Graham success
Tim Brayshaw has completed a Bob Graham round in 21 hours 20mins Set off at midnight on Friday August 3rd. Thanks to all those who supported. A write up of the round to follow...
parkruns, Sat 4 Aug
From Petra Bijsterveld ... Results ...

Richmond
(1  17:57 Thomas Ziegel, St Mary's University College AC)
7   19:03 Paul Castle
337 ran

Skipton
(1  17:58 Rebecca Murray, Bedford and County AC)
8   20:38 Colin Williams
20  22:41 Jonathan Schneider
78  26:59 Fiona Schneider
210 ran

Fountains Abbey
(1  16:21 Reece Dalton, Ripon Runners)
74  22:19 Tom Worboys
432 ran

Bramley
(1  18:27 Robert Shand, South Leeds Lakers)
2   18:42 Steven Gott
147 ran

Armley
(1  17:11 Michael Vargas, Hyde Park Harriers)
20  21:44 Geoff Howard
210 ran

Eshton Moor Fell Race, Thu 2 Aug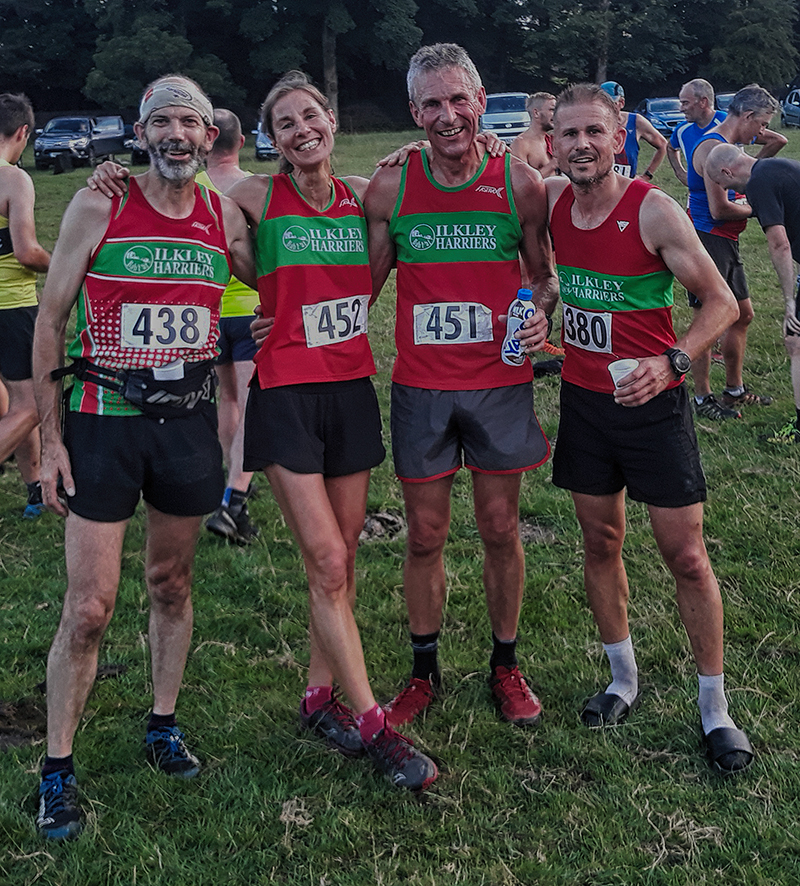 From Colin Williams ... Four Harriers took part in the Eshton Moor Fell race on Thursday evening, the forecasted rain didn't arrive and the evening was sunny the course was very dry which probably help Chris Holdsworth of Ribble Valley Harriers take over a minute off of the record for the race. The fastest Ilkley Harrier was Steven Cott who came 14th.
Results ...

(1 31:05 Chris Holdsworth, Ribble Valley Harriers)
14 35:45 Steven Cott 
28 39:58 Paul Calderbank 
34 41:28 Colin Williams 
41 43:22 Chantel Busby 
76 ran

Whittle Pike Fell Race, Wed 1 Aug
From Colin Williams ... After the Dusk to Dawn, I felt that I needed to get the legs going again so I joined 94 others on Wednesday evening to take on the 4.5miles, 1,400 feet of ascent that is the Whittle Pike Fell Race. The weather was kind, not too hot and the running was hard, but expected, as they say on their website "for an evening race this is a rough, tough race" and that after we were told at the start that they have changed the course this year to give more opportunity to run...
I came 31st out of 95 finishers in a time of 57:21
The winner was James Kevan of Horwich RMI in a time of 46:06
Results ...
---
Outstanding Achievements, July
From the Committee ...
Brian Melia Ronda del Cims ultra
Dick Waddington Lakes Sky ultra
Colin Williams prolific fells and ultras - Manvers Dawn to Dusk and Scorcher Run festival marathon
Nathan Edmondson for great running including the first part of Addingham Gala!
Rachel Carter (1st lady Skipton parkrun), Kate Archer (Saunders lakeland 2-day challenge), Lucy Williamson
Rob Little for winning HDSRL series
Ben Sheppard Lakeland 50 and 1st at Stirton Fell
Volunteers:
Jayne Norman for summer Away Runs
Jack Wood and Ben Joynson for Addingham Gala
Abigail Bailey ang Phil Hirst for Thunder Run
Kentmere Horseshoe, Sun 29 July
From Alison Weston... A few Harriers arrived in mist and rain to run the Kentmere Horseshoe. Dave Robson ran well but Kate and Alison took a few detours in the mist....
Results ...

(1  1:34:07 Josh Jardine, Helm Hill)
67  2:10:44 Dave Robson
160 2:32:49 Alison Weston
181 2:39:07 Kate Archer
269 finished

Lakeland 50, Sat 28 July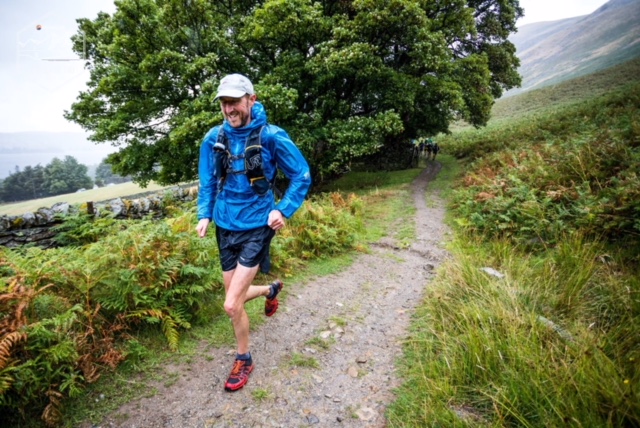 From Ben Sheppard... It was a real mixed bag of weather for the Lakeland 50 this year, but mainly wet and windy. Fantastic atmosphere all Friday at the race HQ in Coniston, where the Lakeland 100 starts and finishes. Runners doing the 50 are bused to the Dalemain estate in the northern lakes for the start, to take in the second half of the 100 course back to Coniston via Pooley Bridge, Howtown, Fusedale, Mardale Head, Kentmere, Ambleside and Langdale. Camaraderie on the course is incredible and the checkpoints were like fancy dress parties; the marshalls could not have been more cheerful and helpful. I roughly aimed to follow my checkpoint timings from last year and although it seemed tougher in the wind and rain I was within a few minutes of schedule throughout, finishing about one minute slower than last year - a few seconds under 9 hours.
Results ...

(1 7:36:11 Oliver Thorogood)
12 8:59:20 Ben Sheppard
756 finished

Manvers Dusk to Dawn, Sat 28 July
From Colin Williams ... I took part in the Manvers 12hour Dusk to Dawn race in Wath on Dearne. Or for me it was a Dusk to the early hours, I dropped out after eight and a half hours having completed 16 x 3.21mile laps a total of 51.36 miles. I was slowing, but still going ok, a lap behind the leader. Then my head torch failed after replacing the batteries, I ran one more lap using my mobile as a torch, but then called it a day. I enjoyed the race, my first of this type. It isn't a chip timed race, after each lap you receive an extra wrist band to record of how you are doing. If you are looking to get into Ultras or just test yourself to see how far you can run, I would recommend the race, the course was wide enough to pass slower runners and walkers, the food great and both the staff and other competitors very friendly and supportive.
parkruns, Sat 28 July
From Petra Bijsterveld ... Results ...

Bradford
(1  17:19 Martin Soszka, Saltaire Striders)
103 27:14 Paul Reynier
273 ran

Abingdon
(1  17:27 Ben Reynolds, Thames Hare and Hounds)
198 28:42 Petra Bijsterveld
363 ran

Portrush
(1  17:54 Richard Conn, Dub Runners of Belfast)
14  20:58 Steve Murray
121 27:17 Hilda Coulsey
278 ran

Delamere
(1  16:38 Peter Bray, Chorlton Runners)
34  22:36 Rob Budding
72  25:15 Nicola Budding
307 ran

Bramley
1   19:27 Steve Gott
88 ran

Leeds Brownlee Centre Evensplits 5k series, Wed 25 July
From Hilda Coulsey... It was race 6 of the series last night and seven Harriers braved the scorching weather. Warming up was a trial! I seemed to sprint off at the start but after 50m thought wow this needs to slow down, it's far too hot. I was 14 secs down on last month's effort which I felt was great for the conditions and I managed to hold off Nicola this month but frankly it wasn't so much a race more just getting to the line! Petra started off well too but wilted with split times 'providing opportunity for improvement'. Each race can be entered on its own and the series runs until November.
Results ...

(1  15:50 John Hobbs, Valley Striders)
46  19:29 Colin Williams 
59  20:03 Rhys Jones 
96  21:55 Robert Budding 
137 24:28 Hilda Coulsey 
138 24:31 Nicola Budding 
160 27:03 Fiona Schneider 
165 27:48 Petra Bijsterveld 
183 ran

Snowdon mountain race, Sun 22 July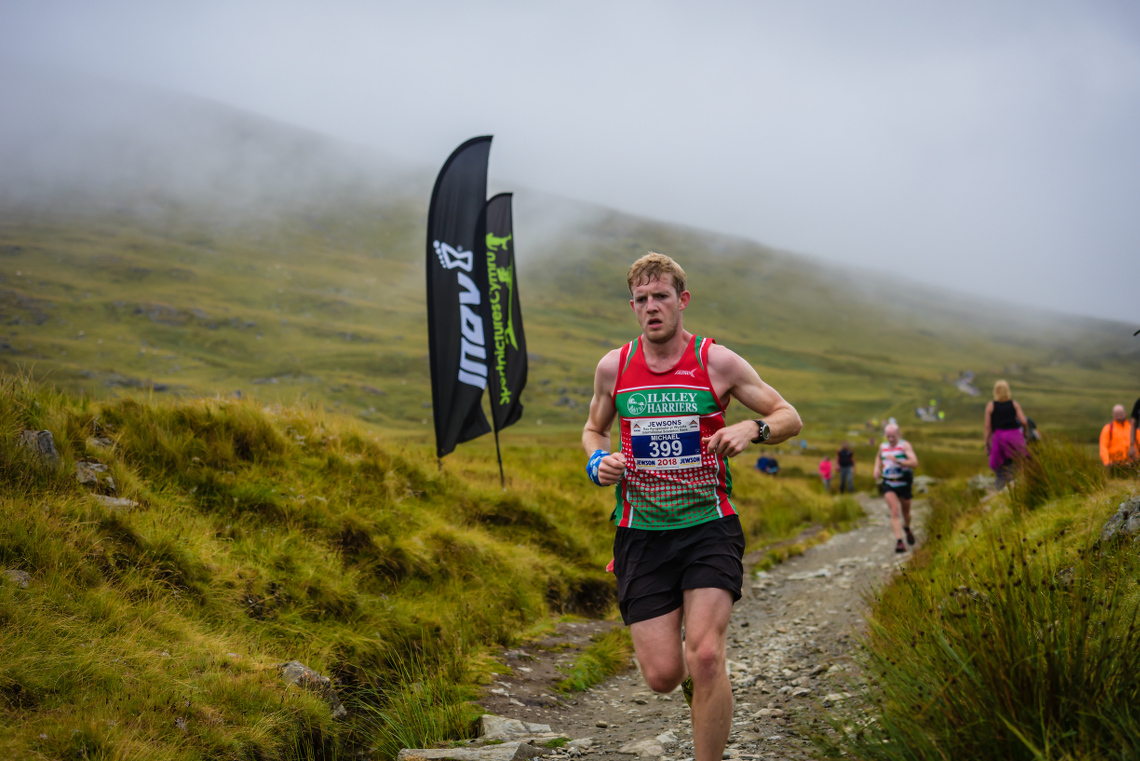 From Michael Lomas ... It's the third time I've travelled to the "outdoor capital of Wales" to run the Snowdon International race, the first time was in 2015 when our own Tom Adams was running in the England team. This year the England team comprised of a few familiar faces from the fell running scene although England favourite Chris Smith isn't one of them, he resides in London and must be a regular on Parliament Hill. This year Martyn Stocker and myself travelled to Llanberis on Friday night and typical of the first weekend of school holidays the weather wasn't great, we woke Saturday morning to find the clag right down in the valley, we would do well to get lost in this race but the views would be nice. The race itself is a real celebration that the whole town get behind, we paid respects to a couple of the volunteers with a minute of auplase before the start which was a nice touch. The race is beautifully simple, to the summit and back via the main tourist path, 5 miles up, 5 down. Half a mile of flat road gives way to a very steep section of tarmac before you get on to the mountain proper. The path is runable in the main with a couple of steep sections with plenty of walkers who seemed almost oblivious to the race going on even with TV cameras all the way up the mountain and a marshal every 100m who were keen to blow their whistles to warn walkers of approaching runners flying down the mountain. I felt good going up, getting into a good rhythm, starting steady and picking people off all the way up was satisfying, the descent is an all out quad killer, very fast and hard under foot, this isn't easy to train for and it showed. A few mins off my pb of 2016, no excuse other than lack of training, I'll be back for another shot at getting under 1hr 30min. Martyn came home a bit after me, hats off to him for completing it with next to no training. A great weekend overall, we camped in the campsite above the town, plenty of friendly fell runners up there enjoying the cheap digs and views of Snowdon (when the cloud lifted on Sunday).
Results ...

(1  1:06:41 Alberto Vender)
150 1:33:09 Michael Lomas
544 2:21:34 Martyn Stocker
574 finished

Cracoe fell race, Sun 22 July

(1  19:50 Simon Bailey, Mercia)
3  21:14 Jack Cummings
7  24:21 Iain Gibbons
46 30:47 Alison Weston
91 finished

Ingleborough Mountain Race, Sat 21 July
From Dave Robson ... 209 runners took part in the Ingleborough Mountain Race, part of the Ingleton Gala on 21st July. The title pretty much covers it - a direct route from Ingleton centre to the top of Ingleborough and back. The 3.5 mile, 600m ascent is mostly runnable with some steep sections near the top. Particularly tough in the muggy conditions on the day. The 3.5 mile back downhill is brilliant, some 'technical bits' but pretty much flat out all the way. I was pleased with my time on the day as I made up quite a few places on the way down the hill. Definitely worth a go, the Gala is a good day out, with a good beer tent for post race refreshment!

(1  48:38 Josh Boyle, Ribble Valley Harriers)
47  61:39 Dave Robson
54  63.29 Jonathan Turner
55  63:46 Pauline Munro 
116 72:15 Alison Weston
209 runners

parkruns, Sat 21 July
From Petra Bijsterveld ... Results ...

Woodhouse Moor
(1  16:45 Adam Collins U/A)
35  21:02 Adrian Bastow
376 ran

York
(1  14:53 Jack Gray, Birmingham Running, Athletics and Triathlon Club)
65  21:21 Geoff Howard
471 ran

Bradford
(1  17:01 Martin Soszka, Saltaire Striders)
4   18:18 Steven Gott
31  21:47 Dave Reynier
66  23:31 Oscar Street
132 26:59 Paula Reynier
387 ran

Portrush
(1  17:55 David Brewis, Sphinx AC)
123 27:14 Hilda Coulsey
240 ran

Burnley
(1  17:32 Andy Buttery, Rossendale Harriers)
81  25:25 Will Worboys
346 ran

Skipton
(1  16:44 unknown)
33  23:08 Neil Pomfret 
204 ran

Druridge Bay
(1  17:27 Ali Bailey, U/A)
44  24:46 Chris Cunningham
171 ran

Scorcher Run Festival (day 5), Fri 20 July
From Colin Williams... while I don't think I'm ready to enter a multi-day marathon event (yet), I did join "Time 2 Run" for the day 5 marathon, of their 7 day Scorcher Run festival. The number of runners was small compared to the Hell of a Hill race organised by "Time 2 Run" that I entered last year. The Scorcher Run festival marathon was a six lap race on quiet roads, and the staff were very friendly, cheering us on by name as we completed each lap, the course was mostly flat, but with so few runners I spent a lot of my time running without anyone else in sight. The race didn't live up to its name, we had light rain for most of the race. I finished third in a time of 3:30:47 Results ...
HDSRL 4, Nidd Valley, Tue 17 July
From Caroline Howe ... Another great evening at the final 2018 Harrogate Summer Race League race at Nidd Valley last night... made even greater by a bottle of beer at the finish! Results below... well done to all who took part!
Results ...

(1  30:52 Andrew Grant, Harrogate)
7   33:13 Matthew Cox
12  33:53 Istvan Jacso
14  33:57 Daniel Mckeown
42  37:07 Jonathan Turner
67  38:31 Monica Padila
96  40:54 Malcolm Pickering
138 43:38 Catherine Gibbons
145 44:19 Caroline Howe
164 45:21 Geoffrey White
172 45:40 David Howe
228 49:28 Diane Kitchen
256 51:11 Stephanie Fox
273 52:30 Dawn Turner
293 55:32 Anna Pickering
299 55:51 Bernadette Gibbons
330 60:15 Laura Dawes
344 63:57 Donald Macrae
345 63:57 David Millson
353 finished

Scafell Skyrace, Sun 15 July
From Helen Waddington ... This race is still in its infancy, this being only the second edition, but numbers have increased already from around 60 finishers last year to around 190 starters this year. It's a point to point race, with coaches dropping us at Seatoller to start at 9 am with a short warm up on road and trail before the fun starts on Sour Milk Ghyll, which was by far and away the easiest bit of the day. The route, which as you would guess from the title, takes in Scafell Pike by way of the Corridor route, and is billed as being technical with scree, boulder and rock hopping and narrow single track sections which reduced my pace to even slower than usual. The most difficult section for me was the patchy and narrow path which skirts the waist of Great Gable (there is a reason people always go OVER and not round!) which passes under Napes Needle, the supposed birthplace of British rock climbing. All in all, a pretty demanding race, with little to no actual running but with epic views and great organisation and support. On the plus side, the route is fully flagged (controversial for some) with marshalls and safety crew stationed at the most tricky parts to provide reassurance and encouragement. Sadly I didn't make it through the cut-off at 15 miles, but many didn't with a high attrition rate of around 46 runners. Hopefully the organisers will be more generous next year in which case I might be tempted back. The winner was Jonathon Albon who got round in an astonishing 4 hours 26 mins, with his wife winning the ladies race in 5 hours 59.
Lakes Sky Ultra, Sun 15 July
From Dick Waddington ... Skyrunning is a bit of a Euro thing - marked trails and lots of elevation gain with technical terrain. It's quite new to the UK, with a couple the Lakes and a series in Glencoe. The Lakes Sky Ultra is 58km long with over 4500m of elevation gain, most in the first half. The organisers also need a climbing cv before they let you run, because some of the terrain is a bit spicy; Pinnacle Ridge on St Sunday Crag is a grade 3 scramble. I like that sort of thing, so there I was on the start line in Ambleside at 7.00am last Saturday. Amazing weather and nice and dry underfoot gave a good start for the 60 willing victims. We headed over Fairfield, up Helvellyn, down Swirral Edge and over Catstye Cam. Then the fun started by going back up Helvellyn via Striding Edge. The descent of Eagle Crag from Nethermost Pike was a bit sketchy in places. Then Pinnacle Ridge looms. It's such a long way up there! Incredibly steep turf for about 400m of climb, then 200m of scrambling. Great fun! The technical terrain keeps your mind off the distance covered, so by the time I got to half way at Patterdale, I was feeling a bit tired. It was also very hot and some of you might know I'm not great in the heat ...The next couple of hours were pretty tough getting up on to High Street, then down to Haweswater and back up High Street via Nan Bield Pass. Kirkstone Pass was a great sight after that, because there was coke and crisps to be had! They were like rocket fuel for my spirits and finishing seemed likely at last. The last 5km were great, a nice low angle run into Ambleside with wonderful views down to civilisation. Not for those with vertigo this one, but worth it.
(1 Rob Sinclair 7:40:27)
26 Dick Waddington 12:32:41 (2nd V45)
Addingham Gala fell race, Sat 14 July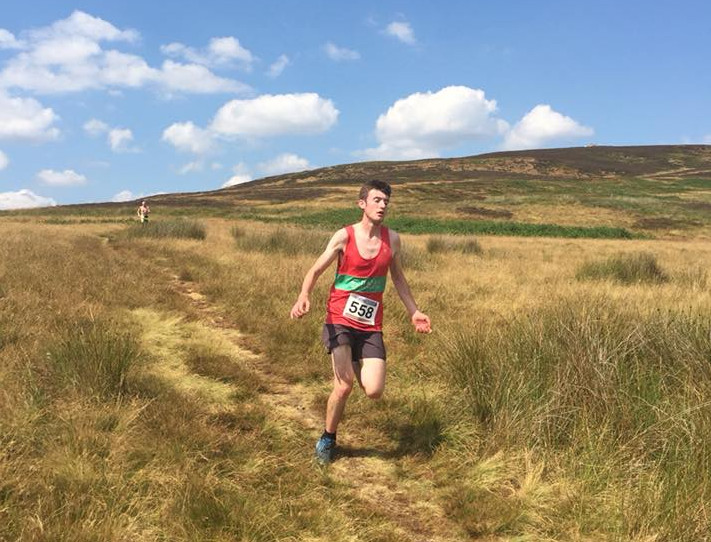 From Hilda Coulsey ... It was a scorcher of a day for this fell race, a Harriers League counter, organised by Jack Wood, Ben Joynson and Dan Wilkinson ably supported by many Harriers volunteers. It was hot in the field beforehand and very, very hot running, the breeze was promising but not overly helpful, what shade there was was very welcome. The water at the top was also very welcome as well as the supportive comments from all the volunteers.
Results

1  40:36 Jack Cummings - 1st and 1st U23
3  42:01 Nathan Edmonson
9  48:08 Michael Lomas 
12 49:19 Jim Ryder - 1st V50
14 49:45 Will Buckden 
18 50:21 Dave Robson 
21 51:40 Kate Archer - 3rd F
22 52:02 John Marskam 
27 53:27 Paul Calderbank 
29 54:00 Richard Joel 
32 54:48 Alex Hirst 
39 58:29 Alison Weston - 1st FV50
45 60:49 Jo Foster 
51 63:54 Chantel Busby 
55 65:40 Philip Dean 
59 70:51 Hilda Coulsey - 1st FV60
62 72:55 Peter Lewis 
64 75:23 Maria Brophy 
65 75:24 Peter Tapper 
66 75:25 Jan Jones 
71 79:07 Fiona Schneider 
74 92:01 David Millson 
75 starters

Alva Games fell race, Sat 14 July

(1 19:08 Josh Boyle, Ribble Valley)
11 24:33 Iain Gibbons
69 finished

Wasdale fell race, Sat 14 July

(1 3:59:55 Rhys Findlay-Robinson, DPFR)
66 5:49:03 Roy Ruddle 
107 finished

parkruns, Sat 14 July
From Petra Bijsterveld ... Results ...

St Albans
(1  16:16 Paul Adams, St Alban's Striders)
167 26:10 Paul Reynier
168 26:11 Dave Reynier
391 ran

Bradford
(1  16:32 Matthew Merrick, Bingley Harriers)
5   19:20 Adam Rhodes
455 ran

Harrogate
(1  17:58 Zeynu Bedru, Harrogate Harriers)
213 27:44 Jacqui Weston
380 ran

Skipton
(1  18:17 Lee Athersmith, RAF AC)
3   19:14 Rob Cunningham
40  24:58 Chris Cunningham
151 ran

Wetherby
(1  18:16 Alistair Galt, Queensbury RC)
18  21:26 Geoff Howard
99 ran

Washburn Relays, Fri 13 July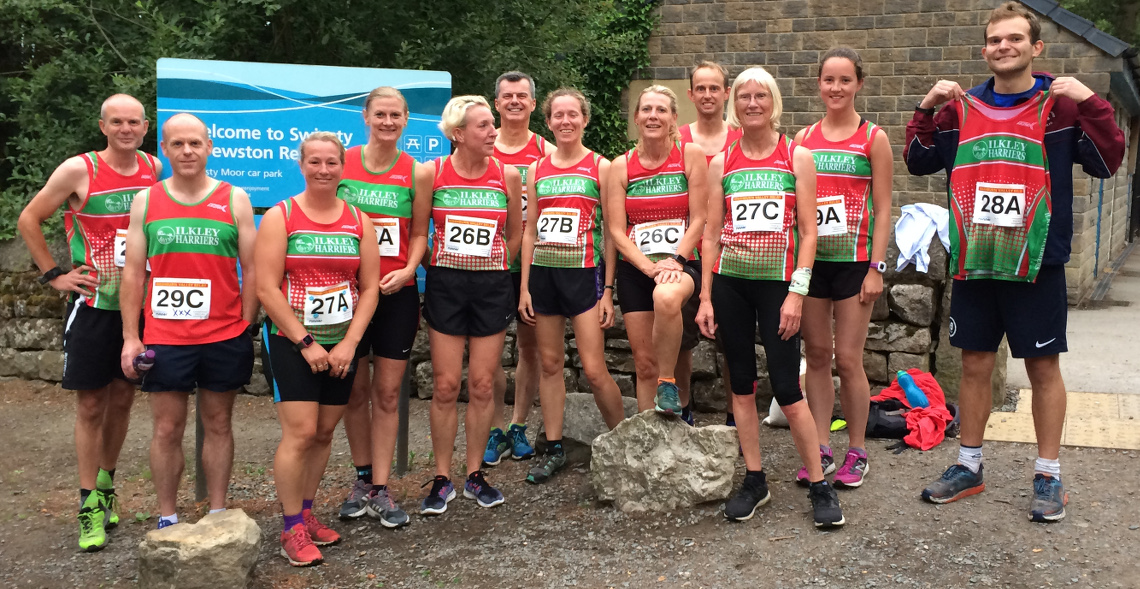 From Hilda Coulsey... We were able to put four teams of three runners out for the relays around Fewston and Swinsty reservoirs. It was a super setting and a very pleasant Friday evening amongst friends. It was great having the junior races too and very sociable with Otley AC putting on a bbq afterwards. The legs are 3, 4 and 3.3 miles, so easily doable around the reservoirs.
Some very fast club runners were out and it was won by Harrogate Harriers in a time of 56:14, Harrogate also took the Ladies prize.
Results

 8 Lucy Williamson, Martin Archer, Dave Foyston 1:03:30 - 2nd mixed team
13 Mike AC, Jonathan Turner, Steve Murray 1:05:52 - 10th mens team
49 Jayne Norman, Rachel Carter, Hilda Coulsey 1:21:20 - 7th ladies team
62 Stephanie Fox, Jane Bryant, Jacqui Weston 1:28:26 - 13th ladies team
68 teams from the local clubs took part

East Morton Gala fell race, Sun 8 July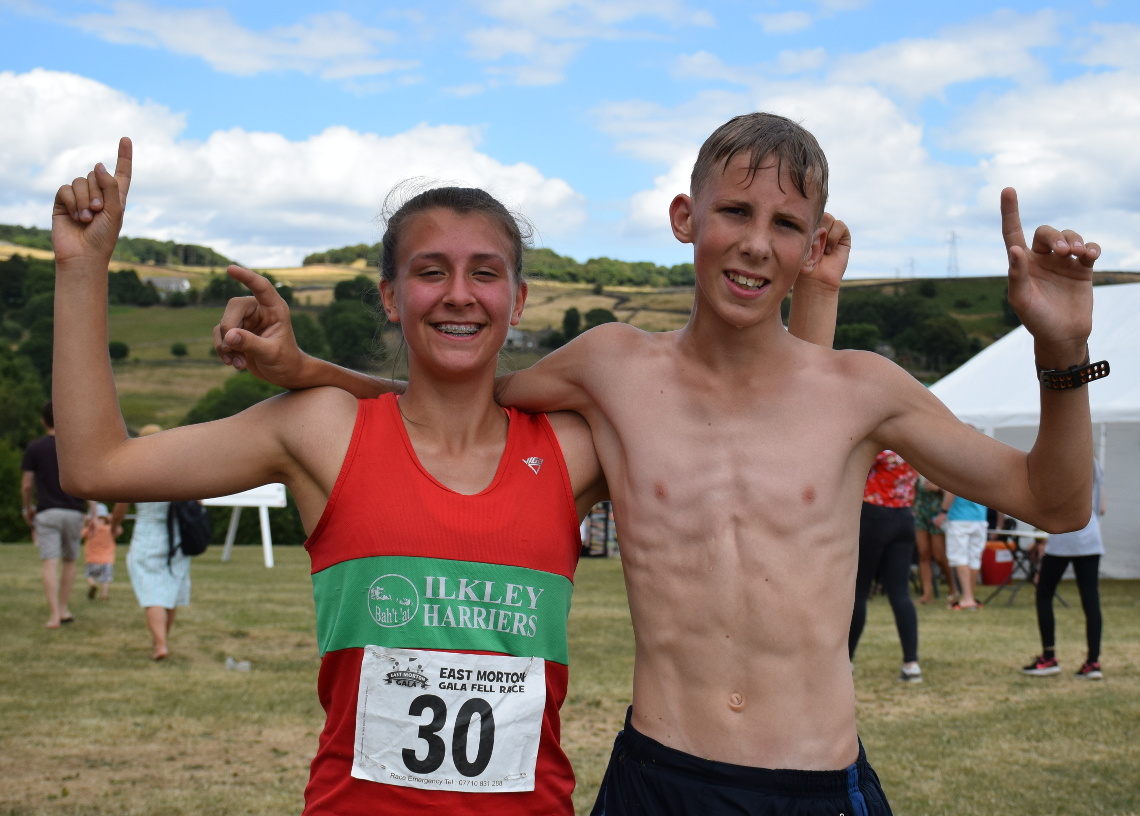 From Dave Woodhead ... Yorkshire FU17 fells champion Bernadette Raven of Ilkley Harriers won the East Morton Gala fell race for the second year, finishing 3rd overall in a time of 14:37. The race was won by Yorkshire MU17 fells champion Eric Beaumont of Keighley & Craven in a new record of 13:05, for the 2 mile fell race.
Heptonstall festival fell race, Sat 7 July
Borrowdale Trail Race, Sat 7 July
From Jann Smith ... 22km/1850ft. Beautiful but very hot route taking in all of Derwent Water two big hills: Watendlath and Castle Crags.

36 2h14 Jann Smith
156 ran

parkruns, Sat 7 July
From Petra Bijsterveld ... Results ...

Woodhouse Moor
(1  17:25 Daniel Josephs, South Shields Harriers)
42  21:41 Sally Armitage 2nd F
355 ran

Halifax
(1  18:08 Michael King, Halifax Harriers)
65  27:10 Will Worboys
130 ran

Bradford
(1  17:45 Michael Szoska, Saltaire Striders)
77  25:03 Oscar Street
140 27:39 Paula Reynier
379 ran

Skipton
(1  17:22 Harvey Lewis, KCAC)
11  21:05 Rachel Carter 1st F
25  23:37 Rob Budding
43  25:21 Chris Cunningham
82  28:01 Fiona Schneider
183 ran

Bramley
1   18:26 Steven Gott
150 ran

Stretford
(1  16:53 Khazi Haroon, ActiveRun)
17  18:51 Rob Cunningham
469 ran

Murder Mile, Thu 5 July
From Jann Smith ...One mile uphill only race for Juniors and seniors in Silsden.

1   7:09 Jack Wood                                                            
13  8:39 Bernadette Raven   1st female /Junior             
51 10:32 Jann Smith 1st Female Senior            
135 ran

HDSRL 3, Thirsk, Thu 5 July
From Caroline Howe ... 13 Harriers at the 3rd Harrogate Summer Race League event at Thirsk last night, with Rob Little of Ilkley taking first place. One race to go at Nidd Valley on 17th July.
Results ...

1   26:34 Robert Little
46  31:53 Jonathan Turner
49  32:06 Andrew Overend
64  33:12 Steve Murray
139 37:14 Catherine Gibbons
152 37:56 Caroline Howe
173 39:03 Geoffrey White
190 39:59 David Howe
236 42:45 Stephanie Fox
260 44:08 Sheena Pickersgill
274 45:15 Diane Kitchen
345 56:08 Donald Macrae
346 56:09 David Millson
353 finished

Stirton Fell race, Wed 4 July
From Ben Sheppard... It was another glorious evening for the fantastically low key Stirton Fell race, if a tad warm for racing. A 5.6 mile route takes you out of the village, up Sharp Haw, down and round the back, up Sharp Haw again from the other side (almost 1200 feet total ascent) and down on the sort of painfully shallow gradient of descent that demands that you go like the clappers (or as close to the clappers as you manage nowadays with your aging, old-man's-walking-race attuned legs and lungs) hoping the guy in a Barlick vest behind you is hurting at least as much as you are (or else blockaded by the herd of angry cows). Throw in a couple of confrontions of the bovine variety (the fear of death by cow-stampde injecting a little extra adrenalin) and a bottle of beer at then end and you've got what I call a fun night out. Sporting the red and green of Ilkley were Duncan Cooper (hoping not to repeat the broken ankle of the last time he raced one of Brett Weedon's races), ever-smiling Chantal Busby and the retiring (literally) Steve Turland (calf strain - of the non-bovine variety).
Results ...

1  40:33 Ben Sheppard
22 48:03 Duncan Cooper
35 50:28 Chantal Busby
71 finished

Eccup 10, Sun 1 July
From Jean Sullivan... 4 Ilkley Harriers completed the Hollybank Eccup 10 mile road race today. This was my 1st attempt at this race, which has now been running for 25 years and sold out for the 3rd year running. A lovely undulating 10 mile rural race which includes a circuit of Eccup reservoir. Despite the 9.30am start and some shady parts, the heat was unrelenting and I was happy to finally get to the finish line! I would definitely recommend this race; friendly and encouraging marshalls, great crowd support and a lovely tee shirt for all finishers!
Results ...

(1    55:16 John Hobbs, Valley Striders)
269 1:23:35 Jean Sullivan	
308 1:25:42 Alison Weston	
635 1:46:42 Peter Lewis						
727 1:58:30 Sarah Carroll	
764 runners

Harrogate 10k, Sun 1 July
From Sue Williamson ... A few Ilkley Harriers competed in this new 10k course round the Crimple valley area of Harrogate. An undulating course with a challenging hill at the end. It was lovely to have some areas in the woods providing respite from the hot sunshine.
Results ...

(1    36:02 Mike Burnett, Leeds City)
16    43:40 Lucy Williamson  first female
29    46:07 Steve Murray
33    46:34 Paul Calderbank
88    51:53 Chantal Busby
331 1:09:31 Sue Williamson
408 finished

Saunders Lakeland Mountain Marathon, 30 June and 1 July
From Kate Archer ... Outi and I completed the Saunders mountain marathon this weekend. We had selected the Kirkfell class. Starting at Grasmere we were given eight control points to visit before reaching our overnight camp. Then start again the next morning with a new list of control points to take us finally back to Grasmere.
The weather was very hot so our plan at the start was to take it really steady which turned out to be a good plan as much of the route was really tough going with some very difficult descents and steep climbs. I had underestimated the event and found day one tough and wondered whether perhaps we had selected too long a class. I had also not packed enough food (fortunately Outi had a bit extra). After 8 and a half hours we reached the overnight camp and were pleased to discover we were 16th in our class and the only female team to have completed the day.
After a not very satisfying meal, a couple of cans of beer (beer and milk being the only items we didn't have to carry) and an uncomfortable nights sleep, we set off on day 2. The course for day 2 was a little easier though our legs were very weary. Outi did a fantastic job of finding all our control points and we finally reached the finish and found that we had moved up a few places to 13th of 22 teams to finish (39 started), our finishing time was 14 hours 45 minutes. Overall a fantastic experience.
---
Outstanding Achievements, June
From the Committee ... we have the following nominations this month. We have decided not to choose winners from now on, simply to acknowledge your nominations as "outstanding achievements". The nomination process should continue as previously, thank you Jean Sullivan for our excellent overview and reminder of all the great stuff going on in the previous month, which will also continue. We need you to continue to nominate what has struck you as amazing in the month.
Euan Brennan 2nd in international youth mountain running cup with GB getting first Gold
Tom Worboys 3rd in Gargrave ultra
Helen Waddington for record in Ilkley Skyline and Swaledale Marathon
Paul Carmen 1st in Lakes 10 peaks (Bob Graham previous month)
Rob Little 1st Beamsley Beacon, 2nd at Otley 10m, 1sts or 2nd in HDSRL races
Helen Wood 1st lady at Buckden Pike
Jack Cummings 2nd in 5 fell races and lots of other top placings this month
Caroline Howe for organising the Boundary Millennium Way relay
Neil Chapman for putting on our race for HDSRL
Petra Bijsterveld, Abi Bailey and Hilda Coulsey for the Beginners 0-5k programme.
Saunders Lakeland Mountain Marathon, 30 June and 1 July
From Kate Archer ... Outi and I completed the Saunders mountain marathon this weekend. We had selected the Kirkfell class. Starting at Grasmere we were given eight control points to visit before reaching our overnight camp. Then start again the next morning with a new list of control points to take us finally back to Grasmere.
The weather was very hot so our plan at the start was to take it really steady which turned out to be a good plan as much of the route was really tough going with some very difficult descents and steep climbs. I had underestimated the event and found day one tough and wondered whether perhaps we had selected too long a class. I had also not packed enough food (fortunately Outi had a bit extra). After 8 and a half hours we reached the overnight camp and were pleased to discover we were 16th in our class and the only female team to have completed the day.
After a not very satisfying meal, a couple of cans of beer (beer and milk being the only items we didn't have to carry) and an uncomfortable nights sleep, we set off on day 2. The course for day 2 was a little easier though our legs were very weary. Outi did a fantastic job of finding all our control points and we finally reached the finish and found that we had moved up a few places to 13th of 22 teams to finish (39 started), our finishing time was 14 hours 45 minutes. Overall a fantastic experience.
Ilkley Skyline Fell Challenge (relay), Sat 30 June
From Paul Castle... Robin Nicholson, Andy McCue (Skyrac) and I teamed up to have a go at the Relay version of the Ilkley Skyline Fell Challenge on Saturday 30th June, having read about the scorching pace set by Jane McCarthy, Kate Archer and Jann Smith last year in a time of 3.04 hours. For those unfamiliar with the route, it starts and finishes at the door of the Hermit pub in Burley Woodhead, covering 22 miles in clockwise fashion and involving various touchpoints and summits along Burley Moor, Rombalds Moor, Ilkley Moor, Addingham, Beamsley Beacon, Round Hill, Ellercarr Pike and then back down through Burley over the stepping stones at the River Wharf. The Relay version is divided into 3 Legs (with changeovers at Windgate Nick and at Ellercarr Pike) and we were grateful for some road support from Robin's wife Debbie and son Ethan at the changeover points so that we could get back to the Hermit to watch Andy finish after a total of 2:44.50, consisting of me covering Leg 1 at 49:06, Robin covering Leg 2 in 1:14.55 (despite nearly having a confrontation with cows in the fields leading down to Addingham) and Andy covering Leg 3 in 40:49. Given that each of us ran as well as we could it was astonishing to think that the individual time record set by Adam Osbourne (Leeds City) is only 5 minutes slower (although I'm not sure that "slow" is the appropriate word) at 2:49.37. A very enjoyable challenge administered by the North Leeds Fell Runners and which we would recommend to anyone else considering having a go, whether as an individual or as a relay! For more information about the challenge please see www.nlfr.co.uk/races/ilkley-skyline/
European Championships, Sat 30 June
From Stephen Brennan... Euan Brennan finished in 6th place in the European Mountain Running Championships taking place in Skopje, Macedonia. The GBR Junior Men's Team struck Gold for the first time ever in this competition.
Results
UWFRA Wharfedale 2 Peaks, Sat 30 June
From Jann Smith ... 13.5 miles / 2500ft Fundraising event for the Upper Wharfedale Fell Rescue starting from Grassington and Taking in Buckden Pike and Great Whernside.

16 2h26 Jann Smith
44 3h11 Adela Reperecki
45 3h11 Jayne Norman

Kirkby Gala fell race, Sat 30 June

(1 39:44 Ben Mounsey, Calder Valley)
2  41:49 Jack Cummings
14 47:01 Iain Gibbons
53 finished

Eldwick Gala fell race, Sat 30 June

(1 18:27 Reuben Mantle, Bingley)
9  20:56 Michael Lomas
17 21:52 Helen Wood 1st lady
75 finished

parkruns, Sat 30 June
From Petra Bijsterveld ... Results ...

Bradford
(1  17:01 Martin Soszka, Saltaire Striders)
25  21:17 Sally Malir 2nd F
119 25:58 Will Worboys
140 27:11 Paula Reynier
146 27:23 Stephanie Fox
392 ran

Skipton
(1  18:15 Lee Athersmith, RAF AC)
14  21:14 Adrian Bastow
105 30:38 Alison Weston
181 ran

Rush around the Rhubarb, Tue 26 June
From Fiona Schneider... Pudsey and Bramley Athletics organised this undulating mix terrain 6km race. With the heat, the dust and over 100m climb this made for a great competition around the rhubarb fields. There were enough shaded and wooded tracks to have some protection and keep the rhubarb fields out of view. A recommended mid week run with junior races in which two Ilkley Harriers took part.

(1 19:43 Callum Hanson, P&B) 
91 35:19 Fiona Schneider 
120 runners

World Mountain Running Long Distance Championships in Karpacz, Sun 24 June
From Ben Sheppard ... Well done Jack Wood, 35th in the men's race.
Results
Bradford Millennium Way Relay, Sun 24 June
From Caroline Howe ... The Bradford Millennium Way Relay consists of 5 legs, run in pairs, starting in Bingley, going through the beautiful surroundings of Oxenhope, Haworth, Laycock, Silsden, Addingham and Ilkley - a total of 47.5 miles and 6300ft of climb. Teams can be any combination with open, ladies, mixed and vets categories. Our 'open' team consisted of 5 men and 5 women.
Kate Archer and Rachel Carter got the team off to a great start on what was the toughest leg at 10.4 miles and 1800ft. They handed over to Will Buckton and Jonathan Turner in Penistone who ran the 9.4 miles to Laycock where Jayne and I took the virtual baton over the 8 miles to Silsden, and handed over to Helen Thurston and Malcolm Pickering who had the 8.5 mile stretch from Silsden to Ilkley with some very steep climb. The final 10.7 mile leg was Istvan Jacso and Nathan Edmondson who brought the team home to Bingley (where Jayne and I were enjoying a cold beer!)
We finished in 13th position overall out of 50 teams, with great performances by everyone. Kate and Rachel's time of 1:35 is the 5th fastest female pair time for this leg since it was first run in 2014. Istvan and Nathan's time for leg 5 was the 2nd fastest in today's race.
On a personal level I thoroughly enjoyed the event, and was delighted to run with someone with a far better sense of direction than me! Jayne and I had reccied the route when it was raining, so today's temperatures made it quite a different experience and it was tough, but we were pleased to get in around our target time and ahead of the mass start for leg 4.
It is the first time the club has entered a team in this event since 2015, and I really would recommend it to everyone in future years. Local, beautiful scenery and a lot of fun!
Results:
Leg 1 - Kate Archer, Rachel Carter 1:35:08 17th
Leg 2 - Jonathan Turner, Will Buckton 1:19:04, 14th (position after leg 2) 13th (leg result)
Leg 3 - Jayne Norman, Caroline Howe 1:22:04, 17th (position after leg 3) 29th (leg position)
Leg 4 - Helen Thurston, Malcolm Pickering 1:25:56 16th (after leg 4) 16th (leg position)
Leg 5 - Istvan Jacso, Nathan Edmondson 1:15:35, 13th (final position) 2nd (leg position)
(1 - Bingley Men A - 5:44:46)
13 - Ilkley Harriers - 6:57:47
50 teams ran
Wilmslow HM, Sun 24 June
From Petra Bijsterveld ... This road race had been cancelled due to snow in March and was rescheduled. I was grateful to pick up the transferred entry from Helen Waddington. However as I scanned the forecast last week my gratitude did turn into trepidation, as warm weather racing is not really part of my skill set. When it already felt hot as I arrived in the car park just after 9 am I knew I was not going to have an easy day. If I had only one word to sum the race up I would say 'brutal'. By mile 5 I had to resort to a run/walk strategy, walking for a minute at the start of every mile. By mile 10 the run/walk ratio was a lot more random than that! The course is flattish, but somewhat downhill in the first half and therefore uphill in the second, which did not help, and with little shade. On the plus side, the route is quite pretty, it was very well organized, with lots of marshals, plenty of water, and much support from friendly locals who came out with extra water and the occasional very welcome hosepipe. The best moment of the day was getting an ice pop from a little boy at mile 9 which made me very happy indeed.
I ran a personal worst for a road half marathon, but was grateful to just get round in one piece, unlike several unfortunate runners who I saw collapsed at the roadside being given medical attention.
Our second claim member Rob Little came an excellent 13th, running for his first claim club Hallamshire Harriers.
I would definitely do this race again, but in March. Can't wait to stand shivering on the start line covered in a bin liner!
Results ...

(1   01:06:44 Mohammad Abu Rezeq, Altrincham AC)
1654 02:11:54 Petra Bijsterveld
2210 ran

Glorious Gargrave - Ultra distance (32 miles), Sun 24 June
From Tom Worboys ... I entered this event just to see what it would be like to go beyond the marathon distance, as a one off. It seemed like the flattest shortest and easiest option around but what I didn't anticipate was the relentless heat. The race was fully on canal towpaths, mostly trails and grass but quite rugged underfoot in places. The first 6 miles was an out and back section South West from Gargrave before then heading 10 miles east through Skipton and beyond. On the way back to the start the heat really started to ramp up. The time was passed by listening to England v Panama in the World Cup, a nice distraction! I passed a woman who was running the marathon distance pulling a car tyre behind her. Apparently she has done over 70 marathons doing this, craziness! Once returned to the start it was a case of repeating the 6 miles out and back having already completed a marathon. Mentally challenging to say the least to pass through the start finish with many people stood around enjoying cakes and beers having already completed one of the lesser distances. The 3 miles to the turning point were amongst the longest and hardest I think I've ever done. Most remaining people that hadn't dropped out were walking but I just about managed to keep mostly running. On completing the run, much to my surprise I was presented with a trophy for finishing third. This certainly made up for the torture. Fun I suppose but doubt I'll be repeating the experience!
Finish time: 6 hours, 0 minutes, 35 seconds
Glorious Gargrave - Marathon, Sun 24 June
From Colin Williams ... I joined a small field of 44 runners on Sunday for the "Grim up North" Glorious Gargrave Marathon. The trail was dry and hard, the weather was hot. I made a good start and lead for the first half of the race, being passed by the eventual winner at around 15 miles, I kept with him for the next couple of miles and regained the lead after the next water stop, but it was short lived, he passed me again and this time I couldn't keep with him. I eventually finished 4th in a time of 3hrs 30 mins 35 sec.
Winner Paul Brown of Trawden AC in a time of 03:22:12, 44 ran.
Hawkswick fell race, Sun 24 June

(1 11:08 Simon Bailey, Mercia)
3  12:06 Jack Cummings
8  13:07 Iain Gibbons
71 finished

Buttermere Horseshoe, Sat 23 June
From Duncan Cooper ... Buttermere Horseshoe was a British Championship fell race this year and didn't disappoint. About 300 runners set off for the 22 mile / 8,200 ft loop and most finished. The tops stayed free of cloud and the weather got progressively hotter as the day wore on (or so it seemed). Great performances from Alison Weston who bagged 2nd vet50 and Steve Turland who also earnt some championship points. Also a big thanks to Graham who cycled furiously between Lakeland passes to keep us fed and watered at the road crossings.
Results ...

(1  3:45 Carl Bell. Keswick)
98  5:11:05 Steve Turland M50 
177 5:59:13 Alison Weston
192 6:03:24 Duncan Cooper

10 Peaks Lakes - Short, Sat 23 June
From Jann Smith ...This race takes in 10 of the highest peaks in the Lake District starting at Thirlmere and finishing in Keswick. 30 miles/ 9500feet Paul Carman was joint winner with Tom Hollins in a time of 7hrs 20 mins setting a new course record.
parkruns, Sat 23 June
From Petra Bijsterveld ... A first finish at Woodhouse Moor for Matt Munro who is 2nd claim Ilkley but also 1st claim on the fells for us, and a first finish at Skipton for Lucy Williamson.
Results ...

Woodhouse Moor
(1  17:35 Matt Munro, Herne Hill Harriers)
4   18:28 Steven Gott
455 ran

Bradford
(1  17:42 Martin Fillingham, Saltaire Striders)
64  23:27 Oscar Street
152 26:50 Paula Reynier
435 ran

Kingsbury Water
(1  17:14 Danny Warren, Badgers)
15  19:56 Mark Mon-Williams
79  23:57 Rebecca Mon-Williams
445 ran

Clumber Park
(1  16:31 Ben Livesey, Defence Sports and Recreation)
108 26:41 Stephanie Fox
414 ran

Skipton
(1  18:19 Samuel William, U/A)
8   19:53 Lucy Williamson 1st F
51  24:52 Nicola Budding
59  25:23 Hilda Coulsey
74  26:17 Rachel Carter
75  26:29 Will Worboys
125 29:21 Sue Williamson
207 ran

Stretford
(1  16:54 Khazi Haroon, ActiveRun)
8   18:47 Rob Cunningham
456 ran

Ilkley Skyline Fell Challenge, Thu 21 June
From Jann Smith... Helen Waddington completed the 23 mile route in a great time of 4hours 13 minutes knocking 1 hour and 20 minutes off the current vet 50 womens record.
Beamsley Beacon fell race, Thu 21 June
From Jean Sullivan ... A gorgeous sunny evening for this 5.5 mile fell race, a counter in this years Harrier's Race League. The uphill route is flagged from St. Peter's Church Hall in Addingham up to Beamsley Beacon but the downhill return to St. Peter's Church is on any permitted footpaths.
The men set off 5 minutes before the ladies to avoid congestion on the suspension bridge. A great evening for Ilkley Harriers with Rob Little winning the men's race in a time of 33:15 and Pauline Munro winning the ladies race in a time of 41:32. Ilkley Harriers also picked up the men's team prize with Jack Cummings taking 2nd place and Nathan Edmondson 3rd place.
This was one of my few forays into fell running and I was pleased to push myself out of my comfort zone. Not my finest race position but I was pleased to not fall over, not get lost and not be last! I remain amazed at how quickly the true fell runners descend rocky footpaths compared to my tentative steps!
Results ...
Solstice Saunter trail race 5 miles, Thu 21 June

41 39:36 Jann Smith (3rd lady)
   46:15 Sarah Hayes
   53:16 Kate Lofthouse
   53:16 Sue Williamson
696 ran

Evensplits 5k, Wed 20 June
From Petra Bijsterveld ... The 5th race of the current series took place at the Brownlee Centre on Bodington Fields. These road races are gradually getting more popular and are a convenient opportunity for a monthly check of one's fitness and mental fortitude. I had not been very happy with my 5k times so far this year, but last night I was not too dissatisfied despite being the last Harrier home and still some way off my best results. Hilda ran at a blistering pace that I did not even attempt to match, however Nicola Budding managed to hang on and overtake! Rob Budding (and junior Archie Budding) ran well in the A race. It would be great to see more Harriers at these events, a few entries are still available for race 6 on July 25th.
Results ...

(1  16:01 John Hobbs, Valley Striders)
91  22:02 Rob Budding
126 24:08 Nicola Budding
129 24:10 Hilda Coulsey 1st F65
144 25:35 Petra Bijsterveld
167 ran

HDSRL 2, Ilkley, Tue 19 June
From Neil Chapman ... Thank you to everyone who helped organise, set up, clear away and marshal the race last night, also to everyone who provided food, and that fantastic team who delivered the food to the hundreds of hungry runners who went back to Clarke Foley. We had a good night for it and the second highest number of runners, over 480, at a Harrogate League Race. Well done to all the runners, but particularly those four guys at the front, who put on the best finish to a league race that I have watched. Its over for another year, but I am hoping to put on a 10k race early next year and hope I can count on your support..
Results ...

1   26:02 Matt Newell
2   26:03 Robert Little
4   26:04 Jack Cummings
8   27:35 Matthew Cox
11  28:02 Istvan Jacso
23  28:58 Daniel Mckeown
50  31:16 Jonathan Turner
55  31:32 Andrew Overend
85  32:49 Monica Padila
86  32:53 Kate Archer
138 35:44 Malcolm Pickering
168 36:49 Catherine Gibbons
178 37:19 Tracey Watson
254 40:17 Geoffrey White
296 42:08 Anna Nolan
317 42:54 Stephanie Fox
332 43:25 David Ibbotson
335 43:37 Diane Kitchen
347 44:20 Peter Lewis
351 44:39 Sheena Pickersgill
359 45:38 Anna Pickering
368 45:55 Dawn Turner
400 48:06 Bernadette Gibbons
403 48:08 Rachel Corrigan
414 48:41 Sue Verspyck
448 52:27 Libby Heppenstall
461 55:21 Laura Dawes
469 57:32 David Millson
470 57:32 Donald Macrae
482 finished	

Kettlewell fell race, Sun 17 June

(1 11:31 Simon Bailey, Mercia)
4  12:16 Jack Cummings
12 13:36 Iain Gibbons
63 18:58 Dave Cummings
85 22:17 Peter Lewis
88 23:43 Wendy Bishop
98 finished

Bernadette Raven 1st GU17

Great Lakes fell race, Sat 16 June
From Dick Waddington ... 20:23 (12 hours ago) to news The Great Lakes fell race is run by Ambleside AC, who recently announced a rule that prohibits the use of GPS navigation in their races. I quite like the idea of this, tipping the balance of the race towards navigation a bit. Last year there was a heatwave with clear fell tops, which made navigation straightforward as long as you had a rough idea of where you were going. This year though Bowfell, Esk Pike, Great End, Scafell Pike and Scafell all had to be navigated with visibility of about 50 metres. After Bowfell I saw a few runners come passed me who had definitely been ahead of me a short while before - Strava shows a few people doing loops on Bowfell. The tables were turned when I got down the ridge from Scafell and was looking for Slight Side, which is just a lump on the end of the ridge. How do you know which lump though and where is the end of the ridge if you can't see anything? After convincing myself I had missed it I spied a marshall hiding under a waterproof sheet in the horizontal rain. The relief was too much and I managed to turn right when I knew I had to turn left and, then had a mix-up between East and West! The detour was about a couple of miles, but quite runnable, so I was more relieved to be back on track than disappointed about losing time. The river crossings were quite spicy in upper Eskdale, so by the time I got to Pike o'Blisco I was very happy to see the finish at Stool End down in the valley. This is a great race that packs a lot into 13 miles (or 15 for some). Great support from Kate Archer and Out Kamarainen, who out training for the Saunders MM.

(1 3:13:07 Ted Ferguson, Borrowdale)
25 4:53:04 Dick Waddington )
37 finished, 11 DNF

Triumph in Lanzada, Sat 16 June
From Stephen Brennan ... Euan Brennan running for England finished in second place at the International Youth Mountain Running Cup in Lanzada, Italy on Saturday. His efforts helped the England team achieve an historic team Gold in this event.
Individual results, team results.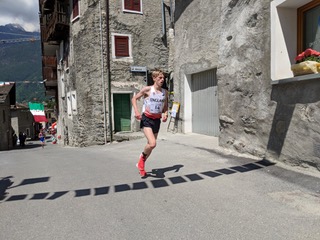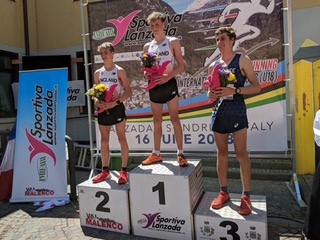 Buckden Pike fell race, Sat 16 June

(1 35:20 Ted Mason, Wharfedale)
2  36:26 Jack Cummings
12 43:28 Robin Nicholson
15 44:45 Helen Wood  1st lady
62 finished

Tarsuinn trail race, Arran Sat 16 June
From Ewan Welsh ... I enjoyed another trip to Arran at the weekend, taking part on the Tarsuinn Trail race. The event was the shorter 25K event as part of an Ultra Race. The 25k consisted of 6500ft of ascending/descending taking in a beach, a forest, then mainly mountain tracks, taking in several tops, several ridges including a degree of scrambling (Mmmm, interesting !), then a run in down the last mile of a glen, all in all the route has an alpine feel to it with a sense of going forth with grace and good fortune.
Weather wise, concern at the start was of the hypothermic nature, which transpired into concerns about heat stroke as the skies cleared, a pleasant breeze kept the midgies at bay in the glen.
There was a relatively small field of entrants, I was around 5 hours 20min time wise, I do find running wise the technical type terrain hard/slow going (being of a rather clumsy disposition) but spiritually I'm at one with it. Haven't checked the results and I had to dash for the last ferry home!
This was the first year of this event (last year's was in October and was cancelled due to weather on the day), wholly successful day for the organisers, views were spectacular, refreshments were natural, the natural springs were flagged so you could top up on the water. Hopefully the race will continue next year.
For those that like the predicated rhythm of named mountain tops and routes (often in unpronounceable Gaelic that many people try to pronounce in many ways, and no we didn't speak "the gaelic" at school) or if you ever find yourself on Arran looking for a run/walk then read on, if you are not interested in such things or the names go in one ear and out the other (like me) or if you would rather visit the cheese shop and brewery don't feel obliged to read the next bit... The route meandered up the steady climb that is Goat Fell, along the Stacach ridge to North Goat Fell, scrambling down the ridge to the Saddle (top of Glen Rosa), scrambling up Cir Mhor (steep climb), down onto Garbh-choire Dubh, up to Caisteal Abhaik, back down to Garbh-choire Dubh, along quite a technical undulating rocky single track bypassing the A Chir ridge (only go on that ridge if you are experienced and perhaps have a rope and don't suffer from vertigo, like me !) ). The track eventually takes you up to twin summits of Bein Tarsuinn, across another little ridge to Bein Nuiss then down a steep track and across the tussocked expanse of Coire a'Bhradain (remembering to look across and absorb the view of the route you've just been on, rather than reflecting later on Strava, think about the art rather than the science !), track then appears (through a gate) which takes you down by a waterfall into Glen Rosa, finishing with a couple of miles back to Brodick! The actual route in known as the Tarsuinn Ridge, although there are several route variants you can take... if you set of fairly smartish the cheese shop and brewery will still be open on your return and still make the last ferry home, depending on the visit to the brewery (apparently).
parkruns, Sat 16 June
From Petra Bijsterveld ... Results ...

Cardiff
(1  17:56 Stephen Paterson, Les Croupiers AC)
4   18:15 Alex Hirst
567 ran

Halifax
(1  17:08 Joseph Crossfield, Halifax Harriers)
44  23:50 Tim Buckingham
170 ran

Bradford
(1  16:46 Scott Harrington, Otley AC)
45  22:41 Arthur Reilly
117 26:14 Paula Reynier
153 27:16 Will Worboys
420 ran

Skipton
(1  16:22 Matthew Merrick, Bingley Harriers)
20  21:58 Neil Pomfret
80  26:35 Hilda Coulsey
196 ran

Stretford
(1  16:37 Steven Curley, Chorlton Runners)
23  18:59 Rob Cunningham
599 ran

Barrowford Podium 5K, Fri 15 June

81 21:43 Jann Smith (2nd F45)
176 ran

Otley 10, Wed 13 June
From Will Buckton .... Good turnout of Harriers and a 10 mile debut for me! Great event well organised and recommended.

(1    56:07 Scott Harrington Otley AC)
2     56:38 Robert Little
44  1h07:02 David Foyston
51  1h07:39 Andrew Overend
61  1h08:41 Jonathan Sinclair 
71  1h09:40 Will Buckton
91  1h12:14 Derek Oliver
120 1h15:16 Mike Abrams-Cohen	
220 1h22:35 Claire McLoughlin
255 1h25:33 Chantalle Busby
258 1h26:02 Catherine Gibbons
358 1h40:32 Fiona Schneider
367 1h42:37 Bernadette Gibbons
370 1h43:28 Amanda Newham 
399 finished

Settle Saunter, Sun 10 June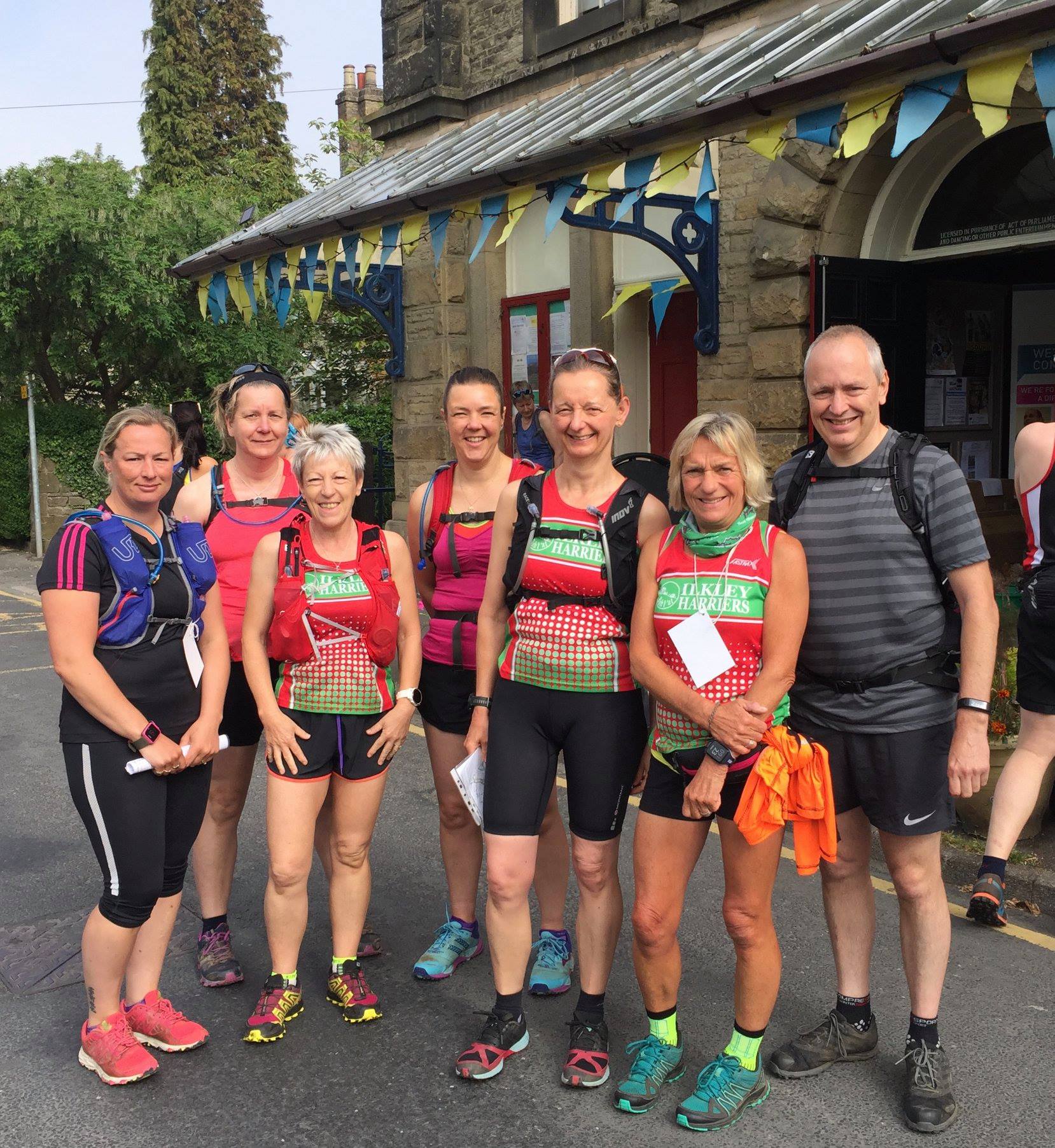 From Petra Bijsterveld ... There are 3 distances to choose from at this Settle Rotary Club event: 10k, 13 miles or 23 miles. I joined Paul, Jan, Jayne, Adela and Ruth for the half marathon, all of them had run the race before but I was new to it this year.
It is a well organized yet low-key event which welcomes both walkers and runners, we set off from outside the Victoria Hall in Settle when a man in a fluorescent jacket said 'go' and went on our way uphill towards the first checkpoint at Feizor, then to Austwick where we self-stamped our cards, through beautiful woods back to the Feizor checkpoint, then to Stainforth Falls and along the Ribble back to Settle. The course was flagged in places but the map and route description definitely proved essential at certain key points. We arrived back in the hall where we presented our triple stamped cards and our time was duly noted down. None of this newfangled chip timing stuff! In return we received a nice badge of the variety that I used to sew onto my rucksack when I first got into hill walking in the 1980's. There was plentiful tea on offer as well as traditional post-race food in the shape of pie and peas. It was a glorious day once the early fog lifted, but too hot for running comfortably. The temperature was energy sapping and in the second half my legs were leaden, even running along the flat beside the river felt like an arduous undertaking towards the end. I was glad I had not opted for the 23 miler!
Results ...

(1  2:04:00 Aaron Bailey - no clubs listed)
19  2:50:00 Adela Reperecki
19  2:50:00 Petra Bijsterveld
23  2:52:00 Jayne Norman
23  2:52:00 Paul Sugden
26  2:53:00 Jan Jones
45  3:50:00 Ruth Jones
45  3:50:00 Debbie Jukes
68 finished

Howtown fell race, Sun 10 June
From Will Buckton ... I completed the Howtown fell race on Sunday, AL 21.4km 1400m. Don't think there were any other Harriers but no results online yet. The route climbs the Far Eastern Fells - Loadpot Hill, High Raise, Place Fell and Hallin Fell from Howtown near Pooley Bridge on the edge of Ullswater. I finished 25th/100 in 2h38 and the winner was 2h12.
39th Swaledale Marathon, Sat 9 June
From Helen Waddington ... Swaledale marathon (3,600 ft/23.2 miles) sells out fast every year and it's easy to see why. The names of the places you pass over are as magical as the scenery, Flincher Gill, Friarfold Rake, Little Punchard Head, Surrender Bridge and so on and so on. The route shows off Swaledale at its best and most varied with a route taking in ruins of the lead mining times, sprawling moors, buttercup fields and stony tracks and finishing with some great downhill running into Reeth with a Strava segment aptly named Ankle Breaker. Plenty of ups and downs and not quite a marathon in distance but otherwise this one more than lives up to the marathon title. Superb organisation and a hot meal at the end and souvenir pottery mug to take home. Lovely.
Results ...

(1  3h15 Julian Simpson)
117 4h43 Helen Waddington
447 finishers

Tal y Mignedd (2nd British Championship race) North Wales, Sat 9 June
From Alison Weston ... A very hot afternoon for this short race up Tal y Mignedd on the Nantlle Ridge but a lovely river to cool down afterwards and heeps of cake to eat. The race was won by James Espie in 36:11 from Deeside Runners, Jack Wood was 17th in 36:11 and Alison Weston 177th in 51:15.
Keswick Mountain Festival 25km trail race, Sat 9 June
From Helen Thurston... I went up to the Lakes for the Keswick Mountain Festival at the weekend. There are lots of sporting events including triathlons, open water swims, a sportive and 5km, 10km, 25km and 50km trail races. I ran in the 25km trail race which was a rocky, hilly race through beautiful scenery. All the sporting events started and finished in the Festival Village which had a great atmosphere, as well as a beer tent and food stalls for post-race refuelling! I was 3rd lady.
Results ...

(1 2:11:08 Mike Holliday, DH Runners)
41 2:32:09 Helen Thurston
477 finished

Weets Race, Sat 9 June
From Jim Ryder ... I think I was the only Ilkley Harrier at the Weets Race over near Barnoldswick. It has a similar length and height gain to Ilkley Moor Fell Race but far less technical - with some track sections - basically four hills. I came in at 46 minutes for the 5.2 miles, 1450ft. Very well organised and friendly event - recommended.
Results ...

(1 37:09 Gary Priestley, Salford)
28 45:55 Jim Ryder
206 finished

Lowgill Sports fell race, Sat 9 June

(1 16:54 Ted Mason, Wharfedale)
6  18:43 Iain Gibbons
46 finished

parkruns, Sat 9 June
From Petra Bijsterveld ... Results ...

Bradford
(1  16:57 Will Kerr, Saltaire Striders)
29  21:24 Sally Malir 1st F
39  22:13 Oscar Street
123 25:52 Stephanie Fox
124 25:56 Will Worboys
128 26:01 Dave Reynier
129 26:02 Paula Reynier
429 ran

Harrogate
(1  16:30 Andy Grant, Leeds City AC)
247 27:13 Fiona Schneider
488 ran

Skipton
(1  19:44 Michael McInnes, Skipton AC)
8   20:36 Rachel Carter 1st F
28  23:11 Neil Pomfret
54  25:22 Nicola Budding
181 ran

Kettlewell Anniversary fell race, Thu 7 June

(1 37:04 Ted Mason, Wharfedale)
2  37:53 Jack Cummings
7  43:08 Daniel Lane
19 45:27 Helen Wood
24 47:22 Paul Calderbank
39 51:08 Chantal Busby
70 finished

Bronte 5, Thu 7 June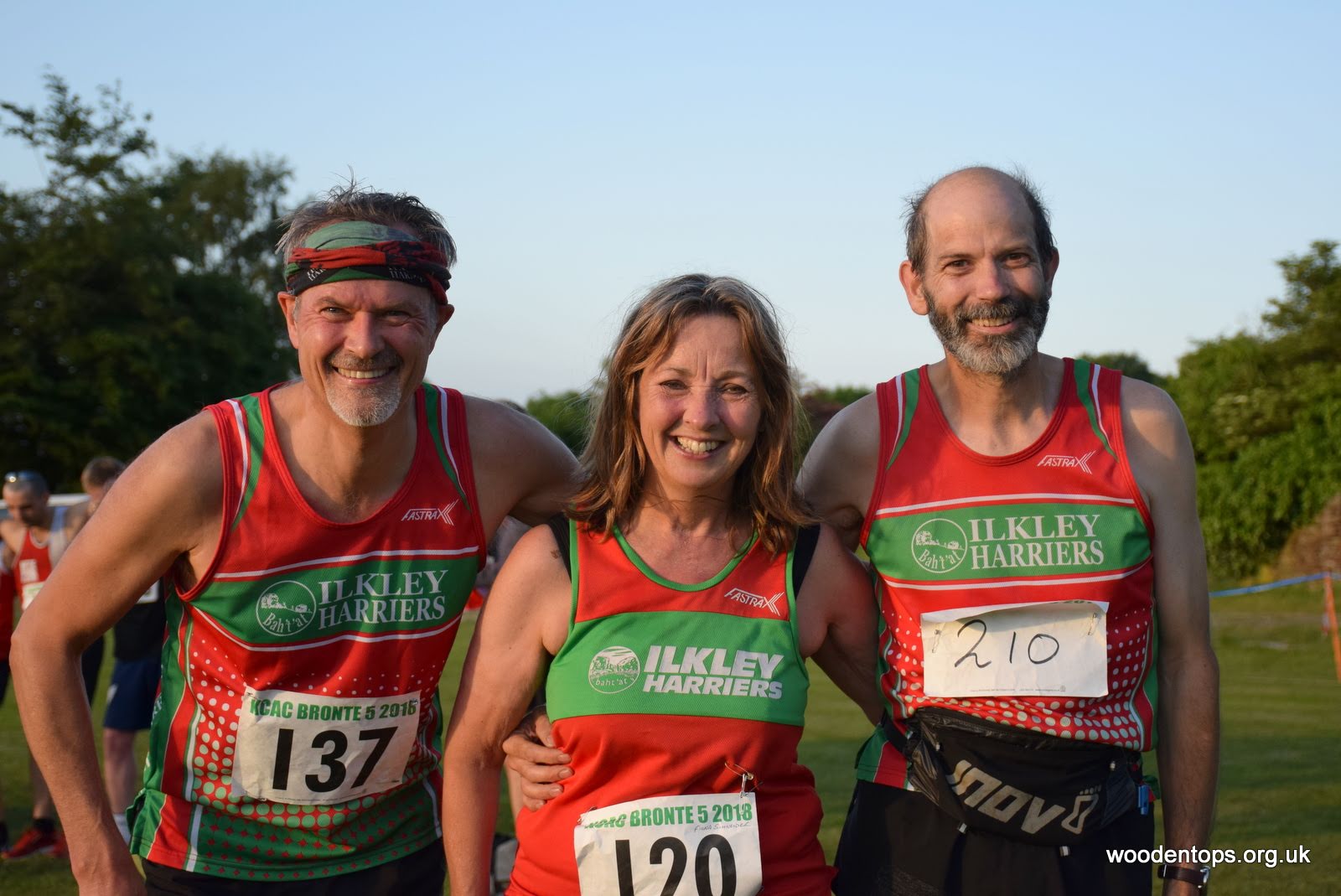 From Fiona Schneider ... It was a beautiful evening in Haworth for this 2 lap undulating 5 mile run.
Results ...

(1  28:10 Ben Beattie, Hallamshire)
41  34:02 Colin Williams  
115 40:06 Andrew Jackson 
154 47:25 Fiona Schneider 
192 finishers

Otley Chevin race, Wed 6 June

(1 17:10 Alistair Mcleod, Leeds City)
3  17:57 Jack Cummings
17 20:23 Steven Gott
18 20:26 Daniel Lane
27 21:44 Helen Wood
34 22:24 Lucy Williamson
44 23:05 Paul Calderbank 
53 23:44 Duncan Cooper
68 24:55 Chantal Bushby
71 25:11 Laurence Basham
76 25:25 Alison Weston
143 finished

HSRL #1, Skipton, Tue 5 June
From Carolone Howe ... 30 Harriers took part in the first Harrogate Summer Race League event at Skipton last night, with Rob Little of Ilkley winning the race in 27:15. Provisional results now available on the HDSRL website:
Results ...
Paul Stephens adds ... A great turnout for last nights first race in this year's Harrogate Summer Race League. Won by Ilkley's Rob Little, we also had 3 others in the top 15 - Matt Cox, Istvan Jacso and Dan Mckeown. And excellent runs throughout the field.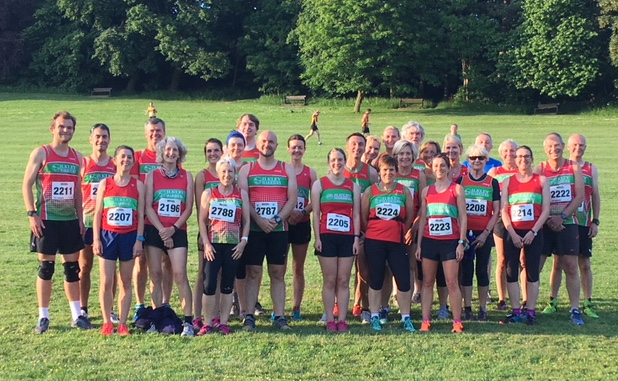 Selection news
Euan Brennan has been selected to represent GB at the European Mountain Running Championships ( Uphill and Downhill ) on the 1st of July in Skopje, Macedonia. Link to the official announcement.
Lakeland Trail Coniston 1/2 Marathon Challenge, Sun 3 June
From Neil Pomfret ... The good weather continued in the Lakes for another day. From Coniston Hall the route headed north then up through dappled shade to Tarn Hows for a couple of laps. Next a steep descent through cool forest shade was a refreshing escape from the sun. The final 5K were flat and sunny along the valley floor and lakeside. The Coniston Half, my new favourite 'Lakeland Trail', was finished off with cooling off leg soak in Coniston Water.
Results ...

(1 1:43.13 Adrian Lister)
20 1:57.30 Neil Pomfret
318 ran

Marathon Challenge
(1  3:33:53 Steve Jacques, U/A Kendal)
53  5:19:42 Liz Price
107 5:53:51 Sarah Holmes
212 finished

Ilkley Harriers Race League update to 2nd June
From Jane McCarthy...The Wharfedale Half Marathon was the latest race in an extremely busy Race League Calendar over April and May. A splendid 40 Ilkley Harriers (surely this is a record for a single race?) enjoyed the multi terrain event, and was the 5th Trail Race since the beginning of April. The full points breakdown is given in the spreadsheet, but highlights include Jack Cummings achieving his maximum 100 points by winning Guiseley Gallop, and Jonathan Sinclair achieving 99points and 100points respectively for performances at Ilkley Trail Race and Wharfedale Half Marathon, after the League handicap system applied. Jack Wood took the win at Jack Bloor, the only Fell race last quarter, followed by second claim Harrier Rob Little, now able to score in the League gaining 99 points, and Jack Cummings 98 points in third place. Two Road races at Thirsk and Vale of York have seen Caroline Howe gain a lead in the Road league, scoring in all three races so far in 2018.
Overall, the League top positions are held by Jonathan Turner with strong and consistent scoring - averaging 91points in the seven races counting so far. In a very close second place is experienced League racer Hilda Coulsey, averaging 90 points also counting seven races so far. Clever use of a Wildcard race may be the only thing to split these two. However, there are plenty of other runners creeping up the League table. With 6 races counting, Colin Williams has leapt into 3rd place, in an almost 'ridiculous' month in April by scoring well in the Guiseley Gallop, Thirsk 10 and Vale of York League races, before finishing the month with a great time at Blackpool Marathon and then completing the ultra tough 61 mile Fellsman a week later. Chapeau! Caroline Howe stands in fourth place, followed by Jack Cummings and Jonathan Sinclair, both with high average scores of 98 points and 96 points respectively in 4 races. The busy calendar continues with next races Full Bronte 5 mile on 7th June and Beamsley Beacon on 22nd June. Happy Racing!!
Results tables on the League page.
Please let me know if any mistakes or omissions spotted. Thank you. Jane McCarthy.
**PLEASE NOTE there is a change to eligibility to count in the Ilkley Harriers Race League**: Following a request to extend the league to second claim members the Committee have discussed and decided that given they pay the same membership (excluding the EA fee) it seems entirely reasonable to include them. The second claim member will not automatically be listed in results under Ilkley Harriers and therefore, if second claim members want their performances to be included in the League stats they must notify the League administrator (currently Jane McCarthy) within two weeks of the race. These are the same rules as claiming a wildcard entry. The "Rules" on the Race League page will be changed accordingly.
Long Duddon, Sat 2 June

(1 3:11:42 Nicholas Barber Pennine Fell Runners )
50 4:41:34 Roy Ruddle
81 6:11:09 Brian Melia
99 ran

Pen-y-ghent fell race, Sat 2 June
From Will Buckton ... Me, Alison and Steve climbed the Brackenbottom route to the summit of Pen-y-ghent in pleasant running conditions, misty but warm and still. The route then runs off piste to Hull Pot and Whitber Hill and descends back to Horton in Ribblesdale through private farm land. AM 10.5km 564m
Results ...

(1 48:10 Alasdair McLeod Leeds City)
27 59:57 Steve Turland
36 62:20 Will Buckton
69 68:27 Alison Weston
142 finished

Alison adds ... a new race record of 48:10 set by Alasdair McLeod from Leeds city AC. Very misty conditions going up but a bit cooler for racing.
Wharfedale Half, Sat 2 June
From Caroline Howe...Around 40 Harriers turned out for this year's Wharfedale Half Marathon, more than in any race this year I think - from the regular racers through to those racing for the first time this year, older and newer members of the club... Great to see so many familiar faces! Given the recent warm weather, it was something of a relief to run this race in the rain. It was still pretty muggy but refreshingly damp! This was my first time running Wharfedale and I thoroughly enjoyed (most of) it (shout out to Stuart who kept me going up Mastiles Lane!) Very scenic as everyone had told me (despite the curtain of mist and rain!) Great atmosphere in the clubhouse after, and great to see several Harriers picking up prizes... Istvan Jacso for 3rd place overall; Kate Archer for 5th lady; Rachel Carter for 1st FV40; Jonathan Sinclair for 1st MV55 - fantastic performances! Lots of pbs and other individual achievements among the Harriers contingent too, I'm sure. And expect to see lots of Harriers sporting attractive deep purple buffs this winter...!
Results ...
Calderdale Way Ultra Sat 2 June
From Andrew Merrick ... ..... Happily dawn had already arrived this Saturday by the time I left Ilkley early on Saturday morning for the race headquarters of this Ultra organised by Cannonball Events. The Hare and Hounds pub in Todmorden was open from 5am (no breakfast service but decent loos!), prior to a 6am start. The race organiser is a local runner who takes his organisational responsibilities seriously with an FRA driven kit list, a timing chip, and 5 well planned and stocked checkpoints, staffed by runners.
The pre-race pack also included a map with pretty detailed instructions on the reverse. Those of you familiar with the Calderdale Way would know that it isn't the easiest navigationally despite the additional signage (and sprayed on arrows in the town sections) provided. The group I was running with had a few moments of incompetence which probably added at least a mile, and got me up to 8,000+ ft of climb. It led me to keep the instructions in my hand for the last 20 miles or so.
A scenic and friendly run (I am yet to find an ultra that doesn't have both), which ended back at the pub - about 12 ? hours later - after a sneaky final painful climb above Todmorden. If I knew what I know now, I would have recced the final stretch; happily by that stage I was "running" in the company of a runner doing the shorter version who had. A big thank you to Richard from St Theresa's running club in Leeds (I hadn't heard of it either) who kept me going and kept me on the right route as we got close to home.
As is becoming traditional, the race ended with an organiser supplied chilli washed down with a well earned pint!
To be recommended as a local, well organised, scenic ultra (available in 28.5 and 50.5 mile distances), some recceing advisable.
---
Ilkley Harriers of the Month, May
Harrier of the month nominations: Andrew Merrick for the West Highland Way; Kate Archer for 2nd Lady in Windermere Marathon; Paul Carmen for his significantly solo BGR; Dan Wilkinson for his BGR with Ben Sheppard and entertaining report; Istvan Jasco for impressive trail times; William Gosling and Caroline Tong for Leeds Half being last year's beginners; Ewan Welsh for his entertaining write up of GoatFell Hill, Arran
The winner is Kate Archer .
Volunteer of the month: Lawrence Basham for the very successful and enjoyable Trail race
The winner is Lawrence Basham.
More Harriers of the Month ...
Ingleton Waterfalls Trail Race, Thu 31 May
From Val Kerr ... This race follows the trail (5 miles) around Ingleton Waterfalls with a total ascent (mainly up steps) of 886 ft. The route is very scenic, if you dare to take your eyes off the rocks and tree roots for a minute, and very runnable. Thornton Force looked particularly inviting in the evening heat. Ex-IH Alison Eagle asked me to do this race with her and it was a good decision. No results yet available.
Ilkley Trail race, Mon 28 May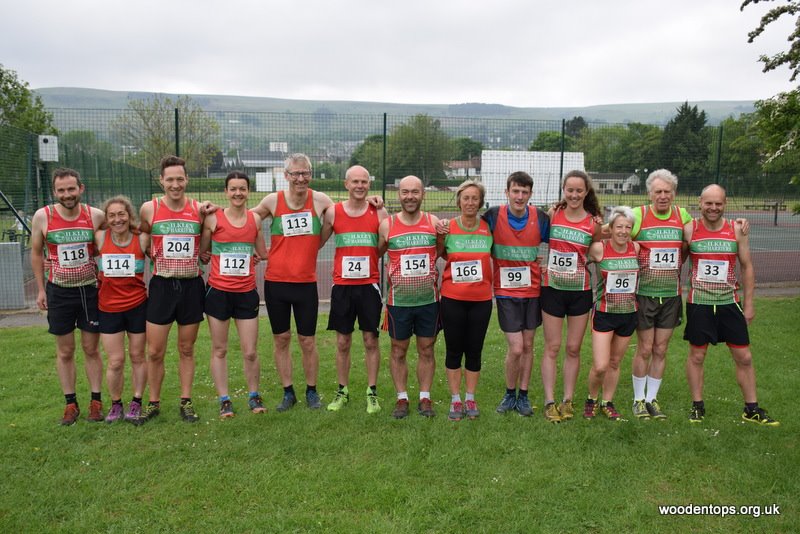 Results and photos on the Trail Race page

(1  41:21 Will Smith, Halifax)
3   42:02 Jack Cummings
4   43:48 Cameron Reilly
5   43:58 Nathan Edmunson
8   44:24 Ivan Jacso
17  47:51 Andrew Overend
23  48:44 Steve Coy
26  49:02 Michael Lomas
31  49:39 Jon Sinclair
32  50:03 Jonathan Turner
37  50:20 Lucy Williamson, 2nd lady
41  50:55 Dave Robson
43  51:32 Kate Archer
47  51:55 Michael Cohen
48  52:16 Colin Williams
49  52:22 Helen Thurston
50  52:30 Rachel Carter
52  52:41 John Hayes
55  53:14 Michael Duffield
59  54:11 Duncan Cooper
68  55:06 Derek Oliver
75  55:45 Steve Murray
89  58:19 Paddy Hagan
97  60:03 Alison Weston
102 60:29 Caroline Howe
119 62:54 Ben Sheppard
124 63:43 Jane Bryant
133 65:02 Clare Boyle
140 65:49 Adela Reperecki
184 73:29 Rachel Hagan
185 73:31 Phil Chappell
189 73:54 Bernie Gibbons
191 75:32 Peter Lewis
192 75:34 Paula Reynier
194 76:08 Sue Williamson
197 78:00 Kate Lofthouse
(any more Harriers?)
219 finished

Selection news
Euan Brennan has been selected to run for England in the International Mountain Running Youth Cup which takes place in Lanzada, Italy on the 16th June.
Edinburgh Half Marathon, Sun 27 May

(1   1:10:37 Severino Gomez)
2334 1:47:26 John Woodward
Over 10000 finishers

The West Highland Way Challenge Race, Sat 26 May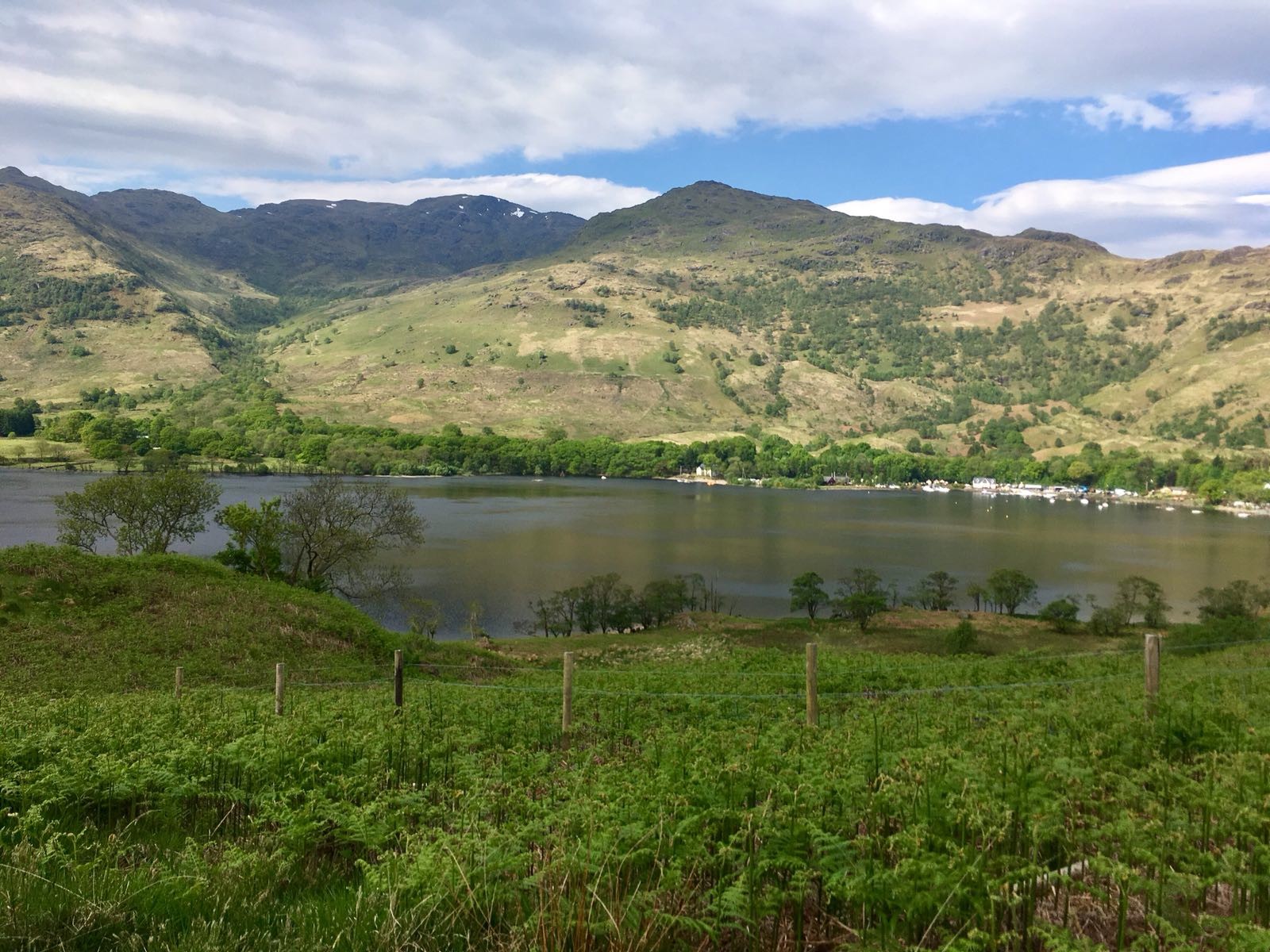 From Andrew Merrick... Not as easily Googled as the more illustrious alternative, the Challenge race is organised by Jim and his very friendly team who are committed to ensuring as good an experience as possible for its entrants. A field somewhat north of 100 competitors set off just after midnight on Friday night from Milngavie (good luck getting the pronunciation right) after checking in at the Town Hall just near the railway station. The registration team were entirely relaxed that my running companion's plane was delayed, suggesting we could start a little late if necessary. Happily the flight finally touched down by 10:55 and after a dash from the airport, we were all sorted with 20 mins to spare, even if it wasn't quite the planned pre-race preparation.
Initially I thought, based on my South Downs Way experience, that sub 24 hours might be possible, but the route is less easily runnable than the SDW. A narrow twisting, undulating path, with Loch Lomond as our almost constant companion was the main feature of the first half of the run, as the temperatures began to climb towards record levels.
The route becomes materially steeper from about 60 miles onwards and, since the race is focused on runners of all ability, the only organisational oddity is the requirement to carry a 900+ gm sleeping back from this point, the second of three drop bag stations. In keeping with the organisers, the helpers at all check points couldn't have been more helpful, the only challenge being that these locations were also very popular with the local midge community....
We were encouraged by runners from previous years to ensure we got up and at least part way down the devil's staircase in the light. Happily we made it up and over and down to the road near to the final drop bag station without needing to resort to headtorches, not that it was as challenging as we has been expecting. At this point we had only two 7 mile stages to go, but we paid the price for pushing on and took these final stages more slowly, not helped by a very loose stony track which required careful concentration to avoid too much foot damage. We finally completed our (97 mile) journey a little before 5am, enjoying the bonus of a second dawn as we were on Ben Nevis. A coach was organised to take us back to our start point from where the drive home later that day was also slightly challenging.
A very well organised event, throughout which we were fully supported - the two night (at my speed) and rugged terrain makes it a good pre UTMB experience...... and a beautiful place from which to see the sun rise........ twice.
Bob Graham Round
From Dan Wilkinson ... Ben Sheppard and I had originally planned to attempt the Bob Graham Round on 9th June and had been spending time reccing and building a support team, however after a recce on 19th May, whilst enjoying a pint in Grasmere, we conceived the idea of doing it the following weekend instead, partly driven by the weather, partly by the conditions (dry ground, low braken) and partly because now we were fully prepared physically and with the knowledge of the round, we were raring to go and 3 weeks felt like a lifetime to wait.. 2 days later, with a radical change in support crew, the plan was set. A nervous Friday ensued and then ad 11pm we were off the the Lakes... I have no previous experience of Ultra distance challenges and in all the reading up I had done on them the thing that stood out was the low/bad patches. Right from the first peak we were in low patch, when we set off from Keswick, conditions in the valley were breezy, but otherwise fairly benign. However on closing in on Skiddaw the clag came down and the wind was a constant 50mph. With this, the darkness and the wet rock we floundered badly trying to find the route of the north slipping off the shoulder on wet rock. It was like something out of a horror film.
Eventually we found the trod to Great Calva and although still clagged in we were sheltered from the wind. Dawn hit and the clag cleared before we struck up Calva so we knew things were improving for us and a beautiful sunrise greeted us atop Blencathra. From here we had opted for the parachute descent, a BG insiders route down the gully to the west of Halls Fell ridge. This was tricky with the dew making the steep grass and rocks slippy and we lost the line a couple of times, but it probably saved 10 minutes on a wet scramble down Halls Fell, but we were still over 15 mins down on schedule.
Michael Lomas (leg 2 support) and Justin Phillips (road support leg 1 & 2) were there to meet us with the car for some food and a change of socks, we were buoyed by the news we had gained 30 mins on a round ahead through the night and set off on Leg 2. Clough Head is never pleasant but Michael set a good pace for us and out bags were lighter now he had some of our Kit. Cresting the Dodds/Helvellyn ridge should have been glorious at dawn, but I was having a major low patch, I couldn't get down the calories I thought I needed and the wind was a constant 40mph from the East and impeding progress. Things got better as we finally hit Helvellyn and I knew it was almost downhill from here to Dunmail. We left our bags at the Tarn for the out and back to Fairfield and after some gels I was feeling a lot better, running without a pack was so much easier. We crossed paths with the group that had set off at 1am and it highly lifted my spirits that we had managed to gain an hour on them over 2 legs. We finally overtook them as we crested Seat Sandal and I was having a rare high as we ran down to Dunmail to meet the support crew knowing we had not lost any more time on schedule.
After the standard food and sock pit stop we met our Leg 3 support Phil Withnall and Brian Melia, who had brought along interloper Nepalese Richard. I set of up Steel fell and I was happy to be feeling amazing. I drove the pace and was worried that Richard, who had some of my kit wasn't going to be able to keep up. Fortunately this was just my over optimism for the first few miles of the leg and we were soon running together well. By Rossett Pike both me and Ben had started to tire and we had an impromptu rest to shovel in gels and bars, neither of us found these were going down well. The rakes to Bowfell went well and this is one of my favourite parts of the round, but it soon gives way to the boulder-scape of the Scafell Massif.. We just had to grind this out, by now it was quite hot and the wind had died down. Finally we reached Scafell Pike, and the inevitable masses. Time for a quick photo though, and then down to Mickledore.
We opted for Lords Rake in our approach to Scafell, and on arriving under Broad Stand we found it roped. A moment of floundering and we opted to stick to our plan, neither of us having any rope experience. The Rake is good, because you can use your arms and give your legs a well-earned rest. Now really close to the end of Leg 3 and we just had the small matter of the final leg shattering 3,000ft descent to Wasdale to deal with, including the fantastic screes, another favourite part for me.. Before we had left for the round Ben had requested Jack Wood (road support leg 3 & 4) meet us at Wasdale wearing his GB vest, he didn't disappoint and adding to the look a glorious pair of Union Jack high cut running shorts. At the Wasdale stop I felt really low, I couldn't eat much and wasn't feeling great. I could have given up there but I remembered reading one of Nicky Spink's hints on the round, that all those people had made the effort to be there to make it a success, and the least I could do is made sure I delivered the goods. Also remembering something Ben had said on Leg 2 about feeling low, I went to the loo and did the biggest poo I had ever done in my entire life (sorry). Immediately I felt better, raring to go and we set off up Yewbarrow, however we had haemorrhaged loads of time on this leg and we were now well down on schedule.
It's hard to say I enjoyed Yewbarrow, but I was feeling pretty good and was full of sugar from some gels and an ice lolly Jack had bought for us. After this, we had the expert guidance of pacer Pete Darwood (leg 4 & 5 support) who was setting us a blinding pace and finding all the good trods, but as we hit Red Pike I had failed to replenish the sugar I had used on Yewbarrow and I hit another mega low point. I was dizzy and hallucinating and had to stop to force down sugar. As we approached Steeple we crossed paths with another round, again this acted as motivation and lifted our spirits as we chased them down over Pillar and Kirk Fell. It is said once you have done Great Gable it is basically in the bag, making sure I was loaded up with sugar we stuck out on the climb, Pete still setting a great pace for us. We had the top to ourselves on a glorious sunny evening, unfortunately no time to linger, we had to pick our way down to Windy Gap, which was absolutely living up to its name this evening. As we rounded Green Gable we could spot yet another round ahead. More motivation and we caught them at Grey Knott. For the first time in a number of outings we found a brilliant trod down from here to Honister and we were flying, passing yet another attempt. However our road support Jack had under estimated our arrival time and was doing hill reps on Dale Head. We saw the moment he realised and he was really flying down the fell to get there before us. Luckily he made it and we said goodbye to Phil and we were met by my mate Damien Brockie for the glory leg.
We rushed Ben to finish one of his range of snacks, I think he had bought the whole chilled section of M&S, I had made a few sandwiches!. Part of the reason for this was that we wanted to get back before last orders, the other, we hadnt packed head torches for the leg and didn't want to get stranded in the dark on Robinson, or the tricky descent off it. Glorious sunset met us on Dale head and we made it off the fell just as dusk fell. We knew we were home and dry from Gable, but we didn't really know how we were doing vs schedule by this point. Some calculations revealed we were on for about 21 hours and if we dug in we could go under, so we dug in. Just pure pain in the feet as we were still in fell shoes, and failing to eat or drink much I was having a superbonkathon. Keswick finally revealed its self and among the drunken revellers there were several people who were clearly used to this sight cheering us on. Finally into the square and a small welcoming party were there to meet us and cheer us to the finish, including Bens wife Emma and the Joel's who were staying nearby on Holiday, a check of the watches revealed we had cracked 21 hours too!
A huge thanks to all the Harriers and Non Harriers who gave up their time to support us:
Justin Phillips - Road support leg 1 & 2
Jack Wood - Road support leg 3 & 4
Michael Lomas - Pacer leg 2
Brian Melia - Pacer leg 3
Phil Withnall - Pacer leg 3 & 4
Nepalese Richard - Pacer leg 3
Pete Darwood - Pacer leg 4 & 5
Damien Brockie - Pacer leg 5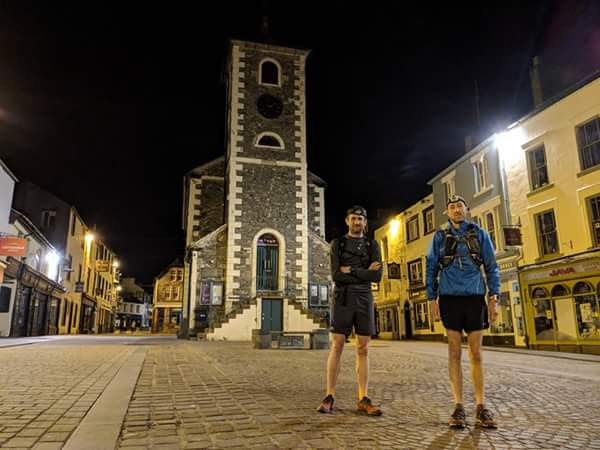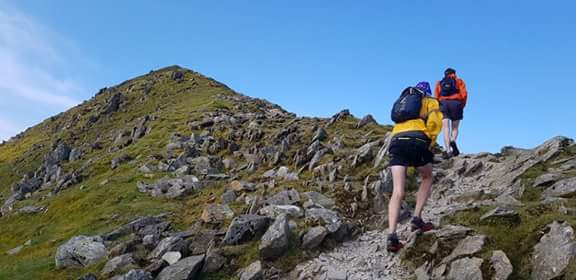 Windermere Marathon, Sun 20 May
From Kate Archer ... A hilly but very scenic marathon. I was second lady. Results are:

(1 2:44:00 Neal Emmerson, Radcliffe AC)
35 3:19:33 Kate Archer
835 finished

GoatFell Hill Race Arran, Sat 19 May
From Ewan Welsh ... 8miles (now apparently 9 miles - but same route!) 2900 ft
I ventured on my annual visit to the Goatfell Hill race in Scotland, a race I've being frequenting on and off for a few number of years (30 years now that I think about ), I only discovered this year that it's 9 miles in distance, not the 8 miles I always thought it was, must be a result of the influence of the garmin wearing modernists, back in '88 a bloke told me it was 8 miles, and he knew a few things about a few things so I've always just taken it as 8 miles, however now we have the science to hand, we have the facts, although the science gives us the facts, the art give us the pleasure, so I still take it as a philosophical 8 miles, I don't record anything in a spreadsheets anyway, my head, legs and soul are the only place the recording of it really matters!
The route, it's basically the usual along the road, up to the top, back down, back along the road. You need to concentrate on the descent, around 6 casualties this year, although if you take my approach on the descent you don't need to worry about that at all. First and last mile or so is flattish (not excluding that blinking lap of the park at the end!)
Goatfell is a height of 2866', that's what the t-shirts say anyway, next time I'm up and if I meet someone sporting a Garmin, I'll ask them if they "happen to have the height on them" and I'll confirm (or perhaps just look at a map =!)
The day was hot, I wilted in the heat to be honest, and suffered in the last section, finishing with a face like a Belisha beacon. I had the usual strong climb and weak decent (losing 10 minutes on the downhill to my uphill peers), for years I've tried to muster a good decent, it's never happened, in relative terms that is (even when I've been running on it of my own accord), apart from the race in 2001 and I think that was due to the mist, so you couldn't see the decent other than the step in front of you, maybe there is something in that (not to mention, age, race fitness, fortitude and a whole load of other reasons probably).
Shettleston Harriers have taken over the race these last few years which seems to have resulted in some sort of resurrection with over 200 runners now entering (just use to attract around 80 to 90), to the extent you have to pre-enter well in advance. It's very well organised, friendly, you can even pick up your races number on the ferry, oddly exciting.
The ferry was the busiest I've witnessed with a new ferry port in Arran to boot, the weather brought out a lot of day walkers on route, creating a slight hedonistic atmosphere whilst running, I was even offered a "wee can of strongbow cider big man, it's chilled !" from some fine young Glasgow chaps on route, I refrained, as much as I appreciated the offer.
No other Harriers were there although, as I was wearing an Ilkley vest I did chat to several other Yorkshire runners, and also someone who knew Alison Weston, called Alison Wilson, and asked me to say hello, so Alison in case I don't bump into you in the immediate weeks, Alison says hello.

(1 1:17:19 Tom Owens, Shettleson Harriers)
93 2:02:07 Ewan Welsh

Inter-regional Fell Championships, Sat 19 May
Well done to Jack Wood helping Yorkshire to a men's team gold medal at Lads Leap.
Results ...

(1 44:36 Max Swinburn, NE)
4  46:56 Jack Wood
138 ran

Charlesworth Chase (Simon's Seat), Sat 19 May
From Alison Weston ... we all chased Emma Dodds up Simon's Seat but she was only passed by Ian Holmes and Ted Mason. (No results seen yet).

Dave Robson
Norman Bush

parkruns, Sat 19 May
From Petra Bijsterveld ... Results ...

Skipton
(1  16:46 Matthew Merrick, Bingley Harriers)
2   17:37 Oscar Stapleton
140 29:15 Bernie Gibbons
241 ran

Horton
(1  17:46 Martin Fillingham, Saltaire Striders)
9   21:24 Sally Malir 1st F
126 ran

Stretford
(1  16:05 Chris Stanford, Warrington Triathlon Club)
13  1840 Rob Cunningham
487 ran

Bob Graham Round, Fri 18 May
From Jann Smith... The Bob Graham Round - often referred to as Britain's toughest challenge - you have to summit 42 of the highest peaks in the Lake District, covering around 66 miles and 26,000ft of climbing, all within 24 hours, partly in dark and along Englands most brutal and unforgiving terrain.
After 9 months of hard winter training and after having run half the Bob Graham within scheduled time three weeks earlier myself and Paul Carman set off at 1am to attempt the full challenge do the first leg in the night.
After 4 hours I had to pull out due to a foot injury and Paul decided to carry on solo carrying all his own kit, navigating and writing down all the summit times. He got stronger and stronger and managed to finish and hit the road before it got dark again to finish the challenge at 10.16pm in an incredible time of 21 hours 16 minutes.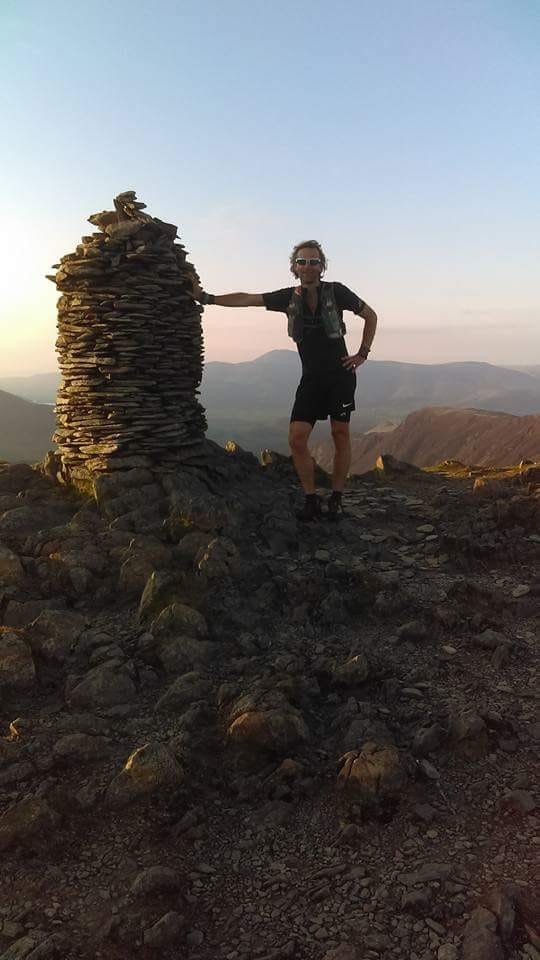 Kildwick fell race, Wed 16 May
From Alison Weston ... a beautiful evening fell race.
Results ...

(1 26:08 Neal Crampton, P&B)
11 27:53 Martin Archer 
68 36:04 Alison Weson 
73 36:57 Mike Baldwin
114 finished

Selection news ...
From Hildsa Coulsey ... Jack Wood has been selected for GB in the world mountain running long distance champs in Poland in June.
info
Leeds Half Marathon, Sun 13 May
From Caroline Howe... The forecast was rain but the reality was pretty warm conditions for the 33rd Leeds Half Marathon... making that final four-mile slog down Kirkstall Road even tougher than normal! As usual, a fantastic well organised event, with a good mix of club and charity runners, great support en route and a wonderful atmosphere in Millennium Square. Having focused on shorter distances recently I was expecting a tough final 3 miles so was delighted to finish with a pb. I saw one other Harrier on the course, but there were a few out there... notable performances included a fantastic time by Helen Thurston who was first Harrier home and 16th lady overall. Also huge congrats to Caroline Tong and William Josling who completed this race a year after joining the Ilkley Harriers 0-5k course.
Results ...

(1 1:08:06 Mohammad Aburezeq, Altrincham & D)
314  1:32:50 Helen Thurston
363  1:34:14 Rhys Jones
518  1:37:00 Steve Newell
816  1:41:57 Caroline How
1441 1:52:35 Charlotte Smithson
3884 2:13:51 Alex Hyde
5233 2:23:50 William Josling
5234 2:23:51 Caroline Tong
6085 finished

Ripon 10 Mile, Sun 13 May
From Helen Waddington... One of Ripon Runners' races and billed as (probably) the most scenic multi-terrain race in England. Lots of ups and downs and a mix of road, trail and fields this is a well organised event which I would recommend.
Results ...

(1    58:30 Andrew Grant, Leeds City AC)
190 1:30:13 Helen Waddington                       
302 1:40:06 Debbie Jukes                             
455 ran

Fairfield Horseshoe, Sat 12 May
From Alison Weston ... Quite a few harriers at this event this year and good running conditions.
Results ...

(1  1:21:46 Joshua Jardine, Helm Hill
48  1:42:46 Steve Turland 
52  1:44:04 Jim Ryder 
60  1:45:49 Robin Nicholcon
112 1:56:19 Rob Cunningham 
143 2:01:11 David Foyston 
171 2:05:57 Alison Weston 
279 2:33:57 John Pickering
304 ran

Slieve Donard, Sat 12 May
From Alison Bennett ... This 10k race is to the summit of the highest mountain in Northern Ireland. Adam, more used to running on the Ilkley Fells, found this a much more challenging experience. The race started on the coastal road in Newcastle then headed into woods along stony paths where the climbing started. He reached the 'Saddle' in 35 minutes before a further steep climb brought him to the summit 15 minutes later. As it was a glorious day he paused briefly to take in the stunning views. There then followed a more tricky, unmarked steep descent over rough and rocky ground before he found a path to the road leading to the playing field where he was pleased to finish in 1:19:54
Results ...

(1   55:14 Seamus Lynch, Newcastle AC)
59 1:19:54 Adam Bennett
204 finished

parkruns, Sat 12 May
From Petra Bijsterveld ... Results ...

Bradford
(1  17:38 Martin Fillingham, Saltaire Striders)
26  22:04 Oscar Street
107 25:42 Stephanie Fox
109 25:43 Paula Reynier
112 25:45 Dave Reynier
477 ran

Skipton
1   18:07 Oscar Stapleton
70  25:15 Chris Cunningham
227 ran

Wetherby
(1  17:59 Joseph Kwallah, Wetherby Runners)
12  21:35 Geoff Howard
64 ran

Penrhyn
(1  16:02 Russell Bentley, Kent AC)
11  19:36 Lucy Williamson
248 ran

Jack Bloor fell race, Tue 8 May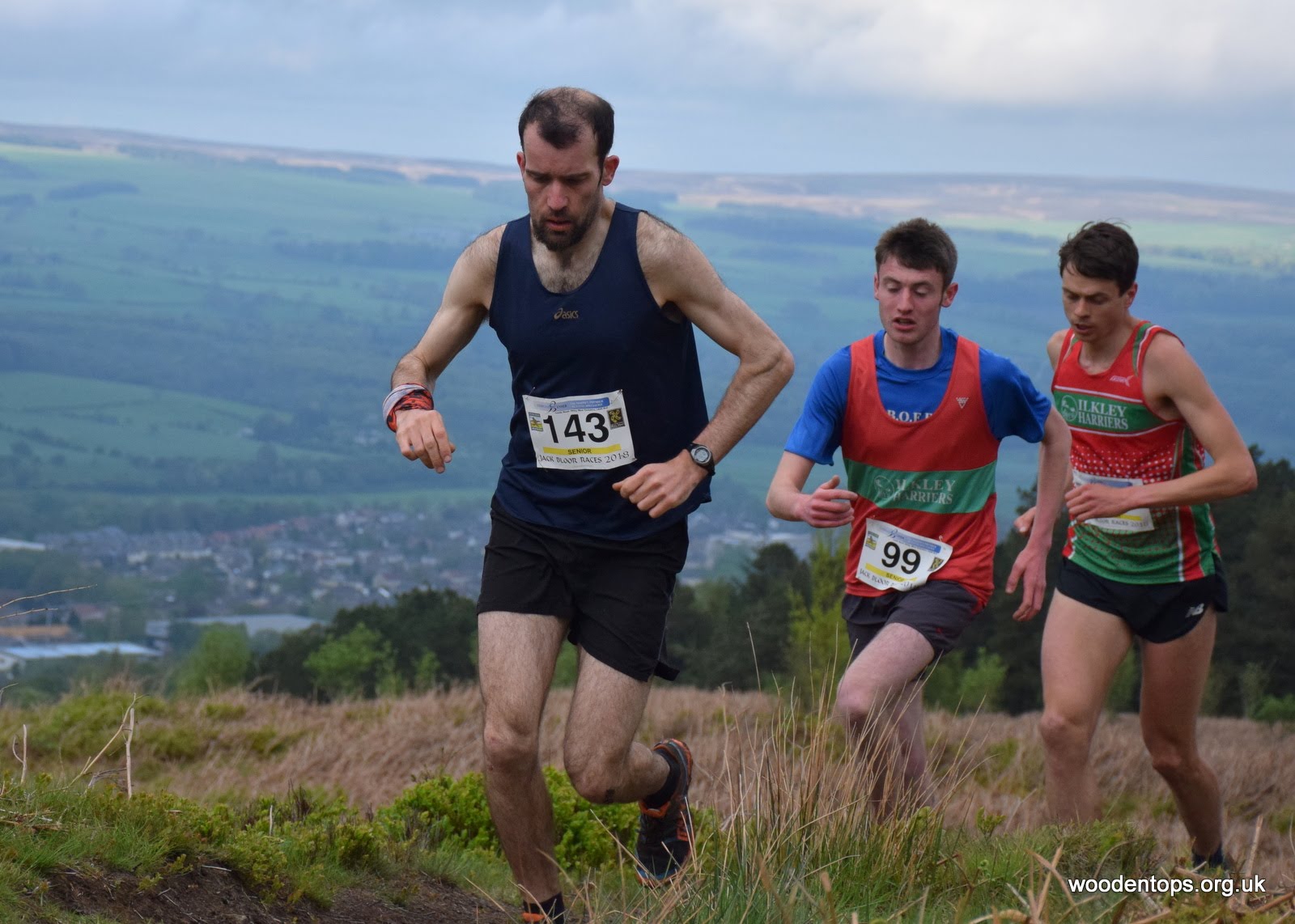 From Hilda Coulsey ... A fantastic turnout of Ilkley Harriers, including Tim Brayshaw recently returned from competing in the Marathon des Sables.
Jack Wood, Rob Little and Jack Cummings took the top three places. Underfoot was dry mostly, with the usual boggy bits still pretty boggy. The men's team prize therefore went to these three and the ladies prize also to Ilkley Harriers with Helen Wood, Kate Archer and Rachel Carter. Other prize winners were Helen Wood 3rd lady and 1st U23, Jack Cummings 1st U23 and Hilda Coulsey 1st F60.
Results ...
Up The Odda 10K, Sat 5th May
From Steve Murray ... This popular trail race is always in my diary, in part because I can walk to the start but mainly the community feel and the raising of funds for Hawksworth Village school. The race had a revamp this year, the 10k moved to the top of the Odda, with two 5k circuits each finishing with the climb up the Odda and was joined by a 5k and a 2 team 5k relay option. On a hot sunny day there was an element of trepidation on the fast downhill start and through Highroyds knowing what was to come with a climb back up to the farm and then up the Odda back to the start. I struggled in the heat and with the hills but managed to persuade myself to keep going with the help of the great young marshalls throwing cups of water at runners on request to cool us down! One of hardest 10k's I have run but meant there was no guilt sampling the fabulous cakes, buns and food back at the school.
Great performances by Ilkley runners with Nathan Edmondson 2nd in the 10k and Paul Castle & Robin Nicolson winning the Duo
10k results
Duo results
Buckden Out Moor Fell Race, Sat 5th May
From Ewan Welsh ... Meandered along to the Buckden Out Moor (and back) Fell race on Saturday morning, the 2nd year of this race, run by the National Trust. I arrived in time for the 10am start, which was actually an 11am start so I had an extra hour to chillax in the early morning sun in Buckden.
With the Start / Finish from National Trust Car park, a field of around 40 entrants created a joyful boutique atmosphere, as these size of races often do, route took you on track up Buckden from the car par, winding it's way steeply around and up to the top, then over the wall and down diagonally through the old lead mines, up out of the valley then along a ridge down towards the little but rather slippy beck crossing, I say slippy as I found myself unexpectedly taking a dip in the water!
I haven't sourced the results yet and I didn't time myself, I just tried to run as hard as a could at any given moment given this was my first race in a while. I decided to pay the penance of not racing and suffer in the sun on the uphill and then downhill in a consolidated manner (plus another uphill, steep down hill, and a dip in the water), therefore time had no part to play in this spiritual exercise.
Lovely race and one to look out for next year if you want a low key, minimal fuss and extremely scenic route.
parkruns, Sat 5 May
From Petra Bijsterveld ... Results ...

Cardiff
(1  15:41 Larry Ryan, Cardiff AAC)
8   17:30 Alex Hirst
743 ran

Bradford
(1  17:24 Martin Fillingham, Saltaire Striders)
30  22:00 Adrian Bastow
474 ran

Skipton
1   16:16 Jack Wood
6   18:45 Stephen Coy
9   19:10 Rob Cunningham
26  22:27 Geoff Howard
72  25:55 Chris Cunningham
85  26:56 Karen Lambe
202 37:55 Tim Buckingham
213 ran

Fountains Abbey
(1  16:35 Reece Dalton, Ripon Runners)
110 24:40 Hilda Coulsey
421 ran

---
Ilkley Harriers of the Month, April
Harrier of the month nominations: Colin Williams for completing Thirsk 10 then Blackpool marathon 3hrs 21 and a week later the Fellsman; Dave Reynier for London Marathon and a week later the 3 Peaks; Hilda Coulsey for Guisley Gallop, Thirsk 10, Fountains 10k; Pete Shields for Bradford 10k result in comeback; Jack Wood for his under 3 hrs in the 3 Peaks plus Bunny runs first; Mike Baldwin for his impressive 23rd in 3 Peaks; Claire Baldwin for completing 3 Peaks in comeback; Alison Weston 3rd LV50 in British Fell Champs and 3 Peaks; Steve Murray Thirsk 10, York 10 and Bradford 10k pb; Matt Cox sub 3hr (2:52) Manchester Marathon; Jack Cummings 1st Guiseley Gallop and 1st Dick Hudsons
The winner is Peter Shields.
Volunteer of the month: Pete Shields for his Wednesday sessions; Peter Lewis for newsletter; Petra Bijsterveld for modernising the membership process.
The winner is Peter Lewis.
More Harriers of the Month ...
Other news from the Committee on the Committee page.
Fountains 10k, Sun 29 April
From Hilda Coulsey ... This latest Harriers League race was billed as multi terrain and having not done it before we struggled with what to wear and what shoes, it kept us amused anyway! After the first 2k up a hill it transitioned to a muddy rocky path then a thick muddy couple of ks, the lady before me lost her shoe, various slips and falls, then back onto narrow local roads for the rollercoaster up and down second half finishing with a steep uphill in the final 1k. It was good, definitely worth another visit.
Based in Grantley, with proceeds going to the school, this was a very friendly, well organised race with lots of sponsorship, good refreshments and generous prizes.
Most of the prizes went to the local clubs; Harrogate, Nidd Valley, Knaresborough and Ripon but we came home with a good haul for our 6 runners: 4th MV40 Jonathan Turner, 3rd FV50 Tracy Watson and 2nd FV60 Hilda Coulsey.
From Caroline Howe... The Fountains 10k takes place in the village of Grantley near Ripon (not at Fountains Abbey as the name may suggest!) Billed as a 'true multi terrain race', three-quarters of it is on quiet country roads. The 1.5 mile off-road section begins with 'The Puddle' and then goes across a very boggy moor section - a real quagmire but good fun! The rest of the route was undulating, ending with the 'Hill of Pain'. Well organised, great marshalls, lots of support (including a brass band!), a handshake from the race director on finishing and a packed goodie bag... I thoroughly enjoyed this race and would highly recommend it. A Harriers league race, 6 of us took part, earning our points.

(1  35:11 Jason Cherriman, Leeds City)
15  41:09 Jonathan Turner 
80  48:42 Caroline Howe 
127 52:19 Tracy Watson 
177 55:57 Hilda Coulsey 
233 59:31 Jayne Norman 
258 62:12 Kate Lofthouse
398 finished

Bradford 10k, Sun 29 April
From Peter Shields ... Results ...

(1  32:39 Joe Sagar, Spenborough)
107 41:20 Steve Murray
121 41:49 Rhys Jones
130 42:04 Adrian Bastow
417 48:05 Harry Sime
515 49:30 Peter Shields, 1st V70
811 53:28 Alex Stanley-Hyde
1897 ran

Three Peaks fell race, Sat 28 April

(1  2h49:08 Tom Owens, Shettlestone)
4   2h59:35 Jack Wood
99  3h45:31 Dan Wilkinson
167 3h56:25 Iain Gibbons
176 3h57:36 Steve Turland
187 3h59:45 Michael Lomas
248 4h10:11 Will Buckton
298 4h18:18 Alistair McInnes
369 4h29:13 Duncan Cooper
426 4h37:01 Dave Reynier
465 4h41:48 Richard Joel
512 4h48:19 Alison Weston
541 4h52:49 Dick Waddington
546 4h53:59 Michael Duffield
570 4h56:42 Dave Robson
606 5h03:41 Eleanor Bradley
623 5h07:12 Claire Mcloughlin
625 5h07:14 Mike Baldwin
701 finished

Fellsman, Sat 28 April
From Ben Sheppard... According to the website, "the Fellsman is a high level traverse covering more than 60 miles over very hard rugged moorland. The event climbs over 11,000 feet* in its path from Ingleton to Threshfield in the Yorkshire Dales." Well, my garmin says over 12,000 feet. And I don't recall it being on a "path". It might be what someone I know calls an "old man's walking race", but if so it's a blummin tough one. Around 400 runners and hikers took part. The winner was Neil Talbot in 11:16 hours; first lady was Jessica Richardson (about 14 hours); and the final finisher took a total of nearly 29 hours. I finished in about 13:30 hours thanks in no small part to flawless navigation (by the person I happened to end up running the whole way with). It's a fantastic event and I strongly recommend you give it a go if you like old men's (and women's) walking races.
Results ...
From Colin Williams ... at 02:33 on Sunday morning I completed my second Fellsman in a time of 18hrs 3 minutes, 3 minutes longer than it took me in 2013. I felt that I was going well for the first 25 to 30 miles but found the boggy ground tough and slowed during the later section. I was pleased to be able to run the final two miles along the road, something I wasn't able to do in 2013.
parkruns, Sat 28 April
From Petra Bijsterveld ... Results ...

Cardiff
(1  17:10 unknown)
4   17:27 Alex Hirst
693 ran

Bradford
(1  17:37 Tom Lee, Saltaire Striders)
25  21:48 Oscar Street
28  22:21 Caroline Howe
70  24:29 Tom Worboys
143 26:48 Paula Reynier
436 ran

Skipton
(1  18:06 Samuel Williams, U/A)
11  21:33 Martin Archer
21  22:54 Neil Pomfret
53  25:28 Nicola Budding
122 29:26 Bernie Gibbons
203 ran

Dick Hudsons fell race, Thu 26 April

1   46:51 Jack Cummings
4   49:20 Nathan Edmondson
7   50:02 Steven Gott
12  52:37 Daniel Lane
23  56:59 Dave Foyston
39  59:06 Helen Thurston
41  59:16 John Hayes
42  59:20 Helen Wood
51  60:12 Roy Ruddle
62  61:56 Tom Worboys
113 71:05 Geoffrey White
140 96:27 Sheena Pickersgill
142 finished

Evensplits 5k, Wed 25 April
From Hilda Coulsey... The latest in this year's evensplits 5ks at the Brownlee centre in Leeds saw only a few Harriers attend, in fact I was on my own in the earlier B run. It was a little chilly and windy but nothing relatively! Great times all round, also Rob Budding nipped under the 20 mins and I the 25 mins. This was the third in the series of 10 so plenty of time to sign up for this fairly flat tarmac circuit and test ourselves throughout the year.
Results ...

(1  16:07 Scott Harrington, Otley)
18  18:09 Dave Westhead 
64  19:57 Rob Budding 
66  20:05 Mark Iley 
95  21:41 Archie Budding 
158 24:50 Hilda Coulsey
201 finished

Filton Flyer Fast 5 km, Tue 24 April
From Adrian Hall ... a wet and windy post-work race near Bristol
Results ...

(1 16:16 Max Walker, unaffiliated)
21 19:39 Adrian Hall
51 ran

London Marathon, Sun 22 April

(1    2:04;17 Eliud Kipchoge, Kenya)
2233  3:13:18 Derek Oliver
3413  3:23:39 Rob Cunningham
4192  3:29:01 Dave Reynier
6631  3:44:42 Lucy Williamson
9315  3:58:20 Tom Worboys
12729 4:15:49 Helen Waddington
16753 4:33:37 Gaenor Coy
31619 5:42:35 Jo-Ann Pattinson
36316 6:17:43 Abi Bailey

Blackpool Marathon, Sun 22 April
From Colin Williams ... The weather in Blackpool was a bit different to London, the temptature was 12 degrees and we started in heavy rain. The rain soon stopped but the return route along the promenade was into a strong wind.
The 2017 Blackpool Marathon was my first marathon, this year event was my 7th and a new PB for me.
Not as flat as you may think with a few ups and downs, a good event for those looking for an alternative to London.
Results ...

(1 2:41:44  Richard Swindlehurst, Poole AC)
57 3:21:55  Colin Williams
574 finished

Anniversary Waltz fell race, Sat 21 April
From Jim Ryder ... I completed the Anniversary Waltz Fell Race in 2h1m30s. Didn't see any other Harriers but a huge field, hot conditions & great views.
parkruns, Sat 21 April
From Petra Bijsterveld ... Results ...

York
1   15:38 Jack Wood
2   16:21 Matt Newell
4   16:52 Ruaridh Mon-Williams
66  20:29 Steve Newell
651 ran

Highbury Fields
(1  17:12 Seyfu Jamaal, U/A)
63  22:18 Geoff Howard
350 ran

Bradford
(1  18:04 Mark Hall, Otley AC)
162 26:32 Steph Fox
181 26:59 Oscar Street
536 ran

Skipton
(1  18:35 Logan Hargreaves-Madhas, Wharfedale Harriers)
32  23:35 Neil Pomfret
193 ran

Bramley 
(1  17:52 Tim Patterson, Airienteers Orienteering Club)
2   18:14 Steven Gott
229 ran

Vale of York 10, Sun 15 April
From Caroline Howe ...The Vale of York 10 took place just a week after the Thirsk 10, thanks to the snow which postponed the latter - so it was a sense of deja vu...! Both are very flat courses, and both Harriers league races. I enjoyed Vale of York more as it was marginally 'less flat', and had a few more turns than Thirsk. It was also on closed country roads, whereas Thirsk is on not-so-scenic open A roads! The Vale of York is a fairly new race on the local calendar, but extremely popular already - a sellout with 1000+ runners. It starts at Rufforth airfield (the first mile is on the runway!) and was well organised, with a decent t-shirt and medal. Six Harriers took part - with Kate Archer continuing her excellent recent form, first Harrier home and 2nd F35. Kate was followed by Colin Williams, Jonathan Turner and Steve Murray in quick succession; then myself and Tom Lally.
I would definitely do this race again. It is similar to the Yorkshire 10 mile in October, which I also recommend. There is also a Vale of York Half Marathon in September which starts at Sherburn-in-Elmet Airfield, for anyone who fancies something similar! However, I think I'm ready for a few hills now...!

(1    55:07 John Clifford, Evenwood)
54  1:06:54 Kate Archer
70  1:08:14 Colin Williams
84  1:09:01 Jonathan Turne
90  1:09:51 Steve Murray
224 1:16:52 Caroline Howe
228 1:17:49 Tom Lally
1152 ran

Skipton triathlon, Sun 15 April
From Val Kerr ... I decided to enter this, my first triathlon, in January, and training in a nice warm swimming pool over the long winter turned out to be a good decision. The only disadvantage was that I didn't manage to get out on my bike until about 3 weeks ago. I really enjoyed the event and the different disciplines (swim 400 m, bike 22 km, run 5k) and was very pleased with my finishing time although my transitions were a bit on the slow side. This is a nice friendly triathlon and a great place to start for anyone wishing to try and emulate the Brownlees. Not sure if any other Harriers took part.

(1    57:26 Matthew Nelson)
467 1:40:30 Val Kerr  
759 finished

Guisborough Moors, Sun 15 Apr

(1  1:24:03 Nick Swinburn, Morpeth Harriers)
75  1:55:06 Roy Ruddle
210 ran

Mourne Highline race, Sat 14 April
From Alison Weston ... Jack Wood had a fantastic run in the Mourne Highline race - the first British Fell Championship race this year. Less than 2 minutes behind the leader Jack came in 3rd, getting stronger throughout the race. Coaches dropped all the competitors at the start of the race at Spelga Dam, with the mist being so low that it was hard to make out the water or any surrounding hills! All hopes of stunning views along the route disappeared as the mist showed no signs of lifting. We were all grateful for the Mourne Wall which ran along the tops and helped with navigation, although I still managed to 'lose' the wall once or twice!

(1  1:35:02 Joshua Jardine, Helm Hill)
3   1:36:43 Jack Wood 
206 2:31:20 Alison Weston  2nd LV50

Hawkeshead 10k Lakeland trail race, Sat 14 April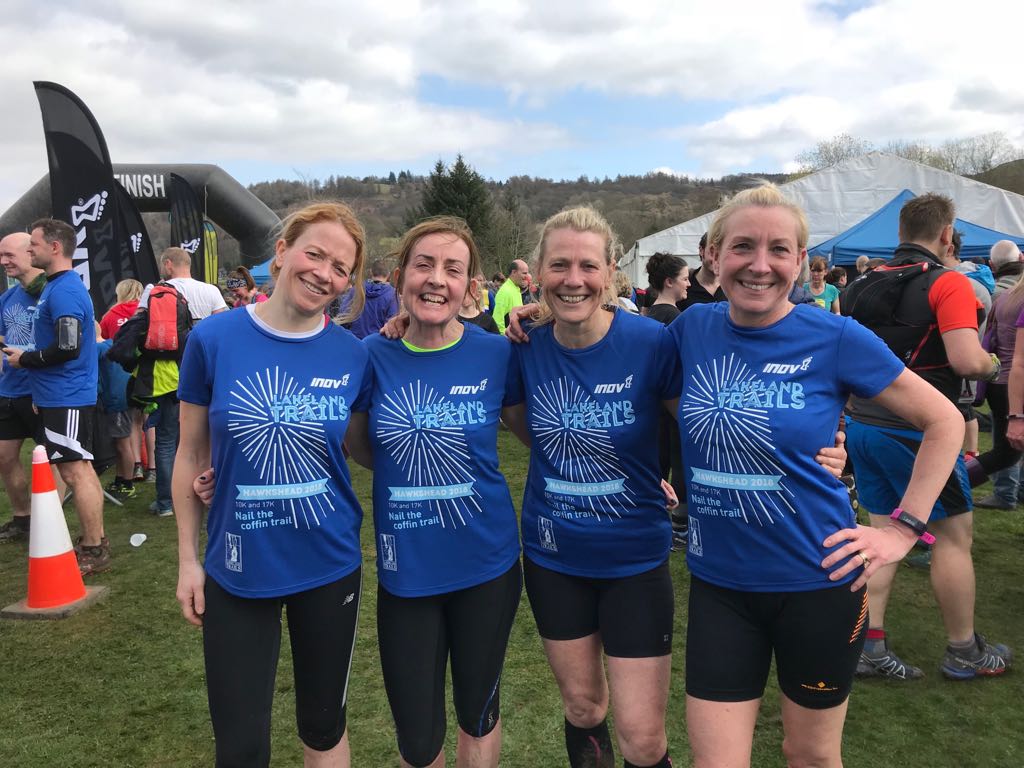 From Jane Bryant ... 4 of us headed up to Hawkeshead for this alleged 10k trail race. We were set off to the sound of drummers from the field. This scenic run took us over muddy fields, through styles and over the Moor before running alongside Lake Coniston and THEN up the dreaded Coffin Trail! This was a rocky wet trail for approx 1m and then down a rocky descent back into Hawkeshead to the announcers voice only to to then turn away from the village and then back in through the fields! I was initially disappointed with my 10k time to find that it was actually 7.4m!
Results ...

10k
(1    48:56 Andrew Payne, Ribble Valley  Harriers)
62  1:09:04 Jane Bryant 1st LV50
104 1:14:19 Anna Nolan
208 1:27:29 Jacqui Weston
466 finished

17km
(1 1:02:44 Tom Payn, inov-8)
21 1:21:59 Jonathan Turner
182 finished

17k Challenge
(1  1:17:06 Andrew Foster, Liverpool Pembroke & Safron)
99  1:41:30 Neil Pomfret
309 2:05:16 Dawn Turner
532 finished

parkruns, Sat 14 April
From Petra Bijsterveld ... Results ...

Woodhouse Moor
(1  16:12 Benjamin Douglas, Leeds City AC)
36  20:17 Tom Worboys
528 ran

Bradford
(1  16:48 Matthew Merrick, Bingley Harriers)
31  21:26 Dave Reynier
71  23:33 Oscar Street
161 26:34 Paula Reynier
610 ran

Roundhay
(1  18:48 Richard Thomson, U/A)
33  22:35 Geoff Howard
314 ran

Fountains Abbey
(1  17:34 Tom Calvert, Knaresborough Striders)
25  20:06 Helen Thurston
517 ran

Bramley
(1  16:13 Joe Baxter, P&B)
2   18:26 Steve Gott
216 ran

Stretford
(1  16:49 Ed Fazakerley, Manchester Harriers)
8   18:15 Rob Cunningham
603 ran

Bunny Run 3, Tue 10 April

1   15:55 Jack Wood, Egg Stage winner 3:23, Series Champion
2   16:18 Jack Cummings
11  18:14 Istvan Jacso
13  18:34 Daniel Lane
34  20:31 Bernadette Raven 1st GU17, 3rd lady
43  21:09 Colin Williams
51  21:40 Helen Wood
52  21:53 James Newman
58  22:17 Malcolm Pickering 1st V60
65  22:58 Harry Stead
77  24:22 Charlotte Elston
106 27:00 Tom Jackson
135 29:49 Anna Pickering
161 finished
Ilkley 1st men's team

Manchester Marathon, Sun 8 April
From Matt Cox ... Last Sunday saw Dick Waddington and I line up for what would be my first road marathon. Training in the run up hadn't quite gone to plan with at least 4 weeks out since Christmas with niggling injuries, but I started in reasonable shape after a good 3-4 weeks of consistent running behind me. Dick and I both started with the 3 hour pacer, and after a brief chat to Dick in the first mile, I pushed on, gaining slightly. The first half felt comfortable, and I was conscious to drink constantly and down gels every 10k. From miles 13 to 20 I made sure not to over cook it as I hadn't done many long training runs (none over 20 Miles!) so wanted to make sure I didn't blow up. By mile 20ish I was feeling ok, and was running well inside 3hr pace, so pushed on and thankfully judged my effort well, with a very hard last mile, to finish in 2.52.55. Dick had a good run up to mile 15, but suffered in the last half to finish in 3.22. Great support, and a good qualifying race for a good for age entry for London 2019...
Baildon Boundary Way, Sun 8 April

(1  1:22:09 Joe Baxter, P&B)
31  1:44:31 Jonathan Sinclair
32  1:44:49 Jonathan Turner
127 2:03:46 Jane Bryant
187 2:15:13 Harry Sime
197 2:17:00 Adela Reperecki
213 2:19:25 Pete Shields
223 2:21:47 David Howe
244 2:28:08 Melanie Edwards
275 2:35:18 Jacqui Weston
337 finished	

Thirsk 10, Sun 8 April

(1    50:30 Dominis Shaw, New Marske Harriers)
96  1:07:53 Colin Williams
132 1:10:39 Steve Murrray
251 1:17:46 Caroie Howe
371 1:25:40 Hilda Coulsey
676 finished

Yorkshire Road Relay Championships, Sat 7 April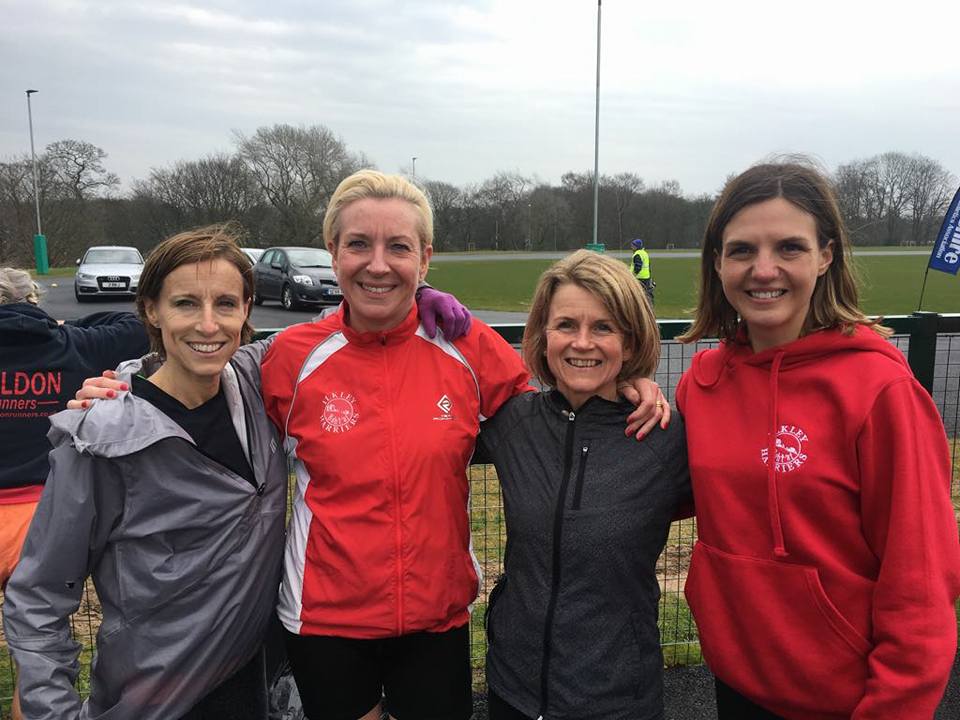 From Caroline Howe ... A team of Sally Malir, Jane Bryant, Jane McCarthy and I finished 10th out of 23 teams. Legs were 2 miles and our overall time was 55:20 with some great individual splits! Moreover, it was a fantastic team occasion and a lot of fun! Results
The team of David Foyston, Matt Newell, Jack Wood and Nathan Edmondson finished an impressive 9th out of 38, while the team of Michael Lomas, Mark Iley, Malcolm Pickering and Arthur Reilly finished 32nd. Well done all! Results
Podium 5k, Sat 7 April
From Geoffrey Howard... A calm, dry, still cool evening at Barrowford provided ideal conditions for the 7 April Podium 5k on Barrowford cycle circuit's superb running surface. There were two races: an A for sub 18 min runners and a B for the "rest". Most of the "rest" became uncatchable even within the first 20 metres and a so pretty much a self-disciplined solo run was called for ending up 33th out of 37 in 21m 37s.
Results ...

(1 17:29 Andy McCue, Skyrac)
33 21:37 Geoffrey Howard
37 finished

Coledale Horseshoe, Sat 7 April
From Alison Weston ... Just two Harriers for Coledale Horseshoe race this year. The race starts from Braithwaite, taking in Grisedale Pike, Eel crag, Sail and Barrow - 9miles and 3000ft climbing. Paul Carman ran the race in 1:33:28 (88th) despite running up and down Blencathra twice the previous day! Alison Weston a good bit further down the field in 1:51:04 (221st and 3rd LV50).
parkruns, Sat 7 April
From Petra Bijsterveld ... Results ...

Bradford
(1  17:39 Timmy Gedin, Arena 80 AC)
22  22:08 Dave Reynier
470 ran

Skipton
(1  18:56 Andrew Cairns, Skipton AC)
17  21:17 Adrian Bastow
30  22:59 Neil Pomfret
181 ran

Stretford
(1  16:52 Gavin Browne, East Cheshire Harriers)
18  18:24 Rob Cunningham
566 ran

Ilkley Harriers newsletter
Read the latest newsletter.
Bunny Run 2, Tue 3 April

1   16:03 Jack Wood
2   16:08 Robert Little
5   16:47 Jack Cummings
18  18:57 Daniel Lane
50  21:06 Bernadette Raven
51  21:08 Colin Williams
65  22:07 Helen Wood
66  22:09 Malcolm Pickering 1st V60
97  24:49 Isabel Macina
111 25:32 Charlotte Elston
112 25:32 Charli Macina
114 25:38 Lucy Jacques
123 finished
Ilkley 1st men's team

Guiseley Gallop, Sun 1 April
Well done to Jack Cummings, race winner. Results ...

1   37:36 Jack Cummings
22  43:49 David Foyston
35  45:47 Jonathan Turner
50  47:06 Colin Williams
148 53:47 Tom Lally
226 59:16 Adela Reperecki
266 61:49 Peter Shields
280 62:34 Jean Sullivan
303 64:09 David Ibbotson
304 64:20 Petra Bijsterveld
310 64:35 Hilda Coulsey
317 65:40 Peter Lewis
326 66:47 Sheena Pickersgil
369 69:33 Ruth Jones
457 finished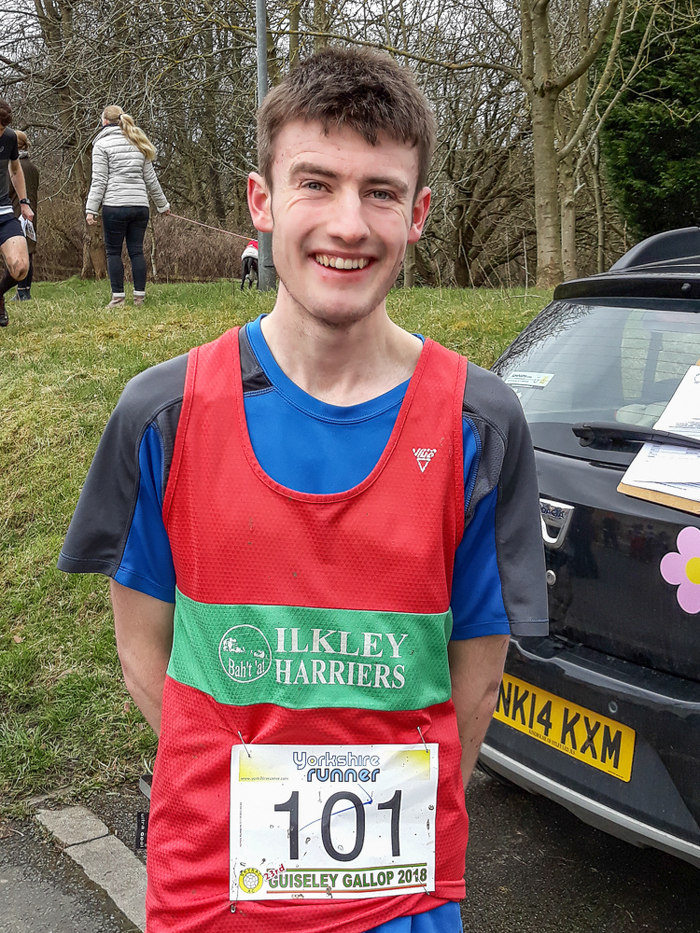 ---
Ilkley Harriers of the Month, March
Harrier of the month nominations: Lucy Williamson 1st lady in Anglesea half marathon in impressive time and with a pb; Tom Adams for 1st place in Monserrat skyrace, Keighley big 10k, Cartmel trail; Jane Bryant for continuing every day running.
The winner is Lucy Williamson.
Volunteer of the month: Pete Shields for his Wednesday sessions; Peter Lewis for newsletter' Petra Bijsterveld for modernising the membership process.
The winner is Petra Bijsterveld.
More Harriers of the Month ...
Other news from the Committee, plus the quarterly junior report, on the Committee page.
Ilkley Harriers newsletter
Read the latest newsletter.
Lakes 42*, Sat 31 March
From Jane McCarthy ... Nav4 Adventure (nav4.co.uk) organise this race (* shortened to 27 miles due to winter conditions) which is part of the RunFurther Series, a 100 something runners and some navigational skills required. The RO took the decision on the evening before to shorten the race due to weather concerns and his reasons for this became very clear once we had left the relatively benign valley conditions and headed for high ground. Fresh snow falling on hard packed old snow made the trails and peaks very slippery. Still a tough route despite the shortening, and no doubt very beautiful if there had been some views!

(1 4h16 Caspar Kaars Sijpesteijn)
43 5h54 Jane McCarthy

parkruns, Sat 31 March
From Petra Bijsterveld ... Results ...

Woodhouse Moor
(1  17:41 Tom Thomas, Hyde Park Harriers)
113 27:19 Petra Bijsterveld
257 ran

Bradford
(1  17:26 Matthew Merrick, Bingley Harriers)
116 26:57 Will Worboys
314 ran

Harrogate
(1  19:22 Mark Bryant, Harrogate Harriers)
3   19:49 David Westhead
294 ran

Chrichton
(1  18:24 Ronan Charlton, Steel City Striders)
12  20:23 Rob Budding
185 ran

2018 Harriers League update
From Jane McCarthy... Three races in to the 2018 Harriers League and some excellent performances and points scored to report. The tough Meltham 10K attracted 7 Harriers, with the highest points score being earned by Jonathan Turner and closely followed by Hilda Coulsey. Next was the BHF Harewood House 10K (or almost) on a glorious day in late February. A fantastic 15 Harriers ran and earned themselves superb points for the League. Four runners gained more than 100 points, thanks to the League Handicap system for age and gender. Hilda's 103 points were followed by 101 points earned for both Jane Bryant and Jonathan Turner, and 100 points for Alison Weston. The first League Fell race of 2018 was the 2.4 mile Bunny Run above Howarth on Penistone Moor - always harder than you think it should be! Jack Wood took the overall win, earning his maximum possible 100 points, closely followed by second place Matt Newell and 4th placed Jack Cummings. David Robson has cleverly nominated his wildcard as Flower Scar fell race where his finish earned him 95 points for the League. April is a busy month for Races, starting with the Guiseley Gallop on Easter Sunday and the rescheduled Thirsk 10 and Baildon Boundary Way on 8th April. Vale of York and Ripon 10K (both Road races in the League) are also in April.
Overall, with one race run in each category, Jonathan Turner currently leads the League table with 275 points, just one point ahead of Hilda Coulsey with 274 points. A good competition starting already. GOOD LUCK to all Harriers in the League Races!
Tables and events on the League page.
Evensplits 5k, Wed 28 March
From Sally Armitage ... results ...

(1  16:16 John Hobbs, Valley Striders)
54  19:51 Robert Budding
66  20:11 Mark Iley
69  20:27 Harry Stead
80  20:49 Sally Armitage
166 27:50 Max Stead
185 finished

Bunny Run 1, Tue 27 March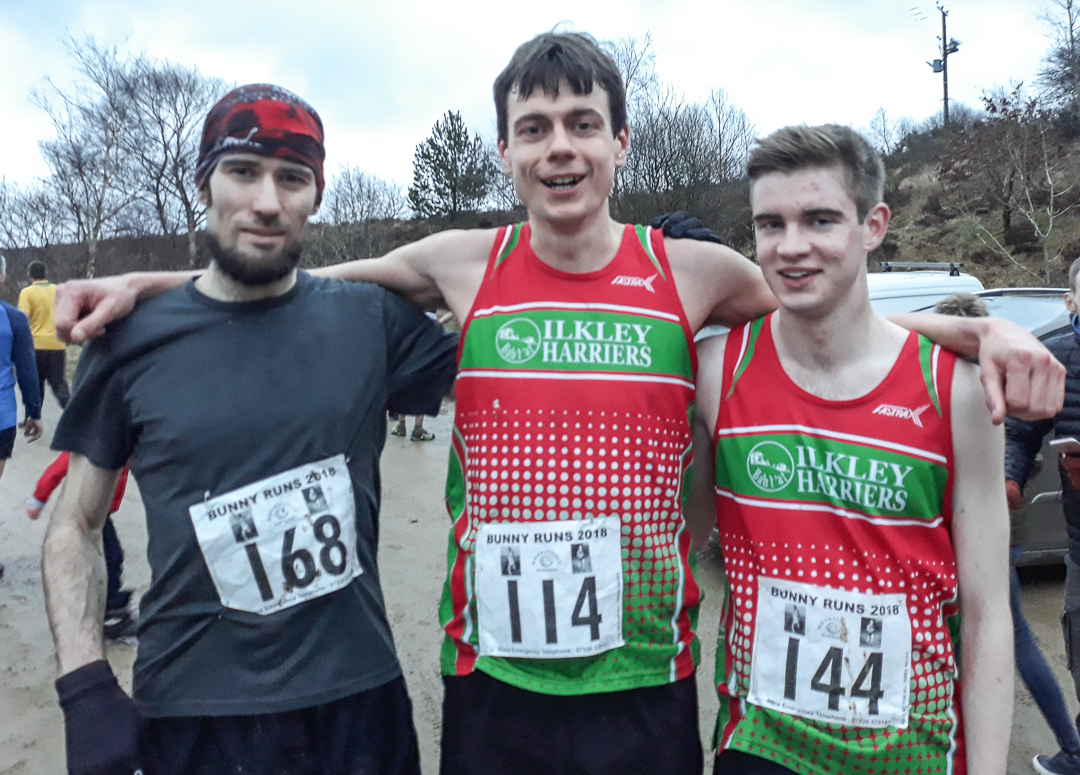 1   16:05 Jack Wood
2   16:11 Matt Newell
3   16:16 Robert Little
4   16:18 Jack Cummings
20  19:12 Daniel Lane
45  20:49 Jonathan Turner
50  21:02 Colin Williams
65  21:53 Malcolm Pickering 1st V60
76  22:36 Helen Wood
99  24:02 Charlotte Elston
105 24:20 Alison Weston
153 29:40 Hilda Coulsey
158 30:12 Anna Pickering
183 finished

Ilkley 1st men's team.
Jack Wood also won the 'egg stage' in 3:35

Heptonstall fell race, Sun 25 March

(1 1:59:43 Joe Baxter, Pudsey & Bramley AC)
2  2:01:41 Jack Wood
13 2:19:06 Steve Turland (1st V50)
45 2:39:54 Gavin Lamb
50 2:42:53 Dave Robson
98 3:24:04 Sarah Haines
109 finished

Garstang Gallop 7, Sun 25 March
From Peter Shields ... I ran the hilly Garstang 7, my first race for some time and managed to win the V70 in 58:34 and 3rd in the V65. A well organised race but rather undulating course.
Results ...

(1 37:28 Joseph Monk, Lancaster University)
82 58:34 Peter Shields
147 finished

parkruns, Sat 24 March
From Petra Bijsterveld ... Results ...

Bradford
1   17:00 Jack Wood
50  23:28 Oscar Street
163 27:14 Stephanie Fox
189 27:55 Paula Reynier
511 ran

Fountains Abbey
(1  17:22 Tom Calvert, Knaresborough Striders)
40  22:09 Geoff Howard
357 ran

Ilkley Harriers Beginners 0-5k Challenge
Always fancied running but don't know where to start? Why not ... take the Ilkley Harriers Zero to 5K Challenge!
Starting Wednesday May 2nd 2018, Ilkley Harriers are running our six week beginners running course again. Details.
Race Round the River 5k, Wed 21 Match
From Alison Bennett ... 734 ran in this 5k organised by Queen's University, Belfast. which according to Adam was "a fast one and completely flat." A total of 28 runners finished in under 16 minutes!

(1  15:02 Neil Johnston, Springwell Running Club)
185 18:57 Adam Bennett
734 ran

Cartmel Lakeland Trail, Sat 17 March
From Dawn Turner ... Some months ago I was cajoled into entering the Lakeland Trail series of races, so it was with some trepidation that I ventured (with said cajoler) to Cartmel for the first event. The temperature was -2 degrees, with a wind chill factor bringing it down to -10 and my knees were knocking with cold and nervousness as I waited in the queue for my number.
I'd entered the 18km 'Challenge', billed as being more about enjoying the views rather than watching the clock, and it began nearly an hour before the more competitive 'Race' over the same course and distance.
Jumping up and down at the start, I did wonder what I'd let myself in for but all that was soon forgotten as we were underway and running along a track into the woods and then out into open countryside. The route was beautiful and not half as muddy as I'd anticipated and soon we were heading up the fells, with glorious views of hills and sea. The atmosphere was one of friendly banter and encouragement - lots of it from the marshalls who braved the cold more than anyone - and there was no shame in power walking up the steeper sections, which I admit I did.
I was expecting to be overtaken by the faster runners from the 'Race' - sure enough with 7km remaining, I heard "Hello, Ilkley" over my shoulder and watched as Tom Adams sprinted gazelle-like past me on the way to his third successive Cartmel victory. That spurred me on and with renewed energy, I headed for home. I finished tired but exhilarated and happy with my first experience of trail running. Would I recommend it? Definitely. Am I doing it again? Yes, the next ones are Hawskhead in April and Staveley in May, with 10km and 5km options also available.
Results ...

18km Race
1   1:08:38 Tom Adams
57  1:38:30 Jonathan Turner
(214 finishers)

18km Challenge
(1   1:30:08 Andrew Foster, Liverpool)
278  2:22:07 Dawn Turner
(472 finishers)

10km
(1     44:10 Ewan Sewell, U/A)
131  1:02:11 Anna Nolan
330  1:13:27 Jacqui Weston
(551 finishers)

parkruns, Sat 17 March
From Petra Bijsterveld ... Results ...

Cardiff
(1  16:27 Glyn Fletcher, Les Croupiers)
8   18:16 Alex Hirst
587 ran

Skipton
1   17:42 Jack Wood
33  27:27 Will Worboys
80 ran

Stretford
(1  16:34 Craig Jones, Manchester YMCA)
134 24:49 Rob Cunningham
439 ran?

Evensplits 5K race 1, Fri 16 March
From Petra Bijsterveld ... The Evensplits 5K series is back at the Brownlee Centre with 10 monthly races in 2018. This was the postponed February race. No snow now, but we did have a bitterly cold stiff breeze to battle against.
With these events coming along every month it is hard to make every single one a target race and this race certainly was not one for me. I ran a personal worst, but apart from the cold I sort of enjoyed it. I battled for much of the way with a V60 lady from Horsforth Harriers which was fun, she managed to cross the finish line ahead of me by just a nose.
Rob Budding ran in the A race after me and did very well, sadly it was just way too cold for me to stay and cheer, especially as I had managed to forget my hat. Roll on summer evenings!
Results ...

(1  16:58 Matthew Hallam, Valley Striders)
41  20:05 Rob Budding
128 27:09 Petra Bijsterveld
141 ran

Keighley BigK 10k, Sun 11 March

1   32:20 Tom Adams
29  41:10 Rob Cunningham
205 51:58 Chris Cunningham
210 52:22 Jan Jones
754 finished

Edale Skyline fell race, Sun 11 March

(1 2:37:13 Carl Bell, Keswick)
31 3:00:46 Jack Wood
391 finished

Muncaster fell race, Sun 11 March
From Jo Foster ... There were two Harriers out for this 10.5 mile race which starts and finishes at Muncaster Castle. Interesting fell terrain with 2 long river crossings - recommended.

5 1:49:12 Jim Ryder 1st V50
9 1:55:28 Will Buckton
38 starters

Dentdale 7, Sat 10 March

(1 43:48 Stephen Jackson, Elvet Striders)
43 67:44 Anna Nolan
147 finished

Dentdale 14, Sat 10 March

(1 1:22:28 Steve Littler, UA?)
9  1:29:01 Ian Fothergill
54 1:39:08 Kate Archer  1st F35
421 finished

Haworth Hobble, Sat 10 March
From Ben Sheppard ... This year's Haworth Hobble offered up extra helpings of water and mud; even a few stubborn snow-bergs resolutely resisting the thaw. After last year's stacked field when it was a GB trials race, 2018 saw a more normal field with not too many fast runners - all the top fell runners presumably being at Edale on Sunday. It was won by Ken Sutor of Cheshire Hash in 4:33. But hero of the day in my book is Ilkley's very own Amanda Parnaby, showing more endurance than any other of the 375 starters and 313 finishers.
Results ...

(1   4:33:18 Ken Sutor, Cheshire Hash)
4    4:42:55 Ben Sheppard
23   5:17:00 Paul Carmen
313 10:44:31 Amanda Parnaby

parkruns, Sat 10 March
From Petra Bijsterveld ... Well done to Helen Thurston who was the first female finisher at Keswick this week! Results ...

Cardiff
(1  16:20 Oliver Williams, Les Croupiers)
11  17:57 Alex Hirst
649 ran

Bradford
(1  17:34 Sam Clegg, Idle AC)
111 25:46 Adela Reperecki
189 28:37 Paula Reynier
401 ran

Crichton
(1  19:30 James Buchanan, U/A)
5   21:45 Robert Budding
133 ran

Keswick
(1  18:04 unknown)
8   20:41 Helen Thurston 1st F
132 ran

Ilkley Harriers of the Month, February
Harrier of the month nominations: Euan Brennan for his impressive 5k time in the Armagh international and 10th in national XC; Jann Smith and Paul Carmen for commitment to training and completing their first ultra, the tough Transgrancanaria; Tom Adams for 1st place at IMFR and Yorkshire Champion.
The winner is Jann Smith and Paul Carmen.
Volunteer of the month: Pete Shields for his Wednesday sessions; Steve Weston for the IMFR race, combined with Yorkshire championships, organisation
The winner is Steve Weston.
More Harriers of the Month ...
Ilkey Harriers Race League
From Jane McCarthy ... there are some Race League changes due to the John Carr cancellation and confirming Bunny Run 1 and Bradford Park Run, now available on the Race League page.
New membership system
During 2018 the club will move towards an online membership management system using PaySubsOnline. Prospective members will be able to register their details with us online, existing members will have access to their own online account where they can update their own contact details, and payment requests for renewals will be sent through this system. As currently, payment via your bank will be encouraged, however payment by cheque will remain an option. Membership data will be held on a secure, UK based server and all data transfer will be encrypted. PaySubsOnline is fully compliant with the Data Protection Act and the forthcoming GDPR legislation. If you any questions about this please feel free to contact the membership secretary on mship@ilkleyharriers.org.uk.
Anglesey half marathon, Sunday 4 March
From Sue Williamson... The UK's most beautiful half marathon. After the recent bad weather, today brought perfect conditions for the Anglesey half marathon and 10K. Lucy ran this half marathon for the second time. She had a great morning coming first female proudly sporting her Ilkley Harriers vest. She ran it in 1:23:56 beating her PB by 3:59

(1 1:10:50 Callum Davidson, Rossendale) 
23 1:23:56 Lucy Williamson
1103 in total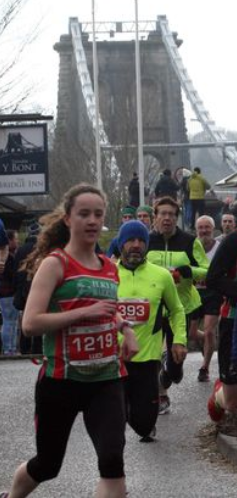 Klassmark Trail Skyrace 25k, Montserrat, Sat 3 March

1 2:07:18 Tom Adams
278 ran

Stan Bradshaw Pendle Round, Sat 3 March

(1 54:03 Alasdair McLeod, Aire)
4  56:31 Jack Wood
48 69:05 Steve Turland
156 finished

parkruns, Sat 3 March
From Petra Bijsterveld ... Results ...

Harrogate
(1  19:02 Mark Bryant, Harrogate Harriers)
116 29:08 David Ibbotson
172 ran

Roundhay (winter course)
(1  19:17 Sam Robins, Chapel Allerton Runners)
65  23:29 Sally Armitage
229 29:19 Petra Bijsterveld
378 ran

---
Ilkley Harriers of the Month, February
Harrier of the month nominations: Euan Brennan for his impressive 5k time in the Armagh international and 10th in national XC; Jann Smith and Paul Carmen for commitment to training and completing their first ultra, the tough Transgrancanaria; Tom Adams for 1st place at IMFR and Yorkshire Champion.
The winner is Jann Smith and Paul Carmen.
Volunteer of the month: Pete Shields for his Wednesday sessions; Steve Weston for the IMFR race, combined with Yorkshire championships, organisation
The winner is Steve Weston.
More Harriers of the Month ...
Harewood Half & 10k, Sun 25 Feb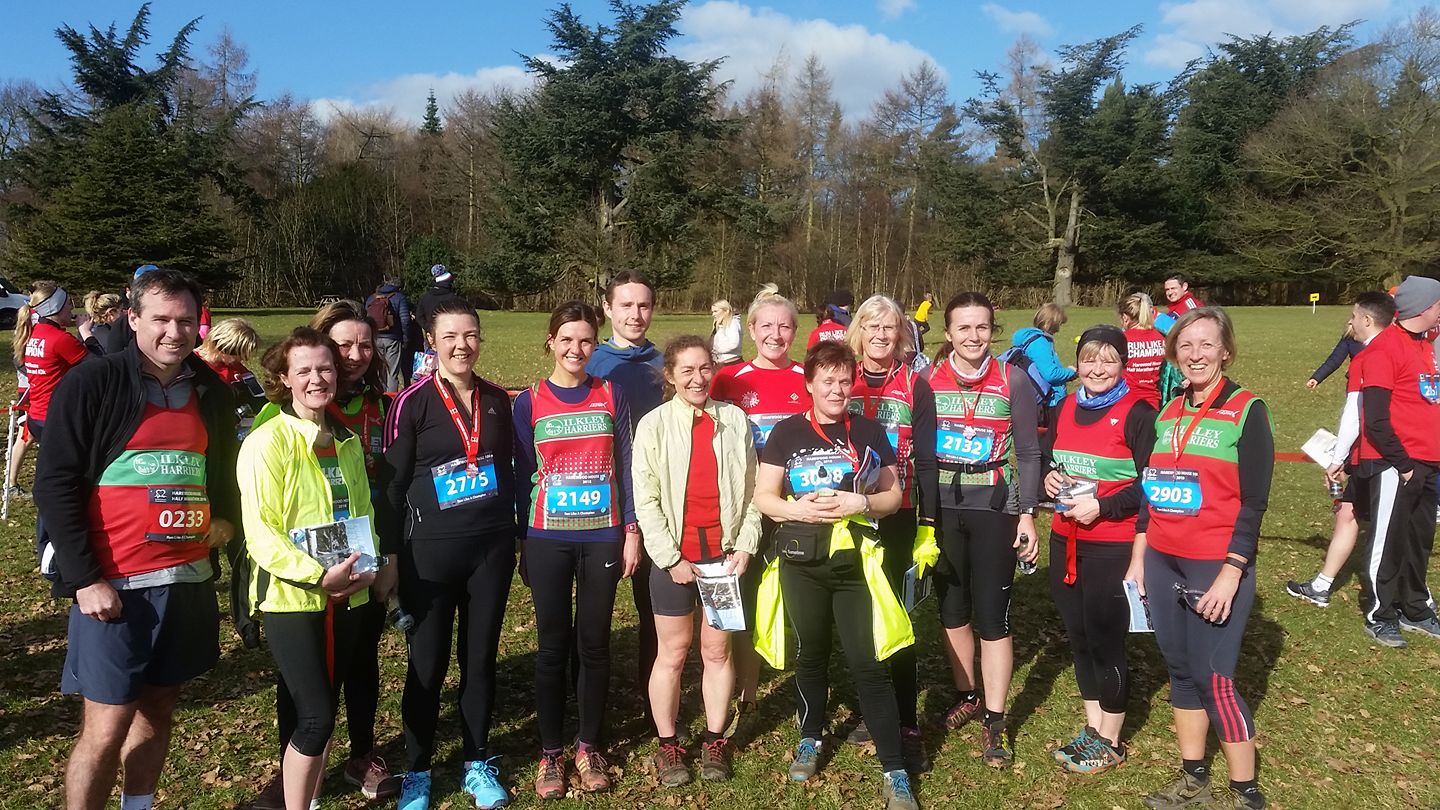 From Caroline Howe... A beautiful day at Harewood House where it was great to see Harriers out in force including several newer members. There were some excellent performances in both distances - Jane McCarthy finishing 3rd female overall and 1st F40 in the half; and Hilda Coulsey 1st F60. Those who did the 10k scored league points in what was the first trail race in the IH league 2018.
Results ...

Half
(1  1:23:45 Mark Smith)
44  1:38:01 Jane McCarthy 3rd F, 1st F40
202 1:53:06 Tom Lally 
257 1:56:40 Adela Reperecki
289 1:59:06 Claire Mcloughlin
291 1:59:08 Mike Baldwin 
295 1:59:17 Helen Waddington 
716 2:32:15 Sally Lynch 
787 2:46:07 Karen Blick 
818 finishers

10k
(1  37:18 Carl Ward)
12  38:47 Will Buckton
16  40:26 Jonathan Turner
52  43:36 Colin Williams
104 46:45 Caroline Howe 
109 46:55 Jane Bryant 
119 47:27 Alison Weston 
179 49:31 Jean Sullivan 
327 53:57 Sheena Pickersgill 
341 54:30 Hilda Coulsey 1st v60
435 56:55 Ruth Jones 
490 58:29 Sarah Hayes 
498 58:36 Sue Verspyck 
517 59:05 Fiona Schneider 
611 62:25 Sue Williamson
854 finishers

High Cup Nick, Sat 24 Feb
From Michael Lomas ... Results ...

(1 62:13 Sam Stead, Keswick AC)
64 76:57 Michael Lomas
82 78:47 Dan Wilkinson
419 finished

Transgrancanaria Advanced, Sat 24 Feb
from Jann Smith ... 64km/10,000 ft Our first ultra and race abroad. This is a big and well organised event running the length of the island from North to South through all the major mountain ranges and national parks. Very rocky terrain and a strong international field.


115 7h20 Paul Carman
168 7h50 Jann Smith
1000 ran

National XC, Sat 24 Feb

Senior men
(1   48:25 Adam Hickey, Southend)
802  52:05 Tim Ashelford
1202 55:56 Stephen Coy
1723 61:38 Steve Weston
2328 finished

Senior women
(1   28:33 Phoebe Law, Kingston)
790  45:18 Diane Kitchen
860  46:54 Petra Bijsterveld
1113 finished

11 juniors ran with some excellent results including:
U17 6th Bethan Morley
U17 10th Euan Brenna
U17 9th boys team

parkruns, Sat 24 Feb
From Petra Bijsterveld ... Results ...

Cardiff
(1  15:15 Kieran Wood, Cambridge and Coleridge)
14  18:21 Alex Hirst
704 ran

Bradford
(1  17:54 Tim Baldwin, Saltaire Striders)
10  19:38 Nina Pearce (junior) 1st F
39  21:43 Dave Reynier
42  21:56 Oscar Street
148 26:17 Adela Reperecki
154 26:31 Will Worboys
177 26:57 Stephanie Fox
218 28:03 Paula Reynier
496 ran

Crichton
(1  16:29 Springfield Striders)
8   20:31 Rob Budding
196 ran

Skipton
(1  18:03 Alex Thompson, Wharfedale Harriers)
6   19:15 Rob Cunningham
16  20:39 Kate Archer 2nd F
26  21:42 Malcolm Pickering
42  23:14 Sarah Pickering
72  25:30 Chris Cunningham
195 ran

Wetherby
(1  19:06 Joseph Kwallah, Wetherby Runners)
13  23:54 Geoff Howard
63 ran

Ilkley Moor fell race, Sun 18 Feb
Results and LOTS of photos on the race page. Tom Adams won the race and the Yorkshire Championship with it.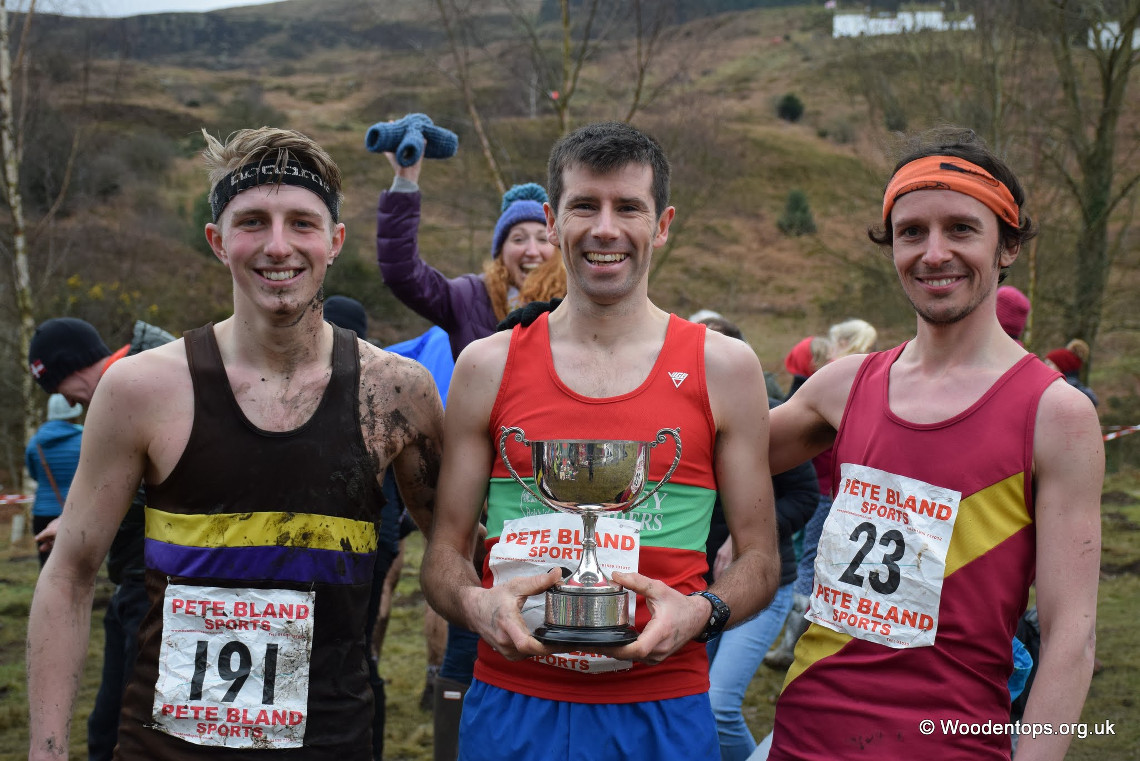 From Steve Weston ... A big thankyou to all the volunteers at helped make the fell race magic happen. Lots of people came up to me and have emailed me to say what a brilliant race it was and how helpful the marshalls were.
In no particular order the volunteers were:
Flagging - Peter Shields, Nick Pearce, Geoff Howard, Neil Chapman
Setup - Don Macrae, Ben Joynson
Race Doctor - Andrew Wilson
Registration & Results - Sue Williamson, Dawn Turner, Paul Stephens, Jacqui Weston, Georgia Weston, Felix Weston
Marshalls - Michael Duffield, David Howe, Hilda Coulsey, Tim Ratcliffe, Jez Nolan, Anna Nolan & Family, Ben Joynson, John Pickering, Dan Wilkinson, Amy Jones, Bernie Gibbons, Caroline Howe
Finish line - Duncan Cooper, Anna Pickering, Christine Reilly, Abigail Bailey, Katie Sutherland
Sweepers - Petra Bijsterveld, Jonathan Turner
.....and that doesn't include all the people that helped out at the the fantastic juniors race which was run by Jane McCarthy.
Flower Scar Fell Race Sun 18 Feb
From Dave Robson ... Returning from injury I had been too late booking the Ilkley Moor Fell Race so I thought I would give Flower Scar a go instead. Well organised by Todmorden Harriers, this is an 8.3 mile fell race with 660m ascent through some challenging terrain.
The initial muddy path gave way to a good tussocky fell section where we disappeared into the mist. Up onto the moor proper, and an unmarked section where the smart line was the direct one. Fortunately I took it due to the runners around me knowing their way through the mist. Then followed an 'alpine' section with conifers, and snow which appeared from nowhere, into a great fast downhill blast by which time my plan to take it 'steadyish' was long gone. A bit more up and down where the muddiest sections had been saved for us and we were back on the downhill path to the finish.
In summary then a tough race with a bit of everything. I'm not sure if it is always on the same weekend as Ilkley Moor but definitely one to give a try.
Results ...

(1 1:11:19 Will Neill, Mercia)
34 1:22:28 Dave Robson
185 finished

parkruns, Sat 17 Feb
From Petra Bijsterveld ... Results ...

Woodhouse Moor
(1  16:50 Chris Smith, Leeds City AC)
190 26:17 Petra Bijsterveld
468 ran

Bradford
(1  16:37 Matthew Merrick, Bingley Harriers)
31  20:53 Rhys Jones
52  22:09 Oscar Street
67  22:55 Arthur Reilly
191 27:30 Paula Reynier
512 ran

Ormeau
(1  18:14 Ian Cleland, Seapark AC)
8   19:46 Adam Bennett
421 ran

Skipton
(1  18:34 unknown)
20  22:50 Geoff Howard
68  26:47 Karen Lambe
154 ran

Bramley
(1  18:29 Sam Clegg, Idle AC)
3   19:19 Steven Gott
167 ran

Stretford
(1  17:21 Mark Offord, U/A)
12  18:38 Rob Cunningham
492 ran

Armagh International 5K, Thu 15 Feb
From Stephen Brennan ... Euan Brennan finished 148th in 15:22 knocking 24 secs off his PB. The event set a world record with 91 runners under 15 minutes.
Results
PECO XC 5, Sun 11 Feb
From Petra Bijsterveld ... Results ...

Senior Men
(1  27:38 Terrence Forrest, Cairngorm Runners)
24  30:11 Steven Gott
68  32:09 Daniel Lane
87  32:49 Steve Coy
182 36:24 Malcolm Pickering
230 39:00 Andrew Jackson
317 43:33 Geoff White
347 46:53 Peter Lewis
381 ran

Senior Women
(1  31:33 Sharon Barlow, Harrogate Harriers)
53  39:01 Helen Wood
79  40:39 Caroline Howe
80  40:46 Sarah Edwards
109 42:53 Adela Reperecki 1st F55
158 45:07 Anna Pickering
175 46:14 Petra Bijsterveld
236 50:51 Kate Lofthouse
264 53:25 Sally Wright
300 68:19 Claire Shouler
303 ran

parkruns, Sat 10 Feb
From Petra Bijsterveld ... Results ...

Bradford
(1  16:19 Matthew Merrick, Bingley Harriers)
43  22:57 Dave Reynier
145 26:46 Will Worboys
155 27:05 Oscar Street
210 28:56 Paula Reynier
423 ran

Skipton
(1  18:04 Lee Athersmith, RAF AC)
35  24:05 Geoff Howard
53  25:27 Chris Cunningham
151 ran

Bolton Abbey Trail Marathon, Sun 4 Feb
From Colin Williams ... I ran my first marathon of 2018 on Sunday, the Bolton Abbey trail marathon. The route was changed twice before the event from three laps of 8.8m to six laps of 4.4m, but then thankfully back to three 8.8m laps. The ankle deep mud and slippery uphill sections sapped the strength out of my legs in places, but I was pleased to finish in a fairly respectable time for me.
Results ...

(1 3:07:34 Jonathan Walton, Leeds City)
7  3:58:04 Colin Williams
76 ran

Dewsbury 10k, Sun 4 Feb
From Petra Bijsterveld ... My 5th Dewsbury 10K in as many years, its PB potential keeps me in its grip. Straight out and back with 115 feet of gradual elevation to climb in the first half, the downhill return is physically and mentally encouraging you towards the finish. Always well organized, last year's race had been rather spoilt by the extra 200 meters we had to run due to the turn having been placed too far up, which ruined a rare chance for me to go sub 50 minutes.
I had not done enough running recently to feel that today was going to be my moment, and stood at the start not expecting too much. Conditions were absolutely perfect, cold but dry, no wind, and even a little ray of sunshine appeared. I reached the turn in 25:44 and managed to speed up a bit to finish in 50:28, which pleasingly is a PB. I could not have given any more this morning, but hopefully one day soon I can lose another 30 seconds! New member Emma Cole and I were the only Harriers there today, regrettably we did not spot each other. Whilst 1200+ runners gave it their all, my attention was drawn to Ismail Patel, the last man to finish in 1 hour and 40 minutes. I had encountered him already on the stairs in Race HQ, a young Asian man with a stick who looked to me like he had suffered a severe stroke. I saw him again on the course as I was on the return leg and he was making his way up the road with the sweeper car behind him, it made me feel quite emotional to see his effort. I googled him and found his story here. A true local hero!
Results ...

(1  29:42  Mohammed Abu-Rezeq, Altrincham AC)
685 50:28 Petra Bijsterveld
954 56:41 Emma Cole
1238 ran

Wadsworth Trog, Sat 3 Feb

(1  2:39:20 Carl Bell, Keswick)
2   2:39:40 Jack Wood
97  4:04:03 Brian Melia
167 5:10:57 Richard Morris
168 finished

Rombalds Stride, Sat 3 Feb
From Ben Sheppard ... Good to see Dan Wilkinson back running again at Rombald's Stride after an extended period of playing out on his bike. He was looking very comfortable when he passed me at Weecher Reservoir but the stabilisers had somewhat fallen off by Menston. Michael Lomas continued his upward trajectory and looks sure to have another good season at this rate. Great running as ever from Jane McCarthy, joint first lady. Martin Stocker got a 20 minute PB. I guess short distance specialist Martin Archer must have really wanted a long chat with the missus as he and Kate ran the whole way together (and they were still on speaking terms afterwards). And there were a host of other good runs from Harriers throughout the field, enjoying or enduring the mud, bogs and snow.
Results ...

(1  2:58:30 Phil Livermore)
3   3:05:27 Ben Sheppard
4   3:05:35 Michael Lomas
6   3:06:39 Dan Wilkinson
10  3:08:39 Paul Carman
22  3:22:01 Jane McCarthy
41  3:41:55 Duncan Cooper
57  3:48:44 Jann Smith
84  3:58:00 Outi Kamarainen
86  3:59:15 Martyn Stocker
94  4:01:43 Kate Archer
95  4:01:43 Martin Archer
115 4:21:05 Adela Reperecki
273 6:33:40 Abigail Bailey
274 6:33:41 Sally Lynch
Any more?
442 finished

parkruns, Sat 3 Feb
From Petra Bijsterveld ... Results ...

Woodhouse Moor
(1  17:25 Tom Thomas, Hyde Park Harriers)
11  19:24 Steve Coy
150 25:28 Gaenor Coy
447 ran

Bradford
(1  19:04 Joseph Kirton, U/A)
22  21:57 Oscar Street
24  22:01 Dave Reynier
130 26:09 Will Worboys
155 27:10 Stephanie Fox
164 27:35 Paula Reynier
413 ran

Skipton
(1  17:41 Louis Hudson, KCAC)
49  24:10 Neil Pomfret
56  24:54 Chris Cunningham
78  26:53 Karen Lambe
161 ran

Bramley
(1  18:40 Terry Midgley, Valley Striders)
3   19:00 Steve Gott
234 ran

---
Ilkley Harriers of the Month, January
Harrier of the month nominations: Jane Bryant for running every day in January (RED); Michael Lomas for coming 4th at Mytholmroyd Fell; Harry Sime for RED; Dawn Turner for RED; Jack Wood for firsts at both Stanbury Splash and Mytholmroyd; Martin Archer for first at Skipton parkrun; Steven Gott for great performances at Peco and Northern XCs.
The winner is Jack Wood.
A special mention for all those Harriers who RED in January.
Volunteer of the month: Jane McCarthy for league updates; Petra Bijsterveld for membership work - renewals and developing new process.
The winner is Petra Bijsterveld.
More Harriers of the Month ...
Meltham (tough) 10k, Sun 28 Jan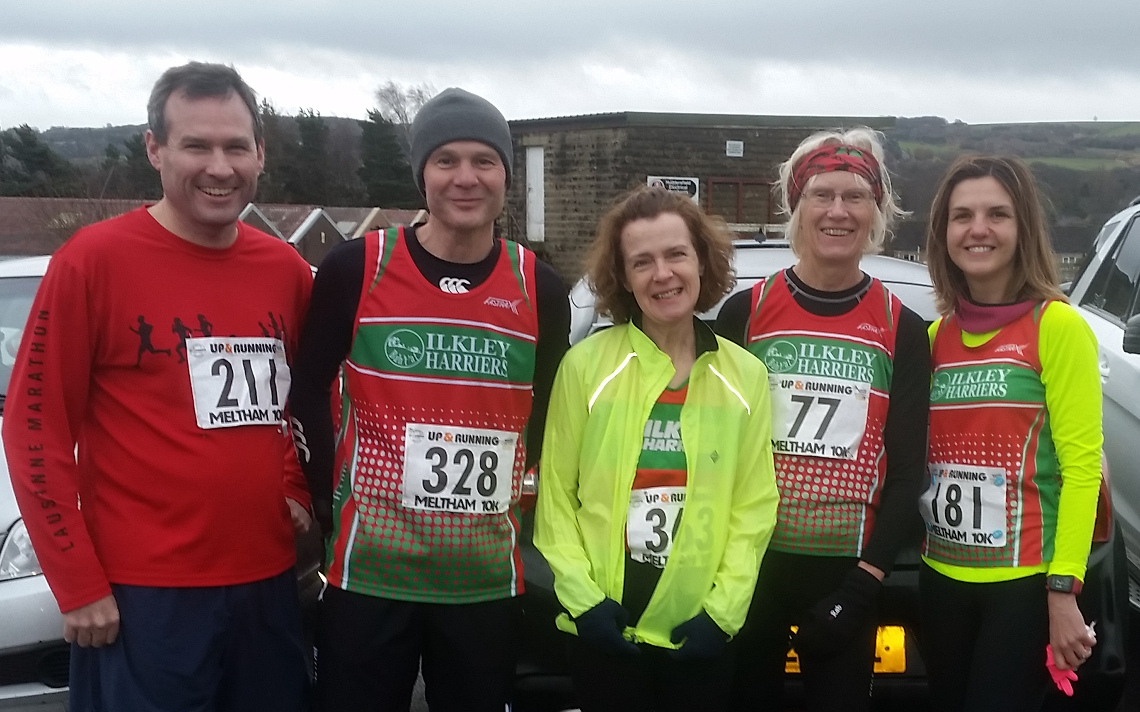 From Caroline Howe... The Meltham (tough) 10k is indeed TOUGH... it is pretty much five miles of ascent, with almost all the descent in the last mile. It was made tougher still with strong winds, which made even some of the downhill hard work, but thankfully it was relatively mild and dry so conditions could have been worse! It was great to see eight Harriers make the trip across to this one, scoring their first IH league points of the year. This is a great race with a friendly atmosphere and lots of small-event charm... a bottle of beer for all participants, and a clubhouse full of cake afterwards topped off an enjoyable morning out! Well done to all who took part!
Results ...

(1  35:16 Scott Hinchcliffe, Penistone Footpath Runnrs)
31  43:12 Jonathan Turner
10  49:01 Tom Lally
131 50:41 Caroline Howe
134 50:49 Philip Hirst
164 52:54 Jean Sullivan
210 56:36 Hilda Coulsey
231 58:15 Sheena Pickersgill
273 62:54 Fiona Schneider
327 finished

Northern XC, Sat 27 Jan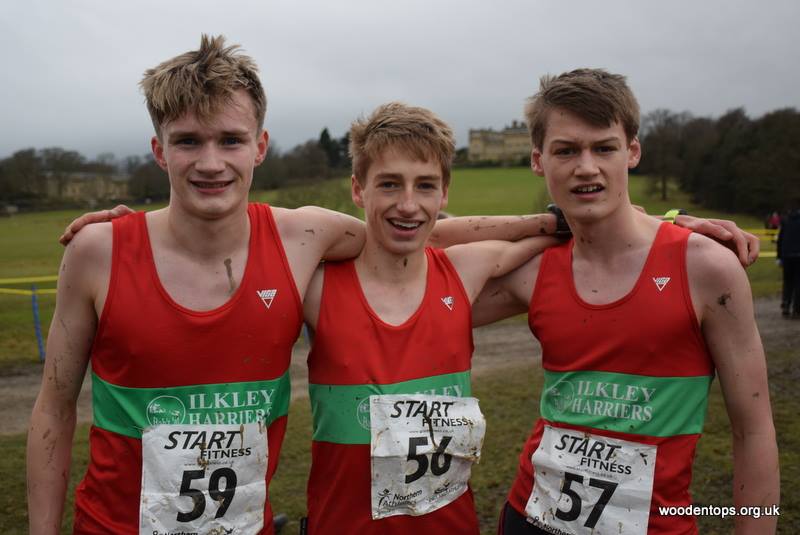 From Petra Bijsterveld ... The Northern Cross Country Championships took place on our doorstep in the grounds of Harewood House this year. The rather undulating course, whilst quite runnable overall, had deep squelchy mud in places, sucking at one's shoes and sapping much of any power in the legs one might have felt whilst still in the starting pens. One would not expect anything less on a decent XC course! A stiff breeze added to the overall challenge. There was good running of our under 13s and under 15s (to be reported on the junior website). In the under 17s there were exceptional results from Euan Brennan, Dom Coy, Cameron Reilly and Bethan Morley. Euan and Cameron have come into the senior club in 2017, and Dom and Bethan will become seniors later this year, and there is much to look forward to from these young people. Unfortunately it needed 4 athletes for a team ranking, had we had another U17 male then Ilkley would have been first team.
In the seniors an outstanding result came from Jack Wood who was 18th in an elite field, Pauline Munro led the Ilkley women home in 57th place. I think it is fair to say a good day out was had by all of us. Regardless of ability or pace, the struggle across the terrain is a great leveler and brings about a lovely team spirit. Next stop the National Championships on Parliament Hill in 4 weeks.
Results ...

U17 men
(1  20:05 Rory Leonard, Morpeth Harriers)
3   20:36 Euan Brennan
8   21:03 Dom Coy (junior club)
12  21:20 Cameron Reilly
117 ran

U17 women
(1  20:48 Ella McNiven, Liverpool Harriers)
5   21:32 Bethan Morley (junior club)
93 ran

Senior men, 24th team out of 57
(1  39:50 Carl Avery, Morpeth Harriers)
18  41:34 Jack Wood
222 49:03 Steven Gott
236 49:26 Tim Ashelford
337 52:12 David Westhead
423 54:23 Steve Coy
518 57:09 Rob Budding
757 81:20 Peter Lewis
761 ran

Senior women, 28th team out of 53
(1  30:50 Mhairi Maclennan, Morpeth Harriers)
57  35:15 Pauline Munro
117 38:47 Kate Archer
271 44:33 Alison Weston
299 46:03 Alison Bennett
343 48:44 Gaenor Coy
366 50:05 Petra Bijsterveld
435 ran

parkruns, Sat 27 Jan
From Petra Bijsterveld ... Tom Adams returns from injury to timed running (mantra: parkrun is a run, not a race!) with a first finish at Bradford, 3 minutes ahead of no.2. Also making an appearance at Bradford were Dave Reynier who has joined us from Saltaire Striders, and Paula, welcome both! Will Worboys was delighted to knock 30 seconds off last week's time on his return to running after a long lay-off. Martin Archer also flies the Ilkley flag with a brilliant first finish at Skipton against what looks like some fierce competition. Chris Cunningham tries another parkrun in Oz this week whilst the rest of us continue to battle the Yorkshire wind and rain.
Results ...

Bradford
1    16:11 Tom Adams
46   22:28 Dave Reynier
53   22:55 Oscar Street
119  25:48 Will Worboys
206  28:35 Paula Reynier
492 ran

Skipton
1   18:24 Martin Archer
98  27:37 Fiona Schneider
177 ran

Stretford
(1  16:40 Josh Sambrook, U/A)
13  18:29 Rob Cunningham
527 ran

Aldinga Beach (AU)
(1  17:26 Mike Klocke, U/A)
11  24:42 Chris Cunningham
52 ran

Mytholmroyd fell race, Sun 21 Jan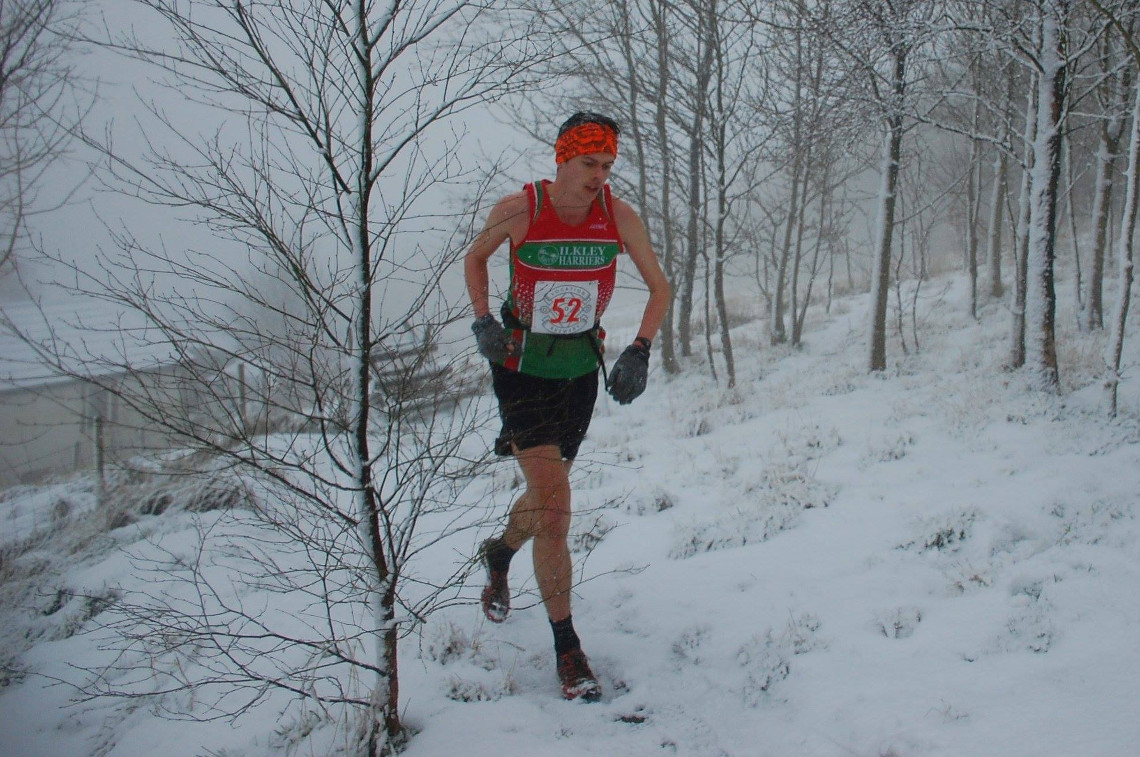 1 49:59 Jack Wood
4 56:43 Michael Lomas
67 ran

Kendal Winter League, Giggleswick School, Sun 21 Jan
From Val Kerr ... Dusted off my fell shoes today for my first 'race' for about 12 months, the second in the KWL series run around the grounds and surroundings of Giggleswick School. Today's race took place under challenging conditions with a blizzard just before the start, rain, deep mud and a very cold, knee deep stream that had to be crossed twice. I survived with numb feet and hands and was pleased not to finish last. This series of races is organised by Helm Hill running club and is similar to the summer BOFRA series with points given for the best 7 of 11 races in the series. Its worth a look at these short (4-5 miles, and cross-country or low fell) and fast races located around the Southern Lakes, Sedbergh and Oxenholme.
PECO XC, Sun 21 Jan

Men
(1  28:11 Terence Forrest, Cairngorm Runners)
27  31:01 Steven Gott
36  31:29 Martin Archer
67  32:48 Daniel Lane
105 34:16 Andrew Overend
144 35:53 Robert Budding
205 38:14 Malcolm Pickering
252 40:21 Andrew Jackson
272 41:25 Phil Hirst
348 47:06 Geoffrey White
389 58:43 Dom Macrae
393 finished

Ladies
(1  32:23 Alice Murray-Gourley, Kirkstall Harriers)
73  40:46 Caroline Howe
114 43:28 Alison Bennett
134 44:38 Diane Kitchen
142 45:14 Ros Brown
168 46:32 Gaenor Coy
201 47:53 Anna Pickering
317 finished

parkruns, Sat 20 Jan
From Petra Bijsterveld ... Due to icy conditions many local parkruns, with the exception of Skipton, were cancelled. Chris Cunningham flew the Ilkley flag at parkrun Australia this week, and I found myself in Germany where parkrun is just starting up. With just 33 runners on a one lap course around a small lake there was plenty of space to run!
Results ...

Skipton
(1  18:37 Chris Barnes, Ribble Valley)
85  26:28 Will Worboys
196 ran

Stretford
(1  17:17 James Savage, Chorlton Runners)
8   18:44 Rob Cunningham
607 ran

Christies Beach (AU)
(1  18:27 Luke Elliott, Southern AC)
34  24:47 Chris Cunningham
131 ran

Rubbenbruchsee (GER)
(1  18:53 Elmar Remus, U/A)
16  26:09 Petra Bijsterveld
33 ran

Annual Awards evening, Fri 19 Jan
The annual Ilkley Harriers celebration and awards 'do', this year at the Wheatley Inn.
Thank you to everyone who filled in a Nomination Form for the awards - we had lots of nominations across the categories which can be viewed here
| Category | 2017 Winner |
| --- | --- |
| Runner of the Year, Male | Jack Wood |
| Runner of the Year, Female | Jane McCarthy |
| Most Improved Runner, Male | Jack Cummings |
| Most Improved Runner, Female | Caroline Howe |
| Best Endurance Runner over 50, Male | Brian Melia |
| Best Endurance Runner over 50, Female | Adele Reperecki |
| Best Endurance Runner, Male | Ben Sheppard |
| Best Endurance Runner, Female | Helen Waddington |
| Best Runner, Under 23, Male | Euan Brennan |
| Best Runner, Under 23, Female | Lucy Williamson |
| Best Runner, Over 50, Male | Derek Oliver |
| Best Runner, Over 50, Female | Alison Weston |
| Contribution to the club, Male | Neil Chapman |
| Contribution to the club, Female | Hilda Coulsey |
| Captains Award; Male | Ben Joynson |
| Captains Sward; Female | Sally Malir |
| Special Contribution Award | Gaenor and Steve Coy |
| Recognition of coaches | Jane Bryant, Neil Chapman, Pete Shields |
| Recognition of Bob Graham Round | Steve Turland |
| Website | Paul Wood |
| League winner | Jane McCarthy |
| League road | Jane McCarthy |
| League fell | Jack Cummings |
| League trail | Jane McCarthy |
Brass Monkey half marathon, Sun 14 Jan
From Kate Archer... Results ...

(1  1:07:12  Jamie Parkinson, Thames Hare & Hounds)
277 1:28:44  Steve Coy
357 1:31:58  Kate Archer
1486 finished

Stanbury Splash, Sun 14 Jan

1   45:44 Jack Wood
24  53:16 Michael Lomas
94  61:14 Alistair Barlow
95  61:20 Colin Williams
161 67:49 Alison Weston
182 69:23 Mary Gibbons
221 75:01 Anna Barlow
265 80:33 Peter Lewis
288 90:42 Amanda Newham
305 finished

parkruns, Sat 13 Jan
From Petra Bijsterveld ... Results ...

Woodhouse Moor
(1  17:39 Matthew Akpan, U/A)
238 26:32 Petra Bijsterveld
646 ran

Bradford Lister Park
(1  17:06 Michael Malyon, Baildon Runners)
43  22:15 Malcolm Pickering
47  22:26 Oscar Street
141 26:25 Will Worboys
200 27:59 Anna Pickering
563 ran

?Carlisle
(1  18:08 Robin Regan, Eden Runners)
33  23:40 Sarah Pickering
287 ran

Portrush, N.I.
(1  19:18 Richard Stringer, U/A)
46  27:06 Hilda Coulsey?
113 ran

Skipton
(1  18:35 Archie Scott, Bingley)
41  23:47 Geoff Howard
79  26:34 Gaenor Coy
91  27:33 Fiona Schneider
220 ran

Bramley
(1  18:26 Matthew Pinnock, Pudsey Pacers)
3   19:09 Steven Gott
276 ran

Stretford
(1  16:26 unknown)
7   18:40 Rob Cunningham
618 ran

PECO XC, Sun 7 Jan

Men
(1  26:44 Nathan Marsh, Leeds Uni)
37  29:50 Steven Gott
90  31:51 Daniel Lane
111 32:37 Andrew Overend
225 35:38 Robert Budding
310 38:22 Andrew Jackson
459 46:07 Peter Lewis
501 53:42 Peter Lewis
506 finished

Ladies
(1  31:35 Sarah Garbutt, STAC)
5   33:17 Jane Mccarthy
36  36:14 Rachel Carter
89  39:31 Caroline Howe
116 41:10 Adela Reperecki
165 43:26 Diane Kitchen
200 44:49 Hilda Coulsey
218 45:43 Nicola Budding
229 46:10 Gaenor Coy
233 46:21 Petra Bijsterveld
287 49:34 Kate Lofthouse
326 51:42 Wendy Bishop
384 62:27 Clare Shouler
389 finished

Yorkshire XC, Sat 6 Jan

Women
(1  29:23 Clare Duck, Leeds)
104 45:11 Gaenor Coy
106 45:29 Petra Bijsterveld
132 finished

Men 21st team
(1  33:29 Emile Cairess, Leeds)
22  37:06 Jack Wood
83  41:16 Tim Ashelford
176 47:05 Steve Coy
186 47:48 Robert Budding
187 47:56 Steve Weston
196 49:38 Mark Iley
217 50:43 Arthur Reilly
251 finished

From Gaenor Coy ... 5 Yorkshire vests earned for the juniors. Wilbur Summerson the 1st of the day finishing 6th in the U13 boys race. Bethan Morley was overall winner of the U17 girls and then a triple qualification for U17 boys with Euan Brennan in 2nd place, Dom Coy in 6th and Cameron Reilly 7th place, also winning the 1st team prize. (24 juniors running.)
parkruns, Sat 6 Jan
From Petra Bijsterveld ... Results ...

Cardiff
(1  16:16 Craig Hudson, Newport Harriers)
13  18:01 Alex Hirst
814 ran

Skipton
(1  17:45 Jake Ridding, U/A)
33  23:01 Neil Pomfret
40  23:33 Caroline Howe
59  25:25 Jane Bryant
207 ran

Fountains Abbey
(1  17:23 Tom Calvert, Knaresborough Striders)
37  22:31 Geoffrey Howard
392 ran

Stretford
(1  17:30 Andrew Haney, Chorlton Runners)
9   18:34 Rob Cunningham
650 ran

Nine Standards fell race, Mon 1 Jan

(1 54:55 Benjamin Riddell, Salford)
38 69:51 Colin Williams
133 finished

parkruns, New Year's Day
From Petra Bijsterveld ... Results ...

Woodhouse Moor
(1  17:07 Ciaran Forde, Horsforth Harriers)
310 28:53 Alex Stanley-Hyde
460 ran

Skipton
(1  16:23 Alix Ramsier, South London Harriers)
20  21:57 Ben Joynson
30  22:23 Kate Archer
183 ran

---