Ilkley Harriers news archive 2018
Ilkley Harriers of the Month, March
Harrier of the month nominations: Lucy Williamson 1st lady in Anglesea half marathon in impressive time and with a pb; Tom Adams for 1st place in Monserrat skyrace, Keighley big 10k, Cartmel trail; Jane Bryant for continuing every day running.
The winner is Lucy Williamson.
Volunteer of the month: Pete Shields for his Wednesday sessions; Peter Lewis for newsletter' Petra Bijsterveld for modernising the membership process.
The winner is Petra Bijsterveld.
More Harriers of the Month ...
Other news from the Committee, plus the quarterly junior report, on the Committee page.
Ilkley Harriers newsletter
Read the latest newsletter.
Lakes 42*, Sat 31 March
From Jane McCarthy ... Nav4 Adventure (nav4.co.uk) organise this race (* shortened to 27 miles due to winter conditions) which is part of the RunFurther Series, a 100 something runners and some navigational skills required. The RO took the decision on the evening before to shorten the race due to weather concerns and his reasons for this became very clear once we had left the relatively benign valley conditions and headed for high ground. Fresh snow falling on hard packed old snow made the trails and peaks very slippery. Still a tough route despite the shortening, and no doubt very beautiful if there had been some views!

(1 4h16 Caspar Kaars Sijpesteijn)
43 5h54 Jane McCarthy

parkruns, Sat 31 March
From Petra Bijsterveld ... Results ...

Woodhouse Moor
(1  17:41 Tom Thomas, Hyde Park Harriers)
113 27:19 Petra Bijsterveld
257 ran

Bradford
(1  17:26 Matthew Merrick, Bingley Harriers)
116 26:57 Will Worboys
314 ran

Harrogate
(1  19:22 Mark Bryant, Harrogate Harriers)
3   19:49 David Westhead
294 ran

Chrichton
(1  18:24 Ronan Charlton, Steel City Striders)
12  20:23 Rob Budding
185 ran

2018 Harriers League update
From Jane McCarthy... Three races in to the 2018 Harriers League and some excellent performances and points scored to report. The tough Meltham 10K attracted 7 Harriers, with the highest points score being earned by Jonathan Turner and closely followed by Hilda Coulsey. Next was the BHF Harewood House 10K (or almost) on a glorious day in late February. A fantastic 15 Harriers ran and earned themselves superb points for the League. Four runners gained more than 100 points, thanks to the League Handicap system for age and gender. Hilda's 103 points were followed by 101 points earned for both Jane Bryant and Jonathan Turner, and 100 points for Alison Weston. The first League Fell race of 2018 was the 2.4 mile Bunny Run above Howarth on Penistone Moor - always harder than you think it should be! Jack Wood took the overall win, earning his maximum possible 100 points, closely followed by second place Matt Newell and 4th placed Jack Cummings. David Robson has cleverly nominated his wildcard as Flower Scar fell race where his finish earned him 95 points for the League. April is a busy month for Races, starting with the Guiseley Gallop on Easter Sunday and the rescheduled Thirsk 10 and Baildon Boundary Way on 8th April. Vale of York and Ripon 10K (both Road races in the League) are also in April.
Overall, with one race run in each category, Jonathan Turner currently leads the League table with 275 points, just one point ahead of Hilda Coulsey with 274 points. A good competition starting already. GOOD LUCK to all Harriers in the League Races!
Tables and events on the League page.
Evensplits 5k, Wed 28 March
From Sally Armitage ... results ...

(1  16:16 John Hobbs, Valley Striders)
54  19:51 Robert Budding
66  20:11 Mark Iley
69  20:27 Harry Stead
80  20:49 Sally Armitage
166 27:50 Max Stead
185 finished

Bunny Run 1, Tue 27 March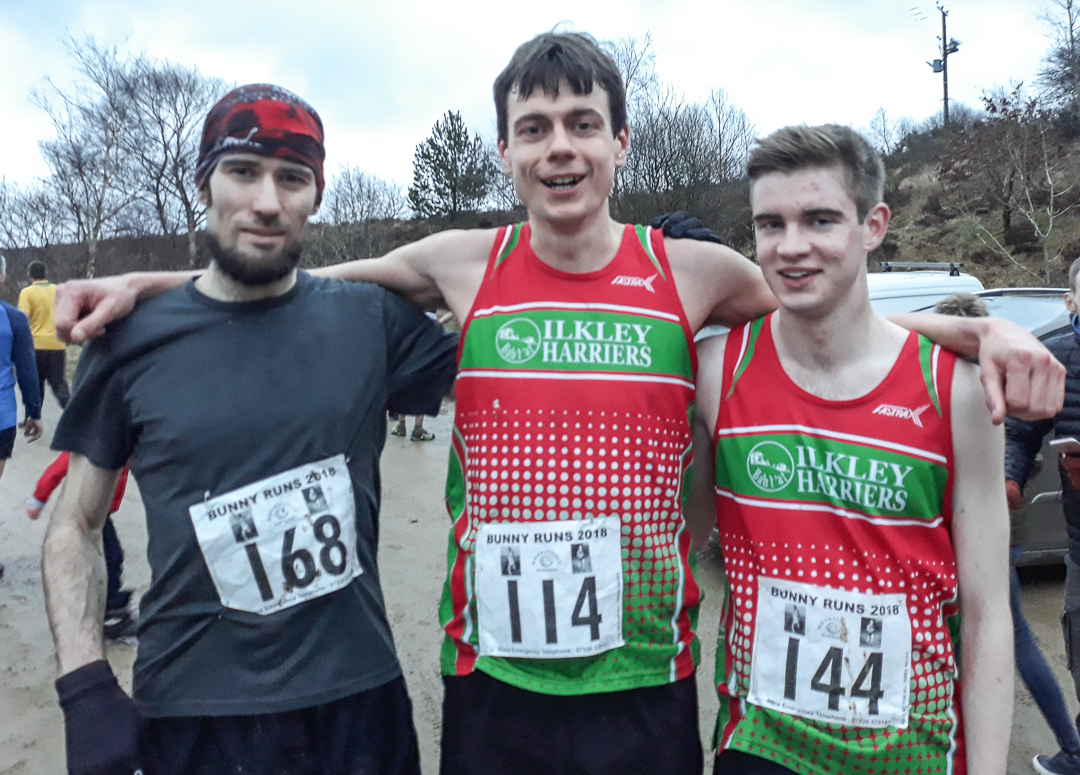 1   16:05 Jack Wood
2   16:11 Matt Newell
3   16:16 Robert Little
4   16:18 Jack Cummings
20  19:12 Daniel Lane
45  20:49 Jonathan Turner
50  21:02 Colin Williams
65  21:53 Malcolm Pickering 1st V60
76  22:36 Helen Wood
99  24:02 Charlotte Elston
105 24:20 Alison Weston
153 29:40 Hilda Coulsey
158 30:12 Anna Pickering
183 finished

Ilkley 1st men's team.
Jack Wood also won the 'egg stage' in 3:35

Heptonstall fell race, Sun 25 March

(1 1:59:43 Joe Baxter, Pudsey & Bramley AC)
2  2:01:41 Jack Wood
13 2:19:06 Steve Turland (1st V50)
45 2:39:54 Gavin Lamb
50 2:42:53 Dave Robson
98 3:24:04 Sarah Haines
109 finished

Garstang Gallop 7, Sun 25 March
From Peter Shields ... I ran the hilly Garstang 7, my first race for some time and managed to win the V70 in 58:34 and 3rd in the V65. A well organised race but rather undulating course.
Results ...

(1 37:28 Joseph Monk, Lancaster University)
82 58:34 Peter Shields
147 finished

parkruns, Sat 24 March
From Petra Bijsterveld ... Results ...

Bradford
1   17:00 Jack Wood
50  23:28 Oscar Street
163 27:14 Stephanie Fox
189 27:55 Paula Reynier
511 ran

Fountains Abbey
(1  17:22 Tom Calvert, Knaresborough Striders)
40  22:09 Geoff Howard
357 ran

Ilkley Harriers Beginners 0-5k Challenge
Always fancied running but don't know where to start? Why not ... take the Ilkley Harriers Zero to 5K Challenge!
Starting Wednesday May 2nd 2018, Ilkley Harriers are running our six week beginners running course again. Details.
Race Round the River 5k, Wed 21 Match
From Alison Bennett ... 734 ran in this 5k organised by Queen's University, Belfast. which according to Adam was "a fast one and completely flat." A total of 28 runners finished in under 16 minutes!

(1  15:02 Neil Johnston, Springwell Running Club)
185 18:57 Adam Bennett
734 ran

Cartmel Lakeland Trail, Sat 17 March
From Dawn Turner ... Some months ago I was cajoled into entering the Lakeland Trail series of races, so it was with some trepidation that I ventured (with said cajoler) to Cartmel for the first event. The temperature was -2 degrees, with a wind chill factor bringing it down to -10 and my knees were knocking with cold and nervousness as I waited in the queue for my number.
I'd entered the 18km 'Challenge', billed as being more about enjoying the views rather than watching the clock, and it began nearly an hour before the more competitive 'Race' over the same course and distance.
Jumping up and down at the start, I did wonder what I'd let myself in for but all that was soon forgotten as we were underway and running along a track into the woods and then out into open countryside. The route was beautiful and not half as muddy as I'd anticipated and soon we were heading up the fells, with glorious views of hills and sea. The atmosphere was one of friendly banter and encouragement - lots of it from the marshalls who braved the cold more than anyone - and there was no shame in power walking up the steeper sections, which I admit I did.
I was expecting to be overtaken by the faster runners from the 'Race' - sure enough with 7km remaining, I heard "Hello, Ilkley" over my shoulder and watched as Tom Adams sprinted gazelle-like past me on the way to his third successive Cartmel victory. That spurred me on and with renewed energy, I headed for home. I finished tired but exhilarated and happy with my first experience of trail running. Would I recommend it? Definitely. Am I doing it again? Yes, the next ones are Hawskhead in April and Staveley in May, with 10km and 5km options also available.
Results ...

18km Race
1   1:08:38 Tom Adams
57  1:38:30 Jonathan Turner
(214 finishers)

18km Challenge
(1   1:30:08 Andrew Foster, Liverpool)
278  2:22:07 Dawn Turner
(472 finishers)

10km
(1     44:10 Ewan Sewell, U/A)
131  1:02:11 Anna Nolan
330  1:13:27 Jacqui Weston
(551 finishers)

parkruns, Sat 17 March
From Petra Bijsterveld ... Results ...

Cardiff
(1  16:27 Glyn Fletcher, Les Croupiers)
8   18:16 Alex Hirst
587 ran

Skipton
1   17:42 Jack Wood
33  27:27 Will Worboys
80 ran

Stretford
(1  16:34 Craig Jones, Manchester YMCA)
134 24:49 Rob Cunningham
439 ran?

Evensplits 5K race 1, Fri 16 March
From Petra Bijsterveld ... The Evensplits 5K series is back at the Brownlee Centre with 10 monthly races in 2018. This was the postponed February race. No snow now, but we did have a bitterly cold stiff breeze to battle against.
With these events coming along every month it is hard to make every single one a target race and this race certainly was not one for me. I ran a personal worst, but apart from the cold I sort of enjoyed it. I battled for much of the way with a V60 lady from Horsforth Harriers which was fun, she managed to cross the finish line ahead of me by just a nose.
Rob Budding ran in the A race after me and did very well, sadly it was just way too cold for me to stay and cheer, especially as I had managed to forget my hat. Roll on summer evenings!
Results ...

(1  16:58 Matthew Hallam, Valley Striders)
41  20:05 Rob Budding
128 27:09 Petra Bijsterveld
141 ran

Keighley BigK 10k, Sun 11 March

1   32:20 Tom Adams
29  41:10 Rob Cunningham
205 51:58 Chris Cunningham
210 52:22 Jan Jones
754 finished

Edale Skyline fell race, Sun 11 March

(1 2:37:13 Carl Bell, Keswick)
31 3:00:46 Jack Wood
391 finished

Muncaster fell race, Sun 11 March
From Jo Foster ... There were two Harriers out for this 10.5 mile race which starts and finishes at Muncaster Castle. Interesting fell terrain with 2 long river crossings - recommended.

5 1:49:12 Jim Ryder 1st V50
9 1:55:28 Will Buckton
38 starters

Dentdale 7, Sat 10 March

(1 43:48 Stephen Jackson, Elvet Striders)
43 67:44 Anna Nolan
147 finished

Dentdale 14, Sat 10 March

(1 1:22:28 Steve Littler, UA?)
9  1:29:01 Ian Fothergill
54 1:39:08 Kate Archer  1st F35
421 finished

Haworth Hobble, Sat 10 March
From Ben Sheppard ... This year's Haworth Hobble offered up extra helpings of water and mud; even a few stubborn snow-bergs resolutely resisting the thaw. After last year's stacked field when it was a GB trials race, 2018 saw a more normal field with not too many fast runners - all the top fell runners presumably being at Edale on Sunday. It was won by Ken Sutor of Cheshire Hash in 4:33. But hero of the day in my book is Ilkley's very own Amanda Parnaby, showing more endurance than any other of the 375 starters and 313 finishers.
Results ...

(1   4:33:18 Ken Sutor, Cheshire Hash)
4    4:42:55 Ben Sheppard
23   5:17:00 Paul Carmen
313 10:44:31 Amanda Parnaby

parkruns, Sat 10 March
From Petra Bijsterveld ... Well done to Helen Thurston who was the first female finisher at Keswick this week! Results ...

Cardiff
(1  16:20 Oliver Williams, Les Croupiers)
11  17:57 Alex Hirst
649 ran

Bradford
(1  17:34 Sam Clegg, Idle AC)
111 25:46 Adela Reperecki
189 28:37 Paula Reynier
401 ran

Crichton
(1  19:30 James Buchanan, U/A)
5   21:45 Robert Budding
133 ran

Keswick
(1  18:04 unknown)
8   20:41 Helen Thurston 1st F
132 ran

Ilkley Harriers of the Month, February
Harrier of the month nominations: Euan Brennan for his impressive 5k time in the Armagh international and 10th in national XC; Jann Smith and Paul Carmen for commitment to training and completing their first ultra, the tough Transgrancanaria; Tom Adams for 1st place at IMFR and Yorkshire Champion.
The winner is Jann Smith and Paul Carmen.
Volunteer of the month: Pete Shields for his Wednesday sessions; Steve Weston for the IMFR race, combined with Yorkshire championships, organisation
The winner is Steve Weston.
More Harriers of the Month ...
Ilkey Harriers Race League
From Jane McCarthy ... there are some Race League changes due to the John Carr cancellation and confirming Bunny Run 1 and Bradford Park Run, now available on the Race League page.
New membership system
During 2018 the club will move towards an online membership management system using PaySubsOnline. Prospective members will be able to register their details with us online, existing members will have access to their own online account where they can update their own contact details, and payment requests for renewals will be sent through this system. As currently, payment via your bank will be encouraged, however payment by cheque will remain an option. Membership data will be held on a secure, UK based server and all data transfer will be encrypted. PaySubsOnline is fully compliant with the Data Protection Act and the forthcoming GDPR legislation. If you any questions about this please feel free to contact the membership secretary on mship@ilkleyharriers.org.uk.
Anglesey half marathon, Sunday 4 March
From Sue Williamson... The UK's most beautiful half marathon. After the recent bad weather, today brought perfect conditions for the Anglesey half marathon and 10K. Lucy ran this half marathon for the second time. She had a great morning coming first female proudly sporting her Ilkley Harriers vest. She ran it in 1:23:56 beating her PB by 3:59

(1 1:10:50 Callum Davidson, Rossendale) 
23 1:23:56 Lucy Williamson
1103 in total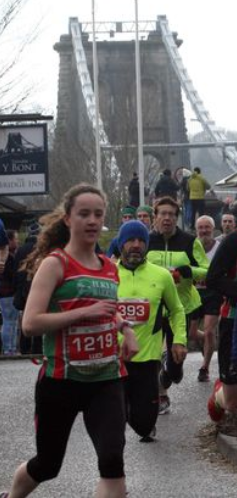 Klassmark Trail Skyrace 25k, Montserrat, Sat 3 March

1 2:07:18 Tom Adams
278 ran

Stan Bradshaw Pendle Round, Sat 3 March

(1 54:03 Alasdair McLeod, Aire)
4  56:31 Jack Wood
48 69:05 Steve Turland
156 finished

parkruns, Sat 3 March
From Petra Bijsterveld ... Results ...

Harrogate
(1  19:02 Mark Bryant, Harrogate Harriers)
116 29:08 David Ibbotson
172 ran

Roundhay (winter course)
(1  19:17 Sam Robins, Chapel Allerton Runners)
65  23:29 Sally Armitage
229 29:19 Petra Bijsterveld
378 ran

---