Ilkley Harriers news archive 2018
Outstanding Achievements, June
From the Committee ... we have the following nominations this month. We have decided not to choose winners from now on, simply to acknowledge your nominations as "outstanding achievements". The nomination process should continue as previously, thank you Jean Sullivan for our excellent overview and reminder of all the great stuff going on in the previous month, which will also continue. We need you to continue to nominate what has struck you as amazing in the month.
Euan Brennan 2nd in international youth mountain running cup with GB getting first Gold
Tom Worboys 3rd in Gargrave ultra
Helen Waddington for record in Ilkley Skyline and Swaledale Marathon
Paul Carmen 1st in Lakes 10 peaks (Bob Graham previous month)
Rob Little 1st Beamsley Beacon, 2nd at Otley 10m, 1sts or 2nd in HDSRL races
Helen Wood 1st lady at Buckden Pike
Jack Cummings 2nd in 5 fell races and lots of other top placings this month
Caroline Howe for organising the Boundary Millennium Way relay
Neil Chapman for putting on our race for HDSRL
Petra Bijsterveld, Abi Bailey and Hilda Coulsey for the Beginners 0-5k programme.
Saunders Lakeland Mountain Marathon, 30 June and 1 July
From Kate Archer ... Outi and I completed the Saunders mountain marathon this weekend. We had selected the Kirkfell class. Starting at Grasmere we were given eight control points to visit before reaching our overnight camp. Then start again the next morning with a new list of control points to take us finally back to Grasmere.
The weather was very hot so our plan at the start was to take it really steady which turned out to be a good plan as much of the route was really tough going with some very difficult descents and steep climbs. I had underestimated the event and found day one tough and wondered whether perhaps we had selected too long a class. I had also not packed enough food (fortunately Outi had a bit extra). After 8 and a half hours we reached the overnight camp and were pleased to discover we were 16th in our class and the only female team to have completed the day.
After a not very satisfying meal, a couple of cans of beer (beer and milk being the only items we didn't have to carry) and an uncomfortable nights sleep, we set off on day 2. The course for day 2 was a little easier though our legs were very weary. Outi did a fantastic job of finding all our control points and we finally reached the finish and found that we had moved up a few places to 13th of 22 teams to finish (39 started), our finishing time was 14 hours 45 minutes. Overall a fantastic experience.
Ilkley Skyline Fell Challenge (relay), Sat 30 June
From Paul Castle... Robin Nicholson, Andy McCue (Skyrac) and I teamed up to have a go at the Relay version of the Ilkley Skyline Fell Challenge on Saturday 30th June, having read about the scorching pace set by Jane McCarthy, Kate Archer and Jann Smith last year in a time of 3.04 hours. For those unfamiliar with the route, it starts and finishes at the door of the Hermit pub in Burley Woodhead, covering 22 miles in clockwise fashion and involving various touchpoints and summits along Burley Moor, Rombalds Moor, Ilkley Moor, Addingham, Beamsley Beacon, Round Hill, Ellercarr Pike and then back down through Burley over the stepping stones at the River Wharf. The Relay version is divided into 3 Legs (with changeovers at Windgate Nick and at Ellercarr Pike) and we were grateful for some road support from Robin's wife Debbie and son Ethan at the changeover points so that we could get back to the Hermit to watch Andy finish after a total of 2:44.50, consisting of me covering Leg 1 at 49:06, Robin covering Leg 2 in 1:14.55 (despite nearly having a confrontation with cows in the fields leading down to Addingham) and Andy covering Leg 3 in 40:49. Given that each of us ran as well as we could it was astonishing to think that the individual time record set by Adam Osbourne (Leeds City) is only 5 minutes slower (although I'm not sure that "slow" is the appropriate word) at 2:49.37. A very enjoyable challenge administered by the North Leeds Fell Runners and which we would recommend to anyone else considering having a go, whether as an individual or as a relay! For more information about the challenge please see www.nlfr.co.uk/races/ilkley-skyline/
European Championships, Sat 30 June
From Stephen Brennan... Euan Brennan finished in 6th place in the European Mountain Running Championships taking place in Skopje, Macedonia. The GBR Junior Men's Team struck Gold for the first time ever in this competition.
Results
UWFRA Wharfedale 2 Peaks, Sat 30 June
From Jann Smith ... 13.5 miles / 2500ft Fundraising event for the Upper Wharfedale Fell Rescue starting from Grassington and Taking in Buckden Pike and Great Whernside.

16 2h26 Jann Smith
44 3h11 Adela Reperecki
45 3h11 Jayne Norman

Kirkby Gala fell race, Sat 30 June

(1 39:44 Ben Mounsey, Calder Valley)
2  41:49 Jack Cummings
14 47:01 Iain Gibbons
53 finished

Eldwick Gala fell race, Sat 30 June

(1 18:27 Reuben Mantle, Bingley)
9  20:56 Michael Lomas
17 21:52 Helen Wood 1st lady
75 finished

parkruns, Sat 30 June
From Petra Bijsterveld ... Results ...

Bradford
(1  17:01 Martin Soszka, Saltaire Striders)
25  21:17 Sally Malir 2nd F
119 25:58 Will Worboys
140 27:11 Paula Reynier
146 27:23 Stephanie Fox
392 ran

Skipton
(1  18:15 Lee Athersmith, RAF AC)
14  21:14 Adrian Bastow
105 30:38 Alison Weston
181 ran

Rush around the Rhubarb, Tue 26 June
From Fiona Schneider... Pudsey and Bramley Athletics organised this undulating mix terrain 6km race. With the heat, the dust and over 100m climb this made for a great competition around the rhubarb fields. There were enough shaded and wooded tracks to have some protection and keep the rhubarb fields out of view. A recommended mid week run with junior races in which two Ilkley Harriers took part.

(1 19:43 Callum Hanson, P&B) 
91 35:19 Fiona Schneider 
120 runners

World Mountain Running Long Distance Championships in Karpacz, Sun 24 June
From Ben Sheppard ... Well done Jack Wood, 35th in the men's race.
Results
Bradford Millennium Way Relay, Sun 24 June
From Caroline Howe ... The Bradford Millennium Way Relay consists of 5 legs, run in pairs, starting in Bingley, going through the beautiful surroundings of Oxenhope, Haworth, Laycock, Silsden, Addingham and Ilkley - a total of 47.5 miles and 6300ft of climb. Teams can be any combination with open, ladies, mixed and vets categories. Our 'open' team consisted of 5 men and 5 women.
Kate Archer and Rachel Carter got the team off to a great start on what was the toughest leg at 10.4 miles and 1800ft. They handed over to Will Buckton and Jonathan Turner in Penistone who ran the 9.4 miles to Laycock where Jayne and I took the virtual baton over the 8 miles to Silsden, and handed over to Helen Thurston and Malcolm Pickering who had the 8.5 mile stretch from Silsden to Ilkley with some very steep climb. The final 10.7 mile leg was Istvan Jacso and Nathan Edmondson who brought the team home to Bingley (where Jayne and I were enjoying a cold beer!)
We finished in 13th position overall out of 50 teams, with great performances by everyone. Kate and Rachel's time of 1:35 is the 5th fastest female pair time for this leg since it was first run in 2014. Istvan and Nathan's time for leg 5 was the 2nd fastest in today's race.
On a personal level I thoroughly enjoyed the event, and was delighted to run with someone with a far better sense of direction than me! Jayne and I had reccied the route when it was raining, so today's temperatures made it quite a different experience and it was tough, but we were pleased to get in around our target time and ahead of the mass start for leg 4.
It is the first time the club has entered a team in this event since 2015, and I really would recommend it to everyone in future years. Local, beautiful scenery and a lot of fun!
Results:
Leg 1 - Kate Archer, Rachel Carter 1:35:08 17th
Leg 2 - Jonathan Turner, Will Buckton 1:19:04, 14th (position after leg 2) 13th (leg result)
Leg 3 - Jayne Norman, Caroline Howe 1:22:04, 17th (position after leg 3) 29th (leg position)
Leg 4 - Helen Thurston, Malcolm Pickering 1:25:56 16th (after leg 4) 16th (leg position)
Leg 5 - Istvan Jacso, Nathan Edmondson 1:15:35, 13th (final position) 2nd (leg position)
(1 - Bingley Men A - 5:44:46)
13 - Ilkley Harriers - 6:57:47
50 teams ran
Wilmslow HM, Sun 24 June
From Petra Bijsterveld ... This road race had been cancelled due to snow in March and was rescheduled. I was grateful to pick up the transferred entry from Helen Waddington. However as I scanned the forecast last week my gratitude did turn into trepidation, as warm weather racing is not really part of my skill set. When it already felt hot as I arrived in the car park just after 9 am I knew I was not going to have an easy day. If I had only one word to sum the race up I would say 'brutal'. By mile 5 I had to resort to a run/walk strategy, walking for a minute at the start of every mile. By mile 10 the run/walk ratio was a lot more random than that! The course is flattish, but somewhat downhill in the first half and therefore uphill in the second, which did not help, and with little shade. On the plus side, the route is quite pretty, it was very well organized, with lots of marshals, plenty of water, and much support from friendly locals who came out with extra water and the occasional very welcome hosepipe. The best moment of the day was getting an ice pop from a little boy at mile 9 which made me very happy indeed.
I ran a personal worst for a road half marathon, but was grateful to just get round in one piece, unlike several unfortunate runners who I saw collapsed at the roadside being given medical attention.
Our second claim member Rob Little came an excellent 13th, running for his first claim club Hallamshire Harriers.
I would definitely do this race again, but in March. Can't wait to stand shivering on the start line covered in a bin liner!
Results ...

(1   01:06:44 Mohammad Abu Rezeq, Altrincham AC)
1654 02:11:54 Petra Bijsterveld
2210 ran

Glorious Gargrave - Ultra distance (32 miles), Sun 24 June
From Tom Worboys ... I entered this event just to see what it would be like to go beyond the marathon distance, as a one off. It seemed like the flattest shortest and easiest option around but what I didn't anticipate was the relentless heat. The race was fully on canal towpaths, mostly trails and grass but quite rugged underfoot in places. The first 6 miles was an out and back section South West from Gargrave before then heading 10 miles east through Skipton and beyond. On the way back to the start the heat really started to ramp up. The time was passed by listening to England v Panama in the World Cup, a nice distraction! I passed a woman who was running the marathon distance pulling a car tyre behind her. Apparently she has done over 70 marathons doing this, craziness! Once returned to the start it was a case of repeating the 6 miles out and back having already completed a marathon. Mentally challenging to say the least to pass through the start finish with many people stood around enjoying cakes and beers having already completed one of the lesser distances. The 3 miles to the turning point were amongst the longest and hardest I think I've ever done. Most remaining people that hadn't dropped out were walking but I just about managed to keep mostly running. On completing the run, much to my surprise I was presented with a trophy for finishing third. This certainly made up for the torture. Fun I suppose but doubt I'll be repeating the experience!
Finish time: 6 hours, 0 minutes, 35 seconds
Glorious Gargrave - Marathon, Sun 24 June
From Colin Williams ... I joined a small field of 44 runners on Sunday for the "Grim up North" Glorious Gargrave Marathon. The trail was dry and hard, the weather was hot. I made a good start and lead for the first half of the race, being passed by the eventual winner at around 15 miles, I kept with him for the next couple of miles and regained the lead after the next water stop, but it was short lived, he passed me again and this time I couldn't keep with him. I eventually finished 4th in a time of 3hrs 30 mins 35 sec.
Winner Paul Brown of Trawden AC in a time of 03:22:12, 44 ran.
Hawkswick fell race, Sun 24 June

(1 11:08 Simon Bailey, Mercia)
3  12:06 Jack Cummings
8  13:07 Iain Gibbons
71 finished

Buttermere Horseshoe, Sat 23 June
From Duncan Cooper ... Buttermere Horseshoe was a British Championship fell race this year and didn't disappoint. About 300 runners set off for the 22 mile / 8,200 ft loop and most finished. The tops stayed free of cloud and the weather got progressively hotter as the day wore on (or so it seemed). Great performances from Alison Weston who bagged 2nd vet50 and Steve Turland who also earnt some championship points. Also a big thanks to Graham who cycled furiously between Lakeland passes to keep us fed and watered at the road crossings.
Results ...

(1  3:45 Carl Bell. Keswick)
98  5:11:05 Steve Turland M50 
177 5:59:13 Alison Weston
192 6:03:24 Duncan Cooper

10 Peaks Lakes - Short, Sat 23 June
From Jann Smith ...This race takes in 10 of the highest peaks in the Lake District starting at Thirlmere and finishing in Keswick. 30 miles/ 9500feet Paul Carman was joint winner with Tom Hollins in a time of 7hrs 20 mins setting a new course record.
parkruns, Sat 23 June
From Petra Bijsterveld ... A first finish at Woodhouse Moor for Matt Munro who is 2nd claim Ilkley but also 1st claim on the fells for us, and a first finish at Skipton for Lucy Williamson.
Results ...

Woodhouse Moor
(1  17:35 Matt Munro, Herne Hill Harriers)
4   18:28 Steven Gott
455 ran

Bradford
(1  17:42 Martin Fillingham, Saltaire Striders)
64  23:27 Oscar Street
152 26:50 Paula Reynier
435 ran

Kingsbury Water
(1  17:14 Danny Warren, Badgers)
15  19:56 Mark Mon-Williams
79  23:57 Rebecca Mon-Williams
445 ran

Clumber Park
(1  16:31 Ben Livesey, Defence Sports and Recreation)
108 26:41 Stephanie Fox
414 ran

Skipton
(1  18:19 Samuel William, U/A)
8   19:53 Lucy Williamson 1st F
51  24:52 Nicola Budding
59  25:23 Hilda Coulsey
74  26:17 Rachel Carter
75  26:29 Will Worboys
125 29:21 Sue Williamson
207 ran

Stretford
(1  16:54 Khazi Haroon, ActiveRun)
8   18:47 Rob Cunningham
456 ran

Ilkley Skyline Fell Challenge, Thu 21 June
From Jann Smith... Helen Waddington completed the 23 mile route in a great time of 4hours 13 minutes knocking 1 hour and 20 minutes off the current vet 50 womens record.
Beamsley Beacon fell race, Thu 21 June
From Jean Sullivan ... A gorgeous sunny evening for this 5.5 mile fell race, a counter in this years Harrier's Race League. The uphill route is flagged from St. Peter's Church Hall in Addingham up to Beamsley Beacon but the downhill return to St. Peter's Church is on any permitted footpaths.
The men set off 5 minutes before the ladies to avoid congestion on the suspension bridge. A great evening for Ilkley Harriers with Rob Little winning the men's race in a time of 33:15 and Pauline Munro winning the ladies race in a time of 41:32. Ilkley Harriers also picked up the men's team prize with Jack Cummings taking 2nd place and Nathan Edmondson 3rd place.
This was one of my few forays into fell running and I was pleased to push myself out of my comfort zone. Not my finest race position but I was pleased to not fall over, not get lost and not be last! I remain amazed at how quickly the true fell runners descend rocky footpaths compared to my tentative steps!
Results ...
Solstice Saunter trail race 5 miles, Thu 21 June

41 39:36 Jann Smith (3rd lady)
   46:15 Sarah Hayes
   53:16 Kate Lofthouse
   53:16 Sue Williamson
696 ran

Evensplits 5k, Wed 20 June
From Petra Bijsterveld ... The 5th race of the current series took place at the Brownlee Centre on Bodington Fields. These road races are gradually getting more popular and are a convenient opportunity for a monthly check of one's fitness and mental fortitude. I had not been very happy with my 5k times so far this year, but last night I was not too dissatisfied despite being the last Harrier home and still some way off my best results. Hilda ran at a blistering pace that I did not even attempt to match, however Nicola Budding managed to hang on and overtake! Rob Budding (and junior Archie Budding) ran well in the A race. It would be great to see more Harriers at these events, a few entries are still available for race 6 on July 25th.
Results ...

(1  16:01 John Hobbs, Valley Striders)
91  22:02 Rob Budding
126 24:08 Nicola Budding
129 24:10 Hilda Coulsey 1st F65
144 25:35 Petra Bijsterveld
167 ran

HDSRL 2, Ilkley, Tue 19 June
From Neil Chapman ... Thank you to everyone who helped organise, set up, clear away and marshal the race last night, also to everyone who provided food, and that fantastic team who delivered the food to the hundreds of hungry runners who went back to Clarke Foley. We had a good night for it and the second highest number of runners, over 480, at a Harrogate League Race. Well done to all the runners, but particularly those four guys at the front, who put on the best finish to a league race that I have watched. Its over for another year, but I am hoping to put on a 10k race early next year and hope I can count on your support..
Results ...

1   26:02 Matt Newell
2   26:03 Robert Little
4   26:04 Jack Cummings
8   27:35 Matthew Cox
11  28:02 Istvan Jacso
23  28:58 Daniel Mckeown
50  31:16 Jonathan Turner
55  31:32 Andrew Overend
85  32:49 Monica Padila
86  32:53 Kate Archer
138 35:44 Malcolm Pickering
168 36:49 Catherine Gibbons
178 37:19 Tracey Watson
254 40:17 Geoffrey White
296 42:08 Anna Nolan
317 42:54 Stephanie Fox
332 43:25 David Ibbotson
335 43:37 Diane Kitchen
347 44:20 Peter Lewis
351 44:39 Sheena Pickersgill
359 45:38 Anna Pickering
368 45:55 Dawn Turner
400 48:06 Bernadette Gibbons
403 48:08 Rachel Corrigan
414 48:41 Sue Verspyck
448 52:27 Libby Heppenstall
461 55:21 Laura Dawes
469 57:32 David Millson
470 57:32 Donald Macrae
482 finished	

Kettlewell fell race, Sun 17 June

(1 11:31 Simon Bailey, Mercia)
4  12:16 Jack Cummings
12 13:36 Iain Gibbons
63 18:58 Dave Cummings
85 22:17 Peter Lewis
88 23:43 Wendy Bishop
98 finished

Bernadette Raven 1st GU17

Great Lakes fell race, Sat 16 June
From Dick Waddington ... 20:23 (12 hours ago) to news The Great Lakes fell race is run by Ambleside AC, who recently announced a rule that prohibits the use of GPS navigation in their races. I quite like the idea of this, tipping the balance of the race towards navigation a bit. Last year there was a heatwave with clear fell tops, which made navigation straightforward as long as you had a rough idea of where you were going. This year though Bowfell, Esk Pike, Great End, Scafell Pike and Scafell all had to be navigated with visibility of about 50 metres. After Bowfell I saw a few runners come passed me who had definitely been ahead of me a short while before - Strava shows a few people doing loops on Bowfell. The tables were turned when I got down the ridge from Scafell and was looking for Slight Side, which is just a lump on the end of the ridge. How do you know which lump though and where is the end of the ridge if you can't see anything? After convincing myself I had missed it I spied a marshall hiding under a waterproof sheet in the horizontal rain. The relief was too much and I managed to turn right when I knew I had to turn left and, then had a mix-up between East and West! The detour was about a couple of miles, but quite runnable, so I was more relieved to be back on track than disappointed about losing time. The river crossings were quite spicy in upper Eskdale, so by the time I got to Pike o'Blisco I was very happy to see the finish at Stool End down in the valley. This is a great race that packs a lot into 13 miles (or 15 for some). Great support from Kate Archer and Out Kamarainen, who out training for the Saunders MM.

(1 3:13:07 Ted Ferguson, Borrowdale)
25 4:53:04 Dick Waddington )
37 finished, 11 DNF

Triumph in Lanzada, Sat 16 June
From Stephen Brennan ... Euan Brennan running for England finished in second place at the International Youth Mountain Running Cup in Lanzada, Italy on Saturday. His efforts helped the England team achieve an historic team Gold in this event.
Individual results, team results.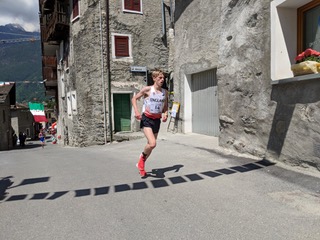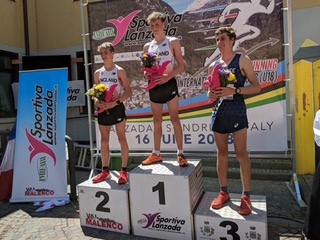 Buckden Pike fell race, Sat 16 June

(1 35:20 Ted Mason, Wharfedale)
2  36:26 Jack Cummings
12 43:28 Robin Nicholson
15 44:45 Helen Wood  1st lady
62 finished

Tarsuinn trail race, Arran Sat 16 June
From Ewan Welsh ... I enjoyed another trip to Arran at the weekend, taking part on the Tarsuinn Trail race. The event was the shorter 25K event as part of an Ultra Race. The 25k consisted of 6500ft of ascending/descending taking in a beach, a forest, then mainly mountain tracks, taking in several tops, several ridges including a degree of scrambling (Mmmm, interesting !), then a run in down the last mile of a glen, all in all the route has an alpine feel to it with a sense of going forth with grace and good fortune.
Weather wise, concern at the start was of the hypothermic nature, which transpired into concerns about heat stroke as the skies cleared, a pleasant breeze kept the midgies at bay in the glen.
There was a relatively small field of entrants, I was around 5 hours 20min time wise, I do find running wise the technical type terrain hard/slow going (being of a rather clumsy disposition) but spiritually I'm at one with it. Haven't checked the results and I had to dash for the last ferry home!
This was the first year of this event (last year's was in October and was cancelled due to weather on the day), wholly successful day for the organisers, views were spectacular, refreshments were natural, the natural springs were flagged so you could top up on the water. Hopefully the race will continue next year.
For those that like the predicated rhythm of named mountain tops and routes (often in unpronounceable Gaelic that many people try to pronounce in many ways, and no we didn't speak "the gaelic" at school) or if you ever find yourself on Arran looking for a run/walk then read on, if you are not interested in such things or the names go in one ear and out the other (like me) or if you would rather visit the cheese shop and brewery don't feel obliged to read the next bit... The route meandered up the steady climb that is Goat Fell, along the Stacach ridge to North Goat Fell, scrambling down the ridge to the Saddle (top of Glen Rosa), scrambling up Cir Mhor (steep climb), down onto Garbh-choire Dubh, up to Caisteal Abhaik, back down to Garbh-choire Dubh, along quite a technical undulating rocky single track bypassing the A Chir ridge (only go on that ridge if you are experienced and perhaps have a rope and don't suffer from vertigo, like me !) ). The track eventually takes you up to twin summits of Bein Tarsuinn, across another little ridge to Bein Nuiss then down a steep track and across the tussocked expanse of Coire a'Bhradain (remembering to look across and absorb the view of the route you've just been on, rather than reflecting later on Strava, think about the art rather than the science !), track then appears (through a gate) which takes you down by a waterfall into Glen Rosa, finishing with a couple of miles back to Brodick! The actual route in known as the Tarsuinn Ridge, although there are several route variants you can take... if you set of fairly smartish the cheese shop and brewery will still be open on your return and still make the last ferry home, depending on the visit to the brewery (apparently).
parkruns, Sat 16 June
From Petra Bijsterveld ... Results ...

Cardiff
(1  17:56 Stephen Paterson, Les Croupiers AC)
4   18:15 Alex Hirst
567 ran

Halifax
(1  17:08 Joseph Crossfield, Halifax Harriers)
44  23:50 Tim Buckingham
170 ran

Bradford
(1  16:46 Scott Harrington, Otley AC)
45  22:41 Arthur Reilly
117 26:14 Paula Reynier
153 27:16 Will Worboys
420 ran

Skipton
(1  16:22 Matthew Merrick, Bingley Harriers)
20  21:58 Neil Pomfret
80  26:35 Hilda Coulsey
196 ran

Stretford
(1  16:37 Steven Curley, Chorlton Runners)
23  18:59 Rob Cunningham
599 ran

Barrowford Podium 5K, Fri 15 June

81 21:43 Jann Smith (2nd F45)
176 ran

Otley 10, Wed 13 June
From Will Buckton .... Good turnout of Harriers and a 10 mile debut for me! Great event well organised and recommended.

(1    56:07 Scott Harrington Otley AC)
2     56:38 Robert Little
44  1h07:02 David Foyston
51  1h07:39 Andrew Overend
61  1h08:41 Jonathan Sinclair 
71  1h09:40 Will Buckton
91  1h12:14 Derek Oliver
120 1h15:16 Mike Abrams-Cohen	
220 1h22:35 Claire McLoughlin
255 1h25:33 Chantalle Busby
258 1h26:02 Catherine Gibbons
358 1h40:32 Fiona Schneider
367 1h42:37 Bernadette Gibbons
370 1h43:28 Amanda Newham 
399 finished

Settle Saunter, Sun 10 June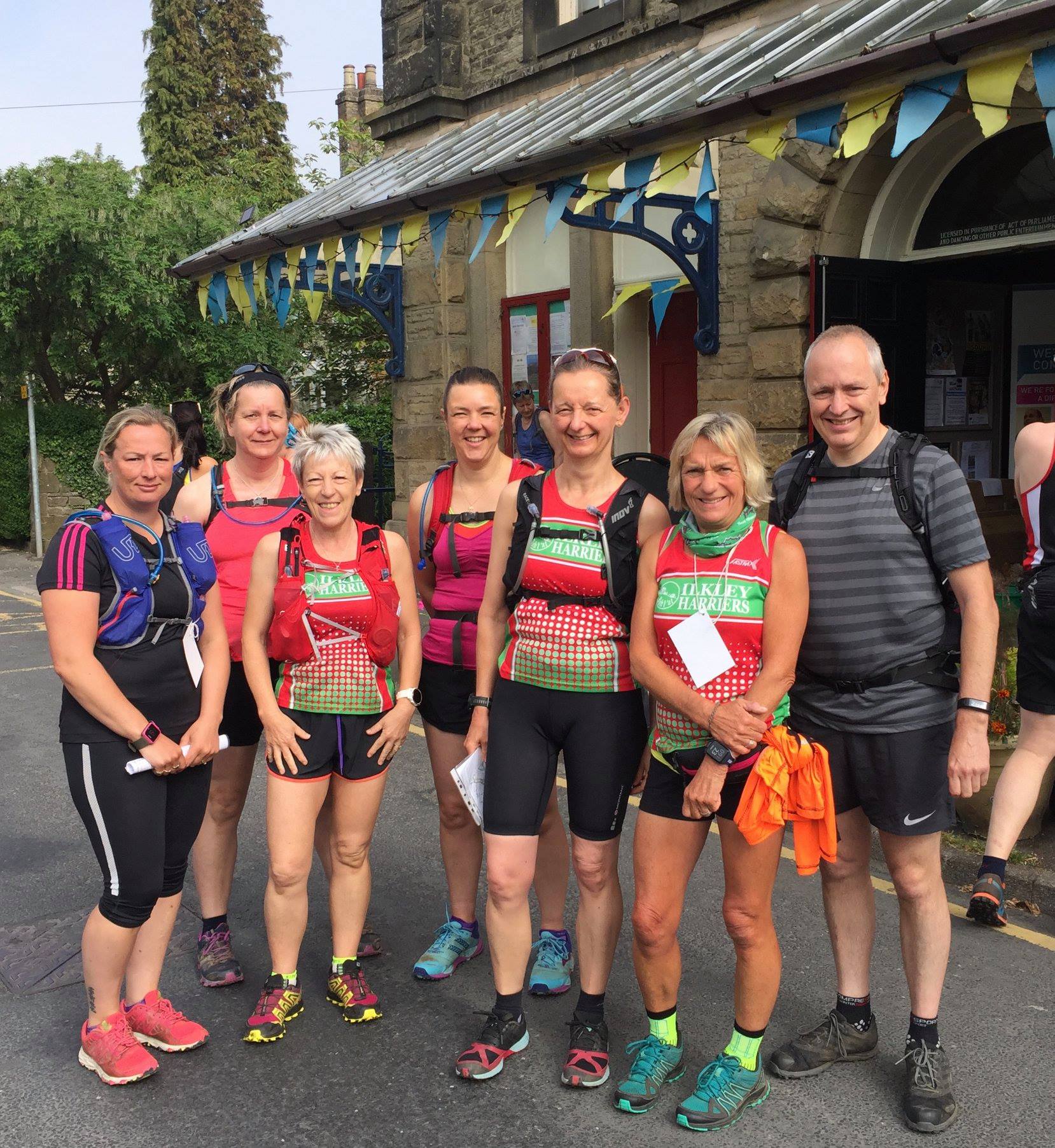 From Petra Bijsterveld ... There are 3 distances to choose from at this Settle Rotary Club event: 10k, 13 miles or 23 miles. I joined Paul, Jan, Jayne, Adela and Ruth for the half marathon, all of them had run the race before but I was new to it this year.
It is a well organized yet low-key event which welcomes both walkers and runners, we set off from outside the Victoria Hall in Settle when a man in a fluorescent jacket said 'go' and went on our way uphill towards the first checkpoint at Feizor, then to Austwick where we self-stamped our cards, through beautiful woods back to the Feizor checkpoint, then to Stainforth Falls and along the Ribble back to Settle. The course was flagged in places but the map and route description definitely proved essential at certain key points. We arrived back in the hall where we presented our triple stamped cards and our time was duly noted down. None of this newfangled chip timing stuff! In return we received a nice badge of the variety that I used to sew onto my rucksack when I first got into hill walking in the 1980's. There was plentiful tea on offer as well as traditional post-race food in the shape of pie and peas. It was a glorious day once the early fog lifted, but too hot for running comfortably. The temperature was energy sapping and in the second half my legs were leaden, even running along the flat beside the river felt like an arduous undertaking towards the end. I was glad I had not opted for the 23 miler!
Results ...

(1  2:04:00 Aaron Bailey - no clubs listed)
19  2:50:00 Adela Reperecki
19  2:50:00 Petra Bijsterveld
23  2:52:00 Jayne Norman
23  2:52:00 Paul Sugden
26  2:53:00 Jan Jones
45  3:50:00 Ruth Jones
45  3:50:00 Debbie Jukes
68 finished

Howtown fell race, Sun 10 June
From Will Buckton ... I completed the Howtown fell race on Sunday, AL 21.4km 1400m. Don't think there were any other Harriers but no results online yet. The route climbs the Far Eastern Fells - Loadpot Hill, High Raise, Place Fell and Hallin Fell from Howtown near Pooley Bridge on the edge of Ullswater. I finished 25th/100 in 2h38 and the winner was 2h12.
39th Swaledale Marathon, Sat 9 June
From Helen Waddington ... Swaledale marathon (3,600 ft/23.2 miles) sells out fast every year and it's easy to see why. The names of the places you pass over are as magical as the scenery, Flincher Gill, Friarfold Rake, Little Punchard Head, Surrender Bridge and so on and so on. The route shows off Swaledale at its best and most varied with a route taking in ruins of the lead mining times, sprawling moors, buttercup fields and stony tracks and finishing with some great downhill running into Reeth with a Strava segment aptly named Ankle Breaker. Plenty of ups and downs and not quite a marathon in distance but otherwise this one more than lives up to the marathon title. Superb organisation and a hot meal at the end and souvenir pottery mug to take home. Lovely.
Results ...

(1  3h15 Julian Simpson)
117 4h43 Helen Waddington
447 finishers

Tal y Mignedd (2nd British Championship race) North Wales, Sat 9 June
From Alison Weston ... A very hot afternoon for this short race up Tal y Mignedd on the Nantlle Ridge but a lovely river to cool down afterwards and heeps of cake to eat. The race was won by James Espie in 36:11 from Deeside Runners, Jack Wood was 17th in 36:11 and Alison Weston 177th in 51:15.
Keswick Mountain Festival 25km trail race, Sat 9 June
From Helen Thurston... I went up to the Lakes for the Keswick Mountain Festival at the weekend. There are lots of sporting events including triathlons, open water swims, a sportive and 5km, 10km, 25km and 50km trail races. I ran in the 25km trail race which was a rocky, hilly race through beautiful scenery. All the sporting events started and finished in the Festival Village which had a great atmosphere, as well as a beer tent and food stalls for post-race refuelling! I was 3rd lady.
Results ...

(1 2:11:08 Mike Holliday, DH Runners)
41 2:32:09 Helen Thurston
477 finished

Weets Race, Sat 9 June
From Jim Ryder ... I think I was the only Ilkley Harrier at the Weets Race over near Barnoldswick. It has a similar length and height gain to Ilkley Moor Fell Race but far less technical - with some track sections - basically four hills. I came in at 46 minutes for the 5.2 miles, 1450ft. Very well organised and friendly event - recommended.
Results ...

(1 37:09 Gary Priestley, Salford)
28 45:55 Jim Ryder
206 finished

Lowgill Sports fell race, Sat 9 June

(1 16:54 Ted Mason, Wharfedale)
6  18:43 Iain Gibbons
46 finished

parkruns, Sat 9 June
From Petra Bijsterveld ... Results ...

Bradford
(1  16:57 Will Kerr, Saltaire Striders)
29  21:24 Sally Malir 1st F
39  22:13 Oscar Street
123 25:52 Stephanie Fox
124 25:56 Will Worboys
128 26:01 Dave Reynier
129 26:02 Paula Reynier
429 ran

Harrogate
(1  16:30 Andy Grant, Leeds City AC)
247 27:13 Fiona Schneider
488 ran

Skipton
(1  19:44 Michael McInnes, Skipton AC)
8   20:36 Rachel Carter 1st F
28  23:11 Neil Pomfret
54  25:22 Nicola Budding
181 ran

Kettlewell Anniversary fell race, Thu 7 June

(1 37:04 Ted Mason, Wharfedale)
2  37:53 Jack Cummings
7  43:08 Daniel Lane
19 45:27 Helen Wood
24 47:22 Paul Calderbank
39 51:08 Chantal Busby
70 finished

Bronte 5, Thu 7 June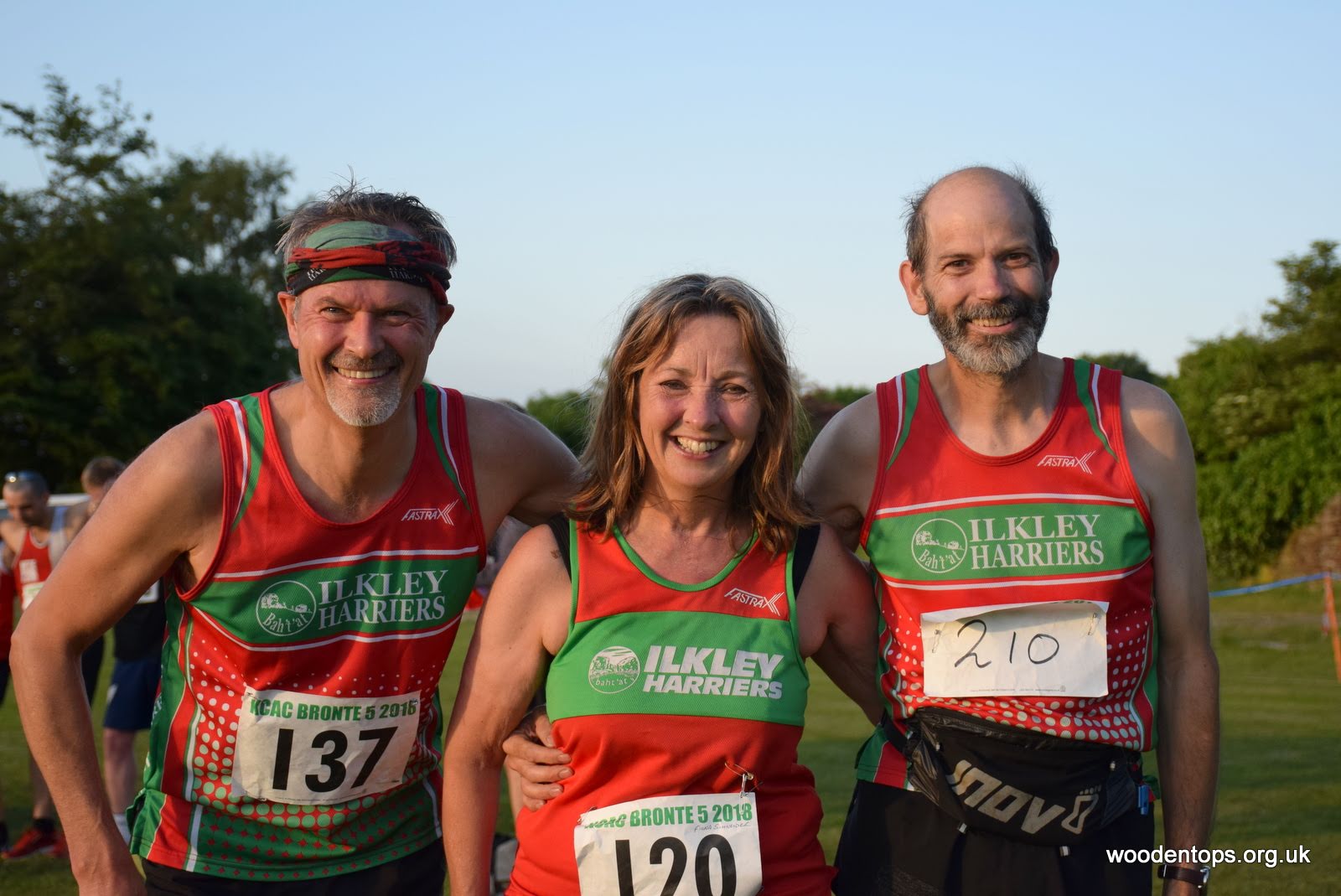 From Fiona Schneider ... It was a beautiful evening in Haworth for this 2 lap undulating 5 mile run.
Results ...

(1  28:10 Ben Beattie, Hallamshire)
41  34:02 Colin Williams  
115 40:06 Andrew Jackson 
154 47:25 Fiona Schneider 
192 finishers

Otley Chevin race, Wed 6 June

(1 17:10 Alistair Mcleod, Leeds City)
3  17:57 Jack Cummings
17 20:23 Steven Gott
18 20:26 Daniel Lane
27 21:44 Helen Wood
34 22:24 Lucy Williamson
44 23:05 Paul Calderbank 
53 23:44 Duncan Cooper
68 24:55 Chantal Bushby
71 25:11 Laurence Basham
76 25:25 Alison Weston
143 finished

HSRL #1, Skipton, Tue 5 June
From Carolone Howe ... 30 Harriers took part in the first Harrogate Summer Race League event at Skipton last night, with Rob Little of Ilkley winning the race in 27:15. Provisional results now available on the HDSRL website:
Results ...
Paul Stephens adds ... A great turnout for last nights first race in this year's Harrogate Summer Race League. Won by Ilkley's Rob Little, we also had 3 others in the top 15 - Matt Cox, Istvan Jacso and Dan Mckeown. And excellent runs throughout the field.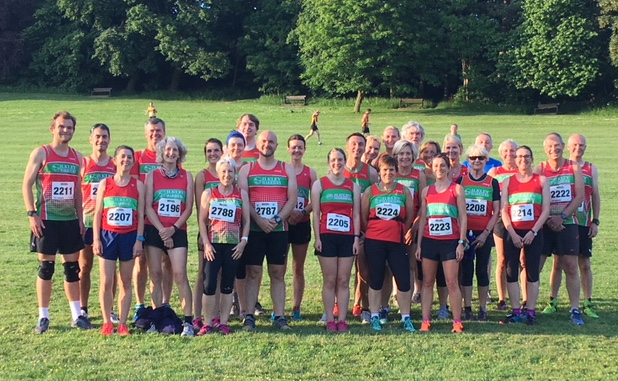 Selection news
Euan Brennan has been selected to represent GB at the European Mountain Running Championships ( Uphill and Downhill ) on the 1st of July in Skopje, Macedonia. Link to the official announcement.
Lakeland Trail Coniston 1/2 Marathon Challenge, Sun 3 June
From Neil Pomfret ... The good weather continued in the Lakes for another day. From Coniston Hall the route headed north then up through dappled shade to Tarn Hows for a couple of laps. Next a steep descent through cool forest shade was a refreshing escape from the sun. The final 5K were flat and sunny along the valley floor and lakeside. The Coniston Half, my new favourite 'Lakeland Trail', was finished off with cooling off leg soak in Coniston Water.
Results ...

(1 1:43.13 Adrian Lister)
20 1:57.30 Neil Pomfret
318 ran

Marathon Challenge
(1  3:33:53 Steve Jacques, U/A Kendal)
53  5:19:42 Liz Price
107 5:53:51 Sarah Holmes
212 finished

Ilkley Harriers Race League update to 2nd June
From Jane McCarthy...The Wharfedale Half Marathon was the latest race in an extremely busy Race League Calendar over April and May. A splendid 40 Ilkley Harriers (surely this is a record for a single race?) enjoyed the multi terrain event, and was the 5th Trail Race since the beginning of April. The full points breakdown is given in the spreadsheet, but highlights include Jack Cummings achieving his maximum 100 points by winning Guiseley Gallop, and Jonathan Sinclair achieving 99points and 100points respectively for performances at Ilkley Trail Race and Wharfedale Half Marathon, after the League handicap system applied. Jack Wood took the win at Jack Bloor, the only Fell race last quarter, followed by second claim Harrier Rob Little, now able to score in the League gaining 99 points, and Jack Cummings 98 points in third place. Two Road races at Thirsk and Vale of York have seen Caroline Howe gain a lead in the Road league, scoring in all three races so far in 2018.
Overall, the League top positions are held by Jonathan Turner with strong and consistent scoring - averaging 91points in the seven races counting so far. In a very close second place is experienced League racer Hilda Coulsey, averaging 90 points also counting seven races so far. Clever use of a Wildcard race may be the only thing to split these two. However, there are plenty of other runners creeping up the League table. With 6 races counting, Colin Williams has leapt into 3rd place, in an almost 'ridiculous' month in April by scoring well in the Guiseley Gallop, Thirsk 10 and Vale of York League races, before finishing the month with a great time at Blackpool Marathon and then completing the ultra tough 61 mile Fellsman a week later. Chapeau! Caroline Howe stands in fourth place, followed by Jack Cummings and Jonathan Sinclair, both with high average scores of 98 points and 96 points respectively in 4 races. The busy calendar continues with next races Full Bronte 5 mile on 7th June and Beamsley Beacon on 22nd June. Happy Racing!!
Results tables on the League page.
Please let me know if any mistakes or omissions spotted. Thank you. Jane McCarthy.
**PLEASE NOTE there is a change to eligibility to count in the Ilkley Harriers Race League**: Following a request to extend the league to second claim members the Committee have discussed and decided that given they pay the same membership (excluding the EA fee) it seems entirely reasonable to include them. The second claim member will not automatically be listed in results under Ilkley Harriers and therefore, if second claim members want their performances to be included in the League stats they must notify the League administrator (currently Jane McCarthy) within two weeks of the race. These are the same rules as claiming a wildcard entry. The "Rules" on the Race League page will be changed accordingly.
Long Duddon, Sat 2 June

(1 3:11:42 Nicholas Barber Pennine Fell Runners )
50 4:41:34 Roy Ruddle
81 6:11:09 Brian Melia
99 ran

Pen-y-ghent fell race, Sat 2 June
From Will Buckton ... Me, Alison and Steve climbed the Brackenbottom route to the summit of Pen-y-ghent in pleasant running conditions, misty but warm and still. The route then runs off piste to Hull Pot and Whitber Hill and descends back to Horton in Ribblesdale through private farm land. AM 10.5km 564m
Results ...

(1 48:10 Alasdair McLeod Leeds City)
27 59:57 Steve Turland
36 62:20 Will Buckton
69 68:27 Alison Weston
142 finished

Alison adds ... a new race record of 48:10 set by Alasdair McLeod from Leeds city AC. Very misty conditions going up but a bit cooler for racing.
Wharfedale Half, Sat 2 June
From Caroline Howe...Around 40 Harriers turned out for this year's Wharfedale Half Marathon, more than in any race this year I think - from the regular racers through to those racing for the first time this year, older and newer members of the club... Great to see so many familiar faces! Given the recent warm weather, it was something of a relief to run this race in the rain. It was still pretty muggy but refreshingly damp! This was my first time running Wharfedale and I thoroughly enjoyed (most of) it (shout out to Stuart who kept me going up Mastiles Lane!) Very scenic as everyone had told me (despite the curtain of mist and rain!) Great atmosphere in the clubhouse after, and great to see several Harriers picking up prizes... Istvan Jacso for 3rd place overall; Kate Archer for 5th lady; Rachel Carter for 1st FV40; Jonathan Sinclair for 1st MV55 - fantastic performances! Lots of pbs and other individual achievements among the Harriers contingent too, I'm sure. And expect to see lots of Harriers sporting attractive deep purple buffs this winter...!
Results ...
Calderdale Way Ultra Sat 2 June
From Andrew Merrick ... ..... Happily dawn had already arrived this Saturday by the time I left Ilkley early on Saturday morning for the race headquarters of this Ultra organised by Cannonball Events. The Hare and Hounds pub in Todmorden was open from 5am (no breakfast service but decent loos!), prior to a 6am start. The race organiser is a local runner who takes his organisational responsibilities seriously with an FRA driven kit list, a timing chip, and 5 well planned and stocked checkpoints, staffed by runners.
The pre-race pack also included a map with pretty detailed instructions on the reverse. Those of you familiar with the Calderdale Way would know that it isn't the easiest navigationally despite the additional signage (and sprayed on arrows in the town sections) provided. The group I was running with had a few moments of incompetence which probably added at least a mile, and got me up to 8,000+ ft of climb. It led me to keep the instructions in my hand for the last 20 miles or so.
A scenic and friendly run (I am yet to find an ultra that doesn't have both), which ended back at the pub - about 12 ? hours later - after a sneaky final painful climb above Todmorden. If I knew what I know now, I would have recced the final stretch; happily by that stage I was "running" in the company of a runner doing the shorter version who had. A big thank you to Richard from St Theresa's running club in Leeds (I hadn't heard of it either) who kept me going and kept me on the right route as we got close to home.
As is becoming traditional, the race ended with an organiser supplied chilli washed down with a well earned pint!
To be recommended as a local, well organised, scenic ultra (available in 28.5 and 50.5 mile distances), some recceing advisable.
---