Ilkley Harriers news archive 2018
Outstanding Achievements, July
From the Committee ...
Brian Melia Ronda del Cims ultra
Dick Waddington Lakes Sky ultra
Colin Williams prolific fells and ultras - Manvers Dawn to Dusk and Scorcher Run festival marathon
Nathan Edmondson for great running including the first part of Addingham Gala!
Rachel Carter (1st lady Skipton parkrun), Kate Archer (Saunders lakeland 2-day challenge), Lucy Williamson
Rob Little for winning HDSRL series
Ben Sheppard Lakeland 50 and 1st at Stirton Fell
Volunteers:
Jayne Norman for summer Away Runs
Jack Wood and Ben Joynson for Addingham Gala
Abigail Bailey ang Phil Hirst for Thunder Run
Kentmere Horseshoe, Sun 29 July
From Alison Weston... A few Harriers arrived in mist and rain to run the Kentmere Horseshoe. Dave Robson ran well but Kate and Alison took a few detours in the mist....
Results ...

(1  1:34:07 Josh Jardine, Helm Hill)
67  2:10:44 Dave Robson
160 2:32:49 Alison Weston
181 2:39:07 Kate Archer
269 finished

Lakeland 50, Sat 28 July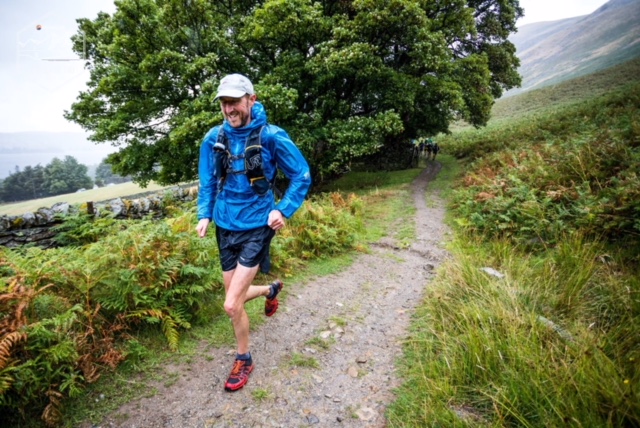 From Ben Sheppard... It was a real mixed bag of weather for the Lakeland 50 this year, but mainly wet and windy. Fantastic atmosphere all Friday at the race HQ in Coniston, where the Lakeland 100 starts and finishes. Runners doing the 50 are bused to the Dalemain estate in the northern lakes for the start, to take in the second half of the 100 course back to Coniston via Pooley Bridge, Howtown, Fusedale, Mardale Head, Kentmere, Ambleside and Langdale. Camaraderie on the course is incredible and the checkpoints were like fancy dress parties; the marshalls could not have been more cheerful and helpful. I roughly aimed to follow my checkpoint timings from last year and although it seemed tougher in the wind and rain I was within a few minutes of schedule throughout, finishing about one minute slower than last year - a few seconds under 9 hours.
Results ...

(1 7:36:11 Oliver Thorogood)
12 8:59:20 Ben Sheppard
756 finished

Manvers Dusk to Dawn, Sat 28 July
From Colin Williams ... I took part in the Manvers 12hour Dusk to Dawn race in Wath on Dearne. Or for me it was a Dusk to the early hours, I dropped out after eight and a half hours having completed 16 x 3.21mile laps a total of 51.36 miles. I was slowing, but still going ok, a lap behind the leader. Then my head torch failed after replacing the batteries, I ran one more lap using my mobile as a torch, but then called it a day. I enjoyed the race, my first of this type. It isn't a chip timed race, after each lap you receive an extra wrist band to record of how you are doing. If you are looking to get into Ultras or just test yourself to see how far you can run, I would recommend the race, the course was wide enough to pass slower runners and walkers, the food great and both the staff and other competitors very friendly and supportive.
parkruns, Sat 28 July
From Petra Bijsterveld ... Results ...

Bradford
(1  17:19 Martin Soszka, Saltaire Striders)
103 27:14 Paul Reynier
273 ran

Abingdon
(1  17:27 Ben Reynolds, Thames Hare and Hounds)
198 28:42 Petra Bijsterveld
363 ran

Portrush
(1  17:54 Richard Conn, Dub Runners of Belfast)
14  20:58 Steve Murray
121 27:17 Hilda Coulsey
278 ran

Delamere
(1  16:38 Peter Bray, Chorlton Runners)
34  22:36 Rob Budding
72  25:15 Nicola Budding
307 ran

Bramley
1   19:27 Steve Gott
88 ran

Leeds Brownlee Centre Evensplits 5k series, Wed 25 July
From Hilda Coulsey... It was race 6 of the series last night and seven Harriers braved the scorching weather. Warming up was a trial! I seemed to sprint off at the start but after 50m thought wow this needs to slow down, it's far too hot. I was 14 secs down on last month's effort which I felt was great for the conditions and I managed to hold off Nicola this month but frankly it wasn't so much a race more just getting to the line! Petra started off well too but wilted with split times 'providing opportunity for improvement'. Each race can be entered on its own and the series runs until November.
Results ...

(1  15:50 John Hobbs, Valley Striders)
46  19:29 Colin Williams 
59  20:03 Rhys Jones 
96  21:55 Robert Budding 
137 24:28 Hilda Coulsey 
138 24:31 Nicola Budding 
160 27:03 Fiona Schneider 
165 27:48 Petra Bijsterveld 
183 ran

Snowdon mountain race, Sun 22 July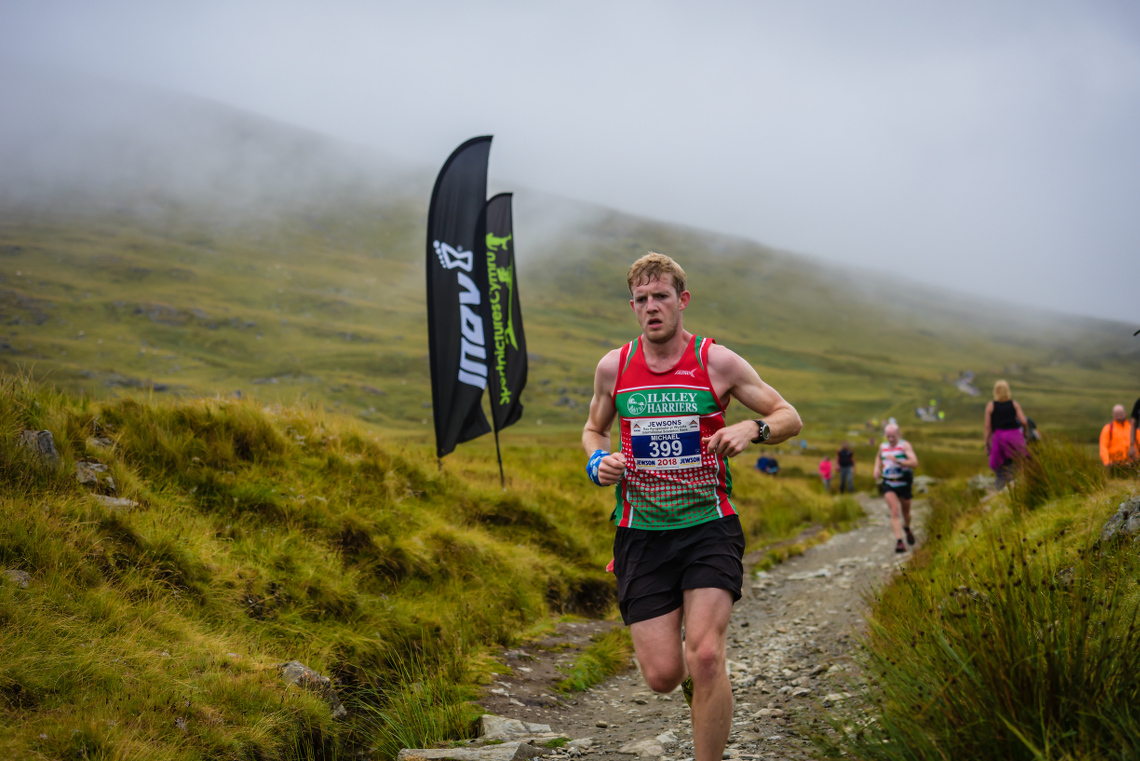 From Michael Lomas ... It's the third time I've travelled to the "outdoor capital of Wales" to run the Snowdon International race, the first time was in 2015 when our own Tom Adams was running in the England team. This year the England team comprised of a few familiar faces from the fell running scene although England favourite Chris Smith isn't one of them, he resides in London and must be a regular on Parliament Hill. This year Martyn Stocker and myself travelled to Llanberis on Friday night and typical of the first weekend of school holidays the weather wasn't great, we woke Saturday morning to find the clag right down in the valley, we would do well to get lost in this race but the views would be nice. The race itself is a real celebration that the whole town get behind, we paid respects to a couple of the volunteers with a minute of auplase before the start which was a nice touch. The race is beautifully simple, to the summit and back via the main tourist path, 5 miles up, 5 down. Half a mile of flat road gives way to a very steep section of tarmac before you get on to the mountain proper. The path is runable in the main with a couple of steep sections with plenty of walkers who seemed almost oblivious to the race going on even with TV cameras all the way up the mountain and a marshal every 100m who were keen to blow their whistles to warn walkers of approaching runners flying down the mountain. I felt good going up, getting into a good rhythm, starting steady and picking people off all the way up was satisfying, the descent is an all out quad killer, very fast and hard under foot, this isn't easy to train for and it showed. A few mins off my pb of 2016, no excuse other than lack of training, I'll be back for another shot at getting under 1hr 30min. Martyn came home a bit after me, hats off to him for completing it with next to no training. A great weekend overall, we camped in the campsite above the town, plenty of friendly fell runners up there enjoying the cheap digs and views of Snowdon (when the cloud lifted on Sunday).
Results ...

(1  1:06:41 Alberto Vender)
150 1:33:09 Michael Lomas
544 2:21:34 Martyn Stocker
574 finished

Cracoe fell race, Sun 22 July

(1  19:50 Simon Bailey, Mercia)
3  21:14 Jack Cummings
7  24:21 Iain Gibbons
46 30:47 Alison Weston
91 finished

Ingleborough Mountain Race, Sat 21 July
From Dave Robson ... 209 runners took part in the Ingleborough Mountain Race, part of the Ingleton Gala on 21st July. The title pretty much covers it - a direct route from Ingleton centre to the top of Ingleborough and back. The 3.5 mile, 600m ascent is mostly runnable with some steep sections near the top. Particularly tough in the muggy conditions on the day. The 3.5 mile back downhill is brilliant, some 'technical bits' but pretty much flat out all the way. I was pleased with my time on the day as I made up quite a few places on the way down the hill. Definitely worth a go, the Gala is a good day out, with a good beer tent for post race refreshment!

(1  48:38 Josh Boyle, Ribble Valley Harriers)
47  61:39 Dave Robson
54  63.29 Jonathan Turner
55  63:46 Pauline Munro 
116 72:15 Alison Weston
209 runners

parkruns, Sat 21 July
From Petra Bijsterveld ... Results ...

Woodhouse Moor
(1  16:45 Adam Collins U/A)
35  21:02 Adrian Bastow
376 ran

York
(1  14:53 Jack Gray, Birmingham Running, Athletics and Triathlon Club)
65  21:21 Geoff Howard
471 ran

Bradford
(1  17:01 Martin Soszka, Saltaire Striders)
4   18:18 Steven Gott
31  21:47 Dave Reynier
66  23:31 Oscar Street
132 26:59 Paula Reynier
387 ran

Portrush
(1  17:55 David Brewis, Sphinx AC)
123 27:14 Hilda Coulsey
240 ran

Burnley
(1  17:32 Andy Buttery, Rossendale Harriers)
81  25:25 Will Worboys
346 ran

Skipton
(1  16:44 unknown)
33  23:08 Neil Pomfret 
204 ran

Druridge Bay
(1  17:27 Ali Bailey, U/A)
44  24:46 Chris Cunningham
171 ran

Scorcher Run Festival (day 5), Fri 20 July
From Colin Williams... while I don't think I'm ready to enter a multi-day marathon event (yet), I did join "Time 2 Run" for the day 5 marathon, of their 7 day Scorcher Run festival. The number of runners was small compared to the Hell of a Hill race organised by "Time 2 Run" that I entered last year. The Scorcher Run festival marathon was a six lap race on quiet roads, and the staff were very friendly, cheering us on by name as we completed each lap, the course was mostly flat, but with so few runners I spent a lot of my time running without anyone else in sight. The race didn't live up to its name, we had light rain for most of the race. I finished third in a time of 3:30:47 Results ...
HDSRL 4, Nidd Valley, Tue 17 July
From Caroline Howe ... Another great evening at the final 2018 Harrogate Summer Race League race at Nidd Valley last night... made even greater by a bottle of beer at the finish! Results below... well done to all who took part!
Results ...

(1  30:52 Andrew Grant, Harrogate)
7   33:13 Matthew Cox
12  33:53 Istvan Jacso
14  33:57 Daniel Mckeown
42  37:07 Jonathan Turner
67  38:31 Monica Padila
96  40:54 Malcolm Pickering
138 43:38 Catherine Gibbons
145 44:19 Caroline Howe
164 45:21 Geoffrey White
172 45:40 David Howe
228 49:28 Diane Kitchen
256 51:11 Stephanie Fox
273 52:30 Dawn Turner
293 55:32 Anna Pickering
299 55:51 Bernadette Gibbons
330 60:15 Laura Dawes
344 63:57 Donald Macrae
345 63:57 David Millson
353 finished

Scafell Skyrace, Sun 15 July
From Helen Waddington ... This race is still in its infancy, this being only the second edition, but numbers have increased already from around 60 finishers last year to around 190 starters this year. It's a point to point race, with coaches dropping us at Seatoller to start at 9 am with a short warm up on road and trail before the fun starts on Sour Milk Ghyll, which was by far and away the easiest bit of the day. The route, which as you would guess from the title, takes in Scafell Pike by way of the Corridor route, and is billed as being technical with scree, boulder and rock hopping and narrow single track sections which reduced my pace to even slower than usual. The most difficult section for me was the patchy and narrow path which skirts the waist of Great Gable (there is a reason people always go OVER and not round!) which passes under Napes Needle, the supposed birthplace of British rock climbing. All in all, a pretty demanding race, with little to no actual running but with epic views and great organisation and support. On the plus side, the route is fully flagged (controversial for some) with marshalls and safety crew stationed at the most tricky parts to provide reassurance and encouragement. Sadly I didn't make it through the cut-off at 15 miles, but many didn't with a high attrition rate of around 46 runners. Hopefully the organisers will be more generous next year in which case I might be tempted back. The winner was Jonathon Albon who got round in an astonishing 4 hours 26 mins, with his wife winning the ladies race in 5 hours 59.
Lakes Sky Ultra, Sun 15 July
From Dick Waddington ... Skyrunning is a bit of a Euro thing - marked trails and lots of elevation gain with technical terrain. It's quite new to the UK, with a couple the Lakes and a series in Glencoe. The Lakes Sky Ultra is 58km long with over 4500m of elevation gain, most in the first half. The organisers also need a climbing cv before they let you run, because some of the terrain is a bit spicy; Pinnacle Ridge on St Sunday Crag is a grade 3 scramble. I like that sort of thing, so there I was on the start line in Ambleside at 7.00am last Saturday. Amazing weather and nice and dry underfoot gave a good start for the 60 willing victims. We headed over Fairfield, up Helvellyn, down Swirral Edge and over Catstye Cam. Then the fun started by going back up Helvellyn via Striding Edge. The descent of Eagle Crag from Nethermost Pike was a bit sketchy in places. Then Pinnacle Ridge looms. It's such a long way up there! Incredibly steep turf for about 400m of climb, then 200m of scrambling. Great fun! The technical terrain keeps your mind off the distance covered, so by the time I got to half way at Patterdale, I was feeling a bit tired. It was also very hot and some of you might know I'm not great in the heat ...The next couple of hours were pretty tough getting up on to High Street, then down to Haweswater and back up High Street via Nan Bield Pass. Kirkstone Pass was a great sight after that, because there was coke and crisps to be had! They were like rocket fuel for my spirits and finishing seemed likely at last. The last 5km were great, a nice low angle run into Ambleside with wonderful views down to civilisation. Not for those with vertigo this one, but worth it.
(1 Rob Sinclair 7:40:27)
26 Dick Waddington 12:32:41 (2nd V45)
Addingham Gala fell race, Sat 14 July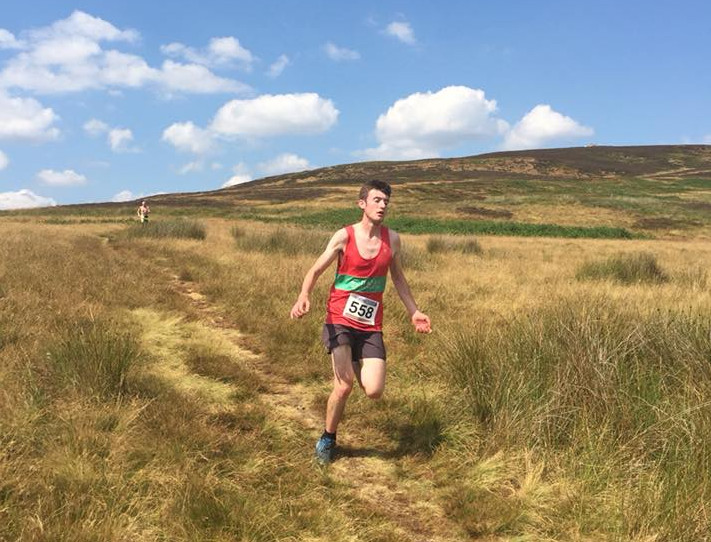 From Hilda Coulsey ... It was a scorcher of a day for this fell race, a Harriers League counter, organised by Jack Wood, Ben Joynson and Dan Wilkinson ably supported by many Harriers volunteers. It was hot in the field beforehand and very, very hot running, the breeze was promising but not overly helpful, what shade there was was very welcome. The water at the top was also very welcome as well as the supportive comments from all the volunteers.
Results

1  40:36 Jack Cummings - 1st and 1st U23
3  42:01 Nathan Edmonson
9  48:08 Michael Lomas 
12 49:19 Jim Ryder - 1st V50
14 49:45 Will Buckden 
18 50:21 Dave Robson 
21 51:40 Kate Archer - 3rd F
22 52:02 John Marskam 
27 53:27 Paul Calderbank 
29 54:00 Richard Joel 
32 54:48 Alex Hirst 
39 58:29 Alison Weston - 1st FV50
45 60:49 Jo Foster 
51 63:54 Chantel Busby 
55 65:40 Philip Dean 
59 70:51 Hilda Coulsey - 1st FV60
62 72:55 Peter Lewis 
64 75:23 Maria Brophy 
65 75:24 Peter Tapper 
66 75:25 Jan Jones 
71 79:07 Fiona Schneider 
74 92:01 David Millson 
75 starters

Alva Games fell race, Sat 14 July

(1 19:08 Josh Boyle, Ribble Valley)
11 24:33 Iain Gibbons
69 finished

Wasdale fell race, Sat 14 July

(1 3:59:55 Rhys Findlay-Robinson, DPFR)
66 5:49:03 Roy Ruddle 
107 finished

parkruns, Sat 14 July
From Petra Bijsterveld ... Results ...

St Albans
(1  16:16 Paul Adams, St Alban's Striders)
167 26:10 Paul Reynier
168 26:11 Dave Reynier
391 ran

Bradford
(1  16:32 Matthew Merrick, Bingley Harriers)
5   19:20 Adam Rhodes
455 ran

Harrogate
(1  17:58 Zeynu Bedru, Harrogate Harriers)
213 27:44 Jacqui Weston
380 ran

Skipton
(1  18:17 Lee Athersmith, RAF AC)
3   19:14 Rob Cunningham
40  24:58 Chris Cunningham
151 ran

Wetherby
(1  18:16 Alistair Galt, Queensbury RC)
18  21:26 Geoff Howard
99 ran

Washburn Relays, Fri 13 July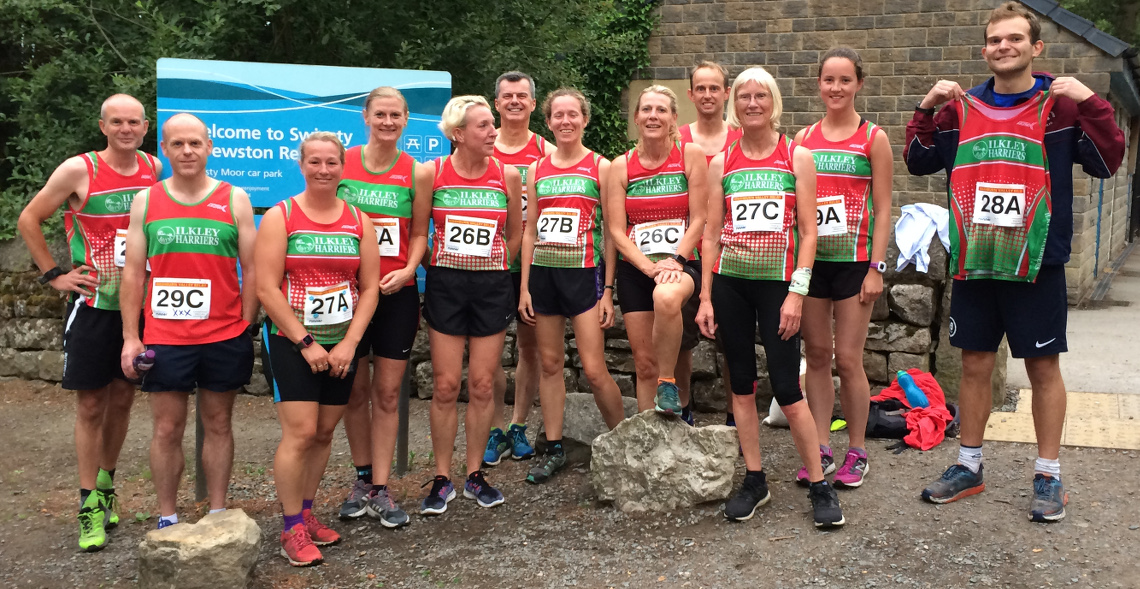 From Hilda Coulsey... We were able to put four teams of three runners out for the relays around Fewston and Swinsty reservoirs. It was a super setting and a very pleasant Friday evening amongst friends. It was great having the junior races too and very sociable with Otley AC putting on a bbq afterwards. The legs are 3, 4 and 3.3 miles, so easily doable around the reservoirs.
Some very fast club runners were out and it was won by Harrogate Harriers in a time of 56:14, Harrogate also took the Ladies prize.
Results

 8 Lucy Williamson, Martin Archer, Dave Foyston 1:03:30 - 2nd mixed team
13 Mike AC, Jonathan Turner, Steve Murray 1:05:52 - 10th mens team
49 Jayne Norman, Rachel Carter, Hilda Coulsey 1:21:20 - 7th ladies team
62 Stephanie Fox, Jane Bryant, Jacqui Weston 1:28:26 - 13th ladies team
68 teams from the local clubs took part

East Morton Gala fell race, Sun 8 July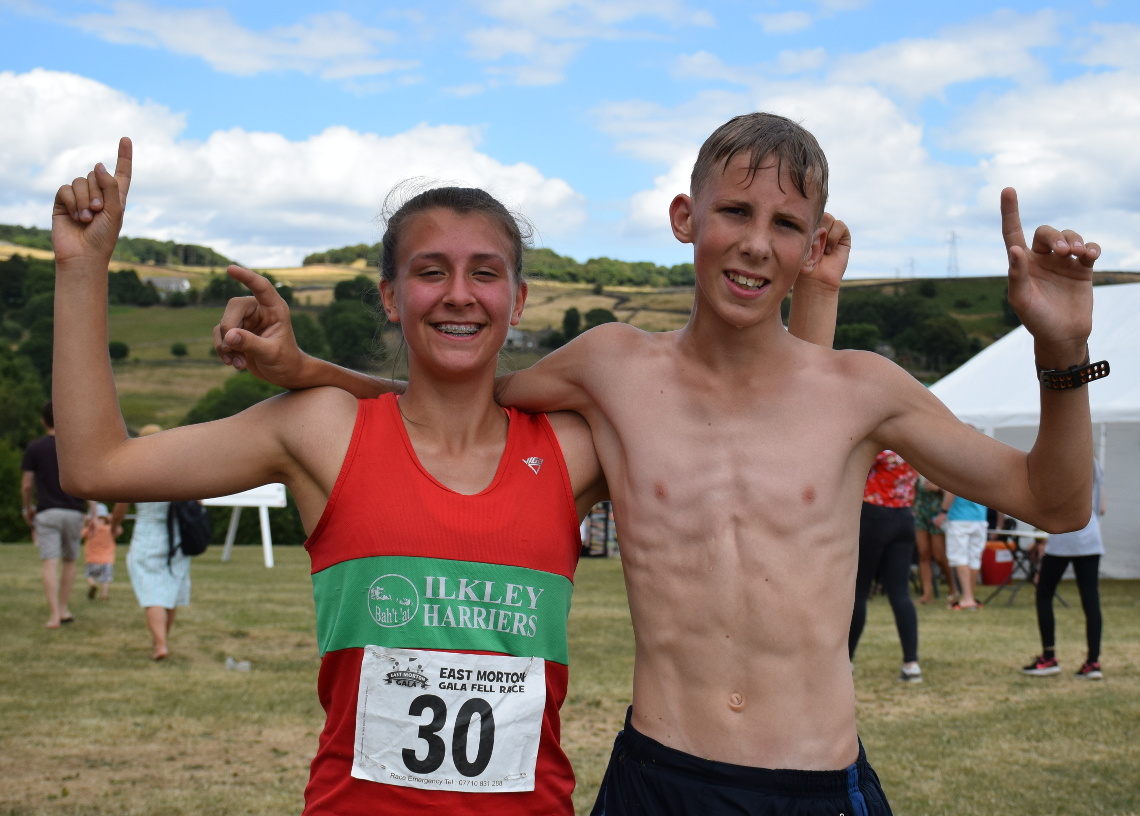 From Dave Woodhead ... Yorkshire FU17 fells champion Bernadette Raven of Ilkley Harriers won the East Morton Gala fell race for the second year, finishing 3rd overall in a time of 14:37. The race was won by Yorkshire MU17 fells champion Eric Beaumont of Keighley & Craven in a new record of 13:05, for the 2 mile fell race.
Heptonstall festival fell race, Sat 7 July
Borrowdale Trail Race, Sat 7 July
From Jann Smith ... 22km/1850ft. Beautiful but very hot route taking in all of Derwent Water two big hills: Watendlath and Castle Crags.

36 2h14 Jann Smith
156 ran

parkruns, Sat 7 July
From Petra Bijsterveld ... Results ...

Woodhouse Moor
(1  17:25 Daniel Josephs, South Shields Harriers)
42  21:41 Sally Armitage 2nd F
355 ran

Halifax
(1  18:08 Michael King, Halifax Harriers)
65  27:10 Will Worboys
130 ran

Bradford
(1  17:45 Michael Szoska, Saltaire Striders)
77  25:03 Oscar Street
140 27:39 Paula Reynier
379 ran

Skipton
(1  17:22 Harvey Lewis, KCAC)
11  21:05 Rachel Carter 1st F
25  23:37 Rob Budding
43  25:21 Chris Cunningham
82  28:01 Fiona Schneider
183 ran

Bramley
1   18:26 Steven Gott
150 ran

Stretford
(1  16:53 Khazi Haroon, ActiveRun)
17  18:51 Rob Cunningham
469 ran

Murder Mile, Thu 5 July
From Jann Smith ...One mile uphill only race for Juniors and seniors in Silsden.

1   7:09 Jack Wood                                                            
13  8:39 Bernadette Raven   1st female /Junior             
51 10:32 Jann Smith 1st Female Senior            
135 ran

HDSRL 3, Thirsk, Thu 5 July
From Caroline Howe ... 13 Harriers at the 3rd Harrogate Summer Race League event at Thirsk last night, with Rob Little of Ilkley taking first place. One race to go at Nidd Valley on 17th July.
Results ...

1   26:34 Robert Little
46  31:53 Jonathan Turner
49  32:06 Andrew Overend
64  33:12 Steve Murray
139 37:14 Catherine Gibbons
152 37:56 Caroline Howe
173 39:03 Geoffrey White
190 39:59 David Howe
236 42:45 Stephanie Fox
260 44:08 Sheena Pickersgill
274 45:15 Diane Kitchen
345 56:08 Donald Macrae
346 56:09 David Millson
353 finished

Stirton Fell race, Wed 4 July
From Ben Sheppard... It was another glorious evening for the fantastically low key Stirton Fell race, if a tad warm for racing. A 5.6 mile route takes you out of the village, up Sharp Haw, down and round the back, up Sharp Haw again from the other side (almost 1200 feet total ascent) and down on the sort of painfully shallow gradient of descent that demands that you go like the clappers (or as close to the clappers as you manage nowadays with your aging, old-man's-walking-race attuned legs and lungs) hoping the guy in a Barlick vest behind you is hurting at least as much as you are (or else blockaded by the herd of angry cows). Throw in a couple of confrontions of the bovine variety (the fear of death by cow-stampde injecting a little extra adrenalin) and a bottle of beer at then end and you've got what I call a fun night out. Sporting the red and green of Ilkley were Duncan Cooper (hoping not to repeat the broken ankle of the last time he raced one of Brett Weedon's races), ever-smiling Chantal Busby and the retiring (literally) Steve Turland (calf strain - of the non-bovine variety).
Results ...

1  40:33 Ben Sheppard
22 48:03 Duncan Cooper
35 50:28 Chantal Busby
71 finished

Eccup 10, Sun 1 July
From Jean Sullivan... 4 Ilkley Harriers completed the Hollybank Eccup 10 mile road race today. This was my 1st attempt at this race, which has now been running for 25 years and sold out for the 3rd year running. A lovely undulating 10 mile rural race which includes a circuit of Eccup reservoir. Despite the 9.30am start and some shady parts, the heat was unrelenting and I was happy to finally get to the finish line! I would definitely recommend this race; friendly and encouraging marshalls, great crowd support and a lovely tee shirt for all finishers!
Results ...

(1    55:16 John Hobbs, Valley Striders)
269 1:23:35 Jean Sullivan	
308 1:25:42 Alison Weston	
635 1:46:42 Peter Lewis						
727 1:58:30 Sarah Carroll	
764 runners

Harrogate 10k, Sun 1 July
From Sue Williamson ... A few Ilkley Harriers competed in this new 10k course round the Crimple valley area of Harrogate. An undulating course with a challenging hill at the end. It was lovely to have some areas in the woods providing respite from the hot sunshine.
Results ...

(1    36:02 Mike Burnett, Leeds City)
16    43:40 Lucy Williamson  first female
29    46:07 Steve Murray
33    46:34 Paul Calderbank
88    51:53 Chantal Busby
331 1:09:31 Sue Williamson
408 finished

Saunders Lakeland Mountain Marathon, 30 June and 1 July
From Kate Archer ... Outi and I completed the Saunders mountain marathon this weekend. We had selected the Kirkfell class. Starting at Grasmere we were given eight control points to visit before reaching our overnight camp. Then start again the next morning with a new list of control points to take us finally back to Grasmere.
The weather was very hot so our plan at the start was to take it really steady which turned out to be a good plan as much of the route was really tough going with some very difficult descents and steep climbs. I had underestimated the event and found day one tough and wondered whether perhaps we had selected too long a class. I had also not packed enough food (fortunately Outi had a bit extra). After 8 and a half hours we reached the overnight camp and were pleased to discover we were 16th in our class and the only female team to have completed the day.
After a not very satisfying meal, a couple of cans of beer (beer and milk being the only items we didn't have to carry) and an uncomfortable nights sleep, we set off on day 2. The course for day 2 was a little easier though our legs were very weary. Outi did a fantastic job of finding all our control points and we finally reached the finish and found that we had moved up a few places to 13th of 22 teams to finish (39 started), our finishing time was 14 hours 45 minutes. Overall a fantastic experience.
---