Ilkley Harriers news archive 2018
Ilkley Harriers of the Month, April
Harrier of the month nominations: Colin Williams for completing Thirsk 10 then Blackpool marathon 3hrs 21 and a week later the Fellsman; Dave Reynier for London Marathon and a week later the 3 Peaks; Hilda Coulsey for Guisley Gallop, Thirsk 10, Fountains 10k; Pete Shields for Bradford 10k result in comeback; Jack Wood for his under 3 hrs in the 3 Peaks plus Bunny runs first; Mike Baldwin for his impressive 23rd in 3 Peaks; Claire Baldwin for completing 3 Peaks in comeback; Alison Weston 3rd LV50 in British Fell Champs and 3 Peaks; Steve Murray Thirsk 10, York 10 and Bradford 10k pb; Matt Cox sub 3hr (2:52) Manchester Marathon; Jack Cummings 1st Guiseley Gallop and 1st Dick Hudsons
The winner is Peter Shields.
Volunteer of the month: Pete Shields for his Wednesday sessions; Peter Lewis for newsletter; Petra Bijsterveld for modernising the membership process.
The winner is Peter Lewis.
More Harriers of the Month ...
Other news from the Committee on the Committee page.
Fountains 10k, Sun 29 April
From Hilda Coulsey ... This latest Harriers League race was billed as multi terrain and having not done it before we struggled with what to wear and what shoes, it kept us amused anyway! After the first 2k up a hill it transitioned to a muddy rocky path then a thick muddy couple of ks, the lady before me lost her shoe, various slips and falls, then back onto narrow local roads for the rollercoaster up and down second half finishing with a steep uphill in the final 1k. It was good, definitely worth another visit.
Based in Grantley, with proceeds going to the school, this was a very friendly, well organised race with lots of sponsorship, good refreshments and generous prizes.
Most of the prizes went to the local clubs; Harrogate, Nidd Valley, Knaresborough and Ripon but we came home with a good haul for our 6 runners: 4th MV40 Jonathan Turner, 3rd FV50 Tracy Watson and 2nd FV60 Hilda Coulsey.
From Caroline Howe... The Fountains 10k takes place in the village of Grantley near Ripon (not at Fountains Abbey as the name may suggest!) Billed as a 'true multi terrain race', three-quarters of it is on quiet country roads. The 1.5 mile off-road section begins with 'The Puddle' and then goes across a very boggy moor section - a real quagmire but good fun! The rest of the route was undulating, ending with the 'Hill of Pain'. Well organised, great marshalls, lots of support (including a brass band!), a handshake from the race director on finishing and a packed goodie bag... I thoroughly enjoyed this race and would highly recommend it. A Harriers league race, 6 of us took part, earning our points.

(1  35:11 Jason Cherriman, Leeds City)
15  41:09 Jonathan Turner 
80  48:42 Caroline Howe 
127 52:19 Tracy Watson 
177 55:57 Hilda Coulsey 
233 59:31 Jayne Norman 
258 62:12 Kate Lofthouse
398 finished

Bradford 10k, Sun 29 April
From Peter Shields ... Results ...

(1  32:39 Joe Sagar, Spenborough)
107 41:20 Steve Murray
121 41:49 Rhys Jones
130 42:04 Adrian Bastow
417 48:05 Harry Sime
515 49:30 Peter Shields, 1st V70
811 53:28 Alex Stanley-Hyde
1897 ran

Three Peaks fell race, Sat 28 April

(1  2h49:08 Tom Owens, Shettlestone)
4   2h59:35 Jack Wood
99  3h45:31 Dan Wilkinson
167 3h56:25 Iain Gibbons
176 3h57:36 Steve Turland
187 3h59:45 Michael Lomas
248 4h10:11 Will Buckton
298 4h18:18 Alistair McInnes
369 4h29:13 Duncan Cooper
426 4h37:01 Dave Reynier
465 4h41:48 Richard Joel
512 4h48:19 Alison Weston
541 4h52:49 Dick Waddington
546 4h53:59 Michael Duffield
570 4h56:42 Dave Robson
606 5h03:41 Eleanor Bradley
623 5h07:12 Claire Mcloughlin
625 5h07:14 Mike Baldwin
701 finished

Fellsman, Sat 28 April
From Ben Sheppard... According to the website, "the Fellsman is a high level traverse covering more than 60 miles over very hard rugged moorland. The event climbs over 11,000 feet* in its path from Ingleton to Threshfield in the Yorkshire Dales." Well, my garmin says over 12,000 feet. And I don't recall it being on a "path". It might be what someone I know calls an "old man's walking race", but if so it's a blummin tough one. Around 400 runners and hikers took part. The winner was Neil Talbot in 11:16 hours; first lady was Jessica Richardson (about 14 hours); and the final finisher took a total of nearly 29 hours. I finished in about 13:30 hours thanks in no small part to flawless navigation (by the person I happened to end up running the whole way with). It's a fantastic event and I strongly recommend you give it a go if you like old men's (and women's) walking races.
Results ...
From Colin Williams ... at 02:33 on Sunday morning I completed my second Fellsman in a time of 18hrs 3 minutes, 3 minutes longer than it took me in 2013. I felt that I was going well for the first 25 to 30 miles but found the boggy ground tough and slowed during the later section. I was pleased to be able to run the final two miles along the road, something I wasn't able to do in 2013.
parkruns, Sat 28 April
From Petra Bijsterveld ... Results ...

Cardiff
(1  17:10 unknown)
4   17:27 Alex Hirst
693 ran

Bradford
(1  17:37 Tom Lee, Saltaire Striders)
25  21:48 Oscar Street
28  22:21 Caroline Howe
70  24:29 Tom Worboys
143 26:48 Paula Reynier
436 ran

Skipton
(1  18:06 Samuel Williams, U/A)
11  21:33 Martin Archer
21  22:54 Neil Pomfret
53  25:28 Nicola Budding
122 29:26 Bernie Gibbons
203 ran

Dick Hudsons fell race, Thu 26 April

1   46:51 Jack Cummings
4   49:20 Nathan Edmondson
7   50:02 Steven Gott
12  52:37 Daniel Lane
23  56:59 Dave Foyston
39  59:06 Helen Thurston
41  59:16 John Hayes
42  59:20 Helen Wood
51  60:12 Roy Ruddle
62  61:56 Tom Worboys
113 71:05 Geoffrey White
140 96:27 Sheena Pickersgill
142 finished

Evensplits 5k, Wed 25 April
From Hilda Coulsey... The latest in this year's evensplits 5ks at the Brownlee centre in Leeds saw only a few Harriers attend, in fact I was on my own in the earlier B run. It was a little chilly and windy but nothing relatively! Great times all round, also Rob Budding nipped under the 20 mins and I the 25 mins. This was the third in the series of 10 so plenty of time to sign up for this fairly flat tarmac circuit and test ourselves throughout the year.
Results ...

(1  16:07 Scott Harrington, Otley)
18  18:09 Dave Westhead 
64  19:57 Rob Budding 
66  20:05 Mark Iley 
95  21:41 Archie Budding 
158 24:50 Hilda Coulsey
201 finished

Filton Flyer Fast 5 km, Tue 24 April
From Adrian Hall ... a wet and windy post-work race near Bristol
Results ...

(1 16:16 Max Walker, unaffiliated)
21 19:39 Adrian Hall
51 ran

London Marathon, Sun 22 April

(1    2:04;17 Eliud Kipchoge, Kenya)
2233  3:13:18 Derek Oliver
3413  3:23:39 Rob Cunningham
4192  3:29:01 Dave Reynier
6631  3:44:42 Lucy Williamson
9315  3:58:20 Tom Worboys
12729 4:15:49 Helen Waddington
16753 4:33:37 Gaenor Coy
31619 5:42:35 Jo-Ann Pattinson
36316 6:17:43 Abi Bailey

Blackpool Marathon, Sun 22 April
From Colin Williams ... The weather in Blackpool was a bit different to London, the temptature was 12 degrees and we started in heavy rain. The rain soon stopped but the return route along the promenade was into a strong wind.
The 2017 Blackpool Marathon was my first marathon, this year event was my 7th and a new PB for me.
Not as flat as you may think with a few ups and downs, a good event for those looking for an alternative to London.
Results ...

(1 2:41:44  Richard Swindlehurst, Poole AC)
57 3:21:55  Colin Williams
574 finished

Anniversary Waltz fell race, Sat 21 April
From Jim Ryder ... I completed the Anniversary Waltz Fell Race in 2h1m30s. Didn't see any other Harriers but a huge field, hot conditions & great views.
parkruns, Sat 21 April
From Petra Bijsterveld ... Results ...

York
1   15:38 Jack Wood
2   16:21 Matt Newell
4   16:52 Ruaridh Mon-Williams
66  20:29 Steve Newell
651 ran

Highbury Fields
(1  17:12 Seyfu Jamaal, U/A)
63  22:18 Geoff Howard
350 ran

Bradford
(1  18:04 Mark Hall, Otley AC)
162 26:32 Steph Fox
181 26:59 Oscar Street
536 ran

Skipton
(1  18:35 Logan Hargreaves-Madhas, Wharfedale Harriers)
32  23:35 Neil Pomfret
193 ran

Bramley 
(1  17:52 Tim Patterson, Airienteers Orienteering Club)
2   18:14 Steven Gott
229 ran

Vale of York 10, Sun 15 April
From Caroline Howe ...The Vale of York 10 took place just a week after the Thirsk 10, thanks to the snow which postponed the latter - so it was a sense of deja vu...! Both are very flat courses, and both Harriers league races. I enjoyed Vale of York more as it was marginally 'less flat', and had a few more turns than Thirsk. It was also on closed country roads, whereas Thirsk is on not-so-scenic open A roads! The Vale of York is a fairly new race on the local calendar, but extremely popular already - a sellout with 1000+ runners. It starts at Rufforth airfield (the first mile is on the runway!) and was well organised, with a decent t-shirt and medal. Six Harriers took part - with Kate Archer continuing her excellent recent form, first Harrier home and 2nd F35. Kate was followed by Colin Williams, Jonathan Turner and Steve Murray in quick succession; then myself and Tom Lally.
I would definitely do this race again. It is similar to the Yorkshire 10 mile in October, which I also recommend. There is also a Vale of York Half Marathon in September which starts at Sherburn-in-Elmet Airfield, for anyone who fancies something similar! However, I think I'm ready for a few hills now...!

(1    55:07 John Clifford, Evenwood)
54  1:06:54 Kate Archer
70  1:08:14 Colin Williams
84  1:09:01 Jonathan Turne
90  1:09:51 Steve Murray
224 1:16:52 Caroline Howe
228 1:17:49 Tom Lally
1152 ran

Skipton triathlon, Sun 15 April
From Val Kerr ... I decided to enter this, my first triathlon, in January, and training in a nice warm swimming pool over the long winter turned out to be a good decision. The only disadvantage was that I didn't manage to get out on my bike until about 3 weeks ago. I really enjoyed the event and the different disciplines (swim 400 m, bike 22 km, run 5k) and was very pleased with my finishing time although my transitions were a bit on the slow side. This is a nice friendly triathlon and a great place to start for anyone wishing to try and emulate the Brownlees. Not sure if any other Harriers took part.

(1    57:26 Matthew Nelson)
467 1:40:30 Val Kerr  
759 finished

Guisborough Moors, Sun 15 Apr

(1  1:24:03 Nick Swinburn, Morpeth Harriers)
75  1:55:06 Roy Ruddle
210 ran

Mourne Highline race, Sat 14 April
From Alison Weston ... Jack Wood had a fantastic run in the Mourne Highline race - the first British Fell Championship race this year. Less than 2 minutes behind the leader Jack came in 3rd, getting stronger throughout the race. Coaches dropped all the competitors at the start of the race at Spelga Dam, with the mist being so low that it was hard to make out the water or any surrounding hills! All hopes of stunning views along the route disappeared as the mist showed no signs of lifting. We were all grateful for the Mourne Wall which ran along the tops and helped with navigation, although I still managed to 'lose' the wall once or twice!

(1  1:35:02 Joshua Jardine, Helm Hill)
3   1:36:43 Jack Wood 
206 2:31:20 Alison Weston  2nd LV50

Hawkeshead 10k Lakeland trail race, Sat 14 April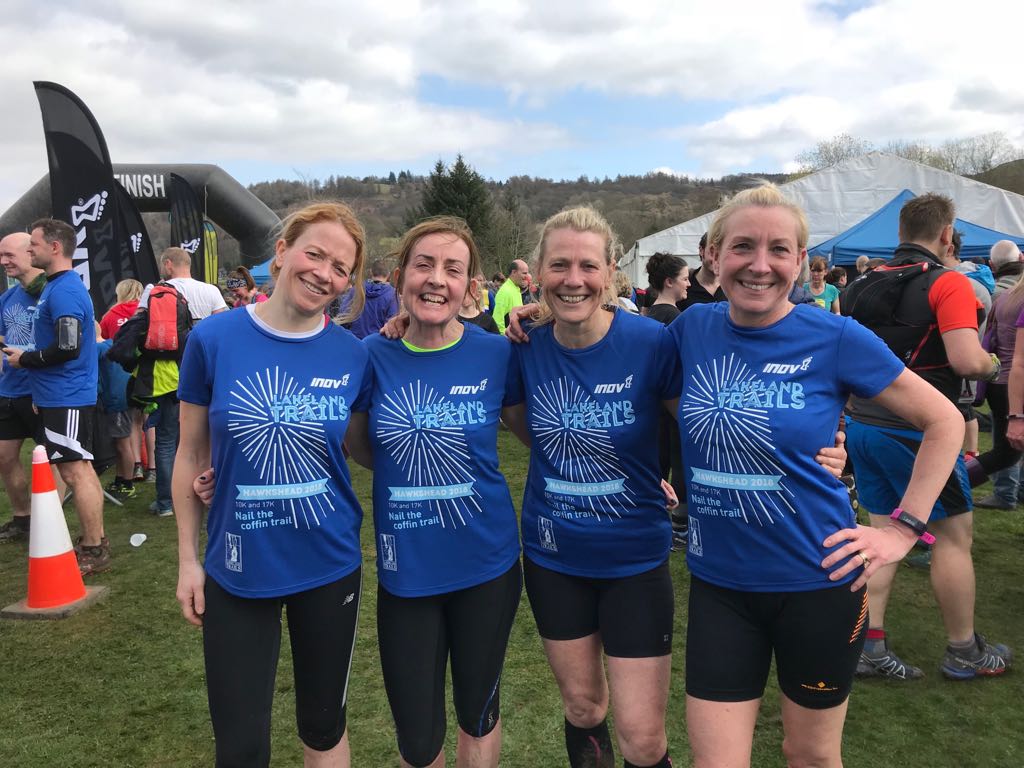 From Jane Bryant ... 4 of us headed up to Hawkeshead for this alleged 10k trail race. We were set off to the sound of drummers from the field. This scenic run took us over muddy fields, through styles and over the Moor before running alongside Lake Coniston and THEN up the dreaded Coffin Trail! This was a rocky wet trail for approx 1m and then down a rocky descent back into Hawkeshead to the announcers voice only to to then turn away from the village and then back in through the fields! I was initially disappointed with my 10k time to find that it was actually 7.4m!
Results ...

10k
(1    48:56 Andrew Payne, Ribble Valley  Harriers)
62  1:09:04 Jane Bryant 1st LV50
104 1:14:19 Anna Nolan
208 1:27:29 Jacqui Weston
466 finished

17km
(1 1:02:44 Tom Payn, inov-8)
21 1:21:59 Jonathan Turner
182 finished

17k Challenge
(1  1:17:06 Andrew Foster, Liverpool Pembroke & Safron)
99  1:41:30 Neil Pomfret
309 2:05:16 Dawn Turner
532 finished

parkruns, Sat 14 April
From Petra Bijsterveld ... Results ...

Woodhouse Moor
(1  16:12 Benjamin Douglas, Leeds City AC)
36  20:17 Tom Worboys
528 ran

Bradford
(1  16:48 Matthew Merrick, Bingley Harriers)
31  21:26 Dave Reynier
71  23:33 Oscar Street
161 26:34 Paula Reynier
610 ran

Roundhay
(1  18:48 Richard Thomson, U/A)
33  22:35 Geoff Howard
314 ran

Fountains Abbey
(1  17:34 Tom Calvert, Knaresborough Striders)
25  20:06 Helen Thurston
517 ran

Bramley
(1  16:13 Joe Baxter, P&B)
2   18:26 Steve Gott
216 ran

Stretford
(1  16:49 Ed Fazakerley, Manchester Harriers)
8   18:15 Rob Cunningham
603 ran

Bunny Run 3, Tue 10 April

1   15:55 Jack Wood, Egg Stage winner 3:23, Series Champion
2   16:18 Jack Cummings
11  18:14 Istvan Jacso
13  18:34 Daniel Lane
34  20:31 Bernadette Raven 1st GU17, 3rd lady
43  21:09 Colin Williams
51  21:40 Helen Wood
52  21:53 James Newman
58  22:17 Malcolm Pickering 1st V60
65  22:58 Harry Stead
77  24:22 Charlotte Elston
106 27:00 Tom Jackson
135 29:49 Anna Pickering
161 finished
Ilkley 1st men's team

Manchester Marathon, Sun 8 April
From Matt Cox ... Last Sunday saw Dick Waddington and I line up for what would be my first road marathon. Training in the run up hadn't quite gone to plan with at least 4 weeks out since Christmas with niggling injuries, but I started in reasonable shape after a good 3-4 weeks of consistent running behind me. Dick and I both started with the 3 hour pacer, and after a brief chat to Dick in the first mile, I pushed on, gaining slightly. The first half felt comfortable, and I was conscious to drink constantly and down gels every 10k. From miles 13 to 20 I made sure not to over cook it as I hadn't done many long training runs (none over 20 Miles!) so wanted to make sure I didn't blow up. By mile 20ish I was feeling ok, and was running well inside 3hr pace, so pushed on and thankfully judged my effort well, with a very hard last mile, to finish in 2.52.55. Dick had a good run up to mile 15, but suffered in the last half to finish in 3.22. Great support, and a good qualifying race for a good for age entry for London 2019...
Baildon Boundary Way, Sun 8 April

(1  1:22:09 Joe Baxter, P&B)
31  1:44:31 Jonathan Sinclair
32  1:44:49 Jonathan Turner
127 2:03:46 Jane Bryant
187 2:15:13 Harry Sime
197 2:17:00 Adela Reperecki
213 2:19:25 Pete Shields
223 2:21:47 David Howe
244 2:28:08 Melanie Edwards
275 2:35:18 Jacqui Weston
337 finished	

Thirsk 10, Sun 8 April

(1    50:30 Dominis Shaw, New Marske Harriers)
96  1:07:53 Colin Williams
132 1:10:39 Steve Murrray
251 1:17:46 Caroie Howe
371 1:25:40 Hilda Coulsey
676 finished

Yorkshire Road Relay Championships, Sat 7 April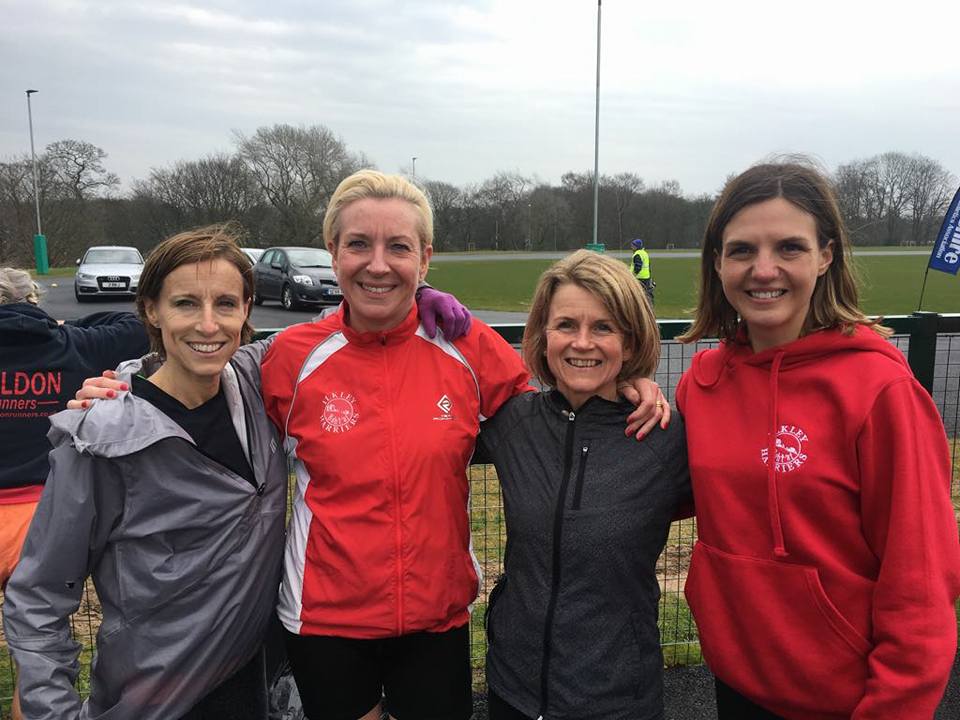 From Caroline Howe ... A team of Sally Malir, Jane Bryant, Jane McCarthy and I finished 10th out of 23 teams. Legs were 2 miles and our overall time was 55:20 with some great individual splits! Moreover, it was a fantastic team occasion and a lot of fun! Results
The team of David Foyston, Matt Newell, Jack Wood and Nathan Edmondson finished an impressive 9th out of 38, while the team of Michael Lomas, Mark Iley, Malcolm Pickering and Arthur Reilly finished 32nd. Well done all! Results
Podium 5k, Sat 7 April
From Geoffrey Howard... A calm, dry, still cool evening at Barrowford provided ideal conditions for the 7 April Podium 5k on Barrowford cycle circuit's superb running surface. There were two races: an A for sub 18 min runners and a B for the "rest". Most of the "rest" became uncatchable even within the first 20 metres and a so pretty much a self-disciplined solo run was called for ending up 33th out of 37 in 21m 37s.
Results ...

(1 17:29 Andy McCue, Skyrac)
33 21:37 Geoffrey Howard
37 finished

Coledale Horseshoe, Sat 7 April
From Alison Weston ... Just two Harriers for Coledale Horseshoe race this year. The race starts from Braithwaite, taking in Grisedale Pike, Eel crag, Sail and Barrow - 9miles and 3000ft climbing. Paul Carman ran the race in 1:33:28 (88th) despite running up and down Blencathra twice the previous day! Alison Weston a good bit further down the field in 1:51:04 (221st and 3rd LV50).
parkruns, Sat 7 April
From Petra Bijsterveld ... Results ...

Bradford
(1  17:39 Timmy Gedin, Arena 80 AC)
22  22:08 Dave Reynier
470 ran

Skipton
(1  18:56 Andrew Cairns, Skipton AC)
17  21:17 Adrian Bastow
30  22:59 Neil Pomfret
181 ran

Stretford
(1  16:52 Gavin Browne, East Cheshire Harriers)
18  18:24 Rob Cunningham
566 ran

Ilkley Harriers newsletter
Read the latest newsletter.
Bunny Run 2, Tue 3 April

1   16:03 Jack Wood
2   16:08 Robert Little
5   16:47 Jack Cummings
18  18:57 Daniel Lane
50  21:06 Bernadette Raven
51  21:08 Colin Williams
65  22:07 Helen Wood
66  22:09 Malcolm Pickering 1st V60
97  24:49 Isabel Macina
111 25:32 Charlotte Elston
112 25:32 Charli Macina
114 25:38 Lucy Jacques
123 finished
Ilkley 1st men's team

Guiseley Gallop, Sun 1 April
Well done to Jack Cummings, race winner. Results ...

1   37:36 Jack Cummings
22  43:49 David Foyston
35  45:47 Jonathan Turner
50  47:06 Colin Williams
148 53:47 Tom Lally
226 59:16 Adela Reperecki
266 61:49 Peter Shields
280 62:34 Jean Sullivan
303 64:09 David Ibbotson
304 64:20 Petra Bijsterveld
310 64:35 Hilda Coulsey
317 65:40 Peter Lewis
326 66:47 Sheena Pickersgil
369 69:33 Ruth Jones
457 finished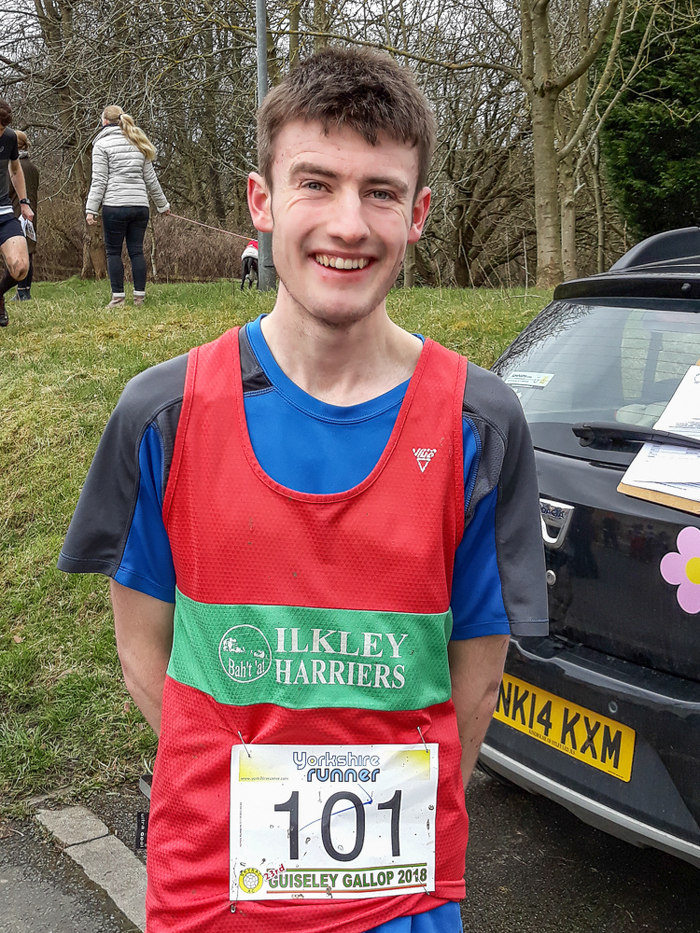 ---