Ilkley Harriers news archive 2018
Outstanding Achievements, August
From the Committee ...
Euan Brennan for GB selection for U20 (at 17) and very impressive results
Rachel Carter 1st FV40 Round Hill fell race, 3rd lady at Hellifield gala, 1st lady in the Dutch 5k Jemima Elgood 1st at King's Challenge
Will Simmons 2nd at Round Hill, 4th at Burnsall 10 mile
Helen Waddington for UTMB OCC finishing in top third for her category ad impressive commitment to training
Paul Wood for maintaining the website, including the Forums
UTMB OCC, Thu 30 Aug
From Helen Waddington... I was lucky enough to get a place on this, the shortest and (probably for this reason!) the most over-subscribed of the UTMB races. Heavy rain, storms and snow on the days either side of my race but I was blessed with warm sunshine in the valleys and some light cloud and mist on the summits. Just short of 1600 runners set off on the route which takes in the last 57 km of the full UTMB course. Three main climbs with a total 11,500 feet of ascent it is a challenging event but the amazing support from the UTMB organisation, friendly locals and awesome views kept me going. I was pleased to get round with no mishaps and not a drop of rain finishing in 11 hours and 18th v50. The icing on the cake was running into Chamonix where the reception was incredibly warm and enthusiastic and it felt like every runner was a winner regardless of finishing time. Special mention to Andrew Merrick who supported me for the last third of the race and kept me going with gentle encouragement and distracting chat when I needed it most!
Ennerdale Show fell race, Wed 29 Aug

(1 11:25 Jack Wood
59 finished

Kilnsey Show fell race, Tue 28 Aug

(1  8:00 Nick Swinburn, Northumberland)
16 10:13 Steven Gott
39 11:27 Jeff Green
102 finished

Reeth Show fell race, Mon 27 Aug

(1 15:06 Simon Bailey, Mercia)
2  15:15 Jack Wood
12 18:30 Iain Gibbons
80 finished

Hebden Sports fell race, Mon 27 Aug
From Alison Weston ...

Senior race
17:00 Alison Weston 
	
U17 race
15:00 Bernadette Raven
15:18 Harry Stead

Podium 5K Barrowford, Mon 27 Aug
From Sally Armitage ... These are the results from the Podium 5K at Barrowford this morning. ...
A race, B race

A Race
(1 14:46 Nick McCormack, Morpeth Harriers & AC)
6  15:16 Euan Brennan 
65 finished

B Race 
(1 17:16 Ashley Crawford, unattached)
24 20:14 Sally Armitage 
43 finished

5k race results, Sun 26 Aug
From Rachel Carter... I took the opportunity to participate in a well organised yet friendly 5km run with the Zoetermeer Road Runners whilst on holiday in South Holland. Finished 1st lady and 9th overall out of 62 in a time of 20:02. Would have been under 20 but stopped to help a runner with a stitch.
Burnsall Feast Sports, Sat 25 Aug
From Hilda Coulsey...The best weather of the weekend on Saturday helped to ensure another great afternoon of races at Burnsall. It's always lovely to see the various juniors racing on the field and on the fells and well done to Bernadette Raven a very close 2nd in her group.
10 miles road race
Not so many Ilkley Harriers competed this year but, with all the men runners being in the top 20, what a performance. Will Smith, Rossendale, won with ilkley Harriers Jack Wood 2nd, Will Simmons 4th, Ben Sheppard 5th, Martin Archer 9th and Jonathan Turner 17th.
There were only 21 ladies running in total. Jean Sullivan led the Harriers back, Sheena Pickersgill picked up 1st FV50 and I made up our 'team', less said the better re my performance I have a number of excuses but it would take too long to go through them!
Only 72 ran in total, compared to last years 120, which is a shame for the organisers. It felt like there was a lot of traffic on the narrow country roads, bank holiday weekend the reason perhaps and for the small turnout. I'm sure they'll be back again next year for a tough race but super atmosphere.
Results ...

(1 54:49 Will Smith, Halifax)
2  56:22 Jack Wood
4  57:52 Will Simmons
5  61:36 Ben Sheppard
9  64:05 Martin Archer
17 68:00 Jonathan Turner
55 85:39 Juan Sullivan
63 91:54 Sheena Pickersgill
67 97:34 Hilda Coulsey
72 finished

localhos
The Classic Fell race
A highlight here was Victoria Wilkinson, Bingley Harriers, who came in 9th overall with a new course record time of 15:58, a record held by Carol Greenwood since 1983. The course was dry and there were a similar number of runners as last year, although fewer Harriers. Nevertheless fast times were achieved by all our runners.
Results ...

(1 14:04 Sam Tosh, Rossendale)
14 17:03 Steven Gott 
37 20:42 Richard Joel 
55 22:15 Robert Hamilton 
65 23:01 Michael Duffield 
76 23:51 Abigail Swales 
120 finished

No Harrier took on the challenge of both races, but well done to Antonio Cardinale (second claim Ilkley) who did.
Malham Show Fell Race, Sat 25 Aug
From Val Kerr ... My first race in a while. Short (~3.5 miles) with 900+ ft of ascent. Whilst waiting at the start line the commentator informed us of Jack Wood's awe inspiring finishing time at last year's race - just over 17 min, up and down !! Not sure what my time was but it was a lot longer than that. A great race anyway and good to be back on the fells again.
Results ...

(1 17:35 Duncan Birtwhistle, Telford)
48 32:34 Val Kerr
52 finished

parkruns, Sat 25 Aug
From Petra Bijsterveld ... Results ...

Cardiff
(1  16:02 Mukthaar Farhan, U/A)
9   17:11 Alex Hirst
713 ran

Bradford
(1  17:12 Martin Soszka, Saltaire Striders)
28  21:41 Sally Malir
129 26:06 Philip Hirst
406 ran

Harrogate
(1  16:30 unknown)
100 24:27 Oscar Street
169 26:24 Paula Reynier
373 37:57 Dave Reynier 
401 ran

Skipton
(1  18:01 Jake Ridding, U/A)
23  22:46 Jonathan Schneider
216 ran

Rising Sun
(1  17:31 Mark Snowball, Morpeth Harriers & AC)
48  22:00 Caroline Howe
460 ran

Tooting Common
(1  16:05 Danny Russell, Highgate Harriers)
24  19:04 Rob Cunningham
502 ran

Selby
(1  19:43 Jamie Wilson, Tyne Bridge Harriers)
13  22:19 Geoff Howard
104 ran

Forums closed
From Paul, website editor ... The Ilkley Harriers forums, first set up in 2008, have now been closed. This is with a slightly heavy heart, but it's too much work maintaining them and protecting them from internet pests. If you have something to tell club members you can send it to me for the news page, or post it the Facebook group, or send it to Val for the email newsletter.
Sedbergh Hills Fell Race, Sun 19 Aug
From Will Buckton ... Steve and I ran the Sedbergh Hills in poor visibility. Steve had a great run to finish 1st V50. I set off well but took some detours and was pleased to finish as there were 18 DNFs!
Results ...

(1 2h20:22 Rob Jebb, Helm Hill)
19 2h55:29 Steve Turland
78 3h59:07 Will Buckton
98 finished

parkruns, Sat 18 Aug
From Helen Thurston ... I did Whinlatter Forest Parkrun this morning and thought it was worth a mention as it's relatively new and a bit different. As well as the wonderful community spirit of Parkrun, the course boasts beautiful views of Derwentwater (just visible through the rain today, on a clear day it would be lovely) as it winds its way up through forest tracks and paths. Certainly not a good run for chasing a PB as it's mostly uphill (600+ ft of height gain), but it's an enjoyable course and once you've walked back down the hill from the finish there is a great cafe!
From Petra Bijsterveld ... Results ...

Bradford
(1  16:53 Will Kerr, Saltaire Striders)
127 27:01 Will Worboys
340 ran

Harrogate
(1  17:17 unknown)
60  21:54 Dave Reynier
62  21:58 Geoff Howard
182 26:03 Paula Reynier
404 37:47 Tim Buckingham
432 ran

Skipton
(1  18:05 Laura Gent, Aldershot, Farnham & District AC)
6   20:17 Mark Mon-Willams
10  20:49 Jonathan Schneider
158 ran

Whinlatter Forest
(1  21:23 Jim Haworth, Keswick AC)
7   23:43 Helen Thurston
101 ran

Clapham Common
(1  16:28 Finn Johnson, Hercules Wimbledon AC)
21  19:02 Rob Cunningham
445 ran

Evensplits Brownlee Centre Leeds 5km Race 7, Wed 15 August
From Fiona Schneider... Results ...

(1  16:16 Joe Sagar, Spenborough)
20  18:17 David Westhead  
72  20:47 Sally Armitage  
74  20:55 Catherine Westhead (junior) 
75  21:00 Archie Budding (junior)  
90  21:32 Robert Budding     
134 23:49 Nicola Budding     
154 26:09 Fiona Schneider (PB) 
172 ran

Triple Treat, Sat 11 Aug
From Fiona Schneider... Saturday lent itself to three small races and so Jonathan Schneider and I gave ourselves a challenge to complete them. First, we headed to Skipton parkrun where we both improved our times from last week albeit in my case, by the slimmest of margins. And then to Arncliffe Gala for a Dales day in the sun in beautiful Littondale. The road race is just a lovely 4 miles, or thereabouts, valley race to Hawkswick, across the river, and back to cheers from the folks at the Gala. An occasional short climb with some undulation. As that race starts quite early we enjoyed our recovery time with tea and cake in the village hall. And then to the fell race. It was very dry, and a fast downhill for those with the necessary technique IH was represented way up front, but not by me! Just had time for a glance at the view down the valley and over Arncliffe. Lots of junior races and some Ilkley Harriers there, too. A great village Gala day with great racing.

Road race
(1 21:01 Will Smith, Halifax) 
30 27:29 Derek Oliver  
43 29:37 Jonathan Schneider  
80 35:43 Fiona Schneider  
98 ran

Fell race
(1 10:39 Ted Mason, Wharfedale)
2  11:25 Jack Cummings
9  12:35 Iain Gibbons
67 17:34 Jonathan Schneider
92 23:18 Fiona Schneider
100 finished

parkruns, Sat 11 Aug
From Petra Bijsterveld ... Well done to Dom Coy (still just in the juniors but who will be joining the senior club on October 1st) on a first finish at Drumchapel in Scotland. A small event where the Coy family contributed about 10% of the participants! Richard Joel and Jean Sullivan were flying the Yorkshire flag in Limerick this week.
Results ...

Bradford
(1  17:32 Jack Kelly, U/A)
4   18:45 Michael Lomas
17  20:26 Rhys Jones
109 25:37 Will Worboys
146 27:00 Paula Reynier
419 ran

Skipton
(1  17:30 Andrew Cairns, Skipton AC)
22  21:56 Jonathan Schneider
84  26:56 Fiona Schneider
191 ran

Fountains Abbey
(1  16:53 Robert Wood, Basingstoke and Mid Hants AC)
26  19:57 Mark Mon-Williams
42  21:11 Geoff Howard
61  22:09 Rebecca Mon-Williams
407 ran

Limerick
(1  18:40 Brian Halpin, U/A)
6   20:06 Richard Joel
28  24:31 Jean Sullivan
114 ran

Drumchapel
1   17:42 Dominic Coy
29  28:08 Stephen Coy
43 ran 

Kings Challenge fell race, Thu 9 Aug
Provisional results ...

(1 43:09 Robin Howie, Wharfedale)
9  46:22 Ben Sheppard
10 46:23 Steve Gott
11 46:25 Michael Lomas
32 52:09 Jemima Elgood 1st lady
76 finished

World Championships selection
From Steve Brennan ... Euan Brennan has been selected to run for GB U20 team in the World Mountain Running Championships in Andorra on the 15th September. The race this year is uphill only. British Athletics announcement
Round Hill fell race, Sun 5 Aug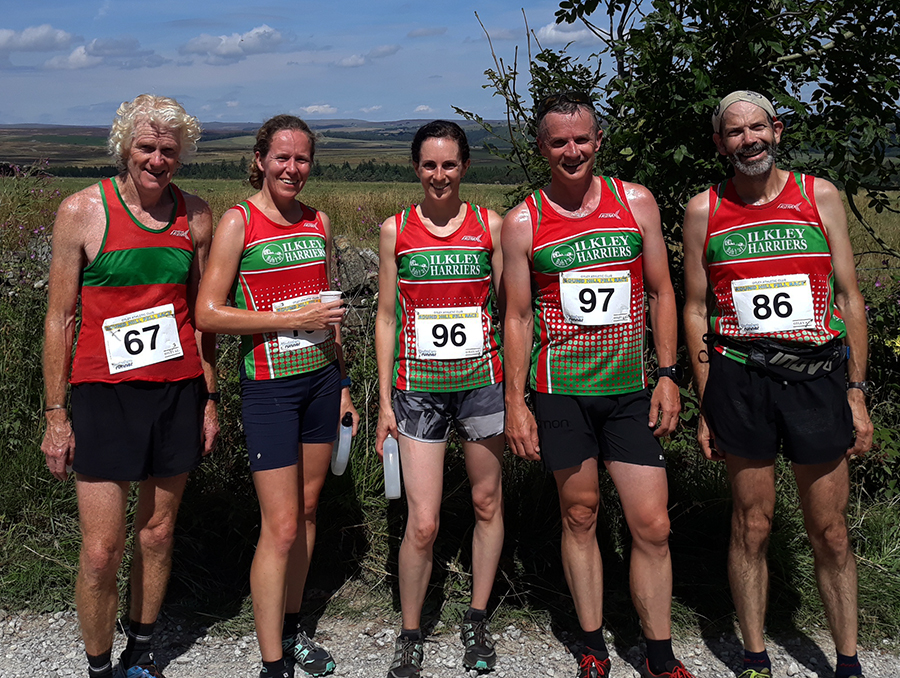 (1   53:07 Tim Stratton, York)
2    53:36 Will Simmons
5    56:47 Nathan Edmondson
8    58:41 Istvan Jacso
19 1:05:45 Will Buckton
28 1:08:46 Colin Williams
30 1:09:28 Helen Thurston 3rd lady
45 1:14:30 Rachel Carter 1st F40
58 1;16:35 Dick Waddington
63 1:19:20 Malcolm Pickering
79 1:22:23 Chantal Busby
90 1:25:33 Sarah Haines
131 finished

Farleton Knott fell race, Sun 5 Aug

(1  34:27 Simon Bailey, Mercia)
19  43:22 Iain Gibbons
102 finished

Hellifield Gala fell race, Sat 4 Aug
From Rachel Carter ... On Saturday our family went to Hellifield for their annual gala which was a thoroughly enjoyable afternoon out. The junior fell races were followed by traditional sports with money to be won (egg and spoon, 3-legged race, egg throwing). The senior race was organised by Barlick Fell runners (5.6Km over tufted grass, 260m ascent) which was won by a local runner Harry Coates who is a former world triathlon champion and, on the day, he destroyed the opposition, coming home over two minutes ahead of the rest of the field. Bernadette Raven ran a fantastic race and was 2nd lady whilst I finished 3rd lady and 1st Vet 40. I hadn't planned to do 2 races over the weekend but decided to do a very hot and dry Round Hill on Sunday, and was surprised to finish first FV40.
Results ...

(1 23:55 Harry Coates, Wharfedale)
15 30:24 Bernaddette Raven (U17)  1st lady
23 32:58 Rachel Carter 1stF40
52 finished

Another Bob Graham success
Tim Brayshaw has completed a Bob Graham round in 21 hours 20mins Set off at midnight on Friday August 3rd. Thanks to all those who supported. A write up of the round to follow...
parkruns, Sat 4 Aug
From Petra Bijsterveld ... Results ...

Richmond
(1  17:57 Thomas Ziegel, St Mary's University College AC)
7   19:03 Paul Castle
337 ran

Skipton
(1  17:58 Rebecca Murray, Bedford and County AC)
8   20:38 Colin Williams
20  22:41 Jonathan Schneider
78  26:59 Fiona Schneider
210 ran

Fountains Abbey
(1  16:21 Reece Dalton, Ripon Runners)
74  22:19 Tom Worboys
432 ran

Bramley
(1  18:27 Robert Shand, South Leeds Lakers)
2   18:42 Steven Gott
147 ran

Armley
(1  17:11 Michael Vargas, Hyde Park Harriers)
20  21:44 Geoff Howard
210 ran

Eshton Moor Fell Race, Thu 2 Aug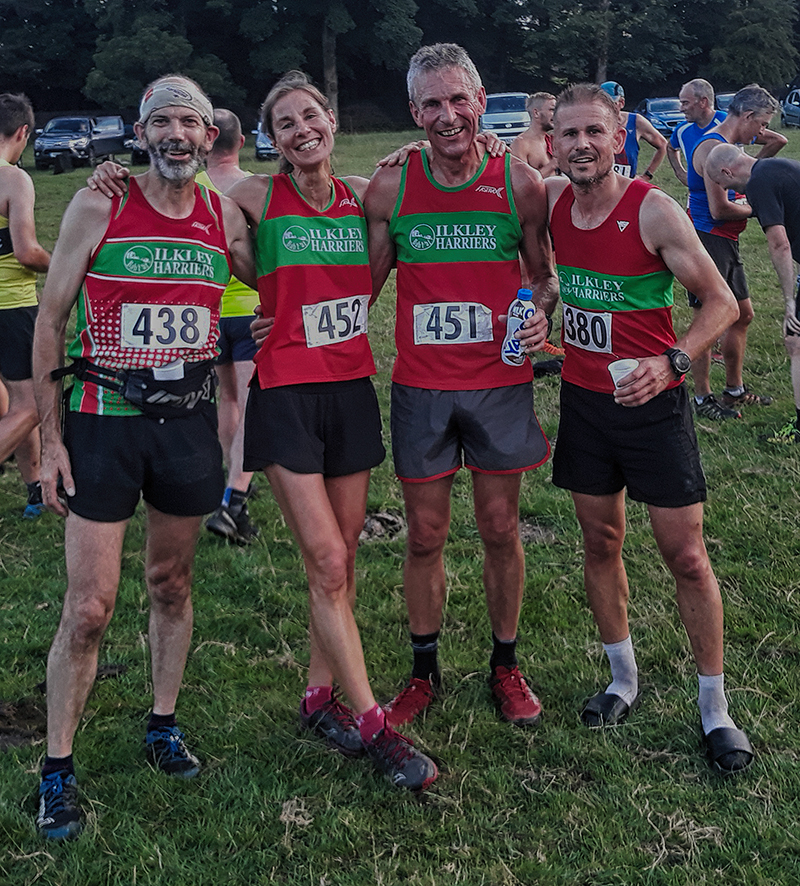 From Colin Williams ... Four Harriers took part in the Eshton Moor Fell race on Thursday evening, the forecasted rain didn't arrive and the evening was sunny the course was very dry which probably help Chris Holdsworth of Ribble Valley Harriers take over a minute off of the record for the race. The fastest Ilkley Harrier was Steven Cott who came 14th.
Results ...

(1 31:05 Chris Holdsworth, Ribble Valley Harriers)
14 35:45 Steven Cott 
28 39:58 Paul Calderbank 
34 41:28 Colin Williams 
41 43:22 Chantel Busby 
76 ran

Whittle Pike Fell Race, Wed 1 Aug
From Colin Williams ... After the Dusk to Dawn, I felt that I needed to get the legs going again so I joined 94 others on Wednesday evening to take on the 4.5miles, 1,400 feet of ascent that is the Whittle Pike Fell Race. The weather was kind, not too hot and the running was hard, but expected, as they say on their website "for an evening race this is a rough, tough race" and that after we were told at the start that they have changed the course this year to give more opportunity to run...
I came 31st out of 95 finishers in a time of 57:21
The winner was James Kevan of Horwich RMI in a time of 46:06
Results ...
---