Ilkley Harriers news archive 2018
Ilkley Harriers of the Month, February
Harrier of the month nominations: Euan Brennan for his impressive 5k time in the Armagh international and 10th in national XC; Jann Smith and Paul Carmen for commitment to training and completing their first ultra, the tough Transgrancanaria; Tom Adams for 1st place at IMFR and Yorkshire Champion.
The winner is Jann Smith and Paul Carmen.
Volunteer of the month: Pete Shields for his Wednesday sessions; Steve Weston for the IMFR race, combined with Yorkshire championships, organisation
The winner is Steve Weston.
More Harriers of the Month ...
Harewood Half & 10k, Sun 25 Feb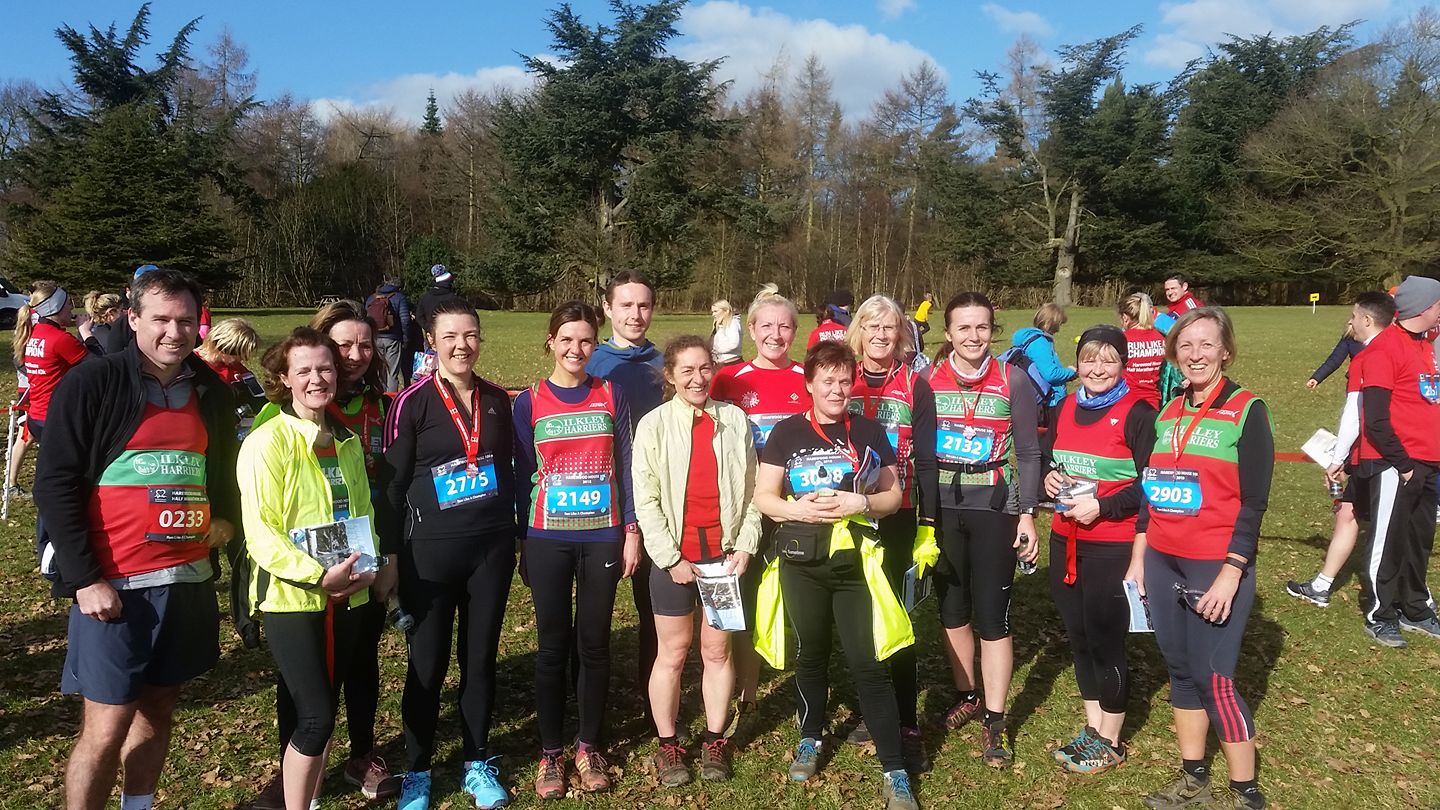 From Caroline Howe... A beautiful day at Harewood House where it was great to see Harriers out in force including several newer members. There were some excellent performances in both distances - Jane McCarthy finishing 3rd female overall and 1st F40 in the half; and Hilda Coulsey 1st F60. Those who did the 10k scored league points in what was the first trail race in the IH league 2018.
Results ...

Half
(1  1:23:45 Mark Smith)
44  1:38:01 Jane McCarthy 3rd F, 1st F40
202 1:53:06 Tom Lally 
257 1:56:40 Adela Reperecki
289 1:59:06 Claire Mcloughlin
291 1:59:08 Mike Baldwin 
295 1:59:17 Helen Waddington 
716 2:32:15 Sally Lynch 
787 2:46:07 Karen Blick 
818 finishers

10k
(1  37:18 Carl Ward)
12  38:47 Will Buckton
16  40:26 Jonathan Turner
52  43:36 Colin Williams
104 46:45 Caroline Howe 
109 46:55 Jane Bryant 
119 47:27 Alison Weston 
179 49:31 Jean Sullivan 
327 53:57 Sheena Pickersgill 
341 54:30 Hilda Coulsey 1st v60
435 56:55 Ruth Jones 
490 58:29 Sarah Hayes 
498 58:36 Sue Verspyck 
517 59:05 Fiona Schneider 
611 62:25 Sue Williamson
854 finishers

High Cup Nick, Sat 24 Feb
From Michael Lomas ... Results ...

(1 62:13 Sam Stead, Keswick AC)
64 76:57 Michael Lomas
82 78:47 Dan Wilkinson
419 finished

Transgrancanaria Advanced, Sat 24 Feb
from Jann Smith ... 64km/10,000 ft Our first ultra and race abroad. This is a big and well organised event running the length of the island from North to South through all the major mountain ranges and national parks. Very rocky terrain and a strong international field.


115 7h20 Paul Carman
168 7h50 Jann Smith
1000 ran

National XC, Sat 24 Feb

Senior men
(1   48:25 Adam Hickey, Southend)
802  52:05 Tim Ashelford
1202 55:56 Stephen Coy
1723 61:38 Steve Weston
2328 finished

Senior women
(1   28:33 Phoebe Law, Kingston)
790  45:18 Diane Kitchen
860  46:54 Petra Bijsterveld
1113 finished

11 juniors ran with some excellent results including:
U17 6th Bethan Morley
U17 10th Euan Brenna
U17 9th boys team

parkruns, Sat 24 Feb
From Petra Bijsterveld ... Results ...

Cardiff
(1  15:15 Kieran Wood, Cambridge and Coleridge)
14  18:21 Alex Hirst
704 ran

Bradford
(1  17:54 Tim Baldwin, Saltaire Striders)
10  19:38 Nina Pearce (junior) 1st F
39  21:43 Dave Reynier
42  21:56 Oscar Street
148 26:17 Adela Reperecki
154 26:31 Will Worboys
177 26:57 Stephanie Fox
218 28:03 Paula Reynier
496 ran

Crichton
(1  16:29 Springfield Striders)
8   20:31 Rob Budding
196 ran

Skipton
(1  18:03 Alex Thompson, Wharfedale Harriers)
6   19:15 Rob Cunningham
16  20:39 Kate Archer 2nd F
26  21:42 Malcolm Pickering
42  23:14 Sarah Pickering
72  25:30 Chris Cunningham
195 ran

Wetherby
(1  19:06 Joseph Kwallah, Wetherby Runners)
13  23:54 Geoff Howard
63 ran

Ilkley Moor fell race, Sun 18 Feb
Results and LOTS of photos on the race page. Tom Adams won the race and the Yorkshire Championship with it.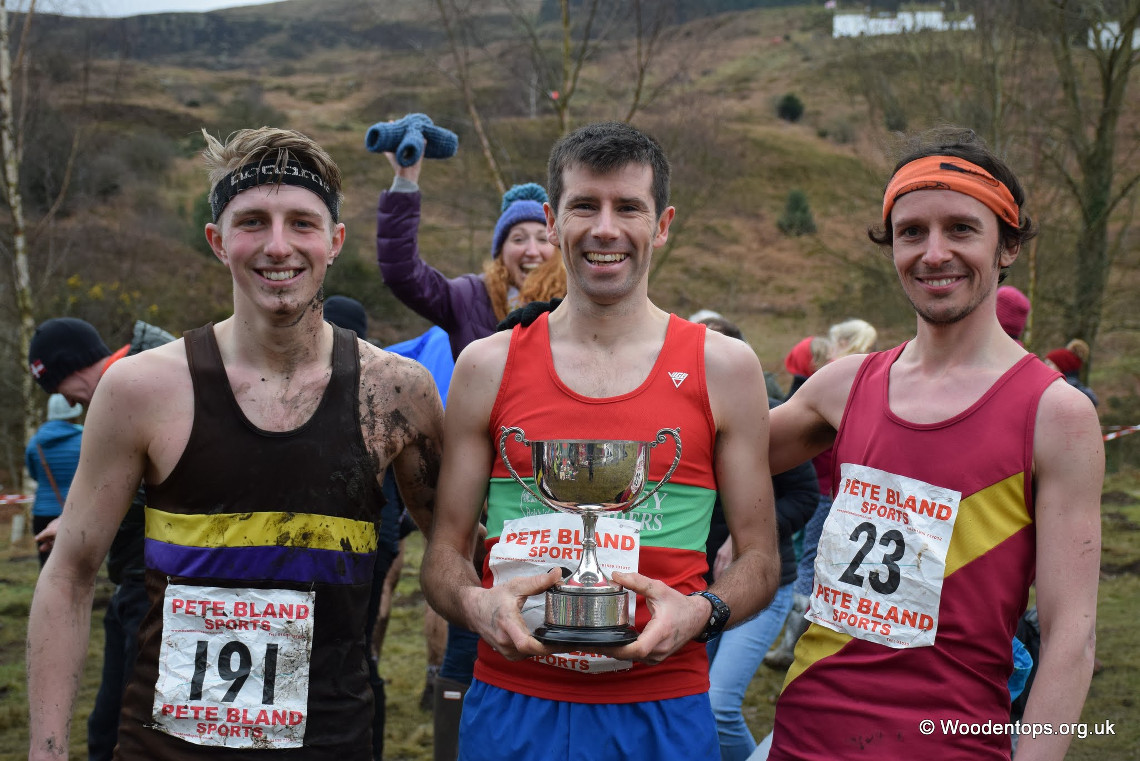 From Steve Weston ... A big thankyou to all the volunteers at helped make the fell race magic happen. Lots of people came up to me and have emailed me to say what a brilliant race it was and how helpful the marshalls were.
In no particular order the volunteers were:
Flagging - Peter Shields, Nick Pearce, Geoff Howard, Neil Chapman
Setup - Don Macrae, Ben Joynson
Race Doctor - Andrew Wilson
Registration & Results - Sue Williamson, Dawn Turner, Paul Stephens, Jacqui Weston, Georgia Weston, Felix Weston
Marshalls - Michael Duffield, David Howe, Hilda Coulsey, Tim Ratcliffe, Jez Nolan, Anna Nolan & Family, Ben Joynson, John Pickering, Dan Wilkinson, Amy Jones, Bernie Gibbons, Caroline Howe
Finish line - Duncan Cooper, Anna Pickering, Christine Reilly, Abigail Bailey, Katie Sutherland
Sweepers - Petra Bijsterveld, Jonathan Turner
.....and that doesn't include all the people that helped out at the the fantastic juniors race which was run by Jane McCarthy.
Flower Scar Fell Race Sun 18 Feb
From Dave Robson ... Returning from injury I had been too late booking the Ilkley Moor Fell Race so I thought I would give Flower Scar a go instead. Well organised by Todmorden Harriers, this is an 8.3 mile fell race with 660m ascent through some challenging terrain.
The initial muddy path gave way to a good tussocky fell section where we disappeared into the mist. Up onto the moor proper, and an unmarked section where the smart line was the direct one. Fortunately I took it due to the runners around me knowing their way through the mist. Then followed an 'alpine' section with conifers, and snow which appeared from nowhere, into a great fast downhill blast by which time my plan to take it 'steadyish' was long gone. A bit more up and down where the muddiest sections had been saved for us and we were back on the downhill path to the finish.
In summary then a tough race with a bit of everything. I'm not sure if it is always on the same weekend as Ilkley Moor but definitely one to give a try.
Results ...

(1 1:11:19 Will Neill, Mercia)
34 1:22:28 Dave Robson
185 finished

parkruns, Sat 17 Feb
From Petra Bijsterveld ... Results ...

Woodhouse Moor
(1  16:50 Chris Smith, Leeds City AC)
190 26:17 Petra Bijsterveld
468 ran

Bradford
(1  16:37 Matthew Merrick, Bingley Harriers)
31  20:53 Rhys Jones
52  22:09 Oscar Street
67  22:55 Arthur Reilly
191 27:30 Paula Reynier
512 ran

Ormeau
(1  18:14 Ian Cleland, Seapark AC)
8   19:46 Adam Bennett
421 ran

Skipton
(1  18:34 unknown)
20  22:50 Geoff Howard
68  26:47 Karen Lambe
154 ran

Bramley
(1  18:29 Sam Clegg, Idle AC)
3   19:19 Steven Gott
167 ran

Stretford
(1  17:21 Mark Offord, U/A)
12  18:38 Rob Cunningham
492 ran

Armagh International 5K, Thu 15 Feb
From Stephen Brennan ... Euan Brennan finished 148th in 15:22 knocking 24 secs off his PB. The event set a world record with 91 runners under 15 minutes.
Results
PECO XC 5, Sun 11 Feb
From Petra Bijsterveld ... Results ...

Senior Men
(1  27:38 Terrence Forrest, Cairngorm Runners)
24  30:11 Steven Gott
68  32:09 Daniel Lane
87  32:49 Steve Coy
182 36:24 Malcolm Pickering
230 39:00 Andrew Jackson
317 43:33 Geoff White
347 46:53 Peter Lewis
381 ran

Senior Women
(1  31:33 Sharon Barlow, Harrogate Harriers)
53  39:01 Helen Wood
79  40:39 Caroline Howe
80  40:46 Sarah Edwards
109 42:53 Adela Reperecki 1st F55
158 45:07 Anna Pickering
175 46:14 Petra Bijsterveld
236 50:51 Kate Lofthouse
264 53:25 Sally Wright
300 68:19 Claire Shouler
303 ran

parkruns, Sat 10 Feb
From Petra Bijsterveld ... Results ...

Bradford
(1  16:19 Matthew Merrick, Bingley Harriers)
43  22:57 Dave Reynier
145 26:46 Will Worboys
155 27:05 Oscar Street
210 28:56 Paula Reynier
423 ran

Skipton
(1  18:04 Lee Athersmith, RAF AC)
35  24:05 Geoff Howard
53  25:27 Chris Cunningham
151 ran

Bolton Abbey Trail Marathon, Sun 4 Feb
From Colin Williams ... I ran my first marathon of 2018 on Sunday, the Bolton Abbey trail marathon. The route was changed twice before the event from three laps of 8.8m to six laps of 4.4m, but then thankfully back to three 8.8m laps. The ankle deep mud and slippery uphill sections sapped the strength out of my legs in places, but I was pleased to finish in a fairly respectable time for me.
Results ...

(1 3:07:34 Jonathan Walton, Leeds City)
7  3:58:04 Colin Williams
76 ran

Dewsbury 10k, Sun 4 Feb
From Petra Bijsterveld ... My 5th Dewsbury 10K in as many years, its PB potential keeps me in its grip. Straight out and back with 115 feet of gradual elevation to climb in the first half, the downhill return is physically and mentally encouraging you towards the finish. Always well organized, last year's race had been rather spoilt by the extra 200 meters we had to run due to the turn having been placed too far up, which ruined a rare chance for me to go sub 50 minutes.
I had not done enough running recently to feel that today was going to be my moment, and stood at the start not expecting too much. Conditions were absolutely perfect, cold but dry, no wind, and even a little ray of sunshine appeared. I reached the turn in 25:44 and managed to speed up a bit to finish in 50:28, which pleasingly is a PB. I could not have given any more this morning, but hopefully one day soon I can lose another 30 seconds! New member Emma Cole and I were the only Harriers there today, regrettably we did not spot each other. Whilst 1200+ runners gave it their all, my attention was drawn to Ismail Patel, the last man to finish in 1 hour and 40 minutes. I had encountered him already on the stairs in Race HQ, a young Asian man with a stick who looked to me like he had suffered a severe stroke. I saw him again on the course as I was on the return leg and he was making his way up the road with the sweeper car behind him, it made me feel quite emotional to see his effort. I googled him and found his story here. A true local hero!
Results ...

(1  29:42  Mohammed Abu-Rezeq, Altrincham AC)
685 50:28 Petra Bijsterveld
954 56:41 Emma Cole
1238 ran

Wadsworth Trog, Sat 3 Feb

(1  2:39:20 Carl Bell, Keswick)
2   2:39:40 Jack Wood
97  4:04:03 Brian Melia
167 5:10:57 Richard Morris
168 finished

Rombalds Stride, Sat 3 Feb
From Ben Sheppard ... Good to see Dan Wilkinson back running again at Rombald's Stride after an extended period of playing out on his bike. He was looking very comfortable when he passed me at Weecher Reservoir but the stabilisers had somewhat fallen off by Menston. Michael Lomas continued his upward trajectory and looks sure to have another good season at this rate. Great running as ever from Jane McCarthy, joint first lady. Martin Stocker got a 20 minute PB. I guess short distance specialist Martin Archer must have really wanted a long chat with the missus as he and Kate ran the whole way together (and they were still on speaking terms afterwards). And there were a host of other good runs from Harriers throughout the field, enjoying or enduring the mud, bogs and snow.
Results ...

(1  2:58:30 Phil Livermore)
3   3:05:27 Ben Sheppard
4   3:05:35 Michael Lomas
6   3:06:39 Dan Wilkinson
10  3:08:39 Paul Carman
22  3:22:01 Jane McCarthy
41  3:41:55 Duncan Cooper
57  3:48:44 Jann Smith
84  3:58:00 Outi Kamarainen
86  3:59:15 Martyn Stocker
94  4:01:43 Kate Archer
95  4:01:43 Martin Archer
115 4:21:05 Adela Reperecki
273 6:33:40 Abigail Bailey
274 6:33:41 Sally Lynch
Any more?
442 finished

parkruns, Sat 3 Feb
From Petra Bijsterveld ... Results ...

Woodhouse Moor
(1  17:25 Tom Thomas, Hyde Park Harriers)
11  19:24 Steve Coy
150 25:28 Gaenor Coy
447 ran

Bradford
(1  19:04 Joseph Kirton, U/A)
22  21:57 Oscar Street
24  22:01 Dave Reynier
130 26:09 Will Worboys
155 27:10 Stephanie Fox
164 27:35 Paula Reynier
413 ran

Skipton
(1  17:41 Louis Hudson, KCAC)
49  24:10 Neil Pomfret
56  24:54 Chris Cunningham
78  26:53 Karen Lambe
161 ran

Bramley
(1  18:40 Terry Midgley, Valley Striders)
3   19:00 Steve Gott
234 ran

---