Ilkley Harriers news archive 2018
Outstanding Achievements, November
From the Committee ...
Jack Cummings for leading the field and course record at Burley Moor
Nathan Edmondson for Shepherds skyline first, consistent great results and contribution to 'Super Saturday'
Helen Thurston at Burley Moor
Jack Wood for first at Guy Fawkes 10 mile, second at Pendleton
Peter Shields for Guy Fawkes
Istvan Jasco for WY cross countries
Jane McCarthy for managing the league this year and setting next year's challenges.
Fell and Trail Running weekend, Fri 30 Nov
From Peter Shelley ... Braving the wettest weather the Dales could throw at us, 20 runners gathered on Friday night for a weekend of fell and trail running, fitness tips and coaching, good food and good company. Organised by Mel Steventon at Due North, the weekend was open to anyone interested in getting into, or improving, their off road running. Runners came from various parts of the country individually or in small groups. Base was the YHA in Kettlewell.
Guided runs took us around 20 miles and over 1000 metres of ascent through Wharfedale and surrounding moorland, all beautiful even on a damp day. For me the big draw was the time spent with Nicky Spinks and Ben Mounsey covering practical and structured approaches to ultra and fell running. Nicky gave us insights into mental as well as physical stamina based on her incredible endurance achievements including the Double Bob Graham record. Anyone who hasn't seen Ben Mounsey climbing at speed is in for a treat. He uses all fours on the really steep stuff, transforming into a kind of man-ape. I intended to video him descending but by the time I had the camera going he was a speck at the bottom of the fell.
Warm up sessions, theory and practice for strength and conditioning were provided by personal trainer John Withinshaw. An emphasis on core strength and stability to improve your running and prevent injury came across from all three experts, with some great ideas and exercises to implement. The YHA did a top job keeping us fed and the social aspect was excellent, with time to unwind and bond over a shared interest in running. I thoroughly recommend the weekend to fellow Harriers. This group was 50/50 male female. Due North offer ladies-only weekends as well as races, talks and navigation skills.
www.duenorthevents.com
The weather wasn't conducive to photography, but I noticed John has posted some pics on Due North's FB page.
Evensplits 5k, Brownlee Centre Leeds, Wed 28 Nov
From Hilda Coulsey... This was the last in the 2018 series with the lowish turn out reflecting the wet, windy weather added to the thirst (or not) for finial positions, the rules being you had to race in 6 of the 10 races to get a medal and to qualify for a prize for your age category (the signs were that if you weren't going to do that the weather helped the decision making to run or not!). I struggled in that I was trying to get under 25 mins so that all my races would be in the 24 mins however I see I also beat the first F 60 and F 55, so the weather is a good excuse!
Results ...

(1  16:23 Scott Harrington, Otley) 
50  20:36 Rhys Jones 
52  20:42 Harry Stead 
53  20:42 Robert Budding 
68  21:28 Archie Budding 
111 24:08 Nicola Budding 
123 25:16 Hilda Coulsey

Highlights from the series are Nathan Edmondson's two second places at 15:56 and 15:39 were the best times for the Harriers, Robert Budding ran 9/10 races and along with Nicola and Archie got the medals, Nicola taking a minute off her PB through the series, whilst I took the F 65 first prize.
Look out for the dates of the 2019 series, it is a good course to test yourself over the year or from time to time.
PECO XC #1, Middleton Park, Sun 25 Nov
From Michael Duffield ...
Results ...

Ladies
(1  31:45 Alice Rogers, Abbey Runners)
50  38:41 Caroline Howe
114 41:24 Alison Weston
145 42:41 Diane Kitchen
159 43:08 Adela Reperecki
164 43:35 Ros Brown
196 45:03 Alison Bennett
271 47:46 Petra Bijsterveld
290 48:25 Anna Pickering
419 57:22 Sally Wright
48 finished

Men
(1  Callum Elson, Roundhet Runners))
3   27:43 Nathan Edmondson
50  31:01 Steven Gott
138 33:40 Mike Abrams-Cohen
139 33:41 Steve Murray
191 35:03 Peter Shelley
197 35:18 Michael Duffield
249 36:49 Robert Budding
288 37:54 Malcolm Pickering 2nd M65
403 41:50 David Howe
531 59:11 Donald Macrae
537 finished

Barnsley 10k, Sun 25 Nov
From Sally Armitage... results ...

(1 33:18 Scott Hinchcliffe, Penistone FPR)
65 42:08 Beth Massey (2nd F45)
87 43:30 Sally Armitage (3rd F40)
498 ran

Liverpool Cross Challenge, Sat 24 Nov
From Steve Brennan.... Euan Brennan ran today in the Liverpool Cross Challenge which incorporated the trial for the U20 European Cross Country Championships. He finished in a superb 7th place but just missed out on automatic selection for the GB Team.
parkruns, Sat 24 Nov
From Petra Bijsterveld ... Results ...

Bradford
(1  18:06 Martin Fillingham, Saltaire Striders)
37  22:29 Adrian Bastow
332 ran

Harrogate
(1  16:34 Andrew Lawrence, Morpeth Harriers)
43  21:43 Caroline Howe, 2nd F
383 ran

Roundhay
(1  18:17 Daryl Hibberd, Valley Striders)
32  22:04 Bob Hamilton
303 ran

Skipton
(1  17:30 Chris Ovenden U/A)
19  23:06 Geoff Howard
29  24:46 Rachel Carter
35  25:18 Will Worboys
147 ran

Penrhyn
(1  18:10 John Parkinson, Eryri Harriers)
6   19:03 Lucy Williamson 1st F
212 ran

Northallerton
(1  19:07 Steve Middleton, Richmond and Zetland)
17  25:10 Alison Weston 2nd F
76 ran

Cliffe Castle
1   16:44 Jack Wood
43  28:34 Fiona Schneider
136 ran

Ilkley Harrier League races announced for 2019
Frm Jane McCarthy ... The 2018 League competition is very much still ON, but we are announcing the League Races for 2019 - entries for the Baildon Boundary Way open on 24th November at 8am. This is a League Race for 2019 and can fill up quickly. Races also already open for entry and included in the 2019 League are Meltham 10K (January 27th), Harewood Trail Half Marathon (February 17th) and Bradford 10K (March 17th).
****PLEASE NOTE*****: THERE IS A CHANGE TO THE WILDCARD RULE for 2019. Parkruns will no longer be valid WILDCARD entries as they are not classified as 'races'. Any recognised race (road race, FRA, BOFRA, cross country etc.) that is not already in the League will count as a Wildcard entry as long as it is open to all Ilkley Harriers (so not restricted to Vets only, juniors only, men only, women only etc.).
See the 2019 events on the League page.
Harriers vs. Cyclists, Sun 18 Nov
From Peter Shelley ... This event provides a novel opportunity for runners and cyclists to mix it up a bit and see who's quickest. The route, gradient and mix of terrain are cleverly planned by Bingley Harriers to even up competition, with cyclists having to carry their bikes at various points on the outward climb to Baildon Moor before catching back up with the runners on the fast return leg. Cyclo-cross is the bike of choice, and as I don't subscribe to that particular brand of lunacy and didn't fancy carrying a full susser up 650ft, I went for the 'safe' option of running. Seeing some of the cyclists practising their descents before the race, sliding sideways through cow pats in the lower field at speed, confirmed that decision.
Decent conditions probably favoured the cyclists slightly this year, and despite my decision to run I couldn't help feeling I'd forgotten something while lining up empty-handed among cyclists at the start. The ascent got a bit congested in the narrow paths through the woods in Shipley Glen. Bikes were being carried at various heights and angles, and attention was required to avoid getting any of your anatomy caught in someone's derailleur.
I spent most of my energy on the climb, but managed to hang on in the descent other than a couple of cyclists who came by at speed and with serious agility. A few cyclists overtook their own bikes in the ruts of Baildon Moor, but good communication between runners and riders helped prevent anything more serious. Outright victory has alternated between runners and riders over the years. This is a well established event with good organisation and support - a memorable experience and great race to participate in either discipline.
Results ...

(1  33:53 Rob Jebb, Hope Factory Racing, cyclist)
(2  34:40 Harry Hiolmes, P&B)
3   35:35 Nathan Edmondson (2nd runner)
68  44:36 Gavin Lamb
89  46:16 Peter Shelley
115 48:52 Duncan Cooper
234 took part

Litton Birks Fell Race, Sun 18 Nov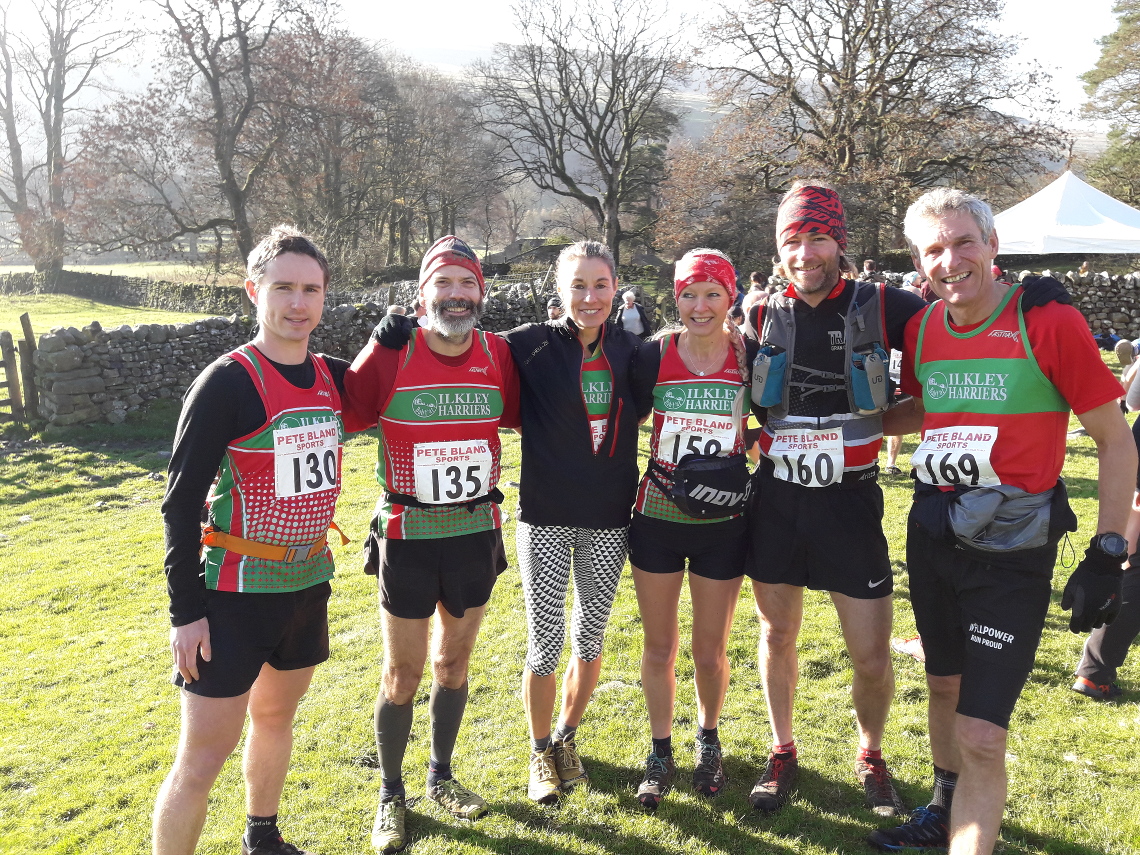 From Jann Smith ... 5 miles/1200ft Brand new race ... great route with a big climb up to Birks Fell from The Queens Head pub in Litton. Free bottle of beer and chip butties at the pub after and tea and homemade cakes.
Results ...
(1 36:44 Ted Mason, Wharfedale) 8 42:25 Paul Carman 19 46:03 Will Buckton 20 46:40 Colin Williams 27 48:30 Paul Calderbank 36 52:25 Jann Smith 45 54:54 Chantal Busby 70 ran
West Yorkshire XC, Wakefield, Sun 18 Nov

Men, 5th team
(1  31:22 Adrian Holliday, Leeds)
6   32:51 Jack Wood
33  35:20 Daniel McKeown
37  35:34 Istvan Jacso
41  35:54 Matthew Cox
49  36:34 Steven Gott
62  37:26 Stephen Coy
77  37:51 Tim Ashelford
79  37:54 Jeffrey Green
99  39:41 Andrew Overend
109 40:42 Michael Abrams-Cohen
136 43:07 Michael Duffield
144 44:05 Robert Budding
149 45:18 Malcolm Pickering
174 finished

Ladies, 8th team
(1  20:34 Ruby Sykes, Holmfirth)
20  23:04 Rachel Carter
21  23:18 Kate Archer
49  25:34 Sally Malir
58  26:08 Caroline Howe
63  26:58 Jane Bryant
80  27:54 Diane Kitchen
90  28:56 Nicola Budding
95  30:51 Petra Bijsterveld
98  31:16 Gaenor Coy
104 32:14 Anna Pickering
107 34:32 Jacqui Weston
108 finished

Tour of Pendle, Sat 17 Nov
From Jonathan Turner... Plenty of great Ilkley performances at this gruelling event - Jack Wood taking second place, Michael Lomas beating three hours for the first time in some style (2:50:08), Helen Wood the sixth lady home and Adela Reperecki winning the F55 category. I didn't know what I was letting myself in for, though the 'AL' category should have been a clue - 27km to cover and nearly 1,500m of elevation gain. The first climb up from Barley was fine and conditions were good but it got harder and harder towards the finish, with the final three seriously-steep ascents stacked close together and tough even at walking pace. Some crazy descents redressed the balance, with spectators gathering at the base of the 'Geronimo' to watch the field head down what my Strava showed as a 49% gradient! All in all a classic 'old school' fell race, well organised and marshalled, and amazingly good value at less than £10 (including a T-shirt to mark the fact it was the 35th running).
Results ...

(1  2:15:08 Chris Holdsworth, Ribble Valley)
2   2:17:54 Jack Wood
43  2:50:08 Michael Lomas
126 3:07:17 Will Buckton
130 3:08:13 Helen Wood
192 3:21:28 Jonathan Turner
272 3:35:03 Paul Castle
289 3:37:38 Robin Nicholson
350 3:51:30 Dave Reynier
357 3:53:49 Paul Calderbank
357 3:53:49 Chantal Busby
365 3:55:28 Adela Reperecki - 1st F55
461 ran

Kendal Trail, Sat 17 Nov
From Jim Ryder... Beautiful day for the Kendal Mountain Festival Trail Run - 6.8miles. The first 3 miles is a 530ft climb on to Scout Scar so it felt more like a fast fell race. Just missed 1st V50 by 10 seconds. Start/finish in the town centre so plenty of atmosphere around the Mountain Festival with Jonny Brownlee as starter.

(1 39:01 Dan Nash)
44 47:41 Jim Ryder
562 ran

Hell of a Hill update, Sat 17 Nov
From Colin Williams... Day Four of the Hell of a hill marathon series saw the records fall, Matthew Smith N/A, recorded a time of 3hr 42 mins 7 seconds taking another 9 mins 45 seconds off the male course and Katherine Brougham N/A, completed the race in 4 hrs 1 minute and 53 seconds, smashing the female record by over 16 minutes. Kevin Dempsey, Vegan Runners, won the best combined time for all 5 marathons in a time of 22 hrs 8 mins and 48 seconds. My finish time was the third fasted time of the series.
parkruns, Sat 17 Nov
From Petra Bijsterveld ... Results ...

Bradford
(1  18:50 Martin Fillingham, Saltaire Striders)
18  21:03 Tom Worboys
53  23:53 Oscar Street
155 27:53 Stephanie Fox
327 37:46 Paula Reynier
372 ran

Portrush
(1  15:59 Neil Johnston, Springwell RC)
69 25:57 Hilda Coulsey
177 ran

Temple Newsam
(1  18:37 Jonathan Young, Kirkstall Harriers)
34  24:33 Alison Weston 2nd F
152 ran

Skipton
(1  17:39 Julian Hood, Skipton AC)
26  23:12 Neil Pomfret
32  23:42 Geoff Howard
87  28:52 Bernie Gibbons
181 ran

Fountains Abbey
(1  17:42 Craig Connor, Tattenhall Runners)
9   19:04 Helen Thurston 1st F
364 ran

Cliffe Castle
(1  20:33 Ian Sanderson, Valley Striders)
45  28:53 Fiona Schneider
137 ran

Day 3 Hell of a Hill Marathon, Fri 16 Nov
From Colin Williams ... Today I took part in my ninth, (and probably the last) marathon of the year. "The Hell of the Hill", a serious of five marathons laps described as one of the toughest marathons routes, with over 4,000 feet elevation gain and 26.2 miles (my Garmin recorded 26.6 miles), of tough stone and muddy trails, running 5 laps over Rivington Pike near Chorley.
I ran on the Friday last year, but wasn't put off and went back again this year. Like always I went off fast, but this time a runner named Gareth Tomlinson came with me, we ran the next 3 laps together, Gareth faster on the up hill getting ahead by 50m or so, then I would regain the lead on the downhill, in the fourth lap Gareth pulled away and eventually not only won the race but also took the race record.
Results ...

(1 3:51:52 Gareth  Tomlinson)
2  4:00:13 Colin Williams 
42 ran

London marathon club places
The ballot has now been drawn and the winners are Michael Picken, Steph Fox and Jacqui Weston, with David Ibbotson and Paula Reynier as reserves.
Run Bolton Abbey, Sun 11 Nov
From Istvan Jacso ... the Run Bolton Abbey took place today with 4 distances, a fun run, 10k, 10 mile and half marathon. This is more a charity event rather than a competitive race, hence finishing 1st in the 10 mile can't be compared to the other brilliant wins this weekend by the two Jack's and Nathan, not to mention Euan's 3rd place on the very high quality British Athletics Cross Challenge in Milton Keynes.
With a staggered start, the early congestion was successfully avoided, however due to a large part of the course being shared, there were a bit of slaloming around the slower runners in the later parts. The course was a proper off road course with proper mud and hills so the event was really enjoyable on this beautiful estate!
Results ...

10k
(1    43:31 Scott Manninhg, Framlingham Flyers)
166 1:10:53 Lesley Bloomer
299 1:22:22 Murna Downs
380 1:33:46 Pauline Bartliff
443 finished

10 mile
1 1:07:15 Istvan Jacso
9 1:25:53 Derek Oliver
60 1:45:39 Jill Ezzard
66 1:46:58 Jemma Basham
79 finished

Half Marathon
(1  1:33:23 Roger Comilas)
98  2:36:34 Robert Budding
99  2:36:35 Nicola Budding
112 2:47:19 Jayne Norman
146 finished

Betws-y-Coed trail race, Sun 11 Nov
From Jane Bryant ... 4 of us headed over to beautiful Betws-y-Coed for the 10k trail race. It starts from the church on the main road and heads up, up and up a bit more, for approximately 2k! It was very steep forest paths but we were then rewarded with fabulous views over the lake. We ran around the lake up taking in boards, rocks and mud! Then the rather fun fast forest track descent for approx 3 miles back into the village centre for a lovely beanie and water bottle! A fabulous scenic, low key race with a canicross afterwards, can you beat the dogs!!

(1  36:46 Danny Hallam, Wreake and Soar Valley)
90  56:19 Jane Bryant
103 57:03 Anna Nolan (3rd FV 45)
139 60:14 Helen Horton (ex Harrier) (1st FV 55)
238 68:48 Jacqui Weston
355 finished

Burley Moor fell race, Sat 10 Nov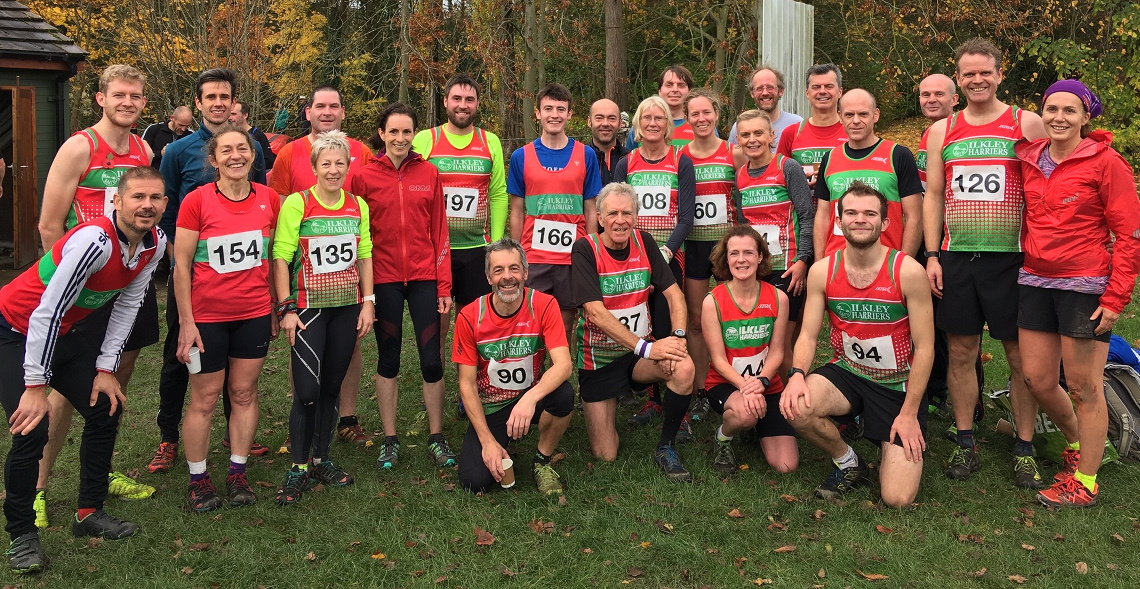 From Jonathan Turner ... There was a fantastic Harriers turnout at the Burley Moor Run - and performances to match. Jack Cummings led an Ilkley 1-2-3 with a sensational display, winning the 11km fell race with a time of 43 minutes and 25 seconds. No fewer than seven Harriers were in the top 11 and Helen Thurston was the second lady thanks to another superb run. A sociable event right on our doorstep, it was great to see so many Harriers taking part and enjoying the sunny conditions. And apologies to anyone who missed out on the photo above - it was tricky getting everyone together at the same time!
Results ...

1   43:25 Jack Cummings
2   45:06 Will Simmons
3   46:46 Oscar Stapleton
6   48:08 Ben Sheppard
7   48:16 Martin Archer
10  49:14 Michael Lomas
11  49:20 Steven Gott
19  51:10 Jim Ryder
21  51:31 Helen Thurston (2nd lady)
25  52:35 Dave Foyston
29  52:52 Will Buckton
32  53:21 Jonathan Turner
34  54:29 Helen Wood
35  54:46 Steve Murray
39  55:10 Mike Abrams-Cohen
40  55:17 Rachel Carter
43  55:47 Peter Shelley
45  56:12 Colin Williams
47  56:27 John Hayes
57  58:19 Michhael Duffield
78  62:59 Sally Armitage
86  64:15 Caroline Howe
88  64:19 Martyn Stocker
92  64:47 Alison Weston
105 66:02 Geoffrey White
117 67:41 Adela Reperecki
125 68:06 Catherine Eversfield
129 69:02 James Brooks	
136 69:47 Jean Sullivan
139 70:29 Paul Atkinson
148 73:54 Hilda Coulsey
151 74:35 Peter Lewis
153 75:11 Clair Boyle
155 76:07 Sarah Hayes
166 80:37 Fiona Schneider
171 84:00 Paula Reynier
184 finished

Wild Boar on Tour fell race, Ilkley Moor, Sat 10 Nov
More results later ...

1 Jack Wood

Shepherd's Skyline fell race, Sat 10 Nov

1 43:02 Nathan Edmundson
168 finished

British Cross Challenge, Milton Keynes, Sat 10 Nov
From Steve Brennan... Great results for the two Ilkley Harriers that made the long trek to Milton Keynes yesterday. Euan Brennan finished 3rd in the U20 Men's race and Bethan Morley 11th in the U17 Women's race.
parkruns, Sat 10 Nov
From Petra Bijsterveld ... Results ...

Woodhouse Moor
(1  17:46 Matthew Akpan, U/A)
7   18:34 Tim Ashelford
523 ran

Burnley
(1  17:52 Luke Turner, Clayton-le-Moors Harriers)
70  24:39 Will Worboys
332 ran

Victoria, Glasgow
(1  16:51 unknown)
47  22:01 Craig Berry
332 ran

Day two, Grim Four by Four, Fri 9 Nov
From Colin Williams... Today I took part in the Grim Four by Four 2018, a new 'It's Grim up North Running' event, four days of marathon running around Fewston and Swinsty reservoir. When I signed up to run, the races were planned for March, but the "Beast from the East" put a stop to them as the access was cut off by snow. Well today I lined up with a small field of around 25 runners about half of which were on their second day. I went out fast but for once no one came with me, and to my surprise I lead the whole way winning my first ever race. I would recommend the race to anyone who is looking from a good local trail marathon, the route is on good paths and with enough undulation to keep it interesting. I think there are still some places available for Sunday if you would like to stretch your legs.
Results ...

1 3:26:41 Colin Williams
25 finished

Day 3 Sat 10 Nov
(1 3:27:29 Paul Brown)
7  3:50:04 Tom Worboys
36 finished

Harriers Race League update
From Jane McCarthy...It is getting VERY CLOSE at the top of the RACE LEAGUE!!!
Updated for September's Great Wherneside and this weekend's Bradford parkrun - Hilda Coulsey tops the overall League. But less than a point splits Road league leader Colin Williams in second place from Trail league leader Jonathan Turner in 3rd place - both of whom have yet to declare their Wildcard points for the 2018 League. It is going to go right to the wire - with 4 races left to run. Next one - Burley Moor Fell Race on Saturday 10th November. Good Luck Everyone!
2018 League update 4 Nov
Guy Fawkes 10, Sun 4 Nov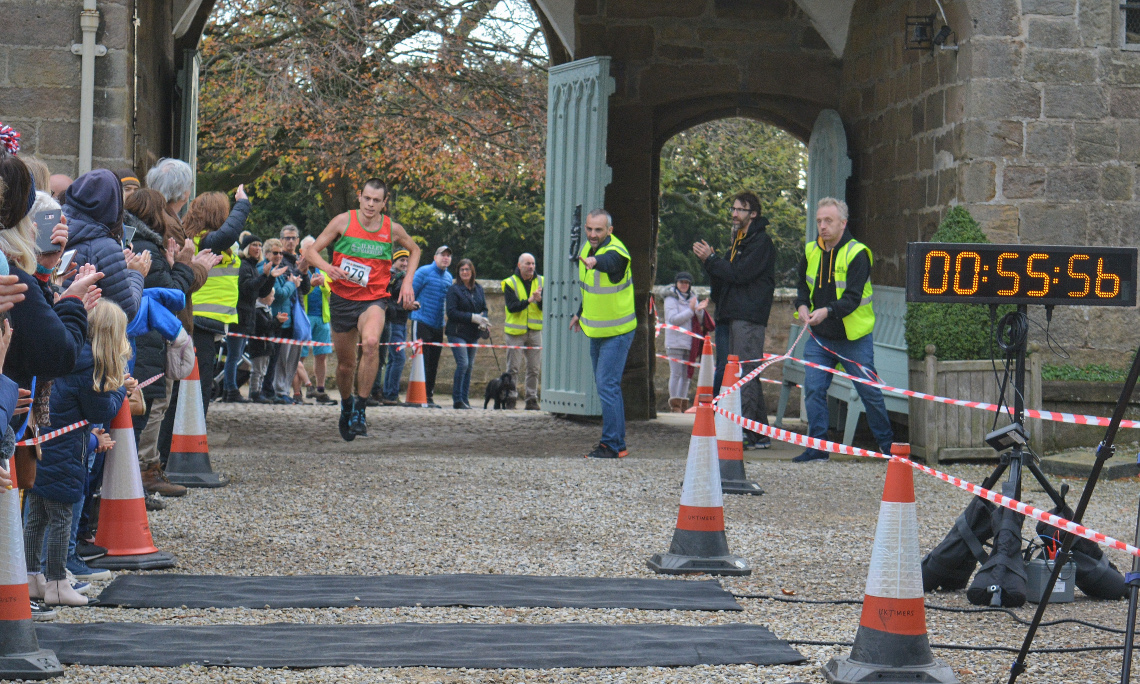 Photo: Sheila Shields
From Jonathan Turner ... Jack Wood smashed the course record when winning the Guy Fawkes 10-miler at Ripley Castle. Jack led from the start and produced a sensational 26:28 for the second five miles on a hilly course to win by nearly five minutes. He finished in 55:58 and was the only runner under an hour.
Pete Shields also had four-plus minutes to spare over his nearest rival in the M70+ category, coming home 283rd out of 798 finishers.
Seven Harriers took part in what was a superbly organised event in a lovely setting - featuring a rhyming Guy Fawkes-themed speech from the race organiser at the start, lots of friendly marshalls, great support in the villages around the course, excellent goody bags (with plenty of chocolate) and a stunning finish location. Highly recommended.
Results ...

1     55:58 Jack Wood
36  1:08:23 Jonathan Turner
55  1:10:16 Steve Murray
283 1:25:41 Peter Shields (1st V70)
308 1:26:55 Adela Reperecki
51  1:36:59 Sarah Hayes
586 1:41:45 Jayne Norman
798 finished

Leeds Abbey Dash 10k, Sun 4 Nov

(1   29:08 Adam Craig)
111  32:40 Nathan Edmondson
157  33:31 Cameron Reilly
279  35:21 Ian Fothergill
442  37:56 Jemima Elgood
748  40:48 Mike Helme
1064 43:22 Sally Armitage (PB)
1376 45:27 Caroline Howe  (PB)
2690 52:33 Charlotte Smithson
3494 55:15 Sheena Pickersgill
4037 53:08 Peter Tapper
4990 59:10 Sue Williamson
5769 64:23 Emma Cole
6171 61:41 Ruth Jones
6377 63:17 Sue Harris
7055 67:03 Diane Ollier
8157 finished

West Yorkshire XC, Nunroyd Park, Sun 4 Nov

Men
(1 30:15 Joe BAxter, P&B)
26 33:17 Dan Mckeown
27 33:22 Matthew Cox
28 33:23 Istvan Jacso
39 34:01 Steven Gott
45 34:25 Tim Ashelford
47 34:33 Stephen Coy
81 36:35 Andrew IOverend
84 36:41 Jim Ryder
103 38:05 Michael Zbrams-Cohen
125 40:22 Michael Duffield
129 40:50 Mark Iley
130 40:55 Robert Budding
161 finished
5th team

Ladies
(1 18:59 Bromwen Owen, Leeds)
8  20:50 Pauline Munro
22 22:06 Kate Archer
24 22:11 Rachel Carter
37 23:59 Beth Massey
53 23:54 Sally Malir
75 25:08 Tracey Watson
87 26:09 Jane Bryant
88 26:13 Diane Kitcjen
103 28:02 Nicola Budding
104 28:36 Alison Bennett
106 29:24 Gaenor Coy
112 finished
3rd team

A Short Circuit, Sat 3 Nov
From Ben Sheppard... A Short Circuit is one of a series of ultra-marathons organised by Otley-based Punk Panther. At 33 miles with 4,000 ft ascent, mainly on trails and partly across moors (and some tarmac when necessary), it's low-key, friendly and local. Starting in Otley the route goes up the Chevin, over to Bramhope then Cookridge, around the Airport runway, to Yeadon Tarn, Guiseley Woods, up to Hawksworth, Menston, across the moor from Burley Woodhead to the Cow and Calf Rocks, through Ben Rhydding and up to Timble, across to Norwood, along Lindley Wood Reservoir and through Leathley to the finish at Pool-in-Wharfedale. I was surprised how fast the early leaders started and I just about managed to ease back enough to avoid over-cooking it. Having paced it OK, I came through Burley Woodhead in about 10th and pushed on to 5th by Timble. There followed the obligatory route-finding error with 6 miles to go, costing me a couple of places and nearly 10 minutes, but resolving to make amends I hauled myself back to finish 4th, within 6 minutes of second and 11 minutes behind the winner. All in all a fun day at the races and I plan to do more Punk Panther events next year. Recommended for anyone new to ultra-marathons, but pay more attention to the route description or GPX file on your watch than I did.
Results ...

(1 4:45:42 Alastair Murray)
4  4:56:27 Ben Sheppard
92 finished

parkruns, Sat 3 Nov
From Petra Bijsterveld ... Good Harrier turnout at Bradford for this week's parkrun which was a counter in our League, with 5 coming home in the first 15. In Harrogate meanwhile there appears to have a bit of a finish token meltdown with several 'unknown athletes' at the sharp end, but Jack Wood ran a fantastic 15:58. Oscar Stapleton was the first runner over the line at Skipton.
Results ...

Cardiff
(1  15:24 unknown)
11  17:31 Alex Hirst
793 ran

St Albans
(1  17:36 George Hawthorne, Cheltenham and County Harriers)
65  22:06 Dave Reynier
498 ran

Bradford
(1  17:45 Andy Burn, Jarrow and Hebburn AC)
4   19:05 Michael Lomas
5   19:17 Jonathan Turner
8   19:42 Michael Abrams-Cohen
11  20:04 Steve Murray
14  20:29 Colin Williams
38  22:48 Martyn Stocker
65  24:53 Alison Weston
78  25:36 Will Worboys
90  26:20 Hilda Coulsey
99  26:44 Fiona Schneider
119 27:36 Dawn Turner
158 29:04 Peter Lewis
342 ran

Harrogate
(1  14:54 unknown)
4   15:58 Jack Wood
338 31:12 Geoff Howard
419 ran

Skipton
1   17:34 Oscar Stapleton
37  24:25 Neil Pomfret
42  24:37 Rachel Carter
185 ran

Crissy Field
(1  16:27 Greg Krathwohl, U/A)
14  19:41 Mark Mon-Williams
35  23:01 Rebecca Mon-Williams
115 ran

Clapham Common
(1  16:37 David Taylor, Southend on Sea AC)
35  19:13 Rob Cunningham
640 ran

---