Ilkley Harriers news archive 2018
Ilkley Harriers of the Month, May
Harrier of the month nominations: Andrew Merrick for the West Highland Way; Kate Archer for 2nd Lady in Windermere Marathon; Paul Carmen for his significantly solo BGR; Dan Wilkinson for his BGR with Ben Sheppard and entertaining report; Istvan Jasco for impressive trail times; William Gosling and Caroline Tong for Leeds Half being last year's beginners; Ewan Welsh for his entertaining write up of GoatFell Hill, Arran
The winner is Kate Archer .
Volunteer of the month: Lawrence Basham for the very successful and enjoyable Trail race
The winner is Lawrence Basham.
More Harriers of the Month ...
Ingleton Waterfalls Trail Race, Thu 31 May
From Val Kerr ... This race follows the trail (5 miles) around Ingleton Waterfalls with a total ascent (mainly up steps) of 886 ft. The route is very scenic, if you dare to take your eyes off the rocks and tree roots for a minute, and very runnable. Thornton Force looked particularly inviting in the evening heat. Ex-IH Alison Eagle asked me to do this race with her and it was a good decision. No results yet available.
Ilkley Trail race, Mon 28 May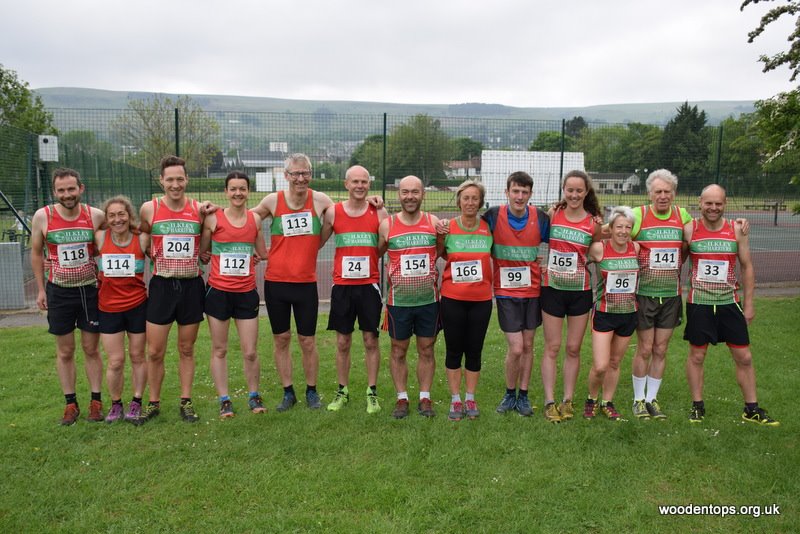 Results and photos on the Trail Race page

(1  41:21 Will Smith, Halifax)
3   42:02 Jack Cummings
4   43:48 Cameron Reilly
5   43:58 Nathan Edmunson
8   44:24 Ivan Jacso
17  47:51 Andrew Overend
23  48:44 Steve Coy
26  49:02 Michael Lomas
31  49:39 Jon Sinclair
32  50:03 Jonathan Turner
37  50:20 Lucy Williamson, 2nd lady
41  50:55 Dave Robson
43  51:32 Kate Archer
47  51:55 Michael Cohen
48  52:16 Colin Williams
49  52:22 Helen Thurston
50  52:30 Rachel Carter
52  52:41 John Hayes
55  53:14 Michael Duffield
59  54:11 Duncan Cooper
68  55:06 Derek Oliver
75  55:45 Steve Murray
89  58:19 Paddy Hagan
97  60:03 Alison Weston
102 60:29 Caroline Howe
119 62:54 Ben Sheppard
124 63:43 Jane Bryant
133 65:02 Clare Boyle
140 65:49 Adela Reperecki
184 73:29 Rachel Hagan
185 73:31 Phil Chappell
189 73:54 Bernie Gibbons
191 75:32 Peter Lewis
192 75:34 Paula Reynier
194 76:08 Sue Williamson
197 78:00 Kate Lofthouse
(any more Harriers?)
219 finished

Selection news
Euan Brennan has been selected to run for England in the International Mountain Running Youth Cup which takes place in Lanzada, Italy on the 16th June.
Edinburgh Half Marathon, Sun 27 May

(1   1:10:37 Severino Gomez)
2334 1:47:26 John Woodward
Over 10000 finishers

The West Highland Way Challenge Race, Sat 26 May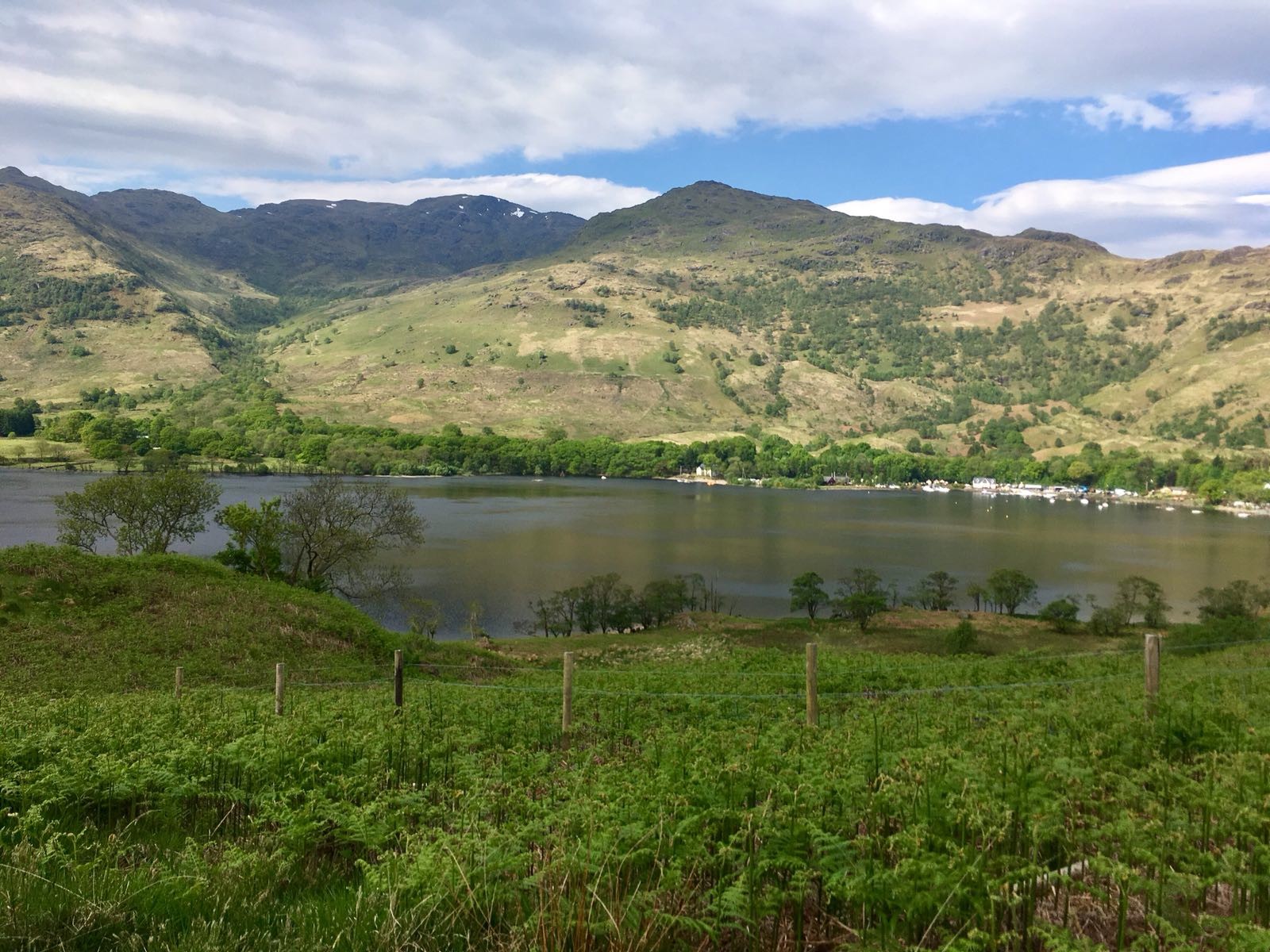 From Andrew Merrick... Not as easily Googled as the more illustrious alternative, the Challenge race is organised by Jim and his very friendly team who are committed to ensuring as good an experience as possible for its entrants. A field somewhat north of 100 competitors set off just after midnight on Friday night from Milngavie (good luck getting the pronunciation right) after checking in at the Town Hall just near the railway station. The registration team were entirely relaxed that my running companion's plane was delayed, suggesting we could start a little late if necessary. Happily the flight finally touched down by 10:55 and after a dash from the airport, we were all sorted with 20 mins to spare, even if it wasn't quite the planned pre-race preparation.
Initially I thought, based on my South Downs Way experience, that sub 24 hours might be possible, but the route is less easily runnable than the SDW. A narrow twisting, undulating path, with Loch Lomond as our almost constant companion was the main feature of the first half of the run, as the temperatures began to climb towards record levels.
The route becomes materially steeper from about 60 miles onwards and, since the race is focused on runners of all ability, the only organisational oddity is the requirement to carry a 900+ gm sleeping back from this point, the second of three drop bag stations. In keeping with the organisers, the helpers at all check points couldn't have been more helpful, the only challenge being that these locations were also very popular with the local midge community....
We were encouraged by runners from previous years to ensure we got up and at least part way down the devil's staircase in the light. Happily we made it up and over and down to the road near to the final drop bag station without needing to resort to headtorches, not that it was as challenging as we has been expecting. At this point we had only two 7 mile stages to go, but we paid the price for pushing on and took these final stages more slowly, not helped by a very loose stony track which required careful concentration to avoid too much foot damage. We finally completed our (97 mile) journey a little before 5am, enjoying the bonus of a second dawn as we were on Ben Nevis. A coach was organised to take us back to our start point from where the drive home later that day was also slightly challenging.
A very well organised event, throughout which we were fully supported - the two night (at my speed) and rugged terrain makes it a good pre UTMB experience...... and a beautiful place from which to see the sun rise........ twice.
Bob Graham Round
From Dan Wilkinson ... Ben Sheppard and I had originally planned to attempt the Bob Graham Round on 9th June and had been spending time reccing and building a support team, however after a recce on 19th May, whilst enjoying a pint in Grasmere, we conceived the idea of doing it the following weekend instead, partly driven by the weather, partly by the conditions (dry ground, low braken) and partly because now we were fully prepared physically and with the knowledge of the round, we were raring to go and 3 weeks felt like a lifetime to wait.. 2 days later, with a radical change in support crew, the plan was set. A nervous Friday ensued and then ad 11pm we were off the the Lakes... I have no previous experience of Ultra distance challenges and in all the reading up I had done on them the thing that stood out was the low/bad patches. Right from the first peak we were in low patch, when we set off from Keswick, conditions in the valley were breezy, but otherwise fairly benign. However on closing in on Skiddaw the clag came down and the wind was a constant 50mph. With this, the darkness and the wet rock we floundered badly trying to find the route of the north slipping off the shoulder on wet rock. It was like something out of a horror film.
Eventually we found the trod to Great Calva and although still clagged in we were sheltered from the wind. Dawn hit and the clag cleared before we struck up Calva so we knew things were improving for us and a beautiful sunrise greeted us atop Blencathra. From here we had opted for the parachute descent, a BG insiders route down the gully to the west of Halls Fell ridge. This was tricky with the dew making the steep grass and rocks slippy and we lost the line a couple of times, but it probably saved 10 minutes on a wet scramble down Halls Fell, but we were still over 15 mins down on schedule.
Michael Lomas (leg 2 support) and Justin Phillips (road support leg 1 & 2) were there to meet us with the car for some food and a change of socks, we were buoyed by the news we had gained 30 mins on a round ahead through the night and set off on Leg 2. Clough Head is never pleasant but Michael set a good pace for us and out bags were lighter now he had some of our Kit. Cresting the Dodds/Helvellyn ridge should have been glorious at dawn, but I was having a major low patch, I couldn't get down the calories I thought I needed and the wind was a constant 40mph from the East and impeding progress. Things got better as we finally hit Helvellyn and I knew it was almost downhill from here to Dunmail. We left our bags at the Tarn for the out and back to Fairfield and after some gels I was feeling a lot better, running without a pack was so much easier. We crossed paths with the group that had set off at 1am and it highly lifted my spirits that we had managed to gain an hour on them over 2 legs. We finally overtook them as we crested Seat Sandal and I was having a rare high as we ran down to Dunmail to meet the support crew knowing we had not lost any more time on schedule.
After the standard food and sock pit stop we met our Leg 3 support Phil Withnall and Brian Melia, who had brought along interloper Nepalese Richard. I set of up Steel fell and I was happy to be feeling amazing. I drove the pace and was worried that Richard, who had some of my kit wasn't going to be able to keep up. Fortunately this was just my over optimism for the first few miles of the leg and we were soon running together well. By Rossett Pike both me and Ben had started to tire and we had an impromptu rest to shovel in gels and bars, neither of us found these were going down well. The rakes to Bowfell went well and this is one of my favourite parts of the round, but it soon gives way to the boulder-scape of the Scafell Massif.. We just had to grind this out, by now it was quite hot and the wind had died down. Finally we reached Scafell Pike, and the inevitable masses. Time for a quick photo though, and then down to Mickledore.
We opted for Lords Rake in our approach to Scafell, and on arriving under Broad Stand we found it roped. A moment of floundering and we opted to stick to our plan, neither of us having any rope experience. The Rake is good, because you can use your arms and give your legs a well-earned rest. Now really close to the end of Leg 3 and we just had the small matter of the final leg shattering 3,000ft descent to Wasdale to deal with, including the fantastic screes, another favourite part for me.. Before we had left for the round Ben had requested Jack Wood (road support leg 3 & 4) meet us at Wasdale wearing his GB vest, he didn't disappoint and adding to the look a glorious pair of Union Jack high cut running shorts. At the Wasdale stop I felt really low, I couldn't eat much and wasn't feeling great. I could have given up there but I remembered reading one of Nicky Spink's hints on the round, that all those people had made the effort to be there to make it a success, and the least I could do is made sure I delivered the goods. Also remembering something Ben had said on Leg 2 about feeling low, I went to the loo and did the biggest poo I had ever done in my entire life (sorry). Immediately I felt better, raring to go and we set off up Yewbarrow, however we had haemorrhaged loads of time on this leg and we were now well down on schedule.
It's hard to say I enjoyed Yewbarrow, but I was feeling pretty good and was full of sugar from some gels and an ice lolly Jack had bought for us. After this, we had the expert guidance of pacer Pete Darwood (leg 4 & 5 support) who was setting us a blinding pace and finding all the good trods, but as we hit Red Pike I had failed to replenish the sugar I had used on Yewbarrow and I hit another mega low point. I was dizzy and hallucinating and had to stop to force down sugar. As we approached Steeple we crossed paths with another round, again this acted as motivation and lifted our spirits as we chased them down over Pillar and Kirk Fell. It is said once you have done Great Gable it is basically in the bag, making sure I was loaded up with sugar we stuck out on the climb, Pete still setting a great pace for us. We had the top to ourselves on a glorious sunny evening, unfortunately no time to linger, we had to pick our way down to Windy Gap, which was absolutely living up to its name this evening. As we rounded Green Gable we could spot yet another round ahead. More motivation and we caught them at Grey Knott. For the first time in a number of outings we found a brilliant trod down from here to Honister and we were flying, passing yet another attempt. However our road support Jack had under estimated our arrival time and was doing hill reps on Dale Head. We saw the moment he realised and he was really flying down the fell to get there before us. Luckily he made it and we said goodbye to Phil and we were met by my mate Damien Brockie for the glory leg.
We rushed Ben to finish one of his range of snacks, I think he had bought the whole chilled section of M&S, I had made a few sandwiches!. Part of the reason for this was that we wanted to get back before last orders, the other, we hadnt packed head torches for the leg and didn't want to get stranded in the dark on Robinson, or the tricky descent off it. Glorious sunset met us on Dale head and we made it off the fell just as dusk fell. We knew we were home and dry from Gable, but we didn't really know how we were doing vs schedule by this point. Some calculations revealed we were on for about 21 hours and if we dug in we could go under, so we dug in. Just pure pain in the feet as we were still in fell shoes, and failing to eat or drink much I was having a superbonkathon. Keswick finally revealed its self and among the drunken revellers there were several people who were clearly used to this sight cheering us on. Finally into the square and a small welcoming party were there to meet us and cheer us to the finish, including Bens wife Emma and the Joel's who were staying nearby on Holiday, a check of the watches revealed we had cracked 21 hours too!
A huge thanks to all the Harriers and Non Harriers who gave up their time to support us:
Justin Phillips - Road support leg 1 & 2
Jack Wood - Road support leg 3 & 4
Michael Lomas - Pacer leg 2
Brian Melia - Pacer leg 3
Phil Withnall - Pacer leg 3 & 4
Nepalese Richard - Pacer leg 3
Pete Darwood - Pacer leg 4 & 5
Damien Brockie - Pacer leg 5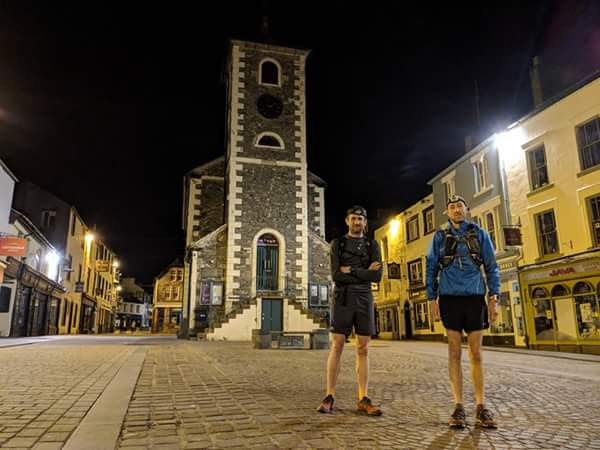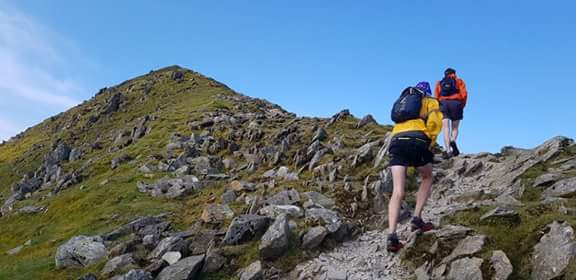 Windermere Marathon, Sun 20 May
From Kate Archer ... A hilly but very scenic marathon. I was second lady. Results are:

(1 2:44:00 Neal Emmerson, Radcliffe AC)
35 3:19:33 Kate Archer
835 finished

GoatFell Hill Race Arran, Sat 19 May
From Ewan Welsh ... 8miles (now apparently 9 miles - but same route!) 2900 ft
I ventured on my annual visit to the Goatfell Hill race in Scotland, a race I've being frequenting on and off for a few number of years (30 years now that I think about ), I only discovered this year that it's 9 miles in distance, not the 8 miles I always thought it was, must be a result of the influence of the garmin wearing modernists, back in '88 a bloke told me it was 8 miles, and he knew a few things about a few things so I've always just taken it as 8 miles, however now we have the science to hand, we have the facts, although the science gives us the facts, the art give us the pleasure, so I still take it as a philosophical 8 miles, I don't record anything in a spreadsheets anyway, my head, legs and soul are the only place the recording of it really matters!
The route, it's basically the usual along the road, up to the top, back down, back along the road. You need to concentrate on the descent, around 6 casualties this year, although if you take my approach on the descent you don't need to worry about that at all. First and last mile or so is flattish (not excluding that blinking lap of the park at the end!)
Goatfell is a height of 2866', that's what the t-shirts say anyway, next time I'm up and if I meet someone sporting a Garmin, I'll ask them if they "happen to have the height on them" and I'll confirm (or perhaps just look at a map =!)
The day was hot, I wilted in the heat to be honest, and suffered in the last section, finishing with a face like a Belisha beacon. I had the usual strong climb and weak decent (losing 10 minutes on the downhill to my uphill peers), for years I've tried to muster a good decent, it's never happened, in relative terms that is (even when I've been running on it of my own accord), apart from the race in 2001 and I think that was due to the mist, so you couldn't see the decent other than the step in front of you, maybe there is something in that (not to mention, age, race fitness, fortitude and a whole load of other reasons probably).
Shettleston Harriers have taken over the race these last few years which seems to have resulted in some sort of resurrection with over 200 runners now entering (just use to attract around 80 to 90), to the extent you have to pre-enter well in advance. It's very well organised, friendly, you can even pick up your races number on the ferry, oddly exciting.
The ferry was the busiest I've witnessed with a new ferry port in Arran to boot, the weather brought out a lot of day walkers on route, creating a slight hedonistic atmosphere whilst running, I was even offered a "wee can of strongbow cider big man, it's chilled !" from some fine young Glasgow chaps on route, I refrained, as much as I appreciated the offer.
No other Harriers were there although, as I was wearing an Ilkley vest I did chat to several other Yorkshire runners, and also someone who knew Alison Weston, called Alison Wilson, and asked me to say hello, so Alison in case I don't bump into you in the immediate weeks, Alison says hello.

(1 1:17:19 Tom Owens, Shettleson Harriers)
93 2:02:07 Ewan Welsh

Inter-regional Fell Championships, Sat 19 May
Well done to Jack Wood helping Yorkshire to a men's team gold medal at Lads Leap.
Results ...

(1 44:36 Max Swinburn, NE)
4  46:56 Jack Wood
138 ran

Charlesworth Chase (Simon's Seat), Sat 19 May
From Alison Weston ... we all chased Emma Dodds up Simon's Seat but she was only passed by Ian Holmes and Ted Mason. (No results seen yet).

Dave Robson
Norman Bush

parkruns, Sat 19 May
From Petra Bijsterveld ... Results ...

Skipton
(1  16:46 Matthew Merrick, Bingley Harriers)
2   17:37 Oscar Stapleton
140 29:15 Bernie Gibbons
241 ran

Horton
(1  17:46 Martin Fillingham, Saltaire Striders)
9   21:24 Sally Malir 1st F
126 ran

Stretford
(1  16:05 Chris Stanford, Warrington Triathlon Club)
13  1840 Rob Cunningham
487 ran

Bob Graham Round, Fri 18 May
From Jann Smith... The Bob Graham Round - often referred to as Britain's toughest challenge - you have to summit 42 of the highest peaks in the Lake District, covering around 66 miles and 26,000ft of climbing, all within 24 hours, partly in dark and along Englands most brutal and unforgiving terrain.
After 9 months of hard winter training and after having run half the Bob Graham within scheduled time three weeks earlier myself and Paul Carman set off at 1am to attempt the full challenge do the first leg in the night.
After 4 hours I had to pull out due to a foot injury and Paul decided to carry on solo carrying all his own kit, navigating and writing down all the summit times. He got stronger and stronger and managed to finish and hit the road before it got dark again to finish the challenge at 10.16pm in an incredible time of 21 hours 16 minutes.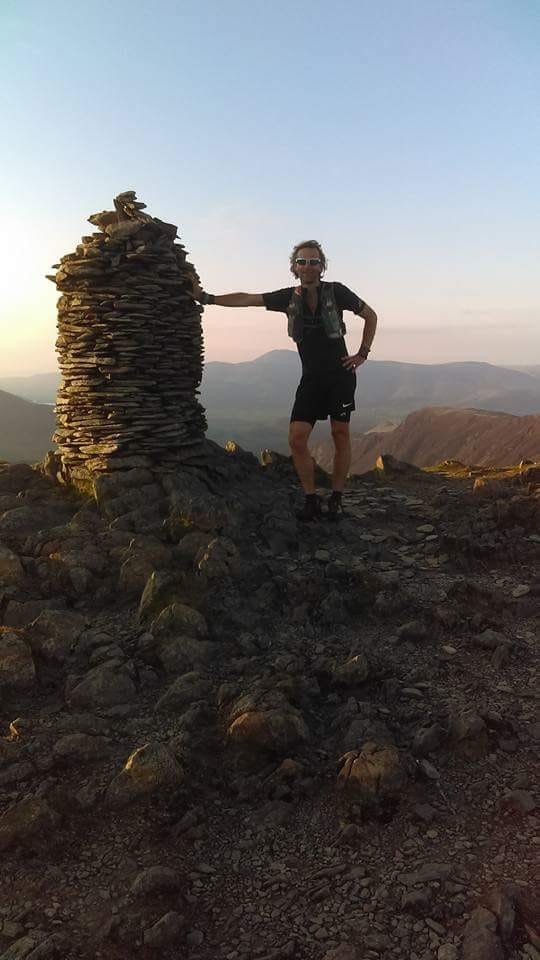 Kildwick fell race, Wed 16 May
From Alison Weston ... a beautiful evening fell race.
Results ...

(1 26:08 Neal Crampton, P&B)
11 27:53 Martin Archer 
68 36:04 Alison Weson 
73 36:57 Mike Baldwin
114 finished

Selection news ...
From Hildsa Coulsey ... Jack Wood has been selected for GB in the world mountain running long distance champs in Poland in June.
info
Leeds Half Marathon, Sun 13 May
From Caroline Howe... The forecast was rain but the reality was pretty warm conditions for the 33rd Leeds Half Marathon... making that final four-mile slog down Kirkstall Road even tougher than normal! As usual, a fantastic well organised event, with a good mix of club and charity runners, great support en route and a wonderful atmosphere in Millennium Square. Having focused on shorter distances recently I was expecting a tough final 3 miles so was delighted to finish with a pb. I saw one other Harrier on the course, but there were a few out there... notable performances included a fantastic time by Helen Thurston who was first Harrier home and 16th lady overall. Also huge congrats to Caroline Tong and William Josling who completed this race a year after joining the Ilkley Harriers 0-5k course.
Results ...

(1 1:08:06 Mohammad Aburezeq, Altrincham & D)
314  1:32:50 Helen Thurston
363  1:34:14 Rhys Jones
518  1:37:00 Steve Newell
816  1:41:57 Caroline How
1441 1:52:35 Charlotte Smithson
3884 2:13:51 Alex Hyde
5233 2:23:50 William Josling
5234 2:23:51 Caroline Tong
6085 finished

Ripon 10 Mile, Sun 13 May
From Helen Waddington... One of Ripon Runners' races and billed as (probably) the most scenic multi-terrain race in England. Lots of ups and downs and a mix of road, trail and fields this is a well organised event which I would recommend.
Results ...

(1    58:30 Andrew Grant, Leeds City AC)
190 1:30:13 Helen Waddington                       
302 1:40:06 Debbie Jukes                             
455 ran

Fairfield Horseshoe, Sat 12 May
From Alison Weston ... Quite a few harriers at this event this year and good running conditions.
Results ...

(1  1:21:46 Joshua Jardine, Helm Hill
48  1:42:46 Steve Turland 
52  1:44:04 Jim Ryder 
60  1:45:49 Robin Nicholcon
112 1:56:19 Rob Cunningham 
143 2:01:11 David Foyston 
171 2:05:57 Alison Weston 
279 2:33:57 John Pickering
304 ran

Slieve Donard, Sat 12 May
From Alison Bennett ... This 10k race is to the summit of the highest mountain in Northern Ireland. Adam, more used to running on the Ilkley Fells, found this a much more challenging experience. The race started on the coastal road in Newcastle then headed into woods along stony paths where the climbing started. He reached the 'Saddle' in 35 minutes before a further steep climb brought him to the summit 15 minutes later. As it was a glorious day he paused briefly to take in the stunning views. There then followed a more tricky, unmarked steep descent over rough and rocky ground before he found a path to the road leading to the playing field where he was pleased to finish in 1:19:54
Results ...

(1   55:14 Seamus Lynch, Newcastle AC)
59 1:19:54 Adam Bennett
204 finished

parkruns, Sat 12 May
From Petra Bijsterveld ... Results ...

Bradford
(1  17:38 Martin Fillingham, Saltaire Striders)
26  22:04 Oscar Street
107 25:42 Stephanie Fox
109 25:43 Paula Reynier
112 25:45 Dave Reynier
477 ran

Skipton
1   18:07 Oscar Stapleton
70  25:15 Chris Cunningham
227 ran

Wetherby
(1  17:59 Joseph Kwallah, Wetherby Runners)
12  21:35 Geoff Howard
64 ran

Penrhyn
(1  16:02 Russell Bentley, Kent AC)
11  19:36 Lucy Williamson
248 ran

Jack Bloor fell race, Tue 8 May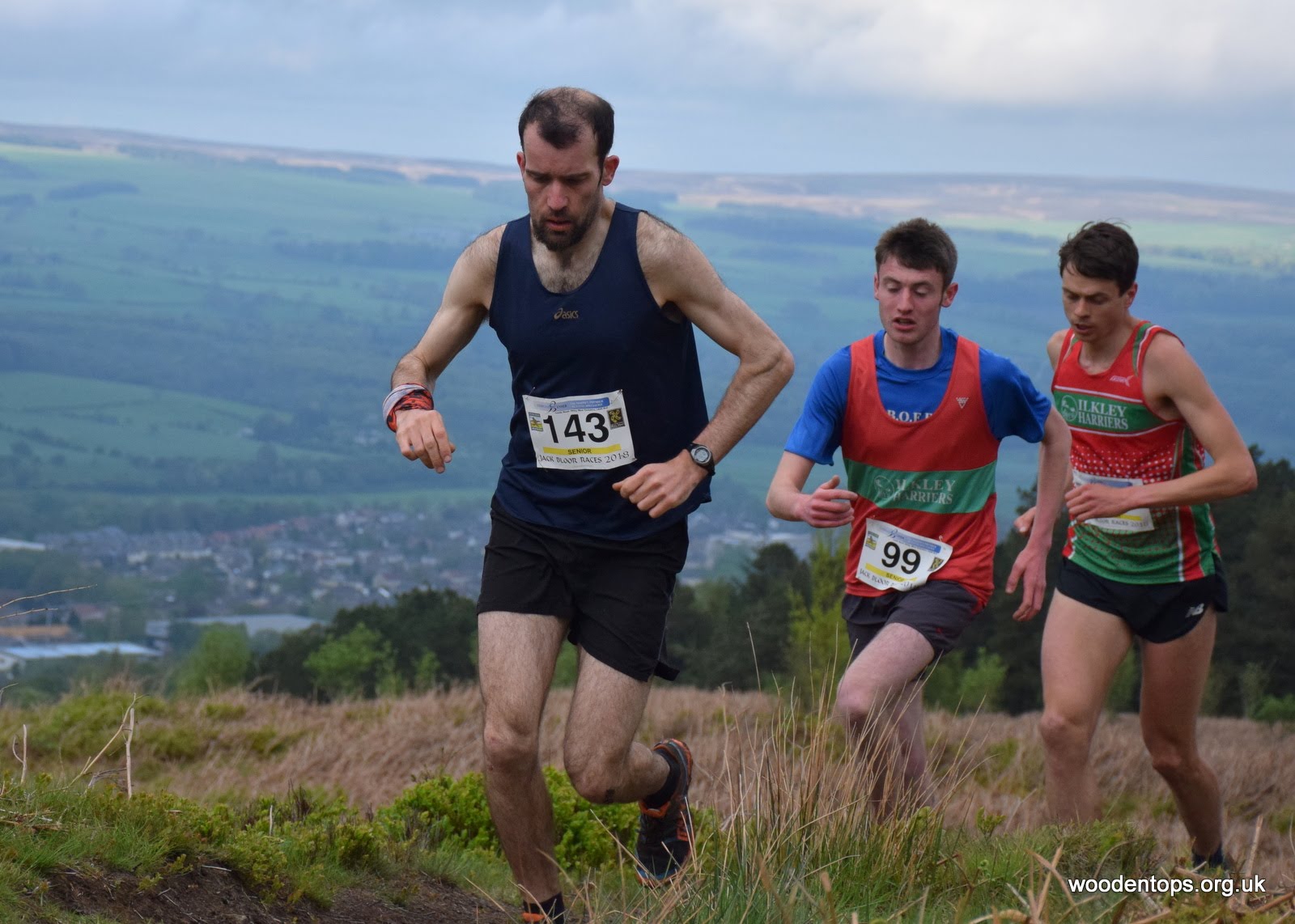 From Hilda Coulsey ... A fantastic turnout of Ilkley Harriers, including Tim Brayshaw recently returned from competing in the Marathon des Sables.
Jack Wood, Rob Little and Jack Cummings took the top three places. Underfoot was dry mostly, with the usual boggy bits still pretty boggy. The men's team prize therefore went to these three and the ladies prize also to Ilkley Harriers with Helen Wood, Kate Archer and Rachel Carter. Other prize winners were Helen Wood 3rd lady and 1st U23, Jack Cummings 1st U23 and Hilda Coulsey 1st F60.
Results ...
Up The Odda 10K, Sat 5th May
From Steve Murray ... This popular trail race is always in my diary, in part because I can walk to the start but mainly the community feel and the raising of funds for Hawksworth Village school. The race had a revamp this year, the 10k moved to the top of the Odda, with two 5k circuits each finishing with the climb up the Odda and was joined by a 5k and a 2 team 5k relay option. On a hot sunny day there was an element of trepidation on the fast downhill start and through Highroyds knowing what was to come with a climb back up to the farm and then up the Odda back to the start. I struggled in the heat and with the hills but managed to persuade myself to keep going with the help of the great young marshalls throwing cups of water at runners on request to cool us down! One of hardest 10k's I have run but meant there was no guilt sampling the fabulous cakes, buns and food back at the school.
Great performances by Ilkley runners with Nathan Edmondson 2nd in the 10k and Paul Castle & Robin Nicolson winning the Duo
10k results
Duo results
Buckden Out Moor Fell Race, Sat 5th May
From Ewan Welsh ... Meandered along to the Buckden Out Moor (and back) Fell race on Saturday morning, the 2nd year of this race, run by the National Trust. I arrived in time for the 10am start, which was actually an 11am start so I had an extra hour to chillax in the early morning sun in Buckden.
With the Start / Finish from National Trust Car park, a field of around 40 entrants created a joyful boutique atmosphere, as these size of races often do, route took you on track up Buckden from the car par, winding it's way steeply around and up to the top, then over the wall and down diagonally through the old lead mines, up out of the valley then along a ridge down towards the little but rather slippy beck crossing, I say slippy as I found myself unexpectedly taking a dip in the water!
I haven't sourced the results yet and I didn't time myself, I just tried to run as hard as a could at any given moment given this was my first race in a while. I decided to pay the penance of not racing and suffer in the sun on the uphill and then downhill in a consolidated manner (plus another uphill, steep down hill, and a dip in the water), therefore time had no part to play in this spiritual exercise.
Lovely race and one to look out for next year if you want a low key, minimal fuss and extremely scenic route.
parkruns, Sat 5 May
From Petra Bijsterveld ... Results ...

Cardiff
(1  15:41 Larry Ryan, Cardiff AAC)
8   17:30 Alex Hirst
743 ran

Bradford
(1  17:24 Martin Fillingham, Saltaire Striders)
30  22:00 Adrian Bastow
474 ran

Skipton
1   16:16 Jack Wood
6   18:45 Stephen Coy
9   19:10 Rob Cunningham
26  22:27 Geoff Howard
72  25:55 Chris Cunningham
85  26:56 Karen Lambe
202 37:55 Tim Buckingham
213 ran

Fountains Abbey
(1  16:35 Reece Dalton, Ripon Runners)
110 24:40 Hilda Coulsey
421 ran

---