Ilkley Harriers news archive 2018
Outstanding Achievements, September
From the Committee ...
Helen Waddington and team for the Incline race organisation
Caroline Howe for organising teams for Leeds County Way relays
Jack Wood 6 first places this month
Alison Weston FV50 FRA Fell Champion
Steve Turland 3rd ROC Mountain Marathon
Peter Haines 1st Lakeland District Mountain Trial
Nathan Edmonton 1st Stainland Trail, 2nd Evensplits 5k
Dave Raynier Cumbrian Way ultra gaining enough points for UTMB third year in a row
Oscar Street parkruns and training performances
Groovy Kinder Love fell race, Sun 30 Sep

1 2:22:24 Jack Wood
77 finished

Kelda 10k @ Swinsty Reservoir, Sun 30 Sep
From Caroline Howe... This run is organised by Yorkshire Water and raises money for Water Aid. This was the 6th running of it but first time at Swinsty Reservoir. The fact that I finished 3rd lady gives an indication of the size of the field... just 119 finishers. It was twice round Swinsty rather than one lap round both - probably to halve the number of marshalls needed! A very pleasant affair supporting a good cause!
results ...

(1 36:39 Alex Robinson)
17 47:43 Caroline Howe
119 finished

Preston 10k, Sun 30 Sep
From Sally Armitage ... results ...

(1  33:38 Chris Livesey, Salford Harriers) 
121 44:36 Sally Armitage
1428 ran

Littleborough 10k, Sun 30 Sep
From Peter Shields ... very well organised at not an extortionate entry fee! I had a good tussle with a fellow V70, who eventually got the better of me in the last km. Interestingly I have been running against this chap for 50+ years over various distances and never got within 2 mins of him, today I thought was going to be my day, but still some consolation I got 31secs nearer to him, must try harder!! There was a field of 343 runners of which 152 were females and 191 were males.

(1  33:04 Mathew Hill, Wakefield and District AC)
130 49:20 Peter Shields

ROC Mountain Marathon, 29/30 Sep
From Steve Turland ... I did the long score ROC mountain marathon at the weekend based in the north Lakes. After 7 hours on the first day I was in 6th position overnight, but managed to pick up 3 places on day 2, finishing 3rd overall and 1st vet. Really well planned course over some difficult terrain.
Endurancelife Coastal Trail Series North York Moors 'Marathon', Sat 29 Sep
From Adrian Hall ... A well-organised set of races beginning and ending in Ravenscar and taking in sections of the Cleveland Way and Robin Hood's Bay. Despite a cold start the blue skies, sun and predominantly dry course made for a very enjoyable race of c 26.8 miles / 3600 ft. The '10 k' (7.1 miles), 'half marathon' (15.1 miles) and ultra (33.6 miles) courses are run over the same area and timed for a mass finish making for a great event.
Marathon results ...

(1 3:29:40 David Boulton)
5  3:56:54 Adrian Hall
66 Finished

parkruns, Sat 29 Sep
From Petra Bijsterveld ... Results ...

Bradford
(1  17:44 Andrew Humphries, Airecentre Pacers)
7   20:00 Steve Murray
396 ran

Krakow
(1  17:34 Pawel Strekowski ITMBW Krakow)
30  21:25 Sally Malir
164 ran

Skipton
(1  17:15 Andrew Cairns, Skipton AC)
5   19:23 Will Buckton
8   20:00 Colin Williams
15  20:38 Kate Archer 1st F
22  21:31 Malcolm Pickering
65  25:16 Rachel Carter
102 27:16 Anna Pickering
198 ran

Lancaster
(1  17:50 Sam Harrison,Bowland Fell Runners)
145 28:44 Karen Lambe
288 ran

Middleton Woods
(1  17:21 Jonathan Walton, Leeds City AC)
17  22:59 Geoff Howard
90 ran

Cliffe Castle
(1  18:19 Matthew Warters, U/A)
61  26:26 Will Worboys
266 ran

Evensplits 5k Leeds, Wed 26 Sep
From Hilda Coulsey... There were fewer runners, it seemed, this month, race 8 in this 5k series at the Brownlee Centre. An exciting finish ended the A race with Nathan Edmondson coming in second in a fantastic time of 15:55 losing by a second to John Hobbs, Valley Striders, and beating Joe Sagar, Spenborough, into third by 3 seconds! Congratulations to Harry Stead finishing under 20 mins for the first time.
Results...

(1  15:54 John Hobbs, Valley Striders)
2   15:55 Nathan Edmondson
52  19:51 Harry Stead
59  20:23 Catherine Westhead
66  20:39 Robert Budding
108 23:37 Nicola Budding	
121 24:49 Hilda Coulsey

Falls and Castle trail race, Bolton Castle, Sun 23 Sep
From Gavin Lamb ... Inaugural race which may not have quite advertised itself quite enough (based on my finishing position!) 18 mile trail race
Results...

(1  2:03:45 Ben Hamilton)
2  2:23:49 Gavin Lamb
42 finished

Ilkley Duathlon, Sun 23 Sep
From John Hayes ... There was a good turnout from the Harriers at the Ilkley Duathlon. When we entered back in May (in a mad online scramble for places) it was called the Ilkley Triathlon. But ongoing repairs to the roof of Ilkley indoor pool meant they had to replace the swim leg with another run. I did ask one of the marshals if the organisers had pondered using the lido. Apparently they did, but this would have meant compulsory wetsuits which some entrants would not have had. I can understand this, although as an avid fan of the lido (without a wetsuit) I was rather sad to miss that opportunity, not least as it may have given me an advantage! For those who have never entered the event, it is great fun. Brilliantly organised and catering for all abilities, it is one of my favourite events on the race calendar. I hope to be back next year, by which time I assume that the indoor pool roof will have been fixed.
Results
Bristol Half Marathon, Sun 23 Sep
From Jonathan Sinclair... Perhaps not surprisingly so far from home I think I was the only Harrier (running with my daughter Zoe who lives in Bristol). Rained all the way through the race turning blue and sunny immediately afterwards. The course goes up the gorge and back then takes a labyrinthine route through the city centre for the second half. No proper hills but a bit of undulation. About the same entry as the Leeds Half. 241st and 3rd in my age category in 1:26:42.
Great Whernside, Sat 22 Sep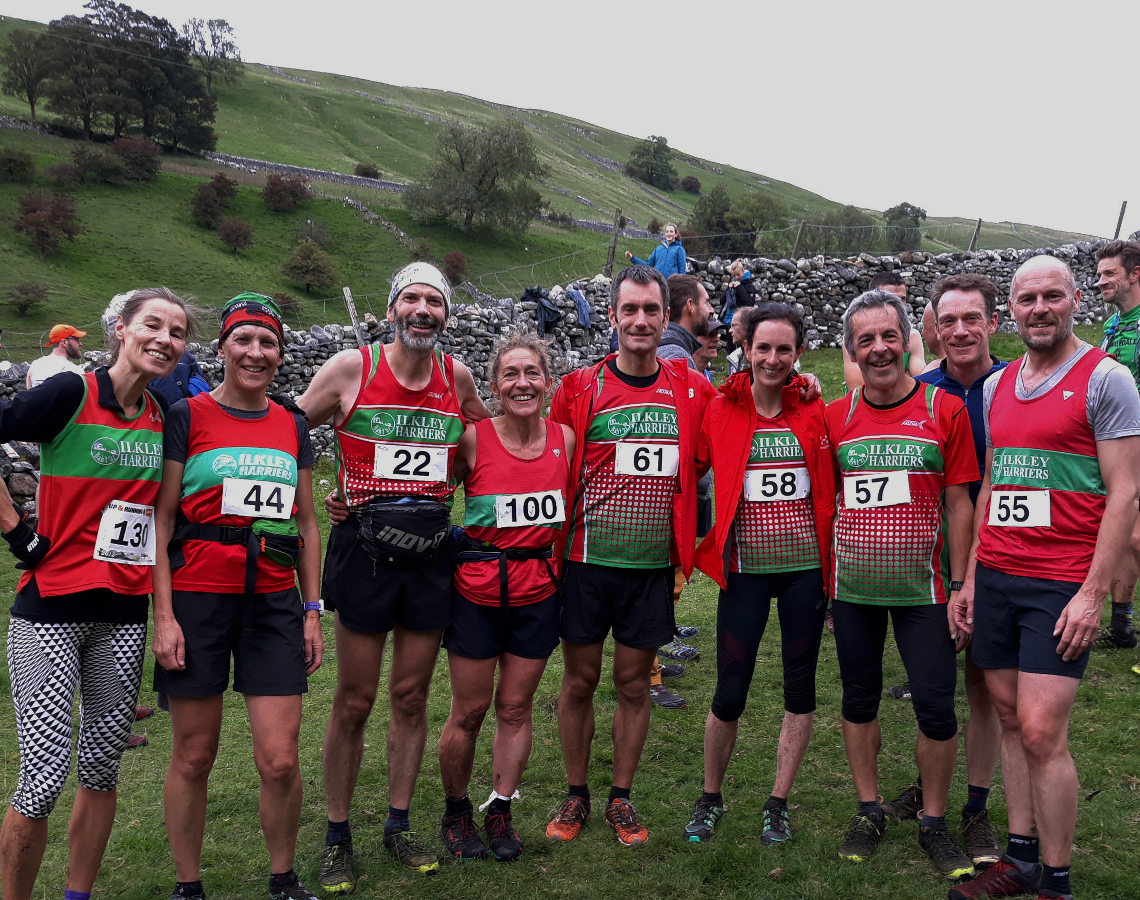 From Will Buckton ... Fairly dry for this year's run up and down Great Whernside from Kettlewell. AS 6.5km 475m Good turnout from Harriers for the league.

(1 29:40 Joe Baxter Pudsey & Bramley)
14 35:55 Istvan Jacso
28 38:39 Jim Ryder
42 40:18 Will Buckton
44 40:31 Colin Williams
45 40:37 Peter Shelley
48 41:01 Helen Thurston
56 42:23 Alistair Barlow
77 45:17 Chantal Busby
78 46:15 Alison Weston
87 48:01 Jo Foster
126 finished

Champion!
From Hilda Coulsey ... It has been confirmed that Alison Weston is the 2018 FV50 Fell champion (FRA)
Circuits start tonight, Mon 17 Sep
Neil Chapman's circuit training starts tonight, 7pm at IGS gym. £2. Details on the training page.
World Championships, Sun 16 Sep
From Steve Brennan ... Euan Brennan ran for GBR this weekend in the World Mountain Running Championships in Andorra. This year's event was uphill only. Euan finished in 29th position with the team of Junior Men winning the Silver medal.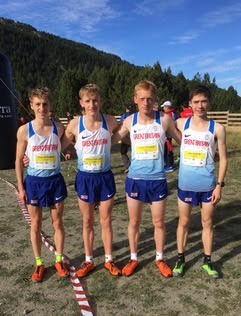 Embsay fell race, Sun 16 Sep

1  17:29 Jack Wood
5  18:54 Jack Cummings
20 20:50 Jeff Green
26 21:31 Iain Gibbons
48 23:25 Paul Calderbank
141 finished

Stainland Trail 10k, Sun 16 Sep

1  41:07 Nathan Edmondson
148 finished

Spent Greenway 10k, Cleckheaton, Sun 16 Sep
From Peter Shields ... Spent Greenway 10k including the Northern Masters 10k Champs. Sally Malir 44th, 1st VW50 and VW50 Northern Champ-44:01; Peter Shields 71st, 1st V70, 50:10; 140 ran.
The Stanage Struggle, Sun 16 Sep
From Alison Weston...A great run up from Hathersage village along Stanage Edge and back through fields organised by the Fat Boys running club. Won by Thomas Bond from Dark Park in 40.37 mins Alison Weston 140th in 58.26
3 Shires fell race, Sat 15 Sep
From Simon Jenkins... 3 Harriers set off to tackle the epic and iconic 3 Shires rammed into a small Toyota. It looked to be a nice sunny day but as soon as the runners started to ascend a thick mist cut visibility down to just a few meters.
Jack Wood set off at an incredible pace with only the 5 times winner Ricky Lightfoot able to stay with him. They ran together battling for the lead and were still neck and neck with 150 meters to go. Jack found the inner strength to just push harder and out sprinted Ricky for an incredible win.
Helen Wood put in another brilliant performance. Having never ran anywhere near this distance or been in a fell race, she ran fantastically to be the 2nd lady.
I had several navigational errors but managed to get round the course which was an achievement for me. But I reckon my fmotivational banter in the car helped Jack and Helen to their great performances.

1   1:54:30 Jack Wood 
92  2:48:55 Helen Wood  2nd Lady
196 3:41:23 Simon Jenkins 
233 Ran

Leeds Golden Mile, Sat 15 Sep
From Geoff Howard... For the second year running (and second in fifty four years) I ran a mile on a track at Leeds Beckett Carnegie campus on Saturday. A hundred and eighteen others did likewise distributed over thirteen 'heats' in sequence from anticipated slowest to fastest. Called the Leeds Golden Mile, the event was organised by EvenSplits who provided times to the nearest 1/10th of a second seemingly from two guys with stopwatches stood on the same stepladder (Roger Bannister at Iffley Road 1954 style) which seemed odd given that their website extols the virtues of all the super duper latest electronic equipment they can supply for customers' events. Still it was a very well organised, friendly and enjoyable occasion - maybe I'm just a little miffed at being timed 0.5 of a second slower than last year. By the time the creme de la creme ran I was well away on the bus back to Ilkley which, in retrospect, was a pity because of the stellar top end performances (six runners under five minutes, 45 year old Martin Fillingham of Saltaire Striders blowing everyone else away with his 85.92% age graded performance in fifth place & Ilkley Harrier's Steven Gott in twelfth place).

(1 4:41.4 Peter Surennen, ADD
12 5:06.6 Steven Gott
84 6:30.2 Geoff Howard
119 ran

Portrush parkrun, Sat 15 Sep
From Hilda Coulsey... The thing about a parkrun totally on the beach is that times depend significantly on conditions so that there are only 5 men under 17 mins and 11 women under 20 mins in its 320 event history. I thought that beating the FV 65 record of 27:00 set in 2014 was surely doable! This is my 4th attempt this year, reasons to visit entirely independent from tide and weather, and with tide half way back in, a "moderate" wind and squally drizzle I did it. Stunning scenery on the north coast of Northern Ireland.
Results
Keighley (Cliff Castle) parkrun, Sat 15 Sep
From Steve Murray ... Six Harriers headed over the hills to Keighley for the inaugural parkrun at Cliff Castle on Sat 15th Sept, to make up the 453 runners! It was a great atmosphere, with organisers, volunteers and runners excited to get underway on the 3 and a bit lap course. A picturesque start in front of the museum with a nice fast downhill, followed by a long flat section should have given away what was coming. A sharp left and into a steep hill on a narrow path, followed by another sharp left and another uneven hill section, before a flat and twisty downhill back to the start. Three laps later and a hard left after the downhill section for an uphill sprint to the finish. A tough and challenging 5k addition to the parkrun series, not for the PB hunters but one to feel you've earned the coffee! Great performance by Lucy Williamson who was 16th overall and 1st lady.
Results
Salomon Ben Nevis Ultra, Fri 14 Sep
From Roy Ruddle ... Unfortunately conditions meant that this first running of the Ben Nevis Ultra took place on the bad weather route (51 km 1700m ascent), which featured about 40 km of trail/valley running and only 15 km on the mountains. The proper route included the Carn Mor Dearg arete and parts of the Ring of Steall, and would have been much more enjoyable. That said, the race organisation and en-route support was fantastic, particularly from Brian Melia who was manning check point 2!

(1  3:48:02 Jonathan Albon, UK)
211 6:35:30 Roy Ruddle
287 7:18:48 Jamie Hutchinson
368 ran

Harrier League Standings after 18 Races
From Jane McCarthy... Six more great races in the Harriers League since June, and with some clever Wildcard scores the standings are as follows: Hilda Coulsey leads the overall League with 911 points from a maximum of 10 scoring races after a superb 109 points from Skipton Park Run as her Wildcard entry. With only 6 more races remaining in the 2018 League Hilda will be difficult to beat, but hot on her heels are Trail League leader Jonathan Turner (814 points from 9 races) and Road League leader Colin Williams (726 points from 8 races) - both of whom can still declare a Wildcard. All runners can still improve their average points in the final races as the League takes the best scores over a maximum of 3 races in each discipline (or 4 races for the individual Leagues).
In fourth place overall is Alison Weston (613 points), fifth placed is Jean Sullivan (561 points) and sixth placed is Fiona Schneider (538 points) - all from 7 races. Fell League leader Jack Cummings is in seventh place overall, scoring in 5 races, but leads the Fell standings with an almighty 396 points from 4 races - a maximum 100 points earned in his win at Addingham Gala. The remaining races are Great Wherneside (Fell) on 24th September, Bradford Park Run (Road) on 3rd November, Burley Moor (Fell) on 10th November, PECO (Trail) end Nov. TBC, The Stoop (Fell) on 16th December and finally Ribble Valley 10K - a great PB course finishing the year on 29th December. Happy Racing!!!!
As always, any mistakes, please contact Jane McCarthy at janemccarthy@me.com
Results and remaining events on the League page.
Vale of York Half Marathon, Sun 9 Sep
From Steve Murray ... A small group of 4 Harriers ran the Vale of York half marathon on Sunday morning. A very flat course looked like a great choice for my first half marathon race when I finally signed up on Thursday. On a warm and cloudy day the first 8 miles went according to plan but then the tailwind no one realised we had became a headwind for most of the race back and things got a bit tougher. The planned speedy finish never materialised but was pleased with the time and to get the first one under the belt. Excellent performance by Will Simmons who came home 23rd.
Results ...

(1  1:11:48 Kev Jeffress,Sunderland Harriers & AC)
23  1:18:28 Will Simmons
107 1:26:21 David Westhead
227 1:33:47 Steve Murray
388 1:40:31 Michael Abrams-Cohen
1542 finished

Bradley Show Fell Race, Sun 9 Sep
From Caroline Howe... A rare fell race for me, but a doable and enjoyable one! Jann Smith and Steve Gott were the other Harriers who took part.
Results ...

(1 24:44 Luke Maude, Barlick)
4  26:36 Steven Gott
33 35:28 Jann Smith
47 37:42 Caroline Howe
70 finished

The Yorkshireman, Sun 9 Sep
From Ben Sheppard... There was a good turnout of Harriers for the Yorkshireman off-road marathon (26.2 miles and 3,200 ft) and half marathon (14.6 miles and 1,800 ft). A nice mixed terrain race with some remote moorland and not too much tarmac. Great runs on the Half included Istvan Jacso coming 3rd, Martin Archer and Gavin Lamb getting under 2 hours and Paul Castle close behind. Adela Reperecki completed the marathon, as did Colin Williams in around 4 hours - an improvement of around 30 minutes on last year. Not knowing the way, I worked hard in the middle of the race to go with the leading pack who were pulling away. It worked for me until the last few miles when I was dropped by the front three and had to get the map out and fumble my way home on an empty tank.
Results ...

Marathon
(1 3:23:03 Andrew Dobby, Harrogate)
4  3:36:35 Ben Sheppard
18 4:01:31 Colin Williams
80 5:04:52 Adela Reperecki
146 finished

Half
(1  1:40:08 Robi Howie, Wharfedale)
3   1:47:14 Istvan Jacso
22  1:56:49 Martin Archer
25  1:59:48 Gavin Lamb
40  2:03:07 Paul Castle
50  2:07:03 Pauline Munro
61  2:08:22 Lucy Williamson
105 2:24:23 Simon Jenkins
172 2:46:33 Elizabeth Price
252 finished

Lake District Mountain Trial, Sun 9 Sep
From Jack Wood... Me and Will Buckton drove to Grasmere this morning for the 64th Lake District Mountain Trial. This event tests your speed, stamina and ability to navigate through the mountains. The 'Classic' course has been won numerous times by fell running legends Joss Naylor and Billy Bland. Today the route covered over 20 miles and 2000m climb with 11 checkpoints to find. After a slow start I was happy to stretch my legs on the more runnable section from Steel Fell towards the Langdale Pikes. However as running time passed 4 hours I started to get tired and was overtaken on Silver Howe by eventual winner Nic Barber who had started 4 minutes behind me (the race is run in time trial format). Will did well to find the first few 5 checkpoints considering he's still learning how to map read but nobly retired at Dunmail Raise when he realised he didn't pack his headtorch. He is keen to return for another attempt next year. Pete Haines of Ilkley ran well to win the short course.
Results ...

Classic
(1 4:21:02 Nicholas Barber, Pennine)
2  4:33:07 Jack Wood
67 finished

Short
1 3:34:06 Peter Haines
68 finished

Great North Run, Sun 9 Sep

6444  1:55:42 Charlotte Smithson
11543 2:06:48 Chris Cunningham
18939 2:19:32 Jo Pattinson
19769 2:20:52 Alec StanleyHyde

Lothersdale fell race, Sat 8 Sep

1 10:39 Jack Wood
33 finished

parkruns, Sat 8 Sep
From Petra Bijsterveld ... Results ...

Bradford
(1  17:28 Jack Kelly, U/A)
99  25:47 Will Worboys
112 26:15 Oscar Street
127 26:56 Paula Reynier
391 ran

Harrogate
(1  17:36 Matthew Wilkinson, Nidd Valley RR)
110 24:11 Alison Weston
432 ran

Skipton
1   16:48 Jack Wood
12  21:11 Jonathan Schneider
78  26:58 Fiona Schneider
108 29:25 Bernie Gibbons
182 ran

Clapham Common
(1  15:32 unknown)
12  18:59 Rob Cunningham
513 ran

Ilkley Incline, Wed 5 Sep
From Helen Waddington... Another successful Ilkley Incline due, as always, to the tremendous effort from all the helpers, Marshalls and runners who took park. The atmosphere is always great for this event with lots of Harriers taking part (28 - many of whom won their age category and 1st Male and 2nd Female going to the Wood family!).. It was another high quality field - 14 runners making it under 9 minutes and 18 going under the magic 10! But all runners who tackle this course are to be congratulated - I have never done it and dread the day I have to give it a go! We have an amazing team of people who each year give their time to make it all work like clockwork. We would like to thank Neil Chapman for timing and setting up, Jann Smith, Paul Carman and Sarah Hayes helping man the registration which is crucial, Julie Melechi who always controls the traffic for us on the road, Sarah for sweeping, Rob King and Andrew McCarthy who get the results down in double quick time on their MTBs, John Hayes and Toni Melechi who helped Dick and Neil out at the finish funnel and also packing up. We had Graham Weston who was taking photos - can't wait to see them, and Jane McCarthy in her usual vital role of finalising the results and prizes. I would also like to thank Caroline Howe for being a general helper and assistant. It is truly a team effort and makes our lives so much easier on the night so THANK YOU!!!
More photos on Facebook.
Muker show fell race, Sat 8 Sep

(1 12:00 Ted Mason, Wharfedale
12 14:20 Iain Gibbons
47 18:34 Jann Smith
68 finished

Wetherby 10k, Sun 2 Sep
From Sally Armitage... I'd been looking forward to this race for months and, having been injured on and off for much off the year, was super excited to be able to run on Sunday. However, the hot weather made it challenging and after setting off too fast I really struggled. It's a lovely course though and the atmosphere is fantastic, already excited for next year!

(1  33:35 Callum Elson, Roundhay Runners) 
138 47:08 Sally Armitage 
312 54:12 Charlotte Smithson 
318 54:23 Chris Cunningham 
427 58:22 Sheena Pickersgill 
436 58:41 Jonathan Turner 
438 58:42 Dawn Turner 
462 59:22 Alex Stanley-Hyde 
581 64:02 Emma Curren 
873 ran

Burnsall fell race, Sun 2 Sep

(1 13:42 Simon Bailey, Mercia)
10 16:40 Iain Gibbons
13 16:49 Steven Gott
25 19:13 Roy Ruddle
66 finished

Leeds Country Way Relay, Sat 1 Sep
From Caroline Howe ... The Leeds Country Way relay, organised by Kippax Harriers since 1990, starts and finishes in Garforth, circumnavigating Leeds in six 10-12 mile legs via Wakefield, Morley, Thornbury, Golden Acre Park and Thorner.
Jonathan Turner and Steve Murray got the team off to a solid start on leg 1, finishing the 11.75 miles in 1:26, in 19th position (out of 58 teams). Steve deserves a special mention for willingly taking on this leg, which meant a 5.45am alarm call, having just returned from a 2 week holiday late the previous evening - that is commitment! Huge kudos to Jonathan too who subsequently ran the Wetherby 10k in the afternoon!
Leg 2, 11 miles from Stanley to Morley, was run by Mike Abrams Cohen and Will Buckton who discovered new levels of usefulness of a Garmin, following the .gpx trail of this very tough and tricksy route in South Leeds. Mike and Will were 19th fastest in 1:32, and managed to gain a couple of places to hand over the baton in 17th.
A superb performance by Michael Lomas and Andrew Overend on the 9.8 mile hilly leg 3 saw them post the 8th fastest time of 1:13, gaining the team another four places in the process, to hand over to Jack Wood and Istvan Jacso at Thornbury in 13th position.
Jack and Istvan's route was an 11.5 mile convoluted course from Thornbury to Golden Acre Park - considered by many the toughest leg - and the pair gave a storming performance of 1:20, which was the second fastest time, and saw them overtake five teams before handing over the baton in 8th place.
Jean and I were soon on our way out of Golden Acre. However, the downside to a 1:30pm start soon became apparent, as the sun beat down hard on us. The scenic route was largely over open fields, exposed to the heat with very little shade, and by the time we got to halfway, we were flagging. It soon became about just getting round. Despite having diligently reccied the course (most of it twice) in our exhaustion we almost went the wrong way near the end - but mercifully a kind dog walker kept us right. It's no exaggeration to say these were the hottest conditions I have run in, and our finishing time was 1:38. However, we were pleased to discover that we were the 6th fastest ladies pair out of 24 (31st place overall on the leg). On finishing, we had dropped several places, handing over in 14th position.
With Jean and I collapsed in a heap in Thorner, Malcolm Pickering and David Howe set off on the 10 miles to the finish, and managed a solid leg of 1:24, only dropping one further place, to carry the team over the line in 15th position out of 58 (24th fastest on the leg), and a total time of 8 hours and 35 minutes.
This was a fantastic event to be a part of, and the feedback from the team has been universally positive, and enthusiastic about returning next year. Running in an event like this is a different experience with different challenges to a normal race (running as a pair, navigating the unmarked route, the logistics of dropping off cars!) but the reward is great - you get a real buzz from being part of a team, eagerly awaiting the text updates from the other runners, and the excitement of awaiting the baton at the crossover point where there is a great atmosphere. This and similar relays like BMW are suitable for all runners at the club, and are as a competitive or as fun as you want to make them, so please do consider taking part next year when the call comes - it would be great to get more teams out there in 2019!
Grand Tour of Skiddaw, Sat 1 Sep
From Jann Smith ... Paul Carman completed another ultra event which starts North of Skiddaw above Caldbeck running along the Cumbria Way to Latrigg , then up Skiddaw and back to the start. 45.9 miles / 7000 feet. He came 11th in 8 hours and 40 minutes.
Ben Nevis race, Sat 1 Sep

(1  1:27:35 Finlay Wild, Lochaber)
165 2:04:52 Steve Turland
349 2:30:03 Alison Weston
488 finished

Bullock Smithy Walk, Sat 1 Sep
From Colin Williams... At 12:00 on Saturday I set off with 220 other runners and walkers to try my luck at the 43 Bullock Smithy Race. Run by 3rd Hazel Grove scout group, the circular route covers a distance of 56 miles and around 8,100 feet of climb, competitors need to visit 14 checkpoints in turn, the route between them is up to you, the route finding is a little complicated in places so reviewing the route before the day would have been useful. The weather forecast for Saturday was overcast, but on the day the sun shone all afternoon making the running very hard going. This is a great event with some fantastic support at each of the checkpoints and when you finish you get served a full breakfast. The full results aren't available yet, but I finished in equal 10th place in a time of 13 hour 16 minutes, the race was won by Rory Harris in a time of 8 hours 52 minutes.
At the event presentation I was awarded the Axe Edge trophy, for the fastest time by a adult member of the scout association.
parkruns, Sat 1 Sep
From Petra Bijsterveld ... Results ...

Cardiff
(1  16:25 Daniel Hamilton, Abingdon AC)
4   17:09 Alex Hirst
576 ran

Halifax
(1  17:42 Harry Johnson, Halifax Harriers)
64  27:26 Tim Buckingham
126 ran

Bradford
(1  17:00 Martin Soszka, Saltaire Striders)
68  23:41 Oscar Street
125 26:35 Paula Reynier
427 ran

Harrogate
(1  16:01 Andy Grant, Leeds City AC)
10  19:12 Pauline Munro 1st F
457 ran

Clumber Park
(1  19:11 Jake Wilson, U/A)
83  25:44 Stephanie Fox
320 ran

Skipton
1   17:38 Jack Wood
10  20:08 Mark Mon-Williams
30  22:52 Rebecca Mon-Williams
206 ran

Clapham Common
(1  16:48 Nic Errol, U/A)
19  19:00 Rob Cunningham
491 ran

Dishley, Loughborough
(1  16:29 Mark Powell, Leicester Coritanian AC)
3   18:04 Stephen Coy
100 25:24 Gaenor Coy
347 ran

---