Ilkley Harriers news archive 2017
Ilkley Harriers of the Month, December
Harrier of the month nominations: Anna Pickering for the Stoop; Nathan Edmondson for comiing in 5th at the Stoop, 8th at Chevin Chase; Jack Wood for Mysercough 10m win, WYXC and 4th at Chevin Chase; Pauline Munro for being 1st FV45 in WYXC series, 3rd lady at Chevin Chase, also Stoop and Auld Lang Sang performances.
The winner is Pauline Munro.
Volunteer of the month: Natalie York for initiating the successful Predictor and with the team aiming for an annual event; Peter Shields for Wednesday evening sprint training
The winner is Natalie York.
More Harriers of the Month ...
Ilkley Harriers Race League
From Jane McCarthy ... The 2017 Harriers League is now complete following the final races of the year. Petra Bijsterveld has been kind enough to independently verify the results. It is great to see that 30 Harriers did 4 or more League races in 2017, with the best average points per race being Tom Adams with 605 pts from 6 races. The Top 5 placed runners in the Overall League scored in their maximum of 10 races (3 counting from each category and a nominated wildcard race). Well Done to Jane McCarthy, Alison Weston, Dave Robson, Michael Duffield and Peter Lewis.
There were some super performances in the final few races - including ... Jack Cummings, Tim Ashelford, Ben Sheppard, Michael Lomas and Jonathan Turner at Burley Moor Run; Hilda Coulsey, Steve Gott, Martin Archer at PECO(1); Caroline Howe at Guy Fawkes; Alison Weston, Jack Wood and Michael Lomas at the Full Tour of Pendle; Hilda Coulsey at the Yorkshire 10 mile and Jack Cummings securing his Fell Category win at The Stoop in December with a 10th place finish.
If there are any queries with the Race League please contact me at janemccarthy@me.com ASAP.
The Top 10 finishers in the Overall League all receive prizes at the Annual Awards Do on Friday 19th January. See you there!
Good Luck with and ENJOY racing in the 2018 Harriers League.
Auld Lang Syne fell race, Sun 31 Dec

(1  44:54 Ali Brownlee, Bingley)
16  48:38 Ruaridh Mon-Williams
60  53:28 Tim Ashelford
67  54:11 Steve Turland
77  55:19 Pauline Munro
87  56:16 Lucy Williamson
158 62:20 Jamie Hutchinson
179 64:41 Mary Gibbons
192 65:29 Rebecca Mon-Williams
224 67:20 Sarah Edwards
232 68:17 Adela Reperecki
343 88:50 Sally Wright
368 finished

Jolly Holly Jog, Sun 31 Dec

(1  34:20 Andrew Grant, Harrogate)
330 57:13 Liz Price
343 57:57 Diane Kitchen
409 60:54 Karen Lambe
538 66:36 Sarah Holmes
643 72:21 Amanda Poppleton
754 finished

Ribble Valley 10k, Sun 31 Dec
From Petra Bijsterveld ... Ribble Valley is always quite the antidote to the festive season, out with the fancy dress and turkey hats and back to the grindstone with some serious road racing, though surrounded by a beautiful landscape. This year the race included the North of England 10K championships and thus attracted an elite field with the first 50 runners arriving home inside 34 minutes, despite conditions being a little windy. The photos from the lead car show a tight race at the front end with Jonny Brownlee coming second to 2016 winner Marc Scott, third was Barnet's Richard Horton, still sub 30 minutes. First woman was Morpeth's Laura Weightman in 32:31. 13 Harriers lined up and new member Ian Fothergill led the Ilkley team home in an impressive 37:13. There were excellent efforts and from all and Sally Malir was 1st in her age category.
Results ...

(1  29:37 Marc Scott, RZH)
123 37:13 Ian Fothergill
181 39:33 Rob Cunningham
260 41:42 Derek Oliver
270 41:08 David Brown
293 42:18 John Hayes
296 42:21 Kate Archer
312 43:02 Sally Malir 1st F50
341 43:02 Mark Iley
541 48:23 Catherine Gibbons
714 51:57 Sarah Hayes
763 52:50 Hilda Coulsey
779 53:14 Petra Bijsterveld
959 57:32 Bernie Gibbons
1262 finished

parkruns, Sat 30 Dec
From Petra Bijsterveld ... Many parkruns in the area were cancelled today due to remaining icy patches on paths. I went to Roundhay where the 'winter course' on Soldiers Field was in operation. It was very runnable in a XC kind of way with lots of standing icy water and semi-frozen mud. Good fun despite already having lost the feeling in both feet during my 'warm-up'!
Results ...

Horton
(1  18:36 Will Kerr, Saltaire Striders)
19  25:21 Rhys Jones
103 ran

Roundhay
(1  18:00 unknown)
108 29:22 Petra Bijsterveld
188 ran

Chevin Chase, Boxing Day 26 Dec
From Petra Bijsterveld ... Results ...

(1  38:43 Chris Smithard, Central AC)
4   41:28 Jack Wood
8   42:19 Nathan Edmondson
20  44:31 Martin Archer
23  44:50 Ben Stevens
25  45:19 Steven Gott
31  46:04 Tim Ashelford
55  47:25 Dan Hayes
60  47:38 David Foyston
76  48:56 Adam Bennett
84  49:16 Steve Turland
86  49:20 Rob Cunningham
96  49:54 Pauline Munro
123 51:06 Jonathan Sinclair
139 51:43 Kate Archer
154 52:15 John Hayes
160 52:29 Stephen Coy
183 53:19 Derek Oliver
186 53:22 Michael Duffield
193 53:34 Ellie Kitchen
221 55:04 Helen Thurston
269 56:25 Tim Brayshaw
310 57:45 Andrew Jackson
329 58:25 Alistair McInnes
349 59:02 Tom Worboys
358 59:13 David Schneider
413 60:49 Robert Budding
419 61:13 Geoffrey White
423 61:17 Helen Wood
429 61:33 Paul Stephens
431 61:38 Adela Reperecki
450 62:02 Robert Meadows
523 63:09 Claire McLoughlin
524 63:36 Mike Baldwin 
573 64:57 Jane Bryant
594 65:56 Alison Bennett
606 66:31 Sharon Meadows
663 68:23 Petra Bijsterveld
701 69:25 Mike Bryant
737 70:32 Chris Cunningham
759 71:20 Jonathan Schneider
771 71:48 Debbie Jukes
790 72:45 Sheena Pickersgill
873 77:18 Fiona Schneider
904 79:42 Wendy Bishop
908 79:53 Sal Wright
996 ran

Christmas Day parkruns, Mon 25 Dec
From Petra Bijsterveld ... Results ...

Bradford
(1  17:34 Simon Shaw, Ealing, Southall and Middlesex)
87  26:16 Petra Bijsterveld
304 ran

Harrogate
(1  17:17 Jack Brennan, Harrogate Harriers)
181 26:39 Geoff Howard
429 ran

Skipton
(1  16:54 unknown)
2   17:10 Dominic Coy
5   18:15 Ruaridh Mon-Williams
10  19:48 Rob Cunningham
11  20:07 Mark Mon-Williams
14  20:35 Stephen Coy
45  22:41 Tom Worboys
47  22:48 Ben Joynson
54  23:30 Rebecca Mon-Williams
56  23:33 Neil Pomfret
90  26:03 Chris Cunningham
189 ran

parkruns, Sat 23 Dec
From Petra Bijsterveld ... Results ...

Woodhouse Moor
(1  17:59 Matthew Akpan, U/A)
32  20:59 Adrian Bastow
375 ran

York
(1  15:21 Joshua Schofield, City of York)
43  19:57 Jonathan Turner
545 ran

Bradford
(1  17:00 Reuben Mantle, Bingley)
7   19:05 Alex Hirst
62  23:42 Oscar Street
68  23:59 Phil Hirst
378 ran

Roundhay
(1  18:30 Simon Midwood, Valley Striders)
48  22:44 Tom Worboys
71  23:50 Ben Joynson
293 ran

Skipton
1   17:17 Matt Newell
45  23:47 Neil Pomfret
112 28:43 Sue Verspyck
182 ran

Christmas Relays, Tue 19 Dec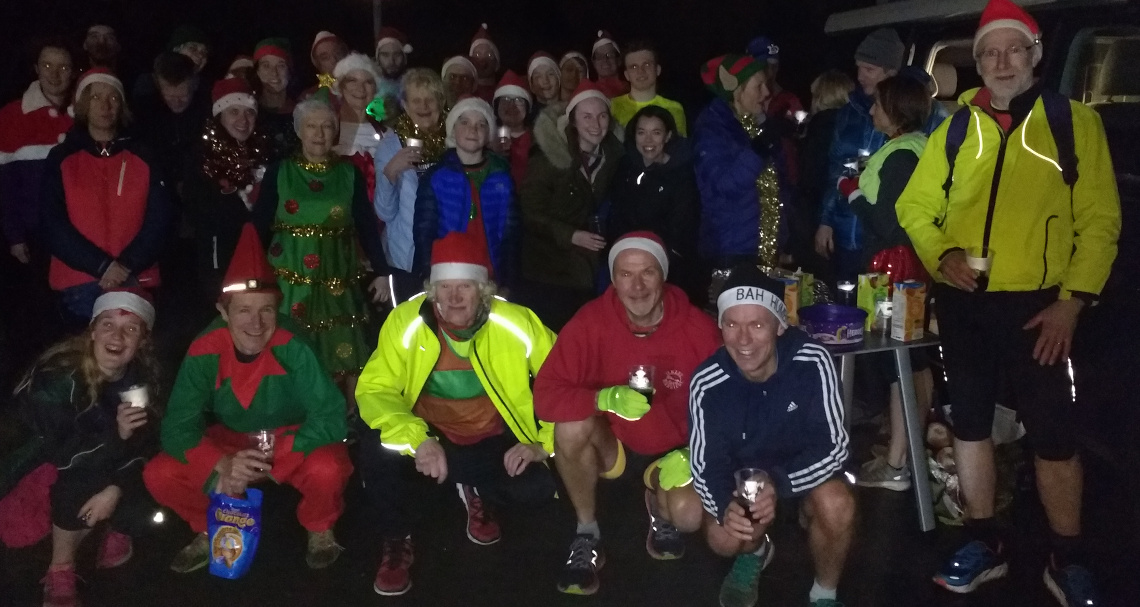 From Vince Gibbons ... Eleven teams turned out in festive spirits and fancy dress for runs, mince pies and mulled wine, followed by a quiz at ILTSC. Thanks to all for making it a highly enjoyable evening of frivolity.
Postscript: The IH Christmas Relays and Quiz were a great success with nearly 70 people attending. The club raised a total of £104 which will be donated to the Upper Wharfedale Fell Rescue organization. Thank you to all who attended and donated.
The Stoop, Sun 17 Dec

(1  31:07 Harry Holmes, P&B)
5   33:36 Nathan Edmondson
10  34:31 Jack Cummings
21  36:47 Martin Archer
67  40:45 Richard Joel
89  42:27 Colin Williams
90  42:30 Pauline Munro
97  43:19 Malcolm Pickering
123 46:28 Mary Gibbons
133 47:17 Alison Weston
151 49:15 Geoffrey White
154 49:48 Steve Weston
209 59:44 Amanda Newham
235 63:38 Anna Pickering
244 finished

Virgin London Marathon 2018, Club allocation
From Tom Worboys, Jane Bryant, Jo-Ann Pattinson, Lucy Williamson, Rob Cunningham, David Howe, Steve Newell, Sally Lynch and with 3 places allocated the following were drawn; Tom Worboys, Rob Cunningham and Jo-Ann Pattinson, with Steve Newell and David Howe in reserve. Good luck to those picked out, commiserations to the others.
PECO XC, Sun 10 Dec

Men
(1  25:37 Andrew Grant, Harrogate)
104 31:35 Stephen Coy
129 32:10 Daniel Lane
145 32:38 Andrew Overend
163 33:20 Robert Budding
224 35:17 Mark Iley
226 35:19 Malcolm Pickering
280 37:43 Phil Hirst
373 44:48 Peter Lewis
388 50:01 Don Macrae
395 finished

Ladies
(1  30:11 Hannah Oldroyd, Saltaire)
15  33:02 Ellie Kitchen
69  37:08 Sarah Edwards
88  38:14 Helen Wood
122 40"43 Ros Brown
136 41:46 Diane Kitchen
204 45:05 Nicola Budding
211 45:51 Anna Pickering
244 48:15 Kate Lofthouse
253 49:27 Sally Wright
289 59:29 Clare Shouler
292 finished

WYXC #4, Keighley, Sat 9 Dec

Men 9th team, 9th overall
(1  25:18 Angus McMillan, York)
8   26:33 Jack Wood
44  29:44 Tim Ashelford
45  29:55 Steven Gott
65  31:13 Matthew Cox
80  32:09 Stephen Coy
99  33:43 Rob Budding
100 33:46 David Brown
134 finished

Ladies 7th team, 7th overall
(1 19:55 Helen Berry, Holmfirth)
6  20:31 Pauline Munro
33 23:05 Sally Malir
59 26:35 Alison Bennett
63 27:07 Diane Kitchen
76 32:56 Jacqui Weston
82 finished

Many great junior Ilkley results including wins
at U17 for Euan Brennan and Bethan Morley

parkruns, Sat 9 Dec
From Petra Bijsterveld ... Results ...

Carlisle
(1  19:08 Paul Graves, DH Runners)
18  22:49 Sarah Pickering 2nd F
156 ran

Brian Sweet Predictor Run, Tue 5 Dec
From Hilda Coulsey ... It was great to see so many out for this Predictor run in memory of Brian Sweet, a long time stalwart of the club. His widow, Joyce started us off and encouraged us on the route. Thank you to Natalie and Bernie for organising this and others on the route.
The closest to their predicted time was Peter Roll, with Petra Bijsterveld second. A prize will also go to this year's beginners, Jo Pattinson, Claire Greenwood and Liz Snell who came in together very close to predicted. The prizes will be presented at the quiz on 19th.
From Vince Gibbons ... The inaugural Brian Sweet Predictor Run was a fitting tribute to a loyal stalwart of Ilkley Harriers for over thirty years. Harriers turned out in good numbers to remember Brian, who led a club night run every week for decades. He overcame cancer twice and continued running until his 80th birthday. He was particularly welcoming to those new to the sport, always encouraging them to keep going.
Many thanks to the organisers.
From Natalie York ... Results. Second column shows difference from predicted time.

1  43:20 04:30 Jane McCarthy   Best Time
2  43:50 04:10 Oli Street 
3  44:57 00:03 Peter Roll      Winner
4  46:17 03:43 Peter De Sanctis 
5  46:18 06:07 Brian Melia 
6  46:21 07:39 Helen Thurston 
7  47:09 01:31 Malcolm Pickering 
8  47:19 05:05 Jonathan Turner 
9  48:23 02:37 Mary Gibbons 
10 48:29 05:51 Keith Wood 
11 49:27 07:33 Alison Weston 
12 49:28 08:55 Alison Bennett 
13 50:42 05:48 Jean Sullivan 
14 50:44 14:16 Oscar Street 
15 50:51 02:24 Paul Stephens 
16 52:01 05:21 Adela Reperecki 
17 52:11 12:49 Nea Weston 
18 52:12 02:32 Caroline Howe 
19 55:20 03:37 Jayne Norman 
20 55:39 04:16 Hilda Coulsey 
21 61:01 01:01 Amelia Miles 
22 61:03 08:02 Gill Scott 
23 61:07 01:08 David Howe 
24 62:50 01:40 Jo Pattinson 
25 62:51 01:24 Claire Greenwood 
26 62:52 00:52 Liz Snell 
27 63:15 00:15 Petra Bijsterveld   Runner Up
28 63:30 01:20 Wendy Bishop 
29 63:53 00:57 Elaine Ibbotson 
30 64:54 01:06 Christine Airey 
31 65:51 03:51 Don McCrae 
32 66:08 03:52 Phil Kershaw 
33 69:40 00:20 Dawn Turner 
34 69:48 02:42 Libby Heppenstall 
35 69:55 00:55 Vince Gibbons 
36 70:27 00:55 Anna Pickering 
Sweeper        Bernie Gibbons
DNF            Louise Airey

Myerscough 10, Sun 3 Dec
From Petra Bijsterveld ... We hear Jack Wood won Myerscough 10. Results ...

1 53:54 Jack Wood
258 finished

parkruns, Sat 2 Dec
From Petra Bijsterveld ... Results ...

Woodhouse Moor
(1  16:53 Peter Francis, Leeds Met Uni AC)
5   18:12 Will Wood
168 27:05 Gaenor Coy
340 ran

Harrogate
(1  16:48 Mike Burrett, Leeds City AC)
18  20:24 Nina Pearce 1st F
435 ran

Druridge Bay
(1  16:31 Ian Harding, Morpeth Harriers)
3   19:17 Rob Cunningham
155 ran

---
Ilkley Harriers of the Month, November
Harrier of the month nominations: Martin Archer for Lister Park parkrun, Burley Moor and consistently great results; Jack Wood for first in the last even splits 5k and 2nd at Tour of Pendle; Cameron Reilly for Abbey Dash time of 34.28; Jonathan Turner for impressive progress over the year with great times at Burley moor, at Wetherby parkrun and last month's marathon time; Michael Lomas for great times and improvements, particularly Burley Moor and Tour of Pendle; Rob Budding for cross country race improvements and good results in general.
The winner is Michael Lomas.
Volunteer of the month: Gaenor and Steve Coy for all they do for the x countries; Petra Bijsterveld for the membership renewals admin; Helen Waddington for HoM write-ups; Neil Chapman for Thursday evening session; Peter Shields for Wednesday evening sprint training
The winner is Helen Waddington.
More Harriers of the Month ...
PECO XC, Sun 26 Nov

Men
(1  26:21 Joe Baxter, P&B)
42  32:05 Steven Gott
47  32:08 Martin Archer
159 35:28 Daniel Lane
160 35:30 Stephen Coy
171 35:46 Andrew Overend
201 36:44 Robert Budding
401 43:23 Geoffrey White
510 54:45 Don Macrae
520 59:24 Andrew Kitchen
525 finished

Women
(1  33:29 Hannah Oldroyd, Saltaire)
13  36:26 Jane Mccarthy
15  36:44 Ellie Kitchen
31  38:16 Rachel Carter
87  42:28 Helen Wood
115 43:20 Alison Weston
137 44:34 Adela Reperecki
163 45:52 Dianne Kitchen
197 47:07 Gaenor Coy
199 47:17 Hilda Coulsey
215 48:04 Petra Bijsterveld
248 49:44 Nicola Budding
308 53:23 Kate Lofthouse
329 55:28 Sally Wright
342 56:32 Wendy Bishop
384 67:47 Clare Shouler
386 finished

Santa Runs, Sat 25 Nov
Over 140 Santas ran on Ilkley Moor, raising over £1200 for the junior section's new Compact Athletics Training Facility and having a lot of fun! Results and more on the junior web site.
parkruns, Sat 25 Nov
From Petra Bijsterveld ... Results ...

Woodhouse Moor
(1  17:40 Adam Collins., U/A)
4   18:28 Will Wood
430 ran

Skipton
(1  18:01 Tim Chadwick, Skipton AC)
22  22:43 Malcolm Pickering
66  27:29 Anna Pickering
71  27:50 Fiona Schneider
73  27:57 Karen Lambe
127 ran

Fountains Abbey
(1  16:40 Reece Dalton, Ripon Runners)
76  24:45 Norman Bush
331 ran

Stretford
(1  16:48 Alex Penfold, Croydon Harriers)
8   18:39 Rob Cunningham
388 ran

Evensplits 5k, Wed 22 Nov
From Petra Bijsterveld ... The final Evensplits 5k of 2017 was held at the Brownlee Centre on Bodington Fields. It was a rather stormy evening, evidenced by the fact that the inflatable finish line arch tried to take off skywards and had to be packed away again. I think the wind affected everyone's times, I was certainly happy to take it as a ready excuse for a much slower race than my previous ones on the circuit.
Jack Wood took the win on what I believe was his first appearance at the series.
These friendly and inexpensive races will resume in February 2018 for a series of 10, and I very much recommend them to runners of all abilities.
Results ...

1   16:24 Jack Wood
111 25:16 Hilda Coulsey 1st F60
117 26:20 Petra Bijsterveld
143 ran

WYXC #3, Spenborough, Sun 19 Nov

Men 11th team
(1  29:32 Angus McMillan, York)
30  33:02 Matthew Cox
51  34:39 Steven Gott
61  35:08 Tim Ashelford
109 37:35 Stephen Coy
131 38:52 Rob Budding
143 39:25 Mark Iley
144 39:33 David Brown
167 42:42 Arthur Reilly
189 finished

Ladies 10th team
(1 19:50 Georgia Rothwell, York)
7  20:47 Pauline Munro
48 23:45 Sally Malir
85 26:59 Alison Bennett
87 27:07 Diane Kitchen
126 finished


37 of our juniors were racing with excellent individual and team results

Chorley Fire 10k, Sun 19 Nov
From Peter Shields ... Great to be in a race again! Went over to Chorley to run their 10k believing it to be an easy return! Not so, quite a difficult course!
Results ...

(1  36:16 Chris Miles, Preston Harriers)
124 50:38 Peter Shields 2nd v70, 3rd v65
368 finished

Tour of Pendle, Sat 18 Nov
From Ben Sheppard ... Lots of great Harriers performances at Tour of Pendle, including Jack Wood second only to the outstanding Chris Holdsworth (Clayton le Moors) and Jane McCarthy 4th lady and first in category. (Our ladies may have won a team prize, not sure.) The performance of the day was the amazing Vic Wilkinson (Bingley), third overall, just 4 minutes off the overall win and breaking the women's record by 13 minutes! I didn't break and records but did break the second metacarpal in my left hand about 4 miles into the race, and spent the remaining 12 miles trying not to fall over again.
Results ...

(1  2:19:26 Chris Holdsworth, CleM)
2   2:22:56 Jack Wood
45  2:51:25 Ben Sheppard
47  2:51:43 Paul Carman
83  3:01:47 Michael Lomas
100 3:05:14 Jane McCarthy
178 3:21:58 Paul Calderbank
229 3:32:14 Jann Smith
248 3:35:09 Peter Shelley
301 3:45:24 Alison Weston
336 3:57:27 Martyn Stocker
361 4:08:18 Adela Reperecki
365 4:09:43 Richard Morris
423 finished

Kendal Mountain Festival 10km trail race, Sat 18 Nov
From Paul Castle ... Robin Nicholson and I took part in the Kendal Mountain Festival 10km trail race (10.4km distance) on Saturday, which forms part of a long weekend of outdoors related activities taking place in Kendal. The weather was good (although quite muddy underfoot after overnight rain) and after a steady but relentless 6km climb up Beast Banks to Scouts Scar there were some stunning views across the Lyth Valley followed by a steep cobbled descent into Kendal and a sprint finish along the Main Street. Well organised and very family friendly, I'd highly recommend this event for others looking for a good family day (or weekend) out.

56 47:51 Robin Nicholson
76 49:18 Paul Castle
609 ran

Harriers v cyclists, Sat 18 Nov
From Jo Foster... Provisional results ...

(1 34:47 Rob Jebb, Bingley, cyclist) 
27 42:30 Steve Turland
31 42:48 Jim Ryder
Both on foot
219 ran/cycled

parkruns, Sat 18 Nov
From Petra Bijsterveld ... Results ...

Woodhouse Moor
(1  16:46 unknown)
10  18:44 Will Wood
478 ran

Milton Keynes
(1  17:20 Jamie Seddon, Marshall Milton Keynes AC)
29  21:32 Andrew Merrick
403 ran

Bradford
(1  18:01  Greg Hull, Leeds City AC)
60  23:52 Oscar Street
394 ran

Harrogate
(1  18:07 unknown)
71  22:31 Phil Hirst
469 ran

Skipton
(1  19:20 Sam Jackson, U/A)
9   21:02 Rob Budding
43  25:18 Chris Cunningham
78  28:20 Fiona Schneider
151 ran

Fountains Abbey
(1  17:59 Dominic Lockwood, U/A)
128 26:56 Emma Curran
349 ran

Wetherby
(1  18:00 David Cross, Durham City AC)
12  20:23 Jonathan Turner
79 ran

2018 League races announced
From Jane McCarthy ... Get planning your League races for 2018 - we have some exciting new additions to the League Calendar, while keeping many Ilkley Harrier favourites and our own races. The first races of the year will be the Meltham 10K (one lap, hilly) road race near Huddersfield on 28th January and the Harewood 10K Trail race on 25th February. The Fell League will begin with a Bunny Run (race number TBC). Many thanks in particular to Jean Sullivan and Hilda Coulsey for providing some super suggestions for next year's league. The Baildon Boundary Way on 8th April 2018 (Trail, HM) opens late November and is quick to sell-out so look out for the notification on the website.
We have also switched Burley Moor Run in to the Fell category starting 2018. It definitely feels like a fell race!
Fell
Trail
Road
January
Meltham 10k (28/1)
February
Harewood 10K (25/2)
March
Thirsk 10 (18/3)
April
Bunny Run (1,2 or 3)
Guiseley Gallop (1/4)
Baildon Bound. Way (8/4)
Fountains 10K Ripon (29/4)
Vale of York 10 (15/4)
May
Jack Bloor
Ilkley Trail
John Carr 5K
June
Beasley Beacon 22/6
Wharfedale Half 5/6
July
Addingham Gala
Ingleborough 16/7
Eccup 10
August
Burnsall 10 19/8
September
Great Wherneside 24/9
Ilkley Incline 6/9
October
November
Burley Moor Run
PECO (late Nov)
5K Evensplits (or Park Run)
December
The Stoop
Ribble Valley 10K
Run Bolton Abbey, Sun 12 Nov
From Caroline Howe ... a stunning morning for the inaugural Run Bolton Abbey event, with choices of 10k, 10m or 13.1m and 2m fun run. Unfortunately there were a few organisational issues... with 1500 entrants and all four races setting off at the same time, in waves, this led to problems with congestion and queues at stiles midway through the race when the different routes converged. As a 10ker in the first wave the queues weren't too bad by the time I got to them but I heard horror stories about 20+ min queues for the 10milers. Lots of people opted to climb barbed wired walls instead of waiting. There was a lack of marshalls on the course and a lot (I reckon over half, looking at Strava) of us on the 10k went the wrong way adding on a 1km loop. I ran 6.8m in total. Some people added on two loops and ended up doing 7+ miles! On the positive side the route was of course very beautiful, and challenging, and ultimately it was for a good cause - Sue Ryder Manorlands. There were quite a few Harriers out which was good to see. Let's hope the organisers can sort out the issues from today for next year.
From Alex Hide ... A glorious day welcomed the inaugural Run Bolton Abbey series of races - 2 mile, 10k, 10 mile & half marathon. I opted for the 10 mile race and soon remembered why I like flat road races climbing 71m in the 4th km and then 115m in the 5th km! The reward for the climb was worth it though with a gently undulating run for the next few miles through some breathtaking scenery. As we came down the other side of the moor the only real failing of the race manifested itself as we had to climb over 3 stiles in quick succession, the third of which at mile 7 saw dozens of frustrated runners getting colder and colder as we had to wait almost 30 minutes to climb the stile one by one. That said, the race was superbly marshalled and I am certain they will learn from their mistakes for next year.
From Fiona Schneider ... This was the first time Sue Ryder had put these races on. It was perfect running weather and a choice between 2 mile, 10 km, 10 mile and half marathon. It was a fantastic trail race with around 600 metres of climbing on the half which I chose. There were a few glitches as an enormous queue built up at two stiles, giving me a difference between moving time and chip time of 30 minutes. Never mind, we had a social time waiting and I could lend out a space blanket for the less well dressed. I am sure the organisers will take note of these glitches. It was based around the Valley of Desolation, Barden Bridge and Cavendish Pavilion and to be thoroughly recommended .
Results ...

10k
(1  Simon Rycroft, Pickering)
8    58:42 Simon Jenkins
58   61:13 Philip Hirst
16   69:08 Caroline Howe
218  71:15 Chris Cunningham
361  82:22 Sally Westlake
378  84:45 Dawn Turner
433  88:48 Kate Lofthouse
588 107:54 Sue Verspyck
631 120:00 Claire Shouler
633 123:55 Emma Cole
659 ran

10M
(1   70:49 Jack Laffey, U/A)
23   94:33 Derek Oliver
32   99:54 Jonathan Turner
49  106:43 Tom Lally
87  121:21 Caroline Tong
194 141:21 Alex Stanley-Hyde
249 150:22 Gill Scott
252 150:43 Philippa Sirr
291 156:03 Jo Pattinson
308 finished

Half Marathon
(1  1:22:16 Chris Holdsworth, CleM)
20  1:51:17 Dick Waddington	
86  2:14:08 Marlon Frost
154 2:41:39 Jan Jones
233 3:10:59 Fiona Schneider
266 finished

British Cross Challenge, Sat 11 Nov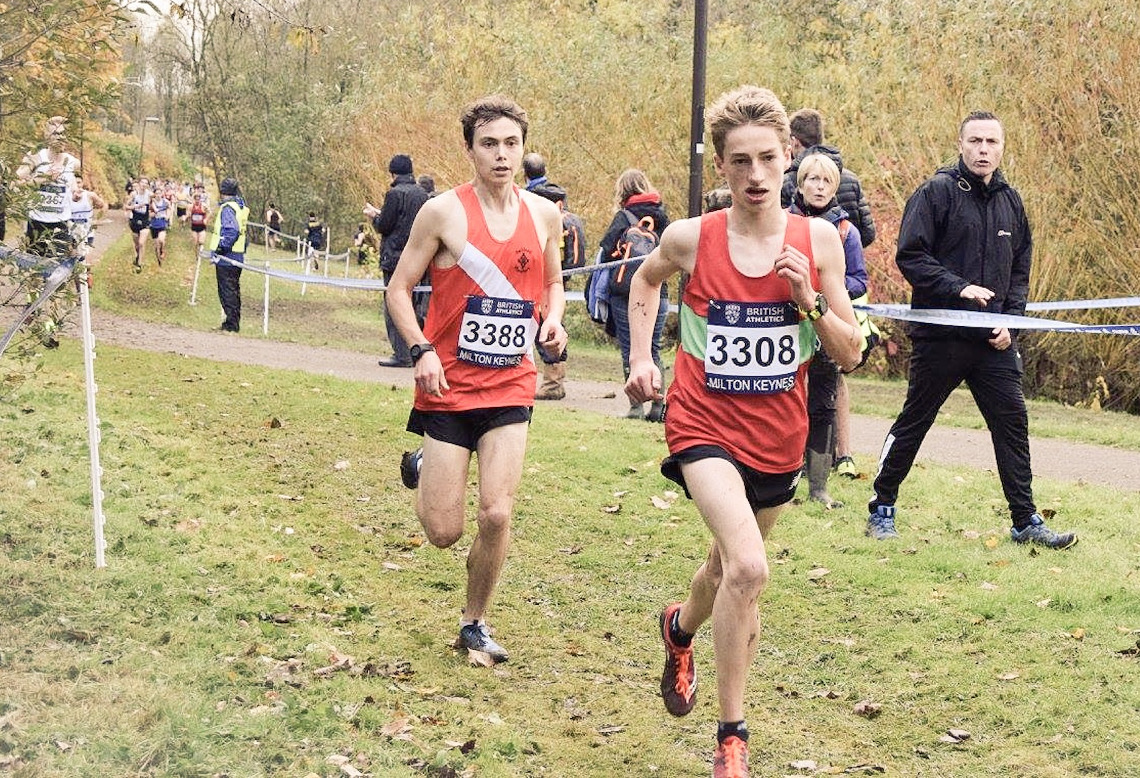 From Stephen Brennan ... Euan ran at Milton Keynes today in the second race of the British Cross Challenge and finished 3rd in the U17 race. The race was run in conjunction with the U20 race and Euan was 7th overall.
Betws y-coed Trail Challenge, Sat 11 Nov
Fom Sue Williamson... Lucy Williamson took part in this 10k race described as one of the toughest and most beautiful trail runs in the UK, running through scenic forests and round lakes. Money raised from the race which included a 5k and Canicross was to be split between local causes and Help for Heroes.

(1 38:09 J Williams, Hermitage Harriers)
10 43:30 Lucy Williamson 1st female
293 runners took part

Burley Moor Run, Sat 11 Nov
Results from Michael Duffield...

(1  45:08 Sam Watson, Wharfedale)
2   45:26 Jack Cummings
3   46:30 Matthew Munro
8   48:27 Martin Archer
9   48:35 Ben Sheppard 
12  49:25 Michael Lomas
13  49:32 Oscar Stapleton 
17  50:12 Dave Wilby
20  50:55 Paul Carman
21  51:22 Tim Ashelford
33  52:50 William Wood
40  53:54 Jane Mccarthy 
41  53:58 Dave Foyston
46  55:08 Richard Joe
58  57:05 Michael Duffield
63  57:38 John Hayes
69  58:14 Jonathan Turner
80  59:34 Helen Thurston
112 64:12 Alison Weston
136 61:07 Tom Jackson
137 67:48 Jeoffrey White
152 68:52 Wiliam Gadd
164 69:50 Caroline Howe
168 70:21 Paul Atkinson
186 75:03 Oli Street
187 75:06 Oscar Street
193 76:04 Peter Lewis
205 85:17 Wendy Bishop

parkruns, Sat 11 Nov
From Petra Bijsterveld ... Results ...

Finsbury
(1  17:24 Robbie Chapman, Run Fast)
15  19:22 Rob Cunningham
278 ran

Harrogate
(1  16:52 unknown)
56  22:10 Phil Hirst
410 ran

Hell of a Hill Marathon Day 3, Fri 10 Nov
From Collin Williams... Hi, I'm a new member, but thought that you would like to know that I took part in day three of the Hell of a Hill Marathon, coming third out of 47 runners.

(1 3:57:53 Paul Brown, Trawden)
3  4:18:33 Colin Williams
47 finished

Guy Fawkes 10m, Sun 5 Nov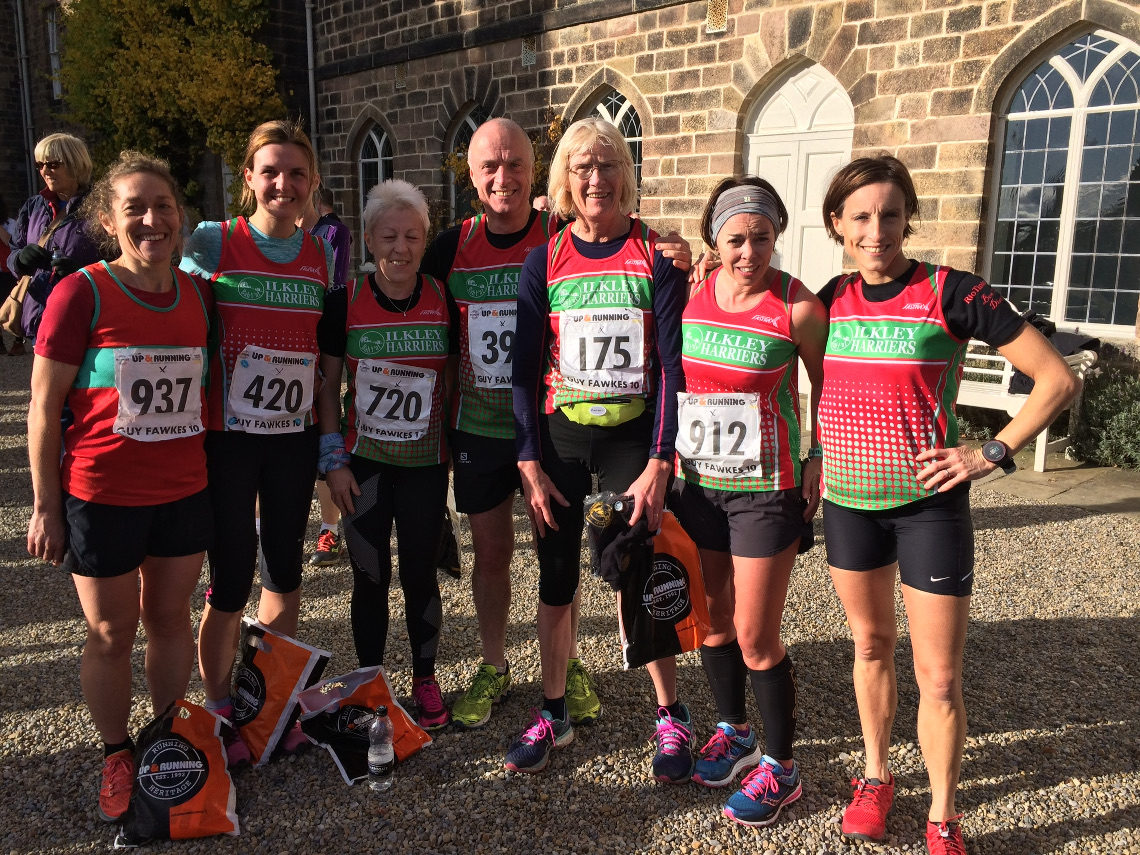 (1    56:02 Andrew Geant, Harrogate)
62  1:09:47 Jane McCarthy 2nd F40
229 1:20:37 Philip Hirst
280 1:22:37 Caroline Howe
294 1:24:11 Alison Weston
364 1:26:29 Adela Reperecki
424 1:29:57 Helen Waddington
520 1:34:47 Hilda Coulsey
696 1:44:24 Peter Lewis
811 finished

Abbey Dash, Sun 5 Nov

(1   29:13 Sam Stabler, Wreake & Soar Valley)
217  34:28 Cameron Reilly
263  35:01 Oscar Stapleton
627  39:23 William Wood
687  39:54 Dick Waddington
788  40:48 Derek Oliver
1126 43:17 Simon Jenkins
1254 44:12 Sally Armitage
1505 45:53 Andrew Jackson
1566 45:16 Mary Gibbons
2103 48:12 Chloe Merrick
2104 48:13 Andrew Merrick
2322 48:46 Erin Keating
2788 53:24 Emma Curran
2918 54:26 Charlotte Smithson
3177 54:20 Catriona Hawthorn
4298 54:08 Sheena Pickersgill
5324 61:50 Elaine Ibbotson
8900 finished

Shepherd's Skyline fell race, Sat 4 Nov
From Jo Foster... It was one of the biggest fields ever for the Shepherd's Skyline Fell Race on Saturday with 328 finishers. Four Harriers completed in typically muddy conditions.
Results ...

(1  44:20 Tom Owens, Shettleston Harriers)
27  50:49 Steven Gott 
36  52:06 Jim Ryder
152 63:14 Rob Cunningham
287 82:52 Amanda Newham
328 finished

parkruns, Sat 4 Nov
From Petra Bijsterveld ... Results ...

Woodhouse Moor
(1  17:02 unknown)
33  21:02 Adrian Bastow
501 ran

Bradford Lister Park
(1  17:58 Martin Fillingham, Saltaire Striders)
2   18:11 Martin Archer
25  21:36 Jonathan Turner
37  22:09 Tom Worboys
86  24:37 Oli Street
87  24:40 Oscar Street
405 ran

Fountains Abbey
(1  17:55 Ben Holmes, U/A)
63  23:13 Norman Bush
395 ran

---
Ilkley Harriers of the Month, October
Harrier of the month nominations: Caroline Howe for commitment to training and Yorkshire Marathon time and PB; Alison Weston for Lakes Grand Prix placings; Tom Adams for 'dirty double' wins in Lakeland Trails; Petra Bijsterveld for Keilder Double weekend and Snowdonia Marathon; Harry Sime for recent 'eventsplits' 5k time returning from injury; Lucy Williamson for Bangor Half Marathon time and PB
The winner is Caroline Howe.
Volunteer of the month: Helen Waddington for the monthly reviews of performances; Hilda Coulsey for committee work; Peter Shields for his Wednesday evening training sessions
The winner is Hilda Coulsey.
More Harriers of the Month ...
Lakes Grand Prix 2017
From Hilda Coulsey... Congratulations to Alison Weston who was 3rd lady overall, 1st FV40 and 1st FV50 having completed the Anniversary Waltz, Coniston, Fairfield Horseshoe and Kentmere Horseshoe.
Bronte Way fell race, Sun 29 Oct
From Jo Foster... Three Harriers turned out for the Bronte Way Fell Race on a beautiful sunny day. The combination of the weather and there being not much else on meant that they had more entries than expected and it took so long to get everyone registered, the race was delayed by over half an hour. The large numbers meant that I found myself queuing at every style - I guess that's one of the great things about fell racing that everyone dutifully waits in line in their positions patiently! The race is a mixture of runnable tracks and muddy, boggy fell sections with a finale up the Haworth cobbles. I seemed to find it hard to stay on my feet in the muddy conditions, falling over three times which I think must be a record. Not my best day at the office but a beautiful day with a free beer and soup at the end.
Results ...

(1    54:20 Joe Dale, Victoria Park Harriers)
93  1:12:40 Jamie Hutchinson
136 1:17:53 Jo Foster
181 1:25:55 Adela Reperecki
273 finishers

Shepherd's Meet, Buttermere, Sun 29 Oct
From Alison Weston ... A lovely low key event in the village of Buttermere. Lots of Herdwick sheep to admire and a short fell race straight up to Whiteless Breast and back on steep grassy terrain.
Winner 15.06 mins
Alison 24th in 22.20 mins
Graham's photos.
WYXC, Sun 29 Oct

Men, 8th team
(1  27:01 Angus McMillan, York)
10  28:23 Jack Wood
37  30:13 Matthew Cox
55  31:25 Steven Gott
74  32:16 Tim Ashelford
131 34:49 Stephen Coy
147 35:39 Robert Budding
152 36:11 David Brown
165 37:19 Mark Iley
176 38:15 Arthur Reilly
209 finished

Ladies, 8th team
(1  20:25 Georgia Malir, Leeds)
10  22:08 Pauline Munro
29  23:55 Kate Archer
56  25:27 Sally Malir
90  28:01 Anna Nolan
95  28:23 Alison Bennett
129 35:26 Jacqui Weston
138 finished

Bradford City Runs 5k, Sun 29 Oct
From Simon Jenkins ... A good atmosphere in Bradford Centre with the weather to match. The course feels a little Alpine in terms of ascent with a few tight turns thrown in too. A nice urban race that keeps it real.
Results ...

(1 19:25 Joseph Kirton, Keighley and Craven AC)
6  21:18 Simon Jenkins PB 1st V50
287 ran

Snowdonia Marathon, Sat 28 Oct
From Petra Bijsterveld ... This was my second consecutive Marathon Eryri, to use the Welsh name for this tough circuit of Snowdon starting and finishing in Llanberis, predominantly on road with just 2 short sections on unmade tracks. The three climbs total 2,800 ft and come at 2 miles (to Pen-y-Pass), 14 miles (out of Beddgelert) and 22 miles (Wynnfaur) with a very steep descent back into Llanberis. Conditions were more or less identical to 2016, overcast with low cloud and some drizzle, minimal wind, and about 12C, perfect running conditions. My training had suffered an extreme taper due to a cold and a sprained ankle in the last fortnight, but I felt fit at the start. My desire was to beat last year's time of 4:50. However I found it hard and struggled with the desire to walk from the halfway point which was disheartening after all the long runs I had put in during training. Eventually though I ran more or less the same race as in 2016 but for a stop at the conveniences at mile 17 which set me back a few minutes. The body isn't always as obedient as we want it to be! I was delighted to reach the steep climb at mile 22 as that heralds guilt-free walking, even though by then I was feeling rather dizzy and nauseated. The descent from mile 24 starts on a rough track which was very muddy and many runners, probably on road shoes, were slipping and sliding. Though uneven ground is not my forte I made better progress than many on my hybrid trail/road shoes, and once I reached the safety of tarmac I hurled myself down the slope taking us into Llanberis and the welcoming roar of the crowd. In particular I was trying to stay ahead of a fellow runner who looked like she could be in my category! Between the 23 mile timing point and the finish I overtook 68 people to finish 9/40 in my shiny new category of F55, which provided some relief to the disappointment of a slower overall time.
There were no other Harriers but I did meet Otley AC's Scott Harrington before the start, who came a fantastic 8th in 2:50:03, having actually led for the first half of the race. Will I do it again? It was brutal but it seems I still have some unfinished business there.....watch this space!
Results ...

(1   2:36:54 Daniel Jones, Team Bath AC)
1492 4:53:50 Petra Bijsterveld
2210 finished

parkruns, Sat 28 Oct
From Petra Bijsterveld ... Results ...

Edinburgh
(1  17:07 Kieran Cooper U/A)
181 24:41 Sarah Hayes
557 ran

Portobello, Edinburgh
1   17:02 Ruaridh Mon-Williams
54  22:45 Rebecca Mon-Williams
334 ran

Bradford
(1  17:59 Will Kerr, Saltaire Striders)
12  20:30 Jane McCarthy 2nd F
24  21:55 Martyn Stocker
60  23:53 Oscar Street
343 ran

Fountains Abbey
(1  17:23 Allen Bush, U/A)
183 27:10 Emma Curran
442 ran

Penrhyn
(1  16:16 Ben Harding, Kent AC)
7   19:39 Lucy Williamson 2nd F
243 ran

evensplits 5k race 4, Wed 25 Oct
From Harry Sime ... I ran the penultimate race of this series with my youngest son Michael in very good running conditions at the Brownlee Centre. The last one is on 22 November with a new series planned to start in February. It takes place on the tarmac cycle track which is a one mile loop. A few Harriers usually there but just me on this occasion. Results ...

(1 16:26 Joseph Crossfield, Halifax)
81 22:56 Harry Sime
117 finished

Camp Hill 10k, Sun 22 Oct

(1  39:51 Scott Waardman, Richmond)
128 65:24 Jayne Norman
249 finished

parkruns, Sat 21 Oct
Shaun Lee Johnstone Memorial 10 Mile Multi-Terrain, Sun 15 Oct

(1 57:25 Andrew Grant, Harrogate)
25 73:59 Paul Calderbank
158 finished

Heart of Eden half marathon, Sun 15 Oct
From Jean Sullivan ... This is the 2nd year that this race has been on and I would definitely recommend it if you are after a low key, friendly, hilly road race with beautiful scenery!
It is described as a 'challenging' road race set in the heart of the beautiful Eden Valley, Cumbria and it certainly is, with an undulating course throughout! The race starts in the market town of Appleby-in-Westmorland, and goes through the picturesque villages of Murton, Dufton and Long Marton along the foothills of the northern Pennines. Apparently there are views, on a clear day, of Blencathra and the Lakes but it was very overcast for today's run so I didn't see these sights!
The race was fantastically organised with great support provided by the marshalls. A souvenir mug filled with delicious soup and a bread roll was awarded to each runner at the finish!
Results ...

(1 1:20:18 Jack Eyre, Eden Runners)
56 1:53:32 Jean Sullivan 
115 finishers

The Lakeland Four Passes, Sat 14 Oct
From Steve Turland ... No summits, but this well organised event took in four of the Lakeland Passes with 4,500ft of climbing in its 19 miles. With all the top runners in Wales that weekend I found myself at the front of the field and was actually leading the race at Wasdale. Unfortunately I faded a bit in the second half and finished in 4th place out of a field of a couple of hundred. There is a new event in the calendar next year - the Lakeland Five Passes - about 30 miles and 10,000ft of climb. Looks a great circular route from Grasmere...
WYXC, Sat 14 Oct
From Alison Bennett ... The 2017/18 Cross Country Season kicked off at Wakefield's Thornes Park with the first race in the West Yorkshire League Series. This is a tough discipline for strength and endurance and there was a good turnout of Ilkley Harriers taking part on this unusually warm day. The Ilkley men were led home by Jack Wood whilst Jemina Elgood was the first Ilkley female.
Results ...

Men, 12th team
(1  32:40 Daniel Garbutt, Skyrac)
5   33:15 Jack Wood
33  36:44 Matthew Cox
72  39:41 Tim Ashelford
133 44:21 Stephen Coy
149 45:39 Mark Iley
153 46:02 Robert Budding
154 46:22 Arthur Reilly
193 finished

Ladies, 7th team
(1  20:24 Emma Clayton, Leeds)
6   21:28 Jemima Elgood
27  23:33 Kate Archer
53  25:46 Sally Malir
105 29:45 Diane Kitchen
113 31:06 Gaenor Coy
122 31:47 Hilda Coulsey
136 36:47 Jacqui Weston
141 finished

Helvellyn Lakeland Trails Series, Sat 14 Oct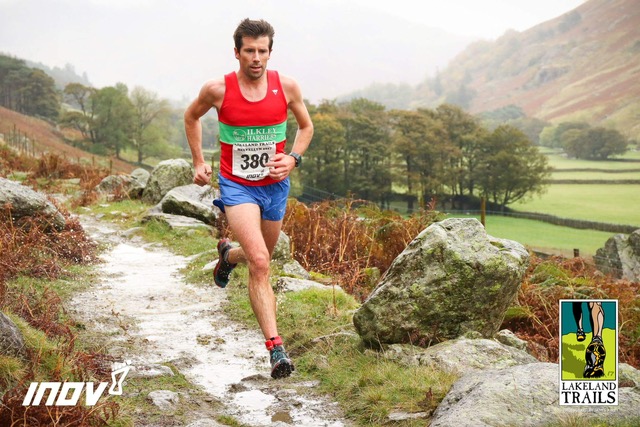 From Jane McCarthy .... Four Harriers travelled to Glenridding on Saturday 14th October for the first race in the 'Dirty Double' finale weekend of the Lakeland Trails Series. These have been super events, three in Spring/Summer and three in Autumn, in beautiful locations and extremely well organised, over flagged trail routes. Typically there are multi-distance options, 5km, 10km or 18km Challenge or Races, depending on the level of competitiveness you are seeking. Running the 15km Race on Saturday was under the foothills of Helvellyn on pretty runnable trails, just a couple of sections of tricky rock to negotiate. Tom Adams cruised to another victory by a substantial margin. Helen Waddington ran a solid race after a nasty recent bout of flu, and I enjoyed seeing Rob Cunningham on the course. I (rather embarrassingly) sprinted past him in the finishing field, although he was clearly saving himself for the finale race on the Sunday where he and Tom both had superb results on a wet weather 'emergency' route.

Helvellyn Trail Results (14/10/17)
1     52:31 Tom Adams  
32  1:07:51 Jane McCarthy 
33  1:07:54 Rob Cunningham 
221 1:31:34 Helen Waddington 
313 finished

Ullswater Trail Results (15/10/17)
1    48:12 Tom Adams
19 1:04:40 Rob Cunningham 
391 finished

parkruns, Sat 14 Oct
From Petra Bijsterveld ... Results ...

Bradford
(1  18:19 Martin Fillingham, Saltaire Striders)
49  23:17 Philip Hirst
412 ran

Cannon Hill, Birmingham
(1  17:28 unknown)
102 23:39 Lucy Jacques
138 24:40 Ethan Thompson
530 ran

Temple Newsam
(1  19:28 Charles Casey, Harrogate Harriers)
22  24:43 Alison Weston
137 ran

Skipton
(1  18:48 Daniel Hale, St Andrews XC)
20  21:41 Derek Oliver
148 ran

Chicago Marathon, Sun 8 Oct
From Andrew Merrick ... A 6 hour delay on my direct flight from Manchester wasn't quite the start I had in mind on my trip to Chicago, having decided to come out of marathon retirement to use my about to expire GFA time to complete my fifth major...
A very well organised event, down to the iconic yellow school buses available on Friday and Saturday to shuttle competitors to the Expo from various central points.
The race itself starts and ends from a large park in the centre of Chicago within walking distance of most city centre hotels. The 7:30am start (picture taken en route) was welcome given that temperatures peaked at about 26 degrees. The start area was also very well organised with all "corrals" carefully marshalled and a large finish area complete with band, beer tents, food stalls and a large massage tent...... a great area to chill and compare notes after the run, which would have been even better if my friends hadn't spent two hours in the medical tent (all fine later that day after a heat induced collapse metres from the finish).
Over 1,000 Brits made the trip - the big 6 seeming to be an increasing popular focus... It didn't take me long to find a few on the start line for a pre race chat and we also managed to catch up to compare notes afterwards (the Union Jack running vest was quite visible!). We had all been thrown early on by our respective running watches not being able to cope with the buildings - I should have remembered that from New York - which is challenging particularly in the first couple of miles when you are trying to settle into your target pace.
Great support pretty much everywhere throughout the run, and drink stations every couple of miles - I didn't find many fans of the particular Gatorade endurance sports drink they had an offer so most of us stuck with water.
So an event to be recommended if you like your big city marathons. If I was doing it again, I would include an American Football game at Soldier Field - a fantastic looking city centre stadium, and remember that the Museum of Modern Art is closed on Mondays. And the architecture tour is to be recommended.
For the record, run completed in 3:17, consistent with the level of training I had done.
Back off road now for me with the contemplation of another final marathon in February 2019 in Tokyo, albeit not an easy one to get into. Oh, and the pizza was great too......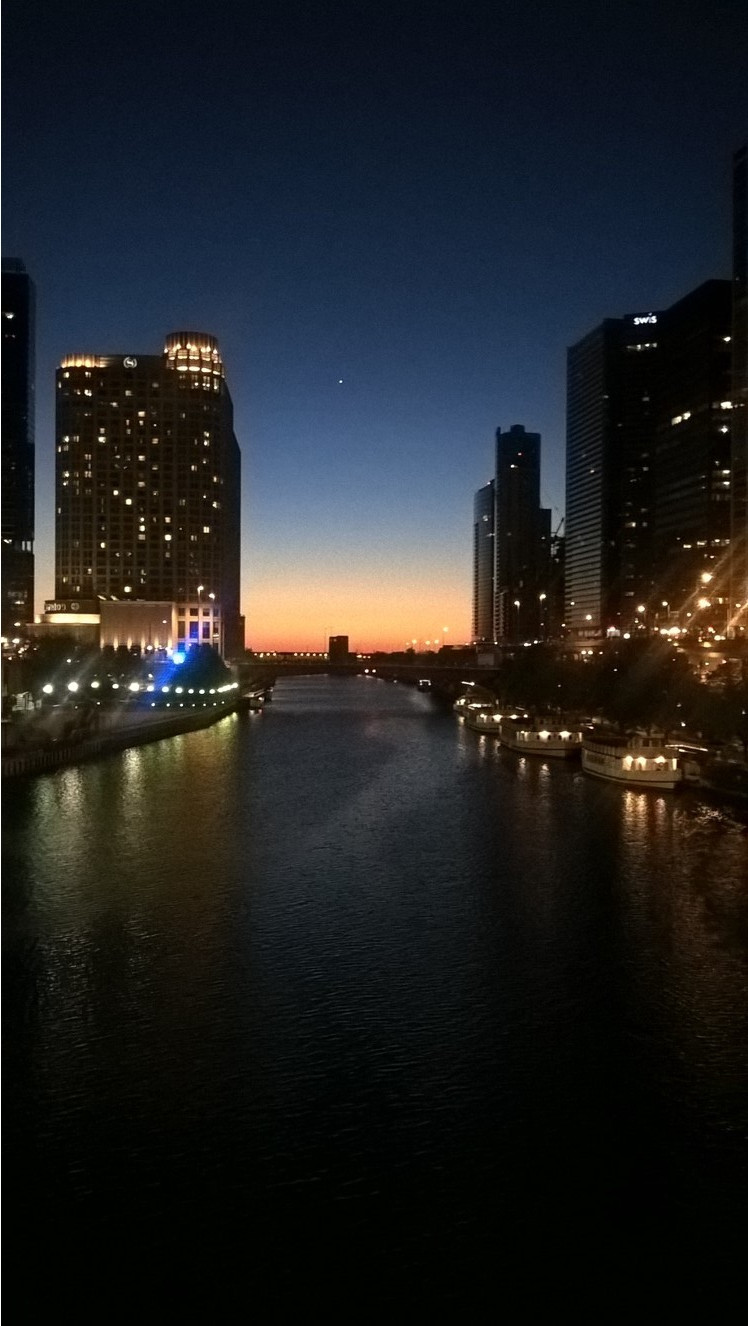 Yorkshire marathon and 10 mile, Sun 8 Oct
From Hilda Coulsey... A great day for running in York, bright but not too warm and not raining. Quite a few Harriers were out, in both the marathon and the 10 mile. There was lots of support on the way which was welcome as I needed it in the last mile, a sneaky little hill - I was thinking of the marathon runners having to tackle it. The times were very good and although I didn't see too many Harriers on the day it was great to see on the results list those of us who have done these sort of races before and many new runners too. Brilliant. The university is a good place to host this sort of event, with lots of toilet and coffee options, and the organisation worked well..
Results: !0 mile, Marathon....

10 mile
(1     50:15 Dominic Shaw, New Marske Harriers Club)
73   1:05:48 Jane McCarthy
1120 1:30:09 Hilda Coulsey
2403 1:44:57 Damaris Bedford
2404 1:44:58 Dawn Turner
2649 1:50:11 Libby Heppenstall
2650 1:50:11 Diane Ollier
3177 finished

Marathon
(1   2:24:13 Ross Houston)
551  3:33:26 Mike Helme	Male
721  3:41:10 Michael Duffield
936  3:46:40 Caroline Howe
937  3:47:48 Jonathan Turner
1899 4:16:55 David Howe
3366 5:11:58 Fiona Schneider
4139 finished

From Caroline Howe ... Near perfect conditions for the Yorkshire Marathon, which seems to be getting more popular each year. It's a relaxed atmosphere at the York Uni campus where the race begins, and the first couple of miles, which include passing the Minster, are really iconic. The first half through villages up to Stamford Bridge is scenic and has great support (including the high-fiving vicar in Stockton-on-the-Forest!) before a bit of a drag to 16 followed by a looooong out-and-back between 16 and 20 miles (luckily i had vocal support crew in that stretch!) In what was my fourth marathon, my aim was to achieve my first sub 4 hours, and happily I beat that, and beat my pb by 15 mins, finishing in 3:46. Running the majority of the way with fellow Harrier Jonathan, who I encountered at around 10 miles, really helped. David Howe, completing his 17th marathon, was among the 6 Harriers who finished the race - well done all!
The 10-miler was a counter in the Ilkley Harriers Race League.
Withins Skyline, Sun 8 Oct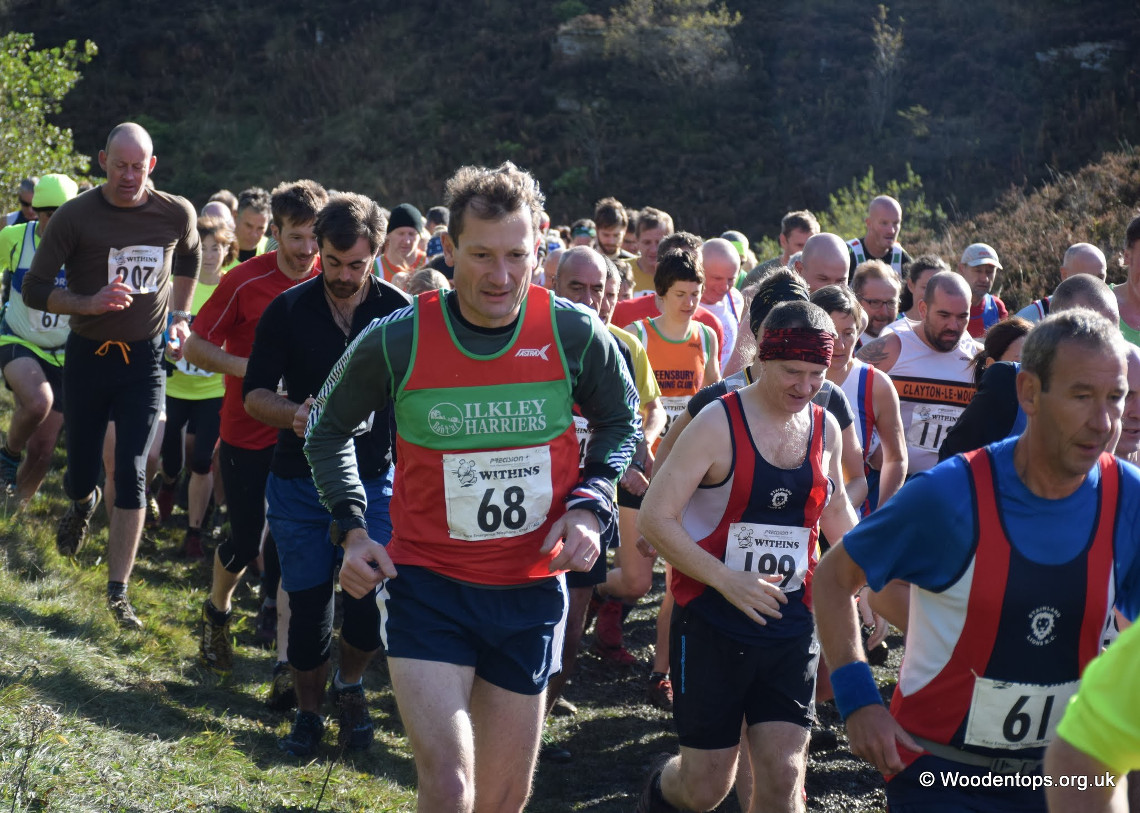 Provisional results on woodentops.org.uk

(1  42:40 Harry Holmes, P&B)
32  50:49 Harry Gott
151 60:42 Robert Budding
165 61:59 Rachel Carter
194 64:02 Mary Gibbons
203 64:47 Sarah Haines
358 finished

Bangor Half Marathon, Sun 8 Oct
From Sue Williamson ... Last year Lucy took part in the 10k race, this year she decided to compete in the half marathon. Conditions were ideal,cool and dry with views of Snowdonia, the coast and Anglesey. Lucy had a great race until she was overtaken coming back into the city centre she had no more power in her legs go to any faster, but came an impressive second female. The overall race winner was fellow student from Bangor university.

(1 1:25:01 Robert Fox, Bangor university
   1:33:35 Emma Bailey, Barlick Fell Runners)
17 1:33:51 Lucy Williamson
267 competitors in the half marathon

Royal Parks Half Marathon, Sun 8 Oct
From Paul Sugden... I completed this in 2:03:52 finishin 7701 out of 16455
Kielder 10K and HM, 7/8 Oct
From Petra Bijsterveld ... This was my third visit in as many years to Kielder. Having run the full marathon in 2015 and 2016 I fancied a change. I remember getting half way last year and thinking I would be able to enjoy the scenery quite a lot more if I could stop after 13 miles! So I made 2017 a weekend of 2 halves, with the 10K on Saturday afternoon and the Half Marathon on Sunday morning. This seemed a suitable game plan in the context of marathon training, and I am pleased to report it all went more or less as I intended. The only minor snag was that I started too far back in the line-up for the 10K, which I intended to race to the best of my ability. Having been cheered over the startline by Steve Cram and Aly Dixon I spent the first mile and a half struggling to get past people on what is not too wide a track. Most of the total elevation gain of 420 feet is in the first mile but I was so preoccupied with making forward progress without elbowing fellow runners out of the way that I did not really notice it, which was an unexpected bonus. I managed to pace the following 5 miles evenly and was pleased with my time of 55 minutes, I could not have given it any more and my legs were almost buckling beneath me by the time I reached the finish. After a night's rest I was back for the HM which was going to be a long slow run wearing a race number. Initially my legs were complaining about not having had much rest and I had to remind them that this was precisely why we were there, 'running on tired legs' and all that. They got the idea after about 4 miles and got into the groove. I mostly managed to enjoy the run, feeling quite relaxed, stopping here and there to take photos, and I still had enough left for a faster last mile and a sprint towards that same finish line as the day before. I went straight to the sports massage, new for 2017 was that rather than sit and wait on chairs they had mats and foam rollers in the marquee so you could foam roll your own legs whilst waiting your turn for the massage. Having had my calf muscles expertly treated I was just in time to see the winner of the marathon, Russell Maddams of Keswick, come over the line in 2:46.
I think I was possibly the only Harrier there. As I have said in previous years, I can wholeheartedly recommend these very friendly and well-organized races to all. Medals, t-shirts and goody bags are always of the highest quality (and I got double of everything this time!) I am sure I will be at Kielder again in 2018.
Results: 10k, HM ...

10K
(1  33:55 Marc Fenwick, Tyne Bridge Harriers)
275 55:09 Petra Bijsterveld
875 ran

HM
(1  1:20:27 Benedict Moore, Gosforth Harriers)
607 2:18:57 Petra Bijsterveld
894 ran

Langdale Horseshoe, Sat 7 Oct
From Ben Sheppard ... There were a few friendly Harrier faces at the start line. A bumper crop of 500 had pre-entered. Not sure how many started, but there were around 345 finishers. One if the casualties was our own Dan Wilkinson, who it would seem has been riding his bike so much he's forgotten how to stay upright when running. In fairness, the wet rocks were treacherous throughout, and in particular on the technical traverse under Esk Pike, where Dan took a tumble and dislocated his shoulder. Thankfully he was able to get himself safely off the mountain and down the tourist path to safety with the help of a fellow runner. Jack Wood ran around the top 5 until the final long descent off Pike of Blisco when a footwear malfunction provided a convenient excuse for dropping a few places. I managed to follow runners who knew the right way, even taking a sneaky detour around the notorious Bad Step, and finished almost 15 minutes slower then my course best. Solid runs also from Duncan Cooper, Dick Waddington, Kate Archer, Paul Carman and Jann Smith.
Results ...

(1  2:13:14 Carl Bell, Keswick)
10  2:22:51 Jack Wood
69  2:50:04 Ben Sheppard
106 3:03:59 Paul Carman
146 3:19:42 Dock Waddington
203 3:34:32 Duncan Cooper
224 3:37:50 Kate Archer
249 3:42:30 Jann Smith
346 finished

parkruns, Sat 7 Oct
From Petra Bijsterveld ... Results ...

Bradford
(1  17:51 Will Kerr, Saltaire Striders)
4   18:59 Will Wood
18  20:56 Rhys Jones
408 ran

Harrogate
(1  15:14 Paul Pollock, Abbey Runners)
53  22:19 Geoff Howard
435 ran

Skipton
(1  17:15 Jake Ridding U/A)
16  22:01 Adrian Bastow
51  25:20 Chris Cunningham
156 ran

Fountains Abbey
(1  17:36 Reece Dalton, Ripon Runners)
46  22:39 Norman Bush
328 ran

Stretford
(1  15:32 unknown)
9   18:31 Rob Cunningham
433 ran

Blackpool
(1  16:06 Joseph Monk, Blackpool Harriers)
91  27:46 Karen Lambe
183 ran

Isle of Arran races, 6/7 Oct
Goat Fell Vertical Race, Friday 6th October / Ultra Trail Races, Sat 7th Oct
>
From Ewan Welsh ...
Travelled up to the Isle of Arran on the weekend to take part in the inaugural Ultra Trail Scotland events. The events consisted of a 74k or a 25K race on the Saturday with the option of the GoatFell Vertical race (to the top of Goat Fell) on the Friday.
Cometh Friday, at 3.30pm, a small elite band of troubadours gathered at the bottom of Goat Fell (or next to an eating establishment called the Wine Port, if that inspires you), for the Vertical race. A straight up route consisting of 6.5K and 875m+ of rock, that's granite rock, the sticky kind!
It equates to 4miles and 2870ft for the traditionalists that manage to set their Garmins to imperial, I'm still a map and compass man myself, I have a little special customised laminated map of that area of Arran that I hold dear to me heart like an old familiar friend where we don't have to communicate to know, it just is!
As there were only 7 entrants to this unique event I knew at least a Top Ten place was possible , quite a unique position for a runner of my ability. We all got to know each other on first name terms, via a degree of translation, as we had 3 Spaniards in our midst. We started off with staggered starts at 2 mins intervals, I was 3rd off scratch, this reminded me of old fashioned club handicaps that were in vogue in the 80's. My tactic was to go off as hard as I could to try and catch the person in front, until someone passed me, then try and hang in, suffer for it, until someone else passed me, hang in, suffer for it, then consolidate myself for the really steep part at the end, funnily enough that's exactly what happened.
I finished 3rd in 52mins (or half way up the field if you prefer proportional representation to first past the post) , first was a young Irish lad from Shettleson Harriers (he's a top hill runner) , he ran it in 36 mins if I recall correctly.
Main enjoyment came from my attempts to explain the history of Walsh Fell shoes to the Spanish collective (they thought I was going for a trendy retro look !) whilst we all gathered at the top of the mountain in the mist and the other Shettleston Harrier (who was the 2nd placed finisher), taking the time to also illustrate what the view would be on a clear day!
Now , the main events on the Saturday, due to weather conditions both races on the Saturday had to be cancelled, the Ultra Race was stopped an hour into the event. Mainly due to the adverse conditions across the top and specifically the narrow ridges, mainly the high winds with low visibility. A tough decision for the organisers, who had put a great deal of effort into the weekend, this included entertaining a visiting Spanish contingent.
However, indulge me for a moment while I make a point in support of organisers everywhere. The cancellation was completely the correct decision given runners safety was paramount, irrespective of the fact the course was flagged, conditions were such that there was far too great a risk. I meandered up to the top later in the day when the weather improved slightly, the conditions were ok, until you ventured onto the ridges then there was a dramatic downturn on those conditions.
I've been up there more times than I can recall over the years and have to say it was one of the worst conditions I had experienced, was manageable in parts if you are just out a run and are mindful enough to make rational decisions at the correct point it time, in a race situation that's not always the case, so it was absolutely the correct decision and made me appreciate the organisers even more, who worked had worked very closely with the Mountain Rescue Team throughout the pre-race organisation and the weekend. Given the effort to get the weekend off the ground it was admirable they kept an objective viewpoint on the day and made the decision. Plans are afoot for next year, I'll be aiming to return in support of this event (as it will be sunny next year) and I still had a great weekend stoating about some hills/mountains/ridges/cafes/ferries.
New Chair
Geoff Howard has agreed to chair the Harriers for this year 2017 / 2018. The committee are delighted and look forward to continuing the development of our club.
Renew now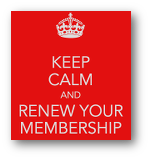 All existing members will have been sent a membership renewal email in w/c 2 Oct 2017. (If you haven't received your email please check your junk email folder first, then if you need to, email the Membership Secretary, Petra Bijsterveld mship@ilkleyharriers.org.uk.)
As last year, there's no need to return the membership form unless any details have changed. And online payment by bank transfer is preferred, please.
Thanks for renewing your membership.
Rombalds Romp, Sun 1 Oct
From Dan Wilkinson ... 5 Harriers completed the fell vs trail race on the moor at the weekend. Considerably more boggy than the last time I ran it; thigh deep bogs in places and huge puddles of gloopy mud in the now deforested section made things interesting.
Results ...

(1 52:57 Callum Hanson, P&B)
4  54:51 Dan Wilkinson
12 57:47 Gavin Lamb
13 59:03 Steve Turland
63 82:20 Claire McLoughlin
64 82:21 Mike Baldwin
78 finished

Knaresborough Crag Rat Run, Sun 1 Oct
From Caroline Howe ... As a "crag rat" myself (a person who hails from Knaresborough) I couldn't pass up the opportunity for a run round my home town, in what was the second year of this race. Half the route on tarmac, half off road, all the pre-race chat was dominated by footwear choice. Trail shoes were definitely the order of the day with some very muddy trails following plenty of rain. A scenic, gently undulating course on varied terrain, starting at the cricket club and taking us down the crag, through woodland, along the river and finally a short steep climb back up the crag, with 2 laps of a soggy cricket field thrown in, this was a thoroughly enjoyable not-quite-5 miles. Nothing fancy like chip timing, but for a bargainous £6 entry you got a fab, friendly, well organised race with a medal, box of Yorkshire tea and Lion Bar at the end, plus some amazing cakes! Highly recommended!

(1 28:25 David Smithers, York Knavesmire) 
91 42:29 Caroline Howe 
188 finished

---
Ilkley Harriers of the Month, September
Harrier of the month nominations: Geoff Howard for park run times and Leeds Golden Mile; Brian Melia Ultra Tour Monta Rosa; Iain Gibbons for 4th at Burnsall Fell and 7th at Embsay fell; Ewan Walsh for Incline time; Jo Foster 1st LV45 Scafell Pike fell
The winner is Brian Melia.
Volunteer of the month: Helen and Dick Waddington for organising the Incline; David Ibbotson, whilst recovering, for leading the Tuesday and often Saturday groups; Gavin Lamb for auditing the accounts at short notice
The winner is David Ibbotson.
More Harriers of the Month ...
Hodgson Brothers fell relays, Sat 30 Sep

(1 2:39:50 keswick AC)
13 3:03:03 Ilkley men 
42:21 Euan Brennan,  Matt Cox 14th on leg
46:21 Jack Wood, Tom Adams 2nd on leg
50:30 Dave Wilby, Jack Cummings 12th on leg 
43:51 Paul Carman, Martin Archer 21st on leg

62 4:08:27 Ilkley ladies
56:32 Sarah Edwards, Mary Gibbons
70:09 Jann Smith, Jo Foster
70:26 Alison Weston, Outi Kanarainen
51:20 Jane Mcarthy, Kate Archer

69 teams

Thieveley Pike fell race, Sat 30 Sep
From Steve Turland ... results ...

(1 36:33 Andrew Worster, Todmorden)
7  39:25 Steve Turland
139 finished

Evensplits 5k Series Race 4, Wed 27 Sep
From Sally Armitage ... Results ...

(1 16:11 John Hobbs, Valley Striders)
53 20:13 Sally Armitage 
55 20:22 Robert Budding 
67 21:12 Sally Malir 
96 23:36 Harry Sime 
128 ran

Yorkshire Fells Championship, Great Whernside, Sat 23 Sep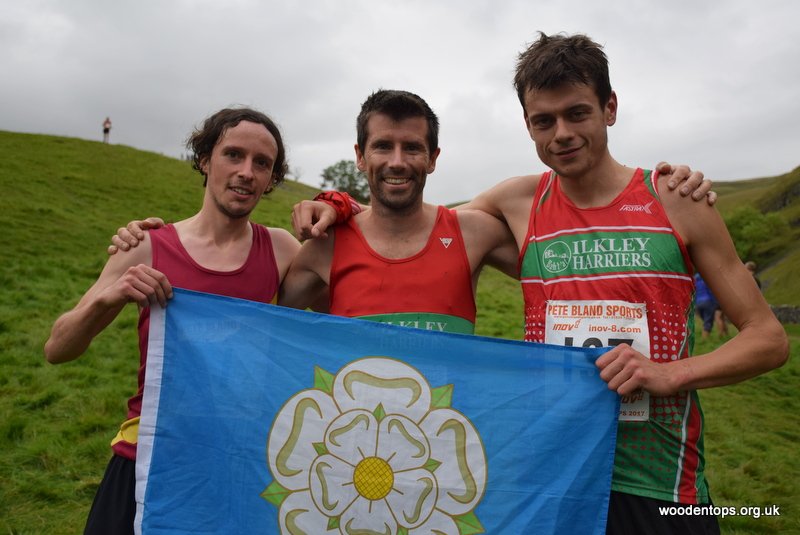 Well done to Tom Adams, Champion, and Jack Wood second Yorkshireman.
Results ...

(1 29:25 Sam Tosh, Rossendale)
4  30:02 Tom Adams
7  30:18 Jack Wood
92 37:55 Steve Tirland
244 finished

Leeds Golden Mile, Sat 23 Sep
From Geoff Howard ... Three Harriers took part in the Leeds Golden Mile event on Saturday. The annual event is a series of timed mile runs round the track at Leeds Beckett University at 15 minute intervals. We ran in separate runs (referred to as heats and each having about a dozen runners of mixed ages and expected times) and our times were: Sally Armitage 6m 11.5s, Geoff Howard 6m 29.4s and Petra Bijsterveld 7m 22.2s.
GB & NI Fell Champs, Peebles, Sun 17 Sep
From Julie Brennan ... Euan Brennan came 3rd in the U!7 Boys race, with the England team taking a clean sweep of the medals to also win the team gold. In the U20 women's race the Ilkley girls also put in a good performance, Lucy Haines finishing 9th & Jemima Elwood 11th.
Embsay fell race, Sun 17 Sep

1  19:04 Jack Wood
3  20:43 Jack Cummings
7  21:46 Iain Gibbons
30 26:03 Duncan Cooper
79 finished

Ilkley Aquathlon, Sat 16 Sep
212 competitiors enjoyed our event, co-hosted with Ilkley Swimming Club. Thanks to the many helpers.
Results.
Scafell Pike Fell Race, Sat 16 Sep
From Jo Foster ... Three Harriers raced this 4.5 mile, 2999ft (7.2km, 914 m) fell race up and down England's highest mountain from Wasdale. The weather did us proud and the sun even came out. Jim Ryder ran well for 13th place overall and 1st V50. Congratulations to Robin Nicholson for completing all three peaks' fell races - Snowdon, Ben Nevis and Scafell Pike - in the same year. Jo Foster was annoyed to be overhauled on the final descent and came in as 4th lady, 1st V45. Highlight of the day was shaking hands with legendary Joss Naylor at the prize giving.
From Alison Weston ... Jo and Jim were also 2nd fastest couple in the Scafell race and received 2nd 'Jack and Jill' prize!

(1 58:05 Simon Booth, Borrowdale)     
13 67:34 Jim Ryder 1st V50
34 75:18 Robin Nicholson                     
54 81:40 Jo Foster  1st LV45

Salomon Ring of Steall, Sat 16 Sep
From Jamie Hutchinson ... A tough mountain race 29km and 2500m covering a version of the classic Ring of Steall. Damp conditions underfoot made for a boggy ascent from Kinlochleven and tricky conditions traversing the Devils Ridge. I paced it well making sure I have something left for the ascent back over from Glen Nevis. More exposed running and scrambling before the long, and boggy, descent back into Kinlochleven. I crossed the finish line in 5 hours 44 minutes and was pretty shattered ! The race was won in 3 hours 24 minutes by Stian Angermund-Vik and 440 finished this most spectacular and challenging course - not for the faint hearted!
Three Shires Fell Race, Sat 16 Sep
From Dave Wilby ... Lovely weather for this Lakeland Classic which takes in the summits of Wetherlam, Swirl How, Pike O'Blisco & Lingmoor. A good number of Harriers made the trip, and Alison Weston showed us all how it's done by taking home the FV50 prize and comfortably going under 3hrs.

(1  2:01:55 Jonny Malley, Ambleside)
12  2:17:44 Dave Wilby
36  2:29:47 Paul Carman
67  2:43:03 Dave Robson
87  2:53:03 Kate Archer
95  2:55:15 Alison Weston
105 3:02:11 Michael Duffield
127 3:13:51 Jann Smith
133 3:19:36 Mary Gibbons

parkruns, Sat 16 Sep
From Petra Bijsterveld ... Results ...

Stewart (Middlesbrough)
(1  18:57 Oliver Williams, U/A)
23  22:19 Caroline Howe
201 ran

Skipton
(1  17:34 Jake Ridding, U/A)
13  21:19 Jonathan Turner
63  25:29 Chris Cunningham
168 ran

Horton
(1  20:04 Ian Gostling, Kent AC)
6   22:13 Geoff Howard
67 ran

Stretford
(1  17:23 Stephen Watmough, Warrington AC)
9   18:27 Rob Cunningham
494 ran

Harriers League update
From Jane McCarthy... It has been a BUSY Summer of racing, with 7 races in the Harriers League since the last update in June. There are now 6 races left in the League Calendar, so time to start thinking about choosing a wildcard race if you haven't already - this is a great opportunity to boost your points. Remember you can choose any race where the result can be verified, and send to janemccarthy@me.com within two weeks of competing.
After a total of 18 races, top of the Overall League is Dave Robson, with 10 qualifying races done, and 872 points scored. Dave may still improve his overall score as it is taken from a runner's best 3 races in each category.
Alison Weston is currently second in the Overall League, with 773 points from 9 races, Alison just needs a wildcard race to score from the maximum of 10 races. In third place, also with 9 races counting is 2015 League winner Michael Duffield. Hilda Coulsey is looking in a strong position with 8 races and 685 points. So too are Tom Adams in 5th place with 605 points from 6 races - managing 6 wins out of 6, and scoring more than 100 points in his most recent League race win - Addingham Gala - due to entering (incredibly) his first Vet Category (V35). Next are Jane McCarthy and Jack Cummings neck and neck having both scored from 6 races and strong average points of 96 points per race.
In the individual leagues, Jack Cummings looks set to win the Fell Category with an excellent 380 points from a maximum of 4 races, helped by his first senior race win at Buckden Pike. Adela Reperecki once again leads the Trail section with 342 points (narrowly ahead of Dave Robson and Michael Duffield). Hilda Coulsey is in a familiar lead position on Road (350 points), although Alison Weston is not far behind with 346 points.
Enjoy the final races of the year - Yorkshire 10 mile, Guy Fawkes 10, Full Tour of Pendle, Burley Moor Run, PECO and The Stoop!
There will be a discussion opened on the Harriers Forum to think about new races for 2018, so please make your contribution there if you have ideas of races that you would like to see included in the 2018 Harriers Race League. Happy Racing!
2017 League results after 18 races
League Calendar
Great North Run, Sun 10 Sep

(1    1:00:06 Mo Farah)
3649  1:42:49 George Fisher
3932  1:43:37 Cariline Howe
4530  1:45:09 David Howe
9005  1:54:32 Charlotte Smithson
11317 1:58:18 Emma Curran
14053 2:02:39 Chris Cunningham
19096 2:11:03 Alex Hyde
23198 2:18:21 Barbara Bullock

Burnsall fell race, Sun 10 Sep

(1 15:03 ted Mason, Wharfedale)
4  16:23 Iain Gibbons
13 18:03 Steve Turland
61 finished

Yorkshireman, Half, Sun 10 Sep

(1  1;40:06 Christopher Holdsworth, CleM)
136 2:46:24 Claire Mcloughlin
152 2:51:47 Sarah Hayes
166 2:58:30 Rachel Griffin
226 finished

Lake District Mountain Trial, Sun 10 Sep

Short course
(1 2:51:17 James Titmuss)
3  3:34:49 Lucy Haines
5  3:40:46 Peter Haines
9  3:56:56 Sarah Haines
47 finished

parkruns, Sat 9 Sep
From Petra Bijsterveld ... Results ...

Bradford
(1  17:10 Will Kerr, Saltaire Striders)
28  21:18 Sally Malir 1st F
336 ran

Skipton
(1  16:42 unknown)
23  22:40 Geoff Howard
144 ran

Stretford
(1  15:42 Chris Greenwood, U/A)
13  18:32 Rob Cunningham
404 ran

Ultra Tour Monta Rosa, Thu 7 Sep
From Brian Melia ... I have wanted to run The Monta Rosa as a 170km 12000M D+ race for three years now. Lizzy Hawker the Multiple UTMB winner was Race director and eventually put a route together as an event. It began at 4 pm on Thursday 7th September.
Starting in Grachen (Switzerland)- There was a steep climb up over some big monster mountains and over the new 494m suspension bridge which opened recently....it mentioned not to run over it, but was still very bouncy.... then to Europahutte, then an easy long trail path into Zermatt. From there it all changed and became very difficult. I struggled up over the glacier then round to Lago Cime Bianchi surrounded by a moonscape in Italy. From there it was a magical descent through grassy valleys and steep drops to Refugio Ferraro. I ran most of the way with a couple of well-known trail runners Jason Poole and Denise Zimmermann. We picked up another runner and followed instructions up and over the Col Bettaforca; unfortunately the route had been changed. We contacted Lizzy on the mountainside and she agreed we had gone further and higher and were not advantaged, so we carried on. We had lost probably an hour and were getting a little cold by this time. We arrived in Gressony about 20 minutes ahead of a fellow British runner -Nicky Spinks. We climbed through the night to a beautiful Cafe at the top of Passo Dei Salati at 2900M. It began to snow so I was pleased to have some soup before getting frozen on the descent to Alagna. There I sat with a very ill Nicky who needed a cup of tea and a bed to warm up. She dropped which was the sensible thing to do. Her friend Jean Brown turned up just as we were leaving. With the continual change of gear to cope with the weather Jean joined my self and Jason for the huge 3 hour climb up to Col du Torlo 2701M. We then descended well to Macugnaga. Fortunately, there was an excellent aid station that served fresh pasta and coffee. It did the trick and we left to do the last big climb over Monte Moro 2853M. We visited the Madonna statue then a beautiful descent over slabs of rock, fortunately dry, to run alongside the dam above Saas Fee. We then ran on to start the brilliant last section from Saas Fee to Grachen...21 km. Completely unbelievable balcony path with scary drops. I ran well for the final 50km and nearly caught second lady. I missed out on 1st V50 by a little way. I was a little disappointed, but overall I have to be pleased, as it was really tough race. People were dropping all the way round. I finished 11th man and 13th overall.
It is a completely different experience to the Mt Blanc series of races, It is in its infancy, but should, with Lizzy's drive,end up as a world class event. It is a much more personal journey than I was expecting, but overall I was pleased to have entered and finished.
Results for the Incline, Wed 6 Sep
From Helen Waddington... A huge thank you to all the helpers and runners who took part in this year's Incline. It was a lovely evening for the race and the atmosphere was great with lots of familiar faces and a high quality field - at least 5 international runners?! Happy to be corrected if there were more! So great to see so many Harriers and as usual sweeping up many of the prizes. We would like to thank Neil Chapman for numerous and important duties - before, during and after the race! Val Kerr, Jann Smith and Sarah Hayes (and kids) helping man the registration which is always fraught, John Hayes and Alison Weston for packing up, Julie Melechi who always holds the traffic for us on the road, Sarah for sweeping (again!) Rob King and Andrew McCarthy who get the results down in double quick time on their MTBs, Val again for marshalling and last but not least Jane McCarthy for finalising the results which requires brain power I don't possess. Gosh I hope I haven't forgotten anybody! It is truly a team effort and makes our lives so much easier on the night so THANK YOU all and congratulations to all the runners for taking part!
Results

(1  7:12 James Hall, Wharfedale)
2   7:13 Tom Adams
3   7:29 Jack Wood
4   7:31 Robert Little
5   8:00 Jack Cummings
7   8:16 Matthew Cox
10  8:36 Daniel Hayes
13  8:57 Paul Carman
16  9:23 Dave Robson
18  9:27 Jemima Elgood 1st lady
21  9:49 Ewan Walsh
23 10:05 Lucy Haines
24 10:06 Michael Duffield
25 10:17 Duncan Cooper
27 10:19 John Hayes
28 10:24 Ian Russell
29 10:25 Laura King
34 11:00 Helen Thurston
36 11:07 Jann Smith
37 11:08 David Howe
39 11:25 Mary Gibbons
42 11:37 Alison Weston
43 11:38 Geoff White
48 12:33 Caroline Howe
49 12:36 Petra Bijsterveld
56 13:34 Hilda Coulsey
58 14:17 Peter Lewis
62 finished

Also, a record number of teams in the junior relays that precede the Incline, more on the junior pages.
Wetherby 10k, Sun 3 Sep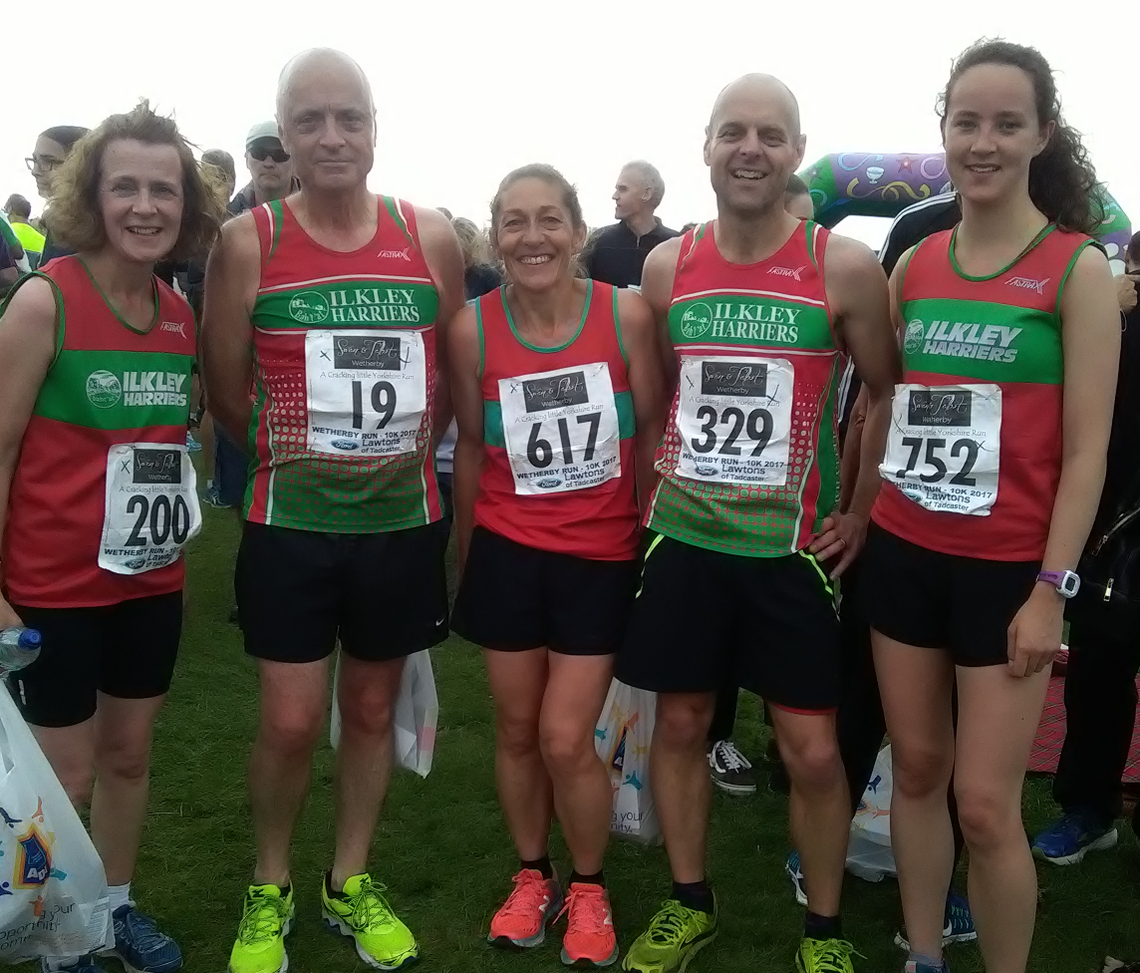 From Alison Weston ... another league event and very well organised. A mixture of road and track with the highest point on a bridge over the A1(M)! Lucy was first harrier home in 67th position and a great time of 41:09 followed by Dave Robson in 84th. Helen ran a strong race, her first race at 10K for a long time. Philip, Alison and Jean finished quite close together followed by Emma and Sally.
Results ...

(1  32:39 Rob Scott, RZH)
67  41:06 Lucy Williamson
84  41:21 Dave Robson
134 44:49 Helen Thurston 44:54
204 47:24 Philip Hirst
215 48:22 Alison Weston
237 49:10 Jean Sullivan 
469 55:16 Emma Curran
699 62:51 Sally Armitage
911 finished

Bradley fell race, Sun 3 Sep

(1 23:34 James Hall, Wharfedale)
39 34:18 Mary Gibbons
67 42:07 Deborah Varney
75 finished
Bernadette Raven was 1st U17 girl in 25:46 in the same race

Ben Nevis Fell Race, Sat 2 Sep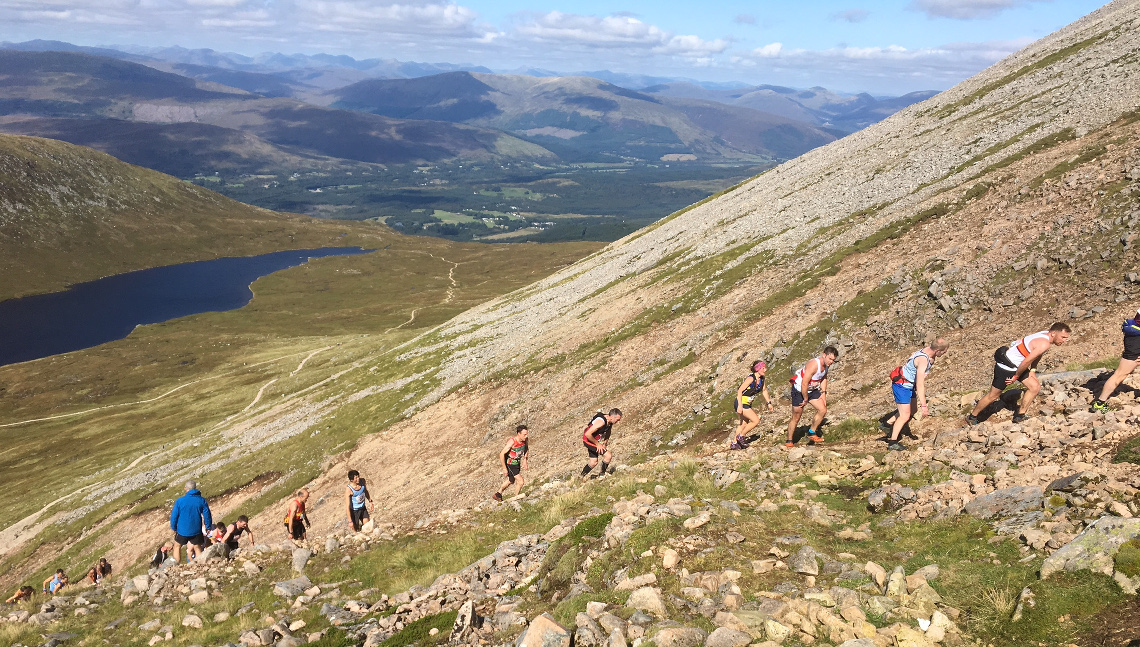 From Jim Ryder... Four Ilkley Harriers gathered in a field near Fort William to be set up the hill by a band of bagpipers. All completed the race successfully on a beautiful and clear day with views from the summit.
Race was won by Finlay Wild for seventh year in a row
Results ...

(1  1L31:37 Finlay Wild, Lochaber)
118 2:10:07 Jim Ryder
270 2:33:33 Robin Nicholson 
307 2:38:48 Michael Lomas 
487 3:40:26 Martyn Stocker
489 finished

Grisedale Horseshoe, Sat 2 Sep

(1  1:55:26 Ted Ferguson, Borrowdale)
25  2:17:08 Steve Turland
37  2:24:56 Lucy Haines
54  2:42:36 Peter Haines
69  2:51:30 Jamie Hutchinson
108 3:15:08 Sarah Haines
140 finished

Derwentwater Lakeland Trails 15k Race - Keswick, Sat 2 Sep
From Helen Waddington... The route for the fifth race in this series has had to be altered from its original course following the bad floods of 2015. Instead of a nice flat warm up along the old railway for a couple of miles, there is now a steepish start on roads giving way to gradually ascending tracks through Brundholme Woods. This had added an extra 200-300 feet of climbing since I last ran this race back in 2011. I am putting my slower time down to this (although it didn't seem to have the same effect on Jane McCarthy who was faster!) The route covers the boggy moorland above Glenderaterra Beck and the foothills of Blease Fell before looping back on a more runable gradiant beneath Lonscale Crags and finally a long and rocky trail descends to the finish in Fitz Park, Keswick. Tom Adams won finishing a good 5 minutes clear of the next runner. Another great run by Jane McCarthy 3rd lady and 2nd LV40.
Results:

1     56:42 Tom Adams
22  1:14:49 Jane McCarthy 
109 1:36:37 Helen Waddington

parkruns, Sat 2 Sep
From Petra Bijsterveld ... A first finish for Jack Wood at Skipton this week. However, just pause and take a look at Geoff Howard's result who is running in the V70 category. Jack's age grading is 77%, but Geoff's is a phenomenal 84%! Junior results to be viewed too of course if you click on the link.
Results ...

Rothwell
(1  18:40 Jamie Gibbs, U/A)
16  21:47 Geoff Howard
219 ran

Skipton
1   16:37 Jack Wood
65  27:15 Karen Lambe
91  29:21 Sue Verspyck
148 ran

---
Ilkley Harriers of the Month, August
Harrier of the month nominations: Alison Weston for the Burnsall double (including 3rd lady on the fell) and Borrowdale; Tom Adams for 10k pb at Blackpool Illuminations; Norman Bush for his 6 fell races this month, all good results
The winner is Norman Bush.
Volunteer of the month: Petra Bijsterveld for conscientiously collating the park run results weekly.
More Harriers of the Month ...
Kilnsey Show fell race, Tue 29 Aug

(1  8:03 Nick Swinburn, Northumberland)
3   8:15 Jack Wood
27 10:43 Steven Gott
40 11:17 Paul Calderbank
43 11:32 Lucy Haines
53 12:11 Jamie Hutchinson
60 12:25 Richard Joel
68 13:05 Peter Haines
69 13:10 Norman Bush
88 14:26 Mary Gibbons
116 finished

Bernadette Raven won a close-fought FU17 race

Reeth Show fell race, Mon 28 Aug

(1 15:48 Ben Mounsey, Calder Valley)
6  17:52 Iain Gibbons
85 finished

Blackpool Illuminations 10k, Sat 26 Aug
From Petra Bijsterveld ... Tom Adams won this race in a very swift 31:24. 909 finished. Results
Malham show fell race, Sat 26 Aug

1  17:10 Jack Wood
39 25:52 Norman Bush
46 27:25 Alison Eagle
72 finished

Rathlin Island 10 mile, Sat 26 Aug
From Hilda Coulsey... Billed as the most challenging road run in Northern Ireland and having experienced what Yorkshire organisers can dream up I thought bring it on. My challenge was the ferry journey across a pretty treacherous channel, now a dive site with lots of ship wrecks, I'm not good on boats! The issue was that the run was exceptionally "undulating", sharply, with both short and long climbs. The second half was out and back and I was being encouraged much more than usual by those returning in front of me. When the results came out I realised I was the only female over 60 (one man also over 60), and obviously I looked my age, it was mostly good club runners that were taking part. My time definitely reflected the terrain (not the ferry journey, I had picked a calm day) and was 9 mins slower than last week's Burnsall run. Nevertheless I was second FV 50! Worth a go if you are ever anywhere near - a friendly, happy bunch of runners and islanders.
Results ...

(1    57:57 Philip Goss, North Belfast Harriers) a new course record
132 1:41:49 Hilda Coulsey
190 finished

parkruns, Sat 26 Aug
From Petra Bijsterveld ... Results ...

Harrogate
(1  17:23 Andrew Dobby, Harrogate Harriers)
94  23:29 Philip Hirst
210 26:54 Karen Lambe
420 ran

Southwark
(1  17:12 James Tidd, Windsor, Slough, Eton and Hounslow AC)
17  19:36 Rob Cunningham
292 ran

Skipton
(1  17:41 Tom Brewster, Clayton-le-Moors Harriers)
15  20:20 Kate Archer 1st F
180 ran

Keswick
(1  17:08 Sam Stead, Keswick AC)
27  21:32 Helen Thurston 1st F
189 ran

Wetherby
(1  17:54 Tim Street, Holmfirth Harriers)
35  22:22 Geoff Howard
129 ran

Evensplits 5k series race 3, Wed 23 Aug
From Petra Bijsterveld ... A nice sunny but not too warm evening at the Brownlee Centre on Bodington Fields for the third race in this series of six (though I am hoping it will become a permanent monthly fixture....). Nice to meet Sally Armitage who recently joined the club having only taken up running earlier in the year, and who managed to get a shiny new PB. These friendly races are open to juniors and seniors alike and I would recommend this series to anyone who wants to test themselves on the tarmac.
Results ...

(1  15:30 Adrian Holliday, U/A)
70  20:45 Sally Armitage 
95  24:03 Harry Sime
100 24:53 Petra Bijsterveld 
120 ran

Brian Sweet
Sadly, Brian Sweet died on Tuesday 15 August, at home, aged 87. The club has many 'new members' since Brian last ran with us. However, there are many members who will remember Brian with great fondness for his commitment to the club. Brian led Tuesday night groups, and was still doing the Harrogate Race League, well into his 70's.
He was an inspiration to many.
The funeral will take place on Friday 25th August 2.20 pm at Rawdon crematorium.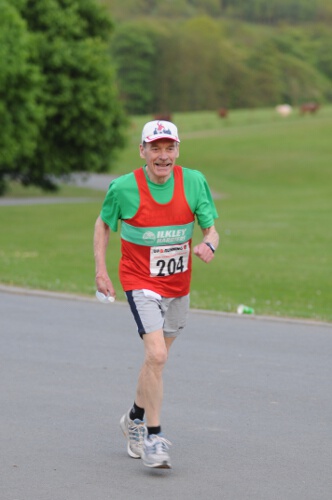 Sedbergh Hills, Sun 20 Aug
From Jamie Hutchinson.... you need to go some to pack as many climbs into a 14mile fell race. Add to this slippery trods for contouring and you have a pretty tough race.
Just a couple of harriers made it to Sedbergh - I just didn't have the legs to stay with Steve Turland as he disappeared out of sight going up Arant Haw. The race was won by Garry Greenhow from Ambleside AC in 2:20:28, with Steve Turland coming in 38th and 2:54:28 and I managed to finish in 3:10:56 and 59th - 169 ran.
Gargrave show fell race, Sat 19 Aug

(1 23:05 James Hall, Wharfedale)
31 32:53 Norman Bush
39 32:25 Alison Eagle
43 37:12 Natalie Curtis
56 finished

Burnsall 10 mile road race, Sat 19 Aug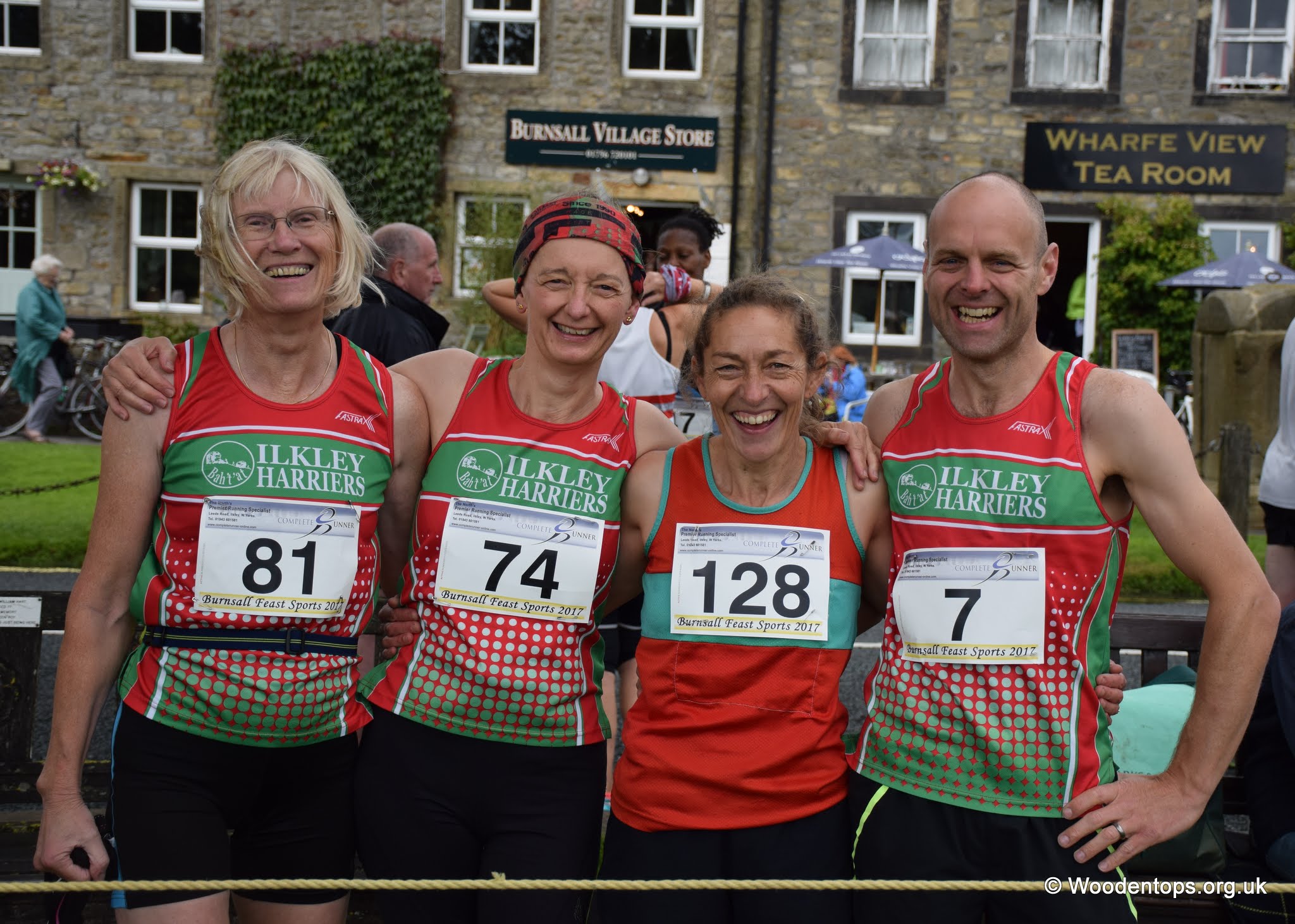 From Petra Bijsterveld ... Burnsall Feast is a traditional Dales village summer gala with fun for all the family, including junior fell races and for the seniors a 10 mile road race and the classic fell race to choose from, or to run both!
The road race is a counter in the Harriers League this year but only four Harriers lined up. Early on in the race we were tested by a stiff breeze and intermittent heavy showers which due to the wind took on a rather horizontal character. The course is undulating with around 800ft of ascent but there is lovely scenery in compensation for the effort required. The back of the field spread out so much that for the second half of the race I found myself completely on my own without anyone in sight either in front or behind. I liked the peace and quiet but it is harder to maintain the tempo. I was pleased to get back to Burnsall and treated myself to the nicest flapjack ever, full of banana and chocolate!
Results ...

(1  57:33 Julian Hood, Skipton)
27  68:49 Dave Robson
78  83:06 Alison Weston
102 92:33 Hilda Coulsey
108 97:02 Petra Bijsterveld
120 finished

Burnsall fell race, Sat 19 Aug
From Petra Bijsterveld ... The classic fell race is 800 ft straight up and down over just 1.6 miles. Alison Weston did the double and managed to come home as 3rd lady having already done the road race, a fantastic result. I very much enjoyed spectating on the bridge from where one can see the entire race, a long line of dots moving up and down the fell.
Results ...

(1 14:28 Sam Tosh, Rossendale)
11 17:09 Ruaridh Mon-Williams
86 24:43 Robert Budding
94 25:37 Alison Weston 3rd lady
129 finished

Pendle Three Peaks fell race, Sat 19 Aug
From Jim Ryder ... There were three Harriers out in what was a really tough 9 miles - very windy, wet underfoot and lots of vertical!
Results ...

(1 1:22:51 Daniel Mills, Barlick)
21 1:40:39 Jim Ryder, 2nd V50
61 2:02:30 Jo Foster 3rd Lady, 1st LV45
93 2:19:12 Adela Reperecki, 1st LV55
115 finishers

parkruns, Sat 19 Aug
From Petra Bijsterveld ... Results ...

Bradford
(1  18:00 Alexander Flaherty, Bingley Harriers)
87  24:12 Sarah Haines
415 ran

Harrogate
(1  17:20 Aidan Adams, Leeds City)
349 36:44 Emma Curran
378 ran

Stretford
(1  16:36 Chris Stanford, Warrington Tri Club)
10  18:28 Rob Cunningham
438 ran

Dalby Forest
(1  17:55 Matthew Middleton, Scarborugh AC)
8   19:57 Jez Hellewell
184 ran

Trelissick
(1  18:39 Tom Phillips, Woodford Green AC)
155 31:52 Sue Verspyck
248 ran

Blackpool Air Show 10k, Sun 13 Aug
From Geoff Howard ... I managed to keep my feet firmly on the ground along the upper and lower levels of Bispham promenade's flat, fast, smooth but rather monotonous 10k course prior to Blackpool flying other types of ancient body along the coast as part of its air show later in the day. Quite a warm day but the temperature was moderated by a a gentle sea breeze which helped me to get within one second of my 2016 annual 10k time at 42m 41s but not enough to be 1st v70 who was a whipper snapper from Bedford, Rob Wells, about half a minute faster. The overall winner was Rob Webb of Rossendale in 33m 11s. As always with events organised by Dave Whewell of Wesham Harriers, it was an enjoyable, well organised, friendly, gimmick free and inexpensive race.
Firefighter's 5 - Birkenshaw, Sat 12 Aug
From Sally Armitage ... results ...

(1  27:01 Jonathan Johnson, Rotherham Harriers)
58  36:32 Sally Armitage
144 42:20 Peter Shields
267 ran

Ennis Track AC Fleadh 5 miles, Sat 12 Aug
From Jean Sullivan ... To celebrate 'Fleadh Cheoil na hEireann', Ireland's national festival of traditional music being held in Ennis, Co. Clare, Ennis AC hosted a 5 mile road race to commemorate the start of the celebrations.
As this coincided with our trip to Ireland Richard and I decided to enter the race (our 1st ever race in Ireland!). A very well organized, but laid back event. This undulating course along Irish country roads was very well marshalled and all finishers received a lovely teeshirt. It attracted a fast field with the 1st runner finishing in just over 25 minutes. I smiled as I approached the finish line as the PA system announced the arrival of Jean Sullivan who had travelled all the way from Yorkshire for the event!
Results ...

(1 25:43 Niall Shanahan, Crecora)
19 33:03 Richard Joel 
54 40:06 Jean Sullivan 
92 finishers

Arncliffe fell race, Sat 12 Aug
Provisional results ...

(1 10:47 Ted Mason, Wharfedale)
24 13:51 Lucy Haines, first lady
54 16:10 Peter Haines
55 16:17 Norman Bush
74 18:17 Peter Lewis
89 finished

Turner Landscape, Sat 12 Aug
From Jamie Hutchinson ... a cracking run from Turner Hall campsite and taking in Grey Friars, Swirl How, Coniston Old Man and White Moss. 12 miles and mostly pretty runnable apart from ascent (slow!) of Grey Friars. Enjoyed the route and lovely descent back into the campsite and flagged although following the flags proved mildly challenging - use of campsite showers a bonus!
The race was won by John Helme from Ambleside in 1 hour 32 - I managed 2 hrs 5 mins and 28th - 80 ran.
parkruns, Sat 12 Aug
From Petra Bijsterveld ... Results ...

Bradford Lister Park
(1  16:53 Jack Thorp, Bingley Harriers)
96  25:08 Anna Nolan
415 ran

Harrogate
(1  16:16 Nike Burrett, Leeds City)
215 28:04 Karen Lambe
369 ran

Trail Race raised over £2000
Our Trail Race in May raised £2,223.07 for its charity, Give A Child A Hope for the champions at The Revival Centre in Uganda. Here's a letter of thanks.
World Long Distance Mountain Running Championships, Sun 6 Aug
Well done to Jack Wood, 51st overall in 3h59:39 and fourth GB team counter.
Round Hill Fell Race, Sun 6 Aug

(1  55:55 Chris Miller, Harrogate)
5   59:52 Ben Sheppard
7   62:35 Michael Lomas
14  65:17 Dave Robson
26  68:59 Michael Duffield
33  70:02 Nick Pearce 1st V60
52  74:00 John Hayes
117 91:56 Bob Hamilton
127 98:53 Amanda Newham
135 finished

York 10k, Sun 6 Aug
From Caroline Howe ... First time doing the York 10k. Well organised as the Run for All events usually are. The course is quite windy with a few sharp corners, and fairly congested, as you'd expect. But a great course as it takes in all of York's main sights - no boring bits! A great atmosphere during the race, and also before and after at the event village. I managed 46:12, a PB by nearly 3 minutes. Only one other Harrier in the 5000+ field.
Results ...

(1   31:41 Liam Rabjohn, RZH)
695  46:12 Caroline Howe 
1791 54:29 Diane Kitchen 
5286 finished

Hellifield Gala fell race, Sat 5 Aug

(1 23;29 John Spill, P&B)
26 35:35 Norman Bush
48 finished

Borrowdale Fell Race, Sat 5 Aug
From Dick Waddington ... Borrowdale Fell Race is one of the classics of the Lakes, taking in Scafell Pike, Great Gable and Dale Head in 27km and 2000m of climbing. The eye watering record is 2.34 by Billy Bland, who was on hand to keep the gate open as we went up the first climb out of the valley to Bessyboot.
There was a good turn out of Harriers and we were split between wearing just a vest or a waterproof at the start - heavy showers kept drifting through the valley. It's a long and wild climb skirting Glaramara; the bogs were well topped up and the rocks were pretty slippy. By Esk Hause the rocks were drying out and skipping over the rocks was a bit easier. Scafell Pike was shrouded in clag and the big group in front of headed off in what I thought was the direction of Lingmell, so I peeled off and found the scree run that I shared with only one other. I didn't see any other runners until Styhead. Great Gable was no less steep than usual, but it soon passes to give way to a very pleasant traverse along the ridge down to Honister. Dale Head and the descent through slate quarry really finished off any good feeling that was left in my legs! I was pleased to get a PB by a few minutes from my last go at this race in 2012.
Well done to everyone who ran, especially Alison Weston, who was 2nd F50.
Results ...

(1  2.50.05 Carl Bell Keswick AC)
94  4.05.31 Paul Carman
137 4.25.29 Dick Waddington
178 4.46.41 Jamie Hutchinson
180 4.47.14 Kate Archer
187 4.53.39 Alison Weston
200 4.59.53 Outi Kamarainen
207 5.05.21 Jann Smith

Glacier 3000, Sat 5 Aug
From Jane McCarthy ... After reading Dave Wilby's write up of this race a few years ago I was excited to be participating myself this year. Saturday morning was glorious, and starting in the stunning Swiss town of Gstaad the atmosphere was relaxed, friendly and the race very well organised. The uphill only route covers 26km and 2000m of climbing, starting with a more gentle 15km of trail and tarmac followed by 11km of gruelling uphill climbing to finish on the Glacier at 3000m. This race has the most incredible scenery from start to finish and superb support and refreshments along the route. Hoping to do it again. There is a marathon option also.

(1        2h32:49 Shaban Mustafa)	
22nd lady 3h42:01 Jane McCarthy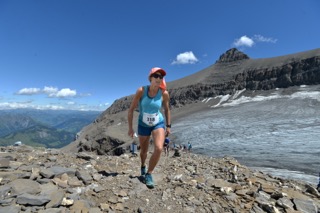 parkruns, Sat 5 Aug
From Petra Bijsterveld ... Results ...

Highbury Fields
(1  18:06 Quentin Guillet, U/A)
60  22:25 Tom Worboys
217 ran

Bradford Lister Park
(1  18:07 Alexander Flaherty, Bingley Harriers)
11  20:41 Rhys Jones
394 ran

Pontefract
(1  16:55 Terence Forest, Cairngorm Runners)
26  21:51 Geoff Howard
283 ran

Skipton
(1  18:38  Kyle Rabjohn, Richmond and Zetland)
3   18:56 Rob Cunningham
50  24:51 Chris Cunningham
194 ran

Eshton Moor fell race, Thu 3 Aug

(1 33:03 Ted Mason, Wharfedale)
40 44:49 Norman Bush
76 finished

---
Ilkley Harriers of the Month, July
Harrier of the month nominations: Helen Waddington for Ultimate Trails. Helen Waddington and Richard Joel for Ultimate Trails Tom Adams wins this month plus 3rd in Snowdon international championship. Ben Shepherd for Lakeland 50. Abi Bailey for Race to the Stones. Martin Archer for Harrogate 10k. Dave Millson encouraged by Antonio to return to running and arriving back from the Addingham gala still smiling. The slower Leeds 10k bunch, mostly beginners from last year: Wendy Bishop, Damaris Bedford, Libby Heppenstall, Nicky Sollowey, Diane Ollier plus regulars Kate Lofthouse and Claire Shouler.
The winner is Abi Bailey.
Volunteer of the month nominations: Dan Wilkinson for Addingham Gala, Alison Weston Gazette reports.
The winner is Dan Wilkinson.
More Harriers of the Month ...
Cowling Gala fell race, Sat 29 July

1 17:53 Tom Adams
39 finished

Lakeland 50, Sat 29 July
From Ben Sheppard ... The Lakeland 50 is essentially the second half of the Lakeland 100, starting from the Northern end of Ullswater and ending in Coniston with approximately 3100m of ascent. After a 4 mile loop within the Dalemain Estate it follows the Eastern shore line to the Cowboys and Indians-themed checkpoint at Howtown. To this point (mile 11) I had been fighting the urge to run at a "normal" pace, knowing that to do so would spell disaster in the later stages. After a lovely climb up to Brampton Common and fun descent came a technical (rocky) section along the banks of Haweswater, rewarded with soup and sandwiches at Mardale Head. Another tough climb (Gatescarth Pass) and via Long Sleddale to the CP at Kentmere where a bowl of pasta was well received. A carnival atmosphere awaited at Ambleside, everyone on the streets and in beer gardens cheering you through, and - even better - my family at the checkpoint showing a mixture of relief, excitement and concern between them while I devoured soup and sandwiches to fuel the final push. Just 15 miles to go: Langdale (veg stew) and Tilberthwaite (watermelon) before the final climb and descent (with stones in both shoes but I'm not stopping to take them out now) to Coniston, again every runner receiving a fabulous reception from people in the beer gardens and lining streets.
The men's and women's winners both set new course records. Another thing the winners have in common is their surname: North Leeds Fell Runners' Katie Kaars Sijpesteijnand her husband Casper.
One final thing: I cannot begin to imagine how tough and determined you must be to do the Lakeland 100. We passed many of the 100 mile runners (they had started in Coniston at 6pm the prior evening) - how they kept moving forward I do not know!
Results ...

(1 7:34:07 Casper Kaars Sijpesteijn, Moonglu/Mountain Fuel)	
11 8:57:03 Ben Sheppard
662 finished

parkruns, Sat 29 July
From Alison Weston ... Nea and I did the Penrhyn park run at Bangor at 29th July, getting there with seconds to spare (wrongly thinking it started at 09.30 instead of 9.00 am) desperate for the toilet and in fell shoes! A lovely route though around a castle with a sea view and run frequently (and a lot faster) by Lucy Williamson during term time at Uni there.
Results
Rydal Round, Thu 27 July
From Steve Turland ... Great mid-week race. Part of Ambleside Sports and follows a similar route to the Fairfield Horseshoe. Not the best 'summer conditions' with horizontal stair-rod rain on the summit.
Results ...

(1  1:23:37 Simon Bailey, Mercia)
26  1:41:50 Steve Turland
114 finished

Ambleside Sports fell race, Thu 27 July

(1 14:15 Rob Hope, P&B)
9  16:33 Iain Gibbons
96 finished

Newsletter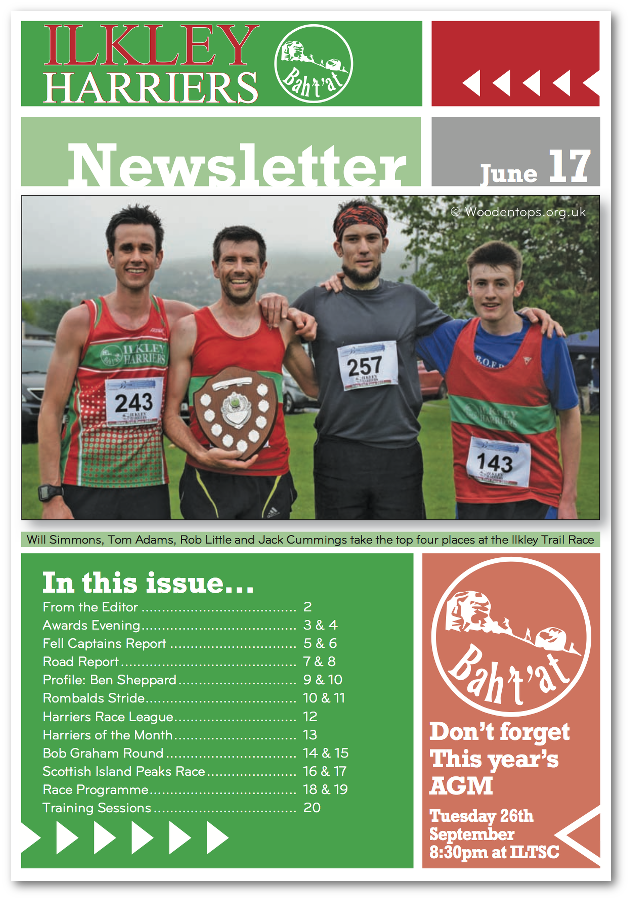 Coniston Country Fair fell race fell race, Sun 23 July
From Jamie Hutchinson ... Tough up and down the Old Man from Coniston Country Hall - a bit of a lung buster ! A clear day and quite warm - really enjoyed the swim in the lake afterwards.
Results ...

(1    55:04 Rob Hope, P&B)
35  1:18:59 Jamie Hutchinson
59 finished

parkruns, Sat 22 July
Widdop fell race, Wed 19 July

(1    52:13 Sam Watson, Wharfedale)
16  1:00:48 Steve Turland
146 finished

Roundhay Rampage, Wed 19 July

(1  38:36 Daryl Hibberd, Valley Striders)
48  49:49 Sally Malir
59  51:52 Sally Armitage
206 finished

Training news ...
Please note that both Pete Shields Wednesday session and Jane Bryant's Thursday session are off for the holidays and back first week in September.
Kentmere Horseshoe fell race, Sun 16 July
From Alison Weston ,,, Much better weather on Sunday for the classic Kentmere Horseshoe fell race (19.8 km and 1006m ascent). Lucy Haines on top form again to come 2nd lady in under 2 hours. A bonus was soaking in the cool stream in the finish field followed by lots of tea and cakes in the village hall.
Results ...

(1  1:32:57 Joshua Jardine, Helme Hill)
52  1:56:26 Lucy Haines
183 2:17:44 Jamie Hutchinson
203 2:21:46 Alison Weston 3rd LV50
254 2:32:52 Sarah Edwards
294 2:42:08 Mary Gibbons
344 finished

Cracoe fell race, Sun 16 July

(1 21:46 Ted Mason, Wharfedale)
2  22:03 Jack Cummings
9  24:14 Iain Gibbons
21 26:49 Steve Turland
86 finished

Snowdon International Mountain Race, Sat 15 July
Well done to Tom Adams, 3rd and helping England to the first team prize. Results soon ......
Ingleborough Mountain Race, Sat 15 July
From Ewan Welsh ... Spotted a few Harriers, Martin Archer, Dick Waddington and Norman Bush, at the Ingleborough Mountain Race (as it's called) on Saturday, the route is straight up and down from Ingleton, biggest decision is choice of initial descent off the top, specifically in low visibility, I'll say no more in case anyone attempts it for the first time next year, I wouldn't want to take the fun out of it. I haven't sought out results yet, conditions were wet with low visibility, everyone seemed to finish in fine fettle, although I assume this of Dick as I didn't see him at the end but did see him for a fashion during the start of the race and the initial incline, he subsequently meandered up into the mist never to be seen again.
Kong Mini Mountain Marathon, Sat 15 July
From Steve Turland... Nice little 2 hour event just outside Macclesfield. First real outing since the BG and legs felt OK. Despite a couple of navigational goofs managed to finish 4th overall and won the vets category.
parkruns, Sat 15 July
From Petra Bijsterveld ... Results ...

Bradford Lister Park
(1  18:15 Watson Peel, Halifax Harriers)
70  24:09 Sarah Haines
365 ran

Ormeau
(1  17:47 Gavin McCaffrey, Ballymena and Antrim)
7   19:33 Adam Bennett
276 ran

Ilkley Skyline fell relay, female record, Fri 14 July
From Jane McCarthy ... Thanks to Helen Waddington for tipping us off that the Ilkley Skyline Fell Challenge (est. by the North Leeds Fell Runners nlfr.co.uk) can be run as a relay, with 3 runners covering the 22 mile route. There had been no ladies team attempt, so Kate Archer, Jann Smith and I decided to set as good a time as we could on Friday. All 3 of us have run the Skyline individually which helped decide who should run which leg. I set off from the Hermit pub on Leg 1 (Hermit to Windgate Nick) 6.6 miles, 4 miles uphill to Whetstone Gate (Masts) and then a lovely couple of miles over the moor to the changeover point at the Mosquito Bomber Memorial, where Kate Archer was ready to take over Leg 2. A fine run by Kate over 9 miles down to Addingham Moorside, across and up Beasley Beacon, Round Hill and on to Ellarcarr Pike, Jann and I only managed to get to the handover spot about 5 minutes before Kate arrived! Jann then set off fast for the 6 miles of Leg 3 taking her down across Denton Moor, through fields and tracks to Asquith, then down to the Stepping Stones at Burley-in-Wharfedale and the final 2 mile uphill stretch up Moor Lane and back to The Hermit pub at Burley Woodhead. Thankfully Helen had seen her in at the finish as she ran too fast for Kate and I to get there in time! We were extremely pleased to finish in under 3hrs 5mins (Leg 1: 54mins, Leg 2: 80mins, Leg 3 50mins). Such a lovely route, and always good to have a pub at the end. Definitely recommended - either to race alone (send Garmin feed to Mike Ayers at NLFR) or take at a leisurely pace with friends. The Men's Record is faster than our Relay at 2hrs 49mins but it would be good to see some Ilkley men (or women I might add!) trying to beat our time!!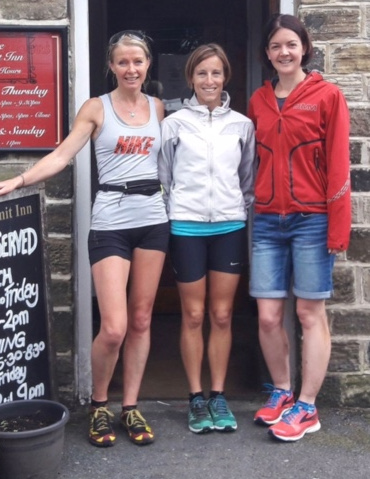 Run for all Leeds 10k, Sun 9 July
From Hilda Coulsey ... To the other end of the spectrum on Sunday, but similar distance, for a flat road 10k in Leeds for the Asda foundation, Jane Tomlinson and other charities. I did struggle with the hill as the road went over the ring road before the Headrow - I did! - but I was able to laugh at myself that it was 300m up yesterday which seemed much more enjoyable, however I don't intend to look at the photos today as I did struggle again with the heat. Looking at the list of Harriers taking part it was great to see so many beginners/ Improvers/ and those less speedy runners - it's still 10k so good running.
Results

(1   32:23 John Hobbs, Valley Striders)
121  40:05 Jane McCarthy
926  49:03 Charlotte Smithson
955  49:20 Jane Thomas
1584 54:16 Hilda Coulsey
3095 61:40 Wendy Bishop
3106 63:00 Kate Lofthouse
4808 64:36 Damaris Bedford
5031 66:54 Libby Heppenstall
5053 67:08 Nicky Solloway
5054 67:06 Diane Ollier
5945 67:19 Patricia Shouler
7050 finished

East Morton fell race, Sun 9 July

(1 13:27 Alex Thompson Wharfedale)
11 14:38 Bernadette Raven, 1st lady
30 finished

Addingham Gala fell race, Sat 8 July
A win and a new course record for Tom Adams.
From Ben Sheppard ... Thanks to Dan Wilkinson for organising this great race which attracted a good field with some fast runners and the odd distinguished name, with fell running legend Colin Donnelly coming in 5th - in his mid-fifties and showing younger runners how it's done!
From Hilda Coulsey ... The Addingham gala fell run up on Saturday to the top of Beamsley Beacon was quite an unusual jaunt for me. It was brilliant, I'm really pleased I did it even though the final third up hill was a walk/ clamber over the rocks for me. Racing Sue Morley helped to get me through the downhill, she is much more surefooted on the grass and rocks and I'm a bit faster on the roads so I got past her by the finish for the chocs. Thanks Dan for waiting for us for the presentation! Well done to all the runners and the prize winners. Phew it was hot and the ice cream was well deserved. The support from all the volunteers was very much appreciated.

1  37:29 Tom Adams
3  41:06 Will Simmons
4  41:22 Jack Cummings
6  45:29 Matt Cox
9  44:10 Ruaridh Mon-Williams
10 44:37 Ben Sheppard
19 51:02 Lucy Williamson
23 51:31 Peter Shelley
24 51:37 Lucy Haines
38 56:06 Geoff Howard
42 58:24 Alison Weston
57 71:23 Hilda Coulsey
61 96:46 David Millson
61 ran

Wasdale fell race, Sat 8 July
An English Champs counter. Results

(1  3:40:53 CArl Bell, Keswick
7   4:05:37 Jack Wood
197 6:18:42 Outi Kamarainen
233 finished

Baildon Carnival Canter, Sat 8 July
From Rachel Carter ... A few Harriers travelled the short distance across the moor to Baildon Carnival for their 'Carnival Canter' and junior races beforehand. The 'canter' turned out to be a 3 mile fell race, which felt more than enough on a very warm afternoon, to a trig point and back. Well organised by Baildon runners and a good local atmosphere at the carnival. The senior ladies race was won (21st overall) by one of our Juniors (who had already run the junior 1 mile race too!).

(1 18:18 James Hall, Wharfedale)
9  21:24 Robin Nicholson
12 21:48 Paul Castle
21 22:58 Bernadette Raven, 1st lady
28 23:57 Rachel Carter
36 24:47 Robert Budding
78 finished

parkruns, Sat 8 July
From Petra Bijsterveld ... Results ...

Woodhouse Moor
(1  17:54 David Bagot, Clayton-le-Moors)
4   18:22 Will Wood
9   19:25 Bob Hamilton
280 ran

Skipton
(1  17:50 Sebastian Segger-Staveley, Settle Harriers)
33  24:20 Phil Hirst
46  25:20 Chris Cunningham
146 ran

HDSRL Handicap Race, Thu 6 July
A great run from Emily Elmes to 'beat the handicapper' and finish in 2nd place. Results

2   46:24 Emily Elmes
59  50:43 Don Macrae
76  53:27 Bernie Gibbons
128 48:58 Di Kitchen
157 43:17 Geoffrey White
180 38:57 Malcolm Pickering
222 43:29 Jean Sullivan
254 32:43 Ruaridh Mon-Williams
273 38:28 Tom Worboys
277 57:55 Anna Pickering
292 finished

Stoodley Pike fell race, Wed 5 July
A win for Tom Adams in 18:36, 119 finished. Results.
Evensplits 5k series race 1, Wed 5 July
From Petra Bijsterveld ... This was the inaugural event of a new 5k series staged on the cycle track of the Brownlee Centre at Bodington Fields. The course takes in 3 laps of the track, which is a roadrunner's delight of newly laid tarmac. For added interest there is an incline to 'enjoy' 3 times over.
Runners were divided into an A (sub 22:30) and a B race, there were only 34 of us in the B race and I had the (for me) rare experience of starting near the front! As expected it is a fast course and having overcooked the first lap I did pay for it in mile 2 and 3, finishing 5 seconds outside my PB.
Sally and Rob ran very well in the A race, and I enjoyed being able to watch the faster runners for a change.
There are 5 more races in this series and I would recommend this to all roadies and anyone else who wants to test themselves on tarmac.
Results ...

(1  15:45 John Hobbs, Valley Striders)
37  20:42 Sally Malir
43  20:56 Robert Budding
78  24:16 Petra Bijsterveld
93 ran

Danefield relays, Tue 4 July
From Alison Weston ... 123 teams (!!) took part in the Danefield relays (3 x 3miles) at the Chevin, organised by Fellandale club. Mary, Nea and myself made up one Ilkley team and Lyra was persuaded to make up another team with Jack Wood! Jack ran the fastest leg of the evening (on leg 1) and Lyra found herself in the lead for 200m on leg 2 before being overtaken by the fast guys.
Results ...

17th position 
leg 1 Jack Wood 17:56
leg 2 Lyra Weston 29:32
leg 3 Jack Wood 18:23

96th position
Leg 1 Alison Weston 26:43
Leg 2 Nea Weston 31:57
Leg 3 Mary Gibbons 26:23

Eccup 10 mile, Sun 2 July
From Caroline Howe ... Four Harriers took part in the undulating Eccup 10 mile on what was a warm sunny day. Thankfully the course had plenty of shade and a nice breeze so conditions weren't too bad. Sold out for the second year in a row, this was a thoroughly enjoyable race with a decent t shirt!!
From Hilda Coulsey ... a good road race with hills, not too scary, and lovely tree lined closed country roads with a circuit of Eccup reservoir. The race has been full these last two years and in previous years lots of Harriers have taken part - it's definitely worth putting in the diary for next year.
Results ...

(1    54:45 Dannny Hallam)
217 1:19:30 Caroline Howe  
292 1:22:49 Graham Parton  
467 1:30:33 Hilda Coulsey     
535 1:34:27 Donna Jackson  
815 finished

Harrogate 10k, Sun 2 July

(1  32:33 Rory Stead, Aberdeen)
10  36:34 Martin Archer
204 49:41 Chantelle Busby
410 57:53 Don Macrae
562 finished

Skiddaw fell race, Sun 2 July
From Ewan Welsh ... I ventured up to Keswick for the Skiddaw fell race on Sunday to continue on my pathway back to regular racing. A straight up and down route, well more of a zig-zag up and down route, this was the start of a new era as the directive is now to stick to the main path, rather than ascending/descending as you are. The long standing course records set by Kenny Stuart and Sarah Rowell, set in 1984 and 1989 respectively, are now set in the stones of time. The 'new' course was an open invitation to set a new course record (not for me I hasten to add !) that will sit alongside the 'old' course records.
My own personal battle, based on the fact that although I am not the quickest of runners I am the slowest of walkers, was to not walk on the ascent at any given time, which I achieved and got to the top with an air of contentment, it made the descent an interesting affair mind you. As the route was holding to the main path it gave the race a slight alpine feel, walkers and runners co-existing on the route up with a few cow bells and words of encouragement to be heard on a switchback path (almost), in passing I asked a group 'on-route walkers' if I could borrow their walking poles, oh how we all laughed at the fine banter! Not to mention the Inov-8 team containing a group of competition winners from Europe; their prize was a week in the Lakes incorporating various runs and races (I believe). Spot prizes were also included as a post race feature, my number was pulled out the hat and I picked up a trendy looking Inov-8 small trail belt, that's my 4th prize in 32 years of running, bonus! I once won 1/4 of a cattle beast in New Zealand, but that's another story.
I didn't spot any other Harriers, but did catch up with Graham Arthur, ex Harrier and Isle of Jura race organiser, he was in the Lakes for the weekend and popped over to do the race, as you do.
The race is well organised, great atmosphere, easy parking and a fine post race spread.
Results ...

(1 1:10:18 Sam Stead, Keswick AC)
88 1:42:05 Ewan Welsh
136 finished

Blackfell fell race, Sat 1 July
From Dave Wilby ... A superb local race from Kettlewell based on the middle event from the old Wharfedale TTT, it's struggling a bit for numbers in its first few years but is worthy of so much more attention. Incorporating a wide spectrum of terrain including a long runnable climb on double-track, a steep heathery scramble, grassy trods, a lightning fast descent and plenty of trackless tussocky terrain where even sheep fear to tread. There's good scope for route choice on a clear day and potential for some navigational mishaps if the clag comes down. Keep an eye out for it next year, it's a belter.
Results ...

(1 1:20:35 Ted Mason, Wharfedale) new record
4  1:32:17 Dave Wilby
6  1:34:26 Alistair McInnes
8  1:36:00 Paul Carman
29 1:54:31 Duncan Cooper
38 2:04:28 Jann Smith
57 Finishers

Ultimate Trails 110k, Sat 1 July
From Helen Waddington... Pleased to report that Richard Joel and I made it round this challenge - Richard finishing in around 19 and a half hours and myself just over 22 and a half. It was a step into the unknown for both of us and, speaking for myself, much harder than I had anticipated but very satisfying once the finish line had been crossed! The support from other runners and event crew was humbling and incredible - some of the checkpoints being remote and midge-infested! It was wonderful having Dick and Jane at various checkpoints along the route providing much needed encouragement and, having both done the race themselves, lots of empathy!
From Richard Joel ... Following on from Helen's report the Ultimate Trails was a very challenging but overall satisfying event. It's an ultramarathon starting at midnight in Ambleside with 24 hours to complete the 66 mile circular route with approximately 12,000 feet of climbing. The weather was for the most part mild allowing us to run in shorts and tee shirt through the night and for most of the next day. Overnight the stream of headtorch lights snaking up Nan Bield pass was an amazing sight. The support and encouragement provided by the public on the course and the volunteers at the checkpoints was amazing. The food at the checkpoints really hit the spot and kept spirits high enough to keep going, although I may have had my recommended annual intake of coke and crisps in one day!! As the day wore on everyone got into a rhythm and runners started to support and encourage their fellow runners - I ended up running around more than half the course with a guy from Tyneside. The scenery was absolutely gorgeous (took my mind off the pain) and I saw some hidden corners of the Lake District I never knew existed.
The support provided by Dick and Jane was fantastic - it was great to see familiar and encouraging faces around the course. Thanks also to Dick for lending me his walking poles which got me over the last 2 climbs. Also a fantastic run by Helen - well done!!
parkruns, Sat 1 July
From Petra Bijsterveld ... Results ...

Woodhouse Moor
(1  17:43 Tom Thomas, Hyde Park Harriers)
18  20:01 Andrew Overend
398 ran

Bradford Lister Park
(1  18:11 Martin Soszka, Saltaire Striders)
5   19:05 Will Wood
19  20:38 Rhys Jones
425 ran

Harrogate
(1  17:27 Andrew Dobby, Harrogate Harriers)
34  21:04 Andrew Sheldon
339 ran

Skipton
(1  17:51 David Driver, Wharfedale Harriers)
10  20:39 Kate Archer
150 ran

Stretford
(1  16:31 Peter Bray, Manchester Orienteering Club)
5   18:26 Rob Cunningham
450 ran

---
Ilkley Harriers of the Month, June
Harrier of the month nominations: Steve Turland for successfully completing the Bob Graham round, Andrew Merrick for the South Downs Way, Jack Cummings for his first senior race win at Buckden, Euan Brennan as FRA u17 champ and coming 5th in an England vest (first for England), Helen Waddington for the double skyline, Sharon Meadows for the Lakeland Trails race and Ben Shepherd for the Three Peaks Challenge.
The winners are both Steve Turland and Jack Cummings with a special mention for Euan Brennan.
Volunteer of the month nominations: Helen Waddington for HoM write ups, Paul Wood for website updates, Jane Bryant for coaching, Andrew Sheldon for organising the HDSRL this and previous years.
The winner is Andrew Sheldon.
More Harriers of the Month ...
Murder Mile, Thu 29 June
From Petra Bijsterveld ... The Murder Mile race in Silsden, organized by Wharfedale Harriers, is an uphill course fairly similar to the Ilkley Incline, with 500ft of ascent over 1 mile.
76 seniors and 143 juniors lined up at the somewhat chaotic start by Silsden Golf Club, I was idly chatting with Kate Archer in the middle of the throng when we suddenly saw the front of the field had moved off already! Initial progress was hampered by the steepness of the ascent but also by a multitude of very small persons stop-starting virtually under my feet as only young children do. All part of the fun in this type of race.
Not many senior Harriers there, Kate Archer was 4th senior lady and Alison Weston 1st LV50. The normally very speedy Robin Nicholson ran together with his son. I knew I would not be able to beat Alison for the category win but was happy enough to be only 30 seconds behind her on my second 1 mile race in as many days. I'm beginning to like the distance!
Some excellent junior Harrier results too.
Results ...

(1  06:57 Craig Shearer, Barlick FR)
62  09:23 Kate Archer
119 11:03 Alison Weston
141 11:32 Petra Bijsterveld
168 12:22 Robin Nicholson
219 ran

Summer Mile, Wed 28 Jun
From Petra Bijsterveld ... This annual competition staged by Hyde Park Harriers on Woodhouse Moor was a very soggy affair this year. Runners run 1 mile in 14 heats which are progressive in pace, on a 2 lap course. Despite the relentless rain there was an upbeat atmosphere and I was glad I went. Tom took the win amidst some serious competition, and I managed a 17s PB, so a good night for Ilkley.
Results ...

1   4:47 Tom Adams
185 7:31 Petra Bijsterveld
244 ran

International news
Euan Brennan and Bethan Morley competed for England at the International Mountain Running Youth Cup in Gagliano del Capo, Italy on Saturday 24th June. Euan came 5th overall and led the boys team to a Bronze medal and Bethan came 14th and led her team to 6th place overall. Very well done to both on such outstanding results.
Bob Graham Round, Sat 24 June
From Steve Turland ... Pleased to report that I completed the Bob Graham round on Saturday in 22hr 40.
With an 11pm start, I ran the first two legs solo, but immediately got into a bit of navigational difficulty coming off Skiddaw. Low mist and drizzle combined with the bounce back from the headtorch was giving about 2m visibility, making it very difficult to follow the path finding myself wading through knee deep heather on at least a couple of occasions. Pleased to finish leg 1 only 10 minutes down on my 22hr 15 schedule. Another group just ahead of me had lost 90 minutes in the mist!
The clouds cleared and with dawn approaching, I made good progress on leg 2, regaining the lost time and finishing the leg 15 minutes up on the overall schedule. It was a surreal experience to see such a busy Hellvellyn summit at 5am in the morning due to the 10 Peaks race that was also taking place that day. It was a midgefest at Dunmail so no time to sit in the chair, and we were off on leg 3.
I was paced really well throughout leg 3, but low mist and wet rock hampered progress after Bowfell, and we lost about 20 minutes skating over the rocks to Scafell Pike. Then onto my favourite bit of the round - Lords Rake, West Wall Traverse and the superb scree descent into Wasdale. Leg 3 done. With thighs burning and the climb up Yewbarrow beckoning, I languished probably a little too long in the chair being force fed food from my checkpoint team - my Mum and two sisters who did a fabulous job throughout.
Then it was off out of Wasdale, with words of encouragement from Joss Naylor (I don't think I was hallucinating at that point) and the 'eagerly awaited' climb up Yewbarrow. Felt good on leg 4, gaining time on each summit and allowing the luxury of another stop at Black Sail pass to take on more food from my sisters who had walked up from Wasdale. Eventually arrived in Honister, leg 4 complete, and good to see Jack there supporting after his Buttermere race that day.
I was joined by my son at Honister who did the last leg with me (he had the patience of a saint). My uphill legs were still going strong, but the downhill legs had packed in for the day. Reached Robinson summit only just behind schedule, but after that point things started to unravel and a fair amount of coaxing was required to get me down off Robinson. Road into Keswick went on forever and ever and ever, but fantastic moment finally running down Keswick high street with my son beside me and to the railings at Moot Hall.
All in all, a fantastic day (and night) out in the hills, with friends and family supporting.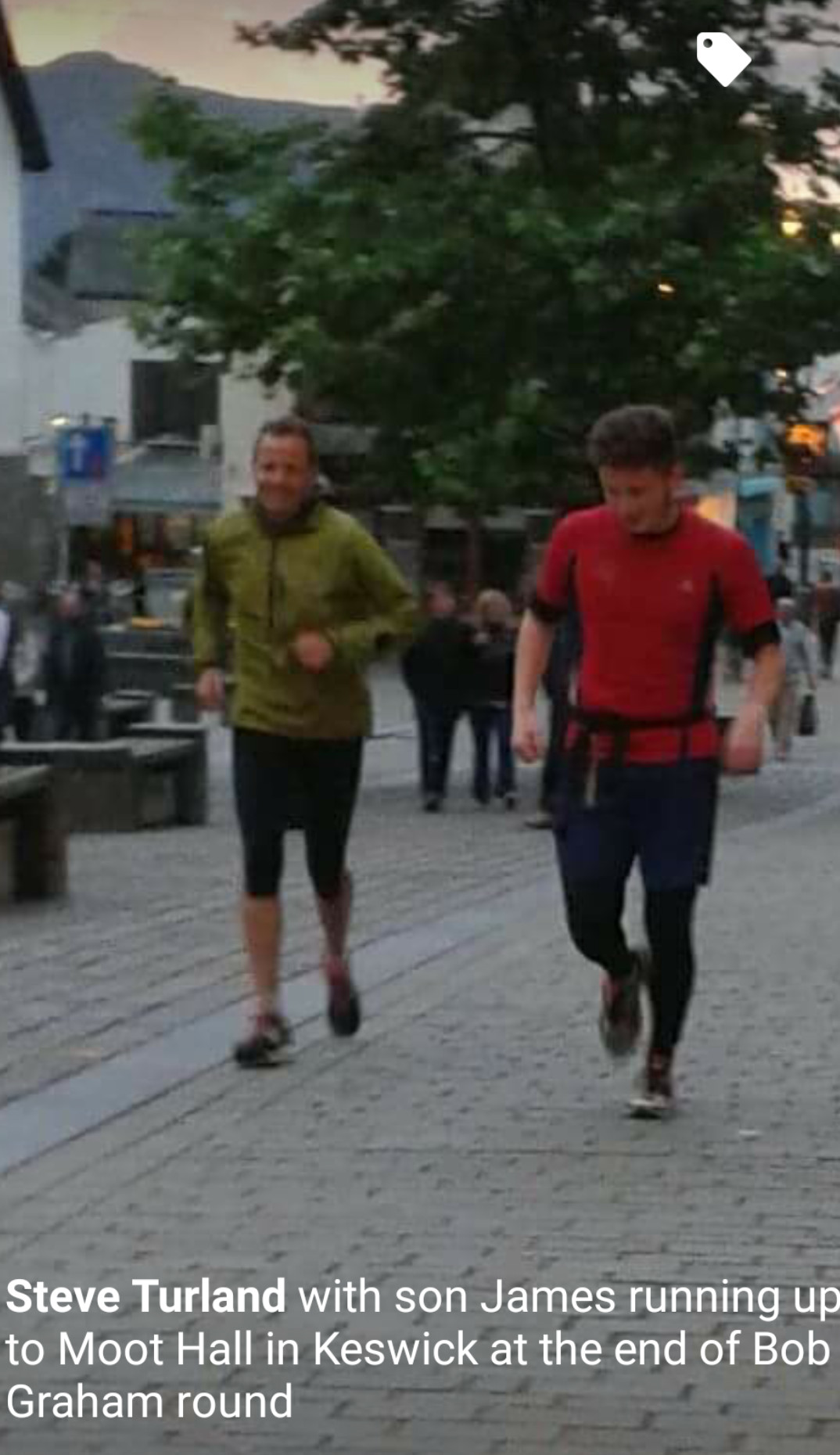 Buttermere Horseshoe, Sat 24 June

(1 3h57:28 Carl Bell, Keswick)
 8 4h41:07 Jack Wood
56 finished

Kirkby Gala fell race, Sat 24 June

(1 33:10 Ted Mason, Wharfedale)
 8 36:24 Iain Gibbons
53 finished

Eldwick Gala fell race, Sat 24 June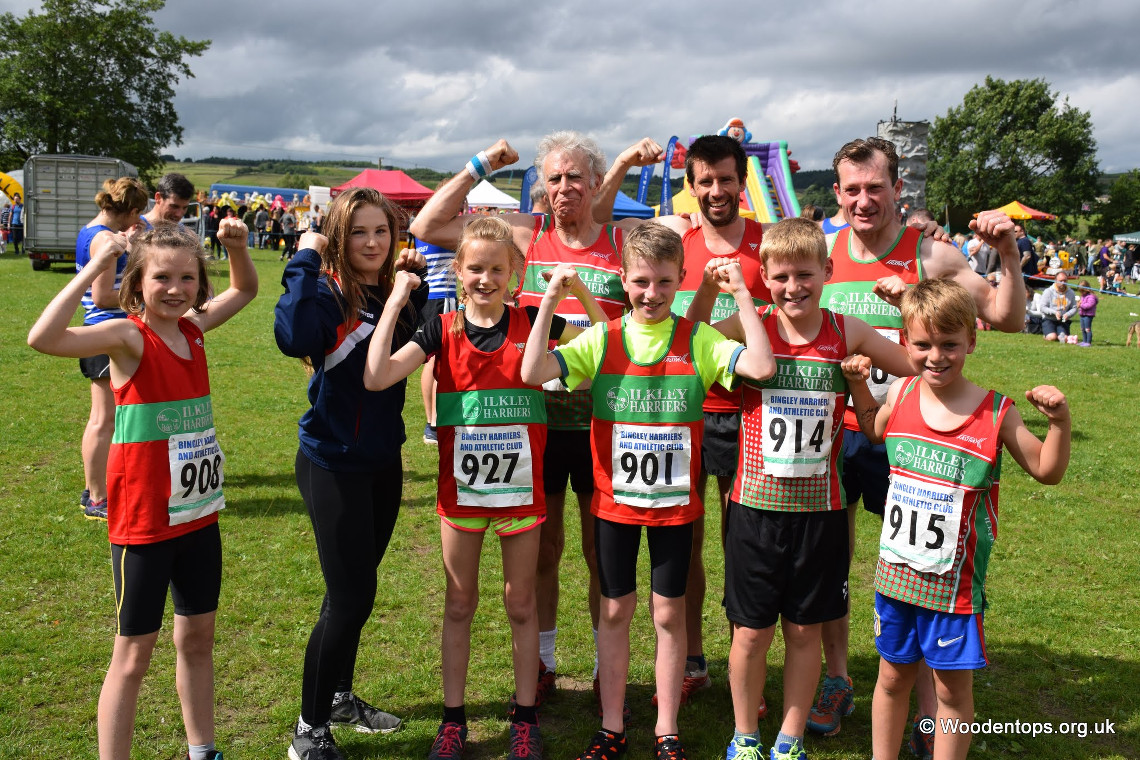 A win for Tom Adams, Results and photos ...

1  16:40 Tom Adams
37 24:37 Rob Budding
78 28:53 Peter Lewis
89 finished

UWFRA Wharfedale 3 Peaks Challenge, Sat 24 June
From Jez Hellewell ... Back in the saddle with my first race (or challenge as Ben kept pointing out) in beautiful upper Wharfedale. Taking in Birks Fell, Buckden Pike & Great Wherside, over 22 miles & just shy of 4000 feet of climbing, this was tough, but a stunning route.
Starting off in Kettlewell with a tough climb up towards Birks Fell I watched in awe as Ben scampered off in to the distance like a mountain goat with nobody for company. The paths were boggy & not too obvious in places but the course was extremely well marked/flagged as you would expect being organised by the UWFRA. Buckden Pike was a pretty brutal climb before a boggy descent down towards the final climb up to Great Whernside. My lack of 20+ miles runs started to show as I slowed up & got passed on the last 2 miles back down to Kettlewell.
Ben was back with his feet up in the village hall after a mere 3 hours 29 minutes & 10 minutes clear of 2nd place to take a hugely impressive 2nd win of the year. I had to keep telling him that the minute runners appear on the start line it becomes a race!
I was around 8th in 3.57 & Jann Smith ran excellently in 4.17.
A fantastic challenge/run/race in a stunning part of The Yorkshire Dales. Highly recommended.

3 Peaks challenge - 22 miles, 4000ft. Birk Fell, Buckden Pike, Great Whernside
1  3:29:10 Ben Sheppard   
8  3:57    Jez Hellewell      
14 4:17    Jann Smith          
33 5:37    Adela Reperecki   


2 Peaks Challenge - 13 miles Buckden Pike, Great Whernside
 1 2:02 Paul Carman
34 5:20  Ellie Kitchen (walker)

parkruns, Sat 24 June
From Petra Bijsterveld ... Results ...

Bradford Lister Park
(1  18:22 Martin Fillingham, Saltaire Striders)
3   18:53 Will Wood
21  21:10 Sally Malir 1st F
406 ran

Woodhouse Moor
(1  18:04 Thomas Midgley, Otley AC)
169 26:21 Petra Bijsterveld
395 ran

Fountains Abbey
(1  17:50 Tom Calvert, Knaresborough Striders)
70  23:51 Norman Bush
319 ran

Beamsley Beacon fell race, Thu 22 June

(1  35:58 Chris Miller, Harrogate)
9   38:26 Matthew Cox
10  38:45 Oscar Stapleton
12  39:00 Martin Archer
24  40:45 Jim Ryder
27  41:18 Robin Nicholson
58  45:20 Lucy Williamson
72  47:15 Duncan Cooper
98  50:33 Ewan Welsh
111 51:54 Alison Weston
113 52:06 Bob Hamilton
155 62:22 Nea Weston
160 65:13 Paul Stephens
167 finished

HDSRL #4 Knaresborough, Tue 20 June
From Caroline Howe ... The fourth and final 'normal' race in the league (before the handicap on 6 July) was Knaresborough Striders' inaugural hosting of a HDSRL race, and 19 Ilkley Harriers turned up for the occasion. This was an out-and-back starting with a lap of 'Horseshoe Field' in the Conyngham Hall grounds, from where we ran across the High Bridge, down the Beryl Burton cycleway, to Bilton and back, with a lovely skyline of Knaresborough Castle in the distance. By far the flattest of the four races, with a downhill finish, it was a fast course with conditions thankfully a little cooler than the previous few days. Knaresborough Striders did themselves proud as hosts - excellent organisation, great marshalls and a fantastic buffet at the Working Men's Club afterwards, with a balcony giving great views of the famous Knaresborough Viaduct... a great evening all round, with some excellent Harrier performances!
Results ...

(1  31:34 Ben Pease, Ripon)
7   34:16 Ruaridh Mon-Williams
75  40:26 Ellie Kitchen
89  41:08 Tom Worboys
119 42:45 Malcolm Pickering
129 43:10 Paul Stephens
175 45:29 Caroline Howe
197 46:08 Mary Gibbons
200 46:20 Geoffrey White
202 46:34 David Ibbotson
209 47:00 Jean Sullivan
235 48:43 Alison Bennett
238 48:56 Emily Elmes
302 52:09 Paul Sugden
306 52:30 Diane Kitchen
356 56:52 Donald Macrae
361 57:29 Bernadette Gibbons
379 60:39 Anna Pickering
383 60:57 Vincent Gibbons
388 62:00 Sally Wright
408 ran	

Great Lakes FR, Sun 18 June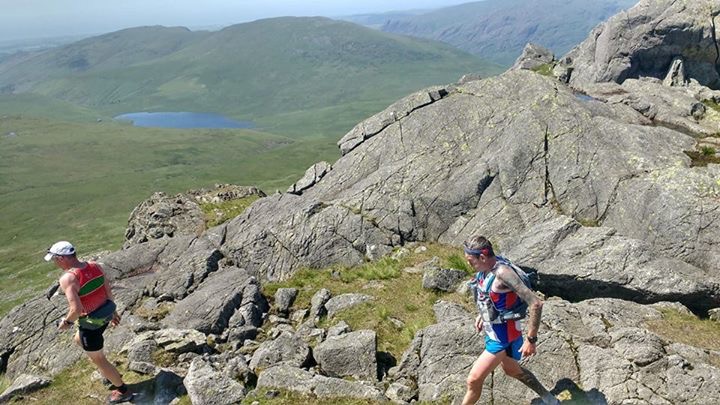 "
From Dick Waddington ... The Great Lakes Fell race (21km, 2100m) is a modern classic covering (in my opinion) the best bits of the Lakes. Race HQ is in a barn at Stool End Farm at the end of Great Langdale. Going straight up Bowfell gets you warmed up and I made good use of any trickle of water I could find to douse myself. After that the running over Esk Pike, Great End, Scafell Pike was beautiful, with just enough breeze to make it pleasant. The gully up to Foxes Tarn is so steep you don't even have to bend over to put your head in a waterfall. From Scafell it's all a bit wild down to Slight Side - the runners were all very strung out by this point and nobody seemed to be taking the same line as anyone else. People would pop out from behind a crag and then disappear. After this the race description says: "There follows a a crossing of what feels like Middle Earth, forging a path from Slight Side to Pike O'Blisco fast running over the trackless reaches south of Great Moss". I paused my fast running(!) for a swim in the River Esk that perked me up no end and I immediately gained 3 places to a trio that was flagging in the heat. Across the moors to Red Tarn was new terrain to me - not one for the clag due to a real lack of features. At Red Tarn the stream was too shallow for a swim so I did my front then rolled over on to my back. Blisco is the last climb before the direct descent challenges the quads as it gets steeper and steeper on good runnable grass. Wow! What a day out, packing so much in to my 4:24, about half way down the field. I recommend this one - as long as you like harsh terrain and don't mind navigating!
Helm Hill fell race, Sun 18 June

(1 22:44 Simon Bailey, Mercia)
 6 27:10 Iain Gibbons
57 finished

Buckden Pike, Sat 17 June
From Alison Weston ... Another win for Jack Cummings and Lucy Haines at Buckden fell race this weekend. It was a lovely day for this race, if not a bit too hot, and fewer runners than normal this year due to the Championship Race taking place at Tebay. The gala was in full swing as the race started.
Jack set off fast from the start, even managing to run the extremely steep first section and set a good lead which he held all the way. Dave Wilby is getting back into fine race form finishing 5th. The ladies race was won by Lucy Haines who finished in 9th position overall, being chased by under 18 Helen Thornton of Buxton AC. Jane McCarthy was 3rd and first V40 in a great time and Alison Weston 1st V50. Category prizes also for Bob Hamilton and of course Norman Bush.
Ilkley harriers also won both male and female team prizes: Male - Jack, Dave Wilby and Dave Robson; Female - Lucy, Jane and Vicky
Results ...

1  37:14 Jack Cummings
5  40:13 Dave Wilby
9  43:22 Lucy Haines
12 43:55 Dave Robson
18 45:38 Jane McCarthy
40 51:29 Victoria Stevens
43 51:49 Alison Weston
48 53:11 Norman Bush
52 54:13 Bob Hamilton
75 finished

Chase the Train, Sat 17 June
>p>
From Petra Bijsterveld...
This new race on the North York Moors, based on the iconic 'Race the Train' in Tywyn, saw almost 500 runners chase the train from Grosmont to Goathland and back along good trails and paths. The route was 8.4 miles with 860 ft of elevation, and with the train timetabled to take 1 hour and 20 minutes there was plenty of scope for many runners to beat the train.
The relentless heat of this glorious day made it quite a lot harder to maintain whatever pace one had hoped for, and I quickly decided that 'Jog behind the Train' would be all I could manage for much of the route.
Only afterwards did I spot I had not been the only Harrier, Robin Nicholson had an excellent run to come in 13th in only just over an hour. The train got its own listing on the results in 167th position, and I 'jogged' in quite happily 15 minutes after the train to rejoin my Reading Roadrunner friends who had come up for the event (they both beat the train). All finishers received a nice medal and a bottle of 'Jet Black' from the Whitby Brewery. The race was flawlessly organized by Evensplits/Racebest with excellent facilities, friendly marshals, and most importantly on a day like this, plenty of water. I can very much recommend this event for anyone who likes trail running, it is a good day out for all the family. Non-running friends and relatives can ride on the train or explore the nice teashops of Grosmont.
Results ...

(1  55:01 Mike Jefferies, Richmond and Zetland)
13  61:59 Robin Nicholson
167 83:01 The Goathland Express
299 98:09 Petra Bijsterveld
465 finished

parkruns, Sat 17 June
From Petra Bijsterveld ... Results ...

Bradford Lister Park
(1  17:13 Will Kerr, Saltaire Striders)
6   18:50 Will Wood
183 28:17 Catriona Hawthorn
412 ran

Portrush
(1  18:56 Sam Davies, U/A)
93  27:02 Hilda Coulsey
226 ran

Ormeau
(1  17:55 Stephen Garland, Belfast RC)
13  19:42 Adam Bennett
324 ran

Skipton
(1  17:39 Tom Barrett, Keighley and Craven)
38  23:46 Caroline Howe
49  24:46 Chris Cunningham
182 ran

Stretford
(1  17:19 David Frankland, West End Runners)
9   18:30 Rob Cunningham
507 ran

HDSRL 3, Wetherby, Thu 15 June
From Caroline Howe ... a hot and sticky, and mercifully short (4.4m), HDSRL in Sicklinghall near Wetherby on Wednesday evening.
Results ...

(1  22:58 Andrew Grant, Harrogate)
10  25:20 Ruaridh Mon-Williams
91  29:51 Ellie Kitchen
154 32:23 Paul Stephens
158 32:30 Malcolm Pickering
210 34:25 David Ibbotson
228 35:02 Caroline Howe
234 35:16 Jean Sullivan
258 36:25 Geoffrey White
266 36:49 Alison Bennett
273 37:10 Paul Sugden
369 41:09 Peter Lewis
375 41:24 Diane Kitchen
405 43:57 Donald Macrae
411 44:48 Emily Elmes
421 45:46 Bernadette Gibbons
436 48:32 Vincent Gibbons
439 48:49 Anna Pickering
447 finished

Hawkswick Dash, Sun 11 June

(1 11:46 Ben Murray, Calder Valley)
3  12:04 Jack Cummings
9  13:11 Iain Gibbons
82 finished

South Downs Way Ultra, Sun 11 June
From Andrew Merrick... In a time-to-push-the-running-boundaries moment of weakness I decided some time ago to enter the South Downs Way 100 organised by Centurion Running - it seemed to be at about the right time of the year and have good reviews and made for a further challenge.......
I was slightly surprised that the mandatory kit list (more of that later) didn't include waterproof trousers, but I was slightly less surprised when I got off the train in Winchester on Friday afternoon, wondering why my upbringing didn't allow me to get a taxi to my airbnb accommodation a couple of miles away...... It was a similar distance to the Chilcomb Sports ground (my landlady "I didn't realise there was one there" was as well informed as google maps), which I found relatively easily with the aid of the tourist map of Winchester I had acquired on may way from the station, once I ignored the online help.
The kit check and number collection process was pretty straightforward and everyone seemed friendly in the late evening sunshine, although the level of kit even for drop bags was slightly intimidating, followed by a pub evening meal with one compulsory beer on my way back to my accommodation. At this point I hadn't worked out to my drop bag strategy for the two places on offer so did a bit of kit faffing to allow me to turn up vaguely organised the next morning.
The 4:45 alarm allowed me to eat the pre-race essential porridge before the gentle jog to the start having found more faffing to be done, arriving in good time (60 seconds) before the 5:45 briefing which also done in a cheerful manner. One lap round the field - just enough time to recruit a running mate - and we were let loose on the South Downs Way (SDW). It turned out that my running mate was also an accountant by background and was attempting her second 100 miler, with support from her husband and a running friend. We stayed together for the first 60 miles or so, during which I concluded she had also had the Brian Melia "lecture" on not wasting time at checkpoints, so there was no messing about at any of the 12 intermediate points on our journey to Eastbourne. As a non supported runner the service at each check point was approaching Helen Waddington levels of excellence - they couldn't have been more helpful (it was very obvious that they had all shared the pain at previous events). There were also separate spots for supporters to provide additional assistance, although no support runners were allowed until you had earned your spurs by completing the first 50 miles solo.
After parting company with my running mate, we were by then moving at slightly different speeds, I seemed to occupy myself by regularly attempting the calculation of how many minutes per mile I could travel at in order to complete our challenge (I don't regard ultras as a race) in under 24 hours. This gave me focus to keep me moving during the challenging but also scenic overnight hours - courtesy of quite a full moon, helped by a very well signed route - essential given the spread out nature of the field by that stage. I also calculated a liquid intake of 8/9 litres over the duration, having refilled my bottle at every one of the checkpoints until the last couple. The only challenge with checkpoints was, of course, they were largely sited in villages at the lower points on the SDW. At least it meant you could complete your refuelling as you walked up the next hill handily placed immediately on exit from the aid station.... (12,700 feet of climb in total for those of you who like to know these things, and less tough than the Lake District equivalents)
The heat certainly made it challenging, as much for food intake reasons, as anything else. I focused largely on a fruit based diet, having at one stage required ? litre to digest one ginger nut...... A bowl of pasta/tomato sauce just after halfway helped enormously both mentally and physically.
The most challenging descent was saved for the final one down into the streets of Eastbourne - I had got away largely with the lower light setting on my torch until then, but a steep narrow overgrown descent required full concentration and visibility. Having survived that intact, I reached the Eastbourne running track about 3:30am at which point a lap of the track was non-optional before the finish line.
Immediately thereafter I found out I had been selected at random for a kit check - 2 torches, jacket, base layer, emergency blanket, whistle, water bottle, and cup and my work was done (no trousers required!) .... A sample may have taken somewhat longer...... The only remaining challenge was to work out what to do with myself until my return train journey north, to which the answer largely consisted of sitting down and drinking tea.
I can certainly recommend the Centurion series for anyone interested in ultra races - they run a series of 50 and 100 mile events in the South. The organisation, navigational support and attitude of all their support staff was excellent both before during and after the race.
parkruns, Sat 10 June
From Petra Bijsterveld ... Results ...

Workington
(1  18:39 Kevin Wallace, Cumberland AC)
23  23:19 Geoff Howard
73 ran

Ormeau
(1  17:55 Adam O'Hare, Newcastle AC)
23  20:11 Adam Bennett
335 ran

Stretford
(1  16:09 Matthew O'Connor, Wakefield & District)
14  18:32 Rob Cunningham
369 ran

International selection
From Shirley Wood ... Well Done to Euan Brennan and Bethan Morley who have been selected to compete in an England vest at the International Youth Cup for Mountain Running. The event takes place at Gagliano del Capo, Italy on 24th June. England has a strong record in this event, regularly winning team and individual medals, including a bronze by Jonny Brownlee back in 2007. Team members are all under 18.
Their route to gaining selection: Euan won the trial for this event to earn his first international mountain running vest. He was 4th in the 2016 British Mountain Running Championships. A strong cross country runner, Euan was 11th in this year's English Schools Cross Country Championships and 4th in the Yorkshire County Championships. Euan is currently leading the U17 English Fell Running Championship series. Bethan was 3rd in the trial and earns her second England vest after her debut at the 2016 Junior Home International where she was the 4th England athlete home. Like the rest of the squad, Bethan has a strong background in cross country. In the 2017 season, she finished 3rd in the Yorkshire and 5th in the Northern Cross Country Championships.
Full Bronte 5, Thu 8 June
From Andrew Jackson ... It is the 1st time I have run on the roads around Penistone Hill (other than to warm up for the Bunnies). Thankfully after a heavy shower around 7, the rain held off. It is an undulating course, with a fast downhill to finish.Had a target of under 40 minutes - failed by 1 second!
Results ...

(1 29:26 Chris Williams, Queensbury)
42 35:33 Sally Malir
79 40:00 Andrew Jackson
143 finished

Kettlewell Anniversary Fell Race, Thu 8 June
From Ewan Welsh... Four Harriers meandered over to Kettlewell just in time for the rumbling sky to clear, making it a fine night for the Kettlewell Anniversary Fell race. A lovely race, a lovely atmosphere, a lovely post race bowl of soup (gluten free as well!) and supply of McVities Club biscuits (not gluten free alas). Added attractions to this race is the challenge of the inflatable shark, first male and female to the top of the first climb is required to carry an inflatable shark for the remainder of the race plus there were prizes for people doing their first fell race, all very amicable. I would recommend this race as future entry into your 'top-five-local-summer-Thursday evening-mid-week-fell-races' list!
Harrier results were (out of 84 runners) :
22nd Paul Calderbank 48.22 1st M55 (started strong, stayed strong, finished strong)
40th Chantal Busby 51.44 3rd FM45 (appeared to float up the 2nd long steep climb)
46th Bob Hamilton 53.46 2nd M60 (Bob's time is inclusive of the time taken to capture a picture mid race just when the evening light was at its most captivating)
47th Ewan Welsh 54.06 8th M50 (strong on the up, not so strong on the down, and yes, Bob made a strategic move on the downhill, I've taken note)
Full results ...
Otley 10, Wed 7 June

1   56:34 Jack Wood
28  65:42 David Foyston
48  68:23 Andrew Overend
95  73:58 Tom Worboys
98  74:08 Rachel Carter
167 80:26 Mary Gibbons
349 finished

Ilkley Harriers Race League update
From Jane McCarthy ... Harriers League tables now updated to include Ilkley Trail Race (29/5), HDSRL on 1st June and Wharfedale Half Marathon (4/6). After 11 races Michael Duffield leads the overall league, having run 9 races and accumulating a total of 739 points. Alison Weston is in second place after 8 races with 670 points. Dave Robson in 3rd, having declared a great Wildcard for his race at Cwmdu Fell Race.
At the Ilkley Trail Race, Ilkley men took the first four places, with Tom Adams setting a new course record. At Harrogate Road League (race 2) an excellent performance by Malcolm Pickering earned him 97 League points, just ahead of Matt Newell scoring 96 points for his 5th place. Wharfedale Trail Half Marathon saw Jonathan Sinclair scoring highest points for his great run. Michael Duffield leads the Road league, Adela Reperecki the Trail League, and Jack Cummings the Fell League. Next League races are Buckden Pike (Fell) 17th June, Addingham Gala (Fell) 8th July and Leeds 10K (Road) 9th July. GOOD LUCK!
More on the League page.
LAMM, 3-4 June
From Outi Kamarainen ... this year's LAMM was in the far North close to Ullapool. Nice remote Munros and mid camp with lake to swim in. I ran with Kirsty Brian-Jones on the score class. We were 8th overall and 1st female team.
Kettlewell fell race, Sun 4 June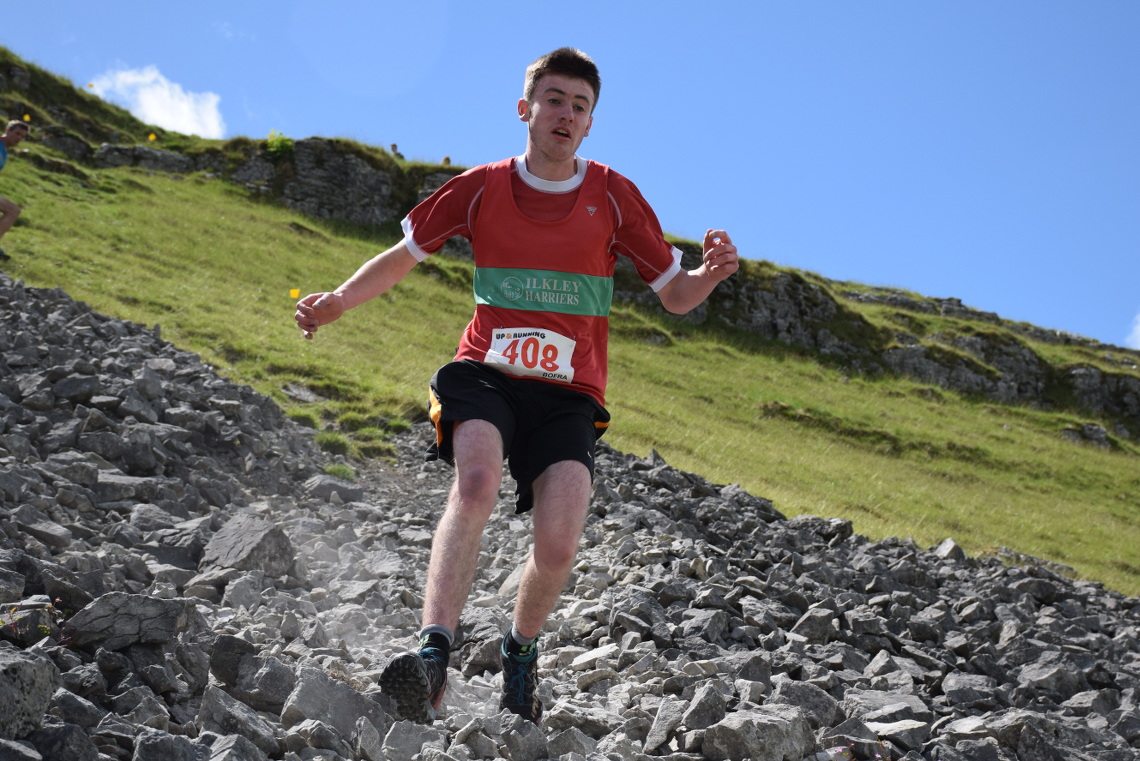 No times available? Provisional results and photos from the Woodentops

(1 Ted Mason, Wharfedale)
4  Jack Cummings
9  Iain Gibbons
88 finished

Run for All Burnley 10k. A Family Affair! Sun 4 June
From Keith Wood ... my two brothers and I, ably supported by our mum, set off to Lancashire early aiming to complete the Jane Tomlinson Burnley 10k. Conditions were good for running, the course fairly fast in the main but with a few hills to contend with! First home was Andy, soon followed by Keith. Unfortunately older brother Tim was retired from the race due to a calf muscle injury.
Results ...

(1  32:59 Gethin Jones, Cybi Striders)
120 44:37 Andy Webster
159 46:27 Keith Wood
1357 finishers

Lakeland Trails Marathon, Coniston, Sun 4 June
From Sharon Meadows ... A beautiful trail race in the Lakes, on a beautiful sunny day! There are 2 start times for the marathon, one at 7am (challenge event with an 8 hour cut off) and the other at 9am (race event with a 6 hour cut off). I really wanted to do the first race but it was already an early start so had to do the 9am start, knowing I would be at the back of the pack. However, I was not expecting to be left behind after the first 200 metres! They just shot of into the distance. It was a stunning course though so I had plenty to look at, and the course is very well marked with good feed stations. I hardly saw anyone all day except for the marshalls (who were all very nice) and a fleeting glimpse of a t-shirt now and again. In the last couple of miles I actually caught a few people up. In the end it took me 5 hours 42, with the winning time being 3 hours 01! A very lovely day out.
Welsh 1000m Peaks Race, Sat 3 June
Jack Wood won this classy race.
Results ...

1 4:05:31 Jack Wood
97 finished

Wharfedale Off Road Half Marathon, Sat 3 June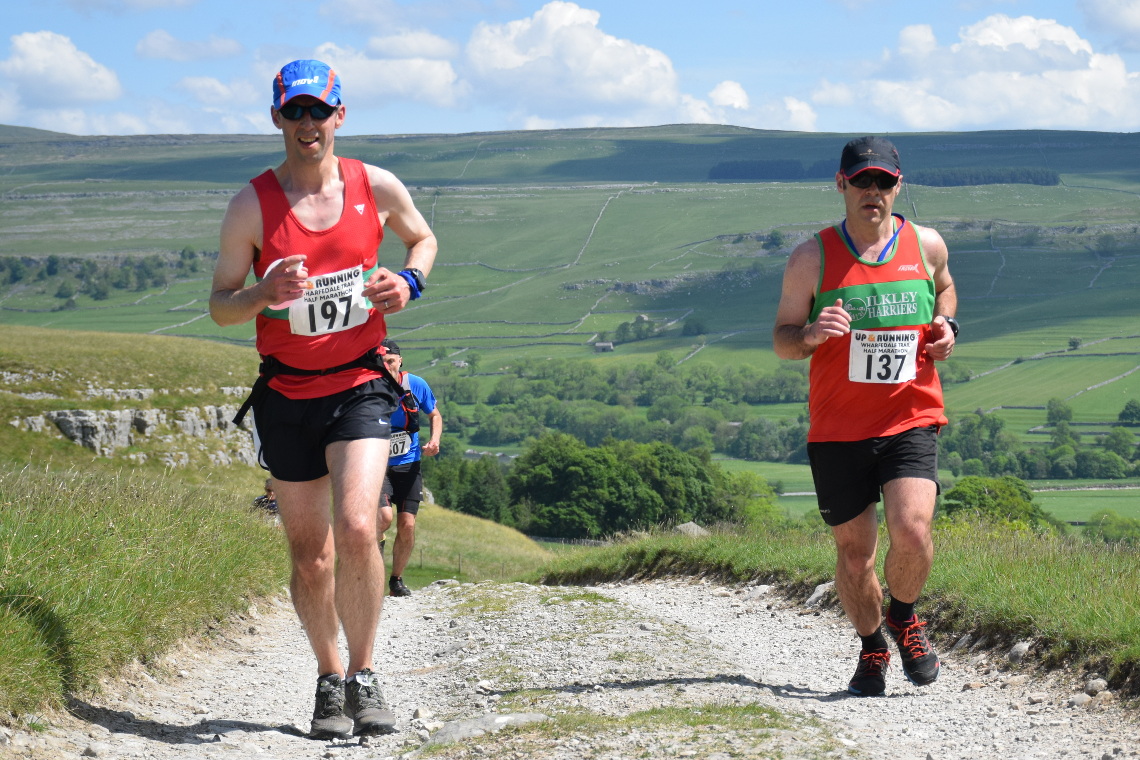 Results ...

(1  1:24:38 Kyle Greig, Metro Aberdeen RRC)
23  1:41:58 Andrew Marshall
26  1:43:05 David Westhead
43  1:45:54 Jonathan Sinclair
53  1:48:11 Kate Archer 3rd lady
56  1:48:48 Dave Robson
59  1:49:15 Paul Carman
77  1:51:13 Ralph Tench
83  1:52:32 Michael Duffield
91  1:54:06 Mike Helme
178 2:08:38 Alison Weston
184 2:10:03 Sarah Edwards
224 2:16:23 Adela Reperecki
230 2:17:24 Jane Thomas
248 2:20:13 Susan Short
262 2:21:32 Richard Morris
295 2:27:49 ElizabePrice
313 2:30:40 Sarah Hayes
318 2:32:27 Ian Conyers
329 2:34:02 Jan Carrier
345 2:38:19 Donna Jackson
387 2:48:39 Paul Sugden	

Duddon Valley Fell Race, Sat 3 June
From Brian Melia... I ventured over to the Duddon valley for the classic fell race It takes in Harter fell, Hardknott, Swirl Howe, Dow Crag then over to Caw before a run down to the finish. I ran it 4hrs 34 mins and am not sure of my position. Rob Jebb won it. Beautiful weather to be in the lakes though. A little tough fell race!
parkruns, Sat 3 June
From Petra Bijsterveld ... Results ...

Woodhouse Moor
(1  17:35 unknown)
189 25:59 Andrew Overend
472 ran

Harrogate
(1  16:47 Andy Grant, Harrogate Harriers)
221 26:54 Karen Lambe
325 29:53 Jennifer Carne
452 ran

La Mistela 9.7km, Seville, Fri 2 June
From Vince Gibbons ... Catherine Gibbons (centre) was second female in blisteringly high temperatures of 30 degrees at the 14th annual La Mistela 9.7km road race at Los Palacios, near Seville, in 46min 42 sec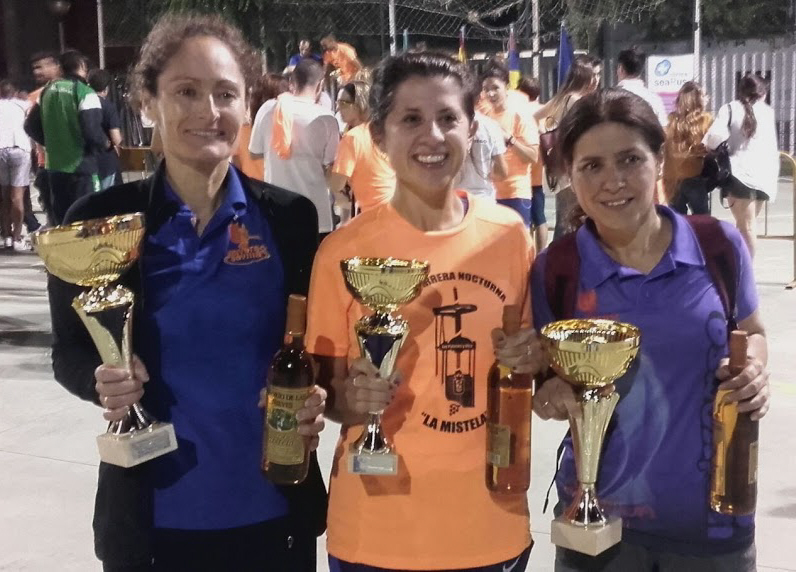 HDSRL #2, Dragons, Thu 1 June

(1  31:05 Reece Dalton, Ripon)
5   33:11 Matt Newell
56  38:59 Steve Murray
76  40:03 Michael Duffield
81  40:16 Ellie Kitchen
108 42:01 Malcolm Pickering
183 46:26 Caroline Howe
212 47:20 Geoffrey White
264 50:34 Peter Lewis
272 51:04 Paul Sugden
287 52:08 Hilda Coulsey
365 60:06 Bernadette Gibbons
366 60:07 Vincent Gibbons
397 finished

---
Ilkley Harriers of the Month, May
Runner of the month:
Jane McCarthy
for successfully completing the Bob Graham Round
Other nominations were:
Caroline Howe for her Edinburgh half pb
Jack Wood for great results and World Long Distance Mountain Running Championships selection
Mary Gibbons for 3rd lady at Chevin Fell
Jack Cummings for another great month of results plus 2nd at John Carr
Petra Bijsterveld for various pbs
Dick Waddington for supporting Jane
Will Simmons recently joined and 3rd inTrail race
Amanda Parnaby for the LDWA 100m
Hilda Coulsey for 1sts F60 John Carrs and Leeds half
Volunteer of the month:
Lawrence Basham and the Trail race team
Other nominations were:
Beginners 0-5k team
Paul Sugden
Jane's support team
Special mention to Jack for his British Athletics selection.
More Harriers of the Month ...
Otley Chevin fell race, Wed 31 May

1  17:34 Jack Wood (and 1st local)
3  18:47 Jack Cummings
14 20:49 Michael Lomas
46 23:32 Martyn Stocker
60 24:56 Lawrence Basham
72 25:24 Mary Gibbons 3rd lady, 1st local
76 25:46 Bob Hamilton 1st V60
136 finished

Badger Stone Relays, Wed 31 May
Results here soon ...
Ilkley Trail Race, Mon 29 May
A fine win and a new course record for Tom Adams, and team prize (1,2,3,4!) for Ilkley's men. Full results and lots of photos now on the Trail Race page.

1   38:42 Tom Adams 
2   41:09 Rob Little
3   41:28 Will Simmons
4   41:66 Jack Cummings
9   44:58 Ben Sheppard
16  47:06 Mchael Lomas
24  47:55 Stephen Coy
39  50:07 Jonathan Sinclair
44  51:03 Steve Murray
45  51:19 Lucy Williamson
54  52:12 Michael Duffield
63  52:56 Rachel Carter
76  53:30 Duncan Cooper
78  53:38 Sally Mahir 1st F50
90  55:20 Robert Budding
93  55:22 Peter Shelley
106 56:14 Geoffrey Howard
108 56:18 Samuel Burden
160 61:54 M Gibbons
171 62:43 Adela Reperecki
186 64:51 Sarah Hayes
193 65:35 Liz Price
207 67:19 Donna Jackson
219 69:23 Tracey Watson
222 70:26 Amelia Miles
246 76:21 Bernie Gibbons
250 77:02 Kate Lofthouse
278 finished

LDWA100, Sat 27 May to Mon 29 May
From Eddie Winslow... Well that was a tough come-back event. Some of you may have noticed my absence from competition for a while. This has been as a result of injuring my back two years ago in the LDWA 100. It has been a long, slow recovery and I for some time have had this year's event as my target for a return to serious competition. Preparation has not gone entirely smoothly but I was determined that I was going to complete this event, if for no other reason than to dispel the shadow of the last two years.
This year's event was a clockwise loop from Malton in the Vale of York out into the North York Moors National Park. My expectation was to be in the hilliest sections overnight and that is what unfolded. I started with the faster (we hope) entrants at midday Saturday with the day already scorching. I started at an easy pace that eats up the miles whilst staying aerobic but by CP2 at 9 miles I realised that even this was too quick in the ever rising temperature. Normally early on I walk only the uphills but after CP2 I changed this to include walking the flat sections until the temperatures dropped overnight.
I can't remember where I passed Amanda Parnaby, but it was sometime on Saturday afternoon (Amanda having started at 10am) on a downhill track through some woods. When I had last seen Amanda she had been very nervous about her 1st 100 so it was good to see that she was about the most cheerful person I'd passed all day.
My feet had been hot all day and by 40 miles I could feel some blistering developing around my toes. By 50 miles I knew the blistering was going to get serious but I had a kit bag available at the CP 12 miles further on with a change of shoes available, and by then it would be first light, always a psychological lift. Without that change of shoes I think I would have abandoned then. However, they gave some relief and on I went. It was, however, clear to me that any ideas of running further were over; it was now just about completing. My feet were letting me know that I was adding further damage to the already bad blistering but once I get to a certain point I'm so close to finishing that I'm not going to quit - that point is usually about 2/3rd distance. I therefore walked the next 38 miles at a good pace, ticking off the CPs, eating and drinking steadily and always with one eye on the constantly rising temperature and the risk of heat stroke. Despite some internal debate about my sanity in continuing, once I'd got to 80 miles there was no way I was stopping, short of physical collapse.
I therefore walked into the finish at 5.30 on Sunday afternoon. My time of 29h33m is the slowest 100 I've ever completed but it was still the 20th quickest time for the event.
Congratulations to Amanda on also completing. 30 percent of starters didn't but Amanda completed after 43 hours at 5am on Monday morning, comfortably inside the 48 hour time limit.
Coniston Gullies fell race, Sun 28 May

(1 15:04 Jack Smith, Wharfedale)
4  16:42 Iain Gibbons
55 26:50 Mary Gibbons
66 finished

Edinburgh Half and Full Marathon, Sun 28 May
From Caroline Howe... The first 6 miles of the ever popular Edinburgh Half Marathon was in blazing sunshine, despite the 8am start. Thankfully the cloud came over in the latter stages giving some respite. Beautifully flat with nice long stretches along the coast; the toughest bit is the long stretch from 9-11 with faster runners in the opposite direction before the loop-back on to the home straight. A pb course it is, and a pb it was for me, as I finished in 1:44:02 - over 5 minutes off my previous best.
From David Howe ... A later start for the marathon meant a nice lie-in on race day for once. Cloud cover in the early stages lifted to give a very warm second half. With reasonable pacing I finished my 16th marathon in my 4th fastest time of 3:41:01.
Great Manchester Run, Sun 28 May
From Alex Hyde ... Very emotional event in Manchester today but also very uplifting with a tremendous atmosphere throughout and wonderful support from the people of this amazing city. It started with a rousing round of applause for the unbelievable work that the emergency services carried out on Monday night, followed by a minute's silence, more applause and then a heart-rending rendition of 'Don't Look Bank in Anger' .... I don't mind saying I shed a good few tears. The race itself was brilliantly organised and supported, and followed a relatively flat course from the City Centre, out to Manchester City's Etihad Stadium, back to Manchester United's Old Trafford stadium, and then on to a grandstand finish on Deansgate. Permitting me a little self-indulgence, I had a great run with really even splits (5k in 28 mins, 10k in 56 mins and 15k in 84 mins) but finished in an agonising 2:00:12 ..... 13 seconds off 'glory' but a PB by over 2 minutes so can't complain. Final place was 2581 out of 5717 and I was the first (only) Ilkley Harrier home from what I can see!
Cwmdu fell race, Sun 28 May
From Dave Robson ,,, As I was in the area I thought I would give the Cwmdu fell race a go. 920m ascent in just under 10 miles made up of three steep climbs and rapid descents through the grass, heather and bracken of the Brecon Beacons. The weather managed to be hot,humid, and misty with wind and poor visibility at the highest points. Route finding was a challenge in a few places but the race was well organised and marshalled so no real problems. I was pleased with my 14th place out of 53 and with Entry at £5 including tea and cake it was a good, friendly event that I would recommend if you are in the area.

(1 1:23:41 Robin Wood)
14 1:35:13 Dave Robson
53 finished

Jura fell race, Sat 27 May
From Outi Kamarainen ... Lucy Haines ran well, 5th female and 3rd non-vet. Very impressive. Whole of Haines family ran, Harriers results below. I survived with legs feeling lethargic but struggled aroubd and got the T-shirt. I was awarded the John Dare Shield together with my Islands Peaks Race partner Leyre Flores for the combined Scottish Islands Peaks race and Jura performance. My legs were cramping at the ceilidh later that night.

76  4:45:43 Lucy Haines 
126 5:20:05 Peter Haines
191 6:07:05 Outi Kamarainen
192 6:07:53 Florence Haines
193 6:07:53 Sarah Haines

Bastillipo Popular 8.6k, Sat 27 May
From Vince Gibbons ... Second claim Ilkley Harrier, Catherine Gibbons (left, in the picture), running with Universo Sevilla AC, was 2nd lady in 38 minutes 27 secs at the thirtieth annual Bastillipo Popular 8.6k race held at El Viso del Alcor near Seville. Temperature was a cool 27C. The race was sponsored by an artisan bakery.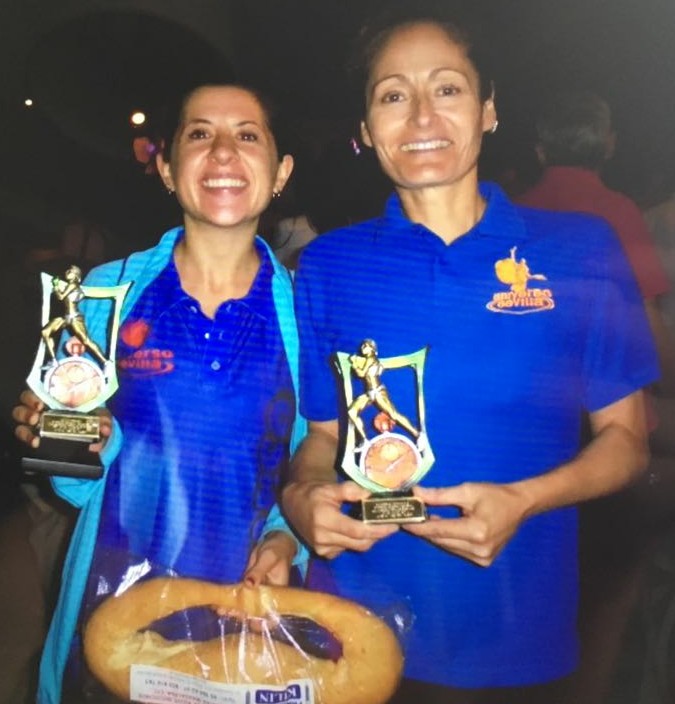 Bob Graham Round, Fri 26 May
From Jane McCarthy ... a massive thank you to everyone who supported Dick Waddinton and me attempting the Bob Graham Round. Not just our four brilliant leg supports (Alison Weston, Kate Archer, Nick Pearce and Helen Waddington) but also Jann Smith and Paul Carman for turning out at Honister and everyone tracking us from home (or work!) and sending so many messages of support. Great to be part of such a fantastic community at Ilkley Harriers. Yesterday was epic (the Bob Graham Round consists of 42 Lake District summits, 66 miles and 27,000 ft of climbing in under 24 hours) - it was also very hot. During Leg 3 Dick took the difficult decision to end his attempt, disappointing for us both. It was great to see him safely at Wasdale and recovering in the shade when Kate and I came in at the end of Leg 3. Special mention to Helen Waddington who tirelessly supported us from 4am Friday morning through to 1am Saturday and ran Leg 5 with me, encouraging me all the way on the long tarmac finish in to Keswick. Delighted to finish in 23 hrs and 7 minutes.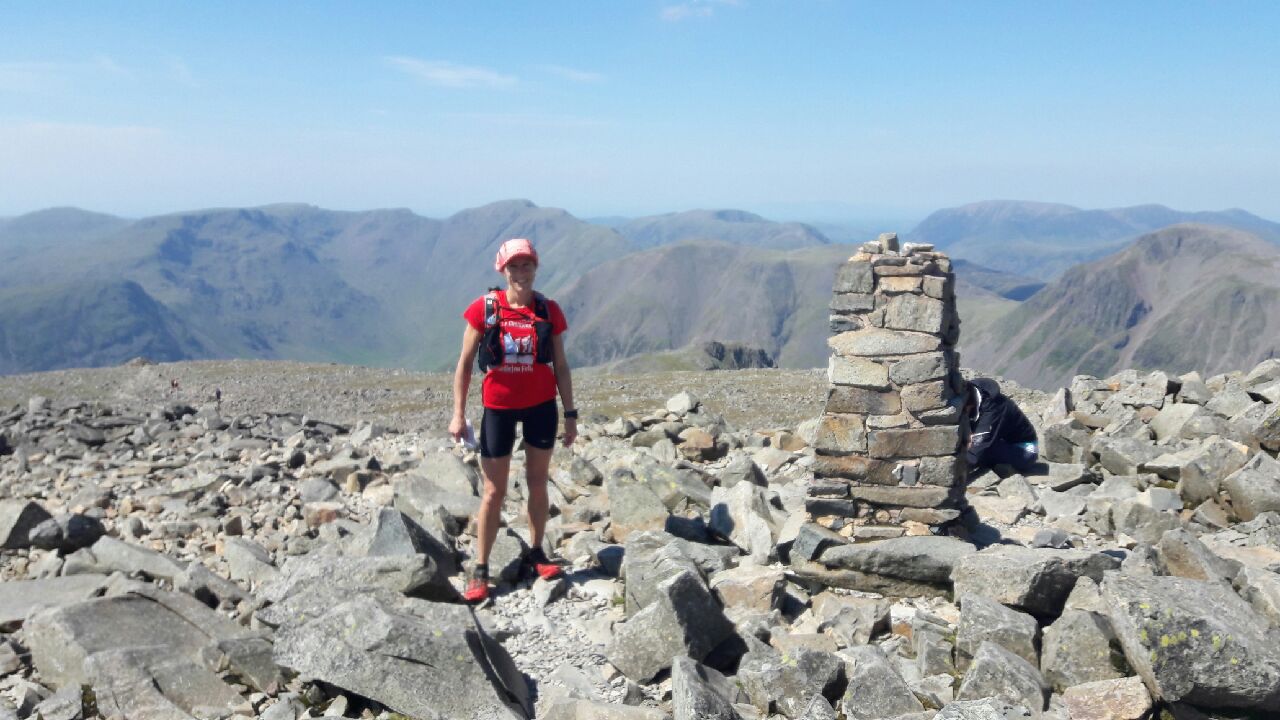 From Dick Waddington ... it felt a bit too warm for 1am when Jane and I set off from the Moot Hall in a muggy 17 degrees. We paced ourselves well up Skiddaw and found Great Calva well in the dark. The parachute route off Blencathra is quite exciting and is easier the Hall's Fell ridge. We came in to a welcome porridge break provided by Helen at Threlkeld and picked up Alison, who set a great pace for us. The beautifully cool breeze was a headwind, but it had the required effect and we picked up some time. Spirits were up at Dunmail Raise for porridge, noodles, coke and jelly (and that was just for me). Steel Fell is steep, but is quickly over with. It was about 10am now and of course it would get hotter and hotter for the next few hours. This slowly cooked me and I have form for heat stroke, which I started to recognise. At Pike of Stickle, I decided to float the idea that I was done for. By Rossett Pike Kate and Jane had very reluctantly agreed to carry on to Bowfell with me tracking along the tourist path to Esk Hause, over Scafell Pike and down to Wasdale - one man's depressing exit strategy is another's nice day on the fells. Many thanks to Kate for her support. By taking a shorter route I got back to Wasdale to see Kate and Jane (who were very relieved to see me again) before Jane set off up Yewbarrow with Nick. I continued with Helen and Andrew to support at Honister. Overall all it was an amazing day, I was so pleased to see Jane, Helen and Andrew running in to the Moot Hall (I drove from Little Town!) a little after midnight. Would I try again? It's too early to say.
HDSRL, Harrogate, Tue 23 May

(1    32:35 Ben Pease, Ripon
7     35:04 Matt Newell
93    41:02 Ellie Kitchen
100   41:07 Tom Worboys
124   42:27 Michael Duffield
141   43:21 Malcolm Pickering
163   44:26 Paul Stephens
215   46:47 Philip Hirst
233   47:32 David Ibbotson
239   47:43 Mary Gibbons
243   47:53 Caroline Howe
257   48:39 Jean Sullivan
276   49:46 Geoffrey White
341   52:52 Paul Sugden
378   55:14 Diane Kitchen
419   57:45 Donald Macrae
427   58:05 Anna Pickering
437   59:10 Emma O'looney
455 1:01:08 Bernadette Gibbons
464 1:02:34 Vincent Gibbons
468 1:03:20 Sally Wright
471 1:03:35 Emily Elmes
483 1:08:15 Abigail Bailey
493 finished, a League record

Scottish Islands Peaks Race, 19-21 May
Fropm Outi Kamarainen ... "Did you bring your bikinis?" is not a question one normally hears before the start of a fell race. Then again, this was no ordinary fell race. Though Scottish waters aren't as famed as the Mediterranean for improving your tan line, I had in fact packed a bathing costume and suntan lotion, together numerous fleeces and woolly jumpers, just in case.
This year I got a chance to compete in the Scottish Islands Peaks race. After putting up (an unsuccessful!) dating advert on the race website roughly along the lines of "Two female runners looking for able bodied seamen for a wet and wild weekend", I was very excited to hear that, despite my disappointingly empty inbox, we did indeed have a boat. My running partner Leyre's friend had a yacht - Cloude Nine of Lorne. Normally chartered out, the owner Davie had thankfully decided that he wanted a return to racing after a few years break.
Briefly, the SIPR, as it is known, requires teams of 5 - 3 sailors and 2 runners, and the race involves sailing between certain islands off the West Coast of Scotland, and running to the top of the highest peak on each island.
The race starts in Oban, and finishes in Troon, after having visited the isles of Mull, Jura and Arran. The runners make their way over the highest point (Ben Moore, the Paps of Jura, and Goatfell respectively) on each island. The combined running distance is just over 100 km, with a few kilometres of assent thrown in for good measure. However, the sailing component seems to me to be far more challenging. For starters, the distance is 300 km (which to me is a lot of nautical miles), but the real difficulty lies in navigating through the different tidal flows between the islands. If you miss a tidal gate, the yacht can be stationary for up to 6 hours, or even pulled backwards by the tide. Being always in command, our skipper only slept about 4 hours between Friday morning and Sunday night. We, on the other hand, were free to sleep the whole time spent at sea.
Thursday night in Oban, we boarded the yacht and were assigned our cabins. But I was far too excited to sleep, as the boat gently rolled on the small waves. Little did I know that in two days' time, I would be similarly lying awake, this time keeping half an ear open in order to guess when the sailors were going to tack next. This gave me a chance to shift my legs to brace the opposite wall of the cabin and stop myself being tossed across the cabin and hitting the wall, as the boat tilted from one side to the other.
I raced with a Spanish lady, Leyre Flores, who is based in Glasgow. Though we'd never ran as a pair, we'd complete in several of the same races, so I knew that I didn't have to worry about her hill legs. The initial 'sprint' around the coastal trails of Oban went well, comfortably running towards the back of the pack, as the fast male teams shot off in uncontrollable enthusiasm. There was still a very long way to go, so we tried to conserve our energy. After arriving back at the yacht club, we were swiftly rowed to the yacht and off we went. Except we didn't really. The lack of wind meant that the whole fleet slowly drifted out of the harbour over the next few hours, propelled only by the tide, or in some cases, runners rowing the yachts along! The wind picked up slightly on the way to Mull, but we still had enough time to enjoy a freshly cooked stir-fry for lunch, and admire the stunning views out on deck. We were back on dry land at about 5 pm, for the first (22 miles) run on Mull. After a long, steady road section, this was an enjoyable scramble up a scree slope, followed by a traverse on lovely springy ground, getting us back on board for 11 pm. The run on Jura followed a similar pattern, and the colourful flowers and crystal-clear waters along the coastal road helped to pass the time. In particular, we were surrounded by blue bells the whole time. The first Pap is approached from a different direction compared to the Jura fell race, and, from a distance, it looked impossible to climb up without a rope. Closer up, we were relieved to find a faint trot at the bottom of the steep climb leading to the top, and the rest of the run went well. The sail around the Mull of Kintyre that followed was much more exciting, given that the winds had picked up considerably. As such, the evening meal consisted of instant pasta, to which you only need to add hot water. This was "cooked" whilst wedged in the kitchen galley, with one hand always holding on to the sink. The timed our arrival into Lamlash, for the final run on Arran, perfectly. The rain stopped just as we were being rowed on shore, and by the time we'd run from Salen to the bottom of Goatfell the clouds had lifted, so that only the very top was obscured. Arran was similarly very picturesque, with masses of flowers in bloom, and beautiful forests to run through. By this point, my legs were quite tired, but it was a fantastic feeling, knowing that after few more hours our race would be done. We even manage a beer each during the final 2 hour sail over to Troon on the mainland.
It was a brilliant race, with four very different runs, and the brand new experience of being on a yacht thrown in for good measure. Combining sailing and running made the race far more interesting - we were overtaken several times by the same teams whilst running, since we could overtake them, in turn, on each sailing leg, given the speed of our boat.
Essar Chester Half Marathon, Sun 21 May
From Ben Sheppard ... Results ...

(1 1:07:20 Mohammad Abu-Rezeq, Altrincham & District AC)
10 1:14:48 Will Simmons
4797 finished

British Masters Road Relays Sutton Park, Sat 20 May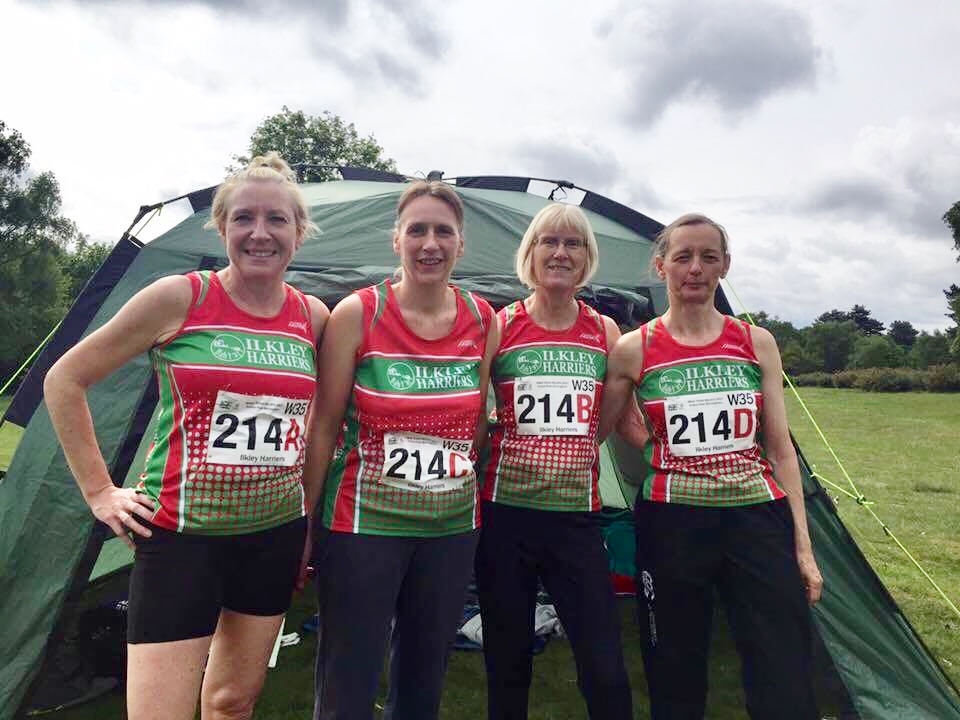 From Petra Bijsterveld ... Four of us drove to Sutton Park in Sutton Coldfield for the British Masters Open Road Relay Championships. The course consisted of a one lap, undulating circuit through the park, on wide tarmac paths, with a distance of exactly 3 miles. We left Ilkley in glorious early sunshine but by the time we reached the venue it was grey and overcast and the predicted rain showers came thick and fast. We were glad we had brought the club tent!
As to be expected at national championships there was tough competition, but we had primarily entered this as a social event, like an away-day from Jane's Thursday evening speed sessions. That is not to say that we did not give it our absolute maximum effort on what we all felt was a tough course. I am not sure if having just run 3 John Carr 5K's was an advantage or disadvantage: 3 miles remains a painful distance especially with an uphill start.
Still, the positive experience of being in a relay team cancels out most of the pain, and we would recommend this event for 2018 to every Harrier with an interest in road running.
Results ...

W35
(1  1:15:25 South London Harriers)
22  1:36:58 Ilkley Harriers

Jane Bryant      (23) 23:35
Hilda Coulsey    (23) 24:28
Sue Harris       (24) 24:36
Petra Bijsterveld (22) 24:19     

(nn) is team position after each stage

25 complete teams finished

Goat Fell Race Isle of Arran, Sat 20 May
From Ewan Welsh ... When I first started fell running the Goat Fell race was one of my local races back in the day, this was something to contemplate as I made my way over on the Ferry as a v50 for the first time.
Have to say I still have the same unbridled enthusiasm I had as a teenager as I jump onto the ferry, you still get a sense of escaping the mainland onto another way of life. It's been a number of years since I ran this wee gem of race (too many really), however any grand plans (not that there were any) were thwarted by a dead leg on the downhill (that's my own dead leg , not a random dead leg left aside by someone!) , the dead leg was the result of a slip on the stairs several weeks ago and resulting bruised back. The steep downhill (after a steep uphill) proved to be a step too far too soon.
Having to adopt a rather hobbled technique leading with one leg and one leg only to descend I had to endure a cramp fuelled mile on the road and a final lap of the park to finish. No matter how often I've ran this race the mile on the road at the end always seems a ? mile longer than the last time and I forget about the final lap of the park, until I get there at the end. At least I have a tangible improvement to aim for next year!
The weather proved to be ideal, as always, the post race spread was the usual high quality, atmosphere is extremely welcoming from the moment you board the ferry , they have showers, so the traditional fell runners don't have to wait to Sunday for bath night to get a wash, and there was the unique aspect of registering on the ferry on the way over. I haven't checked the results out yet, they'll be somewhere on the web and/or, social media thingy stuff ... I switched off from the race a bit due to my physical state and I was the only Ilkley Harrier, I had to have wee lie down when I finished until the cramp eased up a bit.
The race route is 8 miles, and 2900ft, straight up and down from Brodick, first/last mile or so is flat and on the road, the main ascent is just under 3 miles, so it gets a bit steep at times and there is quite a bit of granite rock to meander on, all in all, it's all good.
If anyone is interested for future reference, Ardrossan (from where you get the ferry) is about a 4 hour drive from Ilkley, Arran itself has some really understated but spectacular walking/running routes , there a a few decent ridges for those that like that sort of terrain (not to mention a SPA Resort, Cheese Shop, Brewery , Chocolate Shop , Arran Aromatics, decent Bakers for those that like that sort of terrain !), cycling as well, it's a bit of a traditional Sunday cycle route over the summer, big dilemma for the cyclist is to go clockwise or anti-clockwise around the Island, and that's before they analyse the figure of 8 route !
PS The Three Peak Sailing race tends to be on same weekend, they land at Arran on the Sunday and head up Goat Fell.
Old County Tops, Sat 20 May
From Brian Melia... I always like to do this race for personal reasons. Unfortunately for me partners were thin on the ground... Facebook helped with Tony Marlow entering with me. We had a good run round in 2nd place for age, which was good considering the weather. A lot of teams dropped going up to Scafell. We took a lengthy line - my fault off Scafell which cost us, but neither Tony or myself seem bothered.We enjoyed the event, which is beautifully run as a low key race for fell runners. It is tough and does always test me, but it is worth the effort. The T shirt is converted. Time 9 hrs 34 mins 37 miles 10000 feet of climb. Helvellyn,Scafell Pike, Coniston Old Man It is well worth a look for those who like days out in the Mountains!
parkruns, Sat 20 May
From Petra Bijsterveld ... A 1st finish for Jack Wood this week on the Stray at Harrogate. Some excellent junior performances too, which can be seen by clicking through to the results.
Results ...

Woodhouse Moor
(1  17:18 Ciaran Ford, Horsforth Harriers)
14  18:36 William Wood
539 ran

Skipton
(1  16:32 Matthew Merrick, Bingley Harriers)
12  20:40 Tom Worboys
51  24:20 Norman Bush
170 ran

Harrogate
1   17:10 Jack Wood
467 ran

Stretford
(1  15:52 Callum Rowlinson, Sale Harriers)
13  18:9 Rob Cunningham
652 ran

John Carr 5K 2017 series race report
From Petra Bijsterveld ...The ever popular John Carr 5k race series in Esholt was run on yet another new course this year. Efficiently organized by Saltaire Striders, chip timed, and held on closed roads within the Yorkshire Water estate, the race (which had been a net downhill course until 2015, and a straight out and back course in 2016) now starts and finishes at Esholt Hall and loops around in 2 directions. Runners do a short circuit around the Hall and then run out towards Apperley Bridge station, returning past the Hall and up the hill towards Esholt, looping around the small 'roundabout' at the top of the hill before a fast descent back to the Hall and the finish line. This course has more total elevation than the previous two iterations, and the hill in the 3rd mile certainly came as an unpleasant surprise (having been in the middle last year) which took a little adjusting to. Nice to have the Hall as the backdrop to the start and finish (as well as having the use of the luxurious toilets), most felt that this was an improvement over having to congegrate by the roadside as we did last year.
Ilkley Harriers were present in large numbers, especially for the first race which was a club league counter, and where there were excellent results especially at the sharp end with 5 young Harriers in the first 10 finishers, Jane McCarthy taking 1st F40, Hilda Coulsey 1st F60 and Geoff Howard 1st M70. The second race was a little quieter, coming the day after Jack Bloor, but saw Sally Malir finish as 1st F50 and Hilda 1st F60 again. Race 3 saw Tom Adams take the win in 15:31 which set the standard on this new course, and Hilda cruised to a category win for the 3rd week in a row.
The end of the 3rd race brought the series trophies out of the cupboard, with Nina Pearce winning F11, Jack Cummings coming 2nd in the senior men, Alison Bennett and Adela Reperecki being 2nd and 3rd in F55, Hilda gaining the F60 series trophy, and I was fortunate enough to take the F50 title, more for turning up thrice than for absolute speed! Trophies aside there was a lot of dedicated, eyeballs-out, lactate-zone racing from all, resulting in several new 5K PB's, amongst others for Michael Duffield, Steve Murray and myself.
Thanks must also go to several Harriers who came along to offer support and cheer from the roadside which is much valued.
Final positions (runners taking part in 3 races) by category:...

JUNF11
1   Nina Pearce
2   Catherine Westhead
3   Emile Elmes

F50
1   Petra Bijsterveld

F55
2   Alison Bennett
3   Adela Reperecki
5   Diane Kitchen

F60
1   Hilda Coulsey

MSEN
2   Jack Cummings

M45
7   Steve Murray

M60
7   Philip Hirst

M65
4   Peter Lewis

John Carr 5k race 3, Wed 17 May
From Petra Bijsterveld ... Results ...

1   15:31 Tom Adams
9   16:13 Jack Cummings
13  16:25 Dominic Coy
42  18:04 Stephen Coy
82  19:21 Steve Murray PB
100 19:34 Tom Worboys
143 20:45 Nina Pearce
147 20:49 Catherine Westhead
151 21:03 Harry Stead
195 22:29 Phil Hirst
218 23:19 Alison Bennett
222 23:29 Alison Weston
227 23:47 Adela Reperecki
240 24:11 Peter Lewis
244 24:16 Hilda Coulsey 1st F60
253 24:37 Emily Elmes
262 24:59 Diane Kitchen
263 25:06 Gaenor Coy
270 25:24 Petra Bijsterveld
373 ran

Great Whernside Uphill Race, Sun 14 May
From Rachel Carter ... Whilst in the Yorkshire Dales on a sunny Sunday for the Junior races with my kids, it seemed opportune to take part in the Great Whernside Uphill Race from Kettlewell. Having historically done only races on the roads or trails, this was my first 'fell race' with the exception of 'Jack Bloor' which I don't count as it's on home 'training' ground. With a bit of walking en route (that never happens on the road) I managed to make it to the top, and then enjoy the fantastic views during a more leisurely descent with my family.
Results ...

(1 19:15 Chris Edwards, Helm Hill) 
21 26.27 Kate Archer,  2nd Female
48 28.25 Rachel Carter
50 28.29 Norman Bush
73 finished

Montane Trail 13 Howgills, Sun 14 May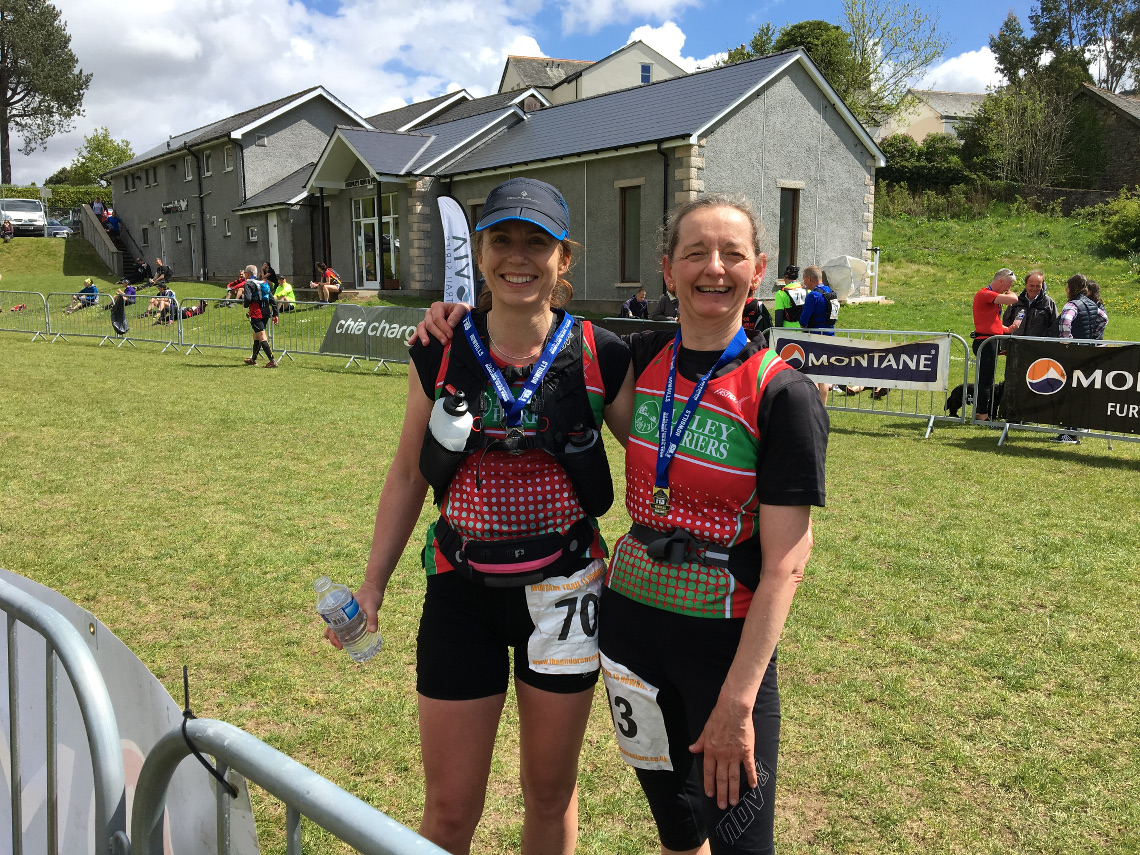 From Petra Bijsterveld... There was a choice between a full or a half marathon at this well organized, chip timed, trail running event in the Howgill Fells. Sarah Hayes and I traveled to Sedbergh for the half marathon option. With 3183 ft of total ascent this was obviously never going to be the easiest HM around. We climbed from Sedbergh via Winder and Arant Haw up to the Calf, which meant 5 miles of virtually constant climbing. Practically all the height gained was then lost over only 2 miles: a very steep descent by the side of Cautley Spout. After the Cross Keys checkpoint at mile 7 (with most welcome Jaffa cakes and flapjack) the course was fairly undulating, though on narrow stony tracks. We faced a shorter but very steep climb at mile 11, followed by the final descent back into Sedbergh. For most participants the entire race involved a lot of walking, the ascents were certainly too steep to run for many, though I made good progress power walking. At least the enforced walking enabled me to enjoy some of the great views from the tops. I am always a poor descender (unless it's tarmac!) and on the downhills I lost much of any time gained on the climbs. Sarah and I overtook each other a few times along the course but her better command of descending rightfully enabled her to beat me to the finish line.
Results ...

(1  1:49:33 Jonathan Cox, Eden Runners)
106 3:08:01 Sarah Hayes
111 3:08:42 Petra Bijsterveld
163 finished

Leeds half marathon, Sun 14 May
From Hilda Coulsey... A smaller than usual contingent from Harriers tackled the Leeds half (although there might be a few not registered as Ilkley H - let us know how you got on). Weather was weird: chilly breeze from time to time but seemingly very warm too. Having not run more for than 75 mins since last Sept I was a little concerned, it was warm and I did struggle. The cheery wave from Jane B as she eased past me and reminder of running form was helpful ..... for a little while. My time was not brilliant for me, just to keep going was the aim, and so I was most surprised to get 1st F60. It must have been tough for others too. Well done to all.
Results ...

(1   1:10:22 Mohammad Aburezeq, Altrincham)
120  1:27:02 Jonathan Sinclair
525  1:37:41 Rhys Jones
1227 1:47:29 Jane Thomas
1876 1:54:28 Jane Bryant
2136 1:58:37 Hilda Coulsey
3655 2:06:38 Jacqui Weston
4007 1:59:29 Melanie Edwards
4112 2:11:13 Donna Jackson
4521 2:16:54 Alex Hyde
5387 2:16:43 Bernadette Gibbons
6187 2:35:17 Abigail Bailey
6753 finished

Fairfield Horseshoe, Sat 13 May
From Alison Weston ... I think I was the only Harrier at the classic Fairfield horseshoe race (14.5km/914m) on Saturday. It was clearly a popular race with a delayed start due to the numbers registering. It's a truly great course for very fit runners as the gradient up and down is not too steep. Alas for not-so-fit-runners (like myself) it seems to take an awfully long time to reach Fairfield itself! We were in mist on the tops and against the wind on the descent but it didn't stop it being very enjoyable. I was aiming for just less than 2 hours but made a few mistakes on the descent and finished nearly a minute over in 2:00:55
Malhamdale Trail, Sat 13 May
From Jo Foster ... I headed over to Kirkby Malham on Saturday morning to run this 9 mile race. There's a choice of two routes- 9 or 22 miles. Wet conditions made for very slippery limestone pavement and mist up high but still a great route. I was really pleased to finish as First Lady and Ralph Tench made it a clean sweep for Ilkley, winning overall.
From Duncan Cooper ... Results ...

22 mile race
(1 2:58:18 Alistair Shutleworth)
15 3:28:34 Duncan Cooper
88 4:27:59 Alison Eagle
170 finishers

9 mile race
1  1:15:52 Ralph Tench
10 1:28:31 Jo Foster 1st lady
42 1:45:41 Elizabeth Price
80 2:15:22 Amanda Poppleton
108 finishers

parkruns, Sat 13 May
From Petra Bijsterveld ... Results ...

Cardiff
(1  16:11 Oliver Williams, Les Croupiers)
12  17:30 Alex Hirst
847 ran

Bradford Lister Park
(1  16:50 Timmy Gedin, Arena 80 AC)
22  21:09 Sally Malir 2ndF
495 ran

Harrogate
(1  16:29 Harry Holmes, York Knavesmire Harriers)
48  21:32 Andrew Sheldon
445 ran

Skipton
(1  18:36 Matthew Warters, U/A)
2   19:05 Will Wood
108 29:28 Sue Verspyck
152 ran

John Carr 5k race 2, Wed 10 May
From Petra Bijsterveld ... Provisional results ...

(1  15:40 Tom Cornthwaite, Salford Harriers)
10  16:35 Jack Cummings
45  18:19 David Westhead
115 20:00 Steve Murray
138 20:47 Sally Malir 1st F50
139 20:49 Nina Pearce
153 21:06 Catherine Westhead
224 22:47 Phil Hirst
253 23:40 Adela Reperecki
255 23:31 Alison Bennett
268 24:11 Petra Bijsterveld PB
272 24:16 Hilda Coulsey
276 24:43 Emily Elmes
309 25:59 Diane Kitchen
329 26:38 Peter Lewis
420 ran

Jack Bloor Races, Tue 9 May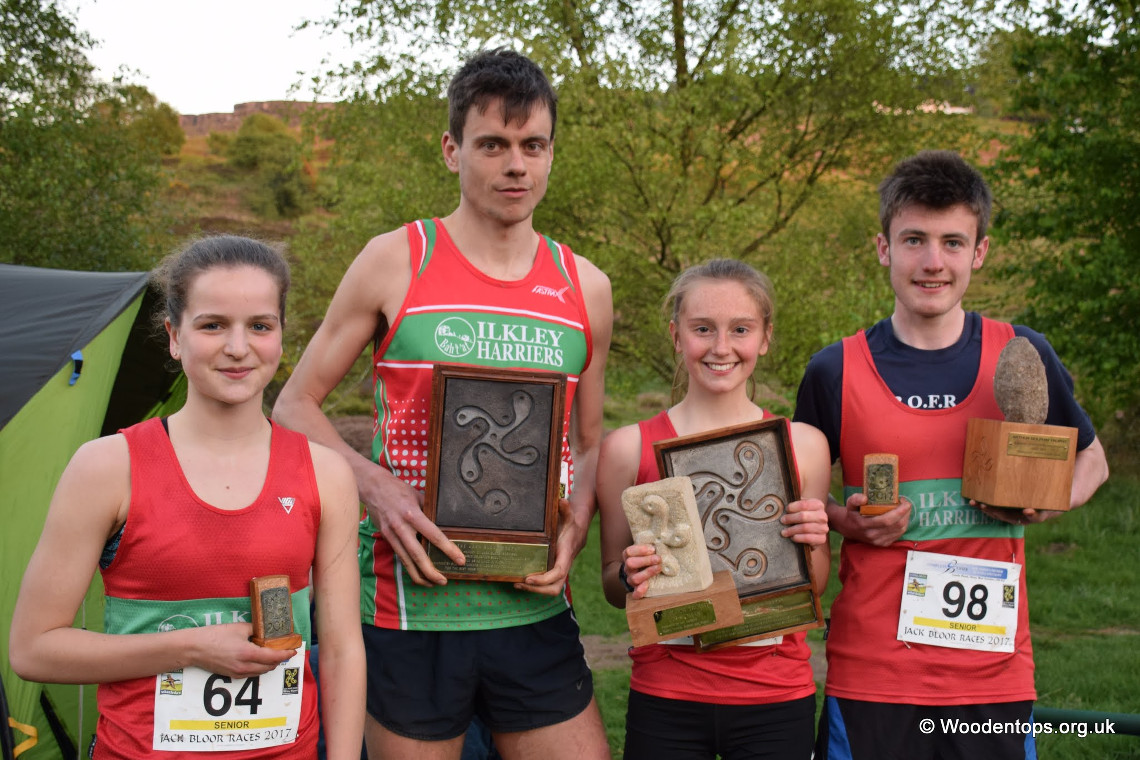 Jack Wood won for the third year in a row, and Ilkley won the men's and ladies' team prizes.
Results ...

1   38:57 Jack Wood
10  42:13 Jack Cummings 1st U23
15  44:14 Dave Wilby
16  44:49 Oscar Stapleton
18  44:55 Ben Sheppard
33  47:01 George Stevens
38  48:17 Ralph Tench 1st V50
40  48:20 Lucy Haines 1st lady
49  48:57 Jemima Elgood 2nd lady
50  48:58 Michael Lomas
61  50:30 Ben Joynson
62  50:33 Jonathan Sinclair
64  50:48 David Foyston
67  50:55 Peter Shelley
77  51:39 Paul Calderbank
85  52:45 Steve Murray
89  53:50 Paddy Hagan
93  54:07 Martyn Stocker
107 55:05 Sarah Edwards
110 55:12 Rachel Carter
120 56:04 Paul Stephens
127 56:53 Michael Duffield
129 57:04 Rebecca Mon-Williams
135 57:55 Alison Weston
138 58:05 Mary Gibbons
139 58:09 Robert Hamilton
160 62:05 Joyce Marshall
167 62:42 Anna Makin
168 62:43 Geoffrey White
171 62:50 Ian Marshall
172 62:58 Anna Nolan
186 68:26 Sarah Hayes
197 71:23 Peter Lewis
203 72:15 Alice Green
226 100:07 Rachel Websdale
227 finished

National selection
Well done to Jack Wood for his selection for the World Long Distance Mountain Running Championships.
Sedbergh Gala fell race, Sun 7 May

(1 19:48 Ben Mounsey, Calder Valley)
16 22:59 Iain Gibbons
82 finished

Harden 6M Trail Race, Sun 7 May

1 37:26 Will Simmons
4 40:49 Martin Archer
33 finished

Over The Odda 10k, Sat 6 May
From Petra Bijsterveld... This local race is now in its fifth year and has become a very popular trail 10k from the village of Hawksworth. An informal atmosphere, friendly marshals, nice views, lambs in the fields, and plentiful flowering gorse and bluebells help to take the mind off the pain of the almost 900 ft total ascent to conquer. Some of the tracks in the early part of the race are narrow, with frequent stiles causing queues especially for the steadier runners at the back of the field. However, that is all part and parcel of this type of race and personally I was quite glad of the occasional enforced breather.
Tom Adams took the win and set a new course record, Robin Nicholson came a very creditable 7th, Steve Murray was home in 32nd place well under 50 minutes. Alison Weston and Adela Reperecki both claimed a category win, followed by Steph Fox, Hilda Coulsey, Debbie Nicholson and myself. I had Hilda in my sights for much of the race but was not able to catch her despite my best efforts, in part thwarted by a tree root at 7k which sent me flying to land flat on my face, thankfully unhurt and unseen!
Results ...

1   35:45 Tom Adams
7   42:55 Robin Nicholson
32  48:06 Steve Murray
90  55:02 Alison Weston 1st FV50
100 56:52 Adela Reperecki 1st FV55
146 62:49 Stephanie Fox
165 64:58 Hilda Coulsey
168 65:48 Petra Bijsterveld
192 68:48 Debbie Nicholson
248  finished

Kentmere Trail Race, Sat 6 May
From Helen Waddington... Great conditions for the second race in the Lakeland Trail Race series - 18k of undulating and scenic trail, open grassy moorland and rocky bridleways with a sting in the tail climb in the last 2k up Reston Scar followed by a fantastic heart in your mouth descent to the finish in Staveley Rec. Another great run by Jane McCarthy taking 5th lady and 1st LV40.
Results:

(1  1:10:07 Jonathan Cox, Eden Runners)           
31  1:27:53 Jane McCarthy                           
119 1:45:34 Helen Waddington                                
191 ran

parkruns, Sat 6 May
From Petra Bijsterveld ... Results ...

Woodhouse Moor Leeds
(1  16:14 Benjamin Douglas, Notts AC)
15  18:34 Tim Ashelford
47  20:23 Tom Worboys
587 ran

Fountains Abbey
(1  17:41 Tom Calvert, Knaresborough Striders)
64  22:43 Norman Bush
410 ran

John Carr 5k race 1, Wed 3 May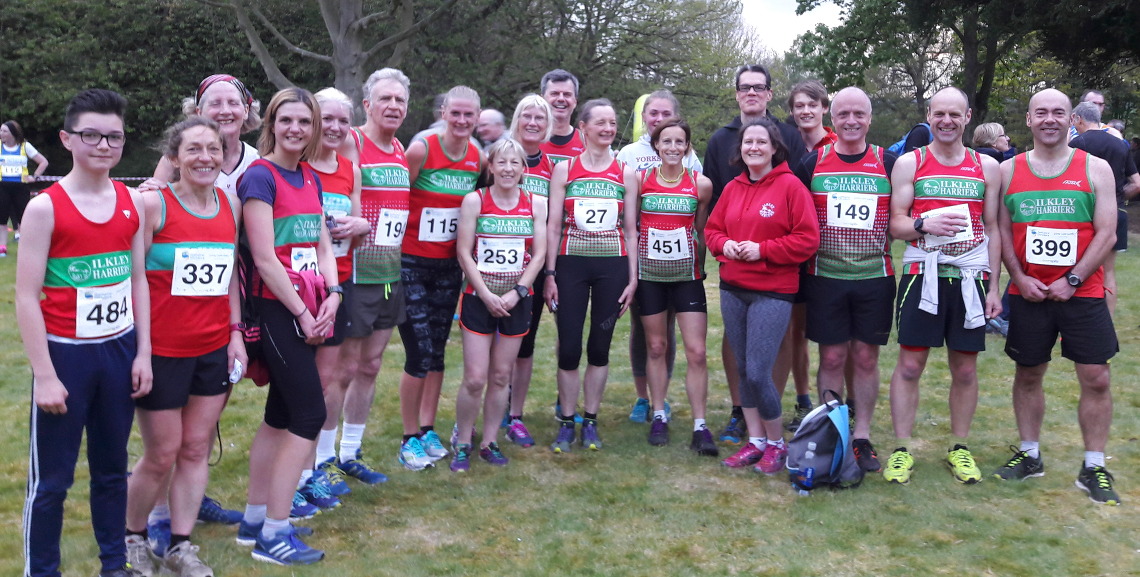 From Petra Bijsterveld ... Great Ilkley turnout and some fantastic results at the sharp end with 5 young Harriers in the top 10 at the first race of the John Carr series. A new course with the hill in the 3rd mile presented plenty of scope for speed and agony in equal measure. Superbly organized as always by Saltaire Striders. This was a counter in the race league.
Results ...

(1  15:43 Sam Clegg, Rotherham Harriers)
2   15:46 Euan Brennan 
3   16:17 Cameron Reilly
4   16:21 Jack Cummings
7   16:36 Dominic Coy
10  16:49 Oscar Stapleton
37  18:06 David Westhead
48  18:33 Stephen Coy
86  19:33 Dave Robson
89  19:33 Mark Iley
90  19:34 Jane McCarthy 1st F40
94  19:39 Steve Murray
113 20:01 Michael Duffield PB
153 21:02 Catherine Westhead 
154 21:07 Harry Stead
162 21:13 Nina Pearce
191 21:54 Geoff Howard 1st M70
216 22:36 Phil Hirst 
218 22:47 Caroline Howe
239 23:22 Adela Reperecki
241 23:32 Alison Weston
243 23:26 Alison Bennett
251 23:48 Emily Elmes
258 24:00 Stephanie Fox
270 24:21 Peter Lewis
272 24:24 Petra Bijsterveld PB
280 24:39 Hilda Coulsey 1st F60
304 25:50 Gaenor Coy
417 ran

Extraordinary General Meeting, Tue 2 May
From Hilda Coulsey ... 27 members attended and the resolution to amend the Constitution as proposed was agreed overwhelmingly.
Minutes
Club Constitution, updated May 2017
Information on the development and fundraising for it is on the new ilkleyathletics.org.uk website
More information on the committee page

---
Ilkley Harriers of the Month, April
Runner of the month:
Jack Wood
for sub-3 hour Three Peaks run, including a fall
Other nominations were:
Jane McCarthy for Basildon Boundary Way, Guiseley Gallop and 3 peaks
Jack Cummings for Bunny runs and Dick Hudsons
Cam Reilly for Bunny runs
Euan Brennan for Bunny runs
Ben Sheppard for Manchester marathon and Blubberhouses
Helen Waddington for Ilkley Skyline.
Volunteer of the month:
Alison Weston
for Ilkley Gazette reports
Other nominations were:
Neil Chapman for Thursday training
Alison Bennett for Carnival volunteer organisation
More Harriers of the Month ...
Coiners' Fell Race, Sun 30 April
From Jo Foster... three Harriers did this 7 mile Fell Race from Mytholmroyd. We all had good runs, just missing out on the prizes. The race was won by Tom McGuinness of East Cheshire in 45.33, very close to the record. A great route with fantastic views.
Results ...

(1 45:33 Tom McGuinness, East Cheshire)
11 53:41. Jim Ryder 11th, 2nd V50
32 59:46 Kate Archer, 32nd, 5th lady
55 65:50 Jo Foster, 55th, 8th lady, 2nd FV45
112 finished

The Fellsman, Sat 29 April
From Steve Turland ... Stood on the start line with 62 miles and 11,000ft of climb ahead was a little bit daunting, and after 20m I sat down at Dent feeling very tired, wishing I'd chosen the 3 Peaks instead. Only 42 miles to go! Crammed as much food down as I could, and after 20 minutes of feeling sick, started to feel good again. Each checkpoint gradually passed, until the wheels started falling off again around the 50m mark. Last stretch seemed to go on forever and finally arrived back at Grassington in the early hours having got round in 16 hours. Managed to find a new level of pain and suffering on the day, but loved every minute of it. Great event, great camaraderie and weather was very kind to us too.
Three Peaks, Sat 29 April
From Alison Weston ... The highlight of the weekend with Jack Wood sub 3 hours in 4th position (2:56:54), Will Simmons 33rd position as anew comer to the race in 3:23:55, Michael Lomas and Jane McCarthy sub 4hrs in 3:57:09 and 3:57:47 (14 L, 7LV40) respectvely. Brilliant running also by Iain Gibbons 4:10:46, Dave Robson 4:23:10, Robin Nicholson 4:28:40, Michael Duffield 4:32:20, Outi Kamarainen 4:34:15, Peter Shelly 4:41:23, Mike Baldwin (22nd Three peaks race) 4:48:38, Adela Reperecki 5:05:39 and Martyn Stocker 5:09:17
Coniston fell race, Sat 29 April
From Alison Weston ... Mary Gibbons and Alison Weston ran the Coniston fell race (14km /8.7m) second race in the Lakes Grand prix series, a superb route up Wetherlam, Swirl How and Coniston Old Man finishing with a wicked direct descent back down to Coniston village. Alison finished in 1:47 (1st V50) and Mary Gibbons first time around the course in 2:05.
Ilkley Skyine Challenge, Fri 28 April
Helen Waddington set a FV40 record in the Ilkley Skyine challenge in Friday 28th April of 4:23:19. The route is 22 miles long with 850m of climbing and joins Beamsley Beacon, Round Hill and the summits along Burley Moor, Ilkley Moor and Rombalds Moor, starting and finishing at the Hermit in Burley in Wharfedale.
Dick Hudsons fell race, Thu 27 April

(1  45:43 Adam Osborne, Leeds)
2   46:38 Jack Cummings
3   46:39 Dave Wilby (bike)
12  40:54 Martin Archer
23  54:09 Ralph tench
24  54:11 David Foyston
31  55:09 Ben Joynson
36  56:02 Richard Joel
47  59:16 Steve Murray
53  60:53 Malcolm Pickering
79  64:48 Paul Stephens
85  66:43 Phil Hirst
96  73:21 Peter Lewis
102 73:58 Sarah Hayes
115 finished

Bunny Run Relays, Tue 25 April
Results and photos on woodentops.org.uk
Blackpool marathon, Sun 23 April

(1 2:49:00 Paul Burton)
11 2:59:22 Ben Sheppard
348 finished

London Marathon, Sun 23 April
From Tim Buckingham ... I completed the London Marathon today in 3h 28m 57s This is a PB for me and was hard earned! Thank you to Ilkley Harriers for the opportunity to enter the race! I completed the London Marathon today in 3h 28m 57s This is a PB for me and was hard earned!
>Results ...

(1    2:05:48 Daniel Wanjiru, Kenya)
2949  3:09:10 Derek Oliver 
6102  3:28:57 Tim Buckingham
12417 3:56:58 Stuart Herrington
14002 4:02:39 Jan Carrier
18830 4:23:02 Dave Ibbotson
29846 5:09:57 Timothy Wellings
39,487 finished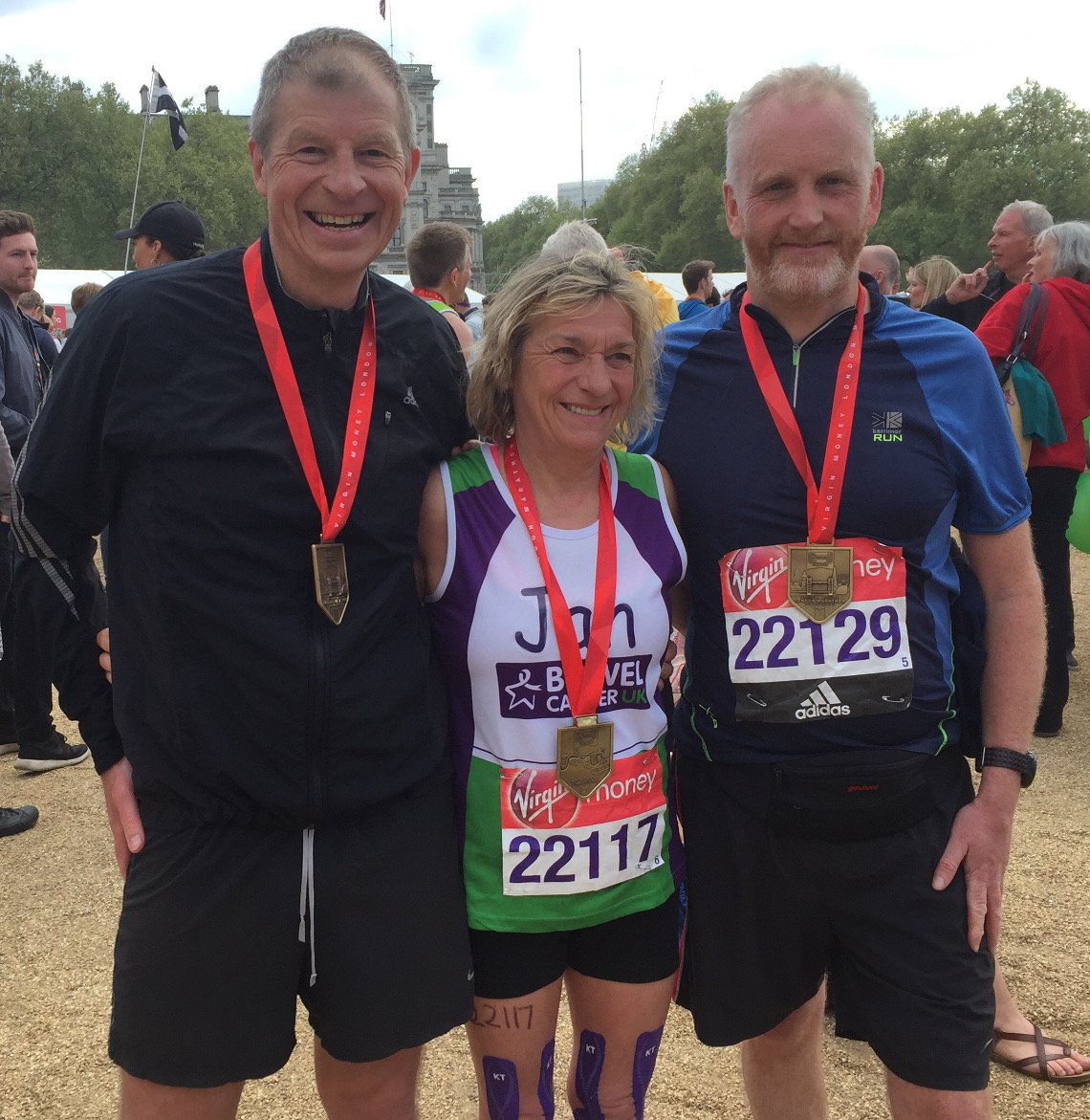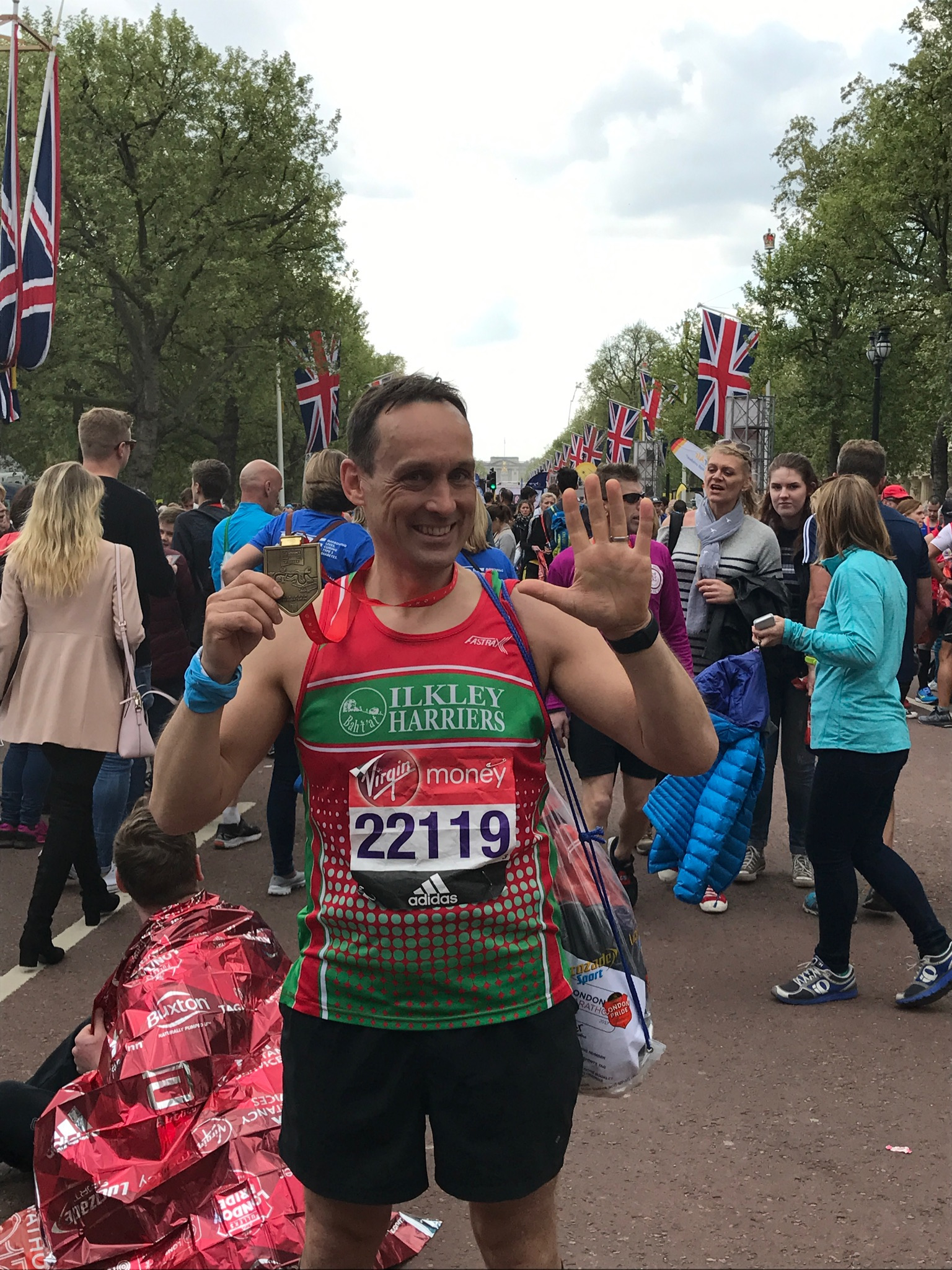 Longhorn half marathon, Sun 23 April

12 1:32:01 William Wood
516 finished

21st Anniversary Waltz, Sat 22 April

(1  1"32:52 Chris Arthur, Bowland)
120 2:10:02 Kate Archer
213 2:24:48 Outi Kamarainen
235 2:27:31 Alison Weston
241 2:28:49 Ben Joynson
256 2:31:03 Mike Baldwin
297 2:37:45 Sarah Edwards
307 2:38:46 Mary Gibbons
443 finished

Madeira Island Ultra Trail-MIUT 2017, Sat 22 April
From Brian Melia I ventured over to Madeira for the MIUT - Madeira Island Ultra Trail. It is now part of the Ultra Trail World Series. It began in Porto Moniz on Saturday 22nd April 00.00 winding up mountain footpaths and Levadas, towards the plateau of Paul da Serra. Headlamps were required till about 7 am.The route is difficult and there are some technical ups and downs before arriving at the brilliant Pico Ruivo and a magical trail in tunnels and narrow hanging paths to Pico Arieiro 1810 M. I was completely stunned how beautiful this trail had become from the start to the highest point. From here the route is more downwards along single tracks in Funduras mountains and then along Levada of Canical and finally along a Levada to the final destination on Machico. It was no push over at 115 km and 7100D+ of height. My gps read 127 km which it felt more like. Some of the climbs were mental and I had to dig deep just to keep moving. Earlier at 4.45 I was falling asleep and tripped a few times. The drops were potentially fatal, so I found a bench to sleep on like a drunk. I woke after 30 mins ready to roll all refreshed The aid station crew were friendly and had good food to keep us filled and plenty of fluids, essential in the heat. I ran for the second half of the race with another English runner Tom Knight, who did a lot of leading along the tracks and keeping good passage, he was fab company. We ran in at 22hrs11mins. I was pleased to finish even in this slow time and 172nd position as earlier my right leg and hip had been very painful and I was not even going to begin, rather start my holiday early. Looking back it was a lovely event and very well run and as always the Ultra Trail community are great fun. Franchise D'Haene won the men's race, Beth Pascall was first Brit and 2nd lady. I claim 2nd Brit........a lot further back though. It is worth a trip as this is my first time to Madeira and it is stunning. w.
ww.madieraultratrail.com
Notice of Extraordinary General Meeting
From Hilda Coulsey ... sadly we did not get a quorum of members on 18th April hence the EGM will now be held on Tuesday May 2nd at the Tennis Club 8:30pm
This is a formal notice of an Extraordinary General Meeting of members to be held on Tuesday evening 2nd May 2017 at 8:30pm at ILTSC (the tennis club on Stourton Road LS29 9BG), regarding the Junior section's plans to build a compact training facility at Ben Rhydding.
Agenda to include:
1 Overview of new facilities plan proposed and how it will be delivered
2 Vote on an amendment to the Constitution to support and enable participation
3 Launch of investment loan scheme
More information on the committee page.
Bunny Run 3, Tue 18 April
Ilkley won the men's team prize again! Results and photos on woodentops.org.uk
Guiseley Gallop, Sun 16 April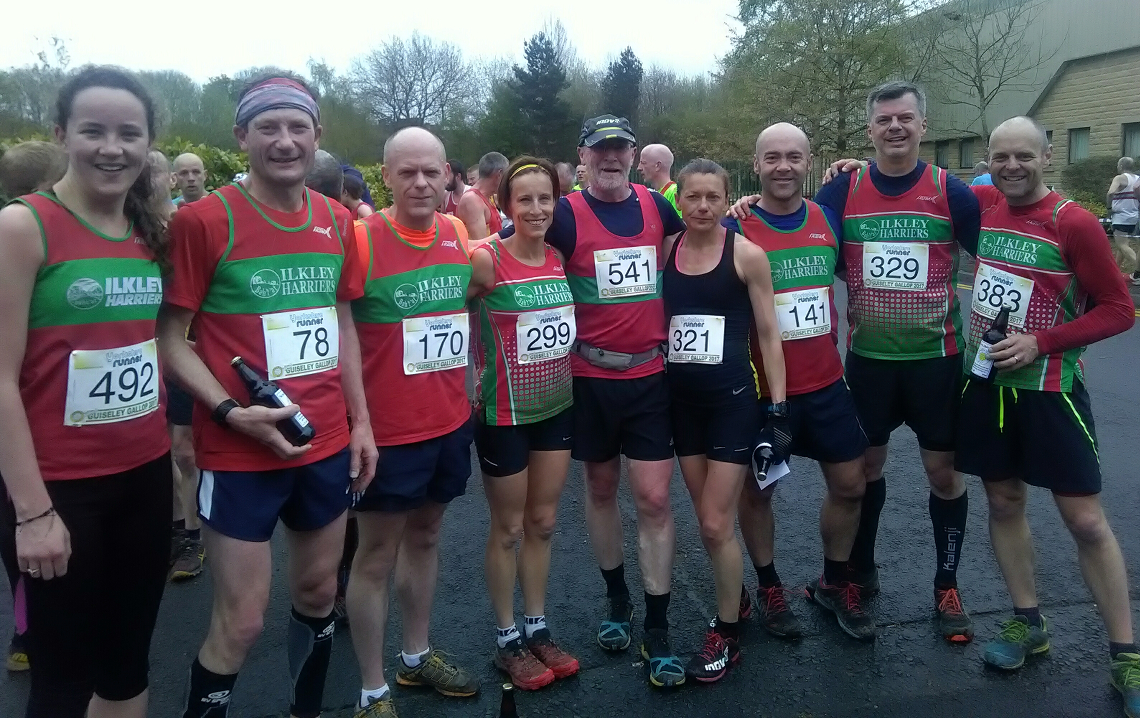 (1  35:39 Conner Craig-Jackson, Skyrac)
20  41:12 David Foyston	
35  42:21 Dave Robson
40  42:58 Jane McCarthy	1st F40
41  43:03 Pauline Munro	1st F45	
53  44:17 Lucy Williamson
58  44:48 Michael Duffield
78  45:59 Steve Murray
105 47:43 Robert Budding
117 48:14 Paul Stephens
176 51:23 Sarah Edwards
214 53:21 Adela Reperecki
226 54:02 Caroline Craske
294 57:11 Peter Lewis
370 60:37 Hilda Coulsey
491 finished

Zwolle Zuid 10M, Sat 15 April
From Petra Bijsterveld ... The 10 mile distance has become more popular in the Netherlands in recent years, though I imagine not a single Dutch participant thinks in miles, apart from me! I managed to get a last minute entry through a transfer and joined my friends for this race in what was my home town a long time ago. A two lap flat course taking in some lovely scenery along the river IJssel, we had to contend with a stiff breeze but otherwise conditions were good. It seemed a good opportunity to have another crack at breaking 90 minutes which has always eluded me. It wasn't easy but I managed to pace it evenly and was delighted to reach the finish with a good 30 seconds to spare.
Results ...

(1  54:15 Gert-Jan Liefers)
462 89:27 Petra Bijsterveld 
658 ran

parkruns, Sat 15 April
Bunny Run Two, Tue 11 April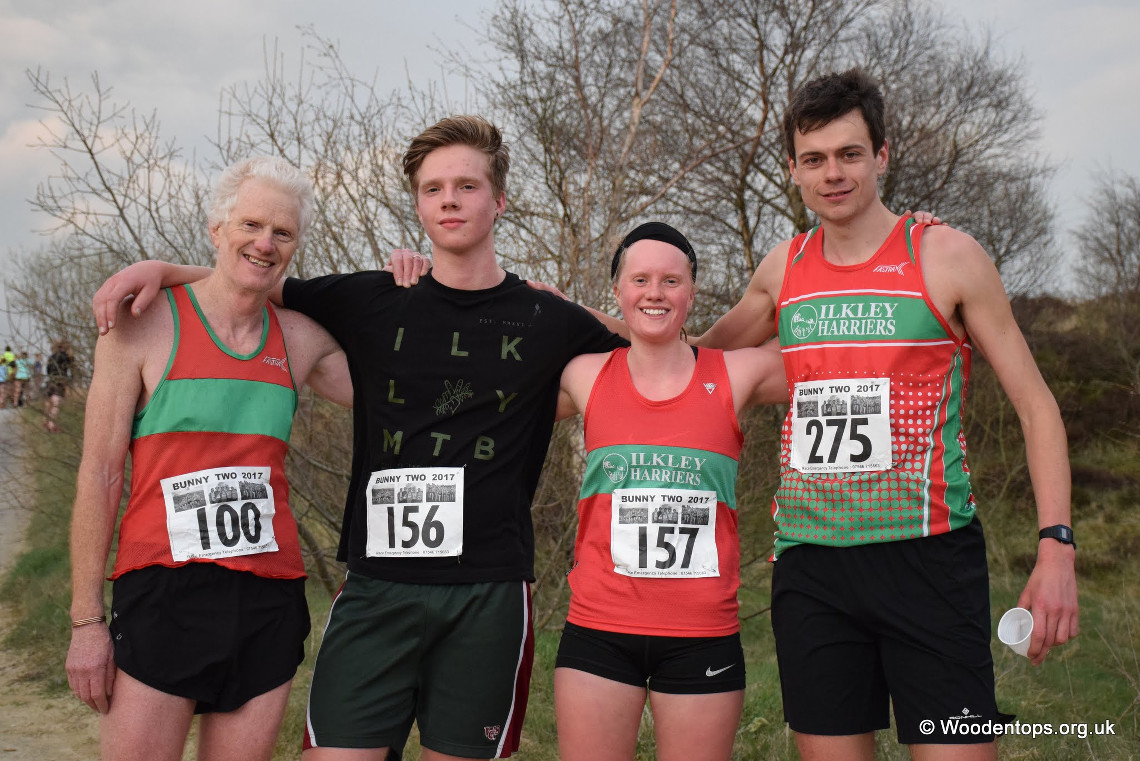 Ilkley had the first men's team! Final race next Tuesday. Results and photos on woodentops.org.uk

(1  14:51 James Hall, Wharfedale)
2   15:22 Jack Wood
5   15:47 Euan Brennan
11  16:34 Cameron Reilly
12  16:39 Jack Cummings
23  17:22 Oscar Stapleton
53  19:13 Sarah Pickering
60  19:35 Bernadette Raven
63  19:42 Richard Joel
66  19:48 Ben Joynson
79  20:09 Jane McCarthy 1st FV40
106 21:09 James Pickering
119 21:42 Malcolm Pickering 1st V60
139 22:26 Mary Gibbons
149 22:42 Charlotte Elston
151 22:44 Sarah Edwards
168 23:16 Harry Stead
176 23:27 Andrew Jackson
206 25:27 Val Kerr
237 27:21 Petra Bijsterveld
262 29:59 Sophie Brown
270 31:07 Patrick Gibbons
285 finished

White Horse 10k, Sun 9 April
From Vince Gibbins ... Bernie and Catherine Gibbons took part in The White Horse 10k, one of the Hardmoor off-road races, on Sunday. This series comprises seven beautiful, challenging runs in various locations around the North York Moors. It's known as the only series where you can legitimately ask 'How far is a 10k?' The White Horse was in fact a 7.5 mile course and included 1,000 feet of climbing, taking in Gormire Lake, the heights of Sutton Bank and parts of the Cleveland Way. It was a spectacular course with stunning views on a beautiful, sunny day.
Bernie Gibbons First Vet Female 60 in 86.30
Catherine Gibbons Second Lady in 68.54
www.hardmoors110.org.uk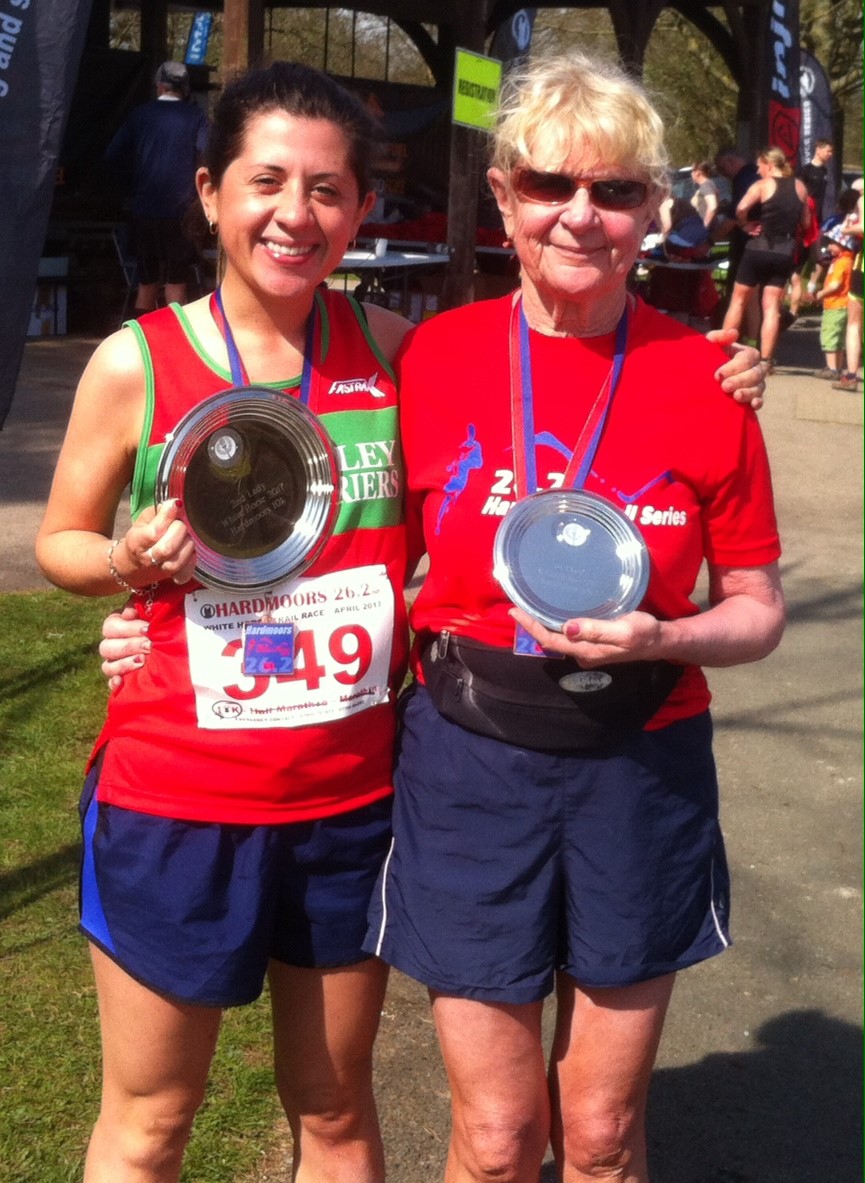 Donard Challenge, Sat 8 April
From Alison Weston ... I was the only Harrier to do the first British fell running championship race, Donard Challenge, in the Mourne Mountains on Saturday but it was well worth the effort. Classed as a 'short' race (10km) it starts from sea level in Newcastle and climbs 900m to the top of the highest hill in Northern Ireland and then returns a more direct way back down over tussocks and rocks. We were rewarded with a magnificant view from the top of a cloud inversion over the sea (unfortunately I didn't dare take my eyes off the ground on the descent). The winner was Tom Addison from Helm Hill Runners in 58:03 and Wharfedale Harriers had some great results too. I was content with 198th (6th FV50) in 1:29:06 but keen to return to do more races in the area.
parkruns, Sat 8 April
From Petra Bijsterveld ... Results ...

Woodhouse Moor
(1  16:41 Tim Gordon, U/A)
13  19:04 Tim Ashelford
202 26:30 Jennifer Carne
409 ran

Bradford Lister Park
(1  16:37 Matthew Merrick, Bingley Harriers)
5   18:44 Will Wood
436 ran

Harrogate
(1  17:22 Andrew Dobby, Harrogate Harriers)
108 22:27 Caroline Howe
508 ran

Skipton
(1  16:29 Jack White, City of Norwich)
53  24:24 Chris Cunningham
187 ran

Montsouris (Paris)
(1  16:50 James Young, Meltham AC)
20  22:25 Geoff Howard
80 ran

Bunny Run One, Tue 4 April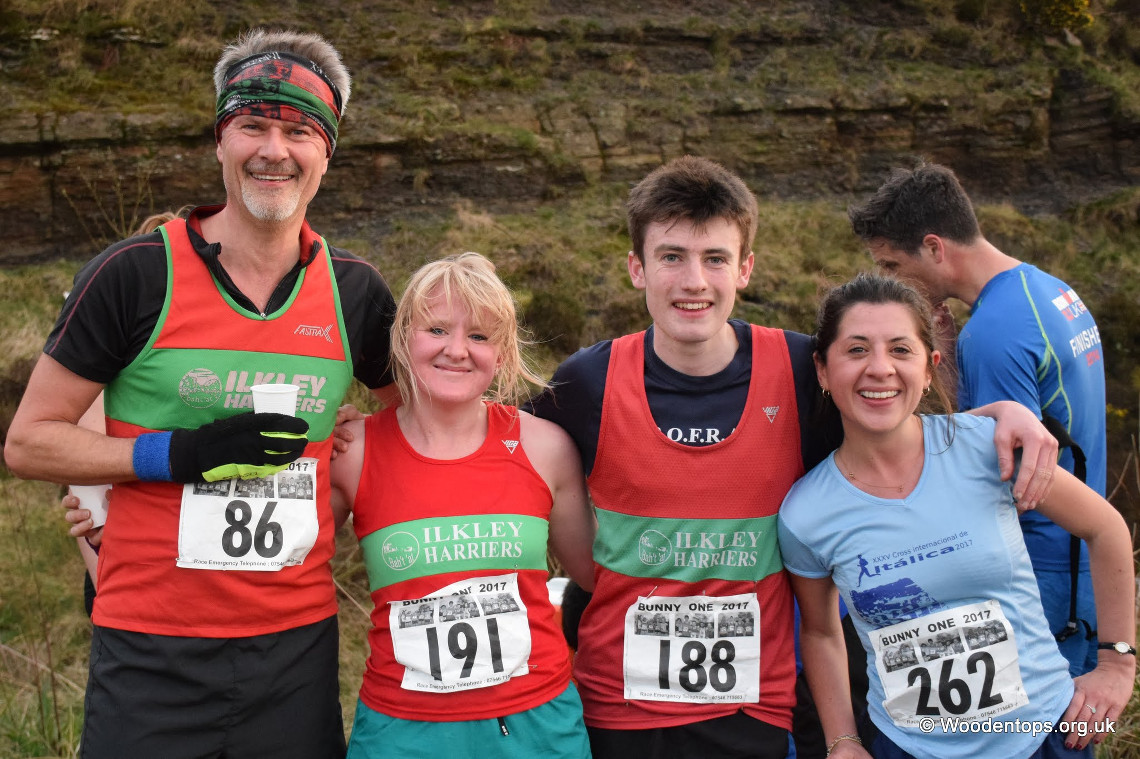 Easter's coming! Lots of Bunny Fun last night, another race next week. Results and photos on woodentops.org.uk

(1  15:44 Joe Baxter, P&B)
7   16:31 Matt Newall
10  16:38 Jack Cummings
13  16:52 Cameron Reilly
24  17:33 Oscar Stapleton
56  19:43 Ben Houlihan
58  19:47 Ben Joynson
67  20:14 Bernadette Raven
74  20:28 Lucy Williamson
83  21:03 James Pickering
111 21:59 Malcolm Pickering
119 22:28 Sarah Edwards
134 23:02 Catherine Gibbons
141 23:13 Andrew Jackson
142 23:16 Mary Gibbons
146 23:24 Charlotte Elston
147 23:26 Alison Weston
149 23:32 Tom Jackson
173 25:28 Emily Elmes
175 25:33 Adela Reperecki
191 26:12 Val Kerr
197 26:33 Joanne Williamson
231 28:25 Petra Bijsterveld
243 29:17 Anna Pickering
255 31:11 Sophie Brown
265 36:02 Nea Weston
269 finished

Baildon Boundary Way, Sun 2 April

(1  1:20:22 Alisdair Burns, Valley Striders))
20  1:34:20 Steve Coy
27  1:36:31 Jane Mccarthy 3rd lady
35  1:38:14 Kate Archer
43  1:39:57 Mark Summerson
122 1:52:53 Harry Sime
131 1:53:42 Jo Foster
164 1:57:52 Neil Pomfret
187 2:01:11 Eric Hawthorn
191 2:01:34 Helen Waddington
207 2:03:45 Adela Reperecki
284 2:15:09 Melanie Edwards
312 2:22:05 Sally Lynch
330 2:29:55 Alison Bloor
331 2:29:55 Neil Bloor
361 finished

LDWA Blubberhouses 25, Sun 2 April
From Ben Sheppard...For the price of four hand-piped fondant fancies at Betty's (£7) you can enter the LDWA Blubberhouses 25, a scenic and thoroughly enjoyable long walk (made less so if you choose to run it). For me it was a no-brainer, I don't even like fondant fancies (I'm more of a fat rascal kind of guy). Plus, you get a free meal at the end (meat stew or veg stew, or bread if you don't like stew). If you like a hard-core race with a charged atmosphere and a deep field of fast club runners, this is not the one for you. Good to see Dave Robson and Mike Duffield there in training for the Three Peaks, and Derek Oliver looking calm and assured as usual. While most walkers and runners set off at a gentle trot, a few runners hared off towards Swinsty Reservoir at an unsustainable pace. By Fewston Reservoir we were a break-away of four, and shortly after Thruscross Reservoir a clear leader emerged. By Ellercarr Pike had opened up a lead of 4 minutes from me and one other. He and I seemed to be matching each other for pace and effort and, enjoying a good old natter (you don't get that at a half-marathon road race), settled into an un-spoken accord to stick together (he didn't know the route and I could tell he would finish stronger than me). In the final half mile we agreed to finish jointly for what we assumed would be joint second. Alas, sadly for the leader he had managed to get lost only half a mile from the finish, trotting in forlornly a couple of minutes after us. Maybe he can take consolation from the fact that an LDWA challenge is not really a race anyway. Dave and Mike appeared to have good runs and I think Derek surprised himself with an excellent time and placing. The genial atmosphere at the end, sitting out in the sunshine eating stew and drinking tea while applauding the finishers in, was worth the price of a box of fondant fancies alone. Highly recommended for walkers and runners who like value for money. Results ...

1  3h17 Ben Sheppard
5  3h28 Derek Oliver
19 3h55 Dave Robson
20 3h55 Mike Duffield
22 3h57 Paul Calderbank
36 4h19 Chantal Busby
168 finished

Fountains 10k, Sun 2 April

(1 34:36 Ben Pease, Ripon)
34 45:18 Helen Thurston
82 50:51 Tracey Watson
325 ran

Pendle Short Fell Race, Sat 1 April
From Ewan Welsh ... Ilkley's young guns were out in full force on Pendle Short Fell race, as Ewan Welsh and Mike Baldwin were competing in their first V50 and V60 races (respectively !), with Norman Bush (V70) also appearing. The route covers 4.5 miles/1500ft, consisting of a bit of road at the start/finish, one steady/steepish climb, one downhill, another steep climb, another steady downhill. Finishing order amongst the three young fellas was Ewan, Norman, Mike. Apologies if any other Harriers where in attendance that we didn't spot. Results soon.
Dales Trails 20 - Reeth, Sat 1 April
From Gavin Lamb ... Results ...

(1 - 1:20:37 Ben Livesey)
20 - 1:45:57 Gavin Lamb 
279 finished

parkruns, Sat 1 April
From Petra Bijsterveld ... Results ...

Woodhouse Moor
(1  16:58 Robin Outtersides, Otley AC)
240 27:30 Jennifer Carne
464 ran

Bradford
(1  17:24 Alexander Flaherty, Bingley AC)
4   18:24 Will Wood
497 ran

Penrhyn
(1  19:34 Louis Guest, U/A)
4   19:52 Lucy Willaimson 1st F
194 ran

---
Ilkley Harriers of the Month, March
Runner of the month:
Ben Sheppard
for Haworth Hobble
Other nominations were:
Caroline Howe for Keithley 10k, Haweswater half and Harrogate parkrun
Jack Wood for Long Mynd and Edale the same weekend
Kate Archer for Pendle
Volunteer of the month:
Petra Bijsterveld
for organising our Northern Road Relays teams
Other nominations were:
Alison Weston for Gazette reports
More Harriers of the Month ...
Edale Skyline fell race, Sun 26 Mar

(1  2:47:45 Chris Steele, Borrowdale)
2   2:47:57 Jack Wood
156 4:16:24 Brian Melia
158 4:16:30 Jamie Hutchinson
274 finished

Keighley BigK 10k, Sun 26 Mar
From Caroline Howe... A tough 10k with lots of twists and turns, and some challenging hills, through Keighley's parks, paths and residential areas. 90% road apart from two laps at the start round a muddy field to thin the runners out, and then a couple of gravel paths later on and finish on the grass. The most disconcerting part was when halfway round we met up with the start of the 5k race in Lund Park, when swarms of 8 year olds suddenly engulfed us! All in all, a tough race (made tougher by the 9am start and the loss of an hour's sleep!) but well organised, varied and enjoyable with a great atmosphere and support. I managed a PB of 48:52.
Results ...

(1  33:37 Callum Elson, Roundhay)
15  38:35 Will Wood (3rd in age group)
184 48:52 Caroline Howe PB
310 55:31 Jan Carrier
862 ran

Long Mynd Valleys, Sat 25 Mar
The first counter in the English Fell Championships. Results ...

(1  1:33:28 Tom Addison, Helm Hill)
8   1:36:32 Jack Wood
237 2:14:48 Kate Archer
402 finished

Northern Road Relays - Stanley Park Blackpool, Sat 25 Mar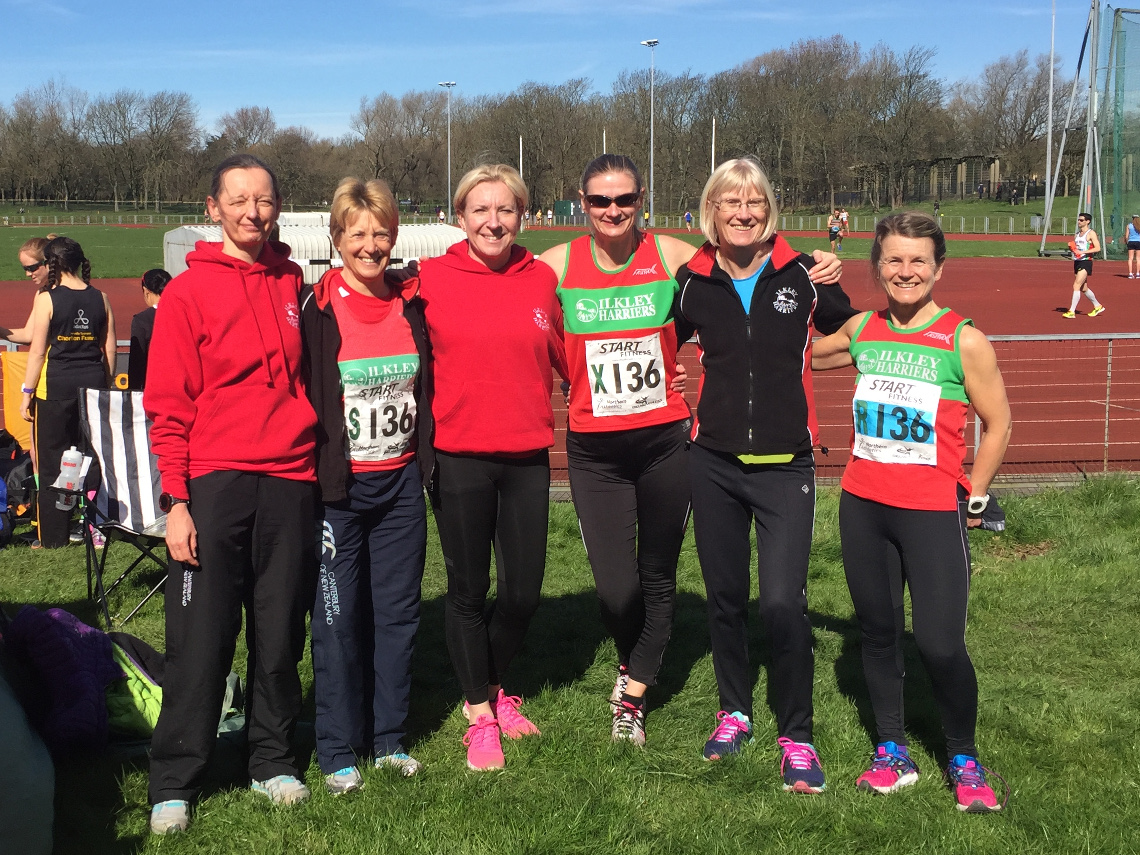 From Petra Bijsterveld ... Organized by Northern Athletics the Road Relays are team events consisting of 6 stages for women and 12 stages for men. We were not able to field a men's team this year, but the club managed to send 6 of its finest women to this event. The 6 stages are 2 long legs of 9.5k and 4 short legs of 5.2k, starting on the track, then looping through and around Stanley Park before finishing with three quarters of a lap on the track where the next runner takes over. The course was slightly undulating, mainly on tarmac footpaths but taking in a small section of unmade trail through the trees. Those who had been 'volunteered' to do the longer legs went round the park twice before returning to the track.
Stanley Park Sports Arena provided excellent sporting facilities, and the park itself with pavilions, gardens and boating lake looked its very best on what turned out to be the most beautiful sunny and warm day of 2017 so far. This caused the one downside of the event: the weather attracted so many people to the park that at times the race became more of an obstacle course heavily populated with slow moving pedestrians eating ice creams, with dogs, wheelchairs, prams, and scooters ridden by tiny children. It required skill to weave around them whilst going at 5k pace, and as the men were running at the same time we were being overtaken, so acute awareness was required of who was behind you as well as in front. Personally I had a very near collision with a small boy coming downhill on a scooter, which could have been quite nasty for both of us.
The Ilkley women all ran very well in what were warm conditions, with Sally Malir and Jane Bryant valiantly running the long stages in excellent times, and Val Kerr, Stephanie Fox, Hilda Coulsey and myself taking the shorter legs with very consistent results. We all felt the motivation and positive pressure of running for the club and for our team, and it definitely makes you push just a bit harder. Considering we were competing against an elite field of runners we can be rightly proud to have finished 36th out of 50 complete teams. Moreover our entire team consisted of veterans, but in this competition no age-grading takes place.
This type of event takes just a little bit of organization but the pay-off is great in terms of sense of achievement and cohesion and I hope we may be able to enter more than one team next year. Thanks to all the runners, also to Alison Bennett and Jacqui Weston who were on stand-by until the last moment as reserves, and to Pete Shields for his help and encouragement.
Results ...

(1 2:24:11 Rotherham Harriers & AC)
36 3:09:29 Ilkley Harriers AC                 

Sally Malir       (27) 39:44
Val Kerr          (38) 25:44
Petra Bijsterveld (39) 25:44
Jane Bryant       (39) 46:55
Stephanie Fox     (39) 25:31
Hilda Coulsey     (36) 25:51
(nn) is team position after each stage

parkruns, Sat 25 Mar
From Petra Bijsterveld ... Results ...

Bradford 
(1 16:39 Joe Sagar, Spenborough AC)
4  18:36 Will Wood
212 27:41 Eric Hawthorn
481 ran

Roundhay Park
(1 17:34 Jonathan Lancaster, U/A)
55  22:08 Tom Worboys
66  22:39 Geoff Howard
354 ran

Skipton
(1  18:44 Danny Thompson, U/A)
24  22:54 Caroline Howe
152 ran

Bramley
(1  18:25 Mark Pottinger, Stainland Lions)
79  27:37 Jennifer Carne
192 ran

Harriers Race League quarterly update
From Jane McCarthy ... After 4 races in the 2017 League Alison Weston leads with 330pts, from 2015 League winner Michael Duffield, both having competed in all four races so far. In the Fell category, Tom Adams won both the Stanbury Splash and the Ilkley Fell Race, scoring his maximum available 200 points, superb performances in both. With just one Trail and one Road race so far, Jane McCarthy and Pauline Munro lead the categories respectively. Hilda Coulsey has played an excellent wildcard after a strong performance at Skipton Park Run and gaining herself 103 points.
Next races in the League are the Guiseley Gallop (Trail, Sunday 16th April), John Carr 1 (Road, Wednesday 3rd May), Over the Odda (Trail, Saturday 6th May) and Jack Bloor (Fell, Tuesday 9th May). GOOD LUCK ILKLEY HARRIERS!
Results and calendar on the League page.
Notice of Extraordinary General Meeting
This is a formal notice of an Extraordinary General Meeting of members to be held on Tuesday evening 2nd May 2017 at 8:30pm at ILTSC (the tennis club on Stourton Road LS29 9BG).
Many of you will know already of the Junior section's plans to build a compact training facility at Ben Rhydding alongside the Hockey and Football Clubs' new developments. Briefly, this includes an 8 lane 100m straight, jumping and throwing areas and further training space. The Junior section is over 300 strong with long waiting lists, constrained in its activities particularly during the winter. This would provide considerably better facilities and room to expand, thereby introducing more youngsters into the sport as well as supporting and developing talented athletes with proper, local training facilities. The meeting will also enable the team developing their plans to present them.
A new, separate company is proposed to manage the whole scheme. The committee propose that in order for the Harriers to participate formally and legally an amendment is recommended to our Constitution along the lines of:
Item 2e of the constitution: The club supports the development of local athletics facilities in furtherance of the club's objectives, including as required the participation in legal entities set up to provide these.
Please put the date in your diary and further details will be sent nearer the time. We need a quorum of members to vote in favour for this to happen and hence, whatever your views, it is crucial we hear them in order for Harriers members to make an informed, representative decision.
Various organisations in the town have said they would like to support this development and therefore, in the mean time, you may see mention in the press and social media of the team involved actively applying for grants and donations.
Hilda Coulsey, secretary@ilkleyharriers.org.uk
22nd March 2017
Club Constitution, updated September 2015
Information on the development and fundraising for it is on the new ilkleyathletics.org.uk website.
Heptonstall fell race, Sun 19 Mar

1   1:57:41 Jack Wood
6   2:02:54 Will Simmons
189 3:11:50 Mary Gibbons
220 3:26:15 Adela Reoperecki
247 finished

Bradford 10K, Sun 19 Mar
From Petra Bijsterveld ... This was the first road race counter in the 2017 Harriers Race League and just ten hardy Harriers turned out on a wet and decidedly blustery morning. An out and back course from Centenary Square along Canal Road towards Shipley, advertised by Epilepsy Action as 'fast and flat' and a PB potential course. I found that description to be debatable, whilst not hilly there is definitely too much up and down to invoke the tempting word 'flat'. What's worse it is downhill on the way out and therefore uphill on the return. A stiff breeze with occasional sideways gusts between buildings did not help our cause. If all that sounds a little negative, it was very well organised with plenty of toilets, an efficient baggage drop, and a t-shirt and pretty medal at the end. The atmosphere was friendly with lots of runners from local clubs.
Pauline Munro was the first woman home in her category and 5th woman overall, as well as being in the first 50. Michael Duffield ran an excellent race finishing in the first 100, and all 10 of us finished well within the first half of the field.
Personally I had entered this race aiming to break 50 minutes after having been made to run 200 meters too far at Dewsbury last month. However, the course and the weather were unfavourable and my legs grew very tired on the slightly uphill return, having possibly overcooked the first half. Reaching 8k after just over 40 mins I knew it wasn't going to happen and I lost what fizz I had left. I will try again!
Results ...

(1  33:13 Joe Sagar, Spenborough AC)
49  40:28 Pauline Munro 1st F40
91  42:05 Michael Duffield
208 45:23 Harry Sime
342 48:00 Jean Sullivan
417 49:41 Alison Weston
450 50:15 Alison Bennett
476 49:57 Stephanie Fox
477 50:51 Petra Bijsterveld
593 52:49 David Green
729 54:52 Alex Stanley-Hyde
1700 ran

Trimple 20, Sun 19 Mar
From David Ibbotson ... 4 Harriers travelled west in the wind and rain on Sunday morning to run the Trimple 20 as part of their London Marathon preparations.
It is an excellent event which is 99% tarmac but run mainly on traffic free bridleways/footpaths including long scenic sections by the raging river Lune.
Registration and finish is within the walls of Lancaster Castle.
Results ...

(1  1:55:53 Blain Rooney, Ellenborough)
75  2:26:38 Derek Oliver
195 2:48:43 Stuart Herrington 
293 3:06:40 David Ibbotson
357 3:18:01 Jan Carrier
526 runners finished

Rivock Edge fell race, Sun 19 Mar

(1   54:22 Joe Baxter, P&B)
4  1:00:08 Martin Archer
20 1:08:37 Peter Shelley
24 1:11:10 Malcolm Pickering
36 1:15:16 Norman Bush
67 finished

Lakeland Trail Races - Cartmel, Sat 18 Mar
From Helen Waddington... Despite the dreadful forecast the weather was relatively kind for the first race in the Lakeland Trail series. The scenic and undulating course starting at Cartmel race course was incredibly muddy, especially by the time the last race of the day commenced. There were a variety of distances on offer including 5K, 10K and two different 18K events. Three Harriers took part in the 18K Race, including Tom Adams who won for the second year running, Jane McCarthy taking 3rd LV40 and myself. Jacqui Weston and Anna Nolan took part in the 10K Race. Sorry if I missed anyone else! Well organised with lots of marshals and a decent (ladies fit) t-shirt at the end.
Results ...

10k Trail Race
(1    41:03 Andrew Maltman, UA)
70    55:57 Anna Nolan                                                      
209 1:07.19 Jacqui Weston                                           
491 finished

18K Trail Race
1   1:08:46 Tom Adams                                                       
33  1:31:08 Jane McCarthy (3rd FV40)                         
128 1:52:45 Helen Waddington                                                
195 finished

10k Challenge
(1  1:29:55 Paul Gregory, UA)
79  1:53:41 Neil Pomfret
505 finished


parkruns, Sat 18 Mar
From Petra Bijsterveld ... Results ...

Bradford Lister Park
(1  18:12 Martin Fillingham, Saltaire Striders)
124 26:43 Eric Hawthorn
439 ran

Harrogate Stray
(1  17:29 Andrew Dobby, Harrogate Harriers)
25  21:32 Helen Thurston
325 ran

Skipton
(1  18:27 unknown)
23  23:02 Geoff Howard
49  25:14 Chris Cunningham
151 ran

Fountains Abbey
(1  16:47 Reece Dalton, Ripon Runners)
193 30:23 Jennifer Carne
331 ran

Keswick
(1  18:04 Sam Stead, Keswick AC)
30  23:36 Caroline Howe
115 ran

Cardiff
(1  16:45 David Rees, Les Croupiers AC)
11  17:37 Alex Hirst
146 23:33 Phil Hirst
619 ran

Wharfedale Primary Schools XC, Sat 18 Mar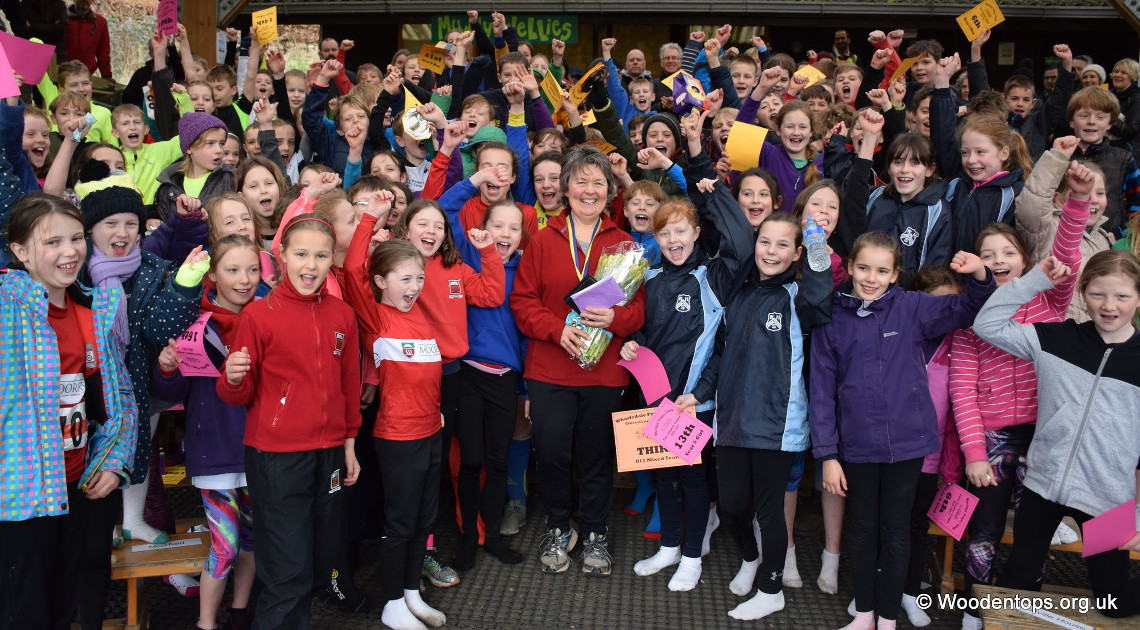 Over 200 children took part in the final event of the season, the Nell Bank Relays, and asttended the League presentation afterwards. Results on the junior pages.
The Mighty Deer Stalker, Innerleithen, Sat 11 Mar
From Ben Joynson ... The race is a mix of terrain fell, rivers, mud, forest trails and some tarmac. 15K ish. You run up two of the hills either side of Innerleithen in the dark on a marked course. The climbs are tough, one can only be done by physically climbing up using your hands to haul yourself up the rocky escarpment. The descents are steep with little room for mistakes if your racing down. I started in wave 2 of 7, there was a half stalker and long stalker course. There was single track running and obstacles to negotiate on the course. But mainly a good technical off road race. After the race there is a on-site party with live music and a big bar. If you fancy a challenge in the dark and enjoy some camping and a party give this race a try.

(1 1:27:08 Kieron Ross)
40 1:47:10 Ben Joynson
1597 finishers on the full Stalker course

Haworth Hobble Sat 11 Mar
From Ben Sheppard ... This year's Haworth Hobble (aka Wuthering Hike) was the British trial race for a GB vest for the world trail championships. Consequently there were quite a few top class speedy long distance runners on the start line. Clayton le Moors' Chris Holdsworth seemed to be hotly tipped, and by all accounts, despite not knowing the route, was in the top two until the final few miles when he was overhauled by a chasing pack. The race was won by Tom Payn in a new CR of 3:54. True to the adage that class is permanent, fell running legend and MV50 Ian Holmes was 6th, only 3 minutes behind.
The women's race was won in style by the exceptionally talented Wakefield's Julie Briscoe from Dark Peak's Sally Fawcett and North Leeds' Katie Kaars Sijpesteijn. Julie was waiting for someone to show her the right way when I first saw her. She promptly sped off into the distance only to get lost further along - and then re-pass me at pace as I slowly walked up the road to Heptonstall!
Jane McCarthy ran well to finish in a little over 5 hours on her first go at this race. I think Adela Reprecki ran too. And I was pleased to get my annual high five from the early-starting Amanda Parnaby at around the customary 11 mile mark. Having set off way too fast I struggled through the final 8 miles and dropped from 20th pace to finish 29th in 4:40, a PB by 10 minutes despite the late blow up.

(1  3:54:18 Thomas Payne)
29  4:40:09 Ben Sheppard
71  5:12:47 Jane McCarthy
140 5:53:15 Derek Oliver
288 7:16:10 Adela Reperecki
363 9:28:08 Amanda Parnaby
367 finished

Black Combe fell race, Sat 11 Mar
From Alison Weston ... Kate Archer and I travelled to the south-west of the Lakes on Saturday for the Black Combe fell race (13km 1000m). The weather deteriorated the closer we got to the race venue and it was rather disappointing not to be able to see the bottom of Black Combe, never mind the top as we arrived. As last year, it proved to be a challenging race. Two very steep climbs and difficult navigation. Almost every runner had map and compass out at check points, although running off in very different directions, and I found myself out of sight of other runners for quite a bit of the time (always a bit nerve-wracking!).Good tea and large pie at the finish was very welcome.
Kate did very well to come 6th lady in 1:44 and I was a good bit behind in about 6th V50 in 1:54.
parkruns, Sat 11 Mar
From Petra Bijsterveld ... I very much enjoyed joining the celebratory 500th Woodhouse Moor parkrun. The first event was held there in October 2007 (with 15 people turning out) and it was only the 4th parkrun to start up. Now there are over 1000 parkrun locations all over the world.
Results ...

Leeds Woodhouse Moor
(1  16:07 Josh Norman, Owls AC)
334 26:59 Petra Bijsterveld
718 ran

Bradford Lister Park
(1  17:46 Oliver Daffern, BGS)
18  20:12 Rhys Jones
77  23:53 Phil Hirst
483 ran

Harrogate Stray
(1  18:42 Jason Millward, U/A)
57  23:51 Caroline Howe, 2nd F
372 ran

Skipton 
(1  17:55 James Raven, Cardiff AAC)
62  24:48 Chris Cunningham
188 ran

Stretford
(1  16:15 Craig Jones, Manchester YMCA)
11  17:51 Rob Cunningham
563 ran

Peco XC #5, Sun 5 Mar

(1  27:17 Terence Forrest, Cairngorm)
77  32:03 Steve Coy
138 34:28 Ben Joynson
172 35:49 Robert Budding
251 39:01 Andrew Jackson
277 40:14 Geoffrey White
374 50:31 Don Macrae
387 finished

(1  30:32 Helen Cross, York Tri)
14  34:29 Ellie Kitchen
115 45:39 Gaenor Coy
216 51:36 Kate Lofthouse
262 66:25 Clare Shouler
266 finished

Montserrat Skyrace, Sun 5 Mar
Well done to Tom Adams, winning this international race, 25km with 1500m of climb! and setting a new course record 2h06:56 Results ...
Haweswater Half Marathon, Sun 5 Mar
From Caroline Howe... starting in the little village of Bampton in the north west Lakes, the Haweswater Half is a friendly race organised by Eden Runners. It's an out-and-back on roads alongside Haweswater Reservoir, with some great views. It's what I'd desribe as 'undulating' with a few tough old hills.
This is an 'old-skool' race with no chip timing or even a finishing clock, but has plenty of charm... lots of support, friendly marshalls, and at the end you get a mug - which is filled with a cuppa - and flapjack... give me that over a fancy medal or an ill-fitting t-shirt any day!!
Having accidentally left my sports watch at home, I ran this race 'free' - pacing myself by feel alone. So I was delighted to finish in 1:50:14... just a minute outside my pb, which I'll take on that course. As the sole Harrier taking part, I'd recommend this race for anyone who likes their roads with a view, and enjoys a few hills offset by nice stretches of downhill recovery.
Anglesey half marathon, Sun 5 Mar
From Sue Williamson... Lucy Williamson competed in her first half marathon one of the most beautiful in the UK. Menai Bridge is the start location following the coast road to Beaumaris castle and return. The weather was not kind this weekend pouring down the whole time with no stunning scenery. Lucy finished the race in 1 hour 27.55, 4th female overall and 3rd female open.
Pendle Round, Sat 4 Mar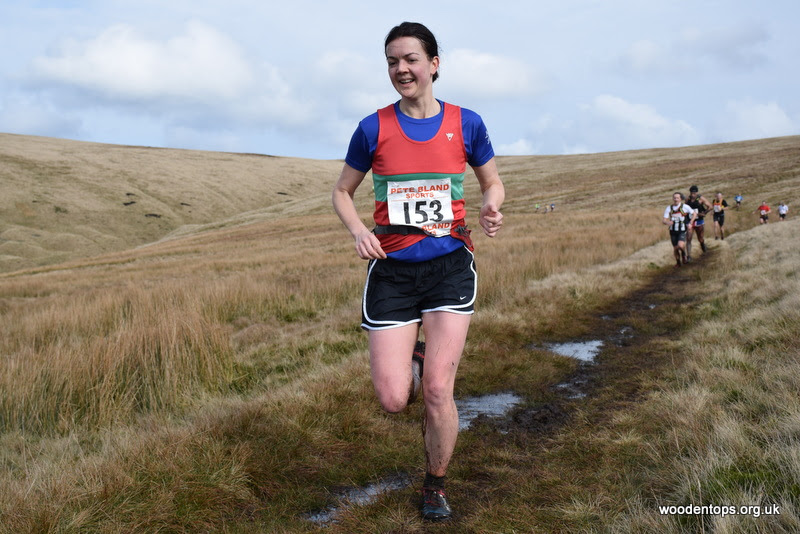 We hear Kate Archer was 2nd lady, results soon but photos and provisional resuilts on www.woodentops.org.uk
parkruns, Sat 4 Mar
From Petra Bijsterveld ... Results ...

Bramhall
(1  17:29 Rob Downs, Wilmslow RC)
3   18:20 Ruaridh Mon-Williams
71  23:33 Rebecca Mon-Williams
359 ran

Bradford Lister Park
(1  17:01 Martin Soszka, Saltaire Striders)
93  24:43 Sarah Haines
447 ran

Temple Newsam
(1  19:43 Ian Maudsley, st Theresa's AC)
129 30:51 Jennifer Carne
215 ran

Skipton
(1  18:20 Stuart Hunn, Wharfedale Harriers)
5   19:46 Jemima Elgood 1st F
54  25:09 Chris Cunningham
185 ran

Fountains Abbey
(1  17:51 George Phillips, Doncaster AC)
45  22:38 Geoff Howard
317 ran

---
Ilkley Harriers of the Month, February
Runner of the month:
Paul Stephens
for completing an excellent 21 Rombald's Strides, and in very consistent times, year on year
Other nominations were:
Jane McCarthy for 1st lady Rombald's Stride
Volunteer of the month:
Steve Weston (and Team)
for organising the Ilkley Fell Race
Other nominations were:
Helen Waddington for providing the HoM summary every month
More Harriers of the Month ...
Ilkley Moor fell race, Sun 26 Feb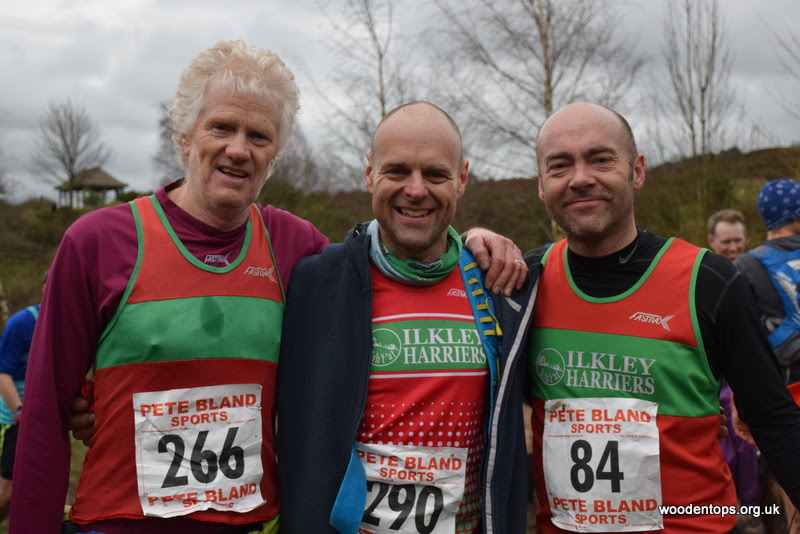 From Alison Weston ... Ilkley Harriers hosted its annual Ilkley Moor Fell Race on Sunday in extremely muddy conditions. Tom Adams was the clear winner in 37:16 followed by Ted Mason from Wharfedale in 41:06 and Graham Pearce from Pudsey and Bramley in 41:20. The Harriers had a great turn out of runners and race marshalls. Euan Brennan had a great race to come 5th and 1st under 18, Jack Cummings was 9th postion and 1st under 21, and Ben Shepperd was in the top 20. Pauline Munro was 1st Fv40, Alison Weston 1st FV50, Malcome Pickering 1st MV60 and Norman Bush 1st MV70.

1   37:16 Tom Adams
5   42:52 Euan Brennan U18
8   43:13 Jack Cummings
18  46:23 Ben Sheppard
20  46:41 Martin Archer
32  48:33 Jim Ryder 2nd V50
35  49:03 Robin Nicholson
39  49:54 Dave Robson
58  51:22 Gavin Lamb
71  52:40 Richard Joel
82  53:47 Pauline Munro 1st FV40
99  55:24 Malcolm Pickering 1st V60
101 55:37 Michael Duffield
106 56:02 Kate Archer
145 59:35 Martyn Stocker
161 60:37 Alison Weston 1s FV50
162 60:40 Jann Smith
183 62:34 Norman Bush 1st MV70
186 62:41 Sarah Edwards 
198 63:55 Alison Eagle
204 64:33 Mary Gibbons
233 68:22 Geoffrey Howard
237 68:48 Peter Lewis
272 Alison Bennett
274 74:52 Anna Nolan
289 78:02 Harry Sime
290 78:02 Robert Sime
314 90:04 Sharon Meadows
321 finished

Harewood House Half Marathon and 10k, Sun 26 Feb
From Paul Sugden... Windy and hilly conditions finished in 2:11:38 No doubt there were other harriers running the half or the 10K for which Jack Wood ran in 40:00 but position not known as results have only been issued in alphabetic order at the moment.
From Donna Jackson ... my time for today's Harewood 10k was 56:01 Great race, well organised, shame I couldn't do the Half Marathon distance as planned but due to injury I opted for the shorter route... I enjoyed it all the same!
English National Cross Country Championships, Nottingham, Sat 25 Feb
From Petra Bijsterveld ... Results ...

Senior Men
(1  39:35 Ben Connor, Derby AC)
941 54:17 Steve Coy
952 54:25 David Westhead
(1762 ran)

Junior Men
(1  32:25 Ellis Cross, Aldershot, Farnham and District)
70  36:14 Matt Newell
211 ran

Senior Women
(1  29:07 Jessica Judd, Chelmsford AC)
606 45:49 Petra Bijsterveld
648 47:15 Gaenor Coy
788 ran

Junior Women
(1  22:03 Harriet Knowles-Jones, Warrington AC)
29  25:35 Jemima Elgood
144 33:04 Elizabeth Westhead
148 ran

parkruns, Sat 25 Feb
From Petra Bijsterveld ... Results ...

Portrush
(1  20:13 Stephen Collins, Southampton Uni Tri)
46  29:25 Hilda Coulsey
90 ran

Cross Flatts
(1  17:41 Unknown)
123 30:19 Jennifer Carne
180 ran

Stretford
(1  16:47 Craig Jones, Manchester YMCA Harriers)
3   18:01 Rob Cunningham
529 ran

Lancaster
(1  17:17 Ben Sache, Wigan Phoenix)
27  22:54 Lizzie Herbert 1st F
198 ran

Peco Cross Country League, Race 4, Barnbow/Pendas Fields, Sun 19 Feb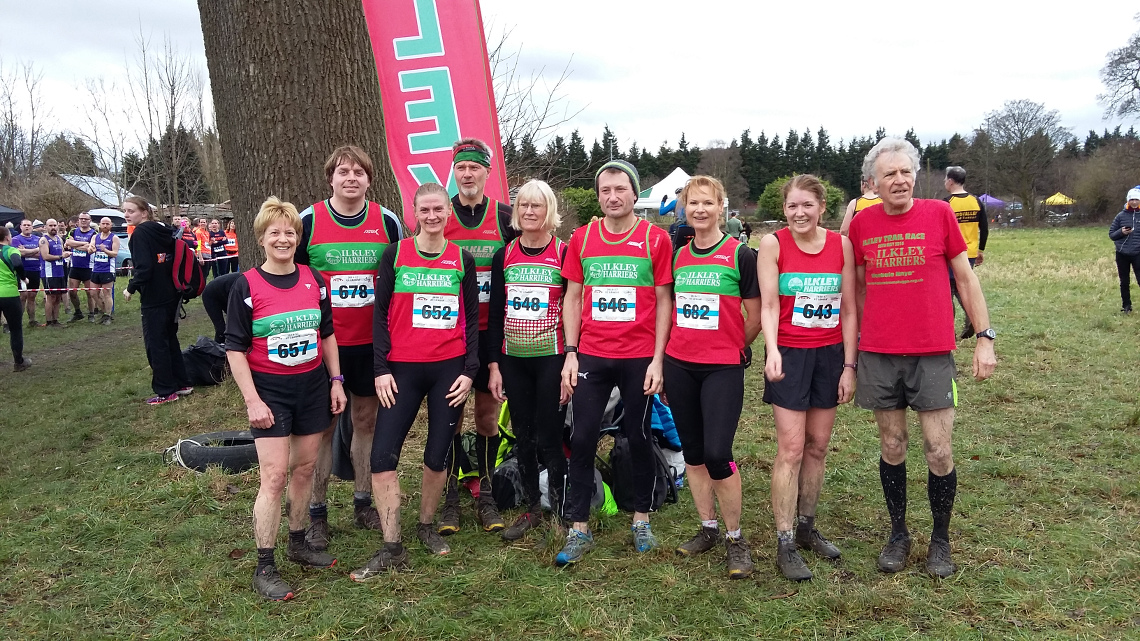 From Val Kerr ... Mud, mud, glorious mud ! - A few hardy Harriers turned out for the 4th of the Peco X country races on what should have been a nice, 4.9 mile, undulating course around Pendas Fields and woods. However rain during the week had turned large parts of the tracks to thick gloopy mud, especially for the ladies race as the course had been nicely churned up by the feet of nearly 400 men by then. It was difficult for large parts of the course to stay upright and at times it felt as if you were running with lead weights on your feet with all the mud stuck to them. At the start of their race the men were apparently told to "look out for the bog". Quite which bog the marshalls were talking about nobody knows! Some good results, especially from Ellie Kitchen who finished in 14th position in the ladies race. Thanks to Rob Budding for standing by with the club banner and spare numbers and ably filling Gaynor and Steves shoes.

Men's results
(1  30:17 Joe Baxter, P & B)      
160 39:34 teve Murray              
171 40:05 Rob Budding              
235 42:27 Andrew Jackson          
252 43:36 Neil Bloor                    
282 45:32 Geoffrey White           
311 47:38 Peter Lewis                  
359 53:17 Don Macrae                
(394 finishers)

Ladies' results
(1  34:41 Helen Cross, York Tri)        
14  39:20 Ellie Kitchen                        
115 48:18 Alison Bennett                  
126 49:22 Val Kerr                              
153 51:12 Steph Fox                           
173 52:23 Hilda Coulsey                      
233 59:28 Sally Wright                         
281 74:19 Clare Shoulder                
(285 finishers)

Flower Scar fell race, Sat 18 Feb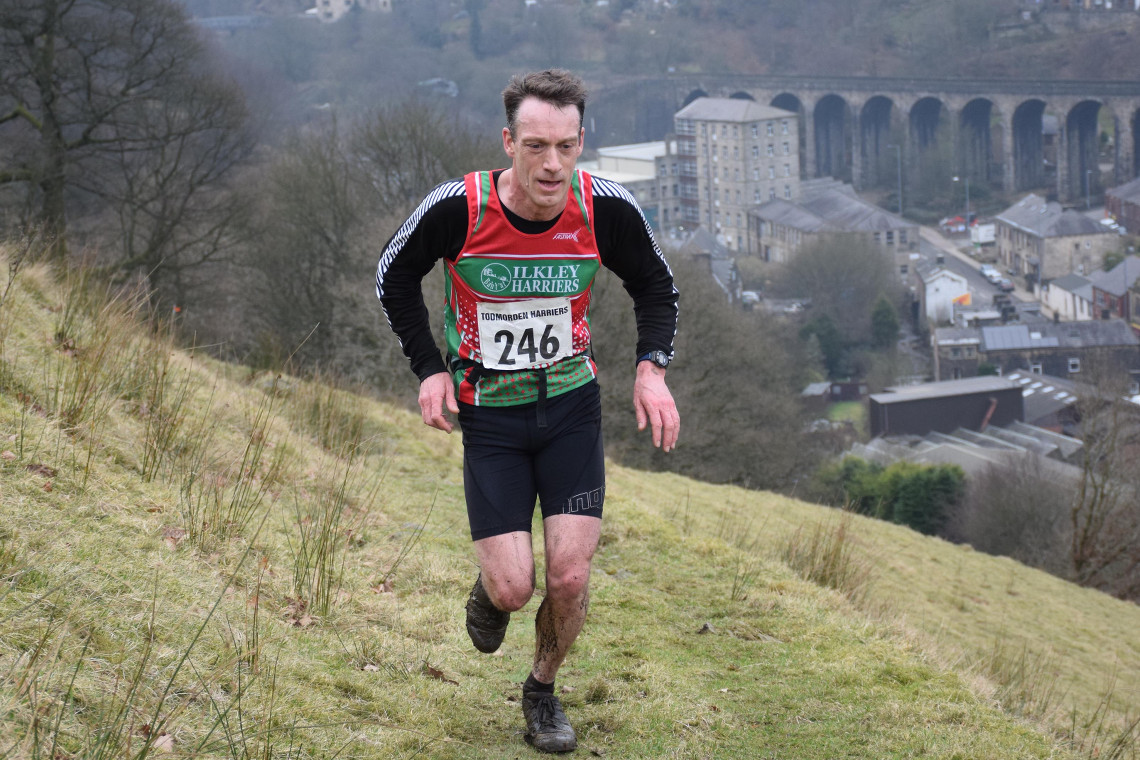 From Jim Ryder.. I ran the Flower Scar Fell Race this Saturday, 8.3 miles with 2200feet from Todmorden Cricket Club. The race winners were Andrew Worster (Todmorden) 1h07 and Annabelle Mason (Leeds University and Fell Club) 1h28. I managed 27th out of 176 in 1h19 for the first V50 prize. A new route for this year. It has everything in it from steep long climbs, short drops, moorland tussocks, muddy plantation paths, contours steep above the Todmorden valley. It reminded me of the Noon Stone Fell Race near Mytholmroyd, discontinued in 2011. Well organised, friendly and recommended.
Results ...

(1 67:11 Andew Worster, Todmorden)
27 79:03 Jim Ryder
176 finished

parkruns, Sat 18 Feb
From Petra Bijsterveld ... Results ...

Bradford Lister Park
(1  ??    Marcin Soszka, Saltaire Striders)
120 25:30 Stephanie Fox
502 ran

Harrogate
(1  18:36 Zeynu Bedru, Harrogate Harriers)
79  24:25 Jean Sullivan
244 30:01 Jennifer Carne
358 ran

Skipton
(1  18:41 Lucas Payne, Barlick Fell Runners)
37  22:53 Geoff Howard
83  25:48 Hilda Coulsey
233 ran

Fell Foot, Newby Bridge
1   18:12 Jack Wood
165 ran

Hatfield Forest
(1  16:28 Blair McWhirter, Ilford AC)
17  20:50 Tim Ashelford
252 ran

Windy Hill fell race, Sun 12 Feb
From Robin Nicholson... Results ...

1  58:35 Tom Adams
26 74:25 Robin Nicholson
229 finished

Moelyci Mountain race, Sun 12 Feb
From Sue Williamson ... Lucy Williamson competed in this classic short fell race, 8K 390m of ascent. Out of a field of 136 competitiors with a result of 49.31 minutes Lucy took 45th position.
Barcelona Half Marathon, Sat 11 Feb

(1    1:00:52 Langat Kipkoech, Kenya )
8605 1:55:20 Dave Ibbotson
15202 finished

parkruns, Sat 11 Feb
From Petra Bijsterveld ... Results ...

Skipton
1   17:03 Jack Wood
183 ran

Bradford Lister Park
(1  17:17 Martin Soszka, Saltaire Striders)
88  24:49 Sarah Haines
366 ran

Fountains Abbey
(1  18:56 Charles Casey, Tyne Bridge Harriers)
46  23:52 Norman Bush
260 ran

Reading
(1 17:30 Neil Hart, Reading Storm Chasers)
103 27:53 Jennifer Carne
219 ran

Dewsbury 10K, Sun 5 Feb
From Petra Bijsterveld ... Sally Malir and I were the only two Harriers on the Dewsbury 10K start line this morning. Cold but still weather provided excellent running conditions on this out and back course with just 115 feet of elevation to deal with in the first half, which makes the return leg a gentle downhill. Devoid of any interesting scenery to distract the mind from the task at hand, and with plenty of encouragement from the marshals and supporters, this race has PB potential in spades and it was my 4th year in a row here.
Having had a disappointing race last year I was hoping for a better time and thankfully the legs were with the programme today. I felt good from the start and seeing my half mile splits ticking by on target gave me a confidence boost to keep on working hard, and I was delighted to finish having taken 45 seconds off my previous PB on the same course.
Sally had finished about 10 minutes ahead of me to come home 3rd in her category, brilliant result. It does appear the course was long today, the switchback was further up the road than in previous years which can be clearly seen on Strava, and the Twittersphere reckons around 200 meters too long! As I write there are no official pronouncements from the organizers yet.
Results ...
Update: confirmation has now been given that the course was too long.

(1  30:43 Mohammad Abu Rezeq, Altrincham)
254 41:40 Sally Malir 3rd F50
622 50:45 Petra Bijsterveld PB
1081 ran

Rombalds Stride, Sat 4 Feb
Paul Stephens ... A week before this year's Stride the weather was looking grim - wet and windy. But as they say the sun shines on the righteous and the sun was certainly shining on Saturday the 4th February 2017. As usual there was a good buzz in the school before the event and plenty of Harriers there for the first trail race in the 2017 league.
A steady start and I saw a few Harriers on the first leg to the bucket drop before the climb through the edge of Baildon. After that I passed nobody from the club, and nobody passed me. Not sure that means anything. The support from Harriers around the course was much appreciated and kept me going, along with the fig rolls at the food stops. Yes, fig rolls.
I think I got my pacing about right, was able to run it all apart from the steep climb through the mud up the Chevin. It was of course muddy all the way round and I fell over twice, soft landings both times. Unlike previous years I had done a few longer runs during January, and whilst I wasn't fast, I think that helped me get round comfortably. Dave Robson and I were out running on Tuesday, so clearly neither of us had tried hard enough.
Some brilliant runs from Harriers, both in front of me and behind me. I was pleased with 4.02 which was 6 second slower than my 2015 time; less pleased with my position at 105, albeit this was exactly the same as 2 years ago.
At the moment I'm thinking I'll try some more longer runs this year - perhaps Heptonstall in March?
Results ... (any more? Hard to spot as club not shown in results, but this is an IH League counter, so let us know.)

(1  2:43:42 Graham Pearce, P&B)
2   2:43:42 Jack Wood 
7   3:01:18 Ben Sheppard 
17  3:12:52 Jane McCarthy  1st Female
19  3:16:00 Steve Turland
20  3:17:23 Michael Lomas 
30  3:23:54 Dave Robson
40  3:32:12 Michael Duffield 
44  3:35:55 Kate Archer
45  3:36:08 Dick Waddington
50  3:39:27 Duncan Cooper
77  3:53:38 Outi Kamerainen
105 4:02:07 Paul Stephens
111 4:05:34 Ewan Welsh
118 4:08:17 Mike Baldwin
125 4:12:56 Alison Weston               
139 4:20:43 Martin Stocker
146 4:25:23 Adela Reperecki
149 4:32:21 Sarah Edwards
151 4:32:21 Mary Gibbons
169 4:47:12 Chantal Busby
317 6:41:58 Sally Lynch
318 6:41:58 Abi Bailey
322 6:44:19 Rebecca Mon-Williams
324 6:45:50 Amanda Parnaby (15th race)
355 7:20:04 Sophie Brown
421 8:30:21 Sharon Meadows
494 finished

parkruns, Sat 4 Feb
From Petra Bijsterveld ... Results ...

Bradford Lister Park
(1  16:46 Sam Clegg, Idle AC)
78  24:24 Sarah Haines
444 ran

Roundhay Park
(1  17:06 James Ellis, Thames Valley Harriers)
217 28:52 Jennifer Carne
362 ran

Skipton
(1  17:30 Julian Hood, Skipton AC)
40  23:39 Geoff Howard
215 ran

---
Ilkley Harriers of the Month, January
Runner of the month:
Normal Bush
V75 record for Skipton parkrun
Other nominations were:
Geoff Howard for consistent 22 and 23 min parkruns through January
Rob Cunningham for 1h19 Brass Monkey half PB
Matt Newell for parkruns and cross-country commitment plus SM18 record at Skipton this month
Tim Ashelford for parkruns and cross-countries.
Volunteer of the month:
Gaenor and Steve Coy
for their diligent PECO and representative cross country organisation
Other nominations were:
(none this month)
More Harriers of the Month ...
Northern XC Championships Knowsley Park, Sat 28 Jan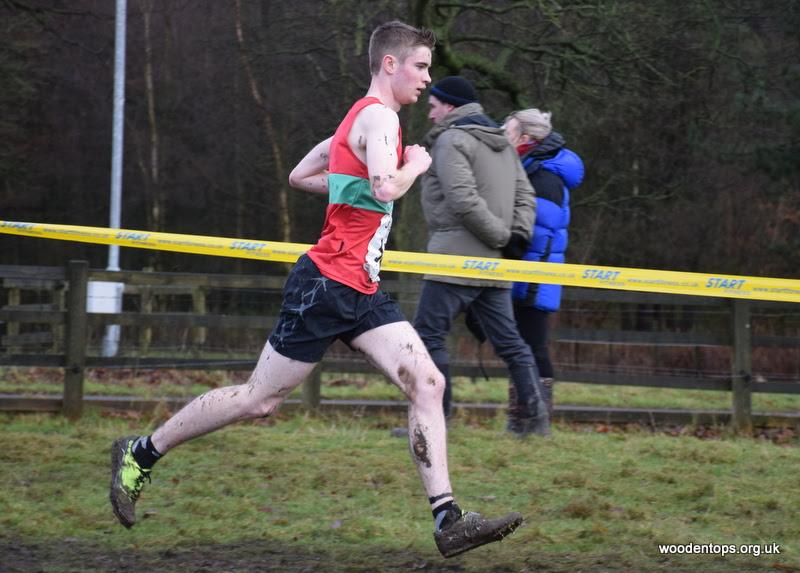 From Petra Bijsterveld ... A small number of senior Harriers traveled across the Pennines to Knowsley Safari Park for the Northern XC Championships. Consistent rain during the journey prepared the mind for a thoroughly muddy course, which by the time the seniors were running had already been well churned by the juniors. As a result underfoot conditions were very testing and for much of the undulating course I was just working on not losing my shoes and maintaining minimal forward momentum.
It makes the high rankings of Tom Adams, Matt Newell and Sarah Pickering in their races even more outstanding! Great results for all though, in fast fields with some of the best XC runners in the North. Disappointment for Tim Ashelford who had to retire after one lap due to a calf injury.
Results ...

Senior Men
(1  41:13 Ben Connor, Derby AC)
8   42:34 Tom Adams
348 57:24 Steve Coy
676 ran

U20 Men
(1  26:57 Scott Beattie, Morpeth Harriers)
14  28:53 Matt Newell
76 ran

Senior Women
(1  30:46 Claire Duck, Leeds City)
268 48:14 Gaenor Coy
288 49:32 Petra Bijsterveld
360 ran

U20 Women
(1  20:47 Harriet Knowles Jones, Warrington AC)
19  24:35 Sarah Pickering
54  30:38 Elizabeth Westhead
55 ran

parkruns, Sat 28 Jan
From Petra Bijsterveld ... Results ...

Ashton Court
(1  16:11 George Duggan, Tonbridge AC)
51  21:22 Jonathan Schneider
484 ran

Bradford Lister Park
(1  17:27 unknown)
20  21:40 Adrian Bastow
405 ran

Skipton
(1  18:37 Danny Thompson U/A)
121 29:09 Jennifer Carne
184 ran

Harriers Social and Awards Evening, Fri 27 Jan
A great social evening upstairs at The Flying Duck at 7.30pm, with over 70 tickets sold, and including the Annual Awards presentation.
Thank you to everyone who filled in a Nomination Form for the awards - we had lots of nominations across the categories which can be viewed here
| Category | 2016 Winner |
| --- | --- |
| Runner of the Year, Male | Jack Wood |
| Runner of the Year, Female | Kate Archer |
| Most Improved Runner, Male | Michael Lomas |
| Most Improved Runner, Female | Lucy Williamson |
| Best Endurance Runner, Road, Male | Steve Weston |
| Best Endurance Runner, Road, Female | Helen Waddington |
| Best Endurance Runner, Off-road, Male | Dick Waddington |
| Best Endurance Runner, Off-road, Female | Jane McCarthy |
| Best Athlete, Under 23, Male | Matt Newell |
| Best Athlete, Under 23, Female | Jemima Elgood |
| Best Runner, Over 50, male | Malcolm Pickering |
| Best Runner, Over 50, female | Alison Weston |
| Contribution to the club, male | Neil Chapman |
| Contribution to the club, female | Hilda Coulsey |
| Captains award; male | Rob Budding and Iain Gibbons |
| Captains award; female | Petra Bijsterveld and Mary Gibbons |
| League winner | Lucy Williamson |
| League road | Lucy Williamson |
| League fell | Jack Wood |
| League trail | Adele Reperecki |
Some notes on their achievements
In addition an exceptional performance award was made to Tom Adams. Best news articles, chosen by Peter Lewis, were by Brian Melia and Outi Kamareinan. And an award for website upkeep was made to Paul Wood.
Helen's photos
---
PECO XC, West Park, Sun 22 Jan

men's race
(1  29:34 Nathan Marsh, Leeds Uni)
45  33:12 Tim Ashelford
89  34:53 Steve Coy
229 39:55 Robert Budding
289 42:25 Andrew Jackson
302 42:51 Geoffrey White
308 43:03 Neil Bloor
444 53:38 Don Macrae
461 finished

ladies' race
(1  34:09 Helen Cross, York Tri)
159 48:36 Hilda Coulsey
175 49:16 Gaenor Coy
236 53:01 Jacqui Weston
276 55:45 Kate Lofthouse
340 69:43 Clare Shouler
344 finished

parkruns, Sat 21 Jan
From Petra Bijsterveld ... Results ...

Ashton Court
(1  17:10 David Awde, Bristol and West AC)
78  22:40 Jonathan Schneider
489 ran

Skipton
(1  18:14 Tim Chadwick, Skipton AC)
37  23:17 Norman Bush
42  23:30 Mary Gibbons
43  23:34 Geoff Howard
237 ran

Fountains Abbey
(1  16:47 Nathan Smith, City of York AC)
84  24:11 Alison Eagle
380 ran

Penrhyn
(1  17:38 Osian Perrin, Menai Track and Field)
5   19:49 Lucy Wiiliamson 1st F
206 ran

Stanbury Splash, Sun 15 Jan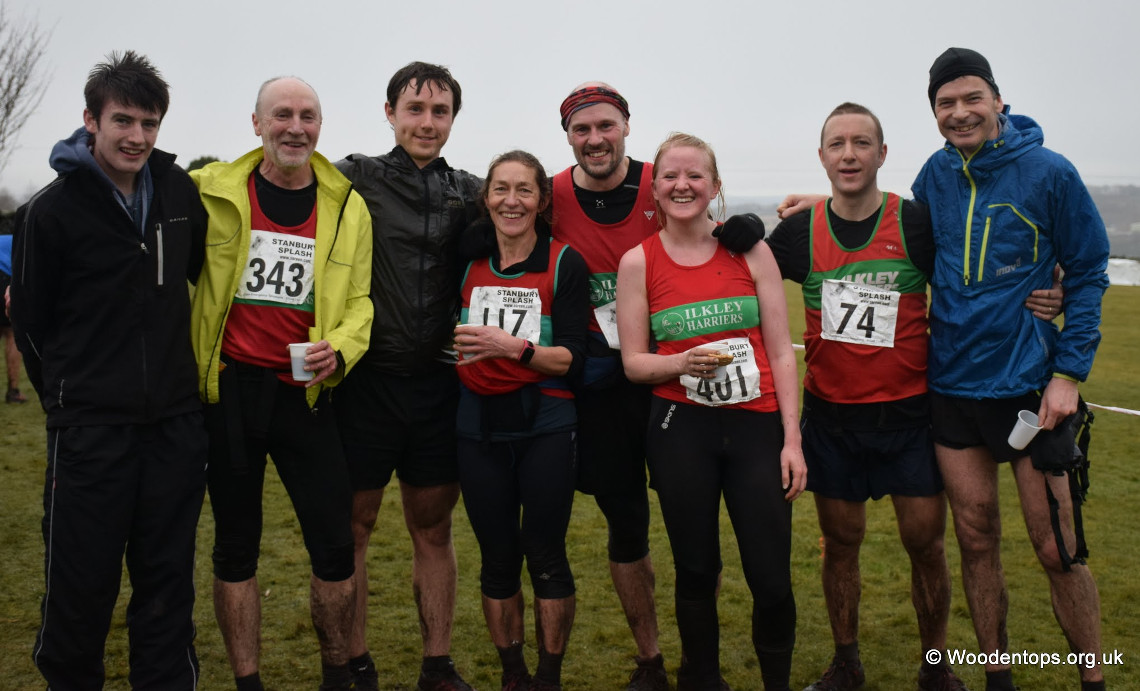 Tom Adams celebrated his 5th win at this race, results and photos

1   43:52 Tom Adams
17  53:01 Jack Cummings
19  52:23 Martin Archer
39  56:59 Dave Robson
59  59:02 Jane McCarthy
78  60:12 Richard Joel
101 62:22 Michael Duffield
120 64:43 Alistair Barlow
141 65:45 Duncan Cooper
158 67:30 Alison Weston
162 67:50 Paul Stephens
175 69:25 Mary Gibbons
197 72:00 Sarah Edwards
218 74:16 Geoff White
240 76:55 Peter Lewis
311 91:00 Anna Barlow
315 95:21 Sophie Brown
330 finished

Brass Monkey Half Marathon, Sun 15 Jan
From Petra Bijsterveld ... Well organized as ever by York Knavesmire Harriers, this HM is a hardy perennial in the winter road racing calendar and sold out within minutes when entries opened in October. It seems a particular favourite with clubs from the North East and you could imagine that you were running up there rather than in York when listening to the accents. A flat course and good running conditions gave plenty of PB potential and I was hoping to go under two hours which I have only managed once before. Despite giving it my all my legs thought otherwise, I must surely hold the record for the Harrier with the most HM results between 2 hours and 2 hours 35 seconds. I think this is my 5th!
Rob Cunningham, Derek Oliver and Janet Grace all seemed to have excellent runs, at about mile 10 I passed Chris Cunningham who was struggling with an injury but I was glad to see he came in not far behind me.
Results ...

(1   1:09:17 Steven Hebblethwaite, Keswick AC)
79   1:19:31 Rob Cunningham
332  1:32:35 Derek Oliver
906  1:51:23 Janet Grace
1171 2:00:33 Petra Bijsterveld
1191 2:02:48 Chris Cunningham
1537 finished

parkruns, Sat 14 Jan
From Petra Bijsterveld ... Results ...

Leeds Woodhouse Moor
(1  16:25 Benjamin Douglas, Notts AC)
6   18:24 Tim Ashelford
42  20:55 Adrian Bastow
557 ran

Ashton Court
(1  18:24 Samuel White, Shelton Striders)
62  22:00 Jonathan Schneider
548 ran

Cambridge
(1  17:41 Chris Darling, Cambridge and Coleridge)
6   18:09 Dan Hayes
485 ran

Curl Curl (Australia)
(1  17:42 Gregory Nicholas, Warringah Triathlon Club)
21  20:22 Ben Joynson
291 ran

Skipton
(1  19:22 Danny Thompson, U/A)
92  29:05 Jennifer Carne
148 ran

Wetherby
(1  18:11 Kristoff Boynton, Steel City Striders)
20  23:13 Geoff Howard
66 ran

Temple Newsam Ten, Sun 8 Jan

(1    59:10 Mark Smith, Rothwell)
530 1:40:35 Alex Hyde
806 finished

YHA 'King Of The Castle', Sun 8 Jan
From Sarah Edwards ... this little race fell on my dad's birthday when we were all in the Lakes. A time trial format with everyone setting off at 10 second intervals. Start with your hand on the bar at the YHA and race to the war memorial on the top of Castle Crag - 1.6 miles and 656ft.

(1 11:27 Chris Arthur, Bowland)
45 17:54 Sarah Edwards

Yorkshire XC championships, Sat 7 Jan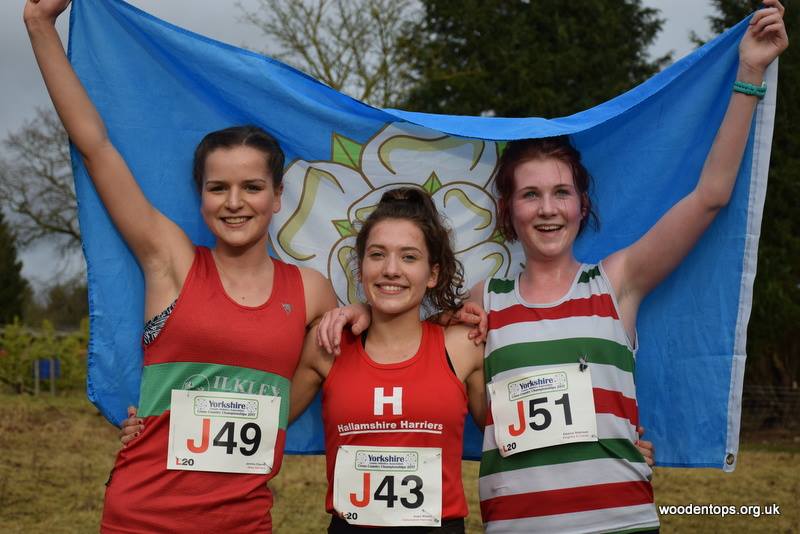 From Petra Bijsterveld ... A good Harrier presence from both the senior and junior club at Lightwater Valley for the Yorkshire Cross Country Championships. The weather was mild and conditions underfoot were very dry. Outstanding results from Tom Adams and Jemima Elgood both coming second in their races, and strong running from everyone in a very fast field.
It would be great to see even more members entering these championship races, if you have not tried them give them a go, they are open to everyone and every ability. Northern and Nationals coming up very soon. Great organization as always from Steve and Gaenor Coy.
Results ...

Senior Men
(1  33:47 Emile Cairess, Leeds City AC)
2   34:03 Tom Adams
49  37:46 Matt Newell
92  40:06 Tim Ashelford
127 42:04 Steve Coy
144 42:33 Dave Westhead
192 45:23 Mark Iley
197 45:43 Mark Summerson
215 47:22 Robert Budding
287 ran

Senior Women
(1  30:24 Julie Briscoe, Wakefield DHAC)
121 45:29 Gaenor Coy
127 46:18 Petra Bijsterveld
131 46:33 Hilda Coulsey
155 ran

U20 Women
(1  23:15 Imani Wilson, Hallamshire Harriers)
2   23:54 Jemima Elgood
7   25:14 Sarah Pickering
13 ran

Lots of excellent junior results too!

parkruns, Sat 7 Jan
From Petra Bijsterveld ... Results ...

Woodhouse Moor Leeds
(1  16:10 Michael Kallenberg, Carmarthen)
185 25:00 Tom Worboys
540 ran

Skipton
(1  18:40 Tim Chadwick, Skipton AC)
26  22:48 Geoff Howard
63  24:57 Chris Cunningham
132 28:55 Sue Verspyck
230 ran

Fountains Abbey
(1  18:06 Guy Close, Knaresborough Striders)
55  22:44 Norman Bush
430 ran

Giants Tooth fell race, Sun 1 Jan
parkruns, Sun 1 Jan
From Petra Bijsterveld ... Just a handful of Harriers started 2017 with a parkrun. New Year's Day is the only day of the year where you can register two parkrun results on the same day, so I started at Skipton (brilliant first finish by a fast Matt Newell), 90 parkrunners then drove to Pendle parkrun to do it all over again. I was a bit sad to be the only Harrier, but there was a jolly festive atmosphere to take our minds off the cold wind blasting across the park and plentiful mud underfoot. Junior Oscar Stapleton was the only other Harrier to do a double, at Woodhouse Moor and Temple Newsam. (however for reasons of consistency junior parkrun results will not be included here anymore). Nice to chat to Geoff Howard who was marshaling at Skipton.
Results ...

Princes parkrun, Liverpool
(1  17:43 Stephen Watkin, Penny Lane Striders)
12  19:50 Richard Joel
50  24:03 Jean Sullivan
152 ran

Skipton
1   17:12 Matt Newell
96  27:08 Petra Bijsterveld
116 28:19 Karen Lambe
175 ran

Pendle
(1  19:38 Nick Gaskell, Trawden AC)
82  28:52 Petra Bijsterveld
137 ran

---