Ilkley Harriers news archive 2017
Ilkley Harriers of the Month, October
Harrier of the month nominations: Caroline Howe for commitment to training and Yorkshire Marathon time and PB; Alison Weston for Lakes Grand Prix placings; Tom Adams for 'dirty double' wins in Lakeland Trails; Petra Bijsterveld for Keilder Double weekend and Snowdonia Marathon; Harry Sime for recent 'eventsplits' 5k time returning from injury; Lucy Williamson for Bangor Half Marathon time and PB
The winner is Caroline Howe.
Volunteer of the month: Helen Waddington for the monthly reviews of performances; Hilda Coulsey for committee work; Peter Shields for his Wednesday evening training sessions
The winner is Hilda Coulsey.
More Harriers of the Month ...
Lakes Grand Prix 2017
From Hilda Coulsey... Congratulations to Alison Weston who was 3rd lady overall, 1st FV40 and 1st FV50 having completed the Anniversary Waltz, Coniston, Fairfield Horseshoe and Kentmere Horseshoe.
Bronte Way fell race, Sun 29 Oct
From Jo Foster... Three Harriers turned out for the Bronte Way Fell Race on a beautiful sunny day. The combination of the weather and there being not much else on meant that they had more entries than expected and it took so long to get everyone registered, the race was delayed by over half an hour. The large numbers meant that I found myself queuing at every style - I guess that's one of the great things about fell racing that everyone dutifully waits in line in their positions patiently! The race is a mixture of runnable tracks and muddy, boggy fell sections with a finale up the Haworth cobbles. I seemed to find it hard to stay on my feet in the muddy conditions, falling over three times which I think must be a record. Not my best day at the office but a beautiful day with a free beer and soup at the end.
Results ...

(1    54:20 Joe Dale, Victoria Park Harriers)
93  1:12:40 Jamie Hutchinson
136 1:17:53 Jo Foster
181 1:25:55 Adela Reperecki
273 finishers

Shepherd's Meet, Buttermere, Sun 29 Oct
From Alison Weston ... A lovely low key event in the village of Buttermere. Lots of Herdwick sheep to admire and a short fell race straight up to Whiteless Breast and back on steep grassy terrain.
Winner 15.06 mins
Alison 24th in 22.20 mins
Graham's photos.
WYXC, Sun 29 Oct

Men, 8th team
(1  27:01 Angus McMillan, York)
10  28:23 Jack Wood
37  30:13 Matthew Cox
55  31:25 Steven Gott
74  32:16 Tim Ashelford
131 34:49 Stephen Coy
147 35:39 Robert Budding
152 36:11 David Brown
165 37:19 Mark Iley
176 38:15 Arthur Reilly
209 finished

Ladies, 8th team
(1  20:25 Georgia Malir, Leeds)
10  22:08 Pauline Munro
29  23:55 Kate Archer
56  25:27 Sally Malir
90  28:01 Anna Nolan
95  28:23 Alison Bennett
129 35:26 Jacqui Weston
138 finished

Bradford City Runs 5k, Sun 29 Oct
From Simon Jenkins ... A good atmosphere in Bradford Centre with the weather to match. The course feels a little Alpine in terms of ascent with a few tight turns thrown in too. A nice urban race that keeps it real.
Results ...

(1 19:25 Joseph Kirton, Keighley and Craven AC)
6  21:18 Simon Jenkins PB 1st V50
287 ran

Snowdonia Marathon, Sat 28 Oct
From Petra Bijsterveld ... This was my second consecutive Marathon Eryri, to use the Welsh name for this tough circuit of Snowdon starting and finishing in Llanberis, predominantly on road with just 2 short sections on unmade tracks. The three climbs total 2,800 ft and come at 2 miles (to Pen-y-Pass), 14 miles (out of Beddgelert) and 22 miles (Wynnfaur) with a very steep descent back into Llanberis. Conditions were more or less identical to 2016, overcast with low cloud and some drizzle, minimal wind, and about 12C, perfect running conditions. My training had suffered an extreme taper due to a cold and a sprained ankle in the last fortnight, but I felt fit at the start. My desire was to beat last year's time of 4:50. However I found it hard and struggled with the desire to walk from the halfway point which was disheartening after all the long runs I had put in during training. Eventually though I ran more or less the same race as in 2016 but for a stop at the conveniences at mile 17 which set me back a few minutes. The body isn't always as obedient as we want it to be! I was delighted to reach the steep climb at mile 22 as that heralds guilt-free walking, even though by then I was feeling rather dizzy and nauseated. The descent from mile 24 starts on a rough track which was very muddy and many runners, probably on road shoes, were slipping and sliding. Though uneven ground is not my forte I made better progress than many on my hybrid trail/road shoes, and once I reached the safety of tarmac I hurled myself down the slope taking us into Llanberis and the welcoming roar of the crowd. In particular I was trying to stay ahead of a fellow runner who looked like she could be in my category! Between the 23 mile timing point and the finish I overtook 68 people to finish 9/40 in my shiny new category of F55, which provided some relief to the disappointment of a slower overall time.
There were no other Harriers but I did meet Otley AC's Scott Harrington before the start, who came a fantastic 8th in 2:50:03, having actually led for the first half of the race. Will I do it again? It was brutal but it seems I still have some unfinished business there.....watch this space!
Results ...

(1   2:36:54 Daniel Jones, Team Bath AC)
1492 4:53:50 Petra Bijsterveld
2210 finished

parkruns, Sat 28 Oct
From Petra Bijsterveld ... Results ...

Edinburgh
(1  17:07 Kieran Cooper U/A)
181 24:41 Sarah Hayes
557 ran

Portobello, Edinburgh
1   17:02 Ruaridh Mon-Williams
54  22:45 Rebecca Mon-Williams
334 ran

Bradford
(1  17:59 Will Kerr, Saltaire Striders)
12  20:30 Jane McCarthy 2nd F
24  21:55 Martyn Stocker
60  23:53 Oscar Street
343 ran

Fountains Abbey
(1  17:23 Allen Bush, U/A)
183 27:10 Emma Curran
442 ran

Penrhyn
(1  16:16 Ben Harding, Kent AC)
7   19:39 Lucy Williamson 2nd F
243 ran

evensplits 5k race 4, Wed 25 Oct
From Harry Sime ... I ran the penultimate race of this series with my youngest son Michael in very good running conditions at the Brownlee Centre. The last one is on 22 November with a new series planned to start in February. It takes place on the tarmac cycle track which is a one mile loop. A few Harriers usually there but just me on this occasion. Results ...

(1 16:26 Joseph Crossfield, Halifax)
81 22:56 Harry Sime
117 finished

Camp Hill 10k, Sun 22 Oct

(1  39:51 Scott Waardman, Richmond)
128 65:24 Jayne Norman
249 finished

parkruns, Sat 21 Oct
Shaun Lee Johnstone Memorial 10 Mile Multi-Terrain, Sun 15 Oct

(1 57:25 Andrew Grant, Harrogate)
25 73:59 Paul Calderbank
158 finished

Heart of Eden half marathon, Sun 15 Oct
From Jean Sullivan ... This is the 2nd year that this race has been on and I would definitely recommend it if you are after a low key, friendly, hilly road race with beautiful scenery!
It is described as a 'challenging' road race set in the heart of the beautiful Eden Valley, Cumbria and it certainly is, with an undulating course throughout! The race starts in the market town of Appleby-in-Westmorland, and goes through the picturesque villages of Murton, Dufton and Long Marton along the foothills of the northern Pennines. Apparently there are views, on a clear day, of Blencathra and the Lakes but it was very overcast for today's run so I didn't see these sights!
The race was fantastically organised with great support provided by the marshalls. A souvenir mug filled with delicious soup and a bread roll was awarded to each runner at the finish!
Results ...

(1 1:20:18 Jack Eyre, Eden Runners)
56 1:53:32 Jean Sullivan 
115 finishers

The Lakeland Four Passes, Sat 14 Oct
From Steve Turland ... No summits, but this well organised event took in four of the Lakeland Passes with 4,500ft of climbing in its 19 miles. With all the top runners in Wales that weekend I found myself at the front of the field and was actually leading the race at Wasdale. Unfortunately I faded a bit in the second half and finished in 4th place out of a field of a couple of hundred. There is a new event in the calendar next year - the Lakeland Five Passes - about 30 miles and 10,000ft of climb. Looks a great circular route from Grasmere...
WYXC, Sat 14 Oct
From Alison Bennett ... The 2017/18 Cross Country Season kicked off at Wakefield's Thornes Park with the first race in the West Yorkshire League Series. This is a tough discipline for strength and endurance and there was a good turnout of Ilkley Harriers taking part on this unusually warm day. The Ilkley men were led home by Jack Wood whilst Jemina Elgood was the first Ilkley female.
Results ...

Men, 12th team
(1  32:40 Daniel Garbutt, Skyrac)
5   33:15 Jack Wood
33  36:44 Matthew Cox
72  39:41 Tim Ashelford
133 44:21 Stephen Coy
149 45:39 Mark Iley
153 46:02 Robert Budding
154 46:22 Arthur Reilly
193 finished

Ladies, 7th team
(1  20:24 Emma Clayton, Leeds)
6   21:28 Jemima Elgood
27  23:33 Kate Archer
53  25:46 Sally Malir
105 29:45 Diane Kitchen
113 31:06 Gaenor Coy
122 31:47 Hilda Coulsey
136 36:47 Jacqui Weston
141 finished

Helvellyn Lakeland Trails Series, Sat 14 Oct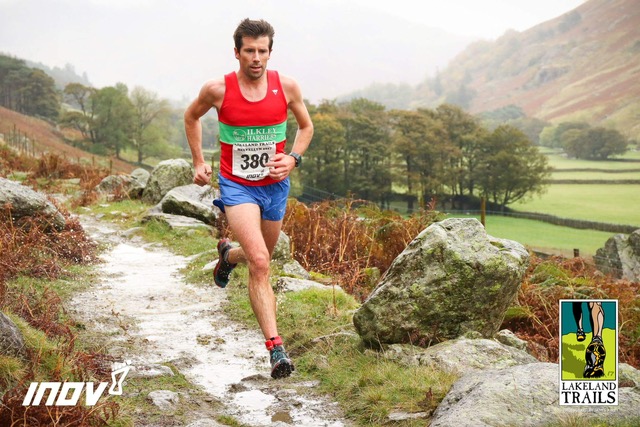 From Jane McCarthy .... Four Harriers travelled to Glenridding on Saturday 14th October for the first race in the 'Dirty Double' finale weekend of the Lakeland Trails Series. These have been super events, three in Spring/Summer and three in Autumn, in beautiful locations and extremely well organised, over flagged trail routes. Typically there are multi-distance options, 5km, 10km or 18km Challenge or Races, depending on the level of competitiveness you are seeking. Running the 15km Race on Saturday was under the foothills of Helvellyn on pretty runnable trails, just a couple of sections of tricky rock to negotiate. Tom Adams cruised to another victory by a substantial margin. Helen Waddington ran a solid race after a nasty recent bout of flu, and I enjoyed seeing Rob Cunningham on the course. I (rather embarrassingly) sprinted past him in the finishing field, although he was clearly saving himself for the finale race on the Sunday where he and Tom both had superb results on a wet weather 'emergency' route.

Helvellyn Trail Results (14/10/17)
1     52:31 Tom Adams  
32  1:07:51 Jane McCarthy 
33  1:07:54 Rob Cunningham 
221 1:31:34 Helen Waddington 
313 finished

Ullswater Trail Results (15/10/17)
1    48:12 Tom Adams
19 1:04:40 Rob Cunningham 
391 finished

parkruns, Sat 14 Oct
From Petra Bijsterveld ... Results ...

Bradford
(1  18:19 Martin Fillingham, Saltaire Striders)
49  23:17 Philip Hirst
412 ran

Cannon Hill, Birmingham
(1  17:28 unknown)
102 23:39 Lucy Jacques
138 24:40 Ethan Thompson
530 ran

Temple Newsam
(1  19:28 Charles Casey, Harrogate Harriers)
22  24:43 Alison Weston
137 ran

Skipton
(1  18:48 Daniel Hale, St Andrews XC)
20  21:41 Derek Oliver
148 ran

Chicago Marathon, Sun 8 Oct
From Andrew Merrick ... A 6 hour delay on my direct flight from Manchester wasn't quite the start I had in mind on my trip to Chicago, having decided to come out of marathon retirement to use my about to expire GFA time to complete my fifth major...
A very well organised event, down to the iconic yellow school buses available on Friday and Saturday to shuttle competitors to the Expo from various central points.
The race itself starts and ends from a large park in the centre of Chicago within walking distance of most city centre hotels. The 7:30am start (picture taken en route) was welcome given that temperatures peaked at about 26 degrees. The start area was also very well organised with all "corrals" carefully marshalled and a large finish area complete with band, beer tents, food stalls and a large massage tent...... a great area to chill and compare notes after the run, which would have been even better if my friends hadn't spent two hours in the medical tent (all fine later that day after a heat induced collapse metres from the finish).
Over 1,000 Brits made the trip - the big 6 seeming to be an increasing popular focus... It didn't take me long to find a few on the start line for a pre race chat and we also managed to catch up to compare notes afterwards (the Union Jack running vest was quite visible!). We had all been thrown early on by our respective running watches not being able to cope with the buildings - I should have remembered that from New York - which is challenging particularly in the first couple of miles when you are trying to settle into your target pace.
Great support pretty much everywhere throughout the run, and drink stations every couple of miles - I didn't find many fans of the particular Gatorade endurance sports drink they had an offer so most of us stuck with water.
So an event to be recommended if you like your big city marathons. If I was doing it again, I would include an American Football game at Soldier Field - a fantastic looking city centre stadium, and remember that the Museum of Modern Art is closed on Mondays. And the architecture tour is to be recommended.
For the record, run completed in 3:17, consistent with the level of training I had done.
Back off road now for me with the contemplation of another final marathon in February 2019 in Tokyo, albeit not an easy one to get into. Oh, and the pizza was great too......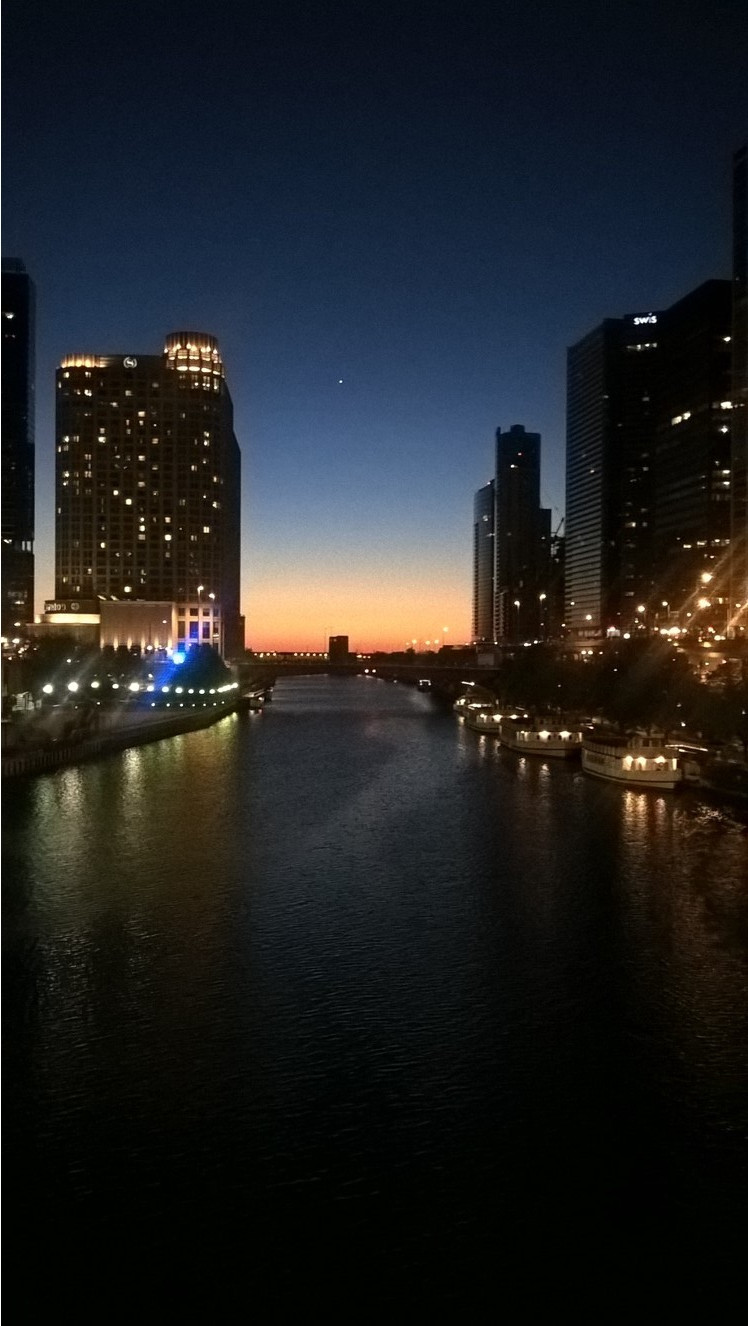 Yorkshire marathon and 10 mile, Sun 8 Oct
From Hilda Coulsey... A great day for running in York, bright but not too warm and not raining. Quite a few Harriers were out, in both the marathon and the 10 mile. There was lots of support on the way which was welcome as I needed it in the last mile, a sneaky little hill - I was thinking of the marathon runners having to tackle it. The times were very good and although I didn't see too many Harriers on the day it was great to see on the results list those of us who have done these sort of races before and many new runners too. Brilliant. The university is a good place to host this sort of event, with lots of toilet and coffee options, and the organisation worked well..
Results: !0 mile, Marathon....

10 mile
(1     50:15 Dominic Shaw, New Marske Harriers Club)
73   1:05:48 Jane McCarthy
1120 1:30:09 Hilda Coulsey
2403 1:44:57 Damaris Bedford
2404 1:44:58 Dawn Turner
2649 1:50:11 Libby Heppenstall
2650 1:50:11 Diane Ollier
3177 finished

Marathon
(1   2:24:13 Ross Houston)
551  3:33:26 Mike Helme	Male
721  3:41:10 Michael Duffield
936  3:46:40 Caroline Howe
937  3:47:48 Jonathan Turner
1899 4:16:55 David Howe
3366 5:11:58 Fiona Schneider
4139 finished

From Caroline Howe ... Near perfect conditions for the Yorkshire Marathon, which seems to be getting more popular each year. It's a relaxed atmosphere at the York Uni campus where the race begins, and the first couple of miles, which include passing the Minster, are really iconic. The first half through villages up to Stamford Bridge is scenic and has great support (including the high-fiving vicar in Stockton-on-the-Forest!) before a bit of a drag to 16 followed by a looooong out-and-back between 16 and 20 miles (luckily i had vocal support crew in that stretch!) In what was my fourth marathon, my aim was to achieve my first sub 4 hours, and happily I beat that, and beat my pb by 15 mins, finishing in 3:46. Running the majority of the way with fellow Harrier Jonathan, who I encountered at around 10 miles, really helped. David Howe, completing his 17th marathon, was among the 6 Harriers who finished the race - well done all!
The 10-miler was a counter in the Ilkley Harriers Race League.
Withins Skyline, Sun 8 Oct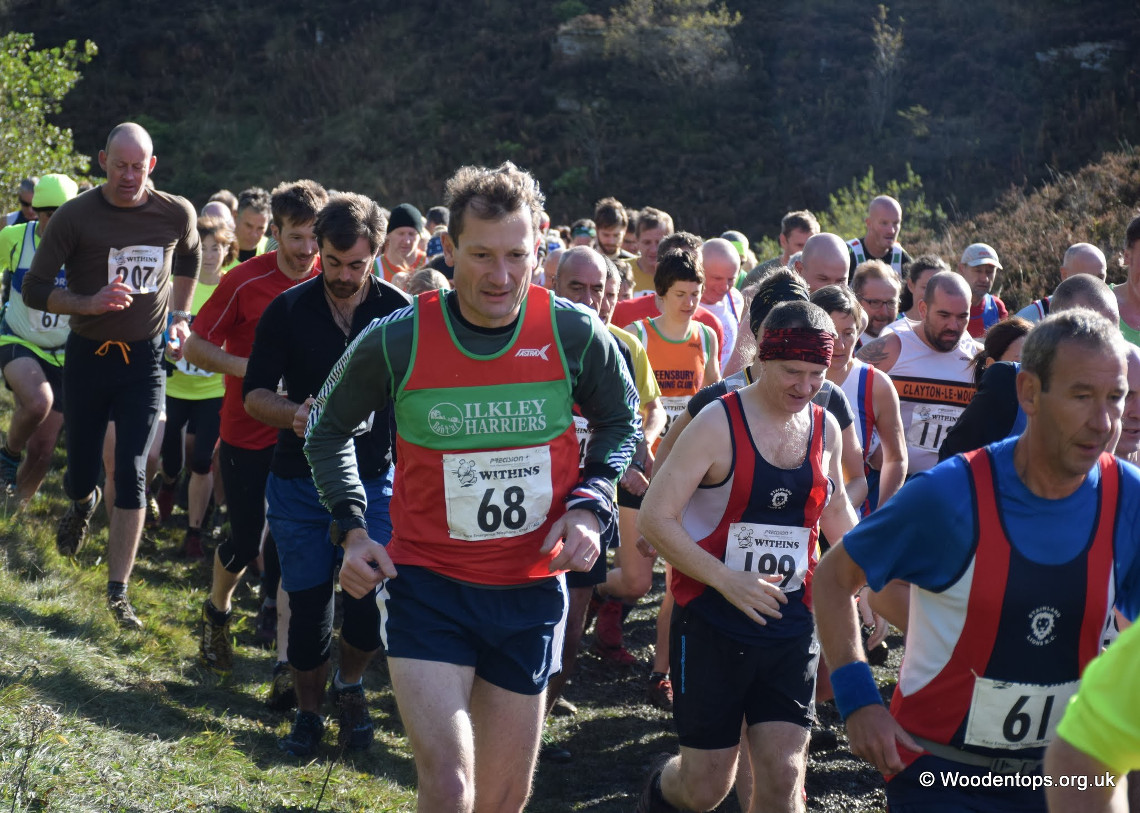 Provisional results on woodentops.org.uk

(1  42:40 Harry Holmes, P&B)
32  50:49 Harry Gott
151 60:42 Robert Budding
165 61:59 Rachel Carter
194 64:02 Mary Gibbons
203 64:47 Sarah Haines
358 finished

Bangor Half Marathon, Sun 8 Oct
From Sue Williamson ... Last year Lucy took part in the 10k race, this year she decided to compete in the half marathon. Conditions were ideal,cool and dry with views of Snowdonia, the coast and Anglesey. Lucy had a great race until she was overtaken coming back into the city centre she had no more power in her legs go to any faster, but came an impressive second female. The overall race winner was fellow student from Bangor university.

(1 1:25:01 Robert Fox, Bangor university
   1:33:35 Emma Bailey, Barlick Fell Runners)
17 1:33:51 Lucy Williamson
267 competitors in the half marathon

Royal Parks Half Marathon, Sun 8 Oct
From Paul Sugden... I completed this in 2:03:52 finishin 7701 out of 16455
Kielder 10K and HM, 7/8 Oct
From Petra Bijsterveld ... This was my third visit in as many years to Kielder. Having run the full marathon in 2015 and 2016 I fancied a change. I remember getting half way last year and thinking I would be able to enjoy the scenery quite a lot more if I could stop after 13 miles! So I made 2017 a weekend of 2 halves, with the 10K on Saturday afternoon and the Half Marathon on Sunday morning. This seemed a suitable game plan in the context of marathon training, and I am pleased to report it all went more or less as I intended. The only minor snag was that I started too far back in the line-up for the 10K, which I intended to race to the best of my ability. Having been cheered over the startline by Steve Cram and Aly Dixon I spent the first mile and a half struggling to get past people on what is not too wide a track. Most of the total elevation gain of 420 feet is in the first mile but I was so preoccupied with making forward progress without elbowing fellow runners out of the way that I did not really notice it, which was an unexpected bonus. I managed to pace the following 5 miles evenly and was pleased with my time of 55 minutes, I could not have given it any more and my legs were almost buckling beneath me by the time I reached the finish. After a night's rest I was back for the HM which was going to be a long slow run wearing a race number. Initially my legs were complaining about not having had much rest and I had to remind them that this was precisely why we were there, 'running on tired legs' and all that. They got the idea after about 4 miles and got into the groove. I mostly managed to enjoy the run, feeling quite relaxed, stopping here and there to take photos, and I still had enough left for a faster last mile and a sprint towards that same finish line as the day before. I went straight to the sports massage, new for 2017 was that rather than sit and wait on chairs they had mats and foam rollers in the marquee so you could foam roll your own legs whilst waiting your turn for the massage. Having had my calf muscles expertly treated I was just in time to see the winner of the marathon, Russell Maddams of Keswick, come over the line in 2:46.
I think I was possibly the only Harrier there. As I have said in previous years, I can wholeheartedly recommend these very friendly and well-organized races to all. Medals, t-shirts and goody bags are always of the highest quality (and I got double of everything this time!) I am sure I will be at Kielder again in 2018.
Results: 10k, HM ...

10K
(1  33:55 Marc Fenwick, Tyne Bridge Harriers)
275 55:09 Petra Bijsterveld
875 ran

HM
(1  1:20:27 Benedict Moore, Gosforth Harriers)
607 2:18:57 Petra Bijsterveld
894 ran

Langdale Horseshoe, Sat 7 Oct
From Ben Sheppard ... There were a few friendly Harrier faces at the start line. A bumper crop of 500 had pre-entered. Not sure how many started, but there were around 345 finishers. One if the casualties was our own Dan Wilkinson, who it would seem has been riding his bike so much he's forgotten how to stay upright when running. In fairness, the wet rocks were treacherous throughout, and in particular on the technical traverse under Esk Pike, where Dan took a tumble and dislocated his shoulder. Thankfully he was able to get himself safely off the mountain and down the tourist path to safety with the help of a fellow runner. Jack Wood ran around the top 5 until the final long descent off Pike of Blisco when a footwear malfunction provided a convenient excuse for dropping a few places. I managed to follow runners who knew the right way, even taking a sneaky detour around the notorious Bad Step, and finished almost 15 minutes slower then my course best. Solid runs also from Duncan Cooper, Dick Waddington, Kate Archer, Paul Carman and Jann Smith.
Results ...

(1  2:13:14 Carl Bell, Keswick)
10  2:22:51 Jack Wood
69  2:50:04 Ben Sheppard
106 3:03:59 Paul Carman
146 3:19:42 Dock Waddington
203 3:34:32 Duncan Cooper
224 3:37:50 Kate Archer
249 3:42:30 Jann Smith
346 finished

parkruns, Sat 7 Oct
From Petra Bijsterveld ... Results ...

Bradford
(1  17:51 Will Kerr, Saltaire Striders)
4   18:59 Will Wood
18  20:56 Rhys Jones
408 ran

Harrogate
(1  15:14 Paul Pollock, Abbey Runners)
53  22:19 Geoff Howard
435 ran

Skipton
(1  17:15 Jake Ridding U/A)
16  22:01 Adrian Bastow
51  25:20 Chris Cunningham
156 ran

Fountains Abbey
(1  17:36 Reece Dalton, Ripon Runners)
46  22:39 Norman Bush
328 ran

Stretford
(1  15:32 unknown)
9   18:31 Rob Cunningham
433 ran

Blackpool
(1  16:06 Joseph Monk, Blackpool Harriers)
91  27:46 Karen Lambe
183 ran

Isle of Arran races, 6/7 Oct
Goat Fell Vertical Race, Friday 6th October / Ultra Trail Races, Sat 7th Oct
>
From Ewan Welsh ...
Travelled up to the Isle of Arran on the weekend to take part in the inaugural Ultra Trail Scotland events. The events consisted of a 74k or a 25K race on the Saturday with the option of the GoatFell Vertical race (to the top of Goat Fell) on the Friday.
Cometh Friday, at 3.30pm, a small elite band of troubadours gathered at the bottom of Goat Fell (or next to an eating establishment called the Wine Port, if that inspires you), for the Vertical race. A straight up route consisting of 6.5K and 875m+ of rock, that's granite rock, the sticky kind!
It equates to 4miles and 2870ft for the traditionalists that manage to set their Garmins to imperial, I'm still a map and compass man myself, I have a little special customised laminated map of that area of Arran that I hold dear to me heart like an old familiar friend where we don't have to communicate to know, it just is!
As there were only 7 entrants to this unique event I knew at least a Top Ten place was possible , quite a unique position for a runner of my ability. We all got to know each other on first name terms, via a degree of translation, as we had 3 Spaniards in our midst. We started off with staggered starts at 2 mins intervals, I was 3rd off scratch, this reminded me of old fashioned club handicaps that were in vogue in the 80's. My tactic was to go off as hard as I could to try and catch the person in front, until someone passed me, then try and hang in, suffer for it, until someone else passed me, hang in, suffer for it, then consolidate myself for the really steep part at the end, funnily enough that's exactly what happened.
I finished 3rd in 52mins (or half way up the field if you prefer proportional representation to first past the post) , first was a young Irish lad from Shettleson Harriers (he's a top hill runner) , he ran it in 36 mins if I recall correctly.
Main enjoyment came from my attempts to explain the history of Walsh Fell shoes to the Spanish collective (they thought I was going for a trendy retro look !) whilst we all gathered at the top of the mountain in the mist and the other Shettleston Harrier (who was the 2nd placed finisher), taking the time to also illustrate what the view would be on a clear day!
Now , the main events on the Saturday, due to weather conditions both races on the Saturday had to be cancelled, the Ultra Race was stopped an hour into the event. Mainly due to the adverse conditions across the top and specifically the narrow ridges, mainly the high winds with low visibility. A tough decision for the organisers, who had put a great deal of effort into the weekend, this included entertaining a visiting Spanish contingent.
However, indulge me for a moment while I make a point in support of organisers everywhere. The cancellation was completely the correct decision given runners safety was paramount, irrespective of the fact the course was flagged, conditions were such that there was far too great a risk. I meandered up to the top later in the day when the weather improved slightly, the conditions were ok, until you ventured onto the ridges then there was a dramatic downturn on those conditions.
I've been up there more times than I can recall over the years and have to say it was one of the worst conditions I had experienced, was manageable in parts if you are just out a run and are mindful enough to make rational decisions at the correct point it time, in a race situation that's not always the case, so it was absolutely the correct decision and made me appreciate the organisers even more, who worked had worked very closely with the Mountain Rescue Team throughout the pre-race organisation and the weekend. Given the effort to get the weekend off the ground it was admirable they kept an objective viewpoint on the day and made the decision. Plans are afoot for next year, I'll be aiming to return in support of this event (as it will be sunny next year) and I still had a great weekend stoating about some hills/mountains/ridges/cafes/ferries.
New Chair
Geoff Howard has agreed to chair the Harriers for this year 2017 / 2018. The committee are delighted and look forward to continuing the development of our club.
Renew now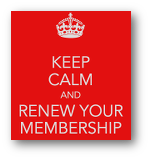 All existing members will have been sent a membership renewal email in w/c 2 Oct 2017. (If you haven't received your email please check your junk email folder first, then if you need to, email the Membership Secretary, Petra Bijsterveld mship@ilkleyharriers.org.uk.)
As last year, there's no need to return the membership form unless any details have changed. And online payment by bank transfer is preferred, please.
Thanks for renewing your membership.
Rombalds Romp, Sun 1 Oct
From Dan Wilkinson ... 5 Harriers completed the fell vs trail race on the moor at the weekend. Considerably more boggy than the last time I ran it; thigh deep bogs in places and huge puddles of gloopy mud in the now deforested section made things interesting.
Results ...

(1 52:57 Callum Hanson, P&B)
4  54:51 Dan Wilkinson
12 57:47 Gavin Lamb
13 59:03 Steve Turland
63 82:20 Claire McLoughlin
64 82:21 Mike Baldwin
78 finished

Knaresborough Crag Rat Run, Sun 1 Oct
From Caroline Howe ... As a "crag rat" myself (a person who hails from Knaresborough) I couldn't pass up the opportunity for a run round my home town, in what was the second year of this race. Half the route on tarmac, half off road, all the pre-race chat was dominated by footwear choice. Trail shoes were definitely the order of the day with some very muddy trails following plenty of rain. A scenic, gently undulating course on varied terrain, starting at the cricket club and taking us down the crag, through woodland, along the river and finally a short steep climb back up the crag, with 2 laps of a soggy cricket field thrown in, this was a thoroughly enjoyable not-quite-5 miles. Nothing fancy like chip timing, but for a bargainous £6 entry you got a fab, friendly, well organised race with a medal, box of Yorkshire tea and Lion Bar at the end, plus some amazing cakes! Highly recommended!

(1 28:25 David Smithers, York Knavesmire) 
91 42:29 Caroline Howe 
188 finished

---