Ilkley Harriers news archive 2017
Ilkley Harriers of the Month, November
Harrier of the month nominations: Martin Archer for Lister Park parkrun, Burley Moor and consistently great results; Jack Wood for first in the last even splits 5k and 2nd at Tour of Pendle; Cameron Reilly for Abbey Dash time of 34.28; Jonathan Turner for impressive progress over the year with great times at Burley moor, at Wetherby parkrun and last month's marathon time; Michael Lomas for great times and improvements, particularly Burley Moor and Tour of Pendle; Rob Budding for cross country race improvements and good results in general.
The winner is Michael Lomas.
Volunteer of the month: Gaenor and Steve Coy for all they do for the x countries; Petra Bijsterveld for the membership renewals admin; Helen Waddington for HoM write-ups; Neil Chapman for Thursday evening session; Peter Shields for Wednesday evening sprint training
The winner is Helen Waddington.
More Harriers of the Month ...
PECO XC, Sun 26 Nov

Men
(1  26:21 Joe Baxter, P&B)
42  32:05 Steven Gott
47  32:08 Martin Archer
159 35:28 Daniel Lane
160 35:30 Stephen Coy
171 35:46 Andrew Overend
201 36:44 Robert Budding
401 43:23 Geoffrey White
510 54:45 Don Macrae
520 59:24 Andrew Kitchen
525 finished

Women
(1  33:29 Hannah Oldroyd, Saltaire)
13  36:26 Jane Mccarthy
15  36:44 Ellie Kitchen
31  38:16 Rachel Carter
87  42:28 Helen Wood
115 43:20 Alison Weston
137 44:34 Adela Reperecki
163 45:52 Dianne Kitchen
197 47:07 Gaenor Coy
199 47:17 Hilda Coulsey
215 48:04 Petra Bijsterveld
248 49:44 Nicola Budding
308 53:23 Kate Lofthouse
329 55:28 Sally Wright
342 56:32 Wendy Bishop
384 67:47 Clare Shouler
386 finished

Santa Runs, Sat 25 Nov
Over 140 Santas ran on Ilkley Moor, raising over £1200 for the junior section's new Compact Athletics Training Facility and having a lot of fun! Results and more on the junior web site.
parkruns, Sat 25 Nov
From Petra Bijsterveld ... Results ...

Woodhouse Moor
(1  17:40 Adam Collins., U/A)
4   18:28 Will Wood
430 ran

Skipton
(1  18:01 Tim Chadwick, Skipton AC)
22  22:43 Malcolm Pickering
66  27:29 Anna Pickering
71  27:50 Fiona Schneider
73  27:57 Karen Lambe
127 ran

Fountains Abbey
(1  16:40 Reece Dalton, Ripon Runners)
76  24:45 Norman Bush
331 ran

Stretford
(1  16:48 Alex Penfold, Croydon Harriers)
8   18:39 Rob Cunningham
388 ran

Evensplits 5k, Wed 22 Nov
From Petra Bijsterveld ... The final Evensplits 5k of 2017 was held at the Brownlee Centre on Bodington Fields. It was a rather stormy evening, evidenced by the fact that the inflatable finish line arch tried to take off skywards and had to be packed away again. I think the wind affected everyone's times, I was certainly happy to take it as a ready excuse for a much slower race than my previous ones on the circuit.
Jack Wood took the win on what I believe was his first appearance at the series.
These friendly and inexpensive races will resume in February 2018 for a series of 10, and I very much recommend them to runners of all abilities.
Results ...

1   16:24 Jack Wood
111 25:16 Hilda Coulsey 1st F60
117 26:20 Petra Bijsterveld
143 ran

WYXC #3, Spenborough, Sun 19 Nov

Men 11th team
(1  29:32 Angus McMillan, York)
30  33:02 Matthew Cox
51  34:39 Steven Gott
61  35:08 Tim Ashelford
109 37:35 Stephen Coy
131 38:52 Rob Budding
143 39:25 Mark Iley
144 39:33 David Brown
167 42:42 Arthur Reilly
189 finished

Ladies 10th team
(1 19:50 Georgia Rothwell, York)
7  20:47 Pauline Munro
48 23:45 Sally Malir
85 26:59 Alison Bennett
87 27:07 Diane Kitchen
126 finished


37 of our juniors were racing with excellent individual and team results

Chorley Fire 10k, Sun 19 Nov
From Peter Shields ... Great to be in a race again! Went over to Chorley to run their 10k believing it to be an easy return! Not so, quite a difficult course!
Results ...

(1  36:16 Chris Miles, Preston Harriers)
124 50:38 Peter Shields 2nd v70, 3rd v65
368 finished

Tour of Pendle, Sat 18 Nov
From Ben Sheppard ... Lots of great Harriers performances at Tour of Pendle, including Jack Wood second only to the outstanding Chris Holdsworth (Clayton le Moors) and Jane McCarthy 4th lady and first in category. (Our ladies may have won a team prize, not sure.) The performance of the day was the amazing Vic Wilkinson (Bingley), third overall, just 4 minutes off the overall win and breaking the women's record by 13 minutes! I didn't break and records but did break the second metacarpal in my left hand about 4 miles into the race, and spent the remaining 12 miles trying not to fall over again.
Results ...

(1  2:19:26 Chris Holdsworth, CleM)
2   2:22:56 Jack Wood
45  2:51:25 Ben Sheppard
47  2:51:43 Paul Carman
83  3:01:47 Michael Lomas
100 3:05:14 Jane McCarthy
178 3:21:58 Paul Calderbank
229 3:32:14 Jann Smith
248 3:35:09 Peter Shelley
301 3:45:24 Alison Weston
336 3:57:27 Martyn Stocker
361 4:08:18 Adela Reperecki
365 4:09:43 Richard Morris
423 finished

Kendal Mountain Festival 10km trail race, Sat 18 Nov
From Paul Castle ... Robin Nicholson and I took part in the Kendal Mountain Festival 10km trail race (10.4km distance) on Saturday, which forms part of a long weekend of outdoors related activities taking place in Kendal. The weather was good (although quite muddy underfoot after overnight rain) and after a steady but relentless 6km climb up Beast Banks to Scouts Scar there were some stunning views across the Lyth Valley followed by a steep cobbled descent into Kendal and a sprint finish along the Main Street. Well organised and very family friendly, I'd highly recommend this event for others looking for a good family day (or weekend) out.

56 47:51 Robin Nicholson
76 49:18 Paul Castle
609 ran

Harriers v cyclists, Sat 18 Nov
From Jo Foster... Provisional results ...

(1 34:47 Rob Jebb, Bingley, cyclist) 
27 42:30 Steve Turland
31 42:48 Jim Ryder
Both on foot
219 ran/cycled

parkruns, Sat 18 Nov
From Petra Bijsterveld ... Results ...

Woodhouse Moor
(1  16:46 unknown)
10  18:44 Will Wood
478 ran

Milton Keynes
(1  17:20 Jamie Seddon, Marshall Milton Keynes AC)
29  21:32 Andrew Merrick
403 ran

Bradford
(1  18:01  Greg Hull, Leeds City AC)
60  23:52 Oscar Street
394 ran

Harrogate
(1  18:07 unknown)
71  22:31 Phil Hirst
469 ran

Skipton
(1  19:20 Sam Jackson, U/A)
9   21:02 Rob Budding
43  25:18 Chris Cunningham
78  28:20 Fiona Schneider
151 ran

Fountains Abbey
(1  17:59 Dominic Lockwood, U/A)
128 26:56 Emma Curran
349 ran

Wetherby
(1  18:00 David Cross, Durham City AC)
12  20:23 Jonathan Turner
79 ran

2018 League races announced
From Jane McCarthy ... Get planning your League races for 2018 - we have some exciting new additions to the League Calendar, while keeping many Ilkley Harrier favourites and our own races. The first races of the year will be the Meltham 10K (one lap, hilly) road race near Huddersfield on 28th January and the Harewood 10K Trail race on 25th February. The Fell League will begin with a Bunny Run (race number TBC). Many thanks in particular to Jean Sullivan and Hilda Coulsey for providing some super suggestions for next year's league. The Baildon Boundary Way on 8th April 2018 (Trail, HM) opens late November and is quick to sell-out so look out for the notification on the website.
We have also switched Burley Moor Run in to the Fell category starting 2018. It definitely feels like a fell race!
Fell
Trail
Road
January
Meltham 10k (28/1)
February
Harewood 10K (25/2)
March
Thirsk 10 (18/3)
April
Bunny Run (1,2 or 3)
Guiseley Gallop (1/4)
Baildon Bound. Way (8/4)
Fountains 10K Ripon (29/4)
Vale of York 10 (15/4)
May
Jack Bloor
Ilkley Trail
John Carr 5K
June
Beasley Beacon 22/6
Wharfedale Half 5/6
July
Addingham Gala
Ingleborough 16/7
Eccup 10
August
Burnsall 10 19/8
September
Great Wherneside 24/9
Ilkley Incline 6/9
October
November
Burley Moor Run
PECO (late Nov)
5K Evensplits (or Park Run)
December
The Stoop
Ribble Valley 10K
Run Bolton Abbey, Sun 12 Nov
From Caroline Howe ... a stunning morning for the inaugural Run Bolton Abbey event, with choices of 10k, 10m or 13.1m and 2m fun run. Unfortunately there were a few organisational issues... with 1500 entrants and all four races setting off at the same time, in waves, this led to problems with congestion and queues at stiles midway through the race when the different routes converged. As a 10ker in the first wave the queues weren't too bad by the time I got to them but I heard horror stories about 20+ min queues for the 10milers. Lots of people opted to climb barbed wired walls instead of waiting. There was a lack of marshalls on the course and a lot (I reckon over half, looking at Strava) of us on the 10k went the wrong way adding on a 1km loop. I ran 6.8m in total. Some people added on two loops and ended up doing 7+ miles! On the positive side the route was of course very beautiful, and challenging, and ultimately it was for a good cause - Sue Ryder Manorlands. There were quite a few Harriers out which was good to see. Let's hope the organisers can sort out the issues from today for next year.
From Alex Hide ... A glorious day welcomed the inaugural Run Bolton Abbey series of races - 2 mile, 10k, 10 mile & half marathon. I opted for the 10 mile race and soon remembered why I like flat road races climbing 71m in the 4th km and then 115m in the 5th km! The reward for the climb was worth it though with a gently undulating run for the next few miles through some breathtaking scenery. As we came down the other side of the moor the only real failing of the race manifested itself as we had to climb over 3 stiles in quick succession, the third of which at mile 7 saw dozens of frustrated runners getting colder and colder as we had to wait almost 30 minutes to climb the stile one by one. That said, the race was superbly marshalled and I am certain they will learn from their mistakes for next year.
From Fiona Schneider ... This was the first time Sue Ryder had put these races on. It was perfect running weather and a choice between 2 mile, 10 km, 10 mile and half marathon. It was a fantastic trail race with around 600 metres of climbing on the half which I chose. There were a few glitches as an enormous queue built up at two stiles, giving me a difference between moving time and chip time of 30 minutes. Never mind, we had a social time waiting and I could lend out a space blanket for the less well dressed. I am sure the organisers will take note of these glitches. It was based around the Valley of Desolation, Barden Bridge and Cavendish Pavilion and to be thoroughly recommended .
Results ...

10k
(1  Simon Rycroft, Pickering)
8    58:42 Simon Jenkins
58   61:13 Philip Hirst
16   69:08 Caroline Howe
218  71:15 Chris Cunningham
361  82:22 Sally Westlake
378  84:45 Dawn Turner
433  88:48 Kate Lofthouse
588 107:54 Sue Verspyck
631 120:00 Claire Shouler
633 123:55 Emma Cole
659 ran

10M
(1   70:49 Jack Laffey, U/A)
23   94:33 Derek Oliver
32   99:54 Jonathan Turner
49  106:43 Tom Lally
87  121:21 Caroline Tong
194 141:21 Alex Stanley-Hyde
249 150:22 Gill Scott
252 150:43 Philippa Sirr
291 156:03 Jo Pattinson
308 finished

Half Marathon
(1  1:22:16 Chris Holdsworth, CleM)
20  1:51:17 Dick Waddington	
86  2:14:08 Marlon Frost
154 2:41:39 Jan Jones
233 3:10:59 Fiona Schneider
266 finished

British Cross Challenge, Sat 11 Nov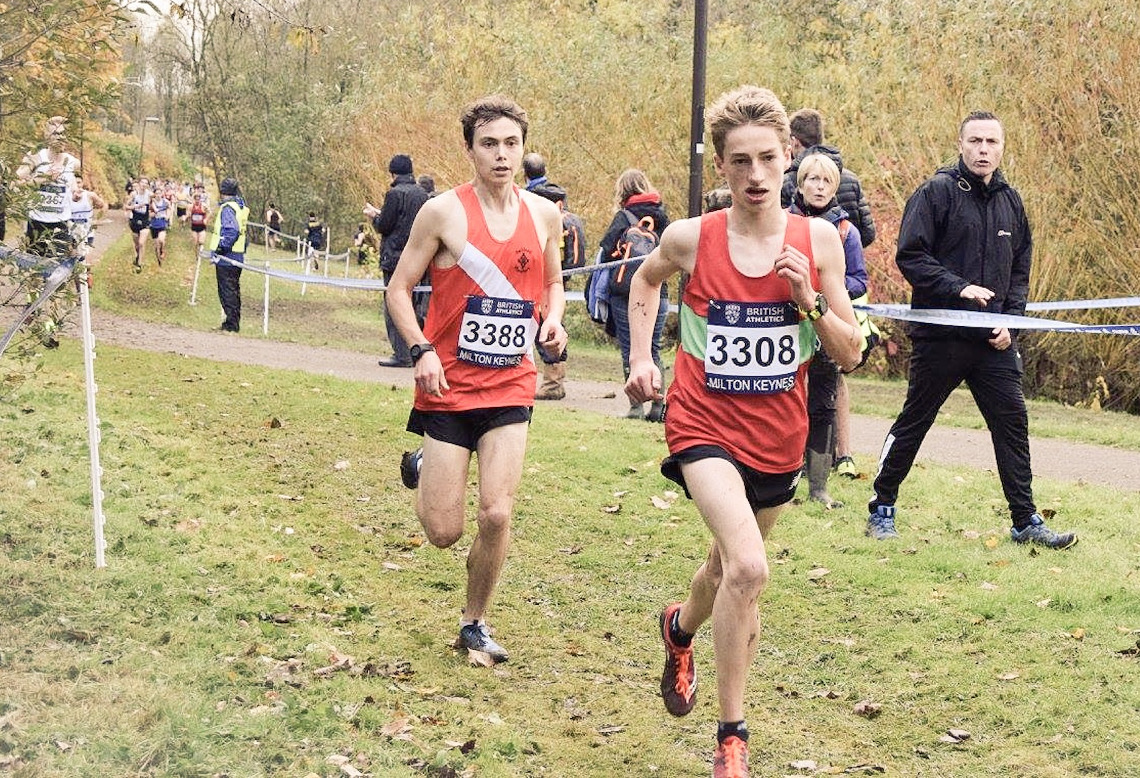 From Stephen Brennan ... Euan ran at Milton Keynes today in the second race of the British Cross Challenge and finished 3rd in the U17 race. The race was run in conjunction with the U20 race and Euan was 7th overall.
Betws y-coed Trail Challenge, Sat 11 Nov
Fom Sue Williamson... Lucy Williamson took part in this 10k race described as one of the toughest and most beautiful trail runs in the UK, running through scenic forests and round lakes. Money raised from the race which included a 5k and Canicross was to be split between local causes and Help for Heroes.

(1 38:09 J Williams, Hermitage Harriers)
10 43:30 Lucy Williamson 1st female
293 runners took part

Burley Moor Run, Sat 11 Nov
Results from Michael Duffield...

(1  45:08 Sam Watson, Wharfedale)
2   45:26 Jack Cummings
3   46:30 Matthew Munro
8   48:27 Martin Archer
9   48:35 Ben Sheppard 
12  49:25 Michael Lomas
13  49:32 Oscar Stapleton 
17  50:12 Dave Wilby
20  50:55 Paul Carman
21  51:22 Tim Ashelford
33  52:50 William Wood
40  53:54 Jane Mccarthy 
41  53:58 Dave Foyston
46  55:08 Richard Joe
58  57:05 Michael Duffield
63  57:38 John Hayes
69  58:14 Jonathan Turner
80  59:34 Helen Thurston
112 64:12 Alison Weston
136 61:07 Tom Jackson
137 67:48 Jeoffrey White
152 68:52 Wiliam Gadd
164 69:50 Caroline Howe
168 70:21 Paul Atkinson
186 75:03 Oli Street
187 75:06 Oscar Street
193 76:04 Peter Lewis
205 85:17 Wendy Bishop

parkruns, Sat 11 Nov
From Petra Bijsterveld ... Results ...

Finsbury
(1  17:24 Robbie Chapman, Run Fast)
15  19:22 Rob Cunningham
278 ran

Harrogate
(1  16:52 unknown)
56  22:10 Phil Hirst
410 ran

Hell of a Hill Marathon Day 3, Fri 10 Nov
From Collin Williams... Hi, I'm a new member, but thought that you would like to know that I took part in day three of the Hell of a Hill Marathon, coming third out of 47 runners.

(1 3:57:53 Paul Brown, Trawden)
3  4:18:33 Colin Williams
47 finished

Guy Fawkes 10m, Sun 5 Nov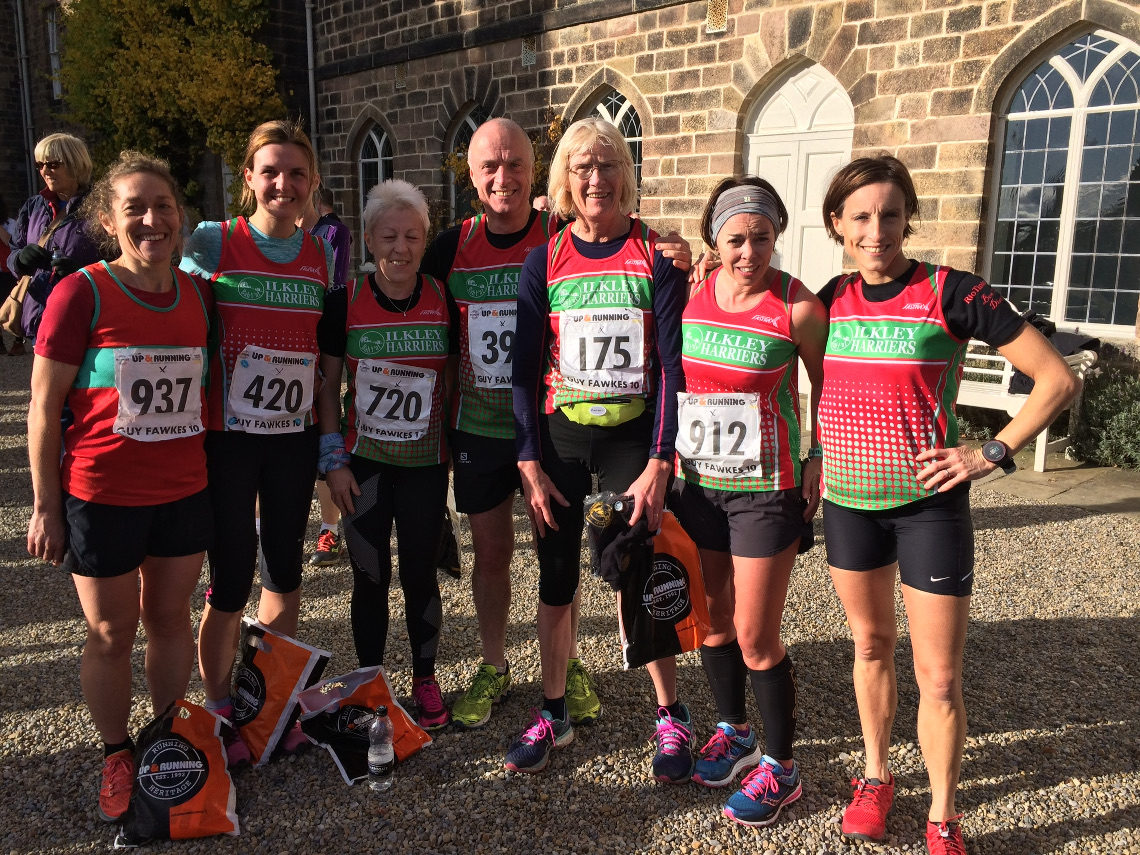 (1    56:02 Andrew Geant, Harrogate)
62  1:09:47 Jane McCarthy 2nd F40
229 1:20:37 Philip Hirst
280 1:22:37 Caroline Howe
294 1:24:11 Alison Weston
364 1:26:29 Adela Reperecki
424 1:29:57 Helen Waddington
520 1:34:47 Hilda Coulsey
696 1:44:24 Peter Lewis
811 finished

Abbey Dash, Sun 5 Nov

(1   29:13 Sam Stabler, Wreake & Soar Valley)
217  34:28 Cameron Reilly
263  35:01 Oscar Stapleton
627  39:23 William Wood
687  39:54 Dick Waddington
788  40:48 Derek Oliver
1126 43:17 Simon Jenkins
1254 44:12 Sally Armitage
1505 45:53 Andrew Jackson
1566 45:16 Mary Gibbons
2103 48:12 Chloe Merrick
2104 48:13 Andrew Merrick
2322 48:46 Erin Keating
2788 53:24 Emma Curran
2918 54:26 Charlotte Smithson
3177 54:20 Catriona Hawthorn
4298 54:08 Sheena Pickersgill
5324 61:50 Elaine Ibbotson
8900 finished

Shepherd's Skyline fell race, Sat 4 Nov
From Jo Foster... It was one of the biggest fields ever for the Shepherd's Skyline Fell Race on Saturday with 328 finishers. Four Harriers completed in typically muddy conditions.
Results ...

(1  44:20 Tom Owens, Shettleston Harriers)
27  50:49 Steven Gott 
36  52:06 Jim Ryder
152 63:14 Rob Cunningham
287 82:52 Amanda Newham
328 finished

parkruns, Sat 4 Nov
From Petra Bijsterveld ... Results ...

Woodhouse Moor
(1  17:02 unknown)
33  21:02 Adrian Bastow
501 ran

Bradford Lister Park
(1  17:58 Martin Fillingham, Saltaire Striders)
2   18:11 Martin Archer
25  21:36 Jonathan Turner
37  22:09 Tom Worboys
86  24:37 Oli Street
87  24:40 Oscar Street
405 ran

Fountains Abbey
(1  17:55 Ben Holmes, U/A)
63  23:13 Norman Bush
395 ran

---