Ilkley Harriers news archive 2017
Ilkley Harriers of the Month, August
Harrier of the month nominations: Alison Weston for the Burnsall double (including 3rd lady on the fell) and Borrowdale; Tom Adams for 10k pb at Blackpool Illuminations; Norman Bush for his 6 fell races this month, all good results
The winner is Norman Bush.
Volunteer of the month: Petra Bijsterveld for conscientiously collating the park run results weekly.
More Harriers of the Month ...
Kilnsey Show fell race, Tue 29 Aug

(1  8:03 Nick Swinburn, Northumberland)
3   8:15 Jack Wood
27 10:43 Steven Gott
40 11:17 Paul Calderbank
43 11:32 Lucy Haines
53 12:11 Jamie Hutchinson
60 12:25 Richard Joel
68 13:05 Peter Haines
69 13:10 Norman Bush
88 14:26 Mary Gibbons
116 finished

Bernadette Raven won a close-fought FU17 race

Reeth Show fell race, Mon 28 Aug

(1 15:48 Ben Mounsey, Calder Valley)
6  17:52 Iain Gibbons
85 finished

Blackpool Illuminations 10k, Sat 26 Aug
From Petra Bijsterveld ... Tom Adams won this race in a very swift 31:24. 909 finished. Results
Malham show fell race, Sat 26 Aug

1  17:10 Jack Wood
39 25:52 Norman Bush
46 27:25 Alison Eagle
72 finished

Rathlin Island 10 mile, Sat 26 Aug
From Hilda Coulsey... Billed as the most challenging road run in Northern Ireland and having experienced what Yorkshire organisers can dream up I thought bring it on. My challenge was the ferry journey across a pretty treacherous channel, now a dive site with lots of ship wrecks, I'm not good on boats! The issue was that the run was exceptionally "undulating", sharply, with both short and long climbs. The second half was out and back and I was being encouraged much more than usual by those returning in front of me. When the results came out I realised I was the only female over 60 (one man also over 60), and obviously I looked my age, it was mostly good club runners that were taking part. My time definitely reflected the terrain (not the ferry journey, I had picked a calm day) and was 9 mins slower than last week's Burnsall run. Nevertheless I was second FV 50! Worth a go if you are ever anywhere near - a friendly, happy bunch of runners and islanders.
Results ...

(1    57:57 Philip Goss, North Belfast Harriers) a new course record
132 1:41:49 Hilda Coulsey
190 finished

parkruns, Sat 26 Aug
From Petra Bijsterveld ... Results ...

Harrogate
(1  17:23 Andrew Dobby, Harrogate Harriers)
94  23:29 Philip Hirst
210 26:54 Karen Lambe
420 ran

Southwark
(1  17:12 James Tidd, Windsor, Slough, Eton and Hounslow AC)
17  19:36 Rob Cunningham
292 ran

Skipton
(1  17:41 Tom Brewster, Clayton-le-Moors Harriers)
15  20:20 Kate Archer 1st F
180 ran

Keswick
(1  17:08 Sam Stead, Keswick AC)
27  21:32 Helen Thurston 1st F
189 ran

Wetherby
(1  17:54 Tim Street, Holmfirth Harriers)
35  22:22 Geoff Howard
129 ran

Evensplits 5k series race 3, Wed 23 Aug
From Petra Bijsterveld ... A nice sunny but not too warm evening at the Brownlee Centre on Bodington Fields for the third race in this series of six (though I am hoping it will become a permanent monthly fixture....). Nice to meet Sally Armitage who recently joined the club having only taken up running earlier in the year, and who managed to get a shiny new PB. These friendly races are open to juniors and seniors alike and I would recommend this series to anyone who wants to test themselves on the tarmac.
Results ...

(1  15:30 Adrian Holliday, U/A)
70  20:45 Sally Armitage 
95  24:03 Harry Sime
100 24:53 Petra Bijsterveld 
120 ran

Brian Sweet
Sadly, Brian Sweet died on Tuesday 15 August, at home, aged 87. The club has many 'new members' since Brian last ran with us. However, there are many members who will remember Brian with great fondness for his commitment to the club. Brian led Tuesday night groups, and was still doing the Harrogate Race League, well into his 70's.
He was an inspiration to many.
The funeral will take place on Friday 25th August 2.20 pm at Rawdon crematorium.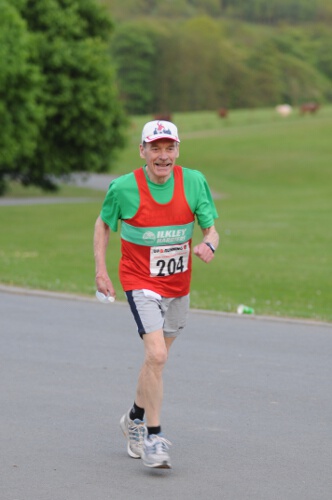 Sedbergh Hills, Sun 20 Aug
From Jamie Hutchinson.... you need to go some to pack as many climbs into a 14mile fell race. Add to this slippery trods for contouring and you have a pretty tough race.
Just a couple of harriers made it to Sedbergh - I just didn't have the legs to stay with Steve Turland as he disappeared out of sight going up Arant Haw. The race was won by Garry Greenhow from Ambleside AC in 2:20:28, with Steve Turland coming in 38th and 2:54:28 and I managed to finish in 3:10:56 and 59th - 169 ran.
Gargrave show fell race, Sat 19 Aug

(1 23:05 James Hall, Wharfedale)
31 32:53 Norman Bush
39 32:25 Alison Eagle
43 37:12 Natalie Curtis
56 finished

Burnsall 10 mile road race, Sat 19 Aug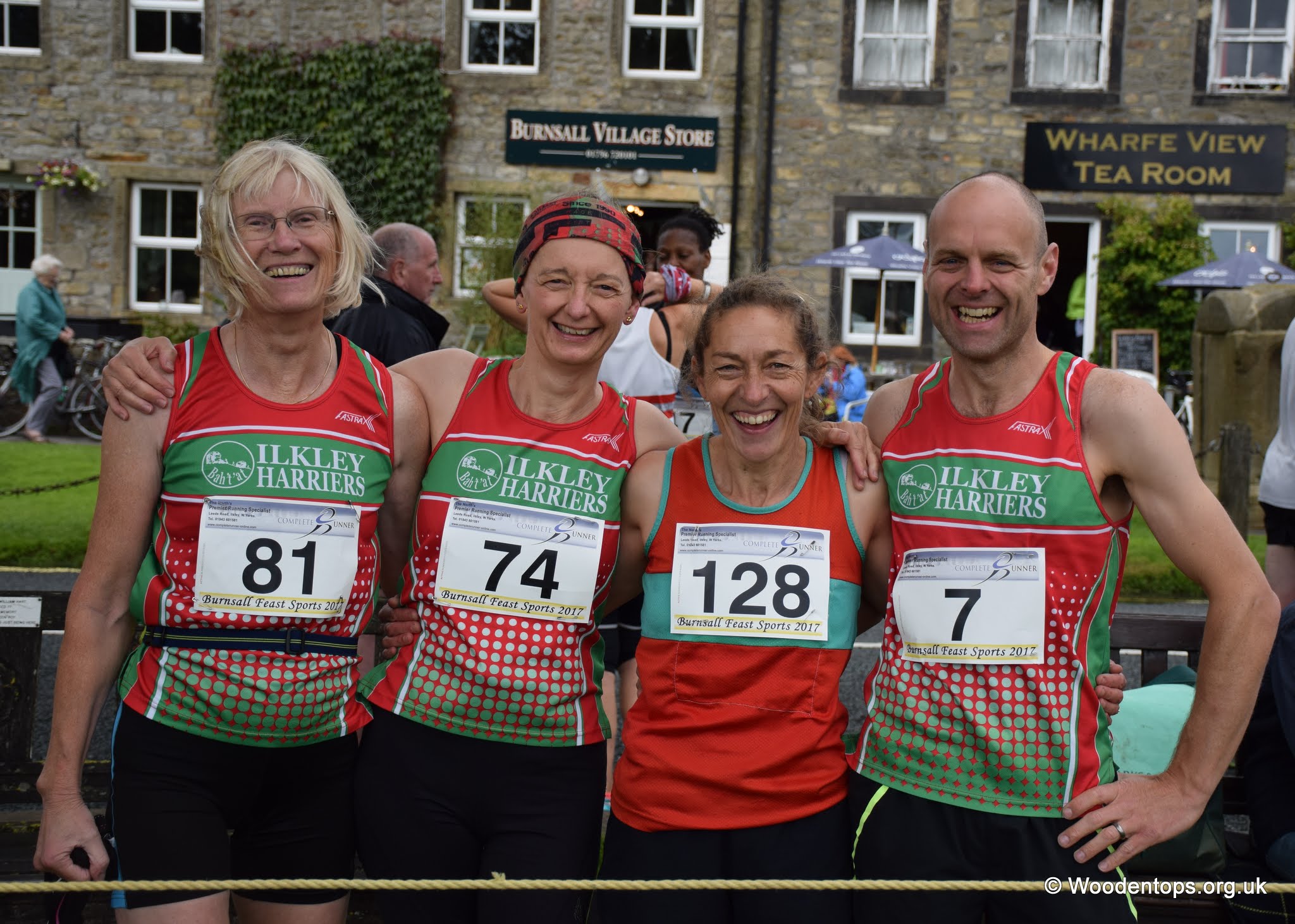 From Petra Bijsterveld ... Burnsall Feast is a traditional Dales village summer gala with fun for all the family, including junior fell races and for the seniors a 10 mile road race and the classic fell race to choose from, or to run both!
The road race is a counter in the Harriers League this year but only four Harriers lined up. Early on in the race we were tested by a stiff breeze and intermittent heavy showers which due to the wind took on a rather horizontal character. The course is undulating with around 800ft of ascent but there is lovely scenery in compensation for the effort required. The back of the field spread out so much that for the second half of the race I found myself completely on my own without anyone in sight either in front or behind. I liked the peace and quiet but it is harder to maintain the tempo. I was pleased to get back to Burnsall and treated myself to the nicest flapjack ever, full of banana and chocolate!
Results ...

(1  57:33 Julian Hood, Skipton)
27  68:49 Dave Robson
78  83:06 Alison Weston
102 92:33 Hilda Coulsey
108 97:02 Petra Bijsterveld
120 finished

Burnsall fell race, Sat 19 Aug
From Petra Bijsterveld ... The classic fell race is 800 ft straight up and down over just 1.6 miles. Alison Weston did the double and managed to come home as 3rd lady having already done the road race, a fantastic result. I very much enjoyed spectating on the bridge from where one can see the entire race, a long line of dots moving up and down the fell.
Results ...

(1 14:28 Sam Tosh, Rossendale)
11 17:09 Ruaridh Mon-Williams
86 24:43 Robert Budding
94 25:37 Alison Weston 3rd lady
129 finished

Pendle Three Peaks fell race, Sat 19 Aug
From Jim Ryder ... There were three Harriers out in what was a really tough 9 miles - very windy, wet underfoot and lots of vertical!
Results ...

(1 1:22:51 Daniel Mills, Barlick)
21 1:40:39 Jim Ryder, 2nd V50
61 2:02:30 Jo Foster 3rd Lady, 1st LV45
93 2:19:12 Adela Reperecki, 1st LV55
115 finishers

parkruns, Sat 19 Aug
From Petra Bijsterveld ... Results ...

Bradford
(1  18:00 Alexander Flaherty, Bingley Harriers)
87  24:12 Sarah Haines
415 ran

Harrogate
(1  17:20 Aidan Adams, Leeds City)
349 36:44 Emma Curran
378 ran

Stretford
(1  16:36 Chris Stanford, Warrington Tri Club)
10  18:28 Rob Cunningham
438 ran

Dalby Forest
(1  17:55 Matthew Middleton, Scarborugh AC)
8   19:57 Jez Hellewell
184 ran

Trelissick
(1  18:39 Tom Phillips, Woodford Green AC)
155 31:52 Sue Verspyck
248 ran

Blackpool Air Show 10k, Sun 13 Aug
From Geoff Howard ... I managed to keep my feet firmly on the ground along the upper and lower levels of Bispham promenade's flat, fast, smooth but rather monotonous 10k course prior to Blackpool flying other types of ancient body along the coast as part of its air show later in the day. Quite a warm day but the temperature was moderated by a a gentle sea breeze which helped me to get within one second of my 2016 annual 10k time at 42m 41s but not enough to be 1st v70 who was a whipper snapper from Bedford, Rob Wells, about half a minute faster. The overall winner was Rob Webb of Rossendale in 33m 11s. As always with events organised by Dave Whewell of Wesham Harriers, it was an enjoyable, well organised, friendly, gimmick free and inexpensive race.
Firefighter's 5 - Birkenshaw, Sat 12 Aug
From Sally Armitage ... results ...

(1  27:01 Jonathan Johnson, Rotherham Harriers)
58  36:32 Sally Armitage
144 42:20 Peter Shields
267 ran

Ennis Track AC Fleadh 5 miles, Sat 12 Aug
From Jean Sullivan ... To celebrate 'Fleadh Cheoil na hEireann', Ireland's national festival of traditional music being held in Ennis, Co. Clare, Ennis AC hosted a 5 mile road race to commemorate the start of the celebrations.
As this coincided with our trip to Ireland Richard and I decided to enter the race (our 1st ever race in Ireland!). A very well organized, but laid back event. This undulating course along Irish country roads was very well marshalled and all finishers received a lovely teeshirt. It attracted a fast field with the 1st runner finishing in just over 25 minutes. I smiled as I approached the finish line as the PA system announced the arrival of Jean Sullivan who had travelled all the way from Yorkshire for the event!
Results ...

(1 25:43 Niall Shanahan, Crecora)
19 33:03 Richard Joel 
54 40:06 Jean Sullivan 
92 finishers

Arncliffe fell race, Sat 12 Aug
Provisional results ...

(1 10:47 Ted Mason, Wharfedale)
24 13:51 Lucy Haines, first lady
54 16:10 Peter Haines
55 16:17 Norman Bush
74 18:17 Peter Lewis
89 finished

Turner Landscape, Sat 12 Aug
From Jamie Hutchinson ... a cracking run from Turner Hall campsite and taking in Grey Friars, Swirl How, Coniston Old Man and White Moss. 12 miles and mostly pretty runnable apart from ascent (slow!) of Grey Friars. Enjoyed the route and lovely descent back into the campsite and flagged although following the flags proved mildly challenging - use of campsite showers a bonus!
The race was won by John Helme from Ambleside in 1 hour 32 - I managed 2 hrs 5 mins and 28th - 80 ran.
parkruns, Sat 12 Aug
From Petra Bijsterveld ... Results ...

Bradford Lister Park
(1  16:53 Jack Thorp, Bingley Harriers)
96  25:08 Anna Nolan
415 ran

Harrogate
(1  16:16 Nike Burrett, Leeds City)
215 28:04 Karen Lambe
369 ran

Trail Race raised over £2000
Our Trail Race in May raised £2,223.07 for its charity, Give A Child A Hope for the champions at The Revival Centre in Uganda. Here's a letter of thanks.
World Long Distance Mountain Running Championships, Sun 6 Aug
Well done to Jack Wood, 51st overall in 3h59:39 and fourth GB team counter.
Round Hill Fell Race, Sun 6 Aug

(1  55:55 Chris Miller, Harrogate)
5   59:52 Ben Sheppard
7   62:35 Michael Lomas
14  65:17 Dave Robson
26  68:59 Michael Duffield
33  70:02 Nick Pearce 1st V60
52  74:00 John Hayes
117 91:56 Bob Hamilton
127 98:53 Amanda Newham
135 finished

York 10k, Sun 6 Aug
From Caroline Howe ... First time doing the York 10k. Well organised as the Run for All events usually are. The course is quite windy with a few sharp corners, and fairly congested, as you'd expect. But a great course as it takes in all of York's main sights - no boring bits! A great atmosphere during the race, and also before and after at the event village. I managed 46:12, a PB by nearly 3 minutes. Only one other Harrier in the 5000+ field.
Results ...

(1   31:41 Liam Rabjohn, RZH)
695  46:12 Caroline Howe 
1791 54:29 Diane Kitchen 
5286 finished

Hellifield Gala fell race, Sat 5 Aug

(1 23;29 John Spill, P&B)
26 35:35 Norman Bush
48 finished

Borrowdale Fell Race, Sat 5 Aug
From Dick Waddington ... Borrowdale Fell Race is one of the classics of the Lakes, taking in Scafell Pike, Great Gable and Dale Head in 27km and 2000m of climbing. The eye watering record is 2.34 by Billy Bland, who was on hand to keep the gate open as we went up the first climb out of the valley to Bessyboot.
There was a good turn out of Harriers and we were split between wearing just a vest or a waterproof at the start - heavy showers kept drifting through the valley. It's a long and wild climb skirting Glaramara; the bogs were well topped up and the rocks were pretty slippy. By Esk Hause the rocks were drying out and skipping over the rocks was a bit easier. Scafell Pike was shrouded in clag and the big group in front of headed off in what I thought was the direction of Lingmell, so I peeled off and found the scree run that I shared with only one other. I didn't see any other runners until Styhead. Great Gable was no less steep than usual, but it soon passes to give way to a very pleasant traverse along the ridge down to Honister. Dale Head and the descent through slate quarry really finished off any good feeling that was left in my legs! I was pleased to get a PB by a few minutes from my last go at this race in 2012.
Well done to everyone who ran, especially Alison Weston, who was 2nd F50.
Results ...

(1  2.50.05 Carl Bell Keswick AC)
94  4.05.31 Paul Carman
137 4.25.29 Dick Waddington
178 4.46.41 Jamie Hutchinson
180 4.47.14 Kate Archer
187 4.53.39 Alison Weston
200 4.59.53 Outi Kamarainen
207 5.05.21 Jann Smith

Glacier 3000, Sat 5 Aug
From Jane McCarthy ... After reading Dave Wilby's write up of this race a few years ago I was excited to be participating myself this year. Saturday morning was glorious, and starting in the stunning Swiss town of Gstaad the atmosphere was relaxed, friendly and the race very well organised. The uphill only route covers 26km and 2000m of climbing, starting with a more gentle 15km of trail and tarmac followed by 11km of gruelling uphill climbing to finish on the Glacier at 3000m. This race has the most incredible scenery from start to finish and superb support and refreshments along the route. Hoping to do it again. There is a marathon option also.

(1        2h32:49 Shaban Mustafa)	
22nd lady 3h42:01 Jane McCarthy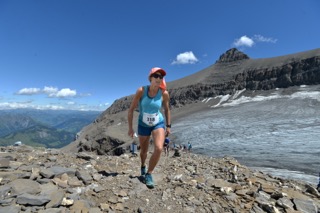 parkruns, Sat 5 Aug
From Petra Bijsterveld ... Results ...

Highbury Fields
(1  18:06 Quentin Guillet, U/A)
60  22:25 Tom Worboys
217 ran

Bradford Lister Park
(1  18:07 Alexander Flaherty, Bingley Harriers)
11  20:41 Rhys Jones
394 ran

Pontefract
(1  16:55 Terence Forest, Cairngorm Runners)
26  21:51 Geoff Howard
283 ran

Skipton
(1  18:38  Kyle Rabjohn, Richmond and Zetland)
3   18:56 Rob Cunningham
50  24:51 Chris Cunningham
194 ran

Eshton Moor fell race, Thu 3 Aug

(1 33:03 Ted Mason, Wharfedale)
40 44:49 Norman Bush
76 finished

---