Ilkley Harriers news archive 2017
Ilkley Harriers of the Month, September
Harrier of the month nominations: Geoff Howard for park run times and Leeds Golden Mile; Brian Melia Ultra Tour Monta Rosa; Iain Gibbons for 4th at Burnsall Fell and 7th at Embsay fell; Ewan Walsh for Incline time; Jo Foster 1st LV45 Scafell Pike fell
The winner is Brian Melia.
Volunteer of the month: Helen and Dick Waddington for organising the Incline; David Ibbotson, whilst recovering, for leading the Tuesday and often Saturday groups; Gavin Lamb for auditing the accounts at short notice
The winner is David Ibbotson.
More Harriers of the Month ...
Hodgson Brothers fell relays, Sat 30 Sep

(1 2:39:50 keswick AC)
13 3:03:03 Ilkley men 
42:21 Euan Brennan,  Matt Cox 14th on leg
46:21 Jack Wood, Tom Adams 2nd on leg
50:30 Dave Wilby, Jack Cummings 12th on leg 
43:51 Paul Carman, Martin Archer 21st on leg

62 4:08:27 Ilkley ladies
56:32 Sarah Edwards, Mary Gibbons
70:09 Jann Smith, Jo Foster
70:26 Alison Weston, Outi Kanarainen
51:20 Jane Mcarthy, Kate Archer

69 teams

Thieveley Pike fell race, Sat 30 Sep
From Steve Turland ... results ...

(1 36:33 Andrew Worster, Todmorden)
7  39:25 Steve Turland
139 finished

Evensplits 5k Series Race 4, Wed 27 Sep
From Sally Armitage ... Results ...

(1 16:11 John Hobbs, Valley Striders)
53 20:13 Sally Armitage 
55 20:22 Robert Budding 
67 21:12 Sally Malir 
96 23:36 Harry Sime 
128 ran

Yorkshire Fells Championship, Great Whernside, Sat 23 Sep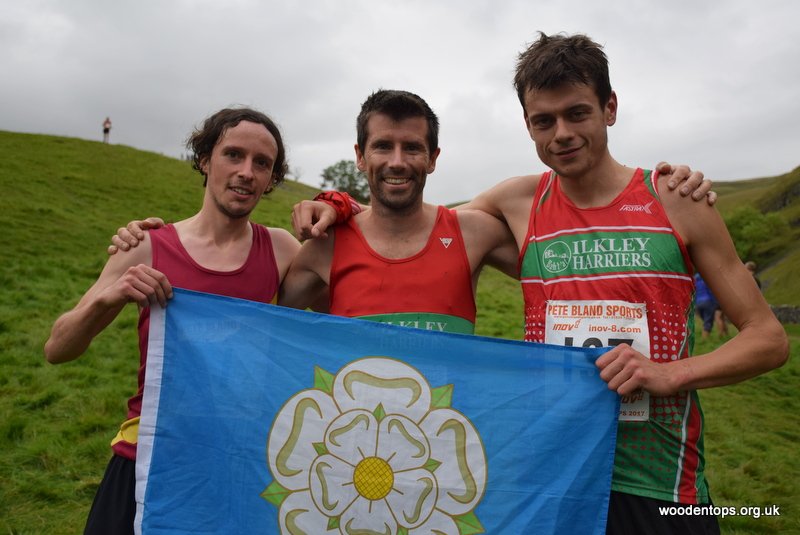 Well done to Tom Adams, Champion, and Jack Wood second Yorkshireman.
Results ...

(1 29:25 Sam Tosh, Rossendale)
4  30:02 Tom Adams
7  30:18 Jack Wood
92 37:55 Steve Tirland
244 finished

Leeds Golden Mile, Sat 23 Sep
From Geoff Howard ... Three Harriers took part in the Leeds Golden Mile event on Saturday. The annual event is a series of timed mile runs round the track at Leeds Beckett University at 15 minute intervals. We ran in separate runs (referred to as heats and each having about a dozen runners of mixed ages and expected times) and our times were: Sally Armitage 6m 11.5s, Geoff Howard 6m 29.4s and Petra Bijsterveld 7m 22.2s.
GB & NI Fell Champs, Peebles, Sun 17 Sep
From Julie Brennan ... Euan Brennan came 3rd in the U!7 Boys race, with the England team taking a clean sweep of the medals to also win the team gold. In the U20 women's race the Ilkley girls also put in a good performance, Lucy Haines finishing 9th & Jemima Elwood 11th.
Embsay fell race, Sun 17 Sep

1  19:04 Jack Wood
3  20:43 Jack Cummings
7  21:46 Iain Gibbons
30 26:03 Duncan Cooper
79 finished

Ilkley Aquathlon, Sat 16 Sep
212 competitiors enjoyed our event, co-hosted with Ilkley Swimming Club. Thanks to the many helpers.
Results.
Scafell Pike Fell Race, Sat 16 Sep
From Jo Foster ... Three Harriers raced this 4.5 mile, 2999ft (7.2km, 914 m) fell race up and down England's highest mountain from Wasdale. The weather did us proud and the sun even came out. Jim Ryder ran well for 13th place overall and 1st V50. Congratulations to Robin Nicholson for completing all three peaks' fell races - Snowdon, Ben Nevis and Scafell Pike - in the same year. Jo Foster was annoyed to be overhauled on the final descent and came in as 4th lady, 1st V45. Highlight of the day was shaking hands with legendary Joss Naylor at the prize giving.
From Alison Weston ... Jo and Jim were also 2nd fastest couple in the Scafell race and received 2nd 'Jack and Jill' prize!

(1 58:05 Simon Booth, Borrowdale)     
13 67:34 Jim Ryder 1st V50
34 75:18 Robin Nicholson                     
54 81:40 Jo Foster  1st LV45

Salomon Ring of Steall, Sat 16 Sep
From Jamie Hutchinson ... A tough mountain race 29km and 2500m covering a version of the classic Ring of Steall. Damp conditions underfoot made for a boggy ascent from Kinlochleven and tricky conditions traversing the Devils Ridge. I paced it well making sure I have something left for the ascent back over from Glen Nevis. More exposed running and scrambling before the long, and boggy, descent back into Kinlochleven. I crossed the finish line in 5 hours 44 minutes and was pretty shattered ! The race was won in 3 hours 24 minutes by Stian Angermund-Vik and 440 finished this most spectacular and challenging course - not for the faint hearted!
Three Shires Fell Race, Sat 16 Sep
From Dave Wilby ... Lovely weather for this Lakeland Classic which takes in the summits of Wetherlam, Swirl How, Pike O'Blisco & Lingmoor. A good number of Harriers made the trip, and Alison Weston showed us all how it's done by taking home the FV50 prize and comfortably going under 3hrs.

(1  2:01:55 Jonny Malley, Ambleside)
12  2:17:44 Dave Wilby
36  2:29:47 Paul Carman
67  2:43:03 Dave Robson
87  2:53:03 Kate Archer
95  2:55:15 Alison Weston
105 3:02:11 Michael Duffield
127 3:13:51 Jann Smith
133 3:19:36 Mary Gibbons

parkruns, Sat 16 Sep
From Petra Bijsterveld ... Results ...

Stewart (Middlesbrough)
(1  18:57 Oliver Williams, U/A)
23  22:19 Caroline Howe
201 ran

Skipton
(1  17:34 Jake Ridding, U/A)
13  21:19 Jonathan Turner
63  25:29 Chris Cunningham
168 ran

Horton
(1  20:04 Ian Gostling, Kent AC)
6   22:13 Geoff Howard
67 ran

Stretford
(1  17:23 Stephen Watmough, Warrington AC)
9   18:27 Rob Cunningham
494 ran

Harriers League update
From Jane McCarthy... It has been a BUSY Summer of racing, with 7 races in the Harriers League since the last update in June. There are now 6 races left in the League Calendar, so time to start thinking about choosing a wildcard race if you haven't already - this is a great opportunity to boost your points. Remember you can choose any race where the result can be verified, and send to janemccarthy@me.com within two weeks of competing.
After a total of 18 races, top of the Overall League is Dave Robson, with 10 qualifying races done, and 872 points scored. Dave may still improve his overall score as it is taken from a runner's best 3 races in each category.
Alison Weston is currently second in the Overall League, with 773 points from 9 races, Alison just needs a wildcard race to score from the maximum of 10 races. In third place, also with 9 races counting is 2015 League winner Michael Duffield. Hilda Coulsey is looking in a strong position with 8 races and 685 points. So too are Tom Adams in 5th place with 605 points from 6 races - managing 6 wins out of 6, and scoring more than 100 points in his most recent League race win - Addingham Gala - due to entering (incredibly) his first Vet Category (V35). Next are Jane McCarthy and Jack Cummings neck and neck having both scored from 6 races and strong average points of 96 points per race.
In the individual leagues, Jack Cummings looks set to win the Fell Category with an excellent 380 points from a maximum of 4 races, helped by his first senior race win at Buckden Pike. Adela Reperecki once again leads the Trail section with 342 points (narrowly ahead of Dave Robson and Michael Duffield). Hilda Coulsey is in a familiar lead position on Road (350 points), although Alison Weston is not far behind with 346 points.
Enjoy the final races of the year - Yorkshire 10 mile, Guy Fawkes 10, Full Tour of Pendle, Burley Moor Run, PECO and The Stoop!
There will be a discussion opened on the Harriers Forum to think about new races for 2018, so please make your contribution there if you have ideas of races that you would like to see included in the 2018 Harriers Race League. Happy Racing!
2017 League results after 18 races
League Calendar
Great North Run, Sun 10 Sep

(1    1:00:06 Mo Farah)
3649  1:42:49 George Fisher
3932  1:43:37 Cariline Howe
4530  1:45:09 David Howe
9005  1:54:32 Charlotte Smithson
11317 1:58:18 Emma Curran
14053 2:02:39 Chris Cunningham
19096 2:11:03 Alex Hyde
23198 2:18:21 Barbara Bullock

Burnsall fell race, Sun 10 Sep

(1 15:03 ted Mason, Wharfedale)
4  16:23 Iain Gibbons
13 18:03 Steve Turland
61 finished

Yorkshireman, Half, Sun 10 Sep

(1  1;40:06 Christopher Holdsworth, CleM)
136 2:46:24 Claire Mcloughlin
152 2:51:47 Sarah Hayes
166 2:58:30 Rachel Griffin
226 finished

Lake District Mountain Trial, Sun 10 Sep

Short course
(1 2:51:17 James Titmuss)
3  3:34:49 Lucy Haines
5  3:40:46 Peter Haines
9  3:56:56 Sarah Haines
47 finished

parkruns, Sat 9 Sep
From Petra Bijsterveld ... Results ...

Bradford
(1  17:10 Will Kerr, Saltaire Striders)
28  21:18 Sally Malir 1st F
336 ran

Skipton
(1  16:42 unknown)
23  22:40 Geoff Howard
144 ran

Stretford
(1  15:42 Chris Greenwood, U/A)
13  18:32 Rob Cunningham
404 ran

Ultra Tour Monta Rosa, Thu 7 Sep
From Brian Melia ... I have wanted to run The Monta Rosa as a 170km 12000M D+ race for three years now. Lizzy Hawker the Multiple UTMB winner was Race director and eventually put a route together as an event. It began at 4 pm on Thursday 7th September.
Starting in Grachen (Switzerland)- There was a steep climb up over some big monster mountains and over the new 494m suspension bridge which opened recently....it mentioned not to run over it, but was still very bouncy.... then to Europahutte, then an easy long trail path into Zermatt. From there it all changed and became very difficult. I struggled up over the glacier then round to Lago Cime Bianchi surrounded by a moonscape in Italy. From there it was a magical descent through grassy valleys and steep drops to Refugio Ferraro. I ran most of the way with a couple of well-known trail runners Jason Poole and Denise Zimmermann. We picked up another runner and followed instructions up and over the Col Bettaforca; unfortunately the route had been changed. We contacted Lizzy on the mountainside and she agreed we had gone further and higher and were not advantaged, so we carried on. We had lost probably an hour and were getting a little cold by this time. We arrived in Gressony about 20 minutes ahead of a fellow British runner -Nicky Spinks. We climbed through the night to a beautiful Cafe at the top of Passo Dei Salati at 2900M. It began to snow so I was pleased to have some soup before getting frozen on the descent to Alagna. There I sat with a very ill Nicky who needed a cup of tea and a bed to warm up. She dropped which was the sensible thing to do. Her friend Jean Brown turned up just as we were leaving. With the continual change of gear to cope with the weather Jean joined my self and Jason for the huge 3 hour climb up to Col du Torlo 2701M. We then descended well to Macugnaga. Fortunately, there was an excellent aid station that served fresh pasta and coffee. It did the trick and we left to do the last big climb over Monte Moro 2853M. We visited the Madonna statue then a beautiful descent over slabs of rock, fortunately dry, to run alongside the dam above Saas Fee. We then ran on to start the brilliant last section from Saas Fee to Grachen...21 km. Completely unbelievable balcony path with scary drops. I ran well for the final 50km and nearly caught second lady. I missed out on 1st V50 by a little way. I was a little disappointed, but overall I have to be pleased, as it was really tough race. People were dropping all the way round. I finished 11th man and 13th overall.
It is a completely different experience to the Mt Blanc series of races, It is in its infancy, but should, with Lizzy's drive,end up as a world class event. It is a much more personal journey than I was expecting, but overall I was pleased to have entered and finished.
Results for the Incline, Wed 6 Sep
From Helen Waddington... A huge thank you to all the helpers and runners who took part in this year's Incline. It was a lovely evening for the race and the atmosphere was great with lots of familiar faces and a high quality field - at least 5 international runners?! Happy to be corrected if there were more! So great to see so many Harriers and as usual sweeping up many of the prizes. We would like to thank Neil Chapman for numerous and important duties - before, during and after the race! Val Kerr, Jann Smith and Sarah Hayes (and kids) helping man the registration which is always fraught, John Hayes and Alison Weston for packing up, Julie Melechi who always holds the traffic for us on the road, Sarah for sweeping (again!) Rob King and Andrew McCarthy who get the results down in double quick time on their MTBs, Val again for marshalling and last but not least Jane McCarthy for finalising the results which requires brain power I don't possess. Gosh I hope I haven't forgotten anybody! It is truly a team effort and makes our lives so much easier on the night so THANK YOU all and congratulations to all the runners for taking part!
Results

(1  7:12 James Hall, Wharfedale)
2   7:13 Tom Adams
3   7:29 Jack Wood
4   7:31 Robert Little
5   8:00 Jack Cummings
7   8:16 Matthew Cox
10  8:36 Daniel Hayes
13  8:57 Paul Carman
16  9:23 Dave Robson
18  9:27 Jemima Elgood 1st lady
21  9:49 Ewan Walsh
23 10:05 Lucy Haines
24 10:06 Michael Duffield
25 10:17 Duncan Cooper
27 10:19 John Hayes
28 10:24 Ian Russell
29 10:25 Laura King
34 11:00 Helen Thurston
36 11:07 Jann Smith
37 11:08 David Howe
39 11:25 Mary Gibbons
42 11:37 Alison Weston
43 11:38 Geoff White
48 12:33 Caroline Howe
49 12:36 Petra Bijsterveld
56 13:34 Hilda Coulsey
58 14:17 Peter Lewis
62 finished

Also, a record number of teams in the junior relays that precede the Incline, more on the junior pages.
Wetherby 10k, Sun 3 Sep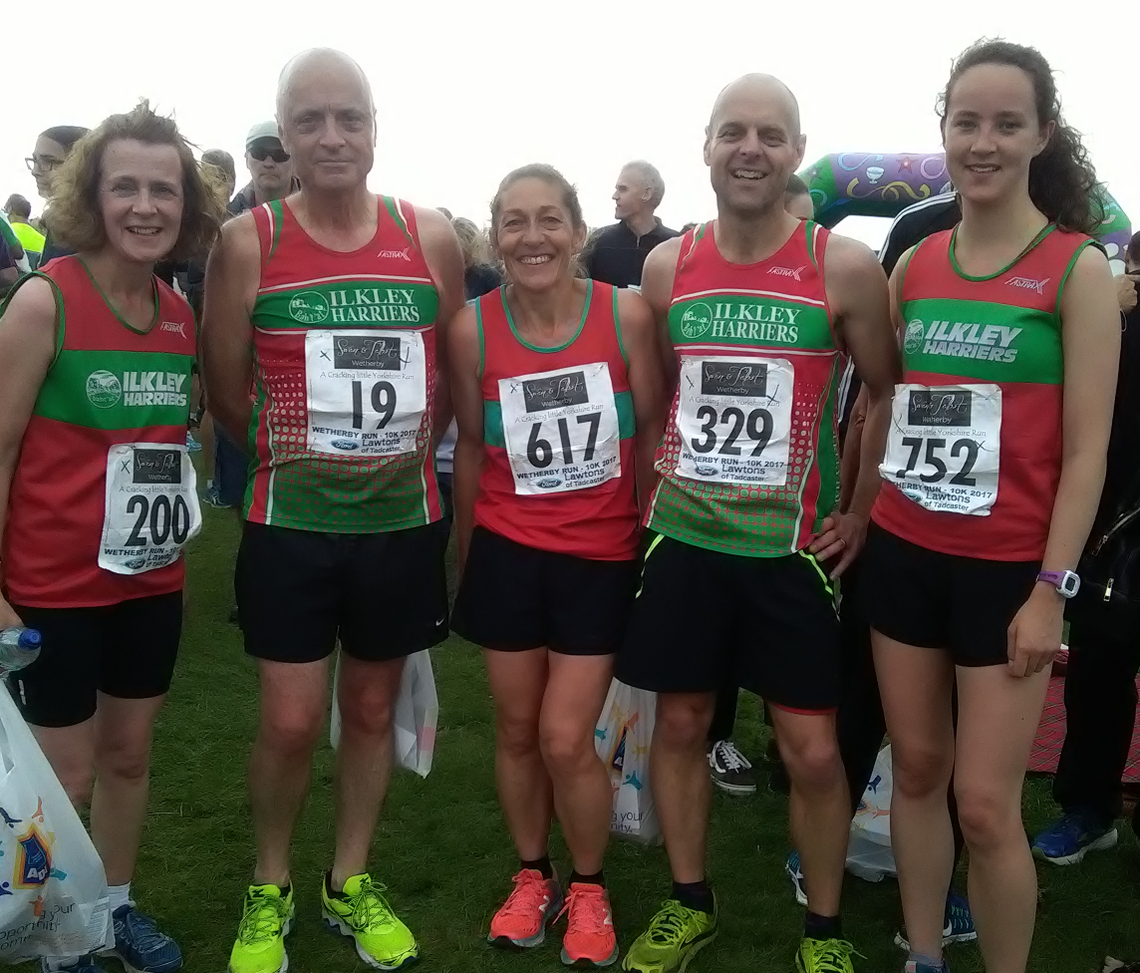 From Alison Weston ... another league event and very well organised. A mixture of road and track with the highest point on a bridge over the A1(M)! Lucy was first harrier home in 67th position and a great time of 41:09 followed by Dave Robson in 84th. Helen ran a strong race, her first race at 10K for a long time. Philip, Alison and Jean finished quite close together followed by Emma and Sally.
Results ...

(1  32:39 Rob Scott, RZH)
67  41:06 Lucy Williamson
84  41:21 Dave Robson
134 44:49 Helen Thurston 44:54
204 47:24 Philip Hirst
215 48:22 Alison Weston
237 49:10 Jean Sullivan 
469 55:16 Emma Curran
699 62:51 Sally Armitage
911 finished

Bradley fell race, Sun 3 Sep

(1 23:34 James Hall, Wharfedale)
39 34:18 Mary Gibbons
67 42:07 Deborah Varney
75 finished
Bernadette Raven was 1st U17 girl in 25:46 in the same race

Ben Nevis Fell Race, Sat 2 Sep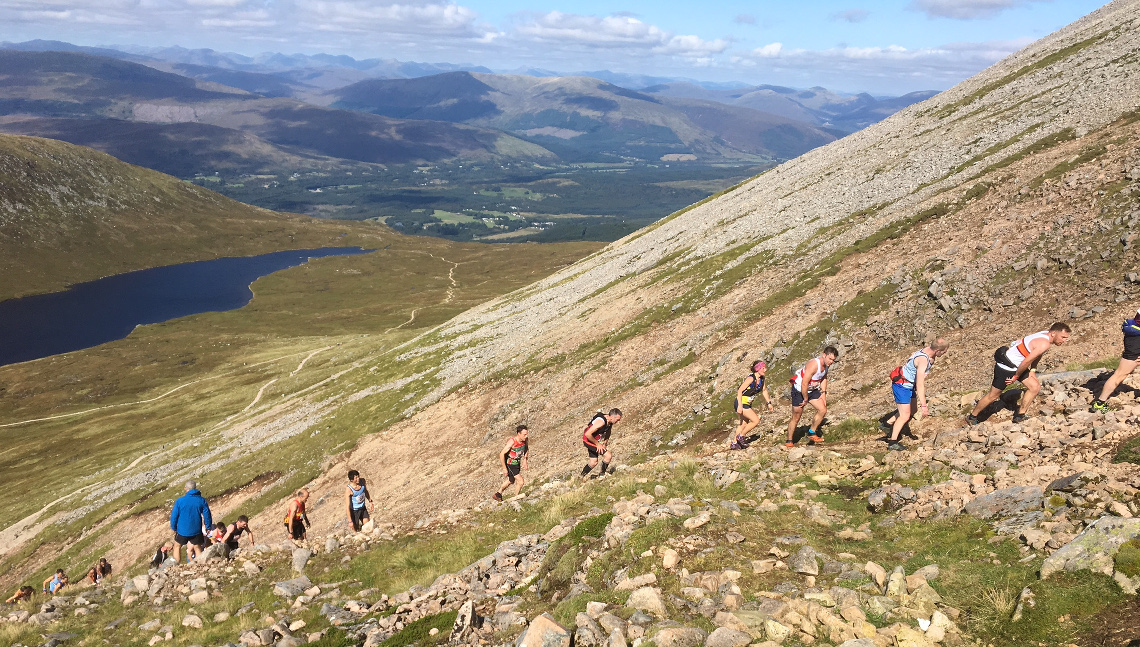 From Jim Ryder... Four Ilkley Harriers gathered in a field near Fort William to be set up the hill by a band of bagpipers. All completed the race successfully on a beautiful and clear day with views from the summit.
Race was won by Finlay Wild for seventh year in a row
Results ...

(1  1L31:37 Finlay Wild, Lochaber)
118 2:10:07 Jim Ryder
270 2:33:33 Robin Nicholson 
307 2:38:48 Michael Lomas 
487 3:40:26 Martyn Stocker
489 finished

Grisedale Horseshoe, Sat 2 Sep

(1  1:55:26 Ted Ferguson, Borrowdale)
25  2:17:08 Steve Turland
37  2:24:56 Lucy Haines
54  2:42:36 Peter Haines
69  2:51:30 Jamie Hutchinson
108 3:15:08 Sarah Haines
140 finished

Derwentwater Lakeland Trails 15k Race - Keswick, Sat 2 Sep
From Helen Waddington... The route for the fifth race in this series has had to be altered from its original course following the bad floods of 2015. Instead of a nice flat warm up along the old railway for a couple of miles, there is now a steepish start on roads giving way to gradually ascending tracks through Brundholme Woods. This had added an extra 200-300 feet of climbing since I last ran this race back in 2011. I am putting my slower time down to this (although it didn't seem to have the same effect on Jane McCarthy who was faster!) The route covers the boggy moorland above Glenderaterra Beck and the foothills of Blease Fell before looping back on a more runable gradiant beneath Lonscale Crags and finally a long and rocky trail descends to the finish in Fitz Park, Keswick. Tom Adams won finishing a good 5 minutes clear of the next runner. Another great run by Jane McCarthy 3rd lady and 2nd LV40.
Results:

1     56:42 Tom Adams
22  1:14:49 Jane McCarthy 
109 1:36:37 Helen Waddington

parkruns, Sat 2 Sep
From Petra Bijsterveld ... A first finish for Jack Wood at Skipton this week. However, just pause and take a look at Geoff Howard's result who is running in the V70 category. Jack's age grading is 77%, but Geoff's is a phenomenal 84%! Junior results to be viewed too of course if you click on the link.
Results ...

Rothwell
(1  18:40 Jamie Gibbs, U/A)
16  21:47 Geoff Howard
219 ran

Skipton
1   16:37 Jack Wood
65  27:15 Karen Lambe
91  29:21 Sue Verspyck
148 ran

---