Ilkley Harriers news archive 2017
Ilkley Harriers of the Month, July
Harrier of the month nominations: Helen Waddington for Ultimate Trails. Helen Waddington and Richard Joel for Ultimate Trails Tom Adams wins this month plus 3rd in Snowdon international championship. Ben Shepherd for Lakeland 50. Abi Bailey for Race to the Stones. Martin Archer for Harrogate 10k. Dave Millson encouraged by Antonio to return to running and arriving back from the Addingham gala still smiling. The slower Leeds 10k bunch, mostly beginners from last year: Wendy Bishop, Damaris Bedford, Libby Heppenstall, Nicky Sollowey, Diane Ollier plus regulars Kate Lofthouse and Claire Shouler.
The winner is Abi Bailey.
Volunteer of the month nominations: Dan Wilkinson for Addingham Gala, Alison Weston Gazette reports.
The winner is Dan Wilkinson.
More Harriers of the Month ...
Cowling Gala fell race, Sat 29 July

1 17:53 Tom Adams
39 finished

Lakeland 50, Sat 29 July
From Ben Sheppard ... The Lakeland 50 is essentially the second half of the Lakeland 100, starting from the Northern end of Ullswater and ending in Coniston with approximately 3100m of ascent. After a 4 mile loop within the Dalemain Estate it follows the Eastern shore line to the Cowboys and Indians-themed checkpoint at Howtown. To this point (mile 11) I had been fighting the urge to run at a "normal" pace, knowing that to do so would spell disaster in the later stages. After a lovely climb up to Brampton Common and fun descent came a technical (rocky) section along the banks of Haweswater, rewarded with soup and sandwiches at Mardale Head. Another tough climb (Gatescarth Pass) and via Long Sleddale to the CP at Kentmere where a bowl of pasta was well received. A carnival atmosphere awaited at Ambleside, everyone on the streets and in beer gardens cheering you through, and - even better - my family at the checkpoint showing a mixture of relief, excitement and concern between them while I devoured soup and sandwiches to fuel the final push. Just 15 miles to go: Langdale (veg stew) and Tilberthwaite (watermelon) before the final climb and descent (with stones in both shoes but I'm not stopping to take them out now) to Coniston, again every runner receiving a fabulous reception from people in the beer gardens and lining streets.
The men's and women's winners both set new course records. Another thing the winners have in common is their surname: North Leeds Fell Runners' Katie Kaars Sijpesteijnand her husband Casper.
One final thing: I cannot begin to imagine how tough and determined you must be to do the Lakeland 100. We passed many of the 100 mile runners (they had started in Coniston at 6pm the prior evening) - how they kept moving forward I do not know!
Results ...

(1 7:34:07 Casper Kaars Sijpesteijn, Moonglu/Mountain Fuel)	
11 8:57:03 Ben Sheppard
662 finished

parkruns, Sat 29 July
From Alison Weston ... Nea and I did the Penrhyn park run at Bangor at 29th July, getting there with seconds to spare (wrongly thinking it started at 09.30 instead of 9.00 am) desperate for the toilet and in fell shoes! A lovely route though around a castle with a sea view and run frequently (and a lot faster) by Lucy Williamson during term time at Uni there.
Results
Rydal Round, Thu 27 July
From Steve Turland ... Great mid-week race. Part of Ambleside Sports and follows a similar route to the Fairfield Horseshoe. Not the best 'summer conditions' with horizontal stair-rod rain on the summit.
Results ...

(1  1:23:37 Simon Bailey, Mercia)
26  1:41:50 Steve Turland
114 finished

Ambleside Sports fell race, Thu 27 July

(1 14:15 Rob Hope, P&B)
9  16:33 Iain Gibbons
96 finished

Newsletter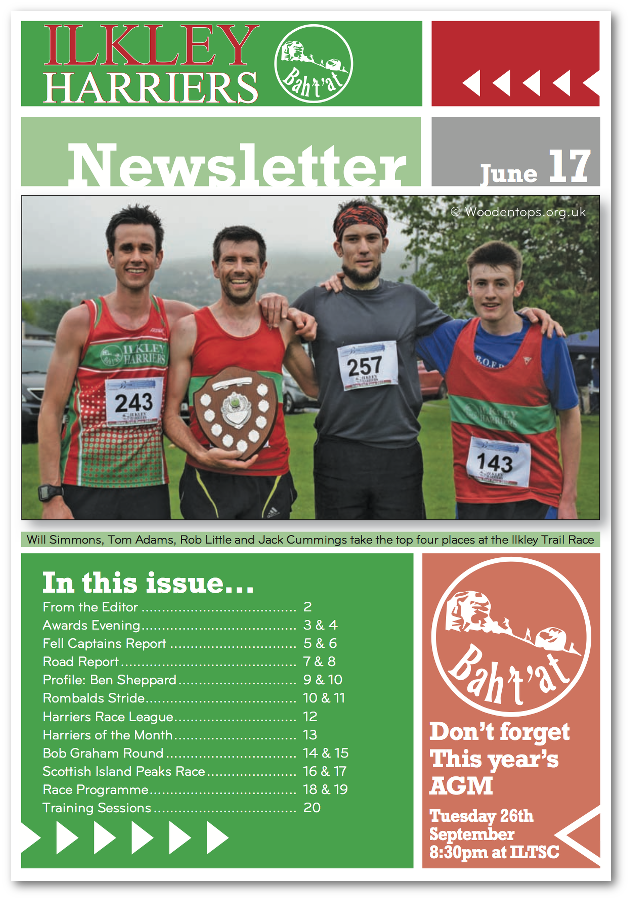 Coniston Country Fair fell race fell race, Sun 23 July
From Jamie Hutchinson ... Tough up and down the Old Man from Coniston Country Hall - a bit of a lung buster ! A clear day and quite warm - really enjoyed the swim in the lake afterwards.
Results ...

(1    55:04 Rob Hope, P&B)
35  1:18:59 Jamie Hutchinson
59 finished

parkruns, Sat 22 July
Widdop fell race, Wed 19 July

(1    52:13 Sam Watson, Wharfedale)
16  1:00:48 Steve Turland
146 finished

Roundhay Rampage, Wed 19 July

(1  38:36 Daryl Hibberd, Valley Striders)
48  49:49 Sally Malir
59  51:52 Sally Armitage
206 finished

Training news ...
Please note that both Pete Shields Wednesday session and Jane Bryant's Thursday session are off for the holidays and back first week in September.
Kentmere Horseshoe fell race, Sun 16 July
From Alison Weston ,,, Much better weather on Sunday for the classic Kentmere Horseshoe fell race (19.8 km and 1006m ascent). Lucy Haines on top form again to come 2nd lady in under 2 hours. A bonus was soaking in the cool stream in the finish field followed by lots of tea and cakes in the village hall.
Results ...

(1  1:32:57 Joshua Jardine, Helme Hill)
52  1:56:26 Lucy Haines
183 2:17:44 Jamie Hutchinson
203 2:21:46 Alison Weston 3rd LV50
254 2:32:52 Sarah Edwards
294 2:42:08 Mary Gibbons
344 finished

Cracoe fell race, Sun 16 July

(1 21:46 Ted Mason, Wharfedale)
2  22:03 Jack Cummings
9  24:14 Iain Gibbons
21 26:49 Steve Turland
86 finished

Snowdon International Mountain Race, Sat 15 July
Well done to Tom Adams, 3rd and helping England to the first team prize. Results soon ......
Ingleborough Mountain Race, Sat 15 July
From Ewan Welsh ... Spotted a few Harriers, Martin Archer, Dick Waddington and Norman Bush, at the Ingleborough Mountain Race (as it's called) on Saturday, the route is straight up and down from Ingleton, biggest decision is choice of initial descent off the top, specifically in low visibility, I'll say no more in case anyone attempts it for the first time next year, I wouldn't want to take the fun out of it. I haven't sought out results yet, conditions were wet with low visibility, everyone seemed to finish in fine fettle, although I assume this of Dick as I didn't see him at the end but did see him for a fashion during the start of the race and the initial incline, he subsequently meandered up into the mist never to be seen again.
Kong Mini Mountain Marathon, Sat 15 July
From Steve Turland... Nice little 2 hour event just outside Macclesfield. First real outing since the BG and legs felt OK. Despite a couple of navigational goofs managed to finish 4th overall and won the vets category.
parkruns, Sat 15 July
From Petra Bijsterveld ... Results ...

Bradford Lister Park
(1  18:15 Watson Peel, Halifax Harriers)
70  24:09 Sarah Haines
365 ran

Ormeau
(1  17:47 Gavin McCaffrey, Ballymena and Antrim)
7   19:33 Adam Bennett
276 ran

Ilkley Skyline fell relay, female record, Fri 14 July
From Jane McCarthy ... Thanks to Helen Waddington for tipping us off that the Ilkley Skyline Fell Challenge (est. by the North Leeds Fell Runners nlfr.co.uk) can be run as a relay, with 3 runners covering the 22 mile route. There had been no ladies team attempt, so Kate Archer, Jann Smith and I decided to set as good a time as we could on Friday. All 3 of us have run the Skyline individually which helped decide who should run which leg. I set off from the Hermit pub on Leg 1 (Hermit to Windgate Nick) 6.6 miles, 4 miles uphill to Whetstone Gate (Masts) and then a lovely couple of miles over the moor to the changeover point at the Mosquito Bomber Memorial, where Kate Archer was ready to take over Leg 2. A fine run by Kate over 9 miles down to Addingham Moorside, across and up Beasley Beacon, Round Hill and on to Ellarcarr Pike, Jann and I only managed to get to the handover spot about 5 minutes before Kate arrived! Jann then set off fast for the 6 miles of Leg 3 taking her down across Denton Moor, through fields and tracks to Asquith, then down to the Stepping Stones at Burley-in-Wharfedale and the final 2 mile uphill stretch up Moor Lane and back to The Hermit pub at Burley Woodhead. Thankfully Helen had seen her in at the finish as she ran too fast for Kate and I to get there in time! We were extremely pleased to finish in under 3hrs 5mins (Leg 1: 54mins, Leg 2: 80mins, Leg 3 50mins). Such a lovely route, and always good to have a pub at the end. Definitely recommended - either to race alone (send Garmin feed to Mike Ayers at NLFR) or take at a leisurely pace with friends. The Men's Record is faster than our Relay at 2hrs 49mins but it would be good to see some Ilkley men (or women I might add!) trying to beat our time!!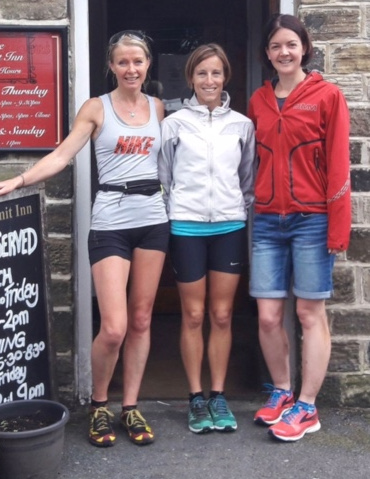 Run for all Leeds 10k, Sun 9 July
From Hilda Coulsey ... To the other end of the spectrum on Sunday, but similar distance, for a flat road 10k in Leeds for the Asda foundation, Jane Tomlinson and other charities. I did struggle with the hill as the road went over the ring road before the Headrow - I did! - but I was able to laugh at myself that it was 300m up yesterday which seemed much more enjoyable, however I don't intend to look at the photos today as I did struggle again with the heat. Looking at the list of Harriers taking part it was great to see so many beginners/ Improvers/ and those less speedy runners - it's still 10k so good running.
Results

(1   32:23 John Hobbs, Valley Striders)
121  40:05 Jane McCarthy
926  49:03 Charlotte Smithson
955  49:20 Jane Thomas
1584 54:16 Hilda Coulsey
3095 61:40 Wendy Bishop
3106 63:00 Kate Lofthouse
4808 64:36 Damaris Bedford
5031 66:54 Libby Heppenstall
5053 67:08 Nicky Solloway
5054 67:06 Diane Ollier
5945 67:19 Patricia Shouler
7050 finished

East Morton fell race, Sun 9 July

(1 13:27 Alex Thompson Wharfedale)
11 14:38 Bernadette Raven, 1st lady
30 finished

Addingham Gala fell race, Sat 8 July
A win and a new course record for Tom Adams.
From Ben Sheppard ... Thanks to Dan Wilkinson for organising this great race which attracted a good field with some fast runners and the odd distinguished name, with fell running legend Colin Donnelly coming in 5th - in his mid-fifties and showing younger runners how it's done!
From Hilda Coulsey ... The Addingham gala fell run up on Saturday to the top of Beamsley Beacon was quite an unusual jaunt for me. It was brilliant, I'm really pleased I did it even though the final third up hill was a walk/ clamber over the rocks for me. Racing Sue Morley helped to get me through the downhill, she is much more surefooted on the grass and rocks and I'm a bit faster on the roads so I got past her by the finish for the chocs. Thanks Dan for waiting for us for the presentation! Well done to all the runners and the prize winners. Phew it was hot and the ice cream was well deserved. The support from all the volunteers was very much appreciated.

1  37:29 Tom Adams
3  41:06 Will Simmons
4  41:22 Jack Cummings
6  45:29 Matt Cox
9  44:10 Ruaridh Mon-Williams
10 44:37 Ben Sheppard
19 51:02 Lucy Williamson
23 51:31 Peter Shelley
24 51:37 Lucy Haines
38 56:06 Geoff Howard
42 58:24 Alison Weston
57 71:23 Hilda Coulsey
61 96:46 David Millson
61 ran

Wasdale fell race, Sat 8 July
An English Champs counter. Results

(1  3:40:53 CArl Bell, Keswick
7   4:05:37 Jack Wood
197 6:18:42 Outi Kamarainen
233 finished

Baildon Carnival Canter, Sat 8 July
From Rachel Carter ... A few Harriers travelled the short distance across the moor to Baildon Carnival for their 'Carnival Canter' and junior races beforehand. The 'canter' turned out to be a 3 mile fell race, which felt more than enough on a very warm afternoon, to a trig point and back. Well organised by Baildon runners and a good local atmosphere at the carnival. The senior ladies race was won (21st overall) by one of our Juniors (who had already run the junior 1 mile race too!).

(1 18:18 James Hall, Wharfedale)
9  21:24 Robin Nicholson
12 21:48 Paul Castle
21 22:58 Bernadette Raven, 1st lady
28 23:57 Rachel Carter
36 24:47 Robert Budding
78 finished

parkruns, Sat 8 July
From Petra Bijsterveld ... Results ...

Woodhouse Moor
(1  17:54 David Bagot, Clayton-le-Moors)
4   18:22 Will Wood
9   19:25 Bob Hamilton
280 ran

Skipton
(1  17:50 Sebastian Segger-Staveley, Settle Harriers)
33  24:20 Phil Hirst
46  25:20 Chris Cunningham
146 ran

HDSRL Handicap Race, Thu 6 July
A great run from Emily Elmes to 'beat the handicapper' and finish in 2nd place. Results

2   46:24 Emily Elmes
59  50:43 Don Macrae
76  53:27 Bernie Gibbons
128 48:58 Di Kitchen
157 43:17 Geoffrey White
180 38:57 Malcolm Pickering
222 43:29 Jean Sullivan
254 32:43 Ruaridh Mon-Williams
273 38:28 Tom Worboys
277 57:55 Anna Pickering
292 finished

Stoodley Pike fell race, Wed 5 July
A win for Tom Adams in 18:36, 119 finished. Results.
Evensplits 5k series race 1, Wed 5 July
From Petra Bijsterveld ... This was the inaugural event of a new 5k series staged on the cycle track of the Brownlee Centre at Bodington Fields. The course takes in 3 laps of the track, which is a roadrunner's delight of newly laid tarmac. For added interest there is an incline to 'enjoy' 3 times over.
Runners were divided into an A (sub 22:30) and a B race, there were only 34 of us in the B race and I had the (for me) rare experience of starting near the front! As expected it is a fast course and having overcooked the first lap I did pay for it in mile 2 and 3, finishing 5 seconds outside my PB.
Sally and Rob ran very well in the A race, and I enjoyed being able to watch the faster runners for a change.
There are 5 more races in this series and I would recommend this to all roadies and anyone else who wants to test themselves on tarmac.
Results ...

(1  15:45 John Hobbs, Valley Striders)
37  20:42 Sally Malir
43  20:56 Robert Budding
78  24:16 Petra Bijsterveld
93 ran

Danefield relays, Tue 4 July
From Alison Weston ... 123 teams (!!) took part in the Danefield relays (3 x 3miles) at the Chevin, organised by Fellandale club. Mary, Nea and myself made up one Ilkley team and Lyra was persuaded to make up another team with Jack Wood! Jack ran the fastest leg of the evening (on leg 1) and Lyra found herself in the lead for 200m on leg 2 before being overtaken by the fast guys.
Results ...

17th position 
leg 1 Jack Wood 17:56
leg 2 Lyra Weston 29:32
leg 3 Jack Wood 18:23

96th position
Leg 1 Alison Weston 26:43
Leg 2 Nea Weston 31:57
Leg 3 Mary Gibbons 26:23

Eccup 10 mile, Sun 2 July
From Caroline Howe ... Four Harriers took part in the undulating Eccup 10 mile on what was a warm sunny day. Thankfully the course had plenty of shade and a nice breeze so conditions weren't too bad. Sold out for the second year in a row, this was a thoroughly enjoyable race with a decent t shirt!!
From Hilda Coulsey ... a good road race with hills, not too scary, and lovely tree lined closed country roads with a circuit of Eccup reservoir. The race has been full these last two years and in previous years lots of Harriers have taken part - it's definitely worth putting in the diary for next year.
Results ...

(1    54:45 Dannny Hallam)
217 1:19:30 Caroline Howe  
292 1:22:49 Graham Parton  
467 1:30:33 Hilda Coulsey     
535 1:34:27 Donna Jackson  
815 finished

Harrogate 10k, Sun 2 July

(1  32:33 Rory Stead, Aberdeen)
10  36:34 Martin Archer
204 49:41 Chantelle Busby
410 57:53 Don Macrae
562 finished

Skiddaw fell race, Sun 2 July
From Ewan Welsh ... I ventured up to Keswick for the Skiddaw fell race on Sunday to continue on my pathway back to regular racing. A straight up and down route, well more of a zig-zag up and down route, this was the start of a new era as the directive is now to stick to the main path, rather than ascending/descending as you are. The long standing course records set by Kenny Stuart and Sarah Rowell, set in 1984 and 1989 respectively, are now set in the stones of time. The 'new' course was an open invitation to set a new course record (not for me I hasten to add !) that will sit alongside the 'old' course records.
My own personal battle, based on the fact that although I am not the quickest of runners I am the slowest of walkers, was to not walk on the ascent at any given time, which I achieved and got to the top with an air of contentment, it made the descent an interesting affair mind you. As the route was holding to the main path it gave the race a slight alpine feel, walkers and runners co-existing on the route up with a few cow bells and words of encouragement to be heard on a switchback path (almost), in passing I asked a group 'on-route walkers' if I could borrow their walking poles, oh how we all laughed at the fine banter! Not to mention the Inov-8 team containing a group of competition winners from Europe; their prize was a week in the Lakes incorporating various runs and races (I believe). Spot prizes were also included as a post race feature, my number was pulled out the hat and I picked up a trendy looking Inov-8 small trail belt, that's my 4th prize in 32 years of running, bonus! I once won 1/4 of a cattle beast in New Zealand, but that's another story.
I didn't spot any other Harriers, but did catch up with Graham Arthur, ex Harrier and Isle of Jura race organiser, he was in the Lakes for the weekend and popped over to do the race, as you do.
The race is well organised, great atmosphere, easy parking and a fine post race spread.
Results ...

(1 1:10:18 Sam Stead, Keswick AC)
88 1:42:05 Ewan Welsh
136 finished

Blackfell fell race, Sat 1 July
From Dave Wilby ... A superb local race from Kettlewell based on the middle event from the old Wharfedale TTT, it's struggling a bit for numbers in its first few years but is worthy of so much more attention. Incorporating a wide spectrum of terrain including a long runnable climb on double-track, a steep heathery scramble, grassy trods, a lightning fast descent and plenty of trackless tussocky terrain where even sheep fear to tread. There's good scope for route choice on a clear day and potential for some navigational mishaps if the clag comes down. Keep an eye out for it next year, it's a belter.
Results ...

(1 1:20:35 Ted Mason, Wharfedale) new record
4  1:32:17 Dave Wilby
6  1:34:26 Alistair McInnes
8  1:36:00 Paul Carman
29 1:54:31 Duncan Cooper
38 2:04:28 Jann Smith
57 Finishers

Ultimate Trails 110k, Sat 1 July
From Helen Waddington... Pleased to report that Richard Joel and I made it round this challenge - Richard finishing in around 19 and a half hours and myself just over 22 and a half. It was a step into the unknown for both of us and, speaking for myself, much harder than I had anticipated but very satisfying once the finish line had been crossed! The support from other runners and event crew was humbling and incredible - some of the checkpoints being remote and midge-infested! It was wonderful having Dick and Jane at various checkpoints along the route providing much needed encouragement and, having both done the race themselves, lots of empathy!
From Richard Joel ... Following on from Helen's report the Ultimate Trails was a very challenging but overall satisfying event. It's an ultramarathon starting at midnight in Ambleside with 24 hours to complete the 66 mile circular route with approximately 12,000 feet of climbing. The weather was for the most part mild allowing us to run in shorts and tee shirt through the night and for most of the next day. Overnight the stream of headtorch lights snaking up Nan Bield pass was an amazing sight. The support and encouragement provided by the public on the course and the volunteers at the checkpoints was amazing. The food at the checkpoints really hit the spot and kept spirits high enough to keep going, although I may have had my recommended annual intake of coke and crisps in one day!! As the day wore on everyone got into a rhythm and runners started to support and encourage their fellow runners - I ended up running around more than half the course with a guy from Tyneside. The scenery was absolutely gorgeous (took my mind off the pain) and I saw some hidden corners of the Lake District I never knew existed.
The support provided by Dick and Jane was fantastic - it was great to see familiar and encouraging faces around the course. Thanks also to Dick for lending me his walking poles which got me over the last 2 climbs. Also a fantastic run by Helen - well done!!
parkruns, Sat 1 July
From Petra Bijsterveld ... Results ...

Woodhouse Moor
(1  17:43 Tom Thomas, Hyde Park Harriers)
18  20:01 Andrew Overend
398 ran

Bradford Lister Park
(1  18:11 Martin Soszka, Saltaire Striders)
5   19:05 Will Wood
19  20:38 Rhys Jones
425 ran

Harrogate
(1  17:27 Andrew Dobby, Harrogate Harriers)
34  21:04 Andrew Sheldon
339 ran

Skipton
(1  17:51 David Driver, Wharfedale Harriers)
10  20:39 Kate Archer
150 ran

Stretford
(1  16:31 Peter Bray, Manchester Orienteering Club)
5   18:26 Rob Cunningham
450 ran

---