Ilkley Harriers news archive 2017
Ilkley Harriers of the Month, April
Runner of the month:
Jack Wood
for sub-3 hour Three Peaks run, including a fall
Other nominations were:
Jane McCarthy for Basildon Boundary Way, Guiseley Gallop and 3 peaks
Jack Cummings for Bunny runs and Dick Hudsons
Cam Reilly for Bunny runs
Euan Brennan for Bunny runs
Ben Sheppard for Manchester marathon and Blubberhouses
Helen Waddington for Ilkley Skyline.
Volunteer of the month:
Alison Weston
for Ilkley Gazette reports
Other nominations were:
Neil Chapman for Thursday training
Alison Bennett for Carnival volunteer organisation
More Harriers of the Month ...
Coiners' Fell Race, Sun 30 April
From Jo Foster... three Harriers did this 7 mile Fell Race from Mytholmroyd. We all had good runs, just missing out on the prizes. The race was won by Tom McGuinness of East Cheshire in 45.33, very close to the record. A great route with fantastic views.
Results ...

(1 45:33 Tom McGuinness, East Cheshire)
11 53:41. Jim Ryder 11th, 2nd V50
32 59:46 Kate Archer, 32nd, 5th lady
55 65:50 Jo Foster, 55th, 8th lady, 2nd FV45
112 finished

The Fellsman, Sat 29 April
From Steve Turland ... Stood on the start line with 62 miles and 11,000ft of climb ahead was a little bit daunting, and after 20m I sat down at Dent feeling very tired, wishing I'd chosen the 3 Peaks instead. Only 42 miles to go! Crammed as much food down as I could, and after 20 minutes of feeling sick, started to feel good again. Each checkpoint gradually passed, until the wheels started falling off again around the 50m mark. Last stretch seemed to go on forever and finally arrived back at Grassington in the early hours having got round in 16 hours. Managed to find a new level of pain and suffering on the day, but loved every minute of it. Great event, great camaraderie and weather was very kind to us too.
Three Peaks, Sat 29 April
From Alison Weston ... The highlight of the weekend with Jack Wood sub 3 hours in 4th position (2:56:54), Will Simmons 33rd position as anew comer to the race in 3:23:55, Michael Lomas and Jane McCarthy sub 4hrs in 3:57:09 and 3:57:47 (14 L, 7LV40) respectvely. Brilliant running also by Iain Gibbons 4:10:46, Dave Robson 4:23:10, Robin Nicholson 4:28:40, Michael Duffield 4:32:20, Outi Kamarainen 4:34:15, Peter Shelly 4:41:23, Mike Baldwin (22nd Three peaks race) 4:48:38, Adela Reperecki 5:05:39 and Martyn Stocker 5:09:17
Coniston fell race, Sat 29 April
From Alison Weston ... Mary Gibbons and Alison Weston ran the Coniston fell race (14km /8.7m) second race in the Lakes Grand prix series, a superb route up Wetherlam, Swirl How and Coniston Old Man finishing with a wicked direct descent back down to Coniston village. Alison finished in 1:47 (1st V50) and Mary Gibbons first time around the course in 2:05.
Ilkley Skyine Challenge, Fri 28 April
Helen Waddington set a FV40 record in the Ilkley Skyine challenge in Friday 28th April of 4:23:19. The route is 22 miles long with 850m of climbing and joins Beamsley Beacon, Round Hill and the summits along Burley Moor, Ilkley Moor and Rombalds Moor, starting and finishing at the Hermit in Burley in Wharfedale.
Dick Hudsons fell race, Thu 27 April

(1  45:43 Adam Osborne, Leeds)
2   46:38 Jack Cummings
3   46:39 Dave Wilby (bike)
12  40:54 Martin Archer
23  54:09 Ralph tench
24  54:11 David Foyston
31  55:09 Ben Joynson
36  56:02 Richard Joel
47  59:16 Steve Murray
53  60:53 Malcolm Pickering
79  64:48 Paul Stephens
85  66:43 Phil Hirst
96  73:21 Peter Lewis
102 73:58 Sarah Hayes
115 finished

Bunny Run Relays, Tue 25 April
Results and photos on woodentops.org.uk
Blackpool marathon, Sun 23 April

(1 2:49:00 Paul Burton)
11 2:59:22 Ben Sheppard
348 finished

London Marathon, Sun 23 April
From Tim Buckingham ... I completed the London Marathon today in 3h 28m 57s This is a PB for me and was hard earned! Thank you to Ilkley Harriers for the opportunity to enter the race! I completed the London Marathon today in 3h 28m 57s This is a PB for me and was hard earned!
>Results ...

(1    2:05:48 Daniel Wanjiru, Kenya)
2949  3:09:10 Derek Oliver 
6102  3:28:57 Tim Buckingham
12417 3:56:58 Stuart Herrington
14002 4:02:39 Jan Carrier
18830 4:23:02 Dave Ibbotson
29846 5:09:57 Timothy Wellings
39,487 finished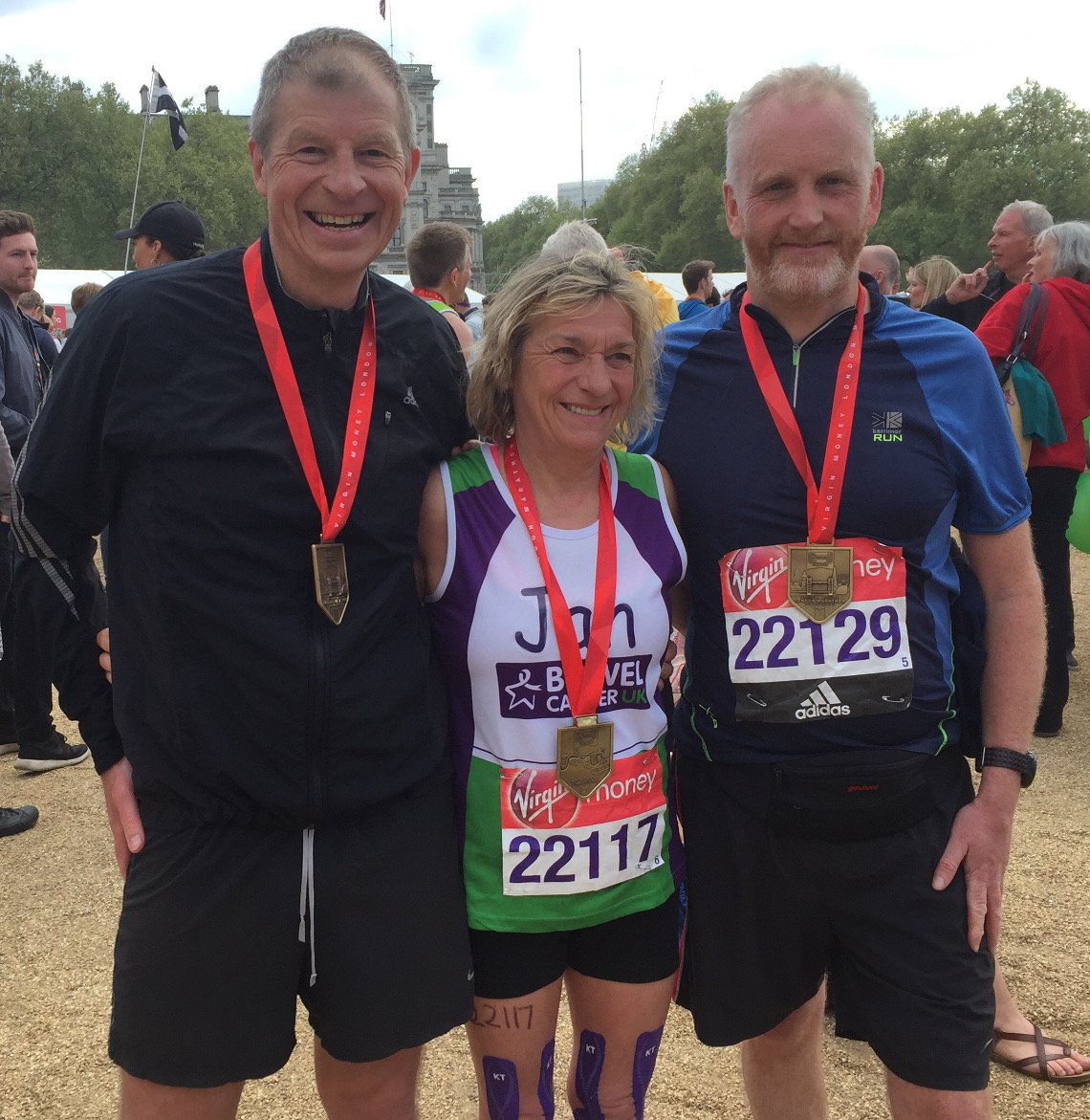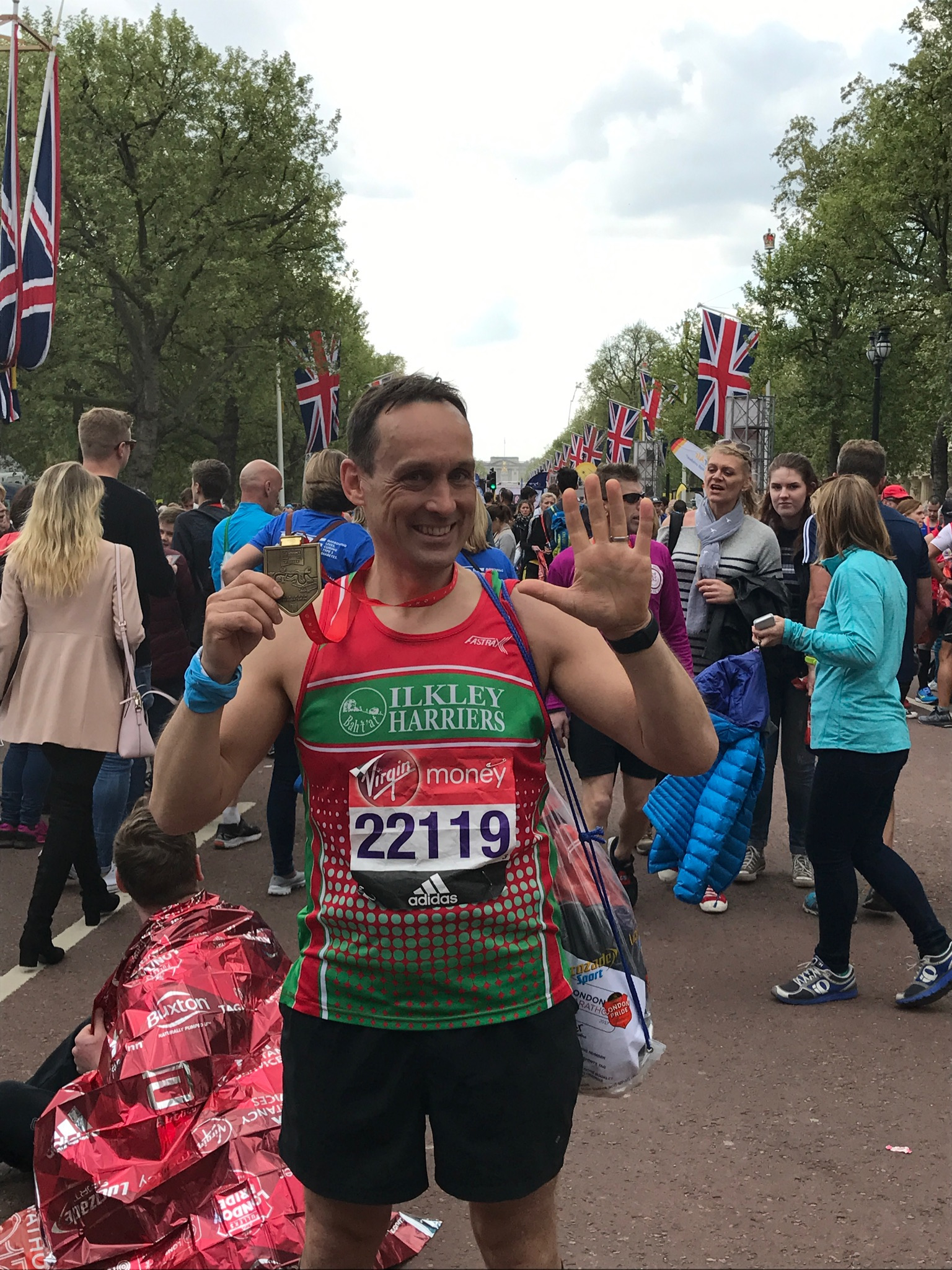 Longhorn half marathon, Sun 23 April

12 1:32:01 William Wood
516 finished

21st Anniversary Waltz, Sat 22 April

(1  1"32:52 Chris Arthur, Bowland)
120 2:10:02 Kate Archer
213 2:24:48 Outi Kamarainen
235 2:27:31 Alison Weston
241 2:28:49 Ben Joynson
256 2:31:03 Mike Baldwin
297 2:37:45 Sarah Edwards
307 2:38:46 Mary Gibbons
443 finished

Madeira Island Ultra Trail-MIUT 2017, Sat 22 April
From Brian Melia I ventured over to Madeira for the MIUT - Madeira Island Ultra Trail. It is now part of the Ultra Trail World Series. It began in Porto Moniz on Saturday 22nd April 00.00 winding up mountain footpaths and Levadas, towards the plateau of Paul da Serra. Headlamps were required till about 7 am.The route is difficult and there are some technical ups and downs before arriving at the brilliant Pico Ruivo and a magical trail in tunnels and narrow hanging paths to Pico Arieiro 1810 M. I was completely stunned how beautiful this trail had become from the start to the highest point. From here the route is more downwards along single tracks in Funduras mountains and then along Levada of Canical and finally along a Levada to the final destination on Machico. It was no push over at 115 km and 7100D+ of height. My gps read 127 km which it felt more like. Some of the climbs were mental and I had to dig deep just to keep moving. Earlier at 4.45 I was falling asleep and tripped a few times. The drops were potentially fatal, so I found a bench to sleep on like a drunk. I woke after 30 mins ready to roll all refreshed The aid station crew were friendly and had good food to keep us filled and plenty of fluids, essential in the heat. I ran for the second half of the race with another English runner Tom Knight, who did a lot of leading along the tracks and keeping good passage, he was fab company. We ran in at 22hrs11mins. I was pleased to finish even in this slow time and 172nd position as earlier my right leg and hip had been very painful and I was not even going to begin, rather start my holiday early. Looking back it was a lovely event and very well run and as always the Ultra Trail community are great fun. Franchise D'Haene won the men's race, Beth Pascall was first Brit and 2nd lady. I claim 2nd Brit........a lot further back though. It is worth a trip as this is my first time to Madeira and it is stunning. w.
ww.madieraultratrail.com
Notice of Extraordinary General Meeting
From Hilda Coulsey ... sadly we did not get a quorum of members on 18th April hence the EGM will now be held on Tuesday May 2nd at the Tennis Club 8:30pm
This is a formal notice of an Extraordinary General Meeting of members to be held on Tuesday evening 2nd May 2017 at 8:30pm at ILTSC (the tennis club on Stourton Road LS29 9BG), regarding the Junior section's plans to build a compact training facility at Ben Rhydding.
Agenda to include:
1 Overview of new facilities plan proposed and how it will be delivered
2 Vote on an amendment to the Constitution to support and enable participation
3 Launch of investment loan scheme
More information on the committee page.
Bunny Run 3, Tue 18 April
Ilkley won the men's team prize again! Results and photos on woodentops.org.uk
Guiseley Gallop, Sun 16 April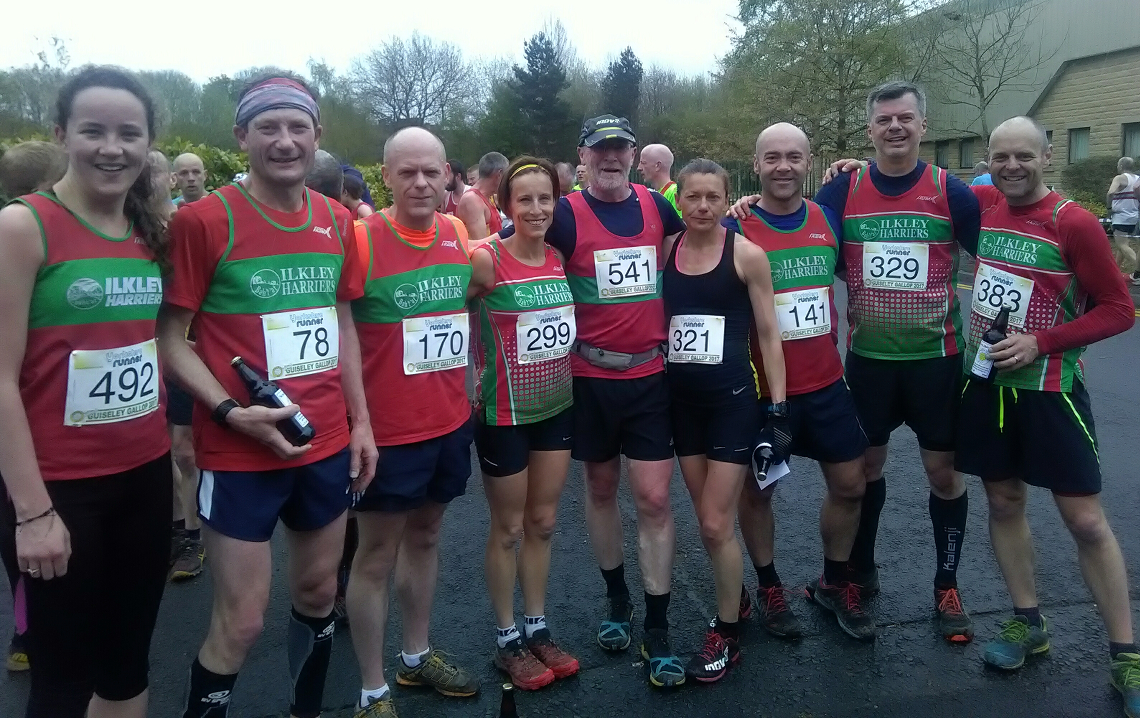 (1  35:39 Conner Craig-Jackson, Skyrac)
20  41:12 David Foyston	
35  42:21 Dave Robson
40  42:58 Jane McCarthy	1st F40
41  43:03 Pauline Munro	1st F45	
53  44:17 Lucy Williamson
58  44:48 Michael Duffield
78  45:59 Steve Murray
105 47:43 Robert Budding
117 48:14 Paul Stephens
176 51:23 Sarah Edwards
214 53:21 Adela Reperecki
226 54:02 Caroline Craske
294 57:11 Peter Lewis
370 60:37 Hilda Coulsey
491 finished

Zwolle Zuid 10M, Sat 15 April
From Petra Bijsterveld ... The 10 mile distance has become more popular in the Netherlands in recent years, though I imagine not a single Dutch participant thinks in miles, apart from me! I managed to get a last minute entry through a transfer and joined my friends for this race in what was my home town a long time ago. A two lap flat course taking in some lovely scenery along the river IJssel, we had to contend with a stiff breeze but otherwise conditions were good. It seemed a good opportunity to have another crack at breaking 90 minutes which has always eluded me. It wasn't easy but I managed to pace it evenly and was delighted to reach the finish with a good 30 seconds to spare.
Results ...

(1  54:15 Gert-Jan Liefers)
462 89:27 Petra Bijsterveld 
658 ran

parkruns, Sat 15 April
Bunny Run Two, Tue 11 April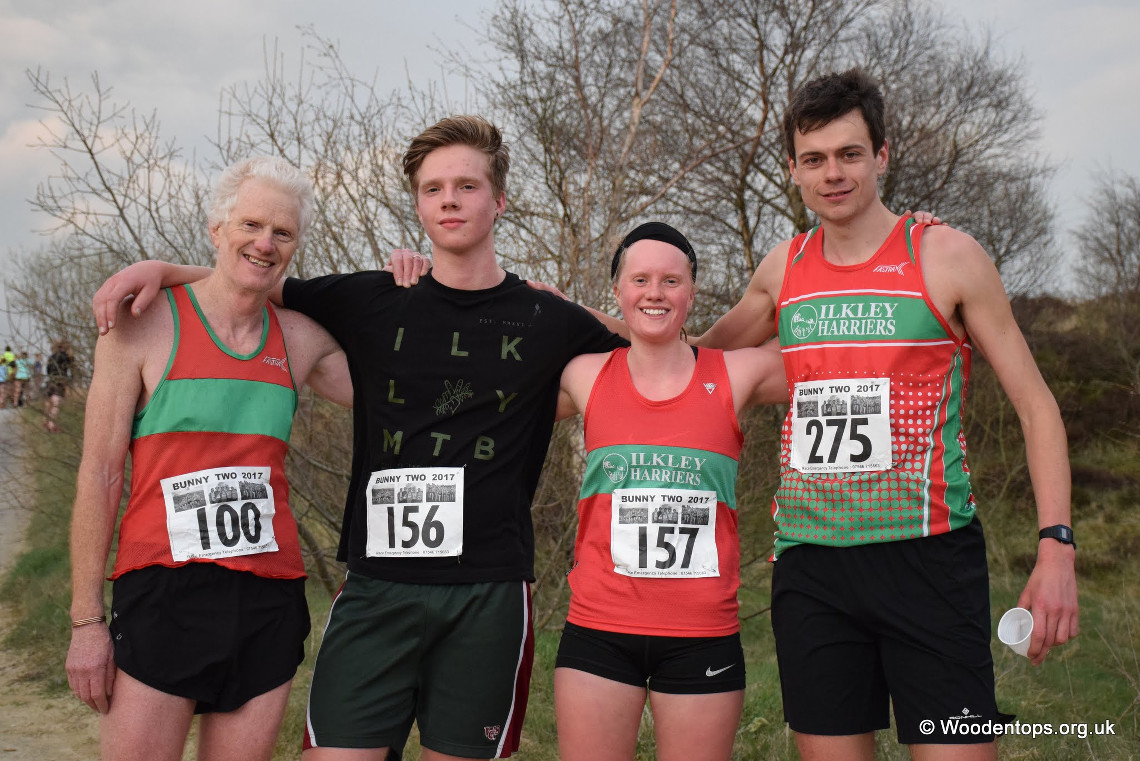 Ilkley had the first men's team! Final race next Tuesday. Results and photos on woodentops.org.uk

(1  14:51 James Hall, Wharfedale)
2   15:22 Jack Wood
5   15:47 Euan Brennan
11  16:34 Cameron Reilly
12  16:39 Jack Cummings
23  17:22 Oscar Stapleton
53  19:13 Sarah Pickering
60  19:35 Bernadette Raven
63  19:42 Richard Joel
66  19:48 Ben Joynson
79  20:09 Jane McCarthy 1st FV40
106 21:09 James Pickering
119 21:42 Malcolm Pickering 1st V60
139 22:26 Mary Gibbons
149 22:42 Charlotte Elston
151 22:44 Sarah Edwards
168 23:16 Harry Stead
176 23:27 Andrew Jackson
206 25:27 Val Kerr
237 27:21 Petra Bijsterveld
262 29:59 Sophie Brown
270 31:07 Patrick Gibbons
285 finished

White Horse 10k, Sun 9 April
From Vince Gibbins ... Bernie and Catherine Gibbons took part in The White Horse 10k, one of the Hardmoor off-road races, on Sunday. This series comprises seven beautiful, challenging runs in various locations around the North York Moors. It's known as the only series where you can legitimately ask 'How far is a 10k?' The White Horse was in fact a 7.5 mile course and included 1,000 feet of climbing, taking in Gormire Lake, the heights of Sutton Bank and parts of the Cleveland Way. It was a spectacular course with stunning views on a beautiful, sunny day.
Bernie Gibbons First Vet Female 60 in 86.30
Catherine Gibbons Second Lady in 68.54
www.hardmoors110.org.uk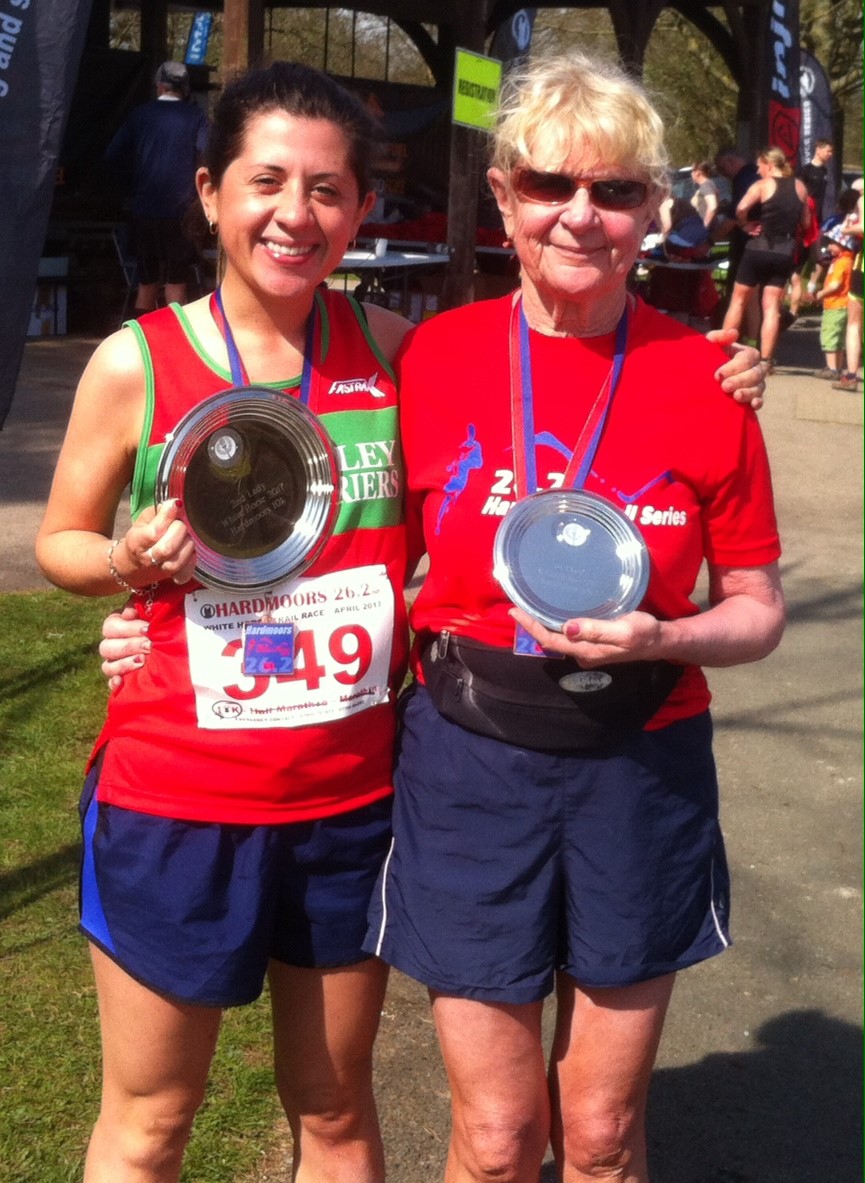 Donard Challenge, Sat 8 April
From Alison Weston ... I was the only Harrier to do the first British fell running championship race, Donard Challenge, in the Mourne Mountains on Saturday but it was well worth the effort. Classed as a 'short' race (10km) it starts from sea level in Newcastle and climbs 900m to the top of the highest hill in Northern Ireland and then returns a more direct way back down over tussocks and rocks. We were rewarded with a magnificant view from the top of a cloud inversion over the sea (unfortunately I didn't dare take my eyes off the ground on the descent). The winner was Tom Addison from Helm Hill Runners in 58:03 and Wharfedale Harriers had some great results too. I was content with 198th (6th FV50) in 1:29:06 but keen to return to do more races in the area.
parkruns, Sat 8 April
From Petra Bijsterveld ... Results ...

Woodhouse Moor
(1  16:41 Tim Gordon, U/A)
13  19:04 Tim Ashelford
202 26:30 Jennifer Carne
409 ran

Bradford Lister Park
(1  16:37 Matthew Merrick, Bingley Harriers)
5   18:44 Will Wood
436 ran

Harrogate
(1  17:22 Andrew Dobby, Harrogate Harriers)
108 22:27 Caroline Howe
508 ran

Skipton
(1  16:29 Jack White, City of Norwich)
53  24:24 Chris Cunningham
187 ran

Montsouris (Paris)
(1  16:50 James Young, Meltham AC)
20  22:25 Geoff Howard
80 ran

Bunny Run One, Tue 4 April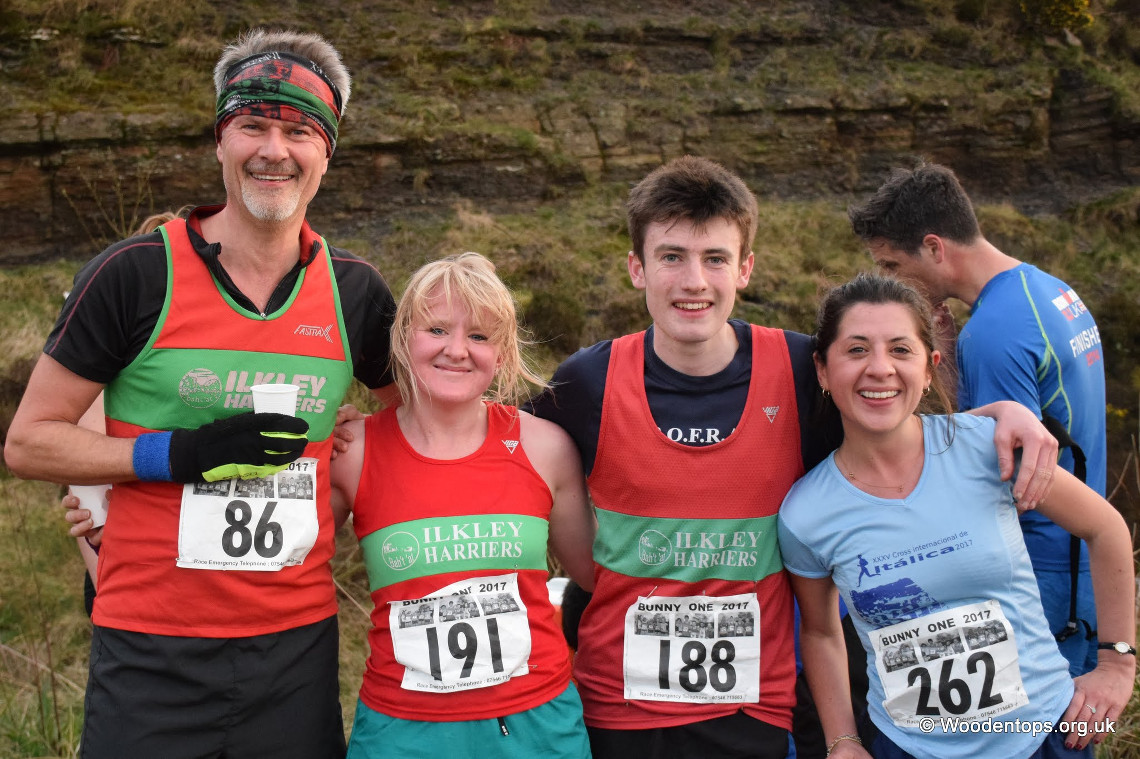 Easter's coming! Lots of Bunny Fun last night, another race next week. Results and photos on woodentops.org.uk

(1  15:44 Joe Baxter, P&B)
7   16:31 Matt Newall
10  16:38 Jack Cummings
13  16:52 Cameron Reilly
24  17:33 Oscar Stapleton
56  19:43 Ben Houlihan
58  19:47 Ben Joynson
67  20:14 Bernadette Raven
74  20:28 Lucy Williamson
83  21:03 James Pickering
111 21:59 Malcolm Pickering
119 22:28 Sarah Edwards
134 23:02 Catherine Gibbons
141 23:13 Andrew Jackson
142 23:16 Mary Gibbons
146 23:24 Charlotte Elston
147 23:26 Alison Weston
149 23:32 Tom Jackson
173 25:28 Emily Elmes
175 25:33 Adela Reperecki
191 26:12 Val Kerr
197 26:33 Joanne Williamson
231 28:25 Petra Bijsterveld
243 29:17 Anna Pickering
255 31:11 Sophie Brown
265 36:02 Nea Weston
269 finished

Baildon Boundary Way, Sun 2 April

(1  1:20:22 Alisdair Burns, Valley Striders))
20  1:34:20 Steve Coy
27  1:36:31 Jane Mccarthy 3rd lady
35  1:38:14 Kate Archer
43  1:39:57 Mark Summerson
122 1:52:53 Harry Sime
131 1:53:42 Jo Foster
164 1:57:52 Neil Pomfret
187 2:01:11 Eric Hawthorn
191 2:01:34 Helen Waddington
207 2:03:45 Adela Reperecki
284 2:15:09 Melanie Edwards
312 2:22:05 Sally Lynch
330 2:29:55 Alison Bloor
331 2:29:55 Neil Bloor
361 finished

LDWA Blubberhouses 25, Sun 2 April
From Ben Sheppard...For the price of four hand-piped fondant fancies at Betty's (£7) you can enter the LDWA Blubberhouses 25, a scenic and thoroughly enjoyable long walk (made less so if you choose to run it). For me it was a no-brainer, I don't even like fondant fancies (I'm more of a fat rascal kind of guy). Plus, you get a free meal at the end (meat stew or veg stew, or bread if you don't like stew). If you like a hard-core race with a charged atmosphere and a deep field of fast club runners, this is not the one for you. Good to see Dave Robson and Mike Duffield there in training for the Three Peaks, and Derek Oliver looking calm and assured as usual. While most walkers and runners set off at a gentle trot, a few runners hared off towards Swinsty Reservoir at an unsustainable pace. By Fewston Reservoir we were a break-away of four, and shortly after Thruscross Reservoir a clear leader emerged. By Ellercarr Pike had opened up a lead of 4 minutes from me and one other. He and I seemed to be matching each other for pace and effort and, enjoying a good old natter (you don't get that at a half-marathon road race), settled into an un-spoken accord to stick together (he didn't know the route and I could tell he would finish stronger than me). In the final half mile we agreed to finish jointly for what we assumed would be joint second. Alas, sadly for the leader he had managed to get lost only half a mile from the finish, trotting in forlornly a couple of minutes after us. Maybe he can take consolation from the fact that an LDWA challenge is not really a race anyway. Dave and Mike appeared to have good runs and I think Derek surprised himself with an excellent time and placing. The genial atmosphere at the end, sitting out in the sunshine eating stew and drinking tea while applauding the finishers in, was worth the price of a box of fondant fancies alone. Highly recommended for walkers and runners who like value for money. Results ...

1  3h17 Ben Sheppard
5  3h28 Derek Oliver
19 3h55 Dave Robson
20 3h55 Mike Duffield
22 3h57 Paul Calderbank
36 4h19 Chantal Busby
168 finished

Fountains 10k, Sun 2 April

(1 34:36 Ben Pease, Ripon)
34 45:18 Helen Thurston
82 50:51 Tracey Watson
325 ran

Pendle Short Fell Race, Sat 1 April
From Ewan Welsh ... Ilkley's young guns were out in full force on Pendle Short Fell race, as Ewan Welsh and Mike Baldwin were competing in their first V50 and V60 races (respectively !), with Norman Bush (V70) also appearing. The route covers 4.5 miles/1500ft, consisting of a bit of road at the start/finish, one steady/steepish climb, one downhill, another steep climb, another steady downhill. Finishing order amongst the three young fellas was Ewan, Norman, Mike. Apologies if any other Harriers where in attendance that we didn't spot. Results soon.
Dales Trails 20 - Reeth, Sat 1 April
From Gavin Lamb ... Results ...

(1 - 1:20:37 Ben Livesey)
20 - 1:45:57 Gavin Lamb 
279 finished

parkruns, Sat 1 April
From Petra Bijsterveld ... Results ...

Woodhouse Moor
(1  16:58 Robin Outtersides, Otley AC)
240 27:30 Jennifer Carne
464 ran

Bradford
(1  17:24 Alexander Flaherty, Bingley AC)
4   18:24 Will Wood
497 ran

Penrhyn
(1  19:34 Louis Guest, U/A)
4   19:52 Lucy Willaimson 1st F
194 ran

---