Ilkley Harriers news archive 2017
Ilkley Harriers of the Month, February
Runner of the month:
Paul Stephens
for completing an excellent 21 Rombald's Strides, and in very consistent times, year on year
Other nominations were:
Jane McCarthy for 1st lady Rombald's Stride
Volunteer of the month:
Steve Weston (and Team)
for organising the Ilkley Fell Race
Other nominations were:
Helen Waddington for providing the HoM summary every month
More Harriers of the Month ...
Ilkley Moor fell race, Sun 26 Feb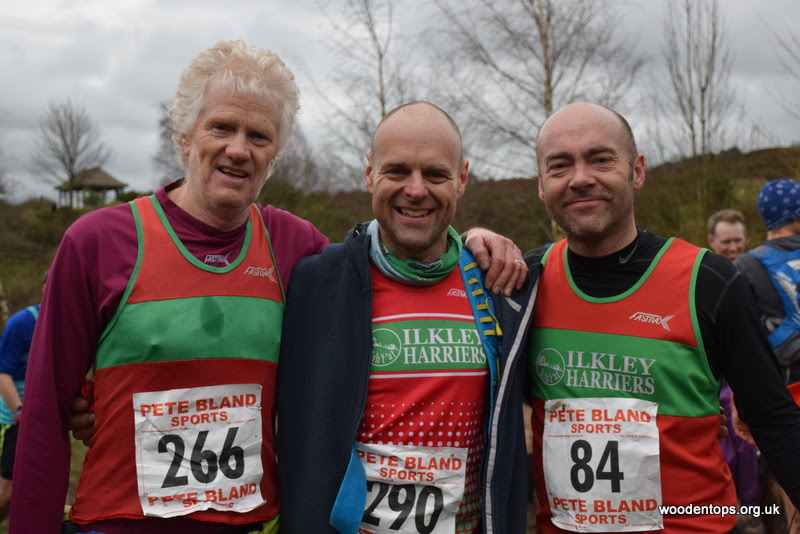 From Alison Weston ... Ilkley Harriers hosted its annual Ilkley Moor Fell Race on Sunday in extremely muddy conditions. Tom Adams was the clear winner in 37:16 followed by Ted Mason from Wharfedale in 41:06 and Graham Pearce from Pudsey and Bramley in 41:20. The Harriers had a great turn out of runners and race marshalls. Euan Brennan had a great race to come 5th and 1st under 18, Jack Cummings was 9th postion and 1st under 21, and Ben Shepperd was in the top 20. Pauline Munro was 1st Fv40, Alison Weston 1st FV50, Malcome Pickering 1st MV60 and Norman Bush 1st MV70.

1   37:16 Tom Adams
5   42:52 Euan Brennan U18
8   43:13 Jack Cummings
18  46:23 Ben Sheppard
20  46:41 Martin Archer
32  48:33 Jim Ryder 2nd V50
35  49:03 Robin Nicholson
39  49:54 Dave Robson
58  51:22 Gavin Lamb
71  52:40 Richard Joel
82  53:47 Pauline Munro 1st FV40
99  55:24 Malcolm Pickering 1st V60
101 55:37 Michael Duffield
106 56:02 Kate Archer
145 59:35 Martyn Stocker
161 60:37 Alison Weston 1s FV50
162 60:40 Jann Smith
183 62:34 Norman Bush 1st MV70
186 62:41 Sarah Edwards 
198 63:55 Alison Eagle
204 64:33 Mary Gibbons
233 68:22 Geoffrey Howard
237 68:48 Peter Lewis
272 Alison Bennett
274 74:52 Anna Nolan
289 78:02 Harry Sime
290 78:02 Robert Sime
314 90:04 Sharon Meadows
321 finished

Harewood House Half Marathon and 10k, Sun 26 Feb
From Paul Sugden... Windy and hilly conditions finished in 2:11:38 No doubt there were other harriers running the half or the 10K for which Jack Wood ran in 40:00 but position not known as results have only been issued in alphabetic order at the moment.
From Donna Jackson ... my time for today's Harewood 10k was 56:01 Great race, well organised, shame I couldn't do the Half Marathon distance as planned but due to injury I opted for the shorter route... I enjoyed it all the same!
English National Cross Country Championships, Nottingham, Sat 25 Feb
From Petra Bijsterveld ... Results ...

Senior Men
(1  39:35 Ben Connor, Derby AC)
941 54:17 Steve Coy
952 54:25 David Westhead
(1762 ran)

Junior Men
(1  32:25 Ellis Cross, Aldershot, Farnham and District)
70  36:14 Matt Newell
211 ran

Senior Women
(1  29:07 Jessica Judd, Chelmsford AC)
606 45:49 Petra Bijsterveld
648 47:15 Gaenor Coy
788 ran

Junior Women
(1  22:03 Harriet Knowles-Jones, Warrington AC)
29  25:35 Jemima Elgood
144 33:04 Elizabeth Westhead
148 ran

parkruns, Sat 25 Feb
From Petra Bijsterveld ... Results ...

Portrush
(1  20:13 Stephen Collins, Southampton Uni Tri)
46  29:25 Hilda Coulsey
90 ran

Cross Flatts
(1  17:41 Unknown)
123 30:19 Jennifer Carne
180 ran

Stretford
(1  16:47 Craig Jones, Manchester YMCA Harriers)
3   18:01 Rob Cunningham
529 ran

Lancaster
(1  17:17 Ben Sache, Wigan Phoenix)
27  22:54 Lizzie Herbert 1st F
198 ran

Peco Cross Country League, Race 4, Barnbow/Pendas Fields, Sun 19 Feb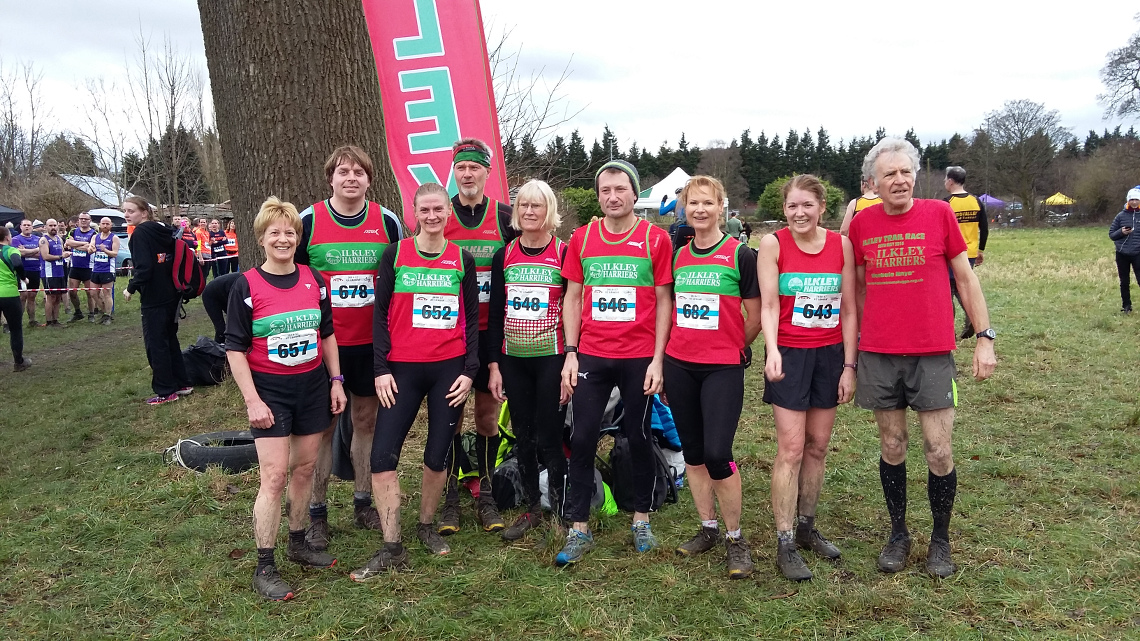 From Val Kerr ... Mud, mud, glorious mud ! - A few hardy Harriers turned out for the 4th of the Peco X country races on what should have been a nice, 4.9 mile, undulating course around Pendas Fields and woods. However rain during the week had turned large parts of the tracks to thick gloopy mud, especially for the ladies race as the course had been nicely churned up by the feet of nearly 400 men by then. It was difficult for large parts of the course to stay upright and at times it felt as if you were running with lead weights on your feet with all the mud stuck to them. At the start of their race the men were apparently told to "look out for the bog". Quite which bog the marshalls were talking about nobody knows! Some good results, especially from Ellie Kitchen who finished in 14th position in the ladies race. Thanks to Rob Budding for standing by with the club banner and spare numbers and ably filling Gaynor and Steves shoes.

Men's results
(1  30:17 Joe Baxter, P & B)      
160 39:34 teve Murray              
171 40:05 Rob Budding              
235 42:27 Andrew Jackson          
252 43:36 Neil Bloor                    
282 45:32 Geoffrey White           
311 47:38 Peter Lewis                  
359 53:17 Don Macrae                
(394 finishers)

Ladies' results
(1  34:41 Helen Cross, York Tri)        
14  39:20 Ellie Kitchen                        
115 48:18 Alison Bennett                  
126 49:22 Val Kerr                              
153 51:12 Steph Fox                           
173 52:23 Hilda Coulsey                      
233 59:28 Sally Wright                         
281 74:19 Clare Shoulder                
(285 finishers)

Flower Scar fell race, Sat 18 Feb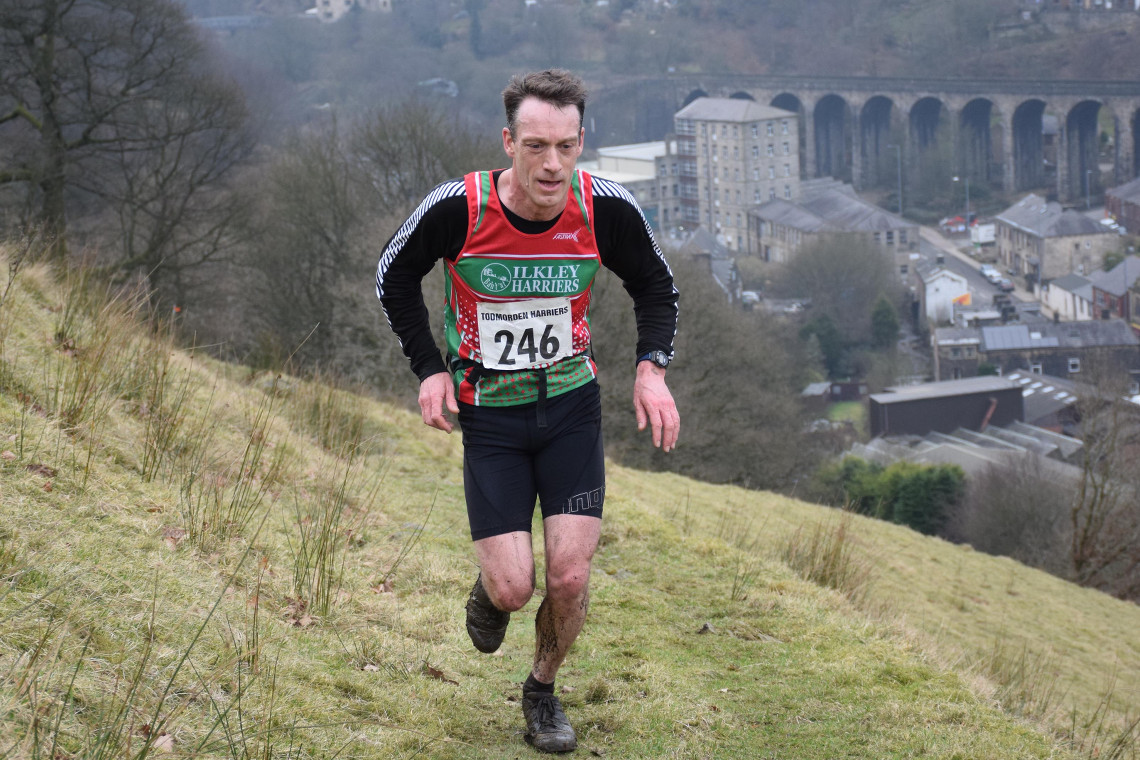 From Jim Ryder.. I ran the Flower Scar Fell Race this Saturday, 8.3 miles with 2200feet from Todmorden Cricket Club. The race winners were Andrew Worster (Todmorden) 1h07 and Annabelle Mason (Leeds University and Fell Club) 1h28. I managed 27th out of 176 in 1h19 for the first V50 prize. A new route for this year. It has everything in it from steep long climbs, short drops, moorland tussocks, muddy plantation paths, contours steep above the Todmorden valley. It reminded me of the Noon Stone Fell Race near Mytholmroyd, discontinued in 2011. Well organised, friendly and recommended.
Results ...

(1 67:11 Andew Worster, Todmorden)
27 79:03 Jim Ryder
176 finished

parkruns, Sat 18 Feb
From Petra Bijsterveld ... Results ...

Bradford Lister Park
(1  ??    Marcin Soszka, Saltaire Striders)
120 25:30 Stephanie Fox
502 ran

Harrogate
(1  18:36 Zeynu Bedru, Harrogate Harriers)
79  24:25 Jean Sullivan
244 30:01 Jennifer Carne
358 ran

Skipton
(1  18:41 Lucas Payne, Barlick Fell Runners)
37  22:53 Geoff Howard
83  25:48 Hilda Coulsey
233 ran

Fell Foot, Newby Bridge
1   18:12 Jack Wood
165 ran

Hatfield Forest
(1  16:28 Blair McWhirter, Ilford AC)
17  20:50 Tim Ashelford
252 ran

Windy Hill fell race, Sun 12 Feb
From Robin Nicholson... Results ...

1  58:35 Tom Adams
26 74:25 Robin Nicholson
229 finished

Moelyci Mountain race, Sun 12 Feb
From Sue Williamson ... Lucy Williamson competed in this classic short fell race, 8K 390m of ascent. Out of a field of 136 competitiors with a result of 49.31 minutes Lucy took 45th position.
Barcelona Half Marathon, Sat 11 Feb

(1    1:00:52 Langat Kipkoech, Kenya )
8605 1:55:20 Dave Ibbotson
15202 finished

parkruns, Sat 11 Feb
From Petra Bijsterveld ... Results ...

Skipton
1   17:03 Jack Wood
183 ran

Bradford Lister Park
(1  17:17 Martin Soszka, Saltaire Striders)
88  24:49 Sarah Haines
366 ran

Fountains Abbey
(1  18:56 Charles Casey, Tyne Bridge Harriers)
46  23:52 Norman Bush
260 ran

Reading
(1 17:30 Neil Hart, Reading Storm Chasers)
103 27:53 Jennifer Carne
219 ran

Dewsbury 10K, Sun 5 Feb
From Petra Bijsterveld ... Sally Malir and I were the only two Harriers on the Dewsbury 10K start line this morning. Cold but still weather provided excellent running conditions on this out and back course with just 115 feet of elevation to deal with in the first half, which makes the return leg a gentle downhill. Devoid of any interesting scenery to distract the mind from the task at hand, and with plenty of encouragement from the marshals and supporters, this race has PB potential in spades and it was my 4th year in a row here.
Having had a disappointing race last year I was hoping for a better time and thankfully the legs were with the programme today. I felt good from the start and seeing my half mile splits ticking by on target gave me a confidence boost to keep on working hard, and I was delighted to finish having taken 45 seconds off my previous PB on the same course.
Sally had finished about 10 minutes ahead of me to come home 3rd in her category, brilliant result. It does appear the course was long today, the switchback was further up the road than in previous years which can be clearly seen on Strava, and the Twittersphere reckons around 200 meters too long! As I write there are no official pronouncements from the organizers yet.
Results ...
Update: confirmation has now been given that the course was too long.

(1  30:43 Mohammad Abu Rezeq, Altrincham)
254 41:40 Sally Malir 3rd F50
622 50:45 Petra Bijsterveld PB
1081 ran

Rombalds Stride, Sat 4 Feb
Paul Stephens ... A week before this year's Stride the weather was looking grim - wet and windy. But as they say the sun shines on the righteous and the sun was certainly shining on Saturday the 4th February 2017. As usual there was a good buzz in the school before the event and plenty of Harriers there for the first trail race in the 2017 league.
A steady start and I saw a few Harriers on the first leg to the bucket drop before the climb through the edge of Baildon. After that I passed nobody from the club, and nobody passed me. Not sure that means anything. The support from Harriers around the course was much appreciated and kept me going, along with the fig rolls at the food stops. Yes, fig rolls.
I think I got my pacing about right, was able to run it all apart from the steep climb through the mud up the Chevin. It was of course muddy all the way round and I fell over twice, soft landings both times. Unlike previous years I had done a few longer runs during January, and whilst I wasn't fast, I think that helped me get round comfortably. Dave Robson and I were out running on Tuesday, so clearly neither of us had tried hard enough.
Some brilliant runs from Harriers, both in front of me and behind me. I was pleased with 4.02 which was 6 second slower than my 2015 time; less pleased with my position at 105, albeit this was exactly the same as 2 years ago.
At the moment I'm thinking I'll try some more longer runs this year - perhaps Heptonstall in March?
Results ... (any more? Hard to spot as club not shown in results, but this is an IH League counter, so let us know.)

(1  2:43:42 Graham Pearce, P&B)
2   2:43:42 Jack Wood 
7   3:01:18 Ben Sheppard 
17  3:12:52 Jane McCarthy  1st Female
19  3:16:00 Steve Turland
20  3:17:23 Michael Lomas 
30  3:23:54 Dave Robson
40  3:32:12 Michael Duffield 
44  3:35:55 Kate Archer
45  3:36:08 Dick Waddington
50  3:39:27 Duncan Cooper
77  3:53:38 Outi Kamerainen
105 4:02:07 Paul Stephens
111 4:05:34 Ewan Welsh
118 4:08:17 Mike Baldwin
125 4:12:56 Alison Weston               
139 4:20:43 Martin Stocker
146 4:25:23 Adela Reperecki
149 4:32:21 Sarah Edwards
151 4:32:21 Mary Gibbons
169 4:47:12 Chantal Busby
317 6:41:58 Sally Lynch
318 6:41:58 Abi Bailey
322 6:44:19 Rebecca Mon-Williams
324 6:45:50 Amanda Parnaby (15th race)
355 7:20:04 Sophie Brown
421 8:30:21 Sharon Meadows
494 finished

parkruns, Sat 4 Feb
From Petra Bijsterveld ... Results ...

Bradford Lister Park
(1  16:46 Sam Clegg, Idle AC)
78  24:24 Sarah Haines
444 ran

Roundhay Park
(1  17:06 James Ellis, Thames Valley Harriers)
217 28:52 Jennifer Carne
362 ran

Skipton
(1  17:30 Julian Hood, Skipton AC)
40  23:39 Geoff Howard
215 ran

---