Donard Commedagh, Sat 31 Mar
Morgan Williams reports ... A fantastic weekend in Newcastle, County Down for those Harriers far-sighted enough to make the annual pilgrimage to the Mountains of Mourne for the Irish leg of the British Championship series. Good weather, great Guinness, fantastic tea, coffee and cakes at Cafe Maud's on the sea front and wonderful pizzas at Zios restaurant.
At close on 7 miles, the race is actually a medium but in truth it feels more like a monstrous short, but what a great race. What follows is naturally a rather personal account.
The race starts in Donard Park on the outskirts of Newcastle. Initially it climbs on a section of forest tracks and paths to a quarry on the open mountain side after which the climbing of Slieve Donard, the highest peak in Northern Ireland, starts with a vengeance. At 2,600' it is unremitting stuff all the way to the summit. Next comes a steep descent of 900' to the broad col between Donard and Slieve Commedagh. A 600' climb alongside the famous Mourne Wall brings you to a huge tower, then a short run across to the true summit of Commedagh followed by a 2,200' descent back to Donard Park, with the last section back through the forest.
It was cool all morning, with a north-easterly breeze and some cloud cover, but the promised fine weather arrived a few minutes before race start time and thermal tops were largely ditched in favour of a vest only approach.
It was rather warm on the pull up to the quarry and I was falling well behind both Geoff and the missus, who seemed to have Supervet in her sights suggesting that claims she has not been doing adequate training simply don't wash! Once onto the open mountain though, and having swallowed down the very small drink I had sensibly stuck in the bumbag, I got to work on the long haul up. Geoff did his usual trick of pulling away without seeming to make any visible effort to do so and was long gone by the time I topped out at checkpoint 1. A quick glance at the watch showed Alison to be about a minute and a half ahead of me.
A good descent pulled me back to within 30 yards or so at the col and I pulled more yards back on the ascent of Commedagh, which was enlivened by the company of the noisiest fell runner it has ever been my misfortune to encounter, a local lady who was the lady fell running equivalent of Serena Williams or Monica Seles on the tennis court. She made an incredibe racket. It acted as a spur to overtake her and leave her well behind!
Alison opened up a gap again across the summit plateau but I started to catch her as the main descent began and finally overhauled her at the start of some complex route finding across an open stretch of mountain leading down to the forest. Sadly I missed her reported full somersault while trying to catch me back up and was soon hurdling the chopped branches and tree stumps which littered the fire break which was the first part of the descent through the trees. The finish was a welcome sight.
Some good runs from Harriers on the day; the only grumble the fact that the supplies of bottled water ran out, leaving the later runners (who arguably needed it most) gasping for a drink. Results as follows:

1.   1.02.01  Rob Hope	Pudsey & Bramley (new record by 18 seconds)
39.  1.11.28  Angela Mudge 	Carnethy Hill Runners (new record by 1 minute and 23 seconds)
126. 1.24.51  Geoff Howard (5th Vet 60)
145. 1.27.10  Morgan Williams					
151. 1.27.34  Alison Eagle (14th lady and 4th Lady Vet 40)
181. 1.35.58  Ian Marshall				
190. 1.37.42  Holly Williamson (27th lady and 3 Championship points!)
202. 1.41.23  Joyce Marshall				

242 finished.   

So we finished a ladies team, position still unclear but with only 3 finishers, no men's team. Let's hope things improve on the numbers front as the fell season progresses.
The Mighty Deerstalker! Sat 31 Mar
From Lou Cartledge ... On Saturday I headed up to the Scottish Borders, to take part in the inaugural "Mighty Deerstalker" at Traquair House, Innerleithen. It was billed as a 10k adventure race...with obstacles. It turned out to be a lot harder than it seemed, but a lot of fun (if you like that sort of thing).
There were 2 climbs, 250-300m each, and the obstacles consisted of water crossings up to your waist, tunnels to crawl through, balance beams running along (in) the river, and the added bonus of completing half the course by headtorch as it didn't start till 7pm.
The race turned out to by 12k, and the queues at the obstacles made for a bit of waiting around which added to the time taken to complete. Still the weather was great and the beer tent and live music after really added to the overall good times.
I did it in 2:33 (even the winner took an hour and a half), 229/366, 27th lady out of 90.
Full Monty Adventure Race
From Heather Dawe ... Not a strip show but a 24-30 hour adventure race starting and finishing in Shrewsbury. Starting with a 30km kayak, 100km mountain bike, 50km hill/trail run (at night) and finishing with a 30km kayak back to Shrewsbury.
The race took in a fair few of the Shropshire hills, the mountain biking went over the Long Mynd and was particularly good.
I was racing with team inov-8. Results aren't up yet but I think we go the fastest bike and run times. My legs (and arms after all that kayaking) are a bit sore today!
Reading Half Marathon, Sun 25 Mar
From Debbie Rosen ... great atmosphere if a little crowded (about 10,000 runners) and a fabulous finish into the Madjeski Stadium. Finished in 1.41.47 (PB by 7 mins) despite a late night out on the orange juice on Saturday and losing that vital hour of sleep!
Yorkshire Vets 2nd Grand Prix Event, Sun 25 Mar
Alison Eagle reports ... CHAIRMAN PETE WINS HIS FIRST RACE IN VET60 CATEGORY!
At Meltham, in the second Yorks Vets race, Pete Shields celebrated his first race as a Vet60 by winning the category. Over the 6mile course, mainly up and down the fields of Meltham (apart from an awful long flat stretch in the middle), he ran a good comeback race after prolonged illness to come in 29th, 45.24. Alison Eagle, returning from injury, was 2nd Lady/2nd LVet40, 25th in 44.37. Phil Hirst was 50th in 48.53 and enjoyed his first Grand Prix event. (Apparently the 6mile course is also run as an independent event in the summer, on a weekday evening - which would be worth the trip over).
The 3rd Grand Prix is on Tues 22nd May at Meanwood, it would be great to see more Harriers at these events, friendly, low key, with refreshments afterwards and plenty of prizes in all categories from Vet35s. See the YVAA website for more details.
Fiendsdale, Sat 24 Mar
Steve Turland reports ... Fiendsdale, 7.5m 2500ft, a glorious day across in Lancashire. Men's race won by Lloyd Taggart and women's by Jackie Lee – both in new record times. We had:

22  Ian Rowbotham    1:16:04
38  Steve Turland    1:21:26
92  Kelly Harrison   1:38:49 (9th lady)

Causey Pike, Sat 24 Mar
Geoff Howard reports ... Feeling somewhat guilty considering the experience of the Edale heroes, I enjoyed a glorious Saturday afternoon in the Causey Pike fell race finishing 58 out of 127 (45m 51m 2nd v.60) with Ricky Lightfoot first overall in 33m 55s.
Ras yr Aran, Sat 24 Mar
From Lawrence Basham ... 10 miles - 2500ft, race won by Chris Waters (Ambleside), 12th 1hr46 Lawrence Basham, 96th 2hr36 Jemma Basham.
A tough out and back course that follows an undulating ridge to the top of Aran, a good mixture of rock, tussock, bogs and a bit of road at the start and finish. Cracking weather, better views and the organic lamb burgers were pretty good afterwards!
Coniston 14, Sat 24 Mar
Andy Wiggans reports ... a brilliant day for running there were a number of Ilkley vests in evidence. The undulating course, made more enjoyable by the spectacular views of the Old Man and Coniston Water (note not 'Lake Coniston' - only one lake in the Lakes, y'know) goes all the way round the lake, starting an finishing in Coniston.
There were a number of PBs (which given the fact this is probably the only 13.97m race we run isn't surprising), including one for me as first Harrier back in 1:38:28 to be 147th out of 1359 finishers. Alastair Bateman was next with 1:44:16 in 260th, followed by Andrew Herbert with his first race since his latest injury in 1:45:45 (302nd - PB). Graham Corbett (1:48:01, 358th) and John Coates (1:52:30, 493rd) led in a chilled looking Vic "3 pairs of sunglasses" Verecondi who finished in 1:54:50, another course PB.
There was a warm tribute at the start of the race to Dave Clarke of ukroadraces.net who sadly died today - a great character and contributor to the running scene in the north who will be greatly missed.
Rio Frio or Bust
Read how Graham warmed up again after the chilly Edale, with an informal training group enjoying a brill weak in Spain at www.rio-frio.com : article from the June newsletter here.
Edale Skyline Fell Race, Sun 18 Mar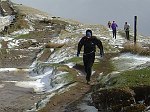 From Morgan Williams ... For those of us who raced the Edale Skyline Fell Race it was a race we will never forget; some of us would I am sure rather forget it.
The forecast was poor and the bad weather arrived with a vengeance after a couple of weeks of spring like conditions. Even in Edale the wind was brisk; on the skyline it was gusting at 65 mph and driving huge bursts of wintry weather, predominantly hailstones. the long south "side" of the race (running north east) was fully into the wind which took its toll on the field.
The carnage was impressive; 418 toed the line for what was an English Championship counter. 338 finished with 80 retirements, including some very notable fell runners indeed.
Two recollections from the race will stay with me for many years, both from Ringing Roger the first and last checkpoint. On the run out my hat was whisked from my head by the howling gale, though it took me some time to notice because the hat wasn't making that much difference. Thanks to my ubiquitous Buff I manged to cope for the rest of the race with the worst that Derbyshire could throw at me. On the return visit, when trying to tackle the initial steep descent from the checkpoint I saw a group of 5 runners being blown back up the hill towards me. The wind was extraordinary!
All who ran returned with tales of huge winds, lashing hailstones and bone-chilling cold. The Edale Mountain Rescue Team had a busy day.
Harriers retirees were Lawrence Basham, Helen Ilsley and Philip Lincoln-Jones. I believe all returned safely to Edale and will doubtless return to the fray in due course older and wiser for the experience.
On the day, 3 runs stood out for me. Emma Barclay who was 9th lady, Graham Pearce who was 14th man and "Fast" Bob Addey who was 48th man, collecting Championship points and who ran in his road shoes (he wore his fell shoes on the way home in the car!)
Well done to all who completed the course; it's tough at the top. Results as follows:

1   Lloyd Taggert (Dark Peak)   2.44.29
14  Graham Pearce               3.07.00
33  Janet McIver (Dark Peak)    3.21.53 (1st lady)
48  Bob Addey                   3.25.29
110 Ian Rowbotham               3.45.03
118 Emma Barclay                3.46.58 (9th lady)
138 Jim Ryder                   3.55.56
149 Brian Melia                 4.01.51
157 Morgan Williams             4.04.40
169 Dan Goodey                  4.06.22
188 Nicky Jacquery              4.08.17 (4th LV40)
192 Heather Dawe                4.10.15
222 Alison Weston               4.17.56
245 Holly Williamson            4.22.59
248 Jo Foster                   4.23.50
251 Ken Jacquery                4.24.55
277 Joyce Marshall              4.37.11

Graham Arthur adds ... I started the Edale, but pulled out after 6 miles with an achilles tendon pain. My right leg/ankle is now in a pot, courtesy of Otley hospital, for enforced rest. I dibbed at Hope, was given a lift back to Edale as I could barely hobble, and checked in for an early hot meal. It is, perhaps, a little worrying that the dibber system did not register me as a starter or retirer. Let's hope they are not still looking for me.
P.S. My hat also blew off at the top of Ringing Roger, but it was caught by a very quick-reacting person and handed back.
East Hull 20, Sun 18 Mar
From Pete Bedwell My first effort at 20 miles and definitely one to remember. A very flat potentially fast course, well marshalled and several water stations, only one problem.. Gale Force winds. Was averaging 8.10 min miling for first 9.5 miles and 82.27 for first 10 miles. Unfortunatley at 9.5 miles you turned directly into a very fierce wind, I was practically running on the spot at times. After a couple of miles head on, you turned again and was then running at an angle as you tried to stop the wind blowing off into the verge. A final twist was another 4 miles head on at the end, no doubt a lot lot easier than those hardy fell running but still enough to slow me down to a 91.10 second 10 miles and 2.53.37 overall. My first 20 miler so I'm claiming it as a PB plus it gives me an acheivable target for next time.
Happy enough with time as good training run for the FLM, Terry was there pacing me for the first 5 miles and also running in with me for the last mile encouraging me to push my mashed legs into something resembling a fast jog, definitely knocked several minutes off my time, cheers mate. Sally Malir seemed almost unaffected by the wind as she blasted round in 2.19, 3rd lady, not sure about the others.
A very windy, but very enjoyable day , at least we missed the snow.
Terry Lonergan adds ... Fortunately no snow showers and no real hills to contend with, but trying to maintain target times in gale force winds was to prove impossible for the majority of the 287 finishers in this Humberside race. Sally Malir was one exception. Undeterred she went through 10 miles only 1 minute short of her Snake Lane time of 66 mins. and whilst slowing in the second half still managed an average time of less that 7 mins/mile to finish in 2 hours 19.08 minutes.
Surprisingly 99 females finished so Sally's 3rd (1st over 40) indicates the quality of her performance in the horrendous conditions. Ilkley's other runner, Pete Bedwell had a confirmed position of 163rd in 2:53.57 (see above) running without ease down as he strives towards his London P.B. target. A gutsy performance in a sparse small field; in London he will have a lot more company than on the windswept plains north of Hull!
Sport Direct XC Presentation Evening, Fri 13 April
From Alison Bennett ... At The Firehouse, East Parade , Leeds 1
The ticket price is the same as last year £2.50 per head includes light buffet and disco.
Always a good do and a chance to see the other side of the people you#ve been racing in SDXC all season.
Could anyone interested in tickets please contact Alison Bennett
Also, if anyone did all 5 races
last
year (2005/6) they are eligible for a free hat - anyone who hasn't already received their hat, please ring Andi Barrett on 0113 2363463 and he will send them direct to you!
5k Time Trials, Tue 13 Mar
Sarah Jarvis and Marc Teasey report: A cold evening didn't prevent a suprisingly large turnout for the first ever Ilkley Harriers time trial (and the first of many to come!) Forty five Harriers braved the three lap circuit to set a benchmark for themselves for the coming year. Most impressive was the level of enthusiasm and commitment to making use of this event as an aid to training and motivation. We hope that the staggered start format helped people to focus on their own performance rather than worrying about what others were doing around them. Special thanks go to Neil Chapman, Terry Lonergan, Jeff Paget, Nigel Tapper, Lawrence and Jemma Basham, for their help on the night and without whom the event couldn't have taken place.
Any feedback to help us improve these time trial events would be warmly welcomed. The next is planned for June, so watch this space... this means you have three months to train so you can smash your time!

17:35.00	Will Plastow      1st M U18
17:38.00	Nick Richardson   1st M Open
17:39.00	Dave Wilby
17:42.00	Mark Iley         1st MV40
17:55.00	James Wood-Robertson
18:17.00	John Atkinson     2nd MV40
18:40.00	Arthur Reilly     3rd MV40
19:13.00	Dave Brown	
19:39.00	Phil Judd	
19:49.00	Alison Bennett    1st LV45
19:52.00	Amanda Oddie      1st LV35
20:02.00	Phil Chappell	
20:17.00	Simon Chapman     2nd M U18
20:24.00	John Woodward	
21:18.00	Helena Deeney     2nd LV35
21:23.00	Catherine Gibbons 1st LU18
21:27.00	Paul Wood	
21:42.00	Elizabeth McCann  3rd LV35
21:42.00	Rob Barnard       1st MV35
21:49.00	Vince Gibbons     1st MV50
21:51.00	John Marshall     2nd MV50
21:54.00	Keith Wood        1st MV45
22:35.00	Andrew Kitchen    2nd MV45
23:33.00	Louise Cartledge  1st L Open
23:49.00	Don Macrae        1st MV60
24:21.00	John Macnamara	
24:22.00	Emma Greaves      2nd L Open
24:55.00	Caroline Ebert    3rd L Open
25:14.00	Antonio Cardinale 1st MV55
25:21.00	Rachel Websdale	
25:22.00	Mary Gibbons	
25:26.00	Colin Lugton      2nd MV55
25:53.00	Louise Bagshaw	
26:00.00	Emma Payne	
26:19.00	Lizzie McAndrew	
26:50.00	Fiona Schneider   2nd LV45
27:22.00	Sue Verspyck      1st LV40
27:26.00	Jackie Weston	
28:14.00	Amy Bateson	
29:16.00	Sue Lugton        1st LV55
29:46.00	Steve Fletcher    3rd MV55
30:11.00	Amanda Parnaby    1st LV50
31:13.00	Brian Sweet       1st MV75
Retired	Val Vaughan	
Retired	Julie Vaughan	

Open 5, Sun 11 Mar
From Jamie Hutchinson ... A number of harriers took part in the 2nd Open 5 at Sutton Bank on Sunday 11th March.
Weather conditions were mild, especially below the bank, but breezy on top. I had my usual map madness, not quite being sure where I was at all times!! Still suprisingly managed 480 points and 5th in Male Solo.
Other results; Male Solo 6th Dave Wilby 475 pts, Mixed Pairs 1st Heather Dawe and partner 550 pts 5th Eddie Winslow & partner 477 pts, Female Pairs 3rd Jo Foster & Nicky Jaquiery 350 pts, Male Pairs 13th Ken Jaqiery & Jim Ryder 385
Next event is 13th May in Keswick. link
Trimpell 20, Sun 11 Mar
From Andy Wiggans Diane Kitchen and I were the only Harriers in evidence at this popular(ish) pre-London, flat-as-a-pancake, nearly traffic free, 20 miler along an old railway line between Morecambe and Lancaster.
This being the furthest Diane's ever raced on the road she was understandably nervous at the start and predicting dire results, and as the last time I ran this race I had a rather spectacular shed collapse in the second half I shared her trepidation. In the end both of our fears were unfounded. Diane ran really well and came in miles inside her predicted time with a very respectable 2:50:33 - almost bang on 8:30 minute miles to give her 191st place out of 291 finishers. I also surprised myself by knocking nearly 15 minutes off my last time for this event with 2:23:17 to come in 70th. I suppose that's a couple of PBs then!
The race was won by Nigel Thompson from Lytham in 1:55:50, with the first woman home (and 5th overall) Helen Lawrence from Wirral in 2:03:56.
National XC, Sat 10 Mar
From www.race-results.co.uk. Well done to Andy Kitchen, the only man in Ilkley Harriers. The only man, that is, to run in the National XC at Sunderland, finishing 868th in 62:32
In the senior ladies race, we had 136 Diane Haggar 37:05; 151 Alison Eagle 37;45; and 200 Diane Kitchen 40:09
Diane Haggar reports ... A very bleak windswept course - Herrington Country Park is on reclaimed land. The wind increased as the day went on. So as the senior races approached we had to abandon the tent and seek shelter next to the porta-loos which, by the end of the day, were almost blowing over! Thankfully the course was pretty dry and fast with a couple of (not too difficult) hills per lap. All of us seniors had mainly travelled in support of our off-spring (see junior pages) but decided to run ourselves, and in the main most were pretty pleased with our results. I spent most of the race battling it out with Sarah from Horsforth Harriers in a repeat of last Sunday's Sport Direct XC! Rather surreal in the middle of the National. Alison also had local competition in the form of Becky Weight from Bingley Harriers.
Wuthering Hike, Sat 10 Mar
From Amanda Parnaby ... 31 miles and 4,400 feet of climbing, starting at Haworth and going over to the Lancashire border and returning to Haworth. Brilliant day out. Completed in 7 hours 35 minutes.
Windmills Whizz, Sat 10 Mar
From Nick Pearce ... 7 miles/900 ft, Graham Pearce first in 39:18, Kelly Harrison also took the chance to get out (I think about 50th overall and 6th lady?). 65 ran.
Also 1.5mile fun run round the reservoir - Esme Pearce (3rd race) ran well to finish mid-field, and Nina Pearce (first race!) did really well to finish and also ran all the way!
Full results soon at Halifax Harriers website
Half Tour of Pendle, Sat 10 Mar
Bob Wightman reports ... a grand total of TWO Harriers joined a field of over 242 for the Half Tour of Pendle - 9 miles / 2200ft. Somewhat boggy after all the recent rain, though the precipitation mostly held off for the duration of the course, there was a strong headwind on the best running section between checkpoints one and two. The descent from Spence Moor to Ogden Clough was particularly interesting in the conditions, even aggressively studded soles didn't make much of a difference.
The race was won by Lloyd Taggart in 1hr 6mins 3s. Geoff Howard came 53rd and 1st V60 in 1hr 22mins 25s and I finished in 126th place in a time of 1hr 29mins 51 according to my watch, though for some reason my official time was a minute slower (1h30:58).
Dentdale 14, Sat 10 Mar
From Debbie Rosen ... finished in 1.59.2, just as windy and hilly as last year but I managed to get round a full 14 minutes quicker - perhaps incentivised by the WI tea and cakes waiting in the Village Hall at the end! Also spotted Ewan Welsh and John Coates.
Sport Direct XC, Sun 4 Mar
From Alison B ... All the competing Ilkley Harriers beat the rain today in the last of the current SDXC league races, hosted by Eccleshill. The race was missing the 'excitement' of the snow blizzards of the previous year but there was plenty of mud, some challenging climbs and a competitive field to make it an enjoyable event. Diane Haggar beat a pack of ladies who had eluded her at the previous events to come in a well deserved 3rd, and Malcolm Pickering, improving with each race in the series, ran strongly, finishing 37th.

Results:
 
Jamie Hutchinson         4th
Jon Atkinson             19th
Nick Richardson          21st
Will Plastow             33rd
Malcolm Pickering        37th
Geoff Howard             47th
Graham Stead             102nd
Don McCrae               122nd
Andrew Bennett           133rd
Antonio Cardinal         139th
 
 
Alison Bennett           2nd
Diane Haggar             3rd
Kelly Harrison           11th
Anne Stead               43rd
Margot Dale              44th
Ros Leach                66th
Amanda Parnaby           71st

The SDXC Presentation Evening will be held in April, details to follow.
High Peak Marathon, Sun 4 March
Bob Wightman reports ... a couple of Harriers took part in this annual mud fest, though in different teams. An unusual race in that most of the course is (deliberately) run in the dark with start times from 10pm to just short of midnight. Daylight arrives for most teams somewhere amongst the peat bogs of Bleaklow. The basic route follows the Derwent Valley watershed (though how anyone determines which way the water flows on those tops is anyone's guess) with a section at the start and end to get out to the valley edge. Most of the climbing is over and done with in the first few miles but it is the big middle section north of the A57 Snake Pass road that really saps the energy as you try to avoid the worst of the boggy terrain.
Heather Dawe was a member of the Planet Fear mixed team and came 3rd team overall and first mixed team.
I was drafted in to replace a team member with a broken ankle just ten days earlier and with very few long runs under my belt this year it was always going to be a battle. And so it proved with the last third of the course being taken at a quick walking pace due to cold and niggling injuries. Ironically this is the best running of the course.
In the end Team Flapjack came home in 12hrs 54:31 in 20th place. More...
Heather Dawe adds ... The High Peak Marathon was held, as it always is, on Friday night, the first Friday in March. A 42 mile circuit of the Derwent Watershed from Edale, taking in Hollins Cross, Win Hill, Lose Hill, High Neb Buttress on Stanage edge, the joys of the 20 mile bog-trot over Bleaklow from Moscar to Snake Pass and then a 12 mile 'finishing straight' (far too runnable!) from Snake over Mill Hill to Kinder Edge, High Brown Knoll, Rushup Edge and finally Hollins Cross and back down the hill to Edale.
I did this race two years ago and swore never to return. For some reason I found myself on the startline this year, as did Bob Wightman. I was racing with team planetFear. We had a pretty good time, I think we all felt fed up on the top of Bleaklow at 6:30am it was so muddy and boggy, really energy zapping. We perked up a bit after Snake and managed to run a reasonable amount. We finished in 10:30 hours, Bob's team in around 12;30. We got first mixed team and third overall.
Tales abounded at the finish of complete submerges in the apparently bottomless bog in the middle of the Bleaklow section. Not the nicest experience at 3am on a Saturday morning.
Noon Stone fell race, Sat 3 March
From Jo Foster ... 7 Harriers made the trip over to Calderdale for the Noon Stone Fell Race on Saturday. This tough 9 miler, won by Dark Peak's Lloyd Taggart in 1.09.11, is a great race and, after a very heavy rain shower before the start, we were treated to sunshine and clear views. Jim Ryder was running the race for the 5th time and seems to manage to consistently improve whatever the conditions. He finished in 19th place in 1.18.03, a PB! Dan Goodey also improved on last year to finish in 51st place in 1.25.40. Emma Barclay was 80th (5th lady in a very competitive ladies field won by Dark Peak's Janet McIver in a new record time of 1.18.23) in 1.30.33 and Ken Jaquiery had a great run, his debut on the course, to finish in 103rd place in 1.34.18. Unlike Jim I seem to get slower each year but was pleased to get round in 125th place (10th lady after a battle with Tamara - which I lost!) in 1.39.03. Phil Jones completed our happy band in 136th position and 1.41.30.

Dave Woodhead's photos
Trollers Trot, Sat 3 March
From Eddie Winslow ... Ian Rowbotham and Eddie Winslow took the opportunity of a fine Spring-like morning to run the Trollers Trot – a 25 mile LDWA circuit from Threshfield taking in Boss Moor, Rylstone, Embsay Moor, Barden Tower, Trollers Gill and Burnsall. Despite a couple of big hills the course is very runnable. Once some early low cloud had cleared conditions were ideal for fast times. In a field of over 250, Ian finished 5th in 3h31 with Eddie not far behind in 7th in 3h38. (Ted Mason, Wharfedale Harriers 1st 3h08).
Graham Arthur adds ... I finished in about 3 hr 45 min, but there was no one at the finish, no finishing line, no times, and, as far as I am aware, no positions. In fact, I was wandering around for quite a while wondering if I had come back to the right school where we started!
I have never been to one of this type of event before – clearly a grand day out, organised by walkers for walkers, a good atmosphere, and a general air of quiet dedication. Very strange, though, when previously you have only ever been to running races. So, here's hoping that an entry for the Edale does magic out of thin air.
Nell Bank Primary Schools XC, Sat 3 March
Many thanks to the Harriers who helped organise and marshal our event in the Wharfedale Primary Schools XC League. Over 350 children ran in the 12 races. More on the Junior Pages.
The really Wild Boar Fell Race, Sat 3 March
Emma Payne reports ... Whilst not a race report due to my current injury status I was tricked into marshalling (promised a warm job originally!) the inaugural Really Wild Boar fell race (5miles, 1400ft) sponsored by our very own Ted Battye (Crosstrax) and organised by Gary and Debbie Devine of P&B.
What a fantastic race offering a mix of easier bridleway running along a gradual climb, a rough climb to the summit of Wild Boar Fell, with a free for all route choice from the summit back to the first check point, most taking the rough direct route and some taking an out and back route along the bridleway.
Given its inaugural race status the field was small (35 runners) but full of elite fell runners and general feedback was that it was a great route and well organised race. Full results available on the P&B web site soon www.pudseyandbramleyac.org.uk
It was disappointing not to see any Harriers supporting the race given it was advertised in the newsletter and starting from Street (8 miles from Sedbergh) travelling time from Ilkley was only 1 hr 15mins to do a proper race in the Howgills and test your navigation skills.
So a note for the diaries for the same weekend next year to support this new race!
Sleaford Half Marathon, Lincolnshire, Sun 25 Feb
From Tony Camp ... Anthony Camp 1.28.19 - PB; and Jenny Camp 2.16.30 PB - this was only Jenny's 4th ever race and her 2nd half marathon!!
Ilkley Moor fell race, Sun 25 Feb
Over 35 people helped in the Ilkley Moor fell race today, organising and marshalling. THANK YOU to you all. It was just as rewarding to see 40 more of the Harriers running in Ilkley colours (plus a few 2nd-claimers) and Ilkley figuring well in the results, with fell captain Graham Pearce 3rd overall leading the men's team to an attack on the team prize (and we were pretty close), Helen Ilsley 3rd lady and leading the ladies to the team prize. Full results and photos on the

race page.
And that was just the senior race! The junior races were more succesful than ever with many youngsters racing in red and green. See the junior pages.
Pocklington Snake Lane 10, Sun 25 Feb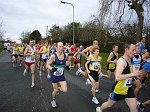 Jemma Basham reports ... The day started off dry and sunny for the few Ilkley Harriers who made it over to this 10 mile race, but soon clouded over. Lawrence had me jumping up and down on the pavement when he came in 19th in 57.09 a PB by 1.45 (his second PB of the month following his 10K success at Dewsbury!). For those who have heard this is a flat course it is actually undulating and the stiff breeze on the course meant Lawrence was a bit disapointed at his result (!!!).
John Atkinson was also a bit hampered by the course and conditions and was a bit suprised with his result of 01.02.46 (still a great job!) Sally Malir after a sixty mile week was pleased with 1.06.07
Terry Lonergan had Sally in his sights at 1.06.23
Pete Shields did a great effort coming back after illness finishing in 01.11.03
Nick Mellor finished in 01.17.51 and Pat Lonergan exceeded her expectations of 01.30 coming in at 01.26.46, well done Pat!
Emma Barclay adds ... I am not the best person to comment on an individual's achievements on the road, but I have to say even a fell runner can recognise the fantastic milestone that Terry reached at the weekend in completing his 100th Ten Mile Road Race. Also to add that his fastest 10 mile race was in a time of 50:37, that he has completed seven 10 mile races under 53 mins and 77 of them under 60 minutes. Well done Terry – very impressive!!
Myrtle Meander, Sat 24 Feb
From Amanda Parnaby ... 24 miles and very muddy. Starting in Bingley and on to Wilsden, Egypt, Thornton, Mountain, Ogden Water and Ogden Moor, Oxenhope, Haworth, Harden and back to Bingley. 6 1/2 hours .
Calling all Harriers ... Time Trials, March 13th
The road captains in cahoots this year have come to the conclusion that the introduction of time trials to the club is a must. This will complement the atmosphere of healthy competition that has steadily been building of late and give runners the opportunity to monitor their progress through the year. We propose a fixed 5km road course in Ilkley which is to take place on club night once per quarter. We hope to kick this off on Tuesday March 13th.
The event would be formally timed and will culminate in an end of year handicap event. This is a great chance to capture a measure of your fitness for comparisons later in the year. This event is open to all and is excellent speed training and preparation for such local events as the Harrogate Road League and the John Carr Series starting in the spring. The first time trial planned for March 13th will also be used as a selection race for the Northern Road Relays taking place on 1st April 2007. This is to enable all club runners who haven't yet posted a 5km or 10km time to have a chance to demonstrate their form in qualification for the men's and ladies' teams. Watch this space for more details...
Beamsley Beacon Owl Event, Wed 21 Feb
Lawrence Basham reports ... 14 Ilkley Harriers ran the Beamsley Beacon Owl event last night, we made up half the field of 28 runners and cyclists. Everyone came back safely and I doubt few will enjoy another race as much this year..... It seemed everyone had their own tale to tell about the journey up to the Beamsley trig point and back down to the Crown pub..... Stories of crashes, missed gates, failing headtorches and all round great fun!!
The cyclists set the pace out of the village but were soon overtaken by the runners as the serious climbing began. At the top Mark Horrocks led, I was in 2nd and Ilkley runners were lining up behind, the first biker turned in 8th and Graham Pearce in 11th. Descending was exhillarating and fairly treacherous, as we hit the tarmac back in the village I had lost a place to Ted Mason but still held the coveted 1st Harrier spot (3rd overall), I glanced over my shoulder at the last corner to see fast approaching headlights!! At first I thought it must be a motorbike, so speedy was it travelling! But no, alas it was Graham who had flown down the descent and sped pas me just before the finish!
Illustrious names to have won at Beamsley include our own Bob Hamilton and Terry Lonergan, unfortunately we couldn't emulate their successes but everyone had a fantastic time and showed how popular this form of running is.
Results on Wharfedale Harriers site
SDXC #4 – Bramley Fall, Sun 18 Feb
Alison Bennett reports ... Spring had sprung for this, the fourth race in the series and a counter in the Ilkley Harriers Running League. A new course at this venue was initially a relief for those who had previous experience of the large laps of the sports field however this had been replaced with a route which involved an extra climb of the steep hill between the two playing fields. The rest of the course meandered through woodland. The men had a good turnout and it was encouraging to see some new faces competing for the first time at this event. Will Plastow a product of our own academy of sporting excellence, the Junior Harriers, had a brilliant run, leaping up the results to 11th place! For the ladies it was good to see Kelly Harrison again, returning from injury as well as those regulars who have turned up to most of these events. However, for the last race on 4th March, at Eccleshill it would be great to have a super turnout of ladies. We are doing well, but the more ladies we have running, the better we will do and we would have a good chance of winning the lady vets trophy.
Thanks to all who supported and to Graham Stead who timed us all in for the Ilkley Harriers Running League - results here.

24:25   1st Male
25:26   Jamie Hutchinson   6
26:19   Will Plastow       11
26:39   Nick Richardson    15
26:49   John Atkinson      17
27:26   Richard Joel       29
28:12   Dave Wilby         36
28:53   Malcolm Pickering  45
29:10   Geoff Howard       51
29:16   Adrian Hall        53
29:35   Alison Bennett          2
30:06   Ian Marshall       66
30:48   Diane Haggar            7
31:26   Joyce Marshall         11
33:59   Kelly Harrison         22
34:10   Dave Taylor        99
35:53   John Marshall     115
36:12   Ian Hargreaves    119
37:31   Don McCrae        128
39:34   Ann Stead              50
41:25   Andrew Bennett    138
44:06   Amanda Parnaby         66

Liversedge Half, Sun 11 Feb
John Coates ran this in 1h56
Winter Hill, 11m 2750ft, Sun 11 Feb
Three Harriers made it across to the tussock and bog extravanganza at Winter Hill yesterday. With the ground semi-frozen it was a constant guessing game as to how far you'd sink. Race was won in a new course record by Rob Hope, which was impressive given the conditions and a slightly longer course. We had:

26 1:57:14 Steve Turland               
38 2:04:11 Dan Goodey                 
103 2:26:39 Phil Jones                     

Lost shoes at Langbar
Steve from Skipton AC left a pair of Kayanos in the car park by the trig point on the Ilkey Langbar road. Anyone seen them?
Long Mynd Valleys, Sun 4 Feb
From Graham Arthur It was a crisp, cool, sunny day for this traditional, fun fell race. It is only 11.5 miles long, on the map, and never goes above 500 metres, but the terrain is very attractive – like a cross between Ilkley Moor and the Malvern Hills in character. The height gain is 5000 feet in about six (approximately vertical) bursts. The descents require rapid footwork. It is organised by Mercia, who made a very strong showing. They are principally a fell club, so I was told. 1st was Pete Vale in 1:38:54; I was 99th in 2:28:37; 166 finishers.
There were random kit checks at the start. One runner was disqualified for not having the full requirements.
Dewsbury 10k, Sun 4 Feb
From Bob Wightman ... A good handful of Harriers headed down south for this league counter. A perfect, but cool, day on an out and back course that climbed 50m on the way out and descended same on the return that is made for fast times. Runners are given a radio chip to tie to their shoe for accurate timing. Jane Tomlinson was the starter and was rousingly cheered when she was introduced.
Results from www.dewsburyroadrunners.co.uk

1st Billy Farquharson 30:11
29 Lawrence Basham    34:09 (PB, fantastic, Lawrence!)
247 Bob Wightman      41:16 (PB)
297 Andrew Wilson     42:11
399 David Cockshott   44:13
458 Vic Verecondi     45:32
461 Christopher Brown 45:47
471 Nick Mellor       46.05
596 Ian Hargreaves    48:49
1060 Finishers 

Vic Verecondi adds Arrived at the Dewsbury 10k not 100% fit to take on the challenge of obtaining a pb.. Anyway mananged to obtain a 10k time of 45.32.. Not so grand.. Though ok considering I had a dodgy left calf and have been feeling chesty over the last few days.. More importantly, I completed the course hence all pledges are now due (though not doubled).. Thankyou all very much for your support and I'm sure all the funds will most useful and will help the charity...

Dave Woodhead's photos
This, like the Rombalds, was a Harriers Running League counter ...
Pennine Bridleway Relay, Sun 4 Feb
Ladies team report from Jemma Basham ... This has to be the Ilkley Harriers team event of the year, not least because it's the first time we've had a team in it. There was lots of drama so even though I couldn't run it kept me entertained.
The whole focus of this ladies team was on encouraging more people into trying different kinds of running and giving some of the younger members some new experiences, so we were really pleased with our final overall result of fourth. Lets get two ladies teams in next year!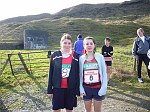 There were so many last minute changes so thanks to everyone for being so flexible and pulling out the stops for us:
Joyce for stepping in (yes she did run Rombalds the day before!!),
Di for moving away from her usual love of cross country. These two ran a storming leg and finished five minutes in front of the men!
Particular thanks go to Jane who ran even though she was feeling really ill. Jane you showed proper Yorkshire grit and got through it for the team!
Sue enjoyed herself so much she wouldn't let go of her dibber and pretended to get it stuck to her water holder - next time you can run two legs?
Alison, Helen, Holly and Jo all ran superb legs and are my favourites for being so dependable! However, the real stars for today were Catherine and Victoria. Despite Catherine's shock at being asked if she was over 16 (I mean really!) they did a great run for us. I'm sure there's more to come from these two.
Thanks to everyone (drivers, parents, partners and also to those who wanted to run but couldn't, next time!) and special thanks to all the willing reserves. Here's to more events like this in the future.

Ladies 37th overall (66 teams) and 4th ladies team, 6.39.15
1. Di Haggar & Joyce Marshall         1.12.44
2. Helen Isley & Alison Bennett       1.42.25
3. Sue Booth & Jane Bryant            1.28.45
4. Catherine Gibbons & Victoria Stevens 51.22
5. Holly Williamson & Jo Foster       1.23.54

Men, 22nd 6:08:52
1. Phil Jones & John Coates           1:17:26 
2. Jim Ryder & Eddie Winslow          1:40:33 
3. John Atkinson & Bob Hamilton       1:12:15
4. Paul Davidson & Nick Pearce          41:51
5. David Brown & Dan Goodie           1:16:47

Bryan and Rachel Websdale add ... we also put in a team from Ilkley from the Overstated. All Harriers bar two (and we have made them promise to join soon!) We all had thoughroughly enjoyable runs and found inner strength we didn't know we had from the thrill of running in a relay. The weather was utterly perfect and we were delighted with our overall position of 58th in such a high calibre turn out. We would highly recommend this run for any Harriers not least because it gives you some ready made pals to drink celebratory beer with in the evening!

Rachel Websdale Helen Cook           1.30.47
Paddy Hagan Mike Hopkinson           1.48.38
Rachel Hagan Angela Sturgeon         1.32.44
Rob King Lyndsey King                  56.32
Bryan Websdale Matthew Sturgeon      1.41.23 

Detailed results on ukresults.net. Race site www.penninebridlewayrelay.co.uk
Rombalds Stride, Sat 3 Feb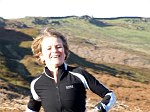 Pete Bedwell reports just a quick report from my first running of the Rombalds Stride. Apparently the best conditions ever ! really enjoyable day, went round in a group of 6 non harriers friends so a steady pace and plenty of regrouping meant we all finished feeling pretty good, my time of 4.19.47 was under my 4.30 target I'd loosely set myself so all in all a fantastic day out.
Morgan adds ... What fantastic weather for Rombalds. Chilly in the valleys, lovely and sunny on top and a mostly decent surface to run on. All proceeded pretty smoothly save for Alison pulling out with a dodgy calf at Lanshaw Lad leaving me to run the section through to Burley Woodhead without company or competition, the second iso bottle leaking most of its contents into the bum bag rather than down my neck and a nasty barbed wire incident at the bottom of the fiields after the Surprise View car park. Great to see so many faces making encouraging noises on the way round. Totally legless at the finish (why does a race with so little up and down feel so grim in the last third) but very happy with a time of 3.29.36 and a PB by 22 minutes. Roll on Edale, Duddon and The Old Counties Tops! Plenty of Harriers out and about.
From Sue Bickerdike ... Being a 'social' runner I hate doing these long distance runs on my own, and need someone to run round with. My usual suspects were either injured, not running, or too fast for me this time. The beauty of being a Harrier is that whatever race, whatever distance, and whatever pace, you will always find a friendly face in red and green willing to run with you (and lend you one of their three (!) pairs of gloves). That surely is the spirit of our club.
Thanks to Pete and his pals for making what is a killer race extremely enjoyable.

1   2:36:07 Lee Athersmith
4   2:52:36 Graham Pearce
13  3:04:51 Steve Turland
20  3:12:25 Geoff Howard
22  3:13:27 Sally Malir 2nd lady
38  3:27:36 Alison Weston
44  3:29:41 Morgan Williams
46  3:31:00 Joyce Marshall
61  3:46:14 Keith Wood
62  3:46:14 Jon Tindall
82  3:56:38 Dave Cheesewright
83  3:56:38 Clare Cheesewright
103 4:08:01 Peter Sibley
113 4:11:46 Sue Bickerdike
130 4:19:43 Rachael Gooch
132 4:19:43 Peter Bedwell
150 4:30:50 Vince Gibbons
160 4:41:43 Ed Battye
223 5:24:11 Amanda Parnaby		


Terry's photos

Paul's photos
White Holme Circular, Sun 28 Jan
Emma Barclay reports ... White Holme Circular - 12 miles, 1200ft
A new Allan Greenwood fell race. A fast and furious course. All the gentle climbing in the first 3 miles, followed by 6 flat miles on the tops and a gentle descent to the finish. Helen (Ilsley) did the club proud and set the ladies course record 1:32:01 (pb), very good considering the extremely blustery conditions. I was second lady 1:33:42 (pb). The best part of the day was the chip butty in the pub afterwards (included in the entry).
SD XC #3, Danefield, Sun 28 Jan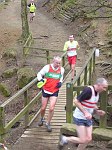 From Alison Bennett ... The biting, cold wind didn't deter the competitors who turned up for the 3rd race in this series. The Course was well organized and sign posted by Fellandale. Conditions were drier underfoot than the previous races, but it was still a testing 2 lapper course.

Jamie Hutchinson   5th
Lawrence Basham    9th
Paul Davidson      19th
Will Plastow       22nd    (Great debut to SDXC, Will)
Nick Richardson    35th
Rob Gascoyne       40th
Malcolm Pickering  45th
Arthur OReilly     60th
 
Vince Gibbons      96th  )
Graham Stead       97th   )racing shoulder to shoulder on the steep uphill to the finish
John Marshall      98th  )
 
Don McCrae         132nd
Bob Payne          142nd
Andrew Bennett     144th
Antonio Cardinal   152nd
 
Alison Bennett     2nd
Di Haggar          8th     2nd XC race in less than 24hours!
Jan Belton         12th  
Bernie Gibbons     33rd
Ann Stead          40th
Amanda Parnaby     70th

Ferriby 10, Sun 28 Jan
Neil Chapman reports ... three Harriers did the Ferriby 10 mile race near Hull today, which starts from Skidby Windmill. It's easy to understand why they sited a windmill there, as the strong winds made the going realy tough for all the runners, but John Atkinson had an absolutely storming run, finishing 25th of 600 runners in a PB time of 62.32. This was a great result, as this cannot be considered an easy course, with a four mile climb into the wind in the first half of the race. I finished 65th in 67.32 and Pete Shields was 111th in 71.00 running the last 5 miles more than 3 minutes quicker than the first half of the race.
This is a well organised race with good facilities and hospitality and I would recommend it, having done it for the last 3 years.
Stanbury Splash, Sun 28 Jan
From Bob Hamilton ... The very provisional results from Stanbury (because I foolishly used a marker pen and the ink ran on the sheet in which I had written the results, making them virtually indecipherable - so much of this is from memory!)
1. Ian Holmes (44 something); 4. Graham Pearce 48.31 (must be Graham's best result ever, superb effort); 16. Jim Ryder 51.24 (another great result); 34. Ralph Tench 55.34?; 38. Bob Hamilton 55.53; 49. Mike Baldwin 56.53; 52. Richard Joel 56.57; 61. Geoff Howard 58.04; 63. Ian Cliffe 58.32. Also running were Dan Goodey and Bob Wightman, but their times and positions were just a blue mess!!
Looks like Graham is very serious about this fell championship and should just have pipped Geoff in the points. I need to get some serious training in!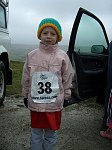 PS: Forgot to mention:...
A significant moment in club history can be reported today when a third-generation Ilkley Harrier (could this be a club first?), Esme Pearce, made her debut at the Stanbury Splash, and perfectly matched her Dad's excellent performace for 4th place in the Under 8s race in very difficult conditions. It looks like the name of "Pearce" is going to contiunue appearing in results sheets for a very long time to come.
Pete Bedwell adds ... Just like to add my very modest 68.12 time to the finishers already posted. Must say it's the first time I've ran this one and really enjoyed it, especially the long gallop back with the wind behind pushing you along. Think Ian Holmes time was 44.29, just happened to look at it in amazement.
Official results:

1   44.29 Ian Holmes
4   48.21 Graham Pearce
16  51.26 Jim Ryder
34  55.30 Ralph Tench (prospective member!)
38  55.53 Bob Hamilton
52  56.57 Richard Joel
61  58.00 Geoff Howard   Vet 60 record!
63  58.32 Ian Cliffe
80  59.53 Dan Goodey
111 63.01 Bob Wightman
118 63.22 Dave Taylor
162 68.14 Pete Bedwell

This was the first counter in the Ilkley Harriers Running League for 2007 - who is top of the League? Find out here.
Night race
From Dan Goodey ... Myself and Phil Jones joined 16 other runners and cyclists in a 3.5mile race from the Greyhound pub Barnoldswick to the top of Weets Hill and back in the dark! The ground was frozen solid and as we set off by head-torch-light it began to snow. Runners and cyclist struggled to stay on their respective feet or wheels particularly on the decent when most icy patches had rather unhelpfully been hidden by a thin layer of snow! This was a different kind of race but great fun and it is coming to a hill near us soon! In fact Feb 21st at 7.15pm the second night owl race starts from the Crown pub in Addingham and heads to Beamsley Beacon and back by any route you fancy! More information here.

1   Andy Robertshaw  27:59
5   Dan Goody        30:15
14  Phil Jones       36:38

Northern XC, Sat 27 Jan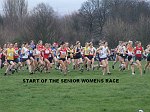 Terry Lonergan comments... In the Senior Womens race over 5 miles (8K) AMANDA ODDIE showed up in the first twenty after the initial charge from the gun exchanging elbow blows with younger but more experienced athletes. Inevitably she would lose places but it was only gradual and she settled and fought well for a place just outside the first 50. ALISON EAGLE and DI HAGGAR soon followed looking strong and battled on well on a course drier and less hilly than the Yorks. at Skipton but none the less a severe test for all. DI KITCHEN then came through to complete the team score, finishing well despite London marathon training in her legs. 274 ladies finished. The team were 17th out of 34
650 runners representing more than 60 clubs thundered across the starting field in the men's race; a spectacular display of colour and endeavour. Mark Iley came through, followed by Phil Chappell and Neil Chapman.
Last on was Hector Haines in the Junior Mens under 20 event. Again Hector ran his heart out against lads nearly 2 years older finishing 63rd of just 95 in the race.
Ilkley's ladies were 17th team:

52  Amanda Oddie 28:55
84  Alison Eagle 30:18
108 Di Haggar    31:25
198 Di Kitchen   35:49

Sadly we didn't have a full men's team (next year, lads!). But our three representatives ran their hearts out on a tough course ...

282 Mark Iley     43:32
485 Neil Chapman  49:09
533 Phil Chappell 50:56

Ilkley Harriers Running League 2006
After the presentation of the League prizes at the awards evening, we can reveal the final 2006 standings ...


PDF (you will need to zoom this),

MS Excel (to sort columns).
The winners for 2006 were:
Overall: Jamie Hutchinson
Fell: Bob Hamilton
Road: Geoff Howard
Trail.XC: Jamie Hutchinson
The 2007 Ilkley Harriers Running League starts with this weekend's Stanbury Splash - more.
Ilkley Harriers 2006 Awards, Fri 26 January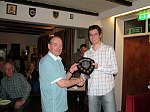 There was a great turnout at the Awards Do. Thanks to all the organisers. The 2006 winners were:
| | | |
| --- | --- | --- |
| Best Runner | Amanda Oddie | Jamie Hutchinson |
| Most Improved Runner | Jemma Basham | Lawrence Basham |
| Marathon/Endurance | Sally Malir | Jon Sinclair |
| Contribution To Club | Shirley Wood | Paul Wood |
| Captains Awards | Alison Eagle | Brian Sweet |
There were many nominations in all the categories and some tough decisions for the committee.
A Special Achievement Award was presented to Alison Weston in recognition of her Bob Graham Round.
A note from Alison B on the Ladies Captains' Award ... On behalf of the female club Captains, I would like to summarise the reasons for our choice for the Captains' Award.
During the presentation of the awards, Richard repeatedly used the word "dedicated" for the nominees and receivers of the various awards. Dedicated is exactly what describes Alison Eagle. Coming back from injury, Alison didn't have a great start to the year, however her strength and focus on training and her goals meant that throughout the year she has improved and increased her performances. This stamina and devotion was rewarded in becoming the Yorkshire Vets Grand Prix Champion.
Primarily a fell runner; Alison has had many successes this year; including breaking the course record in the Beefy's Nab and being part of the victorious team in the Ian Hodgson relay as well as competing strongly in the Calderdale and FRA relays. However, she has also contributed to the Ilkley Ladies' successes by taking part in the Harrogate Road Race League, Esholt 5k races and many of the Cross Country events over the season. Also Alison is always approachable to offer advice, support with training runs and help with recces etc
Dedicated to her own aims and also enthusiastically committed to the Club's success, Alison is also keen to encourage the junior Ilkley Harriers. The Wednesday evening sessions she, Shirley and Morgan organize on the grass at the Tennis Club are popular and "enjoyable" (Tom said). To anyone who's gone to Pete's sessions – don't think that the juniors get it any easier! And they keep turning up, despite the dark nights and inclement weather!
Finally, Alison is so passionate about Ilkley Harriers, this year, she even married one!
Yorkshire Vets
From Pete Shields ... The Yorkshire Vets Association Grand Prix for 2007 starts on Feb 4th. There are 10 races in all mostly on trails and about 5/6 miles in distance. The host club puts food on after their race and there is always an extensive prize list. As the summer months come along the races take place midweek generally at good venues.
The first race of the series is hosted by Horsforth Harriers, the venue/registration is at Horsforth Hall Park Cricket Club starting at 10 am, this is an early start because they are having their AGM after the race. The race is approx 6 miles on road and trail.
Alison Eagle did very well in this competition last year and I'm sure there are other aspiring champions within the club who could emulate her success. Remember you are classed as a vet from 35+ now!
I thoroughly recommend this group of races they are well organised, can be competitive but also extremely friendly. I will put their fixture list on the board at the club but you can also find it on their website www.yvaa.org
Open 5, Sun 21 Jan
From Dave Wilby ... Open 5 - Hebden Bridge
Sunday saw the first race in the 2007 series, and a bumper crowd demonstrated the increasing popularity of this type of event, with a healthy mix of competitors from first timers right through to some of the country's top racers. The weather provided everything from glorious sunshine to driving hail & snow, and the course planners provided 2 very different event areas for the running and the mountain biking. The running was on the Stoodley Pike side of the valley and was full of great running on moorland, through forests, and past reservoirs. The highlight for me being the checkpoint at the very top of the steps on the Stoodley Pike monument. The biking took in quiet country lanes, part of the calderdale cycling network, and some very muddy bridleways and tracks.
All in all a great day out, very cold at times but once again pretty successful for the Harriers contingent.

Female Pairs:
3rd Nicky Jacquiery & Jo Foster - 380 points

Mixed Pairs
1st Eddie Winslow & Caroline Bullard - 510 points

Male Solo's
11th Dave Wilby - 455 points
37th Jamie Hutchinson - 381 points

I suspect there may have been even more Harriers out and about that I didn't spot or recognise. Either way, if you weren't one of them then make sure you sign up for the next event in March at Sutton Bank, you don't know what you're missing!!
Sue Booth adds ... Great day out, awful weather to start, thankfully I didn't follow my first instinct to jump back in the car and head off home, as it did get better as the day went on (apart from in transition between the biking and running when it snowed – it was so cold, I ended up running in my skiing gloves!). There was a lot of riding on road in the biking section, which was good really, given the water logged moors and bogs we encountered on the run. Great fun. My partner and I came in 2nd female pair, just 3 points ahead of Jo and Nicky.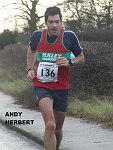 Brass Monkey, Sun 21 Jan
First report from Neil Chapman ... Tim Ashelford 1h22; Jeff Paget 1h23 (PB 14 mins!); Neil Chapman 1h25:15; Sally Malir 1h27; Pete Shields 1h30; Andy Wiggans 1h30:45; John Coates 1.39:32 (PB 5 mins), Graham Corbett time 1.40.35 (PB by over 1 minute), Pete Bedwell 1h42.38 (PB by over 30 seconds), Vic Verecondi; John Coates
Official results c/o Terry ...1010 finished in cool, quite windy conditions on the usual predominantly flat course.
Updated 25 Jan

47  1:21:53 TIM ASHELFORD
63  1:22:57 JEFF PAGET  3rd M50
94  1:25.20 NEIL CHAPMAN
132 1:27:44 SALLY MALIR  5th F40
194 1:31:10 PETE SHIELDS
200 1:31:39 ANDY WIGGANS
244 1:33:35 ALASTAIR BATEMAN 
300 1:35:28 ANDREW HERBERT  
382 1:39.39 JOHN COATES 
424 1:41.08 GRAHAM CORBETT
454 1:42.41 PETE BEDWELL
479 1:44.04 VIC VERECONDI

Yorkshire Vets XC, Sun 14 Jan
From Alison Eagle ... On Sunday a small female contigent headed to the Yorkshire Vets X-country at Rotherham. A well organised event, an undulating 5k course through one of the parks, with the usual low key atmosphere as at all the Yorkshire Vet events. Alison Bennett was 2nd Vet45, 5th overall, Alison Eagle 4th Vet40, 8th overall and Di Haggar 8th Vet40, 23rd overall. This gave us third team in the 35-44 category. Not bad when you consider all of us next year will qualify as Vet45 (and would have easily won the Vet45 team race this year!). Perhaps it is true some things get better with age!
Aire Valley Challenge, Sun 14 Jan
Emma Payne reports on this 6 mile trail race ... A small field (67) turned up to support the inaugural "Aire Valley Challenge" organised by Pudsey & Bramley AC. A nice route for those that like a mixture of road, track, mud and canal towpaths starting from the far side of Bramley fall wood near the Abbey Inn. Amanda Parnaby and I were wondering what sort of mistake we had made starting the race when we saw the field of fast friends of Pudsey & Bramley! However we set off with enthusiasm for the new route, losing out to my Dad who managed to beat me again! Well worth participating in next year I won a spot prize of a free pair of running shoes kindly donated by Ted Battye (Crosstrax) who sponsored the race (his face was a picture that I won them!). There was another pair of shoes and plenty of wine for spot prizes also. Victory for the day however went to Amanda who won a bottle of wine for last lady over the line and first placed W50 (£20 Crosstrax voucher) I bet it's not often that that happens in the same race!

Ted Battye     54.21
Bob Payne      54.59
Emma Payne     57.33
Amanda Parnaby 64.12

Full results here
Clay Bank East fell race, Sun 14 Jan
From Geoff Howard Three Harriers ran in the Clay Bank East fell race on Sunday which is one of several in the excellent North Yorks Moors winter series. A fine windy day with fast running on the Cleveland Way crossing part of the North Yorks Moor plateau (the record for 6 miles and 1,000ft is only 36m 35s) and then a boggy forest finish saw 115 finishers withJoe Blackett of Dark Peak winning in 38m 02s. First Harrier home was Jon Sage 10th in 41m 18s (2nd v.45 only 9s behind the 1st v.45), followed by Geoff Howard 21st (1st v.60 in 43m 34s) and Norman Bush 37th (1st v.65 46m.09s). The next in the series (only an hour's drive away) is Castleton Beacon on 4 Feb.
Garstang 10k, Sun 14 Jan
Bob Wightman reports .... Well, I've got my annual road race out of the way - the now traditional fat boys' outing to Garstang for the 10K named appropriately enough - the "Garstang 10K". Well it would be confusing if it were to be anywhere else wouldn't it?
The perpetual fat boys Bob and Andy were joined for this event by the depressingly thin Andrew Herbert, who it must be said was visibly nervous at this trip across the border to the county Palantine.
As with last year, the race was fully pre-booked to the limit of 500 runners. It's not just fell runs that are getting popular it seems. Though only 445 turned up to race and finished. Fortunately the strong winds that have been a feature East of the Pennines in recent days were absent and the day was pleasantly cool with just a slight breeze.
With the building work that affected last year's start now complete, the start was much better handled by the bloke in the bling. Leaving the thin people to race off and work up a sweat, Bob and Andy used their previous knowledge of the course to record reasonably even splits with Bob getting back just ahead in a PB for the course and just outside his PB for the distance. Andrew Herbert's pie-less diet saw him a couple of minutes adrift at the finish before the afore mentioned nerves finally got the better of him by having an altercation with another runner who was in a rush to be sick in the finishing funnel.
Results from ukroadraces.net are:

Bob Wightman - 86th in 42:09
Andy Wiggans - 90th in 42:23
Andrew Herbert - 119th in 44:20 

Scout Scar, Sun 7 Jan
From Helen Ilsley ... I was first lady at Scout Scar, Cumbria, (Kendal Winter League) on 7th January, in a time of 32mins 59. I didn't see any other Harriers there, but it was a miserable day!
SDXC #2, Golden Acre Park, Sun 7 Jan
From Alison B ... We had the best of the day's weather for this, the 2nd race in the Sport Direct Series held at Golden Acre Park. Due to a combination of illness, injury and previous day's racing I was unsure how many Harriers we could muster and it was great to get such a turnout of runners and spectators. Joyce Marshall continued her great form and was only just pipped a few meters from the finish by last year's ladies SDXC series champion; Jan Belton had a good result especially after racing the previous day and Debbie Rosen who hadn't enjoyed this race last year felt much happier this time around and gained a top 30 placing. The two Rachels made this their cross country debut and were smiling at the start and the finish. They packed in well with Margot, Ann and Adele. Many thanks to Margot (I don't do mud) Dale who ran well to ensure we had a complete vets team.

9   Nick Richardson
15  John Atkinson
35  Geoff Howard
52  Pete Shields
71  Neil Chapman
92  Keith Wood
121 Graham Stead
150 Don McRae
154 Bob Payne
158 Andrew Bennett

2   Alison Bennett
4   Joyce Marshall
13  Jan Belton
29  Debbie Rosen
46  Rachel Hagan
49  Margot Dale
50  Ann Stead
55  Rachel Websdale
57  Adele Mitchell 			
			
Yorkshire XC Championships, Sat 6 Jan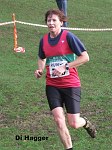 From Alison Bennett .. on a cool and overcast day it was exciting to have such a great turnout of Ilkley ladies at this competitive event. Pete had warned us earlier in the week that it would be muddy underfoot and there certainly much of the course that needed careful consideration to avoid slipping and sliding. Plenty of hills too made it an energy sapping event.
Helen Ilsley was our first lady across the finishing line, closely followed by Amanda Oddy competing in her first cross country in 13 years.
It was a baptism of fire though for Sue Booth who was competing in her first cross country, ever! She did really well coming in 83rd and hopefully, after recovering, she'll have a go at some other XC events.

21st  Helen Ilsley     26:11
23rd  Amanda Oddy      26:27  5th vet 35
26th  Alison Bennett   26:45
46th  Alison Eagle     28:30
55th  Diane Haggar     29:12
62nd  Holly Williamson 29:33
69th  Jan Belton       30:29
83rd  Sue Booth        31:53
92nd  Bernie Gibbons   32:57
101   Bridget Doherty  35:51
103   Emma Payne       38:41
overall 6th ladies team

67th Graham Pearce     48:29
185  Neil Chapman      60:47
192  Phil Chappell     62:53
203  Paul Wood         67:13

Paul adds ...There was a great turnout of 15 juniors (report here). Disappointingly we were just short of a full men's team due to injury and illness, best wishes for a speedy recovery to to Jamie Hutchinson who had to retire through injury.
Hebden Valley Heritage, Sat 6 Jan
Richard Midgley completed the the 14.5 course in 3 hrs 36 mins. This is a brand new challenge over 14.5 or 22 miles for both runners and walkers providing a roller-coaster ride of ups and downs through the heart of the South Pennines starting at Mytholmroyd. Further information can be found at www.alangreenwood.biz/hvh
Captain Cook's Race, Mon 1 Jan
Results from www.nym.ac:

			33 37:27 Jonathon Sage
			86 41:58 Norman Bush
			90 42:13 Alison Weston 3rd Lady, 1st v40
			
News Apr-June
|
News 2006