Christmas Planner
Thu 21 Dec
Pete's training @ ILT&SC (no Andy Wolfenden session)
Mon 25 Dec
No circuit training! (resumes Mon 15 Jan)
Tue 26 Dec
No club run (ILT&SC closed). Chevin Chase is a Running League counter
Thu 28 Dec
No official training
Sat 30 Dec
Hot Toddy road race has entry on the day (link),
Emma Payne has arranged a reccie of the Wharfedale Harriers Owl Event (Weets Hill) night race on 23 Jan- meet 2pm at the Greyhound Pub, Barnoldswick.
Sun 31 Dec
Clitheroe 10k is a Running League counter, Auld Lang Syne fell race
Mon 1 Jan
No circuit training (resumes Mon 15 Jan)
Tue 2 Jan
Normal club night
Thu 4 Jan
Pete's session and Any Wolfenden's session
Mon 1 Jan
No circuit training (resumes Mon 15 Jan)
Mon 8 Jan
No circuit training (resumes Mon 15 Jan)
Mon 15 Jan
Pete's circuit training resumes
Planning ahead? The list of Ilkley Harriers Running League events for 2007 is now available here.
Auld Lang Syne fell race, Sun 31 Dec
From Pete Bedwell ... nice and windy but the rain held off so pretty good conditions with the mild temperatures for the the traditional end to the year for those Harriers not getting last minute points at Clitheroe. In the usual 400+ crowd, saw quite a few of the gang there, Jamie Hutchinson, and Lawrence Basham acting as the hare to Jemma's tortoise looking very fetching in his rabbit's ears. Managed to get round in 67.51, well towards the back as usual, a whole 4 seconds slower than last year which I blame on losing my shoe on the blast back down but great fun nonetheless. I believe Simon Bailey won it from Ian Holmes in some ridiculously fast time.

1   40:55 Simon Bailey, Mercia
18  46:31 Jamie Hutchinson
73  51:13 Jon Sinclair
88  52:17 Roy Ruddle
122 54:41 Mike Baldwin
137 55:23 Lawrence Basham
144 55:47 Morgan Williams
147 55:55 Alison Eagle
148 55:57 Dan Goodey
149 56:03 Joyce Marshall
181 57:31 Ian Marshall
199 58:14 Bob Wightman
209 59:00 Jon Tindall
248 61:07 Andrew Herbert
273 62:32 Bryan Websdale
284 63:26 Andy Wiggans
315 65:03 Sue Booth
360 67:51 Pete Bedwell
362 68:06 Rob King
403 73:34 Bob Payne
434 80.33 Rachel Websdale
436 80:33 Vic Verecondi 

Ribble Valley 10k
Results from UKResults.net

1   30:13 Stuart Stokes, Sale Harriers
98  37:08 Mark Iley
109 37:24 John Atkinson
132 38:19 Geoff Howard (2nd V60)
138 38:30 Jeff Paget
166 39:06 Neil Chapman
179 39:23 David Brown
180 39:24 Terry Lonergan
186 39:32 Amanda Oddie (3rd LV35)
189 39:37 Helen Ilsley
209 40:01 Alison Bennett
215 40:13 Emma Barclay
219 40:19 Sally Malir
236 41:16 Pete Shields
273 41:58 Alex Hirst
316 43:02 Phil Chappell
321 43:20 Diane Haggar
364 44:30 Catherine Gibbons
386 44:54 Dave Taylor
396 45:07 Keith Wood
398 45:13 Vince Gibbons
457 46:34 Nick Mellor
473 47:06 John Coates
516 48:19 Bernie Gibbons
534 48:38 Phil Hirst
699 53:44 Pat Lonergan
872 61:19 Jo Taylor
922 74:54 Andy Webster

This was the final (road) counter in the 2006 Harriers Running League, but results of that will be announced at the Presentation Evening.
Jolly Holly Jog, Sun 31 Dec
Will Plastow was 18th in 38:49; 528 ran
Lancaster Festive 4km, Wed 27 Dec
Andrew Bennett reports ... for the second time the Bennetts took part in this short but hilly race around Williamson's Park organized by Lancaster and Morecambe AC. Although billed as a fun run it was clearly competitive as shown by Ali Wajib's winning time of 11:48. Alison came in 16th (3rd lady) in 14:20 followed by Adam 60th 18:10 and Tom 82nd 20:57 who yet again outsprinted me to the finishing line to leave me 83rd in 20:59. Next year the elbows will be out!
Chevin Chase, Tue 26 Dec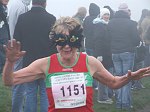 There were nearly 50 Harriers running (have we missed any? This was the final XC/Trail counter in the 2006 Harriers Running League, but results of that will be announced at the Presentation Evening). Results from Aire Centre Pacers below, and take a look at Terry Lonergan's photos by clicking on the thumbnail.

1   38:46 Greg Hull, Leeds
11  41:51 Jamie Hutchinson
14  42:33 Tim Ashelford
15  42:39 Graham Pearce
21  43:24 Paul Davidson
23  43:39 Lawrence Basham
26  44:05 John Atkinson
29  44:59 Mark Iley
83  48:06 David Brown
96  48:46 Alison Bennett
97  48:52 Neil Chapman
111 49:31 Nick Pearce
117 49:38 Sally Malir
129 50:07 Pete Shields
132 50:11 Graham Arthur
136 50:20 Alison Eagle
141 50:36 Mike Baldwin
173 51:41 Heather Dawe
    52:00 Keith Wood
180 52:07 Norman Bush
209 53:01 Simon Chapman
212 53:07 Charles Oxtoby
218 53:18 Andrew Wilson
230 53:53 Jon Tindall
243 54:22 John Woodward
247 54:31 Diane Haggar
256 54:45 Anthony Swanepoel
282 55:29 Vince Gibbons
286 55:40 Dave Taylor
302 56:14 Jemma Basham
311 56:39 Andy Kitchen
312 56:42 Julie Harvey
322 57:06 Andy Wolfenden
356 57:57 Peter Sibley
403 59:31 Peter Bedwell
413 60:00 Bernie Gibbons
416 60:16 Rebecca Malby
447 61:03 Sue Bickerdike
498 63:06 Mary Gibbons
541 64:33 Bob Payne
574 65:25 Emma Payne
602 66:32 Antonio Cardinale
692 70:32 Les Atkins
714 71:23 Anne Briggs
731 72:04 Andrew Bennett
735 72:08 Adele Mitchell
737 72:10 Richard Midgley
750 72:35 Amanda Parnaby
782 73:55 Howard Allen
855 finishers

XC Update
From Alison B ...
WYXC - at the end of the series, the ladies were overall 5th team and the men, an impressive 7th team.
Ilkley Harriers were also well represented at the Presentation following the final race with individual successes in the Handicap : Emma Payne, John Atkinson and Jim Ryder
Bernie Gibbons was overall 3rd LV50 and I was 1st LV45

SDXC - according to the Abbey website their race on Sunday 7th January is at Golden Acre Park info. Also from the other Websites the remaining SDXC races are as follows:
28th Jan 07 Fellandale Otley Chevin
18th Feb 07 Horsforth/Kirkstall - Bramley Falls
4th March 07 Eccleshill - Idle
The individual and team results, and pictures, are on the Woodkirk website - The men were 1st Team - fantastic - and 4th Vets team, the l adies were 3rd team and 5th Vets team

National XC - I have received the entry forms, Race Date Saturday 10th March 2007, start 11.05, Venue Herrington Country Park, Sunderland
CLOSING DATE FOR ENTRIES MONDAY 15TH JANUARY 2007 - I will need to know who wants to be entered by Thursday 11th January

The Stoop, Sun 17 Dec
From Morgan Williams ... Only at Great Whernside (when Pete Jebb shortened the course) and Burnsall (where my PB dates back to 1986) have I repeated races this year and failed to deliver a PB. Well, it happened again on Sunday at The Stoop. I was nearly 2 minutes slower than last year.
Beautiful blue skies overhead if a little chilly (it's always chilly at Penistone Hill), but a true mud bath underfoot for some of the most sapping off road conditions I can recall (but it has rained a bit these last few weeks!) Plenty of stories of people being well off their 2005 times when the course was changed, so I wasn't the only one! That must have included Andi Jones, last year's winner who clocked 28 minutes or so in 2005, but who lost his title to Rob Hope who could only(?) clock 30.12
A great effort from Joyce Marshall who had an excellent run to take the FV40 prize.
Ian Marshall adds ... Joyce won the FV40 prize with a run over 4 minutes faster than her last run there 3 years ago. (Incidentally, she was also faster than her husband – at least she chose beer for her prize.)

25  36:13 Jamie Hutchinson
27  36:48 Stef Macina (P&B)
76  40.29 Malcolm Pickering
82  40:58 Dan Goodey 
102 42:18 Morgan Williams
106 42:26 Mike Baldwin
115 42:57 Joyce Marshall
123 43:37 Norman Bush
134 44:30 Ian Marshall
189 48:09 Paul Wood
205 49:03 Sue Booth
206 49:06 Clare Cheesewright
238 50:59 Rob King
276 54:40 Rachel Hagan 

Some photos on David Brett's site
Some good results in the junior races too - more...
Sport Direct XC #1, Sun 17 Dec
From Lawrence Basham ... the first Sport Direct cross country league race, hosted by Woodkirk. 4.5 miles but an absolute mudbath meant it probably felt further. Good results from the Ilkley Harriers mens' team lead home by the ever improving Paul Davidson in 7th place. Good bunching by the Harriers men, meant a fair chance of winning the opener in this year's team event, still waiting for official results. Outstanding result of the day was Alison Bennett's victory in the ladies race, her first (of many?) triumph at a SDXC event - well done Alison.
The men were 1st Team - fantastic - and 4th Vets team, the ladies were 3rd team and 5th Vets team, Results and photos on the SDXC site. Next race is Sunday 7th January 2007 hosted by Abbey Runners at Golden Acre Park.

Ladies:
1   Alison Bennett
8   Di Haggar
21  Catherine Gibbons
38  Ann Stead
47  Emma Payne
57  Amanda Parnaby
Men:
7   Paul Davidson
8   Bob Addey
9   Lawrence Basham
13  Steve Turland
15  Dave Wilby
16  John Atkinson
17  Ian Rowbotham (2nd claim)
35  Geoff Howard
56  Pete Shields
58  Anthony Camp
80  Keith Wood
113 Vince Gibbons
134 Bob Payne
140 Andrew Bennett

Great Langdale Xmas Pudding 10k, Sun 17 Dec
From Vic Verecondi It was off to the Lake District for the Great Langdale 10k today. After quite a wet week it was very nice to have clear blue skies, no wind and a crisp temperature. The scenery was also very picturesque. Along with the weather, the location provided perfect conditions for the race. The course was out and back which provided the opportunity to observe the course for the return leg. It was quite tough - mainly undulating, with a couple of long steepish sections. There were also a few flattish bits which provided a chance to stride out at certain points throughout the race. At the end of the race one was rewarded with the standard Christmas pudding. It was a short walk to the pub, which was only a few metres away, for instant refreshments (very handy) and we all had a nice afternoon. We were also rewarded with endless amounts of mince pies to re-energise ourselves for the next training run/race. There were 6 harriers racing but unlike the Abbey Dash, with the multitude of pbs, there was only one today. Harriers results : (apologies to any Harrier I have missed).
Young Justin Harry had his first expeirence in Road running by completing the 2k fun run before the main event. Unfortunately no times were given. He was happy to receive a medal and a ice cream for his efforts. Well done Justin. Perhaps a budding Harrier.

1st Johnathan Powell 32.03 (Durham City Harriers)
113 Vic Verecondi    43.55
121 Simon Harry      44.12 (racing in his first 10k, pb)
133 Andy Wiggans     44.32
144 Holly Williamson 44.44
233 Andrew Kitchen   47.56
405 Rachel Websdale  54.10

Calderdale Way Relay, Sun 10 Dec
From Steve Turland ... All 3 teams recorded faster times and better placings than last year, with some excellent individual leg performances. Results from Halifax Harriers

17th overall (won by Bingley)
1 Lawrence Basham, Bob Addey        1:16:05 (12)
2 Dave Wilby, Richard Joel          1:10:05 (27)  	2:26:10 (18)
3 Iain Gibbons, Paul Davidson       0:40:24 (9)  	3:06:34 (15)
4 Graham Pearce, Jim Ryder          1:14:26 (10) 	4:21:00 (11)
5 John Atkinson, Eddie Winslow      1:05:02 (33)  	5:26:02 (16)
6 Steve Turland, Mark Iley          1:23:40 (21)  	6:49:42 (17)

36th overall, 2nd ladies team (won by Bingley)
1 Heather Dawe, Emma Barclay        1:29:50 (53)
2 Joyce Marshall, Holly Williamson  1:17:06 (48)  2:46:56 (47)
3 Jo Foster, Jemma Basham           0:49:19 (47)  3:36:15 (48)
4 Helen Ilsley, Andrea Priestley    1:22:35 (26)  4:58:50 (41)
5 Alison Eagle, Nicky Jaquiery      1:04:48 (31)  6:03:38 (38)
6 Alison Bennett, Sally Malir       1:28:51 (33)  7:32:29 (36)

43rd overall
1 Phil Atkinson, Mike Baldwin       1:35:26 (66)
2 Nick Pearce, Keith Wood           1:19:20 (54)  2:54:46 (60)
3 Paul Wood, Ken Jaquiery           0:47:44 (41)  3:42:30 (57)
4 Morgan Williams, Geoff Howard     1:26:32 (43)  5:09:02 (49)
5 Ian Marshall, Alistair Wood       1:07:31 (39)  6:16:33 (45)
6 Pete Shields, Neil Chapman        1:29:07 (34)  7:45:40 (43)

New Thursday Night Run
From Terry Lonergan ... Fancy a group run on a Thursday night but don't want a speed session too near to the weekend when you might be racing? Well, with the thumbs up from road captain Mark T. and chairman, Pete S. a new run will commence this Thursday. Meeting at the Springs Lane Medical Centre (across from Tesco) at 7 p.m. the run will be 6 to 8 miles (depending on weekend races) at 7.30 to 8.00 min.per mile. Enquiries welcome. (601581)
Yorks Vets XC, Sun 14 Jan
From Pete Shields ... Venue Winter Hills Rotherham. I have received the entry forms for this event vet categorys from male/female 35 up to 70 plus. We have a good chance of team medals in all categoryies but we have got to turn out first, all interested please contact Peter Shields, entries close 2/1/07, first race 1-15pm.
Predictor Run, Tue 5 Dec
41 people completed Richard's Predictor Run, full results here.
WYXC #4, Sun 3 Dec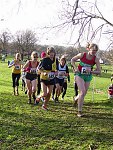 There was a massive turnout of 32 Harriers, well done to Lawrence and Alison B for getting out so many runners this season (is this our best ever WYXC League season?) There was great support from lots of Harriers around the courses too, in perishing cold conditions - THANK YOU. Provisional results from the Complete Runner site are below. We had juniors in most races and some superb results from the 19 runners (more here ...).
Photos:
Woodheads' photos

here
Terry Lonergan's men's team photos

here

Ladies: 3rd team on the day!  Also 10th and 13th teams.  No other club fielded 3 teams.
1   20:36 PENTY, Becky  Nestle Rowntree  
14  22:21 BENNETT, Alison  
21  23:10 MALIR, Sally  
33  23:50 EAGLE, Alison  
50  24:45 WILLIAMSON, Holly  
53  25:03 HAGGAR, Diane  
56  25:08 MCCANN, Elzabeth  
59  25:32 BELTON, Jan 
60  25:58 BASHAM, Jemma  
62  26:25 BRYANT, Jane 
81  28:10 DOHERTY, Bridget  
82  28:16 GIBBONS, Mary 
85  28:24 GIBBONS, Bernie  
90  29:24 PAYNE, Emma  
92  29:47 SCHNEIDER, Fiona

Men: 6th team. Also 14th and 17th teams.  No other club put out 3 teams.
1   35:07 HILTON, Martin  Leeds City   
30  40:04 ADDEY, Bob  
37  40:38 HUTCHINSON, Jamie 
49  41:18 RYDER, Jim  
55  41:36 BASHAM, Lawrence  
64  42:13 DAVIDSON, Paul  
65  42:14 ILEY, Mark 
66  42:14 TURLAND, Steve  
77  42:54 RICHARDSON, Nick  
79  42:57 ATKINSON, John 
123 45:41 GIBBONS, Iain  
148 47:54 SHIELDS, Peter  
153 48:21 CHAPMAN, Neil 
164 49:24 TAPPER, Nigel 
166 49:30 CHAPPELL, Phil
174 50:21 WOOD, Keith  
188 52:11 WOOD, Paul    
197 54:23 GIBBONS, Vince  
208 57:13 BEDWELL, Peter
209 57:57 HARGREAVES, Ian  

This was a counter in the Harriers Running League, but as the League is nearly over perhaps we should keep the results secret for the club presentation evening?
Update: at the end of the series, the ladies were overall 5th team and the men, an impressive 7th team. Individual successes in the Handicap included Emma Payne, John Atkinson and Jim Ryder.
Bolton by Bowland fell race, Sun 3 Dec
Geoff Howard reports ... As Bob's photo shows, it was pretty damp at BbB on Sunday. Glutinous is the only way to describe the conditions. I was so tired afterwards that I fell asleep waiting for the traffic lights to go green when I got back to Ilkley. v.40 Bashir Hussein of Stockport won in 48m 57s. I managed 2nd v60 in 57m 10s 50th in field of 164.
Guy's 10, Sun 3 Dec
From Terry Lonergan ... Derwentwater 10. Preston 10. Guy's 10. A mini-series of 3 10 mile road races in 29 days, hoping for gradual improvement and leaving the Snake Lane 10 as my 100th race over the distance. On a more favourable day it would have been likely. However, the very strong winds, which even the finish gantry succumbed to, conspired against the 353 runners in this well organized race near Garstang, Lancashire.
As we went through the first mile in 6.30, I overtook a friend who asked "What are you doing back here, Terry?" "Doing my best in this…. wind!, I replied. He and dozens of other fast starters finished minutes behind as the wind took its toll. It was that kind of a day. At least it was firm underfoot not like the brave souls who ran at Nunroyd had to endure later in the day.
72nd in the end; 4th vet over 55, in 66.42
Rudolph's Romp, Sun 3 Dec
From Amanda Parnaby ... 23 mile off road marathon on Saturday around the southern end of the Yorkshire Wolds, starting and finishing at Brantington between Market Weighton and Hull. Beautiful day in East Yorkshire, more like early September than early December. Oh yes,nearly forgot, my time was 5 hours 33 minutes . Lovely scenery and friendly atmosphere, organised by LDWA with over 200 people taking part.
Navigation Training Day, Sat 2 Dec
About 20 Harriers attended the navigation training day. Exercises were planned by Hector Haines on specially drawn maps, Sarah and Chloe Haines helped organise on the day. Everyone got a great benefit from the exercises - thank you. Graham will be asking Santa for a decent compass, no doubt ...
Tuesday Night Run, 28 Nov
Lawrence and Jemma are leading the off road run next Tuesday (planning to do it the last Tues in every month), if as many turn up this time we'll split the group so the faster ones don't get cold, so any help in keeping a track of people and bringing up the rear on both groups much appreciated. We'll probably be out for longer than usual - about an hour and a half or longer depending on the group.
Head torches essential!
Open 5, Reeth, Sun 26 Nov
From Dave Wilby ... The final race in the 2006 series took place on Sunday from Reeth, and proved to be a huge success for the small Harriers contingent who made the journey. The area proved to be a fantastic setting and provided plenty of grassy running, steep climbs and rocky descents both on two feet and on two wheels. 5 hours of trail/fell running, navigation and mountain biking proved to be only just enough for me as I scraped in with barely 50 seconds left, after a madcap descent on the bike down Fremington Edge. After a couple of 'practice' events lately, I seem to be slowly getting the hang of this type of event, and made the top 10 for the first time.
Putting the Harriers name up in lights though were the rest of the group, Heather Dawe took home first prize in the womens category against some very experienced competitors. Eddie Winslow walked away with one half of the mixed pairs 1st prize, and also got a podium finish for the series. Last but definitely not least, making their debuts in the event, pocket rockets Alison W and Nicky comfortably took the female pairs prize.
Debbie Rosen adds ... This was my first experience of adventure racing and quite a few lessons learned - like what it feels like to do a 2 hour run after 3 hours on a mountain bike; that it's a good idea to check that controls are active before you start heading for them; and a bit of forward planning would save some convoluted routes later on! I also cemented my reputation for navigation by losing my map within the first half hour, thankfully I'd paired up with a friend and we'd been given one each.
Sue Booth and partner were 3rd ladies team whilst I was half of the 5th pair (of 11). A great if very muddy day, we left vowing to be back next year for the whole series!
More races early in the New Year include Hebden Bridge on 21 Jan - see www.openadventure.com
From Heather ... ... another muddy affair. Five hours of biking and running, a 'score' navigation event, you choose how long you spend biking and running, those with the most points in their category wins. A good turnout of Harriers and some fine results. Eddie Winslow and his team partner scored 453 to win the mixed pairs, first timers Alison Weston and Nicky Jaquiery scored 355 to win the ladies team category, I scored 435 and won the ladies solo category. Sue Booth and partner were third in the ladies pairs and Dave Wilby continued to improve his results to score 425. It takes a while to get your head around these type of events - good route planning and navigation are as important as speed. Dave's improving loads with every one he does - he'll be podiuming pretty soon I reckon!
Rivock Edge fell race, Sun 26 Nov
From Jim Ryder ... Several Harriers spotted at the Rivock Edge Fell Race. More like 7 miles, 1000ft than the advertised 9m, 1500ft. Tamara Hird won the ladies race and I think Karl Gray the mens.
Bob Wightman adds ... Five harriers hit the bright lights of Silsden and joined 94 others for the 2006 running of the Rivock Edge fell race. A new course since the days of old, well 2003, in the region of 7 miles as opposed to the advertised 9. Once the initial mile or so on the canal bank had been negotiated the going was a little boggy underfoot until weary legs had to negotiate the same canal bank mile back to the finish. The race was won by Karl Gray of Calder Valley in a new record of 48:41
Results from www.kcac.co.uk

17   55:00 Jim Ryder
22   57:05 Ian Rowbotham  (Harrogate)
25   58:21 Malcolm Pickering
26   58:47 Roy Ruddle
49   64:11 Bob Wightman
66   69:17 Graham Stead (Otley)
97   84:39 Ann Stead 

Abbey Dash, Sun 26 Nov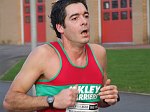 From Terry Lonergan ... Some photos from this morning's race.
Missed a couple wearing Ilkley vests plus Dave Brown and Amanda P. whose vests must have been in the wash, so failed to spot them also.
Quite difficult getting good shots in a field of 5000 plus!!
Marc Teasey reports... a fantastic turn out of Harriers for the Leeds Abbey Dash, with some great results in perfect running conditions. Don't know exact times for people, and am aware that there were loads of Harriers present that I didn't see at all. Of those that I do know of, Tim Ashelford was first Harrier home, backing up some excellent recent shorter distance results with an impressive 10k time.
Let's face it, 99.9% of us run races to compete against ourselves rather than with any realistic notion of winning. With this in mind, I think it is important to celebrate a whole host of PBs today: Lawrence broke 36 mins for the first time, Dave Jepson knocked a minute off his best, Dave Brown ran sub-40 for the first time, Phil Judd improved by over 2 minutes, Nigel Tapper ran a PB, Jemma smashed her PB by four minutes to run sub 45 (surely she is a front runner for most improved female runner this year?) - and these are just the ones I know of. Inspiring stuff for the rest of us - could this be the most successful race ever for Harriers on this basis?! On the subject of PBs, I'd recommend the Ribble Valley 10k on 31/12 (aka Clitheroe 10k) as the next great opportunity for fast times (a course that is home to my own PB) - I know there are already quite a few Harriers venturing out for this one. There is some limited entry on the day (well, there was last year) but might be safest to pre-enter. See you all there.
Results from www.raceahead.net ...

Chip places and times
100  34:51 Tim Ashelford (LBT)
105  35:22 Jamie Hutchinson
124  35:48 Lawrence Basham
128  35:52 Graham Pearce
158  36:36 Jonathan Sinclair
175  37:04 Mark Iley
197  37:32 John Atkinson
212  37.43 Dave Jepson
315  39:41 David Brown
342  40.08 Marc Teasey
344  40.11 Sally Malir 3rd in category
390  40.49 Philip Judd
530  42:18 Nigel Tapper
538  42.22 Andy Wiggans
539  42.23 Andrew Herbert
573  42.45 Alison Bennett 7th in category
590  42.58 Vic Verecondi
641  43.23 Keith Wood
689  43.50 John Woodward
723  44.06 Jemma Basham
896  45:21 Nick Mellor
946  45:45 David Cockshott
980  46.00 Jane Bryant
1116 46:54 Sue Bickerdike
1211 47:26 John Brown
1449 48:53 Ian Hargreaves
1951 52:01 Jean Sullivan
2098 52:58 Fiona Schneider
2672 56:31 Anne Briggs
2900 58:06 Matthew Griffin
2901 58:07 Rachel Gibbons
2746 56:58 Andrew Bennett
3379 63:05 Brian Sweet
DNF Andy Kitchen

Some more photos from Dave Woodhead

here
Harriers vs Cyclists, Sat 25 Nov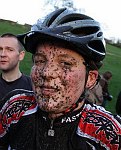 From Graham Pearce ... Fantastic event, organised by Bingley Harriers. An absolute mud-fest, and I decided that running was by far the best option. A cracking competition, and great banter and pie and peas in the Fisherman Inn afterwards, and as it was muddy the Harriers won for the first time in years (first 10 runners count, versus first 10 cyclists).
96 competed; results are ("C" = cyclists, "H" = Harrier):

1.   Rob Jebb        C   Wheelbase        35.42
2.   Ian Fisher      H   Aire V Runners   36.23
6.   Graham Pearce   H   Ilkley H         39.42
33.  Nick Pearce     H   Ilkley H  MV50   46.48
41.  Heather Dawe    C   Crosstrax        47.57

Also:
20.  Stefan Macina   H   Pudsey & B       42.57
39.  Jason Hemsley   C   Crosstrax        47.52

What a return to racing by Nick Pearce, this race being his first in over 18 months out with injury! Hopefully it will be the first of many more ....
Click the thumbnail for Aidan's photos, and some more photos here.
Heather Dawe adds ... A very muddy race at Harriers vs. Cyclists on Saturday. Ok, with all the gloop and water around it was quicker to run but you don't get many bike races like this!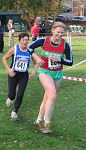 WYXC #3, Sun 19 Nov
Provisional results from Complete Runner (link at bottom)-

Ladies, 8th team on the day and 6th over 3 events
14 20.57 Alison Bennett
62 25.28 Jane Bryant
73 26.49 Bridget Doherty
76 27.02 Bernie Gibbons
81 27.56 Emma Payne

Men, 9th team on the day and 7th after 3 events
49  34.40 Jamie Hutchinson
59  35.27 Lawrence Basham
62  35.34 Paul Davidson
75  36.02 Mark Iley
80  36.28 John Atkinson
86  36.37 Richard Joel
95  37.14 Nick Richardson
113 37.52 Dave Matthews
162 41.04 Pete Shields
184 43.00 Phil Chappell
206 47.17 Andy Kitchen 

15 juniors were racing - more ....
Eaves Wood trail race, Sun 19 Nov
From Elizabeth McCann ... I was 2nd lady in this race today held at Silverdale - 5.25 miles in 45.53 mins at a scenic venue on the Cumbrian/Lancs border. Challenging but not as hard as the Burley Bridge Hike last week!
Preston 10, Sun 19 Nov
From Terry Lonergan ... Conditions could hardly have been better for an autumn race over a "near as damn it" flat course set in the southern suburbs of Preston. 2 Harriers made the hour journey. A tentative return to racing for Amanda Oddie proved only partially successful; in terms of time and position. However, post race discussions indicated that her "pot hole" ankle injury, suffered way back in the spring, is sadly still not 100% healed. Her thoughts of "calling a halt" at the end of the first of the 2 laps were put aside, but a slightly slower second lap meant that she had to dig deep to stay in the prizes.
Hoping to improve on the 66.47 at Derwentwater two weeks ago, Terry Lonergan had a bit of a fright at 5 miles (33.20). However, teaming up with ex- Liverpool harrier John Kelly, a past winner of this race and the old Ilkley 8, a better 2nd lap resulted in the desired improvement on this flatter course.
552 runners, with Amanda Oddie 83rd, 5th female overall, 2nd FV35 in 64.28, a P.B. by 6 secs. Some consolation for a very troubled summer. Terry L. finished in 96th place, 1st MV55 in 65.58
Tour of Pendle, Sat 18 Nov
Steve Turland reports on... 17m 4,800ft, arecord field (200+) turned out for this one. It was absolutely f-f-f-freezing with a biting wind and intermittent hail showers to sting any exposed skin. Lots of respect (and thanks) to all the marshals who turned out. There were 3 harriers (I think) - not easy to spot under all the windproofs. Bob W was also out on the course somewhere taking photos.
Race was won by Karl Gray who pipped Lloyd Taggart by 5 seconds. Womens race by Christine Howard.
Having had to retire from this race last year, I was determined to get round, but having had my race number ripped from my vest and managing to lose all of my bucket drop tags before the first checkpoint, I faced a very long run with the prospect of disqualification. Still waiting to see if I'm on the official results!
Heather Dawe adds ... A very different race from last year's fine, clear and sunny conditions. Driving rain, hail and sleet met the 200 or so runners who decided to run up and down Pendle lots of times on Saturday. Some say a contrived route. I suppose it is but still very good. I learnt from last year to take it steady in the first half as the second half is tougher. This paid off, I had much better finishing legs than last year (when I blew big style...) to get 3rd lady behind Christine Howard and Jackie Lee. Karl Gray of Calder Valley pipped Lloyd Taggart (Dark Peak) by 5 seconds to get the win.

25  Steve Turland   2:45
75  Heather Dawe    3:05 (3rd lady)
131 Alison Weston   3:31  (2nd LV40)

Great Whernside, Sat 18 Nov
From Graham Pearce ... A shortened course unfortunately at Great Whernside this year, although necessarily so because of terrible weather conditions! Very short race, Simon Bailey won. Also notable presences were Rob Jebb and Ian Holmes. I was top ten, Jim had a great run to be top 15, then Dave Wilby, Morgan Williams and also Emma Barclay and Helen Ilsley ran, but not sure of any of their positions. Geoff Howard and Roy Ruddle also seen. Apologies if I've missed anyone else.
But if anyone plans on doing it next year when it's a championship race, make sure you get a lift in Morgan's Freelander because otherwise you'll never get out of the boggy car park!

1   Simon Bailey  Mercia  16.57
11  Graham Pearce         19.53
17  Jim Ryder             20.39 (5th V40)
36  Roy Ruddle            22.35
37  Dave Wilby            22.40
51  Helen Ilsley          23.33 (4th F)
53  Geoffrey Howard       23.41 (1st V60)
58  Morgan Williams       23.58
80  Graham Arthur         25.18
87  Emma Barclay          25.56

Also
30  Stefan Macina P&B     21.52

Yorkshire Vets Grand Prix, Sun 12 Nov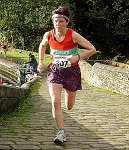 From Morgan Williams The last race in the Yorkshire Vets Grand Prix series (6 races to count for the Championships) was organised by Halifax Harriers on Sunday. Advertised as a 10K course, Harriers were thin on the ground. Only 2 in fact.
I hate 10Ks. I hate them even more when they are flat and on hard surfaces. There was a suggestion in the pre-race blurb that this would be "off road" and previous Halifax Vets courses had included some substantial hills. No such luck on Sunday. Tarmaced cycleway, canal towpath, a loop on roads around an Elland industrial estate and then back. Oh yes, there was a hill; 6 steps up from the towpath to the road I recall. Plenty of mud on the towpath too and my road shoes were a bit confused by it all. For a confirmed fell runner, it was all a bit much and I came in 50th in 41.06, picking up 3 places in the last half mile as those a good bit older than me crashed and burned after starting too fast. 10K? Probably nearer 9.5K looking at the times, even accounting for the mud.
No such problems for Alison Eagle though who, having tracked Lesley Ewart of Holmfirth in the first part of the race, pulled away to finish second lady in 39.16 just 9 seconds down on Fiona Strange of Knavesmire, a flat course specialist. Before the last race, Alison was second LV40 with 191 points from 5 races, headed by Serena Blackburn of Horsforth Harriers who had 214 points from 6 races. Serena did not race at Halifax and thus did not improve her score.
So, Alison added 39 points to her score to total 230 points and is Yorkshire Ladies LV40 Grand Prix Series Champion (to add to her Yorkshire Vets Ladies Fell Championship won back in March), a just reward for some hard graft in a variety of out of the way, low key races. All unconfirmed at this stage by YVAA but the maths is clear. Shame there weren't a few more Harriers about to see her capture the title. I missed it of course because I was well behind (as usual!)
Dunnerdale, Sat 11 Nov
Heather Dawe reports ... Three (well 2 and a n/a) Harriers braved high Lakeland winds on Saturday at the last lakeland fell race of the year, Dunnerdale. Starting from the Blacksmiths in Broughton Mills, this is a cracking 5 mile horseshoe, lots of climbing packed into a great course. It was very windy, sidewinds caused a few problems, completely stopping me a couple of times. A quality field of around 250 turned out, the race was won by Rob Jebb, first lady Angela Mudge.
Heather 53.42 8th Lady
Emma Barclay 54.44 10th Lady
Steve Barclay 58.24
Burley Bridge Hike, Sat 11 Nov
From Debbie Rosen... 8 Harriers (I think...) did the Burley Bridge Hike this morning, strong winds but we avoided the worst of the rain. Five of us came in in fairly quick succession - Elizabeth McCann had a great run despite having been laid off with injury to finish in 3h48, Sue Bickerdike and Keith Wood were back in 3h52 and Becky Malby and myself got home in 3h55 (slightly delayed by my limited mapreading skills towards the end...sorry Becky). Andy Sarah turned up smiling, not sure about Richard Midgley or Amanda Parnaby but doubtless they got round and enjoyed themselves too.
Update: Richard Midgley 4h39; Amanda P 4h44; Bryan Websdale also seen.
XC Update, 11 Nov
From Alison Bennett ...

Yorkshire Cross Country Champs  ------- Aireville Park, Skipton---------
Race Date  Saturday 6th January 2007
Closing date for entries Friday 15th December - but I would need to know a few days before this date

North of England Cross Country Champs ---------Heaton Park, Manchester
--------Race Date Saturday 27th January 2007
Closing date for entries Monday 11th December - let me know a few days before this date.

Also, Sports Direct XC - First race Sunday 17th December

********these races are entry on the day, BUT I must register  2nd Claim runners with the race secretary prior to the first event******* 
so if there are any 2nd Claim runners wanting to take part, please could they let me know.   Only the first 2nd claim runner can count for the team score.
Runners not from the member clubs can enter as Guests but they will not count in the results.  Runners must be 16yrs and over.   Club vests must be worn.

Let Alison or Lawrence know if yiou want to run.
Calderdale Way Relay, Sun 10 Dec
We've emailed out team lists and details to the email group (what, you're not in the group? Info here). And it's also on the club noticeboard.
Club Night, Tue 21 Nov
From Emma Payne, Club Co-ordinator ... On Tuesday 21st November after training (8.30pm) I will be hosting a meeting/discussion in the bar area after training to discuss team participation for next year.
If you have any ideas about new events we should be entering or any comments about the way we organise things or things we could improve on for next year please come along.
It would be helpful if the captains could also attend.
Hope to see you there, Emma.
New York marathon, Sun 5 Nov
Jonathan Sinclair was 559th in 2h55:04. Andy Wilson ran also (tiime tbc)
Derwentwater 10, Sun 5 Nov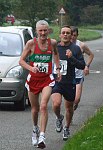 From Terry Lonergan ... Teams from all over the U.K. (e.g. Dumfries, Telford, Swaledale,Barnsley,Otley! etc.) converged on Keswick for the 47th running of the Ronhill DERWENTWATER 10 mile road race. 485 competitors provided midday entertainment for Sunday shopper (and late starting walkers!) in the town centre, charging off past the Moot Hall along the newly pedestrianised area before embarking on a clockwise journey around the lake. The first 5 miles down to Grange In Borrowdale caused no real problems but the next hilly 3 miles, under Cat Bells between Manesty and Hawes End, would work against very good times. My calls at 7 miles near Brandelow Park to "stop and enjoy the view" over to Skiddaw were ignored as the group I was with reeled in the "hares" who failed to cope with the inclines. Passing Swinside I was beginning to regret saying to a young Keswick runner, "there's no way you're beating me wearing those shorts!" (think very big, baggy black with multiple pockets!). He would die on the hills then reappear again like something out of the Terminator. Fortunately he couldn't match a 6.18 last mile and so my blushes were saved.
Mike Scott of Border Harriers (a V40) won the race in 53.56 over 4 minutes short of Kenny Stuart's course record of 49.15 set in 1986. Rebecca Robinson (Kendal) was 1st lady in 58.12.
Running the race distance for the 97th time I managed 71st. in 66.47 (3rd. M55). 3 to go.
Perhaps a minibus from Ilkley next year?
Haworth Mudman Duathlon, Sun 5 Nov
Graham Pearce writes ... Tim Ashelford and I did the Haworth Mudman Duathlon on Sunday (5k run / 20k bike / 3k run). A different course to last year's event, but still very challenging with a tough bike section up the infamous "Stairs". The course was on familiar territory to those of us that compete in Dave Woodhead's races, but a novelty to try and ride a bike through those quagmires!
The beauty of duathlons is that you can be competing against people who you'd normally not be – for example being involved in a sprint finish with a guy who finished second at the West Yorkshire last week (!)…needless to say I lost. Badly. I think he was just toying with me. The winner was a certain Andrew Peace who, on walking his dog past us all getting ready in the car park, stopped to ask "what's all this going on here then?" to which I foolishly replied "A race – you should do it!" Not thinking he would actually do it. Well, I was mistaken, as lo and behold, not 20 minutes later, who do I see cruising to the start line all kitted out? None other than Mr Peace. So without my big mouth (i.e., a more subtle reply like "just here for a bit of training with my mate Tim") I would have been fourth.
But a well run event overall and one I can recommend for all abilities. It's good to see fell runners / cyclists / triathletes / cross country runners all competing against each other. You should see the state of Tim's 1984 "classic" (as he puts it; "well past it" as I put it) mountain bike!! If he can finish on that tin can, then anybody can.
Official results:

Andy Peace 1st overall                          run 1: 17:51 / bike: 1:06:03 / run 2: 14:20 – overall 1:38:14
Graham Pearce 5th overall (1st 20-29 age group) run 1: 19:21 / bike: 1:09:02 / run 2: 14:43 – overall 1:43:06
Tim Ashelford 9th overall (2nd Vet)             run 1: 20:00 / bike: 1:18:04 / run 2: 16:02 – overall 1:54:06

Guy Fawkes 10, Sun 5 Nov
From Jamie Hutchinson ... Guy Fawkes 10 on a blustery but otherwise fine day out of Ripley near Harrogate. Getting to the event was a bit of a problem, probably due to the apparent 1000 runners! Not quite of top form, started really quick and in 7th but slipped down the field to finish 16th in 61.17 - a marginally better result on last year. Saw a few other harriers: Nick Richardson, Pete Bedwell, Amanda.
Pete Bedwell adds ... Bernie got round in just under 1.30, amanda soon after while I managed 1.23.51, bit slower than last year, but there again this time we didn't have the shortened version. Did have the Garmin however so I can say that there seemed a lot more hills than just 1480 ft worth. Bit crowded at the start through the castle but it soon spread out a bit up the first 3 miles of ascent. The next mile downhill was very welcome although it was short lived as you next got the short sharp hill out of Birtswith, 255 ft in under half a mile (although it felt a lot more) and then a couple more ups and downs before the last bit of undulation to the finish.
My legs felt the 3rd race in 2 weeks but I was happy enough with my time and even managed a sprint for the last few hundred metres to claw back a few of the many people who'd repeatedly overtaken me on the hills.
Nice gaudy long sleeved t-shirt, plus some t-bags !! at the finish and the scenic route and sunny day made it well worth the trip out

16   61.16  Jamie Hutchinson
39   65.19  Nick Richardson
342  80.47  John Coates
423  83.52  Pete Bedwell
557  89.19  Donald Macrae         1st event as a Harrier!
572  89.46  Bernie Gibbons
757  100.47 Adele Mitchell
758  100.49 John Macnamara
799  104.36 Amanda Parnaby
871 finishers, Darren Bilton won in 53.29

And Nick Richardson ... a really scenic road race with some challenging sections and a huge field. I finished in 65:17 which I was fairly pleasing after last week's cross country. Jamie Hutchinson was there and as usual I watched him disappear over the horizon within a couple of minutes of the start.
Shepherds Skyline fell race, Sat 4 Nov
From Lawrence ... Race won by Ian Holmes 41.39 Great result from 1ST HARRIER Graham Pearce 14th 45.58 (just missed out on a prize!!), Jim Ryder 23rd 48.05 (strong run, well done), 27th Lawrence Basham 48.50 (give me cross country races!), 48th John Atkinson 51.08 (Bloody knees but warming up for Calderdale, with his new love of the fells), 49th Roy Ruddle 51.48 (returning to racing), 64th Mike Baldwin 53.17 (keeping an eye on the youngsters!), 88th Alison Eagle (1st lady V40) 55.36, 96th Morgan Williams 56.28 (pb machine this year), Heather Dawe 57.29 (7th lady in the prizes), Emma Barclay 57.41 (8th lady in the prizes), Alison Weston 58.03 (9th lady in the prizes), Keith Wood 61.46 (looking over his shoulder!), Jemma Basham 62.20 (15th lady in the spot prizes!! again), Emma Payne 79.00 (good run to break in new shoes).
An enjoyable race, that climbed steadily to Stoodley Pike dropped down a bit then had a tough last climb before a good finish downhill. Good to see lots of Harriers picking up prizes and enjoying post race atmosphere in the pub.
The men beat the girls 8 - 6 in the 'how many turn out game', but the Ilkley women did carry off the team prize. Well done!
Heather adds ... Wet and muddy as ever! We got loads of beer for the team prize!!!
From the Tod Harriers site ...

14  45:58 Graham Pearce
23  48:05 Jim Ryder
27  48:50 Lawrence Basham
48  51:08 John Atkinson
49  51:48 Roy Ruddle
64  53:17 Mike Baldwin
88  55:36 Alison Eagle
96  56:28 Morgan Williams
105 57:29 Heather Dawe
112 57:14 Emma Barclay
117 58:03 Alison Weston
142 60.16 Steve Barclay
158 61:46 Keith Wood
164 62:20 Jemma Basham
234 79:40 Emma Payne

ROM October 2006
The Ilkley Harriers Runner of the Month award for October goes to the entire men's team at the Iain Hodgson fell relay for their 9th place - more.
Blue Asics Trail Shoes
From Alison Bennett ... When I arrived, for the start of the first junior race at the WYXC on Sunday I noticed a pair of Blue Asics trail shoes in the entrance to the tent. These were the same as the shoes I had arrived in.
When I changed into my spikes, I put the ones in the doorway to the Right hand side of the entrance, and my trail shoes in a carrier bag on the left hand side to the tent.
When I went to change them later, my shoes had gone and the ones I had put to the side were left. I have brought them back with me, but would like to swop them for mine if possible!
Tuesday Run, 31 Oct
Are you afraid of the dark?!!
Jemma and Lawrence will be leading a group, off road, this Tuesday (Halloween) evening.
Distance will be approx 9 miles at 8 min / mile pace or a bit slower as the route is majority footpaths, tracks and fields. Out along 'the dalesway' path to High Mill, Addingham then a loop taking in part of the golf course and back through Addingham and onto ILTSC.
Unless you have built in night vision you will need a head torch! we will stick together with the emphasis on it being a bit of fun!..... No racing!! Most of it is on good paths, and I ran it in road shoes yesterday however as the rain continues I think trail shoes (at least) or fell shoes should be worn.
Postscript: quite a few people enjoyed this. The plan is to repeat it in about a month.
OMM
Full results are here: we spotted:

A course
56  17h07:36 Dan Goodey?
B course
4    8h50:25 Peter and Hector Haines
31  10:08:39 Ian and Joyce Marshall
C course
131 10h05:40 Lou Cartledge and Gillian Macfarlane (Harr)
225 12h57:09 Dave Cheesewright and his dad!
Long Score
46  12h58:56 Kevin and Rachael Gooch

Heather Dawe reports ... Another KIMM (ok OMM), another long navigational challenge on the most tussocky slow terrain you can encounter. Galloway is infamous for it's energy zapping ground and weather. Saturday was the worst day, rain and poor visibility all day, on the compass all the time.
Dave 'Whippet' Wilby and myself were attacking the Elite course. One little and one large nav error scuppered our day, 10 and a half hours after starting we admitted defeat, in the dark on a forest track, a long way from home and any kind of comfort. We started walking, I'd spotted a building on the map, a few miles down the track - could it be a bothy? We got there, it looked deserted, opened the door and then the inside door. We were met by a blast of heat from the wood burning stove and the smiles of two other retired teams and the bothy warden. A little piece of heaven - we had resigned ourselves to a long, cold, wet night in my crisp packet of a tent. Despite the disappointment of dropping out we had big smiles on our faces.
Sunday dawned clear and sunny, we jogged the ten miles or so down the forest road to the finish. Approximately 60% of the Elite starters dropped out, that doesn't make me feel too much better but we'll nail it next time! More orienteering practice required - first stop a night-o tomorrow.
Back to the race. Joyce and Ian Marshall had a great finish in the B course, the hard as nails pairing of Kevin and Rachael Gooch had a good long score and big smiles on their faces at the finish. I'm not sure about other finishers, the OMM is such a big event, 3000 competitors, it's hard to see everyone. Well done all!
Saab Salomon Hellrunner (Part 1) Sun 29 Oct
Marc Teasey reports: Delamere forest in Cheshire provided the setting for four Harriers to visit the inaugural northern version of this event. Sarah and I did the southern event last year and it was probably our favourite race of the year - an interesting variety of terrain, great spirit amongst competitors and, above all, just good, unclean FUN. Billed as an adventure race, this is basically a trail run of around 11 miles, taking in numerous little climbs, bogs and streams. The order of the day is to get thoroughly muddy and wet, so we were grateful to Keith for offering to drive and putting his upholstery at our mercy - brave man.
The race was set off by a 9-foot devil, accompanied by a dangerously underdressed diminutive female in a basque, horns and leather boots.............. you supply the punchline, there are endless ones available...........Keith looked very cheerful........
In the end it was a bit of a 'Battle of Wounded Knee', with three of us carrying injuries or niggles to the aforementioned joint. Sadly Sarah's packed up after about 35 mins and she was forced to retire, thus frustratingly abandoning what was looking likely to be another race win. Keith and I managed to get round in one piece, while Debbie showed her endurance strength with a strong finish up the spitefully placed hill at the end, easing past loads of exhausted competitors who had all slowed to a walk. All that marathon training has clearly paid dividends. Overall a lovely day, and one that gave us a good excuse to miss the pain of the WYXC - we were all thinking of you............
In the course of the day Keith inadvertently coined a new nickname for himself, of which he is very proud - do go ahead and ask him, he'll be delighted to tell you......
We're off to do the southern Hellrunner in Surrey in a fortnight - can't wait!
Out of 945 finishers, our positions were:

(1.   Simon Bailey 1'03":17)
79.  Marc Teasey   1'23":03
327. Keith Wood    1'39":09
661. Debbie Rosen  1'56":45
Full results available at www.hellrunner.co.uk.
Halloween Howler, Sun 29 Oct
Geoff Howard reports ... Keswick it isn't but Kildwick does have a hill as evidenced by Morgan Williams and Geoff Howard in the Holloween Howler Fell Race in typical blazing Yorkshire sunshine on Sunday. 55 competed in this 3.75 mile 800' race with Geoff 19th (31m 05s) and Morgan 28th (33m 05s).
Morgan adds ... Never mind Bob Dylan's Never Ending Tour, like many I was despairing of what felt like the never ending virus these last few weeks. A half hour or so on the Moor on Saturday morning at something like normal pace suggested that the worst was over. Georgie wanted to run in the U10s race at the Howler so off we went.
Lovely weather, horrible fast course, Geoff passed me on the steep tarmac and I never saw him again! With low race numbers I was soon flying a solo mission but caught up one place on the final climb. In the circumstances I was pretty cheerful with a PB by 1 minute 40 (my 10th race PB of the year).
WYXC #2, Bodington Hall, Sun 29 Oct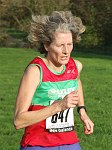 A great turnout and fantastic team results in this the second in the WYXC League. Click on the thumbnail for Terry's photos ...

Men: 6th team
53  33.22 Lawrence Basham
56  33.29 Graham Pearce
70  34.08 Paul Davidson
86  34.58 John Atkinson
95  35.18 Steve Turland
109 35.49 Nick Richardson
113 36.02 Bob Hamilton
124 36.25 Dave Matthews
163 39.04 Neil Chapman
173 39.27 Pete Shields
179 40.00 Nigel Tapper
217 44.39 Andy Kitchen

Ladies: 6th team
17 24:14 Alison Bennett
20 24:37 Helen Ilsley
37 25:38 Alison Eagle
43 26:00 Sally Malir 
56 27:03 Di Kitchen
60 27:10 Di Haggar
61 27:12 Jan Belton
71 28:13 Jemma Basham
84 29:27 Victoria Stevens
95 31:03 Bridget Doherty
97 31:24 Sue Stevens
98 31:24 Mary Gibbons
100 31:35 Fiona Schneider
103 32:00 Bernie Gibbons
106 32:39 Emma Payne

More good results in the junior races too - more here.
Worksop Half Marathon, Sun 29 Oct
Pete Bedwell reports ... Quick report for the Worksop Half marathon run through Clumber Park. last year it rained heavily for the whole race, this year it was the exact opposite, brilliant sunshine and unseasonably warm (or perhaps seasonably warm with global warming) As the only Ilkley Harrier I wanted to try and get a top half finish which I just about managed, 775th out of 1562 finishers.
The first 4 miles are along an undulating road out of Worksop before heading though a very scenic Clumber Park. The view improved but the undulations remained the same, if my Garmin can be believed there was 2500ft of ascent and descent which makes it fairly tough.
After my hamstring injury in the GNR and my sore knees from my pancake dive in the Withins Skyline I was not expecting much so was pleasantly suprised to beat last years time...by a whole 6 seconds !! in 1.48.15. ah well at least it's heading in the right direction and was quite pleased that I could put in a strong finish, 7.42 for the last mile and a flat out sprint for the last 100 or so metres, completely not like my slow plod last week, will have to get more practice on the fells.
This is a very well organised race, a bit crowded at the start but you soon spread out and it is a very nice route through the park with plenty of water and sponge stations, and to finish a nice T-Shirt and a packet of plasters ?? must have seen my knees !! Definitely one to consider next year if you want a fairly demanding but scenic and well organised half marathon
Accrington 10k, Sun 29 Oct
Andy Wolfenden reports ... I made the trip down to Accrington in support of one of the runners that I have been encouraging at our Thursday Greenhead track session. A well organised event on a testing course saw Helena Deeny (the only Ilkley athlete) turn in a very creditable time of 45.31 (a PB by 3 minutes) and a position well in the top half af a quality field (149th out of 392) and 4th LV 35. The race was won by Ben Fish of Blackburn Harriers who annihilated the elite field with 31.33; very close to the record I think.
BOFRA Championships
We've heard that Iain Gibbons, who regularly reports on his exploits in the short 'n' sharp BOFRA races, has finished 5th in the BOFRA Championships. Well done to him!
Withins fell race, Sun 22 Oct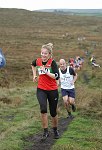 From Jemma Basham ... The race on Sunday was great fun - only problem being that Ilkley women were so out numbered by the men! The falling up to my knees in mud, hard slog through all that bog and all those tussocks and slippy rocks just added to the enjoyment! I admit it's not easy but I hope more women will turn out for the next few coming up. On Sat 4th there's the Shepherds Skyline 6.25 miles 1150 feet of climbing and Sat 18th is Great Whernside which is 4 miles and 1555 feet of climbing. They'll be hard work and difficult running but all I can say is, if I can do it I'm sure you can, and the drink and chat in the pub afterwards always makes it worth doing. Before I go I'd like to point out that I, Jemma Basham, won a prize on Sunday for my efforts. Ok, yes, I admit.............. it was a spot prize ...............and yes ................ I had been shouting my name out for a few minutes................. but Dave still gave me a can of lager and a curly wurly so what more can I ask for! Jemx
Preliminary results are ...

1   41.28 Alistair Brownlee Bingley  New record
16  45.41 Graham Pearce
22  47.00 Jamie Hutchinson
25  47.30 Jason Hemsley
28  47.46 Lawrence Basham
32  48.29 Steve Turland 
38  49.13 Mark Iley
39  49.20 Ian Rowbotham
43  49.43 Jim Ryder
48  50.04 Paul Davidson
52  48,29 Steve Turland
58  50.19 Richard Joel
72  52.43 Malcom Pickering
76  53.03 Mike Baldwin
101 55.06 Marc Teasey
105 55.31 Dan Goodey
107 55.48 Alison Eagle 1st LV40
117 56.39 Norman Bush  1st V60
119 56.51 Bob Wightman
163 60.25 Jo Foster
174 61.48 Keith Wood
204 64.38 Jemma Basham
208 65.01 Nigel Tapper
219 66.01 Pete Bedwell
240 72.55 Rachel Hagan
258 81.06 Emma Payne 

Some good results in the junior races too - more here.
Venice marathon Sun 22 Oct
From Nick Mellor ... Starting in Stra outside the impressive Villa Pisani and following the Brenta Canal the flat route passes through several scenic villages until reaching Mestre and the imposing bridge (5k long) to Venice where you are required to cross 14 flights of steps (ramps erected) and a pontoon across the Grand Canal before finishing just after St Marks Square. The water tables were a new experience including fruit, cakes and bread!
Dave Cockshott finished in 3.53.17 Nick Mellor in 3.59.41
Waddington 10k Road Race, Sun 22 Oct
From Vic Verecondi ... Linda, Andrew Wright and I gathered at the foothills of the monstrous Pendle Range (might as well be the Himalayas) near Clitheroe this Sunday Morning for the Waddington 10k road race.
As ever I wanted to know what the course was like so I took it upon myself and consulted as many locals around me at the start line. Linda standing back, seemingly disinterested, repeatedly prompted me for information about the course. When I mentioned to her the course was quite hilly she immediately became disheartened. I panicked and Andrew in his typical self was totally nonchalant about the entire situation.
The race commenced with the minimum of fanfare. All and sundry were just chatting away about politics, my GPS watch (which provided some interest I don't know why), the impending hills or whatever. No megaphone wailing instructions, no starting gun. All that occurred was a wave of the arm beckoning all to line up and a shout of "off you go" to start the race and we were racing much to the annoyance of those who were involved in quite heavy dialogue regarding whatever topic (even my GPS watch) that they were discussing.
The first kilometre was tough (1 km straight up) followed by endless undulations with one downhill section to a bridge then straight up the opposite side which proved quite a challenge. After completing these endless undulations one felt that you had been in a tough 10k. The conversation topics at the start, as I have mentioned, were quite numerous. At the end the topics had narrowed down to one topic "those hills". Where all the racers had gathered at the end we were all comparing how we had coped with these endless undulations.
Anyway I enjoyed a drink and a chat with Linda and Andrew afterwards. We all concluded that we had done well.

1   Paul Freary   31.51
84  Vic Verecondi 46.48
116 Linda Wright  49.52
144 Andrew Wright 55.19
Navigation Training Day, Sat 2 Dec
Those of you in the email group will have already had this from Graham Pearce ...
"Some of our more experienced club navigators have kindly volunteered to share their knowledge with the club and lead a navigational skills day on Saturday December 2.
The day is open to any Ilkley Harrier (the more the merrier!) who wants to hone up on his or her navigational skills. If you want to have a crack at the fells but have not, for whatever reason, done any fell racing or running, then this could be a great opportunity to immerse yourself in it and try it on for size. Then there are more experienced runners who might simply want to brush up their navigational skills; the day is open to all and we aim to make it a challenge for all.
We plan to meet at the car park by Darwin Gardens (just near the cattle grid at the top of Wells Road – I won't give a grid reference!) at 9am and base the day from there. We have use of some camper vans and tents if the weather's nasty, but if you own a large car or camper van, bring it along so we can all keep warm! Our outline plan for the day is to run a set of 3-4 short courses that can be run both forward and backward (this will stop grouping or pack running and force people to think for themselves - not something fell runners usually do).
Please also bring warm clothes and a flask of tea for between sessions.
Running ability is not an issue because we intend to design the courses so they can be attempted by all, and it's not a race (this time) so the idea will be to get yourself round as quickly as you feel comfortable, utilising the skills you will have been taught.
We envisage the session lasting for most of the morning.
At this stage can I ask all who are interested to let me know so that I can get a feel for numbers. "

More info.
Footnote. Although this was borne out of the fell chaps' bonding session in The Bar T'at, it is now understood that a lot of girlies are going too, and very welcome (Jemma is gathering names). Graham has marked it in big red letters in his diary that it's on a Saturday (sorry, Graham).
Amsterdam 10k, Sun 15 Oct
Congratulations to Terry Lonergan who ran his 100th sub-40-minute 10k. Terry was 78th in 39:35

Report, and

Terry's 100 Sub-40's.
Cardiff Marathon, Sun 15 Oct
From Janet Grace ... I think I was the only Ilkley Harrier in the Cardiff marathon this year, but I felt among friends because the local Cardiff running club wears exactly the same strip and they were out in force for the half marathon and marathon. I'm sure this contributed to the enthusiastic support I got en route, but I confused my poor husband who thought it would easy to see me in my red and green vest! The marathon course is over two laps - it starts in the city, goes right out on a sea wall in Cardiff Bay (a bit bleak 2nd time round) and then loops back by the river, through parks and then through Cardiff Castle. The finish was in the Millennium Stadium, which had a great atmosphere. I started well and was comfortably on track for a sub-3:30 time until the 15 mile mark when my calves started tightening. It was touch and go right to the end, but I'd slowed up and eventually finished with a chip time of 3:30:16. This was a PB, but tantalisingly outside my 3:30 target. My left calf finally went into full-blown cramp as I "sprinted" for the line, so the finish line photo won't be glamorous. I don't intend to hang up my marathon shoes just yet, but I'm relieved that the season's drawing to a close and I can't be tempted to do another one this year.
Beefy's Nab fell race, Sun 15 Oct
Morgan Williams reports ...3 mile, 650'. 2 races in 2 days; is it good for you?
I'm reserving judgement but for Alison Eagle, the answer is clearly "Yes" as she was first lady. I mentioned Beefy's Nab earlier in the week and was met with a rather unethusiastic response bearing in mind that the FRA Relays were on Saturday and Alison, like me, was running the long(ish) leg 2.
I wasn't taking my own suggestion seriously was I; a couple of pints with dinner and then 3 more in Bar T'at whilst trying to explain days of the week to the men's fell captain meant a fuzzy start to Sunday. But what the hell, if the wife is up for it then so am I.
Beefy's Nab (the race is run in memory of Ashley "Beefy" Bevan and is a Brett Weedon production) starts just a stone's throw away from the Lamb and Flag pub on the Oxenhope/Denholme road. I ran it last year and commented it was too fast for me, not enough steep up or down and it was all over before I had time to warm up.
Well much the same this time really, plus sweating Timmy Taylors all over the ascent route. Alison passed me after about half a mile and was about a minute in front at the Nab. I managed to make use of my extra gravitational pull and made some inroads on the way down. There is a nasty steep descent into a clough followed by a similar climb out of it not far from the finish which rather takes you by surprise if you don't know it's coming and Woodhead always parks himself and camera at the top of the steep climb to get those eyeballs out photos. Gravity wasn't enough, I couldn't get back.
Why? Well Alison had a cracking run, having to pull out all the stops to fight off the precociously talented Melanie Hyder from Dallam (who at 13 already holds a senior ladies fell race record) and finished 14th in 26.55, 9 seconds inside Sharon Taylor's record. A fantastic performance after the efforts of the Relay!
I trailed in in 21st in 27.26, with yet a third lady between me and Alison. At least I managed to Breeze past Graham on the way down (always a sign of a goodish run for someone of my average accomplishments) and was 2 minutes faster than my 2005 time. (I will get that 10th race PB of the year before 31 December).
2 excellent pints whilst waiting for the prize giving and the raffle. Competitors are asked to bring prizes for the race and the raffle so all the race proceeds go straight to Upper Wharfedale Mountain Rescue Team.
14 Oct 06
Wasdale Show (BOFRA Championship), Sat 14 Oct
Iain Gibbons reports ... I took the scenic route up to Wasdale for the last in the BOFRA Championship, it took 3hrs! I turned up with the seniors on the race line, doffed off, put my new sneakers on and we were away on a relentless steep climb up fell and scree for just over 30mins then back in about 10mins. I had to stop at one point due to bad heel burn and found each heel to be one large blood blister! A harsh painful race, will plan better for next year but good support and fab views. I finished 11th.
FRA Relays, Sat 14 Oct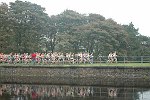 Men: 29th 4:23:34 (20th open team) - Steve Turland 50:23 (37); Lawrence Basham and Dave Wilby 1:24:28 (28); Eddie Winslow and Geoff Howard 1:16:21 (32); Richard Joel 52:22 (30)
Vets: 59th 4:56:09 (18th Vets team) - Bob Hamilton 54:44 (66); Bob Whiteman and Morgan Williams 1:36:37 (75); Ian Marshall and Richard Malir 1:23:47 (50); Pete Shields 61:01 (82)
Ladies: 60th 4:59:00 (5th Ladies team) - Emma Barclay 57:10 (79); Alison Eagle and Sally Malir 1:36:13 (72); Nicky Jacquerie and Alison Weston 1:29:44 (60); Andrea Priestley 55:53 (56)
Results and photos now on CVFR's pages.
WYXC, Huddersfield, Sat 14 Oct
It was a great effort to get out good teams here as well as at the FRA Relays - well done everyone, great to see lots of young and new runners in our teams. Complete results went up very quickly on the sponsor's site here (link at foot of page).

Women, 10th team
24 22:34 Alison Bennett
50 24:17 Di Kitchen
62 25:36 Victoria Stevens
83 28:11 Bernie Gibbons
84 28:24 Sue Stevens
92 31:18 Emma Payne

Men, 11th team
50  35:57 Bob Addey
81  37:27 Paul Davidson
90  37:41 Hector Haines
131 40:17 Dave Matthews
161 42:19 Neil Chapman
162 42:25 Phil Chappell
194 47:44 Andy Kitchen

We had a very good turnout in the junior races too - more here.
Polaris, 7-8 Oct
From Dave Wilby - My partner and I were both first timers for this event but had a fantastic time on some great trails around Swaledale, Wensleydale, Arkengarthdale and just about every other dale or so it felt. We even ventured into the fringes of County Durham on Sunday!
The first day was 7 hours in chilly conditions with a strong wind for most of the day, very tiring work but at least everyone else was in the same position. With no mechanicals we kept up a steady pace and finished the day very pleased to be in 31st position in class out of around 120. Overnight camp was reasonably pleasant, especially the bar and bonfire, and so we set off for day 2 in good spirits. The wind had dropped which made things a good bit quicker and in 5 hours we covered roughly the same distance as we had done in 7 hours the previous day. In total we clawed back 9 places and finished 22nd in class which we were chuffed to bits with for our first go. We'll be back in the Spring to go solo.
Heather Dawe and her partner Helen Jackson waltzed away with the ladies title in convincing fashion, and racked up possibly the highest ever finish for the ladies of 13th overall. Fantastic performance by them, hope Heather slows down for the KIMM ;o(
Heather adds ... The autumn Polaris (mountain bike version of a mountain marathon) was in the Dales at the weekend. Starting from Grinton in Swaledale, on Saturday competitors headed south into Wensleydale, Bishopdale and beyond. The riding was top quality, there were plenty of hills to be climbed, the prevailing westerly wind made the climbs seem longer! The overnight camp was near Muker. On Sunday we headed north from Swaledale, the delights of Tan Hill and the networks of old moorland mining tracks made for another days fine biking.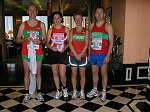 Milano Marathon, Sun 8 Oct
From Debbie Rosen ... Despite our marathon preparation consisting of calf strains (Nigel), bruised coccyx, chest infection and sore hip (Sue), ankle strain and cold (me), all four Harriers - basically the British contingent in Milan - managed to turn in creditable performances. We were slightly worried by the significant lack of fancy dress and also female runners - no wonder you got a 15 euro discount for being a lady - but all gritted our teeth and set off in the morning sunshine.
Keith was off like a rocket with the 3.15 pace group and Nigel managed a PB for the first 10k before settling down to marathon pace and then marathon jelly legs for the last 6 miles. Sue, aiming to cut off somewhere between halfway and 20 miles to avoid further injury found herself not allowed to leave the course unless she waited 90 mins for the sweeper bus! All our meticulous planning of where the metro stations were en route and how to get her back to the main square in time to see us finish was wasted and, despite an 8k walk somewhere along the line, she still managed to get a time that alot of people would envy. I learned a valuable lesson in what it feels like to run a marathon without proper training and with the tail end of a cold, but it's funny how quick you forget once sat in a cafe at the Piazza Duomo, watching the world go by. All in all a great weekend, shame that Sue was the only one to take in any sights en route - we were all to busy concentrating on the cobbles, tram tracks, random bicycles and trying not to get mown down by impatient cars!
milanocitymarathon.gazzetta.it

754  Keith Wood     3.38.59
762  Nigel Tapper   3.39.33 PB!
1284 Debbie Rosen   3.56.58 PB!
1776 Sue Bickerdike 4.29.07

Bronte Way, Sun 8 Oct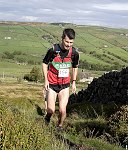 Bob Wightman reports ... Six Harriers eschewed the delights of Harewood House and joined the 190 souls who braved the no-mans land between God's county and Yorkshire by taking part in the 2006 Bronte Way. Unusually the race is a point-to-point, starting at Wycoller Country Park and finishing at The Fleece Inn in Haworth, competitors are spurred on by the thought of the pint of Timothy Taylors beer handed out to all finishers.
Marketed as a good introduction to fell racing, the course is eminently runnable (even by old duffers like me) and, with the exception of the gill running down from Water Sheddles reservoir, is good going underfoot. Despite the recent rain, this section was the only "damp" part of the course - some people are going to have to learn how to tighten laces. Judging by the number of blooded shins, the plastic stiles claimed a few victims again.
For the record:

28  Richard Joel     1:04:02
55  Bob Wightman     1:09:05 
61  Daniel Goody     1:09:54
97  Alastair Bateman 1:16:02
128 Sue Booth        1:21:36
178 Richard Midgley  1:37:11

The race was won by someone called Ian Holmes. Full results at www.fellrunner.org.uk/results/race06/bronteway.txt
Harewood 10m Trail, Sun 8 Oct
Pete Bedwell reports ... Just a quick report from the Harewood 10. Mild weather and no wind and fairly dry underfoot made this a very enjoyable run. Plenty of Harriers there, Pete Shields and Jamie Hutchinson battling it out for the League top spot, Bernie Gibbons, John Brown, Ian Hargreaves to mention just a few.
Was a bit worried about my left hamstring that had gone during the GNR the week before however the softer conditions were obviously more suitable and apart form a slight warning twinge as we started on the road round the reservoir which went once I'd slowed down slightly till we got off the road, it held up fine.
As usual the uphills were more of a problem for me, although I did get past around 10 road runners on a fast downhill stretch at around 8.5 miles, most of them went past me again on the big hill in the last mile. I managed to redeem myself with a flat out sprint to the finish line, to my suprise I overtook about another 8 or 9 runners without one of them responding, the hill must have been just as hard to them as it was to me.
Ended up in 83.11, almost 2 minutes faster than last year so pretty pleased, Ian Hargreaves came in just over 90 minutes but I couldn't stay around after the finish so not sure of the rest, no doubt a lot of good points for the league. A very enjoyable run out, will be back again next year,
Provisional results from Valley Striders web site.

1    56.24 John Wangobi
7    61.22 Jamie Hutchinson
35   66.28 John Atkinson
49   67.57 Nick Richardson
56   68.25 Bob Hamilton
92   71.31 Philip Judd
99   72.22 Neil Chapman
110  73.02 Pete Shields
189  79.55 Di Haggar
196  80.26 Anthony Swanepoel
243  83.12 Pete Bedwell
349  90.34 Ian Hargreaves
375  92.44 Bernie Gibbons
396  94.29 John Brown
406  95.11 Peter Hollands
451 101.00 Laura Beadle
481 104.56 Amanda Parnaby

This was a counter in the Ilkley Harriers Running League. Some good points were gained. Pete Shields has the lead in the XC/Trail category and the overall competition. But Jamie has 3 races in XC now and 9 races overall and is looking like a serious challenger - will Pete finally be toppled at the WYXC in December ...
Neil Chapman reports - We had some great results in the Harewood 2 mile race, from four Junior Harriers and two who have just moved to the senior club. In this tough two mile race with a long climb towards the end, there were almost 250 runners, and for many of them this was a serious race.
The highlights what an impressive run Will Plastow had finishing 2nd and catching the leader fast over the long climb, but the finish came just a little too soon for him. Elliot Dawson also had a good run, completing only his second race after a 6 months gap. Not far behind was Catherine Gibbons who finished 2nd female, 1st in the 15/16 age category with a record time of 13.36 for that age group. Sam Haggar went off fast and maintained his pace to finish 20th in 14.22, not too far behind Catherine. Bradley Chapman had his work cut out, due to a slight problem at the start, which resulted in him setting off 10/15 seconds after the race start. Nevertheless he battled through to finish 40th in 15.22. Our final Harrier was Eileen Gibbons, who knocked over a minute off her last years time and finished strongly in around 21.00 minutes. Great performances from them all.

2   11.43 Will Plastow
6   12.55 Elliot Dawson
12  13.36 Catherine Gibbons
20  14.22 Sam Haggar
40  15.42 Bradley Chapman
126 21.28 Eileen Gibbons
137 22.00 Odin Hargreaves-Madhas
141 22.10 Raj Madhas
208 25.26 Logan Hargreaves-Madhas
209 25.26 Lynda Hargreaves

Bramham Park 10k, Sun 8 Oct
From Linda Wright ... Linda Wright 49.50; Andrew Wright 56.00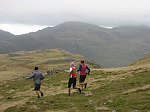 Langdale Horseshoe, Sat 7 Oct
A long classic - 14 miles with 4000' of climb.
Provisional results from www.amblesideac.org.uk

1   130.43 Nick Fish Ambleside
49  156.51 Steve Turland
53  158.43 Lawrence Basham
140 179.49 Kevin Gooch
156 181.47 Richard Malir
232 205.29 Simon Harry
271 217.23 Jon Tindall
276 219.25 Rachael Gooch
292 224.48 Jemma Basham
324 finishers

Coniston Trail 14k, Sat 7 Oct
Fiona Schneider reports ... I counted 5 IHs in the line up of this wonderful trail race. It was perfect weather on a scenic route. Apologies if I missed anyone.

David Schneider  (U18)  1:15.01
John Coates      (V40)  1:23.52
Ann Stead        (LV50) 1:37:16
Fiona Schneider  (LV40) 1:40:30
Les Atkins       (V50)  1:47:51 

Ian Hodgson fell relays, Sun 1 Oct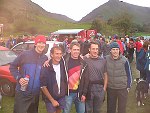 Bob Hamilton reports ... Open Team 9th in 4.13.16, believed to be the club's best result ever. Iain Gibbons and Dave Wilby ran brilliantly to come back in 1.21.51 and 16th place on the most competitive 1st leg. Jim Ryder dragged me around the short and fast 2nd leg in 40.28 (9th position on leg), bringing the team up to 13th place. Jamie Hutchinson and Lawrence Basham ran their hearts and legs out to pick up another place, coming home in 1.16.08 (17th position on leg) and moving us up to 12th place. This gave the star pairing of Hector Haines and Graham Pearce a platform to go for a much coveted top ten position, and they did the club proud, storming around in an astonishing 54.52 (4th position on leg!), clawing back 3 more places to bring the team home in 9th. This was without doubt the best relay performance I've ever had the privilege of being involved in.
Fuller report to follow later in the week.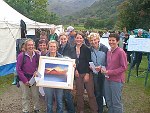 From Richard Malir ... Ilkley Ladies victorious in the prestgious Ian Hodgson Memorial Relay for the third year in succession. Greasy conditions prevented the girls improving their own course record but their margin of victory was nevertheless quite confortable with Dark Peak second placed. Helen Ilsley and Andrea Priestley led the team out on the first leg but had to contend with Bingley's best pairing, the girls came in second setting the leg two runners off within striking distance of the race lead. On leg two Sally Malir and Emma Barclay set a fastest time for the leg on the day and in so doing overhauled the Bingley team to set leg three off with the race lead. Nicky Jacquiery and Heather Dawe blitzed the mainly uphill leg three with another fastest leg time to launch pocket rockets Alison Weston and Alison Eagle up Red Screes and into the mist to perform their usual navigational wizardry. The Alisons strode to the line holding off two Borrowdale girls (part of a mixed team) for a fine finish.
All present were delighted, what with the girls and their continued success, plus the Mens' Open Team and its fine performance. As the photos (soon) show all the runners were thrilled with their successes and are already looking forward to running next year's event.
Full results on the sportident web site here.
Some more great photos from Iain Gibbons

here.
A footnote from Bob ... A blast from the past! I couldn't resist trawling through an old cardboard box to hunt down the results of my first 'Ian Hodgson' for the club. In the November edition of "The Harrier" I found a write-up of the 1992 event. Although this year's 9th was the best position ever recorded, the current team were some considerable way off the club record in terms of time.
Back in the good ol' days then, we had:

Leg 1    James Parker, Bob Hamilton    1.17.14     9th fastest
Leg 2    John Connor, John Ellis         40.08    13th fastest
Leg 3    Jon Sage, Mike Baldwin        1.12.43    15th fastest
Leg 4    Reg Haigh, Steve Cockerham      56.24    12th fastest
Overall                                4.06.29    12th

So, you youngsters, you've still got some hard training to do yet!
Great North Run, Sun 1 Oct
Jonathan Sinclair was 182nd in 1h20:31; Mark Iley was 310th in 1h25:29; David Brown 589th in 1h29:58; David Cockshott 3378th in 1h44:20; Nick Mellor 4472nd in 1h47:40; John Coates 5107th in 1h49:19
Pete Bedwell's report ... mild weather and a new colour coded number scheme meant that this year all the sub 1.50 hour runners did not have to cope with rows of walking charity runners within a mile of the start. Unfortunately this much faster than expected start was wasted on me as my hamstring which I'd pulled for the first time on Wednesday, only lasted just under 2 miles. This meant that I did a jog/hobble/lurch type run for the next 3 miles at around 11 min miling which gradually speeded up as the hamstring faded into a dull ache . I even started to overtake people towards the end, finishing with a 7.30 min miling lurch along the seafront and ended up finishing 13,112st in 2h04.48. A new Personal Worst but actually quite satisfying under the circumstances. Hopefully will have a bit more endurance at the Harewood 10 next week.
Open 5, Malham, Sun 1 Oct
Tim Ashelford reports ... For something different I did an "Open 5 Adventure Race" in Malham on Sunday. You get 5 hours to navigate around as many checkpoints as possible. Travel is on foot and Mt bike, you decide how much of each, but to score plenty of points you need to do a a fairly even balance of both. I competed in the male pairs and finished 6th. Other Harriers included Jo Foster who finished 7th in the ladies solo class and Eddie Winslow was 8th in the mixed pairs.
Helwith Bridge Duathlon, Sun 1 Oct
Vic Verecondi reports ... Two Harriers successfully completed the tough duathlon course in the Dales today... The race was 4 miles run, 23 miles cycle, 4 miles run again... A well organised race with beautiful scenery to be enjoyed (particularly on the cycle leg)... For both myself and John Atkinson it was most pleasing to achieve such good results considering a lot of the opposition had the most flash road bikes and an endless array associated kit... A great morning.. Must admit transitions are a hassle...
Results:

26th John Atkinson   Run: 27:19  Cycle: 1:12:55   Run  28:02   Total: 2:08:16
64th Vic Verecondi   Run: 35:27  Cycle: 1:33:55   Run  34:34   Total: 2:43:56

Kirkstall 10k, Sun 1 Oct
Catherine Gibbons was 154th in 48:16 and Bernie Gibbons and 255th in 53:24
News 2007
|
News July-Sep
NB:
you may need to refresh this page, depending on your web browser settings, to get the latest news updates.