Arrochar Alps, Sat 30 June
From Graham Arthur ... This classic hard AL was revived this year by a keen bunch from Westerlands. The course is nominally about 13 miles and 7900 feet, mainly on rough terrain. Not in time to make the calendar, and faced by a poor weather forecast, it still attracted 46 starters. Opinion was not clear on whether or not it is tougher than the Jura, but it attracts the same sort of aficionados, and the atmosphere was superb. Supported by Fyne Ales, there was even a barrel of free ale to accompany the excellent nosh at the end. All the tops were in mist which lowered as the rain and wind came on during the race. Temperatures were quite low, and it was wise to put on your regulation kit at an early stage. Navigation was not (!) straightforward, and next year I shall go more with the flow rather than thinking I could find quicker "shortcuts". They might look shorter on the map, but … . The winning time was 3 hrs 34 mins. My time, at 29th, was 5 hrs 12 mins, but I am sure I could shave a good quarter of an hour off that with better route choice (of course).
Eldwick Gala fell race, Sat 30 June
From Jamie Hutchinson ... Eldwick gala was to say the least a bit of a wet one. The quick up and down 3 miler was won by Ian Holmes with Graham Pearce in 3rd then Jamie Hutchinson in 6th.

1   17.12 Ian Holmes
3   18.27 Graham Pearce
6   19.37 Jamie Hutchinson
29  23.56 Elliot Dawson  1st U18 (Elliot - GP has a prize for you)

HRL #4, Wetherby, Wed 27 June
Sarah & Marc report ... Despite the dramatic weather conditions this week, forty two Harriers braved the trip to Wetherby for this surprisingly cool, calm and sunny Wednesday night, outnumbering our league competitors at the fourth event of the series. It was again lovely to see an array of red and green vests, with yet more new faces racing for the first time with the club. The lollipop style course proved flat, fast and mentally challenging to those of us who prefer some undulating interest to our running. This certainly favoured a number of our members, judging by some of the excellent individual results. Also of note were some impressive sprints at the fast finish, most notable of which came from Amy Bateson, Sheena Pickersgill and Tim Bull (thanks Tim!).
The great turnout saw the SuperVets team repeat their success at the Harrogate race with another victory in their category. However, Otley have built up a big lead from the first two races and we will need a monumental effort to catch them at the last race. The male Vets had success with their highest placing so far, achieving second on the night and consolidating their third place overall. The Elite men's results were also impressive with a fourth place on the night, securing a move up from sixth to fourth position overall. The ladies teams fared less well, coming second in the ladies Open and third in the lady Vets on the night. However, we have narrowly maintained our overall lead in these two categories and again will need a determined effort next week from all of our ladies.
Results and photos, and details of the next race at Esholt on Tuesday 3rd July (yes, next Tuesday!) on www.harrogate-league.org.uk
Congratulations to John Atkinson whose good run takes him to the top of the Ilkley Harriers Running League.

1	28.55	IAN FISHER 
10	32.38	JAMIE HUTCHINSON
12	32.50	NICK RICHARDSON
14	33.12	DAVE WILBY
32	35.03	DAVID BROWN
33	35.03	JOHN ATKINSON
44	36.00	JEFF PAGET
47	36.05	GEOFF HOWARD
50	36.31	TIM BULL 
51	36.33	SARAH JARVIS
54	36.55	MARC TEASEY
61	37.15	PHIL HIRST
62	37.15	PHILIP JUDD
72	37.41	ALISON BENNETT
78	37.53	SIMON CHAPMAN
96	38.51	ANDY WILSON
100	39.13	PETER SHIELDS
103	39.28	AMANDA ODDIE
108	39.42	ELIZABETH MCCANN
117	40.04	SAM KITCHING
118	40.05	NIGEL TAPPER
119	40.12	JOHN COATES
126	40.40	DAVID COSKSHOTT
145	41.31	KEITH WOOD
147	41.35	JOHN MARSHALL
169	43.23	SUE BICKERDIKE
172	43.32	PETE BEDWELL
185	44.45	NICK MELLOR
188	44.54	CATHERINE GIBBONS
192	45.00	JEAN SULLIVAN
208	45.45	DON MACRAE
212	46.01	PATRICK GIBBONS
213	46.11	ALEX LEWIS
227	47.37	BERNADETTE GIBBONS
245	51.28	ANN STEAD
246	51.46	DAVID MILLSON
251	52.06	SHEENA PICKERSGILL
258	53.07	RICHARD GRAY
261	54.49	ROS LEACH
263	55.05	AMY BATESON
268	56.18	AMANDA PARNABY
270	58.10	HEATHER DUKE
275	61.32	BRIAN SWEET

Beamsley Beacon fell race, Wed 27 June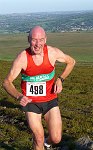 From Bob Hamilton ... A few slightly guilty renegades sneaked off to Addingham to run the Beamsley Beacon Fell Race. This is a race that tends to draw people back year after year - if they actually get to find out when it's on, which more than the usual number of people did this time around! After the exertions of the Pyreneean Raid the previous week (460 miles and 37,000 ft of climbing in 100 hours), both Mike Baldwin and myself were having our first run in weeks and we agreed afterwards that the abstinence felt more like a year. The running muscles seem to have atrophied in response to all those hours in the saddle. Ian Rowbotham carried the colours for Ilkley despite going astray again (although not as badly as last year and not nearly badly enough to allow me to get ahead), but most importantly, I managed to beat Mike and avenge his victory in the Dick Hudsons race. I also enjoyed a good contest with the fast improving Dave Cummings, which I had to conceed on the descent to some very much quicker legs. Hopefully next year we can avoid a clash with the HRRL and get a really good Ilkley turnout.

1.   Owen Beilby (Wharfedale)      37.11
12.  Ian Rowbotham                 42.45
21.  Dave Cummings                 45.25
23.  Bob Hamilton                  46.20
28.  Mike Baldwin                  47.46

58 finished 

For some photos from Phil Atkinson, click on Mike ...
Jane's Run For All 10k, Sun 24 June
Harriers seen in the results on runforall.com:

47     40:30  Helen Isley         4th lady
64     41:31  Ralph Tench
184    44.27  Charles Oxtoby
242    45:17  John Marshall
281    45:51  David Cockshott
502    48:34  Nick Mellor
614    49:40  Robert Wills
679    50:13  Dave Taylor
853    51:35  Elaine Cossins
1466   55:29  Robert Whiting
1587   56:09  Nigel Tapper
1903   57:50  Emma Payne
1930   57:54  Lizzi Mcandrew
2794 1:02:09  Amy Bateson
3171 1:03:57  Joanna Taylor
3216 1:04:12  Robert Payne
4259 1:09:50  Brian Sweet

BMW, Sun 24 June
Report from Sue B ... So, a triumphant day at Bradford Millenium Way, with Ilkley Ladies winning! The men's team did exceptionally well coming 4th as did the vets in an impressive third, but I'm sure Marc will tell their tale!
On a day of mixed weather the Ilkley Ladies ran awesomely to regain the title from their nearest rivals Bingley. Led off by Jan Belton and new member Brenda Ogden we got off to a solid start, on what is a tough and sometimes treacherous leg. Second up came Alison Bennet and Di Haggar, who bravely ran through injury, to keep Ilkley in with a fighting chance. Then onto leg 3, myself and Helen Horton, we ran well to keep our place and pull some time back on the leaders. Then a majestic leg from Sarah Jarvis and Amanda Oddie. They took 8 minutes from Bingley and gave the last leg runners Alison Eagle and Joyce Marshall the chance to seal victory. They ran brilliantly and romped home with a minute and a half to spare ( although it was quite tense until the actual results came through!).
Every single member of the team deserves special mention - new members Brenda and Helen, for giving their all and diving head first into the unknown and running extremely well. Jan has been a stalwart team member, being the first to say yes and never deviating from that! Alison B, always supportive (and always brings support!) and Di running through injury to get the team round, probably at detriment to herself. Sarah and Amanda, well, running beyond all expectations and especially Sarah, always being on the end of the phone if I needed help. Alison E and Joyce - they ran or were expecting to run the Bob Graham round the previous evening and hot-footed it back from the lakes to run the last leg - what commitment!
Alison and Joyce were just 29 secs off a leg 5 record (club) that has stood since 2002. Oh to be that rock hard!
But there's always more to these races. It's fantastic to win, and well done everybody, but from me, thank you to those people who have been unable to run but have put forward names to try, thank you to partners, spouses, children, friends, random acquaintances, who have ferried and taxi'd to recces and to the race, and to the friends who have who have done the childcare whilst we've been out. Thanks to those who tried, but had to pull out due to injury. Finally, a big thanks to those who have like me spent endless hours on the phone sorting out the teams and giving inspiration.
Next year let's do it all again! (by the way I'll run leg 3)
From Marc Teasey ... Another great day for Ilkley men and women! And another great day for team work. The women's team reclaimed their title, having come second for the last 3 years. The men's team (in spite of the dramas of "FastBobgate" and "PhilandDavegate" - don't ask!) achieved their highest ever position in the competition, on the way breaking the club record for 3 of the legs ( well done to Jamie and Steve, Dave and Adrian, Ben and James) and for the overall course time. We also entered a Male Vets team for the very first time – technically therefore a club record was set on every single leg by our older and wizened gents. All three teams finished well within the top half of the competition, again showing the strength in depth of the club, as does the fact that some of our newer members turned out for their first off-road relay (special mention should go to James who ran so hard to set a new club record on the last leg with Ben that his nipples were leaking). With the winning team finishing only 4 minutes ahead over this 50-mile course, next year could be the one where we take our place on the podium, particularly if the club continues to develop and improve as it has over these last 12 months. I'd also suggest that a sub-6 hour time is a tantalisingly close target for the future.
The Vets team did superbly well, finishing as 3rd Vets team, and 10th overall, which is nearly as high a position as our Open team achieved last year. Great willingness, spirit and support were evident right throughout the team – everyone was so positive about how their partners had helped them through those painful, difficult or challenging bits. Running can so often be seen as a solo sport and it can be easy to forget that we are part of a club, with responsibilities to the club and to its members as soon as we pull on that red and green vest. Relays and team events like this are the best possible reminder of the joys of supporting and bringing the best out in each other. If you've never done one before then sign up at the next available opportunity!

Men's Team - 4th in 6h13:28, which is a club record by about 8 mins, and the highest position we have ever achieved in the history of this competition.
Leg 1 - Jamie Hutchinson + Steve Turland: 79.57 (2nd fastest leg on the day and a new Harriers leg record!)
Leg 2 - Dave Wilby + Adrian Hall: 78.30 (5th fastest leg and also a new Harriers leg record, bringing the team in 3rd)
Leg 3 - Bob Addey + Paul Davidson: 64.13 (6th fastest leg, team position now 4th)
Leg 4 - Dave Brown + Phil Judd: 74.50 (2nd fastest leg on the day, moving the team back up to 3rd)
Leg 5 - James Wood-Robertson + Ben Stevens: 75.58 (3rd fastest leg and yet another Harriers Leg record), bringing the team to a finishing position of 4th.

Team 2 - 3rd Vets team and 10th Overall in 7h08:39
Leg 1 - Pete Bedwell + Keith Wood:107.56 (3rd Vets team and 26th overall)
Leg 2 - Marc Teasey + Jeff Paget: 82.36 (fastest Vets team, 12th fastest overall team, moving the team up to 17th overall, but still 3rd Vets team)
Leg 3 - Pete Shields + Phil Atkinson: 65.48 (2nd fastest Vets team, 7th fastest overall team and still 3rd Vets team overall, moving up to 10th in the overall competition)
Leg 4 - John Coates + Phil Jones: 86.51 (3rd fastest Vets team, 12th fastest overall team and still 3rd vets team overall, team now in 11th place overall)
Leg 5 - Clive Smith + Ian Marshall: 85.28 (2nd fastest Vets team, 9th fastest overall team, finishing as 3rd Vets team overall and 10th team in overall competition)

Ladies Team - 1st Ladies team and 14th Overall in 7h25:37
Leg 1 - Jan Belton + Brenda Ogden: 101.07 (4th Ladies team, 21st Overall)
Leg 2 - Di Haggar + Alison Bennett: 97.22 (3rd Ladies team on the leg, moving up to 3rd ladies team and 22nd overall)  
Leg 3 - Sue Bickerdike + Helen Horton: 75.01 (Fastest ladies team on the leg, keeping ladies team position as 3rd and 23rd in overall competition)
Leg 4 - Sarah Jarvis + Amanda Oddie: 81.25 (Fastest ladies team on the leg, taking the lead in the ladies competition and up to 15th overall (!))
Leg 5 - Alison Eagle + Joyce Marshall: 90.42 (Fastest ladies team on the leg, bringing the ladies team home first and up to 14th overall).

Humber Bridge Half Marathon, Sun 24 June
John Atkinson reports ... on this tough half marathon. The sun shone for the duration of the race which starts on the north bank of the Humber before crossing the bridge (1410m long) to run apprximately 8 miles on the south side, then back over the bridge to the finish. I struggled after the long climb at 9 miles finishing in 1.28.17.
Settle Hills, Sun 24 June
Nick Pearce reports ... A family day out in Settle gave Graham the opportunity to do the Settle Hills race on Sunday. Run over a 7 mile course with 1750 feet of ascent, Graham took the lead at the top of the first climb, pulling out a good margin over the rest of the testing course to finish a clear and comfortable winner in 52.05.
Burnley Boys Club 10k, Sun 24 June
From Terry Lonergan ... Doubtless some members not up for the Millenium Relay or the mass entry Jane Tomlinson Leeds 10k, spotted this Lancashire race but decided against it. In many ways they chose correctly. Part of the Pendle Grand Prix and based at Barden Athletics Track near Burnley the race was "advertised" as road, canal, road. Despite being a public recreation facililty there are no signposts at all for the track which is mysteriously set amid back streets of terraced houses. No start or finish banners, no kilometre markers; through housing estates, up steps, overgrown paths, bike barriers, just 50 metres on the canal, trail, kids on bikes….showers but no water! No results on the day. Limited prizes.
However, if you like "small and friendly" (109 ran),cheap entry, informal low key atmosphere and are just content to have a good solid run on a convoluted course then fine, well worth the short fast journey on a Sunday morning.

Terry Lonergan 1st M55? 40.46
Pat Lonergan            52.00

Lairig Ghru Hill Race, Sun 24 June
From Graham Arthur ...
Saturday 23rd: Reccied the final section of the Arrochar Alps, the descent from Ben Narnain, 
to see whether I could concoct a crafty shortcut through the crags, ravines and forests.  Looking good.
Sunday 24th: Ran the Lairig Ghru Hill Race.  Rain held off except for some light showers over the high pass itself.  
Quite cold in the NW wind at the top.  Much rockier and rougher in the middle section than I expected.  
28 miles, CL.  Approx. 4.5 hours, 25th out of 76 finishers.  Beat the first V60, annoying since I am 59½ .
Monday 25th: Thought you might like to know that it has been dry – even sunny intervals – here in the highland

Otley 'Beat the Clock 5k', Wed 20 June
Sarah Jarvis reports... Four Harriers made it to the 'Beat the Clock 5k' road race sandwiched between the annual Otley bike races. This gruelling course was not the quickest and the clouds of fish and chip smells added to the heady and humid atmosphere. Nevertheless, the opportunity to run in a competitive field in front of large crowds was both motivating and inspiring. The quality field of men was led home by Ian Fisher in front of his cheering local crowds, while an equally strong ladies competition was won by Amy Green of Keighley & Craven. A great turnout of Harriers supporters certainly helped me overcome my cowardly urges to run and hide in the Waitrose loos when faced with the steady climb up Burras Lane. Special mention goes to Graham who has transferred his excellent form on the fells to the roads by posting the fastest Harriers 5k time in recent years, all the more impressive for the challenges of this undulating course.

11 16.16  Graham Pearce
39 19.17  Sarah Jarvis  4th lady
40 19.19  Jeff Paget
46 19.42  Alison Bennett

The qualifying time of 23 minutes to compete in this event could be a useful target for many of our members. The ongoing time trials will undoubtedly offer everyone the opportunity to measure their progress and to build towards what should be a very achievable target for the majority of our members next year.
Results on Otley AC's site
Photos on David Brett's site
Freckleton Half, Sun 17 June
From Pete Bedwell ... Quick report from the oldest running half marathon in England and definitely one of the friendliest and best organised even down to the parking spaces marked out on the playing field, the fair at the start/finish and the announcer mentioning you by name as you come to the finish.
A bit undulating and very warm again (my excuses) and I don't think the 2.00 am family BBQ the night before helped, but I was happy enough with my 1.50.16, 243rd out of 497 finishers, Terry Lonergan was 42nd in 1.27.53 his second time at the event in 30 years as he will no doubt expand on with a proper race report later! John Coates was also flying the Ilkley flag and stormed home in 193rd in 1.45.52
This really is one of the all time classic halfs, superbly organised, well supported especially at the start and finish, one of the runners I was chatting to commented that it felt a bit like the FLM, and he was right, great atmosphere but thankfully half the distance!! and a very nice Freckleton Mug as a prize, along with the glass from a couple of years ago, will actually be one of the prizes I will treasure and use constantly.
From Terry Lonergan ... In the years I have been racing there are hundreds of events which have come and gone. Many sprung up during the '80s. Every village, town and city hosted a marathon. Locally we had the Ilkley 8, the Otley ½ marathon, the Harry Ramsden's 10 miler, the Telegraph and Argus marathon, the Leeds Pearl Assurance half marathon. All gone. Yet some races from the seventies still survive. On June 18th 1977 I ran the FRECKLETON HALF MARATHON i n Lancashire for the first time and have been back most years since. So how could I refuse this year when I was sent an invite and a complimentary number!
Today's race typifies how the sport has changed. Today running is not elitist or exclusive. The base of the "pyramid" is so much wider but paradoxically the peak is shallower. In 1977, the winner's time was 66.37. My time of 72.13 was only good enough for 20th place. It was a small field with few "unattached". The winner today, Ben Fish of Blackburn, ran 69.44 with second 72.45. 20th place ran 83.17. How times change but great that so many more people are enjoying the sport at whatever level.
Me? Despite training virtually daily for the last 30 years I failed to improve on my 1977 time!!. Back to the drawing board then..where am I going wrong?
But seriously, well in the hundreds after 2 miles I worked through to 42nd (0f 497) 3rd v55 in a time of 87.53.
Also running were JOHN COATES , 193rd in 1:45.52 and PETE BEDWELL, claiming the scalp of European marathon champion Ron Hill, 243rd in 1: 50.16.


42  Terry Lonergan 1.27.53 3rdv55               
193 John Coates    1.45.52
243 Pete Bedwell   1.50.16 

Kettlewell fell race, Sun 17 June
From the new BOFRA web site, Iain Gibbons was 11th in 15.18; and Norman Bush 38th in 17.48
Montee Pedestre La Combloranne, Sun 17 June
From our European Correspondent ...
The French Alps ski resort of La Cry near Combloux Mont Blanc, hosted the 12th Montee Pedestre La Combloranne, situated amongst beautiful alpine meadows.
The course covered 18km and 1000m of ascent. Starting 1180m above sea level the course wound its way through a mixture of very runnable forest tracks and alpine meadows, arriving at 1700m, before descending back to the La Cry.
Due to recent heavy rains, the course involved negotiating muddy puddles, much to the delight of the English and not so much to the white "trainered" French contingent.
Emma Barclay, competing in her first alpine race of the season, took 1st lady in a time of 1hr 36mins.
Another good race, complete with good after race atmosphere, including pasta party, accordion playing 8 year old and the ceremonial French cleaning of trainers, before the everlasting prize giving.
The event also held races to suit everybody's needs; there was a 4km race for the juniors and a 13km Marche sportive for those wanting a shorter distance to walk or run.
Buckden Pike, Sat 16 June
From Graham Pearce ... A few Harriers turned out for this long-running classic fell race run as part of Buckden Gala. Gala crowds were a little down on previous years probably due to the weather, but still a strong field of runners toed the start line. The stream crossing wasn't as bad as feared, and not too wet on top considering the downpours of the previous few days. In fact the sun broke through and it was actually quite hot up there today! Some great runs most notably from Alison to get 3rd lady and also Rowbo steaming down the descent like a man possessed to get 16th overall.

1   33.27 Rob Jebb Bingley
3   35.42 Graham Pearce
16  40.49 Ian Rowbotham
19  41.04 Steve Turland
57  47.13 Alison Weston 3rd lady
84  51.51 Graham Arthur

Otley 10, Wed 13 June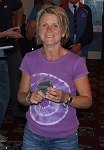 From Nick Richardson ... The conditions were cool and wet with a slight breeze. There was a lot of discussion as to whether these were ideal conditions or not. We concluded that they were better than sweltering sunshine but possibly the rain was a bit too heavy. It is a hard course with a fast start and a good amount of climbing. We had some great results! I assume that Ian Fisher won. Jamie Hutchinson led us home in about 58 mins, and somewhere around 7th or 8th position, followed by me in 61:30, John Atkinson in 65:30, Sally Malir in 69 mins and Simon Chapman came in just over 70mins. There were others there and I apologise for not hanging around to collect all the results. Many thanks to the scattering of Ilkley supporters braving the rain to offer cheers and encouragement at crucial moments.
Report from a very wet Terry Lonergan ... Losing its status as a Harriers League event saw members numbers down to 12 from last year's 33 for this tough Yorkshire Championship event. Despite the cool, extremely wet conditions 343 turned out to tackle the very testing 10 miles. Maintaining his good results in all aspects of the sport, versatile Jamie Hutchinson improved 10 places and over 3 minutes on 2006 in an excellent 7th place (58.54) Nick Richardson continued his good form this year with 61.33 for 15th place and young Simon Chapman stood out (mind you, he is tall!) with his time of 70.11 in 77th place…more to come there though.
Sadly, only 2 Harrier ladies turned out for a race in the next town! With similar no shows from Bingley, Leeds City, Ackworth etc. Yorkshire gold medals went to Rothwell with 55 points!. Undeterred, Sally Malir was 4th overall but took county bronze and 1st v40 in 69.27 (70.00 in 2004) Our other participant Brenda Ogden ran solidly in 82.35. Ian Fisher and Amy Green (Keighley) were county champions.
With such a moderate turnout from Yorkshire teams in the mens event as well (I didn't see any Leeds City at all) perhaps the "powers" need to select a faster race held on a Sunday for this championship?

8   Jamie Hutchinson 58.54
15  Nick Richardson  61.33
40  John Atkinson    65.36
68  Sally Malir      69.27
77  Simon Chapman    70.11
158 John Woodward    76.00
190 John Marshall    79.20
191 Dave Cockshott   79.32
208 John Coates      80.45
224 Nick Mellor      82.23
227 Brenda Ogden     82.35
261 Don Macrae       86.45

Full results on the Otley AC website.
Photos on David Brett's site
Laycock fell race, Sun 10 June
Nick Pearce reports ... Victory for Graham Pearce at the Laycock Gala fell race on Sunday. This local event, run over 4.5 miles with 900 feet of climbing attracted a small field, with Graham building on recent strong performaces including two second placings in the past week to romp home the clear winner.

1  30.50 Graham Pearce
15 40.41 Graham Arthur

Morecambe 10k, Sun 10 June
From Andrew Bennett It was a responsibility that was never going to sit easily, the only Bennett, nay the only Harrier and bar one the only affiliated representative of what some refer to as God's own county. A flat and fast 10k with every possibility of PB was the received wisdom and that was my line at 8.20am as I tried to coax the proper runner in the family to join me in this away day. 'It's going to be very warm ' was her excuse .' Nonsense ' was my reply. 'Ever heard of the ameliorating effect of the sea on temperatures not to mention sea breezes and frets? I left alone feeling confident that temperatures would plummet this side of Gargrave and that I that I had been prudent in packing hat and gloves.
What price a woman's intuition! Yes, the route out to Heysham is flat and in the right temperatures would be fast (to some) but in glaring sunshine, high midday temperatures, no wind, tarmac surfaces and shadeless promenades – to this runner no chance! Fortunately extra water stops were provided but there were still several runners requiring first aid attention due to the heat. For my part the thought of Alison at home perusing the life policies meant that I took it steadily. At one stage I caught sight of my reflection in a shop window and from the colour of my face realised I was probably pumping out more kilowatts than Heysham A and B reactors combined.
The end result – a personal worst 1:02:19. First male Matt Moorhouse Salford Harriers 32:42.
White Rose cycle, Sun 10 June
From Jo Foster ... Fancied something a bit different this summer and decided to do the White Rose Classic Cycle Sportif. Riders can choose from 3 distances - 185, 133 or 60 km. I opted for the middle distance. At 82 miles this was more than I'd ever cycled in a day previously! A fantastic, scenic route from Otley out into the Dales with great flapjack, bananas and lots of hills. I was pleased with my 6.08 finish time (5.55 cycling time according to my computer!) and would certainly do another. I know other Harriers were doing it but no results seen as yet. Jamie Hutchinson appeared for a chat at one point, looked good and then zoomed off into the distance but not sure who else was out there! I think Cap'n Bob may have been out and about! One thing I would say though, cyclists are no way near as friendly as runners!
Bob H adds ... I can add that I was indeed there doing the WWC, the 117 mile route, enjoying a fantastic day out in perfect weather, finishing in 7.35 and tantalisingly close to the gold standard that's become my holy grail! Jason had another superb ride in some unfathomably fast time. I discovered that Dave Cheesewright is just as much an animal on the bike as he is on the fells - not sure of his time but it was very respectable and apparently included quite a bit of waiting around for his riding partner. Paddy Hagen got around in an excellent 8.45 and new (or about to become) member Mike Hopkinson came home just behind me in about 7.45. If you're interested for next year then there is an article about the ride at www.cyclosport.co.uk (featuring a picture of yours truly).

185 kms, 3911m climb, 395 finishers

8.      6.24.09    Jason Helmsley
95.     7.35.56    Bob Hamilton
106.    7.42.47    Mike Hopkinson
227.    8.29.19    Dave Cheesewright
275.    8.45.42    Paddy Hagen

133 kms, 2700m climb, 150 finishers

12.     5.10.44    Jamie Hutchinson
29.     5.29.52    Charles Oxtoby
80.     6.08.01    Jo Foster

80 kms, 1702m climb, 75 finishers

3.      3.05.32    Harry Tarrant (Junior)
50.     4.45.56    Bryan Websdale

LAMM, 9-10 June
From Holly Williamson My friend Catherine Brennan and I entered the C Class in the Lowe Alpine Mountain Marathon which was held at Glen Lochay. It was a brilliant weekend with fantastic weather and a lovely overnight camp location. We finished first ladies after day one and took part in the 'chasing start' on day two which made us so nervous we made a bad route choice at the start! We finished first ladies and 28th overall out of 154 finishing the C class in 10h25. There were a few other Ilkley Harriers taking part and I am sure they will all email their own stories.
Dan Goodey adds ... Phil Jones and I also ran in the Lowe Alpine Mountain Marathon this year. We competed in the A class and finished in 27th place with a time of 16hrs and 21 minutes. We were towards the back of the field but were pleased with a generally consistent race over the two days. Conditions were good if a bit hot on the Saturday, Sunday really was perfect – warm, good visibility and dry throughout. It was good to meet up with some other harriers on the overnight camp for a chat and to compare stories of the day. For me it is often a relief to finish a mountain marathon without picking up any injuries, particularly so this year as Phil and I had to lead groups on the 42 mile Lyke Wake Walk the next day!
Also spotted in the results at www.lamm.co.uk: Ian and Joyce Marshall 42nd out of 83 on the B course, Kevin and Rachael Gooch 101st oiut of 138 in 12h54 on the C; and not a member but many know Steve Bottomley who with his partner won the Elite Class - £500 and all expeneses paid to a Swedish MM!
New training sessions
Looking for some variety in your training? Why not try a Monday bike ride, or join in the new core strength training sessions on Fridays? More info on the training page.
Enerdale fell race, Sat 9 June
From Nicky Jaquiery... Three of us entered Ennerdale (23m; 7500') last w/e - Eddie Winslow, Ken and myself. Just like last year, it was a warm race! I was 4th lady and 1st LV40, in a time of around 5.30. Eddie was next but I'm not sure of his time/position as the results aren't out yet. Ken retired. For anyone who doesn't know the race, the route goes over Great Bourne, Red Pike, Green Gable, Kirk Fell, Pillar, Haycock and Crag Fell. A Lakeland classic!
HRL #3, Beckwithshaw, Thu 7 June
From Marc Teasey ... Incredibly, 62 (yes, sixty-two!) Harriers answered the call to arms to turn out at the Harrogate race (thank you to Richard G for doing lots of phoning round!). Well done to everyone; you've done the club proud!!! Pause to reflect that this represents nearly a quarter of our entire membership – the club has never been so healthy or active. A brief trawl through the history books suggests that this is the largest ever turnout of club members at a HRL series race, apart from at our very own Ilkley race in 2005. The sea of red and green vests (28 women and 34 men) was absolutely inspiring (and doubtless daunting to other clubs) – as was the post-race camaraderie where there was much evidence of the swapping of stories of our triumphs and disasters. On a cool evening on a pretty tough and hilly course (I'd forgotten about that second hill!) our club members put on some great performances, with some big improvements in placings from previous races for many of our runners. The move of the finish some 400 metres down the road caught some of us out as we kicked into our finishing sprint just before the final bend, only to enter the long straight with, exhaustingly, demoralisingly, unbelievably, no finishing line in sight...! The cheeky little section of trail also did its job in disrupting the rhythm of many of the runners, as we tried to dig in for the last mile and a half.
As hoped, we reaped the rewards for the great turnout and performances on the night in all categories. Our Elite runners had their best result so far, with a very creditable 5th position on the night. In the Open club competition we have moved from 4th up to 3rd in the series. Our women are back to their dominant best, with wins on the night in both the Open and the Vets categories, giving us good overall leads in both. The male Vets achieved another fine 3rd position on the night, keeping their overall 3rd position in the series. Team performance of the night was arguably in the male SuperVets category, with Ilkley winning this category for the first time in the series, against some very tough competition from Otley who had won the previous two races comfortably. Otley still have a fairly big lead in the series in this category but if we manage more turnouts like this who knows, we may win our first male category prize in the series for years.
Absolutely everyone played their part in what was one of the most successful nights in the club's road running history. I'm sure you'll also be interested to note that the club's great attendance also contributed to a record turnout of 318 runners for a HRL series race. What a night!
Results and photos on harrogate-league.org.uk where there are also details of the next race on Wednesday 27th June - please mark this date in your diaries.

1	30.39	IAN FISHER
13	34.34	JAMIE HUTCHINSON
16	35.14	NICK RICHARDSON
25	36.19	WILL PLASTOW
37	37.19	JOHN ATKINSON
47	37.53	ANTHONY CAMP
52	38.31	DAVE MATTHEWS
54	38.42	SARAH JARVIS
56	38.45	ROB GASCOYNE
57	38.47	JEFF PAGET
61	38.53	GEOFF HOWARD
68	39.17	DIANE HAGGAR
73	39.29	ALISTAIR WOOD
75	39.36	PHILIP JUDD
76	39.37	BOB HAMILTON
77	39.41	MARC TEASEY
80	39.47	PHIL HIRST
88	40.18	SALLY MALIR
92	40.29	ALISON BENNETT
93	40.31	SIMON CHAPMAN
112	41.39	ELIZABETH MCCANN
115	41.45	BOB BARNARD
120	41.54	NIGEL TAPPER
121	42.03	ANDY WILSON
124	42.12	GRAHAM ARTHUR
125	42.14	CHARLES OXTOBY
129	42.30	PETER SHIELDS
135	42.48	TERRY LONERGAN
143	43.28	MORGAN WILLIAMS
147	43.42	JANE BRYANT
155	44.18	JOHN MARSHALL
174	45.33	ROB WILLS
186	46.07	CAROLINE EBERT
192	46.28	ELLIOT DAWSON
193	46.29	NEIL CHAPMAN
198	46.59	CHRISTINE MATTHEWS
201	47.27	KEITH WOOD
206	47.50	JEAN SULLIVAN
220	48.43	VICTORIA STEVENS
221	48.44	ALEX LEWIS
228	49.14	BECKY FORT
230	49.18	BERNADETTE GIBBONS
232	49.47	LOUISE CARTLEDGE
234	49.50	MARGOT DALE
251	51.13	MARY GIBBONS
256	52.01	PAT LONERGAN
263	52.52	PATRICK GIBBONS
264	53.03	ADELE MITCHELL
266	53.23	COLIN LUGTON
268	53.43	JANE GUILLARD
273	54.26	RICHARD GRAY
281	55.43	ANDREW BENNETT
287	56.34	LIZ MCANDREW
288	56.40	DAVID MILLSON
289	56.55	SHEENA PICKERSGILL
291	57.29	AMY BATESON
292	57.51	JACQUI WESTON
297	58.14	EMMA PAYNE
302	59.25	ROS LEACH
305	60.11	HEATHER DUKE
308	60.36	AMANDA PARNABY
309	60.48	SUE LUGTON
316	63.16	BRIAN SWEET

Otley Chevin, Wed 6 June
From Bob H. .... Some real quality performances at the top end of the field won Ilkley the team prize in this very well established race, another fine achievement to add to this year's growing honours list. Graham notched up his second runners-up spot within the week, and such is his self-belief and hunger right now, that his disappointment was palpable. Jamie Hutchinson also had a superb run to finish an excellent sixth, with Anthony Camp being the revelation of the night, claiming 13th spot in what he claims to be his first ever fell race - hard to believe judging by the speed he went past me on the descent! The really important stuff, though, was happening just a bit further back with Rowbo, myself, John Atkinson and Richard Joel all jostling for position and bragging rights. Very glad to be able to report that I managed to bag a couple of those scalps!

1     17.33   Adam Osborn (Leeds City)
2     17.59   Graham Pearce
6     19.03   Jamie Hutchinson
10    20.01   Jason Hemsley (P&B)
13    20.36   Anthony Camp
14    20.54   Ian Rowbotham (2nd V40)
16    21.04   Bob Hamilton (1st V50)
17    21.11   John Atkinson (3rd V40)
18    21.12   Richard Joel
27    22.08   David Cummings
29    22.33   Elliot Dawson
40    24.01   David Taylor
59    26.56   Pete Bedwell
63    28.15   Ian Hargreaves
71    37.01   Amanda Parnaby
72    37.04   Antonio Cardinale (Otley)


Pete Bedwell adds ... Ian Hargreaves and I both improved by over a minute on last year and I think Ian has done enough to hang onto the yellow jersey at the top of the league !!!
This was a counter in the Harriers Running League
Running Away
From Andy Wolfenden ... The "away run" to Simon's Seat tonight was a resounding success from both an aerobic and social point of view. About 25 of us enjoyed a wonderful sunny evening. The next sortie is 26th June from Skipton main car park (the one by the canal near to the Narrow Boat Pub), meet at 7.00pm. Once again all abilities welcome for the 8 mile run up to Sharp Haw (pronounced Sharper) through the forestry. Oh, and of course, fill your boots in the Narrow Boat at the apres run.
Blackpool Half, Sun 3 June
Andy Wiggans reports ... A small contingent of Harriers went to the seaside on Sunday for this combined half and full marathon. There were about 2,000 entrants altogether, 1040 of them finished the half marathon in mildly tropical conditions.
First Harrier home was Terry Lonergan with a very respectable 1:29:14 to give him 40th place - a great effort. I discovered that a combination of 3 weeks on antibiotics, the worst ear infection in the history of the universe, being a bit of a porker and a hot day do not great distance running make - so I struggled badly from just past half way to come in 90th place with 1:36:46. Chasing me all the way, whistling happily along to his ipod (I'm telling Andy Wolfenden on you...) was new member Sean Murphy who managed a cracking 1:38:19 in only his second ever road race - 114th. Andrew Herbert, lacking any of my excuses, but doubtless suffering from some random injury or ailment also struggled in the heat (although personally I'm not convinced that a 60 mile bike ride the day before is the best preparation), and came in 167th with 1:43:42.
The other Harrier to start was Vic Verecondi, who decided to run the little-known 'quarter marathon' distance and stopped at half way - ideal fodder for the ever-keen St John's Ambulance team who whisked him into a tent, tested his heart rate, filled in a lengthy form in triplicate before administering a complex medical procedure known as "a glass of water" - thankfully this appears to have returned Vic to rude good health.
This is a good race, starting to feel like a 'big event' - it's just a shame that global warming seems to have affected the Blackpool climate!
Junior Successes
Seven Junior Harriers competed in the Young Athletes League match at Wakefield, with some very good results in track events and long jump ... more...
Wharfedale Off Road Marathon/Half Marathon (Rugger Ramble), Sun 3 June
From John Marshall ... This was my first major outing since joining Ilkley Harriers in December having been press ganged into action by Nigel Tapper and others.
A glorious summers day awaited with the associated problems of warm weather running for which we have had little preparation due to an unusually damp May.
We arrived at Grassington in time to see the the start of the Rugger Ramble, which is the full marathon event and to be grateful that we had signed up for the shorter half marathon version.
Setting off with a group of Harriers, we ran at a steady pace for the 3.8 mile haul, to the checkpoint on Scot Gate Lane. This was a prelude to the main event which was the steep climb up Mastiles Lane in the mid day heat. A lack of recent racing led to doubts about my ability to survive the heat and the group pace - many thanks to Suzanne and Nigel for slowing down for me at his point.
The second half was largely down hill with the exception of the sting in the tail, the steep haul away from Bordley Farm.
As a newcomer to the area I tried to take in the the magnificent scenery throughout the race, in the end I was digging in, not noticing much, trying to hang on at the back of the group who finished around 2:20.
We enjoyed excellent hospitality in the clubhouse after the event and the recovery process began with an enjoyable pie and pea lunch.
Noteworthy performances on the day included: Amanda Parnaby and Rob King both braved the full marathon. Amanda was 1st LV50 in a time of 5:40. Congratulations to Paul Hart, from Dumfries who won the marathon event in 2:58:37, several minutes ahead of his nearest rival.
The half marathon event was won by Andrew Robertshaw from Otley in 1:30:14. First Harrier home was Jamie Hutchinson finishing 5th in a time of 1:42:38. Next for Ilkley was Nigel Tapper in 2:20 closely followed by Suzanne Bickerdike, 3rd LV 35 in 2:20:20
In summary, a great day out - I was particularly impressed with the willingness of club members to wait at the finish line to cheer on their team mates and am hoping to participate in many more events wearing Ilkley colours.

Results:

Marathon
1st Paul Hart, Dumfries  2:58:37
Rob King TBA
Amanda Parnaby 1st LV50 5:40:00
 
Half Marathon
1st Andrew Robertshaw Otley AC 1:30:14
5th Jamie Hutchinson 1:42:38
62nd Nigel Tapper 2:20:00
65th Suzanne Bickerdike 3rd LV35 2:20:20
66th John Marshall 2:20:44
75th Keith Wood 2:26:05
85th Vince Gibbons 2:30:54
86th Bernie Gibbons 2:30:54

Sue B adds ... Having belly laughed at Dave Jepson last year for turning up unprepared I had to chuckle a little to myself when I turned up in the road shoes I never wear 'cos they give me blisters, no map, no pins, no sun-cream. Again thanks to the brigade in red and green for providing everything (apart from the shoes) and only asking a dozen times en-route how my blisters were developing! On a technical note - those wearing their GPS's measured it at 13.5miles as opposed to the 12miles billed (I can't comment 'cos I forgot to bring mine......) A good day out!
Duddon Valley fell race, Sat 2 June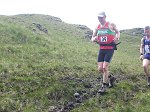 20m/6000', long counter in the English Champs. Results should be up soon on the race page, but we hear that there were good runs from Dave Wilby 3h31; Emma Barclay 3h43, Geoff Howard 3h55 (though still 'only' 6th V60); Eddie Winslow just over 4 hours, Alsion Weston, Morgan Williams, Dan Goodey, Holly Williamson and Lou Cartledge amongst other Harriers running. Morgan Williams reports ...
After putting in a fair few miles to get round the Old Counties Tops race 2 weeks previously, for once I had some expectation of finishing a Super-Long fell race without feeling like I had done 12 rounds with Muhammed Ali in his prime. At 20 miles with 6000' of climb, Duddon is not the toughest Super-Long but many people rank it third after Wasdale and Ennerdale. Being English and British Championship would no doubt ensure a healthy field and assist with navigation provided the weather was fine.
Spending much of the previous day climbing on Raven Crag in Borrowdale (yes, Corvus again) with 2 children and 1 nephew wasn't perhaps ideal preparation but family get-togethers are few and far between and if the kids want to go climbing, who am I to argue?
Despite a poor forecast earlier in the week for Thursday and Friday, both days had great weather in the Lakes and Saturday continued the trend; a fine sunny day with temperatures in the low 20s, not ideal for a Super-Long!
Considering the relative proximity of the race to home, and its Championship status, there was a disappointingly low turnout of Harriers. Clearly the organiser's decision not to accept even intra-club substitutes prevented one or two from making the trip.
Duddon has what could be a fast start, winding its way round Wallabarrow crag and through the forest to the base of the climb onto Harter Fell. Even that early in the race I noticed a number of runners walking back the way they had come having retired/expired. I certainly meant to take things easy and soon lost sight of Emma Barclay and those in front.
It was helpful to pick up a second bottle of iso at Hardknott pass from Alison before the short climb up to Hardknott summit itself. The swooping descent into Mosedale passed quickly enough and I tried not to look at the appalling sight of the climb out of the valley to Little (that's some twisted joke) Stand. It was still hot and head cover remained compulsory for many at this stage. The climb is steep and requires fortitude to make it pass as quickly as possible.
The run round from Little Stand to 3 Shires Stone goes pretty quickly if you get the right line and on such a nice day, that was no problem for anyone. I was still feeling pretty chipper despite Dan catching me up. Time to 3 Shires Stone about 2 hours 10 or so.
The sun went away for the next hour making the conditions a little more friendly; off with the bandana at 3 Shires Stone, grab another bottle of fluid from Alison and off up Wet Side Edge. Knowing that I hadn't seen Supervet GH made me think he might be behind me and sure enough Geoff cruised past me on the climb making me feel as if I wasn't moving. It's uncanny; no impression of real speed but all of a sudden, he's gone!
The field was thinning out by this stage and a certain amount of digging in was required. On the contour and descent under Brim Fell before starting the climb to Dow Crag I had a recurrence of the cramp that got me in the later stages of the OCsTops. Running whilst digging fingers and thumbs into a thigh muscle is possible but not recommended, particularly on the fells. The cramp passed, but I knew that I had to reduce speed and alter my leg/knee action in order to stave off further attacks.
A few swigs of water from Steve Barclay just after Dow were very welcome (thanks Steve) to fortify me for the (rather unpleasant at that stage of the race) countour round towards White Pike. The descent from White Pike is very steep and the cramp returned with a vengeance in both thighs leading me to stop for a few minutes while runners whizzed (no, that should be shuffled) past. Sadly, I couldn't find a masseuse anywhere so gathered that I would just have to get a grip and stagger on.
A further speed reduction was necessary on the drag across to Caw but I made it enventually, with the encouragement of the last of my water. I was frightened to death of further cramp on the descent (and being passed by Graham Breeze of Skyrac who had been mixing it up with me all the way round) but the adoption of a rather unusual gait saw me down to the valley without incident, if a little slowly, and in front of GB.
The cramp was a shame because all had been going well and I was feeling remarkably untroubled prior to it biting me.
Results say 4.08.30 so I'm pretty sure there is a sub-4 hour time in me for another year.
Good runs on the day from all the Harriers who toed the line. Thanks to those out supporting on the course. Shame about the lack of Harrier numbers.
Results:

1   Ian Holmes (Bingley)2.42.35
72  Dave Wilby          3.26.45
141 Emma Barclay        3.49.51
163 Geoff Howard        3.55.47
175 Eddie Winslow       4.00.18
177 Dan Goodey          4.01.16
201 Morgan Williams     4.08.30
217 Holly Williamson    4.12.05
225 Alison Weston       4.13.38
283 Philip Jones        4.34.32
349 finished with 18 retirements, including Lou Cartledge

Penyghent Fell Race, Sat 2 June
From Cap'n Bob ... Despite many other attractions on offer the Penyghent Fell Race attracted its usual loyal following, and offered very fast conditions. Graham Pearce enjoyed yet another superb run to finish in 2nd place, with Hector Haines not too far behind in 9th. Great to see Steve Turland returning to racing and running well, and also to see John Atkinson making an appearance in a true fell race, and also doing well. The biking miles helped me beat them both to the summit, but their speed was too much for me on the descent. Sad to have to report that nobody took me up on the offer of a cycle back to Ilkley ... well, you missed a beautiful evening for a ride!

1.    48.20    Andy Peace    (Bingley)
2.    49.40    Graham Pearce
9.    53.34    Hector Haines
20.   57.47    Steve Turland
26.   58.28    John Atkinson
36.   60.01    Bob Hamilton
39.   60.50    Peter Haines
54.   63.29    Sarah Haines
104.  71.38    Phil Chappell
126.  76.47    Chloe Haines

154 finished
Austwick Amble fell race, Mon 28 May
Geoff Howard reports ... I saw only two of us in the red and green vest at the Austwick Amble fell race on Bank Holiday Monday (8 miles and 1200ft). Despite the occasional downpour early in the afternoon (one just after a mile or so firing solid droplets) conditions were reasonable which was particularly fortunate because a lot of people had turned out for the accompanying street gala. In a field of 112 Geoff Howard 50th 63m 01s (1st V60) and Sally Malir 53rd 64m 02s (3rd Lady & 1st Vet).
Oak Fair XC, Mon 28 May
Adrian Hall was "Flying the Flag"... ...no, I didn't try out for a Eurovision song.
However I did venture out for my second race in the hallowed red and green whilst visiting my parents in Leicestershire. The Oaks in Charnwood X-Country Challenge. Billed as a 6.5 mile tough cross-country that used areas of the Charnwood 'hills' that aren't usually open to the public, I thought I'd give it a go. "Not a fun run" they said, but to be quite honest, it was fun. Some of you know how much I have confessed to not liking racing, so I approached this one as more a chance to get out on the bits of the areas where I grew up that people aren't usually allowed on.
The weather was grim - cold, rainy - as the 65 or so runners set off - I had a plan to be above halfway, my dad had a plan not to be last. So up a field and then sharp turn down a cow hoof pitted meadow, then back up the hill again, then back down a different field to the first stream crossing - by this point a) I was about 10th (to my surprise) and b) my legs were numb from the wet grass and the stream.
The course meanders up the hill to the high point of the moor-like Ives Head and then descends though fields to a rather muddy farm (at least I hope it was mud) then back up a farm track, through some woods and down through the rough grassy fields again. Much of the rest of the course was like this - up thick meadowland and through woods, over stiles, stone walls, gates streams etc. Good quality cross country - none of this namby pamby parkland stuff. The last two miles found us on a long straight and slightly downhill track past the campsites of my youth - where the legs could be stretched out in the anticipation of the finish. Couldn't catch the chap in front, but then the people behind me couldn't catch me either - the positions in the race had been fairly well decided in the first mile. Last section was a few hundred metres on the road and in the gate to the finish. So I thought. It transpired to be this, then uphill across a boggy garden, and up through an intricate wood, finishing up a grassy green lane. A bit of a cheeky finish, if you ask me. 10th out of 65 or so in a time of 52:26, only 3 mins behind the leader.
Anyway, I thoroughly enjoyed it, and would recommend it to anyone at a loose end on the Spring bank holiday. I think that the difference between this race and the SDXC that I did back in January was that I went out to run my race, holding back some reserve as I didn't know the route, rather than getting pulled into the race faster than I wanted. Plus, the course was enjoyable and the marshals friendly - everyone was pleased to see a representative from far afield at a little race like this.
So, when's the next race for me then....
Edinburgh Marathon, Sun 27 May
David Matthews reports ... Conditions were very challenging on the day (more so than usual) due to a strong headwind and driving rain squalls off the Forth for two thirds of the distance. The, slower than expected, winning time of Manchester runner Ian Grime 2 hrs 31. 57 reflecting this. Christine Matthews set a new personal best in the race of 3 hrs 30.31 winning the FV 55 in the process.
Leyland 10, Sun 27 May
Pete Shields ran the Leyland Sweatshop ten mile road race on Sunday in a time of 69.22 fourth vet 60. Dave Waywell was first 60 in 65.23. Pete was second v60 up until the last 1500 mtrs then his visit to the second test at Headingley on Saturday caught up with him. The race was well organised and could be recommended for those looking for a good time, Nicky Goodliffe Holmfirth Harriers won in 50.32.
Dodd Fell Race, Sun 27 May
Report from Ian Rowbotham ... The Dodd Fell Race May 27th 4.5 miles 1,100 ft of climb
The Dodd Fell Race had gone the way of many other traditional races have over the years it had simply faded away. Last year one runner turned up to find no competitor or marshall willing to help him run a classic fell racing course.
Imagine in a perfect steep sided U shaped valley bottom clad in the good green stuff those at the "A Day in the Dales Show" again not having the excitement of seeing a battle unfold over the entire route of the race. Such is the route every trod is visible to supporters in the show field. Activitiess included Lurcher (High Jump & racing), Terriers 'Fastest through the Pipe', Cock of the North, Pride of the Peaks, Stick Show, Sheep Shearing, Hang Gliding & Hollaring, etc.
A small bunch of enthusiasts with less than two months to go took on the challenge of resurrecting the race. Following meeting all involved and getting the race registered in three weeks leaflets and the FRA web site led to 26 runners competing for the new trophy.
Former and new record holder Gary Devine of Pudsey and Bramley won a race of steep climbing on tussock and peak haigs across uneven limestone ground and sharp descent. He was followed closely by constantly improving Dave Wilby. Kelly Harrison also from Ilkley Harriers was first lady taking home the new trophy and large home made cake also. The irrepressable Ben Grant of Harrogate Harriers was first vet 50 plus. Supporters provided other prizes for one third of the racers.
Absence makes the heart grow founder. The warm reception all involved had from those involved in the activites of the show was noticeable. Thanks to all involved, Philip Broadbent and the land owenrs Maurice and Evone Bell and the marshalls / Phil Mason taking a picture of each competitor available here

1) Gent (18 to 39)        			
 First   Gary Devine Pudsey & Bramley 29:35
 Second  Dave Wilby                   31:43

1) Lady (18 to 34)         			
  First  Kelly Harrison               41:19

Ras Cader Idris (10.5m, 3000ft), Sat 26 May

1       1:26.21   Richard Roberts (Eryri)
10      1:36:55   Hector Haines
32      1:46:42   Peter Haines
63      1:55:12   Sarah Haines

195 finished
Isle of Jura fell race, Sat 26 May
From Matthew Sturgeon ... Bryan Websdale, Mike Hopkinson, Mark Sayer and myself set off for Jura 5am on friday. We left the car at Ardrossan, took a ferry to Brodick and cycled over the Arran Hills just in time to see the Clonaig ferry arrive in the beautiful Lochranza Bay. On Kintyre we had a mad pedal across the peninsula to see the Kennacriag ferry leaving without us! We had to sit out 5 hours drinking (great preparation) in the nearby harbor of Tarbet. By 9pm we were off the late ferry and on a bus crossing the peat moors of Islay. A full scottish breakfast at the Askaig Hotel set us up for the ferry and pedal to finally reach Kinghouse on Jura in time for registration. With a gunshot and the sound of Pipes we were off through bogs, scree, rocks, heather, peat and moor. Each checkpoint was made just in time (although being timed out would have been less painful), a look up to admire breathtaking views across to Ireland, Mull, Colonsay and the Mainland and then another knee jarring descent. Back to generous applause, more beer and deserved lie down in the sunshine. This was a truly great weekend marred only by Mark accidently getting his potions mixed up only to realise on the 2nd checkpoint he was drinking Andrews Liver Salts!
Roy Ruddle adds ... Unbelievable weather - one of the few places to have a sunny Bank Holiday!
Winner Ian Holmes (again!) in 3:18:31
Ilkley results:

Roy Ruddle (39th; 4:20:47)
Jim Ryder  (49th; 4:28:08)
Nicky Jaquiery (2nd LV40; 77th overall; 4:55:20)
Ken Jaquiery (123rd; 5:41:15)
Michael Hopkinson (129th; 5:49:56)
Jo Foster (12th lady; 130th overall; 5:50:38)
Matthew Sturgeon (142nd; 6:41:40)

Full results on ukresults.net
Apperley Bridge Canter, 10k, Thu 24 May
Elizabeth McCann reports ...

Will Plastow      38.30 15th 
Elizabeth McCann  44.35 5th lady and 2nd LV35
Anthony Swanepoek 45.47

Kildwick fell race, Wed 23 May
From Bob Wightman ... A total of FOUR Harriers turned out for this local race which is a rough figure of eight based on Farnhill Pinnacle (actually a curious white painted concrete bell). Conditions were firm and dry underfoot.
With 80 runners in all, the race was won by Will Smith of K&C in 24:39, Harriers were:

24 David Cummings       30:18
33 Bob Wightman         32:10 (a PB for the course by 1 second!)
34 Diane Haggar         32:17
40 Jon Tindle           33:42

There were junior races as well but I haven't seen the results for these. www.kcac.co.uk
Yorkshire Vets, Meanwood 5 mile trail, Tue 22 May
Amanda Parnaby reports ... Ian Rowbotham 32.22 (10th), Phil Hirst 37.06 (59th), Pete Shields 37.19 (63rd), Amanda Parnaby 52.54 (149th).
Colne Multi Terrain 11 mile, Sun 20 May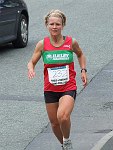 Report from Terry Lonergan ... This event, just a short 40 minute drive into Lancashire, was the 3rd of 12 races in the 2007 Pendle Grand Prix. This is a series which could perhaps be better publicised and can often turn into a benefit for members of Clayton Le Moors harriers who make up half of the fields. (see www.clayton-le-moors-harriers.co.uk for the full listing of remaining road, trail and fell events) Hence, as at Pinhaw fell, an Ilkley Harriers raiding party (if two constitutes a party!) went over. Sally Malir and myself. Initial expectations of road, trail, canal banks etc. (multi-terrain?) were cast aside as research revealed the course to be an extremely tough road race with a couple of miles of downhill track in the middle. The compensating attraction being the countryside of Wycoller country park and Trawden.
The first half mile, uphill from Colne Sports Centre to the town centre saw training pals, Amy Green (Keighley) and Sally Malir leave me for dead as expected. Oh, to be young again! Sally remained in sight, albeit hundreds of yards ahead as we turned at Laneshawbridge and tackled nearly two miles of ascent on the Haworth road, passing the now derelict Herder's Pub on the tops. Whilst I overtook over a dozen on the climb, Sal was still 50 seconds up at 5 mile. The course diverts to the right then and becomes "multi-terrain" in that they throw in a stretch of downhill track which leads into Wycoller Village. Shades of the film "Don't Look Now" here as the petite figure in red would appear and then disappear around the twisting lanes which could possibly have been better marshalled. The course then reverts to road going through Trawden and Winewall before another short steep climb onto the road back into Colne and then a very welcome descent to the finish. I eventually caught the "pocket rocket" with half mile to go, pushing on as I was under threat from another grey haired wrinkly.
The "raid" went well. Sally was 2nd lady and 1st v40 in just over 77 minutes behind Amy Green who was 10th overall . I was first v55 and having caught Sally I shot to the top of the club's rankings for extremely hilly 11 mile road races with 2 miles of trail in the middle! Prizes? Unknown. We received Asda credit card like voucher thingies (Sal won 2) which we have to present at the till to find out how much we have to spend. Novel. I'm thinking CDs …Sal's probably thinking groceries. All in all a good day…but certainly not for the faint hearted. Certainly a challenge..and a half!
Simonstone 10k, Sun 20 May
From Vic Verecondi, for Helena and Sue ... Simonstone 10k Road Race A feeling of guilt hung over me on Saturday night… I had not been for my usual Saturday morning run with the abovementioned fellow runners… Feeling a bit off on Friday night and Saturday morning, the normal 8.00am wake up call was missed… By evening (when I felt much better) a determination came over me to redeem myself and save face for missing that run… Not wanting a standard long training run (needing a challenge) I hit the websites in an earnest attempt to find a 10k or a 10 mile race close to home…Luckily there was a race…. The Simonstone 10k Road Race… Now what a challenge it proved to be. It was hard work for nearly all the way……Anyway the first mile was ok completing a fine split time… Then all of a sudden there was this long uphill section for about one and a half miles.. Luckily having done some fell running over the past few weeks this helped as I struggled up this never ending incline… The rest of the race was undulating downwards back to the start… But each little uphill section (on the way down) proved very difficult…Well I endured coming in 52nd position and achieving a personal worst of 51.12… Definitely not a pb course…The winner was Mike Whyatt from Garstang Running Club in time of 34.48… Despite the time I felt much better for having done it… The powers of running once again…
Etape du Dales, Sun 20 May
110 miles, zillions of feet of climbing, Bob H reports ... The weather Gods seem to be blessing the cyclists at the moment. After a week of windy and showery weather, Sunday offered ideal conditions for the Etapists from the club. Jason Hemsley had another astonishing ride at the front of the field, riding round in the leading group for a time of 6.05 ... and I think you have to have ridden one of these events to fully appreciate just how good a time that is. You'd actually be hard pushed to drive around the course that fast! Despite struggling with cramp in the middle section of the route, I finished in a satisfying 7.26. Dave Wilby, in his first event of this kind, and straight off a great run at Fairfield the day before, recorded a brilliant 7.45 (whilst carrying around a bum-bag filled with more confectionary and exotic energy supplements than I've ever seen in my life). Mike Baldwin, full of confidence from the Fred Whitton last weekend, upped the tempo to finish in 8.23 (including a long stretch where he turned the screws on me!). This was another superbly organised event, with a very special atmosphere. As I've said before, I can't recommend these events enough for the amazing glow of satisfaction felt at the end - whatever time you've achieved. Everybody is a winner! It'll be an easy social ride on Monday night!
Ros Leach adds ... I just wanted to add to Bob's mention of the Etape du Dales,to say 'I was there too!'. I've never done a sportive ride before and I don't have Bob's legs or Mike Baldwin's stamina hence a very slow time, but it was an excellent event! Brilliant weather, lovely scenery - 7 Yorkshire dales and a bit of Cumbria too. I'll have to go a bit faster next year!

3     6.05.41  Jason Hemsley
154   7.26.19  Bob Hamilton
224   7.45.09  Dave Wilby
355   8.23.12  Mike Baldwin
362   8.27.45  Mike Rhodes
512   9.31.19  Ted Battye
576  11.35.55  Ros Leach 

40th Fairfield Horseshoe, Sat 19 May
9m/3000', English Championships counter, Geoff Howard reports ...

1 Rob Hope P&B 1.25.28
28 Graham Pearce 1.25.28
89 Dave Wilby 1.34.08
93 Jim Ryder 1.34.59
99 Ian Rowbotham 1.35.28
154 Geoff Howard 1.41.41
291 Graham Arthur 2.02.21
338 John Coates 2.19.27
357 starters
14th team out of 38

1 Olivia Walwyn Altrincham 1.30.54
19 Emma Barclay 1.44.38
20 Helen Ilsley 1.44.50
22 Nicky Jacquery 1.46.47
33 Alison Eagle 1.53.54
37 Holly Williamson 1.55.15
50 Joyce Marshall 1.57.24
97 Lou Cartledge 2.37.04
102 starters

3rd and 7th= teams out of 15

Conditions: Despite heavy showers just before the start there was bright sunshine after the start then a tail wind on the long ascent and a strong headwind initially on the fully runnable descent.
White Wells Fell Race, Sat 19 May
3.5 miles and 1000ft climb, Bob Hamilton reports ... With the BOFRA championship season starting a week earlier than usual, and with Fairfield being a FRA championship race, the little White Wells race was never going to be a star attraction this weekend, so it was an even more intimate affair than usual, with just 15 seniors in the main event (with 2 minutes to go it was only 14, but I managed to recruit a plucky Martin Farrar from Skyrac who made the mistake of heading off for a training run at the same time ... he came 4th). Marcus Rae led home for Wharfedale in a time of 31.33 and Sarah Grant of Abbey Runners for the women in 39.22. Just two Harriers competed: David Cummins, 5th in 35.26 and Paddy Hagen 6th in 37.30. Despite the low numbers and the chilly weather the atmosphere was great, and everyone seemed to enjoy themselves. But perhaps a change of date is in order.
Results on Wharfedale Harriers web site
Sedbergh Gala fell race, Sat 19 May
The BOFRA championship season has started, and in this first race Iain Gibbons was 15th in 25.13
Old Counties Tops fell race, Sat 19 May
Morgan Williams reports ... On Saturday, Claire Cheesewright and I ran as a mixed pair in the Old Counties Tops race in the Lakes (37 miles and 10,000'). The race starts at the New Dungeon Ghyll and visits Helvellyn via Grasmere, Scafell Pike via Wythburn, Angle Tarn and Esk Hause and Coniston Old Man via Cockley Beck Bridge and Levers Hawse, returning via 3 Shires Stone.
The weather was filthy for three-quarters of the race with frequent heavy rain and hail showers and winds gusting to 50/60 mph. The section from Helvellyn through to Scafell Pike was into the teeth of the wind and was particularly tough. For those who were there, think Edale, perhaps not quite so cold (a mere minus 10C with the wind chill) but for an awful lot longer.
From Cockley Beck to the finish the weather was brighter but still with the very strong winds. It cleared just in time for the Championship race at Fairfield I understand!
We reached the Wythburn checkpoint at the base of Helvellyn in around 2 and a half hours and were amused to catch and pass on the descent 2 other mixed pairs fronted by none other than fell running legends John Broxap and Sarah Rowell.
After the vicious pummelling across to Scafell Pike, we fell a little behind these 2 teams and were perhaps 10/15 minutes down on each of them when starting the final section to the Old Man.
According to mobile support man Dave Cheesewright we pulled some time back on the final section to finish around 5 minutes behind John and his partner but caught and overtook the Rowell pair contouring under Great Carrs to get to Wet Side Edge.
Claire dug in really well on the last section and had to cope with me having several attacks of cramp on the run in from 3 Shires Stone. Flat on my back in a ditch at the side of Wrynose Pass with my legs in the air reminded me that there are few things designed to reduce life to the basics better than a long day in the hills!
The OCT is a fantastic day out for those who can cope, brilliantly organised by the Achille Ratti Climbing Club (as much hot tea and cake as you can eat at refreshment stops.) We managed 3rd mixed team overall (none of us saw the winning mixed team who went round in around 8 hours 30 minutes) in a time of around 10 hours 7 minutes. And Claire can now say that she has beaten the incomparable Sarah Rowell in an endurance fell race (as can I) and I never thought either of us would say that!
Thanks to my Alison for support at Wythburn and to Dave for looking after us at Cockley Beck. Don't worry Nicky and Heather, your record is still in one piece. The first ladies pair of Chris Preston of Todmorden and Rebecca Cash of Borrowdale were perhaps half an hour behind us.
Goatfell hill race, Sat 19 May
Ewan Welsh reports ... from another race from scottish shores, Goat Fell - Arran.
Travelled up to Scotland late of Friday night in an attempt to keep my annual attendance at the Goatfell Hill race in Arran, a high entry into my 'top 5 races to do irrespective of fitness' list (which having now done it, I may take it off that specific list).
On the way over to catch the ferry on the following Saturday morning I couldn't help but think , 'my , its windy', the usual view of Arran from the mainland was consistent , in that there was no view due to the haze brought on by horizontal rain.
The race itself was a Scottish Championship race this year , hence a change of course and an increase in the usual entry. The increase of numbers was apparent on the ferry from the gathering of little runners in the queue for tea and morning rolls, or as one burly passenger was overheard, standing next to me, 'they're like a pack of gypsy's dogs scurrying aboot fur a bone' , obviously taking a look at myself he didn't put me into the 'gaunt' category.
One unique aspect of this year's race was the facility to register for the race on the ferry, in the observation deck to be exact, which given the degree of turbulence due to high winds, was, interesting, depending on how stable your sea legs are.
As far as the race went, well in the words of the local report "The Scottish Islands Peaks Race may have been abandoned but Goatfell went ahead as planned, with squally showers of rain-cum-hail sweeping across the mountain.' There was a bit of sun as well, just when we got on the ferry to go home.
Due to the change of course my race equilibrium was upset, not to mention my annual comparison of splits, (the 2k on the road at the start and end of the race had been removed, and replaced with an extended finish through forest trails), however it still amounted to the same, run, walk and crawl to the top, run down trying your best not to crash into any rocks. Given the conditions (of the weather and myself) I decided to meander down, loosing 20 places , but gaining 3 (funnily enough passing the burly bloke from the ferry, one bloke with cramp and another poor soul who appeared to be having a close chat with a rock). All in all , I was glad to finish in one piece with another one under the belt.
Again, this is very well organised and friendly race, showers and usual fine after race 'spread' (not to mention the trip to the local shop to purchase a batch of Arran 'Chillie' Cheese, mmm lovely). I still, personally, prefer the cathartic experience of the finish along the road.
Hopefully all will be well next year and I'll have the good health to go again, it's all you can ask for.
I finished in 1.37 , 88th out of 141. It's 8 miles and 2990 feet incidentally, straight up and down, basically.
White Peak Marathon, Sat 19 May
Anthony Camp finished 20th overall in PB time of 3.13.28. Anthony says ... lovely rural course run off road on disused railway lines around the Amber Valley of Derbyshire, finishing in picturesque Cromford nr Matlock. Sunny day with some showers but very very windy.
HRL #2, The Pond Dale 5, Thu 17 May
Marc Teasey reports ... A fantastic effort by 32 Harriers to make the trip to Richmond to support the club in the second of the Harrogate Road League races (last year we only managed a turn-out of 23 runners to the Richmond race, so this was a huge improvement) – well done to everyone for making that long trip up the A1. The journey was well-rewarded by the achingly pretty village that unfolded upon our arrival – this quintessential picture-postcard country hamlet on a cool clear evening provided the most perfect setting (distraction?) imaginable for the usual lung-busting, leg sapping joys of racing. An undulating course with a mid-section of trail, some short climbs and a lovely long downhill finish allowed some varied and interesting running on what turned out to be a pretty quick 5-mile course. As expected, we dropped points in most of the team categories due to our diminished numbers and the Ladies team found themselves in the unusual position of coming second on the night, although they did just enough to hold on to the overall lead after the first two races. The Ladies Vets team fared less well, coming in 6th on the night and dropping to second overall, only narrowly ahead of Otley. Our male Vets and SuperVets teams repeated their 3rd and 2nd positions respectively – a great achievement to replicate the results from the Otley race, given the journey distance for this race. Looks like the men's Vets teams are going to give the women's Vets teams a run for their money this year! In the main team event we achieved a creditable 5th position on the night, and did enough to maintain an overall position of 4th. Still a long way to go reach the heights of the 2nd position that we achieved last year!
Next race in the series is at Harrogate on Thurs 7th June. This is another lovely run with, if my recollection serves me right, only one hill of any particular note. Come and enjoy these informal and fun races, and support the club – it is all about getting numbers out.
Results and photos on www.harrogate-league.org.uk.
John Carr #3, Wed 16 May
Di Haggar reports ... Have just got back from the presentation: Simon Chapman 1st Junior man, Eleanor Kitchen 1st Junior lady, Jenny Dybeck 1st Girl Youth, Me 1st Vet lady 40. (Except I was actually second to Andrea Dennison but as she took 5th Lady, the V40 went to me.) I did a series pb and I think that Simon and Ben Rowley did as well.

1   15.34 Josh Whitehead, Leeds City AC
15  16.43 James Wood-Robertson
46  18.21 John Atkinson
63  18.55 Simon Chapman
66  18.58 Ben Rowley
73  19.09 Diane Haggar
75  19.17 Elliot Dawson
82  19.36 Phil Hirst
97  20.04 Paul Wood
112 20.26 Dave Taylor
128 20.52 Pete Shields
141 21.22 Keith Wood
157 21.59 Jenny Dybeck
167 22.20 Adam Bennett
173 22.49 Pete Bedwell
182 23.09 Dom Macrae
231 25.12 Andy Kitchen
233 25.24 Sue Stevens
244 25.52 Bob Payne
251 26.23 Emma Payne
254 26.34 Andrew Bennett


New training session on Mondays
Fell Captain Bob Hamilton recalls ... back in the old days (when James Parker and Reg Haigh were runners (and men were men, etc. Ed)), we used to have a regular Harriers cycling evening, on a Monday night if I remember, which I would like to resurrect. We used to meet at the Old Bridge, so I was going to suggest the same. This would not primarily be a social ride, but to be used for fell training, with an emphasis on hill work ... although I'm sure we would have the odd easier ride as well, depending on how the group felt.
The "test ride" a few weeks ago attracted a variety of people, and true to Bob's word it was hilly! It started easily with a steady, social ride out to Cavendish, then returning via Storiths (steep hill) and Langbar (huge hill) with efforts on the hills for those feeling frisky.
We'll pick up again this Monday, 14 May, and see how it goes. Meet at the Old Bridge, 6.30pm departure
New fell web site
Well done to Tim Done who has launched the BOFRA web site, which includes a full BOFRA calendar. Take a look at bofra.co.uk.
Fred Whitton Challenge, Sun 13 May
Jason Hemasley reports ... 3 Harriers took part in the annual cycle challenge around the Lake District's most severe roads, 110 miles, including Wrynose and Hardknott after 100 miles. The rain held off until the very end, making the descents trecherous, causing a few nasty crashes for some. Jason Hemsley completed in 6hrs 18mins for 18th place overall, a big improvement on last year's time. Heather Dawe again finished first lady in 7hrs 22mins in 176th place, and Mike Baldwin, on his first attempt finished in a shade over 9hrs, despite carrying a heavily laden rucksack for no apparent reason! The 5 or so pints the night before probably didn't help either.. Bring on the 'Etape du Dale' next weekend!
Leeds Half, Sun 13 May
Nick Richardson reports ... The conditions were good for the record field of 4000 runners. The winning time was around the 65 minute mark. John Atkinson overcame fairly severe back pain to run a PB by over 4 minutes. I don't know his exact time but it was somewhere in the region of 1:24. This is a pretty amazing feat. When I picked him up this morning he seemed to be struggling to get into the car. Another storming run from our leader (Pete Shields) to win the V60 class, and Alison Bennett continued her run of top performances by winning the ladies F45 class. There were other Harriers running but I had to get off, so I didn't manage to get any other names. I did see Phil Chappel who had run 2 legs of the corporate challenge relay event. I scraped in just under 1:21, and according to my Mum's counting I was 33rd.
The results from www.raceahead.net are chip times. This was a counter in the Ilkley Harriers Running League - congratulations to Ian Hargreaves who is now number one!

1    1:05:49 Mark Steinle Male, Blackheath 
32   1:20:53 Nick Richardson
58   1:24:20 John Atkinson
178  1:31:12 Peter Shields       1st V60 
214  1:32:27 Alison Bennett      1st F45
426  1:38:02 Robert Barnard
508  1:39:17 Christine Matthews  2nd F55
614  1:41:58 Sean Murphy
748  1:44:47 John Coates
866  1:46:37 Nick Mellor
921  1:47:28 Peter Bedwell
926  1:47:31 John Brown
348  1:53:44 Bernadette Gibbons
1150 1:50:41 Ian Hargreaves
1654 1:57:55 Sue Stevens
1750 1:59:14 Emma Greaves
2399 2:12:33 Amanda Parnaby
2410 2:12:56 Jacqui Weston

Crowden Horseshoe, Sun 13 May
Nick Pearce reports ... Graham Pearce had a great run today in the Crowden Horseshoe, the 2007 Inter Counties Fell Championship, coming away with a team bronze medal and fully deserving his selection for Yorkshire. This may be the first time an Ilkley Harrier has has won selection or a medal in the men's competition.
The race was run over an 8 mile course with 1700 feet of ascent over typical peak district country and taking in a section of the Pennine Way. Parts of the course take the same routes as Holme Moss and Lad's Leap. Won by Andi Jones for Geater Manchester - gold medalists - in 55 mins, Graham was 15th in 60.48. As an indication of the standard in this competition, the first 12 finishers were all inside Lloyd Taggart's 2003 record of 59.10. Silver medalists were Cumbria. Yorkshire took the ladies honours.
Having driven Graham to the race, I couldn't resist doing it myself, particularly when he said that having reccied it the previous weekend it was pretty easy running. Not a bit of it after the past few day's rain, but even coming back from injury I thoroughly enjoyed it and was pleased to finish 95th and 3rd V50 in 74.27.
Open 5, Sun 13 May
Dave Wilby reports ... The promised downpours held off until almost the end of this 5 hour event as competitors were treated to conditions which were pretty warm at times. This was the first event in the newly developed endurance series (5hr, 12hr & 24hr events) and as a result, the standards were high. Once again great results for the Harriers contingent who seem well suited to these events. I feel like a crash test dummy this morning, tested to destruction but at least the 1000 yard stare I developed during and post race has disappeared overnight.

Mixed Pairs:
Caroline Bullard & Eddie Winslow - Team Accelerate - 1st Place (550 points)

Female Pairs:
Jo Foster & Nicky Jaquiery - 5th Place (405 points)

Male Pairs:
Dave Wilby & Steve Birkinshaw - Team Inov-8 - 2nd Place (575 Points)
Stuart Pitches & Tim Ashelford - Facewest.co.uk - 20th Place (440 points)
Jim Ryder & Ken Jaquiery - 24th Place (430 points)

Male Solo:
Jamie Hutchinson - 4th Place (505 points)

Pinhaw fell race, Fri 11 May
My spies tell me that Ilkley had 2nd and 3rd ladies in Helen Ilsley and Emma Barclay.
John Carr 5k, #2, Wed 9 May
This was a counter in our Running League - Simon Derkin's classy run will put a dent in everyone's points! But congratulations to Dave Taylor who tops the League, with 5 races under his belt - more...
An important result was announced at the race - Pete Shields is a Grandad! Daughter Rebecca geve Pete a Granddaughter yesterday, beating Kay Pearce (below) across the finish line, and finishing up in the next bed in the maternity ward.
Race results from St Bedes are:

1	14.42	Simon Derkin, Leeds City AC
2	15.30	Alistair Browmlee, Bingley Harriers
3	15.40	Daniel Malone, Leeds University
		 
20	17.03	James Wood-Robertson
23	17.17	Dave Wilby
39	18.03	John Atkinson
73	19.13	Ben Rowley
74	19.15	Diane Hagger
76	19.28	Simon Chapman
83	19.46	Alison Bennett
97	20.12	Peter Shields
102	20.16	Paul Wood
112	20.34	Andrew Wilson
129	21.01	Catherine Gibbons
132	21.08	Elizabeth McCann
137	21.13	Dave Taylor
143	21.24	Jenny Dybeck
152	21.43	Keith Wood
156	21.50	Peter Bedwell
158	21.56	Adam Bennett
167	22.14	Nicholas Mellor
168	22.15	John Brown
170	22.24	Sam Hagger
171	22.25	Ian Hargreaves
196	23.32	Andrew Kitchen
199	23.35	Donald Macrae
227	24.53	Bernie Gibbons
276	28.29	Joanna Taylor


Jack Bloor Races, Tue 8 May
Cap'n Bob reports ... A fantastic turnout for the Jack Bloor saw over forty Harriers out racing, which I think has to be a club record for a fell race. The quality of the field is indicated by the fact that there were only two vets in the top 20, which is very unusual these days, although nothing unusual in that the winner was one of those two vets, Greg Hull, breaking his own course record in the very fast conditions. Sobering to note that he also won in 1992, when I very first competed in the race in the red and green colours of Ilkley!
First home for the club was Hector Haines in 6th place, not quite matching last year's closely fought second, but in a quicker time nonetheless. Next back were Jamie Hutchinson and Paul Davidson bringing Ilkley home as second club to Leeds City. The ladies were also in the prizes (and beer), Alison Weston second lady home and first vet, Sarah Haines third lady, and with Heather Dawe, first ladies team. Finally, Malcolm Pickering, getting faster by the week (and I definitely want to know what drugs you're on - because I want some), tore around the course to pick up first Vet 50.
Conspicuous by his absence was Graham Pearce, who acquired a third child and first son a few hours before the race. Congratulations to Kay, but a slap on the wrist for the father, who had more than enough time to get from the hospital to the start line if he had his priorities right! Conspicuous by his presence was one of those die-hard road runners I've been hoping to get out on the fells, Vic Verocondi, who seemed to survive the experience with a smile on his face. Well done one and all.
Full results at www.jackbloor.co.uk

1     Greg Hull (Leeds City) 38.04    V40
6     Hector Haines          40.36   
13    Jamie Hutchinson       42.21   
19    Paul Davidson          44.18   
24    Malcolm Pickering      45.30    V50
27    Iain Gibbons           45.52   
30    Tim Ashelford          46.23    V40
33    Roy Ruddle             46.47    V40
34    Brian Melia            46.49    V40
37    Ralph Tench            47.18    V40
41    Richard Joel           48.00   
42    Eddie Winslow          48.03   
45    Bob Hamilton           48.19    V50   
54    Alison Weston          50.43    LV40
57    Sarah Haines           51.06    LV40
58    J Ruddy                51.09   
60    Geoff Howard           51.19    V60
64    D Cummings             51.25    V40
65    Bob Wightman           51.26    V40
69    Peter Sibley           51.57   
76    Heather Dawe           53.00    L
79    Ian Marshall           53.11    V40
84    Paddy Hagan            53.50    V40
86    Dave Taylor            53.52    V40
90    Holly Williamson       54.32    L
93    Joyce Marshall         54.49    LV40
97    Kelly Harrison         54.55    L
99    Jon Tindall            55.20    V40
102   P Stephens             55.26    V40
109   Bryan Websdale         56.02   
112   Phil Chappell          56.18    V40
121   B Ogden                57.12    LV40
124   Tony Thornley          57.19    V50
129   Sue Booth              57.40    L
131   Claire Cheesewright    58.17    LV40
134   Matthew Sturgeon       58.27   
135   Victoria Stevens       58.50    L
140   Diane Kitchen          60.13    LV40
141   Rob King               61.06    V40
152   Rachel Hagan           63.51    LV40
154   Angela Sturgeon        66.01    LV40
158   Vic Verecondi          66.31    V40
162   Sue Stevens            67.10    LV40
172   Amanda Parnaby         91.28    LV40

Wray Caton Moor Fell Race, Mon 7 May
From Alison Bennett ... After advertising the delights of the Wray Scarecrow Festival 10K last weekend, we went back for the last day's event, the village show and fell race. This is a race I've thought about a number of times but have never made it to the start. It is 6.75 miles 1100' with all the climbing on the way out mainly over tussocky moor and a long descent to the finish. I came in 3rd lady. The junior races were all shortened versions of this route. Tom finished 10th in the Under 10s and Adam was 7th in the U18s (there being no U16 race). Adam was forced to make a detour when he found a gateway he had to enter 'baaa'd' by a flock of sheep!
Keswick Half, Sun 6 May
From Jean Sullivan ... I sported my Ilkley Harriers vest at the Keswick !/2 marathon and ran it in a time of 1:51:51 I came 302 out of a field of 518. It was a good run but rained for most of it. I don't think any other Harriers did it.........not sure why as it is very scenic! Maybe most people were saving their energy for the Leeds 1/2 marathon?
Llangynhafal Loop, Sun 6 May
From Geoff Howard ... The setting for the second British Championship fell race Llangynhafal (about the size of Askwith) was breezy, dry and with a seasonal temperature. The ground was like concrete and almost uniformly grassy which made for a very fast race over Moel Fammau and ridge running part of Offa's Dyke (4.5m and 1,500'). In a men's field of about 250 Joe Symonds (Kendal) won in 32m 46s and I managed 115th (4th vet.60) in 44m 49s. The ladies race was won by Jo Waites of Calder Valley (40m 54s). A great area to run in reminiscent of the Howgills and the Ochils.
Bluebell Trail, Sun 6 May
From Pete Bedwell ... Quick report from the Bluebell Trail, perfect running weather for one of the most scenic 10 milers around. Usual rush off at the start however this year as it was only 2 weeks after London instead of the normal 3 weeks I was determined to treat this more as a hard training session than a race, especially with the John Carr and Leeds Half league races fast approaching !!!
After the first 1.5 miles twisting up and down through some woods you were onto the canal towpath for the next mile or so until you come to the infamous Trooper Lane, certainly the longest steepest hill in any 10 mile race I know about, no doubt just a mild incline to the fell contingent !!
After a long period of hands on knees exertion it was then some secnic ups and downs looking down over Halifax before some more fields, descents through woods and paths and ups again before down onto the towpath for the last mile before a river crossing helping those with mashed legs to have some pleasant cramping !!
The recent marathon was felt in the legs, especially going up Trooper lane and although I had fun blasting past people on the descents they soon came past me on the next hill as I settled for a fair bit of walking hands on knees. Even so I managed to up the pace over the last mile along the towpath and reeled in a few feeling fairly good at the finish.

John Coates   150   1.33.30
Pete Bedwell  175   1.36.16

winner came home in 1.03.07 with 339 finishers, happy enough with time even if it was a minute down on last year, that extra weeks rest can make a big difference which will hopefully prove to be the case at Leeds next week !!!
Coniston fell race, Sat 5 May
Phil Chappell reports ... around 10 miles with 3500' of ascent. On the stretch from Swirl How to Coniston Old Man I received some great encouragement from some spectators who turned out to be Morgan, Alison and Heather. In response to the barracking I put on a spurt and promptly fell flat on my face in front of them - very embarrassing. It was great day in a great place and I recommend the event to anyone who is just getting started on the fells. I finished in 1 hr 58m (1 minute better than last year).
Stuc a'Chroin 5000, Sat 5 May
Ewan ('don't ask me how to pronounce daft Gaelic names') Welsh reports ... Just to let you know, I found myself up in Scotland at the weekend, visiting family in Glasgow, where, as it happens, I had the rare occurrence of a Saturday to myself (begs the question why I went to visit them in the first place!). So rather than venture out a run on my own I made my way up to Strathyre and ran (using that term loosely, you could, within context and justifiably, refer to it as 'walking') The Stuc a Chroin 5000, 14 miles and 5000 feet climbing.
Due to recent dodgy back/buttocks/hamstring I took it really easy or as an old mate used to say about pace, go at a pace you can happily smoke a ciggie (I've kept the metaphor legal, use your imagination), although I didn't try that literally, I met it in spirit and hence I thoroughly enjoyed it (a rare experience for me in a long fell race).
I was 'out there' approx 3 1/2 hours (I purposely didn't wear a watch) and no idea where I finished (quite far back), I was content with getting around in one piece with no ill effect, and I had to dash off to get back in time for the family gathering in Glasgow, so didn't hang about for the results.
I have to say though, this was one of the best organised fell races I've done, in terms of history (it's the land of Rob Roy), setting (next to a loch), scenery (running along a ridge) , technically (plenty of steep up and downs), flagged route (always an aid to a non map reading non compass bearing 'fell' runner), helpful marshals (why would you be a marshal if you weren't helpful) with sufficient water supply (and jelly babies), and friendly support from walkers , one even offered me a pie! As it was a cold pie, I decided to refrain from his offer (regrettably, he didn't have any Bovril).
In summary, I would recommend this to anyone, even passers by, it would be a smashin weekend trip.
HRL, Otley, Thu 3 May
There were nearly 50 Harriers in the record 308 field at Otley. A super event. Our ladies and lady vets teams have taken a strong lead. And our SuperVets team is challenging Harrogate. Amongst many great individual results, Diane Haggar was 3rd lady. Full results and photos are on www.harrogate-league.org.uk.

1	32.38	GARY DUNN, THIRSK & SOWERBY
10	36.00	JAMIE HUTCHINSON
16	37.21	NICK RICHARDSON
28	38.51	JOHN ATKINSON
40	39.44	DAVE MATTHEWS
57	41.11	DIANE HAGGAR
62	41.25	JEFF PAGET
64	41.32	CLIVE SMITH
66	41.37	PHILIP JUDD
71	42.06	ALISON BENNETT
73	42.15	SIMON CHAPMAN
99	43.40	MARC TEASEY
106	44.12	PHIL HIRST
107	44.15	JOYCE MARSHALL
108	44.17	ELIZABETH MCCANN
110	44.28	CHARLES OXTOBY
116	44.38	PHIL CHAPPELL
121	44.48	BOB BARNARD
123	44.58	PETE SIBLEY
125	45.20	NIGEL TAPPER
129	45.43	TERRY LONERGAN
130	45.45	JOHN MARSHALL
150	46.40	CATHERINE GIBBONS
151	46.41	NEIL CHAPMAN
153	46.44	VINCE GIBBONS
158	46.59	JANE BRYANT
159	47.01	DAVE TAYLOR
165	47.18	JOHN COATES
179	48.12	NICK MELLOR
182	48.20	ROB WILLS
188	48.43	CHRISTINE MATTHEWS
215	50.10	ALEX LEWIS
220	50.22	JEAN SULLIVAN
221	50.23	CAROLINE EBERT
222	50.31	LINDA WRIGHT
234	52.13	DON MACRAE
235	52.19	LOUISE CARTLEDGE
236	52.21	PATRICK GIBBONS
247	54.30	MARY GIBBONS
250	54.55	ADELE MITCHELL
252	55.12	PAT LONERGAN
277	59.11	AMY BATESON
280	59.58	ANDREW BENNETT
284	60.45	SHEENA PICKERSGILL
289	61.51	DAVID MILLSON
291	62.01	ROS LEACH
293	62.54	AMANDA PARNABY
294	62.55	RICHARD GRAY
296	63.29	HEATHER DUKE
300	66.33	BRIAN SWEET


John Carr #1, Wed 2 May
Pete Bedwell reports ... from the first of the ever popular John Carr 5K series, on a very pleasant, if a little warm, evening there was a large turnout of Harriers (30 in all !!), no doubt getting a bit of practice in for next weeks League counter. I was a bit concerned with the FLM mileage in my legs but after a bit of a manic sub 4 min first kilometre, slowed down a bit but managed to hold on for my second ever sub 22 min 5K and only 8 seconds off my PB so well pleased. Results from St Bedes are:

greg hull leeds city     1    15.32
James wood robertson    28    17.07
dave wilby              39    17.20
john atkinson           51    18.11
arthur reilly           68    18.41
simon chapman           76    19.06
ben rowley              80    19.10
andy wiggans            84    19.13
dianne hagger           90    19.20
john woodward          128    20.33
liz mccann             133    20.40
alison eagle           140    20.47
paul wood              142    20.52
jenny dybeck           143    20.53
sam hagger             144    20.53
keith wood             158    21.22
victoria stevens       169    21.37
pete bedwell           179    21.54
andy kitchen           189    22.18
john brown             192    22.22
ian hargreaves         198    22.33
nick mellor            199    22.34
don mccrea             204    22.48
adam bennett           219    23.20
joshua crane           226    23.40
susan stevens          246    24.32
bernie gibbons         250    24.35
emma payne             278    25.55
andy bennett           284    26.11
joanna taylor          310    28.26
dave taylor            311    28.33
 
332 finishers

Lothersdale, Wed 2 May
Morgan Williams reports ... Being in training for the Old Counties Tops Race means that a race like Lothersdale at 3.5 miles is akin to running the 100 metres, something I have never excelled at. Long runs of 3 hours plus leave one ] rather short of the required speed!
However the attractions of the beautiful (and close) location and more charming late spring weather hastened me out of the door, daughter in tow for the Junior Races. Cap'n Bob was scheduled to join us but a work crisis caused his late withdrawal.
A few Junior Harriers ran in the U8 and U10s races with some distinction.
The same cannot be said of yours truly who posted just over 29 minutes for the 3.6 miles and was the only Harrier visible in the senior race field. A much smaller field this year; the race was not in the FRA calendar. Apparently the pub landlord doesn't like having too many people in his pub. Despite a grumpy landlord, it's a good little race and nicely low-key.
It was good to see Bob Wightman marshalling his home race (and providing restrained vocal encouragement), using his 3 Peaks exploits as a good excuse for keeping his long shorts and sandals on!
Couldn't test the grumpiness of the landlord or the quality of the beer; had to rush back home for daughter to do homework and be fed.
Some pics from Bob Wightman

here.
Bunny Relays, Tue 1 May
Over 50 teams, a few Harriers family and junior teams amongst them.
Full results here (PDF).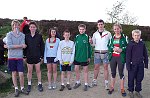 18 A TEAM MIXED         SIMON CHAPMAN   17-23   CATHERINE GIBBONS 12-29  HARRY TARRANT   11-05   39-57
34 HUNKY HARRIERS BU16  BRADLEY CHAPMAN 18-57   ADAM BENNETT      13-48  PATRICK GIBBONS 12-33   45-18
41 FLYING PIGS MIX/FAM  VAL KERR        19-39   ALASDAIR KERR     14-21  EMILY KERR      14-21   48-21

Running Away, Tue 1 May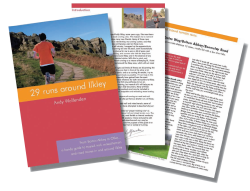 From Andy Wolfenden ... Meet at the parking area above the Buffers cafe at Storiths at 7.00pm for an 8 mile there and back trail run to Rocking Hall. Then for a drink at a local pub afterwards.
Postscript ... Last night's away run was a great success turning out to be a great social occasion, and it seems that everyone wants to do this once a month throughout the summer months. With this in mind we have decided on the next one which will be a Simon's Seat run, again for all abilities, meeting at the Barden Bridge parking area 7.00pm Tuesday June 5th. We will of course be going for liquid refuelling in the Swan at Addingham afterwards.
We've just hear that Andy has put his encyclopaedic knowledge of local runs into print! "29 Runs around Ilkley" is aimed at experienced and novice runners alike. It's available locally for £5.50, or for even less if bought from the great man himself.
Three Peaks race, Sun 29 April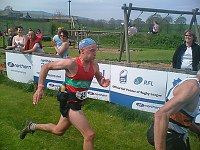 Lots of Harriers in this gruelling event. From Bob Whiteman ... A big thank you to all those Harriers who turned out to support and encourage the runners yesterday. That and the drinks and (no-more!) jelly babies were much appreciated in the warm conditions. I'm still trying to determine which version of "Nearly there!" means five miles and which means 200 metres!!
The results are on the Sportident site. A hot day, especially in the valley bottoms where you were out of the wind.

1.  Rob Jebb       2:51:49
16  Graham Pearce  3:17:51
80  Jim Ryder      3:46:52
81  Phil Grimes    3:47:08
87  Helen Sedgwick 3:49:05 (5th Lady)
106 Emma Barclay   3:52:47
128 Bob Addey      3:58:53
139 Brian Melia    4:00:59
157 Mike Baldwin   4:03:33
170 Geoff Howard   4:05:55
172 Richard Joel   4:06:25
204 Alison Weston  4:10:42
214 Eddie Winslow  4:13:01
239 John Smith     4:17:24
251 Alison Eagle   4:19:59
260 Graham Arthur  4:22:16
273 Bob Wightman   4:25:53
296 Jo Foster      4:31:22
345 Paddy Hagan    4:43:17
346 Daniel Goodey  4:43:41
Ilkley men were 12th team but the ladies were second team!
A total of 459 finishers though over 600 had entered.

Rothwell 10k, Sun 29 April
Margot Dale reports in ... My Results are Time 51.18min, Finish 501, Female position 115 out of 265, 2nd Over 65
Full report from Terry Lonergan ... Quite favourable conditions for this year's race which once again incorporated the Yorkshire veterans championships. This fact and the "assisted" status of the course (slightly downhill overall) attracted a field of 726 (interestingly 458 men, 265 females and 3 "unknown"!) and 179 failed to show including several Harriers. This number of runners certainly made the first sharp right hand turn just after the gun a bit of a battle.
Out of the blocks first, I was almost immediately passed by Jeff Paget who took time to admire "summer" version of the club vest before galloping away. His time was a just reward for his work in coming back from injury with care and perseverance. Then within seconds Phil Judd cruised by, spotted me and making reference to my spectating role, enquired who would be encouraging him in the last kilometres of the race if I was competing. Cheeky young pup, I thought, I'll be with you at the end to push you on and so it proved. Responding to my bellowing at him from behind in the final kilometre, Phil's name can be added to the club's sub 40 list! One more rung down the ladder for me but some consolation staying under 40 myself…..but it was close and very hard work!
Andrew Wilson ( down as a female 45?!) ran a solid race in 43.21 with Margot Dale having an excellent run to finish in silver medal position staying a few seconds in front of Pat Lonergan who improved on her 2006 time by 46 seconds and another good place in the age category. Andrew, or should we call him Andrea, thus spearheaded the womens team to 19th of 37 teams!! The men were 34th team of 80.

130th    Jeff Paget          M50      (13/64)     39.07
153rd    Phil Judd           M         (38/88)    39.42
158th    Terry Lonergan      M55       (11/53)    39.49
240th    Andrew Wilson       F45!?                43.21
501st    Margot Dale         F65       (2/3)      51.18
514th    Pat Lonergan        F55       (6/61)     51.35

Saab Salomon Hellrunner, Sat 28 April
From Lou Cartledge ... I did the Saab Salomon Hellrunner at the Delamere Forest Park in Cheshire. The weather was great, the event was really well organised, the bogs (3 sets of them) were waistdeep and refreshing if not rather smelly. The first half was a bit frantic as everyone tried to get ahead of the next, especially those jumping the queue to run through the boggy sections, but the second half went better for me as I gradually worked my way up the field. It was about 11-12 miles through forest trails with several short but steep climbs. I finished in 2hrs7mins (winning time 1hr11), I came 386/621, 49 lady/130.
Skipton Tri, Sat 28 April
400m swim, 20k bike & 5 k run. A strong filed with over 350 finishers(79 women & 279 men finished the race). Harriers results: 6th in 61:30 Tim Ashelford (1st V40); 43 69:23 Jamie Hutchinson; 67 Charles Oxtoby 72:38; David Schneider 75.05; 95 76:16 Norman Bush (1st V60). In the ladies' race 45 91:45 Anne Briggs and 52 96:30 Fiona Schneider
Some super photos on David Brett's site.
NB Entries for the Ilkley Tri in September are now available on lbt.org.uk. It'll fill up really quickly, so apply now!.
Wray Scarecrow 10K – Lancaster, Sat 28 April
From Alison Bennett ... Ending a week of racing back where it began, Lancashire. This race marks the start of the week long village 'Scarecrow' festival. Wray is a lovely spot and well worth a visit. The 10k course follows a scenic route with a number of ascents along the way. The outward part of the race heads north with great views of Ingleborough where I couldn't help thinking of those hardy Harriers who would be tackling it the following day.
The race is friendly and low key but was won by some classy running from Tarus Elly, Salford 33:11 and first female Rebecca Robinson, Kendal 36:20. I finished 21st, 3rd Lady and 1st V40 42:04 and Andrew 92nd 57:53 was pleased with his first race as a V50 and a rare opportunity to be first male Harrier. The two fully costumed scarecrows clearly had the stuffing knocked out of them on a warm day finishing eventually in 1:37:37
Andrew adds: ' for a number read a lot!'
Wardle Skyline, Sat 28 April
Paul Davidson reports ... Just myself and John Atkinson flying the flag for Ilkley at this low-key affair in the badlands of Lancashire. Part of the 7.5 mile course may be familiar to graduates of the Pennine Bridleway Relay as it spun around Watergrove Reservoir above the village of Wardle. The running proper only really started after three unpleasant ascents were done with and then it was all downhill - a long, fast descent on firm ground leading onto a cobblestone track before a final slight incline gave way to the finish line. We're not sure about the results as the organisers are keeping these a closely guarded secret, but John claims he was in at around 52 minutes. In summary, not exactly a classic race but maybe worth including in our fixtures list for next year.
Dick Hudson's Race, Wed 25 April
From Bob Hamilton ... (Cap'n Bob?)
The Dick Hudson's Race saw a varied selection of Harriers turn out to enjoy a cracking race across the moor in very dry and fast conditions. With plenty of help this year, I decided to trot around myself (in my Wharfedale vest I have to admit), mainly so I could get to see the different routes people take at the start. I take it as something of a personal insult that nobody decided it worth following me from the whistle. I was actually amazed to see everybody race off west from the hut on the lower tarn, when I was convinced the best lines were east. Steve Webb headed off with intent following what I thought was the optimum route, towards Hangingstone Beck, while I took the most direct possible line to the cairn (for the best view). I'm not exactly sure by which route Mark Horrocks led most of the field, but he wound back to join my route and didn't overtake me until quite near the top of the climb. When the leaders regrouped at the start of the duck-boards Steve Webb was in the lead, suggesting his route is probably the best, although I think there is still lots of discussion to be had yet.
Not having raced the route before, I was actually surprised at how tough it was, and how long it felt - to the extent that I switched off completely at the end of the race, missed the optimum line down and allowed Mike Baldwin to sneak through and beat me home. I'm never going to hear the end of it! Also sneaking past me in the last few yards was young Harry Tarrant, whom I have known since he was a toddler. I've included him, and his father, in the results since I've decided they need to become members, and when they read this they will have no other option!
First home in an Ilkley vest was Iain Gibbons, enjoying a rapid final descent to keep racing machine John Atkinson at bay. Paul Davidson probably should have had that honour, but got confused about where the race ended, so his time included looking for the finish line. Another great run from Alison Bennett (3rd race in 4 days) gave her the ladies prize and record. It was good to see some less familiar Ilkley names out running. A few of the ladies had their own personal race on to beat the fading light, which they just about won! For me, they are the biggest winners on the night, for simply entering into the fun and having a go.
A few cyclists joined the race this year and Graham Hodgson travelled from Cumbria to win overall in a time which was just 6 seconds quicker than Ted Mason's winning time from last year, suggesting that this route makes for a very well balanced contest. I can tell you that the bikers were an impressive sight as they sped past. A few people have asked why we don't get more runners, or put this event in the calendar, but I personally want to keep it a small, local, low-key race, the knowledge of which spreads by simple word-of-mouth, and where pretty much everybody knows everybody else. Get many more people running and it starts to become hard work! Having said that, though, it would good to see a few more Harriers out next year.

 1          Graham Hodgson        46:32    CFR (Cyclist)
 2          Owen Bielby           48:07    Wharfedale   
10          Jason Hemsley         52:24                 
11          Iain Gibbons          53:20                  
12          Paul Davidson         53:30                  
14          John Atkinson         53:42            
15          Dan Goodey            55:21                 
17          Mike Baldwin          56:05    (1st V50)         
18          Harry Tarrant         56:14    (U16)          
19          Bob Hamilton          56:17         
21          Alison Bennett        58:51    (1st L, LV40)      
27          Ewan Welsh          1:03:11    (1st Scotsman)       
28          Keith Wood          1:03:38           
29          Richard Tarrant     1:04:06           
30          Claire Cheesewright 1:04:20    (2nd L)        
33          Brian Websdale      1:06:01                  
34          Mathew Surgeon      1:07:41                  
36          Paul Wood           1:08:07       
39          Louise Cartledge    1:11:37        
41=         Angela Sturgeon     1:38:35           
41=         Julia Elliott       1:38:35              
43          Fiona Schneider     1:38:39             

Full results here.
Bunny Run #4, Tue 24 April
Graham was 3rd on the night, 5th overall in the series. Other series results included Malcolm and Bob 1st and 2nd V50; Alison B and Diane 1st and 2nd LV40 (7th and 8th lady).

1	15.07	GREG HULL
3	15.43	GRAHAM PEARCE
26	17.55	JOHN ATKINSON
28	18.11	MALCOLM PICKERING
39	18.59	BOB HAMILTON
42	19.13	SIMON CHAPMAN
48	19.45	ALISON BENNETT
50	20.00	BEN ROWLEY
57	20.15	DIANE HAGGER
60	20.20	IAN MARSHALL
63	20.24	BOB WIGHTMAN
85	21.05	CATHERINE GIBBONS
97	21.23	JOYCE MARSHALL
98	21.24	DAVID TAYLOR
110	21.51	BRADLEY CHAPMAN
117	22.06	SAM HAGGER
135	23.15	GRAHAM STEAD
143	23.31	ADAM BENNETT
157	24.33	LOUISE CARTLEDGE
160	25.03	BERNIE GIBBONS
174	27.05	ANDREW BENNETT

Full results here (PDF).
London Marathon, Sun 22 April
Prelininary results from www.london-marathon.co.uk are:

145   3:12:06 Sally Malir
4530  3:40:12 Andy Wiggans 
6203  3:51:38 Anthony Swanepoel
7786  4:00:37 David Cockshott
8373  4:04:47 Graham Corbett
1973  4:09:22 Diane Kitchen
10223 4:16:04 Peter Bedwell
11386 4:22:22 Roddy Macdonald

Any more?
From Sally Malir ... WOW... What an exciting day Sunday was!!!
I had qualified for the championship start, with the elite ladies, because of my times last year.... that was a fantastic experience in itself.
My East Hull 20 result was enough to give me confidence that I was on for a P.B.
BUT... As everyone knows it was a warm day, and to be honest I didn't feel at my best from the start, I had a great day, a fantastic experience, and everybody's times seem to be slower than expected.
I am pleased with my result and the experience I had. Hopefully it will be snowing next year!
Special thanks to Terry for expert guidance, and to everybody who has supported me (even if they can't see why I should want to do such a strange thing!)
Pete Bedwell writes ... As you can see from the results, my hopes of a new PB and sub 3.45 were scuppered by the heat. I was on track for the first 10 miles, averaging 8.35-8.40 min miling but then the heat started to affect me, my legs stiffened up rapidly and although I got to the halfway mark just under 1.55 I knew that any hope of a good time had vanished and just settled for a shuffling jog to try and get round without stopping and in one piece.
Although I've run in hotter conditions it has never been as bad as this, the tall buildings were reflecting the sun onto you and it felt like the heat was blasting up from the road. There was precious little breeze and although at every water station I was taking a few mouthfulls and pouring the rest over me, within a few hundred metres my face and body were glowing hot again.
Ah well at least the slow pace gave me time to appreciate the crowd support and I did finish in fairly good condition (albeit a bit stiff), a lot didn't, in 7 years of running the FLM I've never seen so many people collapsed, it looked like a battlefield in places.
I'll probably target an Autumn marathon to put the record straight and also reap the benefit of Terry's superb training over the winter, I was in the best shape I've ever been, PB's at 1 mile, 5 mile, 10K and half marathon were testament to that, just a bit disappointed I couldn't cope better at the FLM, still there's always next year.
Lochaber Marathon, Sun 22 April
From Debbbie Rosen ... Lochaber Marathon (Fort William), not as hot as London, just cold, wet, windy and definitely not flat as billed! I sneaked in at 3.44.39, cutting the 3.45 mark a bit fine but getting a PB by 13 minutes. Also running their first marathon, and having a thoroughly lovely time when I saw them on the out-and-back-course, were Anthony and Jane Camp who both finished in 5.14.
Paddy's Pole, Sun 22 April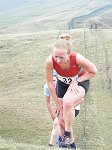 An English fell championships counter. Our ladies won the team prize. Provisional results from www.prestonharriers.com are:

1    JOE SYMONDS     KENDAL  27.27  
27   GRAHAM PEARCE           30.32
78   LAWRENCE BASHAM         33.05            
98   DAVE WILBY              33.53
101  JIM RYDER               33.59            
104  IAN ROWBOTHAM           34.23            
125  RICHARD JOEL            35.19            
185  GOEFF HOWARD            38.11            
189  MORGAN WILLIAMS         38.19            
210  PETER SHIELDS           39.36    
15th team

1   NATALIE WHITE  BINGLEY   34.09  
15  EMMA BARCLAY             37.11            
20  ALISON BENNETT           38.09            
23  ALISON EAGLE             38.42 
25  ALISON WESTON            39.03            
34  HOLLY WILLIAMSON         39.56  
40  JOYCE MARSHALL           40.54  
52  JO FOSTER                42.25  
54  KELLY HARRISON           42.36  
73  SUE BOOTH                45.07 
92  JEMMA BASHAM             50.08 

Ilkley ladies won the team prize, and had enough strength to take 5th and 11th team too! 

Anniversary Waltz, 11.5m/3600ft, Sat 21 April
With this being the English Champs weekend, this fantastic race around the Newlands Horsehoe saw only a small but of course, perfectly formed, Harriers turnout. Conditions were generally pleasant with good visibility on the tops and a strong-ish breeze blowing to keep things reasonably cool.

1   Ben Bardsley, Borrowdale  1:36:20
7   Angela Mudge, Carnethy    1:44:02 (1st Lady & new record)
38  Dave Wilby                1:56:37
122 Heather Dawe              2:13:06 (8th Lady)
201 Clare Cheesewright        2:32:32 (7th FV40)

262 Finished

Bunny Run 3, Tue 17 April
A good turnout of Harriers, a win for the ladies' team and a new record for Alison B. The final Bunny is next week, 24th, then it's the Bunny Relays the week after.

1	15.00 R	IAN HOLMES	V40
7	15.48	GRAHAM PEARCE	
20	17.02	LAWRENCE BASHAM	
28	17.24	PAUL DAVIDSON	
38	17.53	DAVID WILBY	
39	178.02	JOHN ATKINSON	V40
40	18.09	MALCOLM PICKERING	V50
48	18.28	ALEX HIRST	
51	18.45	ROB HAMILTON	V50
59	19.13	SIMON CHAPMAN	
66	19.47	DAVID CUMMINGS	V40
71	20.00 R	ALISON BENNETT	FV40
75	20.10	BOB WIGHTMAN	V40
78	20.27	DIANE HAGGER	FV40
80	20.34	ELLIOT DAWSON	
91	20.48	PHILIP HIRST	V50
99	21.03	CATHERINE WOLFENDEN F
103	21.14	CATHERINE GIBBONS FU16
106	21.20	BRADLEY CHAPMAN U14
114	21.37	KELLY HARRISON F
140	22.35	BRITTANY DAWSON FU14
142	22.54	ADAM BENNETT U16
179	25.34	BERNIE GIBBONS FV50
186	26.26	ANDREW BENNETT V40

Full results here (PDF).
A few pictures here, more on David Brett's site.
Ribchester Roman Road Run, Sun 15 April
From Andy Wiggans ... Fans of the Clitheroe 10k (or alliteration) should pop down the A59 to try this small local race, organised by the Red Rose Runners club. I went over with Vic Verecondi and Mrs Wiggans - I was using it as a cheeky little sharpener before London next week, for Karen it was her comeback to racing after yonks off with a back injury, and Vic was taking the opportunity to run in sunglasses again. It has been run as a 10k, but presumably due to the vagaries of health and safety they've had to modify the course, so it's now just short of 6 miles.
It's an out and back course which Garmin reckons is about quarter of a mile short of 10k, but no matter - lumpy enough to be interesting and scenic enough to take your mind of the lumps, so we all had a good time.
I ran with Karen to the turn, then used the second half as a bit of a speed session to see how many people I could catch. I managed to finish in 32nd place with 43:07, Vic grooved in in a chilled out stylee in 41st with 45:16, and Karen was 2nd F40 and 54th overall with 48:12.
There were 98 finishers, and the race was won by Jason Parker of Preston Harriers in 33:31. A recommended little race - worth the trip.
Lancaster 3 Bridges 10 km, Sun 15 April
From Andrew Bennett ...The heat was on for this flat 10 km race which starts midway between Lancaster and Morecambe and involves crossing the River Lune four times via the Millennium footbridge (twice), Skerton Road bridge and the Lancaster Canal aqueduct. Over 360 runners took part on a hot, sunny day with very little breeze. Christine Matthews (Wife of Dave) made a successful start to 10 km racing by taking the Vet 55 prize, 151st 47:56, Alison Bennett took the Vet 45 prize, 59th 42:39 and I was just glad to finish 319th in 59:51!
National Road Relay Championships, Sat 14 April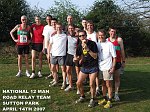 'Harriers Make History (again!)' or 'Kool Runnings - The Sequel'. From Marc Teasey...
Let the records show that on the 14th day of April in the year 2007, Ilkley Harriers Men's team made their first ever appearance in the National Road Relay Championships at Sutton Park, Sutton Coldfield. Two weeks previously we had set another milestone, by not only competing in the Northern Road Relays for the first time ever but, stunningly, doing well enough to qualify for these Nationals. This relay is the highest level team competition that there is for English clubs, with only the top 25 each from the Northern, Midlands and Southern regional competitions qualifying. We knew that the standard would be so high, the field being littered with international runners, that, realistically, our main aim was to avoid the wooden spoon! We achieved this, finishing 63rd out of 69 starters and 65 completing teams. What a great achievement and moment in history for the club. It sets a benchmark and standard now for the club for future years. To give you a sense of the achievement of the club bear in mind that Otley couldn't get a team together for the qualifiers, Skipton didn't get through to these finals, Bingley did get through to the finals but couldn't then get a men's team together. We were one of only 3 clubs from West Yorkshire who made it to these finals (the other 2 being Leeds City AC and Holmfirth Harriers).
The men whose names will be forever recorded in the annals of Ilkley Harriers history are as follows:

Leg Distance                  Time    Leg  Overall
1   5.38m   Lawrence Basham   31:00  66/69  66 
2   3m      Richard Joel      17:40  62/69  66
3   5.38m   Jamie Hutchinson  31:27  55/69  61
4   3m      Dave Wilby        17:38  59/68  62
5   5.38m   Anthony Camp      35:31  68/68  65
6   3m      Paul Davidson     17:18  45/68  65
7   5.38m   Bob Addey         32:34  59/67  63
8   3m      Bob Hamilton      18:53  62/66  63
9   5.38m   John Atkinson     33:33  61/66  63
10  3m      Iain Gibbons      19:19  58/66  63
11  5.38m   Terry Lonergan    35:52  63/65  63
12  3m      Ian Marshall      19:38  59/65  63  

Full results available on www.race-results.co.uk. It was a scorching day (hottest day of the year so far?) and all of the men pushed themselves to the limit in the sapping heat in the leafy environs of Sutton Park, near Birmingham. It was fantastic that 10 of the team who had got us to the Nationals by qualifying at the Northerns were able to make themselves available again at such short notice - says something about the team spirit, commitment to the club and each other and the fun of the event(!). We were very grateful to Anthony and to Ian for stepping forward to make up the full team - Ian in particular made himself available at very short notice following a withdrawal by another team member. Thanks also to Pat Lonergan, Sarah Jarvis and Jemma Basham for their support and company on the day.
Added excitement was provided by being able to cheer one of our local clubs, Leeds City AC, to their overall victory in the Nationals, the first time they have won this event. They were nearly an hour ahead of us!
Badgerstone Relays, Sat 14 April
The Ilkley teams were: Peter Sibley 21.59, Ewan Welsh 22.26 and Mike Baldwin 20.33 4th in 64.58; just ahead of our ladies (first ladies team) Emma Barclay 20.49, Alison Weston 21.43 and Heather Dawe 22.25 (after running at MVT!). An Ilkley family team was 7th in 66.25 - Tom Crane 24.13, Alison Eagle 21.13, and Morgan Williams 20.59. And a junior team was 11th in 74.55: Adam Bennett 298.13, Bradley Chapman 24.02, and Ben Rowley 22.40. There were a few more Harriers dotted about too - full results and photos on www.wharfedaleharriers.org.uk
Meanwood Valley Trail, Sat 14 April
Valley Striders race was won by P&B's Richard Pattinson in 42.08, this was a Harriers Running League counter (results here) so saw a good turnout of Harriers:

13  46.38 Nick Richardson
31  49.35 Malcolm Pickering
66  53.08 Diane Haggar (2nd F35, 3rd lady)
95  55.41 Heather Dawe
97  55.50 Elizabeth McCann
115 57.18 Charles Oxtoby
126 57.40 Vincent Gibbons
135 58.33 Kelly Harrison
148 59.42 Sue Bickerdike
195 63.31 Dave Taylor
198 63.43 Keith Wood
205 64.06 Ian Hargreaves
240 66.56 Bernadette Gibbons
307 74.29 Anne Briggs
322 76.27 Emma Payne
338 82.20 Amanda Parnaby


Some photos at www.raycasse.co.uk
SDXC Presentation Evening, Fri 13 April
From Andrew Bennett ... A handful of Harriers turned up to this event at the Firehouse in Leeds on Friday evening. Awards were made to Ilkley Harriers:

John Atkinson   3rd V40
Geoff Howard    1st V60
 
Diane Haggar    1st V40
Jan Belton        3rd V40
Alison Bennett  1st V45
 
The Ladies also won the Vets Team Category 

Bunny Run #2, Tue 10 April
More fun at the Bunnies, with another race next week!

1   15.10R IAN HOLMES Bingley
7   16.11  GRAHAM PEARCE
22  17.46  JAMES WOOD ROBERTSON
33  18.05  DAVID WILBY
35  18.08  JOHN ATKINSON
39  18.15R MALCOLM PICKERING
54  19.02  BOB HAMILTON
56  19.10  ALEX HIRST
61  19.24  SIMON CHAPMAN
65  19.46  DAVID CUMMINGS
75  20.19R ALISON BENNETT
76  20.22  BOB WIGHTMAN
86  20.57  BEN ROWLEY
89  21.01  DIANE HAGGER
91  21.11  CATHERINE GIBBONS
100 21.21  KELLY HARRISON
104 21.25  PHILIP HIRST
108 21.38  DAVID TAYLOR
109 21.40  BRADLEY CHAPMAN
116 21.55  SAM HAGGER
146 23.58  VINCENT GIBBONS
150 24.15  ADAM BENNETT
162 25.10  MARY GIBBONS
183 26.57  ANDREW BENNETT

Full results here (PDF).
Photos on David Brett's site.
Pendle fell race, Sun 8 Apr
Alison Weston reports ... Emma Barclay was 4th lady, 70th overall in 41:50; Norman Bush was 86th in 43:09; and Alison was 89th in 43:17
Fleetwood 10, Sun 8 April
Geoff Howard completed this in 65m 07s. 17th in field of 151 but 32s behind first v.60 (Raymond Hall of Halifax Harriers. Race won in 54m 53s by Steve Littler of Wesham Road Runners.
Guiseley Gallop, Sun 8 April
From Nick Richardson ... Near perfect conditions and a large turnout for this ever popular Easter Sunday event. Jamie Hutchinson continued his current run of blistering form and led the Harriers home, finishing 9th overall. Results were as follows:

1	0:35:08 Kim Critchley (Knavesmire)
9	0:37:55 Jamie Hutchinson
19	0:39:29	Nick Richardson
29	0:39:58	Tim Ashelford
59	0:42:22	John Atkinson
73	0:43:39	Daniel Goodey
91	0:45:08	Diane Haggar 1st LV40
98	0:45:29	Terry Lonergan
118	0:47:07	Peter Sibley
142	0:48:21	Elizabeth McCann
146	0:48:51	Amanda Oddie
163	0:49:29	Vincent Gibbons
215	0:52:30	Sue Bickerdike
227	0:53:05	John Marshall
306	0:57:45	Keith Wood
318	0:58:13	Bernadette Gibbons
325	0:58:26	Colin Lugton
336	0:58:49	Mary Gibbons
400	1:03:17	Emma Payne
456	1:08:26	Amanda Parnaby
462	1:09:40	Sue Lugton

Diane Haggar adds ... 20 Harriers completed the course at Glorious Guiseley where the going was good to firm (a welcome change from the usual mud bath in the woods). The race was won by Kim Critchley of Knavesmire in 35.08. Jamie Hutchinson was our first man home at 9th (2nd V35) closely followed by Nick Richardson (19th,) and Tim Ashelford (29th, 4th V40) - is there something about the number 9!
Amanda Oddie led the ladies race until about 6K then I took up the lead but couldn't hold on uphill and was overhauled by the ladies winner: Abey George-Plunkett of Knavesmire, and came 3rd. I was really chuffed to knock another 5 minutes off my pb for the course. Between us the Harriers ladies took a host of age group placings: I was 1st V40, Elizabeth 2nd V35, Amanda 3rd V35, Sue B 4th V35, Bernie 4th V50, Mary 1st Junior and Sue L 4th V55.
Julian from Otley AC recorded the start of the race on video, Youtube link here.
Manx Mountain Marathon, 7-8 April
Roy Ruddle reports ... Manx Mountain Marathon (31.5 miles, 8000 ft)
Fanstastic weather for the north-south traverse of the island, taking in 11 major tops en-route. I started slow (almost last to top of first hill) but kept a fairly steady pace where others faded, so by the end I was 36th. A "walkers" class started a few hours before the main race so in the final miles I was overtaking someone every few hundred metres. Pulling into the finshing straight there was yet another person in front and as I pulled level Alexa bellowed "GET HIM", much to the surprise of the elderly gentleman sitting on the bench beside her! I kicked for home but so did the other runner, so I launched into a balls-out sprint but so did he and his was faster. Two metres from home he relaxed, thinking he had me, so after 6 hours and 13 mins I beat him by 1 second!
Old Mutual Two Oceans Ultra Marathon 56km, Cape Town, Sat 7 April
From Nigel Tapper ... In testing conditions of 27 degrees and hills that were never ending, I was extremely pleased to have finished the race which was a distance I had not attempted before (and will probably not again). The race really starts at the marathon mark where the route is then more or less up hill all the way for another 14kms. A fantastic event, breathtaking in every sense of the word. I had been hoping to sneak under the 5:30 mark but in the end the distance and lack of serious long hill training in the heat put pay to that notion!

1    BETHUEL NETSHIFHEFHE  South Africa 3:07:56 
2700 Nigel Tapper 5:41:52 (9km 52:00, 28km 2:34:12, 42km 4:00:13, 50km 5:00:53)
8000 ran

Salford 10k, Fri 6 April
From Pete Bedwell ... quick report from the Salford 10K as the only Ilkley Harrier. Not very scenic but a well organised and above all fast and flat 2 lap course meant I finally managed to break the 45 minute barrier after 10 years of trying. Terry was on hand at the start of the last straight to shout encouragement and I even managed to overtake the guy in front of me in a sprint finish at the end. Very pleased with a 44.44 , a PB by 56 seconds, 293rd out of 557 finishers, won in 29.43 by Andi Jones
Bunny Run #1, Tue 3 April
Lots of fun at the first Bunny Run on a great new course at Penistone Hill over (nearly) 3 miles. There are Bunny Runs on the next 3 Tuesdays, then a relay. Be there or be square. This first one was a counter in our Harriers Running League - Graham is leading the fell competition after 2 races, but Geoff still holds the overall lead in the League.

1	15.15	IAN HOLMES
5	16.09	GRAHAM PEARCE
12	17.11	LAWRENCE BASHAM
19	17.43	NICK RICHARDSON
23	18.05	JOHN ATKINSON
28	18.22	DAVID WILBY
29	18.25	MALCOLM PICKERING
42	19.15	BOB HAMILTON
45	19.34	ALEX HIRST
53	20.17	SIMON CHAPMAN
54	20.18	DAVE CUMMINGS
68	20.44	BOB WIGHTMAN
86	21.25	CATHERINE GIBBONS
87	21.27	DAVE TAYLOR
90	21.33	KELLY HARRISON
91	21.41	PHILIP HIRST
108	22.07	PAUL WOOD
121	23.01	BRADLEY CHAPMAN
129	23.32	IAN HARGREAVES
134	24.06	LOUISE CARTLEDGE
150	25.54	BERNIE GIBBONS
151	25.56	EMILY KERR
156	26.47	SUE STEVENS
180	30.52	ROS LEACH

Full results here (PDF).
Photos on David Brett's site.
Northern Road Relays, Sun 1 April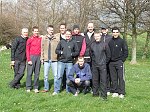 From Marc Teasey ... Twelve of our best men made the long minibus journey to Sunderland for this prestigious event. No-one can remember Ilkley ever entering a men's team in this event before (any long-standing members know whether we have?) and it was quite an achievement just to get a team out, given the historical fell orientation of the club. The team was only finalised on Saturday night, due to the usual factors of injuries, withdrawals, etc. - I can't thank the reserves who stepped in at the last minute enough for their support and commitment to the club, and without whom we would have had to pull out! Thanks also to those men who initially pledged to race and who stuck by their word.
The format of the race is a 12-stage relay, with four individual legs of around 4 miles and 8 individual legs of about 2 miles. The quality of this competition is such that our primary aim was to avoid coming last out of the 58 teams who had entered.
WE EXCEEDED OUR WILDEST EXPECTATIONS!!!!
Provisional results are as follows:

Leg Distance Name                 Time   Overall position
1  4 miles  Lawrence Basham       23:14  31 
2  2 miles  Richard Joel          11:39  30
3  2 miles  Bob Hamilton          12:32  34
4  4 miles  Bob Addey             23:27  33
5  2 miles  Paul Davidson         11:26  31
6  2 miles  James Wood-Robertson  11:25  28
7  4 miles  Dave Wilby            24:21  26
8  2 miles  Iain Gibbons          12:43  27
9  2 miles  Dave Brown            11:58  27
10 4 miles  Jamie Hutchinson      23:21  25
11 2 miles  John Atkinson         11:42  25
12 2 miles  Terry Lonergan        13:28  26

To finish 26th in 3:11:18 is a huge achievement for a club with a lack of road racing pedigree (and it was particularly satisfying to beat Skipton AC). It was apparent as the day went on that we have good strength in depth at the club, as we had no weak legs at all.
Even more amazingly, our high placing meant that we have qualified to compete in the National Road Relays in Birmingham in 2 weeks time, an event which is invitation only. Discussions are now taking place about whether we can get another 12-man team organised in time to make use of this opportunity.
I can't praise our men enough - they ran their hearts out. The team spirit and mutual support was fantastic (thanks also to Jeff Paget who overcame the frustrations of his own injury to come along and provide great encouragement). Ilkley Harriers should be very proud of what their men have achieved today.

Terry Lonergan's photos

Alistair Davy's photos
Blubberhouses 25, Sun 1 April
Ian Rowbotham was first finisher in 3h18; Eddie Winslow 7th in 3h38; Pete Shields 21st and 1st V60 in 3h56, and Amanda Parnaby 5h20.
Baildon Boundary Way, Sun 1 April
From Sue Bickerdike ... Thirteen Harriers ran this years Baildon Boundary Way in glorious weather - until the wind got its revenge and tried its hardest to blow you to a halt at Baildon Moor and Harvey Smith's gallops - always the point at which your energy reserves are at their lowest! Nevertheless, this year saw some good results. Won by Chris Miller of Harrogate in an impressive 1:19:45

11   1:28:28  Nick Richardson
22   1:32:25  Malcolm Pickering
59   1:40:38  Daniel Goodey
102  1:47:49  Phil Atkinson
113  1:49:48  Peter Sibley
152  1:53:17  John Woodward
158  1:53:45  Sue Bickerdike
167  1:55:09  John Coates
171  1:55:38  Tim Ratcliffe
181  1:57:19  Elizabeth McCann
196  1:59:17  Keith Wood
207  2:00:43  Vincent Gibbons
296  2:21:32  Christopher Hadfield
315  2:31:56  Emma Payne

I ran a pleasing PB by 45 secs and was first lady Harrier home - I've always wanted to say that! Never thought the day would come - just shows that a depleted turn out of Harrier ladies due to other commitments can be a bonus for someone!
News Jul-Sep
|
News Jan-Mar