Beamsley Beacon fell race, Wed 29 June
From Ed Battye .. Won in 37.05, with 3 Jason Hemsley 38:42; 7 Shane Green 40:34; 13 Mike Baldwin 42:54; 26 Norman Bush 47:56; 30 Pange Srivastava 51:17; 35 Ed Battye 53:46; 43 finishers.
Yorks Vets Relays, Esholt, Sun 26 June
From Pete Shields ... We had two teams in the mens over 40 category on what was a very hot day at Esholt with all its fine aroma, I can leave the rest to your imaginations! The venue did not stop the popularity of these relays as a record number of teams were entered, with all the tops vets from our region taking part. The race comprised of four legs, each 2.5 miles in length. Neil Chapman and Roy Ruddle took on the unenviable task of running the first legs and brought home the A and B teams in 15.12 secs and 14.43 secs respectively, really strong running from the pair of them. The battens were then handed over to Jon Atkinson and Clive Smith (running with a niggling achilles injury. Again the Ilkley lads ran strongly finishing their legs in 14.41 and 15.14 putting the A team a second in front of the B team. Dave Jepson and Keith Wood then took up the challenge, Dave coming home in a good time of 14.55 secs and Keith driving hard to the finish in 16.40. Mark Illey and Ian Marshall, fresh from yesterdays Eldwick Gala fell race took on the anchor legs coming home in 15.08 and 16.00. The A team finished in 12th position and the B team 16th. These are really good results, in a quality field and hopefully will inspire some of the other vets at the club to get involved in future events of this nature. Well done lads. Results at the YVAA site.
Susa Success, Sun 26 June
Back at the start of June, Ilkley Harriers staged the selection race for the English junior teams for the Marco Germanetto Memorial Races at Susa, Italy. The England boys' team won, and the second team was 4th, and the girls team won Silver, with many individual successes.
Culter fell race, Sat 25 June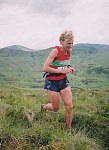 AM 11m/4900' From Jo Foster: Hot conditions, nice views, midges and some very big hills attracted a disappointingly small field of just 166 for the British Championship Culter Fell Race on Saturday but Ilkley Harriers were out in force with 7 of us making the trip to Scotland. Ilkley Ladies were first ladies team, extending their lead in the British Championships to 3 wins out of 4 races. Jim Ryder represented Ilkley's men coming in 53rd in 2.15.17. Helen Sedgwick was 3rd lady, 63rd overall in 2.17.15 followed by Emma Barclay (5th lady, 73rd) in 2.20.35, Nicky Jaquiery (9th lady, 85th) in 2.27.35, Alison Eagle (10th lady, 3rd LV40, 91st) in 2.32.17, Sally Malir (13th lady, 101st) in 2.34.55 and Jo Foster (18th lady, 112th) in 2.38.59 (delighted to finally get some British Championship points!)
Many thanks to Ken and Morgan who were a fantastic support crew!
Full results on www.shettlestonharriers.org.uk
Eldwick Gala fell race, Sat 25 June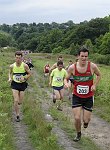 Terry Lonergan reports ... If your nearest and dearest are not keen on going to races with you because there is nothing for them to do whilst you are doing your thing, then perhaps next year you can entice then to accompany you to the re-instated ELDWICK & GILSTEAD GALA FELL RACE.( For "fell" read "hill"!)
Formerly a regular event on the local calendar, the race which takes as part of the village gala celebrations justified its renewed interest and proved extremely popular with the both competitors and the general public amid the pop bands, dance troupe competitions and side shows!
Six members with families and friends made the short journey over the hill to tackle the "three" mile trek up and down Hope Hill, at the top of Baildon Moor. The Bingley Harriers organised event enjoyed an increased entry of 107 (from 56 last year) with top runners Simon Bailey (Mercia) and local hero Rob Jebb battling for first place. The very experienced and versatile Anne Buckley (currently of Salford Harriers) beat Sharon Taylor by over a minute to lead the ladies in.
Ilkley places and times were as follows:- (behind Simon Bailey................16.45)

10    Graham Pearce.................19.02
20    Jamie Hutchinson..............20.03
35    Ian Marshall..................21.33
54    Cath Wolfenden    (6th).......23.05
70    Elizabeth McCann  (9th).......24.36
83    Elliott Dawson    (u/16)......26.21

Circuit Training
A reminder that there is outdoor circuit training for Harriers, led now by coach and Ilkley Harrier Emma Payne until September. Monday 7pm.
Tuesday nights
The track and rear parking area at ILT&SC have been improved at a cost of thousands of pounds. We've been asked to please drive slowly on it (limit 15MPH) to preserve the new surface.
Thursday track training
From Andy Wolfenden For health and safety reasons, access to the track is now only through the reception area, where everybody is required to sign in and sign out, so it's best to pay your pound on entry and pick up your car park exit token as you leave.
The Thursday session (meet 6.30) is continuing to be popular with our small group of mixed ability runners, so we'll keep it going right through the summer.
More on the training page
HRL #4, Skipton, Tue 21 June
55 Harriers in a field of 250, enjoying a perfect Midsummer Night's Racing. Ilkley retain 3rd team, and 1st ladies and ladies vets team places. Next race is local too, this side of Harrogate on Tue 5 July. Results on the HRL web site.
LAMM, 18-19 June
From Heather Dawe The LAMM was on Mull last weekend. Quite a few Harriers out; Joyce Marshall, Ashley Hardwell, Anna Liuba and Rachael and Kevin Gooch and me. It was generally always claggy above 350m, crap visibility meant good times for the better navigating runners, Joyce and her partner Steve Watkins had a great run to finish 16th (and 3rd mixed pair) in the B class in 12:41:44. Rachael and Kevin also did B, 87th in 16:52:21; and Ashley and Anna. Me and my partner Helen Jackson were 13th in Elite (first ladies by default) somewhat slower than we'd have liked (a few mistakes in the mist...) but we did it, it was my first Elite so it was great to finish.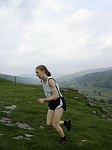 Kettlewell fell race, Sun 19 June
In this short BOFRA race Ilkley had the first lady, Helen Sedgwick 22nd overall in 15:24; and Norman Bush 31st in 16:15
Bradford Millenium Way Relay, Sun 19 June
From John Smith ... The Ladies and Gents who turned out for Ilkley on a baking hot day turned in creditable performances finishing 20th (4th Ladies) and 14th overall respectively. Horsforth Harriers Men were winners overall in a time of 6:38:41
It is reported that "both individuals who dehydrated badly on Leg 3 have recovered well and were home on Sunday night."
For the Men Phil Atkinson and John Smith kicked off first coming in 19th in a time of 1:41:40. Eugene Doherty and Jon Tindall were 18th on the next leg in a time of 1:46:52 (pipped at the post by 2 seconds by the Ladies on that leg). Richard Gray and Vince Gibbons were in next in 1:29:08 in 19th place. On the forth leg Neil Chapman and Pete Shields turned in a storming performance coming in 8th position in a time of 1:25:56. On the final leg Keith Wood and John Bullock came in 17th in a time of 1:50:09. Total time for the Men was 8:13:44
Jan Belton and Helen Shew led off for the Ladies coming in 27th in a time of 1:56:56. Elizabeth McCann and Barbara Bullock were next off and came in 17th in 1:46:50 (see above). Suzanne Bickerdyke and Angela Strivaslava came in fantastic 8th (1st Ladies) in what must have been the hottest leg in 1:21:58. Sarah Jarvis and Alison Bennet continued the good work on leg 4 coming in 11th (2nd Ladies) close behind Pete and Neil in 1:30:56. Heather Maud and Grace Brown finished the race in 2:03:19 in 25th place. Total time was 8:40:39.
Well done to all concerned.
Kirkby "Killer" Duathlon, Sun 19 June
Emma Payne ...I completed the Kirkby "Killer" Duathlon on Sunday. The Killer aspect comes from the variation on the normal fast flat road format of a traditional duathlon to a 4 mile off road run 24miles (stupidly hilly) cycle around the North Yorkshire moors and 4 mile fell run to complete the route. Probably not the best event to do as a first duathlon but the off road running format appealed!
I completed the course 45th out of a very small field of 46 in a very disappointing 3hrs 48mins after having to near walk the final run suffering from the effects of 30°C blistering temperatures.
A great race for crazy Harriers to consider next year, hopefully it will run again given the very small field compared to the 300+ entries when it is run in its traditional Stokesley format.
Freckleton Half, Sun 19 June
From Pete Bedwell ... a quick report about the 41st Freckleton Half marathon held on Sunday 19th. As the only Harrier, managed 1.53.11, 204th out of 375 finishers, 34th M45 out of 49 in sweltering conditions. Well marshalled undulating course but very very hot, the cloudburst came half an hour after I finished!
Blackpool Half, Sun 19 June
A subdued Andy Wade reports ... To put it in a nut shell this particular race went pear-shaped. The start was delayed by 30 minutes due to an accident on the course. The conditions were too hot, God knows how the marathon runners coped. I had to pull up at 6 miles due to a recurring ankle injury, therefore no t shirt. A £14 race fee, a 6.30am departure, thank goodness a bottle of wine was waiting for me, courtesy of my daughter for Fathers Day.
Roll on injury free running.
Andy Wiggans reports from the Marathon: On a hideous day for distance running, with the temperature reputedly 30 degrees and a 40 minute delay at the start, I was unfortunately stupid enough not only to start the Blackpool Marathon, but to continue to the finish. My time was a deeply unspectacular 3:44:06, but considering I'd had enough by about mile 12 I'm quite pleased to have carried on to the end. I was 152nd out of 808 finishers – the estimated "did not finish" rate is 40% - surely some sort of record?
There were a couple of other Ilkley vests in evidence at the start of the half-marathon, one adorning the svelte form of a Mr A Wade, who steamed past looking good at about 4 miles. Couldn't find either on the results list though – but as my recorded time (3:38:11 Ed) is some 6 minutes faster than I actually ran, there's no telling where the two Ilkley boys are – possibly conked out due to the water shortage (some lovely people nicked lots of it overnight, leaving several water stations without at times) or maybe they had their results transferred to an obscure 10k race in Albania…
Buckden Pike fell race, Sat 18 June
AS 4m/1500' Neil Chapman reports ... There were over a hundred runners at Buckden for a tough four mile race run in very hot and humid conditions as part of the village annual gala. The race was won by Gary Devine in 34.53, with Graham Pearce first Harrier finishing 8th in 38.18, then 2nd claim harriers Jason Hemsley 12th in 39.25 and Shane Green 16th in 40.13. Jason's result was particularly impressive as he had cycled to Buckden from Otley before completing the race. We then had Malcolm Pickering 34th in 44.08 with Jamie Hutchinson 41st in 45.11, not bad considering he only came to watch the race. I struggled round finishing 63rd in 50.17, with Keith Wood continuing with his busy race schedule 92nd in 60.09
This was a Harriers Running League counter.
ROM May 2005
The Ilkley Harriers Runner of the Month for May is Bob Wightman -

click here for details.
Yorks Vets 6M, Starbeck, Wed 15 June
Neil Chapman reports ... There were three Harriers who did the Yorkshire Vets race at Starbeck yesterday, run on the same relatively flat and fast course used for the HRRL. It was a perfect evening for racing against some quality veteran runners. I was first Harrier back in 35.08, as you might expect being the youngest of the trio!!! Pete Shields was not far behind in 36.39 having passed Dennis Ackroyd 37.47, who paid the price for his fast start, in the latter part of the race.
Otley 10M, Wed 15 June
274 finishers enjoyed the warm and challenging conditions of this year's Otley Motors 10 Mile Road Race, won by Leeds' Tim Midge in 57:55. Ilkley finishers were: 20 Richard Joel 1:04:38; 27 Jamie Hutchinson 1:05:09; 31 Mark Iley 1:05:53; 34 Dave Jepson 1:06:21; 44 John Atkinson 1:07:13; 54 Neil Chapman 1:08:20; 58 Nick Richardson 1:08:33; 64 Mike Baldwin 1:08:57; 65 Iain Gibbons 1:09:00; 79 Jeffrey Paget 1:10:44; 95 Peter Shields 1:12:36; 96 Bob Wightman 1:12:37; 118 Elizabeth McCann 1:15:06; 126 Anthony Swanepoel 1:15:58; 130 John Smith 1:16:36; 157 Keith Wood 1:19:26; 162 Jean Sullivan 1:19:53; 176 Nick Mellor 1:21:36; 181 Helena Deeney 1:22:11; 184 Stewart Taylor 1:22:39; 188 Peter Bedwell 1:23:18; 196 Helen Shew 1:24:25; 207 Bernadette Gibbons 1:25:53; 264 Russell Mines 1:41:41
This was a Harriers Running League counter.
Edale fell race, Sun 12 June
AS 5m/1400' Our ladies were 2nd team on the day so should hold on to their lead in the English and British Championships.
Results from Jo Foster: In the ladies race there were 102 starters and 100 finishers. We had a great turn-out of 7 ladies. 9th Helen Sedgwick 43.29 13th Emma Barclay 43.59 15th Nicky Jaquiery 44.29 27th Alison Eagle 45.49 30th Jo Foster 46.05 37th Sally Malir 46.44 73 Rachael Gooch 52.11 (5th LV50)
In the mens' race on the same course we had: 69th Graham Pearce 38.02 100th Jim Ryder 39.28 243 Ken Jaquiery 46.25 There were over 350 running.

Dave Woodhead's Harriers photos
Middleton Trail Race, Sun 12 June
8k, 11 Bob Hamilton 44:09; 17 Alison Bennett 1st lady in 46:24; 24 Dennis Ackroyd 48.55; 28 Keith Wood 50:46; 31 Elizabeth McCann 2nd lady 51:13; 43 Ed Battye 52:43; 35 Nick Mellor 53:37
Harewood Chase, Sun 12 June
From Bingley harriers web site: in the ladies race Helen Shew was 18th in 46:58
In the men's race we had 18 Steve Turland 37:22; 68 Anthony Swanepoel 42:56; 89 Richard Gray 45:16
Ennerdale Horseshoe, Sat 11 June
AL 23M/7500' We had 40 Eddie Winslow 5h12:01; 50 Ashley Hardwell 5h24:02; and 61 Alison Weston 5h39:18 (7th lady)
Glen Rosa Horseshoe, Sat 11 June
Heather Dawe I went over and did the race (13m 5500ft) on Arran. Very nice weather made for good running conditions and views, I was first lady in around 3:30.
Swaledale Marathon, Sat 11 June
Linda Wright reports ... Myself and Victoria started and finished (surprisingly!) the Swaledale marathon in 5hrs 11 minutes. We had a wonderful day in a very well organised and friendly event. The weather was good to us even if the terrain wasn't. We'd do it again just for the jug with the Swaledale sheep on.
Wheldrake 10k, Sat 11 June
Pete Bedwell reports ... Perfect day for racing, Cloudy, dry, no wind not too warm and a very flat and fast 10K route at Wheldrake. This was only run for the first time last year with 150 finishers, this year it had obviously got some good reports as the 300 race limit was reached the week before the race, with 250 finishing on the day.
The Ilkley Harriers were represented by myself, Jamie Hutchinson, and Iain Gibbons. Jamie finished in 11th position with a time of 37.08, Iain 40.00 dead by his watch and I was very pleased with a new PB by 24 seconds of 45.40 getting 89th place, beating my previous PB that was also set at Wheldrake last year.
This really is a race for PB's, virtually completely flat, especially for us Harriers used to the hills round Ilkley, well organised and not too crowded, especially if you got to the front for the start. Well marshelled with a water station at 6K and what seemed to me to be accurate 1K markers all the way round. The course did two loops of the village before heading out on one of the lanes before cutting through a woodland path then back into the village to finish at the school. A nice rural route and all very flat with hardly any traffic and a nice little marble momento at the finish with your little goody bag made this a very enjoyable run. There was also a fun run beforehand and a bit of a fair, including beer tent, at the end so definitely one for the diary for next year.
Gt Yorks Bike Ride, Sat 11 June
Emma Payne reports Amanda Parnaby and myself participated in the Great Yorkshire Bike Ride on Saturday. 70 miles from Wetherby to Filey, I completed the ride in 5hrs (too many cake stops!) not sure about Amanda's time.
Full Bronte, Thu 9 June
Keith Wood reports in ... Last night four Harriers made the short trip 'over the hill' on a lovely evening for 'The Full Bronte' a great 5 mile road race at Howarth which incorporates the Yorkshire Veterans Championships.
First home was Alison Bennett 62nd in 33:50 followed by 72 Pete Shields in 34:48 and 84 Keith Wood in 36:31 (both feeling the effects from the Badger Stone relay the previous evening!). Bernie Gibbons followed in 123rd 42:10 with a big smile on her face!
It was nice to get good encouagement from the supporting Terry Lonergan and his wife!
Apperley Bridge Canter, Thu 9 June
Dave Jepson was 25th in 38:16 and John Woodward 81st in 44:04 at Horsforth Harriers new trail race.
Badgerstone Relays, Wed 8 June
From Alison Weston .. We had 4th team - Ilkley A team (Graham Pearce 17.15, Jim Ryder 17.46, Jason Helmsley 17.47),
13th - Ilkley B team (Richard Joel 19.17, Ed Battye 23.33, Ewan Walsh 19.47)
14th - Ilkley Old Boys (Norman Bush 20.52, Dennis Ackroyd 23.15, Mike Baldwin 18.31)
19th, and 1st ladies team - Ilkley Ladies (Pange Srivastava 23.03, Jo Foster 22.35, Alison Weston 21.48)
and 21st Ilkley Elite (Ashley Hardwell 21.35, Keith Wood 22.39, Pete Shields 23.22)
A great atmosphere but too many midgies!!

Dave Woodhead's photos (Harriers and others)
Coledale Horseshoe, Tue 7 June
AM 9m/3000' From Heather Dawe ... A few Harriers made a trip over to the Lakes on Tuesday night to do the Coledale Horseshoe. Quite a long way to go for an evening race but it was worth it. The weather was great (in contrast to Duddon!) and it's a classic route. Not sure about times but I was 2nd lady, Alison Eagle 4th Lady with Ashley Hardwell finishing about a minute before me.
Results from www.c-f-r.org.uk: 40 Ashley 1:39:18; 44 Heather 1:40:11; 55 Alison 1:45:07 1st LV40
HRL #3, The Pond Dale 5, Tue 7 June
We had 32 Harriers in a field of 208 at the most far-flung (for us) race in the League. Jason and Jamie were top 20, and Alison Bennett was 5th lady. We are still 3rd team, only 100 points or so down: the ladies and lady vets teams are holding their lead despite a strong Swaledale challenge; and the male vets are a close 3rd. Can we come back with good results at the more local races at Skipton (21 June) and Harrogate and win the main team competition?? results and photos on the League web site.
Susa Trials Races, Sun 5 June
Ilkley Harriers organised these junior selection races, and thanks to the many helpers they were a great success. More on the Junior Pages.
Morecambe 10k, Sun 5 June
Andy Wade reports ... Paul Green of East Cheshire Harriers won the Morecambe 10K easily in 31' 29'', finishing over 1 minute ahead of his nearest rival. A slightly undulating course ran partly on the promanade and mainly on footpaths. With 243 finishers the race was run into a headwind for the first 3 miles then the sun came out making conditions warm for the second half. Alison Bennett ran an excellent 40'59', 49th position overall 4th female and 1st lady V40. I finished 26th position overall in 37'28''
Thirsk 10, Sun 5 June
Terry Lonergan reports ... Thirsk offers one of the flattest and fastest 10 mile courses around but very often temperatures can prove a handicap. This year cooler, drizzly conditions with light winds made for a more comfortable run. I was very pleased to record my best time for 3 years in clocking 62.23 for 40th overall. However this was only good enough for 2nd V55 and failed to match Geoff Howard's club best time this year of 62.11
The Good Gallop, Pudsey, Sun 5 June
The Gibbons Girls (and Patrick) were all gallopping in this 3 mile race at Pudsey: 40th Catherine 24:08 (1st U16 girl!) ; 41st Patrick 24:09; 43rd Mary 24:11; 123rd Bernie 29:55; 124 Eileen 29:55
Wharfedale Off Road Marathon, Sat 4 June
Amanda Parnaby reports ... Yesterday, Barbara Bullock and myself completed the Wharfedale Off Road Marathon in 5hrs 24mins - rained for most of the day and very windy
Dennis Ackroyd was 4th in 1.56.37 and 1st over 50 in the 1/2 marathon 13m/2300'
Duddon fell race, Sat 4 June
AL 20m/6000' From Jo Foster 6 intrepid? mad? Harriers ran the 20 mile Duddon Fell Race in what can only be described as foul conditions - limited visibility, gale force winds and rain. In spite of the weather there was a big turn out and they ran out of dibbers! However it will be interesting to know how many people actually finished. We all did - although all of us had a navigational tale to tell and the times included a lot of wandering around in the mist! Roy Ruddle was first back, 11th Vet 40, in 4.39.56, Nicky Jaquiery and Heather Dawe crossed the line together as joint 2nd ladies in 4.58.28, Jim Ryder ran 5.05.37 and Alison Eagle was 5th lady and 1st lady vet 40 in 5.06.36 and Jo Foster was 6th lady in 5.06.54, having run together but sprint finished to be ahead of a couple of other ladies! The lesson of the day - trust your compass bearing instead of being a sheep!
Pen y Ghent fell race, Sat 4 June
AS 5.5M/1650' Jamie Hutchinson was 24th in 55:43; Richard Joel 44th in 57:36; Mike Baldwin 49th in 58:28; Helen Sedgwick 58th and 3rd lady in 59:40; Alison Weston 102nd in 66:45; and Ed Battye 116th in 70:35
Otley Chevin fell race, Wed 1 June
AS 3.5M/900' From Bob Hamilton ... Not a bad turnout, but it still surprises me that this wonderful little race doesn't attract more people. I think I picked up most of the Ilkley finishers: Jason Hemsley 4th, 19.27; Graham Pearce 10th, 20.08; Bob Hamilton 14th, 20.56, 3rd V40; Jamie Hutchinson 17th, 21.11; Ian Marshall 27th, 22.02, Mike Baldwin 32nd, 22.24; Helen Sedgwick 35th, 22.43, 1st Lady; Heather Dawe 44th, 23.13, 2nd Lady; Keith Wood 81st, 26.26; Amanda Parnaby 35:51; Antonio Cardinale time tbc
Rombalds Moor, Tue 31 May
BS 3M/700'Bob Wightman reports ... There were three Harriers running in this premier Olympic (sic) event. Out of a field of 69, Mike Baldwin came 28th in a time of 22:54. Ewan Welsh came 33rd in a time of 24:38 and I came 35th in a time of 24:43
Austwick Amble fell race, Mon 30 May
BM 8M/1600' Dennis Ackroyd ran 66:14
The Sale 5, Mon 30 May
From Terry Lonergan ... Second visit of the month to Wythenshawe Park in Manchester for a rare go over the five mile distance. Very optimistic target was 30.00; duly achieved with epic sprint on the track at the end! Not a pleasant sight immediately afterwards but the final time of 29.59 justified the effort! 3rd vet.55; 51st of 232
Melmerby 10k, Sun 29 May
From Sue Bickerdike ... At the Melmerby 10k today Jon Tindall ran 73rd, 42.50s, beating last years time by 5mins and getting a new 10K PB by 2mins+. Top running Jon! The race was won by Gary Dunn, in a time of 33. 00. I finished 123rd, 45.56 10th LV35. Dead disappointed, (although it was 2 mins quicker than last year) but was heartily cheered to find that running the 2 1/4 mile fun run with Edward beforehand was not all in vain as Ed came in 2nd (7 and under) in a time of 18.38. Vic Verecondi and son Luca ran the fun run but not sure of their times.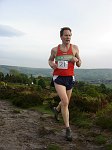 White Lion fell race, Kildwick, Wed 25 May
BS 3.75M/800' Graham Pearce was 13th in 28:12; Jason Hemsley 16th in 28:19; Stefan Macina 18th in 28:39; Mike Baldwin 31st in 30:17; and Dennis Ackroyd 52nd in 34:08

Dave Woodhead's photos
Scottish Islands Peaks Race, May
John Smith reports ... Phil Atkinson and I completed the SIPR over three days between 20 and 23 May. In mixed sailing conditions featuring wind strengths from zero to near storm force and wet running we completed the race in 72 hours and 7 minutes and finished 31st overall and 7th in our class. Our running time of 17 hours and 41 minutes put us 31st in the running table.
Manchester 10k, Sun 22 May
From Sue Bickerdike ... Ran the Mcr 10K today - just managed a PB by 7 secs - 45.32. Get in! Bit disappointed cos crossed the start line and then walked for 48secs before I started to run. Must make a mental note - 20k +participants does not a fabulous PB make!! Oh well, met up with lots of old friends so a good day out!
Yorkshire 10k, Newby Hall, Sun 22 May
Nick Richardson reports ... Good conditions for this new off road 10k. I was very pleased to come in 19th, in 38:54
Etape du Dales, Sun 22 May
Bob Hamilton reports ... For the record, there were a few Harriers doing the Etape du Dales yesterday, a 110 mile circuit around the Dales with 15,000 feet of climbing. Jason finished in 6.53, I did 7.02, and Stefan 7.14. Geoff Howard was out supporting, and he mentioned that Chris Gale was competing too.
... and from Jason Hemsley Myself, Stefan, Steve Bottomley, Paul Howard (Geoff's son), Bob Hamilton and about 400 other cyclists rode the 'Etape du Dales' (Dave Rayner Ride) today, a 110 mile route from Gargrave deep into the dales, taking in tough climbs like Fleets Moss, Buttertubs Pass, and Garsdale Head.
I finished in 6 53, Stef 7 15, Bob 7 00, Steve 7 30, after missing a turn and doing an extra 10 miles to Sedbergh and back. A great day out in lovely dales country and all in a good cause.
Sandal Castle 10k, Sun 22 May
Andy Wade reports ... Double jointed ankles were the order of the day for the Sandal Castle 10k, ploughed fields and very hard soil were very difficult to overcome in this well attended race. The start was delayed by 15 minutes due to the volume of entries on the day.
Out of 1006 finishers there were 2 Ilkley Harriers in attendance, Pete Bedwell and myself. Pete finished in 49'41'' 386th position and 56th V45, I finished in 37'14'' 29th position and 7th V40. On a personal note, after a year out with an achilles injury its so good to be back racing.
Open 5 Adventure race, Sun 22 May
A few Harriers travelled to Windermere for the second in the excellent series by Open Adventure. Harriers included Paul Wood who was 16th in class with 425 points, Ed Battye 20th with 369 points, and Louise Cartledge 9th in the Mixed Pairs class with 405 points.
Helvellyn fell race, Sun 22 May
AM 11m/4500' Ian Marshall reports ...

67th  Ian Marshall    2.16.22
79th  Ken Jaquiery    2.18.59
86th  Ashley Hardwell 2.21.29
142nd Rachel Gooch    2.43.09   2nd FV50

162 started. Results on www.keswick-ac.org.uk
Bob Graham Round Success
Great news from Bob Wightman ... Yesterday, Saturday 21st May, I was one of at least nine attempts on the Bob Graham Round. This being my third attempt. Starting at midnight and going in a clockwise direction, I returned to the Moot Hall in Keswick at 23:54. Third time lucky :-) The bare details are: Halls Fell being very tricky in the damp conditions and wiping out most of the time advantage accrued up to that point.
Heavy, cold, rain just after dawn whilst on the Helvellyn section leading to cramps on Dollywaggon Pike. Arrived at Dunmail in a bad condition.
The cramps returned with a vengeance on the Langdale Pikes and considered quitting. Continued in improving weather to arrive at Wasdale, looking "strong".
Georgeous weather for the fourth leg saw me on Great Gable with 4 1/2 hours remaining but with completly trashed legs.
Darkness descended, along with more rain, as we reached Robinson, the last top, and the descent off this seemed to take forever. The road section was agony on my legs and was done in a run/walk mix to a final near sprint finish to the Moot Hall. a very happy man.
Goat Fell, Sat 21 May
Ewan reports "Sunshine on Arran" for this 8 mile/2900' fell race. Ewan was 38th in a field of 90 in 1h42; Andrea Priestley was 18th overall and 1st lady in 1h32
Old County Tops, Sat 21 May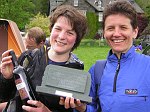 From Heather Dawe ... Nicky and I did the Old County Tops fell race on Saturday. It starts at the New Dungeon Ghyll and takes in Helvellyn, Scafell Pike, Old Man of Coniston and then back to Great Langdale, 37 miles and 10,000' of climb altogether. It's a real classic, one I've wanted to do for a while. About 50 teams of two started, we finished in 8:30, fourth overall, first ladies and we broke the ladies record! (By 47 minutes, I'm told. Paul) Joyce Marshall and Alison Weston did it too, , they were going strong at Cockley Beck, the last checkpoint before the Old Man, and finished 4th ladies team and 35th overall in 10h45 Well done!
It was a great race, a real challenge, surprisingly good weather. Nicky was really strong all the way around, I'm aching like anything today after trying to keep up!

Ken's photos
Yorkshire Vets Championships, reminder
From Pete Shields The Yorkshire Vets Athletic Association have a season long league comprising of 15 races over various terrains - road, x-country, trail and fell. They are all very well organised and cater for all abilities. We have not been very well represented in these events over recent years which is a shame because I think we would feature quite highly if we did. There are four events that could interest people coming up over the summer months.
The first is Sunday the 29th May in Wakefield it is a trail race over 5/6 miles.
The second is a five mile race in Haworth on Thursday 9th June at 7-30 a race I highly recommend.
There then follows the Yorkshire Vets relay champs at Esholt on the 26th June. This is for the males teams of 4 for the over 40's, teams of 3 for the over 50's and 60's. For the females it is teams of 3 for the over 35's and over 45's. The distance for each leg on these relays is 2.5 miles again I feel we have enough talent in depth at the club to be in competition for prizes.
To conclude for now there is the Eccup 10 mile race on the 17th July. I will put further details on the notice board but will be happy to organise the relay squads and give further info on any of the above.
Askern 10k, Wed 18 May
From Terry Lonergan ... Short report on last night's race at Askern near Doncaster ... I really had hoped to dip under 38 mins on this one having been so close at Rothwell. Early splits went well then the km markers went way out, leaving us with no idea of how we were doing. Battled very hard nevertheless on the virtually flat fast course and turned into the finish with the clock showing 37 something. Continued to sprint right through the line crossing in 37.43!! Only then to be told that someone had to forgotten to turn the clock on at the start and it was out by 40 seconds or so!! So final time 38.25, 2nd M55; 59th in the field of over 500. And to think I gave up a tour of the sweet smelling sewage works of Esholt (the asthmatic's nemesis) to suffer this disappointment. C'est la vie.
John Carr Series, Esholt, Race #3, Wed 18 May
38 Billy Kerr 17:21; 73 Mark Iley 18:11; 101 John Atkinson 18:51; 120 Iain Gibbons 19:09; 130 Neil Chapman 19:30; 141 Pete Shields 19:41; 165 Keith Wood 20:22; 225 Nicholas Mellor 22:02; 243 Peter Bedwell 22:31; 310 Antonio Cardinale 25.29
John Atkinson is 5th M40 in the series and Pete Shields 3rd M55 - more on www.stbedesac.org.uk
Harrogate Road League, Race 2, Tuesday 17 May
70 Harriers enjoyed a fantastic Harrogate Road League event in Esholt Woods on Tuesday. It was a hard race, but Ilkley ran well to give us 3rd team overall; we retain the leads in the ladies and lady vets team competitions, and our male Vets are a close 2nd overall. Full results and many photos on harrogate-league.org.uk
The next race is at Richmond in 2 weeks - mark the date 7 June in your diaries!

Harriers photos
Eyam Half Marathon, Sun 15 May
From Richard Joel ... I ran the Eyam Half Marathon at the weekend and came 37 out of 545 in a time of 1-30-01
Fellsman, 14-15 May
From Roy Ruddle - Three of us completed ths year's 60 mile Fellsman 'hike', which takes in many of the Yorkshire Dales' most famous summits, tussocks and bogs. I finished equal 15th in 16 hrs 22, and Adrian Hall and John Spencer 31st equal in 18 hrs 21. Official results will soon be published on www.fellsman.org.uk. I think I was in the top 20 and Adrian/John probably in the top 30, a particularly fine effort on their ultra-running debut.
Ripon 10, Sun 15 May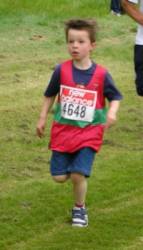 From Sue Bickerdike ... Four intrepid Harriers (+ 2 fun runners and travelling entourage of supporters) chose to forgo valuable league points and instead travel to Ripon for the first of the fabulous Black Sheep Brewery series. The Ripon 10, which seemed a tempting alternative to the Leeds Half, proved to be a scenic but challenging course, with far too much up hill for my liking. Described by a fellow runner as undulating with a bit of a hill at 5 miles it turned out to be all uphill for the first six, and then joined the Harrogate Road Race League handicap race route, but in reverse, and thankfully all down hill. But, each of us achieved a PB, so quite an achievement. First Harrier home was Peter Hollands (92nd, 1:14:36, PB by 10 mins!) who took Jon Tindall (98th, 1:14:58, PB by 3mins) on a late charge. Jon's result has been missed off the official results but we can all vouch for his performance! The walking wounded came in some time later. Vic Verecondi and I were sporting heavy colds, and Vic had not only run the fun run earlier, but was further hindered by a bad back and a bad leg (he insisted I put this in!). I finished in a very pleasing 118th, 1:17:14, PB by 4mins, and 6th LV35, and Vic battled in to complete his first 10-miler in 132nd place, 1:18:17. Must mention the little ones - Luca Verecondi, Joseph Tindall and Edward Bickerdike ran the 1.5 mile fun run - Edward stormed in 2nd U/10 (11.40, won in 10.36), Luca Verecondi 3rd U/10 (12.05), Vic Verecondi (MV40 12.13) and carrying on the Tindall traditon, Joseph has been omitted from the results (but he wasn't too far behind, and I handed in the entries together!?)
Leeds Half Marathon, Sun 15 May
Neil Chapman reports ... There were more than 3000 runners out in today's Leeds Half Marathon, in perfect running conditions, with good facilities provided by the race organisers at Millennium Square, and on route, although the start was a little crowded.
We had at least 13 runners out, with seven finishing under 90 minutes, although sadly I was not one of them. Several of our runners had much improved times on last year, and first Harrier home was Jamie Hutchinson with an excellent 1.22.52 (12 minutes faster than 2004), and Mark Iley not far behind, finishing around 1.24.00. We then had a group finishing close, with Dave Jepson 1.26.37, Nick Richardson 1.27.00 (10 minutes faster than 2004) and Andy Wiggans 1.27.20. Ewan Welsh was next in 1.29.10, being chased all the way by Alison Bennett, who finished just under 1.30.00 (6 minutes faster than 2004). I ran 1.31.15, with John Atkinson suffering in the second half of the race, finishing in 1.34.00. Helena Deeney had a great run in 1.46.00 (7 minutes faster than 2004), with Bernie Gibbons making 1.54.00. Rob Wills was disappointed with his 2.05.00, but in contrast Amanda Parnaby was delighted with her run of 2.07.00.
Not one for the scrapbook for John, Rob, and myself, but otherwise some top performances.
This was a Harriers Running League counter - there are some interesting changes in the tables, curremtly dominated by the regular racers, and Jamie has toppled Jason!.
STOP PRESS, Andy Wiggans tells us the results from ukroadraces.net are now in (provisional at the moment). Race was won by Dereje Kebede of Hercules Wimbledon in 1:04:39, with the first woman home Mary Wilkinson of Skipton AC in 1:15:36. There were 2952 finishers.

70 Jamie Hutchinson 1:22:58
95 Mark Iley 1:24:49
133 Dave Jepson 1:26:50
151 Nick Richardson 1:27:19
160 Andy Wiggans 1:27:27 (new PB by 1:55)
215 Ewan Welsh 1:29:55
216 Alison Bennett 1:29:57
248 Neil Chapman 1:31:19
348 John Atkinson 1:34:10
988 Helena Deeney 1:46:06
1163 Antonio Cardinale 1:48:24
1545 Bernie Gibbons 1:54:31
1597 Debbie Rosen 1:55:17
1755 Anna Barlow 1:57:52
2149 Robert Wills 2:05:05
2330 Amanda Parnaby 2:09:10
2887 David Millson 2:38:44
2921 Alison Jenkins 2:49:01

Fairfield Horseshoe, Sun 15 May
AM fell race, 9M/3000' James Lind ... I did the Fairfield Horseshoe race today - excellent conditions. 114th in 1h46:42 Jason Hemsley was 22nd in 1h29:09 and Ed Battye was 268th in 2h12:29;
European Vets Half Marathon, Sat 14 May
Geoff Howard reports ... A short report in on the European Vets Non-Stadia Champs at Monte Gordo, Portugal. Managed to come 9th out of 40 in the v60 race with 87m 27s (1st UK). Winner was well ahead (Austrian Heinz Steiner) with 76m 05. 2nd also broke 80m with 3rd 80m 05s. Very enjoyable watching the other races - 10k and walking events. All held early in the morning or late afternoon.
Pinhaw Moor Fell Race, Fri 13 May
Sally Malir reports ... 5 miles 800' of ascent. Ilkley Ladies to the fore! Helen Sedgewick 1st (22nd overall in 35:48), Emma Barclay 2nd (28th in 36:46), Sally Malir 3rd (37th in 37:40), Jo Foster 5th (55th in 39:46). A good Friday night out had by all, joined later for an ample supper by two Alisons.
Dumyat hill race, Wed 11 May
Andrea Priestley was 18th and 2nd lady (to Angela Mudge) in 40:39, and Mark 63rd (first race for two years) in 45:14 - Scottish Hill Runners site
ROM April 2005
The Ilkley Harriers Runner of the Month for April is Vince Gibbons -

click here for details.
John Carr 5k series, Race #2, Wed 11 May
Results from www.stbedesac.org.uk are:
1 Jorge Thomas (Leeds Uni) 14.48; 40 Billy Kerr 17.21; 50 Jamie Hutchinson 17.43; 69 John Atkinson 18.12; 72 Dave Jepson 18.18; 111 Neil Chapman 19.06; 120 Peter Shields 19.12; 126 Alison Bennett 19.18; 152 George Stevens 19.53; 157 Keith Wood 20.01; 211 Sue Bickerdike 21.31; 247 Victoria Stevens 22.39; 251 Peter Bedwell 22.47; 289 Antonio Cardinale 24.04
This was a Harriers Running League counter ...
Jack Bloor Races, Tue 10 May
Jo Foster reports ... The ladies won the team prize - Heather 4th, Me 5th, Joyce 9th. Joyce won the Mike Rose crystal vase for 1st Vet Lady 40 and I think Malcolm Pickering won 1st vet 50.
Senior results from the Jack Bloor web site: 21 Richard Joel 48:22; 31 Roy Ruddle 49:19; 34 Mike Baldwin 49:58; 35 Malcolm Pickering 50:03; 39 James Lind 50:17; 43 Ian Marshall 50:57; 60 Ken Jaquiery 53:42; 62 Kevin Gooch 53:52; 72 Steve Turland 54:50; 73 Heather Dawe 54:55; 77 Phil Chappell 56:15; 79 Dennis Ackroyd 56:19; 83 Jo Foster 56:57; 88 Joyce Marshall 57:06; 95 Keith Wood 57:56; 103 Kaye Lucas 58:33; 104 John Tindall 58:35; 113 Pange Srivastava 59:26; 128 Ed Battye 61:30; 133 Rob King 62:51; 139 Rachael Gooch 64:04; 140 Di Kitchen 64:36; 141 Sarah Jarvis 64:51; 153 Nick Mellor 69:20; 159 Emma Payne 75:37; 170 Antonio Cardinale 85:21. 174 finishers.

Bob Wightman's photos

Steve Barclay's photos
The junior races, organised by our "Junior Harriers Team", were again a huge success with 99 children running - results and more on the JB Junior web page.
Buttermere Sailbeck Horseshoe fell race, Sun 8 May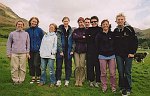 AM 9.4M/4650' English Fell Championships counter. From Jo Foster: Tentative results. We had 8 women and 3 men running - where are all our men? Jim Ryder was first back closely followed by Helen Sedgwick (we're pretty sure 7th lady). Next was Emma Barclay (10th), Nicky Jaquiery (12th), Jamie Hutchinson, Sally Malir, Ken Jaquiery, Alison Eagle, Jo Foster, Alison Weston, Rachael Gooch (3rd LV50). We think that should give us 1st ladies team. Beautiful scenery, very hard work, a window of weather and great to have a team of professional supporters in Morgan, Steve and Richard! Plus the added excitement of a cycle race to watch pass by beforehand!
Results from www.fellrunner.org.uk ...

1   Rob Jebb Bingley  1:22:03 
127 Jim Ryder         1:49:47 
133 Helen Sedgwick    1:50:48 7th lady
146 Emma Barclay      1:52:22 10th lady
158 Nicola Jaquiery   1:53:46 12th lady
185 Jamie Hutchinson  1:57:34 
209 Sally Malir       2:02:09 5th LV40
232 Ken Jaquiery      2:05:40 
240 Alison Eagle      2:06:48 
268 Jo Foster         2:11:35 
274 Alison Weston     2:14:21 
308 Rachael Gooch     2:20:35 



Harriers Photos, Steve Barclay
18 June English Champs results have been posted on the FRA web site and our ladies are in the lead - see our Fell Champs Page for more info
Blubell 10 Trail race, Sun 8 May
Peter Bedwell reports .. 1.47.58 by my watch (1.48.06 officially) and a nice little goody bag. Well worth doing again, I begin to see the appeal of fell running, although I'm sure this a bit tame for a proper fell runner, but it's certainly given me a taste for off road races. A big congrats to the Stainland Lions, well organised, a couple of drink stations, loads of friendly marshalls, even I coudn't get lost and a really interesting challanging race, roll on next year. (Full report in the next newsletter.)
Fountains Abbey 10k Trail Run, Sun 8 May
Helena Deeney Good race, well organized and marshaled. 3rd lady vet in a time of 49min17
Fred Whitton, Sun 8 May
From Heather Dawe Not a fell race, the Fred Whitton cycle race is a 110 miles long, taking in all the Lakeland Passes (and a few other nasty climbs), starting and finishing in Coniston. I rode, as did Jason Helmsley and Stefan Macina. I did it in 7:25 (1st lady), Jason 7:50 and Stef just after 8. This was the third time I rode it, I always tell myself 'the last time' as I ride up Hardknott but I'm sure I'll be back next year!
I saw quite a few fell runners driving down to Buttermere as I headed up Newlands Pass, hope everyone enjoyed themselves!
King James Knaresborough 10k, Sun 8 May
Amanda Parnaby reports 1 hour 1 minute in changeable weather conditions of hailstorms and quite hot sunshine.
Tadcaster Tri, Sun 8 May
Andy Wiggans reports in ... At least 2 Harriers (they don't give clubs on the results list, so apologies to anyone else who was there) managed to both get through the ballot and avoid debilitating illnesses to enter the Tadcaster Triathlon (500m swim, 14km weather-lashed bike and 8km of mainly off-road riverbank run) this weekend. On a day of "mixed" weather, I came in 45th out of 131 finishers in a total time of 1hr 12 mins and 32 seconds - this total hides a dreadful bike section, during which the precise bit of road (uphill and into the wind) I was cycling along was hit by a hailstorm Moses would have been proud of, which detracted from my Armstrong-like pretences of a smooth time-trialling style. Diane Kitchen was 66th in 1hr 17mins and 31seconds - and a highly creditable 4th Vet female.
The race was won by Andrew Senior in 59mins 43 secs, a significantly slower time than is normal for this race, possibly reflecting the weather conditions!
Elizabeth McCan adds ... It was my first tri. The conditions weren't very kind to us. I also need to work on the transitions, that's if I do any more! Anyway time 1.25.10 and 9th lady vet. Happy with that for a first time and in view of the weather conditions.
Beaverbrooks Blackpool 10k Fun Run, Sun 8 May
From Terry Lonergan ... Blackpool promenade was awash with runners of all ages, shapes, sizes and costumes! as a record number of over 4000 took part in the 23rd annual 10k run. At the sharp end it is no different to any normal 10k once the young hopefuls have run out of steam and the fun element becomes serious. Particularly so as having been pushed from behind on the outward 5k to the Pleasure Beach, we turned to combat an extremely unhelpful headwind; always the hazard on coastal runs. Andy Wade returned and continued his progress back to form with 37.39 and a place in the top 50. Terry Lonergan clocked 18.30 for the first 5k but lost 15 seconds per kilometre against the wind to finish in 38.36 (69th overall and 3rd in the 56+ age group)
Ben Lomond, Sat 7 May
Andrea Priestley was 23rd overall and 2nd lady (to Tracey Brindley) in 81:23, Some photos on Carnethy's web site.
Ilkley Triathlon
4 Sep, ideal beginners event, and always popular with Harriers. The entry forms are on www.lbt.org.uk now, and in past years the entry limit has been reached in no time at all, so look sharp ...
Thursday Training, May
Andy Wolfenden says ... I won't be able to lead the Greenhead track session again until Thursday June 2nd. (Of course anybody is free to use the track off there own bat.)
John Carr series, race #1, Wed 4 May
Dave Jepson reports ... Five (at least) Harriers made the trip to one of the country's largest sewage works (a genuine tribute to Victorian ingenuity - the sewage works, not the getting there) where the gentlest of breezes on a cool night made for splendid, if intriguingly pungent, running conditions. It made a pleasant change after recent (wet) training runs with Woody "I'm injured (again)" Woodward to be out running with the smell of (a) bog, rather than out hoofing it through one, and it put in a stiff challenge against the normal start line odours emanating from the "glowing" and expectant mass.
Andy "the wolf" Wolfenden was keeping the boss happy by sporting CR colours, but after the kitchen table débacle of the previous evening I had managed to remember to pick up my club vest on the way out of the house. I gathered that the "accurately measured" course didn't start in the same place as last year, so either accuracy isn't, or wasn't, what it used to be. Anyway, a large and quality field on a fast course that is technically downhill; in fact, it's downhill - simple as that. John Atkinson, chatting to me on the line before the start, seemed worried about finding his way around and was clearly just reccying the course ahead of next week's league race, but he needn't have worried: racing was, for the first kilometre, like late rush hour on the M25 - a very fast moving traffic jam with no option to do anything other than keep going, or face death by stampede / inhalation of noxious odours.
John lead our contingent in with a very good 18:12; I was close behind (and had 5k been 10k fancied my chance of reeling him in - eventually) in 18:18 - very much enjoying the downhill finish. Pete Shields ran strongly and broke the 20' mark comfortably. Keith Wood ran well after exertions of the previous evening, and without the spectre of being timed out en route, and for his efforts was met by a woman wielding a billboard sized picture of him in full flight in a previous race. Intriguingly none of us could "name that race", thought it was certainly Keith, and apparently cutting a remarkable dash, and this before any airbrushing by the artist. After an amusingly unsuccessful haggle ("you're sacked") on the part of said lady, attempting to get KW to stump up £25 for it, she gave it to him anyway - can't imagine why, surely there would be a huge market for a picture of KW? She didn't get the joke when I asked her how she knew it was Keith, and I can't help wondering how many races she's turned up at before finding him: let's hope she wasn't waiting at the end of the 3Ps. Anyway, ribbald joshing aside, it was a nice touch and could not have gone to a more deserving Harrier. (See the picture

here, Paul) Andy was last of the Ilkley contingent home (apologies to anyone else who crept in unnoticed), with a solid and "pleasing" run as he returns to form. We should create quite a spectacle if we turn out in numbers next week.
Anyone know what the wash cycle is for getting the stench out of my gear?
Results from St Bedes' web site:

87  John Atkinson    18.12
89  Dave Jepson	     18.18
148 Peter Shields    19.37
163 George Stevens   20.06
179 Keith Wood	     20.25
189 David Brown      20.39
217 Andy Wolfenden   21.29
229 Ben Stevens	     21.49
264 Victoria Stevens 23.00 
272 Peter Bedwell    23.18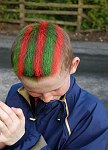 Harrogate Road League, Tuesday 3 May
What a great evening! We had a record 76 (previous best was 62) Harriers out in our own race, in a record-smashing field of 292 (the previous record was 229). Harriers are 3rd in the main team competition, have the leading ladies amd lady vets teams, and we're a close second with our vets, and 3rd in the Elite competition too - a pretty good start to the League. The two Bernies (Gibbons and Connors) led a good number of volunteers (in addition to the 76 runners, amazing ..) to give us a great evening's racing. Thanks to ILT&SC too for accommodating such a host of runners. Results on the HRL web site. (More photos too.)

Harriers Photos
This was also a counter in the Harriers Running League ... Jason's still #1
East Manchester B of the Bang 10k, Mon 2 May
John Atkinson certainly heard the B of the Bang, finishing 16th in 38.55
Reebok Manchester 5k, Mon 2 May
Terry Lonergan reports ... Responding to an invite from the club of my teenage years (Sale Harriers) I journeyed to Wythenshawe Park for what would be a very flat and therefore fast and furious 5K. Taking recent times over 10K, less a minute divided by 2 pointed to 18.30 as a legitimate target. This was achieved to the second! Overall position 23rd (of 105) 2nd V55, 4th vet. overall.
Sheffield Half Marathon, Sun 1 May
Victoria Wright ran a PB, 768th in 1:40:09; Linda Wright 1361st in 1:47:50; and Andrew Wright 2323rd in 2:01:29 - "4,000 runners in a great, well-organised event".
Keswick Half Marathon, Sun 1 May
We had 40th Richard Joel 1:27:09 and 345th Jean Sullivan 1:48:43, out of 720 runners.
Bunny Run #4, Tue 26 April

16 Graham Pearce      20:10
28 Nick Pearce        21:17 1st V50
45 Mark Iley          21:47
63 Helen Sedgwick     22:58
84 Bob Wightman       23:52
126 Jack Arundle      26:11 U14
127 Danny Roebuck     26:13 U16
129 Simon Chapman     26:15 U16
170 Nevada Hargreaves 29:57 U16
				
Rothwell 10k, Sun 24 April
Andy Wolfenden reports ... A fine sunny day saw a field of 684 runners line up for this prestigious local road race; Ilkley Harriers made up almost 0.3% of the field. The race winner was Julian Moorehouse of Birchfield Harriers in a time of 30:03. This year's event also incorporated the Yorkshire Veterans 10K Championships. Ilkley Harriers times as follows: Terry Lonergan did a good time of 38.04, giving him 79th overall and 4th vet 55 but 3rd in his category for the Yorkshire Championships therefore Terry is the bronze medal winner. Well done Terry - this shows that focussed training pays off. Andy Wolfenden 239th overall in 44.24
51st Three Peaks Race, Sun 24 April
BL 24M/4500' From Ian Marshall ... The 2005 3 Peaks race was another race of attrition in warm conditions – though not as warm as last year. Rob Jebb of Bingley Harriers was first of 340 finishers in 2:57:50, with second claim Ilkley Harrier Jason Hemsley a creditable 6th in 3:22:17. First Ilkley Harrier home, first lady and first over 40 lady (!) was Sally Malir with a magnificent time of 3:59:56. Just two places behind was Mike Baldwin in 4:01:11 (66th). Other finishers for Ilkley were Ian Marshall 181st in 4:34:03, John Smith 212th in 4:43:33, Phil Atkinson 215th in 4:44:08, Joyce Marshall 216th in 4:45:58 and Peter Sibley 286th in 5:04:53.

Photos - Bob Wightman
Results on the Sportident site.
Moelwyn Peaks fell race, Sat 23 April
Second counter in the British fell champs,
From Alison Eagle ... our ladies won the team prize: 7th Helen Sedgwick (114th overall in 1h37:45); 8th Emma Barclay (117th in 1:38:00); 9th Nicky Jaquiery (118th in 1:38:03); and Alison Eagle and Jo Foster well placed too (155th in 1:47:55 and 180th in 1:56:25). Jim Ryder was running, for the men 74th in 1:32:02. More later ...
Results from the FRA web site
St Georges Day 10k, Sat 23 April
From Andy Wiggans ... There were 3 Harriers at the St George's Day 10k in the beautiful Langdale valley in the Lakes on Sunday. The race starts at the New Dungeon Ghyll/Stickle Barn and runs along the valley road to Elterwater and back.
On a tough course, described as 'undulating' by the organisers (we preferred the term 'lumpy'), I came in with a surprising new PB of 41:04 in 18th place out of 323 finishers (3rd M40), Karen Wiggans was 100th in 49:12 (also a PB – 3rd F35) and Les Atkins was 229th in 58:10
The race was won by Mike Scott of Border Harriers in 33:10 – a clear favourite, made clear during the safety briefing on the start line as we were told to "take it easy, 'cos you'll not catch this bugger"!
Wray Scarecrow race, 10k, Sat 23 April
Alison Bennett was 1st lady, 23rd overall in 41:45 on a hilly course. Peter Hollands was 47th in 46:21
Anniversary Waltz fell race, Sat 23 April
AM 11.75m/3600' Heather Dawe writes in ... A few Harriers out at the Anniversary Waltz on Saturday. Me, Rachael and Kevin Gooch and Bob. With all the other action going on in Wales and the 3 Peaks I got 2nd behind Natalie White, 58th overall in 2h09:01. Kevin Gooch was 109th in 2h28:36; Phil Chappell 141st in 2h41:48; Rachael Gooch 151st in 2h52:32
Bunny Run #3, Tue 19 April
7 Jason Hemsley 19:18; 18 Jack Wood 20:01 (U16); 22 Graham Pearce 20:09; 31 Stefan Macina 20:50; 41 Nick Pearce 21:26; 53 Mark Iley 21:44; 81 Bob Wightman 23:20; 93 Ian Marshall 23:48; 116 James Wardman 24:37 (U16); 140 Danny Roebuck 25:34 (U16); 143 Joyce Marshall 25:39; 144 Simon Chapman 25:45; 228 Nevada Hargreaves-Madhas 29:59; 274 ran.
London Marathon, Sun 17 April
Well done to all the Harriers. Provisional (positions last checked 23/4) results off the official site are :

1032  TIM ASHELFORD     2:58:58
2656  CAROLINE HOWARD   3:16:44  235th lady
2726  PETER SHIELDS     3:17:25 
3078  SUZANNE AKEROYD   3:20:51 
3326  ANDY WIGGINS      3:23:10 
5134  ANDREW WILSON     3:34:36 
5242  ANTHONY SWANEPOEL 3:35:26 
6473  ROB PAWSON        3:42:35 
16411 PETER BEDWELL     4:22:21 
17010 GRACE BROWN       4:24:40 
19088 RICHARD MIDGLEY   4:32:07 
23549 AMANDA PARNABY    4:50:21 

ROM March 2005
The Ilkley Harriers Runner of the Month for March is Jason Hemsley -

click here for details.
Bunny Run #2, Tue 12 April
Another good turnout of 264 runners in the secon of the four-race series (all the same course, a 3 mile/300' CS fell race). The race was won by Holmfirth's Mark Buckingham in 17:09 Jason Hemsley was 11th in 19:12; 20 Jack Wood 19:38 (U16); 23 Graham Pearce 19:53; 44 Richard Joel 21:18; 46 Mark Iley 21:21; 51 Nick Pearce 21:26; 72 Helen Sedgwick 22:09; 85 Bob Wightman 22:36; 92 John Atkinson 23:06; 125 James Wardman 24:35 (U16); 144 Simon Chapman 25:29 (U16); 167 Daniel Roebuck 26:11 (U16)
There are some good photos on David Brett's web site
Full results on the FRA web site.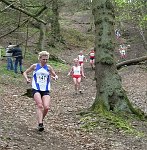 Inter-Counties Fell Champs, Sun 10 April
Well done to Emma Barclay who was 7th lady and 82nd overall in 46:11, running for the winning Yorkshire team at the 28th Wrekin fell race (AS 5.5m/1700')
Yorkshire ladies won for the first time, and the men led by Ian Holmes were first team too.
This was also the second counter in the Junior Fell Championships - more on our Junior results page.

Photos - Dave Woodhead

Photos - Steve Barclay
Wakefield Hospice City 10k, Sun 10 April
Terry Lonergan reports ... Pleasing to see one of the club's leading runners of the past few years making a return to road racing with a solid performance: Andrew Wade finished 130th of 650 runners in 39.31
Lancaster 3 Bridges 10k, Sun 10 April
Andy Wolfenden reports ... A flatish course, but by no means the fastest 10k around, with plenty of "Harrogate Road Leagueish" obstacles such as flights of steps, restricted entries, bits of trail etc; just up Ilkley Harriers' street in other words (only the stiles were missing). And around 150m long according to Andy Wiggans' GPS. 5 of us turned up to give it a go in a field of almost 400, results as follows:
John Atkinson 41st in 38.24; Terry Lonergan 51st and 2nd V55 in 39.16 (just managing to slip past Cath at 5 miles); Cath Wolfenden 68th overall, 2nd Lady and 1st Senior Lady in 40.10; Andy Wiggans 99th in 42.38; and finally, in the guard's van as usual these days Andy Wolfenden 144th in 45.26.
Meanwood Valley Trail, Sat 9 April
Geoff Howard reports ... Another great Harriers turn out for the Meanwood Trail Race today (25 - almost 10% of the field (288)). Elizabeth's and Barbara's results meant that they were both first in their age groups for the Airedale Triple Trail Series of races (O35 &amp' O55 respectively). Prizes were presented by Tracey Morris.

4   Jason Hemsley     45.59
9   Tim Ashelford     46.35 (3rd O.40)
13  Jamie Hutchinson  47.04
22  Nick Pearce       49.23 (2nd O.50)
23  Richard Joel      49.24
26  Mark Iley         49.38
29  Billy Kerr        50.05
39  Dave Jepson       51.03
41  Ian Marshall      51.12
42  John Atkinson     51.15
50  Nick Richardson   52.05
53  Geoff Howard      52.25 (1st O.60)
64  Brian Melia       53.44
96  John Woodward     57.12
108 Elizabeth McCann  57.58 (5th O.35)
112 John Tindall      58.23
140 Keith Wood        61.01
144 Sue Bickerdike    61.14
154 Vince Gibbons     61.43
164 Barabara Bullock  62.37 (1st O.55)
174 Helen Deeney      63.24
185 Jean Sullivan     64.24
188 Richard Gray      64.32
208 Bernie Gibbons    66.29 (4th O.45)
235 Antonio Cardinale 68.36 (Otley AC)
249 Ronnie Shackleton 69.35
268 Sue Stevens       72.45
				
This was a counter in the Harriers Running League and was won by K&C's Willy Smith in 43.03 - Jason retains his overall lead, Nick's up into 2nd ...more.
For the first time, the event had junior races, and we were well represented there (see our junior results) - of the older juniors, Tuesday night regular Mary Gibbons won a plaque for the 1st 15-16 year Old Girl, 16th in 15:47 in the 2 mile race.
Full results on the Valley Striders web site.
Bunny Run #1, Tue 5 April
A near-record turnout of 266 runners in the 3 mile/300' CS fell race. The race was won by P&B's John Heneghan in 17:32. Jason Hemsley was 4th in 18:49, 23 Jamie Hutchinson 20:49; 36 Mark Iley 21:16; 42 Richard Joel 21:32; 52 Nick Pearce 51:27 1st V50; 69 Ian Marshall 22:23; 79 Helen Sedgwick 22:54 (4th lady); 80 Nick Richardson 23:02; 86 Bob Wightman 23:13; 113 Jack Arundle 24:32 (U14); 114 James Wardman 24:37 (U16); 142 Joyce Marshall 25:28; 158 Daniel Roebuck 26:09 (U16); 163 Simon Chapman 26:18 (U16); 190 Nick Mellor 27:36; 218 Nevada Hargreaves 29:53 (U16)
This was a counter in the Harriers Running League - Jason retains his overall lead, Nick races into third place, more ...
Full results on the FRA web site.
Training Changes from 4 April
Monday- new outdoor circuit training at ILT&SC. 7pm (tbc)
Tuesdays- Bunny Run fell races may deplete Tuesday night numbers for a few weeks
Thursdays- Pete's session has moved onto the fells. Andy's track session at Keighley continues.
Baildon Boundary Way, Sun 3 April
The race was won by K&C's Willy Smith in 1h18:56. We had 26 Billy Kerr Billy 1:31:47; 28 Richard Joel 1:32:24; 41 Jamie Hutchinson 1:34:12; 66 Ewan Welsh 1:40:04; 87 Dennis Ackroyd 1:43:36; 151 Keith Wood Keith 1:52:11; 154 Elizabeth McCann 1:52:22; 155 Peter Sibley 1:52:24; 167 Sue Bickerdike 1:54:30; 186 Vincent Gibbons 1:56:40; 192 Jean Sullivan 1:57:26; 212 Barbara Bullock 1:59:26 1st in her class; 235 Bernadette Gibbons 2:05:45; 245 Antonio Cardinale (Otley AC) 2:07:32; 288 Roger Pyle 2:16:02; 289 Andy Sarah 2:16:03; 304 Amanda Parnaby 2:23:51
We were 6th team.
Results on Baildon Runners' web site
Burnley 10k, Sun 3 April
John Atkinson ran this 10K race on an undulating course which had a sharp climb at 3 miles, finishing 21st in 39.38
Spelga Skyline fell race, Sat 2 April
Ilkley ladies are now leading the British Fell Championships with great results in this AL race (13m/6175')
The ladies beat the next team 22 points to 33. We had: 68th 3:17:21 Helen Sedgwick 4th lady; 71st 3:18:33 Emma Barclay 5th lady; 87th 3:27:02 Geoffrey Howard 2nd Vet60; 94th 3:29:07 Jonathan Sage; 98th 3:31:41 Nicky Jaquiery 8th lady; 135th 3:52:43 Sally Malir 6th LV40; 153 4:01:05 Peter Shields; 166 4:09:41 Alison Eagle; 178 4:31:23 Joyce Marshall
Results from the NIMRA web site
News Jul-Sep
|
News Jan-Mar