ROM September 2005
The Ilkley Harriers Runner of the Month for August is Heather Dawe -

click here for details.
3 Peaks Cyclo-cross, Sun 25 Sep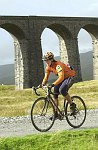 OK, it's not running, but we had quite a few Harriers do this big local event ...
From Heather Dawe ... Traditional Yorkshire weather - heavy showers and clag on the tops, muddy.
Rob Jebb won in 3:01 and Louise Robinson was 1st lady in 3:54. Steve Bottomley was 6th in 3:20, Jason Hemsley 43rd 3:46, Graham Pearce 53rd 3:52. I was 2nd lady 4:02 (PB by over 20 minutes, this fell running's doing some good!!!).
From Graham Pearce ... I've never been so knackered in all my life. Jason and I were playing cat and mouse all event. He'd pull out on the ascents, and then I'd fly past on the descents while he was busy falling off and generally farting about. But then up Pen-y-Ghent he just had too much for me, and I seriously cramped up (body not used to doing such long events!) and I just couldn't catch him on the way down. 3 peaks RULES!!!!!!!!!!! Also, a huge THANK YOU must go to Ed Battye whose Crosstrax provided absolutely FANTASTIC bikes for us to ride on. We had no punctures, and no major mechanicals. The team performance (2nd) was helped immeasurably by Ed's efforts.
Click on the thumbnail (Heather) to see Mike Baldwin's photos. Full results on the official site.
Kirkstall Abbey 10k, Sun 25 Sep
From Neil Chapman Twelve Harriers were out for the Kirkstall 10k on Sunday. Not an easy course, but conditions were perfect. First Harrier in was Jamie Hutchinson 27th in 38.31 and then 78 Ewan Welsh 42:12, 79 Neil Chapman 42:12, 80 Sarah Jarvis 42:34 6th lady Sarah running a PB by more than 2 minutes, finishing ahead of partner Mark Teasey who also ran a PB by more than 2 minutes 94th in 43.37. Andy Wolfenden ran 45.00 for 121st place with Dan Roebuck putting in a stunning performance 136th in 45.57, PB by more than 3 minutes, and Simon Chapman another PB in 47.55 172nd. Second claimer Antonio Cardinale ran 50.13 218th with 276th Bernie Gibbons 53:08 and 277th Mary Gibbons 53.11, another PB. The ever present Brian Sweet had a good run 357th in 62.57, finishing well in the V70 category. (Times on Kirkstall Harriers' site.)
Helm Hill fell race, Sun 25 Sep
As 4m/1175' The "Round The Flags" race was a lovely race that accompanied the Juniuor Fell Relays as Sedbergh. Ashley Hardwell was 31st in 49:43
The senior race accompanied the inaugural FRA Junior English Fell Relay Championships. Our girls' team was the 2nd fastest on the day, and our boys team were 10th overall out of 29 teams - superb results and a great end to the Junior Champiuonship season (more on the Junior Harriers pages).
Ace Races, 17-18 Sep
From Eddie Winslow ... I took 3rd place in the final Ace Race of the season. 6 stages – MTB orienteering, foot orienteering, night orienteering and mtb, cross country and canoe time trials, covering 13 hours of competition over the weekend.
Great North Run, Sun 18 Sep
Alan Pearson was 617th in 1h31:37; Mark Iley was 622nd in 1h31:41; Pete Bedwell got round in 1h59:07 (8522nd) after bad stomach cramps from mile 7 onwards. Margot Dale was a very good 9411th in 2h00:52; and Ann Pearson was 27,381st in 2h35:58
Full results on greatrun.org.
Yorkshireman, Sun 18 Sep
From Jo Foster ... (some extra results added since from the Keighley and Craven website.) A host of Harriers turned out for the Yorkshireman Off Road Marathon and Half Marathon. Nicky and I ran as a ladies pair in the full marathon and put the demons to rest from pulling out injured last year in that this year we finished! (My first marathon!) We were 2nd ladies pair in 4 hours 16 mins 17 s. Other Harriers out included Sue Bickerdike and Jon Tindall who were next in. Although running as a pair they entered individually so Suzanne got a prize for coming in as 4th solo lady in 4h48:25; (Jon 4h48:27) Barbara Bullock was next in (5h00:53). Then Keith Wood followed in 5h10:31 and then Vince and Bernie Gibbons in 5h22:53. Amanda Parnaby and Heather Duke were also competing, finishing in 6h26:51; and Bob Wightman did the half marathon in 1h54:27.
Embsay Fell Race, Sun 18 Sep
Jason Hemsley was 6th in 22:03 and Jamie Hutchinson 11th in 23.11.
Three Shires, Sat 17 Sep
From Heather Dawe, Steve Turland, Alison Weston ... A handful of Harriers were at the Three Shires on Saturday. For those who don't know, this race is a Lakeland classic, starts in Little Langdale and heads up Wetherlam, Swirl How and then Pike of Blisco and Lingmoor (12m). It was claggy and cool up the top of Wetherlam but apart form that good visibility. No published results yet, but a good turn out with over 260 runners. Race was won by Stephen Bottomley, P&B in 1hr56:29 Ladies winner was Karen Davison, Dark Peak in 2hr17:24. We got the first ladies team - Heather Dawe was fifth lady (99th 2h35:40), Alison Weston 6th (2nd V40, 108th 2h36:29) and Kelly Harrison 138th in 2h44:12 had a good run (136th) to ensure we each got a t-shirt.
Dave Wilby (Fellandale) was 15th in 2h12;30, Steve Turland 41st in 2hr19:43; Ian Marshall was 110th in 2h37:06; Kevin Gooch 194th in 2h58:26; and Rachael Gooch 209th in 3h03:4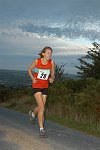 The Ilkley Incline, Wed 14 Sep
There was a record field of 40 runners in the 4th running of this event. Good wins from Matthew Cox and Tamara Hird, but last year's records still stand. Thanks to Geoff Howard, Pete Shields, and Bernie Connor for organising, and to the many helpers. See the photos by clicking on the thumbnail on the right, and the results are up now on the Incline Page.
The senior race was preceded by the noisy, fast, and fun Junior Sprint Relays - more... ...
Trafford 10k, Sun 11 Sep
Andy Wiggans reports ... "Fast and flat" is its reputation, so at an outrageous hour for a Sunday I and BAR (Bloke Across the Road, Andrew Herbert, of whom more later), trucked over the Pennines to this well organised race. Only downside was the lack of mile markers, but the course is indeed fast and flat, and quite scenic too – well worth the trip.
Carrying a stinky cold that improved only a little overnight I wasn't expecting much, but was surprised when I held it together and took another 50 seconds off my PB to come in 94th out of 306 finishers with 39:33 – very pleased to finally get under the elusive 40 minutes.
BAR took almost another 2 minutes off his PB with 42:19 in 131st place – Andrew is considering joining the Harriers but doesn't think he's "fast enough" – I know – you tell him!
Kirkham 10k, Sun 11 Sep
93rd Cath Wolfenden 43.02 (7th Lady); 115th Andy Wolfenden 44.41
World Masters, Keswick, Sat 10 Sep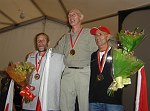 Norman Bush won a Bronze medal at the 5th World Masters Mountain Running Championship, at Keswick on Saturday, with 52:48 for the M65 course.
In M40 Phil Chappell was 165th in 77:15 and Morgan Williams was 176th in 80:32;
In the M45 class Mike Baldwin was 63rd in 66:48
In W35 Pange Srivastava was 13th in 77:20
In W40 Sally Malir was 9th in 69:16; Alison Eagle 13th in 71:18; Alison Bennett 20th in 74:46; Alison Weston 23rd in 75:14
Click on Norman's picture to see Dave and Eileen Woodhead's photos.
Full results on the official site, photos on the FRA site.
Helvellyn Tri, Sat 10 Sep
From Heather Dawe - I did my first triathlon on Saturday, the Helvellyn Tri. It started from Glenridding with a mile swim in Ullswater then a 38 mile road ride over Matterdale End to Troutbeck and then St. Johns in the Vale to Thirlmere, Ambleside and up "The Struggle" to Kirkstone pass and back down to Glenridding. The 8 mile run went up Helvellyn via the path up to the Hole in the Wall and then Swirral edge and back down via Keppel Cove and Glenridding youth hostel.
After splashing around in Ullswater for what seemed like ages (I'm not much of a swimmer), I got out of the water and on my bike about 10th lady. I passed a few on the ride and and got into second transition in fourth place. It took a while for my legs to get used to running after the ride, the three ladies ahead of me were all quite close together and after about half way up I was in first place. Swirral Edge was in the clag, a bit of a dogleg up to the top and then north to the Keppel Cove descent (the organisers had kindly marked the route). I got caught by the ladies winner just past the youth hostel and tried to hold on but I was struggling, I got in to Glenridding 24 seconds behind in 2nd place and 47th overall out of around 350 starters.
It was a really good race, most people were very friendly, the amount of kit and organisation you need is a bit different from your average fell race though!
web site
Lake District Mountain Trial, Sun 4 Sep
From Joyce Marshall ... The Lake District Mountain Trial has a longer history than the Three Peaks Race, the first being run in 1952. Several Harriers turned out to run on a beautiful clear, sunny, but rather warm day in the Coniston Fells. The race is like one day of a mountain marathon and tests both navigational ability and stamina over some serious mountain terrain. In the women's trial (12 miles and 5000ft climb), Alison Weston ran well to finish 6th in 5:01:37, Heather Dawe 9th in 5:19:26 and Joyce Marshall 12th in 5:36:51 and they took the women's team prize. Kevin Gooch completed the men's race despite problems with cramp in 9:09:00 Hector Haines won the short race (10 miles 3,500ft) in 4:03:41 running for Airienteers.
Bradley Fell Race, Sun 4 Sep
BS 3.5m/750' In this local (Skipton) race, Richard Joel was 12th in 29:30; Emma Barclay 18th and 1st lady in 31:09; Sally Malir 23rd and 2nd lady in 32:08; Steve Barclay 30th in 34:09; and Bob Wightman 33rd in 34:50. Neil Chapman, in his 3rd race (but 5th event, or is it the other way round?) was 36th in 35:46; and Bob Payne was 49th in 41:46.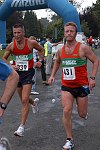 The Theatre Race, Harrogate, Sun 4 Sep
In the 10k, 2 lap race, we had 8 Harriers in a field of over 400. 7th in 36'46 was U18 Jack Wood in his first 10k race (great result!); 28 40:51 Mark Iley; 36 42:12 Alan Pearson; 37 42:20 Ewan Welsh; 57 43:43 Neil Chapman (quadrathlon); 66 44:30 Alison Bennett (1st LV40); 158 50:08 Debbie Steele; 182 51:36 Antonio Cardinale; 349 63:40 Ann Pearson. The race was a counter in the Harriers Running League too. For full results and more photos see the Theatre Race web site.
In the 2.5km Fun Run we had 34 10:27 Sam Wood 10; 68 12:04 Tom Bennett 8; 69 12:05 Andrew Bennett in a field of 150.
Ilkley Triathlon, Sun 4 Sep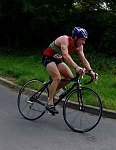 Neil Chapman started a busy day with the Ilkley Triathlon...
John Atkinson has sent in the results: Nine Harriers completed this years triathlon, (maybe more - these are the names entered as Ilkley Harriers). First Harrier was John Atkinson, 11th overall in 1.03.25 - 9.10 500m swim, 33.00 9 mile cycle and 21.15 3 mile run. Jim Ryder was 15th in 1.04.11 (10.41, 32.00, 21.30 ), Mike Baldwin 22nd in 1.05.31 ( 10.52, 33.13, 21.26 ), Jamie Hutchinson joint 26th 1.06.37 ( 11.33, 34.49, 20.15 ), Andy Wiggans 46th 1.10.33 (10.26, 38.24, 21.43 ), Dennis Ackroyd 65th, 3rd M50, 1.13.54 (12.35, 37.25, 23.54 ), 69th Angela Srivastava second lady vet 30-40 1:14:42 (11:51, 39:49, 23:02) Keith Wood joint 75th 1.16.06 ( 11.21,40.29, 24.16 ), Neil Chapman 82nd 1.16.24 (14.45, 40.21, 21.18 ) Bridget Doherty 153rd 1:33:48 (17:04, 49:46, 26:58). Full results on the LBT web site
Leeds Country Way Relay, Sun 4 Sep
From the Kippax Harriers web site, Ilkley finished 29th team in 10h07:16:
Richard Gray and Nigel Tapper 1h38:04;
Sarah Jarvis and Elizabeth McCann 1h44:58;
Debbie Rosen and Amanda Parnaby 1h52:58;
Bernie and Vince Gibbons 1h53:34;
Barbara Bullock and Helen Shew 1h29:40 (fastest ladies team on their leg);
Jean Sullivan and Grace Brown 1h28:02 (2nd-fastest ladies team on their leg)
ROM August 2005
The Ilkley Harriers Runner of the Month for August is Richard Joel -

click here for details.
Spofforth Gala 10k trail race, Mon 29 Aug
Jamie Hutchinson was 9th in 37:36; Alan Pearson 25th in 41:31; Emma Payne 140th in 55:39; Ann Pearson 181st in 63:59
Armthorpe 10k, Mon 29 Aug
We spotted Andy Wolfenden 138th in 44:44
Hebden Sports race, Mon 29 Aug
Jason Hemsley reports - BOFRA event, 1.5m approx; Stefan Macina (comeback race!) 6th, Jason Hemsley 9th and possibly more Harriers? Ian Holmes won.
Pendleton fell race, Sat 27 Aug
As 5m/1500' From Jason Hemsley ... Provisional results are Jason Hemsley 11th, Jack Wood 12th (1st Junior), Emma Barclay 1st Lady, Steve Barclay also ran. Mark Horrocks (Wharfedale) won.
Gyrn Gallop Fell race, Sat 27 Aug
Bob Hamilton reports on Ups and Downs ... Ventured into Wales on Saturday to meet up with an old running friend to run the Gyrn Gallop Fell race (7m/1200'), a little gem of an event held from a tiny village near Oswestry - a delightful out and back course on quiet lanes and grassy tracks in a stunningly beautiful part of the country. I finished in 46.32 which gave me a pleasing 8th place and 1st V45 in a field of about 80 runners, and, most importantly, victory over my mate! The rivalries between training partners and club vests are always the most keenly fought of all. I have to point out, however, that this fun came at a price because an innocuous stumble half way back down the hill had a delayed-reaction effect on my knee which started to swell dramatically on the train journey home - to the exent that I needed a wheelchair to transfer between platforms at Leeds and had to arrange to be met with crutches and a car in Ilkley. There you go ... the ups and downs of fell running.
Malham Show fell race, Sat 27 Aug
A short BOFRA race, 2.5 miles/7000' climb from Malham to the top of Cawder fell and back with the obligatory (?) BOFRA race river crossing. Norman Bush was first Harrier, then James Lind, then Paul Wood in about 25 minutes all in the top half of the field. Earlier, Emily Kerr was 2nd girl in the U14 race.
New Saturday run, anyone?
Ewan Welsh proposes a new Saturday mid-morning run:
Time: 10.30 am
Route: along the back road to Beamsley, turn back at the A59 and return the same way
Pace: 7 minute miling, the aim would be to treat it as a fairly hard run.
Once a month we could make it a time trial.
Ewan would kick it off initially but would hope to get enough people to keep it going independently of any individual.
Any comments/suggestions? See Ewan on Tuesday nights.
Burnsall Feast, Sat 20 Aug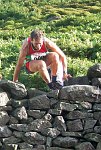 Jason Hemsley reports from the Burnsall Classic Fell Race, AS, 1.5m, 900ft ... Only 2 Harriers contested this classic short race on a warm, sunny day, but several others ran the 10 mile road race, preceeding it. Jason Hemsley finished 7th, in 16.52, and Bob Hamilton ran 18.36 for 21st place and 5th Vet 40. Ian Holmes, unsurprisingly, won it, in a fast time of 13.46.
In the junior fell races, Odin Hargreaves was 14th in 6:28 and Alex Smith 12th in 5:22 in the U10 race; Elliott Dawson was 3rd U16 in 89:16
And Neil Chapman reports from the 10 mile road race - the race was won by Ian Fisher in 52:56. Ilkley were 4th team with 21 Nick Richardson 65:35; 28 Malcolm Pickering 67:19 (5th Vet50); and 33 Neil Chapman 68:29 Ewan Welsh was 37th in 69:13; David Brown 56th in 74:31; and Antonio Cardinale 85th in 83:55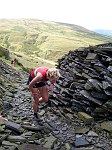 Whittle Pike, Sat 20 Aug
AS, 4.5 miles with 1400' of climb, and a counter in the English Fell Championships. Ilkley's Ladies were out in force: 4th Helen Sedgewick 49:07; 6th Emma Barclay 49:52; 10th Alison Eagle 51:58; 18th Nicky Jaquiery 53:35; 21st Alison Weston 55:01; and 35th Rachael Gooch 61:01
Weasdale Horseshoe, Sat 20 Aug
Bob Wightman reports ... Eschewing the bright lights and fame of the Burnsall Classic and the English Championship race at Whittle Pike, I opted instead for the Weasdale Horseshoe Fell Race on the northern Howgill Fells. This is a typical Howgills race being mostly runnable with short, sharp climbs combined with steady movement on grassy tracks on the tops. It is 8 miles in length with a height gain of 2000ft and is classed as AM. I was the only Harrier in a mighty field of 38 runners. The race was won by Phil Davies of Borrowdale in a new record of 58:53. I came 22nd in a time of 1:21:12 The race is part of Ravenstonedale Show and is well worth noting in your calendar for next year.
British Fell Championships 2005
Official results on the FRA site show our ladies team won by a very wide margin. Individual results included 5th Helen Sedgwick; 7th Emma Barclay; 10th Nicky Jaquiery. Alison Eagle was 3rd Lady Vet, and Sally Malir 4th.
Golden Acre Relays, Wed 17 Aug
From Jamie Hutchinson ... Ewan organised a team for this 5kish 3 leg relay in Golden Acre Park. We came 7th overall out of 48 teams. 1st leg Jamie Hutchinson 16.50, 2nd Richard Joel 16.46, 3rd Ewan Welsh 18.55 giving 52.31. Leeds Uni won in 45.05
and 37th team were the Pink Ladies (!) - Catherine Gibbons 22:14; Bernie Gibbons 23:42; Mary Gibbons 23:22 giving 1:09:18
Blackpool Beach 10k, Sun 14 Aug
From Jeff Paget .. Together with my son, Tom, I took part in this novel race run entirely on the sandy beach at Blackpool. With trams on one side and the (thankfully) receding sea on the other this is an interesting alternative to pounding the tarmac and a good day out for the family. The sand is mostly firm apart from the occasional soft or damp stretch, notably below the piers. There were 239 runners with a large contingent from our friends at Dragons in Yeadon who were treating this as a club outing. The sun shone and the wind blew (so strongly, in fact, that they altered the race to 2 laps to avoid a 3 mile battle against the wind back to the finish). I came in 22nd in a time of 43.02 with Tom in 38th place in 44.45. Not a PB course, but a grand day out.
Blackburn 10k, Sun 14 Aug
Terry Burgoyne was 61st in 43:28
Sedbergh Hills race, Sun 14 Aug
AL 14m/6000' 27th Roy Ruddle 2:43:07 (6th vet we think), Rachael Gooch also ran (1st LV50?) In the junior races Elliot Dawson was 6th U16 and Emily Kerr was 4th U12
Sierre-Zinal, Sun 14 Aug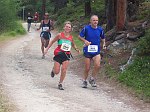 From Jason Hemsley ... Several Harriers were among the 666 competitors in this mountain race in the Val d'Annivers, Valais region of southern Switzerland. Known as 'la Course des Cinq 4000', it climbs from 500m in Sierre, to 2425m at its' highest point, finishing in Zinal at 1680m, a distance of 31km
Among the many British entries were, Jason Hemsley, 78th o/a, in 3-23-27, Emma Barclay, 129th o/a, (7th lady), in 3-36-41, Sally Malir, 258th o/a, (8th lady vet), in 3-58-16, and Ted Battye, 477th o/a, in 4-38-31. The Mexican, Ricardo Meija, won for the 5th time in 2-34-10. Full results are at www.sierre-zinal.com. A more interesting report will be available for the next newsletter..
Click the photo on the right to see more of Emma Payne's photos ...
ROM July 2005
The Ilkley Harriers Runner of the Month for July is ... the Ilkley Ladies fell team, British Champions -

click here for details.
Nomadic Runs
Bring £1.30 and arrive a little early on Tuesday 16th if you want to join Richard's Mystery Run - depart ILT&SC at 18:50h to get the 19:10 train from Ilkley to Menston.
Other runs on Sun 14 August, Fri 19 August, Tue 30 August - details.
Radcliffe Trail 6.5, Thu 11 Aug
Alison Eagle was 20th in 45:11 (2nd lady and 1st LV40); Pete Shields was 22nd in 46:07; Richard Gray was 40th in 50:47 - there's a splendid report

here.
Elloughton 10k, Sun 7 August
Jamie Hutchinson reports ... Two Harriers completed the Elloughton 10k (near Hull) on Sunday 7th August in good conditions, except a pretty strong wind. Out of a field of about 700 Jamie Hutchinson came 21st in 37.20 and 28th Jon Atkinson in 38.46, only ten seconds of his pb - 484 ran This is a good course for a pb, two laps a small one and a larger one with nothing you could call a climb.
Borrowdale fell race, Sat 6 Aug
AL 17m/6500' From Roy Ruddle ... A huge turn out (384 runners) and excellent weather. All six Harriers produced superb performances, especially the ladies (Nicky, Heather and Alison) who tied for the team prize with Borrowdale running on their home territory. Nicky and Alison also picked up individual honours.
65 Roy Ruddle 3h45:29; 102 Eddie Winslow 3h57:00; 103 Nicky Jaquiery 3h57:05 3rd lady; 143 Heather Dawe 4h13:03; 168 Alison Weston 4h20:00 4th LV40; 193 Ken Jaquiery 4h28:22
Spot the Harriers in the photos on the Borrowdale Fell Runners web site
Pen Y Fan, Sun 31 July
Race results are now on the FRA site we had first ladies team with 6th Helen Sedgwick 42:48; 7th Alison Eagle 43:49; 8th Emma Barclay 44:10; and 12th Sally Malir 45:56. This was the final race in the British Fell Championships, so our ladies team are Champion.
Harriers on Hols, Sun 31 July
Alison Bennett reports ... On holiday in the Coastal Mountains of British Columbia - not perhaps the place to find a "fast, flat out and back 10K" road race. However, this morning at 8.30am on a thankfully cloudy start to the day (after the blazing sunshine of the past week) I had a go at the Squamish Days 10k Road Race. Despite the cloud, it was still pretty muggy. I managed to keep up with a number of Vancouver Falcons, in a small but fairly competitive field. I came in 42 overall, 9th Lady and 2nd Vet 40-44 in 40:36 - a long way to come for a PB!! To give some idea of the competition, the first male came in at 32:41 and first female around 35 mins.
For a warmdown in the afternoon we hiked Squamish's Stawamus Chief, a very steep and continuous 610m climb (something like Rocky Valley steps all the way) in which the junior harriers did well - must be something to do with Shirley's training!
Harrogate Town Centre 10k, Sun 31 July
Harriers I spotted in the HHAC results included 40 Andy Wade 39:02; 60 Iain Gibbons 40:13; 103 Terry Burgoyne 43:03; and 163 Andy Wolfenden 45:53; 265 Helen Shew 49:09 - any more? 600 finishers.
Andy Wade adds It was not long ago that my family would be asking me which race I'm doing next, and what time I would be hoping for. How things have changed. On Sunday (my birthday), travelling alone, I attended the Harrogate 10K. Having had more comebacks than Lazarus I was wondering if this was going to be another race with D.N.F.after my name. Terry Lonergan had very kindly taken time out to advise me on the course. As I had done the race numerous times I knew the route backwards and rather than offend him and say I was OK with it I just kept nodding my head. He must have thought I was like the dog off the Churchill TV ad. Soon after parking the car I realised the course had changed from the last time I had run it in 2003 (even then I retired as injured). I now wished I had listened to Terry more carefully. Thankfully I completed the ''unfriendly'' 2 lap course and for the first time in ages qualified for a t shirt. It was great competing with other like minded individuals and the buzz I got on returning home was memorable, albeit in an empty house. The only question I got from the my wife and daughter on their late return from a family gathering was, what's for tea? Anyroad, there were 597 finishers, the winner was Mark Hudspith from Morpeth Harriers in a time of 31' 41'' I was hot on his heels a mere 7 minutes behind
P.S. On a serious note have your feet checked out on the Nike Treadmill when it comes, I've had mine done at the Complete Runner and it was discovered my arch has collapsed. New shoes for me, but it's not too late for you it's better to know what shoe you really need before you spend serious money on the wrong one!!
Round Hill fell race, Sun 31 July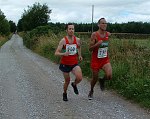 CM 9m/1100' A Harriers Running League counter - Mark's making a late charge ...
A new record was set by Richard Pattinson in 55:35 The organiser reported a good trurnout of Harriers: 12 Richard Joel 1:02:41; 16 Mark Iley 1:03:47; 17 John Atkinson 1:04:12; 18 Chris Gale 1:04:14; 23 Malcolm Pickering 1:05:21; 26 Mike Baldwin 1:05:45; 32 Terry Lonergan 1:07:17; 34 Ewan Welsh 1:08:22; 35 Richard Gale 1:08:23; 36 Sarah Jarvis 1:08:33 2nd Lady; 40 Marc Teasey 1:09:16; 41 Ashley Hardwell 1:09:50; 48 John Tindall 1:11:48; 52 Cath Wolfenden 1:13:16; 53 Brian Melia 1:13:17; 66 Sue Bickerdike 1:26:47; 72 Keith Wood 1:33:21; 73 Louise Cartledge 1:33:47; 78 Amanda Parnaby 1:42:37; 79 Antonio Cardinale 1:42:40; 81 Ros Leach 1:47:23 Full results will doubtless be on the Otley AC site soon - here's a sneak preview. And click on the photo on the right to see Andy Sarah's photos.
Almscliff Crag race, Sun 31 July
From Jamie Hutchinson Only about twenty runners had a go at this four mile out and back race from Weeton Show up to the top of Almscliff Crag. Thought it would be a doddle but the numerous gates to be hurdled/jumped over etc made it a bit more of a challenge. The winner did it in about 31 minutes approx., I managed about 32 minutes and 3rd and a prize of £9. The winner got £60 !!
Rydal Round, Thu 28 July
AM 9m 300' Alison Weston was 1st lady in horrendous weather conditions - 46th in 2h00:31
Pudsey 10k Challenge, Sun 24 July
Sarah Jarvis was 2nd lady, 66th overall in 44:16; and Marc Teasey was 102nd in 46:15
Coniston fell race, Sun 24 July
From Jamie Hutchinson - I did the Coniston Fell Race approx 6 miles and 2400 ft climb. This is part of the Coniston Country Fair and the fell race hadn't taken place since 1993. A great little fair - enjoyed watching the terrier races beforehand. The winner A.Smith finished in 55.32 I managed 18th in 66.56 out of about 150 runners. If you enjoy straight up and at it fell running this is one for you. I didnt see any other Ilkley Harriers!!
English Junior Uphill Champs, Sun 24 July
Ilkley Harriers staged this inaugural event, on behalf of the FRA, on Ilkley Moor. Thanks to the many helpers and supporters it was a great day. More on the junior pages.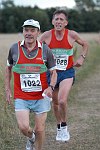 HRL Handicap, Wed 20 July
26 Harriers pitted themselves against the handicapper and Ian Fisher (your handicap was based on your performances relative to Ian over the League!), and stayed around for the League prizegiving afterwards where Ilkley were awarded trophies for first Lady Vet 40 Alison Bennett, first Ladies Team, and first lady Vets team - a great show.
Handicap results: 4th 1:00:12 ROS LEACH; 21 0:46:04 GRAHAM MAUD; 56 0:40:49 SARAH JARVIS; 64 0:36:56 JOHN ATKINSON; 65 0:36:57 NICK RICHARDSON; 69 0:47:06 HEATHER MAUD; 74 0:49:10 LOUISE CARTLEDGE; 77 0:38:13 NEIL CHAPMAN; 81 0:43:16 JOHN COATES; 82 0:46:17 COLIN LUGTON; 85 0:40:19 PETER SHIELDS; 86 0:58:50 BRIAN SWEET; 96 0:44:29 RICHARD GRAY; 103 0:55:39 HEATHER DUKE; 104 0:35:39 JAMIE HUTCHINSON; 112 0:42:45 SIMON CHAPMAN; 113 0:40:46 JAMES WARDMAN; 122 0:40:57 JON TINDALL; 134 0:37:07 MARK ILEY; 142 0:58:18 AMANDA PARNABY; 149 0:43:29 DAN ROEBUCK; 150 0:39:30 IAN MARSHALL; 166 0:42:23 PHILIP JUDD; 174 1:01:14 STEVE FLETCHER; 177 0:44:31 KEITH WOOD; 178 0:47:19 STEWART TAYLOR
Full results, stats, and more photos on the HRL site
Ilkley Harriers is 200
Membership of Ilkley Harriers has reached record levels - we now have over 200 members. (Plus 99 Junior Harriers!)
ROM June 2005
The Ilkley Harriers Runner of the Month for June is Helen Sedgwick -

click here for details.
Holme Moss fell race, Sun 17 July
From Nicky Jaquiery ... I did the Holme Moss race (16m/ 4000') and was the only IH there. Everyone else had more sense given that it was extremely hot and uncomfortable (worse than Wasdale!). According to the organisers it was their lowest turn out and a record number of people dropped out. Julian Rank from Holmfirth Harriers came in first in a time of 2:29 and I was 33rd, first lady in 3:17:29
Oldfield fell race, Sun 17 July
Sally Malir reporting ... CS 5.5 miles with 550 feet of ascent. I persuaded Jon that this was a good race to do as we could take the families to enjoy cakes at the gala. When we arrived there was no gala ! (there hasn't been one for 5 years). Ian Holmes won the race, Sally Malir was 1st Lady (19th overall) in 41.44. Jon Tindall was 24th in 44.31 A great day was had by both families as there were plenty of cows to talk to, lovely sunshine, and fantastic food at the pub. A junior Harrier had a fantastic run, Fiona, she was first under 12 home beating all the boys.
Eccup 10, Sun 17 July
From Amanda Parnaby - Several Harriers at the Eccup 10 mile, based on a route around Eccup Reservoir - I saw Alan Pearson, John Coates, Pete Shields, Helen Shew and Antonio Cardinale. It was a lovely, hot July morning but unfortunately I did not feel too great at the start and thought about retiring after a couple of miles but I am glad I did not as I started too feel a lot better. Eventually finished in 1 hour 46 mins. No news on anybody else's time as I think they had probably all left by the time I landed back at the finish at Adel !!
Results from Abbey Runners site: 81 Alan Pearson 1h09:59; 116 Pete Shields 1h13:43; 223 John Coates 1h22:26; 264 Helen Shew 1h26:32; 277 Antonio Cardinale 1h27:27; 405 Amanda Parnaby 1h46:08. There were 445 finishers.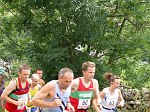 Kentmere Horseshoe, Sun 17 July
From Eddie Winslow - AM 11.9M/3300' Steve Turland 48th 1h55L31; 61 Eddie Winslow 1h58:28; 137 Bob Wightman 2h18:19 Uncomfortably hot for fell running, although not as hot as Wasdale. Click for some photos by Paul Norman (Skipton AC) on the right.
Idle Trail Race, Sun 17 July
Idle AC's new race, Richard Gray was 56th in 65:56 (interesting numbers! As Richard is 56 this is even spookier ...)
Preston Rosemere 10k, Sun 17 July
From Terry Lonergan ... The Red Rose county "treated" a brave field of 188 to a red hot and very humid day for this Preston based 10K. This first time run race is quite undulating with a Harrogate League style trail section between 5 and 6 and a very unwelcome rise to the finish. Still worth the hour's drive though; they even "throw in" a bacon balm with the medal! The sole Harrier in the event I was pleased to maintain my sub 40 record in the difficult conditions, but the age group win still eludes me this year. For the record:-20th (of 188) (2nd M55) 39.19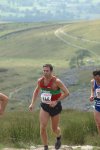 Ingleborough Fell Race, Sat 16 July
Results courtesy of Roy Ruddle: Roy Ruddle 43rd (57:54), Jamie Hutchinson 44th (57:57), Helen Sedgwick 2nd lady (60:41; 59th overall) and Phil Chappell 161st (73:30)
Bob Wightman's photos on the right.
Mount Skip fell race, Sat 16 July
Ian Marshall reports ... I was at the 4.5 mile Mount Skip Fell Race, Mytholmroyd on Saturday, a low key race climbing the steep slopes of the Calder Valley, and across Hebden Bridge Golf course to the summit of Cock Hill and back. 47 runners took part with a notable close race between two top female fell specialists Anne Buckley (Salford) and Natalie White (Holmfirth) who finished a second apart 7th and 8th overall in 31.07 and 31.08. I followed up in 14th in 33.45. More on cvfr.co.uk.
Green is just so 2004
No need to adjust your PC. I've had a bit of a fiddle with the site and got rid of the green background, never really liked it ...
Washburn Valley Relay, Fri 15 July
"It's not Keith, is it? .. No .. Not yet. .. Oh heck, it is Keith!" and with that I turned round and dashed up the hill to be ready for the changeover. The Ilkley Wood, Wood, Wood, and Woodward team was one of 10 Harriers teams (well done to Neil and Amanda) amongst 27 in the friendly Washburn Valley Relay, organised by Otley AC. The relay, 4 legs of 3-4 miles around the Swinsty and Fewston reservoirs, was won by Skipton in 1h28:14. Ilkley Panthers (James Lind, Ian Marshall, Richard Joel, and Neil Chapman) were 5th team in 1h31:51; the Colts (Simon Chapman, Dan Roebuck, James Wardman, and Elliot Dawson) were 6th in 1h40:41, with Elliot overtaking the WWWWw team (Alistair, Keith, Paul, and John) who came in 7th in 1h40:47; then it was the Wildcats 8th in 1h41:41 (Pete Shields, Richard Gray, Gary Clark, and Nigel Tapper). Ilkley Ladies had the 2nd ladies team: Sarah Jarvis, Jean Sullivan, Debbie Rosen, and Lou Sharp 18th in 1h51:28; and Pange Srivastava, Grace Brown, Barbara Bullock, and Helen Shew were 19th team in 1h52:20. The Fat Lads (Roger Pyle, Andy Sarah?, Karl Lavery, and Steve Fletcher) rolled in 22nd in 1h53:53; chased by the Lions (Vince Gibbons, Brian Sweet, John Coates, and Ashley Hardwell) in 1h58:43. Our final ladies teams were 25th (Mary Gibbons, Bernie Gibbons, Catherine Gibbons, and Joyce Marshall) in 1h58:43; and 27th (Heather Maud, Heather Duke, Jacqui Nash, and Ros Leach) in 2h12:20. There's a sneak peak at the full results here, but they'll be on Otley's web site soon.
Watch out
Watch out, there's a report of a man bothering lady runners on the road near Nell Bank.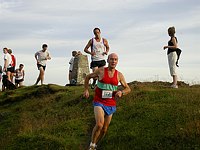 Stirton fell race, Wed 13 July
From Jamie Hutchinson - Four harriers took on the challenge of the Stirton Fell race. 5.5 miles with a couple of really good !!? climbs. Willy Smith won in 39.48, first Harrier Jamie Hutchinson in 23rd position and 45.49 (about four minutes quicker than last year!); 27th Richard Joel in 46.44; 30th Mike Baldwin in 46.47 and 60th Ewan Welsh in 50.33. A total of 119 ran.
Etape du Tour
From Bob Hamilton ... Just returned from the Pyrenees and one of the most exhilarating and excruciating experiences of my life: the Etape du Tour previewing Stage 16 of this year's Tour de France from Mourenx to Pau. Got caught up with the scale and energy of the event and went off too quick, suffering a thousand deaths on the mighty climb up to the Col d'Aubisque. Recovered well after an awesome descent to finish in the top third of the field in a respectable 7.15. The results showed that Jason Hemsley finished in 6.55, but although he must have passed me on the climb I never saw him before, during or after the event - perhaps not too surprising with almost 8000 riders competing. I can recommend this adventure unequivovally as a once-in-a-lifetime experience for any Harrier who has an interest in cycling.
Stoodley Pike, Tue 12 July
From Ian Marshall 3.5m/700', won by Ian Holmes in 17:45 with Iain Gibbons 24th in 22:38 and Ian Marshall 36th in 23:32
Polaris, 9-10 July
From Heather Dawe - The Polaris is a mountain bike version of the score KIMM; mountain bike orienteering with 7 hours riding time on Saturday and 5 hours on Sunday. This summer's race was in the Peak District last weekend. It started in the White Peak with a wide spread of checkpoints up to and around Jacob's Ladder and the hills around Ladybower reservior. It was very hot both days, I sweated my way around the trails to finish 1st lady and 10th overall.
Polaris have 3 events a year, next one in October (rumoured to be in the Lakes) if anyone's interested (though it does clash with Langdale). www.polarischallenge.com
Preston 10k, Sun 10 July
Andy Wiggans reports in ... Another Lancashire race, another baking hot day – is it me?
Bob 'Graham' Wightman and I (plus prospective new member Andrew Herbert) went over to Preston today for the 'Run Preston' 10k. This is a well organised event, consisting of a 10k race, a 5k "run/walk" (which explains the woman setting off in flip-flops) and a fun run.
We all ran the 10k, a tricky traffic-free two-lapper, with a sting in the tail of each lap with a stiff climb out of Avenham Park. I have still not quite managed the coveted sub-40 10k, but felt pleased with 40:23 given the course and the conditions, as this is another 41 seconds off my PB. I was 33rd (8th M40) out of 616 finishers.
Andrew sprinted in in 75th place in a new PB of 44:05, just pipping Bob who came in two places down in 77th in 44:17 – a very creditable 7th M45.
Worth a trip over next year – easy access, lots of free parking and bouncy castles for the kids.
Thorpe Edge 10k, Sun 10 July
Nick Richardson ran this - I think I was the only Harrier running this hot and hilly 10k. There wasn't a massive field but looking at the start line I'd say that there were about 120ish runners. Ian Fisher won in 32:40, I finished 17th in 41:05
Wasdale fell race, Sat 9 July
21M/9000' Apparently only 141 of the 330 entries completed the course for this British Championships and English Championships counter, one of the toughest fell races on one of the hottest days of the year. And 5 of the first 13 ladies were Ilkley - the only club to complete a ladies team.
Simon Booth won in 3h49:05; first lady was Sally Newman 35th in 4h51:41 From 12 Ilkley starters there were 7 finishers. Emma Barclay 6th lady 75th in 5h23:46; Nicky Jaqueiry 8th lady 87th in 5h33:37; Alison Weston 11th lady 105th in 5h46:19; Alison Eagle 12th lady 106th in 5h47:39; Jo Foster 13th lady 108th in 5h50:09; Jim Ryder 121st in 6h01:46; and Eddie Winslow 137th in 6h17:45 Results from www.sportident.co.uk
Roy Ruddle comments ... Everyone who completed the race deserves a medal - it was horrendously hot. I just went for a gentle training run from Honister Pass. After visiting Buttermere, High Crag, Kirk Fell, Pillar + Red Pike (encouraging at least 10 Harriers en-route), I collapsed under a tree outside the Wasdale Head Inn feeling sick from dehydration. Eventually managed to make my way home via Gable.
Alva Games, Sat 9 July
Helen Sedgwick was first lady, 17th overall, in 27:22
Hyde Park 5k, Wed 6 July
Peter Bedwell ... As the only Ilkley Harrier managed 22.49, 100th out of 144 on a 2 and half lap circuit of Hyde Park in Leeds. Slightly undulating and twisting, my biggest problem was my trainers kept slipping on the damp paths, bit disconcerting especially when running in a straight line, bit like running in sand. Well marshelled, should be good one for a fast time in dry conditions, 2 more in the series, August and September, entered into both.
HRL #5, Tue 5 July
It seemed a miserable night for running, but the cooling rain was probably a benefit on the tough new Harrogate course. Ilkley fielded 3fdan4 runners in a rain-depleted field of 211. Again we played 3rd fiddle to the battle between Otley and Harrogate, but our Ladies and Lady Vets teams will retain their trophies from 2004, and our Vets were 2nd on the night.
Full Ilkley results: 15 GRAHAM PEARCE 34.25; 19 JAMIE HUTCHINSON 34.54; 34 MARK ILEY 35.58; 37 JOHN ATKINSON 36.20; 38 NICK RICHARDSON 36.22; 39 DAVID JEPSON 36.33; 58 NEIL CHAPMAN 37.59; 60 ALISON BENNETT 38.08; 63 IAN MARSHALL 38.16; 81 SARAH JARVIS 40.17; 86 MARC TEASEY 40.46; 91 JAMES WARDMAN 41.17; 97 JOHN WOODWARD 41.37; 98 SIMON CHAPMAN 41.38; 99 DAN ROEBUCK 41.44; 104 JOYCE MARSHALL 42.10; 105 ELIZABETH MCCANN 42.20; 115 PHIL HIRST 43.09; 118 KAY LUCAS 43.20; 125 RICHARD GRAY 44.41; 126 JENNIFER WRIGHT 44.52; 127 NIGEL TAPPER 44.56; 130 LINDA WRIGHT 45.04; 133 VINCE GIBBONS 45.14; 138 BARBARA BULLOCK 45.51; 139 HELEN SHEW 45.57; 152 HEATHER MAUD 47.28; 159 GRAHAM MAUD 47.55; 164 MARY GIBBONS 48.33; 165 BERNIE GIBBONS 48.40; 168 LOUISE CARTLEDGE 49.44; 187 RICHARD MIDGLEY 52.57; 194 BRIAN SWEET 56.57; 198 AMANDA PARNABY 57.42
Results and photos on the HRL site
Danefield Relays, Tue 5 July
From Emma Payne ... Ilkley entered one ladies team in this normally popular event, however numbers were diminished due to the driving rain that did not let off all night. We had Pange Strivastava (Leg 1 24.59), Emma Payne (Leg 2 32.18) and Daisy Hartley (Leg 3 28.00) finishing in a combined team time of 1.25.07. Splits and results at fellandale.com.
Settle Hills Race, Sun 3 July
A tough race, incorporating the Yorkshire Championships. Ian Holmes was 1st in 48:48 - Yorkshire Champion for the 5th time. Jim Ryder had a good run 21st in 56:56; then 33 Steve Turland 61:03; 36 Emma Barclay 61:46 2nd lady and 2nd Yorkshire lady; 38 James Lind 62:16; 39 Helen Sedgwick 62:21 3rd lady and 3rd Yorkshire lady; 52 Alison Eagle 64:15 1st LV40; 69 Jo Foster 68:11 and 91 Ed Battye 76:46. Our ladies were first team and of course first Yorkshire team. There were strong performances from our juniors too in the English Champs races (more).

Harriers photos

More photos
Skipton Tough 10, Sun 3 July
Neil Chapman reports ... There was literally only a handful of Harriers who tackled this aptly named race on a warm day, but with a welcome strong breeze in places. Somewhat unusual for a road race it has a 750 foot climb between 2-4 miles, but with time to be made up on some equally steep descents, for those whose legs are still functioning correctly at the top. I was first Harrier back, 28th in 70.00, with John Coates who enjoyed the run!!!! finishing in 84.45, just ahead of 2nd claim Harrier Antonio Cardinale in 87.45. Debbie Rosen dispelled the theory a hangover slows you down, by running 90.38, knocking ten minutes of her previous best time. As usual, the ever present Amanda Parnaby came in with a smile on her face in 102.50, looking like she could do it all again.
Four Dales Challenge, Sun 3 July
Roy Ruddle was 1:57:16 (3rd). This excellent new race, similar in terms of distance and climbing (11.9 miles; 3000 feet) to Kentmere, was run as part of the Open Day celebrating the 50th anniversary of Botton Village in the North Yorks Moors. Starting from Danby Dale, where my father grew up, the circular route also took in Great Fryup Dale, Rosedale and Westerdale.
Carr Lane Challenge, Sat 2 July
From Jamie Hutchinson ... at Wrose Carnival Bradford. 5 mile trail race with a bit of a hill! I fancied a training run so had a go at this trail race, steady pace meant I did have something left for the 1 in 6 hill for the last 3/4 mile. Finished in about 32 minutes and came fifth. Didn't see any other Harriers. About 40-50 runners in total and winner did about 30 minutes.
News Oct-Dec
|
News Apr-June