Guiseley Gallop, Easter Sunday
The winner was York Acorn's Andy Hilton in 36:01, we had:
11 Jason Hemsley (P&B) 37:56; 15 Tim Ashelford 38:44; 27 Jamie Hutchinson 41:08; 35 Billy Kerr 41:52; 56 Richard Joel 43:01; 66 John Atkinson 43:37; 79 Cath Wolfenden 44:39 (5th lady, well done Cath); 124 Nick Richardson 47:00; 167 Elizabeth McCann 49:19; 217 Keith Wood 51:29; 236 Vince Gibbons 52:22; 241 Sue Bickerdike 52:42; 288 Barbara Bullock 54:45 (21st in her class); 333 Jean Sullivan 57:16; 377 Ronnie Shackleton 59:20; 380 Bernie Gibbons 59:26
Salford 10k, Good Friday
Andy Wolfenden ponders ... Now I ask you, who would want to do a fell race on a Good Friday when you can run around the streets of Salford? (Irony?? If only there was a fell race that day ... adds the editor) Well that's what we did, and we all enjoyed the experience, along with the rest of the 500 plus quality field, and cheered on by friends and family.
This fast, two lapper was won by Scott Winton, Unattached (wonder if he needs a club) in 30.19. A fine run by Leeds City's Gill Keddie clinched the Ladies' race in 35.23.
On the home front Terry Lonergan was first home for Ilkley in 38.24, 118th overall and 5th Vet 55. He was on for 37.30 at 8K but a ham-string pull put paid to high hopes.
Andy Webster was next in 42.14, 205th overall and just a few seconds outside a PB.
Vic Verecondi 43.46 in 239th place with yet another PB, followed closely by Keith Wood 245th in 43.53.
Last man home was Andy Wolfenden struggling home in 281st place 45.16. Earlier, two of our number did the 2K Fun Run, Luca Verecondi turned in a creditable performance of 8.15, burning off Dad Vic in the final stages apparently.
Trimpell 20, Sun 20 March
Andy Wiggans reports ... A few Harriers at this 20 mile London warm-up (and warm was the operative word – 16 degrees when I got back to the car, and it had cooled down some by then). Interesting route, as the normal out and back along a tarmac cycleway had to be changed as one of the bridges is falling into the Lune near Caton – so we all went to Glasson Dock via a dirt track instead, which was nice…
Pete Shields was first home in 2:25:21 (73rd out of 336 finishers), I was next back in 2:37:38 (121st – with a spectacular shed collapse involving cramp and hobbling between mile 17 and 19), Neil Chapman was 163rd in 2:44:45, Richard Midgley was 287th in 3:16:01 and Amanda Parnaby was 311th in 3:28:19 (her first 20 mile road race)
Quite a tough race, given the temperature, and a lesson learned by yours truly about eating properly before long races – more pies clearly needed…
Fiendsdale, fell champs counter, Sat 19 March
The first counter in the English fell championships. a medium race 9m/2600'. Emma Barclay had a great start to the season 4th lady, 143rd overall in 1h38:45; and with Nicky Jaquiery 10th (172nd overall) in 1h42:42; Helen Sedgwick 16th (211th overall) in 1h46:34; Sally Malir 17th (214th) in 1h46:52; Heather Dawe 236th in 1h50:05; Jo Foster 273rd in 1h56:10; Joyce Marshal 308th in 2h02:25; and Rachael Gooch 341st in 2h08:24 we were, for a while at least, first ladies team, but ... STOP PRESS - some results adjustments have revised us down to 2nd place, But we'll be back!
The men's race was won by Simon Bailey in 1h15:48. Jason Hemsley was 37th in 1h25:58; Stefan Macina 67th in 1h30:35; Graham Pearce 90th in 1h33:10; Jim Ryder 110th in 1h35:42; Nick Pearce 128th in 1h37:44; Geoff Howard 142nd and 3rd Vet 60 in 1h38:43; Jonathan Sage 157th in 1h41:23; Mark Iley 191st in 1h44:15; Ken Jaquiery 290th in 1h59:19; Kevin Gooch 294th 2h0:17
Results on Bowland Fellrunners' web site
Coniston 14, Sat 19 March
Dave Jepson reports ... A most agreeable day out for four harriers + one additional family member.
I enjoyed a spectacular run, knocking almost 6' off my 2003 to finish in 1h32'05", and 87th place out of 1377 starters. It was a real fillip to get an enthusiastic cheer on a climb at around 9 miles from some spectators who seemed genuinely delighted to see an Ilkley runner. Jonathan Sinclair finished 103rd in 1h33'21", and was pleased with his run too. Andrew Wilson, continuing preparations for London, was pleased with his 1h42'16" for 250th. Jeff Paget came in a creditable 281st, 1h43'30"; this after precious little training as he still contnues his comeback from injury, and Phil Chappell, 395th in 1h48'03" claimed that he was pleased to have met his target of around "one and a half pounds' [weight loss]".
The race was won in 1h10 by Mark Miles (Belgrave) with a lead of over 6'! Were in not virtually impossible to cheat at Coniston the stewards might have been calling for an equiry over what would appear to be a remarkable display of front running.
All in all another great day at Coniston, a credit to the organisers, and more than worth the long journey to and fro'.
Open 5 Adventure race, Sun 13 March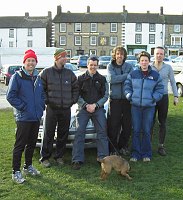 A host of Harriers tried the first of the new Open 5 Adventure Races, at Reeth today. You had 5 hours to visit as many controls as possible - some were to be visited on bike, some on foot, and it was up to you to decide how many of each to visit.
Eddie Winslow got the balance right, with 430 points he was the winning Solo man; as did Heather Dawe whose score of 420 points was so close to Eddie's, and the best Solo Ladies score by 140 points. Both won shoes donated by our own Ed Battye of Crosstrax.
Also from Harriers we saw Graham Pearce and Stefan Macina 6th in the Pairs with 310 points; Phil Atkinson and John Smith 9th Pair 285 points; Jamie Hutchinson, 12th in the Solo class with 275 points; Lou Cartledge paired with Nidd Valley's Terry Massey 9th in the Pairs with 265 points; Ed Battye 14th Solo with 255 points; and Paul Wood 17th Solo 240 points.
Results and details of the next event (South Lakes, 22nd May) on Open Adventure's web site
Wuthering Hike, Sat 12 March
Bob Wightman reports ... It appears that I was the only Harrier running(?) this 31 miler this year. I was aiming for 6hrs or under and finally came home in 5hrs 54mins 08seconds. In the "team" rankings I was 61st but was actually 73rd runner to cross the line.
Tina Horn Memorial fell race, Sat 12 March
BM 6m/800' Phil Chappell reports ... 10 km fell and trail race from Ogden Water and up and around the whirring wind farm. Jack Wood (U16) was 24th in 43:19, I came in in 73rd in 49-03 and Andy came in 78th in 49-38 we both had a good run on a cold but beautifully clear day.
ROM February 2005
The Ilkley Harriers Runner of the Month for February is Ian Marshall -

click here for details.
Norton 9 road race, Sun 6 March
Terry Lonergan reports ... 2 Harriers ran: 62 John Atkinson 58.19 and 86 Terry Lonergan 59.51
405 finished, fabulous morning for this undulating race near Donaster. Travelling time just over 1 hour.
Half Tour of Pendle, Sun 6 March
Graham Pearce reports ... On a bright and (incredibly) breezy day 5 Harriers made the trip over to have a bash at the 9 miles, 2,000ft Half Tour of Pendle. Ian Holmes led the incredibly strong "who's who" of fell running field home in 1:06:08. He held off stiff competition – from the likes of Rob Jebb, a strong field of Clayton runners and also a few in-form Harriers – which just goes to show he's still the man to beat. Graham Pearce was first in for the Harriers in 1:16:58 which gave 24th overall. Sally Malir came home 5th lady (80th overall) in 1:28:58 and Ewan Welsh 88th in 1:30:17. Part-time Harriers Jason Hemsley (17th in 1:13:54) and Stefan Macina (31st in 1:18:52) also ran.
The race was run through deep snow in parts, bogs and the usual river crossings. One might say it had something for everyone! Thanks to Jason for the lifts, Ewan for the local knowledge of tea rooms and the course organisers for a very technical, but fun race.
St Annes 10M, Sun 6 March
Neil Chapman reports ... Four Harriers made the trip to St Annes to take part in their Ultrafit 10 mile race. Conditions were quite good on this out and back course along the promenade, but runners faced a stiff breeze for the 5 mile back to the finish. There was a good quality field of runners and the race was won by Neil Wilkinson of Morpeth Harriers in 51.03. Geoff Howard was our first finisher, quickly back into his stride after returning from foreign shores only yesterday, 36th and 1st V60 in 62.11. I finished 45th in 63.16 (PB by a few seconds) and Pete Shields, celebrating his 58th birthday and 36th wedding anniversary, was 83rd and 3rd V55 in 66.53. Chasing Pete all the way, Alison Bennett had a superb run finishing 85th, but 5th lady and 1st V40 in 66.58, slicing over 3 minutes off her PB for this distance.
Trollers Trot, Sat 5 March
Jamie Hutchinson reports ... Approx 25 miles. Dennis Ackroyd and Jamie Hutchinson ran not without our fair share of navigational fun. Jamie came 5th in 3h56 and Dennis 6th in 4h02 - the first runner finished in 3h50
High Peak Marathon, Sat 5 March
Heather Dawe reports ... I was in the winning mixed team (3rd team overall, provisional result) at the High Peak Marathon. We started at 23:40 on Friday night and finished 11 and a half hours later. 42 miles around the Derwent watershed, taking in the delights of most of the Edale skyline, Stanage and Bleaklow along the way. Conditions were hard, clear skies so easier nav but deep snow made going really slow underfoot. It was very nice to finish, I had a bit of an enthusiasm crisis at 3am which I managed to get over. The sunrise over a snowy Bleaklow was fantastic and (almost) made the whole thing seem a sensible thing to do.
Ilkley Moor Fell Race, Sun 27 Feb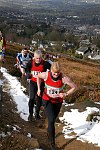 Thankyou to the very many helpers who helped make the day run so well - we had a great turnout of people to marshal and help with the race.
Entries were a little down on previous years, 210 finishers, most likely due to the threat of bad weather, but we seemed to enjoy a little pocket of good weather as the photos show. Conditions underfoot were slippery and the top runners were 2-3 minutes slower than last year. We were pleased to see Simon Bailey return and run a great race, only 1m40 down on his record set last year, and again 3½ minutes clear of some quality opposition.
Emma Barclay had a great race to finish first lady, and Ilkley ladies were first team again.

Photos - Harriers and others, by Dave Woodhead

Photos - by Graham Weston
Great North West Half Marathon, Sun 27 Feb
Andy Wiggans reports This weekend saw the running of the Great North West Half Marathon in Blackpool. Only one Harrier (me) made the epic trip across the Pennines (which means I can for once be described as 'first Harrier home' – although this also means I was the last one too...) and to be honest had a great run – I was 121st out of 943 finishers in 1:29:22 – which is a PB by the small matter of 5 minutes and 5 seconds!! It's a fast, traffic free course and well worth a trip for a London marathon warm up.
Ilkley Harriers Running League 2005
Jason's numero uno, with Sally close behind, but SuperVet is scoring mega points - surely he'll catch them. Ah, the suspense ...
Noonstone fell race, Sat 26 Feb
AM 9m/2300' Stefan Macina was our only finisher this year, 9th in 81.39
Snake Lane 10, Sun 20 Feb
Neil Chapman reports ... Four Harriers were taking part with 550 others in this popular race won by David Watson of Holmfirth in 51.21, on a cold day, which had sunshine, snow showers, and a stiff breeze. I was first Harrier 68th in 63.48, with Terry Lonergan close behind in 77th and 4th V55 in 64.32. Pete Shields continues to improve his times finishing 112th in 66.34 and Andy Wolfenden with injury problems was happy with his 255th place in 76.36. We also had enough to make up a team and were placed a respectable 17th out of 67
National XC, Sat 19 Feb
Di Kitchen was 266th in 38:48 in the Senior Ladies race. Well done, Di! And our U13 Girls team ran really well too - more on the Junior Results page.
Valentines Day 10k, Sun 13 Feb
Vic Verecondi reports ... "26.2 Road Runners Club Chessington Valentines Day 10k" - have been on another one of my adventures in search of the ultimate 10k... This time I headed to the big smoke ie London... Race was mainly flat with one undulating hill... The conditions were quite windy which did make running at an even pace quite difficult... Anyway my time was 43.57 (a PB by a massive 3 seconds)... Had a lovely pub lunch afterwards and enjoyed a nice day in London with a couple of Aussie mates......
Winter Hill fell race, Sun 13 Feb
AM 11m/2750' Mark Iley reports ... 44th in 2h04:11 in bitter conditions
"Tiso" Carnethy '5' Hill Race, Sat 12 Feb
AM 6m/2500'(/5 hills?) We had 92 Andrea Priestley 63:53 (3rd lady); 125 65:55 Emma Barclay (5th lady); 207 Heather Dawe 71:28 out of 452 finishers - and our fabulous Sassenachs took the ladies team prize!
Some inspiring photos on www.carnethy.com
Wadsworth Trog, and Half Trog, Sat 12 Feb
Jamie Hutchinson reports ... A windswept Wadsworth Half Trog (BM 9m/1500') was enjoyed by two Harriers; Jamie Hutchinson 8th in 1h28:22 and Brian Melia 17th in 1h34:45 Stef Macina was well ahead, 4th 1h26:07
Bob Wightman adds .. The Trog (BL 20m/4000') was fully subscribed this year. Ashley Hardwell came in 40th in a time of 3h56:23, Roy Ruddle was 49th in 4h03:33, and I came in 62nd in a time of 4h12:21
Conditions were pretty bad (!!!) due to the heavy rain on Friday night along with strong winds and hail and sleet showers during the race itself. This had a dramatic effect on the times of everyone - including winner Rob Jebb who was 20 minutes slower than his time last year.
ROM January 2005
The Ilkley Harriers Runner of the Month for January is Elizabeth McCann -

click here for details.
Long Mynd Valley race, Sun 6 Feb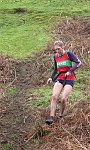 AM 10.5m/4500' Mark Priestley reports ... Here are some pictures from the misty Long Mynd today. The race was won by Dave Neil (Mercia) in a slow 1.45. Conditions were very poor - bad visibility and very boggy. Andrea had a welcome return to racing after a year with a bad knee, 25th overall and first lady in 2.01:40
Dewsbury 10k, Sun 6 Feb
Neil Chapman reports ... Ten Harriers out on Sunday with 1300 other runners in the Dewsbury 10k. First Harrier in was Jamie Hutchinson continuing his run of form finishing 74th in 36.45, with John Atkinson 142nd 38.40 leading Ken Souyave 151t 38.46 and Dave Jepson 153rd 38.49. I finished 206th in 40.01 with John Woodward 308th 42.40, Richard Gray 472nd 46.37 and Rob Wills 502nd 47.13. We then had two of our Junior Harriers Simon Chapman (PB by almost 3 minutes) and Dan Roebuck (PB by almost 2 minutes) finishing together in 49.16.
Ogden Moors fell race, Sat 5 Feb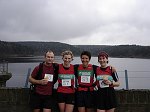 Jo Foster reports ... CM 6 miles, 700'. Fast course resulting in Simon Bailey smashing the old record by 46 seconds with a new winning time of 32.35. 5 Harriers opted for this shorter race rather than Rombalds. In a field of 137 runners Emma Barclay was 1st lady in 41.47 (19th overall), Nicky Jaquiery 28th (3rd lady) in 42.43, Ken Jaquiery 40th in 45.00, Bob Wightman 47th in 45.43 and Jo Foster 57th in 46.35 (7th lady). Emma, Nicky and Jo won the ladies team prize.

Bob Graham help
Bob Wightman intends to attempt the Bob Graham Round again this year, so would like to enlist the help of any club member who wishes to have a bit of a jog across the Lakeland fells. Anyone who has some good banter is particularly welcome! Proposed date is Saturday 21 May starting at 0000hrs and going clockwise.
Rombalds Stride, Sat 5 Feb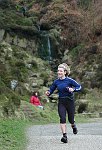 Quite a lot of Harriers at this, as usual. Jason Hemsley won it in a good time of 2h44, with Sally Malir first lady in 3h04 - 20 minutes quicker than last year. We also saw Geoff Howard 3h02, Ian Marshall 3h06, Pete Shields 3h06, Tim Ashelford 3h08, Eddie Winslow 3h11, Mike Baldwin 3h14, Kevin Gooch 3h25, Neil Chapman 3h27, Alison Weston 3h31, Joyce Marshall 3h32 (30 mins quicker than last year), Clive Smith 3h34, John Smith 3h39 (a PB by over 30 mins), Rachael Gooch 3h53, Keith Wood 4h05, Suzanne Bickerdike 4h09, Ed Battye 4h17, Vince Gibbons 4h28, Amanda Parnaby, Jane Cullingworth & Antonio Cardinale 5h02. It was good to see former members Dominic O'Hooley and Rob Pawson running too. ... anyone else?
This is a Harriers Running League counter. I think these results are as accurate as it gets - if not give me a shout.

Harriers photos
Annual Do, Fri 4 Feb
On Friday evening, before a busy weekend of racing, Ilkley Harriers celebrated the presentation of awards for 2004 with a Ceilidh at The Hollygarth. Best runner awards went to Geoff Howard and Alison Eagle. Most Improved Runners were Jamie Hutchinson and Suzanne Bickerdike. Best Marathon Runners were Pete Shields and Barbara Bullock. The awards for Contribution to Club went to Pete Shields and Amanda Parnaby. Winners of the Ilkley Harriers Running League 2004 were Geoff Howard (overall, and fell categories), Neil Chapman ( road running), and Alison Bennett (trail and cross country). The Men's Captain's Trophy went to Neil Chapman, and the Ladies' Captain's Trophy went to Helen Sedgwick.
Ferriby 10 mile road race, Sun 30 Jan
Neil Chapman reports ... Three Harriers made the journey over to Hull to join 388 other runners in the Ferriby 10m race on Sunday. The course has changed from the flat course, where the record is held by Brendan Foster in 47+ minutes, to a more testing undulating course, made more difficult with a stiff breeze, and highlighted by Pumlani Bangani's winning time of 54.35. I was first Harrier home 29th in 63.24 (PB by almost a minute), with John Atkinson having a good run 50th in 66.08, and Pete Shields catching him towards the end 63rd in 67.27.
Northern XC Championships, Sat 29 Jan
In the 12km men's race Jamie Hutchinson was well placed, 265th in 50:27; and Phil Chappell was 500th in 60:38. In the 8km ladies race, Di Kitchen was 121st in 38:50. In the U13 Girls race, our team was 17th - more ...
Brass Monkey, Sun 23 Jan
Neil Chapman reports ... Twelve Ilkley Harriers got their entries in early to join almost 1000 other runners in Sunday's Brass Monkey Half Marathon at York. First Harrier home was Tim Ashelford 76th in 1:23:10, with myself 82nd getting a PB in 1:23:41. Then came Rob Pawson 257 in 1:33:32, John Tindall 392 in 1:40:06, and Keith Wood 417 in 1:41:18. He was being chased by Sue Bickerdike finishing 426 in 1:41:56, with 2nd claim Harrier Antonio Cardinale 494 in 1:44:30. Richard Midgley was 650 in 1:52:10, with Andrew Wright having a great run on very little training 703 in 1:55:33 and Peter Bedwell finishing 704, only a couple of seconds behind in 1:55:35. 776 was Richard Smith in 1:58:36 and Amanda Parnaby 856 in 2:05:46.
The race was won by David Watson in 1:09:07. Results updated from

ukresults.net
22nd Stanbury Splash fell race, Sun 23 Jan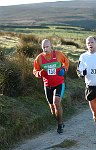 Bingley's Ian Holmes won this race for the 10th consecutive time, beating off top-class opposition, in 44.46. For P&B, Jason Hemsley was 6th in 49:03; Stefan Macina 12th in 50:37; and Shane Green 20th in 52:17. First Ilkley vest home was 29th Jim Ryder 52:59 closely followed in 32nd place by Graham Pearce 53:49. Then we had 46 Helen Sedgwick (3rd lady) 56:30; 48 Jamie Hutchinson 56:36; 54 Nick Pearce 57:10; 60 Nick Richardson 57:26; 65 Emma Barclay (5th lady) 57:52; 76 Eddie Winslow 58:27; 89 Sally Malir 60:08; 108 Bob Wightman 62:57; 114 John Smith 63:18; 116 Jo Foster 63:24; 117 Phil Atkinson 63:29; 126 Dennis Ackroyd 64:26; 174 Peter Cooke 70:44; and 208 Nick Mellor 77:28. Richard Malir ran but was unfortunately injured. The Ilkley ladies won the team prize. This was the first counter in the 2005 Harriers Running League.

Harriers photos
Kinder Trial, Sat 22 Jan
Heather Dawe reports ... Just to let you know I was 1st lady in the Kinder Trial today, an 'O 'style fell race over and around Kinder Scout from Hayfield. Conditions were clear and cold and frozen on top, it was very nice not to go knee deep in peat on the Kinder plateau for a change!
Wharfedale Schools XC, Sat 22 Jan
Ilkley Harriers helped Clevedon House School stage the Wharfedale & District Primary Schools XC Challenge. Last year we had 230 kids running, this year there were over 350 children running. Thanks to all the Harriers who helped with organising and marshalling. More info ...
Yorkshire XC Champs, Sat 15 Jan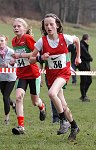 In the men's race over 11.2km, Jim Ryder was 93rd in 47:52, and Jamie Hutchinson 105th in 48:42. In the ladies race, 5.8km, Alison Bennett was 34th in 26:47; and Elizabeth McCann 52nd in 28:37. In the U13 Girls race, our team was 7th - more ...
Full results on

the NoEAA web site.
ROM December 2004
The Ilkley Harriers Runner of the Month for December is Sally Malir -

click here for details.
Garstang 10, Sun 9 Jan
Andy Wiggans reports ... Bob Wightman and I made our now traditional post-New Year jaunt to the civilised side of the Pennines for the Garstang High School 10k on 9 January. This pleasant race takes place over a double loop, crossing and re-crossing the Lancaster Canal and the M6. Bob had a good run, coming in 116th out of 485 finishers with a good time of 42:32, and I wobbled in a couple of minutes later in 177th in 44:36. Well worth a trip for any Harriers looking for a fairly fast 10k after Christmas – but entry on the day could be dodgy in future – 485 must be very close to the limit!
Pennine 10k, Sun 9 Jan
Neil Chapman reports ... Only 2 Harriers out on a testing 10k course in exceptionally good conditions, given the recent weather. I ran 41.26 for 32nd place, with Pete Shields not far behind 57th in 43.45. Whilst unimpressed with our times, there was a little consolation in finding out the course had been inadvertently extended.
Ovenden fell race, Sun 9 Jan
Ian Marshall reports ... A magnificent seven Ilkley Harriers braved the gale force winds at the Ovenden Fell Race near Halifax on Saturday. The route was shortened by a mile or so as a walker had been blown over into Ogden Reservoir prior to the race, so we were not allowed across the embankment.
There was certainly a stiff breeze on the outward journey up Ogden Clough towards Leeming, but the winds were easing down slightly as we skipped back across the top of Nab Hill to return by the outward route.
The race was won by Lloyd Taggart of Dark Peak Fell Runners in around 41.30. First Harrier was Steve Turland in an excellent 20th place in 50.30. Next was Emma Barclay 54th and 2nd lady in 54.23. Lady winner, Sharon Taylor of Bingley Harriers completed most of the race half barefoot, after one of her running shoes fell apart, to defend her title from last year.
Kevin Gooch continued his good run of form at middle distance in 56th place with 54.34 followed by Ian Marshall 60th in 55.22 and Ashley Hardwell 69th in 56.20.
Ilkley's ladies team was completed by Jo Foster 77th in 58.22 and Rachael Gooch 116th and 2nd LV50 in 67.01 to take the Ladies Team prize.
Jo Foster adds ... Alan Greenwood got the biggest turnout he'd ever had! What is it about fell runners? Mad conditions - really hard work.
Harrogate Ringway Relay, Sun 2 Jan
Bernie Connor rustled up (nearly) 4 Ilkley teams to join in Nidd Valley Road Runners friendly relay around the Harrogate Ringway footpath.
Rahel Friederich brought the Cheetahs in 4th on the "ladies sprint" first leg in about 15:30, with Elizabeth McCann not too many places behind in about 17:05 for the Panthers, then we had Shirley Wood for the Tigers in about 20 minutes, and Heather Duke for the Lions.
Mike Rhodes pulled the Cheetahs up to 3rd place, handing over to Jason Hemsley after about 25:30, then Stefan Macina and finally Bob Hamilton brought the Cheetahs in in 3rd place in 2h21:23 (Harrogate Prancers were 1st in 2h15:22; Ripon Ray's Rockets were 2nd in 2h20:19; and Otley Reindeers were 4th in 2h33:17).
Panther Paul Wood got round Leg 2 in about 30 minutes, to hand over to Jamie Hutchinson who was to run two legs after an organisational hiccup, but after Keith Wood ran the final leg the Panthers finished 7th team overall - pretty good going.
Richard Gray, Vince Gibbons, Berni Gibbons, and Dave Ibbotson completed the Tigers team - 25th in 3h16:01. Amanada Parnaby, Bernie Connor, Bernie's next-door neighbour!, and Bernie Connor running again made up the Lions team, 26th in 3h17:42.
Silsden Resolution Run, Sat 1 Jan
About 65 runners in this local 3 mile race. Elizabeth McCann was 18th and 1st lady in 21:20; Mike Baldwin was also sighted.
News Apr-June
|
News 2004