Great North Run, Sun 30 Sep
From Pete Bedwell ... quick report from the GNR, lack of training due to work and family commitments meant this was never going to be much more than a good training run, and a sore achillies on the day didn't help.
Was happy enough with 1.54.48, 8473rd and as I took it steady my legs felt pretty much ok at the end, even after the drive home !
Did see what looked like a couple of Harriers vests in the crowds but didn't get close enough to say hello, hopefully this will give me a bit of a boost to get fit again for the FLM next year where I've got a bit of unfinished business.

 
164  Jonathan Sinclair 1.19.21  V45 club record
2137 Andrew Herbert    1.38.51
2351 Anthony Swanepoel 1.39.45
2771 John Coates       1.41.24
4140 David Cockshott   1.45.31
4646 Nick Mellor       1.46.48
6390 Alex Lewis        1.50.43
6421 Brenda Ogden      1.50.46
8052 Don Macrae        1.54.02
8473 Pete Bedwell      1.54.48
9054 Rebecca Fort      1.55.51
14446 Margot Dale      2.04.51  LV65 Club Record
14884 David Fox        2.05.38

Horsforth 10k, Sun 30 Sep

87  Stephen Coy         42:26   
97  Elizabeth Mccann    42:56 
162 Catherine Gibbons   46:26 
301 Bernadette Gibbons  52:53 
401 Ian Hargreaves      57:42 


Open 5, Grassington, 30 Sep
From Eddie Winslow ... The Open 5 series is becoming more popular with Ilkley Harriers. On Sunday, there were at least 11 partaking of 5 hours of fell running, mountain biking and navigation around Grassington and the surrounding Dales.
An early chill gave way to a fine Autumnal day and results were strong throughout. In the male solo, Jamie Hutchison was 11th. In the male pairs Tim Ashelford was 2nd and Dave Cheesewright 4th despite both of them claiming they were just going out to enjoy themselves with Jim Ryder and Ken Jaquiery 9th. In the female pairs, Jo Foster and Nicki Jaquiery took 6th. In the mixed pairs, I was in the winning pair with Sue Booth 8th and Kelly Harrison and Richard Malir 9th.
In the series, Jo and Nicki have an outside chance of 3rd place in the female pairs, whilst that result means that Caroline and I have won the mixed pairs with a race to go.
Lou Cartledge adds... I was 3rd Lady at the Open 5 in Grassington on Sunday, with 435 points. Great weather, well organised, really enjoyed it, even after bike trouble.
Tim Ashelford adds ... With an Open5 race you will have 5 hours to visit as many points (controls) as you can. Some can only be collected by mountain bike others by foot. The weather was very warm. Recent weather left the trails dry & quick. Stuart Pitches & I (facewest.co.uk) were 2nd in the male pairs
AGM, Tuesday 25th September
The Ilkley Harriers AGM was held at ILT&SC at 8.30pm. In a short and very well attended meeting all the important club business was done and a dynamic new committee was elected.
World Masters Mountain Running Championships, Bludenz, Austria - Sun 23 Sep
Morgan Williams reports ...Uphill only, approximately 10K with 2,500' of ascent. Weather 26 degrees C. Hot! The usual mix of (too much) road, (not enough) mountain trail and (too much) gravel track. The best bit was the open-air pub at the top.
W45  Alison Eagle     14th   1.02.26
Counted along with Sue Beconsall of Bingley and Kate Beatty of CFR for England 1 who were 3rd ladies team, behind Austria 1 and Germany 1 but in front of Italy 1. Great effort Alison and ladies!
M40  Morgan Williams  101st  1.04.45
Counted along with Phil Sheard of P&B and a Rochdale Harrier as England 2. England 1 were third team. England 2 were a few places behind! Morgan counts for England again, but fails to scale the dizzy heights of the European Masters when he counted for England 1 (though he won't say how many teams were in front of them!) Pride just about intact as he managed to finish just in front of the winner of the M35 category.
Medals for Nigel Gates (M50 gold), John Brown of Salford (M35 silver) and Tracey Brindley of Carnethy (W35 gold). Tracey was 18th overall in the 35s race. Outstanding!
Look out for the lurid free t-shirt!
Yorkshire Vets Championships - Track and Field, Sun 23 Sep
From Andrew Bennett In only her second attempt at a competetive 800m event Alison took part in the Yorkshire Vets Championships at the Princess Mary Stadium at Cleckheaton. Despite pre race nerves Alison set off at a cracking pace at the sound of the very loud starting pistol. In a competitive field Alison led from start to finish and won in a time of 2:32:8. This puts her 6th in this year's national rankings for her age group at this distance.
This is a meeting that more Harriers 35+ might want to consider for 2008. Alison has a copy of the programme to give you more idea of the ages, events and likely competition.
Kirkstall 10k, Sun 23 Sep
From Elizabeth McCann ... I did this yesterday and was second lady -approx 43:25 mins. Andy Wolfenden and I think at least another couple of other Harriers there but no details on times.
Results from .. Kirkstall Harriers:

35  42:03 Justin Phillips
48  43:25 Elizabeth McCann
108 48:13 Andy Wolfenden
122 49:25 David Cockshott
186 53:00 Nicholas Mellor


Ilkley Tri, Sun 23 Sep
Well, I know Sue B did this because I've gota GREAT article for the next newsletter. But there were loads of Harriers out there too, full results on (or www.lbt.org.uk).
From Janet Grace ... I was first lady to cross the finish line in the Ilkley Triathlon - this will probably be the only time I'll ever be first lady to finish a race. It was a triumph only slightly diminished by the fact that I started my swim leg while most people were still having breakfast (I was the second person in the pool). I beat my predicted 20-minute swim time by quite a margin and managed to hold it together on the bike and run, finishing in just over 1:20. It was my first triathlon and I thoroughly enjoyed it.

3   56:03 Graham Pearce
10  59:27 Jamie Hutchinson
11  61:11 Dave Wilby
14  62:50 Ralph Tench
20  64:16 John Atkinson
38  68:05 Norman Bush
42  68:30 Mike Baldwin
72  72:10 Ewan Welsh
78  72:59 Kelly Harrison
97  75:24 Brian Websdale
130 79:38 Alison Weston
131 79:58 Anne Briggs
138 80:12 Janet Grace
145 81:13 Anthony Swanepoel
151 82:12 Sue Bickerdike
156 82:24 Steve Cockerham
165 83:47 Brenda Crabtree
194 89:26 Lindsey King

Jemma and Lawrence Basham, and Bob Hamilton on his bike, won the team event. 6th overall in 57:47?
Harrogate Theatre Race, Sun 23 Sep
A good run by Catherine Gibbons, 88th in 48:44. Bernie Gibbons was 166th in 54:05, and Bridget Doherty 196th in 57:15. In the 2k Fun Run, Ruth Doherty was 21st in 9.30
West Yorkshire XC
From Alison B ...
The Cross Country Season is upon us again. It would be great to see a mass of Red and Green vests at these races.
This year's West Yorkshire events will be as follows:

Race 1    14th October (Sun)    Skyrac - Nunroyd Park, Guiseley
Race 2    27th October (Sat)    Pudsey and Bramley - Leeds  (Harriers Running League Counter)
Race 3    17th November(Sat)    Knavesmire Harriers, York
Race 4    2nd  December(Sun)    Wakefield AC – Wakefield

ALL OF THESE RACES ARE PRE-ENTRY ONLY via our Club. Please contact me or Lawrence Basham if you wish to take part. It is only necessary to enter once for all the races. If you can't run in the first race but intend to take part in the others, please let us know as soon as possible.
In order to run at the first event please contact me or Lawrence by 20th September in order for us to complete the entry form. The closing dates for entries for the subsequent races are 10 days in advance of the race.
The Ladies race is approx 5 – 5.5km and the men's race is 9 – 9.5km. The Ladies race is 1.45pm and the Men's at 2.15pm
All race details and results will be on the Complete Runner website
We had a good turnout and some good team results last season – but we can do better this time
Nottingham Half Marathon, Sun 16 Sep
Elaine Cossins ran a PB of 1h48
Embsay fell race, Sun 16 Sep
From Graham Pearce ... Esme and Nina Pearce raced in the under 9s category at the BOFRA Embsay fell race on Sunday. This was a testing course in the under-9s category with a sharp climb to begin with over rough terrain, followed by a levelling off and then a final steep ascent to the turn. Then it was fast running all the way down again. The competitive field of 23 starters (great to see so many under 9s) including 10 girls toed the line for what was to be a titanic battle at the front…and back…of the field. It was Esme's third race in her (rather large) Harriers vest and she stormed through the field on the rough descent to take 3rd girl (and she's still only 6!) just pipping two other girls on the line. Well done her. It was Nina's first ever fell race and she, at four, gave a truly gutsy performance and came in 9th girl but definitely the first four year old! (Nina number 325). [Editor's note - we normally put junior results on the Junior pages, but this was just too good to pass up ...]
Jenny Dybeck was 1st U17 girl, by a clear margin.

(1  19:50 Tom Anderson)
3  21:06 Graham Pearce
18 22.58 Iain Gibbons ?
29 24:19 Norman Bush
31 24:32 Dave Cummings
40 25:59 Phil Atkinson
43 26:16 Simon Harry
47 26:56 Alison Bennett  2nd lady
70 34:45 Andrew Bennett

Mourne Mountain Marathon - 15th/16th Sep
Dave Wilby reports ... After an unexpected knock on the door a few weeks ago, I found myself agreeing to spread my wings a bit further afield and travel over to Northern Ireland for a race. So it was that this weekend found me on the start line of the Mourne Mountain Marathon, about to tackle the Elite class with this years LAMM Elite and Saunders Klets winner, Jonathan Aylward of Pudsey & Bramley.
My nerves were jangling at the thought of 2 days of suffering but in the end day one was a great success. The first half of the day brought some great grassy running and good tracks and we ran well. As the day progressed though, the ground gradually became more and more difficult to move quickly across, and the high heather, gorse and tussocks began to take their toll. I began to struggle with about an hour left but held on with the help of John's 'encouragement' and we came in to overnight camp with a lead of four and a half minutes over Steve Bottomley & Ian Nixon, also of P&B fame, after just under 5 hours of running.
The course for the 2nd day was only marginally shorter than the first day but had almost twice as much climbing so it was always going to be a tough affair. A close fought battle for almost half the day but a slight nav error cost us 3 or 4 minutes and allowed Steve & Ian to get out of sight. From here they pushed on hard and eventually finished a total of 11 minutes clear of us after 9 hours of running over the two days. John's winning attitude had definitely rubbed off on me and we were both gutted not to win, but to be fair 2nd place in an Elite MM is feeling pretty good as the dust starts to settle.
Two very important lessons from the weekend:
1 - If you can't fit it in a 10 litre rucksack, you don't need it!!
2 - Left over Marzipan closely resembles Semtex in appearance, smell and chemical make-up, and it sets nerves jangling in Irish airports if you've got it in your hand luggage!!
Nine Edges Challenge, Sat 15 Sep
From Jamie Hutchinson ... the Nine Edges Challenge in the Peak District is a 20 mile walk, run or climb a route on each of the nine Edges (Stanage, Burbage, Froggat etc). Starting from Fairholmes car park Ladybower the route takes in about 600m climb in total and 20 miles running along the nine edges with some fantastic views on a great day, finishing near Baslow. Conditions underfoot were good along pretty much all of the route and minimal navigation needed - needless to say I went to 'sleep' towards the end adding a mile onto my route and a serious argument with brambles. Not many ran - about 15 in total, I managed 2nd in about 3 hours only a few minutes behind 1st. Beer token at the end was much appreciated and then bussed back to the start. A great day out !! Well organised by Edale Mountain rescue, included refreshment stops!!
Dark Nights
OOh, suddenly it's really dark out there! Our Tuesday night runs this week finished in dusk for the first time, so it's time to dig out the reflective gear and light-colored clothing in time for next week's run.
Be seen, be safe.
Pete's Thursday night session is now similarly benighted and will move back to its winter venue on the grass at ILT&SC
Yorkshire Vets Road Relays, Sun 9 Sep
From Pete Shields ... Two strong vets teams ran the Yorkshire Vets relays at Esholt. On a very fast 2.5 mile course the over 50's team of Eddie Irvine who ran 14.13secs, Malcolm Pickering 15.12secs and Dave Matthews 15.19secs, total 44.44secs, came 5th in a very competetive age group. In the over 40's team John Atkinson ran a solid 14.45secs handing over to Jon Sinclair who ran a fast 14.30secs, Clive Smith coming back to form ran a good 16.02 handing over to Dave Brown who flew round in 14.33 to see the team finish in 59.50secs and an excellent 6th place.
Yorkshireman, Sun 9 Sep
Lou Cartledge was 77th in 4h57:58 in the off-road marathon. Amanda Parnaby was 114th in 6h12:16. We had runners in the Half-Marathon too: Emma Barclay was 20th overall and 2nd lady in 1h46:17; Sally Malir was 39th and 5th lady in 1h51:03; and Jihn Coates was 121st in 2h08:31: results from KCAC's site
Lake District Mountain Trial, Sun 9 Sep
Report from Steve Turland ... Advertised by the organisers as a time trial with a severe test of route choice, navigational skills and stamina in difficult mountain terrain', this year's event didn't let us down. There was a great turnout of Harriers, with quite a few first timers, and some excellent results.

Men's Race
The optimum route (i.e. making all the right decisions and not getting lost) was 15 miles and 9,000ft. 

24         Hector Haines            5hr 17
38         Dave Wilby               5hr 43
39         Steve Turland            5hr 43
45         Adrian Hall              5hr 50
51         Dan Goodey               5hr 57
64         Graham Arthur            6hr 12
97         Phil Jones               6hr 58

Dave's start was some 20mins ahead of mine, so didn't see him all day, but after nearly 6hrs of running he managed to pip me by 22 seconds!!

 
Women's Race
11miles and 5,600ft
6          Alison Weston             4hr 21
18         Holly Williamson          5hr 04


Short Race
9 miles and 4,800ft.  Excellent win by Ben Stevens well ahead of the rest of the field

1          Ben Stevens               2hr 42
3          Peter Haines              3hr 14

Holly Williamson adds ... the 30th Lake District Mountain Trial was held in Hartsop with the courses involving High Street, Fairfield, Seat Sandal, Dollywaggon and various other summits depending on route choice. The routes seemed quite epic for some of us especially as there was some of cloud on the summits later in the morning to make the navigation a bit more challenging.
Richard Askwith- author of 'Feet in the Clouds' gave the prizes.
Hector was 1st Male 20, Graham was 5th V40
Kirkham 10k, Sun 9 Sep
Terry Lonergan provides these stats ...

12   Lawrence Basham  36.28
36   Sarah Jarvis     39.34 3rd Lady
40   Marc Teasey      40.06
42   Terry Lonergan   40.27
106  Elaine Cossins   48.07
135  Pat Lonergan     51.50
178 finished

Helvellyn Tri, Sun 9 Sep
From Heather Dawe ... Around 500 competitors descended on Glenridding on Sunday for the Helvellyn Triathlon. Starting with a mile swim in Ullswater (this year the organisers lengthened the course to ensure it was a full mile as opposed to the approx 1200m in previous events), a hilly 38 mile road ride 'tour de Helvellyn' over Matterdale end to the A65, through to Thirlmere, Ambleside, up The Struggle to the Kirkstone Pass and back down to Glenridding follows. Then an 8 mile run up and down Helvellyn.
This year I believe a few other Harriers joined in, although I saw only Jamie Hutchinson yesterday. Jamie mislayed his bike after the swim and passed me on the bike leg around Matterdale End. I had a better swim than previous years and a good bike. I was third lady going into the run. Thankfully the conditions stayed fairly cool. When I got to the top I was still third but the first and second placers were only a minute in front of me. I caught one lady about a third of the way down. I caught the other lady coming into Glenridding and then I cramped. I backed off, went again on the final corner and passed her to finish and win. Now I know why I do occasional sprint sessions along the canal on a lunchtime! It was great to win, a third consecutive year of second place would have been rather frustrating!
Despite being disappointed with his swim, Jamie had a good race to finish about 23rd in what is a very competitive triathlon. Men's winner was the highly talented world champion Alistair Brownlee.
Thank you to everyone who has sponsored me for Jane Tomlinson's appeal. It's not too late :o)
Jamie adds ... Day after the event the effects have really kicked in!! Had a rubbish swim finishing way down the field. Next challenge was finding my bike!! then a solid bike leg, moving up the field, especially on the climbs. Took countless people going up 'the struggle', with some fantastic support at the top and then raced back down into Glenridding. Into T2 and more trouble trying to find my shoes??! Bike racked, set off on a run up Helvellyn - really very satisfying to go past so many who were walking. Pushed it almost too hard though - going up the last bit of Swirral i felt a little light headed!! Ran off the top and then just kept going from there knowing it was no more than 30 minutes down. Position somewhere in the 20's & still room for improvement !! Finished in 4hrs 5mins.

Results ...
Jamie Hutchinson 23rd; Swim 29.45   Cycle 1.59.55   Run 1.30.46  - Total 4.05.13
Heather Dawe     66th; Swim 29.14   Cycle 2.04.35   Run 1.42.10  - Total 4.19.45
477 ran !!

Burnsall fell race, Sun 9 Sep
Iain Gibbons was 6th in 16.24 in this BOFRA race
Wertherby Run, 10k, Sun 9 Sep
Paul Sugden was 192nd in 53.14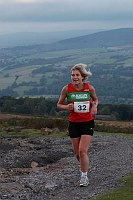 Ilkley Incline, Wed 5 Sep
60 competitors raced up Keighley Gate Rd for glory and marrows. A good night was had by all, thanks to the helpers and marshals. Alas we had some problems with time recording - if any Harriers can confirm their race time we may be able to piece together some more of the results. Results etc. on the Incline race page.
Paul's photos on the right, more photos soon ...
Bradley fell race, Sun 2 Sep
From Steve Turland ... 3.5m 900ft. 43 runners contested this local race on a wet Sunday afternoon. Also a full set of junior races where there were some good performances from junior harriers. Highlight for me was an eyeballs out sprint finish with Jason Helmsley – which I lost on the line. From Ilkley we had:

4  Steve Turland 27:55
6  Helen Isley   29:40 1st Lady
8  Emma Barclay  30:34 2nd lady
9  Norman Bush   31:05
21 Alec Hirst    33:39
24 Philip Hirst  34:07

In the U17 race Catherine Gibbons was 6th in 30:32, 2nd girl.
Rosemere 10k, Blackpool, Sun 2 Sep
A welcome return to racing in Harriers colours for Eddie Irving - 6th in 36:14
Lancaster Half, Sun 2 Sep
Nick Mellor was 138th in 1h56:23
Rougemont Chase, Sun 2 Sep
Marc T and Sarah J report...A new course to replace the Almscliff Crag race as part of the Weeton Show saw a small but quality field competing for the generous cash prizes on offer. The route is an out-and-back course from Weeton, through Rougemont Carr woods and up to the top of Healthwaite Hill, over sections of road and trail. It was advertised as 7.4k but measuring the route on my map software shows it as pretty much dead on 5 miles, which the times seemed to also confirm. No official results or times available yet, but the Men's race was won by the ever improving Jamil Parapia of Otley AC (who is apparently close to breaking the club mile record set by Ian Fisher some years ago) and the Ladies by Pauline Munro of Bingley. Sarah Jarvis finished second lady (winning £40!) chased closely by Marc Teasey on the uphill road finish; both showing a gradual return to fitness after their injury woes over the last twelve months. Great to see the Bashams returning to racing, although Lawrence showed his rustiness by managing to get lost for the second time in two races (providing some serious competition for the role of top navigation numpty) - witness our surprise when he overtook several of us (for the second time) with a mile to go after missing a turn in the woods, adding on what must have been in the region of 4 minutes to his time. Jemma was a creditable 6th Lady on what was a fast and challenging mixed-terrain course. Ian Rowbotham also ran well to finish in the top 10 (we think), showing that he will definitely be challenging for Vets prizes in forthcoming races. Other highlights of the Weeton Show were the sightings of a ferret on a pink leash, a sheep dog rounding up ducks and dividing them by colour, and a specialist sausage stall (food heaven for our frankfurter fanatics Marc & Jemma) providing all with a well deserved refuelling. It is worth also noting the embarrassment of the compulsory race warm-up in the show ring in front of hundreds of locals - thankfully there was no sign of Mr Motivator!
Grisedale Horseshoe, Sat 1 Sep

28  2h17:19 Roy Ruddle
72  2h38:27 Alison Weston
128 3h13:21 Phil Chappell

Ben Nevis race, Sat 1 Sep
Graham Arthur was 190th in 2h17:05
Kilnsey Show Crag Race, Tue 28 Aug
From Jamie Hutchinson ... after doing this last year and vowing never again i found myself in the showfield with 60 or so other runners, including Helen Sedgwick and Norman Bush. This is more of a 'fun' run than anything too serious. After the scramble to the top, more hands and knees than anything else, i faced the descent. A year's a long time and i had forgotten that it's more like freefall without a parachute. I lost a place on the downhill, but as soon as i hit the road and took of at a pace outsprinting another runner in the showfield. Grabbed 10th and cash prize - £8!!!, not bad for ten minutes work! Helen was 2nd lady and not sure about Norman, but understand he took a couple of 'impressive' tumbles.
Blackshaw Head fell race, Sat 1 Sep
Jim Ryder was 9th in 40:48; Jo Foster 48th and 4th lady in 49:57; Holly Williamson 52nd and 5th lady in 50:40 - results and photos on the Tod Harriers site.
Hebden Sports - Mon 27 Aug
From Dave Wilby ... Not many Harriers about for this one which was a shame as, due to misinformation about the start time, they missed out on the opportunity for a pre-race bbq, cakes and a pint.
Once the race eventually got underway it took in a fantastic course offering the usual BOFRA fare of a sharp climb, a bit of rough stuff and a cracking descent, with a couple of 6-foot walls to negotiate on the way down for good measure.
Sam Haggar had a very good run in his first outing in the 13 and under category and was just outside the top 5 in a fast field. Another good result for Ilkley juniors.
Ted Mason of Wharfedale continued his commanding form in this years local gala races and won the senior race comfortably in just over 11 minutes. I had a very pleasing run, probably helped by the height of the walls, and came home 7th from a field of 56 in 12:37. A full list of the provisional results is up on the Wharfedale Harriers website (www.wharfedaleharriers.org.uk)
British Masters Half Marathon Champs. Leek, Staffs, Sun 26 Aug
From Terry Lonergan ... Staffs. Moorlands A.C. hosted this British Championship event and predicted a field of 800. However, the attraction of a half marathon "along quiet country lanes through some of England's most attractive scenery" (on the edge of the Peak District) was somewhat offset by their declaration that finishing times would be 5 or 6 minutes slower than on a flat course. 1220 feet of climbing and a ½ mile uphill finish to add insult to injury proved enough to put many masters (veterans) off travelling and in the end only 453 finished. Having said that 24 vets. made up the majority of the first 32 finshers.
Only Harrier to contest this one, but interestingly Geoff H.,Sally M. and Alison B. would have contested British medals. Finishing time was indeed in line with the organisers' prediction (5.27 mins.slower than flat Freckleton) and first time over 90 minutes in this 91st effort at the distance. General view was that it was an unfortunate choice for a masters championships being such a testing course. Selby and Amsterdam will be faster!!
Championship result.   M55        5th         Terry Lonergan               93.20   (102nd of 453)

Information about BMAF events can be found on www.bvaf.org.uk. Ilkley Harriers can enter road,track and field events directly without having to be a member of Northern Vets. A.C.
Pendleton fell race, Sat 25 Aug
From Emma Barclay ... I was the lone harrier that crossed the border to do the Pendleton Fell Race on Saturday. A race that I have done many times over the last 20 years, the cakes afterwards are fantastic! First man home was James Kevan from Horwich (over 2 minutes ahead of the 2nd male) who is a pretty good runner, however, interestingly his time was only about 30 secs faster than Carol Greenwood's record set back in the 1980's. Carol was a fabulous runner but the times are getter slower due to the bracken getter thicker and the terrain getting tougher. Anyway that is my excuse for my time getter slower every year. A very low key event (only 113 runners) with 2 good climbs and nice grassy descents. First lady home was Katy Ingram a young international 'athlete' from Horwich (41:04). Sally Newman was 2nd lady (1st LV40) in a time of 44:02 and I was 3rd lady (2nd LV40) home 11 seconds behind Sally.
Burnsall 10 mile Road Race, Sat 25 Aug
Marc T reports: A small field of 126 stalwart runners lined up for this, arguably the toughest 10-mile road race around. The course is "undulating", which means that the only flat bit is a one mile stretch two-thirds of the way round. The rest is very up and down, (mainly up, it felt like, in defiance of the laws of physics), with a series of climbs topped off by a one mile climb at the 8-mile point, just to make sure that any remnants of energy you had left were well and truly squeezed out of you. Nine Harriers were brave (stupid?) enough to race, including a superb run by Jamie Hutchinson, who clocked a hugely impressive time of 58'57". Special mention also to Dave Brown, who knocked over 2 minutes off his PB (set on the same course last year) in what were windier conditions this time round. The weather was thankfully cool, however, and the course, as ever, is in a beautiful setting, which made the pain (almost) worthwhile. The proof of the club's progression in road racing in the last 12 months was further evidenced by the fact that we picked up the men's team prize, knocking Otley into a rare second place - this is an outstanding result! Thanks also to the many Harriers who turned up to offer welcome support for this and for the classic fell race later on in the afternoon - your encouragement was much needed and very welcome!
Geoff Howard adds .. Although finishing equal with Otley AC on the total positions count, Ilkley's first three men (Jamie Hutchinson, Nick Richardson and Dave Brown) pipped the all conquering Harrogate Road League champions Otley into first place in the Burnsall 10 mile road race by having the highest placed final counter. Ilkley also had enough strength in depth to finish a second (v.40) team in 6th position (Geoff Howard, John Atkinson and Marc Teasey) and a v.50 team which included two v.60's (Peter Bedwell, Donald Macrae and Colin Lugton).
And from Pete Bedwell ... first time I've run this one and enjoyed it thoroughly even if an alarming lack of fitness meant I found the hills a bit of a chore, especially that nice one at mile 8 ! Looks like Geoff is consolidating his lead at the top of the table (yep, calcs here, Paul) despite Jamie Hutchinson's and John Atkinson's best efforts !!!

1.  Ian Fisher (Otley) 52:42
7.  Jamie Hutchinson   58:57
11. Nick Richardson    61:44
22. Dave Brown         65:14
23. Geoff Howard       65:21 (2nd V60)
31. John Atkinson      66:32
36. Marc Teasey        67:51
90. Pete Bedwell       84:07
91. Don MacRae         84:35
98. Colin Lugton       88:01

Incredibly, Ilkley only had 2 counters in the classic fell race ...

37 Richard Joel 19.38
91 John Coates  24.02

Guisborough Grunt, Tue 21 Aug
6.1 miles

15th Lawrence Basham 43.53
23rd Jon Sage 45.32
36th Norman Bush 49.22

Sedbergh Hills, Sun 19 Aug
From Heather Dawe ... Another fine race in the Howgills on Sunday, Sedbergh Hills, 14m and 6000ft. A classic loop, very runnable apart from the steep climbs! The race was won by Joe Symonds who managed to start two minutes later than everyone else! I had a right tussle with the 2nd and 3rd placed ladies but faded a bit at the end to finish 4th lady in 2:55ish
Sportive, Sun 19 Aug
From Jamie Hutchinson ... I did a cycle sportive from Leathley just outside Pool. The weather was not pretty at all but 'confident' that it would improve I booked in and entered the full distance 85 mile route. This took in a loop around Fewson, dropping into Askwith and then along to Bolton Bridge, Appletreewick, Grassington, Hetton, Malham, Arncliffe, Grassington and back via golf balls and Stainburn. Conditions made it a tough ride but a great training session and finished in 5 hrs 18 - 2 mins outside gold, but first overall!, however only 11 entered. The event was part of Evans trailbreak series.
Stockton Tri, Sun 19 Aug
From Tim Ashelford ... I raced the Stockton Middlesbrough Triathlon, today. It's an olympic distance race, based at the Tees Barrage in Middlesborough. The cool 1500m swim was in the Tees, the 40km bike was on closed roads & the flat 10k run was along the banks of the river Tees. I had a good day and won the race in 2hours and 59 seconds. Results should be posted on the organisers website soon here
Weasdale Horseshoe, Sat 18 Aug
From Heather Dawe ... The Weasdale Horseshoe (9miles, 2000ft) on Saturday was the penultimate English Fell champs counter. A fine run around a classic loop in the northern Howgills.
The Ilkley Ladies team have it all to play for at Great Whernside, the final counter in the champs in October!

1st Simon Bailey Mercia 53m 45s
1st Lady Sarah Tunstall 63m 27s (45th)
72  Jim Ryder 66 51
114 Geoff Howard 69 33 (2nd M60)
129 Helen Ilsley 70 33
150 Emma Barclay 73 11 (3rd F40)
168 Heather Dawe 75 09
187 Nicky Jaquiery 76 52
190 Morgan Williams 77 13
196 Alison Weston 78 02
204 Alison Eagle 79 04
228 Holly Williamson 81 49
243 Jo Foster 83 52

298 finishers

1st ladies team on the day (4 to count), but 2nd Championship team (3 to count)
Great Wilderness Challenge, Sat 18 Aug
Highland notes from Graham Arthur ... CL, 3,100', 25 miles Dundonell to Poolewe. About 12th. Rained all day. Very wet underfoot; river crossings quite deep; the ¾ mile bog between Shenavall and Larachantivore was even more "puzzling" than usual. Pipped to second V50, so had to hand the lovely trophy back.
Leg End 9, Sun 12 Aug
From Heather Dawe ... On the way home from a weekend of Paddy Buckley supporting and a spot of mountain biking Sunday lunchtime, and driving right past the start of a fell race, I decided it would be rude not to do it. Very glad I did as it was really good. Starting from Penmaenmawr on the coast, the 9 mile race headed into the hills on the edge of Snowdonia, climbing Tal y Font amongst other hills. 9miles and 2900 feet ascent, I think I got third lady in about 1:39ish.
Worsthorne Moor fell race, Sun 12 Aug
From Terry Lonergan ... Torn between this race and the Sierre Zinal I finally decided that I wouldn't put my carbon foot(print) in it and opted for Burnley in Lancashire as opposed to Switzerland. It certainly was the cheaper,faster option! Surprisingly(?) I was the sole club representative at this last event of 12 in the Pendle Grand Prix. Predictably I struggled with the uphill start from the gun (why aren't fell races flat?) and the "fell sections" but managed to consolidate in the second half of road and tracks and gained several places on the ascents before the welcome, last mile downhill. This is a suitable race for people who generally compete on the roads, as it is really more tracks than fell. Didn't get my hands dirty at all! and celebrated the anniversary of my shoulder dislocation by staying on my feet. Not bad for a roadrunner!?
127 ran. Male winner Sean Bolland of Bowland Fellrunners in 42.11; first lady Amy Green, of Keighley became Grand Prix champion beating Jo Waites of Calder Valley in 45.06 in the process.
52 Terry Lonergan 3rd M55 52.45 (but also beaten 2 M60s )
Wensleydale Triathlon, Sun 12 Aug
From Nigel Tapper ... I was one of a few Harriers to enter the event, in my case Team Relay section. This challenging Tri still in it's infancy, is really a resurrection of a now defunct Yorkshire dales triathlon. Rumoured to be one of the toughest middle distance events in the UK its just full of some of the steepest cycling hills you'll see in North Yorks. I was glad to be doing the run section, albeit a little tester in itself. We had a mixed team and after an early start to register and get the team down to Semer Water our star LV45 amphibian Jill Tate (I'm sure she's got webbed feet) got us off to a cracking start covering the 1800m open water swim in windy conditions in a little over 28mins (2nd Lady overall). Now the fun bit started (not), out of the water and onto the bike for our hero John Tate. Within 50m of the start John encountered one of the many 1 in 4 climbs scattered around the 42 mile route. The rest of the course was no easier, it cross grains Wensleydale several times before heading off to Garsdale, Dent, then back to Hawes. Difficult windy and showery conditions meant the downhills were almost as tough as the ups. John managed to stay in the saddle (others did not) and pleasingly, avoided any unwanted detours on a route which could have done with a little more marshalling and signage. Trouble with team tri's is the runner, not wanting to let his teammates down by turning up later, has to hang around for hours on end kitted out in readiness not knowing quite when or if the rider will arrive! Still Jill and I did have a foray into Hawes for tea and cake cos we were certain the ride would be at least 2 1/2 hrs! John came in in a creditable time just under 3 hrs and off I went heading along tarmac and trail to the base of Great Shunner Fell. The route is an out and back 12 miler, 6 up and 6 down. Its part of the Pennine Way so pretty good going in most parts but I was wishing I'd used road shoes as a fair proportion was Yorkstone Paved to halt errosion but slippery for rubber studs. I was pleased to see support by way of the Bashams en route who gave me a nice boost with a cheer and clap. I battled to the top gaining I think 3 or 4 places on the way. The trip down was somewhat faster but others were faster still and I maybe lost a couple of places. Another Basham encounter helped me find new energy on the path road section and I clawed back another couple of places finishing in 1hr 57mins. A great low key event generally well organised with a nice bowl of pasta at the end and just fantastic scenery. All returned home tired but satisfied. Results to follow. I suspect Jamie Hutchinson was somewhere in the top 10 or so. Wow!
From Jamie Hutchinson ... This year I'd set myself of doing some proper triathlons, so entered Wensleydale and to come in September Helvellyn. Like any new challenge wasn't sure if the training I've been putting in would be sufficient for this test! Think I've still got some way to go but overall pleased with 13th overall, 11th if you exclude teams in a time of 4:45:49, a matter of seconds split 9th and 11th! Splits tell a bit of a story on where I need to focus future training; swim 1800m in Semer water 35mins & 44th overall, bike 42 miles (absolute grueller, numerous 1-in-4s and 1-in-5s, competitors having nasty accidents!? on steep descents) time 2:32 hours and 12th, run 12 miles up & down Great Shunner time 1:37 and 10th. So many memories from a great day, when I was happy to just get round, but felt like I had competed (admittedly winner did 4:07:14), paced it perfectly, with tiredness only really biting on run down Great Shunner, saw Nigel on the way down and then the Bashams giving support with perfect timing!! Great event, & glad id reccied bike & run, if you enjoy a real challenge I can recommend it. Next stop Helvellyn Tri 9th Sept.
Gribdale Gallop, Sun 7 August
From Jo Foster ...Having attempted to run a fell race in Snowdonia last Saturday, only to have it cancelled on us due to the weather (once we'd driven all the way there!) Jim and I were looking for another opportunity to get ourselves on a start line. With Weasdale coming up and not having raced for months I thought I needed to get out there! So, that's how I found myself in the North York Moors on Tuesday evening, lining up for the Gribdale Gallop (7.5 m, 1350ft.) Jim and I, sporting our trusty Walshes, were all set for a fell race that included Captain Cook's Monument and Roseberry Topping. So the fast terrain of mainly tracks was a bit of a shock. But it was sunny, the heather was out and it was nice to be racing again, even if, in my view, this could not be described as a fell race!
Jim was 10th (2nd V40) in 55.12 and I eventually appeared in 66.20 (57th and 6th lady).
Borrowdale fell race, Sat 4 Aug
Steve Turland reports on "nearly Borrowdale" ... While Ilkley was basking in warm sunshine last weekend, the weather in the Lakes was somewhat different. To the extent (on the advice of Mountain Rescue) the race was cut short by missing out Scafell and going straight from Esk Hause to Sty Head. Whilst disappointing to miss out on the full Borrowdale, what remained (approx 15mile, 5,700ft) was still a tough test of resolve. Race was won by Ben Bardsley, beating some good opposition, and first harrier home was Dave Wilby.

1   Ben Bardsley (Borrowdale)  2:18:29
47  Dave Wilby                 3:01:40
78  Steve Turland              3:09:25
80  Dan Goodey                 3:09:52
220 Nicky Jacquiery (9th lady) 3:37:42
262 Philip Jones               3:49:19
280 Bob Whightman              3:54:06

A massive 410 finished the race!
From Bob Wightman ... A river runs through it After some torrential rain which saw the parking/camping field submerged on the Friday night some 420 runners turned out for the Borrowdale fell race - a classic toughie. The weather (and forecast) on the summit of Scafell Pike was bad enough for the Mountain Rescue to seek out the organiser and get him to shorten the course by going straight from Esk Hause to Sty Head rather than up over the boulder fields to the summit and back down the Corridor Route. This resulted in a saving of around 25-30 minutes for the leaders and around 40 minutes for the mid pack runners.
As it turned out the weather eased off through the race and the sun even put in an appearance from time to time. This didn't have any effect on the going underfoot which was decidedly "damp" and left most competitors wondering just how so much water can cling to 40 degree slopes.
Whalley Nab road & trails race, Tue 31 July
From Terry Lonergan ... This race was no.9 of 12 in the Pendle Grand Prix starting from the centre of Whalley village, between Clitheroe and Blackburn. On some lists and in the press the event was classified as a fell race; in others a road and trails race. The latter proved correct but as the first mile was more severe than the Ilkley Incline (it took me over 10 minutes!) it certainly had the feel of a fell race. The trail section amounted to little more than a mile around Dean Clough Reservoir. Finishing with a descent of the first mile to really give the legs a hammering ... I chose to jog down, resisting the taunts of the Clayton lads to "give it some,Terry!" allowing several who I had overtaken in the penultimate mile to fly by .. oh to be young!
57th. (of 127) 3rd M55 49.56
Harrogate 10k, Sun 29 July
3 Harriers spotted in Harrogate Harriers' race:

47  39.02 David Brown
119 43.36 Elizabeth McCann
368 52.11 Don Macrae

Round Hill fell race, Sun 29 July
From Pete Bedwell ... a quick report from the Round Hill fell race where there was a huge turn out of the Ilkley Harriers fell running contingent, 22 runners in the red and green vests, almost a quarter of the field !!
It was a glorious day, the sun did mean it got a bit warm at times although the breeze mostly kept you cool, and if that failed you could always immerse youself in the plentiful bog.. as I did several times including a quite impressive somersault on the way down the hugely enjoyable long descent at around 4 miles. I was over 5 minutes slower than last year but even the winner was also over 3 minutes slower which I think goes to show just how dry it was last year.

1   richard pattison  57.14  (pudsey & bramley)
2   jamie hutchinson  57.57
4   jim ryder         62.09
5   ian rowbotham     62.38
8   steve turland     63.13
13  geoff howard      64.56  (1st V60)
14  mark iley         65.28
16  dan goodey        66.11
21  emma barclay      67.35 (1st lady)
33  sarah jarvis      70.27
35  dave matthews     70.59
42  philip hirst      75.12
50  philip jones      76.54
55  jan belton        78.27
58  philip chappel    79.29
75  ashley hardwell   85.00
76  nigel tapper      85.18
78  keith wood        85.36
79  pete bedwell      86.05
82  john marshall     87.27
84  anna lubia        89.53
85  ian hargreaves    90.21
93  amanda parnaby   114.36  

96 finishers, a new record, and looks like Geoff will be tightening his hold at the top ot the League !! Some great performances, Jamie putting in a very fast time with Geoff of course 1st V60 and Emma Barclay leading the ladies home.
Full results on Otley AC's web site.
League Update ... SuperVet takes the lead!
Open24, Sun 29 July
From Heather Dawe ... The Open24 is a 24 hour adventure race, organised by the same people as the Open5 races quite a few Harriers have done. This year the race started and finished in Eskdale and took in a fair bit of the western and central Lake District. Disciplines were mountain biking, fell running, gorge scrambling, kayaking, orienteering, swimming and no sleeping!
Racing was in pairs. About 100 pairs competed in the event, I raced in the mixed pairs category with Steve Birkinshaw. For those who know Steve, he's one of the best orienteers and mountain marathoners about, I ran my little heart out trying to keep up with him! We won our category and also scored the most points overall.
The next Open5 is in September - see openadventure.com
Ben Rinnes 5 Tops, Sat 28 July
Highland notes from Graham Arthur ... AL, 4,900', 14 miles. 33rd, but would have been 30th, except had to stop for a minute on the final descent to allow extremely annoying tachycardia to subside. Must try not to get so excited about overtaking the person in front. Conditions: atrocious. Sun came out later and several big men successfully tossed and toppled some very large telegraph poles, aka cabers.
Rydal Round, Thu 26 July
From Heather Dawe ... I did the Rydal Round on Thursday. The race starts from the Ambleside Sports field and follows the Fairfield Horseshoe. It was very wet and claggy, nice to get out though. I am not sure of my time, I was 3rd lady.
Golden Acre Relays, Wed 25 July
From Bernie Gibbons ... Young Ilkley Harriers Simon Chapman, Mary Gibbons and Catherine Gibbons represented the club as 'The Ilkley Wonders' team and gave creditable performances in three legs of 2.7 miles at The Golden Acre Relays, Bramhope, on Wednesday 25 July.
28th team, 1:01:50  Catherine Gibbons  20:19,  Mary Gibbons  23:19,  Simon Chapman  18:12
Pudsey 10k, Sun 22 July
Elizabeth McCann reports ... I was 3rd lady and 1st lady vet, 58th in 46.04
Also in the results on Pudsey Pacers site - 59 Paul Stephens 46.06
Lochcarron Highland Games hill race, Sun 22 July
From Graham Arthur ... Surprisingly few Ilkley vests at this premier event – one. Statistics: nearly three miles, ¾ mile of sports field and estate road, a 230m tussocky hill climb, and back the same way, classically all in view of the crowd. Pipe bands and 'heavy' events adding to the entertainment. Record: Colin Donelly, 19:15, 1982, when he must only have been a lad. Rowan Arthur, 13, was only just behind me at the top, which bodes ill or well, depending on which way you look at it. Rosie Arthur was third lady, and was thus able to stand the round in the pub. A Westerlands runner, and previous winner, suggested he and I sponsor a V60 category for next year in order to increase our chances. (It only goes up to V40 at present, so little chance). Seriously, though, next Saturday's highland games hill race is an AL, the Ben Rinnes five tops at Dufftown, so lets hope this long spell of mild dry weather (not joking – it really is) persists
Ingleborough fell race, Sat 21 July
Emma Barclay reports ... 7 miles/2000ft. A good field turned out because not many other fell races at the weekend in this area. A fast course, although a little wet under foot. Long standing records not broken. Good performance by Graham again!

1  46.26 Lloyd Taggart
2  49.34 Graham Pearce
16 54.51 Jamie Hutchinson
58 60.09 Nick Pearce 6th O50
63 60.30 Emma Barclay 3rd Lady (1st LV35) 
72 60.47 Geoff Howard

Hawkswick Dash, Sun 22 July
Graham Pearce reports a few Harriers at this BOFRA race ...

2  11.55 Graham Pearce
4  12.41 Iain Gibbons
17 14.04 Dave Cummings
19 14.07 Norman Bush 

Washburn Valley Relays, Fri 20 July
Report from Marc T ... Continuing miserable, wet and cold conditions didn't stop 36 teams from local clubs turning out for this year's Washburn Valley Relays. Ilkley were proud to enter five teams for this fun and pretty informal event of 4 legs of between 3 and 4 miles each on track and trails around Fewston and Swinsty reservoirs. Some fine runs were evident - modesty prevents me from mentioning (ahem) that the Ilkley Allsorts claimed the first mixed team prize, smashing the previous mixed team record by nearly 8 minutes and coming 7th overall behind some strong men's teams. On the way to this triumph Sarah Jarvis also set a new ladies' record for leg 4. Special mention should also go to our Young Ones team, who were second mixed team and also beat the previous mixed team record by nearly a minute. Simon Chapman in particular ran a great first leg, knocking nearly 2 mins off his previous year's time in conditions that were far worse this time round. Full results are available on Otley's website The team line-ups below are correct and names are listed in order of legs.

1.    1h 22:19 Skipton AC	  A	
7.    1h 38:35 Ilkley Allsorts:  Marc Teasey, Jemma Basham, Lawrence Basham, Sarah Jarvis
14.   1h 44:13 Midge Revenge:  Keith Wood, Nigel Tapper, John Marshall, John Coates
16 .  1h 45:32 The Young Ones:  Simon Chapman, Mary Gibbons, Catherine Gibbons, Elliott Dawson
20 .  1h 47:54 Ilkley Musketeers: Ben Rowley, Adam Bennett, Patrick Gibbons, Bradley Chapman
24 .  1h 50:53 The Bennetts-Gibbons: Alison Bennett, Neil Chapman, Bernie Gibbons, Caroline Ebert 

Blisco Dash, Wed 18 July
From Dave Wilby ... 5m/2000ft
As I was up in the Lakes for a 'relaxing' week of road and mountain biking, I thought it would be rude not to also partake of the Blisco Dash fell race. Starting from the Old Dungeon Ghyll Hotel in Great Langdale, this one heads up the road for a few hundred metres before a straight up and down dash to the summit of Pike O' Blisco. A classic short race, I thought this would be the perfect opportunity to blood a new recruit to fell running in the shape of my soon to be Ironman training buddy. Not enjoying running at the best of times I thought he might suffer a bit but he was strong on the climb and quite well placed at the top, the descent was a bit slower for him as in all fairness he didn't want to wreck a years worth of training a month before his big race but he did say he might be back for more on the fells.
A good turnout of 60-odd runners for a mid week race including a few of the fell running glitterati such as Rob Jebb, Scoffer, Phil Davies etc etc. Jebby won as usual in 38:29 and I was 14th in 46:49. My mate finished in a respectable 68:33 and earned himself a pint from me (a rare occurence!) for having the guts to give it a go. At least now he understands what it is I get up to on a weekend!
Richard Wins HRL Handicap! Tue 17 July
The finale of the Harrogate Road League was a handicap race. The sun shone for the 186 runners as they ran through the glorious Ripon countryside, and the racing was competitive with 170 of the runners finishing in a 6 minute span. Ian Fisher started last and manage to overtake 120 of the 186 runners, but one man he didn't catch was Richard Gray who had a good win.
Bernie Gibbons has the award mugs, for runners who did four or more HRL races.

1	50:13	8:23:13	RICHARD GRAY
3	49:00	8:25:53	TOM LALLY (n/c)
7	48:48	8:27:48	LOUISE CARTLEDGE
16	63:55	8:28:55	SUE LUGTON
20	55:29	8:28:59	ANDREW BENNETT
21	52:02	8:29:02	COLIN LUGTON
25	48:11	8:29:11	DON MACRAE
32	60:32	8:29:32	HEATHER DUKE
33	45:32	8:29:32	CATHERINE GIBBONS
43	40:44	8:29:44	SIMON CHAPMAN
45	41:46	8:29:46	GRAHAM ARTHUR
51	56:52	8:29:52	AMY BATESON
53	54:54	8:29:54	JULIE VAUGHAN
62	31:08	8:30:08 IAN FISHER		 OTLEY AC
75	39:33	8:30:33	JEFF PAGET
89	36:02	8:31:02	NICK RICHARDSON
91	43:05	8:31:05	ELIZABETH MCCANN
116	44:55	8:31:55	NIGEL TAPPER
120	63:11	8:32:11	AMANDA PARNABY
131	44:31	8:32:31	JOYCE MARSHALL
157	53:19	8:33:19	BERNADETTE GIBBONS
159	40:22	8:33:22	JOHN ATKINSON
165	41:59	8:33:29	IAN MARSHALL
172	60:38	8:33:38	DAVID MILLSON
173	68:40	8:33:40	BRIAN SWEET
181	48:59	8:33:59	KEITH WOOD
183	54:59	8:34:59	PATRICK GIBBONS

The race was followed by the presentation of prizes for this year's League and Ilkley were well represented:
First Ladies Team
First Lady Vets Team
Lady Vet 40 Alison Bennett
FU18 Catherine Gibbons
There have been many superb performances from Ilkley runners in this year's League, and if we can manage a similarly good year next year we could hope to win even more prizes.
Results and photos on www.harrogate-league.org.uk
Eccup 10, Sun 15 July
From Nick Richardson ... Conditions were miraculously dry for this pleasant undulating 10 mile road race which also included the YVAA 10 mile Championships. I knew that I'd set off too fast (again) when Tracey Morris passed me after about 1.5 miles.

1   0:54:01 Tim Crossland, Leeds City AC
27  1:02:08 Nick Richardson
33  1:02:45 Jonathan Sinclair
86  1:09:24 Sally Malir
138 1:13:40 Nigel Tapper
213 1:20:05 Keith Wood
236 1:21:12 Val Kerr
270 1:23:59 Nick Mellor
272 1:24:06 Donald Macrae
390 1:38:34 Jacqui Weston

Idle Trail race, Sun 15 July
From Pete Bedwell ... quick report from the Idle trail today at 10.30. 8 Harriers turned out for this popular 10K ish trail race with 184 finishers in all. Lot cooler conditions than last year made this a much more enjoyable run with the rain waiting till after virtually everyone had finished before putting in a predictable appearance. Results from the Idle's website are:

1   Jamie Noon        36.18 (Pudsey & Bramley)
3   Ben Stevens       37.24
6   William Plastow   39.14
15  John Atkinson     40.34
21  Geoff Howard      41.35
33  Elizabeth Mccann  44.50 2nd lady!
73  Pete Bedwell      51.07
108 Ian Hargreaves    54.02
126 Sue Stevens       55.52

I was quite pleased with my time, 40 seconds faster than last year and even got a spot prize for my 400 metre sprint (using the term loosly) finish which did manage to move me up about 8 positions even if it did mean me almost collapsing on the line. No doubt some more movement on the league positions, somehow I think Geoff Howard will be pushing John Atkinson for pole position !!
League update - John's still in the lead, just! League results
Holme Moss, Sun 15 July
From Nicky Jaquiery ... Ian R and I ran this race in what were very wet and boggy conditions, ask Ian about his 'bog swimming' experience! This is a surprisingly difficult race, 16m/4000' and apparently the only AL category race outside of the Lakes. Despite the weather and the conditions underfoot Ian came in 18th overall in a time of 2.43. I finished in 56th place in a time of 3.19 (1st LV40). Over 100 hundred runners turned up. May be next year there'll be more once word gets out about the post-race feed, plenty of sandwiches and best of all, home made cakes!
From Ian Rowbotham ... Holme Moss fell race on Sunday led me to think what is the hardest fell race locally? Buckden Pike is short and sharp. I felt it was nought compared to this 16m/4,000ft which was both long and sharp. I suppose races in The Lakes are similar.
This included peat hags, rocky descents, running in the clouds (not as great as it sounds), more peat hags on flat and difficult to navigate moor covered in mist. Climbs where it helped to grasp at the vegetation in front of your face to help climb round the crags and testing descents of all varieties.
One other unexpected treat was an almost total submersion in a peat bog. A good skin treatment session, worth a small fortune in Karlov Vary. Instantly sinking down, as quickly as a diver who has jumped of a high board, I just managed to keep my head out by spread my arms out. I went straight in up to my neck. Instant panic had set in with a very sharp intake of breath as the cold clapped my chest. I managed to lean forward get my arms out and claw towards the edge. Getting out took some effort. Then a strange sensation of peat becoming crispy dry all over as it rained followed over the next few miles.
Spirits were very low quite few times. Much later 5 of us got lost in hundreds of peat hags back up towards Holme Moss. One of the competitors said to a marshal half way round "your taking the piss aren't you" and meant it. The marshal just laughed saying this is a real race mate. "Up and down the steepest gulley's and crags" around Holme Moss would of been a better name.
What lifted the spirits was a fast testing finish over 3 miles and then the best display of home made cakes and sandwiches. It is great how much folk put into supporting our sport. Every type of home made cake you can think of cooked beautifully. What's your favourite? You might like it next year! Last year it was 77 degrees.
Kentmere Horseshoe, Sun 15 July
Bob Wightman reports ... Just two Harriers at this great race. 11.9m/3300' The weather was just right this year after a couple of absolute scorchios, and the rain just held off for all the runners. A total of 245 ran.

116 Alison Weston 2.07.56
172 Bob Wightman  2.17.36 

Rat Race, 14-15 July
Report from Dave Wilby ... Rat Race - Edinburgh 14th/15th July.
The second race in this years Rat Race Urban Adventure Racing series took place in Edinburgh and myself and Heather Dawe joined Steve Birkinshaw in racing for Team Inov-8. After coming 4th in the first race in Bristol last month, we all felt we had a point to prove and set out as a determined bunch. First up was Saturday nights prologue involving 3 hours of street orienteering with special challenges thrown in at the checkpoints. 'Highlights' included having to eat a deep fried mars bar and me getting my head shaved. I thought I might have got away without photographic evidence until the Channel 4 motorbike outriders joined alongside to film our dash through the city!! Anyway, it was worth it in the end as we finished top of the tree with 15 minutes lead over 2nd placed Aberdeen Asset Management going in to day 2.
Sunday dawned very early and at 7:30am we set off on an 80km epic mtb around the substantial delights of Edinburgh taking in abseils, climbs, kayaks, swims, orienteering and a great section of fell running and mtb'ing over the Pentland Hills along the way. In the end, Heather's incredible strength and determination, Steve's awesome navigation, and my fondness for power bars and energy gels combined to hold off a fast charging North Face team and give us the coveted title of Edinburgh Rat Race winners 2007. A really great feeling, although I could barely lift my head at the end to give the post race interview...probably best with a haircut like mine!!
Harden Hard'un, Sat 14 July
From Amanda Parnaby ... Harden Hard'un, organised by LDWA, 27 miles from Harden, nearly 4,000 ft of ascent. Over half over moorland with valley crossings. As expected given the weather we are experiencing, it was very, very wet underfoot but the sun did make an appearance near the end. Finished in 7 hours 8 minutes.
Ripon Tri, Sat 14 July
From Tim Ashelford ... At Ripon on Saturday I was 5th overall in 02:11:24. I only spotted one other Harrier - Charles Oxtaby, who was 142 nd in 02:36:55. Jamie Hutchinons much heralded open water triathlon début never happened! Look at for Jamie next month at Wensleydale Triathlon - the "toughest triathlon in England" ...... www.wensleydaletriathlon.co.uk
www.ukresults.net/2007/ripontri.html
Stirton fell race, Wed 11 July
5.5m/1200'

4  40.35 Graham Pearce
10 42.58 Jamie Hutchinson
18 45.28 Ian Rowbotham
23 46.47 Steve Turland
24 46.53 Chris Stubbs
38 47.51 Richard Joel
58 49.54 Geoff Howard
61 50.32 Dave Cummins
80 54.44 John Timple
87 55.55 Bob Wightman
88 55.57 John Woodward
107 59.50 Keith Wood

Stoodley Pike fell race, Tue 10 July
From Paul Davidson ... With the abundance of races over the summer months it's difficult choosing what to focus on. But I wasn't disappointed by the trot over to Calderdale for a well established race in the shadow of the Valley's most prominent landmark. The course was short but still long enough to suffer although mercifully finishing at the pub. Credit to Todmorden Harriers for a well organised race – it's always good to see the results on the website by the time you get home. I could only spot myself and Dan from Ilkley:

1st    Ian Holmes    (18.10)
24th   Paul Davidson (22.44)
36th   Dan Goodey    (23.32)

5km Time Trial, Tue 10 July
Marc and Sarah report.... A good and enthusiastic turn out of 34 Harriers braved the cheeky wind and small but naughty hill on the second of our 5k time trial events of the year. Some great times posted, with Nick Richardson now the third Harrier to dip below 17 minutes for this distance this year. The times in brackets are those run in the March time trial - nearly everyone who also did that event has improved on their times, and some very significantly! Best improver so far is Caroline, who's knocked over three minutes off - those efforts sessions are paying dividends!
As ever, our thanks go to the helpers who give up their time to make these events possible for other members: Neil Chapman for his excellent timekeeping, and Vince Gibbons, Di Haggar, Lawrence Basham, Jemma Basham and Nick Mellor for standing on windy street corners dressed in fluorescent yellow.

1.  Nick Richardson   16:54 (17.38)	1st M Open
2.  Gavin Chatterton  16:58	2nd M Open
3.  Dave Wilby        17:19 (17.39)	3rd M Open
4.  John Atkinson     18:12 (18:17)	1st MV40
5.  Richard Joel      18:13	 
6.  Brian Melia       18:37	2nd MV40
7.  Alison Bennett    18:55 (19.49)	1st LV45
8.  Dave Cumming      19:07	3rd MV40
9.  Phil Judd         19:10 (19.39)	 
10. Geoff Howard      19:20	1st MV60
11. Simon Chapman     19:28 (20:17)	 
12. Andy Wilson       19:36	1st MV45
13. Sam Kitching      20:00	1st M U18
14. Nigel Tapper      20:04	2nd MV45
15. John Coates       20:25	3rd MV45
16. Elizabeth McCann  20:53 (21.42)	1st LV35
17. Keith Wood        21:03 (21.54)	 
18. Alison Weston     21:07	1st LV40
19. Paul Wood         21:23 (21.27)	 
20. Catherine Gibbons 21:29 (21.23)	1st L U18
21. Caroline Ebert    21:33 (24.55)	Ist L Open
22. Vic  Verecondi    21:48	 
23. Graham Corbett    22:31	1st MV50
24. Don Macrae        22:44 (23.49)	2nd MV60
25. Anna Nolan        23:32	2nd LV 35
26. Antonio Cardinale 24:10 (25.14)	1st MV55
27. Matt Griffin      24:38	 
28. Richard Gray      24:46	2nd MV55
29. Andrew Bennett    25:53	2nd MV50
30. Julie Vaughan     26:28	3rd LV35
31. Rachel Gibbons    27:01	2nd L Open
32. Amy Bateson       27:16 (28:14)	3rd L Open
33. Jacqui Weston     27:44 (27.26)	 
34. Vicky Roby        29:14



Wakefield Tri, Sun 8 July
From Tim Ashelford ... I kicked off my "olympic distance" open water triathlon season and was 52nd in 02:18:47. As well as the National Championships, Wakefield was also a qualifier for the GB Age Group team at the International Triathlon Union World Championships, which will be held in Hamburg in September. I managed to qualify in my 40-44 age group.
www.pacesetterevents.com/results/2007/wakefield07results.pdf
Preston 10k & 5k, Sun 8 July
From Andy Wiggans ... Another Sunday, another trip to the civilised side of the Pennines for the Embsay crew. This time to the mini-festival of running that is "Run Preston". A 2k fun run, a 10k and a 5k round the streets and parks of one of the UK's newest cities. Andrew Herbert and I, with assorted children and spouses made the trip, with Andrew showing his stamina by competing in all three races.
First off was the fun run, with Andrew and his daughter Rebecca completing the 2000m course in 16min 37secs - respectable for a primary school child, but I felt Andrew might have made more of an effort.
Next the 10k, with both Andrew and I making the start line. Definitely not a fast course, with lots of twists and turns, a few off-roady bits and a steep little hill out of the park, it's nevertheless a fun one, with good support from the crowds at the finish. I continued my comeback trail with 41:07 to be 57th out of 714 finishers, sneaking into the top 10 of M40 in 9th. Andrew H ran 43:21 to be 97th - a good effort on a tough course.
The 5k saw Mrs Wiggans and Mrs Herbert in action, with Andrew running again. He ran 34:43 for 197th out of 251 - a PB, which he appeared very proud of (first time he's run one, but why let the facts get in the way of a good mickey take?). For the record Mrs W ran 23:14 to be 54th and Mrs H the same time as her husband, just beating him in the sprint for the line.
Didn't see any more Harriers but there may have been.
This is getting to be a pretty good event - lots of people seem to run both the 10k and the 5k, and it has a much smaller field so perhaps an opportunity for a prize?
Saunders Lakeland Mountain Marathon, 7-8 July
Helena Deeney reports ... being mountain marathon virgins Sue Booth and I decided to take the first day easy and after a couple of sporting loops and a stop for sandwiches (I know!) we were please with our finishing position of 60 and time of 4hrs 51. Having spoken to Sarah Jarvis and Dave Wilby who did very well in there class finishing 18th overall and 9th mixed pair we decided to focus. Day two started well and we made great time finishing 4th female pair in our class. Great event
Wharfedale TTT, 6-8 July
Geoff Howard reports ... It could be called Trauma, Torture,and Tribulation although its actual name is Tarmac, Trail and Tussock but, no matter, it's a great three day, three race running festival held every July in Kettlewell. 99.9% of the tarmac is in the 2.5m 950'Friday evening road race. All the trail and tussock is in the Saturday 12.5m 3,000' fell race, with the Sunday being a good old fashioned lung demolishing BOFRA type 1.5m 500' blast; with the hardest bit being the getting out of bed on the Sunday morning. Bingley Harriers have a pedigree any club would envy and the TTT is one of their major triumphs of ingenuity and organisation (and what an inspired choice of venue). This year's event was dogged by a dodgy weather forecast but good fortune and the odd ray of sunshine prevailed for all three races. Six Harriers entered the event as a whole "The Grand Prix" and seven more ran in one or other of the races. Winner of the first race was Chris Birchell of Leeds City but the star performance was by u14 Helm Hill runner Melanie Hyder finishing 10th out of 28 and first lady. On the Saturday the excellent top position packing by our fastest men may just possibly have been less a consequence of strategy than the outcome of their respective tussock foundering, navigational blips and route choice mishaps cancelling themselves out. Indeed one them took such a liking to checkpoint 6 that he visted it twice. Heather (I'm not as fit as I'd like to be) Dawe who had cycled to the race from Otley waited for a chat and to collect the first lady prize before cycling back again. Sunday's race saw some more new faces and fear spread amongst those who were in tight hard fought for Grand Prix positions that these "one race wildcards" might put the kibosh on their final result chances. Eventually the race was run and it was (rather sadly) all over and all assembled in Bingley's large registration cum burger-bar tent as the prize-giving was nearly drowned out by the sound of torrential rain on the canvas. Harriers were well into the prizes and such is the nature of the event that everybody received something. Thereafter this temporary community dispersed back to the real world vowing never to run, or at least to end up behind so and so, again - well at least not until the next time.

Friday - (Up-Hill Only Road)

1 Chris Birchell (Leeds City) 17m 10s
7 Ian Rowbotham 20.50
12 Geoff Howard 22.00
15 Alison Eagle 23.13 (2nd Lady, 1st LV)
18 Morgan Williams 24.20
21 John Coates 25.02

Saturday - (AM Fell 12m 3,000')

1 Greg Hull (Leeds City) 1h 29m 28s
5 Ian Rowbotham 1.34.14 (3rd V40)
6 Jamie Hutchinson 1.35.03
7 Steve Turland 1.35.50
11 Geoff Howard 1.39.53 (1st V50)
17 Heather Dawe 1.52.23 (1st Lady)
19 Morgan Williams 1.54.17
20 Alison Eagle 1.54.19 (2nd Lady, 1st VL)
36 John Coates 2.13.04
40 Ros Leach 2.49.37 (5m better than '06)
45 Amanda Parnaby 3.17.57

Sunday - (AS 1.5m 500')

1 Richard Barrett (Skipton) 13m 50s
6 Ian Rowbotham 14.32 (2nd V40)
11 Richard Joel 15.30
12 Geoff Howard 15.41 (1st V50)
16 Morgan Williams 16.45
17 Alison Eagle 17.08 (2nd LV)
30 John Coates 19.05
31 Josh Crane 19.20 (Junior)

Grand Prix (Aggregate Results)

1 Martin Peace (Bingley) 9pts
3 Ian Rowbotham 18 (1st V40)
5 Geoff Howard 35 (1st V50)
7 Alison Eagle 52 (1st Lady, 1stVL)
9 Morgan Williams 53
15 John Coates 89

1st Team: Ilkley Harriers

Geoff's run on Saturday has swept him into 2nd place overall in the Harriers Running League.
Oakworth Haul, Sat 7 July
From Emma Barclay ... Helen (Ilsley) and I ventured to Oakworth on Saturday to do the Oakworth Haul. Only 5 miles long with apparently only 350ft ascent. It was a very runnable course but certainly felt like a great deal more climbing. Saying that we both enjoyed the course, although a few more markers on the way back would have been useful, thank you to the chap behind me that put me right on a couple of occasions. Helen was 1st lady home in 40.05 and smashed the record by 6 minutes. I was second lady in a time of 41.43.
Chevy Chase, Sat 7 July
From Bob Wightman ... A severely depleted team headed north at the unearthly hour of 6am to partake in this 20m/4000ft fell race. The pre-race announcements suggested that the going could be soft to squelchy - they weren't wrong! The locals were very surprised to see Ilkley vests, a bit rare in those parts apparently.
The route takes in the two highest points of the Northumberland National Park, The Cheviot and Hedgehope, with a big drop in between the two. The route to the first checkpoint is on good trails but from there to the start of the climb up onto The Cheviot is really an exercise in avoiding the worst of the black sludge. A really steep descent to the Harthope Burn (with in-situ mountain rescue for the swollen crossing) is followed by a rough climb to Hedgehope. Hedgehope is approximately halfway and it is from here that the race really begins with a steep descent leading to more black sludge and sheep trods before good tracks drop you in the valley floor and a steady rise back to meet the route out.
Well the first half went OK but from the next to last checkpoint at 6 miles out I hit the wall and struggled. Fortunately I had enough of a buffer that only four people passed me before the finish - perhaps everyone else was struggling as well.
The winner crossed the line in 3hrs 13mins, a full 33 minutes off the record. I finished in 26th place in 4hrs 11mins and Simon Harry finished in 31st place in 4hrs 14mins.
Inner city criteriums are no match for this.
Danefield Relays, Wed 4 July
Cap'n Bob reports ... A good mixture of members turned out for the Danefield Relays and enjoyed the best weather of the week, some excellent racing, great banter ... and brought home a load of beer!
The A team was assembled at short notice and Dave Wilby set off before seeing his teammates and not entirely convinced he was going to have someone to hand over to. Despite the nagging thought that he might be running all three legs, he still had a blinder and, with Richard Joel, set Graham Pearce up for the final leg charge. However, the fastest leg of the night from GP was not quite enough and we finished just 100 yards short of winning. The Vets and Ladies teams, however, won their classes, retaining their titles from last year. There were also some great junior performances. I think the junior teams will be pushing the seniors very hard next year.

2  Ilkley A (Dave Wilby, Richard Joel, Graham Pearce)
    60.01:  19.55 21.27 18.39

5  Ilkley Vets A (John Atkinson, Bob Hamilton, Ian Rowbotham)
    64.06:  21.08 22.08 20.50

7  Ilkley Orienteers (Jack Wood, Ali Wood, Ian Marshall)
    65.19:  20.42 22.01 22.26

12 Ilkley Blondes (Sally Malir, Helen Ilsley, Emma Barclay)
    70.17:  23.54 22.19 24.04

14 Ilkley Noname (Simon Chapman, Catherine Gibbons, Elliott Dawson)
    71.34:  23.00 25.23 23.11

16 Ilkley Vets B (Keith Wood, John Woodward, Jon Tindall)
    74.06:  25.42 24.25 23.59

17 Ilkley Mixed (Josh Crane, Alison Eagle, Alison Weston)
    74.58:  25.50 24.07 25.01

20 Ilkley Boiz (Ben Rowley, Adam Bennett, Tom Crane)
    77.06:  23.52 26.46 26.28

25 teams finished

HRL 5, Esholt, Tue 3 July
From Marc & Sarah ... A magnificent turn-out of 57 Harriers at the final counter in the HRL series rewarded the club with its best set of results across all categories. This on a course that contained trail, cross-country and bog-snorkelling, alongside the usual sections of road (clearly a very loose interpretation was taken of the moniker "ROAD race series" in the selection of this route!). However, it was a delight to see the eyes of all of our loyal fellrunners light up at the realisation that they wouldn't be pounding the tarmac for the entire race - just reward for their commitment in coming out to support the club in this series.
Firstly, congratulations to our Ladies, whose win in both the Open and the Vets categories on the night have secured overall victory in both categories in the series. Swaledale in particular produced a strong challenge in the women's competitions this season but, thanks to the great response from our female members, couldn't prevent us from retaining our titles in the categories that we have dominated in recent years.
Special mention should also go to our male SuperVets, who achieved their third race win in a row. However, it wasn't quite enough to overturn the big lead that Otley had built up from the first two races, when we were less well represented. Although we ended up a very comfortable second place overall, one can't help feeling that the title was there for the taking if we had only got more numbers out in the first two races. One to bear in mind for next year, gents? The plaudits don't stop there - our Elite team also achieved second place on the night, our best placing in the series. This secured us an overall position of fourth in this category, which is two places higher than last year. The congratulations go on - our male Vets also achieved a second place position on the night, repeating the success of the previous race and finishing third overall in their category, which is one place higher than last year.
And in the overall Open competition? We came second on the night, also our highest position in the series, securing us a third place overall. In summary, out of twelve teams across the six categories last night, we won three of the categories and came second in the other three! Well done to everyone for this amazing performance - we have an enthusiasm and a strength in depth that is the envy of other clubs. It hasn't gone unnoticed that we have had the biggest turnout of all of the clubs at most of the races. Hopefully the camaraderie, challenges and successes of this series have only served to strengthen the club yet further. Roll on next year.
HOWEVER, the fun isn't over just yet. There is still the Handicap event in Ripon on Tuesday 17th July. Anyone can participate and you can enter on the night (though you need to have run in two races of the series to be eligible for prizes). This is your one chance of crossing the finish line before Ian Fisher! The format is basically that there are staggered start times so that, in theory, everyone finishes at exactly the same time (always a test of Paul's accurate handicapping skills!) - so this race is very informal and lots of fun, and everyone has a chance of winning. This event is also where the prize giving takes place - we're in line for several individual and team prizes so it is always really nice to have lots of club members there to give support. Hope to see you all there.
Full results and some photos on www.harrogate-league.org.uk

1	28.11	IAN FISHER  OTLEY AC
8	31.07	JAMIE HUTCHINSON
15	32.15	DAVE WILBY
18	32.27	NICK RICHARDSON
28	33.34	MARK ILEY
34	33.47	JOHN ATKINSON
36	33.51	RICHARD JOEL
45	34.52	GEOFF HOWARD
47	35.04	JEFF PAGET
50	35.13	SARAH JARVIS
52	35.17	BOB HAMILTON
53	35.22	ADRIAN HALL
56	35.38	ALISTAIR WOOD
58	35.44	MARC TEASEY
59	35.52	AMANDA ODDIE
60	35.57	ALISON BENNETT
76	37.02	PHIL ATKINSON
82	37.26	PHIL HIRST
94	38.02	BOB BARNARD
95	38.04	ELIZABETH MCCANN
96	38.06	SIMON CHAPMAN
106	38.35	SAM KITCHING
110	38.47	NEIL CHAPMAN
111	38.50	JOYCE MARSHALL
117	39.02	GRAHAM ARTHUR
118	39.05	JOHN COATES
123	39.31	NIGEL TAPPER
125	39.37	PETER SHIELDS
127	39.43	JAN BELTON
136	40.35	JOHN MARSHALL
144	41.03	KEITH WOOD
158	41.40	ROB WILLS
161	41.47	SUE BICKERDIKE
170	42.18	CAROLINE EBERT
171	42.22	CATHERINE GIBBONS
176	42.48	JEAN SULLIVAN
195	44.19	VIC VERECONDI
197	44.24	PATRICK GIBBONS
199	44.28	DON MACRAE
200	44.29	LOUISE CARTLEDGE
208	45.07	ALEX LEWIS
209	45.17	BERNADETTE GIBBONS
221	45.51	NICK MELLOR
225	46.47	MARGOT DALE
232	47.37	COLIN LUGTON
247	50.47	RICHARD GRAY
249	51.18	AMY BATESON
251	51.35	ANDREW BENNETT
253	51.47	DAVID MILLSON
255	52.08	SHEENA PICKERSGILL
261	52.54	ADELE MITCHELL
262	52.55	JOHN MACNAMARA
263	53.24	JACQUI WESTON
266	54.41	ROS LEACH
267	55.15	HEATHER DUKE
269	55.33	AMANDA PARNABY
275	61.09	BRIAN SWEET
276	62.30	SUE LUGTON


Hebridean Challenge, 2-7 July
From Adrian Hall ... Just got back from completing the Hebridean Challenge. A 5-day south to north traverse of the Western Isles beginning at Barra and ending at the Butt of Lewis utilising swimming, kayaking, mountain biking, road biking and running. No results are available as yet.
www.hebrideanchallenge.com
Mondays Hilly Bike Ride
We're changing the start time to 7pm to encourage more people. Ideal post-race recovery - get those legs spinning! More on the Training Page.
Mont Blanc Marathon, Sun 1 July
From Sally Malir ... She'll be coming round the mountain!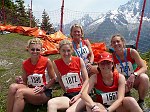 On Sunday 1st July at 7am The Mont Blanc Marathon began, The Cross set off at a little more leisurely time of 9.30 am. (The Cross is a mountain half marathon with more than 1000 metres of climb).
The finish for both of the races was at Plan Praz, 2070m, above the town of Chamonix, with reputedly the best views of Mont Blanc. (They certainly were fantastic!)
The temperatures rapidly rose and the sun blazed down. The first racer to cross the finish line was Nick Sharp 3.27:26 closely followed by Rob Jebb 3.31:36 (both beating last year's record). In the ladies race French athlete Carole Toigo was 1st 4.31.06, with Ilkley Harrier Andrea Preistley in 2nd position 4.44??.
Records were also set in The Cross event, Brit Martin Cox was 1st 1.48.51, and the ladies record was also broken by Angela Mudge 2 .01.47 (23rd overall!).
There were over 300 ladies in the Cross event and Ilkley Ladies did you proud!
Emma Barclay 4th in her new category(!!!) 9th overall lady 2.25.47
Helen Ilsley 16th overall 2.35.49
Alison Eagle 18th overall 2.36.49
Sally Malir 25th overall 2.44.46
Alison Weston 37th overall 2.53.20
We had a fantastic weekend!!!!!
We helped Martin Cox drink his magnum of champagne, Andrea and Mark had 2 free nights in a posh hotel (courtesy of Angela Mudge's winnings), we bought at least a couple of camels.
We weren't singing' I, I yipee' as we came round the mountain, but somebody was wearing pink pyjamas!!!!!
Junior Uphill Champs, Sun 1 July
Ilkley Harriers, on behalf of the FRA, staged the Junior English Uphill Fell Championships on Sunday. A great turnout of marshals and helpers helped make this day a great success, with a record number of top juniors racing up Ilkley Moor. More info, results, and photos here.
News Oct-Dec
|
News Apr-Jun
NB:
you may need to refresh this page, depending on your web browser settings, to get the latest news updates.