This page shows the results of races that Junior Ilkley Harriers have run in, most recent races first. (If we've missed any results, please let us know).
BOFRA Sedbergh Gala fell race, Sat 18 May
Lucy Haines (U17) was 1st in 15.50 and Euan Brennan (U14) was 2nd in 12.40.
York Summer T&F League, Sat 18 May
Evie Malir (U13) was 3rd in the shot with 5m.36, 5th in 70m Hurdles in 15.2 and 8th in the long jump with 3m.47. Rosie Shouler-Harris (U17) was 1st in the long jump with 4m.16 and 6th in the discus with 16m.84. Harry Maslen (U17) was 1st in both the 100m Hurdles in 14.2 and long jump with 5m.76.
Cowpe, Junior English Fell race, Sat 11 May
George Elmes reports...... another strong turnout of 12 Juniors made the trip across to the South West Pennines to compete in Round 3 of the Junior English Championship race hosted by Rossendale Harriers.
In stark contrast to last year's event held at the same venue in warm bright sunshine this year was completely different. The weather was very cold and rain was sheeting down intermittently throughout the day. The RO at the start stating that it was very wet and cold on the tops and the temp was currently around 1 degree with a wind chill factor taking it below zero - a massive difference to last year.
This year they changed the start and finish which was far better for racing but meant for a brutal climb for all straight from the start. Again as it most championship races this year the course was tough and challenging and the competition was extremely high. From my vantage point on the tops it was fantastic to see the determination on the faces of all our Juniors on the long steep climb up to their respective turn points, they should all be proud of their efforts. Encouragingly we had competitors in 5 of the 6 age categories and all performed fantastically well.
Standout performances from Lucy Haines 1st GU14, Ruaridh Mon-Williams 4th BU16 & Lucy Williamson Gu16 4th.
Full Results - GU8 Robyn Anderson 5th; BU8 Max Stead 17th; GU10 Poppy Anderson 7th; BU10 Harry Stead 20th; GU12 Emily Elmes 13th; BU12 Robbie Matthews 21st; GU14 Lucy Haines 1st, Lucy Jacques 6th, Tilly Melechi 10th; BU16 Ruaridh Mon–Williams 4th; GU16 Lucy Williamson 4th, Joanne Williamson 12th.
Special mention to Harry and Max Stead competing at championship level for the first time this year with both having very strong races. Robbie Matthews for a great championship comeback performance after his set back earlier in the year at Rivington and Joanne Williamson for her dogged determination to take on an extremely tough U16 course and record her best performance of the year - a great result.
After the race the now traditional mass picnic on the hill was relocated to the village hall due to the poor weather conditions where all enjoyed some well-deserved refreshment after a tough event.
Another good turnout which means that in the Club Championship after 3 events JIH are currently 7th in the table (out of 63 clubs represented) which is the 3rd highest placed club in Yorkshire.
Again some great performances from all competing at a very high standard – you should all be very proud of your efforts.
West Yorkshire Track & Field meet, Wakefield, Wed 1 May
Harry Maslen came 4th in the 200m in a time of 23.92. A new PB.
Church Stretton,Junior English Fell race, Sat 27 April
George Elmes reports...... 7 Juniors, parents and friends made the 300 mile round trip to Shropshire this weekend to compete in round 2 of the Junior English Champ Championship Fell race hosted for the first time by Mercia Fell Runners.
Most took the opportunity to make a weekend of it by staying together locally either in a hotel or in the Williamson family case catching up with some friends. In the hotel in Telford we bumped into other Juniors/supporters from Bingley and Scarborough and it was good to chat about what the new venue was likely to have in store and for the adults to take on board some "carbo- loading pre -race spectating refreshment J " Special mention must go out to Ruaridh who showed fantastic commitment by getting the train down and up on the day as a result of other Harriers making a weekend of it and not being able to give him a lift.
From the conversations in the hotel with the guys from Bingley and Scarborough I think most of us were expecting a slightly easier course than normal due to the location of the venue. This was quickly proven to be incorrect. A number of juniors and supporters made the statement that it was the most challenging championship course in all age categories that they had experienced for some time. It was also at the top end of allowed distances with some very long steep climbs offset with some very runnable sections that made it a fantastic test for our juniors that they all came through magnificently
The English Spring weather typically managed the classic 4 seasons in one day to ensure that it kept everyone on their toes. High winds then bright warm sunshine, Horizontal Rain, Hail stones! (Yes Hail stones) alternating constantly during the day. It was also very cold and breezy on the tops at all times.
As normal it was great to hear the support on the course for our juniors from each other either waiting to run or having finished. You could also hear the "shy and reserved" parents and friends from Ilkley's voices echoing loudly across the hills which was fantastic with most managing to stay and support for the whole day where travel arrangements allowed.
All the juniors took on their respective races with fantastic determination and commitment and should be really proud of their individual efforts. As a result we had a great set of performances from all, the most notable being Euan Brennan 2nd in the BU12.
A mention also for Ruaridh, Lucy and Joanne who had to wait right through the day for their race to start. Just as they lined up the weather took a turn for the worse and became really cold and overcast. The RO even advising body cover to be taken. I can only imagine what it was like on the very long climb to the exposed tops and along the ridge – great performances from all 3 of you. Full results:
GU8 Robyn Anderson 5th; GU10 Poppy Anderson 4th; BU12 Euan Brennan 2nd; GU 12 Emily Elmes 14th; BU16 Ruaridh Mon-Williams 10th; GU16 Lucy Williamson 4th, Joanne Williamson 13th.
Whilst the U16 and U18 were out Mercia put on a race for "Tots". This saw the debut of Ilkleys newest running sensation - 2 year old Dexter Anderson. Clearly looking to show his sisters anything you can do I can do better he made a fantastic start to his running career. Some interesting race tactics from the debutant with various stops on the course to point out sheep and trees to attentive spectators made for a classy well-paced debut.
Well done Dexter and look out Farah – this boy is looking good for the future.
Another great event with excellent races full of determination and commitment from all. The growing camaraderie of the fell team is great to see and most importantly all the juniors clearly enjoyed the weekend. Well done to all that made the long trip
Kendal Winter League, Arant Haw, Sun 21st April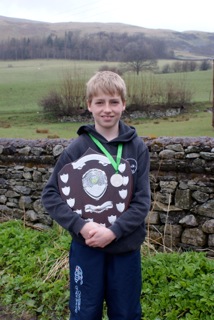 Julie Brennan reports.... Euan won his 6th race of the Kendal Winter League at Arant Haw today, & was later presented with the U12 boys winners trophy, having scored maximum points in the series.
Brilliant series result Euan.
Meanwood Valley Trail race, Sat 20 April
Poppy Anderson (aged 9) reports...... A lovely sunny day, it couldn't have been better, from hailstones last year. I think it put a smile to peoples faces. We didn't have a great junior harrier turnout, 6 people, but we all had great results. All the groups started off together (Years 3 to 12) and it started like a herd of elephants. Robyn was quite scared as she thought all the older ones might have pushed her over. We all did a lap of the field then turned off into the woods. We ran in the woods for a while then turned off into a muddy climb. After that we ran back to the start and finish field and went round it once more to the finish. Meanwhile the older ones had to go round the course again for a second lap. At the finish I received a flake and a dairy milk which I gave to Dexter. Then we watched the adults start, there were loads of them. We cheered on Julie and the other Ilkley Harriers. After that we went to look at the results in the rugby club and found out I came second and so did Robyn. I'm looking forward to my next race!

Provisional results: Year 3 and 4 girls - 2nd Robyn Anderson; Year 5 and 6 boys - 4th Joe Bramham Butts; Year 5 and 6 girls - 2nd Poppy Anderson, 4th Ella Shouler-Harris; Year 9 and 10 girls - 1st Lucy Williamson, 7th Joanne Williamson.
West Yorkshire Track & Field meet, York, Sat 13 April
Harry Maslen (U17) competed in 4 events: coming 1st in both long jump (6m.07) and discus (28m.93); 2nd in the 200m in 24.14 and 3rd in the 100m in 11.85. Roisin Ramage (U15) was 3rd in both the 100m (13.74) and discus (19m.55) and 5th in the 75m Hurdles in 13.94.
Pendle fell race, Sat 6 April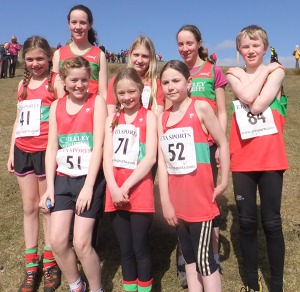 From George Elmes ... An impressive 15 JIH's made the trip across the Pennines for the second weekend in a row to compete in the Junior Pendle Fell race hosted by Clayton Le Moors AC . The race attracted a large field as a result of it being the 2013 Junior Lancashire Championship event. Due to this the standard of racing was really high (it was also both a JIH and BAN league counter) the course was pretty challenging and was a true fell running test. On a gloriously sunny day which was a huge change from the recent wintery conditions we again managed to put out significant numbers in all age categories with some great results from all. Highlights being Robyn Anderson 3rd U8 girl, Tilly Melechi 4th U14 Girl and Lucy Williamson 2nd U16 girl. The support from both our parents and competitors was really great to see and again it would be fair to say that it was "very enthusiastic" and clearly lifted those that were competing. Full results:
U8 - Robyn Anderson 10th (3rd Girl), Tom Bramham Butts 17th. 32 ran
U10 - Poppy Anderson 31st (10th Girl), Joe Bramham Butts 34th, Harry Stead 36th, Molly Pearson 38th (15th Girl) Lyra Weston 46th (20th Girl) 57 ran
U12 - Robbie Matthews 14th, Emily Elmes 41st (14th Girl), Ella Shouler- Harris 60th (24th Girl) 67 ran
U14 –Jacob Hellewell 12th, Tilly Melechi 14th (4th Girl), Nea Weston 36th (17th Girl) 42 ran
U16 – Lucy Williamson 10th (2nd Girl) Joanne Williamson 16th (7th Girl) 17 ran
After the races all that took part came away with a goodie bag which was devoured along with lunch in a mass Ilkley picnic on the side of the hill. I think the JIH's and parents that attended would agree that it was a great event and clearly enjoyed by all. It was also made all the better by both the enthusiasm and commitment from all competing and the relatively tropical conditions (I even had minor sunburn!)
Some fab photos from Graham Weston
English fell Championships, Rivington Pike, Sat 30 March
George Elmes Reports.... Hosted by Horwich RMI Harriers Rivington Pike Fell race is one of the oldest and most historic fell races in the country which was first run in the 1880's.
7 Junior ilkley harriers made the trip across the Pennines to Lancashire to compete on much of the same course of what is widely known as one of the classic "must do" fell races on the fell racing calendar.
This year it was race one of the English junior fell championships and is described on the "pike racers" website as follows - "the classic route represents the ultimate test of speed and stamina and is a true test to road,track,xc and fell runners alike". It would be difficult to disagree with all surfaces track, road and finally fell being raced on. The weather was bright and perfect for racing and all "enjoyed" a very tough long leg burning climb straight from the start. After the respective turns it was a flat out mad dash back down again to the finish.
All gave it 110% on the day and should be fantastically proud of their efforts competing against the best juniors that fell running has to offer from across the whole country. A special mention must go out to Robbie Matthews who has been in excellent form recently. Robbie got into a good position at the start and got away with the leaders. Unfortunately he lost his footing and had his heel clipped at the mad scrum of a first gate. As a result he went over and damaged his knee. Despite valiantly trying a couple of times to continue he finally had to accept that his race was over and had to retire. Better luck next time Robbie - all present from Ilkley felt for you on the day after making the long trip. Full Results:
GU 8 Robyn Anderson 11th, 3rd girl - 35 ran
GU 10 Poppy Anderson 31st, 8th girl, Molly Pearson 37th , 11th girl - 46 ran
GU 12 Emily Elmes 46th, 12th girl - 86 ran
GU 14 Tilly Melechi 35th, 13th girl - 43 ran
GU 16 Lucy Williamson 31st, 6th girl - 41 ran

National XC Championships, Sunderland, Sat 24rd February
What an absolutely fantastic finale to the cross-country season - the National Cross-Country Championships. For the first time a coach was hired to take juniors, parents and supporters to the event which was held at Herrington Park in Sunderland. 23 junior Ilkley Harriers signed up to compete earlier in the year and 23 made it to the start line and raced with enthusiasm, commitment and determination despite the difficult weather and underfoot conditions. The venue provided a real cross-country experience with a couple of inches of snow on the ground, excellent testing hilly courses and a well organised event. There was much excitement for the first race of the day with Georgia Malir running in the U17's having previously won the Northern Champs at the end of January. We could hardly see the runners on the far parts of the course as the snow was coming down heavily but we could see Georgia working extremely hard to stay near the head of the race. Georgia's 13th place overall in a field of 150 runners was a fantastic achievement and one that she should be incredibly proud of. Her achievement over the last two seasons have inspired so many younger juniors so it was fitting that she would lead the way at the Nationals. The next race was the U15 boys where we had 3 runners - Tom Kerr finished in 128th with Ruaridh Mon-Williams hot on his heels in 133rd just 4 secs behind. James Pickering who afterwards said ' it was hard' finished in 209th. The next three races provided us with 3 team placings which is not only impressive but bodes well for the future. By now the underfoot snowy conditions had become deep slippy muddy conditions! Our young U13 girls were out in force with 8 competitors - 3 of these girls are only Year 6 and will find themselves competing at U13 level for a further two years. The team finished in 20th place and was led home by Beth Morley in 166th place followed by Alessandra Ricci (170th), Molly Jeffels (190th), Emily Elmes (207th), Ella Shouler-Harris (219th), Eva Jeffels (223rd), Jess Burgess (228th) and Megan Hayes (235th). By the U15 girls race it had stopped snowing but it was still bitterly cold. Six girls raced and they gained an exceptional 15th team placing. Sarah Pickering had a very good run to finish 60th overall with Lucy Williamson in 86th, Josie Clarke (150th), Ellie Coones (161st), Joanne Williamson (167th) and Elizabeth Westhead (184th). The final junior race of the day was the U13 boys. It was particularly difficult for them because it had been a very long wait for their race and despite being well dressed to compete it was hard to get warm and most of them ran with frozen feet. Despite this the determination to do their best was evident from the gun. Euan Brennan finished in an excellent 57th place with Francis Westhead just 3 seconds behind in 62nd place. Robbie Matthews who is only a Year 6 finished in 151st, Oscar Stapleton (172nd) and Ben Clarke (185th). This gave them an excellent 16th team place. Conditions did take their toll and both Euan and Francis had to be assisted at the end to get warm with Francis ending up wrapped in a space blanket. Everyone ran their very best and it was a pleasure to have been there on the day to witness the racing. Almost everyone who travelled on the coach was still there at the end to cheer Dave Westhead in the senior men's race along the run in to the finish. We definitely had the greatest and loudest supporters out on the courses from start to finish so well done to everyone for making it such a grand day out.
Also here are some photos and some video
U13/U15 Sportshall Athletics West Yorkshire trials, Bradford, Sun 9th Feb
Well done to everyone who attended the trials - especially Roisin Ramage who was selected for the regional team.
EIS Sportshall Athletics Challenge, Sun 3rd February
Milly Websdale reports..... On Sunday 3rd February, myself, Milly Fewlass-Jones, Emily Sturgeon and Jess Bretherick went to the EIS in Sheffield to take part in the Northern athletics indoor challenge. We all had a great time, coming 4th in the 4x100m relay and coming 3rd in the 4x100m over-under relay and proceeding to the final. The 4 of us achieved silver awards in endurance and levels 8-10 in the indoor pentathlon. Overall we had a great day out and we even saw Jessica Ennis!

Northern XC Championships, Liverpool, Sat 26th January
Absolutely fantastic turn out of 16 juniors to this high quality event. Some brilliant individual and team results: U17 women 1st Georgia Malir (20.49); U15 boys 67th Tom Kerr (16.53) and 84th Ruaridh Mon-Williams (17.22); U15 girls (12th team overall) 33rd Lucy Williamson (18.34), 66th Lucy Jacques (20.11), 77th Joanne Williamson (20.33), 96th Elizabeth Westhead (21.33), 102 Ellie Coones (22.00) and 117th Josie Clarke (23.45); U13 boys 26th Francis Westhead (12.26) and 101st Robbie Matthews (14.21); U13 girls (15th team overall) 104th Alessandra Ricci (15.53), 109th Molly Jeffels (16.00), 110 Eva Jeffels (16.02), 111th Ella Shouler-Harris (16.07) and 138th Jess Burgess (18.35).
Soreen Stanbury Splash fell races, Sun 20 January
20 juniors braved the snow and ice to race in the first Haworth fell race of the year. U8 results: 9th Tom Bramham Butts (3.18); 11th (and 3rd girl) Robyn Anderson (3.22); 12th George Morley (3.32); 24th Felix Weston (4.27) and 26th Summer Sky Smith (4.45). In the 1 mile race the results are: 13th (and 4th U12 boy) Robbie Matthews (7.31); 15th (and 2nd U12 girl) Beth Morley (7.32); 16th (and 1st U10 boy) Joe Bramham Butts (7.37); 17th (and 2nd U14 girl) Lucy Jacques (7.39); 38th (and 5th U12 girl) Emily Elmes (8.23); 42nd (and 5th U10 boy) Tom Jackson (8.31); 45th Ben Morley U10 8.36; 51st Nea Weston U14 (8.51); 59th (and 4th U10 girl) Poppy Anderson (9.05); 74th Max Bryant U10 (9.42); 80th Molly Pearson U10 (10.07); 81st Harry Stead U10 (10.09); 87th Lauren Jackson U12 (10.37); 105th Georgia Weston U10 (13.02) and 106th Angel Smith U12 (13.20).
U11 Sportshall Athletics West Yorkshire trials, Bradford, Sun 13th Jan
Well done to everyone who attended the trials - especially Charlie Wilde who was selected for the regional team.
Kendal Winter Fell League Series
Sun 13 Jan, Firbank: Euan Brennan won the U12 race in 5.40.
Sun 20th Jan, Whitestones: Euan Brennan won the U12 race in 6.20.
Sun 27th Jan, Birkrigg: Euan Brennan won the U12 race in 4.52.
Sun 3rd Feb, Helm Hill: Euan Brennan won the U12 race.
Sun 24th Feb, Sedbergh: Euan Brennan won his fifth race and is secured of the overall U12 league title.
Northern Athletics Indoor Championships 2013, EIS Sheffield 12/13 Jan
Roisin Ramage (U15) was 4th in the heats of the 60m in 8.61 and 5th in the shot with 8m.57. A great start as a first year 15.
Yorkshire Cross-Country Champs, Ripon, Sat 5th January
Sally Malir reports... the Yorkshire Cross country Championships 2013 were held at Lightwater Valley, near Ripon on Saturday 5th January. Ilkley Junior Harriers did themselves proud by finishing 22 runners and gaining 5 team positions.
The conditions on the day were great with little wind, no rain! And warm temperatures. The course was pretty testing though with lots of sharp short hills and tussocky grass underfoot. One of the juniors said that it was like being in a Scooby Doo film, running round a deserted theme park, it all added to the fun. There was a fantastic atmosphere with lots of people staying on after their own race to cheer Jonny Brownlee and try to get a photo or autograph opportunity.
As well as a great team spirit and lots of fun there was some fantastic running, a lot of juniors running in an age group that they are very young in and still producing brilliant results. Just to put the icing on the cake we also brought home some medals. The U15 girls were third team on the day receiving bronze medals, and Georgia Malir (U17 women) was 2nd on the day and awarded silver Yorkshire medal and selection to run for Yorkshire at The Inter counties, Birmingham in March. Results are as follows
U13 girls 11th and 18th Team
18th Bethan Morley 9.58, 40th Allessandra Ricci 10.54, 43rd Molly Jeffles 11.01, 50th Eva Jeffles 11.16, 57th Megan Hayes 11.26, 59th Ella Shouler-Harris 11.39, 61st Jess Burgess 12.02.
U13 boys 9th Team
20th Euan Brennan 8.54, 23rd Francis Westhead 9.02, 46th Robbie Matthews 9.52, 64th Oscar Stapleton 10.28.
U15 boys
38th Thomas Kerr 17.18, 61st James Pickering 20.03.
U15 girls 3rd and 11th Team
11th Sarah Pickering 13.01, 14th Lucy Haines 13.18, 15th Lucy Williamson 13.20, 34th Tilly Melechi 14.44, 40th Lucy Jacques 15.18, 41st Joanne Williamson 15.20, 48th Elizabeth Westhead 15.54, 50th Harriet Jackson 15.57.
U17 Women
2nd Georgia Malir 15.31

---
Back to Top
|
2012 Results