ROM September 2006
The Ilkley Harriers Runner of the Month for September is Hector Haines, for Thre Shires and Ilkley Incline results - more.
Thieveley Pike, Sat 30 Sep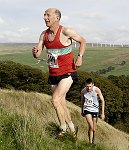 From Steve Turland ... The final race of the English Champs, (4.25m, 1300'), was this lungbursting 'up and down' near Burnley. Won by Rob Hope for the men and Natalie White for the ladies. From the men's race we had:

Steve Turland  64th    36:34
Geoff Howard   109th   39:48 (3rd V60 and in the prizes)

Horsforth 10k, Sun 24 Sep
Rseults from Horsforth Harriers are:

141 49:17 David Cockshott
167 51.07 Nick Mellor 
311 63.50 Amanda Parnaby

Ilkley Tri, Sun 24 Sep
Ever popular with Ilkley Harriers. Jamie had the 2nd-fastest run ... results from lbt.org.uk are ...

7   Jamie Hutchinson 60.29
12  John Atkinson    62.55
22  James Lind       66.32
26  Norman Bush      67.52
27  Mike Baldwin     68.02
38  Paddy Hagan      69.42
64  David Brown      73.33
70  David Schneider  74.04
79  Keith Wood       74.49
80  Steve Newell     75.16
99  Dave Taylor      77.55
108 Di Kitchen       78.46
126 Steve Cockerham  80.04
177 Fiona Schneider  89.20
186 Joanne Taylor    92.33 

Junior FRA Relays, Sun 24 Sep
We fielded 3 teams in the Junior English Fell Relay Champuonships: the Mixed team of Bradley Chapman, Emily Kerr and Catherine Gibbons were awarded a bronze medal; the girls' team of Ellie Taylor, Fiona Kitchen and Jenny Dybeck were fourth just 1 minute outside a medal; and the boys' team of Josh Crane, Michael Hinchcliffe and Elliot Dawson were 5th overall, 4 minutes outside a medal place.
In the accompanying Around the Flags (AS) race Geoff Howard was 14th in 42:01s. 32 ran.
Three Peaks Cyclo Cross, Sun 24 Sep
Graham Pearce reports - a number of Harriers tackled this, the toughest race in the cyclocross calendar, riding for fellow Harrier Ed Battye's Crosstrax team. Read Graham's full report

here.

29 Graham Pearce  3:37:09       
60 Jason Hemsley  3:56:21       
82 Heather Dawe   4:05:22  

Ace Races
From Eddie Winslow reports ... Final Ace Race of the season in a damp overcast Dumfries and Galloway. When is Dumfries and Galloway not damp? My team took second place, just missing out on first to the team we beat last time. For a runner/biker I am pleased to report that we won the kayaking stage – a shock to all of us.
For those who have entered the OMM, I can report that the marker pegs we came across on the hills are in complex contoured terrain. If the mist is down it's going to be a very interesting OMM.
Training Changes
By 'eck it's getting dark early!
Pete's Thursday training is off the fells and down on the grass field at ILT&SC - more...
Please remember to wear something light/reflective on Tuesday night runs
As some small compensation for all this gloom - Pete's Circuit Training For Runners started again Monday 18th September, 7pm at ILT&SC - more...
FRA Relays
Ladies team ...

Leg 1 - Emma Barclay
Leg 2 - Alison Eagle and Sally Malir
Leg 3 - Nicky Jacquiery and Alison Weston
Leg 4 - Andrea Priestley

And from Geoff Howard, ... A big thank you to all those who expressed an interest in the FRA Relay during the period when our bid for additional Open amd Ladies teams was being submitted. As we now know, no club has been allocated more than the minimum entitlement of one Open, Men's Vets and Ladies teams because of the massive additional demand from clubs that didn't compete last year i.e. 57% of the entry (37 new of 68 Open, 18 new of 28 Men's Vets and 19 new of 34 Ladies teams). For those who are interested a list of competing teams is attached.
The selected teams are as below. I would be very grateful if any of the other members who expressed interest could let me know if they cannot now be available to be a team reserve should the need arise. Also I would grateful if anyone could let me know if they have access to a more economical way of getting the event A4 colour maps copied than two local shops (Shop 1 ?22.80 at 60p each and Shop 2 ?32.68 at 86p each).

Open Team:
Leg 1 Graham Pearce, Leg 2 Lawrence Basham & Steve Turland, Leg 3 Eddie Winslow& Richard Joel, Leg 4 Dave Wilby.

Men's Vets:
Leg 1 Bob Hamilton, Leg 2 Bob Whitman & Morgan Williams, Leg 3 Ian Marshall & Richard Malir, Leg 4 Geoff Howard.

Theatre race, Sun 17 Sep
A super turnout of Harriers for this league counter (below). Jamie, Graham, and Geoff were all in the prizes!
Results and photos at theatrerace.upandrunning.co.uk

10K
1	35:23	Rickie Wilson  (Scarborough)
2	36:44	Jamie Hutchinson
3	37:07	Graham Pearce
17	39:49	Mark Iley
19	40:25	Geoffrey Howard 1st V60
32	42:22	Neil Chapman
37	42:58	Philip Judd
54	44:24	Peter Shields
56	44:39	Keith Wood
91	47:34	Simon Chapman
94	47:53	Jemma Basham
102	48:32	Diane Kitchen
116	49:31	Christopher Brown
127	50:24	Diane Haggar
135	51:15	Vincent Gibbons
145	52:30	Ian Hargreaves
168	53:47	Bernadette Gibbons
179	54:36	Antonio Cardinale
194	56:15	Charles Oxtoby
306	66:01	Amanda Parnaby
345 finished

In the 2.5km Fun Run, some of our juniors were well to the fore in the 133-strong field...

4   8.38 Sam Haggar
9   9.16 Bradley Chapman
20  9.54 Sam  Wood
58 12.21 Eileen Gibbons


This was a counter in the Ilkley Harriers Running League, and the competition is really hotting up! SuperVet Pete Shields leads the overall competition, with all 10 counting races in, but young Graham Pearce looks set to show that you can beat the handicapper, and Jamie and Mark are also a threat. Jamie leads the road category, but with Graham, Pete, and Mark Iley all in touch ...

Adobe PDF (Zoom in, using Adobe Reader!)
Embsay Fell Race (BOFRA Championship), Sun 17 Sep
From Iain Gibbons ...Fast horseshoe race, round the side of the cragg and back across the fields. Good turn out and good weather.

1.  (H Coates     20:35)
9.  Jason Hemsley 22:52
12. Iain Gibbons  23:05

Harewood House Cancer Research 10 KM, Sun 17 Sep
From Fiona Schneider This was a great 10 km with mixed terrain and enough up hill to keep most of us puffing . David Schneider( U18) led the pack of over 700 runners a large part of the way, but was beaten into 3rd place at the finish in a time of 41:04 min. I puffed up the steep hill of the last Km by the bird garden to finish in a well below PB of 59:06. There were lots of Ilkley folks there , but I am not sure how many harriers. This may have proved to be a good recruiting ground.
Three Shires, Sat 16 Sep
Read Bob's epic account

here. Results from the FRA site sent in by Bob and Steve T were ...

1     Nick Sharp (Ambleside)             2.03.00
11    Hector Haines                      2.17.01
22    Peter Haines (not quite attached!) 2.25.05
23    Jim Ryder                          2.25.05
32    Steve Turland                      2.28.32
43    Lawrence Basham                    2.32.22
48    Dave Wilby                         2.33.59
50    Bob Hamilton                       2.34.18
65    Kevin Gooch                        2.39.19
87    Eddie Winslow                      2.45.24
93    Alison Weston                      2.46.37 (4th lady)
95    Sarah Haines                       2.47.12 (5th lady)
148   Jo Foster                          3.00.20
188   Rachael Gooch                      3.15.05

249  finished

Alison, Sarah and Jo picked up the ladies team prize.
Burnsall Fell Race (BOFRA Championship), Sun 10 Sep
From Iain Gibbons ...Good weather, good field, good atmosphere and a good course (same as classic race but starts on a field at bottom of hill instead of road)

1  (Ian Holmes  14:14)
8  Iain Gibbons 16:18
24 Mike Baldwin 18:59
27 Norman Bush  19:29

Yorkshireman, Sun 10 Sep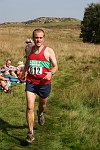 Vince Gibbons reports ... Whilst many runners turned out for the shorter course, only two intrepid Ilkley Harriers attempted the full 26.3 mile Yorkshireman Off Road Marathon on Sunday 10 September. Bernie Gibbons and Amanda Parnaby set out from the moors above Haworth and completed the tough South Pennine course up hill and down dale, taking in stretches of wild open moorland, endless bogs and open scree on a blisteringly hot day for early September. This year's rerouted course included a spectacular trail across the top of the Hewenden Viaduct.
Click on the image for Nick Richardson's photos.
From Bob Wightman ... On an increasingly hot day, several Harriers mad the trip to Penistone Hill for the Yorkshireman half and full off-road marathons. A huge field of nearly 450 runners took part in the two races, this causing a long queue at registration, so long in fact that the start was delayed by about 20 minutes to get everything sorted. In the half-marathon, Steve Turland was first Harrier home, Emma Barclay missed out on first lady by just 15 seconds. In general times were down on previous years (always a good excuse) due in the main to the heat. Though the final two finishers in the marathon would not have been complaining - apparently they were in training for the Marathon des Sables!!
Steve Turland advises ... Results from yesterday now up on ukresults.net: full, half.

In the half we had:
12  Steve Turland  1:37:41
27  Emma Barclay   1:43:11 (2nd lady) 
43  Sally Malir    1:49:43(3rd lady)
80  Jon Tindall    2:00:26
97  Bob Wightman   2:04:18
117 John Coates    2:10:12
261 ran

In the full :
70 Bernie Gibbons  5:16:03 (11th lady)
94 Amanda Parnaby  6:03:13 (17th lady)

The CakeBaron at K&C tells us that if you like this, you'll like the Bronte Way Trail/Fell Race on Sunday 8th October. There's still time to get your entries in and get a place on the bus! Info here.
Nottingham Marathon, Sun 10 Sep
Janet Grace reports ... A small band of merry Harriers took part in the Robin Hood marathon on Sunday 10th. The half marathon course "undulates" past Nottingham castle, through Woollaton Park and back through the university campus. Then the full marathon course splits off and heads out round the national water sports centre at Holme Pierrepoint. I was hoping to get under 3:30 this time ... and I started out well, but once the early morning mist lifted I knew I was in trouble. The second half of the marathon offered little shade from the blazing sun and in the end I was happy to finish in 3:36:10. Thanks to Andy Wolfenden and the Greenhead Track Gang for their support and encouragement over the last few months. I can assure Andy that I did push myself out of my comfort zone this time - in fact, I've got a note testifying to this from the St Johns Ambulance man who propped me up after I sprinted/staggered over the finish line!
I didn't see the other Harriers on the day, but scrutiny of the results shows that Nicholas Mellor finished the marathon in 4:19:09 and David Cockshott completed the half in 1:53:08. Well done to both!
Helvellyn Tri, Sun 10 Sep
From Heather Dawe ... Sunday was cracking (if a little hot) day for the Helvellyn triathlon. My second triathlon, second go at this race, I got second lady last year and, guess what, I was second lady yesterday.
The race starts with a mileish swim in Ullswater. I think I was a little faster than last year, around 29 minutes but still over 6 minutes behind the leading ladies, I was around 15th lady onto the bike. It was pretty claustrophobic in the water, lots of contact with other swimmers, I only got into my rhythm after 10 minutes or so. I felt alot better when I got on the bike. A 38 mile circuit around Hevellyn, up and over Matterdale End and The Struggle from Ambleside up Kirkstone Pass. The run was painful to say the least! It was hot and I'd worked hard on the bike. A climb up Helvellyn from Glenridding via Swiral Edge and then descending down Keppel Cove past the youth hostel. I was 5th lady heading up Helvellyn, 4th at the top and 2nd at the bottom. The winning lady was about a minute ahead of me. I finished in 4:20 or so, a few minutes down on last year when conditions were a bit better. I think to have a chance of winning this race I need to improve my swimming!
At least a couple of other Harriers also raced, I'm afraid I didn't get to see the results after but well done!
Totley Tormentor, Sun 10 Sep
From Eddie Winslow ... Having missed all the pre-entry deadlines, the Totley Tormentor proved a tough challenge for my first run in a month. 17 miles of very runnable terrain in the East of the Peak District with some sharp hills thrown in was completed in a fraction over 3 hours. The first 3 miles saw the residual of a cold shaken out of my system and the next 14 saw me suffering for being stupid enough to run before the cold had cleared.
In a race that is described as "orienteering style" it's surprising how many people clearly do not know what a map is for or how to use a compass. Several times I caught runners at a junction asking which way next who then shot off only for me to catch them at the next junction.
Lake District Mountain Trial, Sun 10 Sep
From Joyce Marshall ... Only a few Harriers were spotted at the Lake District Mountain Trial in Borrowdale on a brilliant weekend – clear blue skies and a light breeze on the tops. An excellent performance from Hector Haines who won the short course for the second year running, and Joyce Marshall was 10th on the women's course. Full results will appear on the website soon www.ldmta.org.uk
Kirkham 10k, Sun 10 Sep
Marc Teasey reports: Under cover of the morning mists a small raiding party of brave Harriers slipped across the border into Lancashire, with the aim of relieving the old enemy of some silverware at the Kirkham 10k, a fast road course with PB potential. Phil 'The Berserker' Chappell had prepared for the battle in traditional style with an all-night drinking session, while Jeff 'Twinkletoes' Paget had been carousing at a Ball until the early hours and wounded warrior Terry 'pain is just a state of mind' Lonergan was nursing his dislocated shoulder and dodgy hamstring. Alongside this fearsome bunch, Mark 'The fastest bank manager in the West' Iley, Sarah 'where's the toilet?' Jarvis, Pat 'Patienceofasainthowdoyouputupwithhim' Lonergan and yours truly were bound to cast fear into the hearts of the opposition and render unto them shock and awe. Keeping us all in order was Amanda Oddie, still frustrated at not being able to run due to injury but generous in her smiles and support, ably supported by Caitlin and Harrison (who were doing a very good job of ensuring Amanda keeps her fitness by making her run around after them as much as possible - good job, guys).
In the end it was a day of mixed fortunes. The sun beat down and the mists rolled away to reveal our red and green vests in all their glory - we huddled together at the start line, not quite so brave now we were in full view and knowing we had 10k of pain ahead of us. Four of us committed the cardinal sin of starting too fast (an elementary mistake that I seem to be simply incapable of learning from - maybe next time) but Sarah, Mark and Jeff recovered well to push on, with Jeff getting the long-awaited sub-40 (39'40") as he continues to return to the form of previous years. Mark seemed disappointed with his creditable 38'19" and reflected on the cost of going through the first mile in 5'40"! Star of the show was Sarah, who cruised through to win the Ladies title by a margin of over a minute in 38'42", a PB by nearly 40 seconds, and her 6th consecutive race win! Phil left his mark in quite a different way and contributed to the Lancashire landscape at the 2 mile mark with the regurgitation of a lovely bottle (or two) of last night's Cabernet (Terry was heard to say the words "Phil" and "lush" in the same sentence but it wasn't entirely clear whether he was commenting on Phil's drinking habits or his legs…), rolling in to the finish in 46'11" but having managed to shift his hangover (I can think of less painful ways). I suffered after blasting the first mile in 5'45" and ground to a rapid halt in the heat shortly afterwards, eventually struggling round in 40'28", a very disappointing time given recent training efforts. Terry was running 'unofficially' and ran round the course without a number as a training run (for those of you who aren't aware, Terry is aiming to achieve 100 consecutive sub-40 10k races and is currently on 97, so he wasn't about to jeopardise what will be an incredible achievement by formally entering this race when he is a long way off full fitness), but still managed 41'30", a fantastic time given his current injury problems and lack of recent training. Pat is also returning from injury and was delighted to get round her first race for ages without any niggles, crossing the line in a hugely encouraging 54 mins.
Formal race results shortly available from North Fylde AC website (www.northfyldeac.co.uk).
Burnsall fell race, Sun 10 Sep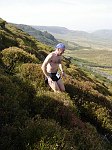 No reports yet, but click on the image for the Woodheads' photos of the Burnsall fell race.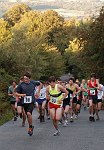 Ilkley Incline, Wed 6 Sep
A great race organised by Geoff Howard and his many helpers. A record field of 61 runners (up 50% on the previous record, 40 runners in 2005) enjoyed the challenge; the rainy conditions earlier were blown away to give sunny skies and a lovely sunset for the al-fresco prizegiving with some bumper-sized marrows for the lucky winners, along with prizes generously donated by the sponsors.

Paul's photos

Brian's photos
Join the Group
The new Ilkley Harriers email group, descibed in the August newsletter, is set up. Latest (12 Sep) is that there are 80 members. Email invitations to join went out 5 Sep to 200 or so people. (Once you click the link in the invitation email and you are told you are in the group you don't need to do anything else - just wait until the first email is sent by someone in the group to the group, and you'll get a copy.) There are many outstanding "invitations" sent out - all people who gave their email addresses to the club. Some will be in the category "read email once in a blue moon". Some just won't want to join the group. Others may prefer an alternative email to be used - let Paul know. Some may be confused - read more about the idea of the group here.
Muker Show Fell Races, Swaledale, Wed 6 Sep
From Iain Gibbons ...The short horseshoe course was diverted this year over a bridge instead of going through the river, which had the effect of stringing out the field almost immediately. Good venue with plenty support.

1.  Alastair Dunn
2.  Ted Mason
3.  Alan Life
13. Iain Gibbons
19. Norman Bush 

Dentdale fell race, Sun 3 Sep
From Pete Sibley Dentdale Fell Race AS (2.9m/1385') - "from who?" you may well ask. Well, having just about recovered from the sleep deprivation of starting family at the back end of last year I managed to break my ankle in a particularly complicated way in January so I haven't shown my face at an event or Tuesday night for well over a year now. However things are on the mend and over the Bank Holiday weekend I managed to hobble around the Dentdale fell race - a 2.9 mile out and back thrash up Aye Gill Pike. This race was last run about 20 years ago and has been resurrected as part of the Dent Show weekend. It only made the race calendar quite late on so it was a small, select band of mostly local runners plus me that set out from the sports ground. After a couple of hundred yards along the road and up through a farm the route goes straight up to the skyline in a calf punishing 1300' climb. Quote Dale Foster (Otley AC), "just for once I'd like to go up a hill and not be in a world of pain!" Too many contour lines in too short a distance for my tastes and by the time I'd finished grinding my way up a spritely looking John Heneghan was flying back down having already established an unassailable lead over the pack. And not to much further behind Dave Spedding putting in a fine performance to take first V60. A short run along the top led to the trig point then it was back down the same way in a barely controlled tumble back through the bracken, heather and rocks. A good crowd cheered in the runners and I had my first "Daddy" cheer home which was lovely plus I even managed to avoid coming last in my category....just.
The whole event was very well organised and competition almost as fierce as the victoria sponge and quiche baking contest. Plans are in place to run the event next year and include a Junior race too. Results - 1st John Heneghan (P&B?)28:37, 30th Pete Sibley 44:16 (35 ran) The ankle didn't grumble too much but I was depressed with just how much fitness I've lost so it's back to a winter pounding the pavements of Ilkley for me. (Proper running as Andy would say) See you soon.
Bradley fell race, Sun 3 Sep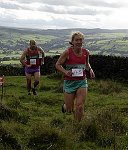 From Vince Gibbons ... Good turn out of Harriers. Graham Pearce 1st Harrier home, 3rd overall, Jamie Hutchinson 5th, Emma Barclay 1st Lady, Alison Weston 2nd Lady. Catherine Gibbons 1st in Under 17 race. Nea Weston 2nd in Girls' Under 9 raceGood runs from Bob Hamilton, Pete Shields, Geoff Howard, Ian Marshall, Ian Hargreaves, Bob Wightman, Bernie Gibbons, Di Haggar. Sam Haggar had a good race in the Under 14 category.
Results from ukresults.net:

1  25:25 Harry Coates, Skipton
3  26:26 Graham Pearce
5  26:55 Jamie Hutchinson
9  29:08 Bob Hamilton 1st V50
16 30:21 Emma Barclay 1st lady
19 30:49 Geoff Howard 1st V60
22 31:25 Ian Marshall
23 32:33 Bob Wightman
24 32:42 Alison Weston 2nd lady
27 33:59 Pete Shields
34 36:17 Di Haggar
40 40.24 Ian Hargreaves
42 40:32 Bernie Gibbons
U17
5  30:35 Catherine Gibbons 1st girl
U12
5  08:32 Sam Haggar
U9
8  06:04 Nea Weston 2nd girl

This was a counter in the Harriers Running League - looks like Bob Hamilton is our new fell champion, read the thrilling account here.

Tim Done's photos

Dave & Eileen Woodhead's photos
Lads Leap, Sat 2 Sep
From Morgan Williams ... reporting on Lad's Leap Fell Race and English Junior Championship Races
Junior Championship
The weather forecast was awful and as we arrived at Crowden it was chucking it down and the wind was rising menacingly. However, it takes more than a poor weather forecast to deter the Junior Harriers who have committed themselves to running in the English Junior Championships 2006 and the youngsters impressed once more with their dedication to the task in hand with fine performances in the last race of the Championship Series. The early (younger) racers got the worst of the weather as the rain poured down resulting in a seriously greasy descent which they all handled with care and some skill. The later (older) runners were spared the worst of the rain but, climbing higher on the fell, felt more of the force of the rising wind.
Results were as follows:

U10 Girls Georgie Williams   4th  7.20
U12 Girls Ellie Taylor       4th 15.52
U12 Boys  Josh Crane         7th 14.20
U14 Girls Fiona Jordan       4th 22.34
U14 Girls Emily Kerr         7th 24.43
U14 Boys  Michael Hinchliffe 6th 19.26
U16 Girls Jenny Dybeck       8th 27.56

The U10s have raced at each Championship venue but without a formal Championship; Georgie Williams and Jack Cummings have each raced 4 out of the 6 rounds, gaining experience for future campaigns.
The final standings via the FRA website for the Junior Harriers in the English Fell Championship categories are:

U12 Girls  Ellie Taylor        5th
U12 Boys   Josh Crane          8th
U14 Girls  Fiona Jordan        5th
U14 Girls  Emily Kerr          8th
U14 Boys   Michael Hinchcliffe 6th
U16 Girls  Jenny Dybeck        6th

For some of these Juniors, this has been the first full season of Championship racing and the newcomers have done the Club proud. For others it has been a season of further progress and we can look forward to the FRA Junior Relays with some anticipation. Well done to the Juniors who completed a full Championship series and also to those who have done any of the Championship races. The standard of these races is very high. Thanks also to all the parents who have fetched, carried and supported through the year. Roll on the relays in Sedbergh.
Lad's Leap Fell Race (A/S 5.9 m 1700')
In 2003 Lad's Leap was an English Championship counter run on a perfect, sunny spring day. I clocked 69.23 and Alison Eagle 65.57. The race has been shortened by a few hundred yards since then (without 300 runners to cope with) to give a more direct run out and finish up onto and back from Lad's Leap. On a filthy day for fell running and with it having seemingly rained for the last fortnight, neither of us had great expectations. Sorting out 2 Junior Harriers for their own Championship races, both before and after, gave me a serious case of Derbyshire white fingers before the start but at least the rain had stopped though it was very windy even at valley level. The initial climb leads to a flatter section towards Lad's Leap itself which was wide, foaming and brown. While Alison dithered at the "water jump" I hurled myself over and into a true maelstrom. The next section over to Milestone Rocks is mostly flat and stony but a vicious wind was blowing, making forward progress rather tricky. The only good news was that the wind was blowing us away from the steep drops over the escarpement rather than towards them. The route then drops down to Tintwhistle Quarry and then loops back over Tintwhistle Knarr before rejoining the outward route back over Milestone Rocks and Lad's Leap. After the Quarry, a fence is followed for 10 minutes or so and in the continuing blustery wind the the 2 top strands of barbed wire became an ever present hazard. There was plenty of water and bog on the course and I particularly enjoyed the deep, hidden hole in a large puddle which pitched me full length into peaty cold water. If anything the blasting over the Milestone Rocks section was even worse on the way back; my torso was broadly under control but my legs were being blown all over the place. It was a relief to hurdle Lad's Leap and start the descent back to Crowden. Alison suffered rather more than me in the monstrous wind (the lower centre of gravity couldn't make up for a basic lack of bulk - I've suggested she drink more Guinness) but came in a valiant but battered second lady and first LV40 in 54th place overall clocking 59.34, a substantial improvement on 2003's time. I managed 48th place in 58.46, a PB by more than 10 minutes and my eighth race PB of the year. Lloyd Taggart of Dark Peak won the men's race in just over 42 minutes failing, but not by much, to break his won record. Incredible in the conditions! The ladies race was won by Lynn Clough of Wigan Phoenix who was a couple of places in front of me. If this is the back end of summer, I can't wait for autumn and winter!
Grizedale Horseshoe, Sat 2 Sep
From Steve Turland ... 10m 5,000ft. There are few races in the calendar that average 500ft ascent/descent per mile, so after a few weeks off, I decided to ease my way back with this undulating(?) race, taking in the summits of Helvellyn and St Sunday Crag before a soul destroying final climb back over the ridge to Glenridding. Weather was bad with horizontal rain and wind gusts on the summits which stopped you dead in your tracks. Managed to get round the course in 37th place in 2hr 19, which was 15 mins improvement on last year's time. Walking downstairs very difficult this morning! Didn't see any other Harriers - but easily missed under all the waterproofs.
Heather Dawe adds ... Nice conditions for a fell race!!! A brisk wind on top of Helvellyn and St. Sunday Crag, almost got blown over on Swirral Edge. The first time I'd done this race, it's a cracker and would have been even better in slightly less blustery conditions. I took a few dodgy lines, notably coming off St. Sunday Crag; people were heading off in all directions! I finished in 2:35ish, 3rd lady. The race was won by Jane Ready (nee Leather) (ex Ilkley Harrier) who had quite a tussle with second placed Hazel Jones.
ROM August 2006
The Ilkley Harriers Runner of the Month for August is Bob Hamilton, for recent results - more.
Bank Holiday racing
From Geoff Howard ... Following a long held instinct that fell races take you to nice places I decided over the Bank Holiday to have a go at two I had never done before and was not disappointed. The 5 mile AS at Pendleton (near Clitheroe) was a classic very runnable low key village event (arrive, park, enter and ablutions accomplished within 10 minutes) in great surroundings and good conditions with a baking stall to match. Andy Peace was 1st in 33m 15s and looked as if he had been back to Bingley to shower and change when I came in 40th (43m 30s). 108 finished. The next day was a classic in the accepted sense - the Grasmere Guides Race - a somewhat shorter and more brutal 1 mile AS. A great relief to finish with all limbs still present and pointing at their usual angles. A superbly atmospheric and enjoyable occasion despite the heavy showers. Helen Ilsley 19th 18:35 was well ahead of me 66th 21:49 and neither of us treatened to remove the £500 from Pete Bland's pocket for breaking the 1979 record of 12m 21s. About 85 ran.
Lawrence Basham was at Halton Gill Sports - Sunday's BOFRA race, small affair with a huge cake stall! Dave Wilby 5th, Iain Gibbons 7th, I hobbled in 9th and Norman Bush was spotted going topless in about 15th. Won by Mark Horrocks.
Jason Hemsley reports on the 'BOFRA Bonanza weekend' ... This bank holiday, there was an abundance of races to be had, including Malham Show on Saturday, Hebden Sports on Monday, and Kilnsey Show, on Tuesday. I managed to do all 3, and several other Harriers did a couple.
Myself, Dave Wilby, and Norman Bush, ran at Malham, in the showers, over a nice short fast course, Dave having competed in the MTB Trailquest just before. Results are difficult to obtain, but may be on the UKResults website.
Hebden Sports on the Monday, is a cracking 10 minute race, up to the crag, next to Jean Luc Piccard's house, and back, won by Holmsey, think I was 12th. No other Harriers spotted.
The Tuesday after Bank Holiday Monday is traditionally Kilnsey Show, with Crag Races for Juniors and Seniors, starting and finishing in the showfield, in front of a huge crowd. The race is short, but hard, with a vertical 'chimney' descent through greasy limestone rocks, where the only support is a rusty wire fence. Rob Hope won again for the 4th time, in about 8 mins. I just managed to outsprint Kirstin Bailey, who beat the Ladies record. Helen Sedgewick was 3rd lady, and Norman Bush ran again.
Jamie Hutchinson reports on Monday's Armthorpe 10k I ran in 36.36 coming 28th out of 369. The winner was David Proctor from Rochdale in 32.32. Ran this hoping for a pb, but sadly disappointed, a good flat course, but a bit exposed in parts on what was a windy day! Bonus was I was the first harrier home - but only one ran!
From Alison Bennett ... I took part in the Cockerham Triathlon on Monday - Emphasis on "part". My Auntie's neighbour did the swim, my brother-in-law did the cycle and I did the run!
It was good fun though. I've never been to a triathlon before and enjoyed the atmosphere. Our swimmer used to do these events but this was the first one he'd done for 10 years. My brother-in-law enjoys cycling but has never raced before; and I felt quite nervous setting off with a large contingent of family spectators.
We finished 6th team in 1:11:41 Swim 9:22 (47th), Bike 39:14 (34th), Run 23:05 (19th)
For anyone interested, there is entry on the day
Swim 350m - zig-zagging across a Quarry - It was a pretty cool 17.5 degrees, choppy with a strong wind blowing off the Irish Sea!
Cycle 15k - along lanes, tracks and across a field
Run 5k - across fields, salt marsh & creeks, with a final road section finishing in Cockerham Village (South of Lancaster)
We are planning next year now!
Vince Gibbons reports on the Spofforth Trail Race ... Some (approximate) times: Geoff Paget 40min.00sec; Dianne Haggar 47.00; Vince Gibbons 51.30; Bernie Gibbons 53.45; Anne Stead, Antonio Cardinale, Amanda Parnaby (and possibly others) ran too.
Yorkshire Vets Grand Prix, Starbeck, Thu 24 Aug
From Morgan Williams ... The latest instalment of the Yorkshire Vets series was described as a trial race, and was loosely based on the Harrogate Road League course from the same venue, reduced in distance to ensure we all finished in daylight. I'm not sure that a disused railway, dead straight and dead flat qualifies as trail, but never mind. There were 2 loops into the "country" (fields) just before we turned for home and about two thirds of the way back so perhaps that was the trail element!
After an hour's training run the previous evening it seemed unlikely I would be able to live with Alison on the flat and so it proved with her tracking the first 3 ladies right from the start, using her strength to pull into a fine second place behind a L35 Knavesmire Harrier with good road form. Good training though.
Another 39 points for Alison in the Vets series and she is well placed to finish the job at the final race in Halifax in November.
The race was advertised at 5 miles (Ho, ho) so I was quite happy with a time of just over 33 minutes (!) in a field of about 125
Results were:

Ladies

Alison Eagle   2nd lady (and 1st LV40)  31.46
Di Haggar      7th lady                 34.47
Amanda Parnaby 33rd lady                48.40


Morgan Williams 47th  33.02

From Pete Shields ... Another event in the vets calendar you might want to try is the Yorkshire Vets track and field champs on 24th September at the Cleckheaton track start 12.00hrs. The event has all the usual track and field events shot, discus etc, 100, 200, 400 up to 5000 plus the steeple chase. If you have ever competed on the track it is well worth the experience plus the opportunity to go for a medal, theres plenty of you out there that could do it! Age range is from 35 then 5 year categories for both male and female. Contact me if you fancy dipping your toe in or going for gold. First opportunity to say well done to our teams in the vets relays, as a club we are certainly being both feared and talked about in higher circles.
Yorkshire Vets Athletic Association
Bunny Run, Tue 22 Aug
From Bob Hamilton ... I can report that the leading Ilkley runners were all suitably impressed with Dave and Eileen Woodhead's new Bunny Run course. It may feel slightly different on a chilly April day in fading light, but on a warm August evening it made for a wonderfully friendly, positively festive occasion. The views are certainly better, and the running more pleasant too: good tracks with lots of grass, and no vertical mud slide (so the roadies now have no excuses!).
There were lots of very fast youngsters around and I made the bad mistake of thinking that I should be able to keep up with the best under 14s, but I have now to finally concede that those days have passed! My fast start at least threw down the gauntlet to Mark, John and Helen, and they chased me around the two and a half mile course at very close quarters. Mark ran a well-judged race, overtaking with a quarter of a mile to go and pulling well away. John and Helen were closing on me fast but the finish line came just a little too quickly for them. If it was the 3 miles as billed they would have pipped me for sure.
The Ilkley junior girls ran well and I think enabled Ilkley to scoop the ladies prize. With Helen, Alison, Mark, John and myself all winning individual prizes, we returned home heavily laden with chocolate in typical bunny run fashion. It would be good to see a real mob turnout for these great races come next April. I'm already plotting my revenge on Mark!
1.Mark Buckingham 12.50; 24. Mark Iley 16.03 (2nd V40); 25. Bob Hamilton 16.16 (2nd V50); 30. John Atkinson 16.25 (3rd V40); 31. Helen Ilsley (nee Sedgwick) 16.30 (3rd Lady); 41. Alison Eagle 17.31 (1st LV40); 47. Bob Wightman 17.54; 98. Fiona Jordan 19.58; 104. Emily Kerr 20.47; 111. Fred Atkinson 21.07; 130. Roam Hamilton 24.15
Some great photos on David Brett's site.
Transwales, Sun 20 Aug
From Heather Dawe ... Just got back from another fine event - the TransWales mountain bke race. It was a seven day stage race starting from Builth Wells, heading up north into Snowdonia and back down to finish at Buith. It was a great event, we rode some of the best mountain bike trails Wales has to offer. The race format was long day rides (averaging about 70km and 2000m ascent) which were either preceded or followed by shorter (but sharper) race stages. The longer stages were untimed (you cannot race on bridleways in England and Wales) which enabled us to really enjoy the awesome riding. The race stages were fantastic - one was a night time trail at Coed y Brenin, home to some of the best built trails for mountain biking in the UK. We raced in teams of two, I competed wih Kim Hurst. Kim recently got third in the british XC mtb champs so she's fast, I was worried she may be a little too fast for me! Fortunately we were very similar paced throughout the week and won the ladies category.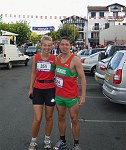 La montee de l'Aubisque, Sun 20 Aug
From Lawrence Basham ... 18.7km approx 4000' ascent (all uphill!!)
Starting at Laruns in the Pyrenees this race grinds its way up nearly 12 miles of road on part of the course of Le Tour ending at the spectacular col de l'Aubisque with its fantastic mountain top views.
Some initial difficulties were had when no sign of Jemma's entry could be found at pre race registration on Saturday, testing my French to its limit we discovered that I had actually entered her 'par l'internet' in the disabled race!! This was sorted out to the great hilarity of the extremely friendly race organisers and we looked forward to the race the following day.
It turns out this was quite a big event with more than 750 entrants, well organised with loads of food and drink stations plus a big screen relay of the race back at the start for those who weren't running.
Running 12 miles continuously uphill is a quite a challenge and we were pleased with our finishing positions of me 70th 1hr38.04 and Jemma 431st 2hr10 mins. Ferried back down the mountain side in a convoy of coaches I reflected on two excellent races in France that can now come highly reccomended.
Later on on Sunday we found a smaller traditional village mountain race, we stayed to watch about 50 villagers set off (at least 35 of them wearing footie boots!!) and half an hour later sure enough the winner ran down the main street with his football boots on?! Surely opportunities out here for Innov8 or Walsh?
Matterhornlauf, Sun 20 Aug
From Emma Payne ... Emma Barclay and myself completed our Europen trip by completing the Matterhorn race from Zermatt today. A slightly shorter race this year due to avalanche, 12.35k with 1000m of climb starting at 1500m. Emma B competed in the main race to finish 8th in around 1hr 18mins. I competed in the Volkslaufer (popular race) for less competitive runners to finish in a pleasing (for me after altitude training for 2 weeks) 2hrs 21mins 43secs. The weather was bad - cold and lots of rain higher up the course. For clarification the tourist or popular races set off before the main race to allow less competative runners to compete against runners of a similar ability. They are not strictly for walkers as walking and nordic walking events set off before these races. They are a great introduction to European running for those less confident in their ability..................................
Official results at www.matterhornlauf.ch
Gargrave Show Fell Race, Sun 20 Aug
From Iain Gibbons ... (BOFRA Championship) More of a Fell Cross Country, with a long stretch over a muddy field followed by a steady climb up narrow paths through a plantation, a short stretch on the moors to a cairn and back again. Some fast boys were present in a well fielded race. Henry Coates came 1st with the BOFRA champion Alastair Dunn being pushed into 5th place, I came a disappointing 13th, Helen Sedgwick a well deserved 17th (First Lady) and Norman Bush in 24th claiming a 1st vet prize, I think.
Burnsall, Sat 19 Aug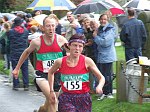 From Bob Hamilton ... A great turnout of Harriers for the Burnsall Feast Sports, with no less than five exotic prizes being picked up for Ilkley: you can now see Sarah if you wish to measure your percentage body fat, Mark Iley if you need any holes drilling, Alison for any major pruning, and yours truly for training tips for the over 40s (I won a vets coaching book by Bruce Tulloh). Despite the damp conditions the races were as well supported as ever. The fell race has always been one of my highlights of the year and the atmosphere at the finish was again terrific. I think all the newcomers thoroughly enjoyed the spectacle and will be back again next year.
Burnsall 10 Mile Road Race 1. Ian Fisher 52.08; 9. Jamie Hutchinson 59.28; 20. Mark Iley 63.44 (2nd V40); 23. John Atkinson 64.53; 24. Sarah Jarvis 65.03 (1st Lady); 32. David Brown 67.06; 34. Marc Teasey 67.20; 36. Brian Melia 67.50; 47. Ewan Welsh 72.24; 59. John Coates 66.35. Ilkley were 4th team. No prizes for guessing who were first!
Burnsall Classic Fell Race 1. Ian Holmes 13.39; 13. Jason Hemsley 17.21; 20. Bob Hamilton 18.19 (2nd V50); 41. Alison Eagle 19.54 (2nd Lady, 1st LV40); 42. Morgan Williams 19.55 (although he'll be claiming 19.54.1)

Terry Lonergan's photos

Dave Woodhead's photos
Morgan adds ... "My last race was the purgatorial Settle Hills, nearly 2 months ago, when the heat gave me blisters on my blisters and resulted in me having to shuffle downhill in the last couple of miles so intense was the pain in my feet. So, after no running for a few weeks to try and sort out the feet, a process furthered by 2 weeks in the Alps in mostly fine weather with the feet getting plenty of fresh air, Burnsall was my return to the hurly-burly of racing.
It rained most of Saturday but that seemed to put no-one off and Burnsall was its usual hive of activity. Sadly, we arrived after the end of the road race and missed the various Harriers performances, including Sarah's fine victory.
I last did Burnsall in 2003 and clocked 20.33 so in the wet weather and, with a "summer break" behind me, had no particular expectation of a better time.
As warned by Dave Hodgson (performing his annual role as commentator with roving mic) the heather seemed even thicker than usual this year and passing on the run along the top to the flag was difficult.
Bob had vanished into the distance as usual, and Alison had sneaked a couple of yards on me during the climb. The first and steepest part of the descent was practically impossible. The heather had grown right across what little path there is, obscuring the regular vertical drops, slippery boulders and smaller ankle-wrecking stones that are such a hallmark of this part of the descent. Overtaking (yes, we both did some) involved an act of faith of leaping off the "path" and praying not to break an ankle.
I used to be able to run downhill faster than Alison but a combination of me losing what little edge I had and me teaching her a few tricks meant that I couldn't narrow the gap; if anything she pulled out a few more yards going down the intake fields (Woodhead's pictures confirm so) meaning that I was a good 10 yards down as we hit the run in on the road. Having some gas left in the tank, I piled on the speed on the road and there was a vest's width in it by the line (ladies first of course). Nasty grimace from Alison at the finish though! Nicely half a minute faster than in 2003 so all is not lost.
After 4 verses of hymn and a prayer or 2 from the vicar, it was on to the prize-giving which Bob has given the flavour of. Ian Fisher's vacuum cleaner suggests the committee have been spying on his domestic arrangements. Ian Holmes won another telly which will no doubt find its way back to Argos. Poor old Lisa Lacon could only be photographed with her trophy; the committee keep "losing" it so it has to stay in the Red Lion from now on!
And the highlight of the day; equally Bob's after the race Wilson of the Wizard shorts and his quite magnificent double handed, falling backwards catch from Josh Crane's throw in the second heat of the egg throwing competition that nearly pitched him into the beck. Shame Josh got egged on the next throw from Bob; they were looking like winners.
And the feet are blister free at last"
ROM July 2006
The Ilkley Harriers Runner of the Month for July is Pete Shields, for race results and coaching - more.
Ace Races, 12-13 Aug
From Eddie Winslow Last weekend I was out trashing myself in Hafren Forest in mid Wales at another of the Ace Races. 7 hours running, 2 of paddling and 5.5 of mountain biking combined with a bit of unplanned gravel surfing when I parted company from the bike at speed was rewarded with victory and the need for a few days recovery. Hopefully I'll be back at the club next week when everything's back in functioning order.
La Course de la Rhune, Sun 13 August
From Lawrence Basham ... 13km with 3000' of ascent
Starting from the small town of Ascain, this race climbed 'La Rhune' via a very rocky trail and then straight up the mountain side, on reaching the summit (would have been easier to take the Snowdonesque train!) we about turned and went straight back down again. This must be as close as it comes to a British Fell race over here in the Pyrenees. Making good use of the grip offered by Walshes I made places over the locals on the descent (most of whom were wearing racing flats with no grip at all!) Jemma had a sprint finish with a group of Frenchmen much to the delight of very large crowds at the finish.
A great race not unlike the Snowdon equivalent with support from the Basques, whose national colours are Harriers style Red and Green, all the way up and down the 8 mile course.
Race won in 1hr07, Lawrence Basham 28th place 1hr19, Jemma Basham 331st 1hr49. Over 400 entrants.
Sierre-Zinal, Sun 13 Aug
From Bob Hamilton ... Several groups of Harriers, along with family and friends, all converged upon the little Swiss resort of Zinal last weekend for the Sierre-Zinal mountain race. I first heard about this race some 25 odd years ago on a mountaineering trip to the Alps. I was about to climb the Obergabelhorn and I saw this poster advertising the course of the five 4000m peaks. In my naivety I thought the race actually went over those mountains, and having just got into ultra-distance running there was an immediate fascination, but my eyes were pretty soon opened to the absurdity of such a possibility. A few years later I started hearing about the race from other runners and discovered that it still deserved much respect, despite not taking you to quite the dizzy heights that I first suspected. I've very much wanted to do it ever since, but other events (like Borrowdale) and other commitments kept intervening. It was only after hearing of Emma and Sally's exploits last year that I resolved to get my act together and run it while I still might be able to register a half decent time!
The race has a long tradition and is one of the classics of world mountain running, this year being the 33rd edition. The event starts in the Rhone valley at Sierre at an altitude of 500m and climbs steeply for 10km before easing out and offering opportunities for good running along great trails to a high point of 2425m before finally dropping down to the Zinal at 33km and 1680m. From all the tales I'd heard over the years, my vision was of crystalline blue skies and magical views of the five great peaks that ring the head of the valley, but the reality was a start under grey clouds and in drizzle, with the clag down to just a few hundred feet above the valley floor. A typical fell race really!
Despite not having any kind of view all the way around, I still thoroughly enjoyed the course. The choice to run in my tatty but trusted Walshes proved to be a good one, with lots of greasy rock and trail to make it feel like a race back home. We all started near the back of the field, mainly because it was impossible to fight one's way to the front, but that too worked out well, for me at least, because it prevented too impetuous a start. I was overtaking people for the entire race and was never really held up. I managed to keep the pace going, and only suffered in the last 3km of descent when the legs started to cramp. For having no real expectations, it was a great feeling to have run such a good race on so little specific training. It certainly shows the value of biking when it comes to events involving climbing and stamina.
Mike, having been laid off from running with a knee injury for a while (only a single solitary run in the previous month!), also had a good race, which again probably owes quite a bit to training on the bike. He also got probably the biggest cheer on the line other than that for the local winner, all down to a dramatic wipe-out on a steep stony track less than a kilometre from the finish, which meant that he crossed the line streaming blood from just about every part of his body. He cleaned up pretty well, but did require stitches in his knee. I counted four, but by the end of the night, it was apparently at least ten!
Emma and Sally were a bit slower than last year, and Alison was a little down on the time she'd hoped for, but this was down to the very cold and damp conditions. Indeed, the most extraordinary feature of the race was the highly localised storms that hit the highest point of the course. It seems that the fairer sex were not treated very fairly by the weather. Although only separated by a few minutes running time, all the lads were lucky enough to feel just a few light snow flurries, while the girls were met full on with the most atrocious blizzard conditions. What rotten luck! Swapping notes afterwards, it was hard to believe that we ran the same race.
For the record, Emma Payne and Steve Barclay took part in the Tourist 'race' which started four hours before the rest of us at 5am. From all accounts this was just as competitive as the main event. Steve took about five and a half hours, Emma around seven. We're working on them to run the race proper next year. At least Emma would then be spared the indignity of being overtaken by a flying Andy Robertshaw just yards from the finish.
The consensus seems to be that we're all coming back next year to hopefully see the views we missed this time around and finish in a quicker time (now we know what it's all about), but, most of all, to enjoy another great long weekend away in fantastic company. Expect to have your arms twisted to come join the party in 2007!
Ilkley results were:

94  Jason Hemsley      3.35.49            (63/305)

110 Bob Hamilton       3.38.42            (8/104)

127 Emma Barclay       3.43.34            (8/48)

275 Sally Malir        4.09.00            (9/44)

283 Mike Baldwin       4.10.38            (81/212)

395 Alison Weston      4.29.02            (21/44)

408 Ewan Welsh         4.30.31            (204/305)

672 Ed Battyye         5.45.18             (286/305)

713 finishers

Jason adds ... The now annual contingent of Harriers and many other Brits travelled to the Swiss Alps to compete in the 33rd 'course des cinq 4000's' on Sunday. The course climbs from Sierre at 585m, to a high of 2425m, finishing in Zinal, at 1680m, a distance of 31km.
Conditions this year were very cold and wet, with snow falling high up, but still, most 'jonny foreigners' didn't carry any kit, it not being a race requirement, oddly! Times were down, due to the bad weather, but the winner, Tarcus Ancay, a local from nearby Ayer, still managed 2hrs 36, and received a rousing reception on the podium. 5 time winner, Mexican Ricardo Meija, suffered in the cold, to finish 2nd, but was still obliging with photos in the pub later!
For the 'Brits Abroad', Andy Robertshaw (Otley), had an amazing debut run, finishing 15th, in just under 3 hours, and Ilkley's Emma Barclay ran an excellant race, 11th lady, in 3-43, both making an appearance on the podium. Other Harriers provisional times are; Jason Hemsley 85th in 3-35 Bob Hamilton 100th in 3-38 Sally Malir 29th lady in 4-09 Mike Baldwin 254th in 4-10 (suffered bad fall 600m from end!) Alison weston 51st lady in 4-29 Ewan Welsh 357th in 4-30 Ted Battye ? 5hrs ? Emma Payne and Steve Barclay completed the 'Tourist' race for walkers, over the same course, starting in the dark at 5am...fools! A great weekend was had by all again, and I expect more Harriers will be inspired to run next year.
Bingley Show race, Sun 13 Aug
Graham Stead was 30th in 20:24; Sue Booth 57th in 23:27, and Ann Stead 70th in 26:01
Arncliffe Gala fell race, Sat 12 August
Norman Bush was 13th in 13:58; and in the junior races we had 3rd U14 and first girl Fiona Jordan 11:19; and 6th U12 and first girl Ellie Taylor in 8:41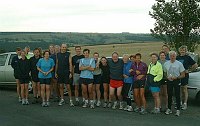 Dob Park Away Run, Tue 8 August
Steve Fletcher reports ... Once again another fine run organised by Richard, who himself ventured out for part of the route & of course was still a way in front of us slower runners. A fairly flat route with the exception of the last mile where grappling hooks were required!! & the only obstacle was a herd of cows & one bull which was a joy to run with.
Borrowdale fell race, Sat 6 August
From Bob Wightman ... A small group of Harriers made the trip over for this classic Lakeland toughie. Warm humid conditions with low clag prevailed leading to 68 retirements/timeouts out of a field of 390. The low cloud meant that many did not know where they were going with one leading Borrowdale runner dropping out of the clag to find himself (and a group of followers - "he knows where he's going!") on Base Brown!
The humid conditions meant times were generally down, 20 mins was commonly bandied about, and the winning time of 3hrs 2mins by Simon Booth in his 9th straight win was one of the slowest ever. I blame my desultory time on the weather, being overweight and not having done any long runs as preparation! Must do better!
For the record -

45 	Dave Wilby     3h51:38 
128	Heather Dawe   4h23:43 (9th lady)
213	Ken Jaquiery   5h00:40 
255	Bob Wightman   5h5:17:02

W/E 6-7 Aug
Bob Hamilton reports ... With Sierre-Zinal looming in a week, and Round Hill proving that mixing cycling and running training is a difficult balance to get right, I was posed with the dilemma of either trying to catch up on my fell fitness over the weekend, or take part in the Pendle Pedal on Sunday, a 100 mile cyclosportive event starting from Colne. The lure of the buzz I get from these long cycles proved too great, and I enjoyed a fantastic ride around the Pendle and Bowland Fells, on a route which, with 10,000 feet of climb, was every bit as tough and spectacular in scenery as the Etape du Dales. Again, I can't recommend these events highly enough in terms of organisation and atmosphere. I was pleased to finish well up the field in a shade under 6.30, with still enough energy left to cycle back home!
Debbie Rosen adds ... This was my first cyclosportive - and even with a shiny new road bike the thought of 100 miles was pretty daunting. But the views, climbs and descents were fantastic, even with having to pedal up the Nick O' Pendle after 90 miles in the saddle! Didn't quite manage Bob's impressive time - we were 10 hours but that did include several emergency cake stops and a pub. Next year the Etape!
London Triathlon, Fri 5 Aug
From Nigel Tapper ... What a fantastically well organised weekend, culminating in the elite international London Tri. A total of over 8000 competitors involved in an array of events from short course individual super sprints to the Olympic distance team events. ExCel Exhibition center in the heart of London docklands was the venue and what a fantastic place it was, for, what must have been a logistical nightmare. The open water swims take place in Victoria Dock adjacent, with the transitions inside ExCel and cycles and runs on the paths and roads surrounding the dock. The event was well supported along the full route with much support from our families and spectators alike. We were lucky enough to be staying on The Sunborn Yacht Hotel moored in the dock right next to ExCel. It couldn't have been easier - 4* luxury a stones throw from the transition halls and fantastic view of the swim zones!. Members of our group took part in the individual sprint on Saturday and the Olympic distance team event with me running the glory leg (a very hot 4 lap 10.3K course looping back into the transition area and the milling throng). I have to say I don't think I've ever been so nervous about a run - it makes a difference when you are aware how hard your team has worked before your leg, the scope for errors in transition (messing about with champion chips & race numbers etc) and when you are returning from a calf injury! Anyway all went pretty well in the end and despite a poor cycle-to-run transition (we lost about 45 secs cos we couldn't find each other in the throng) our team finished a creditable 53rd overall (1500m swim Jill Tate 25:50, 41.5Km cycle Andy Webb 1:13:19 and 10.3K me 44:31, 02:29:04 overall). A big well done to Charles Oxtoby and John Tate in the sprint event coming home 110th and 99th position respectively out of a field of 1,267. You can see a video of me finishing if you so wish! www.londontriathlonvideo.com (enter "Greenoak" in the family name box) I think we may well be back again next year - a great event very well organised.
Hyde Park 5k, Wed 2 Aug
Dave Wilby was 19th in 17:34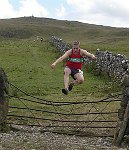 Cracoe, Sun 30 July
No race reports received, but by popular demand here are the Woodheads' photos ... including several ways to jump a gate!
Round Hill fell race, Sun 30 July
From Lawrence Basham ... Race won by Richard Pattinson in a new record and ladies race won by Sarah Jarvis also in a record I believe. Loads of Harriers did this race, it was a bit hot for the fast, dry and quite runnable course. Finishing order me 5th, Graham Pearce 6th, Ben Stevens, Jamie Hutchinson, Mark Iley, Sarah Jarvis, Marc Teasey, Emma Barclay, Bob Hamilton, then lots more!! Combining good flat speed with a background in orienteering, looks like there may be further successes ahead for Sarah Jarvis on the fells. Great performances by Red/Green vests somewhat taking over the race!
Marc Teasey adds ... Early mentions should go to Lawrence Basham, first Harrier home in 5th place overall - a superb result in the face of stiff opposition from most of our 'fast boys' who were present. Our Ladies were yet again dominant, with both Sarah Jarvis and Emma Barclay breaking the previous course record (by over 2 mins!) and coming in first and second Ladies respectively. Richard Pattinson (P&B) won overall for the second year running, breaking his own course record by about a minute.
More from Pete Bedwell ... quick report from the round hill fell race. Plenty of harriers at this one looking to pick up some league points. Lawrence was first harrier as he reported, Keith Wood came in at 1.15, I was more than happy with 1.20.31, John Brown was around 1.24 and Jemma Basham 1.25 ish. Very enjoyable and very runnable, will be back there next year.
Jim Ryder adds ... ... surprised to be 2nd V40! Storming run by Lawrence.
Full results and photos on Otley AC's site. Ilkley Harriers Running League calcs HERE.

1  Richard Pattinson 54:06
5  Lawrence Basham   58:59
6  Graham Pearce     59:24
12 Ben Stevens       61:12
13 Jamie Hutchinson  61:27
14 Jim Ryder         61:55
16 Mark Iley         62:55
19 Sarah Jarvis      64:44
20 Marc Teasey       64:57
21 Emma Barclay      65:05
28 Bob Hamilton      67:01
35 Phil Atkinson     68:26
36 Neil Chapman      68:40
38 John Smith        69:49
40 Joyce Marshall    70:47
46 Keith Wood        75:07
54 Pete Bedwell      80:32
60 John Brown        83:43
61 Dianne Haggar     83:43
62 Jemma Basham      84:34
66 Bernie Gibbons    90:42
68 Louise Cartledge  92:43
69 Ian Hargreaves    93:01
70 Antonio Cardinale 94:29
72 Vince Gibbons    103:07


Hatfield Sprint Triathlon, Sun 30 July
From Tim Ashelford ... I came 2nd overall & 1st vet 40 at the Hatfield Sprint Triathlon. Following the warm weather, wetsuits were optional for the 800m lake swim. The rest of the race comprised a 20k bike on flat roads, which were rather exposed to blustery winds. The run was a flat 5 k. My splits, including transition times were as follows:
>>10:49 Swim
>>36:59 bike
>>16:34 run
>>and 01:04:22 overall.
I was first to finish in my veterans wave, the overall winner only beat me by 22 seconds. It would have be interesting if we had both raced in the same wave...... Full results are here.
Golden Acre Relays, Wed 26 July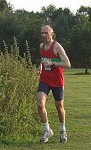 Marc Teasey reports: On a lovely summer's evening Ilkley Harriers put out three teams for the Golden Acre Park relays, a 3-leg race of 2.5 miles each of undulating woodland paths and tracks. With arguably our strongest line-up for the men's A-team (Lawrence, Jamie and Dave W) and an equally formidable Ladies team (Sally, Sarah J. and Amanda O.) our hopes were high for some good results and a chance to see how the cream of our club would fare against some good quality opposition provided by, amongst others, P&B, York Acorn, Leeds Uni and Pudsey Pacers. An indicator of the strength of the club would also be provided by seeing how well the men's B-team of Dave Brown, myself and Phil Judd would do. Lawrence kicked off with a strong first leg, hammering round in an impressive 16 mins and coming in 4th, a position that Jamie (16.15) and Dave (time not yet known) then held to bring the men's A-team in 4th overall (in spite of Jamie having to make a brief stop en route to massage a tightening calf, and Dave recovering from too many beers and a curry the previous night). Never to be outshone, the Ladies team (the sight of whom, it was noted, sent a shiver down the spines of the opposition, so renowned are they becoming) went even better, Sally bringing the team home in the lead after the first leg and, with Sarah and Amanda to follow, the result was never going to be in doubt - yet another win for Ilkley Ladies. Split times for the Ladies teams are not yet known, but it should also be noted that they came 11th overall, a fantastic result in a field of 51 teams. As for the men's B team, Dave, Phil and myself were all nervously contemplating the prospect of entering unknown territory and wondering how to pace it, none of us having raced over such a short distance before - but we were all pretty confident that it would be painful. Happily I think we all judged it about right and were delighted to finish 13th overall (Dave 17'11? Marc 17'34" and Phil (time not yet known)). Special thanks go to Terry for organising the Ladies team and the men's B team and for providing support and encouragement on the night. Thanks also to Amanda Parnaby, Richard Gray and Kelly Harrison for providing much needed (certainly for me!) vocal support at the event. Hopefully next year we'll have more Ilkley vests out - this is a local, low key, sociable event suitable for all abilities and I'm sure we can do better than 9 runners for a club of our size (we had 44 runners at the Washburn Valley relays just a couple of weeks ago!).
Provisional Final Positions out of 51 teams

1  45:23 York Acorn
2  46:01 Pudsey and Bramley 
3  46:46 Leeds City 48:12
4  48:12 Ilkley A team - Lawrence Basham 16:00, Jamie Hutchinson 16:15, Dave Wilby 15:57
11 52:02 Beamsley Bashettes (Ilkley Ladies) - Sally Malir 18:16, Sarah Jarvis 17:11, Amanda Oddie 16:35
13 53:01 Beamsley Bashers (Ilkley B team) - Dave Brown 17:09, Marc Teasey 17:35, Phil Judd 18:17

The event was hosted by Abbey Runners and full results should be available from their web site now.
Course Pedestre Les Plans – Cabane Plan Neve, Sun 23 July
Another report from our European correspondent ... This was an uphill only route and started at 1090m above sea level and soared to lung busting 2280m in a paltry 6.4km. Emma Barclay clocked 1hr 6mins positioning herself in 46th overall and 3rd lady, meaning that she had the choice of the fruit baskets; Steve Barclay finished in 77th overall in 1hr 14mins - full report

here
Yorkshire Vets Relays, Esholt, Sun 23 July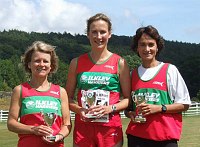 From Terry Lonergan's report ... No disrespect, gents, but the predicted excitement of the morning would be to see how the club's F35 team could compete against Holmfirth and Horsforth in that age group whilst trying to hold off Bingley's formidable F45 trio. Side wagers were also on whether the ladies would beat the harriers M50 team. In the M40 age group the club were the only one to turn out more than one team.
All age groups assembled for the first leg at 11.00 am and no less than 13 minutes and 13 secs later Hinchcliffe of Longwood returned. Both showing excellent turn of speed, Malcolm Pickering (15.07)(6th M50) was first harrier to show slightly ahead of Neil Chapman, running in the "youngsters" team (15.18) (10th. M40). "Marathoner" Sally Malir coped well with the 2.5 mile sprint returning in 2nd place in 15.54 in the F35s.; but Sue Beckonsall, fastest veteran lady of the Esholt 5k series had already put down Bingley's marker ahead. The ever versatile Keith Wood ran a very solid 16.18 (14th M40).
On the second leg, Jeff Paget looked very strong in finishing (15.31) (8th.M50) but expressed disappointment having been pulled back by John Atkinson (14.43) (9th.M40). Trackman turned fellrunner Phil Chappell (15.49)(13th M40) looked very much at home on this flat and fast surface closely followed by Pange Strivastava who had ran a swift 16.34 to maintain the second F35 place. However, the Holmfirth team in front had extended their lead and were now 1 min.26 secs. in front. To add to the interest the Bingley F45 were also in front with ace vet. Sue Cariss on the last leg and th'old beggar Lonergan for the club's M50 team was also one to catch for training partner Amanda Oddie. So the challenge was set.
With Amanda the greater the challenge, the better she seems to perform. Eating up the tarmac she carved through the field until with half a mile to go the three targets were laid out in front of her. Holmfirth's Jean Shotter was first to be caught making Ilkey the ladies first F35 team and to cap their performance off Amanda caught and passed Sue Cariss to make them overall first ladies team. Her run of 14.28 was the fastest F35 time of the day by 27 seconds! Terry's pride was spared in bringing the M50 team in( with a limp) 27 seconds in front (8th M50) but another few hundred yards and she would have caught him as well. Always happy to return to Esholt! Dave Jepson (15.00) (10th.) and John Coates (17.11) (13th ) kept the M40 teams going in fine fashion handing over to Mark Iley (14.47) (8th) who pulled back 2 places with Ilkley's 3rd fastest time overall and finally Richard Malir stormed through in 16.25 stating that the course was 2 miles over the best racing distance for his height and weight.. The B Team were therefore 1st B team in the M40 category!!
Pudsey 10k Challenge, Sun 23 July
Marc Teasey reports: Four intrepid Harriers decided to take on the aptly named Pudsey 10k Challenge (an increase of 100% in attendance from last year, when Sarah and I were the only ones to do it!). With its long, steep hills and off-road sections, it isn't a course for PBs (usually, although Dave Brown proved the exception this time!), but I would recommend it as a good local race to do with some lovely scenic sections and a good variety of running surfaces. I think there were about 450 entrants this year, so it is a decent-sized race with some good quality runners at the sharp end - to give you an idea the men's course record is currently held by Ian Fisher and the women's by Tracey Morris. An extensive prize list (including top 10 men and women) and the usual T-shirts for everyone - the organisation by Pudsey Pacers is excellent.
In spite of our small representation and on a mercifully cooler morning, we had a hugely successful event. Lawrence Basham was first Harrier back in about 15th overall (sorry, didn't get Lawrence's time - somewhere around the 38 min mark?). Given that he had only decided to race at the last minute and had done a speed session the previous evening, this was an outstanding result, particularly also given the strength of the men's field. Next was Sarah Jarvis in about 42'35", first lady (and about 35th overall?) and 2 mins quicker than last year - Sarah's win was by a big margin and was the perfect end to a week that has already seen her pick up the overall women's champion title for the Harrogate Road League series. Just behind her was Dave Brown, in about 42'43", a 10k PB by nearly 2 minutes!! Dave is clearly a talented runner who hasn't done many races - we predict a 38min 10k on a fast flat course for him - no pressure. Those sessions with Terry are definitely paying off. I was fourth Harrier, in 43'24" and about 45th overall - nearly 3 mins quicker than last year. The frustrations of 4 months of injury earlier this year are slowly fading from memory and I was absolutely delighted that things are still heading in the right direction for me.
Pudsey and Bramley continued their apparent attempt to achieve world domination by sending out an impressive men's team, and their runners placed 1st, 2nd and 4th. It was great that we managed to place all four runners in the first 50 (top 10%) and is a sign of the increasing strength and depth of both the men and women at Ilkley. I predict some great times ahead (pun intended).
Capricorn, Sun 23 July
A long navigational event over 2 days, on the limestone pavement near Ingleton this year. Alison Weston was 2nd lady and 4th overall on the B course, in 8h39:14, with Joyce Marshall 8th overall and 3rd lady in 9h16:11. On the C course Rob King was 21st in 7h12:27; and on the D course Shirley Wood was 8th overall in 6h18:16. On the Trim course, Ian and Scott Marshall were 5th in 3h29:45; the Wood family were 8th in 5h03:25; and the King family were 9th in 6h06:42. Link.
Burton Leonard, Sun 23 July
Catherine Gibbons picked up her third trophy in three successive outings when she crossed the line as first female in the Burton Leonard 2 mile fun run (16 min 06 secs) over a hilly course on a Sunday afternoon so blisteringly hot that bubbling tar on the road surface was sticking to the feet.
Catherine, 15, was first female in the previous race in this Black Sheep Brewery series at Burn Valley, Masham, on 1 July and she was a member of the Junior Ilkley Harriers mixed team (Simon Chapman, Mary Gibbons, Dan Roebuck and Catherine Gibbons) that won the prize for the first mixed team at The Washburn Relays on 14 July.
Brother Patrick Gibbons ran 19min 21sec approx in the Burton Leonard Fun Run.
In the Burton Leonard 10k race, Catherine's mum Bernie Gibbons was 2nd in the Female Vet 50 class with a time of 54min 20sec over the 10k course, leaving husband Vince well behind (54min 57sec) approx.
Hathersage Hilly Tri, Sun 23 July
Jamie Hutchinson reports ... I made the trip to the Peak District for the Hathersage Hilly Triathlon (420m outdoor heated swim, 20k bike and 6k fell run). What follows is a lesson entitled don't forget the rules! as suffering with a cold I proceeded to flog myself in the pool and then onto the bike for plenty of hills and 20k followed by an 6k run starting with first 1k or so uphill. Finished in around 84 mins and felt I'd done well under the conditions and not feeling on top form. BUT when I checked the results found I was under DQ section – disqualified!!! So 84 mins of toughing out for a DQ – the reason I was supposed to stop at a 'dangerous' T junction but didn't !! probably something to do with being too focused/tired or stupid!
There's always next year – I can recommend if for anyone who likes tri and HILLS.
Cray Fell Race, Sun 23 July
Iain Gibbons reports ... (BOFRA race) A good day out for me on this occasion. I found my to Cray, raced up to Buckden Pike and back and found my way home all without getting lost! As an added bonus I managed to come 5th over the 4mile course. Ted Mason won with an impressive lead breaking his own record.
Snowdon race, Sat 22 July
From Dave Wilby ... I travelled down to Wales on Saturday to run the International Snowdon Race. There were none of the torrential downpours that Yorkshire seems to have suffered so conditions were very dry and very warm & humid. After a poor run last year I was determined to start a bit steadier this time and it paid off as I got to the summit in just over 57 minutes, and even managed to run most of the way. I felt pretty good for it but my legs complained on the descent (how do you train for a 5 mile descent??) and started to give up with about a mile and a half to go. I eventually got over the line in 1:29:17, about 3:30 quicker than last year.
The winner was Andi Jones in 1:07:24 and first lady was Mary Wilkinson in 1:19:38. Both were representing England, and the team prizes were comfortably carried off by England as well.
For anyone who's not done it before the atmosphere is definitely one to experience, every runner gets a great reception from the hundreds of people lining the streets at the start/finish. The scale of things is pretty staggering by normal fell running standards as there are tv cameras at the start and finish, film crews on quad bikes and even a helicopter following the runners and filming race progress. I'd highly recommend it..........although my legs might disagree!
Roy Ruddle adds ... ... and that evening I supported Dan Booth's successful Paddy Buckley Round, running 2 legs back-to-back. Unlike Dave we had thick mist, cold and driving rain for most of Snowdon, but a wonderful sunrise on Glyder Fawr. I was pretty buggered after my stint of 9.5 hrs, more than 6 of which was at night. Dan did superbly well to keep going, completing his round in 23:17.
Harrogate Road League, Wed 19 July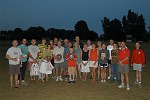 Wednesday night was the grand finale of the Harrogate District Summer Road Race League 2006, with a handicap race through the beautiful parkland of Studley Royal, and the presentation of prizes for that and the season as a whole. Andrew Bennett had a great run to finish third, and other Harriers well up in the field were Ian Marshall, Amanda Parnaby, and Simon Chapman.
In the League Prizegiving, Ilkley came away with prizes for 2nd team; 1st ladies' team; 1st lady vets' team; first lady Sarah Jarvis; first lady FV35 (35 and over) Alison Bennett; first V60 Geoff Howard; and 1st FU16 Catherine Gibbons.
Results and pics on www.harrogate-league.org.uk - thanks to Brian for the prizegiving photos.

Posn	Start	Finish	Time	Name
3	7:30:00	8:26:08	0:56:08	ANDREW BENNETT
17	7:49:00	8:28:03	0:39:03	IAN MARSHALL
21	7:28:30	8:28:29	0:59:59	AMANDA PARNABY
22	7:46:00	8:28:38	0:42:38	SIMON CHAPMAN
29	7:51:00	8:28:59	0:37:59	BOB HAMILTON
32	7:46:00	8:29:03	0:43:03	JOHN COATES
45	7:42:00	8:29:22	0:47:22	DIANE KITCHEN
60	7:49:00	8:29:41	0:40:41	PETER SHIELDS
73	7:49:00	8:30:02	0:41:02	DAN ROEBUCK
75	7:51:00	8:30:06	0:39:06	SARAH JARVIS
78	7:44:00	8:30:09	0:46:09	JANET GRACE
79	7:50:00	8:30:10	0:40:10	MARC TEASEY
96	7:47:00	8:30:36	0:43:36	KEITH WOOD
98	7:40:00	8:30:39	0:50:39	BERNIE GIBBONS
100	7:33:30	8:30:42	0:57:12	BERNIE CONNOR
101	7:50:00	8:30:43	0:40:43	ALISON BENNETT
104	7:45:00	8:30:49	0:45:49	CATHERINE GIBBONS
109	7:47:00	8:31:07	0:44:07	GARY BURNS
112	7:48:00	8:31:11	0:43:11	JOYCE MARSHALL
114	7:26:00	8:31:13	1:05:13	BRIAN SWEET
120	7:51:00	8:31:21	0:40:21	NEIL CHAPMAN
125	7:37:00	8:31:33	0:54:33	RICHARD MIDGLEY
135	7:40:00	8:32:19	0:52:19	ANTONIO CARDINALE
137	7:30:00	8:32:40	1:02:40	ROS LEACH
142	7:49:00	8:32:59	0:43:59	PHIL CHAPPELL



The Eagle Has Landed, Sun 16 July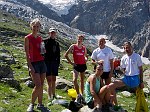 From our Eoropean Correspondent ... The French Alps ski resort of St Gervais Mont Blanc hosted the Montee du Nid D'Aigle, the Eagles Nest, perched high above dramatic glacial scenery. The event being held for the 20th year was part of the French National Mountain Running Championship, which attracted a number of the European mountain running stars, including Bingley's Rob Jebb.
The course started at 580m above sea level and wound it's way up for 19.5km through a mixture of forest tracks, alpine meadows and high mountain trails, arriving at 2380m on the Nid D'Aigle.
With over 400 competitors of the highest quality, it was surely going to be a classic. Last year's winner, Frenchman Jean-Christophe Dupont was out to retain his title, and sure enough found good legs in the early stages to take advantage of the very runable tracks. Rob Jebb slowly pulled back the deficit lost and by the time the course zig-zagged it's way up the side of the Bionnassay Glacier, he was only 20m behind with 200m to go. The Englishman, who is currently the Sky Running World Champion, dug in and over took the now depleted Frenchman with only 100m to secure a very memorable victory on the Eagles Nest in a time of 1hr 52mins.
Bingley was also represented by Sharon Taylor who completed the race in a fabulous 2hr 30mins and a 6th lady placing against stiff competition.
Ilkley Harrier, Emma Barclay, racing again in the Alps, stepped up to take 8th lady in a time of 2hr 32mins.
The English presence was certainly felt with 2 other category firsts with Phil Leybourne of Salford Harriers coming 11th overall and 1st Vet and Tom Cunningham, aged 18 who normally competes at the 1500m on the track, took 29th overall in a spectacular time of 2hr 17mins.
This was an uphill only race, which meant the competitors had to be ferried back down again on the Tram du Mont Blanc, a wonderful train ride that took 1hr 30mins. Perhaps for Rob Jebb, it would have been quicker to return by foot.
Oldfield fell race, Sun 16 July
Sally Malir put in a pacy performance in hot and dry conditions to win the womens' and in so doing break her own course record with a time of 41 mins 29 secs. Richard Malir placed 6th in the mens' in 39 mins 52 secs.
Kentmere Horseshoe, Sun 16 July
From Lawrence Basham ... 5 Harriers made the trip to Kentmere this year, on a hot, sunny afternoon nobody (except Ian Rowbotham!) bothered to warm up! We all sought shelter from the blazing sun under the trees in the shade, meanwhile Ian who had 5 minutes earlier told me this was a 'training run', was spotted sprinting up and down a 50% gradient to prepare for the race!!
4 of us were making our Lakeland debuts. As preparation Jemma, Keith and Debbie all raced Ingleborough yesterday!!
The climbs were tough and water from Emma Payne and Jem's parents was greatly appreciated. A breeze on the tops made running bearable and after a rather wobbly descent I finished 35th in 1hr 48.07... Ian was not far behind (too much warming up!) in 37th 1hr 48.32. Jemma, Keith Wood and Debbie Rosen came in together 223rd equal in just over 3 hours. The route was spectacular, wild horses and deer were spotted joining in with the runners! Everyone agreed that sitting in the stream at the finish was the best bit!
Eccup 10, Sun 16 July
Bernie Gibbons collected the trophy for the 2nd FV50 (female over 50) at the Yorkshire Vets 10 Mile Championship

59  John Atkinson   67:01
77  Ewan Welsh      69:24
180 Nick Mellor     79.42
213 David Cockshott 81.59
280 Vince Gibbons   87:40
284 Bernie Gibbons  87:48

Idle Trail Race, Sun 16 July
Pete Bedwell sends a ... quick post from the Idle trail, well organised with a welcome water station at mile 3, this was the 2nd running of this trail race and a big step up in numbers with quite a few Harriers making the trip for some league points (update here). After about 2.5 miles nice and flat along the tow path it was then up into the woods for some welcome relief from the sun even if it was a bit undulating. Nice downhill finish with a bit of a sprint to the line just managing to pip Kay Pearce. They did say it was a bit over 10K which matches what my Garmin said as 6.46 miles, very nice race even if a bit warm

1    Ian Fisher          34.53
10   Graham Pearce       39.51
12   Mark Iley           42.08
15   Dave Jepson         42.53
22   Neil Chapman        44.35
28   Pete Shields        45.51 1st V55
73   Pete Bedwell        51.50
74   Kay Pearce          51.51
126  Ed Battye           57.00
131  Ian Hargreaves      57.21

222 finishers, my first top 3rd finish in a race apart from the FLM and GNR so well pleased
Full results and photos on Idle AC's site
Read Dave Jepson's Idle Chat

here.
Hawkswick Dash Fell Race, Sun 16 July
Iain Gibbons reports ... (BOFRA Championship) Cracking day for a cracking race. Severe climbs and severe descents with a strong field of runners. The race was won by Alastair Dunn who beat Tommy Sedgwick's long standing record of around 10min30. I came in 11th in a time that would normally have achieved something like 5th place, but I guess times don't mean a great deal on the Fells.
Sport Relief, Sat 15 July
A few Harriers were spotted red-socked at the Sport Relief "Run a Mile" that Junior Ilkley harriers staged at Ashlands Primary School - Morgan Williams and Alison Eagle, Ian and Joyce Marshall, Brian Sweet, Di Haggar, and of course loads of Junior Ilkley Harriers.
Ingleborough, Sat 15 July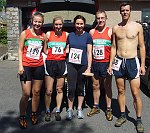 From Graham Pearce ... "Myself and a few hardy Harriers headed out to Ingleton for the Ingleborough Mountain Race on Saturday 15. A fantastic summer day with hot and humid conditions meant it was ideal weather for the Ingleton Gala (fun for all the family!) but less than ideal for a mountain race (unless you're me, and love running in the heat). As usual the race attracted a fiercely competitive field, and Darren Kay (Horwich) beat Mark Croasdale (Lancs) into second place with a time of 48:07 but Mark's record of 44:15 (set way back in 1991!) still seems untouchable. I finished 11th in 51:58; Helen Sedgewick the next Harrier (and third lady) in 1:04:02 (good for 69th overall). Other Harriers running were Richard Joel in 113th 1:11:04, Keith Wood 161st 1:19:25, Deborah Rosen 168th in 1:20:35 and Jemma Basham 172nd 1:21:37. 200 ran and apologies if I have missed any Harriers!
Thanks to Paul Biddulph (Stainland) who, after I missed the drinks station half way up, came to my aid with his water bottle!"
Debbie Rosen adds ... 5 harriers made the trip to Ingleton on Saturday for the Ingleborough Fell Race, 7 miles and 2000 feet straight up and down in glorious sunshine (or rather baking heat). Jemma, Keith and I weaved our way up and down with Keith finishing in about 1h 19, me in 1h 20 and Jemma in 1h 21. Unfortunately no river to jump in at the end of this one so we had to make do with ice cream instead. Fantastic race and fantastic views but perhaps not such a fantastic idea to do this one the day before the Kentmere Horseshoe, as our legs are telling us today!
Holme Moss, Sat 15 July
Jo Foster reports ... Nicky Jacquiery and I headed over to Holme Moss on Sunday to run the 16 mile Holme Moss Fell Race. Very hot temperatures saw Jo succumbing to the heat with wobbly legs and retiring after just over an hour. Nicky, however, coped admirably with the searing heat and had a fantastic run finishing in 3.08.37 - nine minutes quicker than last year! She was 2nd lady, 1st lady vet and, perhaps most impressive, 21st overall.
Ripon Tri, Sat 15 July
From Tim Ashelford ... I braved the heat on Saturday afternoon and raced the Ripon Triathlon, which comprised a 1500m open water swim, 44 km bike and 10k run. Despite the heat the event attracted over 250 finishers and only 5 DNFs. I was 7th overall in 02:12:29 (00:21:33 swim, 01:11:14 bike and 00:39:42 run).
Harriers may be interested in a new race the 'Wensleydale Triathlon' on Sunday 13th August. It comprises a 1800m open water swim, v hilly 42 mile bike and 12 mile fell run up and down Gt Shunner Fell. www.wensleydaletriathlon.co.uk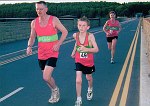 Washburn Valley Relays, Fri 14 July
A great turnout of 11 Ilkley Harriers teams amongst the 45 or so teams running on a beautiful evening. Ilkley 2 were 5th, one of our junior teams won the Mixed Team prize, and this year there were record times for every stage. 2 mens' teams beat the overall course record as did 3 womens' teams with Ilkley ladies first. More results soon from Otley AC's Washburn Relay web page
Sneak preview of the results

here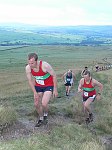 Stirton fell race, Wed 12 July
Bob H reports ... A healthy contingent of men turned out for the delightful double ascent of Sharp Haw in the Stirton Fell Race. If there had been a team prize, we would certainly have won with three home in the top ten out of a field of 93 runners. Chris Smale won in 40.28 and it seems like as many fell races as not are being won by vets this year. I'm glad I've moved up a category! Stick this one in your diary for next year and note that it's worth hanging around for the prize-giving. Everyone there at the end picked up a bottle of wine. Ilkley results were
5. Jamie Hutchinson 42.19; 8. Dave Wilby 43.24; 9. Lawrence (Bagshawe) Basham 43.40; 22. Bob Hamilton 46.27 (1st V50); 40. Richard Malir 49.50; 51. Norman Bush 51.46 (1st V60); 55. Bob Wightman 52.41; 56. Keith Wood 52.44; 68. John Tindall 54.49; 73. Gary Burns 55.43
Yorkshire Vets Grand Prix, Wed 12 July
Alison Eagle reports on .. Race 7 out of 10 of the Vets Grand Prix. Took place at Oakworth Country Park at Birstall. An enjoyable undulating course (no tarmac!), through woodland paths and on trails. Results were Alison Eagle 38th, 2nd Lady & Vet 40 in 35.45 and Pete Shields 40th, 5th Vet 55 in 36.04. organisers stated the two lap course was 6 miles, so both of us pleased with our times!!
ROM June 2006
The Ilkley Harriers Runner of the Month for June is Amanda Oddie, 5k British Masters Champion - more.
Wharfedale TTT, 7-9 July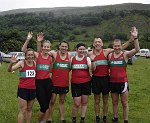 From Lawrence Basham ... Three races on consecutive days known as the TTT (tarmac, trail and tussock), organised by Bingley Harriers from Fold Farm, Kettlewell.
Friday night started the series with a 2.5 mile road race, mainly uphill but did include a welcome downhill stretch just before the final climb. Ian Holmes stated early intentions for the weekend by running away from a strong but select field to win in 17 mins 7 seconds, 7 harriers competed – 9th Lawrence Basham 20.19, 27th Alison Weston 24.24, 29th Pete Shields 24.45, 31st Keith Wood 25.21, 35th John Coates 26.25, 43rd Jemma Basham 28.14 and Emma Payne 31.22
Saturday's race was the 'main' event a 12.5 mile fell race , 3000' climbing that included a stretch along the top of Great Whernside. Navigation skills and some fell experience were necessary. Although most checkpoints were found easily, some were more testing and led to more than a test of running ability!! In my case choosing who to follow was particularly difficult! The race was won by Ian Holmes in 82.23, with 12 Harriers contesting this Ilkley League counter (Pete's still top banana - more here, Paul). 1st home in 6th place was Ian Rowbotham 1hr 36.42, 10th Jason Hemsley 1hr 39.34, 12th Lawrence Basham 1hr 39.38, 16th Jamie Hutchinson 1 hr 41.11, 20th Dave Wilby 1hr 45.53, 31st Alison Weston 1hr 53.43 (2nd Lady), 37th Pete Shields 1hr 55.50, 66th Keith Wood 2hr 30.03, 67th Jemma Basham 2hr 30.04, 70th equal Amanda Parnaby, Emma Payne and Ros Leach 2hr 57.45
Sunday morning brought stiff limbs, hangovers and rain - as well as a flagged 1.5 mile 500' climb fell race. Ilkley had 2 teams (1 open, 1 vet and 1 lady) who had entered for all 3 races. Team 1st prize was to be contested by Ilkley A and Pudsey and Bramley , going into the last event. A pattern had developed and the race again was won by Ian Holmes 13mins 20. 9th Lawrence Basham 15.15, 16th Alison Weston 17.39, 17th Pete Shields 17.42, 19th Keith Wood 18.21, 33rd Jemma Basham 20.56, 36th Emma Payne 26.45.
Alison Weston was crowned Ladies Grand Prix winner. A recount was needed and tensions were high at the presentation for the overall team prize. By a single point Ilkley A (Pete Shields, Alison Weston and Lawrence Basham) beat off the challenge from P+B. The biggest cheer went to the Ilkley B team (Keith Wood, Jemma Basham and Emma Payne) that scooped 3rd team prize, meaning all of the Ilkley Harriers that did the series came home with prizes.
The whole event was characterised by a great atmosphere and camaraderie plus non stop bacon butties and cups of tea. We are all going back next year, well worth the stiff limbs!!


Photos from Dave & Eileen Woodhead

Photos from Jemma's Dad
Some more photos on Bingley's site
La Marmotte, Sat 8 July
From Heather Dawe ... Just got back from a quick trip to the Alps. I rode 'La Marmotte' on Saturday, a 174km 5000m ascent road cycle race from Bourg d'Osains. A classic route which takes in some famous alpine climbs - Col de Telegraphe, Col du Galibier, Alpe d'Huez and a few more. It finishes up the 21 hairpin bends of the Alpe d'Huez just to finish you off after 100 or so hilly miles. It was hot and I suffered a bit. I rode it in just over 8 and a half hours to finish 3rd in my category, about 8th lady and 897th overall out of 6000ish starters. I got a trophy, presented to me by the mayor who smiled and said "sorry about the football". He was probably a bit more sorry on Sunday night ;o)
Wasdale fell race, Sat 8 July
From Eddie Winslow ... Another hot day in the Lakes, but nothing like last year's scorcher. I completed in 5,32. Ken Jaquiery also completed but I'm not sure in what time.
HRL #5, Esholt, Thu 6 July
A BIG thank-you to the many Harriers who turned out to run and support - we had a much better main team result than in recent HRL races. The latest results show that we have pulled up from 4th place overall to 2nd - trophy territory!
Team and individual results, plus photos, on www.harrogate-league.org.uk

9	31.36	JAMIE HUTCHINSON
12	31.53	LAWRENCE BASHAM
18	32.34	BEN STEVENS
30	34.04	STEVE TURLAND
33	34.15	JOHN ATKINSON
42	35.08	MALCOLM PICKERING
43	35.15	NEIL CHAPMAN
48	35.33	TERRY LONERGAN
50	35.43	BOB HAMILTON
55	36.12	GEOFF HOWARD
57	36.20	PHIL ATKINSON
60	36.30	PETER SHIELDS
63	37.02	MARC TEASEY
65	37.06	ALISON BENNETT
73	37.28	DAN ROEBUCK
77	37.39	JOYCE MARSHALL
78	37.47	ALISON EAGLE
79	37.54	PANGE SRIVASTAVA
82	38.00	ELIZABETH MCCANN
86	38.27	JORGE MARTINEZ
99	39.21	SIMON CHAPMAN
100	39.24	KEITH WOOD
104	39.49	GARY BURNS
108	40.02	JOHN COATES
114	40.17	JAN BELTON
151	43.47	DIANE KITCHEN
152	43.52	JEMMA BASHAM
154	44.01	BARBARA BULLOCK
168	45.35	SUE STEVENS
176	47.11	ANTONIO CARDINALE
185	49.13	RICHARD MIDGLEY
193	50.45	BERNIE CONNOR
197	51.37	SOPHIE WITTER
202	53.31	CHRISTINE REILLY
204	53.37	ANDREW BENNETT
206	55.08	ROS LEACH
208	56.22	AMANDA PARNABY
209	56.53	DAVID MILLSON
213	60.11	BRIAN SWEET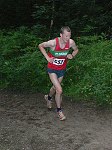 Danefield Relays, Wed 5 July
A good turnout of Harriers. Official rull results on (www.fellandale.com) - unofficial results here with thanks to Alison Eagle ... Great results on a night that was too hot even for the midges. Lots of pictures from Mike Baldwin here.

4th  Lawrence Basham, Jamie Hutchinson, Dave Wilby
     19.54 19.47 20.01
6th  Jack Wood, Ben Stevens, Hector Haines
     20.49 20.07 19.23
8th  Jim Ryder, John Atkinson, Bob Hamilton  1st Vets Team
     20.03 21.13 21.01
11th Michael Hinchcliffe, Simon Chapman, Dan Roebuck Juniors
     20.56 24.59 22.04
14th Sally Malir, Alison eagle, Alison Bennett  1st Ladies
     22.48 23.55 22.18 (AB fastest lady!)
20th Jo Foster, Pange Srivastava, Sarah Jarvis 
     25.00 23.26 23.03
26th? John Tindall, Richard Malir + 1
     23.29 23.03
30th Keith Wood, Vince Gibbons, Marc Teasey
     55.55 - 25.21 26.42 23.55
33rd Mary Gibbons, Jemma Basham, Di Kitchen
     56.11 - 28.29, 27.42, 28.03
Also Roz, Amanda Parnaby, Bernie Gibbons results tbc

Saunders Lakeland Mountain Marathon, 21-22 July
From Dave Wilby ... After Kelly had to pull out injured a few days before the race, Sarah Jarvis, who's recent performances have apparently caught the eye of none other than Ian Fisher, stepped up to take on the challenge...and the blistering heat...and the midges...and a grumpy partner.........! Brave girl.
We had an early start on day 1 and after finding our 'navigation legs' fairly quickly, made very good progress despite the odd slip-up here and there. We even managed a 'fastest leg' between checkpoints 5 & 6 which was brilliant. Fatigue kicked in at this point, at least thats the excuse i'm using for not being able to read a map, and I took us on the scenic route to CP 7 before we finished in about 36th place from 80 odd teams, with a very welcome river crossing.
Day 2 was tough from the start but we were determined to get round without anymore errors, and we made great progress through the day. We eventually posted the 5th quickest time for the day and finished 14th overall in Carrock Class. Particular mention to Sarah who had not only wrapped up the Harrogate Road series on the Thursday before, but was also making her debut in Mountain Marathons and on the fells. Very strong on the climbs, she certainly dragged me round the last hour or 2 on Sunday.
Total distance for the weekend was approx 26m and 10,000ft.
Also spotted were Kevin & Rachael Gooch who I think were first mixed vets team in the Kirkfell Class, great achievement guys and nice to see the friendly faces at the finish.
Great weekend, if you've not done it before, make sure you enter next year.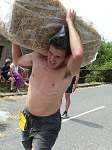 Oxenhope Straw Race, Sun 2 July
Jason Hemsley reports on a race with ... 2.75miles, ALE, 600ft. Several Harriers competed in the annual Straw Race, which involves running in pairs between 5 pubs through Oxenhope village, drinking a pint of warm beer at each, and carrying a bale of straw (or half a bale for the girlies). A few teams take it quite seriously, including Shane Green and Steve Bottomley (P & B), who won again in 17 minutes, outside their own record. The 'Female Athletes' race was won impressively by Pange and Tamara Hird in 21 mins, who were only seconds behind myself and Graham Pearce, ensuring an uphill sprint finish, causing my rapidly consumed last pint to suddenly re-appear! Thanks to Mike Baldwin and others for supporting in what is a great day out and raises thousands of pounds for charity.
Skipton Tough 10, Sun 2 July
Tough course, tough weather. Ewan Welsh had a top 20 finish, 19th with 1h14:22 after a 5-month break from road racing (his longest break in 12 years!) John Coates was 49th in 1h26:37; and Amanda Parnaby was 75th in 1h51:04
National Triathlon Championships, Sun 2 July
Tim Ashelford reports ... I managed 7th in my age group (40 -44) at the National Triathlon Championships in Wakefield. I was 61st overall. The race was held over the 'classic' 1500m lake swim, 40k bike, 10k run format. My total time was 2.16.24 and my splits were 24.31 for swim, 1:12.18 for the bike and 39.34 for the run. The run and swim were a bit over distance and the bike was very hilly, the fastest bike split was 65 mins. Not sure if any other harriers were there, but I am sure that it was a bit hot for endurance racing......
Dollar, Sat 1 July
From Geoff Howard ... On Sat. 1 July conditions were ideal in Clackmannanshire for the British Fell Championship counter Dollar Hill Race (9m 3100feet). As Ilkley Harriers discovered last October at the FRA British Relay Champs, the hills in question (the Ochils) provide some of the best upland running to be found anywhere. I managed 86th (2nd V60) in 1h 36m 38s. Kirstin Bailey was about a minute behind. The next championship race should be interesting in that it is in Newtonmore at a McPherson highland gathering providing a crowd of about 5,000. At another highland games (Alva near Dollar) the first prize in the 90 metres handicap sprint is £800 so maybe a bit more (or even some) speed work is called for.
Carr Lane Challenge, Sat 1 July
Richard Midgley ran this 5 mile trail race in 50 minutes.
Settle Hills, Sat 1 July
From Alison Eagle ... Another hot day saw several senior and junior harriers at Settle Hills Fell Race and inter-counties Chamionships. Not helped by delayed start due to traffic problems, 10 mins stood in soaring temperature was not a good start to a 7 mile run where there was no respite from the heat. Impromptu water stops from individuals were very welcome, as was the actual water station though it felt as though nothing could cool you down! First Harrier home was in 22nd place Graham Pearce in 56.55; Ben Stevens ran an excellent 58.58, 34th and 3rd Junior Man; 47th was Jim Ryder in 1h02.07; 107th Alison Eagle 1h13.49 4th LV40; 109th Ken Jaquiery 1h14.05; 114th Morgan Williams 1h15.12. Hot conditions and hard ground resulted in blistering feet though the cakes could be recommended! Good news on the county front - Yorkshire Ladies were first and men second. Ilkley had 3rd men's team.
Burn Valley Half, Sat 1 July
From Pete Bedwell ... a quick report from the Burn Valley Half, one of the counters from the Harriers league (some changes in placings, see the League Page). Only saw a few of the team out there, Jamie, Pete Shields, Bernie and one or two others. Hot conditions and a very hilly course made this probably the toughest road race I've done, although very picturesque especially from the tops of the many hills. Managed to not walk at all even up the steepest hills and got round in just under 2 hours, 1.59.47, my slowest ever half but certainly the hardest and one of the most satisfying.

16  Jamie Hutchinson 1h33.09
38  Pete Shields     1h41.51
43  Neil Chapman     1h43.55
113 Pete Bedwell     1h59.47
139 Bernie Gibbons   2h05.41
149 Vince Gibbons    2h07.48

232 finishers, won by Gary Dunn in 1.18.37, 3 mins ahead of second place
Vince Gibbons adds ... Ilkley Harriers' Catherine Gibbons returned with a magnificent trophy and an armful of goodies after winning the prize for first female in the three mile Burn Valley Fun Run at Masham, North Yorkshire, on Saturday 1 July in searing heat.
Bradley Chapman, Patrick Gibbons and Eileen Gibbons also finished well in blisteringly hot, very difficult conditons on a hilly course.
News Oct-Dec
|
News Apr-June
NB:
you may need to refresh this page, depending on your web browser settings, to get the latest news updates.