Auld Lang Syne fell race, Sat 31 Dec
Jo Foster reports ... A good turnout in spite of the conditions. A new course due to the expected numbers - very suited to those who like fast track running! Jamie Hutchinson was first Harrier home followed in by Jim and then Graham Pearce. Natalie White won the women's race in 52nd place overall.

1   Ian Holmes       40.55
38  Stefan Macina    47.58
45  Jason Hemsley    48.55
47  Jamie Hutchinson 48.58 
54  Jim Ryder        49.37
62  Graham Pearce    50.34
94  Mark Iley        52.37
113 Mike Baldwin     53.40
127 Helen Sedgwick   54.17 
162 Morgan Williams  56.43
186 Andy Wiggans     58.15
221 Jo Foster        59.54
222 Kelly Harrison   60.00
223 Bob Wightman     60.02
262 Keith Wood       62.08
289 Peter Cooke      63.51
291 Jon Tindall      63.57
336 Peter Bedwell    67.47
346 Ed Battye        68.21
367 Helena Deeney    69.56
385 Phil Chappell    71.38
411 Bob Payne        75.39
431 Emma Payne       90.58         

Some great pictures on David Brett's site.
Harriers Running League calculations soon ...
Jolly Holly Jog, Tue 27 Dec
The final XC/Trail counter in the Harriers Running League 2005, and won in 33.09 by Ricky Stevinson. Harriers results that I saw on the Ripon Runners site were:

39  Jamie Hutchinson 40.36
138 John Coates      47.35

Lancaster Moor Hospital Fun Run, Tue 27 Dec
From Alison Bennett ... Although this 4k race, organized by Lancaster and Morecambe AC was called a fun run, there was a much larger proportion of club runners taking part. Father Christmas was there though - keeping busy over this festive season! On a hilly course, I came in 4th Lady in about 14:47 (according to my new xmas pressie watch), followed by Junior Ilkley harriers Adam and Tom (just beating his dad in the final sprint).
Ribble Valley 10k, Tue 27 Dec
Neil's report ... There were 18 Harriers who made the trip over to Clitheroe to run a reasonably fast 10k in almost perfect conditions, just a little cool. There is a high class field in this race won by Tomas Abyu (Salford Harriers) in 29.33, with 1st lady Helen Clitheroe (Preston Harriers), who will be competing in the Commonwealth Games, running 32.20. We had two couples who all ran exceptionally good PBs. Lawrence Basham ran 36.52, a PB by more than 1.30, whilst Gemma Basham ran 48.50, a PB by more than 5 minutes, both having run the Chevin Chase the previous day. Mark Teasey and partner Sarah Jarvis, both ran under 40 minutes for the first time, Mark running 38.53, a PB by more than 1.30, whilst Sarah ran 39.2, a PB by more than 3 minutes. In the junior ladies we had 2nd claim Eleanor Kitchen 3rd in 43.40, with 15 year old Catherine Gibbons 5th, completing her first 10k race in 47.05, and Mary Gibbons 7th in 54.14, hampered slightly by mum Bernie's wrong shoe choice. One common factor with all these performances is the athletes regularly attend Pete Shields Thursday training sesssions, and it is clear these speed and endurance sessions are now paying off. These were by no means the only good performances and the full results are:

89   Lawrence Basham     36.52
109  Billy Kerr          37.35    (12th V45)
112  Dave Mathews        37.43    (6th V55)
148  Neil Chapman        38.51    (6th V50)
152  Mark Teasey         38.53
164  Sarah Jarvis        39.21    (10th open lady)
165  Andy Wiggans        39.22
201  Geoff Howard        40.18    (4th V60)
232  Andrew Herbert      41.25
262  Pete Shields        42.26    (12th V55)
307  Eleanor Kitchen     43.40    (3rd junior lady)
329  Keith Wood          44.18
341  Dave Taylor         44.33
347  Di Kitchen          44.39    (4th FV45)
447  Catherine Gibbons   47.05    (5th junior lady)
514  Gemma Basham        48.50
525  Andy Kitchen        49.34
647  Mary Gibbons        54.14    (7th junior lady)

In the teams, the mens open team finished 18th, the mens veterans team were 7th, and the open ladies team were 3rd, which included two of our junior runners.
Thanks to Andy Wiggans for a similar report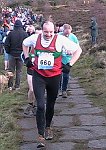 Chevin Chase, Boxing Day
Full results and some phptos are on the Aire Centre Pacers site. The race was won by Bingley's Alistair Brownlee in 39.33 Neil Chapman reported superb results from our front runners, but also some excellent times and improvements on last years times from those further down the field.
Click on the thumbnail or here to see Terry Lonergan's photos.

16  Jamie Hutchinson   43.17
22  Jim Ryder          44.46
31  Lawrence Basham    45.17
40  Tim Ashelford      45:46
44  Bob Hamilton       45.54
46  John Atkinson      46.00
51  Steve Turland      46.28
65  Mark Iley          47.26
79  Ian Marshall       48.13
89  Neil Chapman       48.53
98  Clive Smith        49.20
100 Mike Baldwin       49.25
109 Sally Malir        49.46    6th lady
110 Jonathan Sinclair  49.47
114 Ewan Welsh         49.56
136 David Brown        50.36
151 Heather Dawe       51.32
154 Pete Shields       51.34
163 Joyce Marshall     51.55
190 Morgan Williams    53.12
208 Keith Wood         53.49
223 Andy Wilson        54.15
282 John Woodward      56.00
332 Vince Gibbons      57.38
340 Jon Tindall        57.54
351 John Coates        58.19
356 Antony Swanepoel   58.25
385 Nick Mellor        59.23  
415 Jemma Basham       60.48
416 Bernie Gibbons     60.49
439 Richard Gray       61.33
467 Antonio Cardinale  62.28
506 Becky Malby        63.45
547 Jane Cullingworth  64.49
570 Bob Payne          65.30
664 Andy Sarah         69.29
665 Bernie Connor      69.31
684 Richard Midgley    70.41
774 Ros Leach          74.51
790 Amanda Parnaby     76.18
808 Alan Pearson       78.24
827 Ann Pearson        83.08

There are just 2 events left in the Harriers Running League after this - tomorrow's Jolly Holly Jog (full) and Saturday's Auld Lang Syne fell race.
Christmas Fun Relays, Tue 20 Dec
A great success, with a dozen teams of 5 racing around the 1.5-mile figure-of-8 circuit. Eddie's team was fastest, Paul's team "steadiest" (I'd have been boo-ed if I caught "Santa" Pete, even if I could!) Prizes for costumes went to Barbara Bullock and Pete Shields? No times available. Delicious mince pies and mulled wine. Thanks to Bernie Gibbons for masterminding it, and the many helpers.
London Marathon 2006 Draw
The runners provisionally selected for the club's places are Andrew Webster, Debbie Rosen, Andrew Herbert, Simon O'Hara, with the other 7 candidates as reserves.
Update Jan 2006 - first reserve Sue Bickerdike has taken Andy Webster's place.
ROM November 2005
The Ilkley Harriers Runner of the Month for November is Lawrence Basham - more.
Great Langdale Xmas Pudding 10k, Sun 18 Dec
From Andy Wiggans .. Another race from the stable of Cumbrian raconteur Rod Berry, the Xmas Pud 10k follows the same course as the St George's Day 10k, from the New Dungeon Ghyll to Elterwater and back. Alison Bennett, Andrew Herbert and I were the only Harriers I could find on the results, and we enjoyed a gloriously scenic, undulating course completely shrouded in fairly heavily falling snow!
By the turn cornering was getting a bit dodgy, and I did consider stopping and donning crampons, but was glad I stuck with my racing slicks and came in 44th out of 530 finishers (9th M40) in 39:50. Alison was next home in 68th place (5th lady overall, 1st L40) in 41:47, closely followed by Andrew in 72nd place with a massive improvement on his last time here of 41:57. We were all presented with a 1lb Christmas pudding at the end, and then enjoyed a mince pie and Rod's idiosyncratic prize giving in the Stickle Barn afterwards.
These are great races – make a date in your diary for the St Geroge's Day race – same course, 23rd April – sadly I shall be doing some minor road race down in London that day…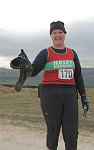 The Stoop fell race, Sun 18 Dec
A good turnout of Harriers on a bitter cold day for another Woodentops Spectacular. There was some real quality at the front of the field, with Andi Jones beating Simon Bailey and Ian Holmes and a host of other top fell runners in 28:52, a new record (same course as last year).
286 finishers, not including poor Emma Payne, whose Walshies disintegrated at the far end of the course! Our remaining ladies scraped a team win, just beating Keighley. There were Junior Harriers racing too - more.
WSTC club Triathlon, Sun 18 Dec
Vic Verec0ndi reports from Down Under ... Whilst on holiday I thought I'd have a bash at one of the local triathlons for a change...I entered the Western Suburbs Triathlon Club (Melbourne) club event... The race was made up of a 400m swim, 15 km cycle and a 3 km run to finish off... The race started at 8.00am to avoid the heat of the day...Also my mate from the bush (Macca) came down from Barnawartha to be part of it all...
The swim leg was horrendous... As the event was held in Port Phillip Bay and with a strong wind the sea was very choppy.....Within the first 100m I managed to swallow about 3 litres of water and was stone motherless last..
This can also be attributed to the absolute lack of swimming I have been doing over the past few years... My only training run for the past couple months was a quick dip in the surf at Jan Juc yesterday... Hardly good enough for such an event...Thankfully the local surf life saving club was in attendance (in their rubber ducky) and being last they encouraged me around the circuit... I think they were in fear of me actually drowning... By this stage Macca was far far ahead...
Both the cycle leg and the running leg were very easy in comparison and uneventful... I was able to pick up and pass three other competitors... I was slighty catching up on Macca... You may be pleased to hear that my running leg was the best (of which Andy Wolfenden would be proud)...
However I must improve my transitions... It is difficult to change kit when your huffing and puffing...
At the end it was off to the culbhouse for lamingtons, fruit cakes, burgers, snags and heaps of other good Aussie tucker washed down with a couple of stubbies of Victoria Bitter (no christmas pudding though)... Macca packed up and headed back to Barnawartha and I went home and topped up my tan...
For the record Swim: 12.56, Cycle: 38.42, Run: 13.02 Total : 64.40... Macca did it in about 6 minutes less... A fun morning...
Stockport 10, Sun 11th Dec
From Terry Lonergan ... Sometimes we have to use races as a means to an end. We know that the course may not be particularly attractive but will serve as a useful stepping stone to a more significant event later. Hence, a reluctant return to Stockport. I ran this race last year and commented, "OK if you're in the area". Well, I was in the area again and decided to enter on the day. It cost me 2 week's pocket money……£12!! At least Dick Turpin wore a mask, I thought. "It's a great goody bag" said the organiser as he took the money. Plodding up and limping down the hills I ran 67.04 for 82nd place of 497 just managing to hold off Emmerdale's bar man Bob Hope (Tony Lee) running for Stockport Harriers who was dressed in a white Elvis Presley suit complete with black wig and side burns with club vest on top! The goody bag? Long sleeve, water, Isostar, a golf tee! and a 5" black zip!! The lesson being, try to be in the area of the Guys 10 next year.
Calderdale way Relay, Sun 11 Dec
Our 3 teams all did well - the men's team were 20th in 6h52:44; the ladies were 2nd ladies team to Bingley; and the second men's team had a pretty good result too, 54th out of 99 teams. Provisional results are on the Halifax Harriers site.

20th (Bingley 5:59:49)
1 Richard Joel, Iain Gibbons       1:21:58 (31)
2 Jim Ryder, Lawrence Basham       1:04:36 (21)  2:26:34 (20)
3 Hector Haines, Ben Stevens       0:44:34 (27)  3:11:08 (19)
4 Graham Pearce, Jamie Hutchinson  1:15:26 (17)  4:26:34 (16)
5 Mike Baldwin, Ian Marshall       1:00:09 (20)  5:26:43 (16)
6 John Atkinson, Mark Iley         1:26:01 (34)  6:52:44 (20)

38th overall, 2nd ladies team (Bingley 36th 7:28:18)
1 Jo Foster, Joyce Marshall        1:30:04 (51)
2 Heather Dawe, Sally Malir        1:15:03 (49)  2:45:07 (51)
3 Cath Wolfenden, Pange Srivastava 0:46:23 (32)  3:31:30 (45)
4 Helen Sedgwick, Andrea Priestley 1:18:25 (25)  4:49:55 (35)
5 Emma Barclay, Jan Belton         1:13:10 (67)  6:03:05 (38)
6 Alison Bennett, Sarah Jarvis     1:31:23 (47)  7:34:28 (38)

54th out of 99 teams
1 Phil Atkinson, Keith Wood        1:33:52 (65)
2 Ashley Hardwell, Kevin Gooch     1:16:43 (52)  2:50:35 (63)
3 Morgan Williams, Paul Wood       0:46:49 (35)  3:37:24 (52)
4 Bob Wightman, Ed Battye          1:36:31 (75)  5:13:55 (62)
5 Eddie Winslow, Ken Jaquiery      1:03:26 (27)  6:17:21 (56)
6 Pete Shields, Mark Teasey        1:31:42 (50)  7:49:03 (54)

Predictor Run, Tue 6 Dec
50+ running the 9k course - the winner of a bottle of fine wine for uncannily accurate running was Di Kitchen. Thanks to Richard Gray for organising, and his helpers.
Predicted
Actual
Error
1
Di Kitchen
43.25
43.25
0.00
2=
Jeff Paget
40.15
40.12
0.03
2=
Jean Sullivan
50.00
49.57
0.03
4
Stefan Macina
34.00
33.50
0.10
5
Richard Joel
35.00
34.46
0.14
6
Anne Briggs
50.00
51.16
0.16
7
Kay Pearce
43.00
43.21
0.21
8
Karl Lavery
49.00
49.25
0.25
9
Debbie Rosen
46.30
46.56
0.26
10=
Antonio Cardinale
45.00
44.32
0.28
10=
Amanda Parnaby
55.30
55.58
0.28
10=
Kath Jones
48.00
47.32
0.28
13
Richard Gray
44.48
45.20
0.32
14
Clare Smith
46.15
46.56
0.41
15
Adele Errington
45.00
44.10
0.50
16
Vince Gibbons
46.00
45.07
0.53
17
Debbie Steele
45.00
44.02
0.58
18
Jamie Hutchinson
35.00
34.00
1.00
19=
Lawrence Basham
35.00
33.57
1.03
19=
Pete Shields
42.00
40.57
1.03
21
Keith Wood
41.30
40.17
1.13
22
Anne Briggs
50.00
51.16
1.16
23
Steve Fletcher
61.00
59.37
1.23
24
Kelly Harrison
39.52
41.19
1.27
25
Alison Weston
41.00
39.31
1.29
26
Christine Reilly
49.45
51.17
1.32
27
Jan Belton
46.00
44.11
1.49
28
John Atkinson
36.00
34.04
1.56
29
Helen Sedgwick
36.00
37.59
1.59
30
Adele Mitchell
52.00
50.00
2.00
31
Simon Chapman
46.00
43.47
2.13
32
Julian Simmons
43.00
40.45
2.15
33
Ian Hargreaves
52.00
49.15
2.45
34=
James Wardman
44.00
40.53
3.07
34=
Manuel Cresciani
50.00
46.53
3.07
36
Margot Dale
51.00
47.29
3.31
37
Jorge Martinez
44.00
40.25
3.35
38
Danny Roebuck
45.00
40.55
4.05
39
Colin Lugton
49.00
44.15
4.45
40
Don Macrae
55.00
49.42
5.18
41
Pete Bedwell
50.30
44.21
6.09
42=
Brian Sweet
57.00
63.58
6.58
42=
Pauline Watts
57.00
63.58
6.58
Billy Kerr
34.58
Mark Iley
37.41
John Spencer
37.59
Pange Srivastava
39.46
Joyce
40.47
Jane
40.49
John
44.15
Elaine
50.38
Bernie Connor
50.41
Rachael Gooch
54.10
Eddie
58.23
Open 5, Sun 4 Dec
From Heather Dawe ... The last Open5 adventure race of the season was held at Rydal in the Lakes on Sunday. 5 hours of biking and running, the biking went around Loughrigg, into the Tilberthwaite area and Little Langdale, the running on the tricky ground of Loughrigg fell. Eddie Winslow and I headed across, Eddie was going for the male solos series win. We both chose to bike first as there were more points available compared to the run. Eddie was 2nd and sealed the series, well done! I got 2nd lady.
I had a few technical difficulties on the bike, a couple of punctures and a split tyre. I ended up patching the inside of the tyre wall with a Go energy gel wrapper on which, to my surprise, I managed to cycle about 10 miles!!!
The OpenAdventure events are really well organised and very friendly, with great biking and running in some very nice places. They've got the dates up for next season on their website, with 3 events in Yorkshire. Link
Bolton-by-Bowland fell race, Sun 4 Dec
Geoff Howard reports ... Three Harriers ventured into hotpot country today for the eight mile Bolton-by-Bowland Fell Race and were treated to splendid conditions above the feet if not under them. The winner (adding his name for the second time to the winners' board in the community centre) was Douglas Cornthwaite of Blackburn in 45m 48s trailed by Geoff Howard 37th in 57m 10s (1st v.60 & age record), Emma Barclay 50th in 58m 40s (4th Lady) and Bob Wightman 86th in 64m 48s. Definitely best not to retire without telling the marshals in this one or you'll be publicly named and shamed. Good hotpot by all accounts.
Guys 10 mile road race, Sun 4 Dec
Andy Wolfenden reports ... 109th in 72.46, Amino Load and Enduro Load worked well. (Oh, sorry, we're not allowed to do plugs.)
WYXC #4, Nunroyd Park, Sun 4 Dec
A great turnout in the last race in the WYXC League, and a Harriers Running League counter. Results from the Complete Runner site) are below. The Ladies race was won by Bingley's Lisa Mawer in 23:02, with Ilkley 6th team:

21 25:34 Alison Bennett
26 26:13 Cath Wolfenden
32 26:43 Pange Srivastava
42 28:56 Di Kitchen
44 29:03 Adele Errrington
65 31:10 Adele Mitchell
68 32:10 Bernie Gibbons
82 35:37 Emma Payne
The men's race was won by Holmfirth's Mark Buckingham in 35:45, with our team 13th. Neil Chapman reports ... We had nine men on the starting line, but unfortunately both Andy Wade and Steve Turland had to retire whilst in good positions. Phil Chappell, coming back to racing after injury fell in the slippery conditions and gashed both knees, which terminated his race. The remaining six meant we did just have a team, which was led in by Jamie Hutchinson having a brilliant run and finishing 49th. Jim Ryder was our second finisher 79th with John Atkinson 98th, myself 124th, and Keith Wood 154th finishing just ahead of Pete Shields who was 159th.

49  41:37 Jamie Hutchinson 
79  43:42 Jim Ryder 
98  44:37 John Atkinson 
124 47:36 Neil Chapman 
154 50:45 Keith Wood 
159 51:34 Pete Shields

For P&B, Shane Green was 25th in 39:56 and Jason Hemsley was 55th in 42:02; for Otley Antonio Cardinale was 179th in 60:12
There were excellent results from the Junior Ilkley Harriers - more...
The ladies' team finished 7th overall in the series, Alison Bennett was 4th in the 35-44 age group and Di Kitchen was 5th in the 45+ age group.
Abbey Dash, Sun 27 Nov
Results are now online at the Help The Aged site.

92    35:51 Graham Pearce
102   36:05 Jamie Hutchinson
122   36:30 Tim Ashelford
148   37:00 John Atkinson
229   38:50 Mark Iley
246   39:07 Andy Wiggans
317   40.26 Mark Teasey
324   40:28 Sally Malir 2nd LV40
335   41:14 Amanda Oddie
426   41:49 Andrew Herbert
437   41:57 Alison Bennett
484   42:23 Keith Wood 
663   44:11 Vic Verecondi
703   44:32 Sue Bickerdike
785   45:08 Deborah Steele
923   46:18 Adele Errington
1023  46:57 Andy Webster
1087  47:26 Peter Bedwell
1242  48:36 Debbie Rosen
1246  48:39 Pat Lonergan 4th LV50
1373  50:22 Clare Smith
1689  51:40 Bernie Connor
2039  54:12 John Coates

As a chip system was used, I have shown chip times and positions above. The race was a counter in the Harriers Running League, and points were based on the time of the winning runner Nick McCormick of Morpeth in 29:17 (if you are missing from the list, or believe your time above is wrong - let me know.
We have a detailed report from Terry Lonergan

here.
Sue Bickerdike reports ..." Keith (Wood) and I had a bit of a head-spin and decided to do both the Abbey Dash and the Rivock Edge fell race - (remind me not to be so mad again!) so didn't see many at the end of the Dash as we were racing back down the A65!
I finished the Dash in a vomit inducing 44mins 32s (PB by 58sec - but we'll wait for the chip time before cracking open the champagne!) + Keith did 42.20 (I think!). Then we legged it to Silsden - just got registered in time, but missed the start by about 5 mins - but hey - in for a penny in for a pound - and we played catch up all the way round. We managed not to finish last, partly due to Keith making me run all the way even though we'd agreed to take it steady. Official finish time 80 mins and some secs on a slightly shorter than usual course. A lady harrier got second lady - sorry don't know who she was, but she was very tall if that helps!
Bob Wightman was there taking photos to prove we were there!
Truly stupid but great fun!"
And from Andy Wiggans ... "In the absence of any official results here's how the Embsay contingent got on. Vic Verecondi, new member Andrew Herbert and I left home at an ungodly hour for a Sunday morning, warmed up using the proven Wolfenden technique ("few strides, lads, a few strides"), much to the amusement of the less enlightened fun-runners, then lined up with Keith, Sue and several other Harriers just by the 32 minute marker (we would have been further back but there were too many orange t-shirted people wearing i-pods and slip-on trainers setting out to run sub-35 minutes).
Chilly day, but pretty good conditions saw me crack another PB with 39:07 (my watch, so subject to confirmation) and Vic ran 44:12, a massive improvement on his last outing. Andrew, who despite being able to build computers struggles with telling the time, isn't sure what he ran, but we think it was something just under 42 minutes, which if confirmed will be another PB.
Both Vic and Andrew failed to see most of the km markers, so we'll be writing to the organisers asking for some kind of improvement to the visibility next time, such as large illuminated arrows pointing to the sign, or maybe a traditional town crier by each one.
We seriously considered running a fell race in the afternoon, but opted for the pub instead. The men's race was won by Nick McCormick in 29:17, the third fastest time on this course, I understand."
Rivock Edge fell race, Sun 27 Nov
Harriers results: 14 57:27 Lawrence Basham; 24 58:32 Bob Hamilton; 44 1:03:41 Kelly Harrison (2nd lady); 85 1:20:16 Keith Wood; 86 1:20:18 Sue Bickerdike; 91 1:24:47 Jemma Basham; 92 1:24:52 Antonio Cardinale
Barnardos Roundhay Park 5 Mile, Sun 20 Nov
Results from Vince Gibbons ... 48 Lawrence Basham 30.49; 274 Catherine Gibbons 40.03; 285 Bernadette Gibbons 40.18; 327 Mary Gibbons 41.59
Harriers v Cyclists, Sat 19 Nov
Graham Pearce reports ... Harriers v Cyclists is a quality race, the only race in the country that pitches runners directly against cyclists over the same course. As usual, Jebby won (cycling) in a time of 34:52 but our own Graham Pearce (also cycling, for Crosstrax) came flying in in third place with a time of 35:46. Second claim Harrier Stefan Macina had a great run, coming in fifth overall but first runner, to also take home some professional winnings, in 37:47. Jason Hemsley turned up, but decided to walk round, coming home eleventh in 38:38. 67 competed. 6m/650'
Great Whernside fell race, Sat 19 Nov
From Bob Hamilton ... Here's one to stick in your diary for next year. A classic up and down fell race to the summit of Great Whernside from Kettlewell, 4 miles and 1555 ft of climb, entirely runnable (for those more inclined to tarmac) and easy on the knees (for those who have run too much tarmac in their time). It's also organised by the redoubtable Pete Jebb, who seems to have an arrangement with the Gods in respect to the weather.
At the front of the field Ian Holmes out-descended Rob Jebb by 12 seconds to win in 29.33, possibly his last victory as a 'young man' before turning vet in a few weeks - a somewhat frightening thought! A gap of almost 5 mins separated these two from the other 74 mere mortals, including myself, 17th in 38.20; Emma Barclay 24th in 40.13 (2nd lady behind Sharon Taylor); Morgan Williams 33rd in 42.01 (being pipped by no more than a vest's width by an outrageously competitive Steve Barclay, offering the highlight of the day for the watching spectators); Alison Weston 35th in 42.40 (1st lady vet); and Kelly Harrison 44th in 44.15. For the record, Ilkley won the ladies team prize.
With the prize-giving taking place at the local hostelry in front of a roaring fire, and with great food on the menu, this was definitely the only place to be on a day where local fell runners were somewhat spoilt for choice for events.
Tour of Pendle, Sat 19 Nov
Jo Foster ... disagrees with Bob that Great Whernside was where it was at. Pendle was the place to be! Fantastic organisation, weather and good turnout of over 160. Ilkley Harriers were 51 Mike Baldwin 2h57:46, 84 Heather Dawe 3h10:55 (2nd lady), 90 Jo Foster 3h14:27, 104 Ken Jaquiery 3h22:16; and 118 Bob Wightman 3h28:10
WYXC#3, Wakefield, Sat 19 Nov
Results from the Complete Runner site are:
Men

103  38:40 WADE, Andrew  
115  39:25 CHAPMAN, Neil
149  42:25 TEASEY, Mark   

Second-claim Harriers were:

48  35:11 GREEN, Shane  Pudsey & Bramley  
63  36:18 STEVENS, Benjamin  Bradford G.S. 

Ladies

23  23:33 BENNETT, Alison  
31  24:11 JARVIS, Sarah 
47  25:55 SCRIVASTAVE, Angela  
57  26:36 KITCHEN, Diane   
58  26:40 ERRINGTON, Adele
70  27:59 MITCHELL, Adele  
giving us 6th team

We had good junior results too (more ...).
A reminder that the next (and final) WYXC event is to be held locally at Nunroyd Park, Guiseley, and it is a counter in the Harriers Running League. You cannot enter on the day and must not use anybody else's number - see Neil Chapman and Alison Bennett for details.
Kelbrook fell race, Sun 13 Nov
BS 3.5m/800' Morgan Williams reports Harry, Georgie, Tom and I went to Kelbrook today. A lovely sunny day in Lancashire!
It was very damp underfoot, the mud was deep but the river crossings not too bad.
I was first Harrier back in 56th 31.08. Steve Barclay was 65th in 32:01
Burley Bridge Hike, Sat 12 Nov
From Amanda Parnaby 8 Harriers took part in BBH on Saturday - Shane Green, Richard Midgley (5h09?), Keith Wood, Claire Smith, Barbara Bullock, Suzanne Bickerdike, Jane Cullingworth and myself. Pleasant morning after a damp start but very wet underfoot after the recent heavy rain. Web site
An update from Keith Wood

Winner 2' 46" 
 5th Shane Green 3' 04" 
13th Dominic O'Hooley 3' 21" 
21st Sue Bickerdike 3' 34" (2nd lady) 
22nd Keith Wood 3' 34" 
24th Barbara Bullock 3' 36" (3rd lady) 
25th Rob Pawson 3' 36" 
31st Clair Smith 3' 53" 
32nd Neil Smith 3' 53" 
70th Amanda Parnaby 5' 07" 
71st Jane Cullingworth 5' 07" 
72nd Richard Midgley 5' 09" 

New York City Marathon, Sun 6 Nov
Geoff Howard reports ... Terry Burgoyne and I travelled to New York with Sports Resort to do the marathon on Sunday. Terry finished in 4h 10m 34s having been on course for his target time with 1h 43m 37s at the half way stage but then had to endure bad cramp during the second half. Fortunately I managed to sustain my knee recovery pace all the way round finishing in 4h 13m 27s. The event was as enjoyable and exciting as doing our first London over 20 years ago and for anyone thinking of following suit the trip organisation was very good.
Guy Fawkes 10, Sun 6 Nov
Amanda Parnaby reports ... a windy and very wet Sunday morning at Ripley.
Results from Nidd Valley's site ...

27	01:01:44	Jamie Hutchinson
52	01:03:51	Lawrence Basham
121	01:09:58	Jeff Paget
168	01:12:41	Mark Teasey
189	01:14:04	Sarah Jarvis
228	01:15:49	Keith Wood
258	01:17:20	Elizabeth McCann
292	01:18:53	Graham Corbett
365	01:22:16	Debbie Rosen
369	01:22:23	Antonio Cardinale
372	01:22:36	Peter Bedwell
433	01:25:45	John Brown?
447	01:26:21	Bernadette Gibbons
488	01:28:37	Ian Hargreaves
520	01:30:56	Jemma Basham
578	01:34:58	Adele Mitchell
643	01:40:39	Amanda Parnaby

The race was won in 53:44, and there were 688 in the results.
Derwentwater 10, Sun 6 Nov
From Andy Woldenden ... One of my work colleagues reminded me on Saturday before the race, that : "You're a pretty crap runner, but at least you're consistent and you enjoy it". After thanking him for his encouragement, I set out to prove him right on both counts on Sunday because this is without doubt the most scenic, enjoyable 10 mile race in the country. Anyway fror the record 168th 1hr 14min 56secs.
Shepherds Skyline, Sat 5 Nov
BM 6.25m/1150' We had 10 Stefan Macina 47:33; 39 Mike Baldwin 52:53; 71 Emma Barclay 56:10 (3rd lady); 104 Heather Dawe 58:39
ROM October 2005
The Ilkley Harriers Runner of the Month for October is shared between Eddie Winslow and Nicky Jaquiery, and Jo Foster - more.
KIMM, Sun 30 Oct
The Karrimor International Mountain Marathon is the original 2 day mountain marathon. And it's hard. Dead hard. This year it was in the Lakes in torrential rain. Eddie Winslow and Nicky Jaquiery were 2nd mixed pair and a fantastic 23rd place overall on the hardest Elite course: 16h58:25 over 2 days. Other great performances included Ian and Joyce Marshall's 23rd place in 12h16:40 on the 'B' course, where Jamie Hutchinson and Richard Joel were 38th in 12h58:29
Adrian Hall and partner came 83rd in the Medium score competition with 450 points. Louise Cartledge had her first KIMM run - 152nd on the Medium Score with 372 points.
From Nicky ..Eddie and I came in 23rd (out of 70 pairs that entered; 37 retired!) thanks to Eddie's excellent navigation. According to Eddie, it was the toughest Elite course he'd ever done, & I chose it as my first! Prior to this I'd only done the B class. Day 1 was extremely long, 10h 13m (43.1km and just over 8,000') which meant that we came into the overnight camp in the dark. Day 2 was meant to be 35km and approx 7,000', but it was shortened slightly, due to a bad weather forecast and in recognition of the fact that the course was too long. Sure enough, we had driving rain and gale force winds just to ensure it was a truly memorable experience. It's one of the toughest races I've done, but having said that, yes I would go back and do it again. The legs don't feel too bad, but I now have even more black toenails and Eddie has a gashed knee (he fell 20 metres before the finish!). I'm now resting and eating - even more than usual, although I've yet to have the egg and chips that Eddie and I were longing for!
Halloween Howler, Sun 30 Oct
BS 3.5m/600' Graham Pearce was 4th in 28:00; Morgan Williams 31st in 34:45; Kay Pearce 35th and 2nd lady in 35:25; and Ed Battye 40th in 36:40 There were good junior results too - more.
WYXC, Otley, Sun 30 Oct
Initial results are:
Men: 83 Jim Ryder 34:34; 89 Steve Turland 34:58; 109 Mark Iley 35:45; 121 John Atkinson 36:26; 139 Neil Chapman 38:01; 163 Mark Teasey 39@07; 186 Pete Shields 40:27; 203 Keith Wood 42:33
Ladies: 13 Helen Sedgwick 19:42; 24 Alison Bennett 20:34; 27 Sarah Jarvis 20:55; 33 Kelly Harrison 21:11; 56 Di Kitchen 23:14; 61 Di Haggar 23:47; 74 Bridget Doherty 24:40; 86 Bernie Gibbons 26:12; 96 Emma Payne 28:53 - the ladies were 4th and 11th teams, great results.
And there were nearly as many Ilkley Juniors racing - more.
Worksop Half, Sun 30 Oct
From Pete Bedwell ... Ilkley Harriers were represented by 2 runners at the Worksop Half marathon on Sunday. A very scenic, though undulating course through Clumber Park provided a 3 year best time of 1.48.21 (946) for myself and a new PB by over 3 minutes of 1.49.04 (977) for new member John Brown.
A well marshalled event, bit busy at the start with 1874 finishers, but soon thinned out to provide a very enjoyable run. The rain that fell for nearly all the race provided welcome relief for the unseasonably warm (16C+) temperature
Accrington 10k, Sun 30 Oct
Andy Wiggans writes ... Lured by the promise of a fast course Vic Verecondi and I crossed the Pennines to Accrington today for a 10k organised by the Road Running Club of that locality. Worryingly, neither of my current gurus (Messrs Lonergan and Wolfenden) knew anything about the race (although Andy did say "I bet it's 'illy"), and whilst very enjoyable and well organised, I wouldn't say it's one for a PB.
The race basically goes down a big hill for about 2½ miles, then runs back up said hill a different way. Speeding down the hill Vic and I both went through the halfway mark in very quick times. Sadly for me, one of the penalties of being on the stout side is the effect gravity tends to have going back up, so the return journey was less swift for both of us – particularly as the strong wind was in our faces. And it was raining. And I'd only had a really small banana. And my legs hurt…anyway – enough excuses, how did we do?
I finished 67th out of 384 finishers in 40:59, a way outside my recent PB, but a time I'd have been happy with earlier in the year, and Vic (on the results as "Verecono", which I thought was some kind of filter coffee) was 209th in 47:21. He described himself as "wilder than a brumbie in the bush, mate", which I understand means he was less than pleased with his performance. Still – for a bloke that hasn't run a race since May it's a respectable effort.
Definitely a race worth going back to, but wouldn't call it a quickie.
Withins Skyline fell race, Sun 23 Oct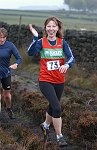 BM 7m/1000' The first of the Woodentops' winter fell races on Bronte moorland, always popular with Harriers and a 2005 Harriers Running League counter. The race was won by Simon Bailey in 42.09. Shane Green, Jason Hemsley, and Stefan Macina (all P&B) were well up in the field - 12th to 14th in 45.53, 45.53; and 46.10 respectively). First Harrier was 29 Jamie Hutchinson 48.25, having a great run. Then 36 Jim Ryder 49.21, 37 Richard Joel 49.29, 53 Malcolm Pickering 51:20, 58 Bob Hamilton 51:53, 63 Mike Baldwin 52:01, 81 John Atkinson 53.17, 85 Ian Marshall 53.25, 111 Bob Wightman 56:59, 131 Neil Chapman 58.13, 136 Jo Foster 58.26, 140 Joyce Marshall 58.41, 182 Keith Wood 62.43, 187 Ed Battye 63.04, 203 Nigel Tapper 65.20, 204 Di Kitchen 65.29, 207 Sue Bickerdike 65.42, 224 Helena Deeney 67.06, 229 Di Haggar 68.08, 238 Andy Kitchen 69.38, 241 Pete Bedwell 69.2, 270 Ros Leach 84.03, and 271 Antonio Cardinale (Otley) 84.39.
Click on Smiling Sue to see some Harriers photos ...
There was also a good turnout of Junior Harriers - more.
Northern Vets 10 mile Road Championships. St Annes, Sun 23 Oct
Andy Wolfenden reports ... managed 73.38 on the prom at St Annes to finish 8th in my age category and 39th overall. With a V70 turning in a time of 75mins and a V75 with a 76min, it's clear that the competition just gets tougher the older you get. (Full results on ukroadraces.net.)
British Fell Relay Championships, Sun 16 Oct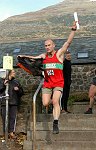 Ilkley fielded 3 teams for this top event in the Ochills, Scotland. Geoff Howard master-minded two men's teams, in addition to the omnipresent ladies team. The Open team got off to a flying start with Jim Ryder back 33rd in 57:22 for the 7km/730m solo leg. Sally came in 8th lady (but close to 7th and 6th), 70th in 66:42; and Ken Jaquiery got the Vets off to a flying start (taking a flyer in the Finish tunnel, anyway) 80th in 71:27. The first legs confirmed that this was great mountain running: big climbs, steep descents, but good conditions underfoot, and all under a blue sky.
Graham Pearce had a blinder on the 'short' (6km/430m) leg 2, bringing us back to 25th in 31:45. Jo Foster brought the ladies in 69th and 6th ladies team in 38:55; and Mark Priestley improved the Vets team position to 76th with his 38:17 run.
This set the scene for the 7 mile (9 mile?) navigational leg. Nicky Jaquiery and Alison Eagle tore round in 98:52, 3rd fastest ladies team on the leg, 57th overall, and closing the gap on the ladies teams in front and overhauling one of them, as well as our Open Team. Ed Battye and Iain Gibbons ran 124:38 to bring that team in 72nd. Paul Wood and Bob 'Graham' Wightman brought the Vets team in 81st place in 112:27, beating the mass start.
On the final leg, 13k with 1150m of climb, Andrea Priestley and Helen Sedgwick ran an incredible race: 2nd fastest ladies team only to Carnethy and only by 1 second, and overtaking all but one of the ladies teams to bring us up from 5th to 2nd (and 49th overall with 4h56:41) with a leg time of 92:12 It was all in the plan, of course ... Steve Turland and Richard Joel had another great run - 91:22 bringing that team in 56th in 5h05:07; And Ashley Hardwell and Kevin Gooch ran a good leg 112:07 to bring home the Vets team 81st in 5h34:18
Full results on Carnethy's web site.
Beefy's Nab fell race, Sun 16 Oct
Morgan Williams reports There were 96 starters in the senior race which is listed at 3.5 miles and 650' I think. I managed 44th in 29.09, squeezing into the first half of the field which is a rarity in itself. Bit fast for me to be honest, almost all runnable and nothing to really get your teeth into on the descent. However, on that evidence there is still hope for me!
Amsterdam 10k, Sun 16 Oct
From Terry Lonergan ... Joined 3397 for this 10k which is part of the marathon weekend. In superb conditions, ran 39.19 (96th sub 40) for 76th male of 1912. New member Pat Lonergan ran 50.20 for 114th of 1485 women who took part.
WYXC #1, York, Sat 15 Oct
In the ladies race Alison Bennett was 27th in 23:56; Kelly Harrison was 31st in 24:18; Di Kitchen was 50th in 26:05; Adele Errington was 59th in 26:43; Bernie Gibbons 87th in 29:03; Emma Payne 97th in 32:57 - Ilkley were 7th out of 17 teams.
For the men: 137 John Atkinson 36:46; 164 Neil Chapman 38:17; 176 Mark Teasey 39:35; 195 Pete Shields 40:40; 212 Keith Wood 42:43; 224 Andy Kitchen 45:07; 16th team. Jason Hemsley, running for P&B, was 55th in 33:22.
Ilkley also fielded many more runners than previously in the junior races.
Polaris, 8-9 Oct
From Heather Dawe Me and about 300 other people did the Polaris this weekend. It started from Gosforth in the West Lakes and included some great mountain bike trails such as Ennerdale, Black Sail Pass and Blea Tarn (connecting Eskdale and Wasdale). I also ended up cycling around the delights of Sellafield but I won't dwell on that!!! The overnight campsite was in Joss Naylor's field in Wasdale which was very pleasant although we didn't get to see the great man himself. The weather was changeable, heavy showers with the odd bit of sunshine. You can compete as either a team of 2 or solo, I rode solo and won the ladies category.
Run for Heritage 10k, Sun 9 Oct
Jack Wood was 4th in 43:26 in Ripon Runners new 10k terrain run.
Harewood Trail Race, Sun 9 Oct
A counter in the Harriers Running League. The race was won by Jarratt Perkins of Scunthorpe & D AC in 58.37
From Pete Bedwell Did the Harewood 10 mile trail for the first time today. Great course but quite hilly for me with a killer hill at the end. (No doubt gently undulating for the fell runners!) Quite crowded at the start but it soon settled down for a very enjoyable run, well marshalled and a nice bottle of beer at the end. Had to stop for a min to massage my right foot to get rid of pins and needles but was more than happy with a 1h24.52
Official results: 19 Jamie Hutchinson 63:46; 27 Richard Joel 65:17; 40 Mark Iley 67:08; 41 John Akinson 67:12; 60 Neil Chapman 70:07; 64 Andy Wade 70:36; 100 Sarah Jarvis 73:18 (5th lady); 108 Alan Pearson 73:51 (3rd V60); 110 Mark Teasey 73:52; 121 Alison Bennett 74:16 (3rd LV35); 141 David Brown 75:26; 172 Nigel Tapper 77:15; 186 Keith Wood 78:14; 230 Vince Gibbons 80:56; 238 Sue Bickerdike 81:34; 258 Barbara Bullock 83:02 (1st LV55); 289 Pete Bedwell 84:52; 296 Di Haggar 85:09; 322 Antonio Cardinale 86:27; 340 Debbie Steel 87:46; 366 Helen Shew 89:56; 408 Debbie Rosen 93:26; 456 John Coates 98:52; 461 Anne Briggs 99.24; 469 Laura Beadle 100:33; 479 Adele Mitchell 101.32; 498 Amanda Parnaby 105:05; 509 Ros Leach 106:59.
Phew! And in the 2 mile Harewood Hop: Dan Roebuck was 4th in 1:40; Simon Chapman was 6th in 14:31; Catherine Gibbons was 12th in 15:41 (a PB); 36 Adam Bennett 17:13; 40 Nevada Hargreaves-Madhas 17:32; 66 Tom Bennett 19:27; 67 Andrew Bennett 19:33; 78 19:56 Odin Hargreaves-Madhas; 88 Raj Madhas 20:38; 126 Eileen Gibbons 22:16; 228 Logan Hargeaves-Madhas 27.27
Official results from Valley Striders site.
Bronte Way fell race, Sun 9 Oct
BM 8m/1150' On KCAC's web site we saw 54 Michael Hopkinson 67:42; 154 Graham Maud 87:17; 164 Heather Maud 89:25
Calderdale Mountain Bike Marathon, Sun 9 Oct
From Jason Hemsley .. Myself, Ted Battye and Stef Macina rode this off road cycle race, 26 miles over familiar Calderdale Relay terrain, leg 1 and 4 mainly. I finished 6th in 2hr 15, Stef 6th a minute later, and Ted in 2hr 56 for 60th place. Mr Pearce missed the event in favour of shopping with his wife!!
Ed adds ... A quality course, good climbs with some excellent descents from technical rock steps to fast flowing open tracks. Well marshalled and food stops on the way. Weather was ideal cool and bright. Total of 180 riders. Well worth the £15 when you get a free t-shirt.
Langdale Horseshoe, Sat 8 Oct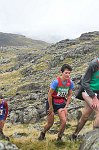 AL 14m/4000' This was the final counter in the English Fell Championships.

70  Steve Turland  2h40:06 
111 Roy Ruddle     2h47:54
135 Eddie Winslow  2h51:40
165 Helen Sedgwick 2h57:31
180 Ian Marshal    3h00:48
190 Nicky Jaquiery 3h02:15
199 Sally Malir    3h03:32
214 Alison Eagle   3h06:06
233 Jo Foster      3h09:56
250 Kelly Harrison 3h18:01
261 Ken Jaquiery   3h19:49
280 Kevin Gooch    3h27:55
303 Rachael Gooch  3h32:42
327 Alison Weston  3h41:48

We understand that Ilkley Ladies were 2nd to Keswick on the day, with Calder Valley 3rd. Emglish Championship results will be official in a day or two, but we can predict that Ilkley Ladies are English Champions.
Rother Valley 6m Trail race, Sat 8 Oct
Vicky Wright was 106th out of 269 runners in 47:44
Beamsley Bash
Ewan's 10 mile (accurate!) road session from the Lido via Nesfield to the A59 and back is gathering a good following. Meet at the Lido (?) 10am each Saturday morning.
Ian Hodgson Relay Success, Sun 2 Oct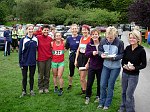 Our ladies team not only won, but beat the respected Keswick Ladies' record by 6 minutes, finishing 36th overall in 4 hrs 43:17
Our men's team had their best result in many years, 19th overall in 4 hrs 25:41
On Leg 1, Andrea Priestley and Helen Sedgwick were fastest ladies on the day, beating the record by 1m55s in 1:23:22 (29th overall on leg) and ahead of our men's team pair Jim Ryder and Malcolm Pickering 1:26:17 (37th on leg).
On Leg 2 Alison Eagle and Emma Barclay were fastest ladies 43:41 (25th), but were overtaken by our men's pair of Jack Wood and Graham Pearce 39:30 (7th)
On Leg 3 Sally Malir and Nicky Jaquiery had another good run 1:24:47 (43rd), keeping a good lead on the Keswick ladies, and Mike Baldwin and Iain Gibbons having a good one too 1:21:03 (33rd).
Then on the final leg Alison Weston and Jo Foster kept a good lead despite an injury - 1:11:27 (38th). For the men, Roy Ruddle and Hector Haines overtook several teams in 58:51 (14th on the leg), and Hector had enough energy left to leap the cattle grid at the finish.
Results now on Sportident
Horsforth 10k, Sun 2 Oct
From Pete Bedwell ... Here's a bit of a race report for the Horsforth 10K ran at 10am this morning. Good running weather, well marshalled course, uphill for the first 3K then down to the canal and along for the second half of the race back to Woodhouse Grove School made it a very enjoyable run. The Harriers were well represented with the following runners:

69   Nigel Tapper      43.04
70   Alan Pearson      43.04
163  Richard Gray      47.41
170  Debbie Steele     47.55
177  Pete Bedwell      48.06
193  Nick Mellor       48.51
229  Antonio Cardinale 50.47
290  Adele Mitchell    53.14
412  Ann Pearson       64.12

Mary Peters Springhill Hospice Heroes 4.3M Road Race, Sat 1 Oct
Dave Matthews was 8th in 26:26
News 2006
|
News July-Sep