Ilkley Harriers news archive 2016
Ilkley Harriers of the Month, June
Runner of the month:
Paul Carman
parkruns, Buckden Pike, Beamsley Beacon, Kettlewell results
Other nominations were:
Matthew Cox (results at Wharfedale half marathon and Beamsley Beacon fell race)
Outi Kamarainen (Jura and Highlander results)
Jack Cummings (results at Beamsley Beacon and Badgerstone relays)
Dan Wilkinson (results)
men's Badgerstone relay team (Ruraidh M-W, Dan H, Jack C)
Mary Gibbons (progress and dedication to training)
Jann Smith (commitment to fell races and parkruns)
Volunteer of the month:
Andy Wolfenden
'Away runs'
Other nominations were:
Hilda Coulsey (beginner's group)
Jane Bryant (beginner's group)
Jane McCarthy (encouraging updates on Harriers league).
More Harriers of the Month ...
Summer Mile, Wed 29 June
From Petra Bijsterveld... Helen Waddington and I were the only two Harriers running at the annual Summer Mile in Hyde Park, efficiently and cheerfully organised by Hyde Park Harriers. Tom Adams was prevented from defending his 2015 win by being in Italy for the European Mountain Running Championships. The mile is run over an almost flat two lap course on the tarmac paths, with chip timing and a beautiful medal for all. We were set off in 14 consecutive heats of about 20 runners each, matched for predicted pace and gradually getting faster. There was also a heat of race walkers (winning time 6:08!!). After heavy rain much of the afternoon we had a lovely sunny evening which made the whole event very pleasant, apart from the small inconvenience of having to run that mile.
How hard can it be? Though I had never raced a mile before I was under no illusions that it was going to be anything other than very unpleasant. And I was right. The start was just ever so slightly uphill and after about 200 meters I already felt like stopping and lying down. However, by focussing on overtaking one of my office colleagues I managed to gain momentum, and by the second lap it actually felt slightly easier, within the spectrum of terrible agony that is. The going was not entirely without hazard as it was slippery after the rain, the tarmac was broken and uneven in some places, there were a few corners to negotiate and the setting sun was in our eyes. All good excuses! Helen ran a fantastic 7:02 to come second in her category and I was pleased enough with 7:48. I also managed to stay ahead of my colleague so the office hierarchy has been maintained. Thanks to Neil Chapman for coming down especially to support and encourage us from the sidelines which I am sure knocked a couple of seconds off.
Results ...

(1  4:48 Adam Stacey, U/A)
135 7:02 Helen Waddington
170 7:48 Petra Bijsterveld
216 ran

HDSRL Handicap race, Tue 28 June

(1   44:27 Kevin-Malachy Murphy, Harrogate Harriers, first finisher)
(132 30:05 Paul Millgate, Wetherby, fastest runnner)
43   35:22 Steve Murray
58   42:08 Geoffrey White
110  51:46 Tracy Russell
111  51:46 Sally Wright
203  42:04 Sarah Hayes
208  51:39 Laura Dawes
215  37:50 Lucy Williamson
218  51:27 Donald Macrae
232  53:23 Sue Williamson
240 finished

Wharfedale 2 Peaks Challenge, Sat 25 June
From Val Kerr ... I had decided to enter this 13.5 mile event (run by the Upper Wharfedale Fell Rescue Association) as a road back to fitness as it was billed as a challenge rather than a race and I knew that I could always walk if the going got tough. Adela Reperecki had also entered so we decided to go round together. The first part of the challenge involved a very hot 2 mile run along the Dales Way footpath from Kettlewell to Starbottom. This was followed by a long, hot ascent of Buckden Pike via the lead mine path and an extremely boggy descent down past the war memorial to Cam Gill Road. After drinking copious amounts of water at the refreshment station we headed up Great Whernside and finished off with a lovely run down through the grassy fields back into Kettlewell. A paddle in the river, pie and peas and lovely cakes greated us in Kettlewell village hall. Our finishing time was not impressive (3:22:00) but was immaterial as we had both enjoyed being back on the fells again.
Buttermere Horseshoe, Sat 25 June
From Jack Wood ... Me and Dan took on the Daz Holloway Buttermere race on Saturday and were beaten! The route is a 22mile (2500m climb) horseshoe going up one side of the Buttermere valley to Honister Pass and coming back the other. I felt fine for the first couple of hours but then the wheels started coming off and spent much of the second half walking. Dan made it to Newlands Hause but the refreshments put on there by the marshals were so good he just couldn't go on. A great selection of cakes were a consolation at the finish.
Results ...

(1 4:18:06 Simon Booth, Borrowdale)
18 5:14:03 Jack Wood
76 finished

parkruns, Sat 25 June
From Petra Bijsterveld ... Results ...

Leeds Woodhouse Moor
(1  16:30 John Hobbs, Valley Striders AC)
29  20:35 Tom Worboys
346 ran

Bradford Lister Park
(1  16:51 Craig Shearer, KCAC)
95  25:37 Alex Stanley-Hyde
352 ran

Harrogate Stray
(1  16:25 Andy Grant, Harrogate Harriers)
184 25:58 Julie Elmes
369 ran

Skipton Aireville Park
(1  18:12 Jake Ridding, U/A)
5   18:59 Paul Carman
31  21:44 Jann Smith
108 27:43 Polly Crawley (junior)
181 ran

Hilly Fields Lewisham
(1  17:12 Jonathan Tipper, U/A)
4   18:05 Alex Hirst
205 ran

Beamsley Beacon fell race, Thu 23 June

(1  36:47 Ali Burns, Valley Striders)
7   38:00 Matthew Cox
10  38:36 Jack Cummings
13  39:50 Paul Carman
15  40:35 Ben Sheppard
36  43:01 Paul Calderbank
40  44:07 John Hayes
45  44:48 David Fotsyon
48  44:59 Jane McCarthy 2nd lady
72  48:36 Chantel Busby
83  49:08 Lucy Williamson
88  49:42 Mary Gibbons
89  49:46 Jann Smith
91  50:11 Paul Stephens
93  50:17 Outi Kamarainen
103 54:19 Alison Weston
115 58:12 Peter Lewis
124 63:51 Amanda Newham
128 finished

Solstice Saunter, Mon 20 June
From Alex Hyde ... A beautiful evening on the longest day saw the inaugural Solstice Saunter 5 mile race at Bolton Abbey. A challenging course with some serious slopes through Strid Wood out to Barden bridge and back finishing opposite the Cav Pav. The small matter of a clash with England v Slovakia meant that the field was 75% female which gave me a rather flattering finishing place of 98th out of 457 in a time of 47:01 .... but I'll take that!! Great organisation, lovely atmosphere and a medal and bottle of Timothy Taylor's at the finish made it all worthwhile.
Pudsey 10k, Sun 19 June
From Paul Stephens ... A superb multi-terrain 10k which I first ran in 1994 although the course has changed a couple of times since. Well organised and friendly with markers every kilometre and plenty of marshalls and spectators. I was a couple of minutes off the pace this year and finished 116 out of 476 in 49:22. The first 2km are on the road followed by about 5km on rough tracks and a muddy footpath through the woods in the Fulneck valley before a steep climb back into Pudsey and the final 3km on the road. At the finish, fruit - I had a banana - and a flourescent orange technical t-shirt. Sue Williamson was the only other Harrier there. Her first time. I hope she enjoyed it.
Results ...

(1  35:26 Tesfaye Debele, Leeds)
116 49:22 Paul Stephens
386 67:50 Sue Williamson
476 finished

Buckden Pike fell race, Sat 18 June
From Sarah Edwards ... This was a short 4 mile fell race but threw as much as they could at us in that distance (including 1500ft of climb): very steep scramble up from the start, not so steep runnable up, a bit of flat then a runnable descent followed by a leg wobbling final downhill. Throw in a river crossing, stile and a wall to jump over at the end and there's nothing more a fell race needs. Except tea and ice cream afterwards (which was available at the gala)! Great afternoon. Results ...

(1 34:17 Jamie Parkinson, P&B)
2  34:51 Jack Wood
8  38:52 Jack Cummings
9  39:05 Paul Carman
14 42:14 Alex Hirst
18 43:56 David Robinson
27 45:28 Nick Pearce
29 45:32 Richard Joel
55 49:31 Norman Bush
57 49:48 Mary Gibbons
63 51:09 Jann Smith
73 52:43 Sarah Edwards
98 finished
Ilkley had 1st and 4th men's teams
and 1st ladies team

This was a counter in the Ilkley Harriers Race League.
parkruns, Sat 18 June
From Petra Bijsterveld ... Results ...

Leeds Woodhouse Moor
(1  15:50 Benjamin Douglas, Notts AC)
31  20:14 Tom Worboys
355 ran

Bradford Lister Park
(1  16:48 Sam Clegg, Idle AC)
274 31:29 Alex Stanley-Hyde
408 ran

Harrogate Stray
(1  18:02 unknown)
209 26:45 Julie Elmes
357 ran

Rushcliffe
(1  17:31 Oliver Matharu, U/A)
11  19:29 Adam Rhodes
358 ran

Skipton Aireville Park
(1  18:27 Tom Pratt, Leeds and Bradford Tri Club)
99  27:11 Hilda Coulsey
101 27:24 Polly Crawley (junior)
186 ran

Barrowford Grand Prix 5k, Fri 17 June
Well done to Tom Adams on breaking the Club 5k record of 15:06, first set by Jack Brown at Meanwood track in 1990 and equalled by Tom at this year's John Carr race 1.
Results ...

A race
(1 14:59 Ben Fish, Blackburn)
2  15:02 Tom Adama
19 16:08 Matt Newell
22 16:12 Cameron Reilly
37 ran

B race
(1 17:05 Martin Fillingham, Saltaire)
41 19:17 Mark Iley
62 ran

From Pete Shields ... Mark Iley ran well in the B race as 3rd V50. In the A race Ilkley had Tom Adams, Matt Newell and Cameron Reilly on the start line. Tom was looking to get under 15 mins, he very nearly succeeded running a very close second to Ben Fish of Blackburn Harriers in 15:02, the sub 15 is not far away from him on this form. The other Ilkley interests both ran very mature races in top class company, both got PB's - Cameron was timed at 16:12 which still keeps him as 2nd fastest for his age in the country.
Ilkley have hit a rich seam of young male athletes alongside tonight's three runners there is Jack Wood, Ruaridh Mon-Williams, Oscar Stapelton and others who can hold their own in any company, relays come to mind!!
Applause must go to Steve and Arthur the supportive fathers and Tom's wife for adding to the Ilkley presence in the inclement conditions.
HDSRL race 4, Thu 16 June

(1  26:16 Jamil Parapia, Otley)
28  30:13 Daniel Hayes
75  33:35 Steve Murray
86  34:07 Sally Malir
105 35:01 Lucy Williamson
132 36:19 Sarah Edwards
164 37:43 Sarah Hayes
197 39:53 Geoffrey White
241 41:46 Hilda Coulsey
243 41:49 Peter Lewis
256 42:47 Julie Elmes
287 45:04 Donald Macrae
299 46:22 Sue Williamson
306 46:49 Kate Lofthouse
317 48:12 Laura Dawes
319 48:45 Sally Wright
337 finished

This was a counter in the Ilkley Harriers Race League.
Swaledale marathon, Sun 12 June
Report from Alison Weston ... I decided to enter the LDWA Swaledale marathon this year, getting close on 20 years since I last ran it! A lovely route from Fremington near Reeth climbing 4,000ft in 23 miles on mainly gradual ascents. Unfortunately the mist was down at Great Punchard Gill where the only tricky navigation bit is and I did a rather long detour on tussocks with 10 other runners to find the path again!
Over 400 runners/walkers with good meal at the end and endless cups of tea. My final time was 4hrs 33 and the winner was just under 3 hours.
Howtown fell race, Sun 12 June
From Dan Wilkinson ... lovely low key long race on the eastern fells from Howtown, this race was rescued from the brink of cancellation this year. £3 gets you 14 miles and 4,200ft of climb and more cake than you can shake a stick at. Super day and I managed 4th and 1st M40, a trend for the week.
Results ...

(1 2:12:35 Matk McGoldrick Wharfedale & Phil Winskill Keswick)
4  2:15:17 Dan Wilkinson
68 finished

Hawkswick Dash Sun 12 June
From Paddy Hagan ... As steep as the last time I tried it...just as you reach the top (having scrambled up on all fours) and think you can finally stretch out, it turns out your legs have deserted you. Gravity does the rest.
Results ...

(1 11:23 Simon Bailey, Mercia)
9  13:21 Jack Cummings
13 14:02 Iain Gibbons 
37 16:33 Paddy Hagan 
44 17:41 Mary Gibbons 
73 finishers

Weets fell race, Sat 11 June

(1 38:08 Thomas Corrigan, Barlick)
33 49:00 Kate Archer
137 finished

Ennerdale fell race, Sat 11 June
From Steve Turland ... as preparation for my forthcoming BG attempt, I did the Ennerdale race at the weekend. At 23m with 7500ft of climb it was the first time the full route had been run in the last 3 years due to previous bad weather. However, the weather didn't disappoint with low cloud for much of the route making the navigation 'interesting' although spirits were high on the first summit with Joss Naylor manning the checkpoint and offering words of encouragement. A small field of 65 (due to the British Champs that day), and I finished in 20th position in just over 5 hours.
Scottish road trip - Jura fell race and Highlander Mountain Marathon
From Outi Kamarainen ... I got an entry to the Jura fell race this year and was very excited to head up to the island after all the tales of great racing and atmosphere from Dave Wilby. I had decided to cut the drive North short and left the car in the port of Ardrossan and boarded the ferry with my bike. I cycled across to the North of Isle of Arran, a short ferry ride and a cycle across Mull of Kintyre and two more ferries later, I landed in Jura on late Friday afternoon. My 'shortcut' saved about 100 miles and quite a few hours of driving in favour of nice scenery and just over 20 miles of cycling which was a good warm up for bigger things to come. The Jura fell race starts at the Jura distillery before climbing up to the Paps of Jura and then back along the seashore and the route is 28 km long with just under 2400 m of climb. The race day dawned slightly overcast but the cloud soon lifted to reveal the rocky tops in all their glory. I had been warned of the rough terrain and steep ascents and descents so took the start steady and still felt to have something left on my legs for the last decent towards the seashore 4 hours later. That feeling soon disappeared, especially once I hit the tarmac after nice and long springy descent and the last 5 kilometres on the shore road towards the finish felt really long and tough. Finlay Wild was fastest around the course in 3:09 and Jasmin Paris was the first female in 3:41 but I was very pleased that I got around succesfully in 5h 19 minutes with still being able to walk the day after. Some of the descents were very rocky as well as steep and you had to concentrate hard not to dislodge any large boulders as there were lots of runners below as you were sliding down scree. That night there were lot of happy and slightly sunburned people in the pub and later in ceilidh too and Dave was definitely right about the great atmosphere.
I spent the rest of the week cycling across Islay and Arran and visiting friends close to Edinburgh before heading up towards Cannich by Lochness for the Highlander Mountain marathon (this time in my car). It was the 10th and last edition of the race, which is a shame as it was once again a great weekend. I ran with Kirsty Bryan-Jones from Dark Peak and after slightly bad start on Saturday when we were trying to find a random boulder in hillside with only 5 meter visibility, we picked up the pace and lots of more controls to finish first day as first females and 13th position on the Score course. The mid camp had a marquee again and lots of food to buy as well as a ceilidh band but this time I managed to restrain myself to only a handful of dances as my legs were feeling the 7 hours spent running around the hills. Sunday morning was misty first thing like the day before but this time we managed to find the early controls without any problems and there was a fantastic cloud inversion once we got on top of the first peak of the day. The cloud soon cleared completely and we were trying to hunt streams for water as well as controls under the relentless sun. My legs were feeling very tired by mid day and bit later I could feel my whole body flagging, probably partly due to the heat and our progress was steady but navigation remained spot on. We decided to go for one more 15 point control with 20 minutes before our 6 hour time limit was up and ended up having to sprint the last 2 kilometres in order of not to get any time penalties. Despite not feeling that fast, we were pleasently surprised to discovere that we were 7th overall on second day's course, which also got us a first female pair and 7th overall place in the whole score class of 89 teams with some good runners behind. A great week away with two fantastic races, though I do feel like I may need another holiday to recover...
parkruns, Sat 11 June
From Petra Bijsterveld ... A first finish this week for junior Oscar Stapleton at Skipton!
Results ...

Leeds Woodhouse Moor
(1  15:57 Benjamin Douglas, Notts AC)
45  21:03 Tom Worboys
409 ran

Bradford Lister Park
(1  17:05 Will Kerr, Saltaire Striders)
31  21:34 Rhys Jones
394 ran

Harrogate Stray
(1  17:54 Stephen Ellison, U/A)
30  21:16 Helen Thurston
342 ran

Hilly Fields Lewisham
(1  17:23 Hugh Salway, U/A)
2   17:33 Alex Hirst
274 ran

Skipton Aireville Park
1   18:15 Oscar Stapleton (junior)
3   19:05 Paul Carman
20  21:59 Jann Smith
64  26:14 Polly Crawley
130 ran

League update
From Jane McCarthy ... After 9 races the league competition is hotting up! Over 100 Harriers have run in at least one League race and over 50 have run at least two. In May there were 5 races on the League calendar and some fabulous performances including wins for Jack Wood at Jack Bloor, and two wins for Tom Adams, in John Carr (1) and Ilkley Trail Race (in which a fantastic 46 Harriers ran!).
In the Overall League Competition Lucy Williamson continues to lead with 588 points from 7 races. Last year's winner Michael Duffield is in close second with 574 points, also from 7 races. Adela Reperecki and Steve Murray are currently in 3rd and 4th place. Only Matthew Cox - winner of Dick Hudson's Fell Race - has so far posted his wildcard result, gaining him 106 points.
Jack Wood leads the Fell League, Adela Reperecki the Trail League and Michael Duffield the Road League.
After the Wharfedale Half Marathon which was on June 4th the next league counter is the HDSRL Race in Thirsk on the 16th June.
Full results, calendar, and wildcard information on the Ilkley Harriers Race League page.
Kettlewell Anniversary fell race, Thu 9 June
From Dan Wilkinson ... Lovely evening race from Kettlewell, well supported by Harriers, if there was a ladies prize I think Ilkley would have won it. Chantale Busby was 3rd lady and there were vet prizes for Paul Calderbank and myself.
Results ...

(1 36:44 Ted Mason, Wharfedale)
4  39:37 Dan Wilkinson
10 41:44 Paul Carman
21 47:33 Paul Calderbank
35 50:58 Chantale Busby
38 51:03 Jann Smith
40 51:41 Mary Gibbons
72 finished

Will Ramsbotham Badger Stone Relays, Wed 8 June
From Mark Mon-Williams ... A great night of racing - many thanks to everyone who made it happen (named in the attached report). It was a great night for Ilkley Harriers and it was wonderful to see the three young and upcoming male Harriers show a clean pair of heels to Pudsey and Bramley. It's the first time in a long time that an IH team has managed to get its name on the WRBR trophy... too many P&B entries for my liking! The IH female team have had more recent success but it was great to see them complete the IH winning streak and ensure that IH won the male and female team prize in the trail race and the WRBR. Hopefully an omen for the FRA relays and the Hodgson brother relays? Special mention needs to be made of Mary Gibbons as this was her first victory - but I am sure that she will have many more wins notched against her name before long. Thanks to all runners and volunteers for making this such a special evening.
Ilkley had first men's team Ruaridh Mon-Williams, Dan Hayes, and Jack Cummings; and fastest ladies' team Alison Weston, Jann Smith, and Mary Gibbons.
Archive results etc. on the Badger Stone Relays page
Otley 10, Wed 8 June
From Helen Waddington ... perfect conditions and another great result for Jack Wood and plenty of PBs . . .
Results ...

(1  55:23 Jason Cherriman, Leeds City AC)
2   56:41 Jack Wood PB
48  68:33 Michael Lomas	 PB
77  71:37 Jane McCarthy	PB
78  71:45 Paul Calderbank
93  73:25 Tom Worboys PB
168 81:16 Martyn Stocker
180 82:45 Helen Waddington  PB
210 84:53 Jean Sullivan
367 ran

Kettlewell fell race, Sun 5 June

(1 11:33 Simon Bailey, Mercia)
11 13:57 Iain Gibbons
49 16:58 Kate Archer
102 finished

Pen y Gent fell race, Sat 4 June
From Paddy Hagan ... Run under clear blue skies: sun tan cream the main requirement!
Graham Weston's photos

(1 49:59 Ted Mason, Wharfedale)
24 59:47 Steve Turland 
53 66:35 Kate Archer
66 68:44 Paddy Hagan
82 72:03 Alison Weston
91 73:32 Jann Smith
164 finishers

Wharfedale Half Marathon, Sat 4 June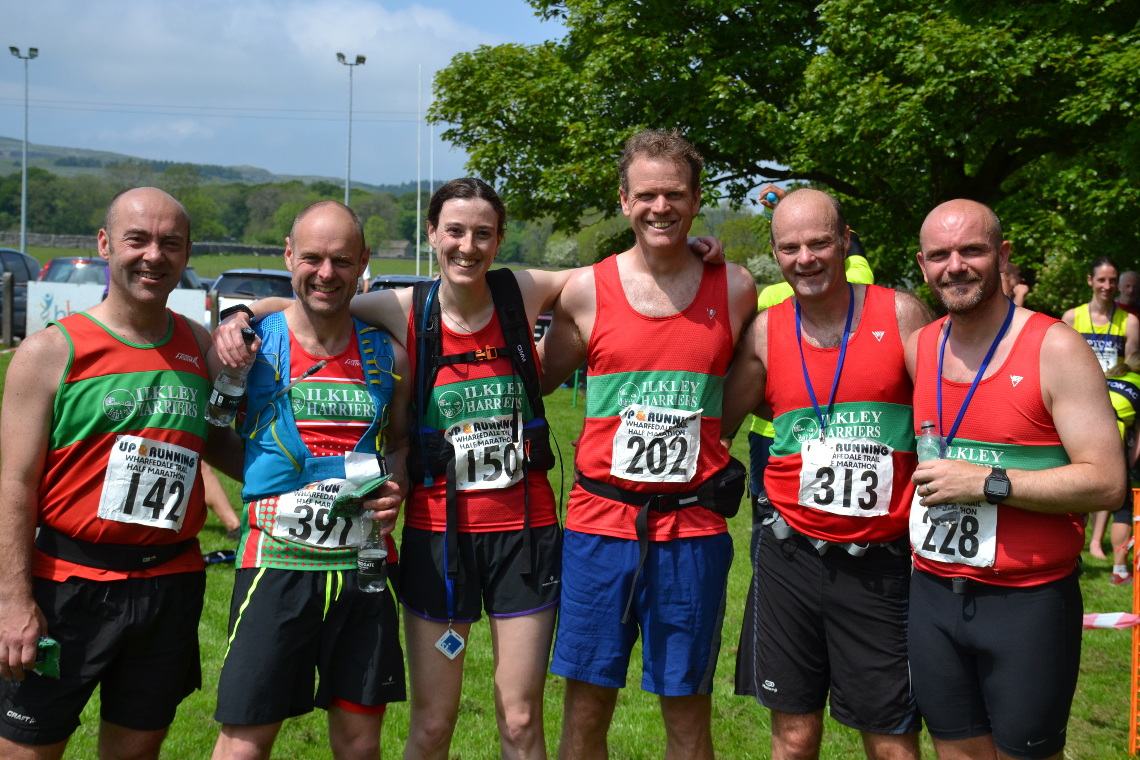 From Hilda Coulsey... an amazing 25 Harriers ran the Wharfedale Half this year. Wow it was hot, slowing most of us but, on the very positive side, the views were stunning. Congratulations to all who finished. Mathew Cox was 3rd and 1st MV40, Nick Pearce was 1st MV60 and Hilda Coulsey 1st FV60. I was held a couple of minutes 400m from the end by the ambulance but a great job done by the finished Harrier who supported the unfortunate passenger.
This was a counter in the Ilkley Harriers Race League.
Results ...

(1  1;28:31 Harry Coates, Wallsend)
3   1:31:56 Matthew Cox
30  1:48:16 Dave Robson
32  1:49:22 Nick Pearce
40  1:50:07 John Hayes
42  1:50:23 Paul Calderbank
63  1:54:17 Michael Duffield
97  2:02:22 Andrew Merrick
116 2:04:58 David Howe
168 2:13:48 Richard Morris
182 2:15:47 Sarah Edwards
197 2:17:57 Helen Horton
212 2:20:05 Eleanor Bradley
242 2:26:08 Sarah Hayes
243 2:26:22 Chantal Busby
249 2:27:30 David Taylor
263 2:30:06 Geoffrey White
274 2:31:16 Jan Carrier
281 2:32:55 Paul Sugden
293 2:35:43 Alison Dawson
296 2:37:13 Hilda Coulsey
324 2:45:30 Jayne Fort
346 2:53:01 Sally Wright
352 2:57:50 Joanna Taylor
364 3:07:05 Sue Williamson
365 3:07:07 Julie Elmes
389 finished	

Duddon fell races, Sat 4 June
From Alison Weston ... Jack Wood was a very impressive 3rd overall in the long event (29km / 1830 m) in 3:11:17 and Mary Gibbons was 20th in the medium event (14km / 900m) in 2:23:37. Great runs by both.
parkruns, Sat 4 June
From Petra Bijsterveld ... Results ...

Leeds Woodhouse Moor
(1  15:41 Benjamin Douglas, Notts AC)
27  19:42 Adrian Bastow
421 ran

Harrogate Stray
(1  18:07 Stephen Ellison, U/A)
337 34:03 Lyn Towers
376 ran

Hilly Fields Lewisham
(1  17:20 Robert Laing, Kent AC)
2   17:25 Alex Hirst
214 ran

Skipton Aireville Park
(1  18:18 Jake Ridding, U/A)
30  23:33 Will Worboys
65  26:36 Polly Crawley (junior)
157 ran

Otley Chevin fell race, Wed 1 June
From Ali McInnes ... A great run from Jack Wood to win the 40th Otley Chevin fell race. There was a few tired legs around after the Ilkley Trail race on Monday (mainly mine) and swaledale the night before so Numbers were a little down on previous years. Great little local race well done to all the Harriers that finished. Results ...

1  17:45 Jack Wood
14 20:51 Alistair McInnes
40 22:45 Paul Calderbank 1st V50
43 23:11 Nick Pearce 1st V60
65 24:30 Mary Gibbons
69 25:20 Mike Baldwin
83 26:47 Alison Weston 1st LV50
104 finished

---