Ilkley Harriers news archive 2016
Ilkley Harriers of the Month, May
Runner of the month:
Donna Hattersley
for her first sub 2 hour HM at Leeds, after trying for several years, and training very hard recently
Other nominations were:
Steve Murray, a relatively new member, for dedication to racing (10 races in May!)
Dave Robson, for improving times (Wharfedale HM, Jack Bloor)
Paul Sugden, for improving times (Wharfedale HM, Over the Odda)
Tom Adams, for outstanding results (John Carr, Ilkley Trail Race, European Trials)
Adela Reperecki, for excellent results (John Carr, Over the Odda, Ilkley Trail Race)
Volunteer of the month:
Andrew Jackson
for taking the Saturday morning session in Neil's absence
Other nominations were:
Neil Chapman, for organization of the HDRSL race
Jan Carrier, for taking special care of a new runner when help was required
More Harriers of the Month ...
HDSRL #3, Swaledale, Tue 31 May

(1  31:54 Marc Scott, RZH)
70  41:43 Lucy Williamson
81  42:08 Sally Malir
84  42:18 Steve Murray
230 53:37 Julie Elmes
257 57:21 Donald Macrae
285 finished	

Ilkley Trail Race, Mon 30 May
Hilda Coulsey reports ... Stunning performances by so many Harriers today. Congratulations to Tom Adams who won in a new record time of 38:44. Ilkley Harriers took both men's and ladies' team prizes with Tom Adams, Ruardith Mon-Williams, Ben Shepherd and Jack Cummings for the men and Rachel Carter, Jann Smith and Lucy Williamson for the ladies. Ruardith was 1st U23, Nick Pearce was 1st V60. Rachel Carter took 1st V40, Jann Smith 1st V45, Adela Reperecki 1st V55 and Hilda Coulsey 1st V60. Lots of Harriers took part in this League counter, a special mention for Ruth Jones in her first race. The weather was not too hot, it was dry underfoot. A great race again and a good social occasion. Thank you to Lawrence and all the helpers.
Photos on the Woodentops website.
This was a counter in the Ilkley Harriers Race League.
Edinburgh Marathon, Sun 29 May
From Fiona Schneider ... We had a very sunny weekend in Edinburgh, really enjoying the course. This was my second marathon this year with a son. After Paris with David, it only seemed right to join Edinbugh with Jonathan. It was a first marathon for them, but this has brought me up to finish a tenth. I didn't see any other Harriers ? Results ...

(1   2h19L53 Boaz Kiprono)
1018 3h35:45 Jonathan Schneider
4525 441m:00 Fiona Schneider
6568 finished

European Mountain Running Trial, Sat 28 May

(1 50:24 Andrew Douglas)
8  52:10 Tom Adams
11 53:29 Jack Wood
21 finished

Hutton Roof Crags fell race, Sat 28 May
Jann Smith reports ... Great cakes! Results ...

(1 51:06 Adam Osborne, Leeds City)
19 59:19 Paul Carman
141 75:33 Jann Smith
293 ran

HDSRL #2, Nidd Valley, Tue 24 May

1   29:03 Jack Wood
3   29:16 Matthew Cox
15  31:59 Daniel Hayes
46  34:58 Ben Joynson
80  36:21 Steve Murray
89  37:10 Lucy Williamson
92  37:24 Sally Malir
121 38:57 Paul Stephens
153 40:49 Philip Hirst
169 41:32 Sarah Hayes
184 42:28 Geoffrey White
198 43:00 Alison Bennett
269 47:15 Julie Elmes
298 49:30 Donald Macrae
318 51:08 Tracy Russell
323 51:30 Laura Dawes
325 51:56 Bernadette Gibbons
329 52:27 Sue Williamson
330 52:27 Kate Lofthouse
333 53:02 Sally Wright
352 finished

Roseberry Romp, Tue 24 May
From Dan Wilkinson ... A great evening race up Yorkshire's own Matterhorn, Roseberry Topping, quite popular this year with a field of over 150. I found some surprising good form and managed 2nd place.

(1 34:28 Harry Hiolmes, York Knavesmire)
2  34:52 Dan Wilkinson
153 finished

Manchester 10k, Sun 22 May

(1   21:20 Simon Lawson, Carlisle Tri)
2145 46:30 Helen Waddington
3177 48:26 Dave Ibbotson

Old County Tops, Sat 21 May
From Kate Archer ... Brian Melia and I decided to have a go at this 37 mile race with 10,000 feet of climb. A lovely route taking in Helvellyn, Scafell Pike and Old Man of Coniston. It's a pairs race. Brian had done the race a few times before and trotted off at the start and I spent most of the day trying to keep up. The morning was wet and tough going with little to be seen from the tops. At one point I fell into a bog up to my middle and had to be pulled out by Brian (to much laughter from other runners)! But by the afternoon the rain had cleared and with two peaks done we had a welcome stop at the Cockley Beck checkpoint for sandwiches and cake before tackling the climb up to Coniston Old Man. From this last hill the views were amazing and well worth the hard work and aching legs! We completed the course in 61st place in 10hrs 25 mins. Results ...

(1  6h53:51 Paul Tierney & Matt Reedy, Ambleside)
61 10h25:10 Kate Archer & Brian Melia
93 teams finished

Buttermere Sailbeck fell race, Sat 21 May

(1  1:29:52 Carl bell, Keswick)
108 2:17:21 Alison Weston
175 finished

Keswick Mountain Festival, 25K Trail Run, Sat 21 May
From Ben Joynson ... Results ...

(1 1:51:15 Eoin Lennon, Team Mountain Fuel)
26 2:24:42 Ben Joynson
419 finished

Charlesworth Chase, Sat 21 May
Jann Smith reports ... Appletreewick to Simons Seat and back and you must down a pint of beer before you go through the finish line! Results ...

(1 36:31 Ian Holmes, Bingley)
14 43:21 Paul Carman
53 51:35 Norman Bush
70 55:28 Jann Smith
118 finished

parkruns, Sat 21 May
From Petra Bijsterveld ... Results ...

Bushy
(1  16:47 Matt Atkins, Kingston AC)
101 20:40 Neil Thurston
1136 ran

Hilly Fields
1   17:45 Alex Hirst
232 ran

Leeds Woodhouse Moor
(1  16:47 Dale Worton, Wakefield Harriers)
30  20:08 Adrian Bastow
466 ran

Skipton Aireville Park
(1  16:55 unknown)
80  27:06 Polly Crawley (junior)
112 21:09 Bradley Brennand (junior)
192 ran

Fountains Abbey
(1  16:58 Ben Pease, Ripon Runners)
54  23:05 Neil Bloor
161 28:27 Alison Bloor
238 ran

European Masters 10k, Fri 20 May
From Geoffrey Howard...The European Masters' Road (officially "Non Stadia") Championships are usually hosted each year by different countries. Vila Real de Santo Antonio in Portugal must have done a good job in 2005 because it was given the job again this year (or maybe its just that it's a very pleasant place for all concerned - officials, competitors and supporters). The runners who enter these events (no selection is involved and the field included an 85+ German guy) tend to be those who fancy their chances of a medal and those who see it as a part of a longer holiday in the competition area. My only previous participation was in fact in 2005, and I knew that Santo Antonio would fit in well with a walking holiday the previous week along Portugal's Alentajo coast during its peak wildflower period. I entered the flat two lap10k race which was held at 7.20 on the evening of 20 May when the day should supposedly have cooled to about 20C. In reality it was still 25C. Everyone seemed anxious to get on with it and, to me, the first lap was fast and furious so I found myself going stride for stride with a couple of v60s completing 5k in about 20m 30s but feeling like a steaming pressure cooker and wondering if another lap at that pace was possible. Unfortunately, however, this question turned out to entirely hypothetical as, just re-passing the start my hamstring went and I had to drop out. A disappointing outcome regarding the race but still it was exhilarating while it lasted and great to be a part of what in reality is a festival of running. I would normally recommend to anyone thinking of having a go in this type of event to do so and I have never (in about a dozen events) had any problems re entry, accommodation, transfers etc. until this year when going through the officially designated travel company for the World Masters' Mountain Running Championships in Susa, Italy. If any Harrier is thinking of going to Susa and using this company I would be happy to explain the difficulties I have had with the company.
Kildwick fell race, Wed 18 May

(1 26:17 Sam Watson, Wharfedale)
6  28:21 Paul Carman
11 29:03 Gavin Lamb           
65 35:39 Chantal Busby       
68 36:28 Jann Smith            
116 finished

John Carr 5K 2016 series race report
From Petra Bijsterveld ... The ever popular John Carr 5k race series in Esholt was run on a new course this year. Efficiently organized by Saltaire Striders and held on closed roads within the Yorkshire Water estate, the race (which has previously been a net downhill course) is now an out and back course, starting and finishing in the same place at Apperley Bridge. Still fairly flat with only 84 ft of elevation to contend with, but without the fast downhill finish of previous years. Chip timing had been introduced for the first time this year. The only downsides to the venue are the unmistakable odour of the water treatment works and the plentiful midges. Ilkley Harriers were present in large numbers, especially for the first race which was a club league counter. Tom Adams won race 1 in 15:06, thereby making the record for the new course a tough one to beat straightaway. He also equalled our 5K club record which has been set in 1990 by Jack Brown on the track.
Cameron Reilly came first in his category (Junior M11) at each of the 3 races. Bethan Morley and Lucy Haines came first in their respective categories (Junior F11 and F16) in races 1 and 3, both missed race 2 and could therefore not compete for the series wins. Geoff Howard, last year's V70 trophy winner, won his category in race 1 but missed races 2 and 3. Perhaps Geoff is running out of space in his trophy cabinet by now anyway!
Taking part in all 3 races means, apart from collecting a nice bottle of ale, a chance of winning a series trophy, and we saw some excellent Ilkley performances here. Cameron Reilly and Oscar Stapleton were 1st and 2nd in their category (Junior M11) and Ella Shouler-Harris 3rd (Junior F11). For the seniors, Lucy Williamson was 3rd FSEN, Mark Iley 3rd M50, and Adela Reperecki 2nd F55.
Trophies aside there was a lot of dedicated, eyeballs-out, lactate-zone racing from all, resulting in several new 5K PB's, amongst others for Helen Waddington and Steve Murray. On the lighter side, Tom Worboys still ran a good time in race 1 despite setting off several minutes late, unable to find the relocated start (hurrah for chip timing at least). Peter Lewis and myself ran with matching right arms in plaster, which I am certainly using as my excuse for being a little slower than I would have liked. The Saltaire Amarillo Gold Ale will surely taste good regardless. Thanks must also go to several Harriers who came along to offer support and cheer from the roadside which is much valued.
Final positions (runners taking part in 3 races) by category:...

Junior M11
1 Cameron Reilly
2 Oscar Stapleton

Junior F11      
3 Ella Shouler-Harris

MSEN        
5 Jack Cummings
20 Robert Sime

FSEN        
3 Lucy Williamson

M35        
9 Tom Worboys

M45        
5 Steve Murray

F45        
5 Jean Sullivan
6 Helen Waddington
7 Julie Elmes

M50        
3 Mark Iley
11 Harry Sime

F50        
7 Sue Williamson

M55        
7 Phil Hirst

F55         
2 Adela Reperecki

M65         
5 Peter Lewis

John Carr race 3, Wed 18 May
From Petra Bijsterveld ... Results ...

(1  15:58 Matthew Grieve, Border Harriers)
7   16:20 Matt Newell
10  16:27 Cameron Reilly
14  16:43 Euan Brennan
17  16:57 Jack Cummings
47  18:08 Oscar Stapleton
62  18:29 Francis Westhead
85  18:59 Mark Iley
96  19:08 Bethan Morley
106 19:27 Lucy Williamson
110 19:34 Steve Murray
139 20:23 Tom Worboys
148 20:38 Lucy Haines
195 22:05 Harry Sime
196 21:56 Robert Sime
199 22:02 Harry Stead
203 22:09 Helen Waddington
216 22:28 Jean Sullivan
217 22:26 Phil Hirst
220 22:34 Adela Reperecki
240 23:07 Ella Shouler-Harris
249 23:36 Stephanie Fox
276 25:01 Julie Elmes
283 25:14 Peter Lewis
296 25:50 Petra Bijsterveld
329 27:49 Sue Williamson
354 29:39 Sally Wright
391 ran

Two Ilkley Harriers winning GOLD for YORKSHIRE
Tom Adams and Jack Wood were representing Yorkshire at the Inter-county FRA championship race at Moel Eilio 12.8km, 915m on Saturday 14th May. Yorkshire claimed 1st position with Tom Adams 5th overall in 62:15 and Jack Wood 22nd in 65:45.
Over the Odda, Sat 14 May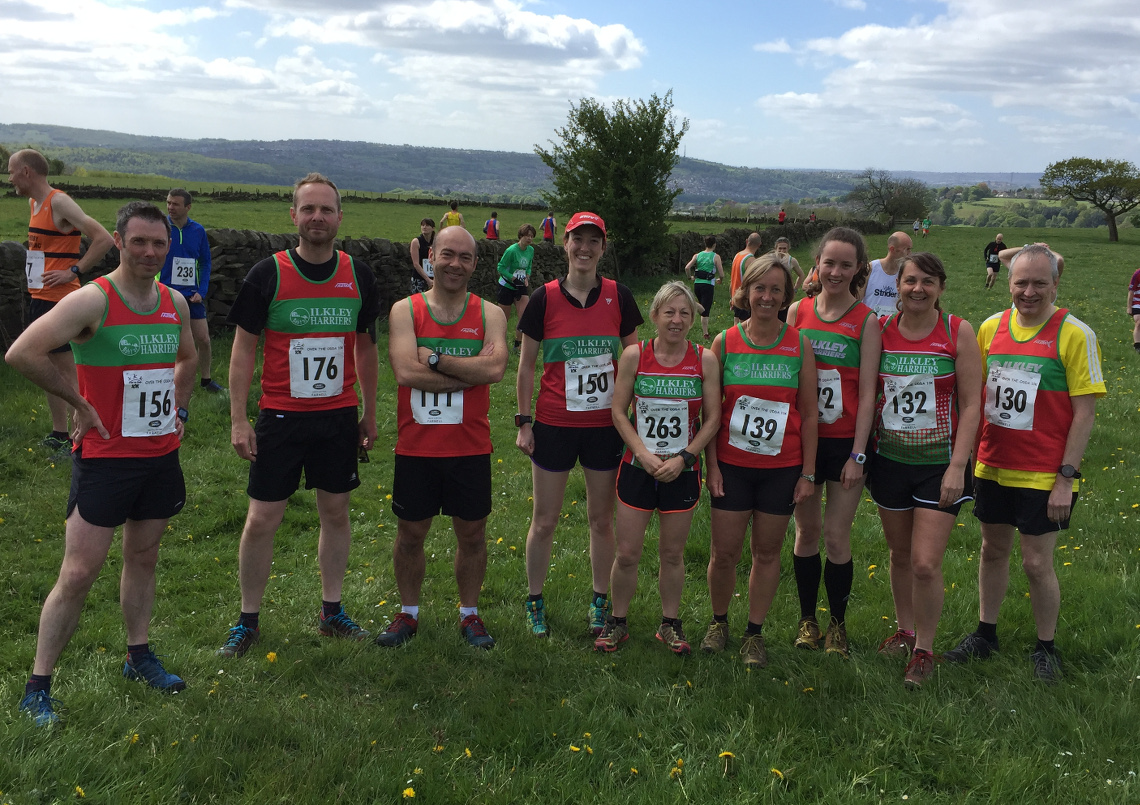 David Green reports ... My first attempt at this hilly off road 10k. The race starts near Hawksworth Primary School and is well organised and marshalled. The course is hilly but thankfully and perhaps unusually was dry underfoot, taking in picturesque land south of Hawksworth village, before turning back again for a long climb back up the hill, past the start line and continuing up the Odda. From there the course runs to the rear of High Royds, crossing Mire Beck before another climb past Tranmere Park, back up the Odda before a final fast descent through woodlands and finishing in Hawksworth School. First Harrier home was Robin Nicholson in 44.37 with Lucy Williamson third female in 50.42.
From Hilda Coulsey ... What a super Saturday morning; the weather was good and the trail was dry for this friendly, local, approx 10k run over the fields from Hawksworth with plenty of challenge. Robin Nicholson was first Harrier home, Lucy Williamson 3rd Lady and Adela Reperecki 1st F55 (beating 1st F50 and F35 times!). I was savagely beaten to the post by Paul Sugden who had been reeling me in for the last mile and if I'd known I'd have had a go at reeling in the lady ahead of us, beating me to 1st F60 by 8secs - aargh! Ho ho what fun.

(1  39:31 Michael Malyon, Baildon)
10  44.37 Robin Nicholson 
28  48.30 Michael Duffield 
34  49.20 Steve Murray
43  50.42 Lucy Williamson  3rd Female
64  54.13 Sarah Edwards 
81  55.49 Adela Reperecki 1st F55
82  56.24 Philip Hirst
89  57.45 Jonathan Fountain
126 63.01 Liz Price
133 63:43 David Green
134 63:44 Peter Lewis
142 64;44 Paul Sugden
143 64:45 Hilda Coulsey
185 70:08 Deborah Nicholson
206 74:04 Julie Elmes
207 74:04 Sue Williamson
251 ran	

Malham Kirkby fell race, Sat 14 May

(1 22:06 Jack Hindle, Blackburn)
2  22:31 Ruaridh Mon-Williams
4  24:12 Paul Carman
36 30:28 Norman Bush 1st V70
38 31:25 Alison Weston 2nd lady
40 32:05 Jann Smith 3rd lady
58 finished

parkruns, Sat 14 May
From Petra Bijsterveld ... Results ...

Leeds Woodhouse Moor
(1  16:40 Ben Rhodes, Heanor RC)
43  20:28 Adrian Bastow
492 ran

Bradford Lister Park
(1  18:59 Andrew Dovernor, Queensbury RC)
79  23:41 Tom Worboys
211 27:38 Petra Bijsterveld
465 ran

Harrogate Stray
(1  18:02 Graham Powell, U/A)
76  22:42 Neil Bloor
252 28:26 Alison Bloor
387 ran

John Carr race 2, Wed 11 May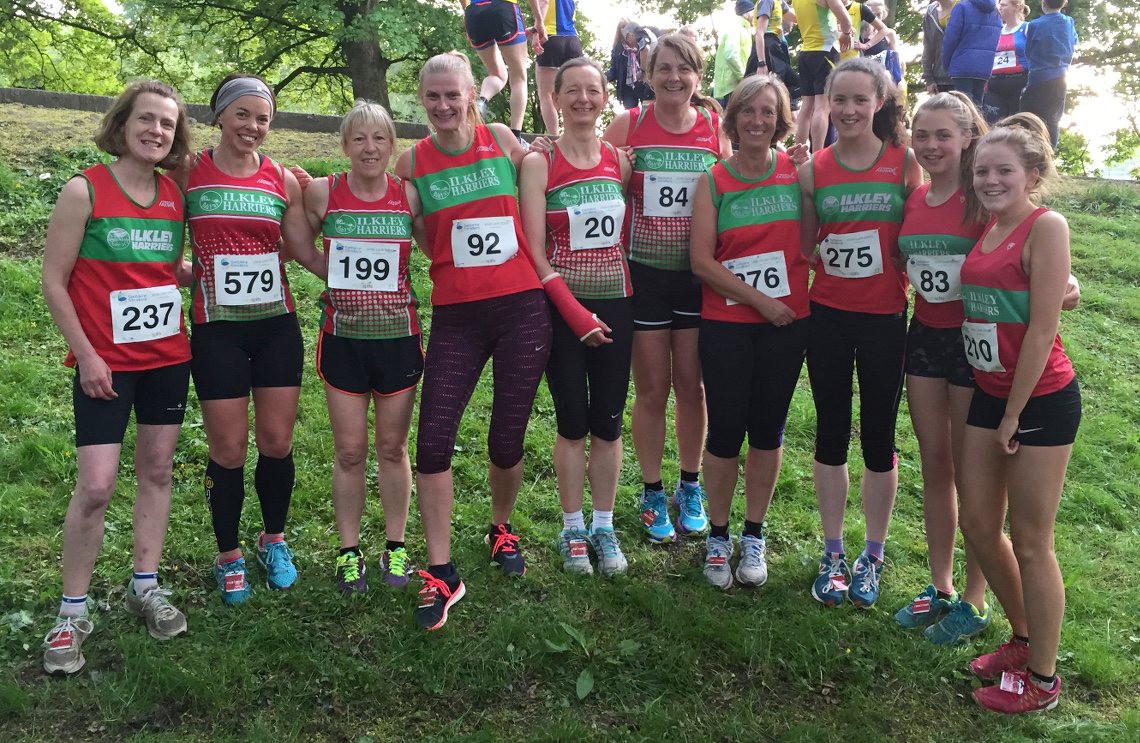 (1  15:41 Scott Harrington, Otley)
9   16:35 Cameron Reilly
13  16:51 Euan Brennan
18  17:15 Jack Cummings
33  17:58 Oscar Stapleton
55  18:36 Francis Westhead
87  19:38 Lucy Williamson
95  20:00 Steve Murray
99  20:09 Mark Iley
127 20:59 Tom Worboys
166 22:02 Harry Sime
167 22:02 Robert Sime
182 22:34 Jean Sullivan
183 22:37 Helen Waddington
190 22:43 Adela Reperecki
201 23:10 Philip Hirst
213 23:34 Ella Shouler-Harris
222 23:52 Stephanie Fox
224 24:03 Emily Elmes
242 25:14 Julie Elmes
252 25:50 Peter Lewis
266 26:13 Petra Bijsterveld
294 28:15 Sue Williamson
333 finished

Jack Bloor races, Tue 10 May
Congratulations to Jack Wood on his 2nd consecutive win and Lucy Haines on 2nd lady. The men were first male team with Jack, Matt Cox, Dan Wilkinson and Jack Cummings to count. Results ...

1   39:26 Jack Wood
5   42:07 Matt Cox
10  43:19 Dan Wilkinson
15  44:33 Jack Cummings
16  44:40 Paul Carman
23  45:56 Daniel Hayes
24  46:07 Gavin Lamb
31  47:38 Michael Lomas
44  49:17 John Hayes
45  49:20 Dave Robson
46  49:31 Richard Joel
49  49:39 Ben Joynson
53  50:10 Lucy Haines 2nd lady
56  50:22 David Foyston
59  50:34 Nick Pearce
78  52:59 Michael Duffield
85  53:31 Steve Murray
88  53:55 Paddy Hagan
99  54:58 Lucy Williamson
101 55:02 Laura King
111 55:58 Mary Gibbons
113 56:13 Outi Kamarainen
120 57:18 Paul Stephens
124 57:52 Jann Smith
127 58:12 Alison Weston
128 58:42 Robert Budding
136 61:04 Ian Marshall
143 62:14 Philip Hirst
148 62:44 Joyce Marshall
158 65:35 Geoffrey White
164 66:47 Rose Hagan
176 71:39 Sophie Brown
187 80:32 Sally Wright
198 finished

Yorkshire Selection
Tom Adams and Jack Wood have been selected to run for Yorkshire in the Fell Inter Counties at Moel Eilio, North Wales on 14th May.
Leeds Half Marathon, Sun 8 May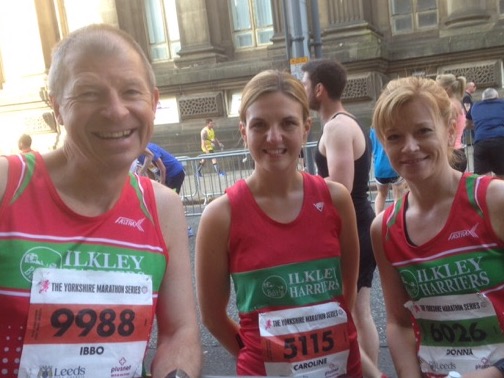 (1   1:07:12 Mohammed Aburezeq, U/A)
62   1:24:22 David Westhead
121  1:27:46 Jonathan Sinclair
448  1:36:27 Andrew Merrick
799  1:42:48 David Howe
1351 1:49:13 Caroline Howe
1413 1:50:23 David Ibbotson
1717 1:47:48 Rhys Jones
2002 1:58:38 Donna Hattersley PB 
2050 2:00:43 Charlotte Smithson
2051 1:59:36 Elizabeth Westhead
3688 2:10:13 William Woodhead
4053 2:06:39 Sally Lynch
4777 2:28:21 Emma Curran
6334 finished

Hawkswick Fell Race, Sat 7 May
From Jann Smith ... Results ...

(1 33:19 Ashley Holt, Rosssendale)
4  34:41 Paul Carman
14 38:14 Steve Turland 
23 39:47 Kate Archer (2nd lady)
46 46:15 Jann Smith
61 finished

This was also the Yorkshire Junior Championships, with many good Ilkley results.
Malhamdale Trail Challenge, Sat 7 May
From Paul Sugden ... If you like the Wharfedale half then this is a must for you. This is a well organised and excellent event around Malham. Starting in Kirkby Malham with a flat mile, then a steep climb of 1100 feet up Predaw Hill to to the top of Kirkby fell. This gave excellent views of Malham Tarn in the distance. It was then downhill to Malham Cove and then through Janets Foss into Malham and back into Kirkby Malham. To finish off there was cake and meat pies. An excellent day out. May be next year we may think about the 22 mile route. Results ...

(1 1:08:05 Julian Hood, Barlick Fell Runners)
4  1:17:2 Jamie Hutchinson
11 1:29:42 Stuart Herrington
28 1:44:50 David Taylor
37 1:51:42 Paul Sugden
38 1:51:46 Jan Carrier
56 1:57:04 Joanna Taylor	

Kentmere Trail Race, Sat 7 May
From Ben Joynson ... A glorious sunny day in the Lakes for a very hard race. There were 3 other races before mine and spotted a few Harriers in there. I had a good start up the 2 mile road section with the front end of the race and kept up with a front group. I was aware I had maybe not done enough miles for the task in hand but thought to give it a go. Plenty of climbing in this race and nice trails to run on. Enjoyed most of the race until the wheels fell off with about 2 miles to go. Put this down to not enough water and a empty stomach!. It was amazing how quickly I dropped down the field :(. The ice cream and food at the end was welcomed. Recommend the trail race series and well done to the other Harriers who made the other races. Results ...

17k Trail Race
(1 1:08:56 Ben Livesey, Lincolnshire)
63 1:37:09 Ben Joynson
191 finished

17k Trail Challenge
(1 1:26:35 Andy Rees, U/A)
85 1:52:32 Neil Pomfret
464 finished

Up the Nab fell race, Sat 7 May
From Dan Wilkinson ... Congratulations to Jack again, 6th at the English Championship race Up the Nab, beating lots of fell running's big names again! Results ...

(1 34:04 Simon Bailey, Mercia)
6  35:06 Jack Wood
72 39:49 Dan Wilkinson
267 finished

parkruns, Sat 7 May
From Petra Bijsterveld ... Results ...

Bradford Lister Park
(1  17:28 Will Smith, Keighley and Craven AC)
43  23:00 Tom Worboys
444 54:11 Amy Del Sol Brown Carrera (junior)
452 ran

Hilly Fields Lewisham
(1  16:33 David Morgan, Serpentine RC)
4   18:06 Alex Hirst
241 ran

Fountains Abbey
(1  16:45 Shaun Lawson, Easingwold RC)
51  22:59 Norman Bush
278 ran

HDSRL #1, Thu 5 May
Great feedback on the race we hosted, the first of this year's League, with comments on friendly marshals and good organisation. Thanks to Neil Chapman and anyone who helped. Results ...

(1  26:16 Jamil Parapia, Otley AC)
4   27:18 Matthew Cox
16  29:14 Jack Cummings
20  29:25 Daniel Hayes
44  31:29 Adrian Hall
60  32:27 Mark Iley
69  33:01 Alex Murphy
70  33:12 Lucy Williamson 2nd lady
115 35:13 Steve Murray
135 36:16 Mary Gibbons
153 36:56 Paul Stephens
179 38:22 Philip Hirst
193 39:06 Sarah Hayes
231 40:42 Jane Bryant
245 41:20 Geoffrey White
308 44:53 Julie Elmes
324 46:13 Donald Macrae
326 46:27 Laura Dawes
347 49:01 Bernadette Gibbons
357 50:54 Tracy Russell
359 51:09 Kate Lofthouse
378 finished

Lothersdale fell race, Wed 4 May
From Jann Smith ... results ...

(1 23:27 Jack Smith, Wharfedale)      
2  26:07 Paul Carman
31 32:14 Paddy Hagan
43 33:37 Jann Smith 
82 ran

John Carr race 1, Wed 4 May
From Petra ... Tom Adams equalled the (1990!) club record for 5K in 15:06, results ...

1   15:06 Tom Adams
17  16:39 Ruaridh Mon-Williams
18  16:48 Cameron Reilly
29  17:22 Jack Cummings
38  17:57 Oscar Stapleton
80  18:59 Mark Iley
95  19:35 Bethan Morley
102 19:46 Lucy Williamson
105 19:54 Steve Murray
116 20:17 Michael Duffield
123 20:34 lucy Haines
147 21:22 Geoffrey Howard
164 21:43 Harry Sime
165 21:43 Robert Sime
179 22:12 Sarah Edwards
192 22:36 Jean Sullivan
200 22:57 Philip Hirst
208 23:04 Helen Waddington
209 22:58 Adela Reperecki
214 23:18 Joanne Williamson
221 23:28 Alison Bennett
226 23:53 Ella Shouler-Harris
234 24:16 Tom Worboys
265 25:15 Julie Elmes
268 25:37 Kate Wilkinson
292 26:54 Peter Lewis
318 28:08 Sue Williamson
339 29:58 Sally Wright
371 finished

Beginners 0-5k Challenge
Starting Tuesday 3rd May 2016, Ilkley Harriers are starting a six week beginners' running course. The aim of the course is to introduce others to the joys of running and show that everyone can run and enjoy it! More info and application form.
A great start, with over 70 new runners taking part, welcome!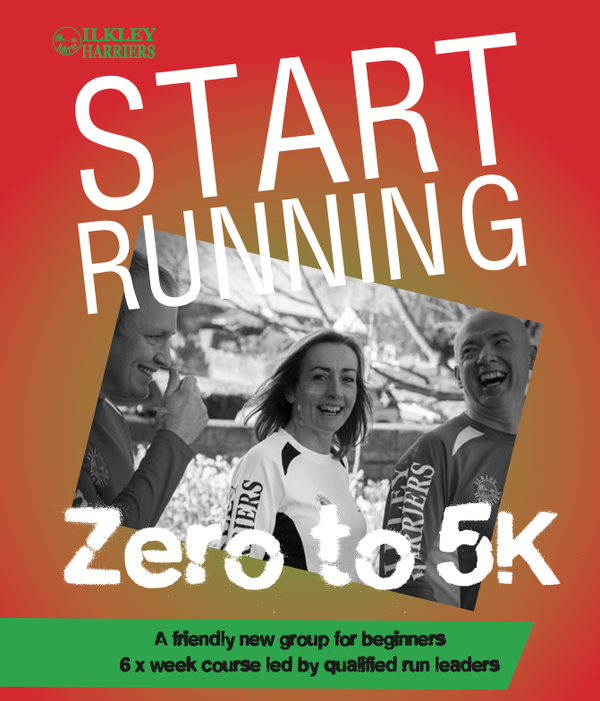 ---