Ilkley Harriers news archive 2011
Harrier of the Month, May
Nominations were:



Helen Horton, 2nd LV45 Meanwood VT and Triple Series (1st LV45 Wharfedale Half)
Tom Adams, Ilkley Trail Race course record, and race results
Andrew Merrick, PBs at Rothwell, Leeds Half, John Carr
Helen Whittaker, Yorkshire selection
David Westhead, John Carr sub 16:45
Sally Morley, Yorkshire selection
Neil Smith, LDWA 100
BMAF V35 ladies team Jane Bryant, Sally Morley, Sharon Williams, Jann Smith
The HoM awards went to David Westhead, and Andrew Merrick. Congratulations to them. They will receive technical running shirts from HoM sponsor UP & RUNNING.
Ilkley Harriers Trail Race, Mon 30th May
272 finishers including over 40 Harriers; new course records including a fabulous 39:31 set by Tom Adams; team wins for both men's and ladies Harriers teams; a record 70 juniors; over £1800 raised for Charity - another Ilkley Harriers event to be proud of. Thanks to everyone involved, especially the race organisers Lawrence & Jemma Basham.
Results etc. on the Trail Race page.
This was also a Ilkley Harriers Race League event.
Race For Life, Ilkley, Sun 29th May
Well done to everyone who did Race For Life on Sunday. Thanks to Emma, Sue, and their girls for talking to runners about Ilkley Harriers and handing out leaflets: if any ladies fancy finding more about Harriers have a look through this page to get a flavour of what the Club does, and find out more about Harriers membership here.
Housman Hundred 28th-29th May
Neil Smith reports ... Named after the poet A. E. Housman, this year's annual LDWA flagship challenge event was based in Shropshire. It included sections of the Mortimer Trail, Offas Dyke path and Shropshire Way, and was actually 101.2 miles long with almost 17,000 feet of climb. I managed to get round in 27 hours 54 minutes, in 13th place.
Inter-Counties Fell Championships, Scotland, Sat 28 May
Tom Adams in his crisp new Yorkshire vest finished 10th overall, leading the Yorkshiremen's team to Silver (with Ben Mounsey 12th and Graham Pearce 15th running for Yorkshire for the fifth time). In the ladies race Yorkshire won the Bronze medal, the team including Helene Whitaker 15th and Sally Morley 20th.
Isle of Jura fell race 16m/7500ft, Sat 28 May
Dave Wilby reports ... Ilkley Harrier Graham Arthur certainly didn't take on just any old challenge when he decided to enter the world of race organisation, choosing one of the 'monuments' of fell running, the Jura race. I'm glad to report that he did a fantastic job and the race was a great success, despite the best efforts of the weather in the week before. 4 Harriers took on the challenge of very strong winds on the tops, hail, rain, huge scree and a lot of boggy ground, as well as one of the most brutal courses on the calendar, to all successfully complete the challenge in good style. I managed to get round in 3:58 to claim a sub 4-hr whiskey glass, Steve Turland set a new pb in 4:08, Stuart Pitches claimed a 4:28 on his 1st atttempt and inside his target of 4:30, and Sophie Brown should be extremely proud of herself after conquering the course and finishing in around 7hrs, a fabulous effort. 1st home was Es Tressider in 3:21, and Sarah Ridgeway led the ladies home in 4:09

20   3:58:56  Dave Wilby
28   4:08:28  Steve Turland
45   4:28:25  Stuart Pitches
190  7:08:46  Sophie Brown


Meanwood Valley Trail Race, Sat 28 May
Results and photos on Valley Striders web site.

14  48:51  Nick Pearce  3rd V50
16  49:08  Andrew Merrick
82  58:32  Nigel Tapper
84  58:41  John Coates
89  59:28  Helen Horton 2nd F45
127 64:24  Martin Wright


Helen was also second V45 in the overall Triple Trail series.
Park Run, Albert Park Middlesbrough, Sat 28 May

94  24:14 John Marshall


HDSRL #2, Beckwithshaw, Thu 26 May
Thanks to the 23 who ran at Beckwithshaw. We saw much improved team placings (incl 2nd ladies, a win in the lady vets, but what's happened to our SuperVets?) and have begun to climb up the overall tables (all 5 races count in the team prizes) so (you know what's coming next ...) we need some really good results in all classes and complete teams at the Richmond race next Thursday 2nd June on a fab new course at Catterick - results, race details, etc. on www.harrogate-league.org.uk

23   37.14  Jim Ryder
36   38.12  Mark Mon-Williams
37   38.13  Andrew Merrick
39   38.14  Mark Iley
55   39.37  Julian Carter
90   42.47  Jane Bryant
93   43.17  Alison Bennett
97   43.33  Helen Thurston
105  44.10  Paul Stephens
120  44.51  Stephen Rhodes
136  46.08  Alison Weston
143  46.29  Val Kerr
220  54.33  David Green
224  54.42  Donald Macrae
225  54.45  Sue Williamson
226  54.58  Paul Sugden
227  55.08  Gemma Carpenter
229  55.27  Emma O'Looney
230  55.30  Andrew Bennett
244  56.50  Colin Lugton
254  60.49  Fiona Schneider
262  62.38  Sue Verspyck
267  66.23  David Millson

Apperley Bridge Canter, Thu 26 May

90  44:23 Mike Baldwin 
158 47:59 Anthony Swanepoel
181 49:20 Andrew Jackson   PB
363 60:22 Ashleigh Brownhill


Will Ramsbotham Badger Stone Relay, Wed 25 May
Thanks to the many Ilkley Harriers who helped with this super event. Another good turnout with 44 teams, including many family teams and juniors. Full results on the Badger Stone Relay page.
Yorkshire's Best
Well done to Sally Morley and Helene Whitaker who, like Tom Adams, have been selected to run for Yorkshire at the Inter-Counties Fell Championships on 28 May.
Borrowdale 20km trail run, Sun 22 May
Helen Thurston reports ... a really beautiful run along the banks of Derwent Water and up some steep rocky hills through Borrowdale, organised by High Terrain Events. I finished 25th overall in a time of 1:59:55
Edinburgh Marathon, Sun 22 May
A few Harriers spotted in the results - any more? Hilda says "My first and only(!) marathon on a very blustery day in Edinburgh with around 20000 entries".

5672  3:57:25  Hilda Coulsey 
6126  4:28:25  Abigail Bailey
8819  4:38:02  Andy Wilson

Windermere Marathon, Sun 22 May
Fiona Schneider reports ... After a heavy hailstorm as we were waiting to start, we had a dry run around Windermere. In fact, the conditions were suddenly very good for running. This has to be a favourite marathon course. I was 8th FV50 in 4.45.42 A new course record was set - S. Littler 2.32.08, on a course with an overall climb of 485 metres.
Old County Tops, Sat 21 May
Helene Whitaker, with Yiannis Tridimas from Bowland, was 15th in 8:58:22 in this 37m/10000' classic
BMAF Road Relays, Sutton Coalfield, Sat 21 May
Jane Bryant reports ... despite 2 of us having had the lurgy all week, 1 with dodgy ankle and 1 with very tired legs we came a fantastic 8th place. Last year we were 10th, so to come in the top 10 was great, and with a 48 yr old "ringer!!". Official results.

Leg 1  18:01  Sally Morley
Leg 2  20:16  Jane Bryant
Leg 3  21:08  Sharon Williams
Leg 4  20:29  Jann Smith


Sedbergh Gala, Sat 21 May
The first race in the BOFRA Championships:

15  22:32  Iain Gibbons
23  23:42  Dave Cummings
63  29:18  Diane Haggar  2nd L40
77  31:38  Jim Towers
103 45:50  Lyn Eden


Leeds ParkRun, Sat 21 May

25  18:31 Stephen Coy
125 23:58 John Marshall


Kildwick fell race, Thu 19 May

26  30:17  Duncan Cooper
38  31:59  Mike Baldwin
51  34:09  Diane Haggar


John Carr #3, Wed 18 May
37 Harriers, young and old, in the final John Carr race of the series.
Tom Adams took overall 1st place in the series, with top-30 results from Mark Iley, Andrew Merrick, Sally Morley, and Nick Pearce. In the overall results by category, all 7 female juniors were Ilkley Harriers, led in by Lucy Williamson; Sally Morley was 2nd FV35 (4th F); Rebecca Mon-Williams was 3rd FV40; Sally Malir was 2nd FV45; Francis Westhead was 2nd junior; and Nick Pearce was 1st V55.
More on Saltaire Striders site.
Of course, everyone's been doing the John Carrs to hone their speed for the fabulous Badger Stone Relays next Wednesday 25th May - see you all there!

2    15.28  Tom Adams
21   17.01  Dave Wilby
31   17.27  Steve Weston
40   17.47  Mark Mon-Williams
47   18.02  Mark Iley
49   18.10  Dave Cummings
51   18.12  Andrew Merrick
53   18.14  Nick Pearce
62   18.32  Sally Morley
83   19.18  Francis Westhead
90   19.29  Neil Chapman
92   19.30  Geoffrey Howard
101  19.46  Jack Cummings
102  19.47  Simon Chapman
109  20.06  Sally Mair
110  20.08  Ruaridh Mon-Williams
114  20.16  Rebecca Mon-Williams
116  20.17  Edward Muirhead
129  20.49  Sharon Williams
139  21.09  Edward Bickerdike
140  21.12  Andrew Jackson
149  21.30  David Taylor
153  21.43  Lucy Willamson
176  22.42  Bradley Chapman
181  22.58  Lucy Jacques
182  22.59  Elizabeth Westhead
198  23.59  Harriet Jackson  PB
200  24.05  Michael Picken
207  24.19  Alison Ricci
220  25.07  Sue Willamson
228  25.40  Andrew Bennett
252  28.10  Alessandra Ricci
255  28.29  Joanna Taylor
256  28.37  Bridget Taylor
262  29.41  Joanne Willamson


Away Run 1, Tue 17 May
30+ Harriers enjoyed a good run, good company, good fish and chips and good beer afterwards, but alas not good weather on the first of the Summer Away Runs. Photo: at Sharp Haw, Tim Ratcliffe.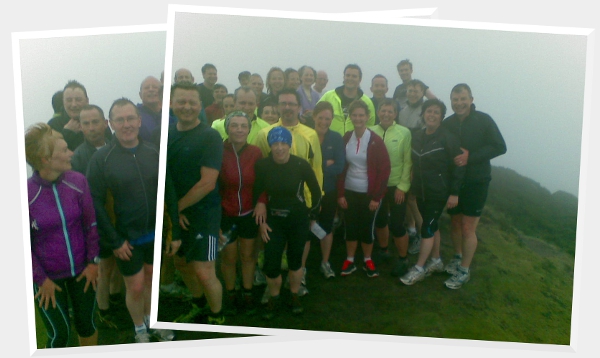 Yorkshire 10k, Newby Hall, Sun 15 May

43  45:03  Jane McCarthy
68  46:50  Chris Cunningham
106 48:51  Helen Shew
173 54:59  Christine Cox
382 57:04  Carole Cunningham


Great Manchester Run, Sun 15 May

234  38:25  Rob Cunningham
2331 45:28  Vic Verecondi
3478 58:11  Sue Verspyck


Skipton Tough Ten, Sun 15 May
Ewan Welsh reports ... meandered over to Skipton on Sunday morning for the 'Tough' Ten road race realising that it was actually my first road race for about 4 years and first 10 mile road race in about 5 years. Skipton have resurrected this race, it's certainly deserving of the resurrection, myself and John Coates where t'Harriers representation, in fact I last ran this in 2006, where, again, John and myself were the only Harriers. I think it's the last time I spoke to John, where does the time go !
In a race with several long climbs (one particular long climb from about 1 ½ mile to approx 5 miles) and sharp descents, I found myself physically wilting at around 8 miles, finishing in 76 mins, John came in a bit after that, not sure what time, but elated that is was 5 mins faster than he did in 2006, (I was a few minutes slower than previous attempts, in the previous attempts I didn't wilt at 8 miles, that was the main difference).
I believe there were about 70 runners, I didn't wait about for the results, I manage to suss out that only one runner came in under the hour, it's not the fastest 10 miles you will ever run, it's more like a fell race on tarmac (apart from watching out for traffic ), I did pass a few runners walking fell like up the hill, a bit surreal.
Lee (that runs with Bingley and coached by Pete) was 1st in around 57 mins and the only one under the hour.
Hopefully Skipton will keep this going as it merits a bigger field and is an excellent route, if you like Otley 10, Burnsall 10, Dent 14 and those type of road races then this is the another to add to you suite of races to do.

(1  57:35  Lee Athersmith, Bingley)
32  76:53  Ewan Welsh
45  81:18  John Coates


Capabilities Overview, Sun 15 May
Amanda Parnaby reports on ... 24 miles around Sledmere, organised by East Yorks LDWA. Weather windy but pleasant. The route changes slightly each year as it takes place on private land owned by local farmers and the Sledmere Estate. The only downside was the lively stinging nettles we encountered en route. Completed in 5 hrs 45 mins
Fairfield Horseshoe, Sat 14 May
Lee Morley reports ... a number of Harriers made the trip to the Lakes for the Fairfield race. The organisers slightly changed the course with it starting and finishing 500 yds up the hill above Rydal Hall, a killer finish after the ½ mile run in.

(1  1:20:19 Morgan Donnelly - Borrowdale)
12  1:30:02 Lee Morley
24  1:33:49 Steve Turland
28  1:35:01 Jamie Hutchinson
31  1:35:50 Jim Ryder
48  1:38:41 Nick Pearce
69  1:42:55 Richard Joel


Mearley Clough, Sat 14 May
From Dave Wilby ... Still awaiting the final version of results, but the small band of Harriers in attendance acquitted themselves very well indeed. The course was only 3.5 miles long but provided a true test of championship fell running (English Fell Champs counter) with a bit of everything thrown in including some very fast running initially, a steep runnable climb, an even steeper hands on knees climb, a run around the cairn, a steep descent, a bit of a scramble, some contouring then some absolutely lightening fast downhill running in to the finish. The ladies went off first and despite being world famous for her endurance feats, Helene Whitaker demonstrated her all round ability by leading home the Harriers ladies well inside the top 10 overall, and also taking first V45. Sally Morley wasn't far behind at all, possibly sneaking in to the top 12, a great performance in such a quality field. The team was rounded off by Emma Barclay, and they may well have taken the 1st team place.
In the men's race, Tom Adams was looking to see where his excellent recent form would put him in the national scene, and he did himself proud finishing 16th in 29:36 a very high quality field. There's no doubt he'll only get better as he does more category 'A' fell races, so watch this space. I claimed the final scoring spot in 50th which was only the 2nd time since 2007 that the Harriers have had 2 points scorers in the same championship race. Jim & Eric were also in attendance, Jim sporting some fashionable cargo shorts as he'd forgotten to pack his usual racing shorts. Fortunately it stayed dry for the race as he would have doubled in weight if they'd started holding water!! Not sure of any age group positions as yet.
Well done to all, a tough race in a fantastic setting. Next champs race is Duddon Valley (20 miles) on 4th June, then Loughrigg Silver Howe (8.5 miles) on 26th June. Entry details on FRA website now.
And from Emma Barclay ... the Ladies had a good strong team out for this event, we know that we got first ladies team which is a great result. Helene (7th) and Sally (11th) both had a good race, I came in as 3rd counter in 17th position. Not sure how we did in the Vets Ladies Team until official results are issued. A cracking short race and very well organised. Well done to Tom and Dave who both did very well.

(1  27:45  Simon Bailey, Mercia)
16  29:36  Tom Adams
50  31:39  Dave Wilby
174 46:58  Jim Towers
184 55:21  Eric Morley

Ladies
(1  34:29  Lauren Jeska, Tod)
7   37:33  Helene Whitaker
11  38:06  Sally Morley
17  39:11  Emma Barclay
45  42:48  Alison Weston
59  44:52  Val Kerr
69  45:51  Clare Smith
97  50:53  Sue Morley
101 66:52  Lyn Eden


Leeds ParkRun, Sat 14 May

158 24:35 John Marshall


John Carr 5k #2, Wed 11 May
36 Harriers including juniors were out for this one. Many ran faster than last week, including Tom in his 2nd race in 2 days, but he was beaten by the fastest John Carr win in several years (since 14:41 in 2007, in fact). Full results on Saltaire Striders site and a photo-compilation from Soobedoo for Facebookers on our Facebook page.

(1  15:02 Yared Hagos, Bradford Airedale)
2   15.28 Tom Adams
11  16.34 Dave Wilby  PB
16  16.43 David Westhead
36  18.02 Mark Iley
47  18.23 Andrew Merrick
48  18.24 Sally Morley
54  18.36 Nick Pearce
58  18.51 Andrew Sheldon
80  19.35 Francis Westhead
85  19.46 Simon Chapman
88  19.52 Sally Malir
93  20.02 Rebecca Mon-Williams
98  20.10 Alison Bennett
102 20.22 Edward Muirhead
103 20.23 Sharon Williams
110 20.42 Jane McCarthy
112 20.44 Ruaridh Mon-Williams
115 20.48 Bradley Chapman
117 20.51 Edward Bickerdike
118 20.52 Neil Chapman
121 21.03 Andrew Jackson  PB
129 21.10 Lucy Williamson
146 22.12 Nick Mellor
147 22.14 David Taylor
163 23.01 Elizabeth Westhead
176 23.36 Lucy Jacques
180 23.47 Michael Picken
186 24.15 Harriet Jackson
190 24.44 Alison Ricci
200 25.05 Joanne Willamson
204 25.40 Sue Williamson
221 26.58 Alessandra Ricci
225 27.15 Andrew Bennett
237 28.25 Bridget Taylor
241 29.14 Joanna Taylor


Yorkshire's Best
Well done to Tom Adams whose recent good results have earned him selection for Yorkshire in the Inter-Counties Fell Championships on 28 May.
Jack Bloor Races, Tue 10 May
There was a sea of red and green vests at this year's Jack Bloor Races, always well supported by Harriers. There were 46 Junior Harriers (over a third of the field) in the junior races. In the senior race Tom Adams finished a close second to P&B's Graham Pearce, the two well ahead of the rest of the field. Ilkley had 3rd team, 1st ladies team with Emma Barclay 3rd lady, and over 40 runners (plus additional 2nd-claim runners and Junior Harriers parents!).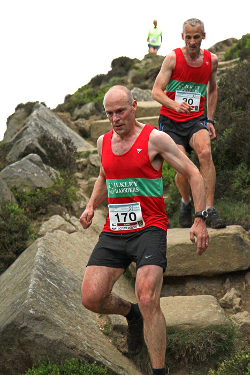 1   38.09 Graham Pearce P&B
2   38.11 Tom Adams
7   40:35 Alex Sinclair 2nd U23
11  41.46 Lee Morley
25  44.27 Jamie Hutchinson
30  45.09 Stuart Pitches
31  45.12 Ralph Tench
33  45.19 Jim Ryder
34  45.37 Ian Rowbotham  1st V50
37  46.53 Nick Pearce
40  47.23 Malcolm Pickering
41  47.31 Richard Joel
50  49.52 Alistair Barlow
53  50.00 Neil Smith
55  50.15 Mike Baldwin
57  50.19 Toni Melechi
61  50.45 Emma Barclay
63  50.55 Paddy Hagan
72  52.41 John Hayes
73  52.54 Chris Oxlade
76  53.08 Eddie Winslow
78  53.14 Outi Kamarainen
79  53.22 Florence Haines 1st U23
91  55.00 Alison Weston
92  55.03 Marlon Frost
93  55.10 Kelly Harrison
95  55.15 Eleanor Kitchen
105 55.54 Val Kerr    1st LV50
107 56.03 Alison Bennett
113 56.08 Dave Taylor
117 56.32 Sue Booth
122 57.17 Sarah Haines
135 58.32 John Pickering
143 58.51 Joyce Marshall
148 59.38 Graham Breeze
153 60.06 Gavin Burgess
158 61.04 Sophie Brown
167 63.01 Sue Morley
168 63.40 Kevin Wardale
173 64.27 Rachel Hagan
182 66.34 Amanda Martyn
187 68.02 Dave Kitchen
188 68.03 Andrew Bennett
193 74.47 Rachel Websdale
196 75.07 Joanna Taylor
197 75.09 Sarah Hayes
206 finished


Trunce 3 Fell Race, Mon 9 May
Lyn Eden reports ... Jim and I did this lovely 4 mile [approx], fell race, the third of a nine race series (web site) following an afternoon in Sheffield with our grandchild. We are gradually getting back into running after our worst cough and cold ever which had taken a month to get over. It was, therefore a pleasant surprise that we both ran our fastest run in this series this year.

Jim Towers 36:06
Lyn Eden   47:30


New! Follow us on Facebook

Facebook users might like to join the new Ilkley Harriers Group. Emma O'Looney has created this Group, with the Committee's approval, so that Facebookers can chat about what's going on in Harriers, share photos, and do all the things that Facebookers do...
The group is called ... Ilkley Harriers ...
Calderdale Way Relay, Sun 8 May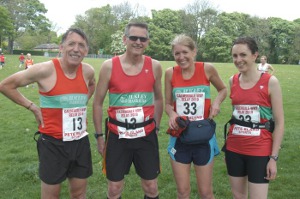 Both Ilkley's teams successfully completed this - the results are up now on Halifax Harriers' site - the ladies team was 36th overall and 2nd ladies team; the open team was 59th overall.
Dave & Eileen Woodhead's photos
| | | | | | | |
| --- | --- | --- | --- | --- | --- | --- |
| POS | Leg 1 | Leg2 | Leg 3 | Leg 4 | Leg 5 | Leg 6 |
| 36 | Sally Malir | Alison Eagle | Jo Foster | Tracey Greenway | Emma Barclay | Alison Bennett |
| | Rebecca Mon-Williams | Nicky Jaquiery | Joyce Marshall | Kelly Harrison | Sally Morley | Helen Thurston |
| | 1:36:24 (51) | 1:15:08 (36) | 0:52:30 (51) | 1:28:29 (43) | 1:02:51(17) | 1:28:51(44) |
| 59 | Julian Carter | Kevin Gooch | Clare Smith | Jamie Hutchinson | Amanda Newham | Neil Chapman |
| | Nick Pearce | Rachael Gooch | Val Kerr | Brian Melia | Gemma Carpenter | Peter Shields |
| | 1:29:28 (35) | 1:26:14(67) | 0:50:19(41) | 1:32:17 (51) | 1:26:31(77) | 1:40:00(71) |
Leeds Half Marathon, Sun 8 May
22 Harriers:

54   1:25:33  Andrew Merrick
377  1:38:00  David Howe 
386  1:38:10  Jann Smith  3rd F40
497  1:40:10  Richard Morris
620  1:42:45  Dougie Scarfe  PB
750  1:44:57  Martin Wright
769  1:45:20  Graham Corbett
818  1:46:03  Simon Darley
1145 1:50:40  Claire Hodgson
1205 1:51:24  Hilda Coulsey   2nd FV55-59
1454 1:54:58  Tim Ratcliffe
1464 1:55:10  Caroline Morley
1739 1:58:25  Ian Hargreaves
1751 1:58:35  Abigail Bailey
1810 1:59:18  John Brown
1983 2:01:31  Matthew Rutter
2016 2:02:00  Emma O'Looney
2257 2:05:44  Sue Williamson  PB 8 mins
2324 2:06:52  Donna Jackson
2380 2:07:51  Allison Ricci
2444 2:09:24  Christine Cox
3223 2:28:02  Rachel Cunningham


Beaverbrooks Blackpool 10k, Sun 8 May
From Jane Bryant ...I went to the seaside on Sunday to compete in this 10k, which is primarily a charity fun run along the front and back. It had to go north this year due to the south side being closed due to road works, although the "Start/Finish" banner people forgot this and put the banner the wrong way round to confuse us. There was an area at the front for the "serious" runner's which appeared to include several men in "morph" suites. The female announcer, wondered if they definitely were men, and yes, I can categorically state that they were! A torrential downpour on the start line helped cool things down and off we went. I got to the 5k in 19.30 (don't know what happened on Wed!) and then turned to come back and was met by the wind, so it was a return 5k in the wind. Didn't feel like I slowed, as I stayed with the same crowd, but finished in 41.15. As I finished, I was told I was 3rd lady, but then I saw 3 women already finished and it turned out I was 5th! No prizes for being an old lady in this race, no chip, but a decent medal for the kids to play with and a good day out. Definately 1 to put in the diary for a fast 10k next year, weather dependent.

1  31:56  Steve Littler
   41:15  Jane Bryant  5th lady (overall positions not given)


25th Birthday Garden Party, Sat 7 May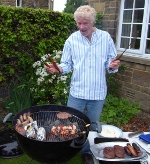 The Celebrations continued with a Garden Party, chez Bennett, enjoyed by 40-50 Harriers.
There was brilliant BBQ-ing, fantastic food, good company, and a toast to "Ilkey Harriers, 25 Moor Years" with Birthday Champagne provided by the Club.
Thanks to Alison and Andrew for all their hard work setting this up, and for their generous hospitality.
See some photos
More photos
Pendle Cloughs fell race, Sat 7 May

26  3:17:14  Graham Arthur
38  3:59:53  Sophie Brown
    

Malhamdale Meander, Sat 7 May
Amanda Parnaby reports on ... 23 miles in and around Malham. I reached Gordale Scar before the early afternoon rain and this, coupled with encouragement from fellow participants, persuaded me to once again take this route rather than what, in future, will definitely be my preferred option of the long way round. Despite my problems at Gordale Scar it was an enjoyable day. Finished in 6 hrs 5 mins.
Hawkshead 15k Trail Race, Sat 7 May
Kevin Wardale was 229th in 1:47:23
Leeds ParkRun, Sat 7 May

106 25:05 John Marshall


HDSRL #1, Thirsk, Thu 5 May
Some excellent individual performances, but not enough of us made the journey to get the team results that we'd like! Let's do better at HDSRL#2 at Harrogate on 26 May!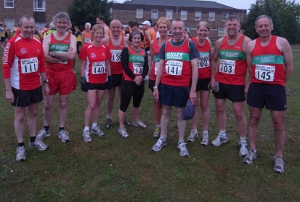 42  36:22  Ian Rowbotham
51  36:56  Jeff Paget
94  40:22  Alison Bennett
115 41:46  Phil Hirst
163 44:30  Val Kerr
194 46:53  Paul Sugden
220 49:37  Don MacRae
235 51:32  Christine Cox
239 51:44  Emma O'Looney
243 52:45  Andrew Bennett
270 59:58  David Millson


Full results and photos on www.harrogate-league.org.uk.
Lothersdale fell race, Wed 4 May

25  28:58  Mike Baldwin
74  35:38  Graham Breeze


John Carr 5k #1, Wed 4 May
Tom Adams won the first race in the series, leading in no less than 48(!!) Ilkley Harriers including many juniors

1   15:30  Tom Adams
11  16:44  David Westhead
22  17:34  Steve Weston
25  17:49  Mark Mon-Williams
35  18:11  Andrew Merrick
38  18:17  Dave Cummings
39  18:19  Sally Morley
42  18:27  Mark Iley
51  18:44  Nick Pearce
68  19:12  Andrew Sheldon
69  19:13  Georgia Malir
72  19:15  Geoff Howard
79  19:28  Arthur Reilly
89  19:46  Jack Cummings
90  19:47  Neil Chapman
92  19:52  Francis Westhead
94  20:02  Sally Malir
100 20:14  Simon Chapman
101 20:16  Jane Bryant
105 20:21  Edward Muirhead
106 20:22  Alison Bennett
111 20:32  Rebecca Mon-Williams
117 20:43  Jane McCarthy
119 20:46  Jann Smith              PB
122 20:48  Sharon Williams
128 20:59  Bradley Chapman
137 21:16  Ed Bickerdike
140 21:24  Lucy Williamson
150 21:51  Andrew Jackson
151 21:56  Dave Taylor
157 22:04  Nick Mellor
173 22:39  Jim Towers
176 22:50  Karen Lambe
185 23:04  Lucy Jacques
187 23:07  Clare Smith
197 23:29  Elizabeth Westhead
211 23:59  Michael Picken
214 24:13  Alison Ricci
227 24:58  Sue Bickerdike
237 25:22  Harriet Jackson
240 25:40  Sue Williamson
250 26:26  Alessandra Ricci
253 26:30  Andrew Bennett
276 28:29  Joanne Williamson
281 29:46  Lyn Eden
283 30:27  Bridget Taylor
284 30:28  Joanne Taylor
291 finished


Full results on Saltaire Striders web site
This is a counter in the Ilkley Harriers Race League.
25th Birthday Party, Tue 3 May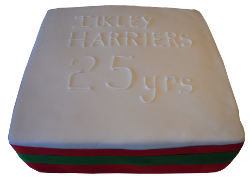 Ilkley Harriers was 25 years old on Monday 1st May!
We kicked off the celebrations when members new and old got together for a bit of a Do. We were pleased to welcome some of our previous members and founder members too. ILT&SC laid on some stylish nosh with Pimms and canapes, Chris Matthews produced a magnificent birthday cake (and decorated the room), and Vince Gibbons and Richard Gray hosted the fiendishly difficult Harriers History quiz. A great time was had by all -
see some photos.
Rothwell 10k, Mon 2 May

50  37:40 Andrew Merrick
59  38:17 Ralph Tench
74  39:52 Geoffrey Howard  1st M65 


Keswick Half Marathon, Sun 1 May
Alison Frost was 411th in 1:59:35 (PB by 4m 50s). She reports "one of the most scenic half marathons, glorious sunshine and a fresh easterly wind made for a perfect day out."
Hameldon Hill Race, Accrington, Sun 1 May
Graham Breeze was 129th, 1st V65, in 59:27
---