Ilkley Harriers news archive 2011
Harrier of the Month, April
Nominations were:



Gaenor Coy - Paris marathon time
Emma O'Looney - Training and London Marathon
The Bennetts - Dales Way Relay organisation & support
Dave Cummings - 3 Peaks debut and John Carr 5k
Ian Rowbotham - 3 Peaks and Dick Hudsons
Sue Booth - Open 5 winner
Steve Weston - London
Jann Smith - London
Mike Baldwin - 19th 3 Peaks race
Andy Merrick - race results
Tom Adams - Guiseley Gallop win and Bunny Run results
The HoM awards went to Ian Rowbotham, and the Bennetts. Congratulations to them. They will receive technical running shirts from HoM sponsor UP & RUNNING.
Three Peaks fell race, Sat 30 April
Dave Wilby reports ... some great team results: Jamie Hutchinson, Mark Mon-Williams & Steve Turland were 3rd MV40 team behind Dark Peak and P&B, and Ian Rowbotham, Nick Pearce & Mike Baldwin were 3rd MV50 team. The MV40 men received Salomon kit, but the MV50 prizes only went down to 2nd place, shame!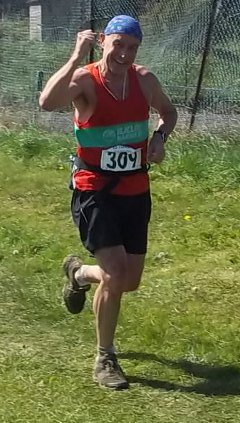 (1  2:53:34 Thomas Owens, Shettleston Harriers)
56  3:35:14 Ian Rowbotham
58  3:37:42 Jamie Hutchinson
59  3:37:50 Dave Wilby
64  3:38:47 Mark Mon-Williams
89  3:45:54 Steve Turland
91  3:45:59 Nick Pearce
143 3:57:07 Duncan Cooper
157 3:59:23 Jez Hellewell
167 4:00:11 Jim Ryder
215 4:05:57 Neil Smith
242 4:10:17 Mike Baldwin
243 4:10:34 Alistair Barlow
262 4:14:24 Sally Malir
319 4:23:23 Brian Melia
351 4:28:41 Stuart Pitches
352 4:28:49 Rebecca Mon-Williams
355 4:29:22 Dave Cummings
391 4:33:37 Andy Wiggans
408 4:35:11 Paul Sowden
431 4:38:46 Martin Archer
457 4:42:24 Mark Richmond
489 4:46:28 Alison Weston
586 5:01:48 Sharon Williams
665 5:27:36 Jonathan Riley


Full results on www.sportident.co.uk and some photos on www.sportsunday.co.uk and woodentops.org.uk.
Sharon Williams reports ... my first completion of this race, having failed to finish in 2010 (retired at Hill Inn). I was determined to cross the finishing line, whatever the conditions and state of my body! Running conditions were good, sunny and dry, apart from a strong wind that followed you round the 23 mile course and got really scary coming off Whernside. I had made good time up till that point, but the combination of wobbly legs and the wind meant a slow descent after Whernside and a quickening of my pace on the road to ensure I made the Hill Inn checkpoint. It was a struggle on the flagstones towards Ingleborough and I spent a bit of time walking because my quads were screaming at this point, but there was plenty of company along the way. I made another slow descent down the rocky Ingleborough and lost a lot of places, but glad I had opted for comfort when choosing my footwear (Mizuno Wave Ascends) for the last 5 miles to Horton and was able to quicken my pace and achieve my goal of 5 hours. I just wanted to thank all the Ilkley Harriers that turned out on the day to give their support, it was fantastic and really appreciated. In all an enjoyable day, a very well organised event, supportive marshals and a nice T-shirt, but I can honestly say that I never want to go up Whernside again!
From Andy Wiggans ... I'm not entirely sure what led me to believe that it was a good idea to run a 24 mile fell race 13 days after running London Marathon, but I can now confirm that it wasn't. I think it was somewhere around Ribblehead that my legs realised that I was asking them to run a long way again, and them deciding to make their objections known by refusing to work properly.
Loads of supportive folk out on the hill, including many Harriers, made the pain tolerable, and a couple of sips of water from passers-by were an absolute lifesaver. The climb up Whernside seemed to take for ever, and my sore legs meant that I was even slower downhill than my usual "bambi-on-ice" technique, but I made the cut-offs fairly comfortably, which was my only objective for my first go.
A tough day at the office then, made worse by my kitten-soft road running feet getting blisters on the way down Pen yGhent, meaning I simply couldn't run downhill, and making the descent off Ingleborough even more horrific than usual. Road shoes would probably have been better, but whatever I'd had on my feet I don't think it was going to have made my legs forget about their efforts a couple of weeks before.
All in all I'm glad to have done it, although I'm not sure I'd do the two events in the same fortnight again as I think you can probably only do one of them justice.
Highland Fling, Sat 30 April
From Graham Arthur ... The Highland Fling was the UKA trail championship and the Scottish Ultra championship. Jez Bragg smashed his previous record and was second. The new champion is Andrew James. The weather was warm, like everywhere else. At the 41-mile checkpoint, my drink and banana were actually hot, and there was no shade. That was about the worst point. Distance: 53 miles. Climb: 4000 ft, but very up and down with lots of steep and very rough sections. Scenery: stupendous. General atmosphere and organisation: brilliant. Sadly, Ewan Welsh was unable to go, but we shall meet again at the Wharfedale Off Road Marathon. 383 starters, 321 finishers. Graham Arthur was 161st in 11 hrs 28 min.
Lister Park ParkRun, Sat 30 April

123 25:20 John Marshall
153 26:48 Gemma Carpenter


Dick Hudsons fell race, Wed 27 April
The first BOFRA race of the season. 5 miles (a looong 5 miles) from the Tarn to Dick Hudsons and back.

10  51:28  Ian Rowbotham  1st V50
14  55:53  Sue Booth      1st lady cyclist
15  56:26  Neil Smith
16  57:01  Rob Cunningham
20  57:59  Mike Baldwin
23  58:26  Paddy Hagan
25  60:04  Norman Bush    1st V70
26  61:09  Paul Stephens
34  64:32  Brian Melia


Bunny Relays, Tue 26 April
There were many Harriers amongst the 77 teams in the Bunny Relays, spot them in the full results and photos on woodentops.org.uk
Guiseley Gallop, Sun 24 April
Congratulations to Tom Adams on winning this for a 2nd year...

1   35:00  Tom Adams
41  41:40  Nick Pearce 2nd M55
43  41:47  Andrew Merrick
61  43:08  Rob Cunningham
62  43:09  Ralph Tench
64  43:20  Emma Barclay	1st F40
194 51:41  Andrew Jackson
199 52:03  Helen Horton	3rd F45
221 52:50  Sharon Meadows
223 52:51  Martin Wright
228 53:05  Anthony Swanepoel
232 53:12  Vic Verecondi
292 56:08  Christopher Brown
300 56:34  Ian Hargreaves
331 58:19  Christine Coy


Lister Park ParkRun, Sat 23 April

116 25:37 John Marshall


Cannon Hill ParkRun, Sat 23 April

117 26:34  Gemma Carpenter


Bunny 3, Tue 19 April
Tom Adams won the Egg Stage again and overall ran 2s faster than last week in sizzling sunny weather, but Bunny Run legend Ian Holmes caught Tom on the final climb and powered away to win in 15.04. Ian's reign started in 1994 and over the years he has now amassed an incredible 30 Bunny wins! Full results and photos on woodentops.org.uk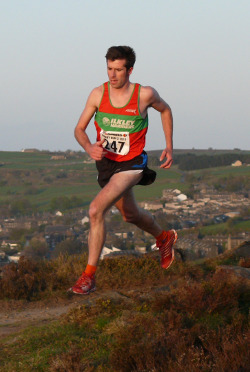 2   15:14  Tom Adams  Egg Stage winner 3:25
28  17:23  Dave Wilby
54  18:39  Mark Iley
77  19:41  Georgia Malir
88  20:05  George Stevens
98  20:24  Jack Cummings
107 20:41  Victoria Stevens
121 21:19  Dominic Coy
145 22:02  Outi Kamarainen
152 22:19  Bradley Chapman
174 23:03  Sophie Brown
206 24:20  Cath Gibbons
209 24:34  Clare Smith
212 24:42  Sue Morley
218 23:05  Eric Morley
222 25:20  David Green
235 25:50  Gemma Carpenter
243 26:22  Greg Smith
250 26:50  Bernie Gibbons


London Marathon, Sun 17 April
Well done to the Harriers in the 31st London Marathon:

1664  3h08:37 Steve Weston (PB)
1902  3h11:25 Andy Wiggans
2199  3h14:31 Julian Carter  (a PB by 44mins 52secs!)
4733  3h35:07 Jann Smith (PB)
6616  3h47:41 Daniel Ibbotson
9219  3h59:34 Martin Wright
15539 4h26:18 Paul Sugden
20932 4h48:49 Emma O'Looney
30149 5h42:51 Mike Picken



Andy Wiggans' report ... A tough day in the sun - probably not as tough as Paris, but still a hot day for a fat lad.
Down to London for registration and the usual wander round the Expo celebrity spotting, then a few hours boredom in my room - thank goodness for Sky Sports. A very pleasant Italian tea with several Harriers and their families, then back to the hotel for a fitful night's sleep trying to decide on a target time.
My in-room self-service breakfast of Tesco instant porridge and coffee was prepared and consumed (take that, £19.50 hotel-breakfast-man!) then it was onto a Boris Bike to Charing Cross and a seat on the Blackheath train. Wandered open-mouthed, gawping at the scale of the event, to the slightly patronisingly named "fast good for age" start, drank some more water, a couple of toilet visits then we were into the pen and soon were off and running.
I had harboured hopes of a sub-3 earlier in the campaign, but too much travelling (and associated fat-boy breakfasts), a few visits from the "can't be bothered fairy" and a promise of a hot day meant that the best I was hoping for was a PB of around 3:05. I started off at about 7 minute pace,and went through 10k in 43 minutes, just slightly down on sub-3 pace, but enough to know it wasn't a sub-3 day. I was through half way in 1:31, energised by a shout from Dave Ibbotson, but by the time we hit Docklands at 18 miles or so I had started to slow down and the heat was starting to take effect.
20 miles came and went in 2:21 so a PB had pretty much gone - so thoughts now turned to making sure I hit 3:15 and another fast GFA place. Even a sweaty, fat bloke can run a 54 minute 10k, can't they? We'll see...
Got another shout from Dave on the Causeway on the way back, and started to really struggle as we passed the Tower of London - but looking back to what happened to my pace the last time the wheels came off at London it was a relatively minor collapse, as I only slowed to just over 8 minute miles instead of the 10 minute pace in the tropical hell of 2007.
On the embankment I attempted to "zip up the man suit" as they say and dig in a bit - I still wasn't sure of the 3:15 until the last 800m or so when I realised I had about 8 minutes to cover half a mile. I saw a guy on his hands and knees trying to carry on to the finish, with several St John's Ambulance people trying to coax him into a wheelchair.
Stopped the watch on 3:11:25, so happy to be within 4 minutes of a PB on a really tough day. Hats off to those out on the road for 4hrs + - it got hotter and hotter as the day went on. Another 2 years of qualification for London then, which I shall pass on for next year I think, but probably be back for another bash in 2013.
Dark and White Mini MM Round 3, Sun 17 April
Steve Turland reports ... thought this 3hr event would be good preparation for the 3Ps and was in the Hope Valley, Peak District covering some similar ground to Edale Skyline. To my surprise I managed to clear the course with 1 minute to spare, and then had an anxious wait to see if anyone else would better my time. Fortunately no-one else cleared it and I won the event overall.
Grasmere, Tarns and Gingerbread, 22 miles and 7,000', Sat 16 April
Morgan Williams reports ... After the 4 Lakeland Passes event, this was another LDWA event well attended by the running fraternity. The miles and ascent figures were a little greater than predicted by the organisers! The route was particularly fine departing Grasmere and visiting Alcock Tarn, Fairfield, Grisedale Tarn, Greenburn, the Helm Crag ridge, Easdale Tarn, Blea Rigg, Silver Howe, Loughrigg and back to Grasmere. Some early mist played havoc with some people's route finding. One party of 3 lost a member on the Helm Crag ridge in the thick mist and found him back at the finish later. Nicky Jacquiery and I were delighted to be 4th and 5th back to Grasmere in a time of 5.14. I had a good day with the map and made only one minor error. Laugh of the day was the chap from Guiseley who re-passed us for the fourth time just a few hundred yards from the finish. I suggested an FRA Navigation Course! Alison and Ken did the 13 mile walk option and fortunately we caught them at High Close Youth Hostel to preserve our dignity. Another great LDWA day out and, as ever, there was fantastic food at the finish. And the Gingerbread was excellent.
Woldsman, Sat 16 April
Eddie Winslow reports ... my first ultra for several months and one I'd recommend to anyone looking for a long run in beautiful country. I was hoping to be round the 50 miles in about 9 hours which is 30 minutes down on my pb for the distance. Unfortunately the weather was a bit too nice with temperatures getting very warm. At half distance I realised that despite drinking lots I hadn't been drinking enough and was a bit dehydrated. I therefore had to take the second half easy and by the time I'd managed to fully rehydrate I was enjoying a fast walk so carried on with that to the finish in 10h26m in 10th place.
Amanda Parnaby was also taking part but an injury did for at half distance.
Coledale Horseshoe, Sat 16 April
Val Kerr reports ... having preentered this race several weeks ago I set off for the 'big mountains' across the Pennines with some degree of trepidation. And big they were too =! The first 4 km of this race climbs 2000 ft up to the top of Grizedale Pike. Visibility was good and you could see the last steep part of the climb all the way. After that the going got easier with only one steep climb and lots of downhill. The race was won by Ian Holmes who flew round the course in an amazing 1h 12min. My run was slightly more lesiurely, but there were still some sandwiches left when I reached the end !

(1   1:12:34 Ian Holmes, Bingley)
249  1:59:22 Val Kerr


ParkRuns, Sat 16 April
Justin Phillips was 8th in 18:52 at the Leeds Hyde Park event. Carole Cunningham was 70th in 28:01 at Bradford Lister Park. Note there are two new ParkRuns starting locally soon: Roundhay ParkRun has its first event on 23 April, and Chevin Forest ParkRun is coming soon too. Neither are on parkrun.com yet (@17 April), but both have Facebook pages if you are interested in following developments: Roundhay Parkrun, Chevin Forest Parkrun
Ras y Moelwyn
Jo Foster reports ... whilst on hols, Jim Ryder ran this race from Blaenau Ffestiniog (we'd previously done it when it was a Championship race a few years ago). He had a good run finishing 11th in 1:33:50
Bunny 2, Tue 12 April
Tom Adams achieved the rare double of an Egg Stage win (AND setting the record for the egg stage) AND a race win. Well done Tom! Full results and photos on woodentops.org.uk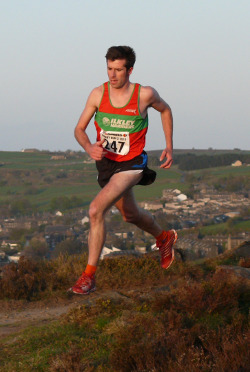 1    15.16  Tom Adams
18   17.11  Dave Wilby
40   18.13  Ian Rowbotham
50   18.48  Sally Morley
57   18.58  Duncan Cooper
85   20.05  Jack Cummings
100  20.47  Ruaridh Mon-Williams
102  20.56  Bradley Chapman
103  20.58  Florence Haines
132  21.59  Lucy Williamson
152  22.46  Dave Taylor
173  23.28  Sophie Brown
180  23.46  Jim Towers
189  23.57  Naomi Elliott
198  24.09  Sam Wood
199  24.10  Eric Morley
210  24.42  Sue Morley
220  25.26  Joseph Tindall
229  25.50  David Green
236  26.15  Bernie Gibbons
239  26.26  Gemma Carpenter
249  26.59  Sue Williamson
263  28.29  Susan Stevens
279  31.49  Lyn Eden


Paris Marathon, Sun 10 April
Gaenor Coy reports... there were 3 Harriers (at least) out in Paris at the weekend for the 35th Marathon de Paris. A hot day for this great marathon course with fantastic support all along the flat scenic route. It was won by Kenyan, Benjamin Kiptoo in 2h6:29, closely followed by:

7339     David Howe     3h39:18  (PB)
16287    Gaenor Coy     4h13:18  (1st Marathon)
26341    Donna Jackson  4h51:59  (1st Marathon)
    

Connemarathon, Sun 10 April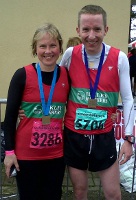 Dougie Scarfe reports ... a terrific weekend over in the West Coast of Ireland for the Connemarathon, an amazing race with fantastic mountain location. The marathon starts a few minutes after everyone cheers though the leading pack for the Ultra - a nice touch. First half of the marathon course is undulating followed by a great descent down to sea level at Leenane, when you pick up the half marathon; this second half becomes tougher with a 2 mile incline at 13 miles and then at 22 miles (9 miles for the half) the 2 mile affectionately entitled 'Hell of the West' hill. A bit of a killer but not enough to spoil a really great event. If anyone fancies this sort of challenge we would really recommend it, and the Guinness is fantastic too!
My time for the full was 3.51:22 and I came 182 out of 539. It was my first full marathon.
Judith's time for the half was 2.02:01 and she came 1090 out of 2183
ADT Edinburgh Half Marathon, Sun 10 April
 
Chris Cunningham  - 1.44:09 (PB by 34 secs)
Carole Cunningham - 2.08:15


Baildon Boundary Way, Sun 10 April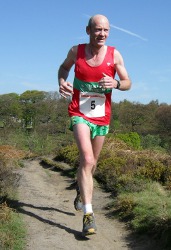 Results from Baildon Runners:

10  1:26:45 Jamie Hutchinson  2nd V40
20  1:34:22 Andrew Merrick
89  1:46:56 Jane McCarthy	
107 1:49:02 Sharon Williams
152 1:55:09 Martin Wright	
173 1:57:22 Helen Horton
189 1:59:46 Jim	Towers
206 2:01:38 Liz	Price
243 2:07:46 Jean Sullivan
258 2:10:16 Sue	Morley
268 2:11:43 Vic Verecondi
303 2:20:37 Michael Picken
334 2:34:38 Lyn Eden


Gisborough Moors, Sat 10 April

13  93:02  Dave Wilby
18  95:34  Ian Rowbotham
109 119:37 Norman Bush


Mourne Peaks, Sat April 9
Nick Pearce reports ... Graham and Nick Pearce had a thoroughly enjoyable weekend in Northern Ireland, the venue for the first 2011 British Fell Championship race. Run over a testing 12.5 mile course, with 10 peaks and 6,300 feet of ascent the Mourne Peaks race was won by Tom Owens (Shettleston Harriers) in 2 hr 7 minutes. Second claim Ilkley Harrier Graham was a brilliant fourth in 2 hr 10 mins, and Nick the only first claim Harrier running was 67th, 2nd vet 50 (1st over 55) in 2 hr 49 mins.
Coniston 14+ (16.7), Sat 9 April
Val Kerr reports ... What a glorious day in the Lakes. I can't believe that I have run this race 10 times now and it has never yet rained - must be a record for the Lake District in March/April. Having spent the past year mainly on the fells it was good to make a brief return to the roads for what has got to to be one of the best and most scenic road races in Britain. There were a few more Harriers racing than in previous years with the best performance coming from Jonathan Sinclair who picked up a prize as 2nd MV50. All Harriers finished the course and no one succumbed to the heat which affected several runners from other clubs in the latter stages. Results (chip times) were:-

1   Steven Cockrell (Nene Valley H) 1:39:35
37  Jonathan Sinclair               1:56:58 (2nd MV50)
136 Ben Sheppard                    2:11:28
499 Val Kerr                        2:34:17
640 Nicholas Page                   2:41:19
731 Abigail Bailey                  2:46:54 
 
over 1000 runners


Wardle Skyline, Sat 9 April
From Graham Breeze ... at the Wardle Skyline (7 miles 1400feet) Graham Breeze was 2nd V65 (in 70.12, overall winner 46.51) but of far more interest was that John Armstrong, the race organiser, after handing out a single prize for each vet category gave a prize to everyone over 65 "because I think it is so marvellous that you are all still fell running at that age". Very enlightening and a prize is a prize!
Leeds ParkRun, Sat 9 April
Geoff Howard was 33rd in 20:01
Bunny 1, Tue 5 April
Over 20 Harriers, many of them juniors, at the first of this year's 3 Bunny Runs. Full results and photos on woodentops.org.uk. Bunny 2 is next Tuesday at 7.15

(1   15.53  Tom Addison, Helm Hill)
28   18.30  Dave Wilby
57   19.47  Sally Morley
93   21.20  Kelly Harrison
102  21.31  Ruaridh Mon-Williams
107  21.40  Florence Haines
113  22.00  Bradley Chapman
119  22.12  Jack Cummings
120  22.13  Outi Kamarainen
127  22.29  Dave Taylor
155  23.42  Jim Towers
156  23.44  Lucy Williamson
161  23.53  Sam Wood
192  25.22  Sophie Brown
195  25.34  Naomi Elliott
207  26.08  Eric Morley
216  26.31  Sue Morley
232  27.25  Bernie Gibbons
236  27.43  David Green
240  28.09  Gemma Carpenter
256  29.19  Sue Williamson
264  31.35  Lyn Eden
280 ran


Times a little slow- v. strong wind.
Training
Circuit Training has finished for the season now. Thanks to Peter Shields, Neil Chapman, and Roy Ruddle for leading these; and to Brian Sweet for looking after fees collection.
Thursday night training will move from the grass at ILT&SC up to the Moor this Thursday 7th April.
Keighley Big K 10k, Sun 3 April
Rachel Cunningham reports ... these results from UKResults.net

13  40:32 Rob Cunningham
110 48:51 Chris Cunningham
153 50:40 Becky Stapleton
224 53:52 Christine Cox
362 59:22 Carole Cunningham
741 ran


Race Report here ... kcac.co.uk
Blubberhouses LDWA, Sun 3 April
Dave Wilby was first finisher in 3h06. More results later. Looks like Dave was too quick for the photographer?, but spot the other Harriers on Sportsunday's photos.

1   3h06 Dave Wilby
12  3h42 Mike Baldwin
13  3h44 Mark Pearson
14  3h44 Eddie Winslow
26  3h56 Alistair Barlow
32  4h15 Mark Richmond
44  4h31 John Tate
60  4h59 Sophie Brown
105 5h59 Amanda Parnaby


Any more in this list?
Dales Way Relay, Sat 2 April
Well done to Alison & Andrew Bennett who once again orgainsed this superb social relay, much enjoyed by the 36 Harriers who took part. See Andrew's photos here
YVAA Grand Prix, Sun 3 April
Jim and Lyn report the first race of this year's Yorkshire Vets AA Grand Prix took place at Hall Park, today. The course was approximately 5.5 miles on road and track; two laps with a big hill on both laps.

Men's results
98  42:33 Jim Towers

Ladies results          
63  53:41 Lyn Eden    1st 065

A record number of 210 runners took part.

See yvaa.org
Jolly Holly 10K, Sat 2 April
Jim and Lyn report the Jolly Holly 10k took place following its cancellation during Christmas because of the extreme weather. Conditions were ideal for the 240 runners over an undulating trail course, held mainly in the grounds of the Studley Royal Park.
The Christmas spirit remained with some dressing up in Christmas gear and spot prizes being Christmas Puds.

(1  35:20 Andy Chadfield, Billingham MarshHouse Harriers)
57  45.37 Norman Bush
94  49.48 Jim Towers
193 62.32 Lyn Eden


Bradford Parkrun, Sat 2 April
Gemma Carpenter was 48th in 28:58
---