Ilkley Harriers news archive 2011
Harrier of the Month, March
Nominations were:



Jann Smith – Spen 20 1st F40
Dave Wilby – Race results, leading from the front!
Geoff Howard – Thirsk 10, Club record, YV Champ
Eddie Irving – St Annes 10 (Club record), Thirsk
Jane Bryant – Thirsk sub-70 10
Dougie Scarfe – Thirsk massive PB
Steve Weston – Thirsk sub-60 PB
Rebecca Mon-Williams – Thirsk sub-70 PB
Caroline Morley - Liverpool Half PB
The HoM awards went to Jann Smith and Steve Weston. Congratulations to them. They will receive technical running shirts from HoM sponsor UP & RUNNING.
Trunce Fell Race, Mon 28 March
Jim and Lyn report ... 6.45pm, Oxspring ... after an energetic afternoon in Sheffield looking after a 20 month old grandchild a lovely little fell race on the way home appeared a perfect way to recover. And so we stopped off at Oxspring, near Penistone for The Trunce Fell Race. It's a lovely little race, part of a nine race series, (web site) approximately every third Monday throughout the summer. It's 4 miles long with 550ft of climb and three river crossings. It was a perfect night for running and the river crossings were quite shallow.
A huge field of 290 runners meant long hold-ups at two stiles early in the race, meant also that fast times were impossible. So we relaxed and enjoyed the race as a recovery run from the Thirsk 10 road race.

Jim Towers 37:35
Lyn Eden   49:29


Thirsk 10, Sun 27 March
Geoff Howard & Neil Chapman report ... Eddie Irving was 1st v55 and is the Yorkshire Vets Champion; Neil Chapman was 2nd in the Yorks Vets Champs; and Geoff Howard was 1st v65 and Yorks Vets Champ (new club record).
Results from ukresults.net

(1  50:10 Andrew Pearson, Longwood Harriers)
33  58:22 Dave Wilby  PB
52  59:33 Steve Weston PB
76  61:56 Mark Mon-Williams
80  62:09 Eddie Irving
116 63:59 Andrew Merrick  PB
125 64:14 Rob Cunningham
132 65:17 Geoff Howard
153 65:56 David Brown
166 66:28 Neil Chapman
228 69:31 Jane Bryant  PB
236 69:30 Andrew Sheldon  PB
239 69:36 Paul Stephens
244 69:36 Rebecca Mon-Williams PB
250 69:58 Richard Morris  PB
353 74:37 Dougie Scarfe  PB
355 74:52 Helen Horton  PB
380 76:03 Chris Cunningham
439 79:05 Jim Towers
585 87:47 Judith Scarfe  PB
640 92:08 Carole Cunningham  PB
706 101:04 Lyn Eden
723 108:43 Rachel Cunningham PB


Edale Skyline, Sun 27 March
From Nicky Jaquiery: Three of us travelled down to the Peak District to compete in the Edale Skyline fell race (21 miles/4800'). The running conditions were perfect with reasonably cool and dry weather, and a lot less bog than usual! Llyod Taggart was first, closely followed by Oli Johnson; Judith Jepson was the first woman. Jim Ryder had a fantastic run in under 3 1/2 hours. Brian Melia ran the race in about 3.48. I finished in about 3.59 -not sure of the exact times as the results are not listed yet.
Liverpool Half Marathon, Sun 27 March
Caroline Morley reports .. large event with 7,500 entrants. Nice flat course and very enjoyable, taking in the parks of Liverpool and ending with a run along the Mersey back to Albert Dock. I finished in 1:53:34, a PB by 3½ mins)
Midgley Moor fell race, Sat 26 March
Graham Breeze finished 81st in 57:19
YVAA XC Championships, Sat 26 March
Jim and Lyn report ... Four Harriers travelled to Fartown in Huddersfield for the Yorkshire Vets AA XC Championship. It was a cool sunny day and firm underfoot making it an ideal day for running. The course was very similar to the one used in the West Yorkshire XC League. The men ran approximately 9K, and the ladies ran approximately 5K.

Male aged  35-49 race
35  34:10  Jamie Hutchinson

Male aged 50-59yrs
26  36:48 Nick Pearce
72  42:55 Jim Towers

Ladies Race
48  30:57 Lyn Eden  1st 0/65

Bradford 10k, Sun 20 March

32  38:20 Rob Cunningham
204 45:29 Martin Wright
217 45:49 Dave Taylor
247 46:21 Nick Mellor
455 49:45 Christine Cox
562 53:03 Sue Bickerdike
653 54:17 Sue Williamson
749 56:18 Carol Cunningham
807 58:42 Sally Wright
854 60:01 Joanna Taylor


Ultrafit St. Annes 10 Mile, Sun 20 March
Neil Chapman reports ... Four Harriers left the good weather at Ilkley behind to take part in the flat, fast (wind permitting) 10 mile race on the sea front at Lytham St Annes. This is a race which attracts a good standard of runners as it is part of the Fire Service, Northern Vets and Lancashire Championship. The race was won by Tony Ford of Sale Harriers in 51:48 and first Harrier in was Eddie Irving, running his first 10 mile race for 10 years, finishing 29th overall in 60:10 and 1st V55, also setting a new Club record for his age category. Second Harrier in was Mark Iley, who had a strong second half of the race making up 8 places and finishing 40th overall, in 62:34, and 5th V45. I was the next Harrier in 83rd overall in 67:40 and Pete Shields was 199th in 80.10, a great achievement given that it is only a few weeks since he underwent surgery. If you have not seen this race before, I strongly recommend you think about it for next year, as Harriers have had good results here, and age category records set 4 years ago by Chris Matthews and Geoff Howard are still standing.

29  60:10 Eddie Irving
40  62:34 Mark Iley
83  67:40 Neil Chapman 
199 80:10 Peter Shields


Heptonstall fell race, Sun 20 March
Results from www.heptonstallfellrace.org.uk:

13  2:08:57 Steve Turland
36  2:20:20 Jim Ryder
72  2:30:23 Alistair Barlow
91  2:35:46 Sally Malir  1st LV40, 4th L
100 2:40:33 Brian Melia
115 2:44:30 Paul Stephens
144 2:52:25 Sharon Williams  10th L)
175 3:10:30 Jo Foster
179 3:16:46 Sue Morley

4 Lakeland Passes, Sat 19 March
Jez Hellewell reports had a cracking morning out in the Lakes on Saturday doing The 4 Lakeland Passes LDWA event. The route was from Borrowdale Institute Rosthwaite, Keswick Over Styhead Pass, Black Sail Pass, Scarth Gap Pass and Honister Pass visiting Borrowdale, Wasdale, Ennerdale and Buttermere. My Garmin said 18.5 miles with around 5500 feet of climbing. A good little warm up for The 3 Peaks. Saw Morgan, Alison, Dave Wilby (who sprinted past me up the first climb !) & a couple of other fellow Harriers. You could set off from between 8.30 & 9.30 & no placings or times are given, so this was just a great, relaxing run out. It took me 3.50 & that includes stopping for the obligatory photo's ! I think Dave took a rather more speedy 3.20!
Fiensdale fell race, Sat 19 March
Nick Pearce reports promoted by Bowland Fell Runners, Fiensdale is a cracking race over 6.5 miles with 2200 feet of ascent run in the Forest of Bowland. It has in the past been a championship event, but access problems have put paid to that and it is now a low key event with a limit of 100 runners and has been subject to some re-routing.
Only 65 finishers this year, with Shaun Godsman of Calder Valley in perfect conditions winning in 54.05. Nick Pearce 20th in 68.11
Bradford ParkRun, Sat 19 March
Geoff Howard was 11th in 20:21 at this Lister Park event
Time Trial, Tue 15 March
Twice each Winter we stage a 5K Time Trial on the Rupert Rd circuit. With some fast short races ahead (John Carr series, Bunny Runs) this was a good chance to see how much 'zip' you have in your legs after a long Winter's training! This time we started everyone together just for a change and the results were ...

15:55 Tom Adams
18:50 Julian Carter (19:00 last time)
19:02 Sally Morley
19:20 Andrew Merrick
19:24 Brit Tate
20:14 Mark Richmond (21:12 last time)
20:15 John Tate
20:20 Duncan Cooper
21:39 Alison Bennett
22:42 Chris Cunningham
22:57 Gavin Burgess
24:39 Sophie Brown
24:42 Rachel Carter
24:59 Christine Cox (24:45 last time)
26:48 Helen Culshaw
26:54 Don MacRae
27:35 Sue Williamson
27:54 Carole Cunningham
29:52 Rachel Cunningham
30:51 Antonio Cardinale (28:47 last time)


Thanks to Neil Chapman for organising this and time-recording.
Spen 20, Yorkshire 20 Mile Champs, Sun 13 March
Jann Smith reports ... Ilkley won the ladies team prize at this event

73  2:30:18 Sally Malir 3rd F45
88  2:34:04 Jann Smith  1st F40
122 2:42:00 Sharon Williams
169 2:52:36 Martin Wright
230 3:08:26 John Coates
241 3:15:45 Paul Sugden
242 3:15:57 Emma O'Looney

Burnley 10k, Sun 13 March
Andrew Sheldon was 38th in 43:07
Stan Bradshaw Round (Half Tour of Pendle), Sun 13 March
Diane Haggar reports ... Much the same feel as the Half Tour but thankfully without the trama of Geronimo. Was pleased with my run - 4th Lady, 2nd V40 in 1:30.56
Windmill Whizz, Sat 12 March

(1 37:20  Adam Osborne, Leeds City)
2  37:28  Tom Adams
14 43:19  Jamie Hutchinson
15 43:47  Mark Mon-Williams
21 45:31  Dave Cummings
29 47:34  Duncan Cooper
38 49:08  Paul Stephens
51 51:27  Rebecca Mon-Williams  1st LV
55 53:21  Chris Oxlade
66 56:01  Graham Breeze
72 57:43  Jim Towers
96 75:51  Lyn Eden


Dentdale 14+ miles, Sat 12 March
Hilda Coulsey was 3rd LV55 in 1:59:48
Haworth Hobble, Sat 12 March
From Amanda Parnaby ... 33 miles traversing moors around Haworth, Todmorden and Hebden Bridge with 4,400 ft of ascen. Completed in 9 hrs 14 mins.
Wharfedale Primary Schools XC, Sat 12 March
This season's finale was the relays at Nell Bank, with 58 teams racing it out, family and teachers cheering them on. The relays were followed by the presentations of League prizes and certificates - a great end to a great season. More on the Junior Pages
PECO XC #5, Sun 6 March
Valley Striders had everything well-organised at Danefield, even down to the lovely weather. League results here, 18 junior Harriers running (results here).
Ilkley senior results (our timings):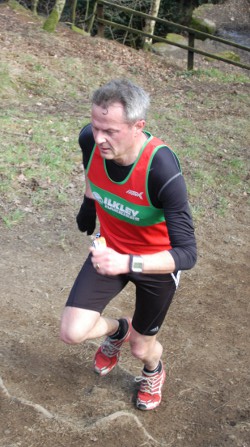 Ladies
3   34:00 Emma Barclay
18  38:22 Alison Bennett
43  41:59 Clare Smith
45  42:28 Sophie Brown
54  43:26 Alison Ricci
66  44:59 Bernie Gibbons
70  45:26 Louise Jackson
88  48:41 Carole Cunningham
96  50:27 Sally Wright
105 52:07 Lyn Eden

Men
20  31:26 Mark Mon-Williams
21  31:31 Steve Coy
25  31:55 Malcolm Pickering
69  34:33 Duncan Cooper
77  35:22 Paul Stephens
94  36:47 Andrew Sheldon
119 39:15 Andrew Jackson (team counter!)
122 39:35 Jim Towers
134 40:54 Chris Cunningham
165 45:01 Vince Gibbons
172 46:15 Don Macrae


Long Mynd Valleys, Sun 6 March
Dave Wilby reports ... the start of this years English Championship series saw a very high quality field gather in Shropshire for The Long Mynd Valleys race - 11.5m/4500ft. The course has a reputation for being one of the toughest 'mediums' on the calendar and it didn't disappoint, serving up a wonderfully brutal offering in stunning surroundings, and under clear skies. With very little breeze, and a cool temperature, everything was in place was a cracking race. The first half of the course was characterised by a couple of short sharp runnable climbs, some steepish descents, and some lovely fast running across the tops, and through the valleys. The 2nd half of the course included 3 long, tough climbs requiring hands on knees, and the ability to run quickly off the tops of the climbs and descend down in to the next valley. Not many places to re-gather yourself on this one.
Result of the day for the Harriers was probably Alison Weston, who claimed 3rd LV45 in a quality field and led home our ladies contingent, ably backed up by Alison Eagle & Val Kerr. I claimed 42nd to get my points tally up & running for the year, and Nick Pearce completed the Ilkley men's line-up.

(1  1:34:25 Lloyd Taggart, Dark Peak)
42  1:47:39 Dave Wilby
(51 1:50:34 Victoria Wilkinson, Bingley)  
169 2:10:29 Nick Pearce
228 2:20:00 Alison Weston 
243 2:23:02 Alison Eagle  
336 2:44:24 Val Kerr
 

Trimpell 20, Sun 6 March
Results from www.ukroadraces.info

(1   1:52:13 Gethin Butler Preston Harriers)
65   2:15:55 Julian Carter
315  3:07:07 Paul Sugden
316  3:07:08 Emma O'Looney
369  3:37:49 Mike Picken
388 Finished

Haweswater Half Marathon, Sun 6 March
Hilda Coulsey says ... this was a hillier run than I expected for a run along the lake, so not a fast half and hence I was very pleased to come in below 1hr 50, just! It was a super day, sunny but cold, lovely views, definitely recommended to others.

264  1:49:01  Hilda Coulsey   4th LV50

Bath Half Marathon, Sun 6 March
Rob Cunningham was 255th in 1:24:28, a PB
Black Combe fell race, Sat 5 Mar
Roy Ruddle reports ... my first race for 18 months, and first time doing this beautifully steep race. Wonderful conditions. 8 miles 3400 feet

1  1:12:48 Rhys Findlay-Robinson, Dark Peak
57 1:36:25 Roy Ruddle
  

Rudolph's Romp, Sat 5 March
Amanda Parnaby reports ... as the name suggests, this LDWA organised event was originally scheduled for December but was postponed due to the snow. 24 miles in and around the beautiful Yorkshire Wolds, finished in 6 hrs 25 mins.
Trollers Trot, Sat 5 March
Ewan Welsh reports ... Spotted quite a few harriers at Trollers Trot on Sat, running and marshalling, a lovely 25mile route around t'Dales, another great event on our doorstep, alas I haven't looked up any results but I'm sure everyone has a story, so I don't know who ran what, I was enjoying myself until my dicky knee played up and had to hobble (and not trot) the last 6 miles, practising a classic John Wayne style of movement...you play the game, you take the chance, ended up being out on the bridlepaths for about 4 hrs 10 or something like that, the post match food was a joy, it's all part of the LDWA experience.
Photos on Sportsunday, results from UKResults.net:

(1  2:53;36  Matt John, Abbey Runners)
51  3:59:04	Russell Thomas
67  4:11:07 Ewan Welsh
86	4:19:31 Alistair Barlow
142	5:02:00 Jonathan Riley

Any more? Sorry - struggled a bit with the results.
Leeds ParkRun, Sat 5 March
Sharon Williams was 62nd in 21:19
---