Ilkley Harriers news archive 2011
Harrier of the Month, February
Nominations were:



Paul Sugden - Snake Lane 10, Dewsbury 10k
Christine Cox - Dewsbury 10k and GNW Half
Duncan Cooper - Ilkley Moor fell race, Rombalds Stride
Dave Cummings - Ilkley Moor Fell Race
Sally Malir - Liversedge Half
The HoM awards went to Dave Cummings, and Paul Sugden. Congratulations to them. They will receive technical running shirts from HoM sponsor UP & RUNNING.
Ilkley Moor fell race, Sun 27 Feb

There were over 40 Harriers in the senior race, with some excellent individual results and the ladies winning the team prize, and 36 in the junior races. A big Thank You to all the marshals and helpers who helped the event run very smoothly. Full results and photos here.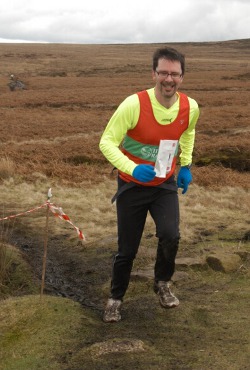 1   37:20  Graham Pearce P&B
10  40:58  Matthew Cox
12  41:33  Dave Wilby
15  41:59  Martin Archer
16  42:07  Lee Morley
29  45:17  Ian Rowbotham 1st V50
33  45:31  Stuart Pitches
38  46:14  Mark Mon-Williams
39  46:15  Dave Cummings
40  44:16  Ralph Tench
47  47:28  Richard Joel
50  47:50  Derek Fuller
51  48:01  Jim Ryder
58  48:34  Alistair Barlow
63  49:05  Sally Morley 2nd lady
68  49:44  Michael Pearce
71  49:57  Duncan Cooper
76  50:19  Emma Barclay 3rd lady, 1st LV40
78  50:42  Mark Richmond
87  51:56  Ben Sheppard
89  52:06  Andrew Merrick
101 53:42  Paddy Hagan
112 54:48  Adam Bennett
113 54:57  Alison Eagle
114 55:05  Alison Weston
119 55:59  Chris Oxlade
123 56:49  Rebecca Mon-Williams
125 57:05  Bradley Chapman
138 58:45  Jim Towers
153 60:34  Arthur Reilly
160 61:33  Val Kerr
165 62:21  Alison Bennett
170 62:46  Andrew Jackson
193 65:14  Sue Morley
198 67:05  John Pickering
204 67:45  Alison Frost
207 68:22  James Pickersgill
209 68:42  Ann Stead
213 71:35  Sheena Pickersgill
221 76:31  Sharon Fuller
222 76:34  Fiona Schneider
223 76:49  David Green
228 82:51  Claire Macina
230 86:23  Lyn Eden


Great NW Half Marathon, Blackpool, Sun 27 Feb
Jules Carter reports these results ...

1    1:10:09 Martin Williams, Tipton Harriers
44   1:26:30 Julian Carter
246  1:38:49 John Woodward
611  1:53:13 Christine Cox
867  2:05:15 Carole Cunningham
1018 2;16:13 Rachel Cunningham


Snake Lane 10, Sun 27 Feb
Paul Sugden was 351st in 80:30, a PB by 3m25s on the same course last year.
British Masters Indoor Championships - Lee Valley, 26/27 Feb
Heavisides Henry finished 6th in the M55 1500m in 5:06.68, but didn't run in the 3000m due to injury.
Noon Stone fell race, Sat 26 Feb
A few Harriers ladies out in this tough Tod Harriers race

182 1h50:20 Sharon Williams
222 2h02:13 Sophie Brown
232 2h13:00 Amanda Newham


Finsbury ParkRun, Sat 26 Feb
Rob Cunningham was 4th in 18:49
Closer to home, Gemma Carpenter was 48th in 27:57 in the Bradford ParkRun
Limassol Marathon, Sun 20 Feb
Martin Wright was 131st in 4:27:19, in this reace won by Kenya's Momanyi Basweti in 2:27:08
National XC, Sat 19 Feb
Well done to Victoria Stevens who finished 239th in 31:51 in the senior women's race.
Bradford ParkRun, Sat 19 Feb
Gemma Carpenter finished 24th in 29:57
Was anyone else out racing this weekend?
Liversedge Half Marathon, Sun 13 Feb
Sally Malir was 1st LV45 in 93:27 (47th overall, 4th lady)
St. Wilfrid's Muddy Boots 10k Multi-Terrain, Ripon, Sun 13 Feb
Ann Stead was 160th in 58:48
Muddy Woody 6, Sun 13 Feb
Dave Wilby reports ... a trip down to see the outlaws coincided ever so nicely (how convenient!!) with the Muddy Woody 6 trail race near Hereford. I've done this a few times before and it's a great early season blast, with plenty of quick running on fire-roads, singletrack blasts through the trees, and a whole host of ankle deep gloopy climbs & descents, with the odd stream crossing to cool you down and clean you off!! John Pullen from organising club Wye Valley went off quicker than I was prepared to, and stayed in front all the way to claim victory, while I had a fantastic battle with a young whippet from the local club. He kept chancing his arm on the slippery descents, and I'd have a go back on anything pointing upwards, and in the end we came to the final climb shoulder to shoulder. I had a good go up through the thick mud and luckily enough came off the top with just enough of a gap to crawl along the last few hundred yards of flat running and claim 2nd place. A grand morning out in the rain and mud.

1  John Pullen (Wye Valley Runners) - 42:27 
2  Dave Wilby - 43:22 
3  Eliot Taylor (Hereford Couriers) - 43:34
297 finishers


Wadsworth Trog, Sat 12 Feb

17 206:46  Jamie Hutchinson
74 248:59  Brian Melia


Bradford ParkRun, Sat 12 Feb
Geoff Howard was 6th in 20:15
Dewsbury 10k, Sun 6 Feb
From Henry Heavisides ... It was quite a breezy morning for the early start at Dewsbury, although the overnight rain had stopped. There was a good representation of Ilkley Harriers for the first road event of the 2011 Harriers Race League. It was a close finish between Sally Morley & Rob Cunningham for the honour of being first Ilkley runner. Sally just managed to win the sprint to the line. Times generally were quite a bit slower than previous years as a result of the wind, which strangely seemed to be against us both going out & coming back. Special mention to Paul Sugden who raced today after a 16 mile training run yesterday.
Results from www.dewsburyroadrunners.co.uk:

1   30:41 Neil Renault, Edinburgh AC
118 39:06 Sally Morley
119 39:07 Rob Cunningham
131 39:31 Henry Heavisides
235 42:30 Jane Bryant
248 42:48 Adrian Bastow
296 43:38 Andrew Sheldon
298 43:41 Richard Morris
370 45:36 Vic Verecondi
397 46:28 Jann Smith
489 47:57 Nic Mellor
505 49:20 Paul Sugden  PB by 20S
560 50:12 Christine Cox
605 52:05 Caroline Morley
744 56:41 Donna Jackson
791 57:45 Carole Cunningham
865 61:01 Rachel Cunningham
970 ran

Mickleden Straddle fell race, Sun 6 Feb
Nicky Jaquiery reports ... I ran in the Mickleden Straddle fell race on Sunday (13.8 miles/1980'). I've run this race twice now, the last time in deep snow and this time in extremely strong winds. There was no respite even on the descents where it was physically impossible to run downhill! Nicky Spinks was the first woman home in 2hrs 14mins and I was the second V40 in 2hrs 30mins.
Rombalds Stride, Sat 5 Feb
Some photos from Andrew Bennett
Have I missed anyone from the results? This is a 2011 Harriers Race League event, so please let me know.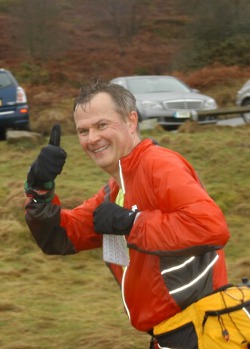 1   2h37:55 Graham Pearce, P&B  His 3rd win
3   2h53:58 Dave Wilby
6   3h02:18 Matthew Cox
10  3h05:27 Jim Ryder
11  3h06:00 Mark Mon-Williams
19  3h12:53 Ralph Tench
22  3h20:03 Neil Smith 
23  3h20:14 Jez Hellewell
27  3h23:52 Derek Fuller
28  3h28:13 Duncan Cooper
55  3h51:01 John Hayes
58  3h51:13 Jane McCarthy 5th lady
59  3h51:37 Paul Stephens
61  3h52:26 Rebecca Mon-Williams
69  3h55:16 Helene Whitaker
74  3h58:17 Paddy Hagan
98  4h07:08 Ewan Welsh
99  4h07:08 Kelly Harrison
111 4h11:39 John Tate
112 4h12:18 Jo Foster
113 4h13:12 Sharon Williams
119 4h14:40 Clare Smith
126 4h17:10 Dave Taylor
131 4h20:42 Jonathan Riley
134 4h21:23 Sharon Meadows
135 4h22:46 Alison Bennett
158 4h39:01 Gavin Burgess
184 4h50:38 Sophie Brown
185 4h50:38 Andrew Jackson
200 4h57:31 John Pickering
209 5h09:26 Alison Stretton
215 5h17:02 Anna Nolan
216 5h17:02 Helen Horton
217 5h17:02 Andrew Merrick
237 5h46:25 Michael Picken
238 5h50:13 Stuart Pitches
254 5h56:40 Fiona Schneider
270 6h13:18 Claire Macina
289 6h24:40 Amanda Parnaby
403 7h57:26 Joyce Marshall
404 7h57:26 Ian Marshall


Joyce Marshall reports ... My eighth time running the Rombalds Stride turned out to be a bit of an epic but great fun. After a very sociable start seeing many Ilkley Harriers as we all ran up and over Baildon Moor I was just settling down to a steady pace when I realized I had a problem with one of my shoes. Several attempts to secure the sole using the string from my card and plastic tape from one of the checkpoints could not defeat the sucking bog mud and I ended up running a mile shoeless to Keighley Gate. I retired and headed back to Guiseley just in time to see the first finishers coming in – well done Graham! Having donned another pair of shoes I managed to get a lift back to Ilkley (with the same kind gents from Raynet) and off I trotted back up to Keighley Gate where the rest of my family (who were walking) had just checked in. I finished the walk with the family – a very different but equally enjoyable experience from the usual run. To quote Wallace "a Grand Day Out"!
Make your mark on the celebrations for Ilkley Harriers 25th Anniversary!
Ilkley Harriers will be 25 years old in May 2011. To celebrate this occasion we would like to invite all senior members and their children, Junior Harriers and their families to design a commemorative item which the club will produce a limited edition run of for sale at the summer Birthday event.
The item can be anything you wish, for example; a water bottle, t-shirt, jacket, mug, rucksack, sports bag etc. the list is endless. There will be a prize for the overall winner whose design will go into production and also in the following categories: Under 8's; Under 13's; under 18's; 18+
The entries will be judged by The Ilkley Harriers Committee at the March committee meeting. Winners will be announced at the club night on Tuesday March 15th.
Rombalds Stride, Sat 5 Feb
Some photos from Andrew Bennett
---