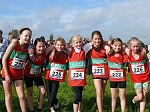 We all remember Cross-Country from our school days - it's brilliant fun splashing about in all that water and mud and being allowed to get away with it. We actively encourage this sort of behaviour!
Local Primary School races are suitable for all children from Year 1 to 6, We set up and coordinate the Wharfedale Primary Schools XC League competition for years 3 to 6 based on the results from locally organised School events.
Peco XC League races are suitable for all abilities and newcomers to competitive racing. Peco League details, results and league tables can be found here. There is a 2 mile race for Years 7 to 11 and a 1 mile race for Years 2 to 6. Races usually start 10am and 10.20am before the senior events. Junior races are chip timed.
West Yorkshire League races are more suitable for the better runner and children over the age of 9 years.
We also have individuals and teams at the Yorkshire, Northern and National Cross-Country Championships.
X-C Programme
West Yorkshire X-C League
Sunday 8th October 2023 - Nunroyd Park
Sunday 29th October - Thornes Park, Wakefield
Saturday 18th November - South Leeds
Sunday 10th December - Oulton, Rothwell
Peco X-C League (check web site for confirmation of venues)
Championship events
Yorkshire Champs,
Northern Champs,
National Champs,
Wharfedale Primary Schools League
Saturday 7th October 2023 - Westville House School (Ilkley Rugby Club)
Saturday 14th October 2023 - Addingham (KS2 ONLY)
Saturday 18th November 2023 - Ghyll Royd (Cancelled)
Saturday 3rd February 2024 - Ben Rhydding
Saturday 2nd March 2024 - All Saints (Ilkley Swimming pool)
Saturday 16th March 2024 - KS2 Relays at Nell Bank