Ilkley Harriers news archive 2010
Harrier of the Month, July
Nominations were:


Alison Weston – 1st vet45 Snowdon and SLMM result
Andrew Bennett – results and improvement
Val Kerr – 1st v50 HDSRL
Henry Heavisides – Silver Medal V55 British Masters Track
Dave Wilby – 1st in Carrock at SLMM
Rebecca Mon-Williams – 1st F Osmotherly marathon
Mark Mon-Williams – 1st M Osmotherly marathon
The HoM awards went to Rebecca Mon-Williams and Alison Weston. Congratulations to them. They will receive technical running shirts from HoM sponsor UP & RUNNING.
Additionally, an Outstanding Achievement Award was made to Henry.
Askern 10, Sun 8 Aug

231  86.36  Helen Shew


Cowling Gala, Sat 31 July
A BOFRA race ...

14  23.33  Norman Bush  1st V70
30  27.54  Sue Morley
31  31.13  Eric Morley

Wagon and Horses 10, Lancaster, Sun 1 Aug
Vic Verecondi reports ... went for a drive today to Lancaster and ran a nice 10 mile race... Well marshalled and plenty of drink stations... A pretty flat course with a couple of undulations and one hill... Nothing major I would say... Anyway came 68th in a time of 75 min and 18 secs... Pretty pleased all round with my effort... Would recommend for a potential pb..
Thunder Run 24, Sat-Sun 31 Jul – 1 Aug
Justin Phillips reports ... 1,000 runners took part in the 2nd Thunder Run 24 at Catton Park Nr Lichfield and I was lucky enough to be one of them. Competitors have 24hrs to complete as many laps of a 10k trail route in relay teams of two, five, eight or for the totally unhinged...Solo! The challenging course was brilliantly planned out with hills, twists n' turns, woods, great views and plenty of points for your team mates to cheer you on. There was a festival atmosphere amongst the tented village, event catering provided tasty carbs whilst the toilets and showers were better than I have in my house!
A last minute decision (Wednesday!) to enter with Josie from Otley saw us join a scratch team of other last minute entrants from around the country who I'd now class as friends for life. The event was so far removed from my normal diet of 10k road races I still can't quite believe I've done it.
Leg 1 14:00hrs - The mass start and the biggest cheer I've ever experienced for the start of a race (41mins)
Leg 2 21:30hrs – Dusk and the 1st opportunity to test out my head torch (41mins)
Leg 3 02.30hrs – Utterly surreal and what this event is all about, the start/finish area packed with people. Battling my body clock and trying not to get lost in the woods (44mins)
Leg 4 08:00hrs – My legs were shot to bits but at least it was light and I'd been promised a bacon and egg butty at the end of it (44mins)
For the record the leading solo competitor completed a mind boggling 20 laps, that's 126 miles in 24hrs. My team came 4th in our category and 5th overall out of over 100.
Without doubt this was the best running experience I've ever had. It'd be great to get a Harriers team or two out for this next year, it's a fantastic opportunity to bond and indulge in all things running related. We most certainly have the endurance athletes in the club to excel at this event. Send me a message via the forum if you're interested.
For more info www.tr24.co.uk
Lancaster 5K, Sat 31 July
Diane Haggar reports ... Sam Haggar finished in 26th place in 19.29. Despite awful wind and rain Sam managed another PB, knocking 49s off his previous mark recorded at John Carr 2. Having eaten rather too near to racing, he didn't feel very good - so once that lesson has been learned perhaps further PBs should be on the cards!!
Ambleside Sports fell race, Thu 29 July
A race in the BOFRA Championships

15  17.11  Ian Rowbotham  1st V50
65  29.51  Jim Towers
68  32.04  Lyn Eden


Harrogate 10k, Sun 25 July
Steve Weston reports ... a good turnout of Harriers for this 10K despite all the other attractions this weekend. A muggy morning turned sunny just as the race started and saw most of the runners hunting the shade throughout the race. The course was a challenging 2 lap run round the suburbs of Harrogate with plenty of undulations to break your stride, but with a lovely down hill section past Valley Gardens on the back straight.
Results and photos on www.harrogate-harriers.co.uk

1   31.48  Darren Bilton Leeds City AC
19  37.19  Steve Weston   PB
60  40.54  Rob Cunningham
184 46.26  William Jones
267 49.58  Martin Wright
333 51.54  Christine Cox
394 54.44  Bernadette Gibbons
395 54.49  Vince Gibbons


Cracoe fell race, Sun 25 July
A race in the BOFRA Championships

3   22.38  Ben Stevens
12  24.37  George Stevens
17  25.03  Ian Rowbotham
21  25.34  Dave Cummings
36  27.29  Norman Bush
56  31.54  Jim Towers
80  48.24  Lyn Eden  

Pudsey 10k, Sun 25 July
Paul Stephens reports ... this was the 20th anniversary of the Pudsey 10k, a hard race with about half the course off-road and it's hilly. It's especially hard if you've cycled from Otley as Amanda Newham had. Sunny intervals, hot at times, and a bit of a headwind. A well organised race with markers every km and an excellent technical shirt for all finishers as well as 2 pieces of fruit, a kit-kat, and a medal. What more can you ask for?

45  45.50  Paul Stephens 
222 59.47  Amanda Newham 
374 ran


Kentmere Horseshoe fell race, Sun 25 July
Clare Smith reports ... We were very lucky with the weather conditions on Sunday and there were some spectacular views on this scenic horseshoe route. During the race, the only splashes of water I felt came, I think, from my reservoir tube which became detached from my rucsack on the much-appreciated descent from Ill Bell. It was whilst trying to sort out my equipment that I realised I could no longer see anyone in front and ended up taking a poor line down to the col. My legs screamed in protest when they were forced to ascend yet again, and I found the final descent over slippery rocks and through recently topped-up bogs to be quite challenging. I felt thoroughly rough for most of the race and didn't run well. In contrast, Neil had a good run- probably because he wasn't having to chivvy me along! New member Sharon Williams joined us and Derek Fuller was also running. It was lovely to be greeted in the finish field by Emma Barclay who had just come along to cheer us on and it was worth the effort of 11.9 miles and 3300ft of climb for the super tea and cakes in the village hall afterwards.

1   M Roberts       1:32:56 (Borrowdale)
33  Derek Fuller    1:52:58
71  Neil Smith      2:01:55
165 Sharon Williams 2:24:05
185 Clare Smith     2:30:59


Snowdon International Mountain Race, Sat 24 July
From Dave Wilby ... On Saturday myself & Alison Weston toook part in what is the always slightly surreal experience of the International Snowdon Race.
It's not very often that any running event on this fair isle not backed by Brendan Foster, gets TV coverage, or that you can count on plentiful crowd support for almost every step of the route, but those are just 2 of the ingredients served up by this great race. The only thing missing this year was the helicopter, which was grounded due to a distinct lack of visibility. Depending on your outlook, the weather was either perfect or horrendous as it brought constant mist, rain, wind etc etc, but I think the only real difference it made was which shoes to go with. I stuck with my racing flats, and found the going perfect for them as it's almost entirely rocky apart from a couple of short stretches.
As it was, the limited Harriers presence turned in 2 successful performances. I took about 8 and a half minutes off my PB to finish 35th in 1:20:58, and get amongst the tail end of the male international runners. I also enjoyed a reasonable amount of 'TV Time', due to battling with the 1st lady on the last couple of miles to the summit ;o). Alison Weston produced a typically strong run to finish in 1:51:34, 298th, and best of all claimed the 1st FV45 prize. A great achievement in such a prestigious race.
The race was won by 18 year old Scot Robbie Simpson who just nipped under the 1:08hr mark on his 1st appearance at the race (1st year he's been old enough to enter!!), and in similar vein, 18 year old Scot Catriona Buchanan took the ladies title in 1:21:15. England took both the men's & women's team competitions.
Thanks to Pete Shields, Kelly Harrison & Kay Pearce for all the shouts of encouragement.
Golden Acre Relays, Wed 21 July
Paul Stephens reports ... 3 Harriers teams took part in the Golden Acre Relays organised by Abbey Runners on Wednesday. After some heavy rain about an hour before the start, it slowly cleared and was fine for the race, no midges, but somewhat humid. A 2.7 mile anti-clockwise course round Golden Acre with lots of twists and turns and varied underfoot. Rachael Wolfenden, Julian Carter and I were pleased with our 20th place (out of 79) and second mixed team home. An enjoyable little run.

20  Hasty Harriers    
    Rachael Wolfenden 18.32 Paul Stephens 18.31, Julian Carter  17.36
36  Cup Cake Chompers 
    Georgia Malir 19.30, Alison Eagle 19.35, Sally Malir 19.14
60  Bennetts          
    Alison Bennett 20.39, Andrew Bennett 22.15, Alison Bennett 20.41


Gargrave XC (fell race), Sat 21 July

21  40.06  Sam Haggar
25  41.12  Norman Bush
34  45.00  Jim Towers
48  49.57  Eric Morley
53  50.45  Sue Morley
57  60.48  Lyn Eden


Holme Moss, Sun 18 July
This was the Yorkshire Championships and an English Championships counter (and even more importantly an Ilkley Harriers Race League counter) ... Geoff Howard has tracked down the results and comments ... unfortunately an interchange between my left calf and a pothole just after Holme Moss put paid to my race and I had to return to base care of the Pennine Mountain Rescue to whom I am extemely grateful.

1  Karl Gray Calder Valley 2.24.18
6  Graham Pearce P&B 2.26.37
33 Lauren Jeska Todmorden 2.49.31 (1st Lady)
47 Steve Turland 2.53.18
96 Nick Pearce 3.10.51
287=Sophie Brown 4.42.31
287=Sharon Meadows 4.42.31
 

Hathersage Hilly Triathlon, Sun 18 July
From Jamie Hutchinson ... My first triathlon after months in the hills training for 3 Peaks Yacht Race. I entered this short sharp tri to get back in the groove. 400m pool swim (outdoor, heated), followed by 20k bike and then 7km run. I had my usual lung busting but relatively slow swim and then onto the bike (once I'd found it!) for an undulating first section, followed by a steady climb and finally a downhill blast back into Hathersage. I seemed to climb well and had a solid bike leg. Onto the run and a run along the river bank before a climb up through woods, passing triathletes walking! And then a lovely descent back to the river, one photographer commenting that I descended like a fell runner – which makes a change! Finished in 1.18 and 12th overall (3rd V40). The event was won in 69 minutes and just over 300 competed.
Hawkswick Dash, Sun 18 July
From www.bofra.co.uk ...

23  13.15  Dave Cummings
48  17.35  Jim Towers
65  24.11  Lyn Eden


Ingleborough fell race, Sat 17 July
From ingletongala.org.uk ...

8   51.48  Ben Stevens
20  54.58  Martin Archer
53  59.13  Sally Morley
65  61.28  George Stevens
78  63.17  Andrew Shinn


Washburn Valley Relays, Fri 16 July

A lovely evening out for these, with several families having kids in the new junior relays and Mum/Dad/both running with the 50+ teams in the senior relays. One of our teams won the junior relays. Full results on Otley AC's site, where there are also some photos.

7th  Steve Weston 19.40, Dave Cummings 24.15, Dave Westhead 21.01
20th Bradley Chapman 19.55, Adam Bennett 30.56, Neil Chapman 22.02
26th Alison Bennett 22.22, Kate Archer 29.18, Jann Smith 23.36   2nd ladies team
37th Neil Chapman 23.44, Andrew Bennett 33.16, Val Kerr 24.31
43rd Judith Scarfe 27.05, Vic Verecondi 29.54, Jacqui Weston 30.33
44th Jim Towers 22.52, Malcoml Coles 28.44, Lyn Eden 36.25
48th Bob Payne 26.58,,Bob Payne 28.35


Next relay: Golden Acre Park, Wed 21 July ... details - let's have lots of teams there?
HDSRL Handicap Race and Presentation, Thu 15 Jul
There was a select turnout of Harriers for a rare Handicap race, the finale of the HDSRL.
After the race, the presentation of League prizes included the LV50 shield for Val Kerr (for the 2nd year); the V55 shield for Henry Heavisides; and winners' shields for our male Veterans team and SuperVets team. We were 3rd overall in the main team competition, just missing out on a prize. Maybe next year ... Thanks to everyone who has supported the League in 2010.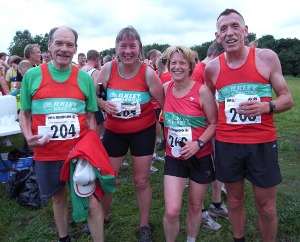 6    41.10  Nic Mellor
37   42.36  Paul Sugden
47   43.50  Christine Cox
81   40.49  Neil Chapman
91   37.29  Rebecca Mon-Williams
101  39.42  Val Kerr
107  56.48  Amanda Parnaby
108  32.49  Mark Mon-Williams
115  37.24  Adam Bennett
117  39.55  Peter Shields
119  43.58  Andrew Bennett
123  33.01  Ian Rowbotham
129  63.00  Brian Sweet
140  39.03  Alison Bennett
147  47.55  Bob Payne
150  49.25  Bradley Chapman
156  51.57  Don Macrae


Harrier of the Month, June
Nominations were:


Steve Turland – English Championships, Ennerdale
Kelly Harrison – 1st lady Coniston Triathlon
Alison Weston/Tracey Greenway – Ennerdale results
Sally Morley – British Masters Silver
Geoff Howard – British Masters Bronze, V60/65 records
Mark Mon-Williams – Results
Brian Sweet – HDSRL and contribution to club
Amanda Parnaby – 1st lady Wharfedale Rugger Ramble
Martin Archer - results
The HoM awards went to Kelly Harrison and Mark Mon-Williams. Congratulations to them. They will receive technical running shirts from HoM sponsor UP & RUNNING.
Additionally, Outstanding Achievement Awards were made to Sally and Geoff.
Eccup 10, Sun 11 July
Nick Richardson reports ... This is a cracking 10 mile road race that should come with a health warning. The first five miles is a lovely cruise round some gently rolling lanes and footpaths, the second half is a torturous continuously undulating affair and this year had the added bonus of a steady force 4 headwind which seemed to freshen to a force 5 on the uphill sections! There were times when it felt like I wasn't moving forwards at all. Despite the misery of the second half the pretty lanes and surrounding countryside made it a really enjoyable race with the added bonus of closed roads. I suspect that the second half isn't quite as miserable if you don't run the first half way too quickly!

26  63.04  Nick Richardson
75  69.17  Sally Malir  2nd F45
83  70.33  Duncan Cooper
96  71.29  Paul Stephens
130 74.11  Caroline Bell
134 74.23  Stephen Rhodes
140 74.50  John Woodward
201 79.13  Helen Horton
212 80.02  John Muirhead
236 81.38  Vic Verecondi
248 82.37  Martin Wright
259 83.10  Keith Wood
271 83.46  Sue Bickerdike


Soobedoo says ... I must have been in a different race! I thought the first half was hard and the second fairly easy – after you trot round the reservoir it's all up admittedly and into a blazing head wind but you've just got to find someone wider and taller to tailgate and it's a breeze! Got to echo Nick tho – cracking little race – local, easy to get, to well marshalled, cake, tech T-shirt........
Addingham Gala Fell Race, Sat 10 July
Yippee, Gala Day! The bunting was up, the sun was shining, and after a gap of some 20 years there was a fell race. Ilkley Harriers played a key role in this - a big THANK YOU to those who helped run the event. We had 43 finishers, not a bad start given that there was so much else on today, and everyone enjoyed it (though it was very hot!) Gareth Hird set an inaugural record of 39.08. Photos and full results on the Addingham Gala Fell Race page.
Harriers results:

14  50.04  Rob Cunningham
25  55.30  Chloe Haines (3rd lady)
28  57.06  Jim Towers
30  58.48  Dougie Scarfe
38  66.20  Fiona Schneider
40  67.32  Mike Noble
43  78.51  Lyn Eden


Alva Games, Sat 10 July

14  25.07  Ian Rowbotham


Wasdale fell race, Sat 10 July
Steve Turland reports ... first time in this race for me. 21m 9000ft. The dry conditions over the last few weeks came to an abrupt halt as this was a very soggy affair. No shortage of water with many of the paths turned into streams. Thick mist down to around 200m made for slower times and some interesting navigational choices. I finished in 14th place in 4h57 having made only a couple of minor navigational mishaps.
Final results from cfra.co.uk:

14   4h57.17  Steve Turland, 3rd V40
67   6h03.43  Brian Melia
mp            Jamie Hutchinson (nav error?)


Ripon Triahlon, Sat 10 July
Gaenor Coy reports ... a very hot day for the 10th Ripon Triathlon, in a field of approx 700, 5 Ilkley Harriers took part (sorry if I missed anybody else disguised).

119   John Tate       2.31.21
153   George Slates   2.42.29
319   Adrian Bastow   2.48.38
468   Richard Morris  3.01.28
594   Gaenor Coy      3.19.20


Results were delayed being published until this morning following the very sad and unfortunate death of a competitor during the swim stage.
My first Olympic distance triathlon and my main race for the year. A fantastic event, well organised and great for spectators. This year they had 5 swim waves, 5 minutes apart, with a warm up area to the start, great for testing out goggles. The swim being one 1500m loop around the lake seemed to take forever, and had my first real experience of the washing machine effect including a couple of punches to the head! I was please to find that I got out on target, had a fairly quick T1 and was out on my bike at 35 mins. The 44km bike course was fairly flat and fast, only really having to get out of the saddle on a couple of occasions. The second half had a fairly strong head wind, so was pleased to finish the bike leg bang on my target of 1.30. My weakness is getting fluids while on the bike so knew that I would have to try to get enough to drink at T2, but in the excitement of the race set off on the run after only a gel and mouthful of water, taking with me a Lucozade, which I tried consume enough before passing it to Steve before leaving race course. The water I also carried I foolishly also dumped!! The run leg always feels slow, but with the 25o + heat it felt particularly difficult and was relieved to get to the water station and for the little boy with the hose pipe. I must have been running faster that it felt as at about 6 Km was still on target for a near 3 hour finish, until suddenly I hit the wall and could no longer run straight. I managed to get some more water from a marshall, but eventually collapsed at about 7Km, determined to finish I eventually got up and walked very slowly for the next 2 Km and then somehow managed to jog very slowly to the end. Certainly one of the slowest half hours of my life, the shouts from the family and the finish line were a welcome sight. Foolishly trying to do a sprint finish with a man who passed me a few inches before the mats, I collapsed, and spent the next hour being treated by first aid with drinks and wine gums! Overall not too disappointed with the time considering bad run and pleased especially with my bike leg and a few lessons learned for when I do the next one!
Baildon Carnival Canter, Sat 10 July
Report from Clare Smith ... the Canter is an off-road race of approximately 3.5 miles with a scenic climb over Baildon Moor to the trig point on Hope Hill and back down to the carnival field at the rugby club. On a hot afternoon, the well-marshalled and flagged event was attended by a small (but select!) group of runners, and was followed by a family fun run over a 1 mile course. Lots of spot prizes and goodies, which particularly pleased the children.

8   23.07  Neil Smith
16  27.02  Clare Smith


Bradford Parkrun, Lister Park, Sat 10 July

6  20.03  Rob Cunningham


Leeds Parkrun, Hyde Park, Sat 10 July

82  25.14  John Marshall


Harden Hard'un, Sat 10 July
Amanda Panaby reports .... 27 miles with 4,500 ft of climb and not made any easier by the very hot conditions. Delicious home made cakes and copious amounts of very welcome drinks at the checkpoints followed by fish and chips at the Fleece afterwards. Finished in 7 hrs 20 mins.
Stirton fell race, Wed 7 July

14  40.53  Jim Ryder
20  44.05  Ian Rowbotham
36  46.48  Ali Wood
60  51.07  Jim Towers
61  51.24  Val Kerr
81  56.11  Sue Morley
90  74.30  Lyn Eden


Away Run, Tue 6 July
Andy Wolfenden reports close on 60 Harriers made it to Simon's Seat - is this a club record? And afterwards demolished copious quantities of doorstep butties and chips courtesy of IH at The Swan Addingham. Thanks to everyone for making it a great social outing. Next Away Run is at Harewood on Tuesday 27 July (when ILT&SC will be holding another major tournament). Details on The Forum.
Fairclough 5, Sun 4 July
Geoff Howard travelled over the Pennines to record 10th place and set a new Club Record of 32 minutes exactly.
British Masters Track Championships, Sun 4 July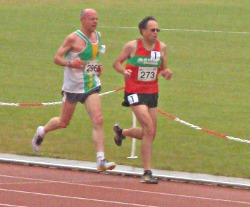 Henry Heavisides reports ... I ran my first ever track race at the British Masters track championships in Cardiff in the 5000m. It was quite a new experience, very different to road racing. I was pleased to win a M55 silver medal, but a bit disappointed to get beaten by only 1 second. The race was quite tactical in a strong wind & rain, with the winner (David Oxland of Notts AC) just getting past me in the last 50 metres. I finished in 17:57.26 (the race was timed to 100ths of a second!)
Burn Valley Half, Sun 4 July
Colin Lugton reports ... The Burn Valley 1/2M is now in its 20th year. It is an interesting, undulating and demanding course, including about a mile off-road after the midway point. It is an enjoyable small (292 finishers), and low-key (no tag times) event with good marshalling, cheerful supporters and friendly participants. There was lots of free parking, plenty of drinks stations & sponge stations, mile markers and a great afternoon tea at the end.

Results from www.burnvalleyrun.com

(1   1.18.56  Gary Dunn, Thirsk)
136  1:52:36  Peter Shields 
208  2:06:33  Paul Sugden 
224  2:09:28  Colin Lugton 
252  2:16:44  Donald Macrae 
255  2:17:37  Michael Picken 


This was an IH Race League event ...
Also, some photos from Kathryn Sugden
SLMM, 3,4 July
The Saunders Lakeland Mountain Marathon, two days of mountain running in pairs with navigation. www.slmm.org.uk".
Read Dave Wilby's report

... Dave Wilby reports ... Team Moosey & Dibber Boy returned to the hills for this one, as Adrian was dragged out of semi-retirement late in the day to help me find my way round the Bowfell class. His lack of training had been handily off-set by a timely bout of giardia, which had returned him to racing weight and thus, we were ready to go. Day 1 was spent heading from Wet Sleddale across towards the High Street range, and back over Kentmere Pike to camp in Long Sleddale, and was characterised by firm running underfoot, and some big climbs/descents. After tackling things at a good pace, but without going all out, we found ourselves lying in 2nd place, 3m47secs behind the leaders, and with 17+ hours in camp to eat, stretch, eat, soak, eat and generally recover before the 2nd day.
Our day 1 performance had put us in the chasing start for day 2, a whole new set of challenges as we had to not only navigate our way round the course, but now we were racing head to head as well. The 1st climb was a bit of a beast, straight back up on to the shoulder of Kentmere Pike and coming out of CP1 we were passed by the 3rd placed team. No matter, we pressed on and after bagging CP2 via a few extra metres of climbing, we ran over the tops and began a long undulating valley run to CP3 in Mosedale. No sign of the lads who had passed us, but 2 hares in the distance could only be the leaders. Some good running, and a couple of handy sheep trods later, we dropped in to CP3 as the leaders were leaving it, the senses beginning to awaken with the prospect of a long battle. A flat out foot race to CP4 left us level pegging, with the weather now deciding to add it's bit in to the mix with strong winds and rain. Long contour in to CP5 where they dithered, and we crawled away from the checkpoint to avoid giving away too many clues! Our turn to dither at CP6, and they almost caught us again, but we ran like the wind to CP7 and they started to slow, the mental elastic was stretching. Different route choices to CP8, this could be interesting! We gave it the berries, praying they wouldn't suddenly appear on our shoulder. As we crossed the final plateau to CP8, there was no sign of them, front or back, our hopes soared. Shattered but tentatively elated, we pressed on to CP9, almost home now. Bang on the mark and the last 1200m to the finish. Pushing on at a good lick, no point in leaving anything out on the course, over the little bridge (careful, slippery!!!), dibbing in at the finish. Agonising seconds whilst our splits were downloaded and then………1st back. We'd done it, Moosey & Dibber Boy, the perennial 4th placers had finally made it on to the podium, and it was the top step. Total weekend running time of 8hrs plus change, 15 minutes clear of 2nd place.
Saw loads of other Harriers including Heather Dawe (KLETS) (mispunched?), Alison Weston (Scafell) with Holly Williamson, Kevin & Rachael Gooch on Bowfell, Derek & Sarah Fuller (Kirkfell), Paul Stephens (Carrock), Sophie Brown (Carrock), Sharon Fuller (Wansfell). Great weekend, runners weather on day 1, navigators weather on day 2, seems like a nice balance!
Read Sarah Fuller's story ...

... Sarah Fuller's story ... My porter (sorry partner!) and I took on the Kirkfell class (42km, 1886m) in the SLMM this weekend. It turned out to be 2 mountain marathons in one weekend – the Saunders on the Saturday and the OMM on the Sunday! Day 1 started well enough – well the weather did anyway, we made a horrendous navigational blunder out of the start (over-enthusiasm, general incompetence?! ) - missed CP1, clipped the wrong control, had to go back to find the right control. So 1 hour in and we were still 1km from the start – brilliant. Right start again... We tried not to let the disappointment and frustration to spoil the day and thankfully the rest of the day went well. We were going relatively strongly and started passing lots of teams, desperately trying to atone for our error. We enjoyed a similar route to Dave on day 1 minus a couple of the climbs and thoroughly enjoyed the long run along the high street ridge in the sunshine. A final brutal climb out of Kentmere over to Longsleddale put us at the overnight in 5 hrs 53 ish – 42nd out of 95 and 8th mixed pair. We were pleased with this considering the early problems but couldn't help dwelling a little on the 'what if's' and 'if only's'. Overnight camp was a relaxed affair with milk and beer available and much noodle eating and lounging in the sunshine! Day 2 was a completely different event – the clag came down, the wind got up and the rain started just as we did. Ironically a much better day navigation wise and enjoyable in a strange sort of way. Apart from the near vertical pull out of the camp there were fewer big climbs and more tussocky moorland en route as we made our way back over the Shap fells. We finished very wet in 4 hours 37 mins to put us 39th overall in our class. A great weekend and nice relaxed event – we'll be back! Well done to Dave and Adrian for their win (and all the other Harriers who were there).

Scafell
11 14h22  Alison Weston

Bowfell
1  8h00  Dave Wilby
23 9h38  Kevin & Rachael Gooch

Kirkfell
39 10h27 Sarah & Derek Fuller

Carrock Fell
25 9h24  Paul Stephens
27 9h30  Sophie Brown

Harter Fell
50 9h39  John Pickering & Chris Oxlade

Wansfell
85 8h44  Sharon Fuller

Any more?


Osmotherley Phoenix, Sun 4 July
Russ Thomas reports had a great day up on the North Yorks moors doing the 33 mile version of this event - decent enough run for me at 6.15, my wife Jeanette (also a Harrier) did the 17 mile loop in 3.56 accompanied by our mad but loveable dog Gus (he 2nd canine home apparently).
There are 3 distances 17, 26 and 33 - you can decide to go longer (or shorter) than planned on the day!! The 33 miler is a "medium" counter for the Vasque ultra championships. Well worth a visit as it's on same day as Osmotherly summer show - also 3 good pubs within 50m of each other ...
Mark Mon-Williams adds ... There were 418 starters on the day. Rebecca set off with intention of doing 17 mile route but enjoyed herself so much that she switched to the 26 miles. I had originally intended to do the 33 miles but after the Lharig Ghru and HDRSL race made the decision en route to switch to 26. Rebecca ended up running with Kate Woodall who encouraged her around the course and they crossed the line together. I was part of a leading pack of three (Adam Perry and Martin Indge) being chased down by Martin Beale. I stuck to my decision and headed back to Osmotherley at the 22 mile point (or so) where the two routes split - despite protestation from Martin and Adam! I thought I might be able to break the record (3hr 34 min) but a small navigational error and slowing towards the end put paid to that idea. Adam managed to get a small lead on Martin Indge in last mile but Indge held off Beale for second place (the two Martins won the 3 peaks yacht race this year). Brilliant day out and thoroughly recommend the event – really wonderful.

33 mile race
1st Male    Adam Perry (Penine)
1st female  Nicki Spinks
            Russ Thomas  6h15 
 
26 mile race
1st Male    Mark Mon-Williams 3h37
1st Female  Rebecca Mon-Williams and Kate Woodall 4h37

17 mile race
Jeanette Thomas  3h56

More detailed results when available


Jane Tomlinson Leeds 10K, Sun 4 July
Jann Smith reports ... Great cause + inspirational run for fundraising. Humid, hilly and crowded but an absolute priviledge to run alongside Paula Radcliffe (seven months pregnant!) the new ambassador for the Jane Tomlinson appeal, we kept overtaking each other but and I just managed to get ahead at the finish line!

69    Rob Cunninham      41.56
223   Jann Smith         45.39  3rd F40 ( 16th lady)
900   John Marshall      52.42
1056  Louise Jackson     53.10
1349  Allison Ricci      55.11
1886  Jacqui Weston      58.11
5796  Christine Reilly   81.00


Wharfedale TTT Race #2, Sat 3 July

10  1:37:00  Jonathan Whitaker


Kirkby Gala fell race, Sat 3 July

8  35.06  Ian Rowbotham


Leeds ParkRun, Sat 3 July

89  27.36  Emma Payne


HDSRL Swaledale, Thu 1 July
24 intrepid travelers made the journey to beautiful but distant Richmondshire for the final League race. In the main team competition we held onto our 3rd place overall, improving on last year; the ladies had another win, finishing 3rd overall; and the lady vets likewise won again but finished 2nd in the League; the vets were 3rd but maintained their overall lead (champions!); and our amazing domination of the SuperVet class continued. Pretty sure we may have some individual class winners too but won't be able to face the calculations until the weekend!
Full race results and photos on www.harrogate-league.org.uk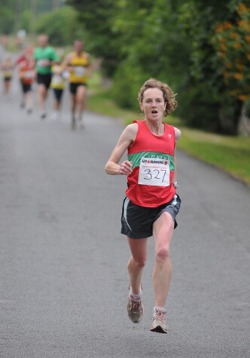 11   29.33  DAVE WILBY
24   31.01  HENRY HEAVISIDES
27   31.16  MARK MON-WILLIAMS
28   31.21  MARK ILEY
36   32.03  SALLY MORLEY
48   32.42  NICK PEARCE
67   34.36  JANE BRYANT
70   34.49  PAUL STEPHENS
74   35.07  REBECCA MON-WILLIAMS
102  36.35  KATE ARCHER
107  37.14  DOUGIE SCARFE
109  37.18  OUTI KAMARAINEN
114  37.31  VAL KERR
127  38.21  CATHERINE GIBBONS
129  38.27  PETER SHIELDS
130  38.35  JIM TOWERS
144  40.17  NICK MELLOR
155  41.49  PAUL SUGDEN
157  42.08  CHRISTINE COX
158  42.19  ROBERT PAYNE
165  42.45  BRADLEY CHAPMAN
166  42.46  NEIL CHAPMAN
176  43.54  BERNADETTE GIBBONS
203  50.39  LYN  EDEN


This was a counter in the IH Race League
---