Ilkley Harriers news archive 2010
Harrier of the Month, June
Nominations were:


Steve Turland – English Championships, Ennerdale
Kelly Harrison – 1st lady Coniston Triathlon
Alison Weston/Tracey Greenway – Ennerdale results
Sally Morley – British Masters Silver
Geoff Howard – British Masters Bronze, V60/65 records
Mark Mon-Williams – Results
Brian Sweet – HDSRL and contribution to club
Amanda Parnaby – 1st lady Wharfedale Rugger Ramble
Martin Archer - results
The HoM awards went to Kelly Harrison and Mark Mon-Williams. Congratulations to them. They will receive technical running shirts from HoM sponsor UP & RUNNING.
Additionally, Outstanding Achievement Awards were made to Sally and Geoff.
Danefield Relays, Wed 30 June
A bit disappointing not to have any Ilkley teams in this (let's do better at Wasbburn!), but Dave Wilby's red and green vest finished in 19.32 for the 'Crow Lane Crocks', and Dave Tait ran with some V60 chums in 24.44
Cliffe Castle XC, Tue 29 June
Sue Williamson went to the opening of the new fixed XC course at Cliffe Castle, opened by Filbert Bayi and David Hemmery

3  10.32  Lucy Williamson (junior)
50 16.29  Sue Williamson


Marathon du Mont Blanc, Sun 27 Jun
Morgan Williams reports on ... Marathon du Mont Blanc, 42 kms and ascent of 2511 metres. This race was a stepping stone on my way to the start line of the CCC in late August, which is a little longer! I wanted it to be hot. It was, though the first hour after the 7.00 am start was relatively civilized. I wanted to go steady, which I did after Vallorcine, which I reached much too quickly, but at least I realized this and slowed up. I didn't eat or drink enough, but at only 42 kms, you feel like you can push through without taking too much care of yourself. There will be no such luxury in the CCC. The temperature must have been in the mid-30s by the time I finished at around 2.30 pm. The race accepted 2,000 entries. This is too many for the course to bear; on the main descent around 3/5ths distance, there were queues on the trickier sections. 1,500 entries would be a better number. I had no interest in time or finishing position, this was a training run, and a very decent one. Seven and a half hours of hot trail endeavour was perfect. Even better was the 2 and a bit days we spent on the CCC course after a day's rest, walking and running over the 100 km course in around 23 hours. Alison finished over an hour in front of me, very respectably, in 6.27, for 6th LV40.
Lairig Ghru Hill Race, Sun 27 June
Mark Mon-Williams reports I had my first decent run for many years but had the very depressing experience of being in third place from about the first mile, easing off over the last two miles as there was no one in sight, only to have someone fly past me on the high street as I was ambling along hoping to leave something in my legs for Thursday's league race (which didn't work anyway!) - Results

4  3h32.44  Mark Mon-Williams


Sedbergh 3 Peaks Race, Sat 26 June
A British and English Championships fell race. We understand that Tracey Greenway's result has given her an uncatchable lead in the LV45 class in the English Fell Championships. Well done Tracey!


73  38.41  Dave Wilby
95  40.29  Steve Turland
124 42.30  Jim Ryder
132 43.01  Geoff Howard  1st V65
133 43.04  Nick Pearce
193 48.28  Norman Bush   1st V70

Ladies race
(1  37.54  Pippa Maddams, Keswick AC)
21  44.23  Tracey Greenway   2nd LV45
33  46.39  Jenny Dybeck 


Eldwick Gala fell race, Sat 26 June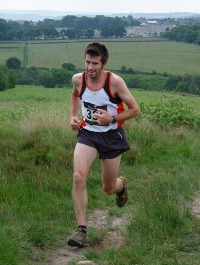 Well done to Tom on his win! And good to see Eric returning to racing.
Clare Smith reports ... There was fun for all the family at this friendly low-key event. The weather was a little warm for my liking and the turnout of runners wasn't high, possibly because of the heat! The traditional village gala itself was well attended which meant that there was plenty of support for the runners who left the field accompanied by the tunes of the brass band, after an initial false start which I presume was because the road hadn't been cleared of traffic. The 3 mile jaunt took us to the trig point on Baildon Moor and ended with a sting in its tail- an uphill climb across the field to the finish. It was great to hear a few shouts of 'Come on Ilkley' on the way round, and Tom Adams did us proud by finishing 1st.
There was also a variety of junior races, including a 1 mile trail for the U10s, U12s and U14s.
18 Greg Smith 08.44
25 Madeline Smith 10.21

1   17.26  Tom Adams
6   19.26  Martin Archer
33  23.42  Neil Smith
58  27.07  Clare Smith
63  28.03  Sue Morley
72  31.39  Eric Morley


The Tranquility Trail, Sat 26 June
Amanda Parnaby reports ... on an East Yorks LDWA event from The Buddhist Centre, Kilnwick Percy Hall near Pocklington. 25 miles but once again added a bit extra due to taking a slight detour en route. A very hilly route on an extremely warm day but a welcome breeze on the top of the Wolds. Finished in 6 hrs 29 mins.
Bradford ParkRun, Sat 26 June

13  20:41  Richard Hinsley	 
17  21.46  Andrew Wilson (1st run)


3 Peaks Yacht Race, Update 5th July
Update from Jamie Hutchinson .... Starting Saturday 19th June at 4pm and sailing from Wales to Scotland via the Lakes, running up Snowden, Scafell and Ben Nevis ... We did it finishing at just 10pm on Thursday night. An epic race that will live in the memory. I think we did a fair job of the running and cycling. We were 4th placed on Snowden and Scafell and beaten into 2nd on Ben Nevis by one minute! The race was won by last year's winner EAD Innovation works in a total time of 96 hours 37 minutes, which included a significant amount of rowing!! Our team Sigi Mae (Sailors: Phil, Hugh, Ed and Runners: Jamie & Brian) finished 13th in 125 hours 45 minutes out of 23 participants. The total run/cycle time of the winning team was 14 hours 4 minutes compared to our time of 14 hours 48 minutes.

Run times:
Snowden (from Caernvon and back)                 4th, 4h10 (fastest 3h40)
Scafell (from Whitehaven, cycling to Ennerdale)  4th, 7h27 (fastest 7h09)
Snowden (from Corpach)                           2nd, 3h11 (fastest 3h10)


Beamsley Beacon fell race, Thu 24 June
A good turnout of Harriers last night for this friendly local race, read Sue's titbit. If you liked Beamsley, or if you missed it and like the sound of running up this lovely hill, you'll like our Addingham Gala fell race on Sat 10 July.
Results from www.wharfedaleharriers.org.uk

1  37.32  Gareth Hird, Wharfedale
8  38.46  Martin Archer
22 41.48  Ian Rowbotham
25 42.24  Duncan Cooper
33 43.41  Steve Weston
40 45.56  Paddy Hagan
41 46.00  Paul Stephens
51 48.08  John Hayes
61 50.41  Alison Weston
65 51.37  Jim Towers
71 52.35  Keith Wood
74 53.20  John Pickering
77 54.03  Paul Wood
83 57.35  Sue Morley
84 57.52  Sophie Brown
89 66.51  Sue Bickerdike
90 66.54  Emma O'Looney
91 66.54  Paul Sugden
93 74.38  Lyn Eden
95 finished


Summer Social, Tue 22 June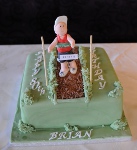 About 70 Harriers and guests enjoyed a super 'Do' at ILT&SC to celebrate Brian's 80th Birthday.
We also presented the 'Big Cheque' of the Trail Race proceeds to Pastor Ivan from the Revival Centre and Orphanage in Matugga, Ugunda.
Thanks to everyone for coming and making it such a great evening.
BMAF 5k, Sun 20 June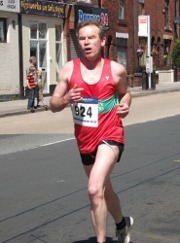 Henry Heavisides reports on ... the British Masters 5k road race in Horwich. Sally Morley was second lady in the race & 2nd F35, which is a great performance in a National championship. Geoff Howard won bronze medal in the M65 category and set a new Club record for V60 and V65. We narrowly missed a medal for the M50 team in a very competitive team race.
Individual results were:

(1. J. Parker CLC Striders 15:37)
51 Richard Reeve     17:59 (12th M50)
56 Henry Heavisides  18:20 (5th M55)
64 Jeff Paget        18:35 (8th M55)
68 Sally Morley      18:42 (2nd F35)
78 Geoff Howard      19:12 (3rd M65)


Freckleton Half, Sun 20 June
Peter Shields reports ... Mike Picken and I went into Lancashire today to have a go at the oldest half marathon in the country at Freckleton, situated between Preston and Blackpool. Reports said it was flat, don't you believe it! Undulating would be a better term. The weather was hot, infact hot enough to melt the tar on the roads, PB's were out of the question. The locals of Freckleton and its environs certainly did the racers proud by putting their water hoses on sprinkle to cascade us with water as we ran, there were hundreds of them. The race itself was extremely well organised with rucksacks to all finishers. Peter Shields came in 124 and first v60 in 1.40.20 and Mike Picken ran really well in the heat to finish 353 in 2.02.13
Allerthorpe Sprint Triathlon, Sun 20 June
Gaenor Coy reports ... myself and team Tate, consisting of Jill (swim) John (bike) and Brit (run) took part in this event on Sunday morning. Starting from Allerthorpe Lakeland Park, it consisted of a 750m technical swim in a big muddy puddle, 20k bike over a very flat and windy course and a flat out and back 5K run. Enjoyable event.

Team Tate    11.08   30.48   19.40    Finish time  1.03.06  (15) 2nd Team
Gaenor Coy   14.23   38.29   25.34    Finish time  121.43  (=169)


Settle Hills fell race, Sun 20 June
Val Kerr was 61st, and 3rd FV40, in 77.12
Buckden Pike fell race, Sat 19 June

(1  34.28  Graham Pearce, P&B)
11  37.46  Martin Archer
39  41.46  Nick Pearce
58  44.35  Norman Bush
88  49.05  Graham Breeze
131 57.13  Sue Morley


Reservoir Bogs fell race, Sat 19 June
Mike Baldwin was 28th in 1.25.16
Darren Jones Clougha Pike Fell Race, Sat 19 June
Andrew Bennett reports ... Alison and I took part in this 5 mile fell race which starts off in the Quernmore valley just outside Lancaster and goes up to the top of Clougha Pike. Lots of variety with field, fell and crag to negotiate. Alison came in 53 in 50.03 with me in at 62 in 54.13.
ParkRun results, Sat 19 June
John Marshall was 107th in 25.07 at Leeds.
Richard Hinsley was 19th in 25:000 at the Bradford run in Lister Park.
HDSRL #4, Thu 17 June
A Magnificent 43 Harriers turned out for the 4th race in the League, over a revised course at Nidd Valley. The Male Vets and (mixed) SuperVets continued their winning streak, but the main team competition was incredibly close - we were 3rd but not too many points adrift against some pretty determined opposition. And the ladies made a welcome return to form with a good win in the Lady Vets team competition and 2nd place in the Ladies team comp. The final League counter is in 2 weeks at Swaledale. Every race counts in the team competition. And the 'famous for its chips' pub has re-opened! So mark the date in your diaries - Thursday 1 July! Results and photos on www.harrogate-league.org.uk.
Weets fell race, Wed 16 June

16  45.11  Ian Rowbotham
33  49.04  Mike Baldwin


Mob Match, Bingley St Ives Trail Race, Tue 15 June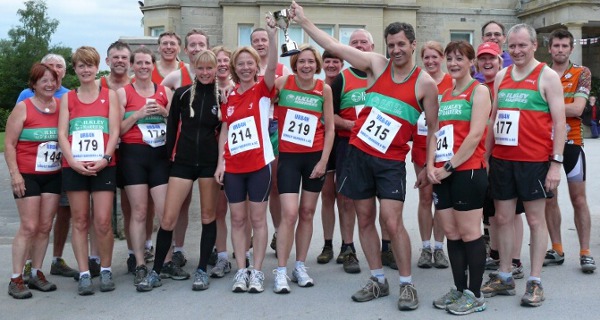 A great turnout of 36 Harriers at the annual Mob Match against Bingley Harriers. Tom Adams won the race for the second year, against some quality opposition including Karl Gray and Ian Nixon. Strong 'good for age' performances from Ilkley meant we beat Bingley for the third year in a row in the Mob Match (Mob Match Rules). The race and supper raised over £500 for Riding for the Disabled.
There are some great photos on the Woodentops web site

1   32.12  Tom Adams
10  36.33  Mark Mon-Williams
18  39.20  Dave Cummings
20  39.30  Henry Heavisides
22  39.34  Nick Pearce
24  39.50  Neil Smith
27  39.56  Toni Melechi
29  40.13  Alison Bennett
31  40.22  Mike Baldwin
32  40.43  Paul Stephens
35  42.37  Ian Marshall
43  45.34  Jann Smith
46  45.52  Dougie Scarfe
52  47.53  Jim Towers
53  48.35  Joyce Marshall
54  48.58  Andrew Bennett
55  49.55  Diane Haggar
56  49.56  Sue Morley
57  50.52  Don Macrae
61  52.05  Christine Cox
62  52.07  Sue Bickerdike
63  52.09  Vic Verecondi
64  52.38  Amanda Newham
65  52.39  Phil Chappell
67  53.15  Lynn Donohue
69  53.23  Sheena Pickersgill
70  53.41  Paul Sugden
72  54.20  Bob Payne
76  55.08  Judith Scarfe
77  55.15  Colin Lugton
81  56.21  Emma O'Looney
83  56.24  Paul O'Looney
84  56.31  David Green
88  60.01  Emma Payne
89  62.29  Jacqui Weston
91  64.30  Lyn Eden
92 finished


This was also a counter in the Ilkley Harriers Race League.
Bradford Millenium Way Relay, Sun 13 June
Our mixed team finished 34th overall in 7:52:08. Great run everyone, thanks to Vic for pulling it all together. Results from www.stbedesac.org.uk

2:05:25  Steve Rhodes and Jane Guillard, 44th
1:28:57  Mike Bryant and Sally Morley, 23rd on leg, 41st overall
1:19:56  Keith Wood and Sue Bickerdike,  37th on leg and 42nd overall
1:26:39  Vic Verecondi and Helen Horton, 27th on leg and 36th overall
1:31:12  Andrew Merrick and Jane Bryant, 19th on leg and 34th overall


Kettlewell fell race, Sun 13 June
Results from www.bofra.co.uk

12  14.37  Ian Rowbotham
22  15.41  Dave Cummings
33  16.24  Jenny Dybeck   1st LU23, 2nd lady
37  17.08  Peter Haines
40  17.22  Norman Bush
42  17.25  Paddy Hagan
51  18.28  Chloe Haines
72  21.48  Jim Towers
76  22.42  Bob Payne
86  29.28  Lyn Eden

Quite a few in the junior races too

Long Eaton 5, Sun 13 June
Henry Heavisides reports ... It was warm, dry & sunny in Long Eaton today for the 5 mile race. The course is fast & flat, with the winner, Bruce Raeside from Notts AC running 23:55, which is one of the top 10 fastest 5 mile times in the UK this year. I did 29:42 to win the M55 prize. Unusually, free beer was on offer (as much as you could drink), whilst waiting for the prize giving.... unfortunately I was driving home so couldn't take advantage. (This is a Club M50 & M55 record.)
Millennium Meander + 10, Sun 13 June
Amanda Parnaby reports ... a new event - not sure of the origin of the name. 23 miles from Dacre Village Hall in the form of a figure of eight around the Summerbridge and Pateley Bridge area, although everybody seemed to have added around an extra couple of miles due to problems with the route description. Enjoyable if rather hilly, taking in Brimham Rocks, Yorke Folly, Ashfield Beck and Waterfall and Braithwaite Moors. Excellent and plentiful food at the finish. Completed in 6 hrs 7 mins.
Ennerdale Horseshoe Fell Race - 23m/7500ft - Sat 12 June
Dave Wilby reports ... Ennerdale, one of the wildest of the Lakeland valleys, where the only permanent residents are of the 4 legged or feathered variety, and home to the magnificent, and brutally tough, fell race. The greats of the sport have all raced here, and this year the incredible record winning time belonging to Kenny Stuart was 25 years old. This one quite rightly sits amongst the 'Lakeland Classics', and for the English Championships on Saturday, the weather more than played its part in showing off the course in all its majestic beauty. It's not often I actually stop when I'm racing, but the view from the top of Pillar was more than enough to stop me in my tracks for a few seconds, the whole of the Lake District laid out before me, with views across to Scotland.
There was a fantastic turnout of Harriers. Given how tough the course was, I think the attendance deserves a special mention. Everyone put in a very brave shift to get round the course not just in one piece, but in very respectable times, and a special mention should go to Steve Turland for a magnificent run to take his first ever championship points, and Tracey Greenway for finishing 6th lady & 1st FV45. Well done everyone.

1.   Rob Jebb (Bingley) 3:34:06 
24.  Dave Wilby         4:10:40 
33.  Steve Turland      4:19:11 
47.  Jackie Lee (Eryri) 4:23:43 
65.  Jonathan Whittaker 4:39:22 
66.  Mark Mon-Williams  4:40:02 
78.  Nick Pearce        4:46:58 
83.  Jamie Hutchinson   4:49:22 
88.  Derek Fuller       4:51:37 
103. Tracey Greenway    4:59:35 
115. Jim Ryder          5:05:34 
125. Brian Melia        5:09:34 
135. Duncan Cooper      5:12:56 
200. Alison Weston      5:39:06 
253. Graham Breeze      6:06:09


Report from Alison Weston ... I would just like to add to Dave's account of the day. Ilkley Harriers men were brilliant! Eleven men completed one of the hardest fell races on the calender. It was great to see so many Harrier's vests in a Championship event. Most of the Cumbrian clubs did not field as many. Dave and Steve did exceptionally well and Nick and Graham received prizes for their age categories. It was Duncan's first long Lakeland race and he ran it in a really good time. We were a bit lacking in numbers for the female Harriers but Tracey easily secured her V45 lead in the English Championships.
Bradford Parkrun, Sat 12 June
Richard Hinsley was 32nd in 26.38
Barley Cabin Fell Race, Fri 11 June
Jim & Lyn report ... from Pendle Hill. 4 Mile, 1100ft of climb. New course from last year doing away with all the road section. This made it a lovely descent off Pendle.

Jim Towers  41.20


Abbey Anniversary Fell Race, Thu 10 June
Jim & Lyn report ... a lovely 5 mile fell race with 1800ft of climb of the fells between Kettlewell and Arncliffe. Pity there were only 30 runners as it is a lovely run, and after a cloudy day the sun came out during the race lighting up the whole of the valley.

7th  Antonio Melechi  47.02
21st Jim Towers       55.24 1st Male Vet 0/60
28th Sue Morley       59.28 1st Lady Vet 0/55
30th Lyn Eden         81.20  1st Lady Vet 0/65 
[also won free night B&B at the Bluebell Inn as last finisher 
as the landlord of the pub gave free nights B&B to the First and Last Finisher!]


Otley 10, Wed 9 June
Results from Otley AC:

(1   56.30  Tim Midgley, Bingley)
30   65.25  Jonathan Sinclair
66   69.43  Sally Malir  2nd F45
97   73.08  Mike Baldwin 3rd M50
114  74.51  Jann Smith
135  77.07  John Woodward
214  85.10  Martin Wright
282  94.33  Bernadette Gibbons 3rd F55


Edenfield fell race, Sun 6 June
Graham Breeze was 39th in 63.54
Coniston Old Man Triathlon, Sun 6 June
Dave Wilby reports ... there were 4 Harriers taking part in the 'Old Man' triathlon on Sunday, a race which in its 2nd year, and can quite possibly lay claim to being the toughest triathlon in the country. It all kicks off with a 2km swim in Coniston Water, and is followed by a 70km road biking leg which takes the willing rider (and their not so willing legs) over Wrynose Pass (25%), Hardknott Pass (30%), Birker Fell & Kirby Moor. The cherry on the cake is a fell run which in the style of the Coniston Fell Race, takes in Wetherlam, Swirl How & Coniston Old Man (hence the name of the race) for a total climb of 3500ft. Unlike the fell race though, it starts from the campsite so there's an extra 3 miles of running for a total of 12 miles.
Jonathan & Helene Whittaker were taking part in the relay option, and their respective teams finished 2nd & 3rd, a great effort and both looked very impressive descending off the Old Man. I was flying on the bike and was making a good push for the front of the solo race when with 15 miles to go, a large and unexpected bang signalled the end of my rear tyre and my race, gutted! Luckily I managed to hitchike my way back to the event centre before the rain came in. Kelly meanwhile was having a great battle at the head of the ladies race, and after leading out of the swim, was a close 2nd going in to the final transition. Impressively she'd conquered her biggest demons (Wrynose & Hardknott) in fine style, and still had enough energy left for some banter with a couple of guys who had been forced to push. Out on to the run and the weather was starting to close in but she pushed on well. Despite a slight detour coming off Swirl How (a popular error given the route was entirely unmarked, and the paper maps that had been distributed had all but disintegrated in the worsening conditions), she made it to the top of the Old Man with the 1st lady in sight, and promptly set the fastest descent time for any solo (male or female) to open up a winning margin, and come home an excellent 6th overall in 6hrs 47mins.
All in all an excellent course, and a grand day out in the Lakes. The usual complimentary event tee shirt or mug was replaced with an Exped waterproof rucksack, so value for money was for once very high from a triathlon. Recommended as a real challenge, but leave the fancy time trial bike at home!!
Duddon fell race, Sat 5 June
From Bob Wightman ... there was a smattering of Harriers at the Newfield Inn in the Duddon Valley for both the long (18m/6000ft) and short(11m/3000ft) races. The long race is one of the classic Lakeland events, reckoned to be harder than the Borrowdale race but easier than the Wasdale (but then what isn't easier than the Wasdale?!)
Having not raced since the Wasdworth Trog in February in a moment of madness brought on by the heat I had entered the long race, it was going to be a trial by oven. Just over 180 grouped up on the start line for the mandatory inaudible safety instructions and then we were off. The initial part of the race is on a good track before heading through forestry and out on to Harter Fell, at least on the fell you had a breeze to help cool you. Morgan was about a minute ahead at this point with Jonathan somewhere in the multicoloured dots in the distance that I assumed were runners. A long fast stretch to the summit of Hardknott Pass then up to the next checkpoint before a big descent in to Moasdale and the biggest climb of the day up the inappropriately named Little Stand. I caught Morgan up just before the checkpoint then somehow got past him on the long traverse to the Three Shires Stone.
In common with the other Lakeland long races the Duddon has cutoff times at each checkpoint but I was nearly an hour inside the time. Things were looking OK. Except they weren't - almost immediately after leaving the Three Shires I began to feel sick and the long drag up to Swirl How seemed to take an age, even on the flat and downhills I was having to walk an increasing amount of the route as my right knee was beginning to lock up. It didn't help that I had lost the group I had been running with so there was no pressure to keep up with anyone. Water offered by a spectator near the Dow Crag checkpoint helped and the long grassy run out to White Pike was helped by trying to keep up with the runner that had just passed me. A good line on the descent from White Pike was negated by having to walk the rest of the way to the final checkpoint on Caw. Unbeknownst to me, Morgan was now rapidly gaining time on me and we passed on the out and back to the checkpoint. It was the spur to try and run to the finish where the boggiest bit of the course awaited just outside the finishing field. I finished just outside my target of 5hrs. Pint needed!
The short race was won by Jamie Luxmoore of Keswick Athletic Club in 1:36:53
Harriers:

28 Diane Haggar   2:21:57 2nd LV40
37 Sue Morley     2:41:19 1st LV50
43 finishers


The long race was won by Simon Booth of Borrowdale in 2:57:26.
Harriers

28 Jonathan Whitaker     3:40:51
62 Dave Tait (Dark Peak) 4:07:21 2nd MV60
148 Bob Wightman         5:11:18
150 Morgan Williams      5:12:34
171 finishers


Wharfedale Off Road Marathon, Sat 5 June
From Jez Hellewell ... Had a fantastic day up in the Dales for this great event. It's the first time that I've run it & I'm glad I did. The weather was hot, but not uncomfortable. But the route is beautiful. Taking in Kettlewell, Kilnsey, Hawkswick, Arncliffe & Malham Tarn. It was difficult to watch where you were going at times as the views were stunning. There were a couple (I think) of Harriers doing the half (including Johnathan Sinclair) & three (I think !) doing the full, Including Russell Thomas & Ewan Welsh. It seemed a small field for the full, which might explain how I managed to come joint 6th in 3h41.46. Apologies if I missed any Harriers. Results From SportIdent:

6=  Jez Hellewell    3:41:46
11  Jamie Hutchinson 3:47:34
33  Russell Thomas   4:16:54
44  Graham Arthur    4:28:12	
57  Ewan Welsh       4:48:00	

Half Marathon
8   Jonathan Sinclair 1:40:16
60  Graham Breeze     2:09:40
61  Andrew Wilson     2:09:46
96  Sharon Meadows    2:17:1   PB 7 mins    
118 Alison Frost      2:23:12
119 Eric Hawthorn     2:23:34
138 Keith Wood        2:30:53


Amanda Parnaby came in 1st female (3.04) and 2nd overall at the Wharfedale Rugger Ramble, run withh this event.
From Ewan ... Following on from Jez's report I have to agree his sentiments towards the race, it's a great race to have on your doorstep and one in which I would aim to do on an annual basis. However, unlike Jez, I suffered in the heat, the last time i felt like that was the last time I ran a long distance race in the heat (funnily enough). Last year this was one of my better runs, in comparison with this year I would say I went from the sublime to the ridiculous, finishing an hour later and somewhat overheated. It didn't take away the enjoyment of the day out and the opportunity to soak up a few rays ! When I staggered over the finish line Kitty, the eldest daughter came running up and asked why I'm so slow......kids, they say the funniest things !
Graham Arthur's story ... I was 44th in 4:28:12, 1st V60 (and V55) but wore a sleeved top due to the intense sunshine, so Jez would not have realised. I collapsed with heat exhaustion at the end, due to having been pushed to race the last four miles against another V60 from Borrowdale, and could not stand up for 15 minutes. Some thought I was dead. It was a case of who cracked first. 82 started, 75 finished.
Pen-y-ghent, Sat 5 June
From Steve Turland ... 5.9m, 1650ft. Run in very hot conditions. Results were:

1   47:46  Craig Roberts (Kendal)    
13  54:28  Steve Turland                
79  71:19  Andrew Snell


Kelbrook Fell Race, Sat 5 June
Jim & Lyn report ... 3.4miles, 700ft of climb. Finally ran this race after wanting to do it for many years, but it always clashes with the Duddon Valley Fell Races. Having run both Duddon Valley long and short races over the years decided finally to run Kelbrook. It was well worth the wait. A lovely little fellrace with a Gala in the main field, and easy parking. A lovely day, a bit hot, but beautiful views from the top. A tough ascent but a beautiful descent with a small uphill sting in the tail at the end.

Jim Towers  32.08
Lyn Eden    43.26


South Manchester Parkrun, Sat 5 June
Rob Cunningham was 8th in 19.48
Harrogate Road League, Yeadon and Esholt, Thu 3 June
This was the third race in the series, and another tough one, on a revised course starting in Yeadon and looping through Esholt. There was a really good turnout of Harriers in most classes, and another main team win - 2 in a row! The main team competition is very close now with regular winners Harrogate and Otley within our sights. Strong team wins again from the men's vets teams and the mixed supervets teams, consolidating our overall lead in those classes. If you're new to racing, this friendly series of races is ideal, and if you're at the faster end of the field there is plenty of good local competition here. The next race is another local one, at Starbeck. Full results and details on www.harrogate-league.org.uk.

(1   31.28  MARC SCOTT RZH )
13   34.19  MARK MON-WILLIAMS
15   34.30  DAVE WILBY
18   34.54  DAVID WESTHEAD
20   35.07  JIM RYDER
21   35.09  BEN SHEPPARD
24   35.19  JUSTIN PHILLIPS
33   36.07  IAN ROWBOTHAM
38   36.15  MARK ILEY
40   36.27  NICK PEARCE
43   36.41  RICHARD REEVE
44   36.46  HENRY HEAVISIDES
50   37.08  MALCOLM PICKERING
62   38.00  JULIAN CARTER
73   38.47  JEFF PAGET
80   39.31  ANDY SHINN
85   40.16  KELLY HARRISON
88   40.30  RACHEL WOLFENDEN
91   40.43  ALISON BENNETT
111  42.02  PHIL HIRST
122  42.59  PETER SHIELDS
123  43.03  NIGEL TAPPER
129  43.22  JOHN COATES
141  44.12  DOUGIE SCARFE
156  44.52  VAL KERR
172  46.09  BECKY STAPLETON
173  46.18  KEITH WOOD
174  46.23  SHARON MEADOWS
179  46.52  CATHERINE GIBBONS
197  48.13  DONALD MACRAE
198  48.18  JIM PICKERSGILL
205  48.58  ANDREW BENNETT
211  49.18  CHRISTINE COX
213  49.53  SHEENA PICKERSGILL
215  50.20  JIM TOWERS
216  50.31  PAUL SUGDEN
219  50.47  BERNADETTE GIBBONS
227  51.28  COLIN LUGTON
229  51.34  ANN STEAD
235  51.54  LYNN DONOHUE
254  54.21  EMMA O'LOONEY
271  59.42  VINCENT GIBBONS
272  59.57  LYN  EDEN
277  63.28  AMANDA PARNABY
280  68.53  BRIAN SWEET


Lakeland Trail Race, Kentmere, Sat 5 June
From Fiona Schneider ... a hot 17 km course over the undulating trail in beautiful countryside. I finished in 2.06.13, nearly an hour behind the leader and way behind the only other Harrier I saw. Apologies I cannot find her in the results. www.lakelandtrails.org for details of 2 further events this year.
Full Bronte 5, Haworth, Thu 3 June
Mike Baldwin was 70th in 36.06
Otley Chevin fell race, Wed 2 June
Nick Pearce reports ... a good number of Harriers at the local Chevin fell race on Wednesday 3rd June, won by second claimer Graham Pearce retaining the trophy from last year. Graham also learnt this week that he has won selection to run for England at Snowdon next month. Harriers' results from the FRA web-site:
 
1st  Graham Pearce, P&B      17.32
6th  Dave Wilby              19.03
8th  Jamie Hutchinson        19.37
20th Ian Rowbothsm           20.55
22nd Derek Fuller            21.05
26th Nick Pearce             21.27
40th Mike Baldwin            23.48
42nd Dave Tait (2nd claim)   23.58
43rd Peter Haines            24.01
57th Chloe Haines            25.42
65th Jim Towers              27.01
68th Sophie Brown            27.10
82nd Lyn Eden                36.54


YVAA GP Race 2, Tue 1 June
Jim & Lyn report ... 6 mile race from Kirkstall Abbey. A mixture of road, track, fields and river and canal towpath.

Men's race
74  43.36  Graham Breeze  1st V65
77  43.43  Pete Shields
109 49.13  Jim Towers 
Ladies Race

75  62.48   Lyn Eden     1st FV65


---